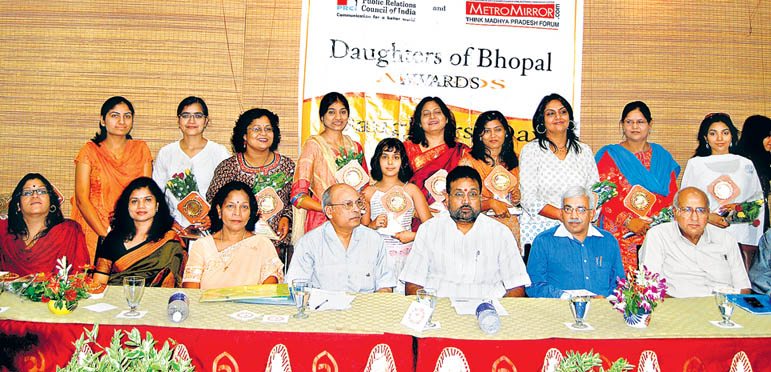 PRCI Daughters day 1July
Bhopal 1 July: MM Correspondent .
I appreciate the exclusive initiative of PRCI and Metromirror.com & I am happy to announce the Rs.2lakh National Award for the talented Daughter of MP from the next year- Laxmikant Sharma PR Minister
Following are the recipients of the 'Daughters of Bhopal Awards'
Ujma zamali Journalist (PHD in Journalism), Suchandana Gupta Journalist (Times of India) ,Deepti Chaurasia Journalist (AAj tak) ,Shaifali Pandey Journalist (Voice of India) ,Shravani Sarkar Journalist (Hindustan Times), Jyotsana Panth Journalist(DB star) ,Preeti Sharma Journalist (City Bhaskar), Sneha Khare Journalist (Patrika) ,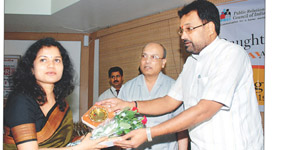 Seema Raizada Professor(Nutan College), Meenakshi Natrajan Politican ,Monal Singh Blood Donation Activist,Jaya Arya Social Worker, Jyoti Agarwal Abhivyakti Kala Kendra, Divyanka Tripathi Tv Artist, P.Bhawani Singer, Kushi Sharma Child Artist ,Reet Radio Jockey (98.3 Radio Mirchi),
Captain Ruchi Vijayvergia Business Women(Peoples Group) ,Anju Mallick Business Women (CII Hyundai) ,Poonam Chauksey Director (LNCT Group), Sahana Roy Director(Time Institute) ,Sufia Khan Young IAS ,Ruchi Shrivastava IPS (ASP), Nikky Baba Spa Treat(Beautician) ,Doctor Pooja Yadav MBBS Topper (GMC) .
Readers views about the awards...
Honouring talented daughters
Public Relations Council of India, Bhopal Chapter & Metro Mirror.Com created history by honouring talented 'daughters' of Bhopal at a function recently. This is a laudable step and needs to be supported by all citizens claiming to be for women empowerment. One can just visualise how these talented daughters, drawn from different fields, would have felt thrilled on getting recognition for their contribution in their respective professions. The presence of the Public Relations Minister, Shri Laxmikant Sharma and other dignitaries is a testimony of their support to such a cause. Mass media is also to be lauded for giving good coverage to this event thereby recognising the awardees and motivating other 'daughters' of Bhopal. In fact, parents, teachers and the society should take it as their moral responsibility to do everything to encourage and motivate their wards (both women and men) to be performers and achievers -- road to overall progress of the nation.
C.K. Sardana
[(General Manager BHEL (Redt)]
M - 09893556483
M-177 Gautam Nagar Bhopal-462023