PRCI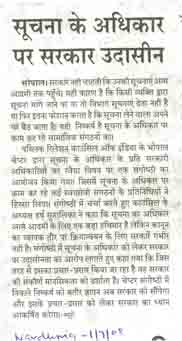 Discussion on Right to Information- Attitude of Govt. and Govt. officers
Bhopal 30th,June,2008
"Govt. and its officers are generally not interested to provide the information to the public. They are rather interested to hide the information.", Said M.N.Buch,while talking to the Editor-in-chief of Metromirror.com and chairman of the Public Relations Council of India, Bhopal Chapter.
In the discussion all the participants were of the view that the MP State Govt. has never took interest to popularise the RTI Act so as to minimize the corruption in the Govt. and Public Enterprises. PR department should have seperated budget to popularise the Act.
Another major conclusion was that the person seeking the information is harassed to the maximum level to compel him not to seek the information.
PRCI Members and NGO representatives participated in the discussion.
The conclusion of this discussion will be presented to the Govt. for further action.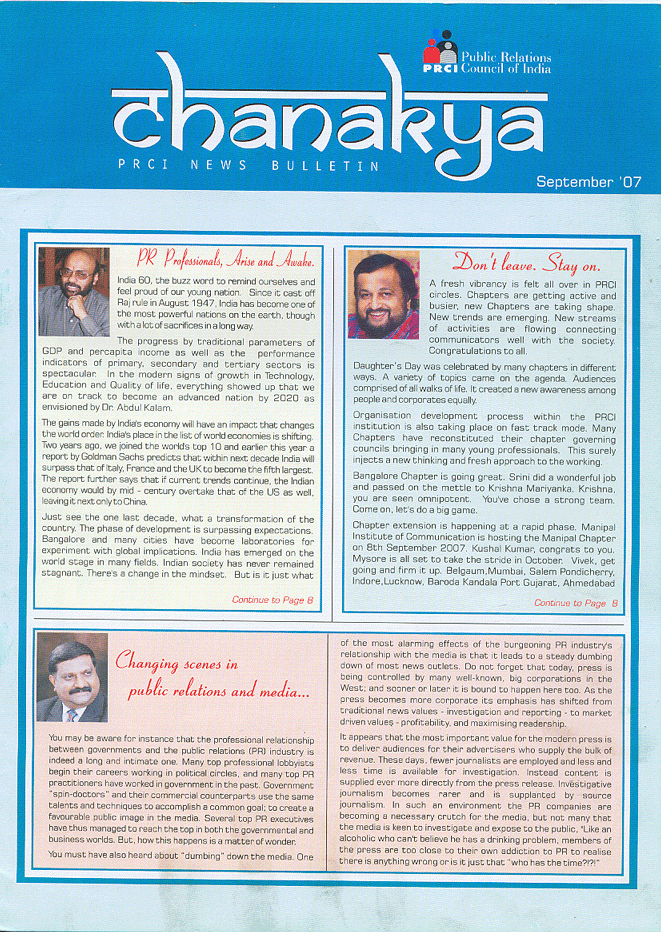 Public Relations Council of India - Bhopal Chapter-
Our Correspondent Bhopal,
Mr. Shiv Harsh Suhalka, Editor in chief, Metromirror.com elected as the chairman of this prestigious National Association of the PR ,Media and Corporate Communication Professionals. PRCI has 18 Chapters all over India.
PRCI Bhopal Chapter to organize various Seminars, Symposiums and Training Programs in the coming months in association with the various prestigious organizations both public and private sectors.PRCI also has high caliber team of Professionals to provide total consultancy services for Public Relations, Media, Corporate Communications and Content Management Services to the various Media hoses and the Govt. PR Departments.
Mr. M.B. Jayram National chairman, PRCI Governing Board has congratulated Mr. Suhalka and appreciated his contribution in the areas of Media, Public Relations and Corporate Communications. .
Special Request to all members of PRCI
Please let me know the special achievements of the fellow members, their spouses and children with photograph and details for inclusion in the magazine. Members may also send information/news/events details for the use of fellow members.


Please regularly visit metromirror.com to keep you updated.
Please feel free to send your suggestions/information to brainpowermediaindia@gmail.com, editormetromirror@gmail.com
Phone: 9893096880, 5279181, 2562882


---
Back to PRCI Home Page
Back To Metromirror.com