---
Wedding / Party Event
Publish your Wedding / Party event in METROMIRROR.COM
No. 1 News Magazine Published since 2003
Rs.21000/- only with 20 best moment Photos and Home page Pointer.
CONTACT
Reader Relations Officer METROMIRROR.COM
Prime Plaza, 3rd Floor, E - 3/46 Area Colony 10 No. Stop Bhopal 462016
OR
Our Reader Relations Center in your area
Phone : 0755-4055957, 9893096880, 2562882
Email : metromirror@gmail.com
---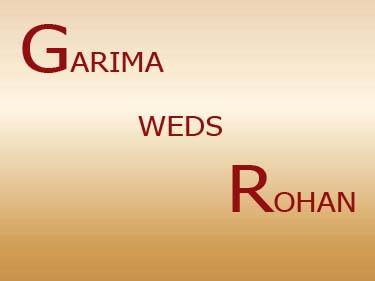 Garima weds Rohan : JUNE 3, 2015
Garima Suhalka, Mayo and Ferguson educated Media Professional entered into wedlock with Rohan,
Banking Professional at the Royal wedding celebration held at Hotel Inder Residency.
Udaipur city's who's who attended the wedding celebrations.
---
Sandeep Sharma weds Neha Tiwari
Sandeep Sharma (IIT Roorkee) a BHEL Engineer entered into wedlock with Neha Tiwari, a lecturer at UIT-RGPV and daughter of Shri. Santosh Kumar Tiwari, a senior NHDC officer on 4th Feb. 2013, at Hotel Kailash Presidency, Bhopal.
---
Please Let Us Know Your Party / Event at
email
:
editormetromirror@gmail.com
Inform us
at 98930-96880,0755-4279181 for event coverage