---
Editor in chief of METROMIRROR meets Sh. Jagdish Upasane VC of MCNUJC
27 March 2018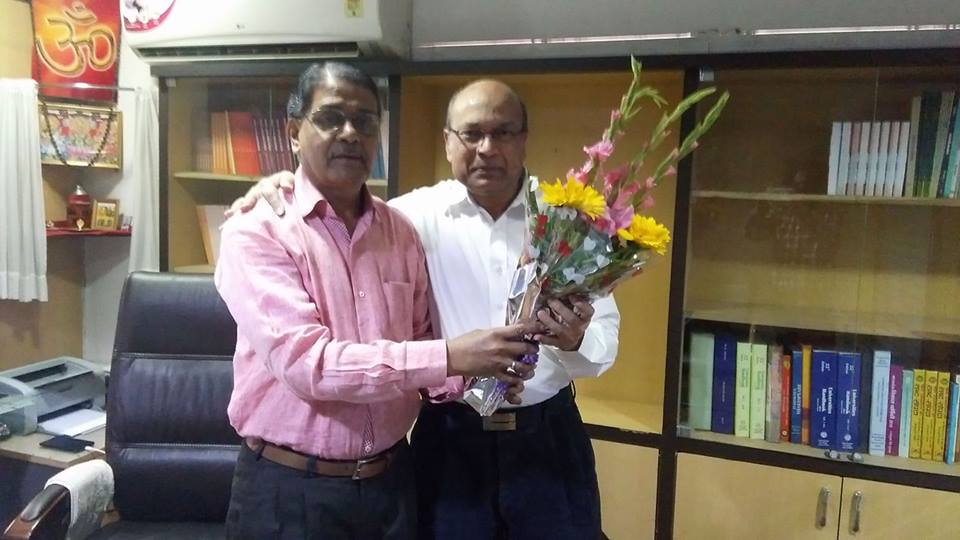 Today met Sh Jagdish Upasane ji who took charge as VC of MCNUJC Bhopal.He is very Intelligent, Practical and believes in Simple living & HighThinking.Discussed about quality of Media Training, importance of Digital Media, and Media principles. He said "sense of responsibility for all and Digital Media would be the focus area" Photo: www.MetroMirror.com








---
Students should pursue 2-year ITI, 2-year Polytechnic and 4-year Engineering
22 January 2018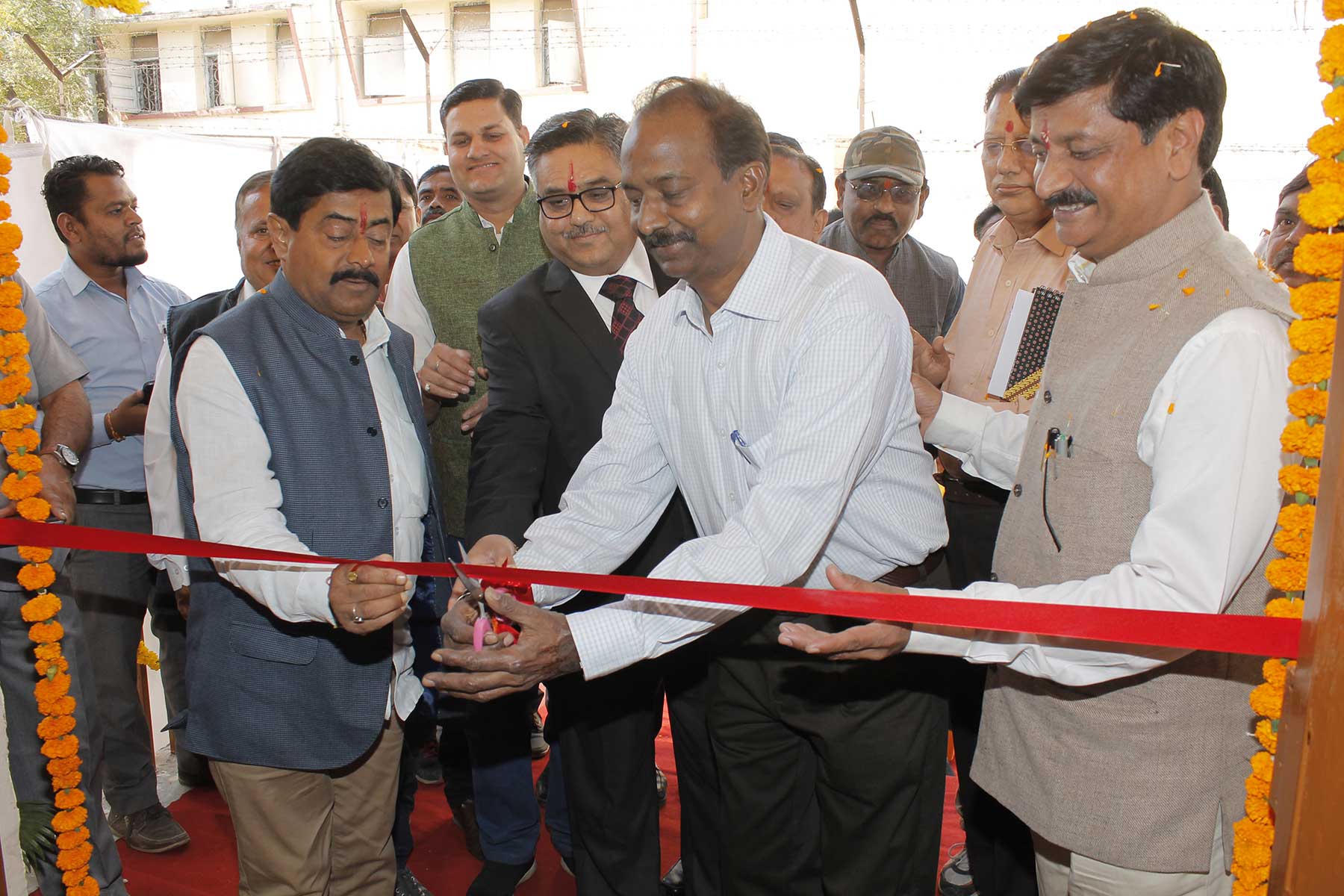 A proposal that students must pursue 2-year ITI, 2-year Polytechnic and 4-year Engineering after Class 8 for skills in work has been sent to the Centre. This was told by Minister of State for Technical Education (Independent Charge), School Education and Labour Shri Deepak Joshi at the public dedication of girls hostel of Sardar Vallabh Bhai Patel Polytechnic College, Bhopal. Shri Joshi said that the hostel starting on the occasion of Basant Panchami will provide accommodation to students from far-flung areas. He said that the hostel should be the best in state. Rs 15,000 and badminton kit to Gauranshi Sharma Shri Joshi announced to grant Rs 15,000 to Disabled badminton player Gauranshi Sharma who won silver medal in National Games of the Deaf. He also presented Sushri Sharma with shield and certificate. Shri Mayank Sharma of Swami Ambrish Chaitanya Seva Samiti said that he will gift her with the badminton kit today itself. Shri Joshi said that we wish to see Sushri Gauranshi win medal at the Olympics. For this she will be provided with all possible assistance. Director Technical Education Dr. Virendra Kumar also expressed his views. Principal Dr. Ashish Dongre told that the hostel has 50 beds


---
Efforts for national level recognition of higher education institutes should be made
15 January 2018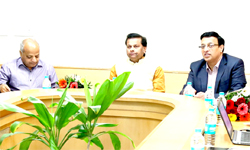 Higher Education Minister Shri Jaibhan Singh Pawaiya said that efforts should be made to improve quality of higher education institutions and get them national level recognition. He said that there is need also to launch a special campaign to improve the library and lab of these educational institutions. Shri Pawaiya was addressing the fifth meeting of State Higher Education Council at the Mantralaya today. Works of Rashtriya Uchchatar Shiksha Abhiyan (RUSA) were reviewed in the meeting. ACS Higher Education Shri Deepak Khandekar and educationists were present at the meeting. The Minister said that the work in the language lab should not be restricted to English only, instead it should focus on development of knowledge of other languages including Hindi also. He issued instructions to make use of financial assistance fund provided by the centre and the state government in higher education institutions. It was told that 311 government colleges and 447 non-government colleges in year 2003 rose to 469 and 914 respectively in year 2017 in the state. Efforts are being made to open colleges to ensure the reach of higher education in rural areas also. It was told that Rs 269 crore was approved in various components in RUSA Project. After being assessed by the NAAC financial assistance was approved for 33 colleges and 3 universities of B grade. It was told that Rs 55 crore grant has been released for Pt. SN Shukla University Shahdol. All work approved from the fund will be completed by October 2018. Educationists suggested that a workshop should be organised on national level specific subject in atleast one educational institution of the division. The suggestions given at the workshop should be used for improvement of quality of education. Commissioner Higher Education Shri Neeraj Mandloi told that recruitment process of 3000 assistant professors will be completed by June 2018 to remove the dearth of teaching staff in Department of Higher Education. Educationists Dr. Devendra Deepak, Dr. Prakash Bartuniya, Dr. Chitralekha Chouhan, Dr. Shashi Rai and S.N. Shukla University Vice Chancellor Shri Mukesh Tiwari were present during the meeting


---
Media incubation centre to be set up at Makhanlal University
9 January 2018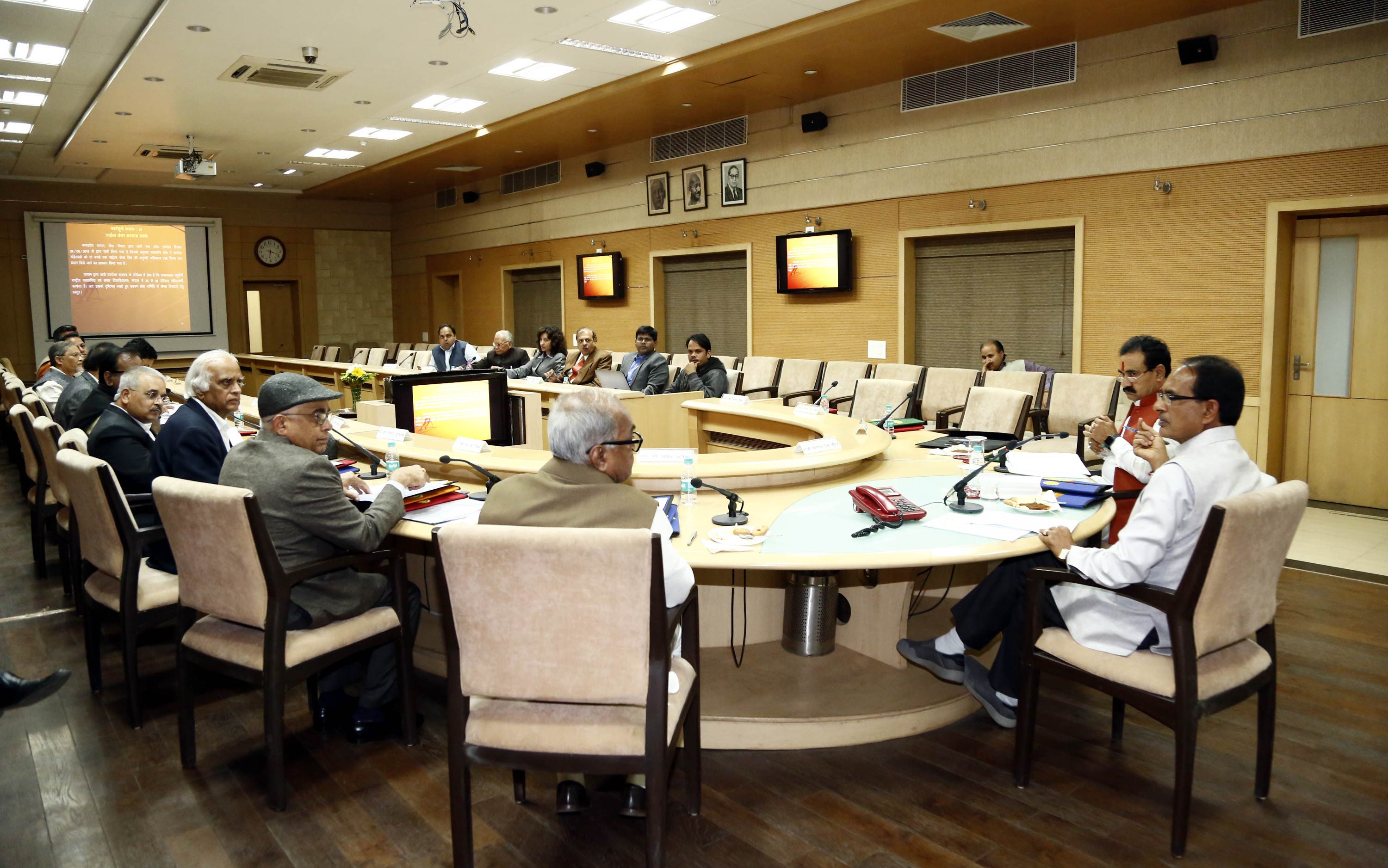 A media incubation centre will be established in Makhanlal Chaturvedi National University of Journalism to promote start-ups in the media sector. NITI Ayog has granted approval for this. The university will conduct detailed study on factors of socio- economic heterogeneity in society and their redressal. These decisions were taken at a meeting of the managment committee and Maharparishad of the university chaired by CM Shri Chouhan today. CM Shri Chouhan said that research and study will also be conducted on Adwait Vedanta at the University. The new posts should be filled under Higher Education and UGC norms. It was told at the meeting that the Language Study Centre an Cultural Study Centre have begun functioning in the University. A foreign media study centre will be set up at the university in which news published in Pakistan, China and Nepal media will be analysed. The University has conducted BCA examination online. As many as 210 new study centres have been recognized in the last one year by the university. The number of students has increased during this period by 12 percent. The University has published the first Sanskrit News Magazine Atulya Bharatam. A social media research centre has been set up in the university. Finance Minister Shri Jayant Malaiya, Public Relations and Water Resources Minister Dr. Narottam Mishra, MP Shri Alok Sanjar, Vice-Chancellor Dr. B.K Kuthiyala besides government and non-government members of the Mahaparishad were present during the meeting.


---
Private Universities should Encourage Vocational Courses
25 October 2017


Minister for Higher Education Shri Jaibhan Singh Pawayya said that private universities have multi-dimensional responsibility. Private universities must encourage vocational courses in this era of competition. They should also provide employment opportunities by adopting few villages or settlements. Shri Pawayya was addressing the 9th foundation day programme of Madhya Pradesh Private University Regulatory Commission today. Discussions on the subject 'Shiksha ki Gunvatta mein Manak Sansthaaon ki Bhoomika evam Dayitva' were held on this occasion. Shri Pawayya mentioned that the students of many institutions achieve excellence by participating in other creative activities besides academic competitions. A reflection of personality development also flashes on the faces of these students and they are full of self confidence. He further mentioned that keeping in view the population, more private universities are needed. Madhya Pradesh requires such prestigious institutions which undertake good works. Additional Chief Secretary Higher Education Shri B.R. Naidu said that expansion is needed in education sector besides quality. Efforts will be made to apply suggestions being received in the workshop. Vice Chancellor Jagran Lake City University Dr. Anoop Swaroop stated that 70 percent children of the state are pursuing studies in the private universities and colleges. Madhya Pradesh could become an educational hub in future. Chairman of the Commission Dr. Akhilesh Pandey informed about the activities of the commission. Member of the Commission Dr. Swaraj Puri was also present on the occasion. The programme begun with lighting a lamp before Maa Sarasvati and recital of Sarasvati Vandana and Vande Matram was conducted by Sushri Anjali Dubey and Shri Sandeep Dubey. Guests were welcomed with bouquet and shawl-shreephals. Mementoes were also presented to the guests at the end of the programme.


---
Dr. Sangeeta Shukla Becomes Vice Chancellor of Jiwaji University
25 October 2017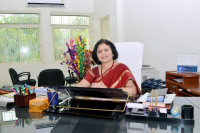 Chancellor and Governor Shri Om Prakash Kohli has appointed Dr. Sangeeta Shukla as the Vice Chancellor of Jiwaji University,
Gwalior again after the end of her present tenure as the Vice Chancellor of the Jiwaji University, Gwalior.
She has been appointed for a period of 4 years from the date of her joining




---
Certificate Distributed to Participants on the occasion of Closing Ceremony of SIN-2017 at MUJ
16 October 2017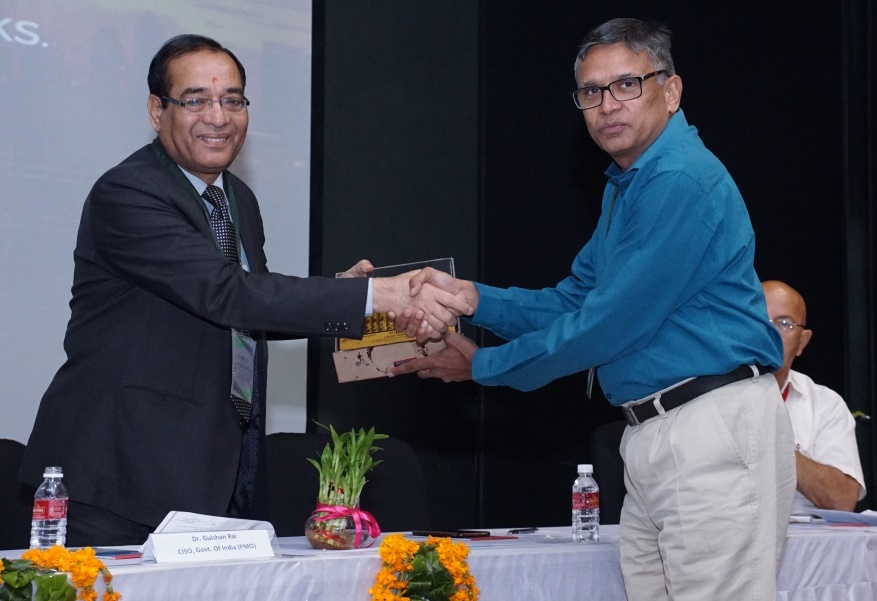 National Cyber ??Security Coordinator, PMO, India, Dr. Gulshan Rai was the Chief Gust of the Programme
MUJ, President, Prof. Sandeep Sancheti welcomed the Chief Guest, Dr. Gulshan Kumar and presented a memento to him
Around 100 participants came from USA, France, Australia, Sydney, Italy, Russia and Turkey
The three-day 10 th International conference on the Security of Information and Networks (SIN-2017) closing ceremony organized at Manipal University Jaipur. Chief Guest of the closing ceremony and National Cyber ??Security Coordinator, PMO, India, Dr. Gulshan Rai, President, Manipal University Jaipur, Prof. Sandeep Sancheti, Director School of Commuting and IT, Prof. Rajveer Singh Shekhawat, Director, IIT, Jammu, Prof. Manoj Singh Gaur, Chairman, Aksaray University, Turkey, Prof. Atilla Elci distributed certificates to the participants. Dr. V.S. Dhaka told that about 100 participants from USA, France, Australia, Sydney, Italy, Russia and Turkey participated in this three-days international conference. Prof. Rajveer Singh Shekhawat, Dr. Priyadarsi Nanda, Dr. Sushmita and many speakers express their views on the theme of the conference in the various technical sessions of the conference. MUJ, President, Prof. Sandeep Sancheti welcomed the Chief Guest, Dr. Gulshan Kumar and presented a memento to him. In the end of the programme vote of thanks given by Dr. Manoj Bohra


---
Prof. Manoj Srivastava made the fourth Limca Book of World Records at Manipal University Jaiput with 387 Kg "Sahai Tukada"
7 October 2017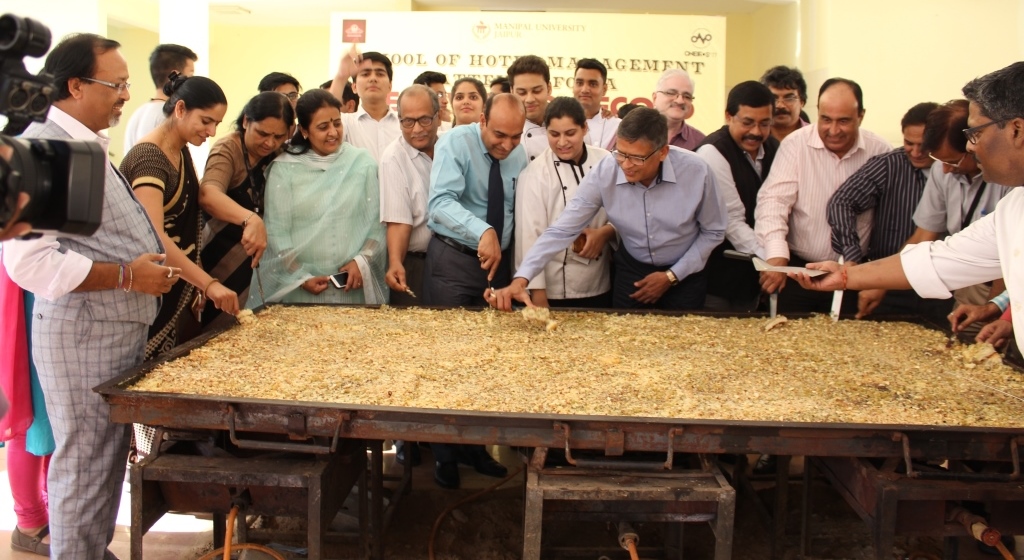 Prof. Manoj Srivastava again achieved a new mile stone made 4th Limka World record at Manipal University Jaipur. He made the world's biggest 8feet long and 4 feet wide and heaviest with 387 Kg "Sahai Tukada". He made it with the help of 7 faculty members and 120 students of School of Hotel Management. The President of MUJ, Prof. Sandeep Sancheti congratulated to Prof. Manoj Srivastava and his team members for the same. This is his 9 th world record of Prof. Manoj Srivastava. Prof. Srivastava told that this is a Mughali Pakistani-Awadhi Sweet Dish. Its weight is 387 kg. The cook & Roost technique used to make the product. It took 8 hours to prepare it. Before attempting for the world record research work has been done for one year by him and his team members. He told to press that the ingredients used in it are 150 kg of bread, 160 kg milk, 18 kg of mawa, 60 kg of sugar, 20 KG Desi ghee, 20 KG Dry fruit, 6 Kg. chironji, and 20 grams of saffron has been used to prepare this dish. Self-invented flame gun technology has been used to make it. To make this, a specially Fabricated Tray was used, 06 Industrial burner, Palta and flame gun has been used. The team members are Prof. Dr. Gaurav Bhattacharya, Amit Datta, Arvind Roy, Shweta Upmanyu, Dr. Sonal, Mukesh, Deepak Pokhariyal and 120 students have played important role for prepare it under guidance of Prof. Manoj Shrivastav. Prof. Manoj Shrivastav said that due to its cost and expensive nature, only the emperors and rich people could afford this dish in mughel era. The method of making it, is also very unique. This is a combination of hard and soft product. It has to be made very careful . First of all, the double roti is well-cooked. After this, the dish is prepared on a big iron tray. On this tray set two layers of double roti. On these layers spread milk, mawa, ghee, drifruits. After spread this layers it is wait for about two hours until the double roti does not absorb the all spread things. After absorb than cooked with the help of flame gun technology.After absorbing, start again same process with the help of flamed gun. After about half an hour, spread layer of milk, mawa, ghee, drifrute etc. This process is adopted 3 to 4 times. So that all the ingredients absorbing in the double roti and "Sahai Tukda" dish can prepare in royal pickup becomes the royal test. After making this royal piece of "Sahai Tukada" its inaugurated & cutting ceremony done by President, Prof. Sandeep Sancheti, Prof. President, Prof. N. N. Sharma, Registrar, Prof. Vandana Suhag. On this occasion, Dean, Faculty of Art and Law, Prof. Mridul Shrivastav, Dean, Faculty of Research and Innovation, Prof. B. K. Sharma, Dean, Faculty of Management, Prof. Nilanja n Chattopadhyay, Dean, Faculty of Science, Prof. G. C. Tikkiwal, Director, School of Hotel Management, Prof. Amit Jain, Prof. N. D. Mathur, various schools directors, Departments HoD, faculty member, employees and students were present.


---
Law is the oldest, glorious and best profession: Justice R.C. Lahoti
1 October 2017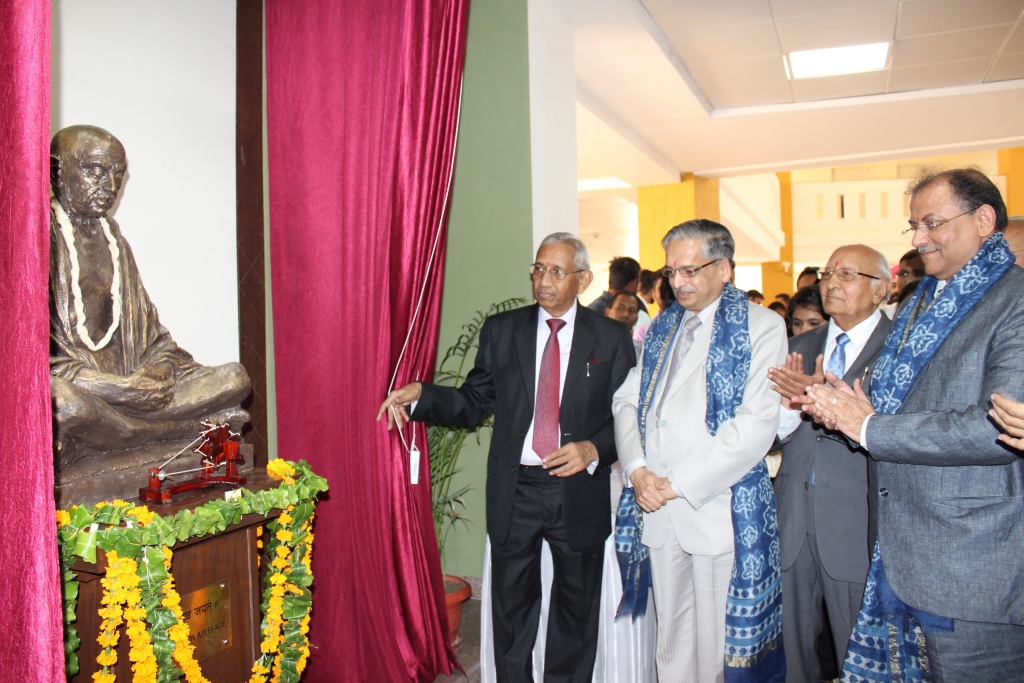 "Law is the oldest, glorious and best profession". These words were said by former Chief Justice of India Hon'ble Justice R. C. Lahoti on the occasion of inaugural function of the 3rd Manipal Ranka National Moot Court Competition organized jointly by Manipal University Jaipur and Ranka Public Charitable Trust at MUJ campus, on October 1, 2017. He advised students to read many books including Gita. He asked them to take inspiration from Mahatma Gandhi and Albert Einstein. He also explained the importance of black coat, and he said that every lawyer and judge should follow spirituality in their work. He discussed about all the qualities of an advocate. In the inaugural session, the Honorable Justice R. K. Agrawal of the Supreme Court of India asked the students to develop writing skills. He also highlighted the morality of law profession and the duties of advocates. He described the hard work as the basic mantra of success. During the programme Honorable Justice K. S. Zaveri senior most judge of the Rajasthan High Court highlighted the history, importance and utility of Moot Court. At the same time, he said that Moot Court works in skill development of law professionals and students. In this connection Chairperson of the MUJ, Prof. K. Ramnarayan asked the students to show their talent through Moot Court. At the same time, he called upon the students to consciously and subconsciously concentrate. President of the MUJ Prof. Sandeep Sancheti said about Manipal Education Group and Manipal University Jaipur's educational activities, facilities, infrastructure, faculty, schools, departments and courses. Chairman of Ranka Public Charitable Trust N. M. Ranka highlighted the life of Gandhi Ji and introduced all the distinguished guests. The Dean Faculty of Arts and Law Prof. Mridul Shrivastava welcomed all the guests and in the end of the programme Sambhav Ranka thanked everyone. In the beginning of the program, all guests were welcomed with a bouquet and finally all were presented with mementos. Prior to the inauguration program the guests unveiled the statue of Mahatma Gandhi outside the New Auditorium and planted plants in MUJ campus. The Dean Faculty of Arts and Law Prof. Mridul Shrivastav said that in this third moot court competition, 86 teams from entire India, including Rajasthan, Punjab, Haryana, Uttarakhand, Madhya Pradesh, Uttar Pradesh, Bengal, Bihar, and Odisha, Jammu and Kashmir are participating. The winners of competition will be rewarded in the closing ceremony to be held on October 3 and the certificates will be distributed to all the participants also. The program was started with lighting of the lamp by the guests and students of the university presented saraswati vandana on this occasion. Urmila Ranka, Justice J. K. Ranka, Additional Solicitor General, S. P Gupta, Rotorian Pradeep Kothari, O. P. Agrawal, Nilesh Mehta, Lata Todarwal, Pro-President of MUJ, Prof. N. N. Sharma, Dean, Research and Innovation, Prof. B. K. Sharma, Dean, Faculty Affairs and Pro- Vost, Prof. Awdhesh Kumar, Dr. Vijay Laxmi Sharma, Dr. Anil Mehta, Dr. N. D. Mathur, Senior Advocates, Dean, Directors, faculty members, employees, students and dignitaries were present in the programme. At the same time, guests from India, Japan, Australia and the US were also welcomed.


---
CAMPIONITE 78 BATCH ASSOCIATIONS
11 September 2017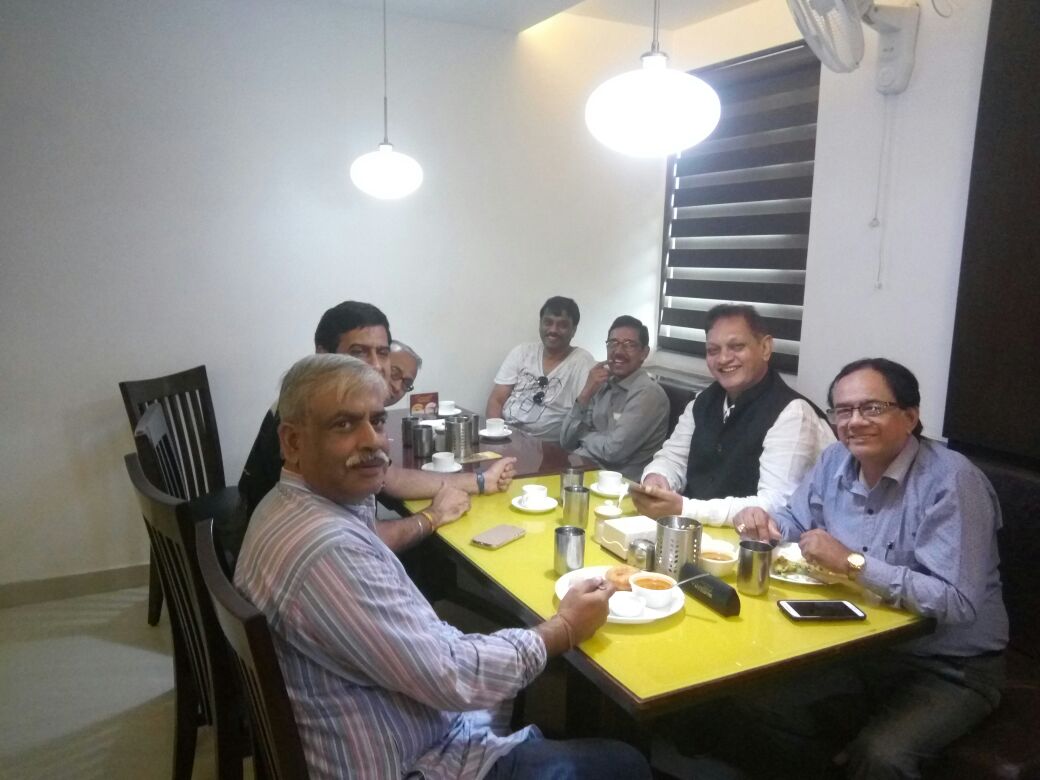 Campoionite 78 Batch Assocition officials met today for their monthly meeteing.In the meeteing the officials and members discussed about the programs been taken up by association for the society.
Spokesperson Shailendra Ojha informed that our association would be focusing on latest development in the IT sector. Member Sunil Lingayat residing in Washington US in his next visit to Bhopal in November would be making aware to the students about the same.
He added that our association under the expertise of Rajeev Athotra would also be working making the farmers aware about the latest technology in the farming to make farming more cost effective and productive.They also would be made aware of the business module for farmers and young enterpreneur in food processing sector alongwith cold chain management solution which is need of today.
Rajeev Athotra,Sanjay Gadkari,Parag Mehta,Bharat Bhatia,Saurabh Shrivastava,Deepak Sharma,Niraj Bhargava,Shailendra Ojha attended the meeting,Campionite 78 Batch Association would be focusing on bringing latest technology in every segment.


---
Lecture series inaugurated at Sanchi University
MMNN:2 Mar. 2016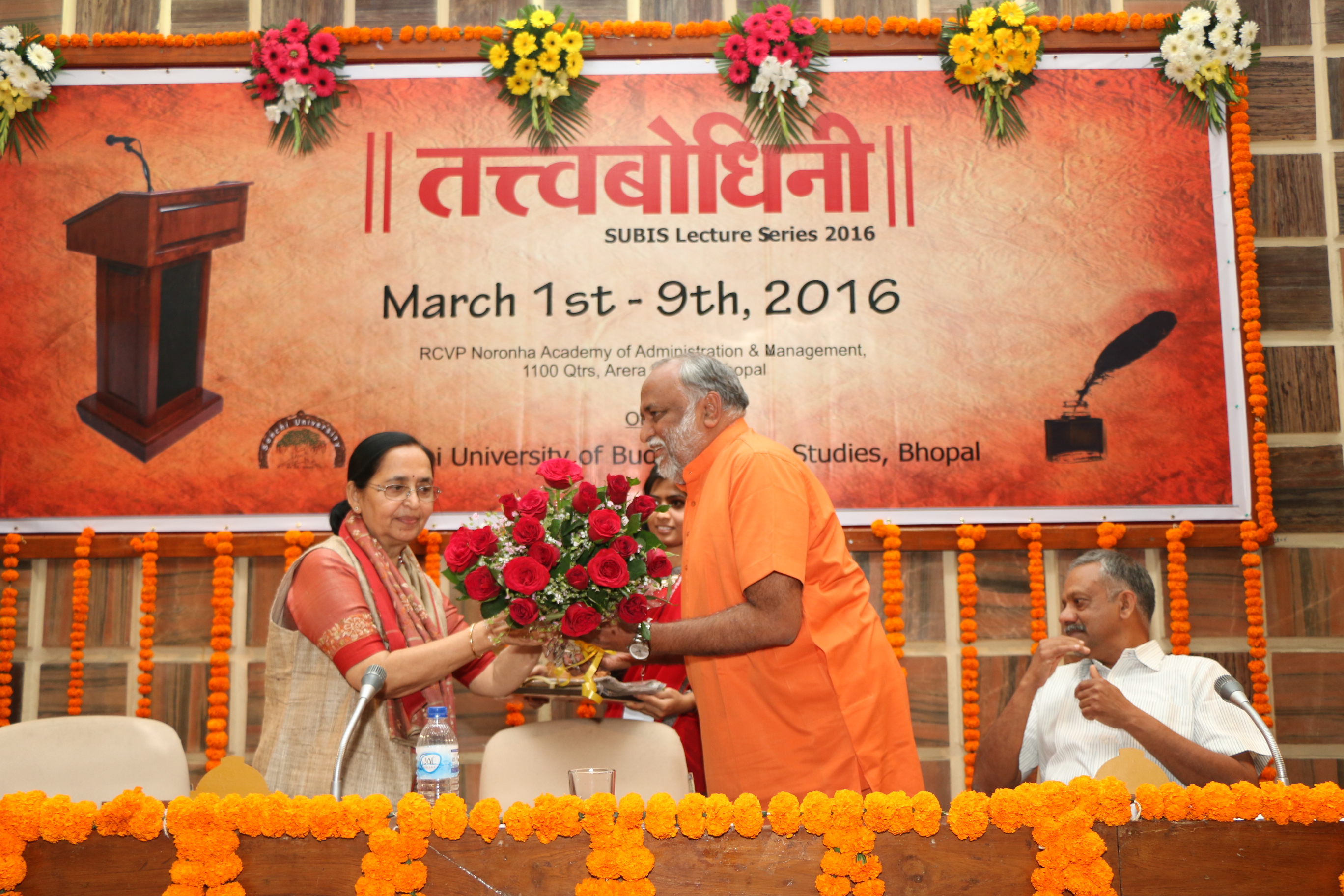 "Bhagavadagita can help a person to understand the self and realize the universe in true sense of words. The teachings of Bhagavadagita are eternal and can uplift our souls. It is very difficult to be extraordinary but matter of fact only ordinary people can do extraordinary things. Ordinary people need to acknowledge their hidden traits and potentials." said by Swami Sukhbodhanand in his inaugural speech on the topic "Form Ordinary to Extraordinary" during inaugural ceremony of Sanchi University of Buddhist-Indic Studies Lecture Series-Tattvabodhani. Swami Sukhbodhanand is the Head of Prassana Trust and a renowned author of more than 100 books related to religion and spirituality. This lecture series is being organised under the aegis of SUBIS at RCVP Noronha Academy of Administration & Management in the city from 1stto 9th March.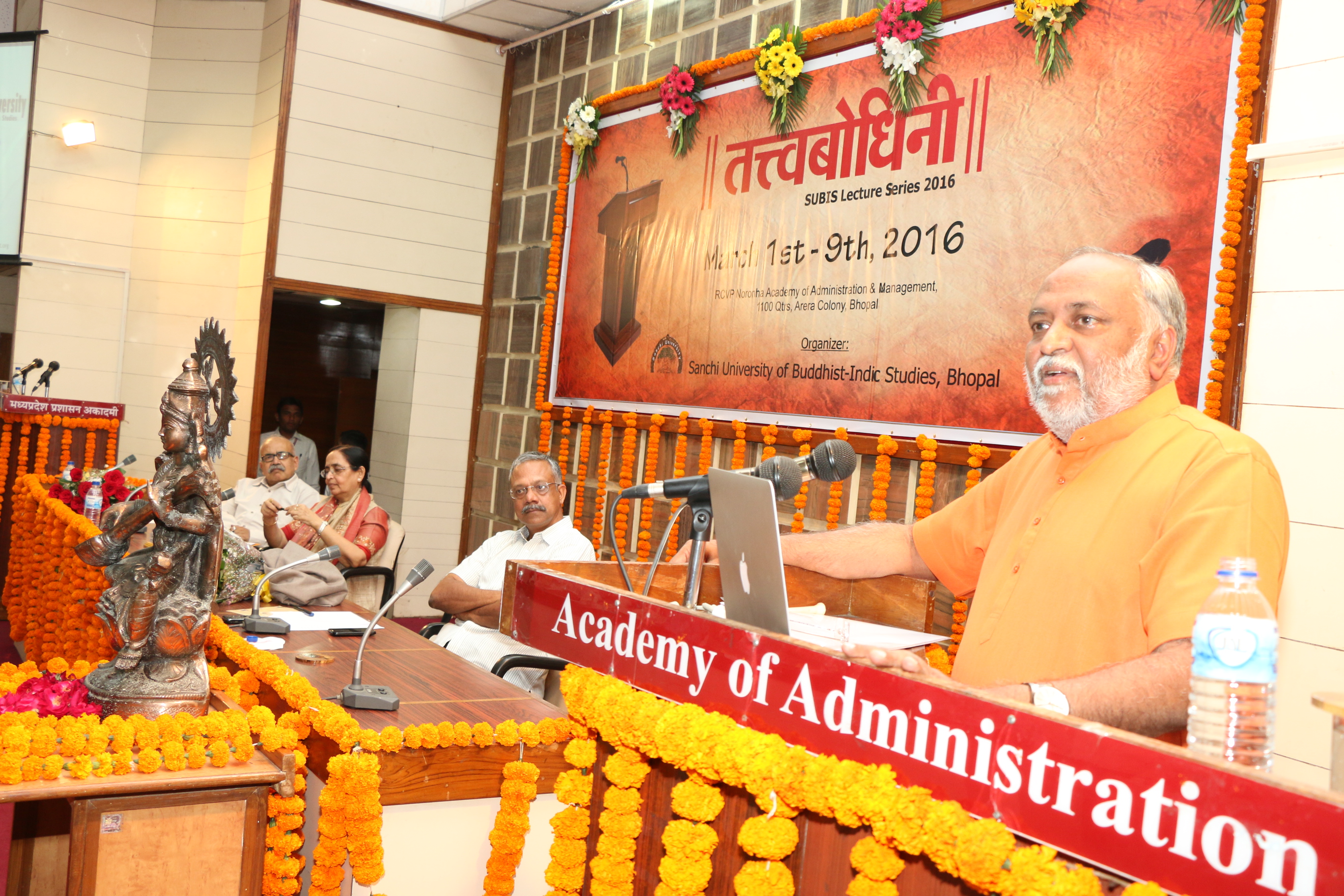 Welcome speech was delivered by Vice Chancellor of the University Prof. Shashiprabha Kumar. She highlighted the objective behind organising this lecture series and stated that lecturing is an age old tradition and art that involves the intelligent interpretation of thoughts, arrangement of words and skilful presentation before the gathering when it fused with knowledge; it becomes a treasure house for the seekers of knowledge. The first inaugural session was chaired by Sri Rakesh Aggrawal, Additional Chief Secretary of Government of MP. He emphasised need of spiritual awakening in the society. Registrar of the University, Sri Rajesh Gupta also graced the occasion. Scholars from various walks of life, retired officers and common people were present in large number to listen to the speakers.
On the second day of the lecture series, the noted Orthopaedic Surgeon, Dr. Shashibhushan Mishra will be delivering his lecture on the topic "Dhyan Ke Veghyanik Pahlu". The eminent Yoga Guru Shri Ramesh Kumar Dhanoriya will chair the session. On 3rd March the topic is the universal message of Upanishada which will be delivered by Vice Chancellor of SUBIS Prof. Dr. ShashiPrabha Kumar. Vipashyana & personality development is the topic on 4th March and the speaker will be Bhadant VimalKirti. Noted Former police commissioner .


---
Vinoba Bhave University (VBU) host 68th All India Commerce Conference 2015
MMNN:23 Oct. 2015


Vinoba Bhave University (VBU), Hazaribag to host the three day 68th All India Commerce Conference 2015 from 6 to 8th November 2015. The conference theme would be based on Prime Minister Modi's campaign of "Make in India-The Road Ahead". It would be an academic event of National importance, as it will bring together nearly 2000 delegates from all over the country and abroad. The event is India's biggest and the most comprehensive gathering of its kind. Hon'ble PM Sri Narendra Modi's presence is expected during the inauguration of the Conference. Hon'ble Governor of Jharkhand cum Chancellor of Universities,Jharkhand State, and Hon'ble State Minister of Finance Sri Jayant Sinha, Government of India has already confirmed their gracious presence to inaugurate the event.
The conference will be attended by renowned Commerce Academicians, Economists, Management Experts, Government Representatives, Industrialists, researchers working in Behavioral Finance, E-retailing, Social Media, Skill Development in Business Education and Undergraduate, post graduate and doctorial students from across the country and abroad. Representatives from different industries including ISDC (International Skill Development Corporation), London (UK) will attend the panel discussion on ''Skill for tomorrow-Re-define in the Commerce Education''.
The primary activities of the ICA include organizing of seminars, workshops, conferences and meetings; promoting research; helping with technical assistance and consultancy to clientele world and the publication of books, periodicals, journals, etc. The ICA, has successfully organized a total of 67 Annual Conferences throughout our country till date. Vinoba Bhave University, Hazaribag, Jharkhand a renowned and prestigious university of Jharkhand is organizing its 68th Conference. Dr Gurdeep Singh, Vice Chancellor, VBU and & Shri Yashwant Sinha,,former union minister of finance & external affairs,GOI is the Chief Patron of the conference.
Prof(Dr) M.P.Sinha,Pro Vice Chancellor,VBU,Sri Gopal Singh,CMD,CCL,Ranchi & Sri Harvinder Singh,Vice President,Jindal Steel & Power,Ranchi would also play a key role in organizing this mega event.
Prof M.K Singh Conference Secretary, VBU, Hazaribag said that the conference will be highly informative a

nd of academic importance of national level and international standard. With the wider topics including Behavioral Finance: Emerging Dimensions, E-retailing: Challenges & Opportunities in Global Scenario, Social Media: HR Interventions, Skill Development in Business Education, the forthcoming conference to be discussed during the conference, will pave the path for the economically strong nation. Participation from the academia and different industries would make the event an amalgamation of academic knowledge and practical experience.
The Indian Commerce Association (ICA) one of the oldest professional bodies founded in the year 1947, stands as the cohesive group of economists, management experts, technologists, business community, and so on, with multifaceted objectives to serve continually as a forum of exchange of experiences, ideas, collection along with dissemination of the information on trade, business, commerce and management; for promoting research activities and to permit coordination in the curriculum of Commerce and Management at the national level. Members of this excellent professional association include a team of academicians, administrators, business industrialists, management experts, students, economists, educational institutions and such other interested professionals.
Dr M.K. Singh is the conference secretary along with the team and patrons and working day and night to make the event grand.


---
Weltweit College Hazaribag ropes in Star Cricketer Shubh Lakshmi Sharma as the brand ambassador
Ranchi:MMNN: 26 Aug. 2015
Weltweit College Hazaribag announced the signing of Shubh Lakshmi Sharma, Star Cricketer, Indian Women Cricket Team as the brand ambassador here today. This is an important milestone in the institute's journey. Weltweit College is an instructional activity of Weltweit Foundation, New Delhi centered for giving training in the field of business administration, computer applications and journalism. The institute is focused to train students, essentially by giving them industrial exposure through real ventures in the field, along with conventional classroom teaching in the modern infrastructure.
Affiliated to the renowned Vinoba Bhave University Hazaribag, Weltweit unites experienced educators and a decent companion gathering to make a dynamic on - grounds involvement in the very heart of the Jharkhand. The organization is prepared to roll out noteworthy improvement and put resources into a student, where desire leads them and make the next move to follow their dreams, to get the best out of their lifetime opportunities.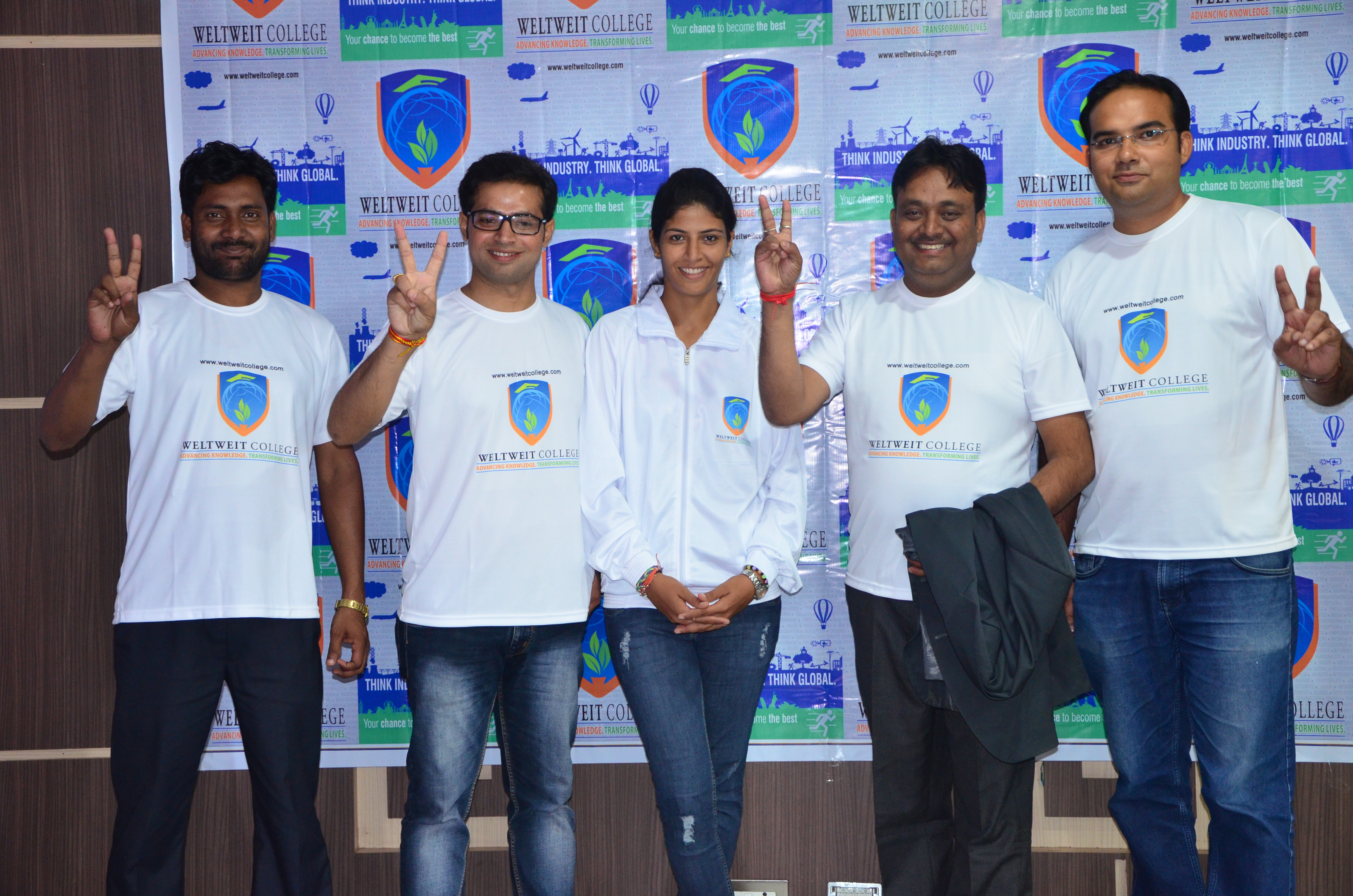 CA Manoj K Pahwa, Chairman, Welt Weit College,said that "Virtues like passion, hard-work, sincerity and commitment are what we would like to inculcate in all our students. Our main objective to introduce the star cricketer as the brand ambassador is to make the young generation aware of the institute's academic features and teaching methodology. We have only one target to prepare each student with the assistance of the best brains as the faculty members".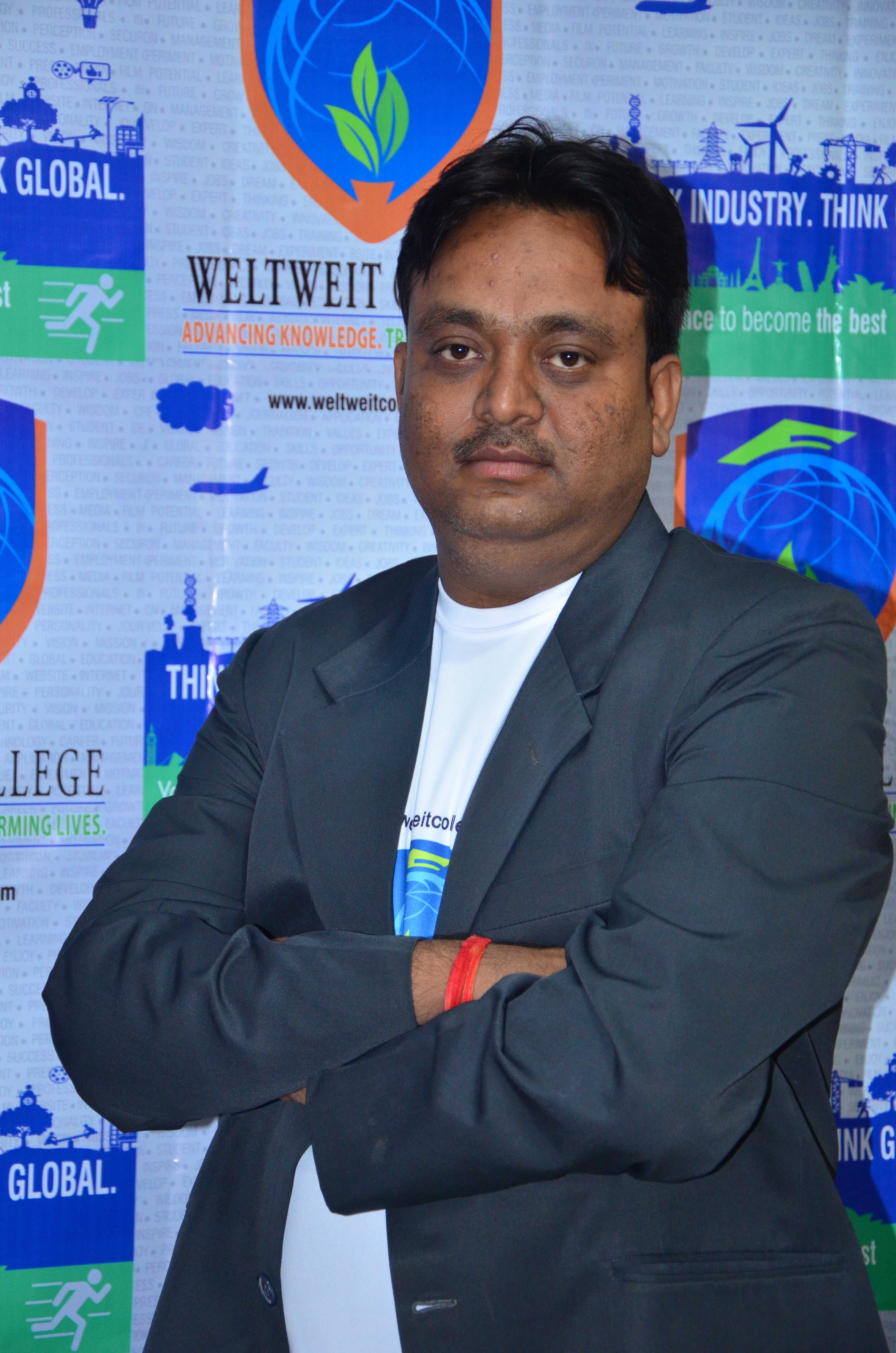 Abhishek Sinha, Managing Director, Welt Weit College said, In Shubh Lakshmi Sharma, we see a "go-getter". She with her passion and commitment has crafted her own space in the highly competitive sports arena. He added" Introduction of Ms Shubh Lakshmi Sharma as the brand ambassador is part of our expansion strategy to make young generation aware of our unique training system through a popular face of Jharkhand. The reputation of an institution is, in large part, measured by the excellence of its students. The Weltweit College will help the students to push boundaries of their development, and expand their potential to deliver their best".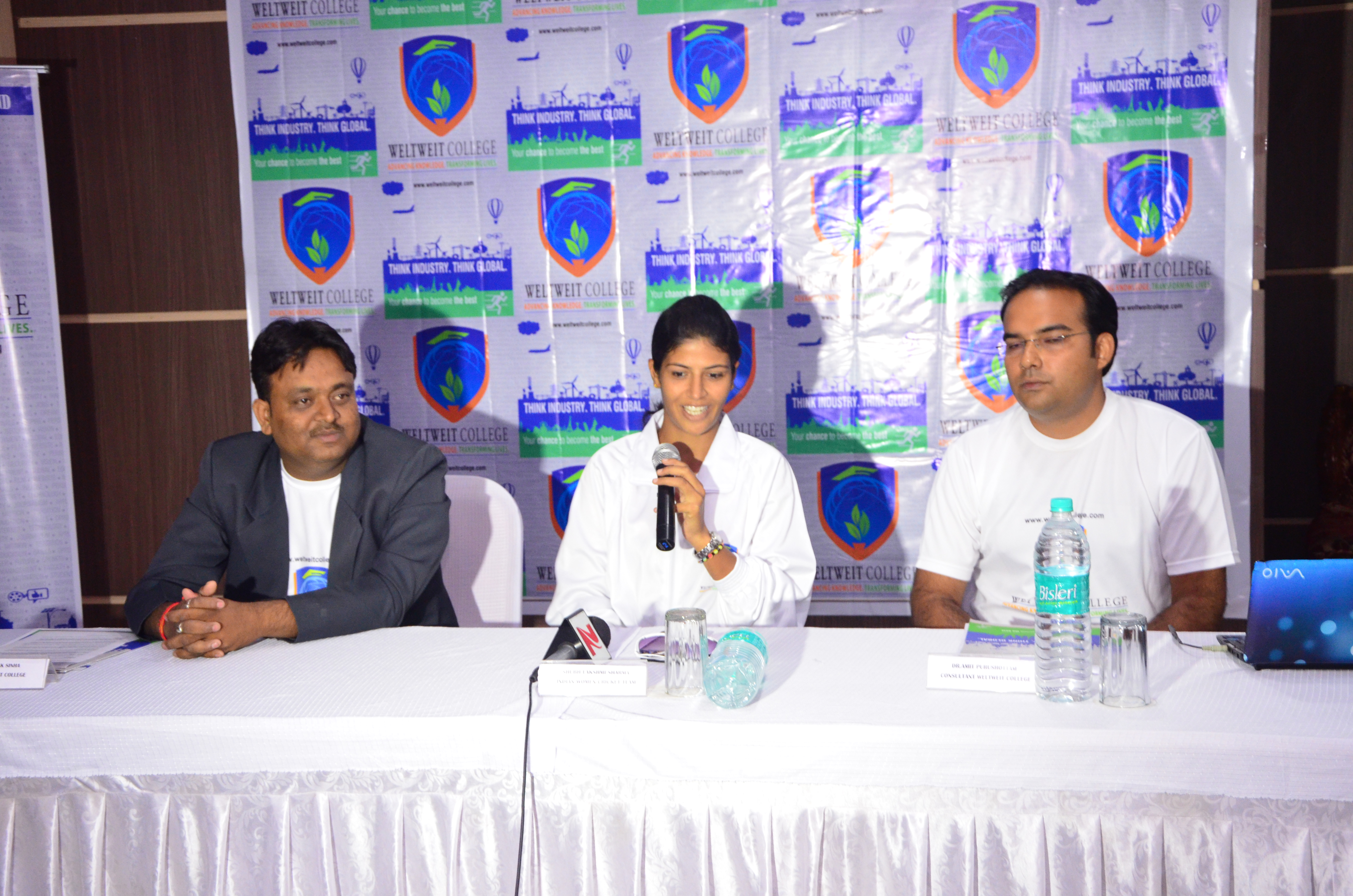 Ms Shubh Lakshmi Sharma, Star Cricketer, said that "As a person I have always worked towards excellence. In Weltweit College Hazaribag, I see the same commitment towards their students, faculty and external stakeholders. I'm happy to get associated with the iconic institute like Weltweit College and would definitely spread the positive steps taken by the institute to train the students in the field of business administration".
Weltweit College Hazaribag has always lived up to its motto of – Advancing Knowledge, Transforming Lives.


---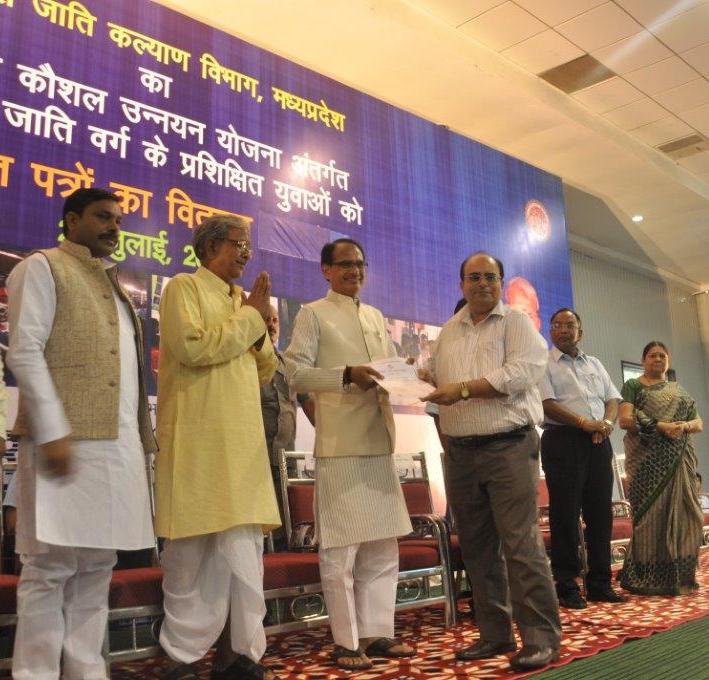 Madhya Pradesh Chief Minister Awarded CRISP for excellent work done in Skill Development
MMNN: 3 Aug. 2015
Honorable Chief Minister of Madhya Pradesh Shri Shivraj Singh Chouhan has awarded appreciation certificate to CRISP for excellent work done in Skill Development activities. The award was received by Chief Executive Officer, Mr. Mukesh Sharma.
A function was organized to distribute appointment letters to SC students trained by CRISP. The training was sponsored by Department of SC Welfare, Government of Madhya Pradesh. CRISP has trained 300 youth from Scheduled Caste category and around 50% of them got employment.
Mukesh Sharma, CEO, CRISP India says " CRISP is inching closer to its vision of being the most admired learning and skill development training centre , enabling sustainable transformation.
Centre for Research and Industrial Staff Performance, (CRISP), Bhopal has been established in the year 1997 as a Society under the Indo –German Technical Cooperation agreement.
Ministry of MSME, Government of India was the line ministry for this project whereas the Department of Technical Education & Skill Development, Government of Madhya Pradesh and German Technical Cooperation agency (GTZ) were the implementation partners.
It is head quartered in Bhopal with national & international operations dedicated to human resource development & organizational development. These activities are targeted at Government, Industries, Academic Institutions, Developmental Organizations as well as the Civil Society.
---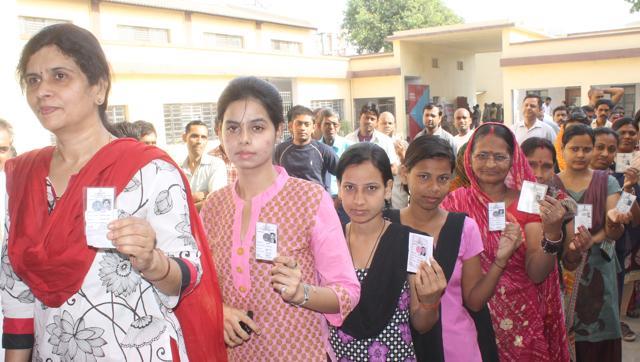 Over 3500 centres opened to give IT-enabled services in Chhattisgarh
Raipur:MMNN:8 July 2015
Over 3,500 general service centres have been opened in rural areas of Chhattisgarh to render online services like Aadhaar card registration and printing, voter-id printing, PAN card, and other bank services, a senior IT and Electronics Department official said today.
"Under the Rural Choice Project, nearly 3,862 general service centres are being operated as per PPP (Public Private Participation) model across the state," Principal Secretary Information Technology and Electronics Aman Kumar Singh said.
He was briefing on state's efforts to fulfill digital India vision of Prime Minister Narendra Modi.
"People of rural areas are now easily availing various services online, for which they earlier had to travel all the way to cities and visit various offices," he said.
Villagers now have easy access to facilities for electricity bill payment, mobile phone and DTH recharge services, insurance and bank-related services, through these online centres situated nearby their residence that saves time as well as money, he added.
Besides, certificates and documents related to revenue and education could also be accessed at these centres.
"This is a unique joint initiative of Central and the state government under National Electronic Government Scheme, to benefit people of rural areas with information and communication technology," he said.
Effective implementation of the project has resulted in increased computer literacy in rural areas, and transparency in government-related works has also improved, he added.
---
An open wi-fi signal coming near you soon!
3 April 2015
The Chhattisgarh Government is in the process of implementing a 'Wi-Fi City' project across key sectors in the public, educational and Government domain in Raipur. The Government has launched the project with the objective of enabling Wi-Fi infrastructure in educational institutions, gardens and business centres having a high public foot print, officials stated. The project includes setting up of Wi-Fi infrastructure in Vidhan Sabha Campus, Raipur, Thakur Pyarelal Institute of Panchayat & Rural Development (TPIPRD) Campus, Nimora, Raipur , Raipur Municipal Corporation Campus, Raipur , Dr Bhimrao Ambedkar Hospital Campus, Raipur.
This is apart from providing Wi-Fi infrastructure to be established in 20 locations including areas such as educational, business, garden etc. having high public footprint across the Greater Raipur Region. Notably, in the education sector, Higher Education Minister Prem Prakash Pandey in January this year had stated that 'Smart Classrooms' will be built in all Government colleges of the State.
Pandey said the college authorities should ensure that their institution premises have wi-fi facility. Notably, more than 3,000 offices of the Chhattisgarh Government are now connected to the digital highway under the State Government's State Wide Area Network (SWAN) project launched to bring the benefits of e-connectivity to the general public. As a result, video conferencing is now possible from 27 district collectorates including the Mantralaya in the State.
The Government had already developed the video conferencing system between many district collectorates and janpad panchayat offices. It may be mentioned here that Chief Minister Raman Singh had inaugurated the e-governance project made operational through 'Chhattisgarh Infotech and Biotech Promotion Society (CHIPS) on April 6, 2010. Moreover, Chhattisgarh is the first State in the country to have connected its offices through a digital highway.
The Central Government had selected CHiPS as the nodel agency to implement the e-Governance projects. The digital highway developed under the SWAN project has connected all the 18 old district headquarters with the State Data Centre managed by CHIPS at R.D.
A building in Raipur. The SWAN project provides both 'horizontal' and 'vertical' connectivity. All the State's offices are being connected through 'horizontal connectivity' under which all three technologies—WiMAX, VSAT and Leased Lines are being utilised.
Under 'vertical connectivity', 133 of the 146 development blocks have been connected through WiMAX and 15 have been connected through VSAT. The e-connectivity system had helped connect the remotest region of the State. In the villages where it was not possible to provide connectivity by the telecom operators, the Government had facilitated connectivity through SWAN project.
This has helped easier conduct of administrative work and also provision of various services to general public. The e-connectivity system has helped safer exchange of information between various government offices resulting in lesser travel by officials on Government work. The system has also brought down costs incurred on correspondence, courier and postal services and telephonic conversation.
The State Government had been managing its various e-governance projects through e-connectivity including its web portal. The State's universities, medical colleges and Government engineering colleges had also been connected through the 'National Knowledge Network' which has helped students speedily download information at the global level. Work is already underway to secure and document all government data at the State Data Centre in Raipur.
It may be recalled that the Chhattisgarh Government has now included Electronics Manufacturing also under its IT/ITeS Policy. This has been done as per the vision of the Prime Minister on 'Make in India' initiative for which the State Government has envisioned 'Make in Chhattisgarh' campaign. Currently, the State has a suitable eco system for Electronics/IT/ITeS Industry with key parameters of Physical and Social infrastructure.

---
India's first National Skill Development University to open in Chhattisgarh
25 March 2015
Minister of State (Independent Charge) for Skill Development and Entrepreneurship Rajiv Pratap Rudy has announced that
India's first National Skill Development University will open in Raipur, Chhattisgarh.
"The government is in the process of formulating a skill development policy under the initiative of Prime Minister Narendra Modi,
which would be finalized in the next three months," said Rudy.
Rudy asserted that the government's focus is more on skill development so as to generate more employable manpower.

---
IIM Raipur: increase intake to flagship program PGP 2015 - 17; adds 10% to tuition fee
13 March 2015
CAT 2014 test takers who have scored a high balanced sectional as well overall percentile and shortlisted for CAP round 2015 will have better opportunity to get admission in IIM Raipur as with effect from academic session 2015-16 the newer IIM has increased intake in its flagship PGP programme by 20 seats with alongwith an increase of 10% in its programme fee.
20 more seats at IIM Raipur: Admission through CAP
Increase in intake at IIM Raipur from 120 to 140 seats will foster the way of admission in 2015 for IIM aspirants who couldn't get admission in the IIMs despite scoring a high percentile due to low intake. While the older IIMs have sufficient intake every year, the intake at newer 6 IIMs is comparatively low and the fresh admissions till 2014 remained in a range of 60 to 120 students in the flagship PGP programme at each of these IIMs.
By adding 20 more seats to its PGP programme, the Indian Institute of Management Raipur aims to cater to the dynamic market. Just before the announcement to increase the intake by IIM Raipur, IIM Udaipur, the IIM coordinating Common Admission Process (CAP) 2015 for the six new IIMs has already announced to increase the intake to its flagship PGP programme 2015-17 by 30 seats. Now the total addition of seats is 50 in both these IIMs.
Fee increased by 10%
The increase in intake is not without riders. Now the IIM Raipur students will have to shell out more amount to pay the tuition fee. The B school has decided to hike the tuition fees for its two-year flagship PGP in Management by 10% from the current tuition fee of Rs. 6,60,000. The revised tuition fee for PGP will now be Rs. 7,26,000 and the total PGP fee for the academic session 2015-17 will be Rs. 10,51,000. The hike in tuition fee is attributed to the escalation in the Cost Index in the previous three years.
6th batch to have 140 seats: Admission policy with balanced weightage To its existing strength of 120 students, IIM Raipur will now have 140 students for the 6th batch of PGP 2015-17. The admission policy of PGP awards 32% weightage to CAT score, 30% to Personal Interview and Written Ability Test. The remaining 38% is based on personal profile that includes the academic background (20%), work experience (6%), preference to female candidates (6%) and non-engineers (6%) to encourage diversity.
Other IIMs may follow suit
It may not only be IIM Raipur or Udaipur but the other new IIMs like IIM Kashipur, Rohtak, Trichy, Ranchi are in the row to increase the intake in their admission session 2015-16 given the fact that the flagship PGDM programme at these IIMs also need a higher intake. If all these IIMs add 20 to 30 seats in their flagship PGP programmes, the CAT 2014 takers with fairly high scores will get benefit of 150-180 seats and accordingly more candidates will be offered final admission in these IIMs.
WAT & PI going on
The process of final round of admission for PGP 2015-17 batch is going on and would be over in next few days. Components of Final admission round at newer IIMs constitute Written Ability Test(WAT) and Personal Interaction(PI) on the basis of which final admission offer will be made to the candidates. Group Discussion (GD) exercise has been removed from final admission round of new IIMs.
IIM Raipur: Final admission offer
IIM Raipur and other newer IIMs have already announced their respective shortlists for next phase of admission round. IIM Udaipur is coordinating the CAP 2015 round comprising WAT and PI for admission to 6 new IIMs, namely IIM Kashipur, Raipur, Ranchi, Rohtak, Trichy and Udaipur. The final admission offers will be made after completion of CAP round 2015. IIM Raipur was established by the Government of India, Ministry of Human Resource Development, in 2010. Presently, IIM Raipur operates from the Government Engineering College Campus, Sejbahar, Raipur. The pedagogy of IIM Raipur inculcates high standards of learning by focusing on a practice-oriented learning approach and a contemporary industry-focused curriculum, driven by strong corporate interface.
IIM Raipur currently offers 4 full-time programmes namely Post-Graduate Programme in Management (PGP); Fellow Programme in Management (FPM); Executive Fellow Programme in Management (EFPM) and Post-Graduate Programme in Management for Working Executives (PGPWE). IIM Raipur also offers Management Development Programmes (MDPs) for senior and middle level executives.

---
Morning Wrap: Amartya Sen Quits Nalanda; Meet India's Wealthiest Monkey
20 Feb. 2015
The Morning Wrap is HuffPost India's selection of interesting news and opinion from the day's newspapers.
Nobel laureate Amartya Sen on Thursday withdrew his candidature for a second term as Chancellor of Nalanda University in Bihar, saying that the Narendra Modi government didn't appear interested in keeping him on. Sen was one of the champions of the university, as he references, in this public resignation letter.
In a case of corporate espionage, the Crime Branch of the Delhi Police has arrested five men for alleged theft and sale of official secrets of the Oil Ministry to private corporate entities in the petrochemical sector. A Reliance Industries Ltd. (RIL) official and another person are among those detained.
The coalition government that is likely to emerge in Jammu Kashmir between the People's Democratic Party (PDP) and the BJP appears to have miffed Pakistan as it has denied visa to a PDP spokesperson to attend a Track-II conference in Islamabad next week. This comes even as Prime Minister Narendra Modi has decided to send Foreign Secretary S. Jaishankar to Pakistan next month.
On the eve of the confidence vote in Bihar, Chief Minister Jitan Ram Manjhi on Thursday appeared to make a desperate bid—virtually bordering on horse-trading—for support by publicly claiming that "he had several ministerial births to offer…"
Jindal Power may have lost its coal blocks on the Supreme Court's orders but on Thursday the Naveen Jindal-promoted company won two major blocks in Chhattisgarh in an auction at Rs 108 a tonne, the lowest bid for any block so far.
Climate crusader R K Pachauri, who received the Nobel in 2007 on behalf of an international panel on climate change, is being investigated in a sexual harassment case. The complainant is a 29-year old woman who works in his office at The Energy and Resources Institute, the research thinktank he heads as director general.
Pachauri has been granted "interim protection" from arrest till 23 February, when he can approach a local court for bail.
The Narendra Modi government that came to power on a huge social-media updraft is in the process of commissioning a project to analyse public sentiment about it on various online platforms. The project will cover the state-owned MyGov.in, Facebook and Twitter, and the top 10 news websites in the country.

---
Guneet Kaur, Isha Khandelwal and Parijata Bhardwaj: Bringing law to the land
18 Feb. 2015
Working in the heart of Maoist territory in Chhattisgarh is not for the faint-hearted. Routine tasks, like getting information about undertrials, can take months. The administration is openly hostile. Sample this: "Aap phir se aa gaye? Inka bail nahi ho sakta (You are back? They cannot get bail)." That is the standard refrain in courts when bail applications are filed.
Then there is the geographical challenge of moving around in South Chhattisgarh, across the Bastar and Dantewada districts, where making it to a five-minute court hearing can mean a back-breaking six-hour bus ride.
But Guneet Kaur, 24, Isha Khandelwal, 25, and Parijata Bhardwaj, 26, are not faint-hearted. Far from it. They, along with colleague Shalini Ghera, 44, in 2013 set up the Jagdalpur Legal Aid Group, which provides legal representation to people in Bastar and Dantewada. Senior advocate Rajeev Dhawan and the Human Rights Law Network headed by Colin Gonsalves provided the initial funding. (The total running expenses—including rent, salaries, etc—is Rs 8 lakh a year.)
It is an unusual step but the motivation for this all-woman group was undeniable: Chhattisgarh has the highest incarceration rate in the country, more than even Kashmir or Manipur, and people are held for long periods without trial. According to Sudha Bharadwaj of the People's Union for Civil Liberties (PUCL) in Chhattisgarh, "while across the country inmates are 16 times more likely to get bail than get acquitted, in South Chhattisgarh their chances of getting bail are 0.8 times their chance of getting acquitted."
"Most of the time, they are put in jail for grave offences, not given bail and their trials take over five years to complete," says Khandelwal, who graduated from the Faculty of Law at the University of Delhi. She narrates an instance in which an undertrial for eight years had not even seen his state-appointed lawyer. His main plea was to move from Bastar to Dantewada so that he could meet his lawyer.
This, among many others, determined the path taken by Khandelwal, along with colleagues Bhardwaj, who has studied law at Symbiosis Law School, Pune, and then earned a Master's in Social Work in Dalit and Tribal Studies from the Tata Institute of Social Sciences, Mumbai, and Kaur, a graduate from the Hidayatullah National Law University, Raipur.
A turning point was the Soni Sori case, one that prompted civil society members in Chhattisgarh to start considering legal aid services. The police alleged that Sori, an adivasi teacher working with NGOs in the Dantewada district, and her nephew Lingaram Kopodi were ferrying extortion money between the Essar Group and Maoists. She was arrested in Delhi and, despite her pleas, was brought back to Chhattisgarh and tortured in jail. Charges against her were never framed and she is now out on bail. Human rights lawyers felt the acute need for a formalised legal aid set up. "This [need] was born out of a realisation that the justice system in Bastar is dominated by a 'security-minded' approach," says PUCL's Bharadwaj.
"The judiciary is unable to check the excesses of the police. As a result, the police are not accountable," says Kaur. She cites this as her motivation for moving to Jagdalpur. Kaur, who comes from Punjab, says other states at least seem to have a strong civil society network that allows courts to keep the police in check.
Because, in just a short time, the group has already made a difference: Garnering more resources should be a lesser challenge in the years to come.

---
Refined Impressionism - Quality Not Quantity Matters To The Artist
11 Feb. 2015
In India, roller technique of painting is not in vogue and rarely is it used as a way of painting at the recognizable level in art market. But some artists still do it and some among them coming are out with a new formula. Purnendu Mandal is one such artist who does painting with roller technique in impressionism form and he gets pat from art fraternity for his style of work as his evolved style of work in impressionism is risky and always demanding Purnendu Mandal is not a very senior artist but his paintings catch the eyes of senior artists from India and other countries. Born and brought up in Malda District of West Bengal, Purnendu comes out with a very fine sense of art coupled with his hard work which impresses every one.
Studying fine art at Government College of Art & Craft, Kolkata, Purnendu Mandal wandered here and there for gathering the various kind of information which can't be acquired at a college or school. When he found satisfaction from his extensive roaming he started doing painting in a serious manner. Later, in course of time he evolved his own style and method of work which he still follows while doing different kind of paintings on various subjects.
Born on 10th January 1980 in Malda District, West Bengal, India, Purnendu Mandal had his art education in Government College of Art & Craft, Kolkata. He developed his visual expressions over the years owing to useful associations and interactions with several contemporary artists. This led to his establishment as a fine artist very soon in the present contemporary art world. Purnendu Mandal works in oil and acrylic colors on canvas in 'Impressionistic' styles. He has displayed his work so far in 15 solo (including Jehangir Art Gallery, Nehru Centre Art Gallery, Kamalnayan Bajaj Art Gallery at Mumbai, Lalitkala Akademi, AIFACS Gallery, Triveni Art Gallery at New Delhi, Academy of Fine Arts, Chemould Art Gallery, Taj Bengal at Kolkata and Chitra Kala Parishath at Bangalore etc.) and 36 group art exhibitions in many art galleries all over India. He has also participated in 7 International group art exhibitions abroad in Jakarta- Indonesia, London - UK, Chicago, New York - USA, Kathmandu - Nepal and Dhaka - Bangladesh etc.. He presented his work in 7 National level art exhibitions in India as well. His work is in proud collection of several art collectors and patrons / connoisseurs in India and abroad such as Norway, Washington - USA, UK, Belgium, Singapore etc.
His creations received due recognition at both national and international levels. He has been honoured with many prestigious awards. Now he is working as a freelance artist and lives in Raigarh, Chhattisgarh.

---
NASSCOM exec council meeting: CM to pitch to make Chhattisgarh as IT destination
9 Feb. 2015
RAIPUR: In a bid to make Chhattisgarh an IT destination, Chief Minister Dr Raman Singh is all set to make a pitch to the who's who of the Indian Information industry at the forthcoming executive meeting of the National Association of Software and Services Companies (NASSCOM) on Feb 10.
Giving details about the CM's presentation, which incidentally comes close on the heels of his meeting at the India Electronics and Semiconductor Association (IESA) summit in Bangalore earlier this week, CEO Chhattisgarh ChiPS, Saurabh Kumar said Dr Singh would showcase what the state can offer to IT industries in smart city, Naya Raipur. "Four sectors- data centre, BPOs, IT infrastructure development and IT software development are the focus areas," he said.
According to officials, companies can experience congestion free traffic in Chhattisgarh, get land and houses at cheap rates along with dedicated power and water supply. "We have 30,000 engineers graduating every year and a lot of them have an entrepreneurial steak which fits in with Nasscom's vision," he added.
Talking to TOI, Principal Secretary Information technology, Aman Singh said the government is also setting up logistic hub for IT and Electronics companies with investment of Rs 500 crore which should be operational in one and half years from now. He said, the government has got in-principal approval for electronics manufacturing cluster and will involve private companies once it is finally approved by the central government.
"We have also dedicated 80 square kilometer region for IT companies and 70 acres area has been earmarked for National Investment and Manufacturing Zone," said Aman Singh.
He said that state is offering 5 per cent financial reservation in government procurement to companies that will make their products in state.The state has surplus power and will further add 15000 megawatt power generation capacity in the next 5 years, said officials.
"We had opportunity to visit NASSCOM incubation centre and from next month we will start working with them to set up incubation centre in Chattisgarh," Singh said.

---
Chhattisgarh Public Service Commission recruitment: 22 posts
6 Feb. 2015
Chhattisgarh Public Service Commission (CPSC), Raipur invited online applications for 22 Posts of reader and lecturer in various departments. The eligible candidates can apply online for the posts in the prescribed format on or before February 26, 2015.
CPSC conducts examinations for the appointments in the state to advise the state government on the following:
On all matters related with the state civil service. On matters related with the eligibility, transfer and promotion of the civil servants. On matters related with monetary benefits and compensation to the civil servant by the state government.
Details of post
Name and number of posts:
Reader- 03 posts
Lecturer- 19 posts
Pay Scale:
Reader- Rs 15600 - Rs 39100 plus grade pay Rs 8000
Lecturer- Rs 15600 - Rs 39100 plus grade pay Rs 6000
Age Limit:
Reader- 30-40 years
Lecturer- 22-30 years
Selection Procedure:
The selection of the candidates will be done on the basis of the interview/exam conducted by the organization.
How to Apply:
Eligible candidates can apply online for the post through the prescribed format on or before February 26, 2015.
Important Date:
Last date of online application: February 26, 2015

---