---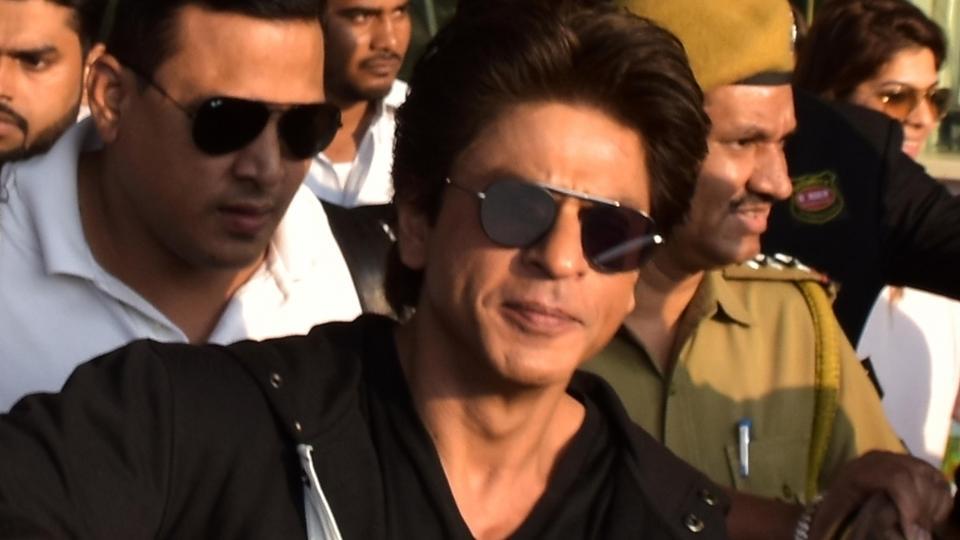 We've sold our souls for selfies: Shah Rukh Khan
Mumbai:MMNN:20 July 2017
Talking about the media frenzy around his family, SRK says, "(Being photographed is) the part of stardom that we all have accepted...I think everybody in this day and age is fair game. We've sold our souls for selfies. Bollywood star Shah Rukh Khan has said his family has considers paparazzi culture a part of their lives and added that his family has sold their souls for photographs. "(Being photographed is) the part of stardom that we all have accepted...I think everybody in this day and age is fair game. We've sold our souls for selfies," Shah Rukh told CNN-News18. Shah Rukh, who is married to Gauri Khan, has three children -- Aryan, Suhana and AbRam. In a video gone viral last month, Suhana, 17, looked helpless and uncomfortable as she tried to hide her face and turns around to escape shutterbugs while she waited for the doors of an elevator to open at a theatre's basement. "I think the kids started feeling awkward with all the paraphernalia. Every time I go out in a public place, I don't take them with me. My wife doesn't come, my children don't come. I go to functions alone or post they have gone," Shah Rukh said. To avoid such occasions, Shah Rukh said he made few adjustments for his family. "Some adjustments have to be made - one of them was that I sent them abroad to study. Not because of the scrutiny, but because they were feeling a little awkward with all the attention they have," Shah Rukh said. "I'm happy they've gone. Where they're studying, to a large extent people don't know me. (But) I'm Okay with them being photographed. I understand photographs (need) to be taken, I've explained it to my kids also that listen, if photographers come, stand, do the picture and say, 'Please can I go now?' And they'll listen to you. I've known them for 25 years," he added Shah Rukh said his children feel that being "photographed doesn't make you important." "More often than not they'll tell me how to behave with the paparazzi. They'll say, 'Papa, now don't lose your temper. There will be too many people.' I think they're quite mature about it," he said.


---
Kids' reality shows: Former child artistes Sunidhi Chauhan, Shekhar Ravjiani weigh in on the debate
Mumbai:MMNN:17 July 2017
Filmmaker Shoojit Sircar's tweet asking for a ban on kids' reality shows has caused a furore in the industry. Will it yield any result or will the fire soon die down? From Sa Re Ga Ma Pa Lil Champs to The Voice, Sabse Bada Kalakaar to Junior Masterchef India and Super Dancer, reality shows featuring children are a common feature on Indian television. Last week, filmmaker Shoojit Sircar, known for films like Piku, Pink and Madras Café, tweeted that authorities should ban reality television shows for children. The tweet got close to 12,000 likes and was retweeted over 7,000 times, reigniting a long-standing debate. Other voices joined the debate, including filmmaker Amol Gupte, who worked with child artistes in Taare Zameen Par, and protested against the long working hours and exploitative conditions. Reality shows are sold as platforms to discover and showcase the latent talent of children. Parents and children from differing socio-economic backgrounds are attracted to the idea of a dream launchpad. In India, the success stories of singers Sunidhi Chauhan and Shreya Ghoshal, who were discovered as child artistes on reality shows, are the benchmarks that every parent with a talented child aspires towards. Sunidhi was 13 when she won India's first singing reality show on Doordarshan, Meri Aawaz Suno. "The year was 1996 and it was pure competition," reminisces Sunidhi. But her opinion of today's reality shows is decisive: children are "exposed to so much, so soon". "I would never want my children to go through this," says Sunidhi, who has judged contestants on leading singing shows like Indian Idol and The Voice. "I don't think it's required for any reality show to make children do things that only older people would do. They don't need to mature ahead of their age," she says. In the name of showcasing talent, 'cuteness' becomes a saleable factor, blurring the line between precocious and inappropriate. For Shekhar Ravjiani, one half of the music composer duo Vishal-Shekar, and a judge on Indian Idol Junior Season one (2013) and The Voice India Kids (2016), singing show Sa Re Ga Ma Pa back in 1997 was his first break. While he doesn't advocate an all-out ban, there are concerns. "Some shows encourage children to dress and behave like adults and that to me is jarring," says Shekhar. "It takes away their purity, simplicity and most importantly their innocence and makes them aware of things that don't matter at all." Behind the scenes Reality shows featuring children have been around for a long time, but the pressures involved have changed. When Sunidhi participated in Meri Awaz Suno more than two decades ago, there was no system of vote-and-SMS from the audience. She was judged by legends such as Lata Mangeshkar, Bhupen Hazarika and Manna Dey, and the winners were chosen based on their performances alone. While a reality show was always a full-scale production, on-stage theatrics and appearances were kept to a minimum. "There were no back stories shared with the viewers, it was all about the quality of singing," says Sunidhi. "Their singing will tell their stories, if they are good." Back in the 1990s, popular dance show Boogie Woogie and the singing competition Sa Re Ga Ma Pa, both of which started as contests for adults, were introduced in an all-new avatar targeting children. "The idea then was to showcase young and obscure talent," notes a 2008 article in Mint, "nothing was promised or bequeathed, except the vague idea that once seen, someone, somewhere would maybe sign them on for a minor playback singing role in a movie." For Shekhar, his reality show stint meant recognition of his talent. "In an era where being a musician wasn't considered to be a credible career choice, my talent was given the importance that made my family and others sit up and notice," he says. The focus has shifted. Children on reality shows are not just 'discovered' or polished, but are groomed to become versatile artistes who can perform onstage and enthral millions. Meghna Prem, a TV programming and content strategist with an experience of over 20 years in the entertainment industry, says, "Teenage kids are expected to diet to look a certain way, dress a certain way. Because unlike yesteryears, today when you are selecting a reality star, s/he can't just be a great singer and not be good looking." When ambition meets pressure Aruna Broota, a Delhi-based psychologist has counselled several professional child actors and child atheletes. According to her, the pressures faced by children on reality shows are no different, perhaps worse. Not only are the participants too young to worry about discovering their ambitions, but are often under pressure from fame-thirsty parents trying to live their dreams vicariously. "The child's 'ambitions' are artificially hyped, because it's mostly an adult who takes the decision for them," says Broota. "S/He might have that S-Factor, or the special ability factor, be it in singing, dancing or acting. But when one starts expecting a lot from one's s-factor in terms of competition, it distorts the personality development of the child." At an age when all they should be worried about is playing, studying and having fun, children are entangled in a web of competition and stress. This is not the first time that a discussion on the need to regulate child participation in reality shows has come up. In 2011, the National Commission for Protection of Child Rights (NCPCR) drew up new guidelines to prevent exploitation of children participating in TV shows and advertisements. Over five years have elapsed since the report was released, yet the realities on the ground paint a different, disturbing picture. Under the NCPCR guidelines, no child should be made to deliver lines or enact scenes that are inappropriate for his or her age. Yet, children dancing on raunchy numbers or belting out romantic songs is mined for applause and laughs.


---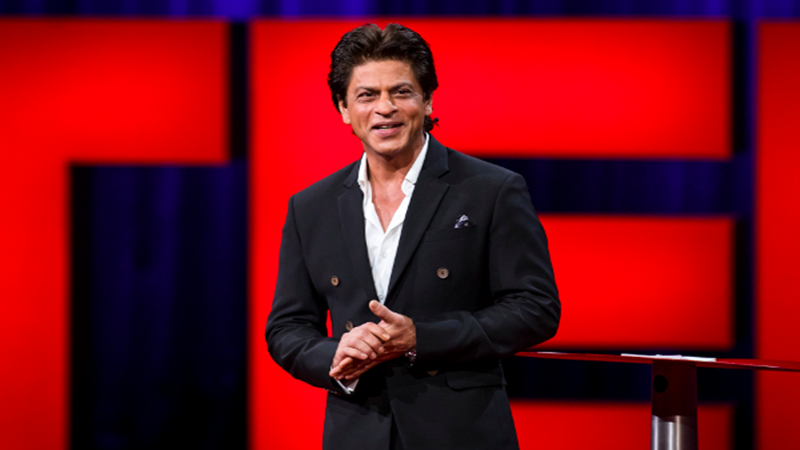 'Devdas' is Shah Rukh Khan favourite film
Mumbai:MMNN:13 July 2017
Mumbai: Superstar Shah Rukh Khan has thanked the cast and crew of "Devdas" to mark 15 years of the release of his "favourite film". "15 beautiful years 'Devdas'. Thanks Sanjay, Binod (Cinematographer Binod Pradhan), Bela (editor Bela Sehgal), Madhuri Dixit, Aishwarya Rai Bachchan, Jackie Shroff, Kirron Kher and cast and crew for my favourite film," Shah Rukh tweeted on Thursday morning. Directed by Sanjay Leela Bhansali, "Devdas" revolves around the scion of a wealthy family who is prevented from marrying the woman he is in love with. His life spirals downward as he takes to alcohol and a life of a vice to alleviate the pain. Currently, Shah Rukh is busy promoting his next film "Jab Harry Met Sejal". The film is directed by Imtiaz Ali and also features actress Anushka Sharma in a key role. Shot is picturesque locations of Budapest, Prague, Lisbon and Punjab, "Jab Harry Met Sejal" is set to release on August 4


---
Priyanka Chopra begins work on new Hollywood film, with Liam Hemsworth, Rebel Wilson
Mumbai:MMNN:11 July 2017
After Baywatch, Priyanka Chopra will be seen as a yoga ambassador alongside Rebel Wilson, Liam Hemsworth, Adam Devine in Isn't It Romantic? The production of the romantic comedy is underway. Principal photography has begun on New Line Cinema's romantic comedy Isn't It Romantic?, under the direction of Todd Strauss-Schulson, read a statement. The film follows the life of a New York City architect Natalie, who works hard to get noticed at her job, but is more likely to be asked to deliver coffee and bagels than to design the city's next skyscraper. She has an encounter with a mugger that renders her unconscious, waking to discover that her life has suddenly become her worst nightmare. Wilson stars as Natalie, alongside Liam Hemsworth as Blake, a handsome client; Adam Devine, as her earnest best friend, Josh; and Priyanka as yoga ambassador Isabella. Strauss-Schulson is helming the project from a screenplay by Erin Cardillo, Dana Fox and Katie Silberman, and Paula Pell. The movie's filming is taking place in and around New York City. The film is set for release beginning Valentine's Day, February 14, 2019. It will be distributed worldwide by Warner Bros Pictures, a Warner Bros Entertainment Company.


---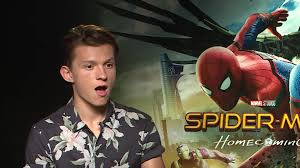 Watch: Tom Holland reacts to Desi Spider-Man and gets his 'dil ka chain' stolen
Mumbai:MMNN:10 Jul 2017
For Indian fans of Spider-Man, the mere mention of the Marvel superhero's name conjures certain tunes and images in our minds. Desi Spider-Man – with his uninhibited dancing, unique fighting style that utilises utensils, and tendency to stalk his lover in fields – is unforgettable, and unavoidable. And what did an Indian interviewer show Spider-Man star Tom Holland when he met him? Desi Spider-Man. Spider-Man: Homecoming opened to massive box office numbers, and enthusiastic reviews on July 7. On July 5, Comic Con India posted a video interview with Holland, conducted by East India Comedy's Sahil Shah. Sahil told him about the character's popularity in India, and how there is an official, Marvel version of the superhero who swings across the Mumbai skyline in a dhoti. But this was all done to prepare Holland for the real deal – the infamous Bhojpuri Spider-Man video. He is justifiably bemused. And then, he his made to recite the evergreen lyrics, "Eespiderman, eespiderman, tune churaya mera dil ka chain." The video became a popular viral sensation after being viewed millions of times. It is a dance sequence which is a part of a film.


---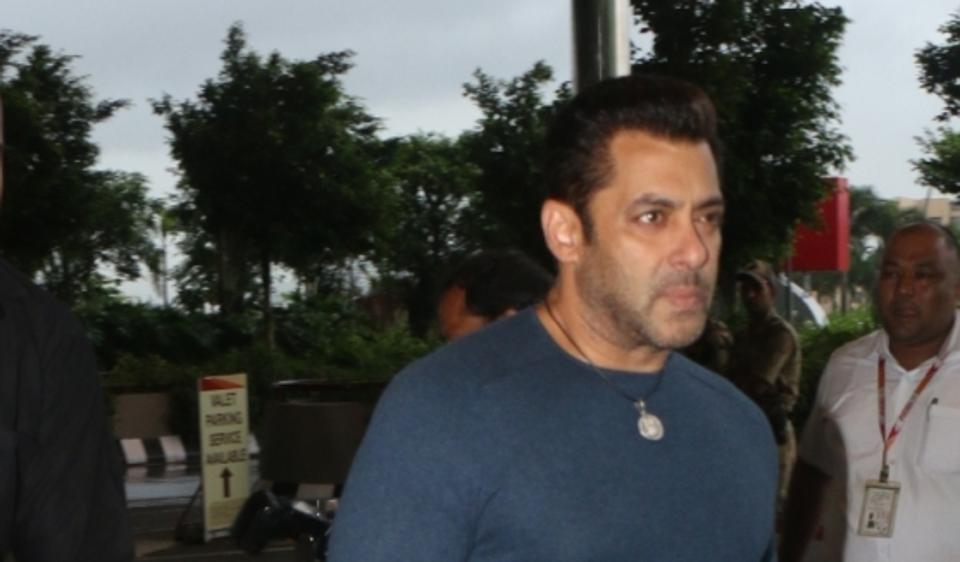 Salman Khan to shoot with Varun, Taapsee and Jacqueline for Judwaa 2
Mumbai:MMNN:4 Jul 2017
Salman Khan was seen in a double role in the 1997 hit Judwaa. He will make a cameo appearance in Varun Dhawan-Jacqueline Fernandez-Taapsee Pannu-starrer Judwaa 2 Bollywood star Salman Khan is all set to revisit the '90s with a special cameo in Varun Dhawan-Jacqueline Fernandez-Taapsee Pannu-starrer Judwaa 2. Varun, Taapsee, and Jacqueline will soon be shooting the special cameo with Salman. While his role in the film is still a secret, Taapsee shared her excitement in a press statement on Tuesday. "We are all excited to shoot with him. Something we all have been looking forward to. He's someone who everyone loved in the original film and is an inseparable part of the franchise and I'm glad he will be part of Judwaa 2 as well," she said. Varun steps into the iconic double role in the film being directed by David Dhawan. He's been posting songs from film, including Tan Tana Tan and Oonchi Hain Building, on his social media handles to ensure the buzz around the film doesn't wane.


---
Toilet: Ek Prem Katha gets embroiled in a Copyright issue! Here are all the details!
Mumbai:MMNN:1 Jul 2017
With just a few days remaining for the release of the Akshay Kumar starrer 'Toilet: Ek Prem Katha', it's needless to say that all the eyes are totally glued on to the film. The film, which happens to be a take on India's Prime Minister's dream project 'Swachh Bharat Mission', recently got itself embroiled in a copyright controversy. Filmmaker Praveen Vyas, whose 2016 docu-feature 'Manini', besides winning everyone's attention and applause, also won the third prize amongst the 4500 entries which were shortlisted at the last year's International Film Festival of India (IFFI) in Goa. After seeing the trailers of 'Toilet: Ek Prem Katha', Praveen Vyas was shell shocked as it resembled his 'Manini' in many ways. That's why; he sent a legal notice to 'Viacom 18 Motion Pictures' (who happen to be the film's production and distribution company) and also a 'cease and desist' notice on the promotional campaign of the film. As per a report, on his part, Praveen Vyas had allegedly stated that many scenes and dialogues from 'Toilet: Ek Prem Katha' were a direct copy from his Manini. Praveen Vyas added that his film Manini followed the female protagonist and her protests for the lack of a toilet in her marital home on the first night of her marriage and the events which follow that. Praveen Vyas added that, even the scenes in 'Toilet: Ek Prem Katha's trailer showed the similar kind of interaction between the characters. Praveen Vyas also added that no one could make any another cinematographic work or any other copied work without his written consent if their work directly resembled his work. Even though Praveen Vyas had sent a legal notice of copyright infringement through his lawyers of the Delhi based 'Litmus Legal', the makers of Toilet: Ek Prem Katha responded to that notice through their legal team at 'Naik Naik & Co.', only on June 28. Praveen Vyas added that, since the makers of 'Toilet: Ek Prem Katha' had denied all their allegations and have also refused to financially reimburse them; they will now be fighting the case in court. Meanwhile, co-producer of 'Toilet: Ek Prem Katha' Shital Bhatia along with Neeraj Pandey and Akshay Kumar has denied all of Praveen Vyas' allegations. Shital clarified that their film's script had been registered under their writers' names, Siddharth and Garima, with the authorised industry association since the year 2013. He added that, they totally repudiate all the claims made by Praveen Vyas. Watch this space for developments.


---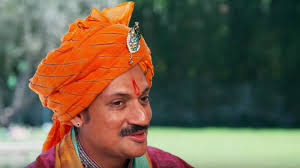 The Kardashian sisters invited India's first openly gay prince over, and here's what happened
Mumbai:MMNN:30 Jun 2017
The Kardashian sisters - Kim, Kendall, Khloe and Kourtney - invited India's first openly gay prince Manvendra Singh Gohil to dinner for a new episode of their show, and here's what happened The Kardashian sisters - Kim, Kendall, Khloe and Kourtney - had a special guest in a new episode of their reality show Keeping Up With the Kardashians: India's first openly gay prince, Manvendra Singh Gohil. Kendall Jenner, who is an international model, first heard of the prince's story when she visited India in February 2017 for a modelling assignment with photographer Mario Testino. She posed alongside star Sushant Singh Rajput, for Vogue India's 10th anniversary issue. She told her sisters about the prince, 51, when she returned home, and they put together a dinner for him. "In India," says Kendall in a clip from the episode, "it is not acceptable to be gay." She drew similarities between the prince, and her father Caitlyn Jenner, who came out as a transgender woman. "What's similar between him and my dad is the bravery to take that chance to come out," she says At the dinner, the sister made an attempt to learn more about the prince, and his story. "My parents publicly disowned me and they disinherited me from the ancestral property," he says, also talking about how people burnt him in effigy after he came out. And while his relationship with his parents has improved over the years - he credits the media for helping change mindsets - his relationship with his ex-wife, whom he divorced in 1992, is non-existent. "We haven't spoken since the divorce," he says. "I felt guilty about ruining her life." But the prince, who came out in 2006, is working to make a change. He went to San Francisco to raise funds to make an LGBT community centre in India.


---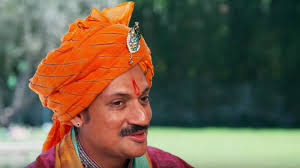 The Kardashian sisters invited India's first openly gay prince over, and here's what happened
Mumbai:MMNN:30 Jun 2017
The Kardashian sisters - Kim, Kendall, Khloe and Kourtney - invited India's first openly gay prince Manvendra Singh Gohil to dinner for a new episode of their show, and here's what happened The Kardashian sisters - Kim, Kendall, Khloe and Kourtney - had a special guest in a new episode of their reality show Keeping Up With the Kardashians: India's first openly gay prince, Manvendra Singh Gohil. Kendall Jenner, who is an international model, first heard of the prince's story when she visited India in February 2017 for a modelling assignment with photographer Mario Testino. She posed alongside star Sushant Singh Rajput, for Vogue India's 10th anniversary issue. She told her sisters about the prince, 51, when she returned home, and they put together a dinner for him. "In India," says Kendall in a clip from the episode, "it is not acceptable to be gay." She drew similarities between the prince, and her father Caitlyn Jenner, who came out as a transgender woman. "What's similar between him and my dad is the bravery to take that chance to come out," she says At the dinner, the sister made an attempt to learn more about the prince, and his story. "My parents publicly disowned me and they disinherited me from the ancestral property," he says, also talking about how people burnt him in effigy after he came out. And while his relationship with his parents has improved over the years - he credits the media for helping change mindsets - his relationship with his ex-wife, whom he divorced in 1992, is non-existent. "We haven't spoken since the divorce," he says. "I felt guilty about ruining her life." But the prince, who came out in 2006, is working to make a change. He went to San Francisco to raise funds to make an LGBT community centre in India.


---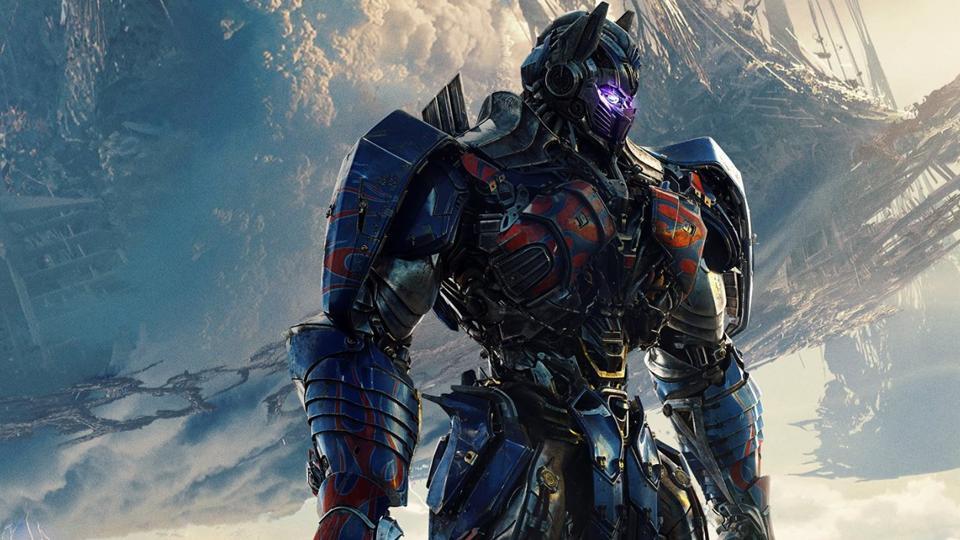 Transformers: The Last Knight movie review - Made with rusty old parts, and Mark Wahlberg
Mumbai:MMNN:29 Jun 2017
Transformers The Last Knight movie review: Director Michael Bay returns for the fifth time, and Mark Wahlberg for the second, to pound your brain into a pulp with wall-to-wall cacophony.
Transformers: The Last Knight
Director - Michael Bay
Cast - Mark Wahlberg, Laura Haddock, Anthony Hopkins, Josh Duhamel, Stanley Tucci, John Goodman
Rating - 1.5/5
There is no worse treatment a movie fan could be subjected to than being made to feel guilty for liking a movie. Millions of fans of the Transformers saga would agree. How often have we been ridiculed for sticking by director Michael Bay's most extravagant whims, despite knowing, deep down, that his movies were only getting worse. How often have we had to defend his almost fetishistic abuse of pyrotechnics, his blatant sexism, the occasional racism, and that ever-inflating ego which he represents so well in his art… Transformers: The Last Knight, the fifth in this series of films in which giant robots decapitate, sever, and butcher each other in the most violent manner, will be the acid test for fans. It will either be the moment when you slip into full-blown denial, willingly ignoring everything that is wrong with these movies (and with yourself), or, it will be the moment you finally snap out of it (as I have). Full disclosure: It is my opinion that the first Transformers film is a modern action classic, endlessly re-watchable, and filled with memorable characters and moments. It is Michael Bay at his best. I even wrote a long defence of the movie, arguing that it was an excellent example of the sort of film it was, a coming-of-age story disguised, like its hulking heroes, as an action blockbuster. The Last Knight is everything the first movie wasn't. It is the evil, gloating Megatron to that film's earnest Optimus Prime. It represents the worst, most self-indulgent, most conceited corners of Michael Bay's personality, and is, despite not being the worst of the lot (that honour still belongs to Age of Extinction), a monumentally overblown film that constantly threatens to crumble under its own weight – much like an ancient building with a wobbly foundation upon which new floors are illegally added every year. When it all comes crashing down, it will take the neighbourhood with it. Its story picks up soon after the events of Age of Extinction, which, to everyone's surprise, made us miss Shia LaBeouf and Megan Fox, who were – and I maintain – the best parts about the Transformers movies in the first place. But now, after causing more destruction to the planet than even the humans had managed in their thousands of years pillaging its resources, the Transformers have, in the absence of their leader Optimus Prime, once again become the enemy. The world has seemingly turned into the United Nations of Donald Trump, where no immigrants are allowed in, and those that do manage to jump over the wall (or, in this case, crash land in burning fireballs from the sky into important landmarks), are hunted by the Transformer Reaction Force. The TRF is a multinational militia of sorts whose only purpose is to locate and destroy stray Transformers – without determining whether or not they're the heroic Autobots or the villainous Decepticons. And Cade Yaeger, played for the second time by Mark Wahlberg, has made it his life's mission to protect the aliens. There is also a labyrinthine subplot involving King Arthur (how unkind has the summer of 2017 been to him, am I right?), Merlin the Wizard, and a bemused Anthony Hopkins, who, in one memorable moment that will no doubt cause much second-hand embarrassment on his behalf, utters the words, "That's a bitchin' car". So much happens in this movie, and yet, we get nowhere. It is a film in perpetual motion; new characters are introduced, and swiftly sidelined; there is, for the second time in the series, after the third film Dark of the Moon, a mini Coen Brothers reunion in the cast; the story spans thousands of years, but it feels like millions; and scenes cut - and not transition - to next one without a firm idea of where the story is headed. Often, it seems, the end goal is only to arrive at the next great action set-piece. The characters – the living ones, at least – are just stepping stones, crushed under the giant robots' weight. It took six human beings to edit together this heap of rusty scrap metal into a whole, possibly with hammers and screws. It took four people to write it, and thousands to composite its undeniably magnificent special effects, and yet, the one man whose job it was to bring it all together, was busy flexing his muscles and smouldering at his own reflection in the mirror. Michael Bay earned a paycheck, as did the rest of his cast. And there is no more to this story than meets the eye. The Transformers universe is lush, and filled with lore, just waiting for a talented storyteller to come and play with all the toys – just as it was first intended. But Bay is satisfied with repainting an old chassis in glossy new colours, he is happy taking state-of-the-art tech (in this case, revolutionary IMAX 3D cameras), and cranking out the same, tired stories, populated with the same stock characters – the feisty female, the racist robots, the man destined to save the planet, and, of course, this series' Death Star, Megatron. Now, it is up to them to win us back. No more free passes. No more passionate arguments against strangers. Shamefully, we have now arrived at a time when we must hide our true colours, for fear of being mocked, for being made to feel guilty. Here's hoping that we wear them with pride sooner rather than later.


---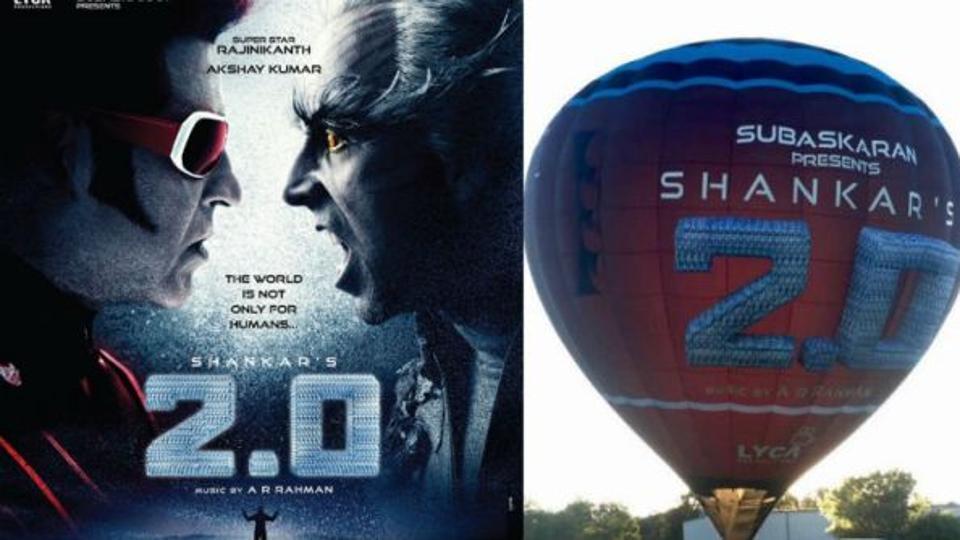 Rajinikanth's 2.o makers kick-off air balloon promotional drive. See pic
Mumbai:MMNN:28 Jun 2017
While Akshay Kumar will be seen playing an Ornithologist in 2.o, Rajinikanth will be seen as a scientist and a robot. Following the overwhelming response to SS Rajamouli's Baahubali franchise, makers of superstar Rajinikanth's 2.o are under high pressure to draw attention with their project. Lyca Productions, the makers of superstar Rajinikanth's upcoming Tamil science-fiction action drama 2.o, are pushing the envelope as they begin the promotional campaign for the costliest Indian film. As part of the promotions, a hot-air balloon adorned with life-sized images of Rajinikanth and Akshay Kumar will travel around the world. "We plan to take the 100-foot-tall hot-air balloon to as many balloon festivals as possible across the world. Since we see our film as a Hollywood production, we also plan to tie up the balloon over the Hollywood signage in Los Angeles," Raju Mahalingam, creative head, Lyca Productions told The Hindu. The balloon will fly to many countries such as London, Dubai and Australia among others as part of the promotional drive. On Tuesday, the makers gave audiences the first glimpse of the air-balloon and pictures went viral in no time. Amy Jackson is paired with Rajinikanth, and she is rumoured to be playing a humanoid robot. A sequel to Enthiran, the film also stars Sudhanshu Pandey and Adil Hussain. While Akshay Kumar will be seen playing an Ornithologist, Rajinikanth will be seen as a scientist and a robot. The project is bankrolled by Lyca Productions. The film's satellite rights across all languages were recently bagged by Zee Network for a whopping Rs 100 crore, making it the highest amount paid for an Indian film. Tipped to be the most expensive Indian film being made on a budget of Rs 450 crore, 2.o is slated for release in Tamil, Telugu and Hindi next year in January in a record number of screens worldwide.



---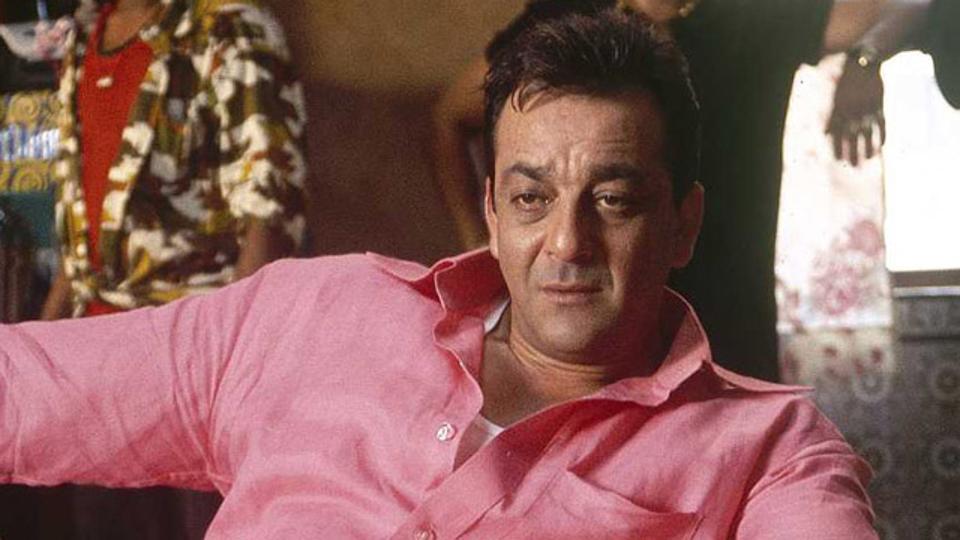 Jagga Jasoos: After Govinda, now Sanjay Dutt joins Katrina Kaif and Ranbir Kapoor
Mumbai:MMNN:27 Jun 2017
Sanjay Dutt will be the sutradhar (narrator) for Jagga Jasoos that stars Katrina Kaif and Ranbir Kapoor in lead roles. Days after reports that Govinda has a special role in Katrina Kaif-Ranbir Kapoor-starrer Jagga Jasoos, rumours now claim that Sanjay Dutt is also part of the Anurag Basu film. A Mid Day report claimed Sanjay will be the sutradhar (narrator)?in the movie. Ranbir Kapoor had recommended Dutt's name for the part, it suggested. Jagga Jasoos is a Hindi comedy-drama film directed by Anurag Basu and produced by Basu and the film's lead actor Ranbir Kapoor. The film also features Sayani Gupta and Adah Sharma in lead roles, and is the story of a teenage detective in search of his missing father. Jagga Jasoos releases on July 14.


---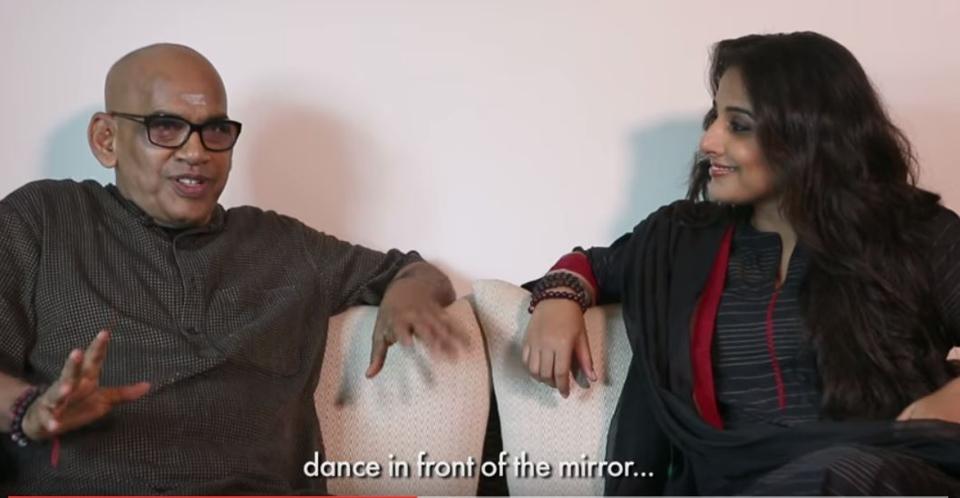 Tubelight movie review: Salman Khan, Kabir Khan come up with a tearjerker
Mumbai:MMNN:23 Jun 2017
Tubelight, as Salman Khan is fondly called in the film, completely plays to Khan's strength of adapting a Boy Scout onscreen. Here's our movie review. Rating: 3/5. Tubelight Director: Kabir Khan Cast: Salman Khan, Sohail Khan, Zhu Zhu, Matin Rey Tangu Rating: 3/5 It's been a while since Salman Khan started playing a clumsy yet golden hearted man-child. He has aced this game by now and Tubelight might be his best shot at it. Laxman Singh Bisht aka Tubelight is the favourite entertainer of Jagatpur in the Kumaon region. He doesn't mind being bullied, mocked or slapped as he believes in humanity in its purest form. It also works as a tactic that will force the audiences, typically fans, to clap later in the film when he will resort to a 'little action'.

---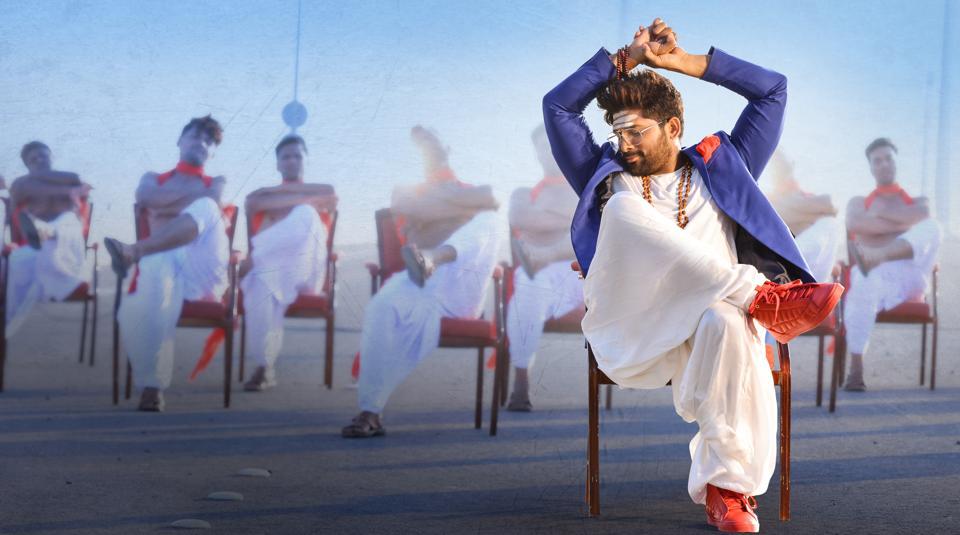 Seeti Maar: The next big chartbuster from Allu Arjun's DJ is here
Mumbai:MMNN:21 Jun 2017
Days before the release of Allu Arjun's new film DJ, the makers have released a promo to a song Seeti Maar featuring Pooja Hegde and Arjun. Allu Arjun is undoubtedly one of the best dancers in Telugu industry. With his latest outing, DJ aka Duvvada Jagannadham, slated for release in cinemas on Friday, its makers released the glimpse of the hit song Seeti Maar from the film on Tuesday and in no time it went viral. With its catchy lyrics and mass-appealing steps, the song immediately became a chartbuster. Directed by Harish Shankar, the film is tipped to be an action entertainer made on a whopping budget, and it marks the first time collaboration of Arjun and Harish, most popular for directing Gabbar Singh. Industry insiders reveal that the film has come out very well and the makers are very confident about its success. In the film, Arjun plays a brahmin chef, and he apparently took his role so seriously that he gave up eating meat, while shooting the portion where he plays the chef, as he wanted to get under the skin of the character and stay pure. His dedication stunned the entire unit, including his director and co-star Pooja Hegde, who plays his love interest. It's for the first time in his career, Arjun is playing such a character and he didn't want anything about it to stick out like a sore thumb.


---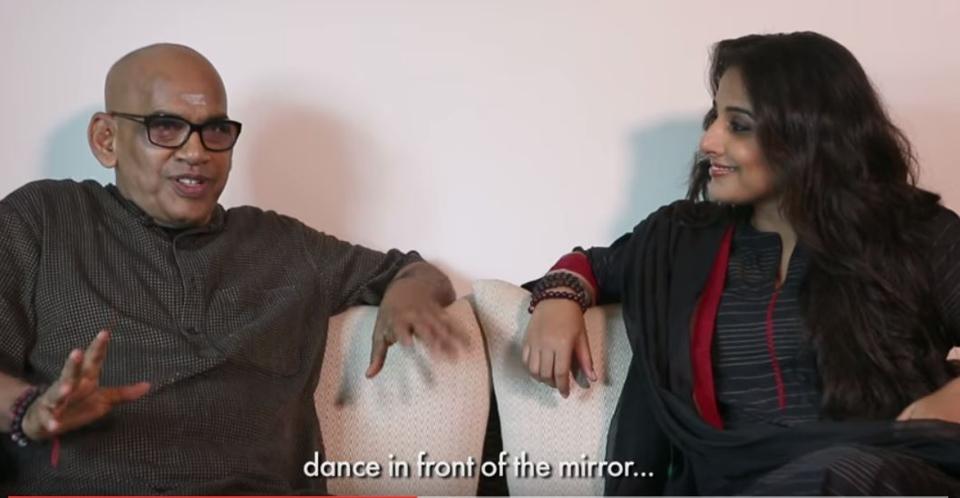 Farhan Akhtar's short film on Vidya Balan has a strong feminist message. Watch the video
Mumbai:MMNN:19 Jun 2017
Farhan Akhtar has made a short film on Vidya Balan and her dad. The film is a sweet but strong message on gender equality Actor-filmmaker Farhan Akhtar has made a short film on Vidya Balan and her dad under his initiative MARD. Amitabh Bachhchan shared the short film on Sunday. Sharing the film, Amitabh wrote, "A short film on Vidya Balan and her Father, made by Farhan Akhtar .. a moving pertinent strong statement ." The six-minute film shows Vidya's father PR Balan talk about bringing up two girls in a patriarchal society and how he never prayed for a son. Vidya Balan also enters the frame and reveals how supportive her dad has been throughout. The duo also discuss The Dirty Picture, the film that got Vidya Balan her National Award. The short film is both encouraging and sweet. Watch it here:

---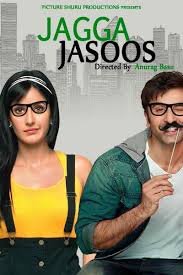 Jagga Jasoos: Can Anurag Basu and Ranbir Kapoor repeat the magic of Barfi?
Mumbai:MMNN:15 Jun 2017
Anurag Basu gave Ranbir Kapoor a challenging role in Barfi and the actor passed the test with flying colours. The Sultan of Bollywood did just that as he returned from Mehboob Studios on Tuesday night. He was accompanied by filmmaker Ramesh Taurani. Director Anurag Basu has wished his frequent collaborator, Pritam Chakraborty, on his birthday and said the music composer is one of greatest strengths behind his movies. Pritam turned 46 on June 14.


---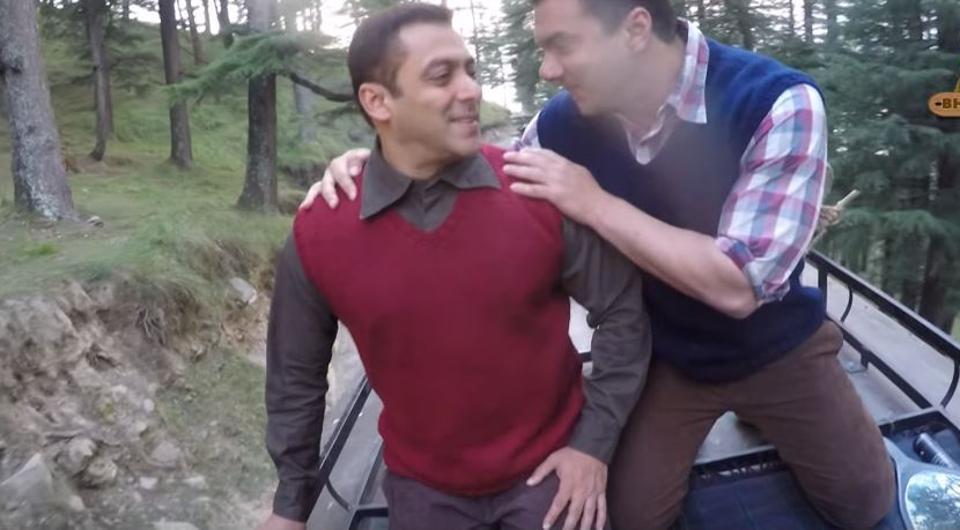 Salman Khan ditches his SUV for an auto rickshaw ride
Mumbai:MMNN:14 Jun 2017
The Sultan of Bollywood did just that as he returned from Mehboob Studios on Tuesday night. He was accompanied by filmmaker Ramesh Taurani. It's not everyday that one would find superstar Salman Khan hopping into an auto rickshaw to take a breezy ride back home. The Sultan of Bollywood did just that as he returned from Mehboob Studios on Tuesday night. He was accompanied by filmmaker Ramesh Taurani.


---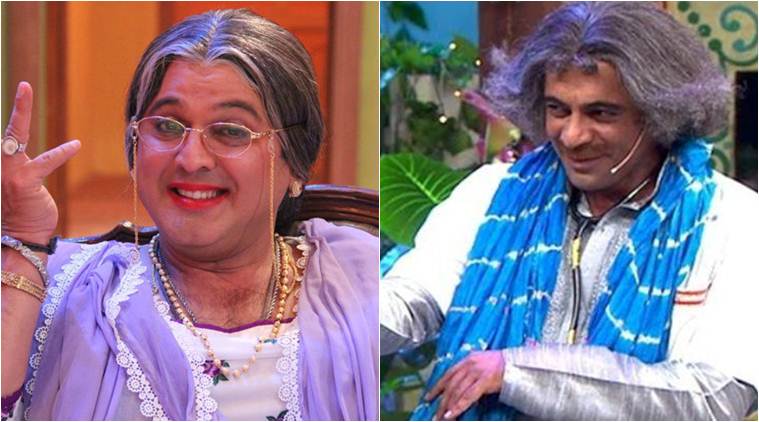 Sunil Grover, Ali Asgar to return on screen together, but not for Kapil Sharma show?
Mumbai:MMNN:18 April 2017
The fans of The Kapil Sharma Show have been eagerly waiting to see ace-comedians Kapil Sharma, Sunil Grover, Ali Asgar and Chandan Prabhakar in the same frame ever since their infamous mid-air fight left the team in chaos. Sunil, Ali and Chandan have so far chosen to maintain a safe distance from Kapil and his show. The trio has not spoken to Kapil and has also not turned up for the shoot even for a single episode. As a result, the comedy show has witnessed a drastic drop in its ratings leaving it out of the race of the top ten television shows. In fact, Kapil's new line-up of comedians has also failed to bring back the much-needed humour and life to the show.
But bound by a contract with channel Sony, Ali Asgar, Sunil Grover and Chandan Prabhakar have to abide by its demands till the day it ends. Probably this is the reason that will bring back, if not all of them, but at least Ali Asgar and Sunil Grover in the same frame. The two will be tickling the funny bone of the audiences in this week's episode of reality show Sabse Bada Kalakar which is being judged by Raveena Tandon, Arshad Warsi, and Boman Irani. According to a report in DNA, Sunil and Ali will shoot for an episode of Sabse Bada Kalakaar to live up to their work commitments with the channel. Though indianexpress.com could not individually verify the news.
Now, whether Ali and Sunil will appear in their Kapil Sharma show avatars of Nani and Doctor Mashoor Gulati respectively, or will it be completely new characters, is still unknown. If we go by the recent stint of Sunil on other shows and the feedback it got. then the duo will have to go an extra mile to beat the ratings of The Kapil Sharma Show, which Sunil failed to do the last time, during his appearance on the Indian Idol 9 grand finale.
Earlier in the day, Sunil Grover also made it clear that he will not be returning to Kapil's show when veteran actor Rishi Kapoor urged both him and Kapil to get back together. Also, he has been posting several cryptic posts on Instagram ever since his fight with Kapil took place over a month back.


---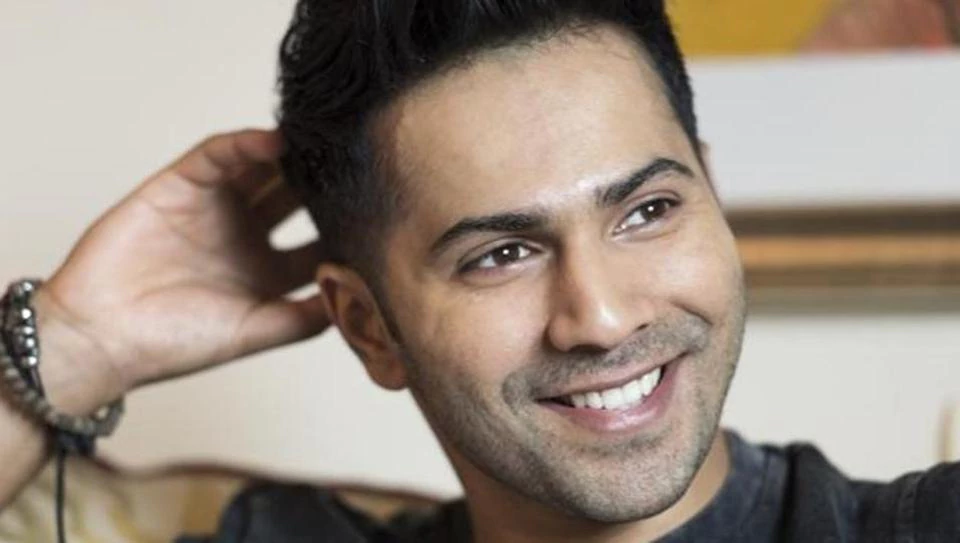 Judwaa 2: Varun Dhawan grooves with students at London University
Mumbai :MMNN:18 April 2017
Varun Dhawan, who is currently abroad shooting for the reprised version of song Oonchi Hai Building for Judwaa 2, is having a gala time grooving with students at London University.
The team recently flew to London for the film's shoot and the makers are currently filming the iconic track from 1997 Salman Khan, Karisma Kapoor- starrer.
While shooting the song, many students from the university have been stopping by and grooving along with Varun Dhawan and Taapsee Pannu, who will be seen performing to this track.
A source said, "Varun's affable nature allows him to bond with students easily. Over the weekend, a bunch of his fans had come to meet him and he was a thorough gentleman with them."
The song is being recreated by none other than Anu Malik and choreographed by Bosco.
Directed by David Dhawan and produced by Sajid Nadiadwala, Judwaa 2 is set to release on September 29.



---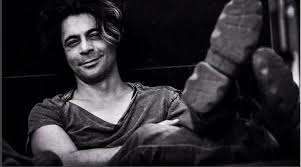 Is Sunil Grover hinting at Kapil Sharma with his latest 'shoe' picture on Instagram?
Mumbai:MMNN:11 April 2017
It's been quite a few weeks since Kapil Sharma allegedly abused and misbehaved with comedian Sunil Grover, even hurling a shoe at him on a Melbourne-Mumbai flight. However, the controversy around the two seems never ending. Adding fuel to the fire is Sunil's latest picture on photo sharing app, Instagram.
Captioned 'Shoe Size US 10', Sunil can be seen wearing heavy boots. The timing of the picture is such that it might make anyone wonder if it is a hint thrown at friend-turned-foe Kapil Sharma, who was accused of hurling a shoe at Sunil during their fight.
While Sunil continues to boycott 'The Kapil Sharma Show' and is unlikely to return, there are reports that he might just come back with his own show with comedian Chandan Prabhakar, who played 'Chandu Chaiwala' on TKSS.
Talking about the same, a source had told The Times Of India, "Talks are on and several meetings have taken place, but Sunil is biding his time. He is getting offers from other channels too. He would be happy to take Chandan Prabhakar along as well. Chandan was also treated badly by Kapil on the same flight, which is why he too left the show."


---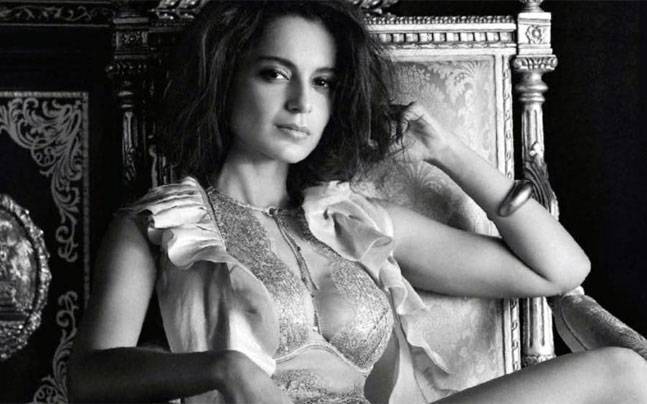 Kangana Ranaut responds to sexual harassment allegations against Queen director Vikas Bahl
Mumbai :MMNN:11 April 2017
Kangana Ranaut, the star of Queen, the film directed by Vikas Bahl who was recently accused of sexual harassment, has finally opened up about the controversy surrounding her director.
A few days ago, Vikas Bahl was accused of molestation by a female employee of Phantom Films, the production company owned by Bahl, Anurag Kashyap, Vikramaditya Motwane and Madhu Mantena. The news sent shock-waves through the film industry just weeks after The Viral Fever (TVF) CEO Arunabh Kumar was accused of sexual harassment by multiple women who have previously worked with the company.
Vikas Bahl, on his part, has denied the allegations and has said that he has known the accuser for a long time. The woman, Vikas added, is his friend and she never looked uncomfortable around him.
"I have heard about this particular lady you are speaking about and the Goa incident. She is not my employee. Yes, I am friends with her, we have worked together and there is a production job we have done together... but if she is feeling like this I would like to sit across a table from her and talk to her. I want to ask her if I have crossed a line, whether I have done anything to hurt her and if she feels that way I would like to apologise for it. I have known her for long," Bahl recently told Mumbai Mirror.
Now, at an event when Kanagana Ranaut was asked about her Queen director Vikas Bahl and the allegations against him, she said, "It's a very serious issue. I can only say that it is very courageous of a woman to come out and speak about sexual harassment. It's not regarding this particular event, because I am not the party involved, but generally speaking, women who face this should be encouraged to talk about it by their families and their colleagues without feeling ashamed about it."Noticeably, Kangana Ranaut refrained from commenting on Vikas Bahl even though she did acknowledge the seriousness of sexual harassment and considered it a matter of courage to come out and talk about being harassed in the open.
"More women should come out and talk about whatever they feel because that's how there will be awareness about these issues and of course, there will always be another side of the story as well and then there will be the authorities, who can decide what is the right thing to do. But people should speak up about whatever they feel, whether they are right or wrong, they must speak up and discuss," Kangana added.
On the work front, Kangana Ranaut was recently seen in Vishal Bhardwaj's Rangoon. She will be seen next in Hansal Mehta's Simran and has currently begun training her upcoming movie Manikarnika, based on the life of Rani Laxmibai.



---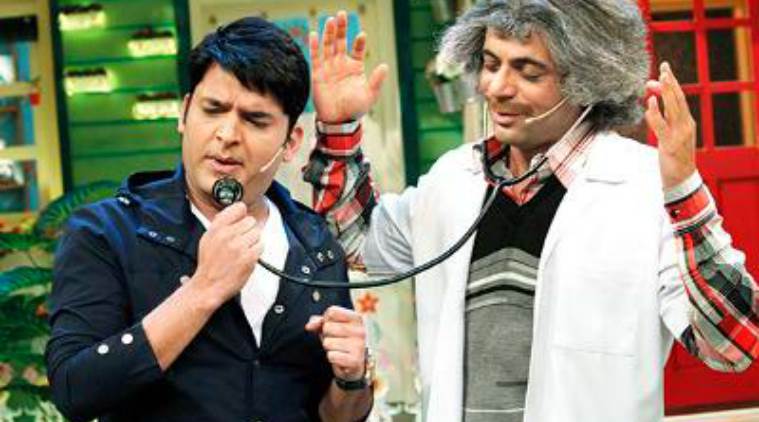 Sunil Grover and Kapil Sharma, you have no future without each other, it is time to patch-up
Mumbai:MMNN:4 April 2017
Sunil Grover and Kapil Sharma are like yin and yang, they complement each other. If Sunil Grover is the heart, Kapil Sharma is the soul of The Kapil Sharma Show. By no means is it a one-man show. And if The Kapil Sharma Show is witnessing a major dip in its TRPs, Sunil Grover's solo gigs also fail to hit that comic spot which their jugalbandi always manages to do.
So, if Sunil Grover leaves the comedy show, the brunt will be borne by not only the channel and the fans of the show but also by Kapil and Sunil equally. This we can say with full confidence after attending Dr. Mashoor Gulati Comedy Clinic in Delhi and watching the finale of the singing reality show, Indian Idol 9.
Though Sunil's live gig got a full house at Delhi's Talkatora Stadium, the laughter dose was not strong enough to convince the audience that the funnyman can pull off a stand-alone show. He repeated punchlines and there were portions which were a drag. You know what we missed as he came on the stage as Dr Mashoor Gulati, Rinku Bhabhi and even Gutthi? Kapil Sharma! The host of the show used to set the base for Sunil's acts, just as Sunil would make those moments shine when he was on stage.
Meanwhile, Sunil Grover, who seems to have made up his mind on not returning to the shoot of Kapil Sharma show, is content with his live gigs for the time being. He is also happy with the love and support being showered upon him by his fans. Post his Delhi show, the actor-comedian told the reporters, "I am overwhelmed with everyone's love and support. I want to thank them for taking out time for our show. I feel that love is ultimate because everything comes and goes but love will remain forever." Also, Sunil is planning to go ahead with his live shows as he believes, "There is a lot to be explored in the live medium."
But we wish that the reality soon dawns upon both Sunil and Kapil and the comedians realise each other's worth. And if nothing else, the actor-comedians must revisit the past when Comedy Nights with Kapil, which used to air on Colors, faced a drop in ratings after Sunil walked out of it and Sunil's solo show Mad in India failed to take off.


---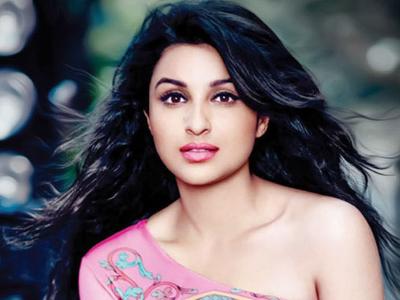 Parineeti Chopra: Had a non-romantic childhood
Mumbai :MMNN:4 April 2017
Actress Parineeti Chopra said she was a studious and disciplined girl as a kid and had a very "non-romantic" childhood.
The actress will be seen playing an outgoing girl in 'Meri Pyaari Bindu' which features Ayushmann Khurrana as Abhi. "I had a very non-romantic, non-love life childhood. I was a very studious person, very different from Bindu. I was very much like Abhi, disciplined and studious child," Parineeti said.
The Akshay Roy-directed film will see the actress returning to the big screen after a gap of nearly two years and Parineeti said the break helped her introspect about her life.
"The break came at a very important time in my life. I was going through some transformations in both personal and professional life. Before that I worked straight for three years. I felt bogged out. It was important for me to introspect about my life, do better work, look better and feel better.
I got a house. So, a lot of things were happening and ended up not shooting for eight-nine months. Now, I feel I am doing my best work. I am putting everything that I have. I am sleeping better and have a lot of stamina now. I just feel healthier to do better work," she added.
Ayushmann said the film is different from his 'Dum Laga Ke Haisha' and is more nostalgic in its approach. "In 'Dum Laga Ke Haisha', we had touched the 90s, there was this small arch about the music but this is all about nostalgia. We love nostalgia, we live in the past. I think that's a very Indian thing to do. Wherever we go, we listen to the old songs. The new ones come and go but the old stays," he said.



---
Sonakshi Sinha's 'Noor' to release in Pakistan
Mumbai:MMNN:7 March 2017
Actress Sonakshi Sinha starrer 'Noor', which is based on Pakistani author Saba Imtiaz's novel 'Karachi, You're Killing Me', will release in Pakistan.
When asked if 'Noor' will have a release across the border, producer Bhushan Kumar said, "Yes, we are releasing the film in Pakistan." The Sunhil Sippy-directed film follows journalist-writer Noor's misadventures and love life as she navigates her way through Mumbai.
The setting of the movie has been changed from Karachi to Mumbai and the director says it was meant to be like that as the team worked hard to adapt the book into Indian setting.
"The book was really just the germ of the idea. We took those characters and adapted it to Mumbai. There is no link at all between the two, it's just the germ of the idea," Sippy says.
Sonakshi says her respect for journalists has grown after playing one in the movie. "I have tremendous respect for journalists. It is not easy being a journalist and especially the way you all work. I really respect that. Noor is also one of you."
"As celebrities we don't know in detail what journalists go through. While doing the film, I realised the kind of work journalists do." 'Noor' is scheduled to release on April 21.


---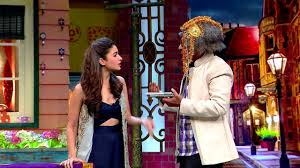 The Kapil Sharma Show: Alia Bhatt is Dr Mashoor Gulati's Dulhaniya
Mumbai :MMNN:7 March 2017
The Kapil Sharma Show on Saturday has Alia Bhatt and Varun Dhawan of Badrinath Ki Dulhaniya as special guests.
Kapil's nani aka Ali Asgar brought Rishta for Alia and it was none other than Dr. Mashoor Gulati.
Unlike all the grooms, Dr. Gulati came on a donkey to take away his Dulhaniya. But Dulhan Alia had some other plans and sneaked out on the pretext of returning dressed as a bride.
And a happy Dr. Gulati is seen dancing on 'Tamma Tamma' and is joined by Varun Dhawan dressed as a bride.
Varun made fun of Dr. Gulati and everyone including Navjot Singh Sidhu was in splits.
Alia and Varun had some fun with Kapil Sharma as he asked them questions about the shoot. And then the trio started decoding the Tamma Tamma song.
And then Kapil revealed how he had failed in Maths and how good he was in English. Alia, Varun and the audience couldn't contain their laughter.
Alia revealed Varun's secrets, how he forgets lines.
Next came Bumper dressed as a bride but she revealed how she has married Varun Dhawan. And her banter continued with Kapil Sharma.
Kapil and Alia also sang the famous 'Tainu Samjhawan ki' and later Kapil also sang a few lines of 'Tere Bina nahi lagda Dil Mera dholna'.
Then came the famous band-Bhabhi duo Santosh and Rinku. Santosh gave her heart to Varun.
The show ended with a performance by Alia and Varun on the title track from their movie 'Badrinath Ki Dulhaniya'.
Keep watching this space for all the updates of The Kapil Sharma Show.



---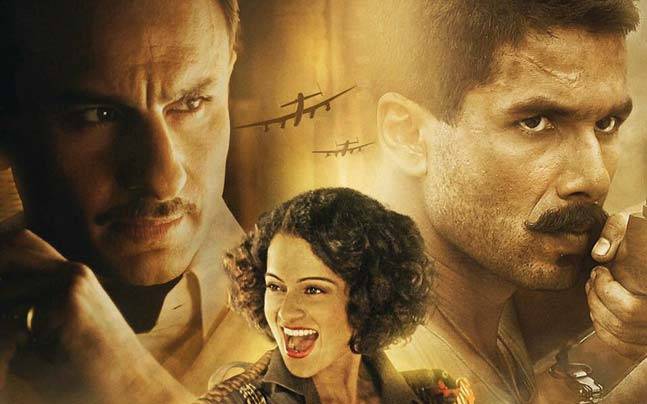 Rangoon review: Saif-Kangana-Shahid's film has got grandeur and glamour but little else
Mumbai:MMNN:24 Feb. 2017
Bloody hell! Another Hindi release with the national anthem playing not once but thrice. If this is the frequency at which Rabindranath Tagore's creation would be played in a Hindi film, Tagore's kin should contemplate seeking royalties of some sort. How about donations to Shantiniketan?
From the conflict in Kashmir, Vishal Bhardwaj gives Bard a break to look at love in times of Indian freedom struggle. It's 1943 and the shayari and classical music-loving British major general David Harding (Richard Mccabe) wants Parsi movie producer Russi Billimoria (Saif Ali Khan) to send his studio's popular action heroine Julia (Kangana Ranaut) to the Indo-Burma border to entertain and motivate the Indian soldiers who are fighting against both the Japanese forces as well as their own countrymen in members of Subhash Chandra Bose's Indian National Army. Billimoria agrees but also never seeks permission of his "kiddo", a term which speaks volumes of their equation - he the master, she his pet.
It ends up being a bad move for once away from Bombay Julia loses her heart to Nawab Malik (Shahid Kapoor), a soldier who has been employed to be her bodyguard. A journey into the beatific wilderness, one involving leeches, sake and a mud fight, brings the patriotic soldier and the childish stuntwoman closer. Soon love joins fight for independence in the air.
Set against the backdrop of World War II and the contentious Indian freedom struggle movement spearheaded by Bose's rebel army, Rangoon joins the bandwagon that no love is bigger than that for one's country. But the love triangle here is surprisingly half-baked, the conflict never seeming dramatic. Far too many plot contrivances and listless songs, rare for a Bhardwaj film, don't help Rangoon. It doesn't take a genius to figure that there is more to Nawab than merely being Kevin Costner to Ranaut's Whitney Houston. One of the better etched characters of the film, Kapoor fits well into the part of a man whose loyalty is unwavering. Bhardwaj does well to look at the relationship dynamics between Billimoria and Julia, a stuntwoman who the makers want us to know is NOT based on 1930s-40s darling daredevil Nadia; though her attire and actions suggest otherwise.
Julia is a bit of a mystery. On one end she is shown as a feisty woman capable of fighting her own battles, on the other she seems strangely vulnerable whenever Malik is around.
There is also the naive pretty woman act which works only in the amusing lost in translation exchange she has with a Japanese prisoner of war. Ranaut channels all her enthusiasm but is limited by a weak character arc. More interesting is Billimoria, an erstwhile action hero whose career is cut short by a dangerous stunt. Khan as the dominating then jilted lover fits well. In one of the few noteworthy sequences, Russi and Julia indulge in a fierce sword fight on stage in which he unleashes his fury for her betrayal. Bhardwaj who has a knack for creating impressionable supporting characters this time around disappoints, despite having talented theatre actors such as Atul Kumar and Puja Sarup at his disposal.
At two hours and forty seven minutes, Rangoon doesn't satisfy either as a period love story or a rousing drama about India's fight for independence. Working on a big canvas, Bhardwaj has enough grandeur and glamour (the sets and costumes are striking) but is short on an engaging narrative. The overblown and protracted climax, with a touch of Tarantino thrown in, makes one giggle. And no it's not Bhardwaj flashing his sardonic humour card which he does rarely here. The filmmaker does seem short on ideas as evident in how often Julia uses the phrase "Bloody Hell". By the end of Rangoon, viewers are likely to use it to sum up the film.


---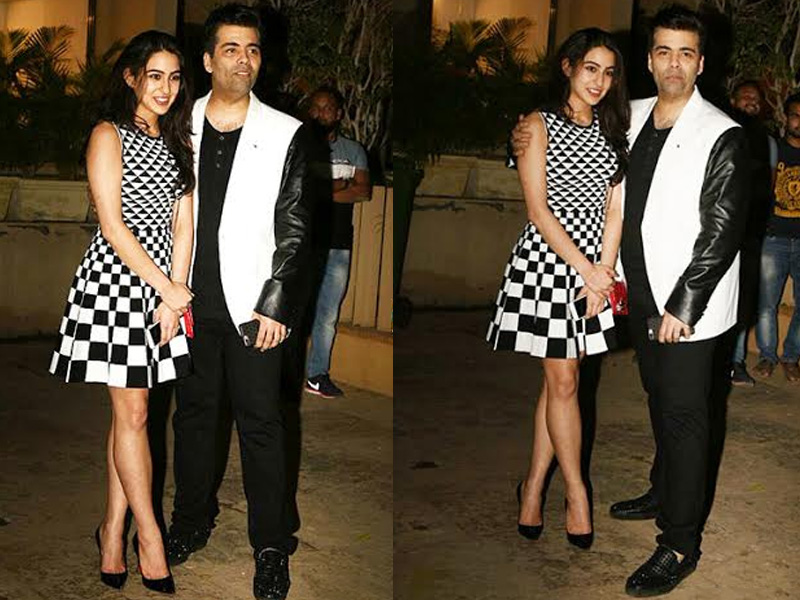 Sara Ali Khan gives a thumbs down to Karan Johar's Student Of The Year 2?
Mumbai :MMNN:24 Feb. 2017
Sara Ali Khan is being choosy about her maiden Bollywood project. While Karan Johar has taken the star kid under his wing, the 21-year-old is not letting KJo take all the calls.
And the latest buzz is that Sara has given a thumbs down to Dharma Productions' SOTY 2. While rumours were doing the rounds that Sara has been signed opposite Tiger Shroff for the sequel, seems like this is not happening.
According to a report in Miss Malini, Sara is not keen on doing a two-heroine film, and wants to be launched as a solo heroine. A source close to Dharma Productions was quoted as telling the website, "Sara will make her debut only in a solo-heroine film. Because of all the media pressure, Karan is getting very anxious about Sara's debut. He has taken on the responsibility of introducing her. And he wants Sara to be as successful as his other Student Of The Year debutante Alia Bhatt. The correct vehicle for Sara's debut is awaited."
Earlier, the reports of Saif being unhappy with Sara's debut with Dharma Productions went viral. But the Rangoon actor rubbished the rumours, saying that he was happy that his daughter was making her debut in a Karan Johar film. And this statement somehow "confirmed" the news that Sara will be seen in SOTY 2.
But the source has a different story to tell. "Saif has done no such thing. Saif only said that his daughter Sara will make her debut in a Dharma film. That's a fact. Saif didn't say anything about Student Of The Year 2. Karan Johar has taken on himself the task of introducing Sara to the silver screen. During the last one year, Karan has offered Sara every Dharma production including Karan Malhotra's comedy with Hrithik Roshan (which has now been shelved) and Student Of The Year 2."
Her debut has been kept under the wraps for quite some time. We need to wait and watch when the official announcement happens.



---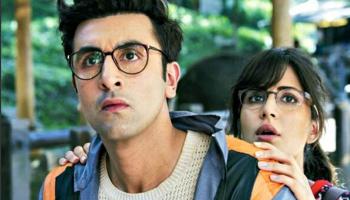 'Jagga Jasoos' trailer: Ranbir Kapoor and Katrina Kaif strap on for a bumpy ride
Mumbai:MMNN:20 Dec. 2016
Strap on your seatbelts because it is going to get bumpy! The first trailer of Anurag Basu's 'Jagga Jasoos' starring Ranbir Kapoor and Katrina Kaif, finally dropped online on Tuesday and must say, it was worth the long and excruciating 2-year wait.
The film, touted to be a musical, has its 2.44-minute clip starting off with its leading man Ranbir beatboxing before hitting the high notes with an acapella tune.
Although the trailer does little to shed light on the film's plot, it takes fans on a breathtaking journey across lush green hill tops, to the African savannas, to well-guarded military base camps and corn fields.
The clip does give us a glimpse into Jagga's childhood, that sees him watch helplesly as his father walks away, cut to his adulthood where he is still presumably awaiting his return. Katrina's character joins Jagga on his quest, but the short video gives us very little to reason with.
In what just might be a first of its kind, the trailer manages to pique your interest with just musical notes leading you on and absolutely no dialogue between the leading pair.
The clip ends on an adorable note with Ranbir trying his luck and kissing Katrina in her sleep. However, on being caught before the act, he decides to borrow some of her lip gloss saying, "Phat gaye thhe hont."
'Jagga Jasoos' hits theatres on 7th April, 2017.


---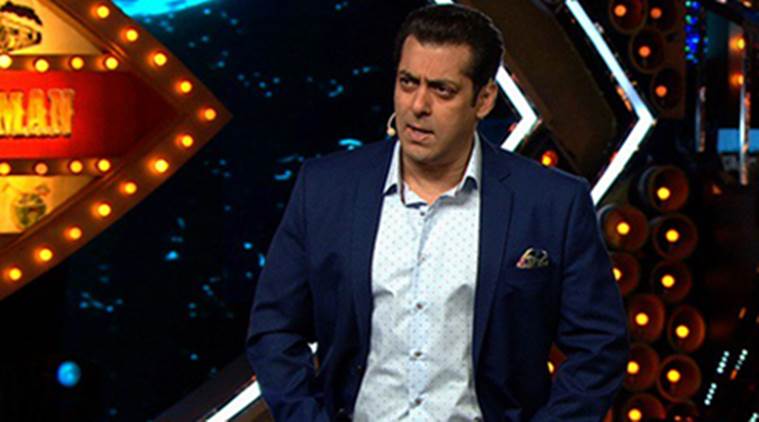 Bigg Boss 10, 19th December 2016 written update: Mona, Bani and Gaurav get nominated for eliminations
Mumbai :MMNN:20 Dec. 2016
Gaurav Chopra and Bani get into a spat. She says that she thought he came to apologize to her but in return he is showing attitude. She asks why he protected Mona from eliminations. He replies that he did what he felt was right.
Mona cries and appeals to the audience that she wants to come out of the house. Manu is seen talking to Lopa and Rohan about Manveer. He says that Nitibha is not letting him get involved with others in the house. He says that Nitibha is very cunning and that he saw Manveer telling Nitibha that they are the only commoners left in the show and they will survive till the end.
Next morning, Nitibha announces three most trending contestants of the house and they are Manveer, Mona and Rohan. These contestants get an opportunity to see the trending clips related to them. Manveer sees the clip of Bani where she is telling Gaurav about Manveer and Mona's closeness. Manveer gets pissed off and goes to Bani and Gaurav for clarifications. Manveer and Manu fight with Bani and Gaurav by saying that they pretend to be broad minded people, when they are not. Manu confronts Bani that if she can hug Jason then why Mona can't talk to her brother Manveer. Mona after listening all this, asks Gaurav to take a stand but Gaurav denies. Monalisa breaks down and Manu feels bad for her.
Next, Mona watches her boyfriend's clip when he came on the show and spoke Salman Khan. Mona feels bad about it and cries. Manu threatens Swami Om. He also accuses Priyanka Jagga for siding with Swami.
The nomination process begins. Bigg Boss gives a special power to Lopamdura Raut, that whoever she names will directly get nominated. She nominates Bani.
Rohan Mehra nominates Priyanka Jagga for being rudeness, and Mona Lisa for knowing her enough. Manu nominates Priyanka Jagga. Gaurav Chopra nominates Mona Lisa calling her illogical and sensitive and Nitibha because she interferes in every matter.
Bani nominates Manu for poking his nose in every matter, and Mona Lisa for being too sensitive. Nitibha nominates Gaurav for being too game oriented, and Mona Lisa for being unaware about the game. Mona nominates Priyanka for supporting Swami, and Gaurav for being two-faced. Priyanka nominates Nitibha and Mona just because she does not like them. Bani J, Mona Lisa and Gaurav are finally nominated. Bani J and Gaurav Chopra apologize to Mona Lisa and Manveer Gurjar.
At the night, Priyanka Jagga is bitching about Mona-Manveer-Manu to Nitibha. She says that now Mona knows everything, she should stay away from Manveer and Manu. Bani J says even she is in a relationship and hence knows her boundaries on the show.



---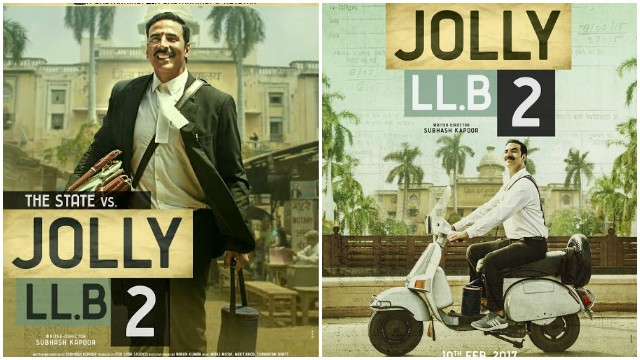 'Jolly LLB 2' poster out! Here's when the trailer of Akshay Kumar starrer will be unveiled
Mumbai:MMNN:16 Dec. 2016
Akshay Kumar, who stars in the sequel to the Arshad Warsi starrer Jolly LLB, has tweeted the second official poster of Jolly LLB 2.
The poster clearly tells us that it's going to be "The State vs Jolly LLB 2" in the flick.
Furthermore, the poster also gives out the information that the trailer of the film will be out on December 9 at 11 AM.
The film, which also stars Huma Qureshi, Annu Kapoor and Saurabh Shukla is slated to release on 10th February, 2017.
In the second poster Akshay Kumar is seen coming out of a district court, dressed as a lawyer, holding a number of files in one hand and a lunch box in the other.


---
Wajah Tum Ho movie review: No 'Wajah' to give this film a try
Mumbai :MMNN:16 Dec. 2016
Directed by Vishal Pandya, Wajah Tum Ho is one of those films which will leave you wondering what it was by the time you finish watching it. The film is a stale cocktail of lust, betrayal, revenge and vengeance. Barring Sharman Joshi, no one seems to be even trying to act. Wajah Tum Ho could have been a better film on cyber crime but by the time the film picks up pace, it is too late.
The story begins with the mysterious murder of ACP and its telecast on the nation's biggest television network Global Times Network (GTN). Kabir Deshmukh (Sharman Joshi), an honest Mumbai cop, starts his investigation and accuses Rahul Oberoi (Rajneish Duggall), CEO of GTN for the murder. Siya (Sana Khan), Rahul's legal advisor assures of his safety but Kabir is adamant about proving Rahul guilty in court. Lawyer Ranvir Bajaj (Gurmeet Choudhary helps Kabir in sending Rahul Oberoi behind bars. But is Rahul actually guilty of murdering ACP or is someone else using his channel to destroy him? This is what Wajah Tum Ho is all about.
Despite the steamy sequences which have the characters clad in satin lingerie in the trailer, the film doesn't have a lot of skin show. Except for its abrupt songs, Wajah Tum Ho has nothing sleazy to offer. The film was wrongly marketed as erotica and the songs have been used a promotional tool to pull the audiences to the theatres. Zarine Khan (Mahi Ve) and Sherlyn Chopra (Dil Main Chupa Loonga) try enough to woo the viewers by undressing themselves but one can't help but laugh at the pointlessness of their actions in most of the scenes. There's a scene in which Sana confronts Sherlyn and soon after the latter shows off her assets in a swimming pool which will make you cringe.
The acting by the lead cast is a yawn fest. Just one-film-old Sana Khan, leaves you infuriated with her dreadful facial expressions. It also looks like Zarine Khan and Sherlyn Chopra (guest appearances) are sailing in the same boat. After debuting with Jai Ho opposite Salman Khan where she hardly acted, Sana seems to be way off the mark. Her glamorous dialogue delivery style especially in the intense scenes turns out to be comical. Gurmeet Choudhary and Rajneish Duggal are terrible. They really need to join some acting school.
Sharman Joshi is the only saving grace in the film and somewhat lives up to expectations. There are unnecessary songs in the film which have no sync with the narrative of the story except the romantic songs featuring Sana and Gurmeet.
Wajah Tum Ho has so many twists that after a while you start recollecting director Vishal Pandya's previous Hate Story franchise. The plot of Wajah Tum Ho is complex but the way it is executed is laughable. Once the film is on the verge of unfolding the truth, you are bound to feel that the film is a C-grade version of Hate Story franchise.
Cinematography by Prakash Kutty is average and the film looks cheap to the core. The recreation of cult songs Pal Pal Dil Ke Pass and Aise Na Mujhe Tum Dekho will depress you. The reviewer feels that there is not a single 'Wajah' to watch Wajah Tum Ho this weekend.



---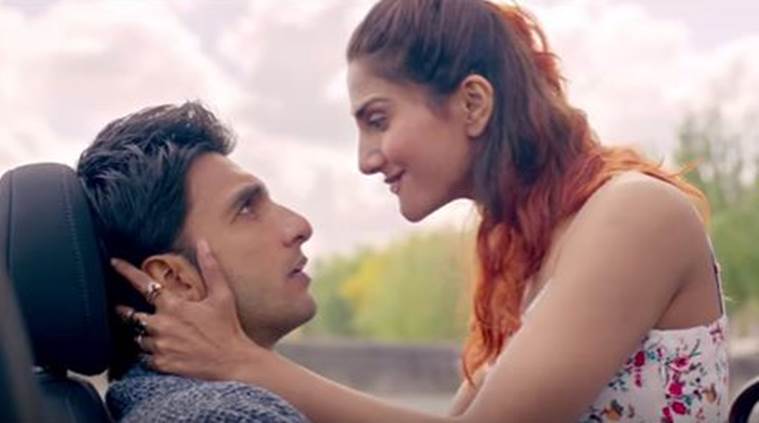 'Befikre' box office collection Day 4: Ranveer-Vaani's film witnessed a significant dip
Mumbai:MMNN:13 Dec. 2016
Aditya Chopra's romantic comedy 'Befikre,' which stars Ranveer Singh and Vaani Kapoor in the lead roles, witnessed a significant drop in its collections post the opening weekend.
The film, after collecting Rs 34.25 Cr in the first weekend, added Rs 5 Cr more to its kitty on Monday.
The drop from Friday when the film collected Rs 10.25 Cr, was almost 50 percent.
It could have been a little higher but since Monday was a holiday on the account of Eid-E-Milad, the film managed to earn a considerable amount. After a four-day run, the total collections of 'Befikre' now stand at Rs 39.25 Cr.
Day 1 Rs 10.25 crore
Day 2 Rs 11.50 crore
Day 3 Rs 12.50 crore
Day 4 Rs 5 crore


---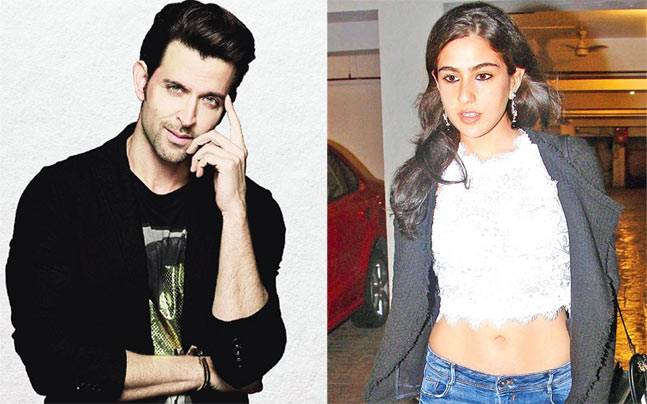 Sara Ali Khan to make her Bollywood debut opposite Hrithik Roshan?
Mumbai :MMNN:13 Dec. 2016
It's been a few months since the news of Sara Ali Khan's big Bollywood debut has kept the fans and netizens confused. From SOTY 2 to an adaptation of Fault In Our Stars opposite Ishaan Khattar, Sara has been linked to many projects as her big Bollywood launchpad. But it seems that all of them were just rumours as the biggest Bollywood scoop is here.
Saif Ali Khan and Amrita Singh's 24-year-old daughter will make her debut opposite none other than Hrithik Roshan. According to a report in Mumbai Mirror, Sara will share screen space with Hrithik for her first Bollywood venture. Earlier, there were reports that she has bowed out of Karan Johar's film due to differences between her mom Amrita and KJo. But that's all in the past now. Directed by Karan Malhotra, the film is said to be a comedy-drama, and will be produced by Karan Johar.
A source was quoted as telling the daily, "She is back on-board, but with a bigger and better project, after the differences have been ironed out. She will be the leading lady of Karan Malhotra's comedy film, a first-of-it's-kind journey."
Earlier, KJo, Hrithik and Karan Malhotra were to reunite for Shuddhi, but the film got shelved. However, the trio have come together for another big project. And the makers will soon make an official announcement.
"Malhotra and KJo have already worked on another script – a high budget comedy-drama which has been written by Malhotra. Now, with their leading pair on board, they're ready to roll in March 2017," added the source.
Hrithik, on the other hand, is currently awaiting the release of his film Kaabil opposite Yami Gautam.



---
Befikre Movie Review: Ranveer Singh, Vaani Kapoor's Chemistry Is Middling At Best
Mumbai:MMNN:9 Dec. 2016
A not-so-shudh desi romance, Befikre is posited as an extravagant ode to the adventures of unfettered youth. The film plays out mostly on touristy locations in the French capital and on sundry dance floors and nightclubs.
But are its pretty frames and foot-tapping songs worth the price of a multiplex ticket? Well, depends entirely on what one is seeking from a weekend watch.
Produced, written and directed by Aditya Chopra, the free-wheeling tale of lust and love gets buried under a crushing bulk of badinage that eventually yields no more than layers of surface gloss: nice to behold but flimsy in the main.
There is no denying that Befikre is beautifully staged and lensed. So, no matter how insubstantial the film is as an exploration of physical passion and its pitfalls, there is no reason to believe that it wouldn't be crowd-pleasing.
The film ends by exhorting the audience to "kiss free, love free, live free" while it seems to suggest that marriage is akin to jumping off a cliff into the sea.
But not to worry, the message that Befikre transmits is: if love is strong enough, you will float. If it isn't, you plunge into the unknown. The corollary: "love is life".
And that takes us right back to the motto of Yash Chopra's romantic dramas. So, all things considered, Befikre isn't as radical as might seem at first glance.
The script gives the currently high-flying Ranveer Singh all the opportunity he needs to give full rein to the natural ham in him.
As a carefree youngster who flips for every girl he sets his eyes on, the excess-prone actor makes the most of the role, going to the extent of flashing his derriere in one blink-and-miss moment sprung upon us out of the blue.
Although Ranveer's chemistry with the statuesque Vaani Kapoor is middling at best, the two leads deliver passable performances.
Unfortunately, Befikre has no plot worth the name to lift the emotional tug-of-war between the protagonists out of the morass of monotony.
The young couple hook up, break up and hook up again for reasons that are as slight as they are arbitrary. Flow along with the tide of unreason, and you might actually enjoy stretches of this whimsical stop-go ride.
The two lead characters want to come across as cool, modern, broad-minded, non-judgmental individuals, but neither stops short of calling each other names in a crunch.
Shyra is dead against the mushy kind of love that Hindi films propagate. So she isn't one to go gaga over her dishy boyfriend. On his part, Dharam, if not overly commitment-phobic, is happy just being a good friend.
So Befikre is a love story with a slight difference. If only it had more story and less love, it might have been a much better and more rounded film.
In the city of love, a stand-up comic from Delhi, Dharma Gulati (Ranveer), who has relocated to help liven up his friend's struggling bar frequented by desi loners, takes a shine to a Parisian walking tour guide Shyra Gill (Vaani).
The couple throws caution to the wind and begins a no-strings attached live-in relationship even as the girl's conservative Punjabi chef-parents silently frown upon the fling.
But it isn't the parents who pose the deal-breaking problems. Dharam and Shyra have no dearth of personal and emotional issues to deal with. This of course isn't Jaipur, where the Jaideep Sahni-scripted Shudh Desi Romance (which Adi Chopra produced and had Vaani Kapoor is a key on-screen role) was set.
This is Paris, where couples would once put padlocks on the railings of Pont de Arts and threw away the keys in the belief that it would lend longevity to a relationship.
Here, couples do not hold back when passion beckons, a fact acknowledged in the opening-credits song celebrating the act of kissing.
The kisses are countless in Befikre. They do no real harm to the flow of the film. The misses are far fewer in number, but the damage they do is infinitely bigger.
Especially disappointing is the film's bizarre climax, which dangles aimlessly between romantic drollery and outright absurdity.
Cinematographer Kaname Onoyama, who recently shot the Leos Carax documentary Mr. X, does a fine job of capturing the many charms of Paris.
One sequence that stands out for its camerawork is a long single take that captures an emotionally charged scene between the lead pair in which one of them feels ditched and hits back with a decision that smacks of recklessness.
The romantic romp looks good while it lasts, but it gives the audience little by way of takeaways. Befikre has shades of Tamasha (without the narrative layers), a film in which what happened in Corsica was meant to stay in Corsica.
In Befikre, what happens in Paris shouldn't have strayed beyond the main square of the Louvre. The film goes much further afield in search of true love and loses its way. If you dig that feeling, Befikre might be right up your boulevard.


---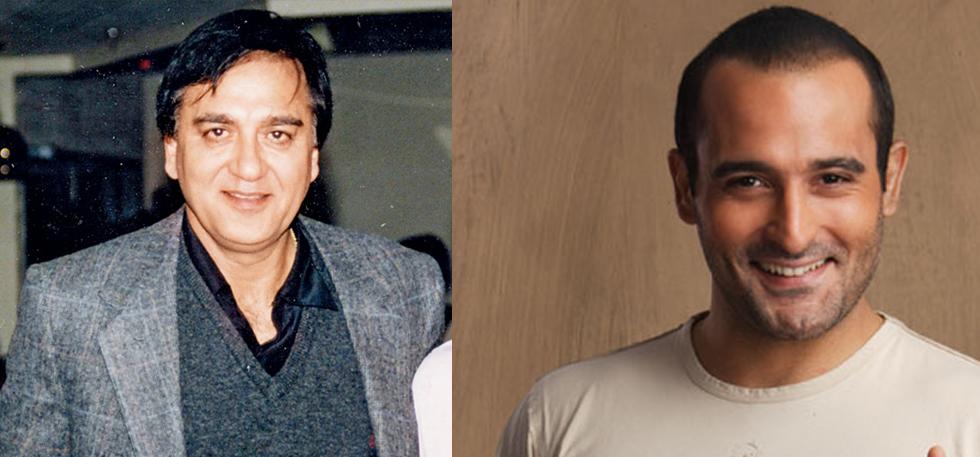 Akshaye Khanna to play Sunil Dutt in Hirani's Sanjay biopic
Mumbai :MMNN:9 Dec. 2016
For the last few weeks speculations have been rife about who would play Sunil Dutt in the Rajkumar Hirani-directed Sanjay Dutt biopic top- lined by Ranbir Kapoor. While many names have been doing the rounds, Mirror has learnt that the ball has stopped in Akshaye Khanna's court.
The 41-year-old actor, who is looking fit and fab, is the top contender for the role of the late actor-politician.
Akshaye returned from a four year hiatus earlier this year as the antagonist in Rohit Dhawan's 'Dishoom', also featuring John Abraham and Varun Dhawan. He was last seen in Rumi Jaffery's 2012 comedy 'Gali Gali Chor Hai' and has been shooting for Boney Kapoor's next production, the tentatively titled 'Mom' with Sridevi and Nawazuddin Siddiqui.
Speaking to Mirror (July 22) earlier about his self-imposed hiatus, Akshaye had admitting to feeling suffocated--creatively stifled--as acting is the only thing he knows or wants to do.
"Once I was in front of the camera, I felt like I was able to breathe again, there was a sense of belonging," he asserted, adding that once he was ready to get back, it took him a while to zero in on the right project because he was worried he might have got a little rusty in the interim. And so he has decided that the first couple of films should not rest on his shoulders alone.
"I wanted to test the waters before taking on bigger roles. I had to earn my stripes again, after being away for four years. I had to start from scratch like any newcomer," he had reasoned, going on to praise today's newcomers, from Arjun Kapoor and Varun Dhawan to Tiger Shroff, Ranveer Singh and Ranbir Kapoor who were all prepped up and polished in their first film itself and know how to handle the press and connect with the audience. "They are amazing!" he had raved.
Ranbir will begin shooting for the film in 2017 and is currently prepping up for the part. Sonam Kapoor and Anushka Sharma are also a part of the project.
Sunil Dutt rose to stardom with Mehboob Khan's 1957 epic drama, 'Mother India', playing Nargis's rebel son Birju. He saved the actress from a fire on the sets and later married her on March 11, 1958. He went on to do many more successful films like 'Sadhna', 'Sujata', 'Mujhe Jeene Do', 'Khandan' and 'Padosan'. Later, he turned to politics but returned to films shortly before his death, in Raju Hirani's 'Munna Bhai MBBS' in 2003, in which he shared the screen with his son Sanjay who played the titular role.



---
Why Shah Rukh and Salman will probably never star in a film together
Mumbai:MMNN:6 Dec. 2016
Superstars Shah Rukh Khan and Salman Khan recently made headlines when they both vowed to do a film together provided a knowledgeable director approached them with a good script.
Now while the idea of Karan-Arjun returning to the silver screen is something fans would love to watch, executing that on the part of a filmmaker and a producer might be impossible.
While neither Shah Rukh Khan or Salman Khan won awards for their remarkable performances this year in Fan and Sultan in this year's Star Screen Awards 2016, both superstars did make for the biggest headline of the year by saying that they were open to working together. While this piece of news has generated immense fan frenzy, here's why a movie with SRK and Salman together at this stage in their careers is highly improbable.
For starters, either of the two Khans will have to produce the film; this, thanks to their exorbitant fees. Not many producers in the industry have the courage to shell out all their life earnings and much more to cast SRK-Salman together. Secondly, to come up with roles that suit the 50-year-old superstars, keeping in mind their much-talked about egos, is difficult beyond imagination. Something that both the actors are aware of.
To create roles for the two biggest stars of Bollywood films, some inspiration can be taken from the West. Remember the 1974 cult classic The Godfather - Part 2 ? Well, the movie had stalwarts Robert De Niro and Al Pacino sharing screen space with terrific roles for both. While De Niro played the don, Vito Corleone in his younger days, Al Pacino played his son Michael Corleone, the protagonist and the new don in New York City. Both actors won several awards for their roles and are still remembered for their outstanding characters.
Or more recently, Martin Scorsese's 2006 blockbuster The Departed that saw Leonardo Di Caprio and Matt Damon collaborate to essay strong characters with equal screen presence. While Leonardo Di Caprio played an undercover cop in the movie, Damon was a mole placed in the Police who leaks information to the bad guy Costello played by Jack Nicholson.
Neither of the two roles were overshadowed by the other. Both Di Caprio and Damon made a mark with their craft and both characters were equally loved by the audience.
The Khan superstars on the other hand have collaborated thrice in the past. First in Rakesh Roshan's 1995 superhit Karan Arjun, then in Karan Johar's 1998 blockbuster Kuch Kuch Hota Hai and then in the 2002 average grosser Hum Tumhare Hain Sanam that also marked their last outing together in well-defined roles.
Both SRK and Salman have also appeared in cameos in each others films like Har Dil Jo Pyaar Karega in the year 2000 and Om Shanti Om in 2007. Both actors, now aged 50 + have now started doing roles suiting their age. While Salman was seen playing an aged wrestler in his last film Sultan, Shah Rukh played young Alia Bhatt's life-mentor in Dear Zindagi.
The news of both SRK and Salman keen on working together is a mouth-watering prospect for Hindi film fans but finalising a script that does justice to their super-stardom and age and finding a producer who will have to manage Salman & SRK's dates and egos will not be easy.


---
Salman Khan and brothers make amazing revelations on 'Koffee With Karan'
Mumbai :MMNN:6 Dec. 2016
Bollywood's famous brothers – Salman Khan, Arbaaz Khan and Sohail Khan – will make an appearance on the 100th episode of Karan Johar's 'Koffee With Karan', scheduled to be telecast on October 11.
A teaser of the episode featuring the Khan trio has been unveiled by the channel airing the show. And going by the teaser, it can be said that the 100th episode of Koffee With Karan will by far be the best of the fifth season. Since Sohail and Arbaaz will join Salman on the show for the first time, it will be interesting to see what the two have to say about their big brother.
Talking about his relationships, Salman, who has dated Sangeeta Bijlani, Somy Ali, Aishwarya Rai Bachchan and Katrina Kaif, said, "I am not the nicest guy when it comes to relationships." He also said, "I wasn't good with them."
Arbaaz promptly reacted to Salman's remark by saying, "He was good to other people at that time."
Apart from discussing the women in Salman's life, the brothers also made naughty revelations about each other.
Best known for being candid, Salman said that he and his brothers wore each other's underwear and they share their undies even today. (Well, only the brothers know how far this is true!)
Sohail also made an interesting revelation about Arbaaz. Surprisingly, not Salman but Arbaaz attracted women like a magnet. They used to call Arbaaz's room as 'Bermuda Triangle' because women visiting their family used to head to his room!
Well, the episode featuring the Khan Brothers is going to be a too much fun for sure.
We can't wait to watch the episode. What about you?



---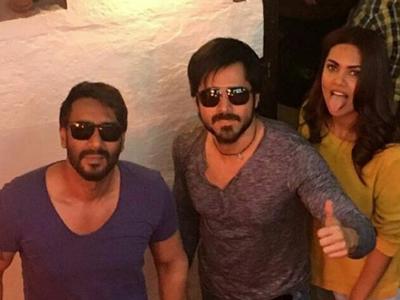 Ajay Devgn and Emraan Hashmi kick-start Jodhpur schedule of 'Baadshaho'
MMNN:2 Dec. 2016
The cast and crew of 'Baadshaho', which stars Ajay Devgn and Emraan Hashmi, have kick-started the second schedule of the film in Jodhpur.
While Emraan shared a picture of the Blue City on his Instagram account on Thursday, we now stumbled upon a new picture that sees Ajay, Emraan and leading lady Esha Gupta in a candid mood.
Another video of Ajay heading towards the set is also doing the rounds on social media.
Don't miss how one of his fans congratulates him saying, "'Shivaay' was awesome."
'Baadshaho' is director Milan Luthria's fourth collaboration with Ajay after 'Kachche Dhaage', 'Chori Chori' and 'Once Upon A Time In Mumbaai'.
The film's first schedule was shot in Mumbai and Sunny Leone shot a sultry item number for it too.


---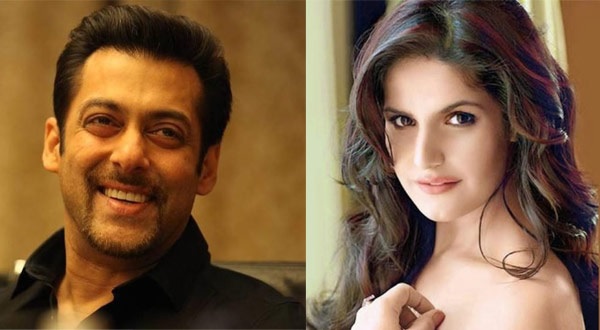 Mentor Salman Khan miffed with Zareen?
Mumbai :MMNN:2 Dec. 2016
It is no secret that Sallu bhai has launched quite a few fresh faces in Bollywood and saved many troubled careers from drowning. One of Salman's brightest finds is actress Zareen Khan.
Zareen, who had worked as body double for Katrina in the past, was spotted by Salman on the sets of 'Yuvraaj'. After taking a screen test of Zareen, the superstar cast her in his period drama 'Veer'. Rest, as they say, is history!
But things have turned sour between mentor-protégé cum good friends Salman and Zareen Khan.
It all started with Zareen featuring in an item number in Vishal Pandya's erotic thriller 'Wajah Tum Ho'. The song, which is a remake of 2002-released blockbuster movie 'Kaante' iconic song 'Maahi Ve', originally had former sister-in-law Malaika Arora in it.
The song went on to become one of the biggest item songs of the decade, making Malaika the most sought after item girl.
But Bhai, who had initially tried to dissuade Arora from divorcing his brother Arbaaz, is now miffed with Zareen for doing that song. If reports are to be believed, Salman does not share a very healthy relationship with his former family member Malaika.
Seeing Zareen performing on the same song, doing exactly the same steps and wearing similar-looking clothes, the superstar boiled with anger and is now rumoured to be upset with the actress.



---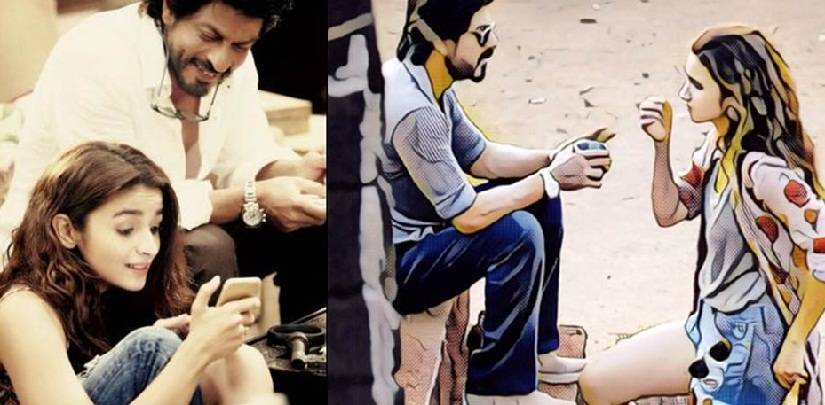 Dear Zindagi movie review: Incredibly cute Alia, Shah Rukh Khan need a more consistent script
New Delhi:MMNN:25 Nov. 2016
Dear Zindagi is clearly straining at the formula-ridden Bollywood straitjacket to give us a refreshing take on love and family, and for the most part it sticks to its guns. In the end, it does succumb to the pressure to bow to perceived public demand with passing mentions of what we have come to consider inevitable in every Hindi film, but the ride up to that point is so rewarding so often that it is tempting to look past those needless moments.
Writer-director Gauri Shinde's Dear Zindagi comes four years after her remarkable debut with English Vinglish. If that film brought the charismatic Sridevi back to the big screen as a leading lady after a 15-year hiatus, this one redefines the concept of hero and heroine in Hindi cinema.
Dear Zindagi revolves around Kaira (Alia Bhatt), a talented young cinematographer in Mumbai who despises her parents, appears confident in her romantic relationships yet is ridden with insecurities about the men she is drawn to. Those insecurities lead her to deliberately hurt her boyfriends before they get a chance to hurt her. It does not take a degree in psychology for a viewer to figure out her behaviour patterns, but Kaira is naturally confused by her fears. She ends up seeking professional help, and with some wise counsel, finds her answers herself.
When one of the biggest stars in the history of Bollywood appears on screen about 40 minutes after the opening credits, it goes without saying that this is an extremely unconventional film. Bhatt's Kaira is the focal point of the story from start to finish whereas Shah Rukh Khan – playing her therapist Dr Jehangir Khan – surfaces towards the latter part of the first half and is nowhere to be seen in the concluding scene.
In a male-obsessed industry still tending to subordinate women in most mainstream projects, this is a decision that shows guts on Shinde's part and Khan's evident willingness to experiment. That other MegaKhan, Aamir, took a similar gamble with rewarding results in Taare Zameen Par (2007), and this is a winning aspect of Dear Zindagi too.
SRK gets less screen time but owns every scene he is a part of. In fact, Doc Jehangir enters the picture just as the film is sagging and appears to be repeating itself. His arrival immediately lifts Dear Zindagi. It sags again occasionally thereafter, but never when he is around. Besides, there is such warmth in Kaira's interactions with the Doc that it envelops the rest of the narrative too.
Kaira explodes in anger at one point when someone describes her as a pataka (firecracker). Well, that's precisely what Bhatt is – a pataka with pizzazz and verve. What makes her so impactful is that she has had an internal journey with each of her roles so far, and not so far allowed that journey to be overshadowed by her attractive personality. Kaira is simultaneously exasperating and endearing, and Bhatt remains in control of that difficult blend throughout.
Still, the film needed more matter to wrap around these two lovely stars, and Dear Zindagi too often does not. Some of that comes from the failure to build up the satellite characters who are Kaira's go-to people in times of need. We get that she is pre-occupied with her own emotional struggles to the point of not noticing their problems, but that is no excuse for the writing to neglect them too.
Who is Fatima (Ira Dubey) beyond being a mature, married friend? Who is Jackie (Yashaswini Dayama) beyond being a sweet, supportive, possibly younger friend? Who and what is that chubby male colleague beyond being chubby and funny? Who is her brother Kiddo (Rohit Saraf) whom she loves, beyond being her brother Kiddo whom she loves? Who and what are her boyfriends Sid (Angad Bedi), Raghuvendra (Kunal Kapoor) and Rumi (Ali Zafar) beyond being a good-looking restaurateur, a good-looking producer and a good-looking musician? (Spoiler alert) And then there are those two oh-no moments towards the end – you know the kind that make you say, "Oh no, you too Dear Zindagi"? One of them seems to go along with the traditional view that characters played a major male star and a major female star must inevitably be attracted to each other if they interact long enough in a story; the other underlines the essentiality of a man in a woman's life to make her feel complete. Both are fleeting suggestions, but they pull down the film's assuredness about what it is trying to say until then. Oh no, you too Dear Zindagi? (Spoiler alert ends)
For this and other reasons the film is inconsistent and intermittently lightweight. Yet, there is much else to recommend in Dear Zindagi.
The use of music, Amit Trivedi's breezy tunes and Kausar Munir's conversational lyrics are lots of fun, as are Kaira's many amusing interactions with her friends. DoP Laxman Utekar fills the film with pretty frames of Goa beyond what we are used to seeing of that picturesque state, and is just as imaginative in his focus on Khan and Bhatt's faces.
Watch out for the closing shots of Bhatt on a beach.
From an industry that usually treats parents as deities deserving to be worshipped, it is also unusual to get a story that does not ignore these gods' feet of clay, especially considering that Dear Zindagi is co-produced by Karan "It's All About Loving Your Parents" Johar.
Above all, it is nice to see a film making an effort to destigmatise patient-therapist interactions, in a portrayal far removed from the "paagalkhanas (lunatic asylums)" of an earlier Bollywood era.
Dear Zindagi then is a mixed bag. I loved SRK in the film, Bhatt is always a pleasure to watch, the story visits many themes that are uncommon in Bollywood, and several of the discussions are either witty or insightful or both. Overall though, the film comes across as being not enough because the writing needed more substance.


---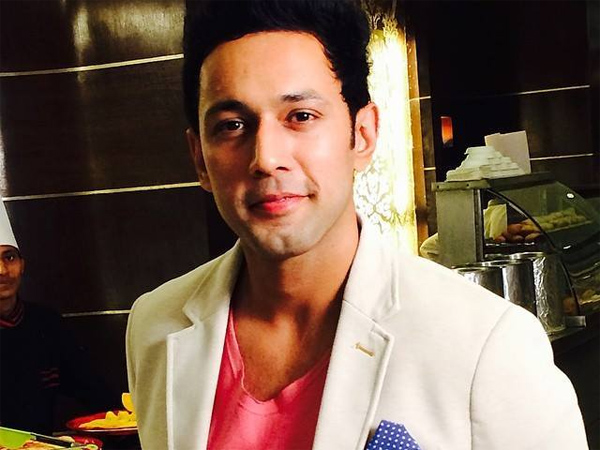 Why we think Sahil Anand's entry would bring an interesting twist in Bigg Boss 10
Mumbai :MMNN:25 Nov. 2016
Cute-yet-macho, Sahil Anand would be entering the Bigg Boss house as a wild card entrant along with Jason Shah, Priyanka Jagga , Elena Kazan. Here are the reasons why we think, 'Student Of The Year' actor's entry would bring an interesting twist in the most talked reality show.
Reunion with Bani J
They had competed against each other Roadies 4 and now they will be coming face-to-face after a decade. There Roadies journey was full of lots of up and downs and after the show got over they lost touch with one another. It would be interesting to see how MTV India presenter's would react when she comes across Sahil in the house.
Fan connection with Jagga
As per the media buzz, Priyanka Jagga, who is better known for his trouble-making antics is Sahil's friend. Only a few people know that, after Roadies Priyanka became fan of Sahil and at that time she expressed her fondness towards him on social networking sites.
Although they know each other, but they were not in touch. It would be interesting to see Priyanka, who had topped the hate list of most of her co-contestants still hold a soft corner for Sahil?



---
Sushant Singh Rajput, Kriti Sanon's Raabta to release on June 9, 2017
New Delhi:MMNN:22 Nov. 2016
Actor Sushant Singh Rajput and Kriti Sanon starrer Raabta is set to hit the theaters on June 9 next year. Directed by Dinesh Vijan the movie is extensively shot in Budapest, Mauritius and Punjab. The movie which was slated to release around Valentine's Day next year got postponed to avoid the clash with Akshay Kumar's Jolly LLB 2.
The film is a love story based on dreams and destiny. Raabta, which got delayed by a year due to casting issues, is produced by Vijan and Bhushan Kumar and presented by T-Series and Maddock films.The directorial venture of Dinesh Vijan also features Varun Sharma who is all praise for his co-stars Sushant Singh Rajput and Kriti Sanon and feels the duo share a great chemistry in the film.
While the 26-year-old actor has worked with Kriti in superstar Shah Rukh Khan-starrer Dilwale, this is the first time he worked with Sushant and the young actor was left impressed by his talent.
While the movie was in making, there were reports about Sushant and Kriti dating each other. However, Kriti has dismissed these rumours. When asked Sushant about his reaction on Kriti's statement, he said, "She always speaks the truth and whatever she has said is right."
While Sushant, who is riding high on success of MS Dhoni: The Untold Story, is currently busy reading scripts, Kriti is shooting for next film titled Bareilly Ki Barfi.


---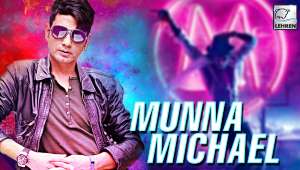 Tiger Shroff teaches Nawazuddin Siddiqui some dance moves
Mumbai :MMNN:22 Nov. 2016
Tiger Shroff who is well-known for his dance moves is teaching this non-dancer some dance moves. Nawazuddin Siddiqui is currently going through rigorous dance practice sessions for his upcoming movie Munna Michael with the Baaghi actor.
Junior Shroff recently uploaded a picture on twitter where the two can be seen sharing a funny moment. In the picture Tiger mockingly asks the Badlapur actor if he is "ready" to learn dance, to which a witty Nawaz replies, "Bachpan se".
As seen from the image, Nawaz sports a completely different look when compared to his previous movies. The Raman Raghav star looks dapper in a leather jacket, sports earrings and a new haircut.
Being a method actor, the Gangs of Wasseypur star wanted to deliver his dance steps perfectly and Tiger happily volunteered to help him with the steps.
Munna Michael is a musical drama, directed by Sabbir Khan where Tiger's character will be a Michael Jackson fan.



---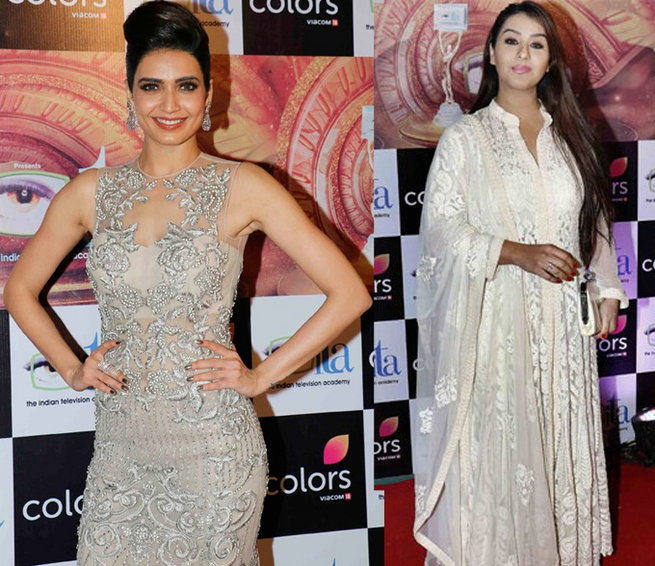 From Adjusting Dresses to Flaunting Baby Bump: This Is How Top TV Stars Spread Their Sparkle at Indian Television Academy Awards (ITA)
MMNN:15 Nov. 2016
A number of TV stars including Mouni Roy, Karishma Tanna, Rubina Dilaik and others attended the recently held Indian Television Academy Awards. The stars were seen flaunting their stylish avatars at the red carpet as some came with their spouses while others attended the celebrated awards night by themselves.
Mouni Roy who is mostly known for her enviable bold style sense carried yet another stylish look. However, it seemed the diva was rather conscious about her dress slipping from places because she was caught on camera adjusting her gold gown.
What more? Even Shilpa Shinde who was in news a few months back for having left Bhabiji Ghar Par Hain was also spotted. Ronit Roy and Rohit Roy both came tagged along with their pretty wives. Veteran actor Jeetendra was also spotted cordially walking in with erstwhile actress Poonam Dhillon.
One thing that we could not help noticing is the fact that Jeetendra's face looked weirdly botox as if the man is hell bent at looking younger than his age. He is the father of the most successful television producer Ekta Kapoor which made his presence at the award function all the more legit.
Other stars who attended the do included Debina Banerjee, Pooja Gor, Pooja Bedi, Roshni Chopra, Jiya Manek, Munmun Dutt and Deepshikha Nagpal with her husband.


---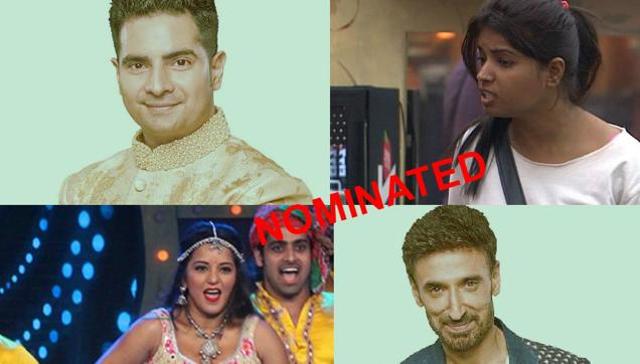 Bigg Boss 10: Who should be evicted from the show this week?
Mumbai :MMNN:15 Nov. 2016
A day after the shocking elimination of Navin Prakash, Bigg Boss 10 participants have nominated four contestants for evictions this week - Karan Mehra, Monalisa, Lokesh Kumari Sharma and Rahul Dev.
Monalisa's nominations even caused a major fight between Manu and Om Swamiji but she remains nominated for eliminations this week.

Karan Mehra
TV actor Karan has been a silent player in the game since Day One. He has had no fights inside the Bigg Boss house during his four-weeks' stay on the show. However, he also lacks entertainment quotient - he never takes any effort to entertain or engage the audience.

Rahul Dev
Actor Rahul Dev, best known for playing negative roles, has been high on fighting but low on everything else inside the Bigg Boss house. Be it discussing random daily work or manipulating someone in the game, he prefers doing it all from the comfort of his bed. Even Salman Khan chided Rahul for this "lazy, lethargic" behaviour.

Monalisa
Monalisa is one of the few balanced contestants of this season - she dances, sings and entertains herself as well as others in times of fun and is ready to take up any fight when the need be.

Lokesh Kumari Sharma
Lokesh certainly didn't fit the bill in the list as Bigg Boss had asked for names of contestants who were boring. And with her awesome rapping skills, that weird talking style and a sweet smile, Lokesh is anything but boring. But thanks to Manu and Manveer's decisions, even she is nominated now.



---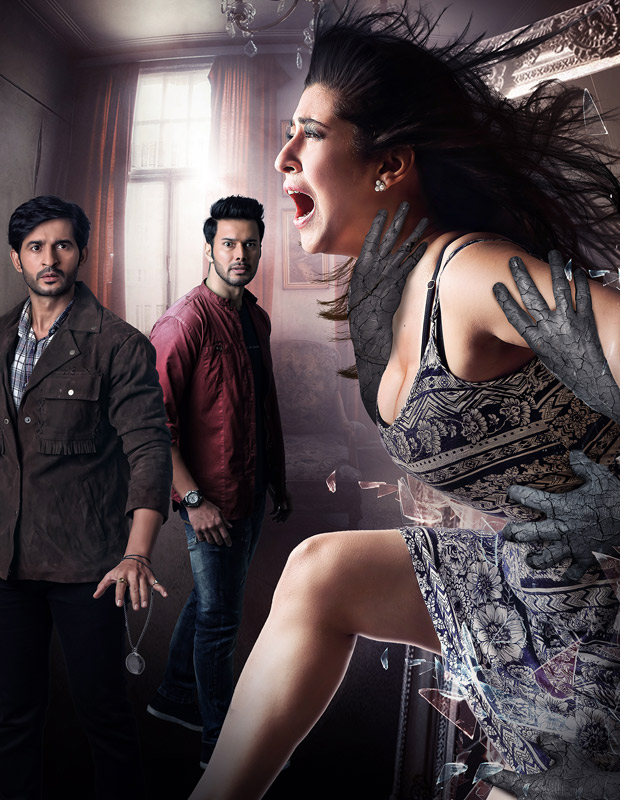 Saansein to now arrive with Shah Rukh Khan's Dear Zindagi
MMNN:11 Nov. 2016
The makers of Saansein have made a bold move. Instead of arriving today, they would now be coming on November 25. This is also the day when Shah Rukh Khan and Alia Bhatt's Dear Zindagi hits the screens. However, it is not about making a hasty decision or taking a call under duress due to lack of choices available. Instead, it is a calculated move.
"There was no way that we would have arrived today. Do you think 'aam aadmi' would stand in queue for a film or instead stand in queue for an ATM or a bank? Well, you guessed it right! In such times, when money is the biggest thing on people's mind, you can't expect them to think about entertainment," says a source attached to the film.
Considering the fact that Saansein is looking at an equal split of arriving at the multiplexes and the single screens, the makers had no intention of rushing through the release just because an original date was decided for November 11.
"Of course, this puts the pressure on us to spend on marketing and promotion for two more weeks. However, it is better to do that instead of giving an excuse later that we could not do well due to demonetization drive," says producer Goutam Jain.
But why November 25? "There is no point coming next week either because of two reasons. First and foremost, it would take at least a couple of weeks before people would be able to get their funds sorted. One doesn't see this settling down in one's week time. Secondly, there is also John Abraham's Force 2 arriving on 18th November and that film would also have good penetration in the single screens. Why to clash Saansein with Force 2, when latter had announced its release date first," says a trade insider.
This meant bringing the film on November 25, even though there is a Shah Rukh Khan film releasing on that day.
"It is okay because by the very look and feel of it, the film is predominantly catering to the multiplexes," the source adds, "Of course the presence of Shah Rukh Khan means that single screens would have its fair share as well. Still, it is not that there is no space for any other film. Considering the fact that Saansein is a horror musical, a formula that traditionally works especially when the budget is under control, it is getting a good deal with single screens. Moreover, there is no such scenario like 4-5-6 films arriving in a single week which would have made them all get lost in the crowd. Saansein is getting good visibility."
Another date thought was December 2, but that was immediately ruled out since Rajneish Duggall, the leading man of Saansein, is also one of the leads in Wajah Tum Ho which releases on the same day.


---
Ranbir Kapoor, Ranveer Singh to share Koffee with Karan couch? We are losing our chill
Mumbai :MMNN:11 Nov. 2016
Ranveer Singh and Ranbir Kapoor on Karan Johar's couch — sipping coffee and spilling secret? The chances of former and present boyfriends of Deepika Padukone — alleged, of course — on Koffee With Karan together is making us lose our chill.
After Alia Bhatt and Shah Rukh Khan appeared on Koffee With Karan, everybody thought it can not get bigger and better than this. But it looks like Ae Dil Hai Mushkil director has decided to take his celebrity chat show a notch higher on entertainment, gossips, and controversies. Well, what else can you expect when you have the most compatible couple of B-town, Twinkle Khanna and Akshay Kumar on the hot seat of the talk show. Karan has definitely been gutsy while picking up his combination of guests this season.
While the fans of the chat show are still going gaga over the witty replies of Mrs. Funnybones, here comes another reason for all to talk about the KJo's talk show. According to a report by Filmfare, Ranbeer Kapoor, and Ranvir Singh will be the next guests of Karan Johar. The duo will shoot for the show on Tuesday. Now this is something shocking for all those who thought that the two dashing actors will be pulling daggers at each other for the obvious reason, Deepika Padukone.
Ranveer Singh and Ranbir Kapoor have been called rivals time and again but they have been spotted together many times. Earlier this year, both of them were spotted at a party dancing their hearts out on songs Jumma Chumma De De, Badtameez Dil, and Dilliwali Girlfriend. Though both the actors have not yet shared the silver screen but the fans of the two handsome actors do wish to see them together sometime soon.
For now, it will be interesting to see what the two men have to say about their common love interest, Deepika. And, just to remind you, Ranbir Kapoor's relationship with now ex, Katrina Kaif was officially confirmed by his cousin, Kareena Kapoor Khan on the couch of Koffee with Karan only.



---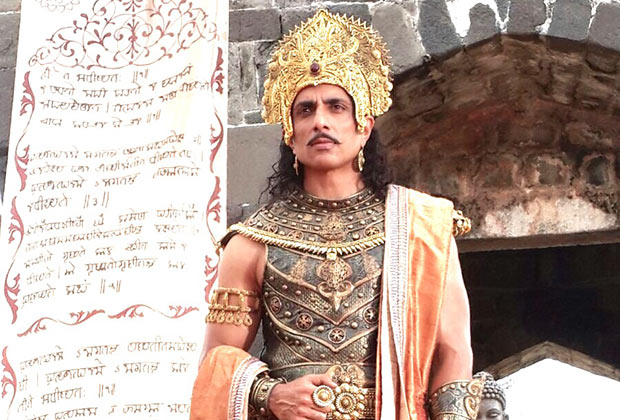 Sonu Sood's Xuanzang is China's official entry for Oscars
MMNN:4 Nov. 2016
Last September, Sonu Sood was busy shooting at the Daulatabad Fort in Aurangabad for his debut Chinese film, Xuanzang, which also starred B-Town actresses Neha Sharma and Mandana Karimi. It was a surreal experience for Sonu Sood. Over a year later, Sonu Sood is on top of the world as the film has been named China's official pick for the 89th Academy Awards.
Commenting on the same Sonu says, "When I started shooting the film, I spent a year in China on and off. I knew I was getting to be part of history. The film had a star-studded premiere in Bejing and those who attended spoke highly of the movie. It is a special film and only China could have made it on such a grand scale. The China Film Group Corporation (CFGC)'s infrastructure allows them to make such massive productions".
The actor, who played King Harshavardhan in the film, attributes the achievement to its unique perspective. "Finally, there was someone who could envision India as something more than what Slumdog Millionaire showed. My mother was a history teacher and as a kid, I had learnt about the gracious King Harsha. But, playing the character was enthralling.
The most important lesson that this film and my next one with Jackie Chan have taught me was that while whipping up grandeur on screen, one must also take detailing into account. This was a difficult subject to create and in between the script and research, we truly ended up making an authentic historical film," he adds.
Xuanzang toppled the award-winning artistic film Crosscurrent in a neck-to-neck competition for the Oscar entry.
Two films from China nominated twice in the Best Foreign Language Film category at the Academy Awards, but the country has not won the golden statuette so far.


---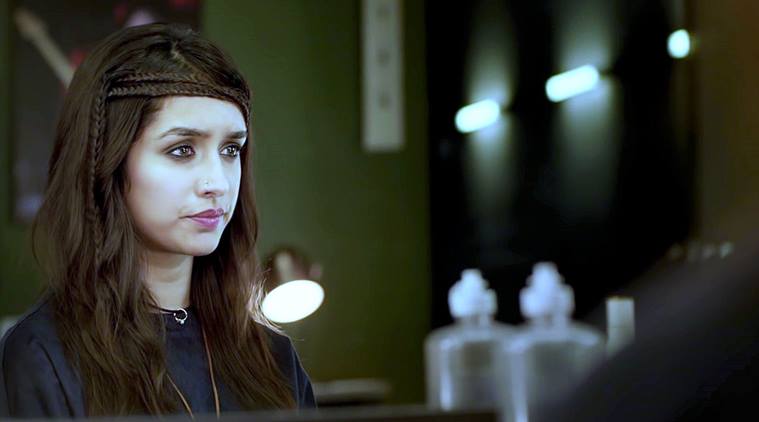 Shraddha Kapoor nervous to shoot Haseena with brother
Mumbai :MMNN:4 Nov. 2016
Shraddha Kapoor will be seen sharing screen space with her brother Siddhanth in the upcoming biopic Haseena and the actress is a bundle of nerves even before filming. The film is a biopic on underworld don Dawood Ibrahim's sister Haseena. The Baaghi star will be seen in the titular role in Haseena — The Queen of Mumbai while her brother will be seen as Dawood.
"I am very excited and nervous because I've been thinking if I have to do a scene with him, I've to forget that he is my 'bhaiya'. He is the character in the film who is also my brother," she said in an interview.
"But ultimately I think it'll help that we are brothers and sisters. I hope that bond translates on screen," she added. The film is directed by Apoorva Lakhia. Sonakshi Sinha was initially roped in for the biopic but the actress dropped out of the project.
Shraddha, 29, says her brother has already started shooting for the film and she will join him soon. "I've not started shooting with him as yet but he started a schedule. I'll be joining soon. I think this is the first time ever that a real life brother sister have come on screen as reel life brother sister."
The film will chronicle the journey of Haseena from teenage to the time when she is 40-year-old. Shraddha meanwhile, will be next seen in Rock On 2.
Also starring Arjun Rampal, Prachi Desai, Purab Kohli and Shashank Arora ('Titli' fame), the film will arrive in theaters on November 11. It has been helmed by debutant Shujat Saudagar.



---
Shivaay movie review: Ajay Devgn film is a bloated star vehicle
New Delhi:MMNN:28 Oct. 2016
Shivaay movie cast: Ajay Devgn, Sayyeshaa Saigal, Erika Kaar, Abigail Eames
Shivaay movie director: Ajay Devgn
Shivaay is a man of the mountains, fully alive only in their icy reaches. Then one day, love strikes, and everything changes.
Ajay Devgn's second directorial outing, in which he plays the In and As eponymous hero, sweeps us up on to craggy cliffs and down into deep crevasses, both in the Himalayas and in Bulgaria, and then leaves us high and dry. Well-made, this could have been a cross-continental film about filial love and romantic betrayal, but 'Shivaay' is a monumental near-three hour long drag, giving you too much empty time to wonder just how much lower it can sink, and the next thing you know, it slips a few more notches.
Devgn has played father to a little girl before, and done a serviceable job of it ( 'Main Aisa Hi Hoon'). He is, in fact, quite good around kids generally ('Raju Chacha'). His first film as director tried exploring the thorny path those afflicted with Alzheimer's have to tread: it may not have been all the way successful, but it was a brave choice of subject. And he is one star who's never been afraid of underplaying, because that's how real actors roll.
Here he abandons all actorly pretences and dons a dull superhero garb. He shares screen time with his speech impaired eight-year-old daughter (Abigail Eames) as he travels from a little hill town in India to Bulgaria in search of a woman (Erika Kaar) who abandoned them both. A clunky sub-plot involving violent child traffickers wearing creepy masks and a creepier old man come in the way, but Devgn is invincible and will brook no resistance.
And that's where the problem lies. Devgn employs all his too-familiar tricks (slo-mo walk, slit eyes, scything arms and legs) from his one man army south remakes, and makes us forget that he is trying for a character. All we see is a grim, unsmiling visage, with no hint of the vulnerability or humour that he has been capable of in his best parts. He may be kitted out as Shivaay but he is still in 'Singham' mode.
When Devgn steps off the screen, which is not for too long, on come a bunch of clueless people: an unintentionally hilarious `ethical hacker' (Vir Das, having the most fun in the film), a corpulent diplomat who delivers lectures on the virtues of being a Bihari (Saurabh Shukla), a middle-aged man in a wheelchair (Girish Karnad, not quite sure what he is meant to do), and a pretty girl (Sayyeshaa Saigal) whose sole job description is to look upon the hero in wide-eyed adoration, when not thinking deeply in a bath-tub.
The only thing your eye can rest on is the spectacular scenery. The rest is a bloated star vehicle.


---
Ae Dil Hai Mushkil movie review: This brand new film feels same old
New Delhi :MMNN:28 Oct. 2016
Ae Dil Hai Mushkil movie cast: Ranbir Kapoor, Anushka Sharma, Aishwarya Rai Bachchan, Lisa Haydon, Fawad Khan
Ae Dil Hai Mushkil movie director: Karan Johar
When I opt for a Karan Johar film, I want the stuff that he does best — the impossibly beautiful people, the lovely foreign locations, the humungous homes, the songs-and-the-dances, the zardozi and the flash — in spades.
What I also want is the heightened emotions and the messy love you-hate you-can't live without you moments that he manages to create in his most felt work. He has to make me feel enough so I can keep the glitter at bay.
Ae Dil Hai Mushkil scores high on the first count. You can't get better-looking actors than Ranbir Kapoor-Aishwarya Rai Bachchan-Anushka Sharma-Fawad Khan. You can't get more atmospheric cities than London and Paris, ohhh. And instead of New York, there's Vienna. So far, all slurp worthy.
But Johar is unable to go the extra mile it in the other department, leaving you wanting both more and less: less of the incessant yak-yak (you want to tell these impeccably-styled people to stop and draw breath and then speak, so that they, and we, can absorb the moment they've created), less of the non-stop background music (if it is real, you don't have to underline it), less of the frantic reaching for the next old Bollywood classic line or song (because too many of these, and 'Ae Dil' is stuffed with these references, makes your brand new film feel same old); and more silence (the most effective parts of the film happen when it's quiet), and more fresh plot points.
Meet Ayan (Ranbir Kapoor), Alizeh (Anushka Sharma), Saba (Aishwarya Rai Bachchan) and Ali (Fawad Khan), the four who play ring around the roses with each other. Ayan is 'private-jet' rich but wants to be a singer, the out-going Alizeh loves Ali, and the happily divorced Saba is looking for love.
The most flavoursome relationship dramas, where characters pair up, leave, and return, are a compendium of sighs and tears and moments where you want the lovers to fall into each other's arms because you can't bear to see them apart. But I didn't get there in 'Ae Dil'. Or at least in not more than a couple of places.
That's because of a lack in focus: this he falls in love with her-she loves another-he falls in lust with another-she teaches him how like is better than love is all over the place and stretched at ends, the intervening bits filled with songs (club, shaadi, even a 'break-up' ditty) and dialogue (yes, not lines, but dialogues, in the old-fashioned way: why, when your characters inhabit the here and now?). Sure, they play 'shayars' and singers, but their delivery makes a lot of those conversations feel forced and cheesy.
Of the actors, Sharma comes off most familiar even when she is the one who is given a clear departure. Rai Bachchan is eye-catching as the older, experience woman but I wish she was given more time to channel hurt. Poor Fawad Khan, over whom so much controversy broke out, is dishy but doesn't really have much to do.
Lisa Haydon comes on in a walk-on part as a ditsy girl, and is a hoot. But the one who lifts this film, or as much as he can, is Ranbir. As the fellow who crumbles and cries and shoves his aching heart on his sleeve even when letting a pretty thing wipe his eyes, he is terrific.
There's a nice bro-moment between Fawad and Ranbir, when the film sparks to life. And you wonder if this pair shared more screen space, would the se 'dils' have been in a little less 'mushkil' ?
I'm going to think more on that, and listen to some weepy old songs, and hope that Johar will come up with something newer and sharper the next time around.



---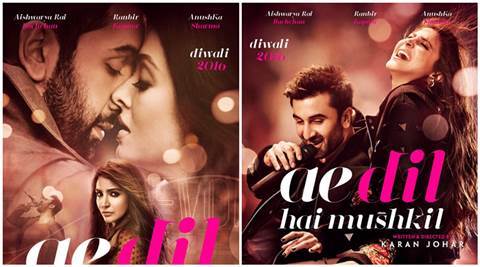 Pleased that Indian Army slammed MNS, Pakistan's cinema owners to lift ban on Indian films
Mumbai :MMNN:25 Oct. 2016
Pleased with the Indian army slamming the Maharashtra Navnirman Sena, cinema owners in Pakistan said today they plan to lift their self-imposed ban on the screening of Indian films, the owner of a leading theatre told The Express Tribune.
"Indian Army's statement is a good enough evidence for the change in perspective on the other side of the border. So is the release of Fawad Khan's film in India," said one cinema owner who attended a meeting of theatre owners held on Sunday.
The person quoted was referring to the film 'Ae Dil hai Mushkil', which stars Pakistani actor Fawad Khan. Mumbai police and Indian government officials assured the film's director Karan Johar that his movie can be released safely.
Pakistani theatre owners had suspended screening Indian films after the Indian Motion Pictures Producers' Association (IMPPA), earlier this month, banned Pakistani artists and technicians from working in India. IMPPA's decision followed last month's cross border Uri terror attack that killed 19 soldiers.
The owner of a leading distribution company told The Express Tribune that resuming the screening of Indian films is something that had to be done because Pakistani "cinemas relied heavily on Bollywood movies for their revenue."
A formal announcement of the lifting of the suspension on Indian films is expected later today, the Pakistani newspaper said.


---
Ae Dil Hai Mushkil vs Shivaay: Ajay Devgn movie is audience's choice, reveals poll
Mumbai:MMNN:25 Oct. 2016
Ever since the release dates of Ae Dil Hai Mushkil and Shivaay were announced (October 28), it is not only the filmmakers but even the audience who has been eagerly awaiting their release. We already know that when two big films clash at the box-office, the promotion game is going to be extremely crazy. While the extensive promotion of Ranbir Kapoor,
Anushka Sharma and Aishwarya Rai Bachchan's film has kept the buzz going, Ajay Devgn has not left any stone unturned to make sure that Shivaay does not lose its game against ADHM.
In fact, Ajay Devgn made a smart move to promote the film. From visiting the US office of Facebook to setting Raavan on fire at Delhi's most popular Ramleela, he has been a one-man army when it comes to promotions. Meanwhile, Ranbir has been at the forefront of ADHM's promotions.
To find out how excited the audience is about both the films, we asked them on Twitter which film they will be watching this Diwali. According to the Twitter poll on indianexpress.com, the audience is keener to watch Ajay Devgn-starrer in comparison to Karan Johar's Ae Dil Hai Mushkil. In fact, 57 percent said they would watch Shivaay while 43 percent opted for Ae Dil Hai Mushkil. A total of 888 votes were polled.
The promotions for both the films have not without incident. It all began when Ajay, on his Twitter account, claimed that self-styled movie critic Kamaal Rashid Khan has taken money from Karan Johar to promote Ae Dil Hai Mushkil.
Later, Karan Johar and the film found themselves in the middle of a political storm for casting Pakistani actor Fawad Khan in the film. MNS 'banned' the film in the aftermath of Uri attack and was adamant that it will not be allowed to release despite a video clarification from Karan Johar. The matter could only be resolved after the intervention of Maharashtra Chief Minister Devendra Fadnavis.
We have to wait for October 28, the biggest box-office weekend of the year, to know what eventually happens. We hope both films are winners and we get to have a dhamakedaar Diwali. See you at the movies folks.



---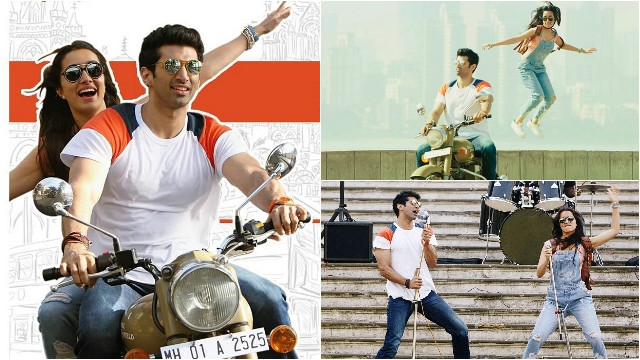 31st October Movie Review: Soha Ali Khan's Film is Well-Intentioned
Mumbai :MMNN:21 Oct. 2016
It isn't enough for a film to be well-intentioned. It still has to get most of its punches in to put points on the board.
31st October, a rare Hindi film focused on the 1984 anti-Sikh riots, decisively checks the first box. It, however, fails to score big on the second count.
Written by producer Harry Sachdeva and inspired by true incidents, 31st October makes a fair fist of recreating one of the darkest days in the history of independent India.
Directed by Marathi filmmaker Shivaji Lotan Patil, 31st October makes the right noises but is unable to direct and land its blows with the ferocity that could get the audience all pumped up.
That is a pity because it does serve a clear and necessary purpose. Its message is unambiguous - justice still eludes the victims of the 1984 anti-Sikh riots and it is about time we as a nation did something about it.
To make its point, the film tells the story of a middle class Sikh family in Delhi cowering in fear in their home and dodging the attention of a marauding, bloodthirsty mob on the day of Indira Gandhi's assassination.
It is a day that begins as innocuously as any other. Davinder Singh (Vir Das), an employee of the Delhi Electricity Supply Undertaking (DESU), leaves for work after escorting his two sons to their school bus and paying obeisance at the local gurdwara.
His homemaker-wife Tejinder Kaur (Soha Ali Khan) goes about her daily household chores, much of which revolves around caring for her infant daughter.
31st October opens at 6.30 in the morning. We catch a group of people - both Sikhs and Hindus - prepping for a langar at a gurdwara. It is business as usual for residents of Tilak Nagar.
Less than three hours later, India changes forever. A serving Prime Minister is gunned down by the very men entrusted with the job of protecting her. Innocent people are sucked into the vortex of the madness and mayhem that the act unleashes.
By mid-afternoon all hell breaks loose. An India-Pakistan limited-overs international is quickly forgotten as news comes that Indira is dead.
Packs of men armed with machetes and hockey sticks take to the streets and go on a hacking and burning spree, targetting Sikhs and their homes, shops and businesses. Policemen look on without lifting a finger.
You want to root for 31st October. That is the kind of film it is. You want to will it on to punch above its weight. Sadly, it is too feeble in the legs to run the distance with its heavy burden. The dawdling pace reduces the narrative to a crawl.

31st October has its heart in the right place. What it lacks is genuine firepower. Despite the anger and anguish that drives it, it is unable to whip up urgency and force.
A series of title cards at the end of the film fills the audience in with broad details of what happened on that fateful day and its aftermath. It is as if the horrors that it depicts in the previous 100 minutes or so aren't enough to get the point across.
31st October suffers for want of a sharper and stronger screenplay. The quality of the acting, too, is rather rudimentary.
The film could certainly have done with a more apt lead pair than Soha Ali Khan and Vir Das, neither of whom look right for the parts of a Sikh man and his wife.
Despite all the time and footage that the film invests in this middle class family caught unawares as the anti-Sikh rioters go on the rampage, the couple does not emerge above the din.
31st October pulls no punches in exposing the ignominious role of the police but it names no party or leader. We do, however, spot at least a couple of characters who resemble real-life Delhi netas accused of inciting violence against Sikhs on those four days of utter lawlessness.
Knocks on the front door are heard frequently at the home of Davinder and Tejinder. It turns out that a DESU lineman Jhanjuram (Daya Shankar Pandey) is keeping a watch over them.
Other righteous Hindus, friends of Davinder's brother-in-law, surface and take upon themselves the onerous task of rescuing the stranded Sikh family.
Pal (Deepraj Rana), Tilak (Vineet Sharma) and Yogesh (Lakha Lakhwinder Singh) team up for the rescue mission. How the brave do-gooders and the family they want to save negotiate the threats on the way is what the rest of film is about. By then, too much time has been expended on not-so-crucial subplots.
All the dangerous encounters, especially those that they have with a cavalier cop, Inspector Dahiya (Nagesh Bhonsle), are just not enough to create the air of dread that is needed to push the drama forward.
31st October springs to life occasionally. In one sequence, a Sikh man chased by a mob is given shelter by an unnamed drunkard.
Such is the atmosphere on the streets - the film banks upon what look like two-wheelers on fire to convey fear and foreboding - that even when the sloshed man lights a beedi, the act invokes a sense of menace. But such moments are few and far between.
Its theme is of pressing relevance. Yet, 31st October doesn't leave a lasting impression. It isn't half the film it could, and should, have been.
Be that as it may, it is still is a film that needs to be widely seen.


---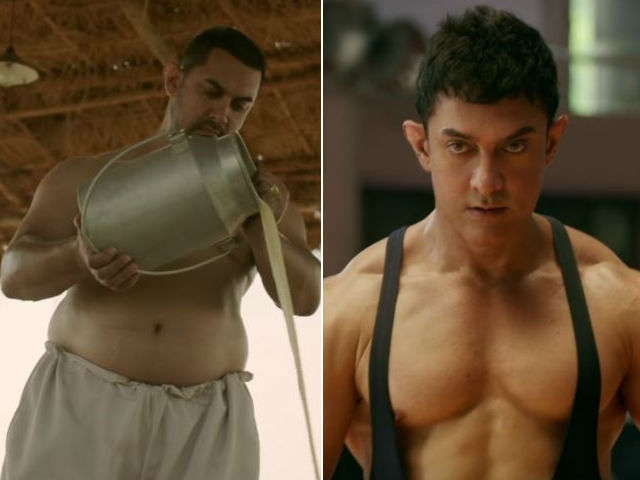 Only An Idiot Like Aamir Khan Could Have Done Dangal: Vidhu Vinod Chopra
Mumbai:MMNN:21 Oct. 2016
Filmmaker Vidhu Vinod Chopra says a person who is crazy for the art of acting can pull off character like Aamir Khan's in Dangal. He praised the 51-year-old actor for excelling in preparing for the role of wrestler Mahavir Singh Phogat.
The upcoming biographical sports drama features Aamir, 51, as Mahavir Singh Phogat, who taught wrestling to his daughters Geeta Phogat and Babita Kumari. The trailer of the film was released on Thursday.
Mr Chopra, who produced Aamir's PK and 3 Idiots, applauded the actor for his efforts. "I really like Aamir as an artiste. He is excelling himself," he told reporters, when asked how he found the trailer.
Aamir plays a much older man than him in real life. The filmmaker, who was speaking at the 18th Jio MAMI Mumbai International Film Festival, was asked if Aamir was setting a trend in an industry where often actors hesitate to play characters older to their age.
"Aamir is a mad man. We call him 'idiot' like you saw in 3 Idiots. So, only he can do this. If you aren't that then you can make a lot of money and leave the world but 'idiots' (people crazy for their work) remain forever," said Mr Chopra.



---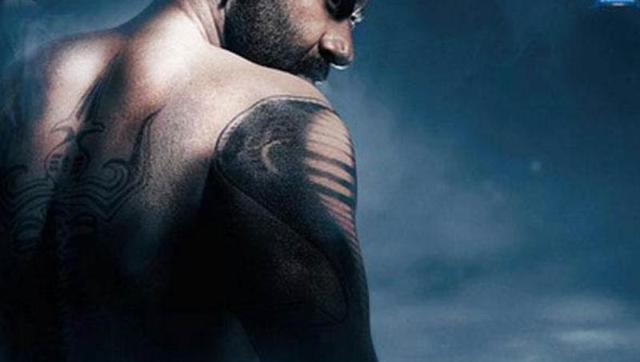 Ajay Devgn's Shivaay gets U/A certificate
Mumbai :MMNN:18 Oct. 2016
Ajay Devgn's much-anticipated directorial venture, Shivaay, has been passed by the censor board with a U/A certificate.
The action thriller also stars veteran actor Dilip Kumar's niece Sayyeshaa Saigal, Polish actor Erika Kaar, both in their Bollywood debut.
It has been produced by Ajay.
The film is clashing at the box-office with filmmaker Karan Johar's Ae Dil Hai Mushkil this Diwali, on October 28.
Ae Dil Hai Mushkil, which features Ranbir Kapoor, Anushka Sharma and Aishwarya Rai Bachchan in lead roles, has also got a U/A certificate.


---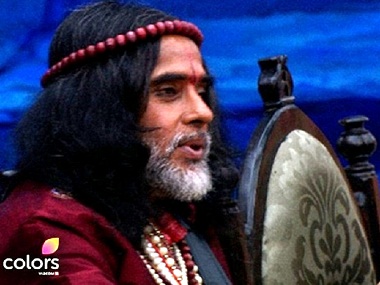 Bigg Boss season 10's creepiest contestant
Mumbai:MMNN:18 Oct. 2016
Bigg Boss season 10 on Colors TV has just barely just begun, but the controversies always come hand in hand. This season's most illustrious (we use the term loosely) contestant has to be Swami Omji, who also entered the Bigg Boss home first.
Everyone who watched the premiere show felt a unanimous sense of creepiness coming from Swami. Could be the way he talked about women and their bodies or marriage, but way too many people tweeted about their discomfort towards the Swami.
This reached its peak when he was speaking (almost bragging) to Deepika Padukone about how he assaulted actress Elizabeth Hurley because her dress was too revealing (he says he "cured her of her chronic backache" with the kick but spoke at length about her clothes).
Padukone managed to leave the house without losing her cool, but her raised eyebrows and shocked silence said it all.
Since then, in the two episodes that have aired, Swami can be seen flirting with the women contestants, talking about yoga and the flexibility of bodies.
He even spoke about how brahmacharis like him have an eternal fire and heat in their bodies, as opposed to men and women who share a bed (his words, not ours).
And now, as a cherry on the cake, an old video of the swami slapping a fellow guest on a debate show at IBN 7 has been doing the rounds.
Along with Swami, the video shows astrologer Deepa Sharma on the panel and the topic of discussion was Radhe Maa. After a heated argument, Swami questioned Sharma's authenticity, while she warned him not to get personal. Swami then got up to slap her, on national television.
After Sharma said, "Tameez se baat karo (speak courteously)," she tried to slap him and failed, but Swami then charged at her saying, "Tu kya maregi! (you think you can hit me)".
We're still confused about whether a character like Swami being on the country's biggest reality show is a laughable matter or if it's a serious consideration that we think this guy makes for good TV.



---
Saat Uchakkey movie review: When gods co-exist with item numbers
New Delhi :MMNN:14 Oct. 2016
Saat Uchakkey movie cast: Manoj Bajpayee, Vijay Raaz, Kay Kay Menon, Aditi Sharma, Anupam Kher, Annu Kapoor
Saat Uchakkey movie director: Sanjeev Sharma
God who may be mad, an Anupam Kher who lives in a haveli a Muslim woman claims is hers, and a Kalawati who exists only in dreams. There is more going on in Sanjeev Sharma's Saat Uchakkey than meets the eyes and, yes — despite the Censor's objections — the ears. Sift through the abuses, those that have survived 90 cuts and a three-year wait for release, and the film is a delightful slice of life from that new pet haunt of filmmakers, Old Delhi.
However, it's not the Old Delhi of just pigeon contests, closely knit houses and kite-flying, with Red Fort and Jama Masjid alternatively peeping over the horizon. Sharma's Old Delhi is rather about the old ghosts and new dreams which co-exist here so organically, one feeding off the other, one fuelling the other. It's about men who make a living "making antique idols", or keys for "90-year-old iron locks"; the men who hawk wooden snakes alternatively as "engineering craft" or "sexual toy" to hassled but polite foreigners; the lawyers who fix cases through skinny, knife-wielding boys barely standing upright; and cops who must find order amidst this all. It's also about the women who find their way through this, giving back as good as they get.
There are few ways out of this maze of narrow lanes, kachauris, card games, and hand-to-mouth survival. And one of the first offered to Pappi (Manoj Bajpayee) and company is a blithe deal: "bijli churani hai", they are told over roadside tea. The second is more esoteric, in the form of a lunatic, Bichchi (Annu Kapoor), of mythical reputation. In Bichchi's mutterings, Pappi sees the promise of a hidden treasure in that contested haveli of the diwan (Anupam Kher).
Where gods co-exist snugly with "item numbers" organised for Purnima, day begins with a flower-seller setting shop for Kaali puja, a dacoity must take into account the neighbourhood mosque, mourners break into a dance, and havelis come with Mughal lineage, nothing is impossible.
Manoj Bajpayee as Pappi; Aditi Sharma as Pappi's resourceful love and the neighbourhood heartthrob Sona; Vijay Raaz as Jaggi, the lawyer with a waistcoat, a ponytail, and that undulating henchman; and Kay Kay Menon as daroga Tejpal keeping the order while nursing a secret love for Sona, are all excellent. Annu Kapoor as the narrator/god can't help his dramatics, but Anupam Kher is just over-the-top.
Sadly though, director Sharma (who has worked earlier in Peepli Live, Raghu Romeo) lets the film drag to an exhausted and stretched ending. A film with such a sure touch didn't need this heavy hand.


---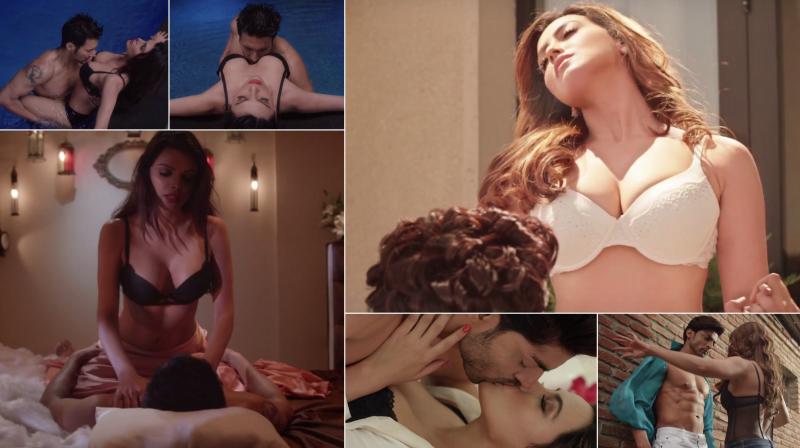 'Wajah Tum Ho' trailer: Unarguably the most erotic thing you will watch today!
Mumbai:MMNN:14 Oct. 2016
If there is a Hindi film that can compete or even come anywhere close to with Dakota Johnson starrer 'Fifity Shades of Grey', it is this film! This 'high-on-sex-scenes' thriller is sure to blow your mind with the insanely sensuous-looking Sana Khan's love-making scenes with Gurmeet Chaudhary and Rajneesh Duggal.
The opening scene is in itself a pleasant surprise for the audience, the one you wouldn't want to miss! One hint: a female lead spreads her legs.
The only two characters who are away from the tempting seductresses Sana Khan and Sherlyn Chopra (yes, she is part of it) is Sharma Joshi. He will be seen playing the role of a police officer and perhaps the only one who has some interest in solving the murder mysteries.
Sana Khan, although a lawyer in the film, is seen outside of court most of the times flaunting her skimpy bikinis and carrying out her multiple sexual encounters with perfection.
A film by T-Series, the film has Rajneesh Duggal playing the character of a business tycoon trapped in a murder case and Gurmeet Chaudhary will don the role of a lawyer fighting against him. Both these characters have one thing in common – there involvement with the vivacious Sana!
While the trailer does not give a very good impression of the film, it is highly likely to do well. And, all eyes will be glued to one diva – Sana Khan!



---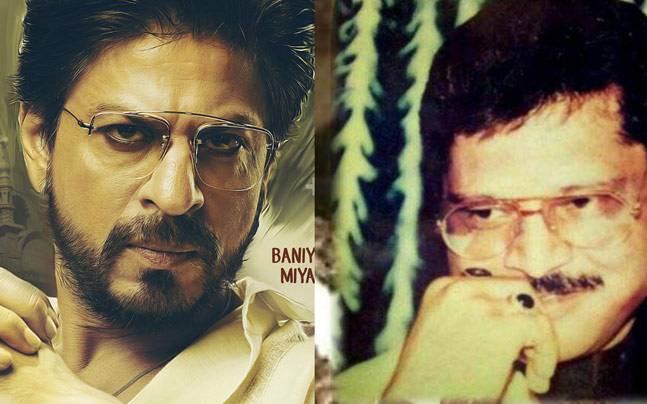 Review: Mirzya is underwhelming
New Delhi :MMNN:7 Oct. 2016
The visual blandishments on offer in Rakeysh Omprakash Mehras Mirzya, scripted by Gulzar, are plentiful and yet not enough to help the flashily mounted film paper over its rather thin and trite storyline.
In a bid to inject some novelty into the treatment of the love story, the director resorts to what are essentially tropes borrowed from theatre ? the use of a sutradhar (narrator) and the employment of songs as a commentary on the action.
Mirzya moves between three distinct time-frames ? one set in the distant past, the second some years ago in Jodhpur, and the third in the present in and around a royal palace in Rajasthan ? to showcase the ageless saga of Mirza and Sahiban, whose unrequited love is the stuff of legend.
But the film is unable to generate the emotional intensity that is needed to turn a story of doomed love across two lifetimes into a drama riveting enough for an audience looking for instant emotional connect.
What unfolds on the screen remains there ? static, bland and superficial ? despite the sparkling camerawork by Polish director of photography, Pawel Dyllus, and the sheer depth and power of the poetry with which lyricist Gulzar occasionally infuses the films huge complement of songs.
Newcomers Harshvardhan Kapoor and Saiyami Kher are a fetching sight as they play the young lovers whose passion for each survives for eons but cannot find a way around societal opposition to attain consummation.
In a contemporary reworking of the tale, the film homes in on a school-going boy and a police officers daughter who dote on each other. But in a tragic turn of events, the classmates are separated.
Several years later, the boy, Munish (Kapoor), now renamed Adil Mirza by the ironsmith (Om Puri, also the narrator) who makes him a part of his family, serves as a stable attendant on the grounds of a maharajahs abode.
The girl, Suchitra (Kher), daughter of a senior police officer (Art Malik), is about to marry the prince, Karan (Anuj Choudhry), when her path crosses that of her lost childhood love. Sparks fly again and the reunited lovers court danger just as they had done in a past life.
Since it is known exactly how the story will pan out, most of the interest centres on the route the film takes to the climax. Mirzya delivers no real surprises as it follows the lovers struggle to stay together no matter what.
This genre has assumed numerous forms over the years in Hindi cinema. Mirzya, laced with Shankar-Ehsaan-Loy compositions and Gulzars lyrics, offers another variant.
If only the film had a stronger storytelling spine and more consistent acting, it might have yielded better results. But in the form that it is before us, Mirzya is a slow, meandering mess.
The two leads are passable, but they are unable to consistently capture the madness of thwarted love. The blame for that lack of heft cannot obviously be laid wholly at their doors.
The one actor who stands out amid the ruins is the sultry Anjali Patil in the guise of a girl who has a soft corner for the hero but is acutely aware of the futility of her feelings.
If Mirzya doesnt work in its entirety, it is primarily because Mehras experiment with the genre and its form, daring as it may seem at certain points of the narrative, is too far-fetched to be consistently effective.
Watch Mirzya for its visual gloss and poetic flourishes. As for the rest of the gratuitously flashy film, it is disappointingly underwhelming.


---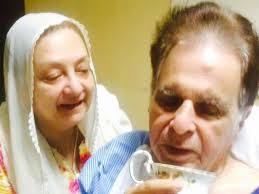 Akshay Kumar: Think about army, not about ban on artistes
New Delhi:MMNN:7 Oct. 2016
Bollywood star Akshay Kumar today said he is stunned that some people are debating the ban on Pakistani artistes at a time when soldiers have been killed in a terror attack. The 49-year-old 'Rustom' star, whose father was an army officer, posted a video in which he also slammed questions being raised about Indian army's surgical strikes on terror launch pads in PoK.
"Something which has been on my mind for the past few days and I just had to say it. Not intending to offend anyone... So here goes," the actor wrote on social media accounts alongside the video.
"I am not speaking to you as a celebrity today. I am speaking to you as the son of an army man. For the past few days, I have been seeing and reading that people are arguing and some are asking for proof about surgical strikes, some are demanding ban on artistes, while some fear that there might be a war," Akshay said in the video.
"Arey sharam karo (have shame). These debates can happen later. First one must realise that people have already laid down their lives at the border. Nineteen jawans died during the attack and a 24-year-old jawan Nitin Yadav died in Baramulla," he said.
The actor termed the current demand for ban on Pakistani artistes as trivial saying the families who lost their loved ones at the border don't really care about these debates.
"Are their families, or the families of our thousands of jawans, worried whether a film will release or not? Whether an artiste will be banned? No. They are worried about their future."
"And our concern should be to ensure that their present and future is better. I am, because they are. You are, because they are and if they are not there, then India won't exist. Jai Hind."



---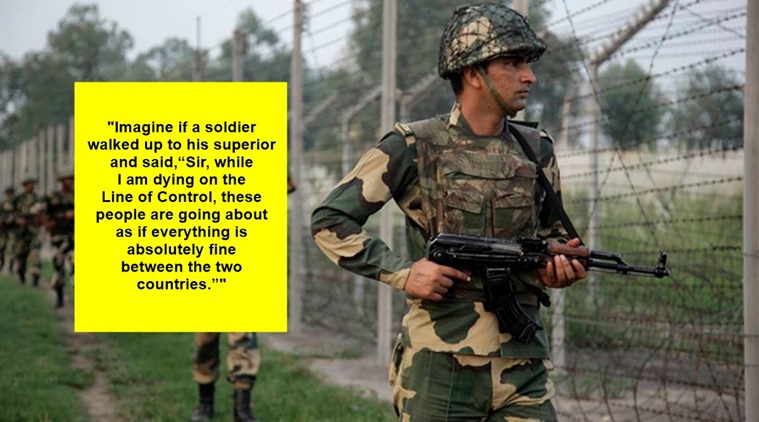 This soldier's open letter on why it is right to ban Pakistani actors is going viral
New Delhi :MMNN:4 Oct. 2016
After the Uri attacks, which claimed the lives of at least 19 soldiers and the injured many civilians in Jammu and Kashmir, there has been a constant state of unrest across India. This is despite the momentary euphoria that followed the Indian Army's surgical strikes that were conducted along the LoC, in response to the brutal attack. Social media platforms were bombarded with messages of hate as well as those of love and peace in equal amounts, and from people from both countries.
Though the relationship between the two countries have been on tenterhooks since Independence, recent incidents have only led to further strain. In India, MNS (Maharashtra Navnirmana Sena) has called for a ban on Pakistani actors. Many have seconded the party's decision, while many others in the industry and outside have supported the Pakistani artistes and questioned the MNS boycott. Karan Johar and Mahesh Bhatt have both spoken openly in support of Pakistani actors working in India.
While people are divided over the ban of the artistes, more and more former Army men are coming forth with their perspective on the state of affairs – both political and military. One such voice is of Major Gaurav Arya, who wrote an open letter on social media supporting the ban of the actors. "This conflict between India and Pakistan is not the soldier's personal war. He is dying and killing for you and me. Imagine a situation in which the soldier felt, and behaved, like Karan Johar and Mahesh Bhatt? … How many of you would like it if a soldier felt that this was not his personal war", he wrote.
Here's the full text of his post.
"MALA FIDE INTENT
Our boys have just about returned from across the Line of Control after a very successful surgical strike. The entire nation is delirious with joy; the entire nation, except a few.
Today, I was part of a panel discussion in JNU, interestingly called "Intellectual Terrorism". The term is self-explanatory, though wide-ranging. I will discuss one type of intellectual terrorism here. The proponents of this type of terror are to found in every walk of life, but the roots of this disease are embedded in some institutions of higher learning. More of that some other time.
Karan Johar wants to know if asking Fawad Khan to go back to Pakistan will stop terror. Mahesh Bhatt joins the chorus by saying "stop terrorism, not talks" implying that we must continue to talk to Pakistan. The cricket board will continue to play matches with Pakistan. Certain business houses will continue to do business with Pakistan. All this, while our soldiers are dying on the border.
Will sending Pakistani artists back, stopping cricket and business with Pakistan actually end terror from Pakistan? No, it most certainly will not. But there is an emotion called solidarity. You cannot make films, play cricket and do business as if everything is fine, because it is not. It makes the soldier wonder aloud, "Why should I alone bear the weight of conflict?"
This conflict between India and Pakistan is not the soldier's personal war. He is dying and killing for you and me. Imagine a situation in which the soldier felt, and behaved, like Karan Johar and Mahesh Bhatt? Imagine if a soldier walked up to his superior and said, "Sir, while I am dying on the Line of Control, these people are going about as if everything is absolutely fine between the two countries."
How many of you would like it if a soldier felt that this was not his personal war, and he, like Mahesh Bhatt, should walk across the Line of Control and shake hands with a
Pakistani soldier? Why should he alone sacrifice for India, when others were making merry?
A soldier will die before the thinks of such treason, but it's certainly food for thought, isn't it?
Patriotism and sacrifice is not the sole responsibility of the soldier. India is Mahesh Bhatt's country, as much as it is the soldier's.
The United States boycotted the Moscow Olympics in 1980, and the Russians did likewise when they boycotted the Los Angeles Olympics in 1984. This is what happens when national interest is held paramount. And this is what must happen now.
For 70 years, Pakistan has been killing Indian citizens. Are we so inured to the pain of our fellow brethren that making a movie or playing a cricket match takes precedence over a soldier's mourning home?
18 families have been shattered like glass. Not a word for them by our Bollywood royalty, mind you. But the pain of Fawad Khan's departure is too much to bear, it seems. A tweet in support of Pakistani artists is mandatory.
These directors and producers will have you believe that before Rahat Fateh Ali Khan sang for Bollywood, there was no music of significance in the Hindi film industry. The cricket board is so busy making money that a widow's silent sob and an orphan's scream does not matter. What actually matters are day and night matches between India and Pakistan. The most keenly contested sporting event in history, they say; even better than the Ashes.
And the soldiers? Well, as far as they are concerned, they are on another planet, far removed from the glitzy Bollywood studios, and the teak-paneled walls of the stately boardrooms of the BCCI. The blood, the mud, the screams and the exploding gunpowder are just distant and inconvenient, not very different from traffic during the Mumbai monsoons. Life must go on.
It's easy to ask for peace when you are a thousand miles away from the Line of Control, and your primary concerns are which party to attend this evening and where to get financing for your next film.
Peace is not a punch line. It is the end result of war.
There is a 10-year-old girl, Aditi, who understands the nation and its ebbs and flows far better than Mahesh Bhatt and Karan Johar. See her letter attached. Then see the poster made by Mahesh Bhatt, which he so proudly displays.
I leave it to you to decide who speaks for you. My vote goes to Aditi. This little angel has the spirit of a soldier.
The others have mala fide intent. Jai Hind. Major Gaurav Arya
The post has been shared over 3,500 times at the time of writing, with many commenting on it as well – most of whom agree with the Army veteran. Though, India and Indians seem to be still divided over the debate, Major Arya's post gives us much to think about, since it comes from a perspective so close to the border.


---
MS Dhoni The Untold Story box office collection day 4: Film passes the Monday test, earns Rs 74.51 cr
New Delhi:MMNN:4 Oct. 2016
MS Dhoni: The Untold Story starring Sushant Singh Rajput has passed its Monday test at the box office. The film is going strong in its collections and has earned a total of Rs 74.51 crore. The has collected Rs 66 crores in its opening weekend.
Though the film, which collected Rs 21.30 crore on Friday, Rs 20.60 crore on Saturday and Rs 24.10 crore on Sunday saw a massive drip on Monday, as it collected only Rs 8.51 crore, still the film is strong in its collection. It features just three film old actor Sushant playing MS Dhoni.
Trade analyst Taran Adarsh shared the latest figures of the film. He wrote: #MSDhoniTheUntoldStory has a STRONG Mon. Passes the 'Mon test'… Fri 21.30 cr, Sat 20.60 cr, Sun 24.10 cr, Mon 8.51 cr. Total: ₹ 74.51 cr.
Taran earlier shared its first weekend collection of the film too, where he wrote: #MSDhoniTheUntoldStory is SENSATIONAL… Packs a SOLID total… Fri 21.30 cr, Sat 20.60 cr, Sun 24.10 cr. Total: ₹ 66 cr. India biz."
Meanwhile, Rishi Kapoor has praised the biopic and said the film's lead actor Sushant Singh Rajput has done a good job. M.S. Dhoni: The Untold Story is a film tracing the life of India's best-known cricket captain Mahendra Singh Dhoni. Sushant plays the title role in the film, directed by Neeraj Pandey.
"Saw film Dhoni. Sushant was totally Dhoni! All characters did well. And the two new girls are sure stars in the making. Director… splendid job," Rishi tweeted on Sunday morning.
Directed by Neeraj Pandey, the biopic shows the journey of the ace cricketer. Produced by Fox Star Studios and Arun Pandey of Inspired Entertainment, the film also features Kiara Advani, Disha Patani and Anupam Kher in pivotal roles.
Earlier, Suriya had also appreciated Sushant's performance. Meanwhile, the movie has been declared tax-free in Uttar Pradesh and Dhoni's home state, Jharkhand.
MS Dhoni: The Untold Story, which hit the screens on Friday, has garnered positive reviews from critics and viewers so far. In fact, Dhoni himself is stunned the way Sushant Singh Rajput has pulled off the role.



---