---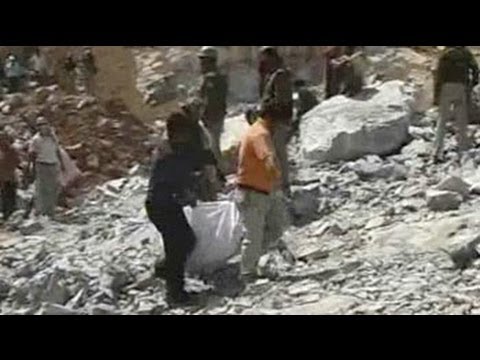 Two killed in clashes over illegal mining booty in Alwar
3 April 2015
ALWAR: Control over booty accrued through illegal mining led to clashes in Nangal village under Pahadi police station area in Bharatpur district. Two persons died in the firing.
Police said Ashu Khan, sarpanch of Dhalot village and Gani Khan, former sarpanch of the same village, were at loggerheads over distribution of cash they accrued from illegal mining in the area.
"In places where illegal mining is rampant, miners "gift" a portion of the "royalty" to the local representatives. After Ashu won the panchayat elections and became a sarpanch, he wanted control over the booty but Gani was not willing to part with it. This led to the dispute and the subsequent clash," said a senior police officer.
On Thursday, goons under Gani opened fire on Ashu's henchmen in which two persons died while 2 others were injured. "The deceased, Hamid, 46, and Hanif, 27, belonged to Ashu's group," said the officer.
Two others who were injured in the firing included Jaikam and Shamshu who were admitted to Alwar's government hospital. "Probe also revealed that these groups were involved in regular extortion from illegal miners," an officer said.
Following the firing, tension prevailed in the area and senior police officers from Bharatpur, including Rahul Prakash, SP, Bharatpur, rushed to the spot. "We have deployed policemen in the area. People of both the groups are on the run and we will register appropriate cases against them. No group has lodged FIRs," said the SP.


---
Jaipur Metro bans luggage heavier than 15 kg
30 March 2015
JAIPUR: Jaipur Metro Rail Corporation (JMRC) has decided to follow in Delhi and Bangalore Metro's footsteps as far as passengers' luggage is concerned. Once operational it will not allow passengers to carry heavy luggage-not more than 15 kg per individual.
A JMRC official said under the carriages and goods or luggage rules, the law states, "No person shall, while travelling in Jaipur Metro, carry with him any goods other than baggage containing personal belongings exceeding 60cm x 45cm x 25 cm in size and 15 kg in weight, except those with a prior approval from the Metro Railway administration."
He further said Jaipur Metro too is designed on the lines of Delhi and Metro in other states. JMRC will not allow heavy luggage as passengers are likely to misuse it as luggage van. There are also security concerns in allowing heavy luggage inside the Metro.
This is sure to disappoint many local businessmen and especially people living in the Walled City as they generally carry more luggage. "There are many wholesale markets in the Walled City area and people will carry goods in large quantities. The purpose of the Metro will not be solved if luggage to some capacity is not allowed."
Officials further said Section 32 of Metro Railway (Operation and Maintenance) Act 2002 lays down certain practices that need to be strictly followed by commuters. It is also mentioned in the Act that no person who is mentally disturbed or suffering from any infectious or contagious disease such as tuberculosis, chicken pox, measles, mumps etc will be allowed to travel in the Metro.
Other than this, any misdemeanor in Jaipur Metro has results ranging from hefty fines to life imprisonment and even capital punishment depending on the gravity of the particular offence.
In a list of offences and penalties under the Metro Railway (Operation and Maintenance) Act, 2002, there are 22 such clauses, which could put you into trouble for causing offense while travelling by the Metro.
Section 74 (1) of the Act reads that culprit, who would attempt to wreck train or sabotage it or hurt passengers traveling in the Metro will be imprisoned for life or up to 10 years. As per section 74 (2) of the Act, the severity of the punishment even goes up to death penalty for causing death or bodily injury likely to cause death is mentioned.
In cases of drunk passengers creating nuisance in the train, they can be fined for Rs 500 or removed from the train. In case of travelling with offensive or explosive materials in the train, as per Section 60 of the Act, the offender can be fined the same, if found.
As per section (69), a person travelling without a proper pass or ticket or beyond authorised distance will have to pay an excess charge of Rs 50 plus ordinary fare from the station, where the train originally started from or from where the unauthorized journey is made. If one fails/ refuses to pay the same, the Metropolitan Magistrate may order it to be recovered in the form of a fine and order imprisonment up to one month in default of payment.


---
The Jaipur Foot has touched 1.45 million lives, it has given me unmatched joy, says D R Mehta
13 March 2015
In the year 1969, the then collector of Jaisalmer, Devendra Raj Mehta met with a fatal accident in Pokhran. His femur splintered into 43 pieces and doctors were not sure if he would even survive. God had other plans though. After five months of hospitalisation, while the surgeons contemplated amputation, he slowly started recovering and was asked to go to America for further treatment.
"What about those who can't afford a trip to America?" he asked himself and that was how Bhagwan Mahaveer Viklang Sahayata Samiti (BMVSS), an organisation conceived with the aim of helping economically backward people overcome their disabilities, was born.
BMVSS was started in 1975 with a noble aim. "Not only did we want to ensure physical rehabilitation of the disabled, we also wanted to restore their social and economic status in society," he explains. "It was important to get back their mobility but it was equally important to bring back their self-respect and help them return to a life of economic productivity." The organisation thus decided that its mission would be to provide free artificial limbs, calipers and other forms of physical aid to as many disabled people as possible, both in India and abroad.
Devendra was inspired by Nobel laureate Dr Albert Schweitzer who had said, "Let us join the fraternity of those who bear the mark of pain." That really stirred something inside me," he says, "I had to do something about it". The Jaipur foot The Jaipur foot was born about seven years before BMVSS came into being at the Jaipur Sawai Man Singh Hospital. It is basically a rubber-based prosthetic leg for those who have suffered under-knee amputations. Designed in Jaipur, it is fitted free of cost by Bhagwan Mahaveer Viklang Sahayata Samiti.
"The Jaipur foot offers a range of movements that one conceives impossible when fitted with artificial limbs," Devendra explains. It enables an amputee to walk, run, climb, squat, sit cross-legged and perform daily activities with absolute ease and comfort. The performance of Jaipur foot has been so amazing that its use has transcended geographical and regional boundaries making it the most used prosthetic foot in the world.
Philanthropic efforts Today, BMVSS is providing free physical aid to patients who live below the poverty line, without any discrimination on the basis of caste, creed, colour, religion or geographical location. Their approach is patient-centric and sensitive. Apart from providing free physical aid, BMVSS also provides vocational training to young amputees on a selective basis.
This assists them with self-employment and helps them regain their dignity. BMVSS has far reaching programmes and rehabilitation camps so that they can reach the masses living even in remote areas. Based in Jaipur, it has 22 satellite centers spread all across India from Srinagar to Chennai and Guwahati to Ahmedabad. Metros like Delhi, Pune, Mumbai, Bengaluru etc also have BMVSS limb fitment centers.

---
Michelin guide to travel in Delhi, Agra, Jaipur
20 Feb. 2015
Golden triangle cities -- Delhi, Agra and Jaipur -- popular travel destinations in India figure in the second Michelin Green Guide in India launched recently.
The edition is the second in the series, following the Chennai (Tamil Nadu) edition in early 2013. The guide encourages travelers from across the world to explore the rich heritage and culture of diverse India.
"After launching the Green Guide to Chennai and Tamil Nadu, we wanted to add another edition which would reflect the rich culture and heritage of India," Cynthia Ochterbeck, Editorial Director of Michelin Travel Partner said in a statement.
Ochterbeck said it is impossible to tell India's tale without talking about the magnificent art and architecture of the Mughal era. "Hence we came up with Delhi, Agra and Jaipur- the golden triangle with an added perspective on sustainable tourism," she said. "We hope that with the second edition of the Green Guide coming to India, we can contribute our share to the rapidly evolving tourism market in the country" she added.
The guide proposes itineraries for exploring the vestiges of the short-lived city Fatehpur Sikri, spotting tigers on a jeep safari in Ranthambore National Park, and experiencing the local colour at Pushkar's annual camel fair and of course, marveling at the Taj Mahal.
Michelin, a Tyre maker, has a celebrated star-rating system for attractions, detailed maps and recommendations for restaurants and accommodations to help travelers experience the best of the region.
Recommendations for places to eat and stay, including those linked to sustainable tourism like trails at off-beat locations, visits to organic farms, bio-diversity protection, and descriptions of the enduring ways of life, culture and heritage that are community based, and environmentally friendly highlight the guide.
A kindle version of the "Delhi Agra Jaipur" guide is also available at Amazon website. Headquartered in Clermont-Ferrand, France, Michelin is present in more than 170 countries.

---
When Death Led to Life On A Magic Jaipur Night
18 Feb. 2015
Last Thursday night, I was informed by Dr. TC Sadasukhi, transplant urologist at the Mahatma Gandhi Hospital (MGH) in Jaipur, that a 7-year-old boy was potentially brain dead and the family was interested in donating his organs. Coincidentally, as transplant consultant to the Government of Rajasthan and as an advisory board member of the MOHAN Foundation, I was visiting MGH that morning to deliver a lecture on "Brain Death Declaration and Donor Organ Management." It was time for some on-the-job training.
MGH, along with five other hospitals in Rajasthan (SMS, Monilek, Apex, Narayana and Aastha), has recently been granted privileges by the state government to engage in deceased donor kidney transplantation and multiorgan recovery surgery. Rajasthan to this date had no deceased donor transplant programmes, and it was my mission to establish them by educating and training physicians and surgeons about the necessary protocols, infrastructure, policies, procedures, laws and surgical techniques that are needed to realise safe and sustainable transplant programmes. The Government of Rajasthan has been 100% supportive of these efforts.
I examined the boy, conferred with the treating intensive care doctors, and agreed that he likely met brain death criteria after having suffered an irreversible brain injury. I immediately made recommendations to stabilise the child, as impending brain death is associated with blood pressure instability, oxygen delivery challenges and a host of metabolic and endocrine abnormalities. We needed to make sure that if organ donation consent was obtained from the family, the organs would be in optimal condition for transplantation. The MGH Brain Death Committee (approved by the Rajasthan Government and the hospital administration) was consulted and performed the first brain death exam followed by the confirmatory apnoea test. These tests established beyond doubt that the boy was indeed brain dead.
The hospital-appointed transplant coordinator, Mr. Kishore Sharma, was then called into action to counsel the family about organ donation. He received assistance from Mr. Dilip Jain, Transplant Facilitator from the MOHAN Foundation Jaipur Citizen's Forum (MFJCF). The boy's father graciously consented to organ donation, saying that his son must have done something wonderful in a previous life since he would now help save the lives of so many by donating his organs.
I then began informing interested parties about the organ-allocation process. The Rajasthan Network for Organ Sharing (RNOS) web registry had recently been launched with 59 patients listed for kidney transplant from the six stakeholder hospitals. As per universally agreed upon organ sharing guidelines, the first kidney was to stay at MGH (if they had a blood type and immunologically compatible recipient) and the second kidney was to go to the SMS Government Hospital. However, this was an unusual medical circumstance because the kidneys from the boy were so small that they could ideally only be transplanted into like-sized children or both kidneys could be transplanted "en-bloc" to an adult. Unfortunately, there were no blood type-compatible children on the RNOS Web Registry, so the decision was accepted by all stakeholder hospitals and Rajasthan Government officials that both kidneys should be transplanted into the top MGH recipient, a 51-year-old man on chronic dialysis.

---
Jaipur all set to host Indo-Pak royal wedding
16 Feb. 2015
The strained Indo-Pak relations could not dent the cross border and cultural ties of Rajasthan with the people living in Pakistan.
Amid the anecdotes of strong cross border bonding, a high profile marriage between royal families of Jaipur and Pakistan is a much talked about event in the desert state. On February 20, Kunwar Karni Singh Sodha of Amarkot (Umerkot) district of Sindh in Pakistan will tie the knot with Rani Nalini Prabha of Kanota royal family of Jaipur district of Rajasthan.
The royal family of Amarkot holds immense significance in Indian history as Mughal emperor Jalal-ud-din Muhammad Akbar was born and brought up in this Rajput family when his father Humayun fled from military defeat at the hands of Sher Shah Suri.
"The engagement ceremony was held last year and a few family members had gone to Pakistan. The wedding function will take place at Narain Niwas Palace of Jaipur on February 20," said a close family member of Kanota royal family. Amarkot is also one of the few provinces that had never been conquered by any invader, including Mughals, he added.
Around 500 guests from Pakistan are expected to attend the marriage in Jaipur. All the guests will come by Thar express and special request has been sent to both India and Pakistan governments regarding this. Members of Kanota Royal family said, Rana Hamir Singh, father of the bridegroom, had been an assembly member of Sindh province while grandfather Chandra Singh has been a member of Pakistan national assembly. Sources in the family also said that more than 40 prominent royal families of north India will attend the marriage. The family shares strong bonding with Bhutto family of Pakistan and speculation is rife that the Bhuttos may also attend the marriage.
"Whatever problems may exist between India and Pakistan, people on both sides are strongly connected. Apart from the royal wedding, there are hundreds of families living in border districts of India and Pakistan, who generally solemnise the marriage of their children on the other side of the border. Such relations cannot be decided on basis of Indo-Pak ties," said Hindu Singh Sodha, president of the Seemant Lok Sangathan, an organisation working for the cause of the migrants.

---
Jaipur Police on Hunt For Man Who Allegedly Raped Japanese Tourist
11 Feb. 2015
JAIPUR: Jaipur Police claim to have identified the unauthorised guide who allegedly raped a 19-year-old Japanese tourist at a spot 50 km from the city on Monday morning, and have launched a hunt for him. Police zeroed in on the suspect based on descriptions given by the alleged victim.
Police have also detained seven friends of 24-year-old Ajit Singh Chaudhary, who is a tout, or unauthorised guide. As the Japanese tourist could not recall his name, police reached their conclusion about the suspect's identity based on the corroboration of witnesses in the Jal Mahal area, where he had allegedly befriended the alleged victim.
The 19-year-old tourist was visiting Jaipur alone and had arrived in the city from Varanasi on Sunday afternoon. After checking into a guest house she went out sightseeing. Chaudhary reportedly met her at the Jal Mahal area, one of the city's major tourist spots.
According to the police, the girl agreed to visit some tourist spots with him, impressed with his English skills. He took her to a friends place for tea and snacks and also introduced her to some family members. Once he won the girl's trust, he allegedly offered to drop to her hotel at night.
But instead of dropping her to the hotel, he took her on his bike to an isolated spot outside the city, nearly 50 km away, where he allegedly raped her. After the crime, the girl managed to get away and raised an alarm. She was then helped by passers-by, who informed the police early on Monday morning.

---
Kota and Alwar kidnap cases study material for Rajasthan policemen
9 Feb. 2015
JAIPUR: It is going to be study of contrasts for the police force. Two different kidnapping cases, one in Kota and of Alwar are going to be taken as case studies for the police cadets and in-service policemen of the state. The Alwar case is going to tell the policemen what is required to avoid while dealing with cases such as the Kota one where the police action alerted the accused.
Though in the case of eight-year-old Rudraksh, son of jeweller in Kota, police managed to arrest the main accused Ankur Padia, they failed to save the life of the child.
"After the case was registered, the police through the primary investigation came to know about the accused. They started raiding various whereabouts of the accused and this is what alerted his local sources in Kota and this probably became the reason for the murder of Rudraksh. Even the accused has admitted in his interrogation that he did not plan to kill the child but had to kill him as police was after him and also he had realized that he had picked a wrong target," said a senior police officer.
Now the Rajasthan police headquarters have asked the Alwar police to prepare the case study of three-year-old child who was kidnapped from Bhiwadi area. The Alwar police kept it simple while chasing the accused as they gave an impression among the public except the father of the child that they were busy in the elections thus can't do much of the chasing. "On the other hand our special team comprising 26 policemen was on the job of nailing down the culprits. We were aware of the fact that the accused had some local support thus we had spread rumours to mislead them about our action plan. I camped at an apartment and literally kept the father of the child on house arrest to negotiate with the accused," said Vikas Kumar, superintendent of police, Alwar on Saturday.
"For us every such case that is worked out efficiently by the police is important to study. Both the cases are interesting. I won't say what Kota police had done was wrong and what Alwar did is the only way. But, both these recent cases are going to enlighten the in-service and new cadets of the Rajasthan police," said BL Soni, director, Rajasthan police academy.
It may be recalled that Rudraksh was kidnapped in October last year and was found murdered a day after he was kidnapped while 3-year-old Om Mahajan was kidnapped some days ago. Alwar police not only arrested the accused but have also recovered the child. Kota police despite several measures taken by the accused Ankur Padia to evade arrest finally managed to nail him down with his brother who was absconding.

---
Jaipur boy becomes 'Munna Bhai' to buy his girlfriend a V-Day gift
6 Feb. 2015
BAREILLY: An attempt to buy a Valentine's Day gift for his girlfriend landed a Jaipur boy in jail!
Tempted by an offer of Rs 5,000, Shailendra Parihar, a polytechnic student from Jaipur, agreed to appear as a proxy candidate on behalf of a Bareilly resident for the medical examination stage of the army recruitment exam on Wednesday. However, he was caught by army authorities who immediately informed the police.
He had appeared in place of a Farukkabad resident, Monu Pal, whose selection had been withheld on medical grounds as he had some temporary disability in his ears. "The medical board had asked Monu to get his disability corrected appear for a second medical test on February 4 this year," said Rajeev Malhotra, superintendent of police (city). He, however, chose to get a proxy candidate in his place instead of getting his disability treated.
According to reports, Parihar was depressed as he had not been able to arrange money to buy a mobile phone for his girlfriend for Valentine's Day. During this time, he met an old friend in Jaipur, Virendra Gangwar, who hails from Bareilly. Gangwar reportedly invited Parihar to Bareilly and promised to show him the city on his expense. Excited by the offer, Parihar readily accepted.
On reaching Bareilly, Gangwar introduced the Jaipur resident to his friend Monu Pal, who needed a proxy candidate to appear in his place for the medical examination. The duo offered to pay Parihar Rs 5,000 for this deal, which he accepted.
However, when he went to the military hospital for the medical examination, he was caught by the authorities who smelt a rat after finding discrepancies in the signatures of the original candidate and the imposter, which were checked using a biometric mechanism.
"During the interrogation, Shailendra Parihar initially refused to disclose his actual identity and tried to mislead the police but later when his brother reached the police station after seeing his photo on TV, we came to know about his real identity and the girlfriend story. Cantonment police has filed a case under Section 420, 467 and 468 of Indian Penal Code (IPC) against the accused who has been sent to jail," the SP said.

---