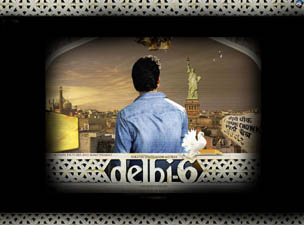 EXPECTATIONS Delhi 6
A.R. Rahman is in a peculiar state . Whatever he churns out, especially when a film is as big as Delhi 6, is expected to be huge now, especially after a powerful trail that he has left behind in 2008. No wonder, Delhi 6 comes with expectations of the highest order, especially with names like Rakeysh Omprakash Mehra, UTV, Prasoon Joshi, Abhishek Bachchan and Sonam Kapoor attached to it.
MUSIC
Why such excitement about the soundtrack of Delhi 6? Well, one hearing of 'Masakali' and you know that this would be a song remembered for months to come. An instant chartbuster from the word 'Go', it has a characteristic Rahman flavor to it and sounds a unique and extremely fresh piece of music. The orchestra is kept at bare minimum and still makes a huge impact in bringing on a recollection value.
Reminding of 'Pia Haji Ali' and 'Khwaja Mere Khwaja', 'Arziyan', as required by the genre, has tabla and harmonium taking it through its 9 minute long duration. The impact of this devotional track with a haunting sound is such that after a couple of minutes, a listener completely surrenders by loosing himself in the ambience created by it.Well, if one thought that Delhi 6 was more inclined towards rustic music then watch out for the title song that comes next. 'Delhi 6' is what 'Paathshala' and 'Khalbali Hai Khalbali' were to Rang De Basanti. This is the track that deserves to be placed at number of instances in the film's narrative and if at all a music video is created around it, rest assured the number would be hummed by every campus goer. The beats are simply groovy and don't be surprised if the pubs and lounges, at least in North India, have the number playing on in a few days from now. In fact there is a number that goes as 'Hey Kaala Bandar' and is set in a mode similar to that of Delhi 6 if one has to consider the intrinsic groovy elements that it carries.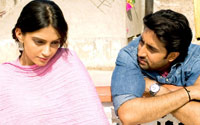 Most remarkable of the enterprise so far, 'Rehna Tu' is melody at its best with a Western base to it. A kind of number that can be instantly associated with Rahman, it has its strength in the smooth flowing narrative that makes it an ideal candidate to be played on your date with the one you love! And if the date extends for another hour or so, don't forget to play on 'Dil Gira Dafatan' which is just an ideal follow up to 'Rehna Tu' and keeps the romantic tempo on when it comes to melody. In fact there is hardly any instrument that plays in the background, hence making 'Dil Gira Dafatan' even more special!For about 50 seconds, 'Genda Phool' appears to be all rustic and rooted but soon Western arrangements come into picture hence making it a cool fusion number that continues to get on variety for the soundtrack of Delhi 6.Composer Rajat Dholakia comes into picture for this unique number which leaves one wondering that in which situation it would be used.
Surprise comes in the form of classical 'Bhor Bhaye' which is based on raaga Gujri Todi followed by an aarti 'Tumre Bhavan Mein', both of which promise to add on to the narrative of Delhi 6 in the background. Essence of love is all over again, though for a mere 50 seconds, as Amitabh Bachchan runs his commentary on 'Noor' that concludes the album.
LYRICS
Prasoon Joshi certainly likes to write something that has never been heard before. When he plays it all around to mix and match with words that could either be totally poetic or straight out of day to day conversations, songs like 'Masakali' are made. He gets devotional with 'Arziyan' and 'Aarti (Tumre Bhavan Mein)' with the classical 'Bhor Bhaye' and folk based 'Genda Phool' showing an altogether different facet of his writing.
Prasoon returns with the love songs 'Rehna Tu' and 'Dil Gira Dafatan' and gives Rahman quite a lot to experiment around. On the other hand, he would have certainly given Rahman a tough time to compose lyrics that go as 'Hey Kaala Bandar'. Viviane & Claire are the guest lyricists for the title song 'Delhi 6' where they bring in the flavor of Delhites. This one is an ultra cool and modern number where lyricists cleverly mix words written in both English and Hindi.
VOCALS
Mohit Chauhan gets to sing on a completely different pitch, something that he hasn't been known for much after a slew of mushy romantic numbers that he has sung so far.He is terrific with 'Masakali' that would add on to his ever increasing repertoire. Javed Ali opens 'Arziyan' and Kailash Kher joins him later to create a mesmerizing impact that makes the number a heartfelt experience.Blaaze, Benny, Viviane, Tanvi and Claire would have certainly had fun while coming together for Delhi 6 which is the first 'cool' number to make an appearance in the soundtrack. Another teamwork is seen in 'Hey Kaala Bandar' where Karthik, Naresh, Srinivas and Bony Chakravorty come together to make it an all-boys outing.
Certainly, this makes for an enjoyable journey! Rahman goes selfish with 'Rehna Tu' as he saves the best track of the album for himself and comes behind the mike for it. Just hear it to believe it as he is just so perfect in his rendition and makes you play on the number repeatedly. However, Ash King, a male singer who hasn't been heard on the Bollywood scene so far, gives Rahman tough competition as a singer with the number 'Dil Gira Dafatan'. He makes an excellent debut with Chinmayee doing well as a backup vocalist. Ustad Bade Ghulam Ali Khan and Shreya Ghoshal come together for 'Bhor Bhaye' and the latter especially shows her prowess as a singer as she comfortably slips out of her playback singing veil and gets into the groove of hardcore classical mu sic.
OVERALL
Delhi 6 is near perfect. Period. If one thought that Slumdog Millionaire, Ghajini and Jaane Tu Ya Jaane Naa were superb then just listen to Delhi 6 once. Rahman beats his own score with Delhi 6 which would easily go down as one of his best scores till date.
Simply said, even though the year has just begun with some exemplary soundtracks like Dev D, Slumdog Millionaire and Luck By Chance already making a very good impression, Delhi 6 would qualify as a comfortable nomination amongst the Top albums of the year. And to thing of it, 2009 still has more than 11 months to go!
---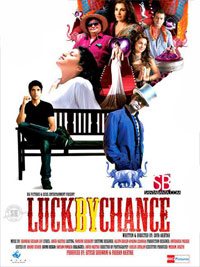 On the whole, LUCK BY CHANCE is an outstanding film in all respects.
Cast: Hrithik Roshan, Farhan Akhtar, Rishi Kapoor, Konkona Sen Sharma, Isha Sharwani, Dimple Kapadia, Juhi Chawla, Sanjay
Kapoor, Aly Khan.
Lyrics: Javed Akhtar
Music: Shankar, Eshaan & Loy
Producers: Ritesh Sidhwani and Farhan Akhtar
Director: Zoya Akhtar
One has often heard, read and seen the positive and negative aspects of Bollywood. It would be erroneous to state that LUCK BY CHANCE does a pol-khol of the glamorous industry.If you're associated with Bollywood, if you know how the machine works, you'd laud and applaud, laugh and smile, identify and understand and at times, empathize and sympathize with the characters in LUCK BY CHANCE. Zoya Akhtar's take on an industry that attracts millions of hopefuls year after year is bang on target.Let's put it this way: The film mirrors the behind-the-scenes drama and manoeuvring exactly the way it occurs in showbiz.
Watching LUCK BY CHANCE is like experiencing it first-hand.Along with the core issue, the film highlighted the behind-the-scenes hard work and labour that went into making movie LUCK BY CHANCE taps almost every important facet of Bollywood and presents assorted characters you've encountered some time in life: An over-ambitious aspirant who knows to make the right moves; an actress trying hard to get that big break, even if she has to compromise; an icon of the 1970s who desperately wants her daughter to be a star; a producer who looks at riding on big names, script be damned; a failed actor now looking at direction to redeem his career.The interesting part is that each of these characters has a story running parallel to the main story. Although the writing is foolproof, this review would be incomplete if one failed to acknowledge a number of scenes that are the hallmark of this enterprise... *Note the sequence when Rishi Kapoor breaking down after Hrithik has walked out of his movie. It moves you! Right from the characters, to the individualistic scenes, to the way Zoya puts them in a sequence, LUCK BY CHANCE is easily one of the most cohesive scripts this side of the Atlantic.
Taare Zameen Par is one film that makes you peep into a child's mind and how some parents, in their pursuit to make them 'stronger' academically, forget that there's hitherto untapped talent that needs to be nourished and encouraged.

Peene waalo suno
Pankaj Udhas's New Album 'Hasrat' Realeased

Ghajal Singer Pankaj Udhas has completed 25 years of his Sangeet Yatra. His First album'Aahat was released in 1980. Recently T-Series has released 'Hasrat. This Album has total 9 Ghajals. Lyrics are by Sunil Jogi, Nusrat Budar & Praveen Bhardwaj. Pankaj Udhas has sung all the Ghajals very gracefully as it shows.
Shubha's KOSHISH for audience


The flowing-into-heart & Sufiani voice of noted classical singer Shubha Muddgal is now again set to amuse & take the music-lovers to the musical depths. The Album named 'KOSHISH' holds the 'Nazam' of eminent shayar Faiz Ahmad Faiz- 'Hum Dekhenge...'the other & last song is 'Aao Sochen Jara' written by Alok Shrivastava. The composition & arrangement of the two songs have been done by reputed tabla player Aneesh Pradhan & the album has been released by Underscore Records PVT. LTD.
'BRICK LANE' On The Way To Booker


With her newly written novel "BRICK LANE", focused on the Bangladeshi Immigrants staying at the Brick Lane area in London, Monica Ali, the offspring of Bengali father & English mother, has entered the Literature-World & drawn the attention. The Novel has been shortlisted for the Booker, the most prestigious prize bestowed in London for the service rendered to Literature-World. The place 'Brick Lane' mentioned in the novel is really populated with a good number of Bangladeshis from Sylhut of India. The Novel reveals the different aspects of their lives. Here is also an enthusiastic omen that the shortlist, besides Monica, has four other names of women authors. This entire phenomenon shows London's proliferating interest in Bangladesh.
The Tale of Despereaux by Kate DiCamillo
2004 Newbery Medal winner! This tale of a tinier-than-normal, big-eared mouse is sure to enthrall the tinier-than-normal in your life.
Creative Intelligence by Falconar, Ted
About this title: Albert Einstein thought in an entirely different way from ordinary people, and theorist Alfred Korzybski wanted to know why. Studying Einstein's unique thought processes in his book Science and Sanity, he explained how genius works, and named this process Non-Aristotelian Thinking. Now Creative Intelligence extends Korzybski's concept by weaving together the Eastern philosophies of Realization and Liberation. Falconar teaches us to 'unlearn' the rigid patterns of thought that we are indoctrinated with--and to escape the confines of memory, association and, most importantly, words.
Cloud Atlas by David Mitchell
This book is a puzzle in pages—virtuosity in print that was recently nominated for a National Book Critics Circle award
Stalking the Divine by Kristin Ohlson


What happens when a longtime skeptic becomes intrigued by a group of cloistered nuns?