Digital Advertisining In India
---
Worlds fourth largest newspaper creating OOH delight in Simhastha
Bhopal:MMNN: May 9, 2016
Thousands of saints("sadhus") clad in saffron robes with ashes smeared on their body and dreadlocked hair , few of them called 'Naga Sadhus' may not wear even any cloth –considered as a sign of separation from the materialistic world, the heavy smell of burning butter lamps, camphor and incense sticks have started adding religious fervor to the much awaited month-long congregation Kumbh.
After 12 years, Ujjain, one of the most sacred places in India located on the banks of the holy Kshipra river in the western region of Madhya Pradesh is again gearing up for the largest spiritual gathering on earth-Kumbh. Kumbh Mela is held at each of the four places namely Haridwar, Allahabad (Prayag), Nasik and Ujjain once in every 12 years. Kumbh in Ujjain is held when a rare configuration of planets takes place i.e. when the Sun is in the zodiac sign Aries and Jupiter in the zodiac Leo. The position of th e Sun, Moon and Jupiter in different zodiac signs determines the location of the Kumbh in each of these places. This year Kumbh is scheduled from 22nd Arpil-21st May 2016 in Ujjain. Simhastha Kumbh-the largest spiritual gathering on earth is expected to attract more than 50 million people from across the globe.
According to Hindu mythology, the churning of ocean by the Gods and demons yielded a jar (Kumbh) full of nectar (Amrit). Gods did not wish to share it with demons. At the instance of Lord Indra(the King of Gods), his son Jayanta tried to run away with the jar, but he was followed by some of the demons. During the struggle for its possession, few nectar drops dropped at the holy rivers of these four places-Haridwar, Allahabad (Prayag), Ujjain and Nasik on earth.
Unique opportunity to reach out to more than 50 million people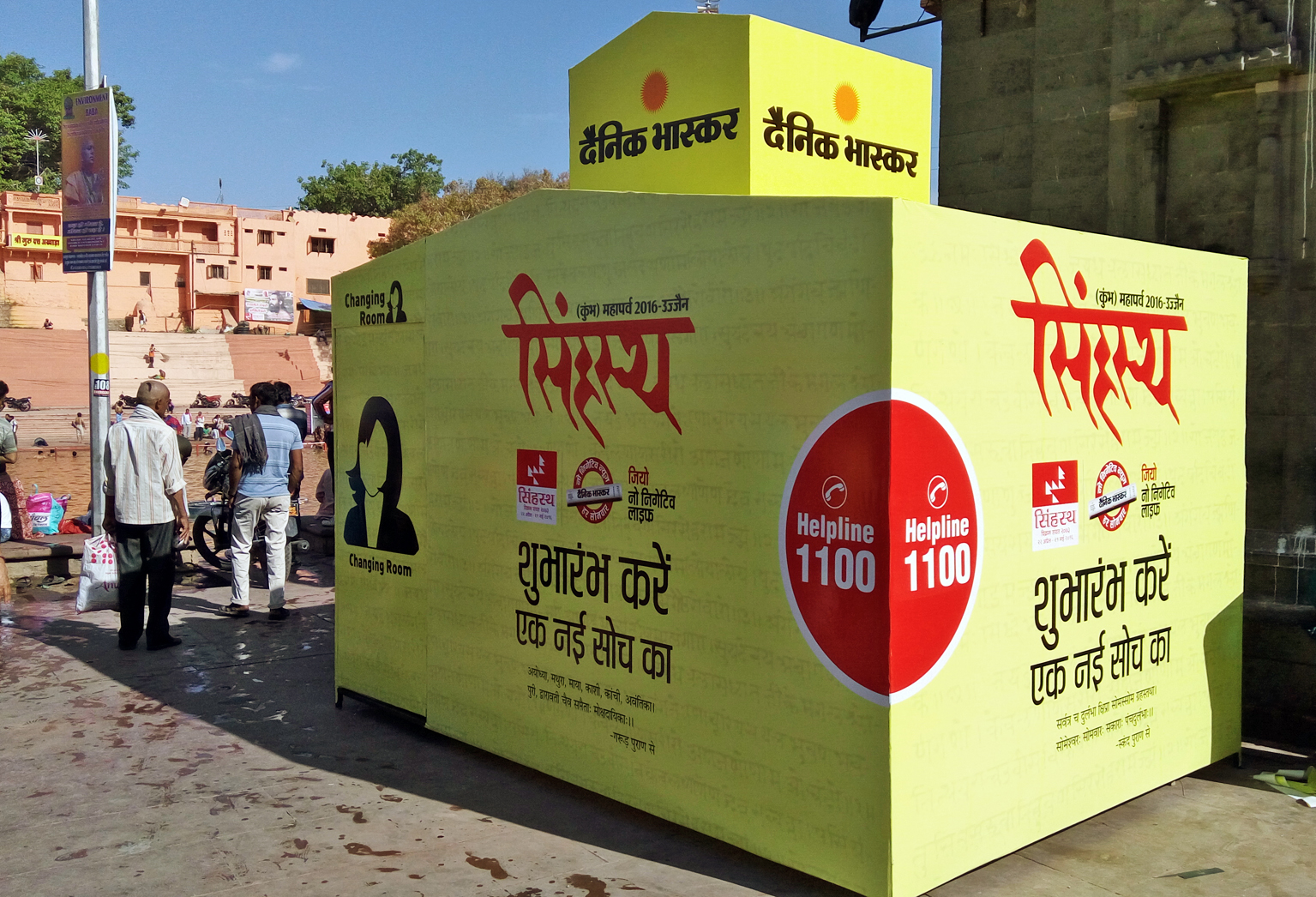 As India's largest and world's fourth largest circulated daily (44 million readers) and a direct reach of more than 3,000 towns, Dainik Bhaskar decided to capitalize on this once in 12 years opportunity. Planning for the same started more than a year back. After several rounds of discussions with the external stakeholders like the municipal corporation, mela authorities and the local population, the plan was frozen and divided into three legs to ensure optimal reach:
1) Build-up to Kumbh(Oct'15- Jan'16) Hoardings on all the four major roads to the city, Banners, Beautification drive with colorful wall paintings and overhead water tank paintings, T-Gates, Community Connect meetings and release of special cover.
2) Activation Support to Local administration(Feb'16-Mar ' 16) 'Maha Arti, Installation of RO plant at the Mahakal Complex and a Kavi Sammelan on and dedicated to sacred shipra river.
3) During the Kumbh(Apr'16-May'16) Changing Room for the ladies at bathing ghats, information booklets and brochures for the pilgrims, newspaper stands at major hotels and garden umbrellas Mr. Vikas Singh, Associate Vice President-Brand Marketing-Dainik Bhaskar says "While Madhya Pradesh Government is leaving no stone unturned to deliver a great experience for the devotees, we are happy to have partnered with Govt. on this".
As part of this partnership, we organized a 'Maha Yatra' and a 'Maha Arti' on 20th March 2016. 'Maha Yatra' started from Shirsagar, one of the seven sacred lakes of Ujjain and ended up at R amghat, the main Ghat. During the Maha Yatra,people saw glimpses of the popular tra dition of Nagar praveshi of major akhadas.More than 10,000 people participated in this four kilometer long yatra.The Yatra, then culminated at Ram Ghat where Grand Arti at Shipra river by more than 200 priests was performed.Free bells and cymbals were distributed to more than 20,000 people at the ghat.The local administration also pitched in with OOH creatives that asked people to come out and witness the spectacular turnaround of the city.
The enthusiasm and participation shown by the locals of Ujjain during Maha-Aarti organized by Dainik Bhaskar culminated into Golden Book of World Records comprising most people participating in this auspicious event.
To provide clean and cold drinking water in the scorching hot months of Apr-May, Dainik Bhaskar has installed drinking-cum-RO plant at the main Mahakal complex. A large LED screen too has been installed inside the complex where people can see live visuals of the Mahakal Garbha Griha.
Dainik Bhaskar is also coming up with a 500 pager Coffee table book- lavishly interspersed with pictures some of which will be in public domain for the first time. This will basically be a rich visual depiction of all facets of Ujjain with reference to Kumbh. The book will borrow references from various religious texts like Skanda Purana and Bhag-wat Purana, classical literature like Kalidas's Meghdoot and Raguvansham, historical documents like Govt gazettes and various others contemporary publications.
Talking about this build up, Mr. Vinay Maheshwari, Senior Vice President-Sales and Market Development and Brand Marketing, Dainik Bhaskar Group said "Being India's largest and World's fourth largest newspaper, we are driven by one of the core values of being connected with our stakeholders. Kumbh is an incredible platform to demonstrate that we care and hence, concentrated our efforts towards achieving this"
This Simhastha Kumbh offers a great opportunity for brand activation . With more than 50 million expected in a month, it offers any brand low cost per contact. Brands like Dainik Bhaskar are leveraging this opportunity to the fullest.
---
IAA World Congress offers special privileges to Indian Delegation
December 21 2005:The IAA India Chapter is delighted to announce that for the first time the Organising Committee of an IAA World Congress has thought it fit to offer a special concession to invited Indian delegates of the world Congress scheduled in Dubai March 20-23,2006.

Says Mr. Sam Balsara,President of IAA India Chapter, "We are delighted that the Oraganising Committee of the 40th IAA World Congress has recognized the important role that India can play in the World congress has recognized the important role that India can play in the world Congress to be held at Dubai and have agreed to offer a special delgate fee of only USD 750 for invited Indian Delegates.With this we hope to take a delegation of atleast 100 Indian delegates to the world Congress."

The Dubai World congress promisesto be the largest ever Congregation of Advertising,Marketing and media people in the world and the organizing Committee is sparing no effort in putting together a globally renowned list of speakers which includes the Who's who from the world of Advertising,marketing,media.Prominent amongst the confirmed list of speakers are Allen Rosenshine(Chairman,BBDO),Ann M Fidge(Chairman,Y & R Brands),Dr.Tony Alessandra(Author of 'The Paltinum Rule'),Gregory Lee(Chief Marketing Officer,Samsung Electronics),Howard Draft(Chairman,Draft World wide),Jack Klues(Chairman,Publics Groupe Media).

The list of speakers is really impressive and the India Chapter hopes that invited Indians will take advantage of the opportunity of meeting and hearing these accomplished speakers at a location so close to India and also check out the business opportunity of meeting and hearing these accomplished speakers at a location so close to India and also check out the business opportunities available in nearby Dubai.

More details on the Congress are available at www.iaadubai.2006.com and those interested in being part of the Indian delegation should send an e-mail to rj@madisonindia.com .

About the International Advertising Association(IAA) The IAA has grown from a tripartite organization(advertisers,advertising agencies,media) into a one-of-a kind strategic partnership which champions the common interest of all enterprises involved in the branding process.

The IAA is the only global partnership of marketing communications professionals and draws its members on a local,regional and global scale.The membership comprises enterprises and individuals committed to brand building.Headquartered in NewYork,the IAA currently has over 75 Chapters worldwide from Argentina to Australia from China to Chile.

The IAA UAE Chapter,which is hosting the World Congress,was founded in 1979 and has a membership base of nearly 250.The Chapter is currently the largest chapter in the world and has won the Chapter Award for excellence twice.

---