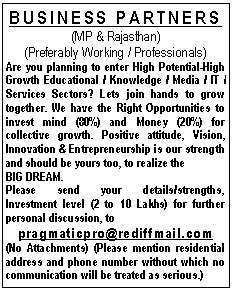 PROFITABLE, RESPECTABLE BUSINESS OPPORTUNITY
REQUIRED FRANCHISEES
(MAJOR CITIES iN RAJASTHAN & MADHYA PRADESH )

w
FOR A REPUTATED ENGLISH, PERSONALITY DEVELOPMENT & PROFESSIONAL TRAINING / GROOMING INSTITUTE with various innovative in-demand courses:
w
REQUIREMENTS
:
(1) Minimum 500sq.ft space at good Commercial or Residential area. Owners of the space will be preferred.
(2) Ambitious & vision to grow fast in the fastest growing Training Sector. Franchisees with PG qualificaion in Management / Commerce / English / Psychology Preferred.
(3) Capacity to invest 2 to 3 Lakhs(including franchisee fee)
w
RETURNS / EXCLUSIVE SUPPORT
(1) Minimum Return on Investment Guaranteed.
(2) Staff Training & Management Support.
(3) National & local Advertising & Publicity support.
(4) Course material support.
Please apply in strict confidence providing your complete details & present activities

To Our Consultants:
Business Planning & Development Division
HWA Consulting Group
UGF - 36, Block-3, GREEN CITY,
E-8 Gulmohar, Arera Colony, Bhopal-462039
Email: hwaworldwide@rediffmail.com
PROFESSIONAL PARTNERS/ASSOCIATES
Consulting/ Education & Training
(All Major Cities)
Invited really ambitious, visionary,
experienced/ fresh professionals/ Public, Private Sector Officers
(Graduates in Management, Commerce, Science, Technology, Law, Communications/ Media/ PR, Personality Development, Soft Skills/ CA, CS, ICWA, CFA)
for ambitious expansion plans.
Excellent earning potential & Bright future assured for the right gentlemen/ladies.

Partners Financial stake required:
2-5 Lakhs, Please courier your complete
details/Photo to:
HWA Management Consultants,
UGF - 36, Block-3, GREEN CITY, E-8 Gulmohar, Arera Colony, Bhopal-462039 .
e-mail: hwaworldwide@rediffmail.com