---
Malaysian company ready to invest $250m in Pakistan.

MMNN:2 February 2019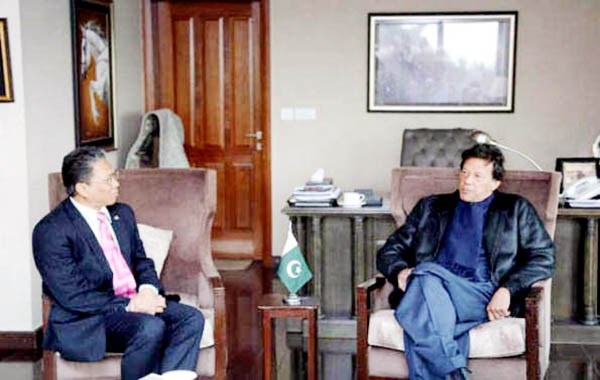 Islamabad, A Mala­ysia-based company has pledged to make $250 million investment in the telecommunication sector in Pakistan during next five years. Malaysia's Edotco Group chairman of the board of directors, Datuk Azzat Kamaluddin, made this commitment during a meeting with Prime Minister Imran Khan along with a delegation at Prime Minister Office (PMO) on Friday, said a Dawn report. According to the media cell of the PMO, Mr Kamaluddin told the prime minister that the Edotco Group, with the existing investment of $100m in Pakistan, planned to further increase its investment in tower infrastructure in the telecommunication sector. "The group plans to add an investment of $250m in next five years," he said. The delegation included Nik Ramlah Nik Mehmood, the board member, Suresh Narain Singh Sidhu, CEO, and Arif Hussain, country MD. High Commissioner of Malaysia Ikram Mohammad Ibrahim also attended the meeting. The Edotco Group chief appreciated the vision of Prime Minister Khan and the policies being pursued by his government which have restored confidence of the investors. He said that the Edotco Group wanted to become a partner in the Digital Pakistan Programme. The prime minister, welcoming the delegation, said that all possible facilitation would be provided to the group in expansion of its business ventures in Pakistan. He highlighted various steps being taken by the government to improve ease of doing business and ensure investor-friendly environment in the country. In a separate meeting Zhang Chun, chairman, board of directors, China Machinery Engineering Corporation, and Huang Daoyuan, head of Huan DR Group, called on Prime Minister Khan. Mr Zhang briefed the prime minister on various projects his company has undertaken in Pakistan in the past, most notably in the energy sector. He also spoke about the progress of work on 1263MW power plant in Jhang which is near completion. Mr Zhangand Mr Huang expressed keen interest in making investments in the Naya Pakistan Housing Programme and agriculture sector. Meanwhile, the federal government has asked the provinces to furnish proposals aimed at revival of crippling agriculture sector and getting better yield of crops. The proposals were sought at meeting on agriculture and food processing chaired by the prime minister. He urged the provincial governments to send proposals based on their problems in a week to boost up agriculture production in the country. Interestingly, after passage of 18th Amendment in 2010, like many other subjects, agriculture has also become a provincial subject and does not come under the domain of the federal government. However, international agreements with other countries are made at the federal government's level. The prime minister also urged the provinces to help increase export of agricultural products to generate more revenue. "The provincial governments must point out the hurdles and impediments coming in the way of export of agricultural products," he said. Prime Minister Khan was told that China was ready to provide technical support while some countries in the Middle East had agreed to extend financial support for revival of agriculture sector. "The provinces should also give proposals how Pakistan can take advantage of technical support from China and financial support from Middle East countries," the prime minister said. He said during his recent visit to China, Chinese authorities had assured him of their technical assistance to Pakistan in agriculture sector so that Pakistan could enhance its agricultural production by working on modern lines. It has been learnt that China is conducting research on Pakistani wheat, with the focus on yield increase through hybrid technology or other means. Prime Minister Khan held another meeting with members of the National Assembly from Kohat and Dera Ismail Khan and vowed to solve basic problems confronting the people of the two cities. During the meeting, the MNAs apprised the prime minister about problems of their respective areas. The prime minister said brining real "change" in the life of people of the country was included in the priorities in the Pakistan Tehreek-i-Insaf manifesto. "The government will further enhance its plans in Khyber Pakhtunkwa to bring real change and provide better health, education and other facilities to the people," he added. The prime minister stressed the need for improvement in tourism sector and said: "KP has a big potential of tourism which can help stable the country's economy." He ordered for devising plans for provision of drinking water to the people of Karak and Dera Ismail Khan.


---
One-Time Presidential Hopeful Jailed In South Korean #MeToo Scandal.

MMNN:1 February 2019


SEOUL: A former South Korean provincial governor who once ran for presidential nomination was jailed for three and a half years on Friday for molesting an aide after his earlier acquittal was overturned in one of the country's most high-profile #MeToo cases. An Hee-jung had been a rising star in South Korea's ruling party before he quit in March 2018, hours after the aide accused him of repeated sexual assault. Seoul High Court overturned his acquittal on molestation charges. "Former governor An's position of power over the victim was sufficient to dominate her free will," the court said. "An appears to have seen the victim in the context of a superior-subordinate relationship and used it to commit adultery." An, who ran for presidential nomination in 2017, had denied wrongdoing. "I thank the bench that adjudicated exactly according to the truth," Kim Ji-eun, the aide who had gone on national TV to accuse him of sexually harassing and repeatedly assaulting her, said in a statement. South Korea's #MeToo movement against sexual harassment and assault has ensnared a number of high-profile political, entertainment, religious and sports figures. Two-time Olympic speed skating champion Shim Suk-hee, 21, accused her former coach of assault in December in a case that triggered national outrage. The accused, Cho Jae-beom, who has denied the charges, is under police investigation while having been jailed on separate charges of hitting Shim


---
'World's oldest man' dies in Japan at 113.

MMNN:22 January2019

Tokyo, "World's oldest man" Masazo Nonaka, who was born just two years after the Wright brothers launched humanity´s first powered flight, has died aged 113, Japanese media said. Nonaka, who died on Sunday, was born in July 1905, according to Guinness World Records — just months before Albert Einstein published his special theory of relativity. Guinness officially recognised Nonaka as the oldest living man after the death of Spaniard Francisco Nunez Olivera last year. "We feel shocked at the loss of this big figure. He was as usual yesterday and passed away without causing our family any fuss at all," his granddaughter Yuko told Kyodo News. Nonaka had six brothers and one sister, marrying in 1931 and fathering five children.He ran a hot spring inn in his hometown and in retirement enjoyed watching sumo wrestling on TV and eating sweets, according to local media. Japan has one of the world's highest life expectancies and was home to several people recognised as among the oldest humans to have ever lived. They include Jiroemon Kimura, the longest-living man on record, who died soon after his 116th birthday in June 2013.The oldest verified person ever — Jeanne Louise Calment of France — died in 1997 at the age of 122, according to Guinness.


---
Trump announces plans to expand US missile defence.

MMNN:18 January2019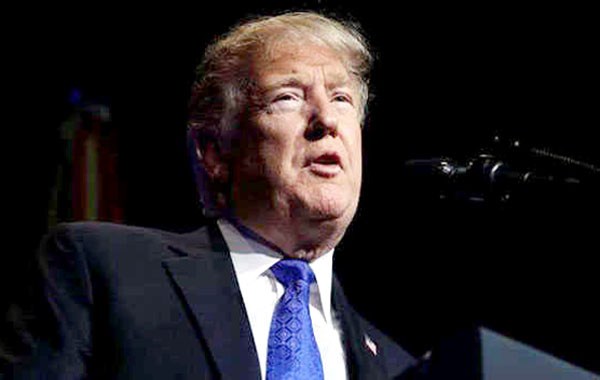 Washington, US President Donald Trump announced plans for a huge expansion of US missile defence with aim of destroying enemy missiles "anywhere, anytime, any place". The missile defence review, which Trump unveiled on Thursday in a speech at the Pentagon, calls for a major upgrade in land and sea-based missile interceptor systems, as well as the development of a layer of satellite sensors in low orbit that would help track new types of cruise missiles and hypersonic glide vehicles (HGVs) countries like Russia and China are developing. Under the review, the Pentagon plans to expand the country's existing missile defence shield, including extra layers with space-based sensors and interceptors, technology to track and defeat hypersonic weapons, unmanned aircraft with lasers to shoot down threats, and missile-hunting F-35 stealth fighters. "The United States will adjust its position to defend against any missile strikes to include cruise and hypersonic," Trump said. "Missile defences are a key element of our strategy given this proliferation of offensive ballistic and cruise missiles and emerging hypersonic weapons technologies that markedly raise threats to regional balances and to our major allies and partners," Acting Secretary of Defence Patrick Shanahan wrote in a preface to the review. The review is the first update to the US missile defence policy since its 2010 version unveiled during the Obama administration.


---
Bangladesh: New MPs to take oath on Jan 3.

MMNN:3 January2019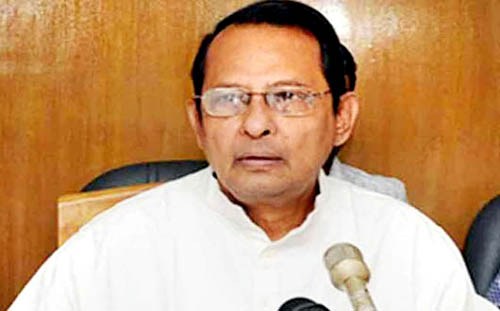 Dhaka,Information Minister of Bangladesh Hasanul Haq Inu has announced that the the oath-taking ceremony of new members of parliament will be held on Thursday. The information minister made the announcement during a Secretariat Reporters Forum discussion at the Secretariat Media Centre on Tuesday. The oath taking ceremony will held on January 3. A gazette will be released before then. 'We, the Grand Alliance tried to work for the people. This is why the Grand Alliance has won by a massive vote margin', the minister said. The prevailing term of Sheikh Hasina administration will end January 28.


---
Japan : Nine injured as car runs down pedestrians on Tokyo's Takeshita Street, claims act of terror.

MMNN:2 January2019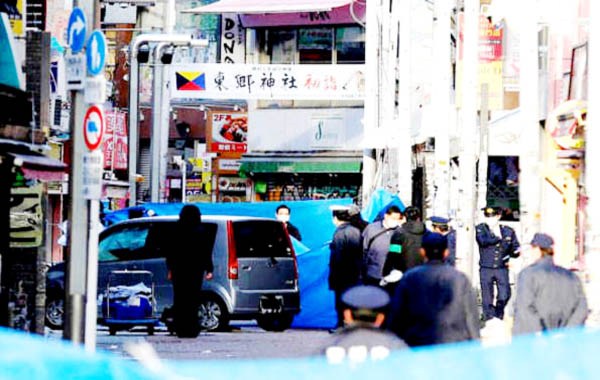 Tokyo, Nine people were injured in Tokyo's Shibuya Ward on Tuesday when a man rammed his car into pedestrians on a well-known shopping street in what he claimed was an act of terrorism, authorities said. Police arrested Kazuhiro Kusakabe, 21, who was driving the rental car with an Osaka license plate, on suspicion of attempted murder. Investigative sources quoted the man as saying he had perpetrated an act of terrorism "in retaliation for an execution" and "would not make any excuse" for his act. It was not immediately clear whether he was referring to a specific execution or Japan's system of capital punishment. Kusakabe told the police he had driven from Osaka and intended to kill the pedestrians he hit. There was a tank of kerosene in the rental car, which he said he planned to use to burn the vehicle, the investigative sources said, reports Kyodo news . The incident took place on Takeshita Street in the Harajuku district close to Meiji Shrine shortly after midnight. The street was closed to vehicular traffic at the time as it was expected to be crowded on New Year's Eve and New Year's Day. Eight people were hit by the car, including a teenage boy who is in critical condition, the police said.Another man was slightly injured when Kusakabe allegedly struck him after getting out of the car, the police said. Kusakabe fled the scene, but the police found him in a nearby park about half an hour later. Meanwhile, about 120,000 revelers packed into Shibuya's famous scramble crossing but activities were tightly controlled by police and riot police. No major trouble had been reported as of 5 a.m. and most people had dispersed by then.


---
Obamas declared most admired people in US.

MMNN:29 December 2018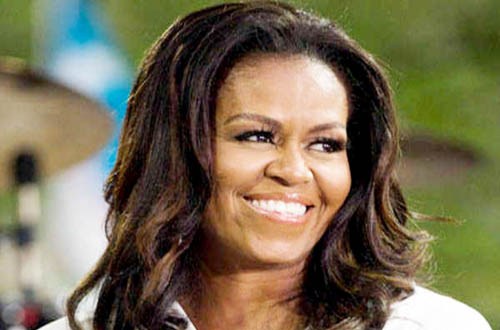 New York, Former US President Barack Obama has been named the most admired man in America for the 11th year in a row – but now he is joined by his wife, Michelle, who knocked Hillary Clinton off the perch to be voted the most admired woman. It is the first time in 17 years that a woman other than the former US presidential candidate and Secretary of State has been named the most admired woman in Gallup's annual poll. There are ten points between Ms Obama and her nearest rival, Oprah Winfrey, according to an SBS News report. Her jump to number one likely comes down to the release of her best-selling book, Becoming. Meanwhile, Ms Clinton has been staying out of the spotlight more than usual. And while Barack Obama has continued his number one streak, US President Donald Trump has come in second for the fourth year in a row. When it comes to the women, First Lady Melania Trump is sitting at number four, behind Ms Clinton who dropped to third place. Queen Elizabeth took out the fifth spot – the first non-American to make the Most Admired Woman list – followed by German Chancellor Angela Merkle, Supreme Court judge Ruth Bader Ginsburg, talk show host Ellen Degeneres, US politician Nikki Haley, Pakistani activist Malala Yousafzai and another US politician, Nancy Pelosi. The data shows American's hold talk show hosts in high esteem, with both Winfrey and Degeneres making the list.No entertainers appeared in the male list and only two non-Americans made the cut: Pope Francis and the Dalai Lama. After Mr Obama and Mr Trump, Americans said they admired George W Bush, Pope Francis, Bill Gates, Bernie Sanders, Bill Clinton, the Dalai Lama, Joe Biden, Elon Musk and Mike Pence, in that order. There is a six-point gap between first and second place in the Most Admired Man list. According to Gallup, this year is only the 13th time in 72 years the incumbent president didn't come in first. If Trump does not get to the top spot during his term, it will be only the second time that a US president has not had the honor. The survey, which has run every year since 1946, asked 1025 adult Americans to name the man and women, from any country in the world, whom they most admire.


---
Nawaz dismisses findings of JIT probe, calls it 'biased'.

MMNN:20 November 2018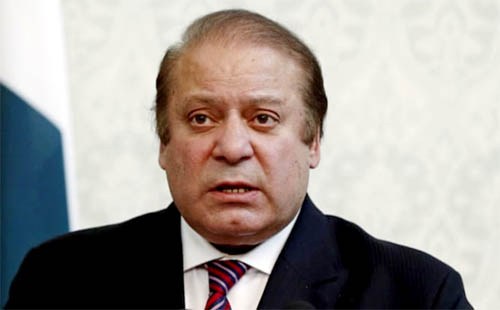 Islamabad, Former Pakistan premier Nawaz Sharif on Monday dismissed the findings of a joint investigation team (JIT) investigation, claiming that the probe was biased and politically motivated. The Pakistan Muslim League-Nawaz (PML-N) leader issued this statement as he appeared in an accountability court which was hearing the Al-Azizia corruption reference that had been filed against him by the National Accountability Bureau (NAB) after the Panamagate scandal. During the hearing, Nawaz told an accountability court that the investigation carried out by JIT in connection with Al-Azizia corruption reference against him was biased and not backed by evidence, Geo News reported. Nawaz reiterated during the hearing that the statements recorded by the JIT during its probe were not acceptable evidence.The PML-N leader also told the court that the money deposited in his account from abroad was documented correctly in FBR records, whereas a plea was submitted in the Supreme Court on his behalf rejecting the "so-called evidence" and report presented by the JIT. The former premier said that he has pointed out in the plea that the JIT is a mere investigative body and hence, any statement recorded by it cannot be presented as evidence in the court.He alleged that the JIT's investigation was biased and not backed by evidence. Nawaz had told the court that he had never been a part of any transactions related to the sale of Al-Azizia steel mills, and that all the money he had received from abroad had been documented in his tax returns, and that he was free to spend it as he wished.


---
PM Modi arrives Male to attend swearing in ceremony of new President of Maldives.

MMNN 19 November 2018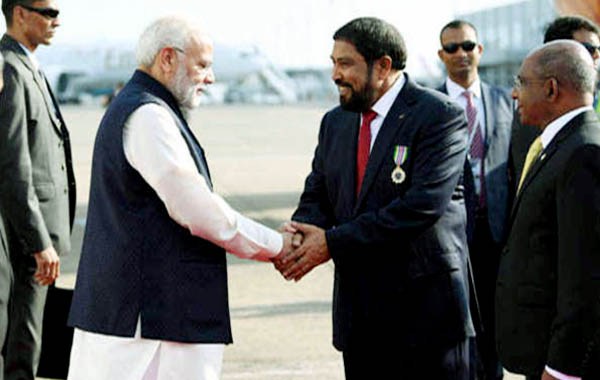 Male (Maldives), Prime Minister Narendra Modi arrived here on Saturday to attend the swearing in ceremony of President-elect Ibrahim Mohamed Solih of Maldives. "Deepening our connect with a valued maritime neighbour. PM Narendra Modi begins a historic visit to The Maldives," said a tweet from PMO India. Earlier in a tweet, MEA spokesman Raveesh Kumar wrote: "Pursuing the policy of Neighbourhood First! On his first visit to our maritime neighbour, PM Modi emplanes for Maldives to attend the historic swearing-in ceremony of President-elect Solih. The last visit by an Indian PM to Maldives was in November 2011". "I will be in Malé to attend the historic Inauguration Ceremony of the President-elect H.E. Ibrahim Mohamed Solih. I warmly congratulate him on his victory in the recent elections and wish him the very best for his tenure," Prime Minister wrote in a series of tweets on Friday night. Maldives newly elected President-elect Ibrahim Mohamed Solih last week invited Prime Minister Modi to attend his swearing in ceremony. Briefing reporters here, MEA spokesman Raveesh Kumar has said Mr Modi has accepted the invitation "with pleasure". "In keeping with our neighbourhood first policy, India looks forward to closely work with Maldives in further deepening our partnership," Mr Kumar has said


---
Good First Step": US Welcomes Indictments In Khashoggi Case.

MMNN:16 November 2018

WASHINGTON, UNITED STATES: The United States welcomed the first indictments Thursday in the Saudi probe into the murder of Jamal Khashoggi as a "good first step," while urging Riyadh to pursue its investigations. State Department spokeswoman Heather Nauert said there had been no prior coordination with the United States, which simultaneously announced sanctions against 17 Saudi officials over the killing. She did not rule out further sanctions as more details come to light in the case. "We regard the announcement that they made as a good first step, it's a step in the right direction," Nauert told reporters. "It is an initial investigation finding. It is important that those steps continue to be taken toward full accountability." Saudi Arabia on Thursday called for the death penalty against five people accused of murdering the journalist inside the kingdom's Istanbul consulate, but absolved Crown Prince Mohammed bin Salman of any blame.


---
BIMSTEC Declaration endorses India's stand; Makes veiled attack on Pakistan.

MMNN:31 August 2018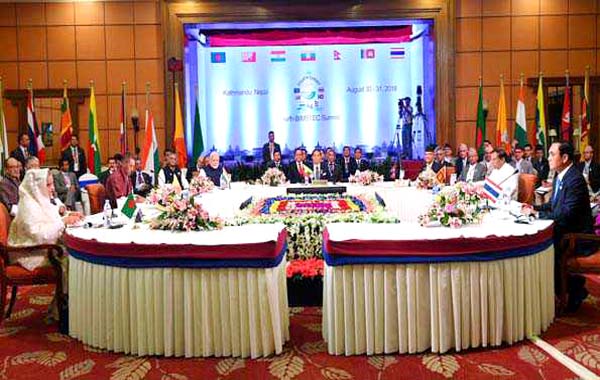 Kathmandu, The Kathmandu Declaration adopted at the end of the fourth BIMSTEC Summit here on Friday endorsed India's known stand on terror menace and said categorically that fight against terror should also identify and hold accountable States and non-State entities that encourage, support or finance terrorism. The Declaration adopted by the member nation heads and government heads of Bangladesh, India, Myanmar, Sri Lanka, Thailand, Bhutan, and Nepal said that: "….the fight against terrorism should target not only terrorists, terror organizations and networks but also identify and hold accountable States and non-State entities that encourage, support or finance terrorism, provide sanctuaries to terrorists and terror groups and falsely extol their virtues". It deplored terrorist attacks in all parts of the world, including in BIMSTEC countries and strongly condemn terrorism in all its forms and manifestations "wherever and by whomsoever".It also said there can be "no justification whatsoever for any act of terrorism". The observations on terror front is largely seen as a veiled attack on Pakistan.Prime Minister Narendra Modi in his speech at the plenary session on Thursday gave a major push to make the seven-member BIMSTEC a more purposeful regional grouping and sought a bigger role for it vis-a-vis transnational crime, terrorism and drug trafficking. "None of us among the member nations can say we have not faced terrorism and terror-related networks. There are issues of drug trafficking and transnational crimes. We are ready to host a frame-work conference on drug menace," the Prime Minister has said. The Kathmandu Declaration also reiterated strong commitment to combat terrorism and call upon all countries to devise a comprehensive approach in this regard which should include preventing financing of terrorists and terrorist actions from territories under their control, blocking recruitment and cross-border movement of terrorists, countering radicalization, countering misuse of internet for purposes of terrorism and dismantling terrorist safe havens.


---
China Denies Planning Military Base In Afghanistan.

MMNN:29 August 2018

BEIJING: China on Wednesday denied that it planned to build a military base in Afghanistan, after a Hong Kong newspaper said Beijing was constructing a training camp for Afghan troops to which it could also send its own soldiers. The South China Morning Post, citing unidentified sources with ties to the Chinese military, said China was building the camp in the narrow Wakhan Corridor that links the two countries. Foreign Ministry spokeswoman Hua Chunying dismissed the report, however. "After looking into it, the relevant report is not true," she told a daily news briefing. "Since the construction and training, this situation, it doesn't exist - it's not true. So anything related naturally is not true," Hua added, dismissing the assertion about China eventually sending its own soldiers. She did not elaborate. The Defence Ministry did not respond to a request from Reuters for comment. It was not the first time reports have pointed to China seeking a military presence in Afghanistan, although it has denied all of them. In January, the defence ministry denied a similar report that it planned to build a military base in Afghanistan. It has also previously dismissed reports that Chinese military vehicles were patrolling in the south Asian nation. China has long worried that instability in Afghanistan could spill over into its violence-prone Xinjiang region, home to the Muslim Uighur people. In recent years, hundreds of people have been killed in the far western region in unrest China blames on ISIS militants. China has also worked with Pakistan and the United States to broker peace talks to end Afghanistan's Taliban insurgency that has raged since the militants were ousted by US-backed forces in 2001. Last year, China opened its first overseas military base, in the Horn of Africa country Djibouti. It has previously denied having plans for other overseas bases, but the United States expects it to build more, with Pakistan a likely location.


---
Sushma unveils Gandhi's bust in Hanoi.

MMNN:28 August 2018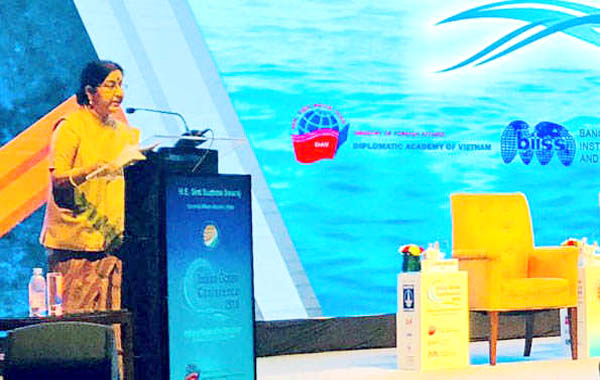 Hanoi, External Affairs Minister Sushma Swaraj, who is on a four-day two-nation tour of Southeast Asia, has unveiled the bust of Mahatma Gandhi in the Indian Embassy in Vietnamese capital Hanoi. "Paying respect to the Father of the Nation! EAM @SushmaSwaraj unveiled the bust of Mahatma Gandhi in the Chancery building at the Embassy of India in Hanoi," said External Affairs Ministry spokesperson Ravish Kumar in a tweet. In March this year, Vietnamese President Tran Dai Quang had paid tributes to Mahatma Gandhi at Rajghat in New Delhi during his visit to India. Swaraj arrived in Hanoi on Sunday on the first leg of her tour through which India aims to deepen its strategic cooperation with Vietnam and Cambodia. Both nations are members of the Association of Southeast Asian Nations (ASEAN) and are key players in the geopolitics of Southeast Asia, according to the reports. At an event held in the Indian Embassy, the EAM praised the role played by the Indian community in the country in strengthening people to people bond. "Hailing the role played by Indian community in Vietnam in consolidating cultural connect between India and Vietnam! EAM @SushmaSwaraj praised the Indian Diaspora in Vietnam for strengthening people to people bond between two nations," said Kumar in a tweet. Swaraj also participated in a camp at Phu Tho province in the country where many Vietnamese were benefitted with the Jaipur foot. "Together with you when you take those small steps! EAM @SushmaSwaraj participated in the Jaipur foot camp and encouraged a girl to walk with the newly fitted artificial limb. 500 Vietnamese beneficiaries were present at the Camp organised in the Phu Tho province of Vietnam," said Kumar. In Vietnam, Sushma Swaraj will co-chair the 16th meeting of the Joint Commission along with her counterpart Deputy Prime Minister and Foreign Minister Pham Binh Minh. In Vietnam, Sushma Swaraj will co-chair the 16th meeting of the Joint Commission along with her counterpart Deputy Prime Minister and Foreign Minister Pham Binh Minh. She will also call on Vietnamese Prime Minister Nguyen Xuan Phuc and will inaugurate the third edition of the Indian Ocean Conference on Monday.


---
After "Going Private" Scare, Tesla's Elon Musk Says Firm Will Stay Public.

MMNN:25 August 2018


NEW YORK: Tesla CEO Elon Musk said Friday that the company would continue to be publicly traded, weeks after suggesting that he would take the electric carmaker private. Musk met with Tesla's board of directors on Thursday "and let them know that I believe the better path is for Tesla to remain public. The Board indicated that they agree," he wrote on the company blog. Musk surprised markets on August 7 by announcing on Twitter he wanted to take Tesla private at $420 a share. But shares fell more than 20 percent since the announcement. After the announcement the controversial entrepreneur came under extensive scrutiny over his Twitter statements related to the proposal, especially a claim that Tesla had "secured" funding for the move. However, Musk said Friday that based on talks with current shareholders, as well as an assessment by financial advisers Silver Lake, Goldman Sachs and Morgan Stanley, "it's apparent that most of Tesla's existing shareholders believe we are better off as a public company." Even though the majority of shareholders "said they would remain with Tesla if we went private, the sentiment, in a nutshell, was 'please don't do this,'" he wrote. "I knew the process of going private would be challenging, but it's clear that it would be even more time-consuming and distracting than initially anticipated."


---
We Stand By Our Readout": US On Statement About Imran Khan-Pompeo Call.

MMNN:24 August 2018

A fresh row has erupted between the US and Pakistan with Islamabad taking exception to a State Department statement that Secretary of State Mike Pompeo discussed the issue of terrorism with newly-elected Prime Minister Imran Khan while Washington stands by its version. Mike Pompeo yesterday spoke to Imran Khan for the first time after the cricketer-turned-politician assumed office last week and sought "decisive action" against all terrorists operating in Pakistan, the US State Department said. Soon after the State Department's statement, Pakistan Foreign Office spokesman Mohammad Faisal said that "Pakistan takes exception to the factually incorrect statement issued by the US State Department on today's phone call between Prime Minister Khan and Secretary Pompeo". "There was no mention at all in the conversation about terrorists operating in Pakistan. This should be immediately corrected," Mr Faisal tweeted. The US has long been frustrated with Pakistan's overt and covert support to the Afghan Taliban and other terror groups, forcing the Trump administration to warn Islamabad and slash military aid to the country. State Department Spokesperson Heather Nauert said yesterday in a statement that Mike Pompeo, in his talks with Mr Khan, discussed the issue of terrorism and Pakistan's vital role in promoting the peace process in war-torn Afghanistan. "Secretary Michael R Pompeo spoke today with Pakistani Prime Minister Imran Khan and wished him success. Secretary Pompeo expressed his willingness to work with the new government towards a productive bilateral relationship," she said in the statement. Ms Nauert today said Mike Pompeo's telephonic discussion with Khan was good and the US stands by its earlier statement. "In the readout, the secretary notes that he spoke with the new prime minister and expressed his willingness to work with the new government toward a productive bilateral relationship. They had a good call," she said. "That may surprise some of you, but they had a good call. Pakistan is an important partner to the United States. We hope to forge a good, productive working relationship with the new civilian government," she said. She went on to say that based on her understanding, "the beginning of the call or the call itself was a good call, and a good discussion toward our working with the new government and the new administration". When asked again by a reporter if the US government continues to stand by the readout, she said: "We stand by our readout." The Pakistani media this week reported that Mike Pompeo is likely to visit Islamabad in the first week of September to hold talks with newly-elected Prime Minister Khan. Mr Pompeo, who is expected in Islamabad on September 5, would be the first foreign dignitary to meet Khan, Dawn reported, quoting the diplomatic and official sources. The relations between Pakistan and the US nose-dived after President Donald Trump in January accused Islamabad of giving nothing to Washington but "lies and deceit" and providing "safe haven" to terrorists. The US Congress also passed a bill to slash Pakistan's defence aid to $150 million, significantly below the historic level of more than $1 billion per year. Imran Khan has been critical of the US drone strikes against terrorists in Pakistan as well as along the country's border with Afghanistan. In his victory speech last month, Mr Khan said he wants a balanced relation between Pakistan and America which should be mutually beneficial, not one sided.


---
Kofi Annan, Former UN Secretary General, Dies At 80.

MMNN:18 August 2018


Kofi Annan, former United Nations Secretary General and Nobel Peace Laureate, has died. He was 80. A statement posted on his Twitter account said, Kofi Annan died after a short illness. "It is with immense sadness that the Annan family and the Kofi Annan Foundation announce that Kofi Annan, former Secretary General of the United Nations and Nobel Peace Laureate, passed away peacefully on Saturday 18th August after a short illness," the foundation said in a statement. News agency Reuters says Kofi Annan died at a hospital in Bern, Switzerland, in the early hours of Saturday. Kofi Annan was the first black African to take up the role of the world's top diplomat - United Nations Secretary General - serving two terms from 1997 to 2006. He later served as the UN special envoy for Syria, leading efforts to find a peaceful solution to the conflict. He, along with the United Nations, received the Nobel Peace Prize in 2001 "for their work for a better organized and more peaceful world". United Nations chief Antonio Guterres said Kofi Annan was the "guiding force for good". "In many ways, Kofi Annan was the United Nations. He rose through the ranks to lead the organisation into the new millennium with matchless dignity and determination," he added. "Today we mourn the loss of a great man, a leader, and a visionary: former @UN Secretary General @KofiAnnan. A life well lived. A life worth celebrating," a United Nations migration body tweeted. Kofi Annan was married and had three children. Following is the full text of the statement announcing Kofi Annan's death by his foundation: It is with immense sadness that the Annan family and the Kofi Annan Foundation announce that Kofi Annan, former Secretary General of the United Nations and Nobel Peace Laureate, passed away peacefully on Saturday 18th August after a short illness. His wife Nane and their children Ama, Kojo and Nina were by his side during his last days. Kofi Annan was a global statesman and a deeply committed internationalist who fought throughout his life for a fairer and more peaceful world. During his distinguished career and leadership of the United Nations he was an ardent champion of peace, sustainable development, human rights and the rule of law. After stepping down from the United Nations, he continued to work tirelessly in the cause of peace through his chairmanship of the Kofi Annan Foundation and as chair of The Elders, the group founded by Nelson Mandela. He was an inspiration to young and old alike. Kofi Annan was a son of Ghana and felt a special responsibility towards Africa. He was particularly committed to African development and deeply engaged in many initiatives, including his chairmanship of the Africa Progress Panel and his early leadership of the Alliance for a Green Revolution in Africa (AGRA). Wherever there was suffering or need, he reached out and touched many people with his deep compassion and empathy. He selflessly placed others first, radiating genuine kindness, warmth and brilliance in all he did. He will be greatly missed by so many around the world, as well as his staff at the Foundation and his many former colleagues in the United Nations system. He will remain in our hearts forever. The family kindly requests privacy at this time of mourning. Arrangements to celebrate his remarkable life will be announced later.


---
Presidential Election On September 4, Says Pakistan Election Body.

MMNN:16 August 2018


ISLAMABAD: Pakistan will hold presidential elections on September 4 to elect President Mamnoon Hussain's successor at the end of his five-year-tenure, the pakistan election commission announced today. Pakistan's president is elected indirectly by the members of Parliament and the four provincial assemblies. "Presidential election will be held on September 4," the Election Commission of Pakistan (ECP) said as it issued the schedule of the election. The candidates can file nominations by August 27 and the final list of contesting candidates will be issued on August 30, it said. The polling will be held in the buildings of the federal parliament and provincial assemblies. In Pakistan, the President is considered as a symbol of the federation and head of the state and exercises all powers on the recommendations of the prime minister. Mr Hussain, elected in September 2013, was a nominee of the Pakistan Muslim League-Nawaz (PML-N) led by jailed former prime minister Nawaz Sharif. Mr Hussain's parents migrated from Agra and settled in Karachi after partition. A tough competition is expected between nominees of the Pakistan Tehreek-e-Insaf (PTI) led by Prime Minister-in-waiting and cricketer-turned-politician Imran Khan and the joint opposition forged by the PML-N, the Pakistan Peoples Party and the Muttahida Majlis-i-Amal.


---
In Response To Sanctions, Turkey To Boycott US Electronic Goods: Erdogan.

MMNN:14 August 2018


ISTANBUL: President Recep Tayyip Erdogan on Tuesday said Turkey would boycott US electronic goods in retaliation for punitive sanctions by Washington against Ankara over the detention of an American pastor. "We will boycott US electronic goods," Erdogan said in a televised speech, raising the stakes in a spat that has seen the Turkish lira plunge to record lows. "If (the United States) have the iPhone, there's Samsung on the other side," he said, referring to US giant Apple's iconic phone and the top South Korean brand. "We (also) have our Venus and Vestel," he said about homegrown Turkish electronics brands. Relations between the two NATO allies have plummeted in one of their worst crises in decades after the detention of US pastor Andrew Brunson on terror-related charges, sending the Turkish lira into free fall against the dollar. Erdogan has been repeatedly photographed with Apple products including the iPhone and iPad. He also made his now famous speech on the night of the July 2016 failed coup calling citizens out into the street through Facetime, an iPhone app. The lira's plunge -- which had been ongoing for weeks -- was turned into a rout on Friday when US President Donald Trump tweeted that Washington was doubling aluminium and steel tariffs for Turkey. Turkish Airlines also announced on Twitter that it would join a campaign circulating on social media with a hashtag #ABDyeReklamVerme (don't give ads to America). "We, as the Turkish Airlines, stand by our state and our people. Necessary instructions on the issue have been issued to our agencies," Yahya Ustun, spokesman for the country's flag-carrier, wrote on Twitter. Erdogan said Turkey was facing an "economic attack" and a "bigger, deeper operation" but showed no sign of making concessions to the United States. "They don't hesitate to use the economy as a weapon," he said. "What do you want to do? What do you want to achieve," he added, referring to the US. Erdogan admitted the Turkish economy had problems -- including a widening current account deficit and inflation of almost 16 percent but added: "Thanks to God, our economy is functioning like clockwork


---
"Girl With A Book" Frightens Extremists: Malala On Pak School Burning.

MMNN:4 August 2018


GILGIT-BALTISTAN:: Pakistani activist Malala Yousufzai on Friday condemned the attack on 12 schools in Gilgit-Baltistan which took place late on Thursday night. She tweeted, "The extremists have shown what frightens them most - a girl with a book. We must rebuild these schools immediately, get the students back into their classrooms and show the world that every girl and boy has the right to learn." According to Dawn, Diamer Superintendent Police (SP) Roy Ajmal said 12 schools, including only-girls schools were set on fire. He also said that in a few cases, books were also thrown out and torched. Dawn quoted local police officer Mohammad Bashir as saying that the attack on schools took place near Chilas before dawn on Friday, however, no casualties were reported as the schools were closed when the attack took place. Police added that no group has claimed responsibility for the attack yet. Local residents and journalists said explosions were heard in GPS Ronay and Girls School Takya, however, police said that they did not receive reports about blasts. A protest has been called by The Diamer Youth Movement in the district headquarters of Chilas, against the targeting of educational institutions in the area. Later, locals took out a protest rally in Chilas against the burning down of schools and demanded that the police arrest the culprits. They raised the slogans of "Dehshatgard murdabad!" [death to terrorists!] Commissioner of Diamer, Syed Abdul Waheed Shah, told Dawn that no arrests have been made so far in the matter. He added that the police were investigating the incident and a first information report (FIR) would be registered. The commissioner also revealed that attempts were made to blow up two schools using explosives, while the rest of the 11 schools were set on fire


---
China Probes High-Ranking Buddhist Monk Accused Of Coercing Nuns Into Sex.

MMNN:3 August 2018

China's top religious authority launched an investigation Thursday after two monks alleged that a prominent Buddhist abbot and Communist Party member coerced several nuns into having sex with him, one of the country's most high-profile #MeToo moments. The allegations against abbot Xuecheng and the Beijing Longquan Monastery burst into the public eye when a 95-page document written by the monks, who also claimed that the temple is in financial trouble, emerged online earlier this week. He is accused of sending illicit text messages to at least six women, tempting or threatening them to have sex with him. Four gave in to Xuecheng's demands, the report said, adding that he tried to assert "mind control" by claiming the sex was a part of their Buddhist studies. "We have received the material involved in the report and have started work on investigating and verifying the claims," the State Administration for Religious Affairs said in a statement, adding that it takes the allegations "very seriously". The monastery had on Wednesday denounced the dossier, which it says falsified evidence, calling it an attempt to tarnish Xuecheng and the monastery's reputation. "The falsified evidence is based on a deliberate attempt to frame Master Xuecheng, and can be considered a crime," it said in a statement posted on Xuecheng's account on the Twitter-like Weibo platform. "This incident has its roots in revenge, an operation motivated by malice." The report and posts about it have been taken down or censored on social media. Growing #MeToo movement According to the state-run Global Times, Xuecheng had been brought in for questioning by authorities but later released. In a separate social media posting, one of the report's authors said he was forced to go public after the victims were ignored by authorities who said they could not investigate the matter. There is no legal definition of sexual harassment in China and no national regulations on how to handle sexual assault cases in schools and workplaces. Xuecheng is a prominent personality in Chinese Buddhist life with a social media following of millions. He heads the Buddhist Association of China and is also a member of the Chinese People's Political Consultative Conference, a top advisory board. Located on the outskirts of Beijing, Longquan Monastery has made headlines for combining Buddhism with modern technology, launching last year a two-foot high robot monk that dispenses mantras and karmic advice. The #MeToo movement ignited in China earlier this year with more women starting to open up about sexual assaults, especially on university campuses. Unlike in the West, where #MeToo has forced resignations and sparked widespread public debate, authorities in China have sought to control the discussion, sometimes allowing and at other times censoring social media commentary.


---
"No Foreign Leaders To Be Called For Imran Khan's Oath: Pak Foreign Office.

MMNN:2 August 2018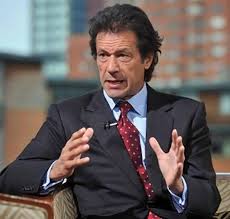 ISLAMABAD:Foreign leaders will not be invited to Imran Khan's swearing-in as Pakistan's Prime Minister on August 11, Islamabad said today. Cricketer-turned-politician Imran Khan's Pakistan Tehreek-e-Insaaf (PTI) emerged as the largest party in the July 25 election, but short of numbers to take power without an alliance. Earlier this week, reports suggested that the 65-year-old wanted to invite SAARC leaders including Prime Minister Narendra Modi to his oath ceremony. "Media speculation about international dignitaries attending PM oath ceremony are not correct," said Fawad Chaudhry, a spokesperson of PTI, stating that a simple ceremony would be held at Aiwan-e-Sadr or President's House. Imran Khan had asked for the oath to be staged with austerity, Mr Chaudhry said. "It has been decided that no foreign personalities will be invited to the ceremony - it will be a completely national event. Only a few close friends of Imran Khan will be invited. There will be no show of extravagance at the event," he said. Imran Khan's personal invitations stand. "A few of Imran's friends are the only foreign nationals being invited to the event," said Mr Chaudhry. The legendary cricketer has invited actor Aamir Khan and former cricketers Sunil Gavaskar, Kapil Dev and Navjot Singh Sidhu. Mr Sidhu accepted the invitation, calling Imran Khan "a man of character". Addressing the nation after his victory, Imran Khan had pledged to take austerity measures to save taxpayers' money and said he would be "ashamed" to stay in the sprawling Prime Minister's House. The PTI spokesperson had earlier said that the party had sought the advice of the Foreign Office on inviting foreign dignitaries. PM Modi had called Imran Khan to congratulate him on his party's victory in the general elections in Pakistan and hoped that "Pakistan and India will work to open a new chapter in bilateral ties". Imran Khan in his victory speech had also said that better relations between Pakistan and India would be "good for all of us". Former Pakistan prime minister Nawaz Sharif had travelled to Delhi to attend PM Modi's oath ceremony in 2014 and PM Modi had made a surprise stopover at Lahore in December 2015 on his birthday. Ties between the two countries have been strained in recent years over terror strikes by Pakistan-based groups, especially the attack on an army camp in Kashmir's Uri, after which India carried out surgical strikes on terror launch pads across the Line of Control.


---
Imran Khan's Party Begins Coalition Talks As Rivals Plan Protests.

MMNN:28 July 2018


ISLAMABAD: Imran Khan's party said it has begun talks with independents and small parties to form a coalition government after a resounding triumph in Pakistan's general election, as rival parties planned protests over alleged vote rigging. Khan's Pakistan Tehreek-e-Insaf party (PTI) won 115 seats in Wednesday's ballot, short of the 137 needed for a simple majority but a surprisingly strong showing that helped fuel suspicion of rigging. The party has begun reaching out to potential coalition partners to form a government, according to spokesman Fawad Chaudhry, a task that analysts said should be straightforward. "We have contacted small parties and independent members, they will soon meet party leaders in Islamabad," Chaudhry announced late Friday, adding that the process was likely to take about 10 days. Chaudhry's comments followed an announcement by rival parties vowing to launch a protest "movement", after foreign observers voiced concerns about the contest. More than a dozen parties calling themselves the All Parties Conference (APC) promised to protest over the results. However the group remained divided with some parties pledging to boycott joining the National Assembly and others calling for a new vote. The outgoing Pakistan Muslim League-Nawaz party announced its support for the group but stopped short of saying it would boycott the new parliament. And the Pakistan Peoples Party (PPP), which was notably absent from the APC, said in a separate announcement that it rejected the results, but vowed to try to convince the other parties to participate in the parliamentary process. The protests announcement late Friday came as the United States, the European Union and other observers voiced concerns over widespread claims that the powerful military had tried to fix the playing field in Khan's favour. Khan's victory represents an end to decades of rotating leadership between the PML-N and the Pakistan PPP that was punctuated by periods of military rule. The vote was meant to be a rare democratic transition in the Muslim country, which has been ruled by the powerful army for roughly half its history. But it was marred by violence and allegations of military interference in the months leading up to the vote, with Khan seen as the beneficiary. The former cricket star will face myriad challenges, including extremism, an economic crisis with speculation that Pakistan will have to seek a bailout from the International Monetary Fund, water shortages and a booming


---
"My Sons' Father Is Next PM": Jemima Goldsmith Congratulates Imran Khan.

MMNN:26 July 2018


ISLAMABAD: As cricketer-turned-politician Imran Khan edges closer to ruling Pakistan, the country that he has promised to change, after a general election hit by delayed counting of votes and rigging allegations by major parties, his fans are already calling him "Prime Minister Imran Khan", even as his Pakistan Tehreek-i-Insaf (PTI) hasn't made any announcement. Jemima Goldsmith, the first wife of the thrice-married, too, made haste with a tweet and congratulated her "sons' father" for the "win". Mr Khan's nine-year marriage to British socialite Jemima Goldsmith ended in 2004. She had converted to Islam before marrying the 65-year-old former fast bowler. He was 42 and she was half his age. She moved to Lahore to start a life with her Oxford-educated husband. Soon he launched his political career as his new wife tried to adjust to her new surroundings. Ms Goldsmith spoke about Mr Khan's political journey and highlighted his sense of humour on Twitter. "I remember IK's 1st election in 1997- untested, idealistic & politically naive. I waited up for the call in LHR with 3 mo old Sulaiman, who I had lugged around the country. Eventually he called. "It's a clean sweep" & after my gasp, "... the other way." He roared with laughter," she said in a now-deleted tweet. The couple has two sons, Sulaiman and Kasim, who returned to Britain with their mother after the divorce, which Mr Khan had attributed to "geographical problems" and "difficulties of cross-cultural marriages". He had also told NDTV that "political life was a nightmare for her". However, Pakistan remains her "beloved old friend". When Pakistan voted for a new government on Wednesday, she tweeted, "Happy Election Day Pakistan, you maddening, beautiful, crazy, beloved old friend. Here's hoping the people who count your votes, let your vote count. And you get the leader you believe in. Pakistan Zindabad!" Mr Khan married again in 2015. His second bride, Reham Khan, was a weather reporter for the BBC. The marriage lasted barely 10 months. This year, after months of speculation and rumours, the PTI chairman confirmed his marriage to Bushra Maneka (also known as Pinki Pir) in February. Their wedding photographs showed the bride hidden behind a veil. As votes are still being counted, the PTI is leading in 119 of the 272-seats, still short of the majority mark of 137. However, five major parties have alleged blatant rigging. Shahbaz Sharif, the brother of former Prime Minister Nawaz Sharif, called it the "dirtiest election" he has ever seen. The Election Commission of Pakistan has attributed the delay to technical glitches. Nawaz Sharif's Pakistan Muslim League-Nawaz or PML-N is ahead in 61 constituencies, and the Pakistan Peoples Party (PPP), led by Bilawal Bhutto, son of assassinated two-time Prime Minister Benazir Bhutto, is leading in 40 constituencies.


---
Prince Harry Joins Singer Elton John To Launch HIV Campaign Targeting Men.

MMNN:25 July 2018


AMSTERDAM, NETHERLANDS: Britain's Prince Harry joined pop star Elton John on Tuesday to launch a campaign to raise HIV awareness among men, warning that "dangerous complacency" about the virus threatened the quest to wipe it out. The billion-dollar project "MenStar" will target men living with or at risk of HIV in sub-Saharan Africa, which has been ravaged by AIDS since the 1980s. "The MenStar coalition is bravely tackling the root cause of this problem - the lack of awareness of HIV prevention amongst hard-to-reach young men," Harry said at the 22nd International AIDS Conference in Amsterdam. Speaking at the launch, which also featured South African actress Charlize Theron and Ndaba Mandela, the grandson of late President Nelson Mandela, Elton John said: "If we want to end AIDS once and for all, we must make men part of the solution." Around 36.7 million people around the world have HIV, according to 2016 figures cited by the United Nations' HIV/AIDS body UNAIDS. Fewer than half of men living with HIV receive treatment compared with 60 percent of women, it said. "It is time there was a global coalition to teach men to protect themselves. And in doing so, it will teach them to better protect not only their wives and girlfriends, their sisters and daughters, but also, critically, their brothers and their sons," the British singer said. UNAIDS said this month that the fight against HIV/AIDS was "slipping off track" and while deaths were falling and treatment rates rising, rates of new HIV infections threatened to derail efforts to defeat the disease. Prince Harry said the campaign launch came at "a time when new energetic and innovative solutions are needed more than ever before". "MenStar" is supported by the U.S. government's PEPFAR programme for tackling HIV/AIDS and by the Bill and Melinda Gates Foundation. Experts at the conference hope for the elimination of AIDS worldwide by 2030, but the United Nations warned last Wednesday of a funding gap of £4.6 billion that threatens efforts.


---
Terror Suspect's Wife Arrested In Foiled 'Biological Attack' In Germany.

MMNN:24 July 2018


Asharam Chaudhary (18), son of a ragpicker, who made it to AIIMS, Jodhpur for studies of medicine having cracked AIIMS-MBBS entrance test, 2018 will have electricity supply and a toilet at his thatched house soon. Also, he will have a pucca house, said district collector, Dewas. AICC president Rahul Gandhi has also written a letter to Asharam congratulating him on his success, as per the state Congress leaders. Asharam lives at Vijayganj Mandi in Dewas district, about 150 kilometers south west of Bhopal, with his parents, a brother and a sister. Srikant Pandey, collector, Dewas who provided a financial assistance of Rs 25000 to the family on Sunday said, "We have initiated the process for providing electricity supply to and construction of a toilet at Asharam's home. They will have a pucca house too under the government's scheme." Earlier, chief minister Shivraj Singh Chouhan instructed the collector, Dewas to provide immediate financial assistance to the youth and his family in response to certain tweets tagged to his Twitter account. "…Requested collector to provide immediate financial assistance and they're in touch now. He is also eligible for Medhavi Vidyarthi Yojana, where we will pay his fee. I will speak with him and congratulate him on his success and determination", said Chouhan in his reply to the tweets. He further said, "I also came to know that the family needs pakka home, toilet and electricity and we are going to provide them with these facilities under various schemes. Who says social media spread only hate? It also spreads love and happiness in the lives of people." AICC president Rahul Gandhi in his letter said, "You remind me of Mahatma Gandhi who used to say: "Strength does not come from physical capacity. It comes from the indomitable will"." When contacted Asharam Chaudhary who left for Jodhpur on Sunday said, "There is an atmosphere of joy and happiness in the entire village. I wish to do something for students who are struggling against odds in life like me." Asharam's father Ranjeet Chaudhary said, "It was not possible for me to get all these facilities with my meagre income. My son has changed the life of my family even before his study begins for becoming a doctor." Notably, Asharam's achievement of qualifying for All India Institute of Medical Sciences (AIIMS) came to be known only a few days back when he got a letter from AIIMS, Delhi regarding his admission to AIIMS, Jodhpur based on the counselling held on June 28 and 29 and result declared on July 2. Overall rank of Asharam in the examination was 707th while he got 141st rank in OBC category. According to Asharam, he studied in a government school up to class 3. Later, with a teacher's support he completed his primary education in a private school. He cracked Jawahar Navodaya Vidyalaya Selection Test (JNVST) and got admission to Jawahar Navodaya Vidyalaya for studies from class 6. He was selected by Dakshna organisation in Pune to prepare for medical entrance examination. He did his secondary education from Pune


---
Nawaz Sharif, Unwell In Jail, Not Allowed To See His Doctor, Claims Party.

MMNN:23 July 2018


ISLAMABAD, PAKISTAN: Pakistan's jailed former prime minister Nawaz Sharif is suffering from high blood pressure but has been refused permission to see his personal doctor, his party said Monday. Sharif was convicted in his absence overseas on corruption charges and arrested upon his return to Pakistan earlier his month, ahead of elections on Wednesday. Members of his Pakistan Muslim League-Nawaz (PML-N) have said the powerful military is trying to influence the vote against his party. The former premier is widely believed to have returned to face a 10-year prison sentence to rally his embattled party ahead of a close contest with its main rival -- the Pakistan Tehreek-e-Insaf, led by cricket star-turned-politician Imran Khan. "Caretaker Prime Minister Nasir-ul-Mulk and chief minister of Punjab province Hasan Askari were approached with a request to provide access to Sharif's personal physician but all requests went down the drain," PML-N spokesperson Maryam Aurangzeb told AFP. "Nawaz Sharif, who is also a heart patient, has been quite unwell since Saturday after his blood pressure went up," Aurangzeb added. Officials at Adiala jail in Rawalpindi where Sharif is being held could not be reached for comment. Aurangzeb said Sharif needed a special diet due to the ongoing heart condition and should be provided with air conditioning, but was being denied both, adding his cell had "serious hygiene issues". The government has assembled a team of doctors who are set to offer Sharif a checkup. Sharif was ousted last year by the Supreme Court for alleged corruption. He became the 15th prime minister in Pakistan's 70-year history -- roughly half of it under military rule -- to be removed before completing a full term. Since his dismissal he has engaged in open confrontation with Pakistan's security establishment, accusing the military of curbing democratic development and fostering links with militants. The military remains the most powerful institution in the country, and has faced allegations in recent months that it is pressuring the media and politicians in a bid to manipulate the polls against the PML-N. It denies the accusations and says it has "no direct role" in the elections


---
12 Thai Boys, Trapped In Cave For Over 2 Weeks, Discharged From Hospital.

MMNN:18 July 2018


CHIANG RAI, THAILAND: Twelve boys and their football coach who survived a highly dangerous and dramatic rescue from a flooded Thai cave were discharged from hospital Wednesday ahead of a press conference where they will tell their incredible story for the first time. An AFP correspondent on the scene saw the team, who were wearing football kits, board three minibuses at the hospital in northern Thailand's Chiang Rai province. The footballers from the "Wild Boars" club are being discharged a day earlier than previously announced, with authorities hoping a question and answer session will satisfy -- at least temporarily -- the intense media speculation that has accompanied their epic underground ordeal. The boys are due to return to their homes later Wednesday. "The reason to hold this evening press conference is so media can ask them questions and after that they can go back to live their normal lives without media bothering them," Thailand's chief government spokesman Sunsern Kaewkumnerd told AFP. Called "Sending the Wild Boars Home" and broadcast on major television channels, the session will last for about 45 minutes, Sunsern said, adding that it would be conducted in an informal style with a moderator. The briefing will be closely monitored, with experts warning of possible long-term distress from the more than two weeks they spent trapped inside a cramped, flooded chamber of the Tham Luang cave in northern Thailand. The public relations department in Chiang Rai province solicited questions from news outlets in advance and they will be forwarded to psychiatrists for screening. Thailand's junta leader Prayut Chan-O-Cha urged media Wednesday to be "cautious in asking unimportant questions" that could cause unspecified damage. But the organisers have also set up a small makeshift football pitch at the press conference and the boys are expected to kick a ball around at the event. Interest in the saga is unlikely to abate, with film production houses already eyeing a Hollywood treatment of the drama. Doctors have advised families of the players, aged 11 to 16, that they should avoid letting them contact journalists for at least one month. Though the boys and coach are said to be in good mental and physical health, they will be provided with additional psychological monitoring to detect lingering trauma. 'Happiest day of my life' Families of the youngsters are eagerly awaiting the homecoming. Khameuy Promthep, the grandmother of 13-year-old Dom, one of the boys rescued from the cave, told AFP in an interview at their family shop in Mae Sai near the Myanmar border on Wednesday that she was very excited. "This is the happiest day of my life," she said. The daring Thai-led international effort to rescue the team captivated the world after the football team walked into the cave on June 23 and were trapped by rising floodwaters. After nine days without a steady supply of food or water they were found emaciated and huddled in a group on a muddy ledge by British divers several kilometres inside Tham Luang. Rescuers debated on the best plan to bring them out but ultimately decided on a risky operation that involved diving them through waterlogged passages while they were sedated to keep them calm and carrying them out in military-grade stretchers. Not even the foreign cave diving specialists who took part were sure the mission would work and many expressed relief when it was all over after the final five were rescued on July 10. 'Pedo' row Further attention was drawn to the rescue by a highly public spat between entrepreneur Elon Musk and a British caver who took part in the rescue. Tesla CEO Musk called Vernon Unsworth a "pedo" in an extraordinary social media attack, after the caving expert had ridiculed Musk's plan to recover the trapped group using a miniature submarine. Musk on Wednesday apologised to Unsworth over the slur, for which he had provided no justification or explanation. "(H)is actions against me do not justify my actions against him, and for that I apologize to Mr. Unsworth and to the companies I represent as leader," Musk wrote on Twitter. "The fault is mine and mine alone." COMMENT Musk's attack on Unsworth had drawn widespread outrage and briefly sent shares in Tesla tumbling. Unsworth told AFP he may take legal action against Musk over the offensive tweet.


---
Nawaz Sharif To Stay In Jail Till Elections, Hearing On Appeals Adjourned.

MMNN:17 July 2018


ISLAMABAD: The hearing on appeals filed by jailed leader Nawaz Sharif, his daughter and son-in-law against their conviction in a corruption case has been adjourned till the last week of July. They were hoping to come out of jail before the election to boost the chances of the Pakistan Muslim League-Nawaz or PML-N. Elections in Pakistan will be held on July 25. Mr Sharif's party has been banking on his early release to power up its campaign. Mr Sharif, 68, his daughter Maryam and son-in-law Captain Muhammad Safdar (retired) on Monday filed the appeals in the Islamabad High Court challenging the verdict in the Avenfield corruption case. A two-member bench of Justice Mohsin Akhtar Kayani and Justice Miangul Hassan Aurangzeb heard the appeals and issued notices to the National Accountability Bureau, and ordered to give to the court the record of the case. The bench adjourned the hearing till the last week of July, which means that the hearing will be held after July 25, the day of the elections. The court also declined to suspend the conviction in the case until the appeals were decided. Earlier, Mr Sharif's aide and PML-N leader Pervaiz Rashid asked the court to decide the appeals without wasting any time. "We want that the appeal should be decided as quickly as the trial was held," he said. On July 6, Mr Sharif was sentenced to 10 years, Ms Maryam seven years and Mr Safdar one year in the Avenfield corruption case over illegal properties in a posh area of London. Mr Sharif's lawyer Khawaja Haris filed his appeal while Amjad Pervez filed the appeals for Ms Maryam and her husband. All the three are at Adiala jail in Rawalpindi. Mr Haris also moved another application on behalf of Mr Sharif to suspend his sentence until the appeals against the conviction was decided by the high court. Another application sought to transfer his remaining cases to a different court after conviction in the Avenfield case by Justice Mohammad Bashir, who is also hearing the Al-Azizia Steel Mills and Flagship reference cases. The court is yet to decide on the transfer of cases. The trial judge has written to the high court that he had no objection if the cases were assigned to another judge. Mr Sharif and his daughter Ms Maryam were arrested in Lahore on July 13 after they arrived from London after the accountability court sentenced them guilty in the Avenfield corruption case


---
Iranian Oil Minister Calls Donald Trump's Order To OPEC Insulting.

MMNN:7 July 2018


LONDON: Iran's oil minister on Saturday accused US President Donald Trump of insulting OPEC by ordering it to increase production and reduce prices, adding that Iranian output and exports had not changed as a result of US pressure. Trump on Wednesday accused the Organization of the Petroleum Exporting Countries of driving fuel prices higher, and urged Saudi Arabia to pump more if it wanted Washington to continue protecting it against its top rival Iran. "Mr Trump sends every day a new message that creates uncertainty in the market," Iranian Oil Minister Bijan Zanganeh said in an interview with state television. "Trump's order to OPEC members to increase production is a great insult to those governments and nations, and destabilises the market." Zanganeh called the tension between Tehran and Washington a "trade war" and said it had not led to changes in Iranian oil production and exports. Iran, OPEC's third-largest producer, is facing US sanctions on its oil exports that are prompting some buyers to cut purchases. Washington said in May it was walking away from an international deal on Iran's nuclear programme, and said it would impose fresh sanctions on Iran's energy sector. South Korea halted all Iranian oil shipments in July for the first time in six years amid US pressure. The EU, once Iran's biggest oil importer, has promised to try keep the 2015 nuclear deal alive without the United States by trying to keep oil and investment flowing. Foreign ministers from the five remaining signatory countries offered a package of economic measures to Iran on Friday to counter the US sanctions, but Tehran said the package did not go far enough. "I have not seen the package personally, but our colleagues in the foreign ministry who have seen it were not happy with its details," Zanganeh was quoted as saying by Tasnim news agency. Iran has threatened to block oil exports through a key Gulf waterway in retaliation for US efforts to reduce Iranian oil sales to zero. Zanganeh said Iran's stance on this issue was clear.


---
Angela Merkel Warns Donald Trump Against Trade War Over Car Tariffs Threat.

MMNN:5 July 2018


BERLIN, GERMANY: German Chancellor Angela Merkel on Wednesday warned US President Donald Trump against unleashing an all-out trade war after he threatened to impose steep tariffs on cars from the European Union. Both sides were already locked in a "trade conflict" since Trump's decision to slap punitive tariffs on steel and aluminium imports, said Merkel, adding that "it is worthwhile to prevent this conflict from becoming a real war". Trump on Sunday charged that Europe is "possibly as bad as China" on trade, as he reiterated that he is mulling import taxes of 20 percent on EU cars. The EU has slapped tariffs on iconic US products including bourbon, jeans and Harley-Davidson motorcycles, as a symbolic tit-for-tat response to the metals duties. Taking aim at Trump over his complaint that the EU, and in particular Germany, is running a massive trade surplus against the US, Merkel said that his calculation is skewed as it is based only on goods, not services. "If you include services like the digital services, then you have a completely different trade balance sheet with the US showing a surplus against the EU," she noted. "It is almost old-fashioned to only calculate goods and not include services," Merkel told parliament. Merkel had previously voiced her backing for a "digital tax" that would target multinationals like Amazon, Facebook or Google, which have come under fire for shifting earnings around Europe in order to pay lower taxes. But the EU is divided over the proposal, as countries including Luxembourg and Ireland are loath to see US tech giants head for the exit.


---
Former Malaysian PM Najib Razak Arrested For Corruption.

MMNN:3 July 2018


KUALA LUMPUR, MALAYSIA: Former Malaysian Prime Minister Najib Razak was arrested by anti-corruption investigators Tuesday, a security source said. "The Malaysian Anti-Corruption Commission took Tan Sri Najib Razak at 3:10 pm to Putrajaya MACC building. They came in three to four unmarked cars," a senior security official familiar with the arrest told AFP.


---
Myanmar Court Urged To Drop Case Against Reuters Journalists.

MMNN:2 July 2018

YANGON, MYANMAR: A lawyer for two Reuters journalists accused of breaching Myanmar's draconian secrecy law on Monday said the pair were simply doing their job by reporting on a massacre of Rohingya Muslims and urged a judge to dismiss the case. Wa Lone, 32, and Kyaw Soe Oo, 28, are accused of breaching the Official Secrets Act -- which carries up to 14 years in jail -- during their reporting of a military crackdown on the Rohingya minority. The pair have been held in custody for more than six months during protracted pre-trial hearings. The Myanmar nationals were arrested in December and accused of possession of leaked sensitive material linked to security operations in crisis-hit Rakhine state. The allegations against them have been pilloried by rights groups and foreign observers as an assault on media freedom and an effort to stifle reporting on the Rohingya crisis. On Monday a judge said the court will decide on July 9 whether the pair will face trial. After delivering closing arguments on Monday, lawyer Khin Maung Zaw said he urged the court not to take the case any further. His clients "were carrying out their responsibilities as journalists," he said. "It is not government's responsibility to cover up or hide if its security forces do wrong," the attorney added. In his summary, prosecution counsel Kyaw Min Aung said the reporters tried to access "secret papers" and therefore deserved punishment under the secrecy law. The reporters say they were entrapped by police -- a version of events endorsed in court by a whistleblowing cop who testified that officers were ordered to set up the reporters. The pair had been investigating a massacre of 10 Rohingya Muslims at Inn Din village in Rakhine state during last year's military-led crackdown on Rohingya militants. Army operations forced more than 700,000 of the minority, who are denied citizenship in Myanmar, to flee to Bangladesh. The military has admitted security forces were involved in a massacre at the site, but vehemently denies allegations it launched a wider campaign of atrocities, including rape and murder. The UN and the US say the crackdown on the Rohingya was tantamount to ethnic cleansing. A handcuffed Wa Lone expressed hope for a "fair" ruling next week. In a statement after the hearing Monday, Reuters' editor-in-chief Stephen J. Adler urged the court to decline to charge the pair. "Freedom of the press is essential in any democracy, and to charge Wa Lone and Kyaw Soe Oo under these circumstances... would seriously undermine Myanmar's constitutional guarantee of free speech," he added.
---
Indian-American Appointed Chief Of Democratic National Committee.

MMNN:30 Jun 2018


WASHINGTON: The Democratic National Committee (DNC), the decision-making body of the Democratic Party in the US, has tapped Indian American Seema Nanda to serve as its new CEO and handle day-to-day operations, making her the first from the community to be named an operational head of a key American political party. Ms Nanda is currently the Executive Vice President and Chief Operating Officer at The Leadership Conference on Civil and Human Rights, the largest human and civil rights organization in the US. She will start later in July in the new position, the DNC said in a press release on Friday. As CEO, Ms Nanda will manage the day-to-day operations of the organisation. The DNC coordinates strategy to support the party's candidates throughout the country for local, state and national office. As mid-term elections continue and the 2020 elections draw closer, hiring the management-oriented Nanda is a move away from more explicitly political executives who have led the troubled party in the past, Politico reported. "I'm beyond excited that Seema is bringing her talent and brilliance to the DNC," DNC Chair Tom Perez said in a statement. "She is a seasoned manager who has a proven track record of success." Ms Nanda previously worked as Mr Perez's chief of staff at the US Department of Labour. She replaces interim CEO Mary Beth Cahill, who took the helm of the DNC in February after replacing Jess O'Connell, a seasoned operative who left after less than a year on the job. "People are hurting all across our country. I believe that Democrats are offering the positive solutions so desperately-needed right now -- solutions forged by the strength of our diversity, the rigour of our ideas and the decency of our values," Ms Nanda said in a statement. She also worked on the DNC transition team for Perez, which "took a fresh look" at the committee's operations after the 2016 election, according to the DNC statement. She has a background in labour and employment law and has worked in the Civil Rights Division of the Department of Justice. COMMENT "As we head towards a crucial election, I'm one hundred per cent certain that Seema's leadership will help the DNC capitalize on the unprecedented grassroots energy and enthusiasm surging throughout the country," Mr Perez said in a statement.
---
Come Up With Workable Brexit Proposal, EU Tells Theresa May.

MMNN:29 Jun 2018


BRUSSELS: The European Union's chief negotiator urged Prime Minister Theresa May on Friday to come up with "workable" proposals for Brexit and overcome "huge and serious" differences to prevent Britain from crashing out of the bloc without a deal. On the second day of a summit more focused on migration than Brexit, leaders of the other 27 EU countries discussed Britain's departure without May, united in turning up the pressure on her to overcome rifts in the government and move forward. May has so far been reluctant to spell out detailed Brexit plans because of deep divisions in her ruling Conservative Party over the terms of Britain's biggest foreign policy shift in almost half a century. But she has promised to thrash out an agreement with her top team of ministers at a meeting next week and intends to present a policy document, or white paper, setting out the government's aims for a future partnership after that. With only nine months to go before Britain leave the EU, it cannot come too soon for chief negotiator Michel Barnier. "We want a deal and (are) working for a deal. The time is short," Barnier told reporters. "Now we are waiting for the UK white paper and I hope it will contain workable and realistic proposals. But let me mention once again that the time is very short." The white paper will set out Britain's vision for its future relationship with the EU, something that has hobbled attempts to settle a divorce agreement especially over pledges on both side to prevent a return to a hard border on the island of Ireland. STRONGEST CARDS The lack of a proposal on how to keep an all but invisible border between the British province of Northern Ireland and EU member Ireland has stalled Brexit talks, increasing frustration among the other leaders. "On Brexit we have made progress but huge and serious divergences remain in particular on Ireland and Northern Ireland," Barnier told reporters in Brussels. The summit's conclusions also underlined the leaders' concerns "that no substantial progress has yet been achieved on agreeing a backstop solution for Ireland/Northern Ireland" but they again held out the possibility of flexibility if "the UK positions were to evolve". After a marathon dinner to try to hammer out a deal on a crisis over migration, Malta's prime minister, Joseph Muscat, summed up the agreement on Brexit with a tweet: "Almost 9 hours to approve MigrationEU conclusions, not even 1 minute to approve Brexit conclusions. EU can still work together." May again said on Friday she was "ready to intensify and accelerate the pace of negotiations", but only after warning EU leaders to consider Europe's safety before cutting Britain adrift from its security architecture. Security is seen by British officials as one of the country's strongest cards to play in the talks, but another of May's pledges - to leave the jurisdiction of the European Court of Justice - has made continued cooperation more difficult. Asked whether she was bringing up security to try to deflect attention from a dearth of proposals on future trade, she told reporters: "No, the future security partnership we have with the European Union will be very important." "We currently enjoy a high level of cooperation with member states of the EU in a number of areas on security that are important for our citizens. This is what is at stake and I want to see a strong and deep security partnership continuing with our European Union partners."
---
We Don't Play Games With India, China For Political Gains, Says Nepal PM.

MMNN:26 Jun 2018

KATHMANDU: Nepal wants a cordial relationship with India and China and does not believe in playing "games" with it neighbours for short-term political gains, Nepalese Prime Minister KP Sharma Oli said at the Parliament session in Nepal today. Mr Oli, who returned from his six-day visit to China on Sunday, was briefing Parliament about his recent "positive" visit to Beijing and highlighted the agreements the two countries inked during the trip. "The agreements we've reached show our commitment towards realising our common goal of development and prosperity," Mr Oli said. China had also expressed its commitment to provide the necessary support, he added. Mr Oli said his government was keen on ensuring Nepal's development and prosperity and the only way to do so was by maintaining a cordial relationship with India and China. "We do not play card games with (China or India) for short political gains and we stand with our neighbours in good and bad times," Mr Oli said. "For this reason, our foreign and global policies are guided with honest intentions that will not hinge country's security, sovereignty and world peace," he said. Prime Minister Oli said Nepal and China had agreed to resume Tatopani entry point by May 2019 while setting up better infrastructures at Rasuwagadi and Kerung. "The railway connectivity is an important agreement as it will help to speed up development and increase economic activities," he said. Both Nepali and Chinese sides have agreed to intensify implementation of the MoU on cooperation under the Belt and Road Initiative to enhance connectivity, he said. "The initiative encompasses vital components such as ports, roads, railways, aviation and communications within the overarching framework of trans-Himalayan Multi-Dimensional Connectivity Network," he said. The two sides also agreed to take practical measures to promote cooperation in all fields mentioned in the MoU, according to the 14-point Nepal-China joint statement which was released on the conclusion of PM Oli's visit. Mr Oli had held talks with Chinese President Xi Jinping and Premier Li Keqiang, following which a Memorandum of Understanding (MoU) was signed to build a strategic railway link connecting Tibet with Kathmandu through the arduous Himalayan terrain. The new railway line will connect the Gyirong trading port in the city of Xigaze in Tibet with the Nepali capital Kathmandu. During the visit, both sides agreed to implement the understandings and agreements reached between the two countries during Mr Oli's visit to China in 2016. China has also agreed to help build necessary infrastructure for storage of petroleum products in Nepal. China has been building rail, road and air links in the remote Tibet spending billions of dollars. A railway line was put in operation in 2014, linking Tibet's provincial capital Lhasa with Xigaze. Xigaze, also known as Shegatse, is the closest Tibetan city to Nepal. Earlier, there were reports in the Chinese official media that the railway line was to be extended till India.
---
Ruled Unfit To Run Taxi Service, Uber Struggles To Keep London License.

MMNN:25 Jun 2018


LONDON: Uber went to court on Monday to overturn a decision stripping it of its licence in London after being ruled unfit to run a taxi service in its most important European market. Regulator Transport for London (TfL) shocked the Silicon Valley firm last September by refusing to renew its licence, citing failings in its approach to reporting serious criminal offences and to background checks on drivers. Uber, backed by Goldman Sachs and BlackRock among others and valued at over $70 billion, has faced protests, bans and restrictions around the world as it challenges traditional operators and angers some unions. In London, the firm has made several changes to its business model since losing its licence, including the introduction of 24/7 telephone support and the proactive reporting of serious incidents to the city's police. It has also changed its senior management and apologised for mistakes. Uber's lawyer Thomas de la Mare said the company accepted the September ruling and the focus of the appeal should be on the reforms it had made since then. "It's no part of our case to say it was wrong. We accept it was right," de la Mare told Westminster Magistrates Court in London. "It's that acceptance that has led to wholesale change in the way that we conduct our business." While the appeal process is ongoing, Uber can continue to operate in London. The appeal is due to be heard over three days and will hear from witnesses including Uber's UK Chairman Laurel Powers-Freeling, UK Head of Cities Fred Jones and TfL's Interim Director of Licensing Helen Chapman. After its application for a five-year licence was rejected last year, the company is now seeking an 18-month one to prove to the authorities that it has reformed. Judge Emma Arbuthnot may take weeks before making her decision, which is likely to be subject to further appeal by the losing side, meaning the whole legal process could take years. However, she signalled any renewal of the licence could be for a shorter period. "I would've thought, if I were to renew the licence, 18 months would be rather too long," she said. At stake for the U.S. firm is one of its most crucial foreign markets. Of its over 60,000 drivers in Britain, about 45,000 are in London. Since September's TfL decision, Uber has also been stripped of its licence by the southern coastal city of Brighton, in a decision which it is appealing, and the northern city of York. It has, however, gained new licences in Sheffield, Cambridge, Nottingham and Leicester.
---
Two More Women Activists Arrested In Saudi Arabia.

MMNN:20 Jun 2018


DUBAI: Saudi Arabia has arrested two more women's rights activists, in an "unrelenting crackdown" just days before the kingdom ends a decades-long ban on female motorists, Human Rights Watch said Wednesday. The New York-based watchdog said activists Nouf Abdelaziz and Mayaa al-Zahrani were arrested earlier this month following the detention of at least 14 other women's rights campaigners and supporters. "Saudi authorities have arrested two more women's rights activists... in what appears to be an unrelenting crackdown on the women's rights movement," HRW said. "Saudi activists have reported that the authorities have placed travel bans on numerous others since May 15." Saudi officials did not immediately respond to requests for comment. The government said earlier this month that it detained 17 people for "undermining" the kingdom's security, without disclosing their names. Rights groups have identified many of the detainees as campaigners for women's right to drive and an end to the conservative Islamic kingdom's male guardianship system. Activist and writer Abdelaziz was arrested after she publicly expressed solidarity with the detained activists, and her friend Zahrani was apprehended days later, HRW said, adding that both women are being held incommunicado. Zahrani's arrest came after she posted a letter Abdelaziz asked her to make public in case of her arrest, the watchdog said. "The Saudi government appears determined to leave its citizens without any space to show even rhetorical support for activists jailed in this unforgiving crackdown on dissent," said HRW's Middle East director Sarah Leah Whitson. "Nouf Abdelaziz and Mayaa al-Zahrani's only 'crime' seems to be expressing solidarity with their fellow imprisoned activists." Authorities have said that eight of the 17 detainees had been provisionally released until their investigation is completed. Nine suspects, including four women, remain in custody after they "confessed" to a slew of charges such as suspicious contact with "hostile" organisations and recruiting people in sensitive government positions, according to the official Saudi Press Agency. Previous reports in state-backed media branded some of the detainees traitors and "agents of embassies". 0 COMMENTSCampaigners have dismissed the reports as a "smear" campaign and the crackdown has sparked a torrent of international criticism. Saudi Arabia, the only country in the world where women are not allowed to drive, is set to lift its decades-long ban on female drivers on June 24.
---
No Plans To Increase Missile Range": Iran's Revolutionary Guards.

MMNN:19 Jun 2018


LONDON: Iran has no plans currently to extend the range of its missiles as their 2,000-km (1,240-mile) reach is enough to protect the country, the Revolutionary Guards commander said on Tuesday. "We have the scientific ability to increase our missile range but it is not our current policy since most of the enemies' strategic targets are already within this 2,000-km range. This range is enough to protect the Islamic Republic...," Major General Mohammad Ali Jafari was quoted as saying by Tasnim news agency. President Donald Trump withdrew the United States last month from the 2015 accord between Iran and world powers that curbed Tehran's nuclear activity in exchange for sanctions relief. He said the deal was deeply flawed as it had not curbed Iran's ballistic missile programme or reined in its support for proxies in conflicts in Syria, Iraq and Yemen. The Islamic Republic has repeatedly said its ballistic missiles are solely defensive and they, along with its support for allies elsewhere in the Middle East, are not negotiable. Jafari said on Tuesday previous negotiations with the United States about Iran's nuclear programme were "an exception", and called Iranian politicians and activists who have favoured fresh talks with Trump as "traitors and anti-revolutionaries". Jafari said previously that the range of Iran's ballistic missiles was based on limits set by Supreme Leader Ayatollah Ali Khamenei, who commands the armed forces. Iran has one of the Middle East's largest missile programmes and some of its precision-guided missiles have the range to strike arch-adversary Israel, which is widely believed to be the only country in the Middle East with nuclear weapons.
---
Spanish King's Brother-In-Law To Serve 5 Year Prison Sentence.

MMNN:18 Jun 2018


MADRID: The brother-in-law of Spain's king turned himself in to authorities on Monday to serve a five-year, 10-month prison sentence for crimes including tax fraud and embezzlement, a prison system spokesman said. Inaki Urdangarin signed himself into the Brieva prison in Avila at around 8:00 am (0600 GMT). He had been given five-day deadline last Tuesday to appear at a penal institution of his choosing. Urdangarin is married to Princess Cristina, sister of King Felipe VI. Urdangarin was found guilty in February last year of using royal connections to overcharge regional governments through public contracts to stage sports and tourist events and with tax fraud. The retired Spanish handball player appealed the sentence before the Supreme Court, which cut the sentence slightly after overturning a part of the original ruling by the Mallorcan Court. He may appeal the Supreme Court's ruling before the Constitutional Court.
---
Mother Of 'Nut Rage' Korean Air Heiress Questioned Over Illegal Maids.

MMNN:11 Jun 2018

SEOUL: The matriarch of the troubled Korean Air dynasty was grilled Monday over allegations she used company resources to illegally hire foreign housekeepers, as a probe into the scandal-hit family widened. Lee Myung-hee, 69, who was questioned by police twice last month over multiple assault allegations, was interrogated by immigration authorities over suspicions she hired more than 10 Filipina maids to work at her family home on false pretences, by claiming they were working for Korean Air. Korean law permits only ethnic Koreans or those married to Koreans to work as housekeepers. The authorities suspect Lee had the airline's human resources department and its Manila branch recruit the housekeepers and provide the Filipinas with documentation. "I didn't," she replied to questions on whether she ordered Korean Air officials to hire the housekeepers, removed evidence by letting them leave the country after the allegations emerged, and had bought their silence. "I will cooperate closely," she told journalists after she appeared at the Korea Immigration Service. A week earlier a Seoul court turned down a request from prosecutors to arrest Lee over multiple allegations of assault against drivers, housekeepers and company employees as well as construction workers renovating her home and building a Korean Air-affiliated hotel. The alleged abuses range from cursing and screaming at employees to kicking, slapping and even throwing a pair of scissors at them. A video that emerged last month showed a woman, reportedly Lee, shoving a female construction worker and throwing a pile of documents on the ground. But the court said there was a low risk of Lee fleeing or seeking to destroy evidence, and that the charges were disputable. Lee and her family have found themselves the object of public anger following a series of scandals. Lee's two daughters, who held management positions at South Korea's national carrier, became viral sensations for temper tantrums which were dubbed the "nut rage" and "water rage" scandals online. Her older daughter Cho Hyun-ah made global headlines in 2014 for kicking a cabin crew chief off a Korean Air plane for being served macadamia nuts in a bag rather than a bowl. She later served a short prison sentence. Earlier this year, the younger sister Cho Hyun-min was accused of throwing a drink at an advertising agency manager's face in a fit of rage during a business meeting. Their father, Cho Yang-ho, issued a public apology over the "immature" behaviour of his offspring and removed his two daughters from their management roles. Authorities have since launched a flurry of official probes into the family's reported abuse of workers, as well as allegations of smuggling and violations of immigration law. Cho Hyun-ah was questioned for 15 hours until early last Tuesday by tax authorities as part of an ongoing investigation into allegations she used Korean Air flights to smuggle foreign luxuries.
---
Mohammad Bin Salman Is Silencing Saudi Arabia's Once-Powerful Salafists By Reforms And Repression.

MMNN:6 Jun 2018


DAMMAM, SAUDI ARABIA: Saudi Arabia's most conservative Islamists are reeling from a loss of influence that has left them confused about their place in a country where they once wielded much clout. Long a swaggering force, these conservatives now tiptoe on social media outlets like Twitter. In mosques and at community gatherings, they reluctantly criticize recent changes they stridently oppose, like the easing of social boundaries between men and women. The architect of their turmoil is Mohammed bin Salman, Saudi Arabia's young and hard-charging crown prince. His vows to modernize the country have included curbing the influence of the conservatives known as Salafists, who adhere to a strict form of Islam they say is modeled on the way it was practiced during the time of the prophet Muhammad in the 7th century and the generations that immediately followed. His ambition has put Mohammed in conflict with a powerful Salafist network, which constitutes the most coherent political force outside of Saudi Arabia's ruling family, analysts say. To keep them quiet, Mohammed has used both intimidation and accommodation. Popular Salafist clerics known for their independence have been jailed. But Mohammed has embraced others, including clerics who have opposed greater rights for women and espoused other hard-line views. "We don't know what's happening," said a 50-year-old man from the capital Riyadh who considers himself a Salafist. Speaking after a recent evening gathering of like-minded Saudis at a relative's home, he fretted that he and his fellow Salafists were condemned to become like the Amish in the United States, sequestered from a permissive society because of their strict views. "It's like we're becoming strangers." Salafists are puritanical, religious revivalists who support a strict imposition of Islamic law. They include conservatives who focus on preaching, Islamists who call for political freedoms and small minority that advocate for violence against those they consider heretics. Many have bridled at social changes in Saudi Arabia that have allowed concerts and other events where men and women mingle. That balancing act has prompted debate over whether Mohammed is more interested in bringing about a tolerant state or in consolidating power by neutralizing possible challengers. His supporters say the crown prince has proved his commitment to moderating Saudi ideology by curbing the influence of the religious police, who enforced moral codes like gender segregation - sometimes by beating violators with sticks. He has also reformed the Muslim World League, an umbrella group for Saudi charities founded in the 1960s that Saudis used to propagate their strict ideology around the world. "This time, there is no way to return to the past," Saud al-Sarhan, the secretary general of the King Faisal Center for Research and Islamic Studies, wrote in a recent essay. "There is a clear desire to break with all kinds of political Islam, Sunni and Shiite alike, both by leaders and by the populace, who see the most extreme version of these same Islamist ideologies in the monstrous death cult of the so-called Islamic State." The center is chaired by a member of the royal family, Prince Turki bin Faisal Al Saud, who is often called upon by the Saudi leadership to publicly explain its thinking. But critics say there are also signs that Mohammed is accommodating the hard-liners, pointing to the state's recent arrest and public shaming of some of Saudi Arabia's most prominent women's right advocates. And some of the Salafists the authorities have arrested could have helped with the state's fight against intolerance and extremism. "They target the moderate Muslims, and keep the extremists close," said Abdullah Alaoudh, whose father, Salman al-Awda, a popular cleric and advocate for political reforms has been jailed since September. Alaoudh, a postdoctoral fellow at Yale Law School, noted that the Saudi government had enlisted Awda after the terrorist attacks of Sept. 11, 2001, to help counter extremism - choosing a cleric whose reputation for independence added legitimacy to their fight. Under Mohammed, the Saudi authorities are "trying to strike a balance between liberals and conservatives as they've always done," said Stephane Lacroix, a professor of political science at Sciences Po in Paris. But now, the methods are "much more brutal" than under previous Saudi rulers, he said. "It is what I'd call a balance of fear." Several Salafists said they thought the arrests last September were intended to send a message that Mohammed's changes are not open to negotiation or critique. "They made a lesson of them to the others," said the 50-year-old Salafist in Riyadh. "Don't talk too much." The man and several other Salafists interviewed for this report spoke on the condition of anonymity because they feared the authorities might arrest them or otherwise retaliate. The man spoke at the house of a relative on a recent evening in a residential neighborhood of the capital where a dozen or so Salafists gathered as rounds of tea and desserts were served. "We don't take our beliefs from the government," said the man, suggesting that it was gatherings like these where Salafists discussed religion that were seedbeds for Saudi ideology. The state should focus on other things, like the economy, he added. His relative, a 42-year-old conservative, recommended that Saudi leaders "read history: the history of countries who fell for forgetting religion. What makes us rich and strong is not oil or gold," he said. Estimates of the number of Salafists in the kingdom vary widely, from 100,000 to a million or more. Some, like Ali Zaid, a businessman in Dammam, said he was not especially disturbed by changes like the opening of cinemas or staging of concerts. His days as a young ultraconservative, preaching what he called "Salafist propaganda," were behind him: He was in his 40s, had lived abroad and had a family. The changes "are not a big deal," he said. "You read, you educate yourself. There are other opinions." But many others he knew were "very religious and not at all happy," he said. "They believe they can stand up to these changes. Sometimes they succeed. Sometimes not." One 42-year-old Salafist who works in a mosque in the Eastern Province washing bodies before burial, complained about public celebrations where he saw men and women mingling and about the increasing number of women who are not covering their hair - "honey pots," luring men like flies, he said. "What's happening could take Muslims away from their path," he said. Some had tried to share their complaints with influential figures who sat on a council of senior Islamic scholars, including Sheikh Saad Nasser al-Shithri, who in the past had opposed gender mixing at the first coeducational university in the country. But no one was sure where clerics on the council stood these days, given their embrace by Mohammed. Shithri did not respond to requests for comment. "I think there is no way for conservative people to do anything but accept the reality [of the social changes]," Zaid said, speaking at a crowded cafe in the Eastern Province on a recent evening. "Every day, there are changes." At times, the government has seemed wary of confronting the conservatives too forcefully. In April, for instance, officials apologized for footage aired at a pro-wrestling event in Riyadh that depicted scantily clad women. The arrest of at least 17 activists in recent weeks - including pioneering women's rights advocates - may also have been a concession to the crown prince's conservative allies. At the same time, the crown prince is calculating that ultraconservatives would have less and less influence on Saudi youth, who make up 60 percent of the population, Lacroix said. Mohammed has also created a new narrative that sidesteps difficult questions about the indigenous evolution of Saudi Arabia's strict religious ideology. Instead, he blames the problem of extremist thought on outside forces. While that narrative is "largely historically inaccurate," Lacroix said, it has allowed the crown prince to enlist clerics in a project to create a more pliant, state-led Sunni Muslim establishment. That effort had been combined with efforts at interfaith outreach by Saudi leaders in the past few months - to Christians and Jews, as well as Saudi Arabia's marginalized Shiite Muslims, who are considered heretics by hard-line Sunnis. Some of the outreach has been by the Muslim World League. Under the leadership ofMohammad Abdulkarim Alissa, the group has changed its tone. Just a few years ago, a counterterrorism conference hosted by the Saudi government and the Muslim World League barely broached the topic of Sunni extremism. In a recent interview, Alissa was unequivocal, saying that countering the Sunni extremists of the Islamic State and al-Qaida was the priority. In Awda's case, the ostensible reason for his arrest appeared to be because he refused to tweet in support of a Saudi-led boycott of neighboring Qatar, during a feud between the two countries. But the Saudi authorities had more urgent reasons to keep Awda out of sight: his popularity and his leading role in the "Awakening" movement that fuses religious scholarship with political activism - a kind of activity that Saudi rulers find threatening. Awda had been arrested for political activism before, but since his release in 1999, he had been useful to the Saudi government as a critic of Islamist militants. "In media shows after 9/11 he denounced Jihadis and exposed their misunderstanding of the body of Islamic texts on legitimate jihad, emphasising the illegitimacy of globalising the struggle or localising it where it had killed Muslims and non-Muslims," Madawi al-Rasheed, a Saudi scholar at the London School of Economics, wrote in her book "Muted Modernists: The Struggle Over Divine Politics in Saudi Arabia." After the Arab Spring uprisings that began in late 2010, Awda's support for peaceful protests offered "a third way between the two religious positions," between the extremism of the jihadists and the obeisance of traditional clerics, she wrote. Awda's son said the arrest belied the current talk of reform in Saudi Arabia. "Real reforms, like political reforms, elections, freedom of speech and freedom of assembly, pose a real threat to the superficial rhetoric that the state is presenting," he said. 0 COMMENTSPointing to the work of his father and his contemporaries, he said, "If you talk about fighting extremism, they have been spearheading the campaign against extremism for two decades."
---
Singapore Adds Sentosa Into Special Zone For Donald Trump-Kim Jong Un Meet.

MMNN:5 Jun 2018


SINGAPORE: Singapore on Tuesday added its southern resort island of Sentosa to a special event area designated for next week's summit between U.S. President Donald Trump and North Korean leader Kim Jong Un, the government said. On Monday, the wealthy city-state had declared a central region that is home to its foreign ministry, the U.S. embassy and several hotels, as a special zone from June 10 to 14. In its online gazette, the government said the amended zone included Sentosa and an area of the sea stretching more than 1 km (0.6 mile) off its southwestern shore. A smaller area in the centre of the island that includes the Capella hotel, which media have mentioned as a possible venue for Tuesday's talks, will see a greater police presence. The government has said police would make stricter checks of people and personal belongings and items such as public address systems and remotely piloted aircraft system would be prohibited. There has been no confirmation of the venue for the summit to discuss ending the North's nuclear weapons programme in return for diplomatic and economic incentives, although several Singapore hotels have figured as candidates.
---
Dead Pilot Whale Shows Thailand Is Choked With "Way Too Much" Plastic.

MMNN:4 Jun 2018


BANGKOK:A pilot whale that died after ingesting rubbish has highlighted Thailand's losing battle against plastic, said conservationists who called for urgent measures to cut back on pollution that also worsens urban flooding. Thailand remains one of the world's worst polluters, with government initiatives to convince people to use less plastic largely failing, they said. The whale was discovered in a canal in the southern province of Songkhla, and veterinarians and volunteers tried to save it for five days. The whale spit out five plastic bags on Friday and later died, the Marine and Coastal Resources Department said on its website at the weekend. An autopsy found another 80 bags and other plastic items weighing 8 kg (17.6 lb) in its stomach. We use way too much plastic. Reducing our use of plastic, particularly single-use bags, is the first and biggest step we can take," said marine biologist Thon Thamrongnawasawat. From street vendors selling satay to shop clerks putting purchases into multiple bags, Thais use a huge amount of plastic. Authorities have launched campaigns in recent years to try to encourage people to use fewer bags, and to introduce reusable ones, but these have largely failed, campaigners say. "Without specific goals for reducing plastic consumption and more effective waste management, people do not know what to do, even if they want to do more," said Tara Buakamsri, Thailand country director of Greenpeace Southeast Asia. Thai Prime Minister Prayuth Chan-ocha has declared improved waste management a national priority, and government agencies are evaluating ways to reduce consumption, an official said. "We have a goal to reduce plastic waste by adjusting policies and practices, from their beginning in the production line, then on to consumers' hands and on to waste management at the end," said Wijarn Simachaya at the environment ministry. Globally, eight million tonnes of plastic - bottles, packaging and other waste - are dumped into the ocean every year, killing marine life and entering the human food chain, the United Nations Environment Programme said in December. Indonesia, China, the Philippines, Thailand and Vietnam dump more plastic into the oceans than the rest of the world combined, according to Ocean Conservancy, a Washington-based non-profit. Countries including the U.K. and India are banning straws and single-use bags, and forcing supermarkets to impose levies on plastic bags. Kenya last year enacted the world's toughest law against plastic bags. At least 300 marine animals including pilot whales, sea turtles and dolphins, perish each year in Thai waters after ingesting plastic, according to Thon, the marine biologist. Besides killing marine life, plastic waste clogs waterways, and has been blamed for deadly floods in cities such as Mumbai to Manila. "But people haven't really cared to change their behaviour despite being aware of the damage," Thon told the Thomson Reuters Foundation. "Perhaps this (whale's death) will make people care more." Greenpeace's Tara urged the government to quickly enact regulations. "We are facing a serious crisis," he said. "We need to take action now."
---
India will ever remember Bangladesh for what it gave: Hasina.

MMNN:1 Jun 2018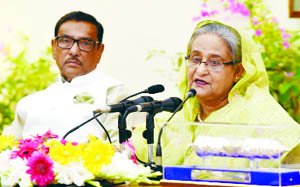 Dhaka, Mentioning that Bangladesh wants no return from India, Prime Minister Sheikh Hasina on Wednesday said the neighbouring country will ever remember Bangladesh for returning it peace. "Bangladesh helped India get rid of daily bombing and shootout. We've returned them peace, they have to remember this," she said at a press conference at her official residence Ganobhaban in the afternoon. The press conference was arranged to brief the media about her recent tour of Wes Bengal, India, UNB reports. Sheikh Hasina said the present government does not want any return from India. "There's nothing to get return." Responding to a question, the Prime Minister said the government does not depend on others to solve Bangladesh's water problem. "We're doing our job to mitigate the water problem in the country." She also mentioned about the ongoing river and canal dredging, digging of old and new ponds in the country to solve the water problem.
---
"Sergei Lavrov meets Kim Jong-Un, Invites Him To Russia.

MMNN:31 May 2018


MOSCOW: Russian Foreign Minister Sergei Lavrov met North Korean leader Kim Jong Un in Pyongyang on Thursday and invited him to visit, moving to raise Moscow's profile in international efforts to ease tensions on the Korean peninsula. Lavrov visited the secretive state for the first time since 2009, as North Korean and U.S. officials met for a second day to prepare the ground for an historic summit on June 12 between U.S. President Donald Trump and the North Korean leader. Russia has appeared to be on the fringes of a flurry of diplomacy as Pyongyang and Washington edge towards talks aimed at ending years of tension over North Korea's nuclear programme. Lavrov on Thursday invited Kim him to visit Moscow. "Come to Russia. We would be very happy to see you," Lavrov, seated across a table from Kim, said during a televised meeting. He expressed Moscow's support for a declaration last month in which North and South Korea agreed to work for the denuclearisation of the peninsula. He said Moscow hoped all sides would take a measured approach to possible forthcoming talks on a nuclear settlement. "This will allow for the realisation not only of the denuclearisation of the whole Korean peninsula but also to provide sustainable peace and stability across north-east Asia," Lavrov was quoted as saying by his ministry. Kim's personal meeting with Lavrov was likely a move to try to secure Russia - along with China - as another powerful player that can push the United States to ease sanctions and make other concessions, said Anthony Rinna, a specialist in Korea-Russia relations at Sino-NK, a website that analyzes the region. In the short term, Moscow "cannot afford to be remembered as the country that had no hat in the ring leading up to June 12," he said. "From a longer-term perspective, Russia hopes to foster economic cooperation with both North and South Korea." Kim would be wise to delay any official visit to Russia until after his meeting with Trump, said Jeong Hyung-gon, a research fellow at the Korea Institute for International Economic Policy. "It won't be easy for Kim Jong Un to turn down an official invitation, so I think it would be after the June 12 summit, which would help him to hold a successful summit with the U.S." 0 COMMENTSLavrov also held talks with his North Korean counterpart, Ri Yong Ho, Russian news agencies said.
---
"It May Resume", Says Malaysian PM As MH370 Hunt Comes To A Close.

MMNN:30 May 2018


KUALA LUMPUR, MALAYSIA: The hunt for Flight MH370 may resume if new evidence comes to light, Malaysia's prime minister said Wednesday, as a private search for the plane draws to a close. The Malaysia Airlines jet vanished in March 2014 with 239 people - mostly from China - on board, en route from Kuala Lumpur to Beijing. US exploration firm Ocean Infinity was contracted for a three-month search for the Boeing 777 on a "no find, no fee basis", which is set to end in the coming days after finding no sign of the wreckage. The private search came after an Australian-led hunt, which covered a vast area of the southern Indian Ocean and was the most expensive in aviation history, was suspended last year. Mahathir Mohamad, who became Malaysia's premier for a second time after a shock election victory, indicated the government had no plans at the moment to resume the hunt. "We have come to a stage where we cannot keep searching for something we cannot find," he told a press conference. "We understand the feelings of the relatives but we cannot allow the search to go on forever." But he added: "If we find any new information, we may resume the search." Ocean Infinity had stood to make up to $70 million if it found the jet or its black boxes. The private US firm scoured over 112,000 square kilometres (43,000 square miles) of seabed. The ship conducting the hunt, Seabed Constructor, was a Norwegian research vessel carrying 65 crew, including two members of the Malaysian navy as the government's representatives. It used eight autonomous drones equipped with sonars and cameras, able to operate at depths up to 6,000 metres (20,000 feet). 0 COMMENTSOnly three confirmed fragments of MH370 have been found, all of them on western Indian Ocean shores, including a two-metre wing part known as a flaperon.
---
Artificial Intelligence, Robots Won't Leave People Jobless, Says Satya Nadella.

MMNN:29 May 2018


LONDON: Even in a "runaway Artificial Intelligence (AI)" scenario, robots will not render people completely jobless, Microsoft CEO Satya Nadella told The Sunday Telegraph in an interview. People will always want a job as it gives them "dignity", Mr Nadella said, adding that the focus should instead be on applying AI technology ethically. "What I think needs to be done in 2018 is more dialogue around the ethics, the principles that we can use for the engineers and companies that are building AI, so that the choices we make don't cause us to create systems with bias ... that's the tangible thing we should be working on," he was quoted as saying. According to a report in MIT Technology Review on May 25, Microsoft is building a tool to automate the identification of bias in a range of different AI algorithms. The Microsoft tool has the potential to help businesses make use of AI without inadvertently discriminating against certain groups of people. Although Microsoft's new tool may not eliminate the problem of bias that may creep into Machine-Learning models altogether, it will help AI researchers catch more instances of unfairness, Rich Caruna, a senior researcher at Microsoft who is working on the bias-detection dashboard, was quoted as saying by MIT Technology Review. "Of course, we can't expect perfection -- there's always going to be some bias undetected or that can't be eliminated -- the goal is to do as well as we can," he said. 0 COMMENTSIn the interview with The Sunday Telegraph, Mr Nadella also said that as Microsoft's business model was based on customers paying for services, he believed the company was on "the right side of history". "Our business model is based on our customers being successful, and if they are successful they will pay us. So we are not one of these transaction-driven or ad-driven or marketplace-driven economies," the Microsoft chief was quoted as saying.
---
South Korean President Calls For More Impromptu Talks With North Korea.

MMNN:28 May 2018


SEOUL: South Korea's President Moon Jae-in said on Monday there could be more impromptu talks with North Korea including summits between pre-arranged dialogue. Moon and North Korean leader Kim Jong Un held a surprise meeting on Saturday at the border village of Panmunjom, during which they agreed that a North Korea-U.S. summit must be held. U.S. President Donald Trump last week pulled out of a meeting with Kim, planned for June 12 in Singapore, before floating its reinstatement. "What's more important than anything from the latest inter-Korean summit was that the leaders easily got in contact, easily made an appointment and easily met to discuss urgent matters, without complicated procedures and formalities, just like a casual meeting," Moon told a meeting with senior secretaries. 0 COMMENTS"If we could hold working-level, back-to-back talks on both sides of Panmunjom if urgently necessary in addition to formal summits, it would expedite faster advancement of inter-Korean relations."
---
Donald Trump, Wife Melania Greet Three Americans Freed by North Korea.

MMNN:10 May 2018


ANDREWS AIR FORCE BASE, UNITED STATES: President Donald Trump personally greeted three Americans freed from imprisonment by North Kprea after they arrived near Washington early Thursday. Trump, who is preparing for a historic summit with North Korean leader Kim Jong Un, greeted the men at Joint Base Andrews in the middle of the night. He and First Lady Melania boarded the light blue and white government plane shortly after it touched down to meet privately with the men. The release by Kim, a much needed diplomatic win for Trump, was a stepping stone to his historic upcoming meeting with the North Korean leader.
---
China Vows To 'Safeguard' Iran Nuclear Deal.

MMNN:9 May 2018


BEJING: China on Wednesday voiced regret over President Donald Trump's decision to pull the United States out of the Iran nuclear deal and vowed to "safeguard" the agreement. "China regrets this decision made by the US," foreign ministry spokesman Geng Shuang told a regular press briefing. Geng said China will maintain "normal economic and trade exchanges" with Iran despite Trump's decision to withdraw from the 2015 accord and reimpose sanctions on Tehran. "China calls on all relevant parties to assume a responsible attitude" in order "to return at an early date to the right track of implementing the deal," he said. "China will continue to uphold an impartial, objective and responsible attitude, remain in dialogue with all parties and continue to devote itself to safeguard and implement the deal." The spokesman reiterated Beijing's opposition to unilateral sanctions and "long-arm jurisdiction". 0 COMMENTSSlapping aside more than a decade and a half of diplomacy by Britain, China, France, Germany, Iran, Russia and past US administrations, Trump called for a "new and lasting deal".
---
Communist Party of China leader Sun Zhengcai jailed for life on graft charges.

MMNN:8 May 2018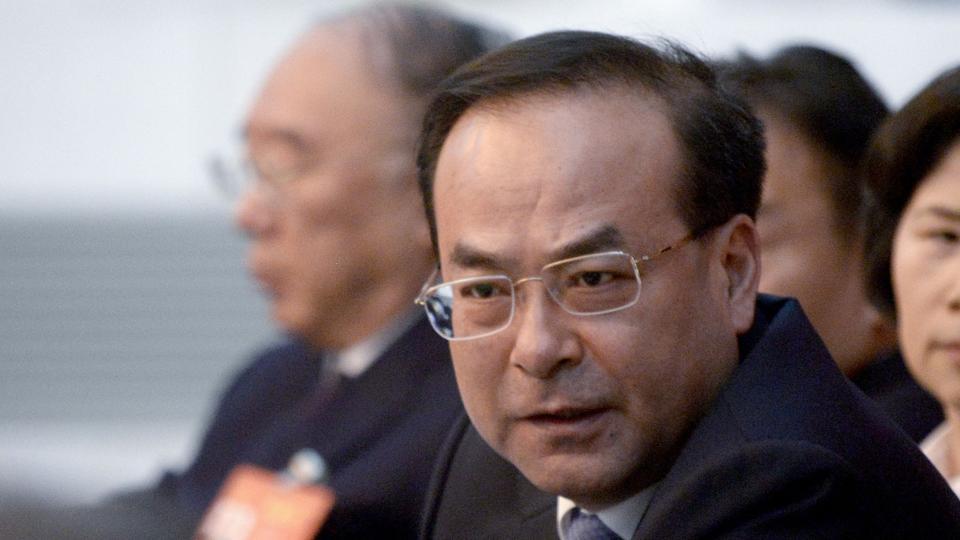 A Communist Party of China (CPC) official tipped until last year for a top leadership post in the party has been jailed for life on corruption charges, state media reported on Tuesday. Sun Zhengcai, former secretary of the Chongqing Municipal Committee of the CPC and member of the powerful party, was handed life sentence taking bribes of over 170 million yuan (26.7 million US dollars). Sun, 54, is the latest senior CPC leader to be indicted under graft charges under the ongoing anti-corruption campaign launched by President Xi Jinping. The sentence was announced Tuesday by the First Intermediate People's Court of Tianjin Municipality. Sun had confessed to his crimes during a court hearing in April. Official news agency Xinhua said Sun's illegal gains would be confiscated. "He was deprived of his political rights for life, and all his personal property was confiscated. His illegal gains and relevant yields they generated will be retrieved," the court was quoted as saying by state media. Giving details of the investigation launched against Sun, the court said "…between 2002 and 2017, Sun had taken advantage of various posts to provide help for certain units and individuals in project bidding, project approval, enterprise operation and personnel promotion and arrangement, and accepted money and property worth over 170 million yuan, either by himself or with certain affiliated persons". Sun had occupied several high positions during his political tenure. Sun's posts included CPC chief of Shunyi District in Beijing, standing committee member and secretary general of the CPC Beijing municipal committee, agriculture minister, secretary of the CPC Jilin provincial committee, political bureau member of the CPC Central Committee and Party chief of Chongqing Municipality. It was his elevation as CPC chief of Chongqing city, a sprawling municipality of more than 30 million people, that catapulted Sun to his most politically high profile. The court said that Sun, as a senior official, should have set an example in observing the law. However, by accepting "extremely huge amounts of bribes", Sun had seriously undermined the work of state organs, violated integrity rules for state officials and tarnished the reputation of state officials. Last October, another top CPC official had claimed that Sun was among party leaders who had plotted a coup against President Xi Jinping. In September, the Central Commission for Discipline Inspection (CCDI) — then CPC's top discipline body had announced the expulsion of a rising Sun who was then chief of the Chongqing Municipal Committee. "In the fight against all corruption from the low-level "flies" to the high-ranking "tigers," Sun joins several other senior Party officials who have been punished for discipline violation including Zhou Yongkang, Bo Xilai, Guo Boxiong, Xu Caihou and Ling Jihua," the Xinhua report had then said. Xi's critics claim that the anti-graft crackdown was used as a pretext to purge the powerful president's opponents and to consolidate power — more than one million officials have been jailed or arrested in the crackdown which began soon after he took over in 2012.
---
4 Killed In Leicester Explosion, Cause Yet To Be Determined: British Police.

MMNN:26 February 2018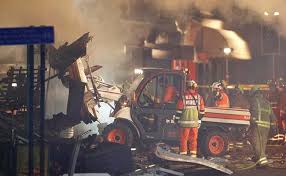 LONDON: Four people were killed and four more were in hospital on Monday after an explosion and fire destroyed a three-storey building in the central English city of Leicester, police said. The cause of the blast on Sunday evening has yet to be determined but police say the incident is not being linked to terrorism. "At this stage, there are four confirmed fatalities and four people remain in hospital, one with serious injuries," Leicestershire Police said in a statement. Neighbours reported that their own homes shook with the force of the blast, which sparked a fire that engulfed the ground floor shop and two-storey flat above it. "We believe there may be people who have not yet been accounted for and rescue efforts continue in order to locate any further casualties," Superintendent Shane O'Neill said. Six fire crews are at the scene and emergency services will remain at the site throughout Monday. Major roads in the area are closed and electricity to a number of homes nearby was affected, but no properties were evacuated overnight. "Once the site is deemed to be safe a joint investigation with Leicestershire Fire and Rescue Service will begin looking into the circumstances surrounding the incident, which at this stage are not being linked to terrorism," O'Neill said. Firefighters worked through the night to control the blaze, which broke out shortly after 7:00 pm (1900 GMT)on Sunday. "We've now got specialist search and rescue teams supported by search dogs on scene," Matt Cane, from Leicestershire Fire and Rescue, told AFP at the site. Pictures and videos posted on social media showed a property engulfed in flames, with rubble and debris scattered around. "It was very scary," local resident Graeme Hudson told AFP. "I live five minutes away... but my house shook. I went out and saw massive smoke and big flames." Another witness, Tahir Khan, who was driving past when it happened, said: "I looked on the road and half the building was on the road. COMMENTS "Literally the whole of the side of the building had been blown out. I couldn't believe it, it was like a Hollywood movie."
---
Vladimir Putin Honours Russian Military On Fatherland Defender's Day.

MMNN:24 February 2018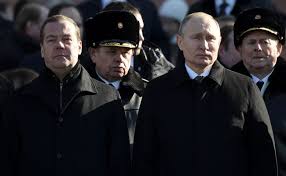 MOSCOW: Russian President Vladimir Putin has paid tribute to the Russian military at a ceremony for presenting national awards on the occasion of the Defender of the Fatherland Day, the Kremlin has said. "We honour those for whom military service became a mission and the meaning of life - true patriots, who reliably guard the sovereignty and security of Russia, and secure the peace of our citizens," Putin said at the award ceremony held at the Kremlin Palace on Friday, Xinhua reported. The national awards were presented "to soldiers who have committed a heroic deed in the name of the Fatherland and to the best units and formations of the Army and the Navy", according to the Kremlin. Defender of the Fatherland Day is a holiday observed in Russia, Turkmenistan, Belarus, Kyrgyzstan, Kazakhstan and Tajikistan. It is celebrated on February 23, except in Kazakhstan, where it is celebrated on May 7. Putin presented a Gold Star medal of the Hero of Russia to the family of Major Roman Filipov, a military pilot who died heroically fighting terrorists in Syria on February 3. He also awarded the Order of Suvorov to the Red Banner South Military District, the Order of Ushakov to the Admiral Kuznetsov heavy aircraft-carrying missile cruiser, and the Order of Nakhimov to the Guard missile cruiser Varyag, according to the Kremlin. The President thanked Russian servicemen who took part in the anti-terrorism operations in Syria, which "displayed heroism, staunchness and bravery." "Our soldiers demonstrated their readiness to solve the most complicated tasks in Syria: they act bravely, decisively and courageously. They helped the Syrian army shatter large, well-equipped terrorist groups," Putin said. COMMENTSRussia started participating in the military operation in Syria in September 2015 at the invitation of the Syrian President Bashar al-Assad.
---
Pak Placed On Terror Financing Watch List As China Withdraws Objection: Sources.

MMNN:23 February 2018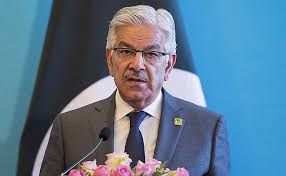 NEW DELHI: In a huge embarrassment for Pakistan, sources say that the global money laundering watchdog FATF or the Financial Action Task Force has put Islamabad back on its terrorist financing watch list, the move that could seriously hurt Pakistan's economy. An official announcement is expected later today. The 35-member body works by consensus and even China, which was supporting its closest ally till now, withdrew its objections after intense pressure from the US and others. Earlier this week, Pakistan Defence Minister Khawaja Asif had claimed a victory, saying that there wasn't a consensus against the country. Indian officials had called the claim premature. The resolution against Pakistan was moved by the US, which wants to put pressure on Islamabad for not doing enough to comply with anti-terrorist financing and anti-money laundering regulations. The move is part of a broader US strategy to pressurise Pakistan to cut its links to terror groups in Afghanistan. The move is expected to inflict serious damage on Pakistan. Being placed on the FATF watch list brings extra scrutiny from regulators and financial institutions that will be wary of doing business with Pakistani banks. COMMENTSPakistan was on the watch list between 2012- 2015 as well but only for money laundering. The Financial Action Task Force (FATF) is an inter-governmental body established in 1989 by the Ministers of its Member jurisdictions. The objectives of the FATF are to set standards and promote effective implementation of legal, regulatory and operational measures for combating money laundering, terror financing and other related threats to the integrity of the international financial system.
---
Olympic message of peace is universal: UN chief.

MMNN:10 February 2018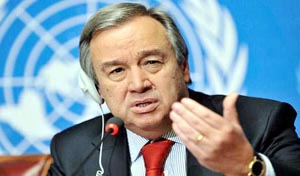 As the world comes together for the Winter Olympics, which kicked off Friday in Pyeongchang, Republic of Korea, United Nations Secretary-General António Guterres called on everyone to recognise and promote the Games' universal message of peace and tolerance. "The Olympic spirit allows people to be together, from all over the world, to respect each other, to assert the values of tolerance, of mutual understanding that are the basic elements for peace to be possible," Mr Guterres told journalists in Pyeongchang. Obviously, in the present context, he said, there is a lot of attention for this message of peace in relation to the Korean Peninsula, but the Olympic message of peace is not local."It is universal. It's for the world. It is valued in Korea as it is valued everywhere where we struggle to try to address the many complex conflicts that we are facing," he said. The UN chief also extended his appreciation and pride to be at the Winter Olympics and highlighted the cooperation between UN and the International Olympic Committee (IOC), as well as the values for which the IOC and its sister organisation, the International Paralympic Committee, stand. The Winter Olympics opened earlier today (local time) with cultural and artistic performances as well as the customary parade of athletes, which was the delegations from the Democratic People's Republic of Korea and the Republic of Korea under one flag, carried together by a sportsperson from each team. The opening ceremony on Friday also saw the conclusion of the long journey of the Olympic Torch that started in November 2017.In the last leg of its journey, the flame was carried, among others, by Miroslav Lajčák, the President of the UN General Assembly and Thomas Bach, the President of the IOC. Outlining the commonalities between sport and diplomacy – both about peace and bringing people together – Mr Lajčák highlighted that the Olympic torch is "probably the best symbol in our times in our world.""[It] is a symbol of peace, a symbol of youth, a symbol of sport, communication, a symbol of tradition, a symbol of hope." he said.
---
Australia PM Malcolm Turnbull Confronts Scandal Over Deputy's Extramarital Affair.

MMNN:9 February 2018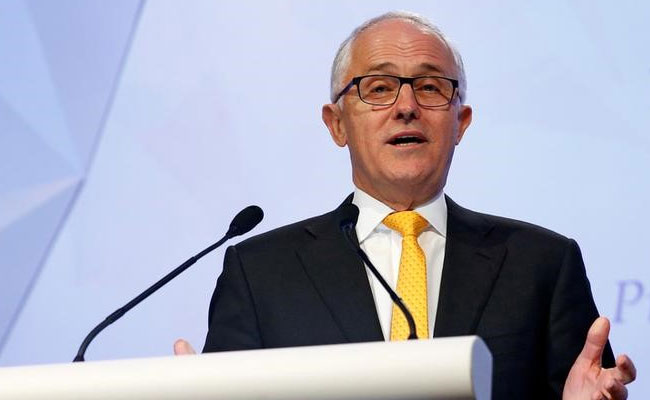 SYDNEY: Australian Prime Minister Malcolm Turnbull said on Friday he opposes proposed legislation to ban relationships between lawmakers and their staff amid a scandal over his deputy's extramarital affair. Barnaby Joyce, a practising Catholic, is expecting a child with his former press secretary, his estranged wife confirmed this week. Eager to rebuild public trust, independent MP Cathy McGowan said she may introduce legislation modelled on that passed by the U.S. Congress that prohibits relationships between lawmakers and staff. "Relations between consenting adults are not something you would be justified in seeking to regulate," Turnbull told reporters in Canberra. Turnbull's centre-right government has a razor-thin one seat majority in parliament and can ill-afford to alienate its traditional conservative voters just over a year out from the next election.
---
Rescuers Brave Aftershocks To Pull Bodies From Tilting Taiwan Tower.

MMNN:8 February 2018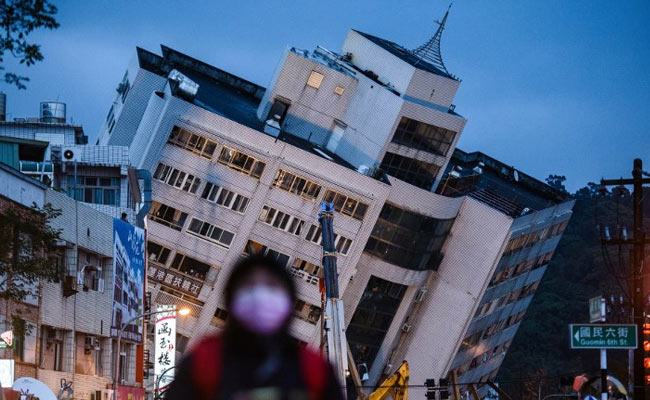 Taiwanese rescuers Thursday braved aftershocks coursing through a dangerously leaning apartment block that was partially toppled by a deadly earthquake, as their search for survivors uncovered two more bodies. At least nine people were killed when a 6.4-magnitude quake struck the popular eastern tourist city of Hualien on Tuesday, according to a revised toll from the national fire agency which also slashed the number of missing from nearly 60 people to 10. The powerful tremor left a handful of buildings badly damaged -- some of them leaning at precarious angles -- as well as roads torn up and hundreds forced to shelter in local schools and a stadium. The major focus for emergency responders remained the Yun Tsui apartment block where six of the deaths occurred and the remaining 10 missing people are believed to be. The lower floors of the 12-storey tower -- which also housed a hotel -- pancaked, leaving the structure leaning at a fifty-degree angle and sparking fears of an imminent collapse. Despite those risks rescuers kept going into the building in a desperate search for survivors. But Thursday's search only recovered two bodies -- a Chinese mainland tourist and a hotel worker. Strong aftershocks continued to strike, sending the teams scurrying from the building, only for them to return a little later and resume their grim task. An emergency responder surnamed Lin said it took 14 hours to free the body of the hotel worker, who was partially trapped between the hotel's ceiling and floor. "We saw his hair and were digging for some time," he told AFP. All the while they could hear the victim's mobile phone ringing, he added. The man was later brought out in a white body bag. A Red Cross worker at the scene estimated that the building had tilted another five percent overnight, adding he had little hope of survivors being found on its lowest floors. "Floors one to three are all compressed so it's hard to tell whether there are people," he told AFP, requesting anonymity. He said that there was no risk of a gas explosion in the building but the aftershocks and further slippage remained a persistent danger. Popular tourist spot The national fire agency said three of those killed were Chinese nationals from the mainland. All were believed to be staying at the Beauty Stay Hotel, which was located on the second floor of the apartment block. Of the 10 people registered as missing, seven are believed to have been staying at the hotel, the remaining three are from residential apartments in the same building. Hualien is one of Taiwan's most popular tourist destinations as it lies on the picturesque east coast rail line and near the popular Taroko Gorge. But the mountains that rise up behind the city -- and bestow Taiwan's east coast with such majestic beauty -- are a testament to the deadly tectonic faultlines that run through the island. The government said 17 foreigners sought medical treatment for minor injuries Local broadcaster SET TV ran an interview with a man who said he was the husband of one of the mainland Chinese victims. The woman, named as 39-year-old Yu Fei, was travelling with the couple's young son on the island. The son survived the quake with light injuries. She was pulled from the wrecked building and later died in hospital. "They were travelling on their own as I was busy and couldn't accompany them," the man, who had rushed from the Chinese city of Xiamen, said. "I got in touch with my son, he cried." President Tsai Ing-wen, who on Wednesday visited survivors and the Yun Tsui apartment block, praised emergency responders. "Rescuers on the scene and hospital staffers continue to dedicate themselves fully to the rescue works," she wrote on Facebook. "Stay hopeful and never give up." The Hualien quake came exactly two years to the day after a similar sized tremor struck the western city of Tainan, killing 117 people. Most of those who perished died in a single apartment block which collapsed. Five people were later found guilty over the disaster, including the developer and two architects, for building an inadequate structure. COMMENTSThe island's worst tremor in recent decades was a 7.6-magnitude quake in September 1999 that killed around 2,400 people. That quake ushered in stricter building codes but many of Taiwan's older buildings remain perilously vulnerable to even moderate quakes
---
Trump's utterance will not deter Pak from supporting US in fight against terrorism: Abbasi.

MMNN:29 January 2018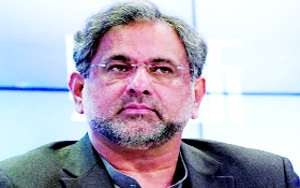 Pakistan and the United States are jointly fighting terrorism, which is their common enemy, and his nation would continue to support Washington for the same unaffected by Trump's statement, Prime Minister Shahid Khaqan Abbasi has said. 'If President Donald Trump looks at Afghanistan from Pakistan's perspective, he will understand that the reality of Islamabad is very different from the perception,' Radio Pakistan quoted Mr Abbasi as saying in an interview published by the Washington Post. Pakistan and the United States have a very strong relationship, but in the last 15 years, it has kind of gone downhill, he said. To a question about US policy statement that Pakistan provides sanctuaries to Afghan terrorists, he said that no such sanctuaries are left in Pakistan. 'If someone provides us with a location, we will take action against that.' There has not been even a single instance where actual intelligence has been provided to Pakistan and it has not been acted upon, he added.'We have assisted the US forces and will continue to assist them. There have been over 1.1 million overflights within our airspace of US aircraft going to Afghanistan. There have been millions of tons of equipment and cargo going there.' This will continue as Pakistan believes that these measures help in the war against terror. It helps bring stability to Pakistan, so we support that effort, he said. 'Pakistan is fighting the largest war on terror in the world. We have 200,000 troops fighting a war against terror today on the western border. We have lost 6,500 troops. We have defeated the same enemy the rest of the world failed to defeat in Afghanistan, on the same terrain, with our own resources.' The Prime Minister said Pakistan and the United States have had a very strong relationship, but in the last 15 years, it has kind of gone downhill. Adding a whole new dimension is this tweet. He said security assistance was minimal. There were some military sales and we bought some F-16 fighters, which we did not receive. All that has done is degrade our ability to fight the terrorists. He said on the ground, the reality is that in the last year, 29 suicide bombers crossed over from Afghanistan into Pakistan and attacked our installations. 'We are committed to fighting the war against terror. There are no two ways about it. We have assisted the U.S. forces and will continue to assist them,' the Prime Minister said
---
Saudi Billionaire Prince Alwaleed Released From Detention: Family Sources.

MMNN:27 January 2018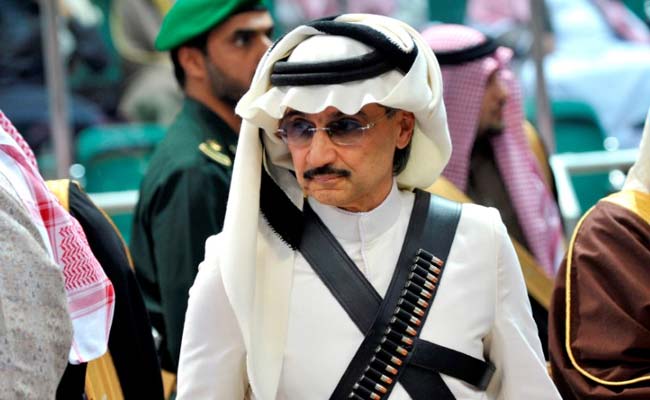 DUBAI: Saudi Arabian billionaire Prince Alwaleed bin Talal has been released from detention, family sources said on Saturday, more than two months after he was taken into custody in the kingdom's sweeping crackdown on corruption. His release came hours after he told Reuters in an exclusive interview at the opulent Ritz-Carlton hotel in Riyadh that he expected to be cleared of any wrongdoing and be released from custody within days. Family sources said Prince Alwaleed was released on Saturday. "He has he arrived home," one told Reuters. Saudi officials could not immediately be reached for comment and the terms of his release were not immediately clear. Prince Alwaleed had been confined at the Ritz-Carlton since early November, along with dozens of others, part of Crown Prince Mohammed bin Salman's plan to consolidate control and reform oil superpower Saudi Arabia. In his first interview since he was taken into custody in November, Prince Alwaleed told Reuters he was continuing to maintain his innocence of any corruption in talks with authorities. COMMENTSHe said he expected to keep full control of his global investment firm Kingdom Holding Co without being required to give up assets to the government.
---
Captive Turpin Siblings Often Marched In Circles In Their House At Night, Former Neighbor Says.

MMNN:25 January 2018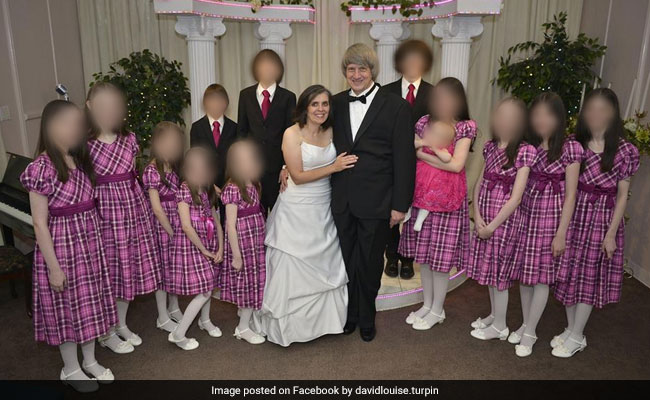 The odd behavior didn't escape the neighbors, but maybe David and Louise Turpin were simply an odd couple with a big family who preferred to be private. One neighbor, Mike Clifford, didn't worry too much when he saw several children walking in circles late at night inside their Southern California home. It was strange, he told the Los Angeles Times, but maybe it was just something they did, or perhaps the children had special needs. Another neighbor, Salynn Simon, told the Times that she was surprised but not disturbed when she met one of the Turpins' sons, a man in his mid-20s who didn't look his age. "You look 15," she told the young man who only smiled and nodded. Neighbors and family members now know there's more to the Turpin family than just odd behavior and that the couple's children were malnourished. The harrowing revelations of the past few days captured headlines around the country and elsewhere. "HOUSE of HORRORS," read a headline on the cover of People Magazine. The revelations also confounded those who had interacted with the couple and left some grappling with why they weren't more concerned at the time. Authorities said the children, for reasons still unclear, were starved for years and held captive in a dirty, smelly house in Perris, Calif., not far from Los Angeles. If they misbehaved, they were tied to their beds as punishment - first with a rope and later with chains and padlocks - and were kept from using the bathroom, Riverside County District Attorney Michael Hestrin told reporters last week. The pervasive child abuse hid in plain sight for years and was not uncovered until last week, when one of the couple's daughters slipped through a window and called 911 from a phone she found inside the house, the Riverside County Sheriff's Department said. She said she was 17 years old, but she was so tiny that authorities thought she was only 10. Deputies were equally shocked to find that several of the Turpin siblings were, in fact, adults. The Turpins had 10 girls and three boys. The oldest is 29 and weighed only 82 pounds. The youngest is 2, the only one of the siblings who wasn't malnourished, officials said. The Turpins are each facing nearly 40 charges, including a dozen counts of torture and another dozen counts of false imprisonment. Riverside County Superior Court Judge Emma Smith Wednesday barred the parents from contacting their children for the next three years, including by phone or electronically. Only their lawyer can deliver messages, The Desert Sun reported. The case's national press coverage over the last week has led David Turpin's attorney to consider asking if the trial could be moved outside of Riverside County. "The frequent appearance of photographs or video imagines of the Turpins in the media may taint potential jurors, prejudice them against the Turpins and make it necessary to explore a possible motion for a change of venue," Attorney David Macher wrote in a court motion, according to The Desert Sun. People who knew members of the Turpin family are now reexamining their interactions with them. A man who said he attended elementary school in Fort Worth, Texas, with one of the Turpins' daughters remembered a frail girl who wore the same dirty purple outfit every day and tied her hair with a Hershey's bar wrapper - the girl "nobody wanted to be caught talking to." The man, Taha Muntajibuddin, now 28, said the girl moved away after third grade. Years later, he said, he found himself wondering how she was doing. He had a "rude awakening" last week after reading stories about the girl and her family, he said. "I can't help but feel an overwhelming sense of guilt and shame. Of course, none of us are responsible for the events that ensued, but you can't help but feel rotten when the classmate your peers made fun of for 'smelling like poop' quite literally had to sit in her own waste because she was chained to her bed," Muntajibuddin wrote in a lengthy Facebook post. "It is nothing but sobering to know that the person who sat across from you at the lunch table went home to squalor and filth while you went home to a warm meal and a bedtime story." The family had also lived in Murrieta, California, where Clifford said he often spotted the children through a window on the second floor at night. They would march in circles, over and over, for long periods of time, he told the Los Angeles Times. "It was kind of strange, [but] there was never anything to say, 'Oh, my God. I should call somebody,'" said Clifford, who did not immediately return a call from The Washington Post. Other nights, he saw the siblings getting into a van with their father, he told the Times. Again, he wondered why, but didn't suspect anything horrendous. The family moved a few miles north, to Perris, in 2014. There, during a Christmas decorating contest two years ago, Louise Turpin gleefully talked about her big family and joked about how her older children always had to show their IDs during trips to Las Vegas, Simon, the other neighbor, told the Times. Turpin had always wanted a big family and gushed about "Kate Plus 8," a reality show about a mother and her sextuplets and twin daughters, Turpin's brother, Billy Lambert, told People. She was even talking about having a 14th child. If he and other family members had known something was wrong, Lambert said, they "would have stopped it ourselves." On the surface, the family seemed happy. The Turpins renewed their wedding vows at least three times since they were married 33 years ago. One was as recently as 2015, when the couple slow-danced to "Can't Help Falling in Love" sung by an Elvis impersonator. Louise Turpin wore a white, strapless wedding gown and her husband, a tuxedo. Their daughters were in matching purple plaid dresses with ribbon belts and their sons in identical black suits and red ties. Some photos online show the Turpins on family trips, always wearing identical outfits. In one picture, the siblings - all pale and skinny and wearing the same red T-shirts with different numbers printed on the front - smiled as they posed with their parents. "She would tell us the kids are doing great. She was real busy home-schooling," Lambert told People. "She told us David was making two or three hundred thousand [dollars] a year, so we thought they had this awesome life and always going on trips." Records show the Turpins were thousands of dollars in debt. They filed for a Chapter 7 bankruptcy at least twice - in 1992 in Fort Worth and in 2011 in Riverside, California. Court documents say David Turpin made about $140,000 as an engineer while his wife stayed at home. Records also show that the Turpins ran a school from their home. David Turpin is listed in a state Department of Education directory as the principal of Sandcastle Day School, a private K-12 school that has the same address as the couple's home. The Turpins, who are each being held on a $12 million bail, are due back in court Wednesday afternoon. Prosecutors are seeking a protective order to keep them from contacting their children, all of whom have been removed from the home. The Riverside University Health System Foundation has started an online campaign to raise money to help the siblings. "Our phones started ringing almost immediately with calls from private individuals and organizations wanting to know how they can help," Erin Phillips, the foundation's executive director, said last week. "We recognize financial gifts will not eliminate the trauma, but additional resources will be extremely important in helping these victims adjust over time."
---
In New Book, Pak Taliban Claims Its Suicide Bombers Killed Benazir Bhutto.

MMNN:15 January 2018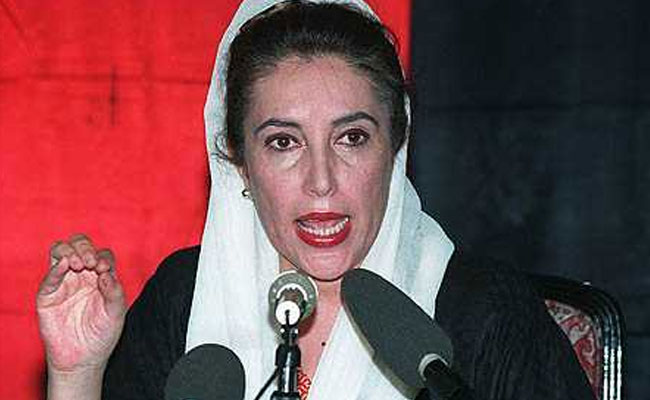 ISLAMABAD: The Tehreek-e-Taliban Pakistan or TTP has for the first time claimed responsibility for the assassination of former Pakistani Prime Minister Benazir Bhutto in a new book written by Taliban leader Abu Mansoor Asim Mufti Noor Wali. Ms Bhutto was killed in a suicide attack in Rawalpindi shortly after she addressed an election rally on December 27, 2007 and members of the then military regime of General Pervez Musharraf had blamed the TTP for it. The outfit had so far maintained silence over the assassination. No group had claimed responsibility for Ms Bhutto's murder until the claim in "Inqilab Mehsood South Waziristan - From British Raj to American Imperialism." The book says suicide bombers Bilal, who was also known as Saeed, and Ikramullah were tasked to carry out the attack on Ms Bhutto on December 27. "Bomber Bilal first fired at Benazir Bhutto from his pistol and the bullet hit her neck. Then he detonated his explosive jacket and blew himself up among the participants of the procession," Daily Times on Monday quoted the book as saying. After Ms Bhutto's assassination, the Musharraf regime had released an audio conversation purportedly between the two Taliban men talking about Ms Bhutto's death. The book also claims that the Taliban was behind another attack on Ms Bhutto, carried out by two suicide bombers in October 2007 in Karachi, in which nearly 140 people died. "Despite attacks on Benazir Bhutto's procession in Karachi, the government had not taken appropriate security measures that made it possible for the attackers to have easy access to Benazir Bhutto in Rawalpindi," claims the book. The book says that Baitullah Mehsud, the then head of the TTP, who was killed in a US drone strike in 2009, had approved the attack on Ms Bhutto's procession in October 2007, when she returned to Pakistan to lead the campaign for the 2008 parliamentary elections. "The return of Benazir Bhutto was planned on the behest of the Americans as they had given her a plan against the Mujahideed-e-Islam. Baitullah had received information of the plan. So when Benazir Bhutto arrived in Karachi, two suicide bombers Mohsin Mehsood and Rehmatullah Mehsod carried out attacks on her procession at Karsaz area of Karachi," the book claims. Musharraf had been formally charged in the case by an anti-terrorism court in Rawalpindi in August 2017. The ATC also declared Musharraf an absconder in the case. Musharraf has denied any involvement in Ms Bhutto's assassination on a number of occasions. COMMENTSThe book also mentions that the investigating bodies had held the outfit responsible for Ms Bhutto's killing but they had denied their involvement until 27 December 2017, on her 10th death anniversary. It presents no reason why the TTP changed its stance. The book, according to Daily Times, covers the TTP's history, its attacks, military operations in the tribal regions, TTP's activities in Afghanistan, tribal system, Mehsood tribe role in the TTP, TTP operations in Karachi and its campaign against polio vaccination.
---
At UN, Diplomats Are Watching Candidate Nikki Haley.

MMNN:13 January 2018

UNITED NATIONS, UNITED STATE: One year into the job, Nikki Haley stands out as the star of President Donald Trump's administration, and diplomats say the UN ambassador is directing some of that star power into a likely White House bid. Speculation about Haley's presidential ambitious has picked up since she defended Trump's decision to recognize Jerusalem as Israel's capital, staring down friends and foes alike at the world body. The 45-year-old Republican resorted to a veto to block criticism from the UN Security Council and threatened reprisals against those who voted against Washington at the General Assembly. The clash gave UN ambassadors a reality check: Haley, they say, is a politician, not a diplomat, and at the United Nations, she is playing to a domestic audience. "She is not trying to win votes at the General Assembly. She is trying to win votes for 2020 or 2024," a council diplomat said. "She is clearly using this position to run for something, that's obvious." The former South Carolina governor arrived at the United Nations last year, promising a "new day" under Trump's America First policy and vowing to "take names" of countries that don't toe the line. Seen at the outset as a foreign policy lightweight, Haley was quickly taken seriously because of her close ties to the unpredictable Trump. Over the past year, she has pushed through three new sets of sanctions against North Korea, bringing China and Russia on side to tackle what Trump sees as his administration's number one security threat. Those sanctions won the unanimous backing of the council, where finding common ground with Haley is testing diplomatic skills. The daughter of Indian immigrants, Haley is hawkish on Iran, fiercely pro-Israel and a strong advocate of cost-cutting at the United Nations. Signature issues That those three signature issues play well with the US Republican voter base is not lost on most diplomats. "What matters above all are perceptions internally, in the US," said another council diplomat, who like many declined to be quoted. Haley was among the first administration officials to take a hard line on Russia, declaring that sanctions over Crimea would remain in place until Moscow gave the territory back to Ukraine. Ukrainian Ambassador Volodymyr Yelchenko, who just wrapped up a two-year stint at the Security Council, says Haley is doing an "excellent job." "She may be less diplomatic sometimes than some could expect, but this is more an asset than a shortcoming," he said. For months, Haley had been tipped as a possible replacement to US Secretary of State Rex Tillerson, whom she has upstaged with her media appearances and statements that at times appear to break new ground. In October, she put that speculation to rest, telling reporters that she wasn't interested. "I would not take it," Haley told reporters on a trip to the Democratic Republic of Congo. "I want to be where I'm most effective." She is seen as a possible vice president to Mike Pence, should he take over the presidency. Author Michael Wolff, whose book "Fire and Fury: Inside the Trump White House" has become a national sensation, claims Haley has set her sights higher and is eyeing the presidency. According to published excerpts, Haley began positioning herself as Trump's heir after concluding in October that he was a one-term president. Wolff quoted a senior White House staffer who described her "as ambitious as Lucifer" and another who offered the view that while being groomed by Trump, "she is so much smarter than him." COMMENTSHaley has brushed aside questions about her political ambitious, saying she is focused on the job at hand as she remains firmly in the limelight as the UN's most-watched ambassador
---
What To Expect When PM Modi Meets Netanyahu This Weekend.

MMNN:12 January 2018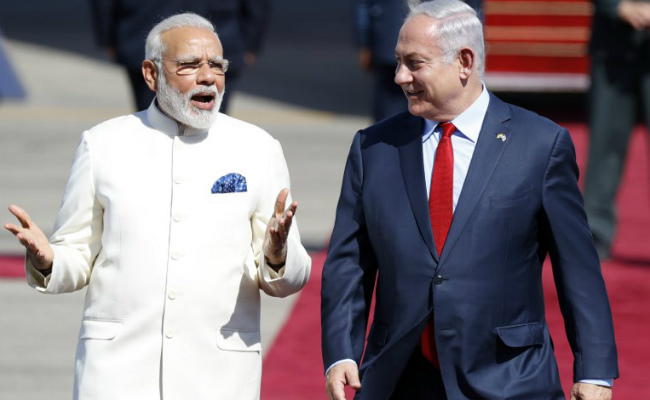 Before setting off for New Delhi this weekend, Israeli Prime Minister Benjamin Netanyahu received an unwelcome reminder of the maneuvering Indian counterpart Narendra Modi must perform as their countries deepen ties. In early January, Israel confirmed that India called off a $500 million missile deal. In December, India backed a United Nations resolution condemning President Donald Trump's new Israel-friendly policy on Jerusalem. While Israel is charging headlong into warmer ties with New Delhi, India is engaged in a balancing act, in deference to its historical support for the Palestinians and alliances with Israeli rivals, including Iran. "The maturing relationship with Israel does make strategic sense for India," said Nirupama Rao, India's former ambassador to the U.S. and China. "But India is also not bereft of the realization that it has important interests in the Gulf and West Asia to protect because these interests involve its many people who live and work in that region, as well as its energy security." Tiny Israel needs large markets for its export-driven economy. India, with its 1.3 billion people, colossal military budget and widespread poverty, has needs Israel can fill. Bilateral trade, excluding defense, grew to at least $4 billion in 2016 from just $200 million in 1992, the year the two nations established full diplomatic relations. Israel Aerospace Industries Ltd. won nearly $2 billion in contracts from India last year alone. PM Modi's Bharatiya Janata Party has challenged the accepted wisdom that closer ties with Israel will alienate India's Muslim minority. During a historic first trip by an Indian prime minister to Israel last year, PM Modi didn't travel the several miles to the West Bank to meet Palestinian Authority President Mahmoud Abbas, as visiting leaders usually do. A Netanyahu-Modi bromance was carefully choreographed during that visit, complete with shots of them walking barefoot together through the Mediterranean surf. "India, more than most countries, is making it clear they can engage with Israel without having to package that relationship to the Palestinian cause," said Arthur Lenk, who served as an Israeli diplomat in India in the late 1990s. "It's India saying, 'What's in it for us?'" "What's in it for us" doesn't always align with Israel's interests. New Delhi is helping Netanyahu's nemesis Iran develop its south eastern Chabahar port. It has consistently backed the Palestinian quest for statehood and, in December, was among 128 nations to denounce Trump's recognition of Jerusalem as Israel's capital. "What we did with Jerusalem is exactly what our policy has been," said Anil Trigunayat, a retired Indian diplomat and former ambassador to Libya and Jordan. Netanyahu said the UN vote wouldn't hurt ties. "I would have preferred another vote, to be frank, but I don't think it materially changes the tremendous flowering of relations between India and Israel," he told journalists Wednesday. "I think you're going to see an expansion of economic and other ties, regardless of this or that deal," he said, commenting on the cancellation of the missile agreement with state-run Rafael Advanced Defense Systems Ltd. During the Jan. 14-19 visit, Israel and India will announce deals and joint investments in areas ranging from defense to renewable energy, Gilad Cohen, deputy director-general in charge of Asia at Israel's Foreign Ministry, said in a briefing Wednesday. COMMENTSNetanyahu will be accompanied by about 130 businesspeople from the cyber, defense, agriculture and healthcare industries. "India has become a more sophisticated market in recent years," said delegation member Benjamin Grossman, head of the Indian practice at the Amit, Pollak, Matalon & Co. law firm in Tel Aviv. "India became aware that if they want to bring technology, they had to change their mindset and reduce the red tape. It also helps that the sentiment between the governments has been really positive.
---
Malaysia To Pay US Firm $70 Million If MH370 Found In New Hunt.

MMNN:10 January 2018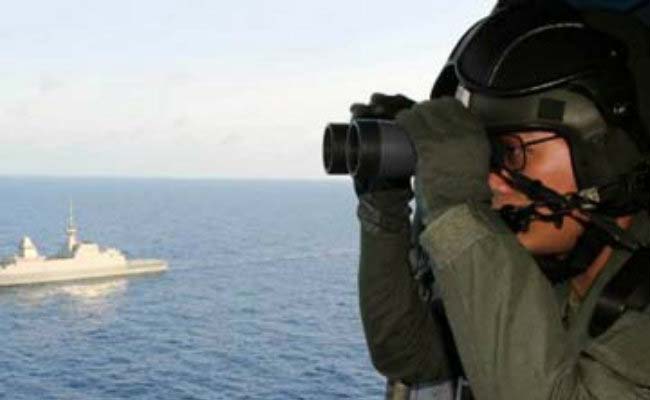 KUALA LUMPUR, MALAYSIA: Malaysia signed a deal with an American firm on Wednesday to resume the search for MH370 almost four years after the plane disappeared, with the company to receive up to $70 million if successful. The new hunt, which will last 90 days, is expected to start in mid-January when a high-tech vessel leased by the seabed exploration firm, Ocean Infinity, reaches a new search zone in the southern Indian Ocean. The Malaysia Airlines jet disappeared in March 2014 with 239 people -- mostly from China -- on board en route from Kuala Lumpur to Beijing, triggering one of the world's greatest aviation mysteries. No sign of the plane was found in a 120,000 square kilometre (46,000 square mile) search zone selected by satellite analysis of the jet's likely trajectory. The Australian-led sea search, the largest in aviation history, was suspended in January last year. But three firms submitted bids to resume the hunt privately and after lengthy negotiations, the Malaysian government agreed to engage Ocean Infinity on a "no find, no fee" basis. "I would like to reiterate our unwavering commitment towards solving the mystery of MH370," Transport Minister Liow Tiong Lai said Wednesday at a signing ceremony for the deal. The new search zone is an area of approximately 25,000 square kilometres in the Indian Ocean. If the company finds the Boeing 777, the amount they are paid will depend on where it was located, said Liow. If it is found within the first 5,000 square kilometres, they will receive $20 million. The amount rises gradually to a maximum of $70 million if the jet is found outside the 25,000 square kilometre search zone. Relatives of MH370 passengers welcomed the decision. "We are grateful the Malaysian government is resuming the search for MH370," V. P. R. Nathan, whose wife Anne Daisy was on the plane, told AFP. "We do not know what happened, we need to know what happened before we can get closure." The ship that will conduct the hunt is a Norwegian research vessel named Seabed Constructor, which is carrying 65 crew members and set off from South Africa in early January for the search zone. It is carrying eight autonomous drones, equipped with sonars and cameras, that will scour the waters in the hunt for the wreckage and can operate in depths up to 6,000 metres (20,000 feet). 1 COMMENTSOnly three confirmed fragments of MH370 have been found, all of them on western Indian Ocean shores, including
---
Rural Women In India, Elderly In Japan Open Their Homes To Airbnb Guests.

MMNN:9 January 2018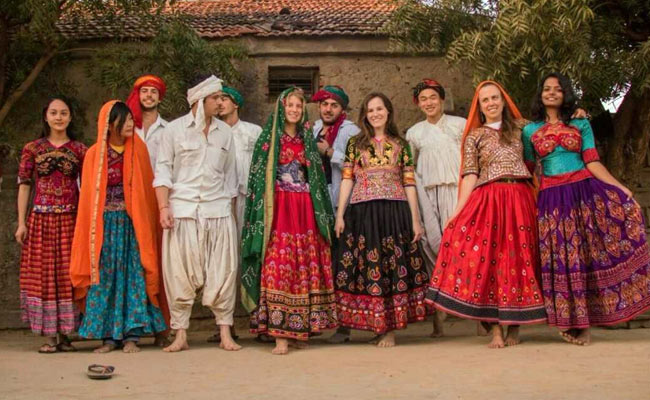 Mobile apps that help women in the Indian countryside and tiny villages in Japan to open their homes to visitors from across the world are generating incomes, revitalising remote communities and helping to curb migration to cities. A women's organisation in the Gujarat has tied up with Airbnb, the short-term home rental service, to train rural women to be hosts and list their homes on its site. A year in, the number of women earning from home sharing has doubled, according to the Self Employed Women's Association (SEWA), which has about 2 million members, mostly in villages. "At first, we weren't sure how the women would fare and if people would respond to homestays in these areas," said Reema Nanavaty, a director at SEWA. "But once they began getting guests, the women invested in upgrading their homes and started using Google Translate to communicate with guests. It has become a significant source of income for them," she told the Thomson Reuters Foundation Guests to the colourful homes are treated to homecooked Gujarati food, and can participate in kite flying and garba dancing with sticks in traditional costume, she said. The partnership will extend to 14 more states, aiming to boost incomes of women in rural areas and help boost tourism in otherwise neglected areas, she said. Cheap smartphones are also aiding those looking for work, with job matching sites helping even illiterate job seekers from rural Cambodia to India find employers without middlemen who may dupe them. Airbnb also has partnerships in South Korea, Japan and Taiwan for rural tourism. In Japan, the Yoshino Cedar House, a collaboration with Tokyo-based architect Go Hasegawa and the local community, came about as a response to shrinking rural populations in the rapidly ageing country. It was inspired by a host whose listing helped rejuvenate her village, said Airbnb co-founder Joe Gebbia. Hundreds of villages and towns "will disappear in the next decade if we do not find ways to create regenerative and adaptive systems", he said via e-mail. The Cedar House is run by a cooperative of about two dozen community members who take turns at being the host. Most of the proceeds remain in the community, with a percentage of profits reinvested in local projects, Gebbia said. "If we can get community-driven empowerment right in Japan, we can find ways of adapting this to other countries," he said. In India, the 50 rural homes listed on Airbnb are drawing guests from the United States and Europe, Nanavaty said. COMMENTS"Some of the villages were not even on Google Maps. For the women, it is a new way to make money, be independent," she said
---
Pakistan As A Terrorist Safe Haven No Longer Acceptable: CIA.

MMNN:8 January 2018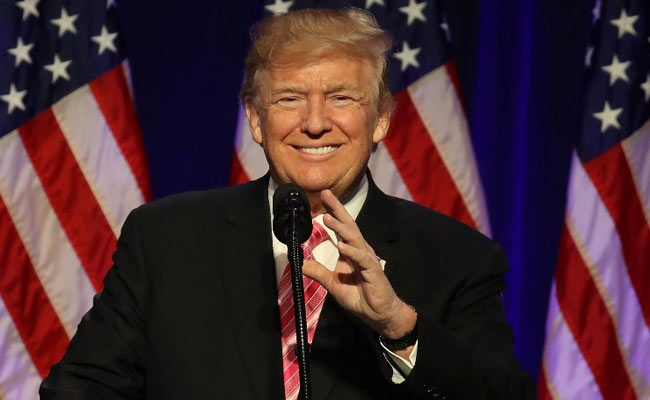 WASHINGTON: CIA chief Mike Pompeo has said that Pakistan continues to provide safe havens to terrorists, which is not acceptable to America. US President Donald Trump has asked Pakistan to "cease" being a safe haven for terrorists that threaten the US, the Central Intelligence Agency (CIA) Director said yesterday. The US has suspended about USD 2 billion in security aid to Pakistan for failing to clamp down on the Afghan Taliban and the Haqqani terror network and dismantle their safe havens. The freezing of all security assistance to Pakistan comes after President Donald Trump in a New Year's day tweet accused Islamabad of giving nothing to the US but "lies and deceit" and providing "safe haven" to terrorists in return for USD 33 billion aid over the last 15 years. "We see the Pakistanis continuing to provide safe harbour, havens inside of Pakistan for terrorists who present risks to the United States of America," Mr Pompeo was quoted as saying by the CBS news. "We are doing our best to inform the Pakistanis that this is no longer going to be acceptable. So this conditioned aid, we have given them a chance. If they fix this problem, we are happy to continue to engage with them and be their partner. But if they don't, we're going to protect America," he said. The CIA director was responding to questions on the recent decision of the Trump administration to suspend approximately USD 2 billion in security aid to Pakistan. COMMENTS"The president has made very clear that he needs Pakistan to cease being a safe haven for terrorists that threaten the United States of America, end, period, full stop," Mr Pompeo said, reflecting the stand taken by President Trump. The security assistance can be restored if Pakistan takes decisive actions against terrorists.
---
UK's Boris Johnson, On Moscow Visit, Tells Moscow To Stop Meddling In Europe.

MMNN:22 December 2017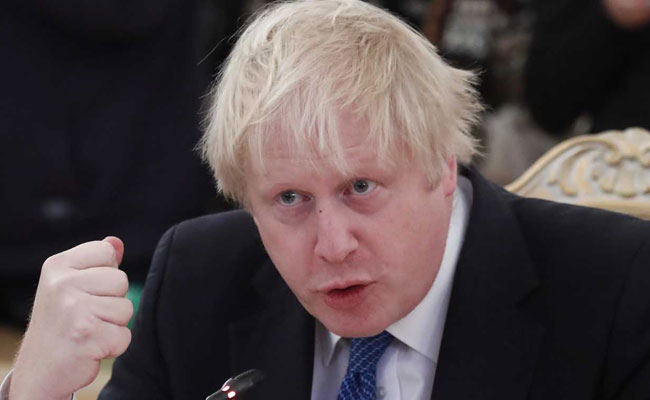 MOSCOW, RUSSIA: British foreign minister Boris Johnson told his Russian counterpart on Friday he wanted to talk about difficult subjects such as Moscow's annexation of Ukraine's Crimea and what he described as Russia's destabilising of the western Balkans. Johnson made the comments at the start of talks with Russian Foreign Minister Sergei Lavrov during the first visit to Russia by a British foreign minister in five years. Johnson was expected to meet Kremlin critics, students and gay rights activists later on Friday. His visit comes at a time when relations between London and Moscow are strained by differences over Ukraine and Syria as well as by allegations, which Russia flatly denies, that Moscow has meddled in the politics of various European countries and backed cyber attacks and disinformation campaigns. "Our relations with Russia cannot be 'business as usual' whilst Russia continues to attempt to destabilise European states, including Ukraine," Johnson said in a statement released by his office before the talks. Lavrov told Johnson at the start of the talks that British-Russian relations were at a really low point, and "not due to our actions". "You and other Western colleagues have your views on why this situation exists and prefer to set out these reasons publicly. We wanted to discuss our mutual concerns directly," said Lavrov. Johnson told reporters before the visit that Britain disapproved of many things that Russia had done. He singled out its 2014 annexation of Crimea from Ukraine, and its cyber activities. As you would expect, the UK has its own (cyber) capabilities, and we are ready of course to defend our interests," he said. But Johnson also stressed his desire for London and Moscow to cooperate where they have common interests, saying it was vital for international security that the two countries talk to each other rather than risk dangerous misunderstandings. Johnson says he wants to discuss working with Moscow to preserve the nuclear deal between Iran and world powers and the threat posed by North Korea, as well as security arrangements for next year's soccer World Cup, which will be held in Russia. Russian Foreign Ministry spokeswoman Maria Zakharova said before the visit that the decision to scale back British-Russian dialogue had been London's, and had been groundless and untimely. Johnson riled Russian officials before his visit by saying Moscow was "closed, nasty, militaristic and anti-democratic" in an interview with Britain's Sunday Times newspaper. Zakharova said Russian officials had not taken offence, but merely laughed because the comments had been made by Boris Johnson
---
Theresa May Forces Her Deputy To Resign Over Pornography Scandal.

MMNN:21 December 2017

LONDON: British Prime Minister Theresa May forced her most senior minister, Damian Green, to resign after an internal investigation found he had made misleading comments about pornography on computers in his parliamentary office. The resignation of one of May's most trusted allies, who had helped pacify her deeply divided party, is a blow as she navigates the final year of tortuous negotiations towards Britain's exit from the European Union in March 2019. Green, who voted to stay in the EU, was appointed as first secretary of state just six months ago in a bid to shore up May's premiership following her disastrous bet on a June snap election that lost her party its majority in parliament. But Green's future was thrust into doubt when the Sunday Times newspaper reported last month that police in 2008 had found pornography on his office computers in the Houses of Parliament. In response, Green said the story was untrue. A review, requested by May and conducted by a senior government official, concluded that Green's statements which suggested he was not aware that indecent material had been found on the computers, were "inaccurate and misleading." The inquiry, a summary of which was distributed by May's Downing Street office, found he had breached rules governing the behaviour of ministers. "I regret that I've been asked to resign from the government following breaches of the Ministerial Code, for which I apologise," Green said in a letter to May, who said she had accepted his resignation with deep regret. Green, 61, said he did not download or view pornography on his parliamentary computers. He added that he should have been clearer about his statements after the story broke. He is the most senior British politician to fall since a debate about a culture of abuse by some powerful men at the heart of Westminster was triggered by the Harvey Weinstein sexual harassment scandal. May's defence minister, Michael Fallon, quit last month for unspecified conduct which he said had fallen below required standards. Her aid minister resigned a week later after holding undisclosed meetings with Israeli officials.
Conduit For Complaints During the turmoil that followed the botched election, May turned to Green - a friend and ally from their days at Oxford University - to stabilise her premiership and appease those within the Conservative Party who wanted her to quit. One of his key roles was to act as a conduit for disgruntled party members who felt they had been ignored in May's election campaign. He sought to help her to shed the image of a distant leader who only listens to those in her inner circle. "It's another blow for May but it is not deadly in any way at all," said Anand Menon, professor of European politics at King's College London. "She has lost her soulmate in cabinet but this is not the end of Prime Minister May." "May is surviving not because of Damian Green but because there are sufficient MPs in her party who don't want to have a leadership election while Brexit is going on and that fundamental calculation has not changed," he said. The internal investigation found that Green's conduct as a minister was generally "professional and proper" but found two statements he made on Nov. 4 and 11 to be inaccurate and misleading. In the statements he had suggested he was not aware that indecent material was found on parliamentary computers in his office. "These statements ... constitute breaches of the Ministerial Code. Mr Green accepts this," the report summary said.
Westminster Scandal Sexual abuse allegations against Hollywood producer Weinstein have prompted some women and men to share stories about improper behaviour at the heart of British political power in Westminster. "Everyone who wants to play their part in our political life should feel able to do so - without fear or harassment, and knowing they can speak out if they need to," May said in her letter to Green. The internal investigation also addressed allegations, made by the daughter of a family friend, that Green had made an unwanted advance towards her during a social meeting in 2015, had suggested that this might further her career, and later had sent her an inappropriate text message. The report said it was not possible to reach a definitive conclusion on the appropriateness of Green's behaviour in that instance, though the investigation found allegations to be plausible. Green said in his resignation letter that he did not recognise the account of events, but apologised to the woman, academic and critic Kate Maltby, for making her feel uncomfortable.
---
Facebook Launches New Tools To Prevent Harassment.

MMNN:20 December 2017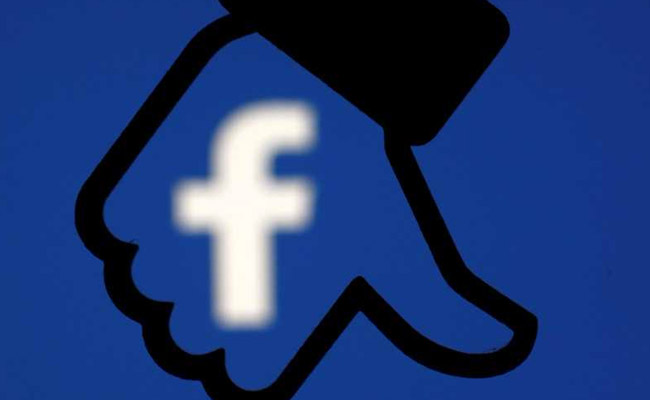 HOUSTON: Facebook has introduced new features that will prevent unwanted friend requests and messages from reaching you, a move the social media giant said will save a user, especially women, from harassment. Facebook created the new features after working with New Delhi-based non-profit organisation working for women empowerment, the Centre for Social Research and the US-based social change organisation, the National Network to End Domestic Violence. These new features will help the network identify bogus accounts quickly and block them every day. "Apart from it, the latest tool also lets a user tap on an unwanted message and ignore the conversation. The social network will automatically disable notifications about that message and move it to your filtered messages folder. From there, you can read the message without the sender knowing that you have read it," Facebook said in a statement. As of now, this new feature would only be available for a one-on-one conversation, but Facebook said that the feature would be available for group messages soon. Earlier this month, Facebook COO Sheryl Sandberg had written about the role power plays, her personal experiences with harassment and what companies should do. "No one should ever experience harassment, either in person or online," she wrote in a post about the new tools released yesterday. "Everyone deserves to be protected," Sandberg said, adding we will keep doing what we can to make sure people feel safe on Facebook. The social media network uses IP addresses and other signals to identify a fake account. But, it also said that unfortunately, not all fake accounts can be blocked and might not get caught using these features. Earlier, Facebook had provided tools that can help one deal with harassment and bullying, like a user can unfriend or block the person to prevent him/her from adding you as a friend, so that person cannot view the things that one shares on their Facebook timeline. "If bullying and harassment are severe, you can report the person to the social network," it said. The company also advised not to retaliate because bullies want the victim to react. "Thus, you must not give them one. It is also recommended that you reach out to someone that you trust, which may a family member or a close friend, a counsellor or a teacher. "You must reach out to someone who can help you. Then, ensure that you have documented everything and saved it. In that way, you have proof that such person is harassing or bullying you," it said.
---
US To Adopt Four-Level Travel Advisory System From Next Month.

MMNN:9 December 2017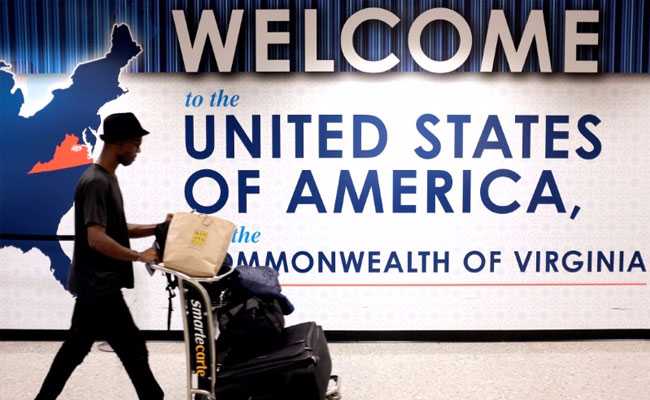 WASHINGTON: The US will issue travel advisories from next month to its citizens based on a four-level classification system with clearly recommended actions. The level one is to "exercise normal precautions", level two would be "exercise increased caution", level three is "reconsider travel", and level four would be "do not travel", a top American diplomat said. "We'll simplify our messages to US citizens, replacing emergency and security messages with just alerts in an easy to-understand format," Carl C Risch, Assistant Secretary of State for Consular Affairs said. A standard format would help US citizens find and use important security information more easily, he said adding that content would be optimised for mobile users and readily sharable on social media. As per the new procedures beginning in January, countries would be designated in various level from one to four depending on the threat perception. In some cases, various parts of a single country might have different levels of travel advisories, he said. Bringing in this new system is part of the effort to simplify the travel alerts. The process for this was started in the previous Obama administration. "We want them to be not confusing, and that people know how to react to the information that is being provided by the government. There is no desire to cause fear or paranoia where it's not justified for some reason," he said. "Level one is exercise normal precautions. This is the lowest level for safety and security risk. So there's some risk to any international travel, of course, but the conditions in other countries may differ from those in the United States, and may change at any time," he said. "Level two, would be be aware of heightened risks to safety and security," he said adding the state department provides additional advice for travellers in these areas. "Conditions in any country may change, again, at any time," Mr Risch said. Level three is about avoiding travel due to serious risks of safety and security. "Level four - the 'do not travel' - is the highest advisory level due to life-threatening risks," Mr Risch said adding that "during an emergency, the US government may have very limited ability to provide assistance, so leave as soon as it is safe to do so," he said
---
China Warns Of Imminent Attacks In Pakistan As Economic Corridor Takes Shape.

MMNN:8 December 2017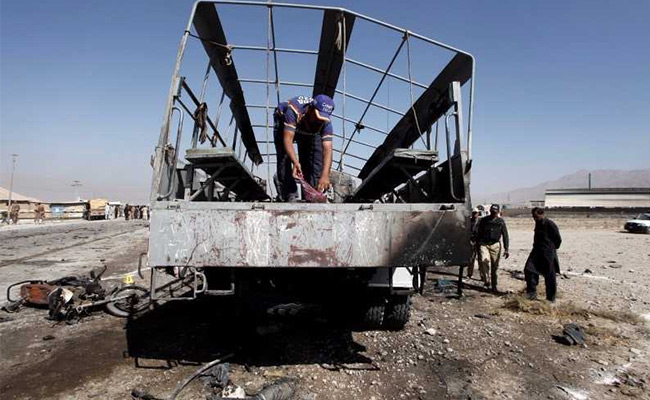 BEIJING: China on Friday warned its nationals in Pakistan of plans for a series of imminent "terrorist attacks" on Chinese targets there, an unusual alert as it pours funds into infrastructure projects into a country plagued by terrorism. Thousands of Chinese workers have gone to Pakistan following Beijing's pledge to spend $57 billion there on projects in President Xi Jinping's signature "Belt and Road" development plan, which aims to link China with the Middle East and Europe. Protecting employees of Chinese companies, as well as individual entrepreneurs who have followed the investment wave along what is known as the China-Pakistan Economic Corridor, has been a concern for Chinese officials. "It is understood that terrorists plan in the near term to launch a series of attacks against Chinese organisations and personnel in Pakistan," the Chinese embassy in Pakistan said in a statement on its website. The embassy warned all "Chinese-invested organisations and Chinese citizens to increase security awareness, strengthen internal precautions, reduce trips outside as much as possible, and avoid crowded public spaces". It also asked Chinese nationals to cooperate with Pakistan's police and the military, and to alert the embassy in the event of an emergency. It did not give any further details. Pakistan's foreign ministry could not be reached immediately for comment. China has long worried about disaffected members of its Uighur Muslim minority in its far western region of Xinjiang linking up with terrorists in Pakistan and Afghanistan. At the same time, violence in Pakistan's southwestern Baluchistan province has fuelled concern about security for planned transport and energy links from western China to Pakistan's deepwater port of Gwadar. The Taliban, sectarian groups linked to al Qaeda and the ISIS all operate in Baluchistan, which borders Iran and Afghanistan and is at the centre of the "Belt and Road" initiative. In addition, terrorists there have long battled the government for a greater share of gas and mineral resources, and have a long record of attacking energy and other infrastructure projects. The ISIS claimed responsibility for killing two kidnapped Chinese teachers in Baluchistan in June, prompting the government in Islamabad to pledge to beef up security for Chinese nationals. It had already promised a 15,000-strong army division to safeguard projects along the economic corridor. China's security concerns abroad have grown along with its global commercial footprint. In 2016, a suspected suicide car bomber rammed the gates of the Chinese embassy in the Kyrgyz capital Bishkek, killing the attacker and wounding at least three people
---
Australia Parliament Passes Same-Sex Marriage Bill.

MMNN:7 December 2017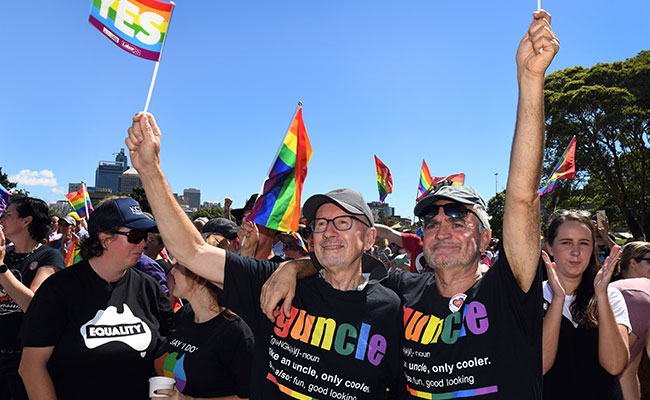 SYDNEY: Australia's parliament passed a bill legalising same-sex marriage Thursday after the nation overwhelmingly voted in favour of changing the law, ending decades of political wrangling. There were loud cheers, hugs and sustained clapping in the lower House of Representatives when all but four MPs voted in support of marriage equality, after the upper house Senate passed the bill 43-12 last week. "What a day for love, for equality, for respect! Australia has done it," Prime Minister Malcolm Turnbull told the House. The final step is for the Governor-General Peter Cosgrove, the Queen's representative in Australia, to ratify the law, which will likely take place within days.
---
Pervez Musharraf Says He's "Biggest Supporter" Of Lashkar-e-Taiba, Hafiz Saeed.

MMNN:29 November 2017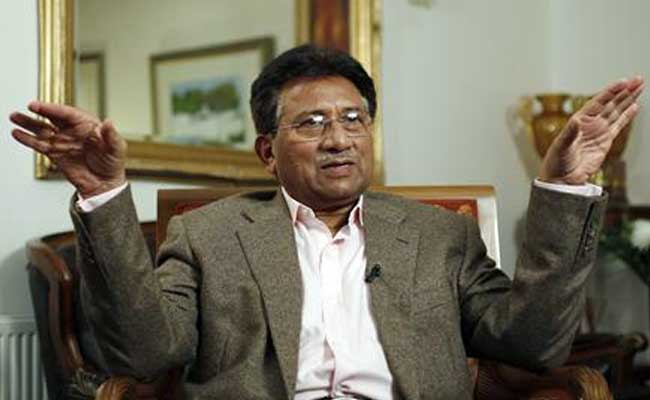 KARACHI / DUBAI: Calling himself the "biggest supporter" of terror outfit Lashkar-e-Taiba or LeT and its founder Hafiz Saeed, Pakistan's former dictator Pervez Musharraf has said he backs the terror group's role in "suppressing" the Indian Army in Jammu and Kashmir. Pervez Musharraf, the 74-year-old retired general who is on self-exile in Dubai, said that the 26/11 Mumbai terror attack mastermind Hafiz Saeed "is involved in Kashmir" and he supports their involvement. Musharraf, who recently announced a 'grand alliance' of 23 political parties, also said he is always in favour of "action" in Jammu and Kashmir and "suppressing Indian Army in Kashmir". "They (LeT) are the biggest force. India got them declared as terrorists after partnering with the US. Yes, they (LeT) are involved in Kashmir but in Kashmir it is between us and India," he told Pakistani news channel ARY. Calling himself the biggest supporter of the Lashkar-e-Taiba and Hafiz Saeed, Pervez Musharraf said he knows that he is also liked by the terror group and by the Jammat-ud-Dawa, the group headed by UN-designated terrorist Hafiz Saeed in Pakistan. The Lashkar-e-Taiba was banned in Pakistan and the decision to ban the terror outfit in Pakistan was taken by the Musharraf government. When asked about it, Musharraf said he banned the terror group under "different circumstances" without elaborating further. Musharraf's comments came days after Hafiz Saeed walked free following Pakistan government's decision against detaining him further. He was under house arrest since January this year. India had expressed outrage over the decision of the judicial board to release Hafiz Saeed, calling it an attempt by Pakistan to mainstream proscribed terrorists and a reflection of its continuing support to non-state actors. Hafiz Saeed, who is accused of having masterminded the 2008 Mumbai terror attack that killed 166 people, was placed on the terrorism black list by the United Nations under UN Security Council Resolution 1267 in December 2008. The US too has designated him as a global terrorist and has announced a reward of $10 million for information leading to his arrest and conviction. Hafiz Saeed has now filed the petition to de-list him from the UN list of designated terrorists. The Jamaat-ud-Dawa or JuD is the front organisation for the banned Lashkar-e-Taiba which is responsible for carrying out the 26/11 Mumbai terror attacks in 2008. Musharraf is facing a slew of court cases after returning from five years of self-exile in Dubai to contest the general elections in 2013, which he lost. Musharraf, who came to power in a coup in Pakistan in 1999, claimed that he was ready to face all charges as the courts are not under "Nawaz Sharif's control anymore"
---
Flurry Of Activity Hints At North Korea Missile Test: Reports.

MMNN:28 November 2017

SEOUL, SOUTH KOREA: Radio signals and radar activity detected at a North Korean missile base have raised concerns the reclusive regime may be preparing a new missile test, news reports in Seoul and Tokyo said Tuesday. The North has stoked international alarm over its banned nuclear missile programme, but it has not launched a missile test since September 15, raising hopes that ramped-up sanctions are having an impact. However, the South Korean news agency Yonhap cited a government source as saying that a missile-tracing radar was switched on at an unspecified base on Monday, and there had been a flurry of telecoms traffic. "It's true that active movements have been detected at a North Korean missile base," the source reportedly said. "Signs like those spotted Monday have recently been detected frequently." "We need to watch a while longer before determining whether the North is preparing a missile launch or gearing up for (its own) winter drill that starts Friday." A South Korean defence ministry spokesman declined to comment on the report, but similar accounts from Tokyo caused a temporary slump on the stock exchange there. The Kyodo news agency quoted sources as saying the Japanese government was on alert after detecting radio signals suggesting North Korea might be preparing for a missile launch. "North Korea might launch a missile within the next few days," one of the sources was quoted as saying. However, the Japanese sources also said that as satellite images have not shown any missile or moveable launch pad, the signals might only be related to winter training for the North Korean military. North Korea's leader Kim Jong-Un visited a new catfish farm northeast of Pyongyang, its state media said Tuesday, in the latest of a series of economic outings that have coincided with a lull in weapons testing. In September the North conducted its sixth and most powerful nuclear test and staged an intermediate-range missile launch over Japan. But tensions are expected to spike again as the United States and South Korea kick off a large-scale air force drill on Monday in a new show of force against the North. The five-day exercise, Vigilant Ace, involves 12,000 US personnel and an unspecified number of South Korean service members flying more than 230 aircraft including F-22 Rapter stealth fighters and other cutting-edge weapons at US and South Korean military bases. Pyongyang routinely condemns such exercises, labelling them preparation for war. The US last week unveiled fresh sanctions that target North Korean shipping, raising pressure on Pyongyang to abandon its nuclear programme. Pyongyang condemned the move as a "serious provocation" on Wednesday and warned that sanctions would never succeed.
---
Indian Catholics Hurt At Missing Out On Pope Francis Tour.

MMNN:27 November 2017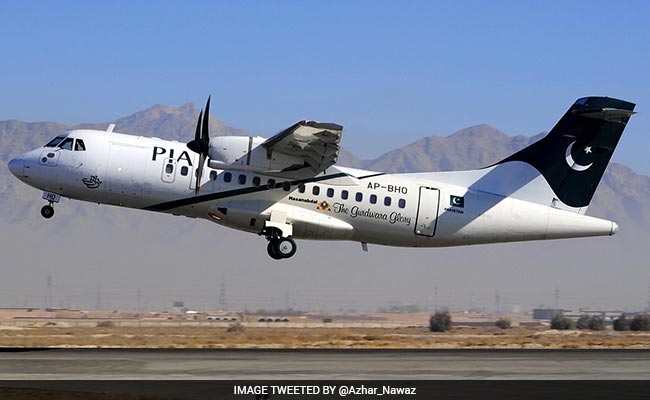 NEW DELHI: The Roman Catholic Church in India expressed disappointment at missing out on an expected visit by Pope Francis who started a rare trip to South Asia today. The 80-year-old pontiff arrived in Myanmar on a six-day trip that will also take him to Bangladesh. The church leader said a year ago that he would "almost certainly" visit India and Bangladesh in 2017 and diplomats said protracted negotiations were held on the itinerary. India was finally dropped from the schedule without any official reason given by the Vatican or the Indian government. "The Pope is coming close by and is not coming to India. As an Indian it hurts me as I am sure it hurts all Indians," Bishop Theodore Mascarenhas, secretary general of the Catholic Bishops' Conference of India, told news agency AFP. "The Pope would have come as a messenger of peace, bringing a sort of a balm to the people." India's Cardinal Oswald Gracias told the US National Catholic Reporter in July that finding a time that aligned with Prime Minister Narendra Modi's schedule had proven "a little bit of a difficult situation". India has an estimated 28 million Roman Catholics who had urged the government to accommodate Francis. The last papal visit to India was by Pope John Paul II in 1999. Christians -- overwhelmingly Catholic -- are the third-largest religious group in India after Hindus and Muslims. The Indian Express newspaper on Monday quoted the Archbishop of Nagpur as saying that a papal visit "would have been a great boost for the country's image in the world". "Look at the size of Bangladesh and Myanmar, compared to us," Abraham Viruthakulangara was quoted as saying.
---
North Korean Defector's Diet And Parasites Hint At Hard Life In The Country.

MMNN:17 November 2017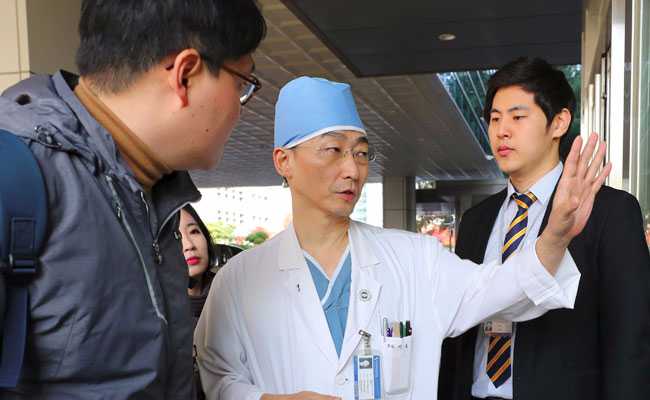 SEOUL, SOUTH KOREA: Parasitic worms found in a North Korean soldier, critically injured during a desperate defection, highlight nutrition and hygiene problems that experts say have plagued the isolated country for decades. At a briefing on Wednesday, lead surgeon Lee Cook-jong displayed photos showing dozens of flesh-coloured parasites - including one 27 cm (10.6 in) long - removed from the wounded soldier's digestive tract during a series of surgeries to save his life. "In my over 20 year-long career as a surgeon, I have only seen something like this in a textbook," Lee said. The parasites, along with kernels of corn in his stomach, may confirm what many experts and previous defectors have described about the food and hygiene situation for many North Koreans. "Although we do not have solid figures showing health conditions of North Korea, medical experts assume that parasite infection problems and serious health issues have been prevalent in the country," said Choi Min-Ho, a professor at Seoul National University College of Medicine who specialises in parasites. The soldier's condition was "not surprising at all considering the north's hygiene and parasite problems," he said. The soldier was flown by helicopter to hospital on Monday after his dramatic escape to South Korea in a hail of bullets fired by North Korean soldiers. He is believed to be an army staff sergeant in his mid-20s who was stationed in the Joint Security Area in the United Nations truce village of Panmunjom, according to Kim Byung-kee, a lawmaker of South Korea's ruling party, briefed by the National Intelligence Service. North Korea has not commented on the defection. While the contents of the soldier's stomach don't necessarily reflect the population as a whole, his status as a soldier - with an elite assignment - would indicate he would at least be as well nourished as an average North Korean. He was shot in his buttocks, armpit, back shoulder and knee among other wounds, according to the hospital where the soldier is being treated.
'THE BEST FERTILISER' Parasitic worms were also once common in South Korea 40 to 50 years ago, Lee noted during his briefing, but have all but disappeared as economic conditions greatly improved. Other doctors have also described removing various types of worms and parasites from North Korean defectors. Their continued prevalence north of the heavily fortified border that divides the two Koreas could be in part tied to the use of human excrement, often called "night soil." "Chemical fertiliser was supplied by the state until the 1970s, but from the early 1980s, production started to decrease," said Lee Min-bok, a North Korean agriculture expert who defected to South Korea in 1995. "By the 1990s, the state could not supply it anymore, so farmers started to use a lot of night soil instead." In 2014, supreme leader Kim Jong Un personally urged farmers to use human faeces, along with animal waste and organic compost, to fertilise their fields. A lack of livestock, however, made it difficult to find animal waste, said Lee, the agriculture expert. Even harder to overcome, he said, is the view of night soil as the "best fertiliser in North Korea," despite the risk of worms and parasites. "Vegetables grown in it are considered more delicious than others," Lee said.
LIMITED DIETS The medical briefing described the wounded soldier as being 170 cm (5 feet 5 inches) and 60 kg (132 pounds) with his stomach containing corn. It's a staple grain that more North Koreans may be relying on in the wake of what the United Nations has called the worst drought since 2001. Imported corn, which is less preferred but cheaper to obtain than rice, has tended to increase in years when North Koreans are more worried about their seasonal harvests Between January and September this year, China exported nearly 49,000 tonnes of corn to North Korea, compared to only 3,125 tonnes in all of 2016, according to data released by Beijing. Despite the drought and international sanctions over Pyongyang's nuclear programme, the cost of corn and rice has remained relatively stable, according to a Reuters analysis of market data collected by the defector-run Daily NK website. Since the 1990s, when government rations failed to prevent a famine hitting the country, North Koreans have gradually turned to markets and other private means to feed themselves. The World Food Programme says a quarter of North Korean children 6-59 months old, who attend nurseries that the organisation assists, suffer from chronic malnutrition. On average North Koreans are less nourished than their southern neighbours. The WFP says around one in four children have grown less tall than their South Korean counterparts. A study from 2009 said pre-school children in the North were up to 13 cm (5 inches) shorter and up to 7 kg (15 pounds) lighter than those brought up in the South. "The main issue in DPRK is a monotonous diet - mainly rice/maize, kimchi and bean paste - lacking in essential fats and protein," the WFP told Reuters in a statement last month. (Additional reporting by Seung-woo Yeom, James Pearson, Heekyong Yang, Hyunjoo Jin, Soyoung Kim, Writing by Josh Smith, Editing by Bill Tarrant)
---
Smog Disrupts Over 600 Flights In Pakistan.

MMNN:16 November 2017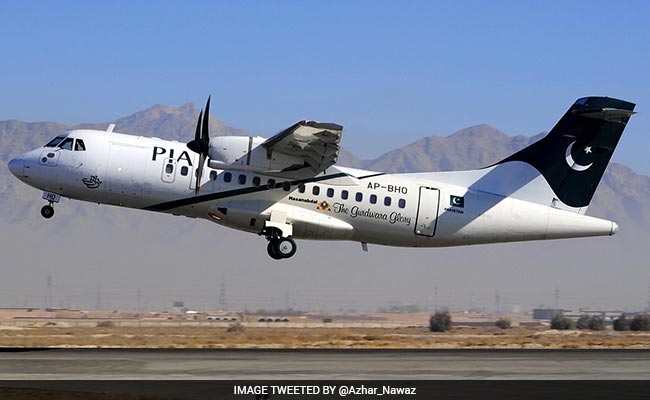 ISLAMABAD: Smog-induced bad weather conditions have disrupted over 600 flights of the Pakistan International Airlines (PIA) in the first two weeks of November, an airline official said. The smoggy weather conditions, which were prevailing in Punjab province were beyond the PIA's control, so they had to either delay or cancel the flights, the airline spokesperson was quoted as saying on Wednesday. The affected areas included Multan, Faisalabad, Lahore, Bahawalpur, Sialkot and Rahim Yar Khan, Xinhua news agency reported. The PIA said that 83 flights were rescheduled, 82 re-routed, 17 diverted and 159 flights were cancelled due to poor visibility. Another 200 flights were delayed to ensure the security requirements in the bad weather, it said. The PIA official said that each plane is used for multiple flight operations, so their delay due to weather conditions, also affected 63 other flights in the areas where weather was suitable for takeoff, as the plane was not available. The plains of Punjab, remained engulfed by a thick smog blanket in the first two weeks of November, but scattered rains, which started in the country on Tuesday, washed away the smog from most of the areas. Pakistani Met officials told Xinhua earlier this week that the province would get a respite from smog following the downpour, but fog will continue in the area
---
Power Slips From Zimbabwe President Robert Mugabe As Military Steps In.

MMNN:15 November 2017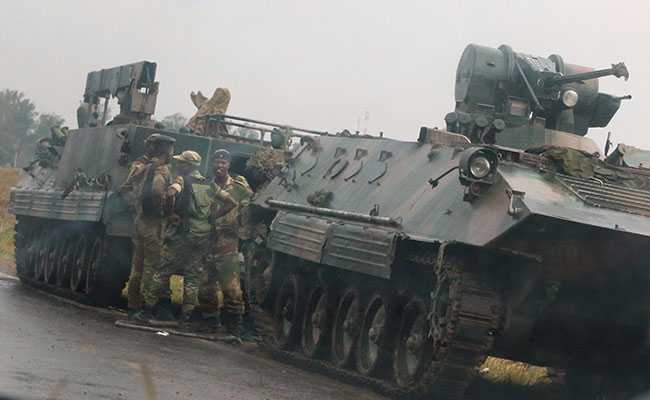 HARARE: Zimbabwe's military appeared to be in control of the country Wednesday as generals denied staging a coup but used state television to vow to target "criminals" close to President Robert Mugabe. Mugabe's decades-long grip on power was dramatically weakened as military vehicles blocked roads outside the parliament in Harare and senior soldiers delivered a late-night television address to the nation. "We wish to assure the nation that his excellency the president... and his family are safe and sound and their security is guaranteed," Major General Sibusiso Moyo said, slowly reading out a statement. "We are only targeting criminals around him who are committing crimes... As soon as we have accomplished our mission we expect that the situation will return to normalcy." Moyo said "this is not a military takeover of government". But the generals' actions posed as a major challenge to the ageing Mugabe, 93, who has ruled Zimbabwe since independence from Britain in 1980. Tensions between the veteran leader and the military, which has long helped prop up his authoritarian rule, have erupted in public in recent days. The ruling ZANU-PF party on Tuesday accused army chief General Constantino Chiwenga of "treasonable conduct" after he criticised Mugabe for sacking vice president Emmerson Mnangagwa.
Government silence Mnangagwa's dismissal left Mugabe's wife Grace, 52, in prime position to succeed her husband as the next president -- a succession strongly opposed by senior ranks in the military. As the situation deteriorated overnight, prolonged gunfire was heard near Mugabe's private residence. The US embassy warned its citizens in the country to "shelter in place" due to "ongoing political uncertainty". Armoured vehicles in the capital alarmed residents as Chiwenga had warned of possible military intervention. The army's spokesman was not available to comment. "The government's silence on the military deployments seem to confirm that President Mugabe has lost control of the situation," Robert Besseling, of the London-based EXX Africa risk consultancy, said. "Any coup would be likely to involve the imposition of a curfew. The main indicator of a broader outbreak of violence would be the reaction of the Presidential Guard, which remains loyal to President Mugabe." Mugabe is the world's oldest head of state, but his poor health has fuelled a bitter succession battle as potential replacements jockey for position. In speeches this year, Mugabe has often slurred his words, mumbled and paused for long periods. His lengthy rule has been marked by brutal repression of dissent, mass emigration, vote-rigging and economic collapse since land reforms in 2000. The main opposition MDC party called for civilian rule to be protected. "No one wants to see a coup... If the army takes over that will be undesirable. It will bring democracy to a halt," shadow defence minister Gift Chimanikire, told AFP on Tuesday.
Grace's ambitions Speculation has been rife in Harare that Mugabe could seek to remove Chiwenga, who is seen as an ally of ousted Mnangagwa. Mnangagwa, 75, was widely viewed as Mugabe's most loyal lieutenant, having worked alongside him for decades. Earlier this year the country was gripped by a bizarre spat between Grace and Mnangagwa that included an alleged ice-cream poisoning incident that laid bare the pair's rivalry. Grace Mugabe -- 41 years younger than her husband -- has become increasingly active in public life in what many say was a process to help her eventually take the top job. She was granted diplomatic immunity in South Africa in August after she allegedly assaulted a model at an expensive Johannesburg hotel where the couple's two sons were staying. As the economy collapsed, Zimbabwe was engulfed by hyperinflation and was forced to abandon its own currency in 2009 in favour of the US dollar. The country, which has an unemployment rate of over 90 percent, is due to hold elections next year with Mugabe pledging to stand for office again
---
China's Military Ordered To Pledge Absolute Loyalty To Xi Jinping.

MMNN:6 November 2017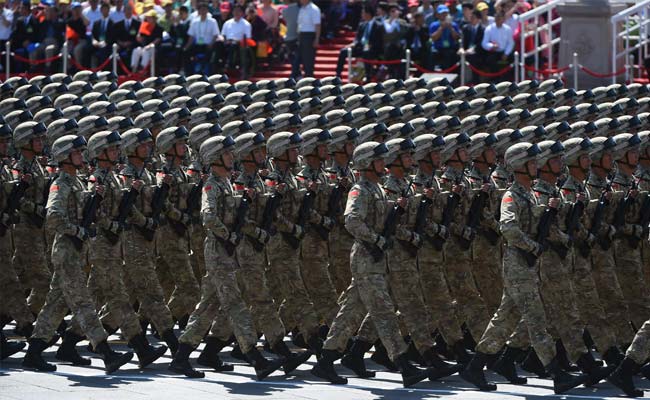 BEIJING: China's military has been ordered to pledge absolute loyalty to President Xi Jinping while a paramilitary police force now literally sings his praises, further cementing his place as the country's most powerful leader in decades. The world's largest armed forces should be "absolutely loyal, honest and reliable to Xi", said a new guideline issued by the Central Military Commission and reported by state news agency Xinhua late Sunday. China's military personnel of around two million is technically the armed force of the ruling Communist Party rather than the state. The commission's calls for fidelity to Xi shows the extent to which he has consolidated power since having his eponymous philosophy written into the party constitution last month. Xi's political philosophy -- Xi Jinping Thought -- should also guide the strengthening of the military, Xinhua said of the new guideline. "The army should follow Xi's command, answer to his order, and never worry him," Xinhua quoted the guideline as saying For decades China has been governed in an ostensibly collective fashion by the party's elite Politburo Standing Committee. But Xi has increasingly centralised power and looks to be following in the footsteps of revolutionary leader Mao Zedong. On Sunday, a song titled "Be a good soldier for Chairman Xi" was released by the People's Armed Police, a paramilitary force under the Military Commission. Nearly a half-century ago, the army sang "Be a good soldier for Chairman Mao". Xi became chairman of the military commission when he came to power in 2012 and last year acquired the new title of commander-in-chief of the joint forces battle command centre. He has also presided over a corruption crackdown that felled some of the country's highest-ranking military officers
---
Las Vegas Gunman, Who Killed 59, Had "Lost A Significant Amount Of Wealth": Police.

MMNN:4 November 2017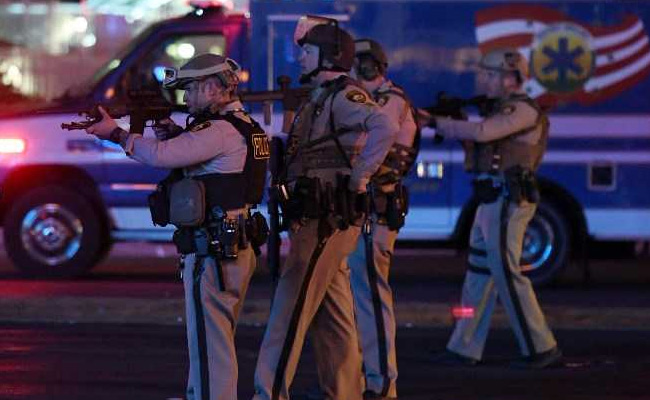 LAS VEGAS: Stephen Paddock, who opened fire on an open-air concert in Las Vegas on October 1, 2017 killing 59 people, had "lost a significant amount of wealth" in the two years prior to the massacre, police said. Senior police official Joseph Lombardo on Friday described Paddock as a narcissist and "status-driven" and said his financial decline "may have a determining effect on why he decided to do what he did", reports CNN. Lombardo, however, said that he did not know whether money troubles led to the shooting. He reiterated that the motive remains elusive. "What is the reason why? We haven't gotten that answer yet. There was something that popped his trigger or caused him to go into that direction and we have yet to determine what that is... I hope we find something in the pathology of his brain that helps us understand this," Lombardo added. "Who knows what's going through his psychotic mind." The police official said Paddock still had access to more than 4,000 rounds of ammunition and "had the ability to do a lot more harm", CNN reported. The sheriff said investigators are continuing to interview Paddock's girlfriend, Marilou Danley, who has told authorities she had no inkling that the former accountant was plotting a massacre.
---
Muhammad Ali Jinnah's Daughter Dina Wadia's Funeral In New York On Friday.

MMNN:3 November 2017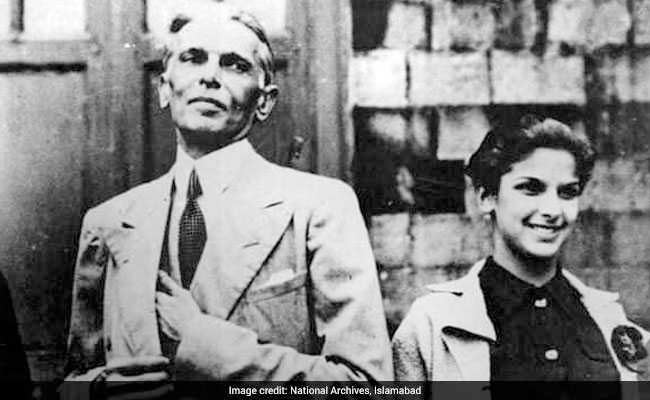 MUMBAI: The funeral of Dina Wadia, daughter and the only child of Pakistan's founder Muhammad Ali Jinnah, shall take place in New York on Friday, official sources here said. Wadia, 98, passed away at her home in New York on Thursday, surrounded by many of her family members and relatives. They included her son and Wadia Group Chairman Nusli N. Wadia, daughter Diana N. Wadia, grandsons Ness and Jeh Wadia, Jeh's wife Celina and two great-grandchildren Jah and Ella Wadia. Quoting historian Stanley Wolpert, community website Parshi Khabar said Dina was born around the midnight of August 14-15, 1919 in a cinema theatre in London where her parents, Jinnah and Rattanbai, were watching a film. "Oddly enough, precisely 28 years to the day and hour before the birth of Jinnah's other offspring, Pakistan," Wolpert wrote in his acclaimed biography on the founder of Pakistan 'Jinnah of Pakistan' (1982). Dina was estranged from her father for many years, after she married a leading Mumbai Parsi industrialist, Neville Wadia, mostly lived in Mumbai, before moving to the US. Keeping a low profile all through, she visited Pakistan only twice in her lifetime - first on the death of her father and later in 2004, during the era of President Parvez Musharraf. "This has been very sad and wonderful for me. May his (Jinnah's) dream for Pakistan come true," said her tribute in the visitors' book at the Quaid-e-Azam Mausoleum in Karachi
---
White House Chief Of Staff Calls For Special Counsel To Probe Democrats..

MMNN:31 October 2017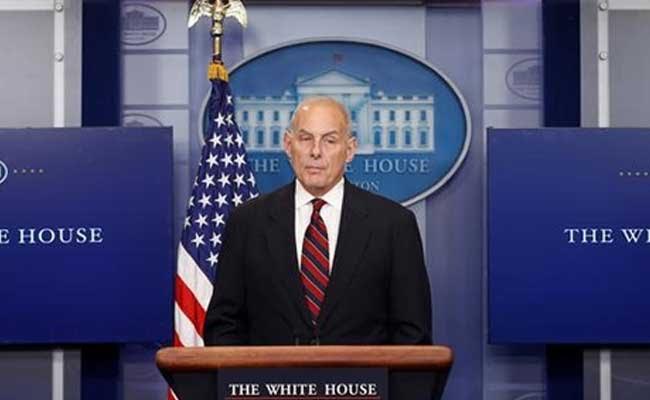 WASHINGTON: White House Chief of Staff John Kelly said on Monday a special counsel should be appointed to investigate Democrats over a uranium deal during the Obama administration and a dossier compiled on Donald Trump during the 2016 presidential campaign. "I think probably as a layman looking at this kind of thing we need to find someone who is very, very objective who can get to the bottom of these accusations," Kelly said in an interview on Fox News. A special counsel would be appointed by the Justice Department. Republicans in Congress last week launched an investigation into an Obama-era deal in which a Russian company bought a Canadian firm that owned some 20 percent of US uranium supplies. Some Republicans have said Hillary Clinton's State Department approved the deal after her husband's charitable foundation received a $145 million donation. The New York Times has reported that Clinton, a Democrat who lost to Republican Trump in the 2016 election, did not participate in the decision. Republicans have also raised questions about whether Democrats funded a dossier put together during last year's presidential campaign that detailed accusations about Trump's ties to Russia. The Washington Post reported last week that Marc Elias, a lawyer for Clinton, used campaign funds to hire Fusion GPS, the firm behind the dossier. Kelly's call for a special counsel to investigate Democrats comes as a probe by special counsel Robert Mueller into possible collusion between the Trump campaign and Russians produced its first charges and a guilty plea. A grand jury impaneled by Mueller indicted former Trump campaign manager Paul Manafort and aide Rick Gates on Monday. A third former Trump adviser, George Papadopoulos, pleaded guilty in early October to lying to the FBI, it was announced on Monday
---
Ex-Employee Sues Facebook For Depriving Workers Of Overtime..

MMNN:30 October 2017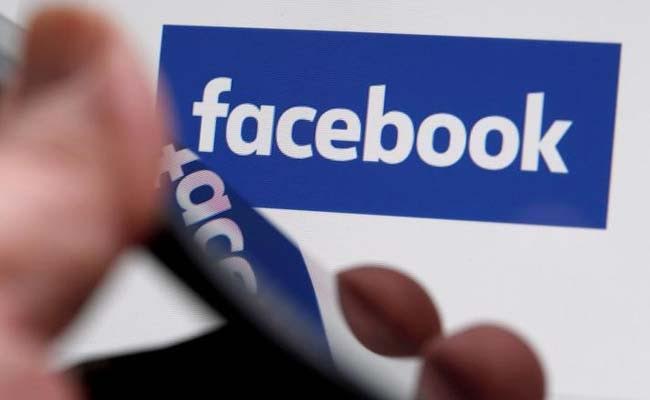 SAN FRANCISCO: A former Facebook employee is suing the social media giant for allegedly misclassifying employees to exempt them from overtime pay. According to a report in arstechnica.com on Monday, Susie Bigger, a former client solutions manager at Facebook's office in Chicago, has alleged that she and other Facebook employees are illegally classified as managers as part of "defendant's scheme to deprive them of overtime compensation". The proposed class-action lawsuit, filed in a US court, is seeking a back pay, damages, interest and attorneys fees for an untold number of Facebook employees. "This lawsuit is without merit and we will defend ourselves vigorously," Facebook told Ars Technica. The lawsuit described a "systematic, company wide wrongful classification" system for Client Solutions Managers, Customer Solutions Managers, Customer Account Managers, "or other similarly titled positions". "CSMs do not perform duties related to the management or general business operations of Facebook. Rather, CSMs' duties constitute the principal production activity of Facebook as a social media and marketing platform," the lawsuit alleged. Facebook is set to announce its third-quarter results this week
---
Spain Takes Control Of 'Independent' Catalonia.

MMNN:28 October 2017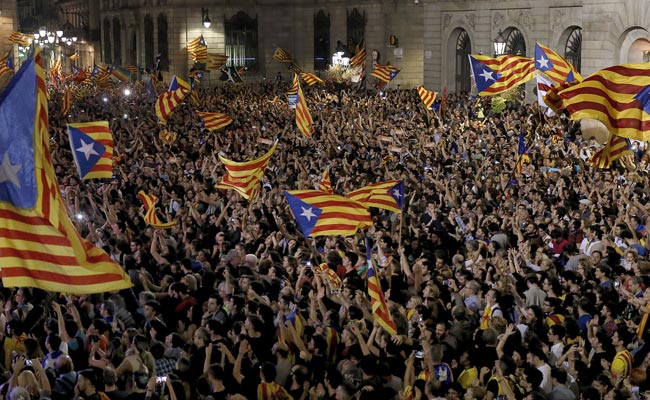 Spain moved Saturday to seize direct control of Catalonia, sacking its police chief a day after the Catalan regional parliament's independence declaration sent shock waves through Europe. The firing of Josep Lluis Trapero, the highest-ranking officer of the Mossos d'Esquadra regional police, follows Friday's dismissal of Catalonia's president, his deputy, all ministers, and the entire parliament. Moving to quash what he termed an "escalation of disobedience", Prime Minister Mariano Rajoy called December 21 elections in the region under sweeping powers granted by the Senate in response to Catalan lawmakers voting to declare an independent republic. The dismissal of Trapero, seen as an ally of his region's separatist leaders, was announced in Saturday's official government gazette. Madrid accuses Trapero of disobeying court orders to block a banned October 1 independence referendum. Instead, the ballot was disrupted, violently in some cases, by officers from Spain's national police and Guardia Civil paramilitary forces. All eyes this weekend will be on whether Catalonia's separatist executive, led by Carles Puigdemont, will willingly step aside for caretaker envoys from Madrid. Spain's Deputy Prime Minister Soraya Saenz de Santamaria is due to meet later with secretaries of state who will likely take charge of Catalonia's regional ministries.
Competing rallies Tens of thousands celebrated in Barcelona and other Catalan cities after Friday's independence declaration, which analysts say the region has no legal power to execute. But anti-secession rallies have been called for the capital, Madrid, on Saturday, and for Barcelona on Sunday. The move to quash Catalan powers under Article 155 of the Spanish constitution is likely to anger many in a region of some 7.5 million people that enjoyed considerable autonomy, with control over education, healthcare and police. It is the first time the central government has curtailed autonomy in the region since dictator Francisco Franco's repressive 1939-75 rule Independence supporters have warned they will resist the temporary measure, implemented under a constitutional article devised to rein in rebel regions. "We won't cave in to Rajoy's authoritarianism nor to 155," the far-left CUP party, an ally of Puigdemont, tweeted on Friday. A motion to declare Catalonia a "republic" was passed Friday with 70 votes out of 135 in the regional parliament, where pro-secessionists hold sway. Catalan leaders point to the "Yes" vote in the deeply-divisive October 1 referendum as a mandate for independence, even though less than half of voters took part. Echoing widely-held fears, Federico Santi, Europe analyst at political risk consultancy Eurasia Group, warned the crisis could become violent, with "more serious clashes between national police and pro-independence activists." Speaking after the parliament's proclamation, Puigdemont urged activists to "maintain the momentum" in a peaceful manner.
Unwavering support for Spain The Spanish government has received unwavering support from the United States and its allies in the European Union. The bloc is increasingly wary of nationalistic and secessionist sentiment, particularly after Britain's dramatic decision last year to leave the bloc. EU President Donald Tusk insisted Madrid "remains our only interlocutor" in Spain, but urged it to exercise restraint. "I hope the Spanish government favours force of argument, not argument of force," he tweeted.
---
US Targets Myanmar Military Over Rohingya Violence..

MMNN:24 October 2017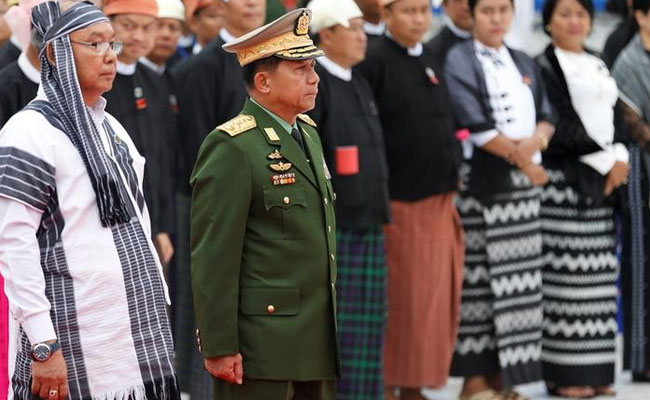 WASHINGTON: The United States announced Monday it was withdrawing military assistance from Myanmar units and officers involved in violence against Rohingya Muslims that has triggered a massive exodus. "We express our gravest concern with recent events in Rakhine state and the violent, traumatic abuses Rohingya and other communities have endured," State Department spokeswoman Heather Nauert said in announcing the punitive measures. "It is imperative that any individuals or entities responsible for atrocities, including non-state actors and vigilantes, be held accountable." Last week, Secretary of State Rex Tillerson said the US holds Myanmar's military leadership "accountable" for the Rohingya refugee crisis, drawing a distinction with Aung San Suu Kyi's civilian government. The world won't stand and "be witness to the atrocities that have been reported," he warned, adding that the military must be disciplined and "restrained." More than 600,000 members of the minority Muslim group have fled across the border into Bangladesh in an intensifying crisis that began in late August. Militant attacks on Myanmar security forces in Rakhine sparked a major army crackdown on the community likened to ethnic cleansing by the UN. Washington already had existing restrictions on its limited engagement with Burma's armed forces, as well as a long-running embargo on all military sales, so the withdrawal of military aid served to reinforce that position. In addition, the State Department said it has halted its consideration of travel waivers for senior Myanmar military leaders, and is weighing targeted economic measures against individuals linked to the "atrocities," along with targeted sanctions. The US has also rescinded invitations to senior members of Myanmar's security forces to US-sponsored events and is pressing for "unhindered access" to the affected areas for a United Nations fact-finding mission, international organizations and the media. "The government of Burma, including its armed forces, must take immediate action to ensure peace and security; implement commitments to ensure humanitarian access to communities in desperate need; facilitate the safe and voluntary return of those who have fled or been displaced in Rakhine state; and address the root causes of systematic discrimination against the Rohingya," Nauert said. Rohingyas have been systematically deprived of basic rights over decades in majority Buddhist Myanmar. In the latest crackdown, Myanmar's security forces have fired indiscriminately on unarmed civilians, including children, and committed widespread sexual violence, according to UN investigators.
---
ISIS 'Executed' 116 In Syria Town Revenge Campaign: Human Rights Observer.

MMNN:23 October 2017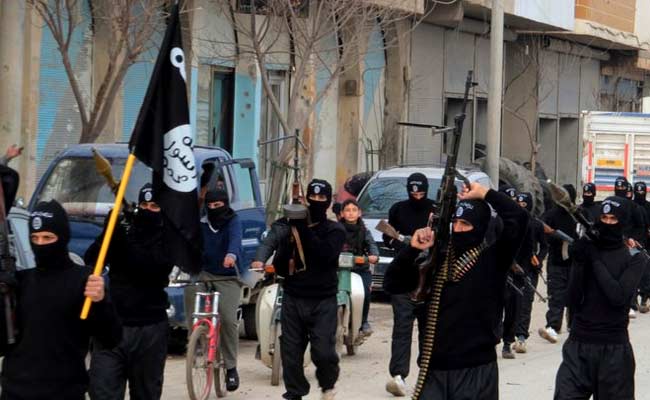 BEIRUT, LEBANON: The ISIS group killed 116 people it suspected of collaborating with the Syrian regime in Al-Qaryatayn this month before losing the desert town to government forces, a monitor said Monday. "ISIS has over a period of 20 days executed at least 116 civilians in reprisal killings, accusing them of collaboration with regime forces," said Rami Abdel Rahman, head of the Britain-based Syrian Observatory for Human Rights monitor. Regime forces retook Al-Qaryatayn, which lies in the central Homs province, on Saturday, three weeks after the jihadists seized control of it. ISIS had first occupied the town in 2015 and lost it to a Russian-backed Syria forces last year. "After the regime retook it (on Saturday), the town's residents found the bodies on the streets. They had been shot dead or executed with knives," Abdel Rahman said. "Most of the ISIS fighters who attacked the town a month ago were sleeper cells. They are from the town, know the town's residents and who is for or against the regime," he said. The majority of those killed were executed in the last two days before ISIS lost the town again, he added
---
Donald Trump Celebrates Diwali, Says Value My 'Very Strong' Relationship With PM Modi..

MMNN:18 October 2017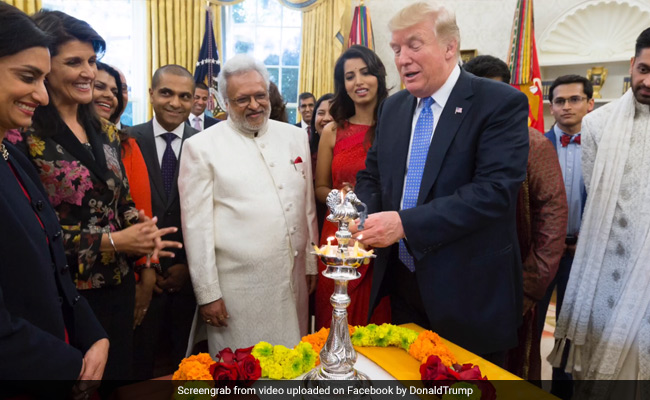 ASHINGTON: Donald Trump celebrated Diwali on Wednesday in the Oval Office of the White House along with senior Indian-American members of the administration, including Nikki Haley, Seema Verma and community leaders. While expressing his appreciation for Indians, the US President said he values his 'very strong' relationship with Prime Minister Narendra Modi. "Today, I was deeply honored to be joined by so many administration officials and leaders of the Indian-American community - to celebrate Diwali -- the Hindu Festival of Lights," Trump said. "As we do so, we especially remember the People of India, the home of the Hindu faith, who have built the world's largest democracy. I greatly value my very strong relationship with Prime Minister Modi," he added Trump also lit diyas on the occasion and hailed the Indian community's contribution in different fields. "You have made extraordinary contributions to art, science, medicine, business and education. America is especially thankful for its many Indian-American citizens who serve bravely in our armed forces and as first responders in communities throughout our great land," he said. Cabinet ranking Haley is US Ambassador to the UN and Seema Verma is administrator of Centers for Medicare and Medicaid Services. Ajit Pai, Chairman of the US Federal Communications Commission and Raj Shah his Principle Deputy Press Secretary were among those from his administration. Daughter Ivanka Trump also joined the President in celebration of Diwali celebrations. Last year Ivanka, who is now a presidential advisor, had visited Hindu temples in Virginia and Florida as part of Diwali. Trump, then as the Republican presidential nominee, had addressed the Indian-American community from a public meeting in New Jersey wherein he lit the traditional diya. The tradition of Diwali celebration was first started by former President George Bush. However, he never personally participated in the White House Diwali celebrations
---
United States Warship Sails Near Islands Beijing Claims In South China Sea: US Officials..

MMNN:11 October 2017

WASHINGTON: A US Navy destroyer sailed near islands claimed by China in the South China Sea on Tuesday, three US officials told Reuters, even as President Donald Trump's administration seeks Chinese cooperation in reining in North Korea's missile and nuclear programs. The operation was the latest attempt to counter what Washington sees as Beijing's efforts to limit freedom of navigation in the strategic waters. But it was not as provocative as previous ones carried out since President Trump took office in January. The officials, speaking on condition of anonymity, said the Chafee, a guided-missile destroyer, carried out normal maneuvering operations that challenged "excessive maritime claims" near the Paracel Islands, among a string of islets, reefs and shoals over which China has territorial disputes with its neighbors. Speaking in Beijing, Chinese Foreign Ministry spokeswoman Hua Chunying said China had lodged "stern representations" with the United States, and reiterated that the Paracels were Chinese territory. "China immediately sent naval vessels and military jets to investigate and identify, as well as warn to the vessel and ask it to leave," she told a daily news briefing on Wednesday. "China will continue to take resolute measures to protect Chinese sovereign territory and maritime interests. China urges the US to conscientiously respect China's sovereign territory and security interests, conscientiously respect the efforts regional countries have made to protect peace and stability in the South China Sea, and stop these wrong actions." Next month, President Trump makes his first visit to Asia as president, including a stop in China, which he has been pressuring to do more to rein in North Korea. China is North Korea's neighbor and biggest trading partner. Unlike in August, when a US Navy destroyer came within 12 nautical miles of an artificial island built up by China in the South China Sea, officials said the destroyer on Tuesday sailed close to but not within that range of the islands. Twelve nautical miles mark internationally recognized territorial limits. Sailing within that range is meant to show the United States does not recognize territorial claims. The Pentagon did not comment directly on the operation, but said the United States carried out regular freedom-of-navigation operations and would continue to do so China's claims in the South China Sea, through which about $5 trillion in shipborne trade passes each year, are contested by Brunei, Malaysia, the Philippines, Taiwan and Vietnam. Experts and some US officials have criticized former president Barack Obama for potentially reinforcing China's claims by sticking to innocent passage, in which a warship effectively recognized a territorial sea by crossing it speedily without stopping. The US military has a long-standing position that its operations are carried out throughout the world, including in areas claimed by allies, and that they are separate from political considerations. The United States has said it would like to see more international participation in freedom-of-navigation operations in the South China Sea.
NORTH KOREA ISSUE
President Trump's trip to Asia will likely be dominated by the North Korean nuclear threat. He will also visit South Korea, Japan, Vietnam and the Philippines. In recent weeks, North Korea has launched two missiles over Japan and conducted its sixth nuclear test, all in defiance of United Nations Security Council resolutions, and may be fast advancing toward its goal of developing a nuclear-tipped missile capable of hitting the US mainland. President Trump's visit to China will reciprocate a trip to the United States made in April by Chinese President Xi Jinping. The US president's attempts to get Chinese help with North Korea have met with limited success so far, but he has gone out of his way to thank President Xi for his efforts.
---
Ivana Trump Says She's The 'First lady.' Melania Trump's Office Responds.

MMNN:10 October 2017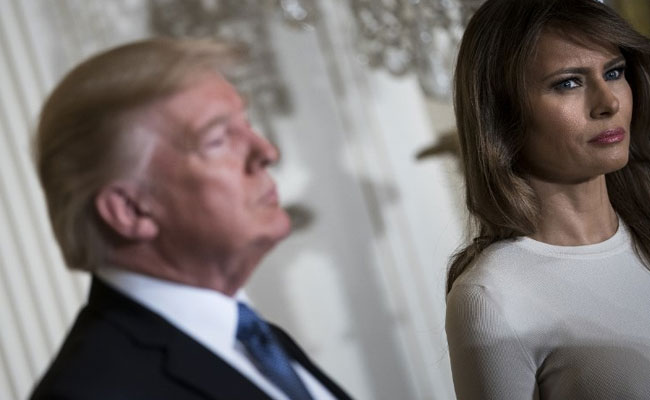 WASHINGTON: Things are getting a little "Real Housewives" around the White House. In one of the stranger sideshows to his presidency, President Donald Trump's first and third wives, Ivana and Melania, respectively, on Monday had a very public war of words - and his second wife, Marla Maples, is getting some shade out of the spat, to boot. Here's a breakdown: To promote her new book, "Raising Trump," about parenting Trump's three eldest children, Ivana Trump gave a Monday interview to "Good Morning America" in which she made some comments sure to privately raise the hackles of the woman occupying the role of Wife of Donald. "I'm basically first Trump wife. OK?" Ivana Trump said. "I'm first lady." She offered faux sympathy for Melania Trump, saying "I think for her to be in Washington must be terrible." (She had less subtle insults for her ex's second wife, Marla Maples. "A showgirl" was her epithet of choice.) But instead of letting those slights ride, Melania Trump took a page out of her husband's playbook, the one that famously decrees he hit back harder at anyone who takes a swing. Her spokeswoman, Stephanie Grisham, dispatched a crisp response dismissing Ivana's remarks as "attention seeking" from someone who just wants to sell books and making clear that Melania Trump does not, in fact, hate her Washington, D.C., life. "Mrs. Trump has made the White House a home for Barron and the President. She loves living in Washington, DC and is honored by her role as First Lady of the United States. She plans to use her title and role to help children, not sell books," Grisham's response said. And the coda is the real clap-back: "There is clearly no substance to this statement from an ex, this is unfortunately only attention-seeking and self-serving noise." The high-profile drama managed to get a double-take out of even those of us numbed from the daily barrage of eye-popping headlines. We might have gotten used to a pugnacious president willing to take on nasty and personal public fights with NFL players and senators alike, but it's more unusual for the first lady step into the ring. It seemed to surprise even Andy Cohen, the Bravo producer known for engineering table-overturning fights on the "Real Housewife" franchise. "This is actually happening," he tweeted. " All the wives are fighting. Even I AM SPEECHLESS" This all started innocently enough. Ivana Trump has a book to promote. Her new memoir drops in less than 24 hours, and she's doing a publicity blitz. In the midst of that storm Trump, revealed that she has a direct line to the White House and her ex-husband, but she doesn't use it lest the current Mrs. Trump get the wrong idea. "I [don't] really want to call him there, because Melania is there. And I don't want to cause any kind of jealousy or something like that, because I'm basically first Trump wife. OK? I'm first lady," she said. But she feels for Melania Trump, she really does. "I think for her to be in Washington must be terrible," said Trump of the actual first lady. "It's better her than me. I would hate Washington." Hating Washington, however, does not preclude her ability to rule it with an iron fist, if she had the inclination, the former Mrs. Trump made sure to note. "Would I straighten up the White House in 14 days? Absolutely. Can I give the speech for 45 minutes without [a] teleprompter? Absolutely. Can I read a contract? Can I negotiate? Can I entertain? Absolutely. But I would not really like to be there. I like my freedom," Ivana Trump said, in what could also be perceived as a dig against Melania Trump. If all of this feels a little bizarre. . . well, that's because it is. At the very least, it's unprecedented to have a president with a living ex willing to weigh in publicly on the first couple. Widowers with second wives have occupied the White House, but other than Trump, there's been only one divorced president: Ronald Reagan, though his first wife, the actress Jane Wyman, was famously silent on her former husband throughout his political career. Divorced in 1948, Wyman revealed in a 1968 interview her reason for keeping quiet about Reagan, who by then was remarried to future first lady Nancy Regan. It wasn't because she was bitter or disagreed with him politically, she said. "It's bad taste to talk about ex-husbands and ex-wives, that's all."
---
Nawaz Sharif's Daughter, Son-In-Law Get Bail In Panama Papers Case.

MMNN:9 October 2017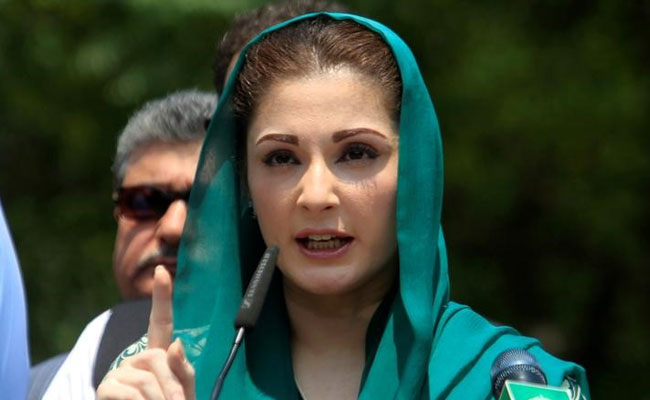 ISLAMABAD: The daughter and son-in-law of ousted Pakistan Prime Minister Nawaz Sharif have been given bail by the country's anti-graft court in the Panama Papers case as they appeared before it after returning from London. Maryam Nawaz, 43, along with her spouse, former army captain Muhammad Safdar, returned to Pakistan late last night to appear in the Accountability Court. Mr Safdar was arrested on his arrival as the court had issued an arrest warrant against him without a provision for bail. Both separately appeared in the court of Judge Muhammad Bashir in Islamabad. Nawaz Sharif and his two sons were absent during the hearing as they are in London to see his wife Kulsoom, who is battling throat cancer. The former prime minister had attended the previous two hearings, but flew to London last week to see his ailing wife, who underwent a third surgery. The court accepted the bail applications of Ms Maryam and Mr Safdar and postponed the hearing till October 13, according to court officials. Nawaz Sharif's lawyer Khawaja Harris asked the court to adjourn the hearing for 15 days, on the condition that he would also appear. The court also ordered to start the process of declaring his sons -- Husain and Hasan -- proclaimed offenders as they have not appeared in court so far. The court said it will put Mr Husain and Mr Hasan separate trials. Ms Maryam, who is being groomed as Nawaz Sharif's political successor, appeared in the court for the first time today. She was told to give a surety bond of Rs. 50,000. The National Accountability Bureau or NAB lawyers asked the court to send her husband to jail on judicial remand, but the court granted him bail and ordered him to pay Rs. 50,000 for surety bonds. The court also told him to take its permission before going abroad and rejected the NAB's request to confiscate his passport. Both Ms Maryam and Mr Safdar have been charged by the NAB in one of three corruption cases filed on September 8 against Nawaz Sharif. Ms Maryam criticised the arrest of her husband and said he was taken into custody despite the fact that he returned to face the case. "Those who want to appear by free will are arrested from airport, but we are not afraid of it," she said.
---
Anti-Nuclear Campaign ICAN Wins 2017 Nobel Peace Prize.

MMNN:6 October 2017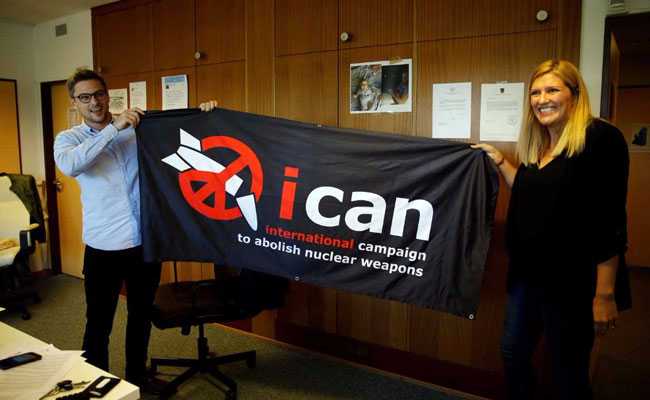 OSLO/GENEVA: The Norwegian Nobel Committee, warning of a rising risk of nuclear war, awarded the 2017 Nobel Peace Prize on Friday to a little-known international campaign group advocating for a ban on nuclear weapons. The International Campaign to Abolish Nuclear Weapons (ICAN) describes itself as a coalition of grassroots non-government groups in more than 100 nations. It began in Australia and was officially launched in Vienna in 2007. "We live in a world where the risk of nuclear weapons being used is greater than it has been for a long time," said Berit Reiss-Andersen, the leader of the Norwegian Nobel Committee. In July, 122 nations adopted a UN Treaty on the Prohibition of Nuclear Weapons, although the agreement does not include nuclear-armed states such as the United States, Russia, China, Britain and France. "This award shines a needed light on the path the ban treaty provides towards a world free of nuclear weapons. Before it is too late, we must take that path," ICAN said in a statement on its Facebook page. "This is a time of great global tension, when fiery rhetoric could all too easily lead us, inexorably, to unspeakable horror. The spectre of nuclear conflict looms large once more. If ever there were a moment for nations to declare their unequivocal opposition to nuclear weapons, that moment is now." The Nobel prize seeks to bolster the case of disarmament amid nuclear tensions between the United States and North Korea and uncertainty over the fate of a 2015 deal between Iran and major powers to limit Tehran's nuclear programme. The Iran deal is seen as under threat after US President Donald Trump called it the "worst deal ever negotiated". A senior administration official said on Thursday that Trump is expected to announce soon that he will decertify the pact, a step towards potentially unwinding it. The committee raised eyebrows with its decision to award the prize to an international campaign group with a relatively low profile, rather than giving it to the architects of the Iran deal, who had been widely seen as favourites after hammering out a complex agreement over years of high-stakes diplomacy. "Norwegian Nobel Committee has its own ways, but the nuclear agreement with Iran achieved something real and would have deserved a prize," tweeted Carl Bildt, a former Swedish prime minister who has held top posts as an international diplomat. The leader of the Norwegian Nobel committee denied that the prize was "a kick in the leg" for Trump and said the prize was a call to states that have nuclear weapons to fulfil earlier pledges to work towards disarmament. "The message is to remind them to the commitment they have already made that they have to work for a nuclear free world," Reiss-Andersen told Reuters. The United Nations said the award would help bolster efforts to get the 55 ratifications by countries for the UN Treaty on the Prohibition of Nuclear Weapons to come into force. "I hope this prize will be conducive for the entry into force of this treaty," UN Chief Spokeswoman Alessandra Vellucci told a news briefing.
---
Kazuo Ishiguro Wins 2017 Nobel Prize For Literature.

MMNN:5 October 2017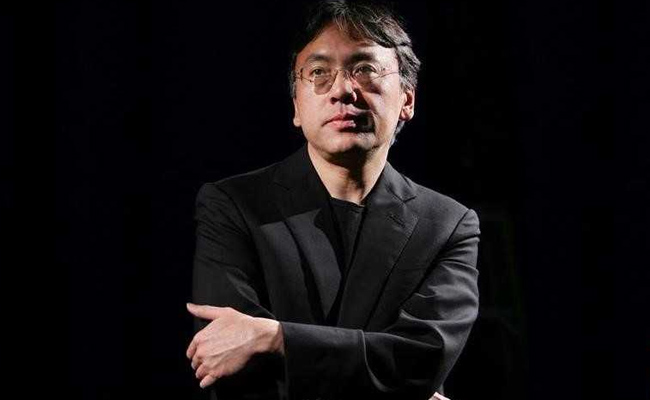 STOCKHOLM: Japanese-born Kazuo Ishiguro has won the Nobel Prize for Literature for uncovering "the abyss beneath our illusory sense of connection with the world," the Swedish Academy said on Thursday on awarding the 9 million crown ($1.1 million) prize. The award marks a return to a more mainstream interpretation of literature after the 2016 prize went to American singer-songwriter Bob Dylan. The prize is named after dynamite inventor Alfred Nobel and has been awarded since 1901 for achievements in science, literature and peace in accordance with his will.
---
Nawaz Sharif Re-Elected Head Of Ruling Pakistan Muslim League-Nawaz Party.

MMNN:3 October 2017

ISLAMABAD, PAKISTAN: Nawaz Sharif was today re-elected as the president of Pakistan's ruling Pakistan Muslim League-Nawaz (PML-N) party after Parliament passed a controversial bill, paving the way for the ousted prime minister's return to politics. Mr Sharif, 67, had to step down as the chief of the Pakistan Muslim League-Nawaz (PML-N) after he was disqualified as the prime minister by the Supreme Court on July 28 in the Panama Papers scandal. Under The Representation of Peoples Act 1976, a disqualified person could not hold office of a party. However, the legal hurdle in his way to become party chief was cleared yesterday when the National Assembly passed a controversial Election Bill 2017 that allows politicians disqualified from holding public office to head a political party. President Mamnoon Hussain signed the controversial Election Act 2017 into law hours after it was bulldozed through the parliament amid pandemonium on the opposition benches. PML-N leader Dr Tariq Fazal Chaudhry submitted Mr Sharif's papers for party president in the Election Commission of Pakistan (ECP) while no one other candidate from the party contested the election. Minister of State Talal Chaudhry told media that Mr Sharif will remain chief of PML-N. "He will also become Prime Minister of the country. Mr Sharif cannot be removed from politics through conspiracies," he said. The election of party president is a requirement by Election Commission of Pakistan that already last month issued notice to PML-N for failing to choose permanent successor of Sharif. Mr Sharif's election has temporarily healed the rifts within the party which appeared on the verge of defections after his ouster. But Mr Sharif's fate as party president still hangs in balance as Pakistan Awami Tehreek party has challenged the new law in the Lahore High Court, while Pakistan Tehreek-e-Insaf and other parties have announced to challenge it in the Supreme Court. Opposition parties allege that the new law was "Sharif-specific" to allow him to return to politics. They also content that the law is against the spirit of the Constitution.
---
Biological Clock' Scientists Win 2017 Nobel Medicine Prize.

MMNN:2 October 2017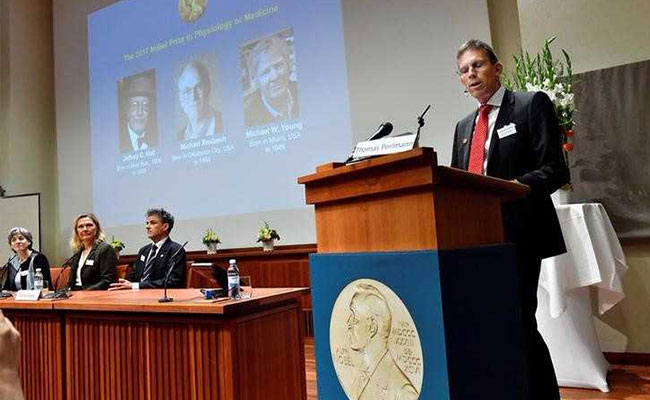 STOCKHOLM: U.S.-born scientists Jeffrey Hall, Michael Rosbash and Michael Young won the 2017 Nobel Prize for Physiology or Medicine for their discoveries of molecular mechanisms controlling our biological clocks, the award-giving body said on Monday. The mechanisms help explain issues such as why people travelling long distances over several time zones often suffer jet lag and they have wider implications for health such as increased risk for certain diseases. "(The three scientists') discoveries explain how plants, animals and humans adapt their biological rhythm so that it is synchronized with the Earth's revolutions," the Nobel Assembly at Sweden's Karolinska Institute said in a statement. The laureates used fruit flies to isolate a gene that controls the normal daily biological rhythm and showed how this gene encoded a protein that accumulates in the cell during the night and degrades during the day. "The clock regulates critical functions such as behavior, hormone levels, sleep, body temperature and metabolism," the Assembly said on awarding the prize of 9 million Swedish crowns ($1.1 million). Thomas Perlmann, secretary at the Karolinska Institute Nobel Committee, described the reaction of Rosbash when first informed of the award: "He was silent and then he said 'you are kidding me'." Medicine is the first of the Nobel Prizes awarded each year. The prizes for achievements in science, literature and peace were created in accordance with the will of dynamite inventor and businessman Alfred Nobel and have been awarded since 1901. Nobel medicine laureates have included scientific greats such as Alexander Fleming, the discoverer of penicillin, and Karl Landsteiner, whose identification of separate blood types opened the way to carrying out safe transfusions. The prize has not been without controversy, especially with the benefit of hindsight, such as with 1948 award for the discovery of DDT, a chemical that helped battle epidemics but was later banned due to its harmful environmental impact.
---
Trump Imposes New Sanctions On North Korea; Kim Says He Will 'Tame The Mentally Deranged US Dotard With Fire'.

MMNN:22 September 2017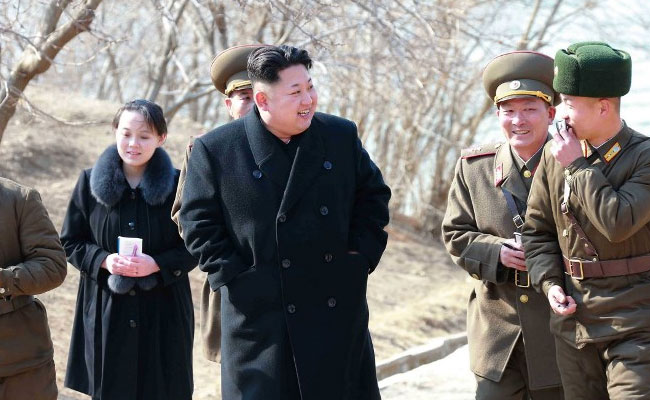 President Donald Trump on Thursday announced new financial sanctions targeting North Korea as his administration seeks to build international support for more aggressively confronting the rogue nation, whose escalating nuclear and ballistic missile capabilities have reached what U.S. officials consider a crisis point. The new penalties seek to leverage the dominance of the U.S. financial system by forcing nations, foreign companies and individuals to choose whether to do business with the United States or the comparatively tiny economy of North Korea. U.S. officials acknowledged that like other sanctions, these may not deter North Korean leader Kim Jong Un's drive to threaten the United States with a nuclear weapon, but is aimed at slowing him down. Kim on Thursday reacted angrily to Trump's remarks and actions this week, calling the president a "mentally deranged U.S. dotard" and Trump's earlier speech at the U.N. "unprecedented rude nonsense." Kim said that he was now thinking hard about how to respond. "I will make the man holding the prerogative of the supreme command in the U.S. pay dearly for his speech," Kim said in a statement released by the official Korean Central News Agency, which also published a photo of the North Korean leader sitting at his desk holding a piece of paper. "I am now thinking hard about what response he could have expected when he allowed such eccentric words to trip off his tongue. Whatever Trump might have expected, he will face results beyond his expectation," Kim said, saying that he would "tame" Trump "with fire." South Korea's Yonhap news agency reported Thursday night that the North's Foreign Minister Ri Yong Ho said in New York that his country may test a hydrogen bomb in the Pacific Ocean to fulfill Kim Jong Un's vow to take the "highest-level" action against the United States. "It could be the most powerful detonation of an H-bomb in the Pacific," Ri said. "We have no idea about what actions could be taken as it will be ordered by leader Kim Jong Un." U.S. officials believe the North carried out its first hydrogen bomb test on Sept. 3. Trump's executive order grants the Treasury Department additional authority that Trump said would help cut off international trade and financing that Kim's dictatorship uses to support its banned weapons programs. "North Korea's nuclear program is a grave threat to peace and security in our world, and it is unacceptable that others financially support this criminal, rogue regime," Trump said in brief public remarks during a meeting with the leaders of South Korea and Japan to discuss strategy to confront Pyongyang. He added that the United States continues to seek a "complete denuclearization of North Korea." Significantly, Trump also said that Chinese President Xi Jinping had ordered Chinese banks to cease conducting business with North Korean entities. Trump praised Xi, calling the move "very bold" and "somewhat unexpected." China is North Korea's chief ally and economic lifeline. Some 90 percent of North Korean economic activity involves China, and Chinese entities are the main avenue for North Korea's very limited financial transactions in the global economy. China is also suspected of turning a blind eye to some of the smuggling and sanctions-busting operations that have allowed Pyongyang to rapidly develop sophisticated long-range missiles despite international prohibitions on parts and technology. All U.N. sanctions have to be acceptable to China, which holds veto power. China's recent willingness to punish its fellow communist state signals strong disapproval of North Korea's international provocations, but China and fellow U.N. Security Council member Russia have also opposed some of the toughest economic measures that could be applied, such as banking restrictions that would affect Chinese and other financial institutions. "We continue to call on all responsible nations to enforce and implement sanctions," Trump said. Trump's announcement came as he has sought to rally international support for confronting Pyongyang during four days of meetings here at the U.N. General Assembly. In a speech to the world body Tuesday, Trump threatened to "totally destroy" the North if necessary and referred derisively to Kim as "Rocket Man." But the president and his aides have emphasized that they are continuing to do what they can to put economic and diplomatic pressure on North Korea to avoid a military conflict. "We don't want war," U.N. Ambassador Nikki Haley told reporters. "At the same time, we're not going to run scared. If for any reason North Korea attacks the United States or our allies, we're going to respond." The new executive order signals the U.S. willingness to take a more aggressive approach to cutting off world trade with North Korea, even if other countries such as China aren't willing partners in sanctions, because it would allow the United States to economically punish businesses anywhere in the world. The executive order "opens the door for the U.S. to unilaterally enforce a trade embargo against North Korea," said Joseph DeThomas, a former State Department official who focused on North Korea and Iran and is now a professor of international affairs at Pennsylvania State University. "It gives us the power to play that game if we wish to." In the past, Chinese officials have objected to suggestions that the United States could punish foreign companies trading with North Korea, but there are signs that China and the United States are becoming more agreeable on North Korea. "The positive comments about China when [Trump] made the announcement indicates that there's some good cooperation rather than confrontation," DeThomas said. DeThomas warned, however, that even if sanctions are adopted and enforced, the way ahead will be difficult, because North Korea may feel it has little choice, given the president's bellicosity at the United Nations, but to proceed with its weapons program despite the pain of an embargo. If we stick with sanctions, it's going to be a long ugly haul with lots of humanitarian costs," DeThomas said. A White House fact sheet said that under the executive order, airplanes or ships that have visited North Korea will be banned for 180 days from visiting the United States, a move to crack down on illicit trade. "This significantly expands Treasury's authority to target those who enable this regime . . . wherever they are located," Treasury Secretary Steven Mnuchin said. U.S. officials say there is still time and room for diplomacy if North Korea shows that talking could be productive. Other countries, including China and Russia, are pressing Washington to make a greater effort toward talks and an eventual bargain that could buy Kim out of his weapons without toppling his regime. The shape of a possible deal has been evident for years, but Kim has raised the stakes, and perhaps the price, with his rapid development toward the capability to launch a nuclear-equipped intercontinental ballistic missile at U.S. territory. Asked why North Korea might entertain such an international deal when Trump appears poised to undermine a similar one with Iran, Secretary of State Rex Tillerson said a North Korea deal would be designed very differently. "While the threat is the same - it's nuclear weapons - the issues surrounding North Korea are very different than the issues surrounding Iran," Tillerson said Wednesday. "Iran is a large nation, 60 million people; North Korea is a smaller nation, the hermit kingdom, living in isolation. Very different set of circumstances that would be the context and also the contours of an agreement with North Korea, many aspects of which don't apply between the two." In recent weeks, the Security Council has approved two rounds of economic sanctions but also left room for further penalties. For example, the sanctions put limits on the nation's oil imports but did not impose a full embargo, as the United States has suggested it supports. The Trump administration has signaled it also wants a full ban on the practice of sending North Korean workers abroad for payments that largely go to the government in Pyongyang. "We are witnessing a very dangerous confrontation spiral," Russian Foreign Minister Sergei Lavrov said in a speech to the United Nations, filling in for President Vladimir Putin, who skipped the forum. "We resolutely condemn the nuclear missile adventures of Pyongyang in violation of Security Council resolutions. But military hysteria is not just an impasse; it's disaster . . . There is no alternative to political and diplomatic ways of settling the nuclear situation on the Korean Peninsula." Mnuchin emphasized that "this action is in no way specifically directed at China," and he said he called Chinese officials to inform them ahead of the U.S. announcement. Mnuchin also said the unilateral U.S. action is not a rejection of separate Security Council sanctions and the international diplomacy they require. Similar to unilateral U.S. sanctions on Iran applied during the Obama administration, the new U.S. restrictions seek to leverage the power of the U.S. financial system. "Foreign financial institutions are now on notice that, going forward, they can choose to do business with the United States or with North Korea, but not both," Mnuchin said. Sitting down with South Korean President Moon Jae-in before the trilateral discussion with Japan, Trump said the nations are "making a lot of progress." Moon praised Trump's speech to the United Nations, saying through a translator that "North Korea has continued to make provocations and this is extremely deplorable and this has angered both me and our people, but the U.S. has responded firmly and in a very good way." The Security Council had also applied tough new export penalties in August, and Tillerson said Wednesday that there are signs those restrictions are having an economic effect. "We have some indications that there are beginning to appear evidence of fuel shortages," Tillerson said in a briefing for reporters. "And look, we knew that these sanctions were going to take some time to be felt because we knew the North Koreans . . . had basically stockpiled a lot of inventory early in the year when they saw the new administration coming in, in anticipation of things perhaps changing. So I think what we're seeing is a combined effect of these inventories are now being exhausted and the supply coming in has been reduced." There is no sign, however, that economic penalties are having any effect on the behavior of the Kim regime and its calculation that nuclear tests and other provocations will ensure its protection or raise the price of any eventual settlement with the United States and other nations. Trump said the United States had been working on the North Korea problem for 25 years, but he asserted that previous administrations had "done nothing, which is why we are in the problem we are in today."
---
Scrapped Malaysian Beer Festival Faced Threat From Militants, Say Police.

MMNN:21 September 2017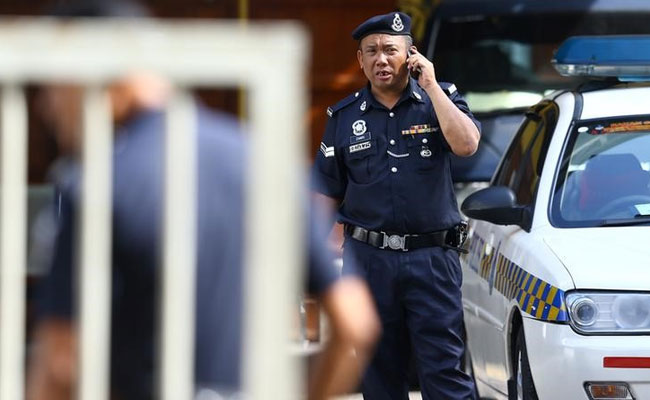 KUALA LUMPUR: Unidentified militants planned to sabotage an annual beer festival cancelled this week by authorities in the Malaysian capital of Kuala Lumpur who cited "political sensitivities" for the move, police said today. On Monday, the authorities scrapped the two-day event, now in its sixth year, after an Islamist party objected on the grounds that it could lead to criminal acts, rape and free sex. Around 6,000 people had been expected to attend the "Better Beer Festival", showcasing craft beers from at least 11 countries, according to posts on social media site Facebook by the organisers and domestic news reports. Protests against events considered "Western" and unIslamic are common in Muslim-majority Malaysia, and are usually led by the opposition Pan-Malaysian Islamic Party (PAS) and conservative Islamist NGOs. "There was information that exposed plans by militants who would carry out sabotage on the festival, because it is deemed as something that goes against their struggles," said Inspector-General of Police Mohamad Fuzi Harun. "To avoid any incident beyond our control, the police had to be proactive, by objecting to the organising of the festival," he added in a brief statement, without naming any suspected groups. Since 2013, Malaysia has detained more than 300 people with suspected links to ISIS in its crackdown on militancy. The police have arrested seven Philippine men on suspicion of involvement in the activities of the Abu Sayyaf group, which has pledged loyalty to ISIS.
---
No Fear Of 'International Scrutiny' Over Rohingya Crisis: Aung San Suu Kyi.

MMNN:19 September 2017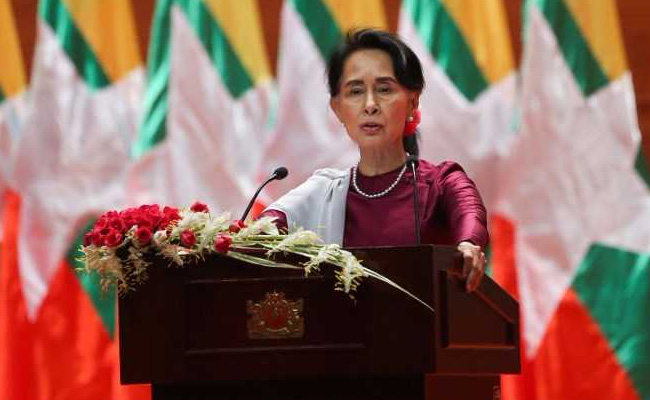 Myanmar leader Aung San Suu Kyi today reached out to the global community in a broad appeal for support over a refugee crisis the UN has decried as "ethnic cleansing", urging outsiders to help her nation unite across religious and ethnic lines and offering a pathway back to the country for some of the Rohingya Muslims forced to flee by army operations. Communal violence has torn through Rakhine state since August 25, leaving hundreds dead and driving more than 410,000 of the Rohingya minority from Myanmar into Bangladesh. Suu Kyi, a Nobel laureate, has been decried for failing to speak up publicly for the stateless Rohingya or urge restraint from the military. But in 30-minute televised speech Tuesday she reached out to her critics, deploying the soaring rhetoric that once made her a darling of the global rights community. "Hate and fear are the main scourges of our world," she said. We don't want Myanmar to be a nation divided by religious beliefs or ethnicity... we all have the right to our diverse identities." While expressing her sorrow for "all" groups displaced by violence, she said her country stood ready "at any time" to take back refugees subject to a "verification" process. It was not immediately clear how many of the estimated 410,000 Rohingya who have fled Myanmar would qualify to return. But the subject of their claims to live Myanmar is at the heart of a toxic debate about the Muslim group. Myanmar's army has previously it will not take back people linked with "terrorists" -- suggesting many came from the hundreds of Rohingya villages that have subsequently been burnt to the ground. Inside Myanmar, supporters say the 72-year-old lacks the power to rein in the army, with whom she is in a delicate power-sharing arrangement. The UN has accused Myanmar's army of "ethnic cleansing" over a campaign of alleged murder and arson that has left scores of Rohingya villages in ashes. The army denies that, insisting its operations are a proportional response to the late August raids by Rohingya militants, who they label "extremist Bengali terrorists Since then just under half of Rakhine's Rohingya population has poured into Bangladesh, where they now languish in one of the world's largest refugee camps. A further 30,000 ethnic Rakhine Buddhists as well as Hindus have also been displaced -- apparent targets of the August 25 attacks by the Arakan Rohingya Salvation Army (ARSA) militant group. Suu Kyi skipped this week's UN General Assembly in New York to manage the crisis at home and deliver her televised address -- the biggest yet of her time in office. Siege mentality Analysts say Suu Kyi must walk a treacherous line between global opinion and Islamophobic anti-Rohingya views at home, where the military has curdled hatred for the Muslim minority. While stories of weary and hungry Rohingya civilians streaming into Bangladesh have dominated global headlines, there is little sympathy for the Muslim group among Myanmar's Buddhist majority. Many reject the existence of a Rohingya ethnicity and insist they are "Bengalis" -- illegal immigrants from Bangladesh. That narrative has justified the denial of citizenship for the estimated one million Rohingya who lived in Rakhine before the recent crisis. Loathing for the Rohingya has brought the public, including prominent pro-democracy activists, into an unlikely alignment with an army that once had them under its heel. A siege mentality has emerged in Myanmar with the UN, international NGOs and foreign media the focus of ire for apparent pro-Rohingya bias. Many Facebook users changed their profile picture on Tuesday to carry a banner with a photo of 'The Lady' and saying "We stand with you Daw Aung San Suu Kyi" -- using an honorific. Tensions over the status of the Rohingya have been brewing for years in Myanmar, with bouts of anti-Muslim violence erupting around the country as Buddhist hardliners fan fears of an Islamic takeover. Although the military stepped down from outright junta rule in 2011, it kept control of security policy and key levers of government. Any overt break from the army's policy in Rakhine could enrage the generals and derail Suu Kyi's efforts to prevent a rollback on recent democratic gains. Observers say the military may be deliberately destabilising her government with one eye on 2020 elections. Commander-in-chief Min Aung Hlaing has emerged during the crisis as an unexpectedly popular figure, pitching himself as a defender Myanmar's territorial integrity and the Buddhist faith.
---
Pakistan Prepares Tough Diplomatic Policy For US After Donald Trump's Warning: Report..

MMNN:18 September 2017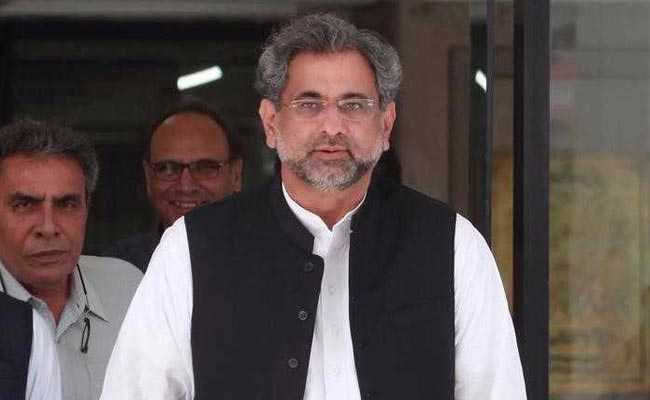 ISLAMABAD: Pakistan is ready with a tough diplomatic policy if the US imposes any sanctions on it or lowers Islamabad's major non-NATO ally status over failure to crack down on terrorists, according to a media report. Pakistan's new strategy comes after US President Donald Trump, while unveiling his new policy for South Asia and Afghanistan, criticised Pakistan for providing safe havens to terrorists. A day after Trump's announcement, US Secretary of State Rex Tillerson suggested that US could downgrade Islamabad's status as a major non-NATO ally if it does not crack down on terrorists. The Express Tribune reported that the Pakistan government has prepared a three-option 'toughest diplomatic policy'. According to official sources, the policy includes gradually limiting diplomatic relations with the US, reducing mutual cooperation on terrorism-related issues and non- cooperation in US strategy for Afghanistan. "The last option may include a ban on using Pakistani land for NATO supplies to Afghanistan," according to the newspaper. However, the policy will be implemented after the approval of the National Security Committee. Meanwhile, the US and Pakistan are expected to sort out their differences during the meetings between their leaders on the sidelines of UN General Assembly session starting tomorrow. Prime Minister Shahid Khaqan Abbasi is expected to meet US Vice President Mike Pence while the foreign ministers of the two countries are also expected to meet.
---
ISIS Is Near Defeat In Iraq. Now Comes The Hard Part.

MMNN:14 September 2017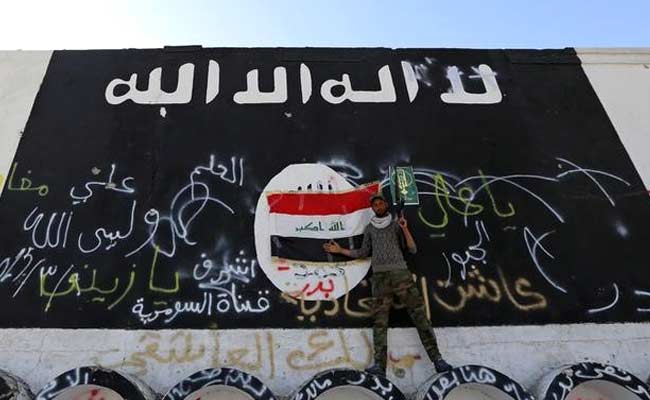 MOSUL, REUTERS: The collapse of the Islamic State in its most important Iraqi strongholds has brought a rare moment of hope for a country mired in war for most of the past four decades. It is also a moment of peril, as Iraq emerges from the fight against the militants only to be confronted with the same problems that fueled their spectacular rise in 2014. Old disputes between Sunnis, Shiites and Kurds over territory, resources and power already are resurfacing as the victors of the battles compete to control liberated areas or jostle for political advantage in the post-Islamic State landscape. These rivalries now are compounded by the mammoth task of rebuilding the towns and cities destroyed by the fighting, returning millions of displaced people to their homes and reconciling the communities that once welcomed the Islamic State's brutal rule as preferable to their own government's neglect and abuse. A failure to manage the post-conflict situation risks a repeat of the cycle of grievance and insurgency that fueled the original Iraqi insurgency in 2003, and its reincarnation in the form of the Islamic State after 2011, Iraqis and other observers say. But it is a vast and potentially insurmountable challenge, laid bare in the traumatized communities of Mosul. In the relatively unscathed eastern part of the city, life has bounced back. Traffic clogs the streets, music blares from markets and stores are piled high with consumer goods, such as cellphones, air conditioners and satellite dishes, that were banned or hard to find under Islamic State rule. In the ravaged west, which bore the brunt of the fighting, entire neighborhoods have been leveled beyond repair. In the Old City alone, 230,000 people have been left without habitation, and "they are not going home soon; the whole district has to be rebuilt," said Lise Grande, the deputy special representative of the United Nations mission in Iraq. So far, there is no sign of any reconstruction effort on the scale that will be required, said Hoshyar Zebari, a former Iraqi former foreign minister who is from Mosul and now works as an adviser with the Kurdish regional government. "All the writing is on the wall that there will be another ISIS," he said, using an acronym for the Islamic State. "The scale of frustration. The lack of hope. The lack of government stepping in. What can you expect?" Meanwhile, distractions loom as Iraq's attention shifts to the long-standing political rivalries that were put on hold by the imperative of confronting the Islamic State. The Kurdish region is pressing ahead with a referendum on independence - over the strenuous objections of Iran, Turkey and the United States - that has the potential to ignite a new war before the present one is over. The vote is reopening the contentious question of where the borders of the Kurdistan region lie, and tensions are rising in areas where the Kurdish peshmerga forces and Iranian-backed Shiite militias have been brought face-to-face by the war against the Islamic State. Rifts are emerging within Iraq's governing Shiite majority, which rallied behind the country's security forces and militias - known as al-Hashd al-Shaabi, or Popular Mobilization Forces - for the sake of fighting ISIS. There are sharp divergences, however, over the future identity of their country, over whether it should tilt further toward Iran or maintain an alliance with the United States, and over how far to go to reconcile minority Sunnis with the Shiites. These issues are expected to come to the fore in elections due in the spring of 2018 that could become a focus for conflict as the political parties behind the powerful Iranian-backed militias that played a big role in the fighting seek to capitalize on their victories on the battlefield by winning a bigger share in parliament. The country's Sunnis are in disarray, scattered among refugee camps or returning to wrecked homes in towns and cities that have been laid waste. Some 2 million of the 5 million people displaced by the fighting over the past three years have returned home. But 3.2 million still live as refugees, mainly in dismal camps, according to the United Nations. Many have no homes to which they can return, and others fear retribution from neighbors or the security forces, Grande said. In Mosul, there is relief that the militants have gone but also trepidation about what the future holds. Multiple militias roam the streets, loyal to a variety of political masters, government ministers, tribal leaders and members of parliament. The government security forces are spread thin, and some have been withdrawn and deployed elsewhere for the other battles still to be fought before the final territorial defeat of the militants. Some of the armed men in Mosul are local Sunnis, trained as part of a U.S.-promoted initiative to include locals in the city's future security arrangements. Others are members of the Iranian-backed Shiite militias that were kept out of the battle for fear they would inflame sectarian tensions, but which have moved in to set up offices and recruit local allies. The militias are needed because there are not enough police and other security-forces personnel to keep the city safe, said Mohammed al-Sayyab, a businessman originally from the majority-Shiite city of Basra who heads a small Sunni fighting force controlled by the minister of education. "We cannot say it is 100 percent safe. It is 70 percent safe," he said. "There are still ISIS sleeper cells. We are working to clear them, but we are up against a very clever enemy." Few think the Islamic State has gone away. Everyone, it seems, has a story about someone they know who was with the Islamic State and has reappeared in their neighborhoods, sometimes after being detained and released. Corruption within the security forces and judiciary contributes to the perception that Islamic State fighters have bought their way out of prison. Omran Mohammed Bashir, 32, who runs a laundry in eastern Mosul, ticked off on his fingers the formerIslamic State members he has seen around his area and elsewhere in the city. Among them are a relative who has not been detained, even though her father reported her to the security services, and a man who commanded the fighters in Bashir's neighborhood; Bashir ran into the man while visiting a different part of Mosul. "I don't think there will be any support for another insurgency. The people of Mosul have learned a lesson," he said. "But it's unpredictable what will happen, especially if the situation continues like this, with no reconstruction and corruption inside the government." But Iraq has no budget for reconstruction, government officials say. Years of declining oil prices and the financial demands of the war against the Islamic State have left the country bankrupt, forced last year to take a bailout from the International Monetary Fund. The absence of a discernible reconstruction plan in turn fuels perceptions among Sunnis that the Shiite-led government is neglecting them, said Hassan Alaf, the deputy governor of Nineveh, the province in which Mosul lies. "It seems some of the politicians are not keen to bring life back to Mosul," he said. "We still suffer from sectarian conflict and its implications are reflected in the reconstruction." It will be left to the international community to come up with the money to repair the damage, much of it caused by the relentless airstrikes and artillery bombardments conducted under the auspices of the U.S.-led coalition formed to fight the Islamic State, according to Grande, the U.N. representative. The United Nations is planning a fundraising conference in Kuwait this month at which it will seek up to $100 billion in donations for Iraqi reconstruction. But the countries that so enthusiastically prosecuted the war are proving less willing to pay to fix the resulting damage, U.N. and aid agency officials say. The U.S. military has spent $14.3 billion on fighting ISIS in Iraq and Syria over the past three years, according to Pentagon figures, but just 10 percent of that - or $1.4 billion - on repairs. The State Department has asked for $300 million to fund basic repairs such as fixing electricity and water systems in 2018, but the United States does not plan to contribute to the reconstruction effort. The military coalition led by the United States against the Islamic State "is not in the business of nation-building or reconstruction," Secretary of State Rex Tillerson said earlier this year. One glimmer of hope lies in a recent rapprochement between the Iraqi government and Saudi Arabia, which have been icily estranged since the 2003 U.S.-led invasion brought a Shiite-dominated government to power in Baghdad. Iraqi Prime Minister Haider al-Abadi has visited the kingdom, and so has the Iraqi Shiite cleric Moqtada al-Sadr, who has broken ranks with Iran's Shiite allies in Iraq to champion calls for reconciliation with Sunnis. U.S. and U.N. officials are hoping that the wealthy Arab states of the Persian Gulf will offer to provide much of the funding. But they are embroiled in their own conflicts, disputes and budget shortfalls, and may not have the will or inclination to come up with the many billions of dollars required.
---
North Korea Vows To Boost Weapons Programmes After Sanctions

MMNN:13 September 2017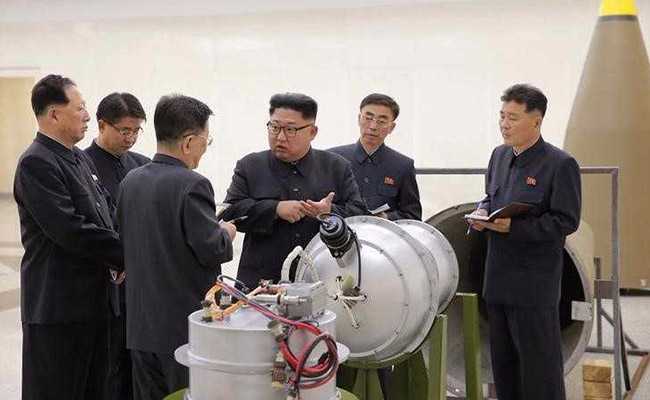 SEOUL: North Korea vowed Wednesday to accelerate its weapons programmes in response to "evil" sanctions imposed by the UN Security Council following its latest and most powerful nuclear test. The respected 38 North website in the US raised its estimate for the yield from the explosion, which Pyongyang says was a hydrogen bomb small enough to fit onto a missile, to around 250 kilotons -- more than 16 times the size of the device that devastated Hiroshima in 1945. The detonation, Pyongyang's sixth nuclear blast, prompted global condemnation and came after it carried out two intercontinental ballistic missile launches in July that appeared to bring much of the US into range. The UN Security Council unanimously imposed an eighth set of sanctions on North Korea on Monday, banning it from trading in textiles and restricting its oil imports, which US President Donald Trump said was a prelude to stronger measures. The resolution, passed after Washington toned down its original proposals to secure backing from China and Russia, came just one month after the council banned exports of coal, lead and seafood in response to the ICBM launch. The North's foreign ministry condemned the new measures "in the strongest terms", calling them a "full-scale economic blockade" driven by the US and aimed at "suffocating" its state and people. It was "another illegal and evil 'resolution on sanctions' piloted by the US", it said in a statement carried by the official KCNA news agency. "The DPRK will redouble the efforts to increase its strength to safeguard the country's sovereignty and right to existence," the ministry said, using the abbreviation for the North's official name. But the South's unification ministry described the statement as "the most low-key form of response from North Korea to UN Security Council resolutions". Seoul conducted its first live-fire exercise of its new long-range Taurus missile in response to the nuclear test, its Air Force said. The German air-to-surface weapon was capable of precision strikes on key North Korean facilities even if launched from the central part of the South, it added. The US and its allies argue that tougher sanctions will pile pressure on North Korea to negotiate an end to its weapons programmes but experts are sceptical. US President Donald Trump said the latest measures were a "very small step - not a big deal" that must lead to tougher measures. "Those sanctions are nothing compared to ultimately what will happen," Trump said, but added that it was "nice to get a 15 to nothing vote".
- Radioactive gas -
The North says it needs nuclear weapons to protect itself from "hostile" US forces and analysts believe Pyongyang's weapons programme has made rapid progress under leader Kim Jong-Un, with previous sanctions having done little to deter it. Government estimates of the yield from its sixth nuclear test vary from South Korea's 50 kilotons to Japan's 160, but 38 North, which is linked to Johns Hopkins University in the US, raised its estimate to "roughly 250 kilotons", in line with upward revisions for the magnitude of the resulting tremor. South Korea's Nuclear Safety and Security Commission said Wednesday it had collected a small amount of xenon-133 -- a radioactive isotope of the inert gas that does not occur naturally -- that was "linked to the latest nuclear test". But the commission said in a statement it was "unable to confirm what type of nuclear test was conducted". Washington had initially sought a full oil embargo and a freeze on the foreign assets of leader Kim Jong-Un in response to the blast, but dropped them following strong opposition from China and Russia. The new resolution instead bans trade in textiles, cuts off natural gas shipments to North Korea, places a ceiling of 2 million barrels a year on deliveries of refined oil products and caps crude oil shipments at current levels. Retail petrol prices in the North jumped earlier this year, with some analysts suggesting the authorities were stockpiling in the expectation of a ban. According to the US mission to the United Nations, the North imports around 8.5 million barrels a year of oil and oil products, 4 million as crude and 4.5 million in refined form -- which includes substances such as petrol and diesel. It added that the North's textile exports averaged $760 million a year. The UN resolution also barred countries from issuing new authorisations to North Korean workers sent abroad. There are almost 100,000 of them, according to the US mission, earning more than $500 million a year for the regime. Under the measure, joint ventures with North Korean entities are prohibited, while governments are authorised to inspect ships suspected of carrying banned cargo from the country, but must first seek the consent of the vessels' flag state.
---
Death toll in Mexico earthquake rises to 61 as search for victims continues

MMNN:12 September 2017

The quake that hit minutes before midnight onThursday was strong enough to cause buildings to sway violently in the capital city more than 1,000 kilometers away. One of the most powerful earthquakes ever recorded in Mexico struck off the country's southern coast, toppling hundreds of buildings and sending panicked people fleeing into the streets in the middle of the night. At least 61 people were reported dead. The quake that hit minutes before midnight on Thursday was strong enough to cause buildings to sway violently in the capital city more than 650 miles (1,000 kilometers) away. As beds banged against walls, people still wearing pajamas ran out of their homes and gathered in frightened groups. Rodrigo Soberanes who lives near San Cristobal de las Casas in Chiapas, the state nearest the epicenter, said his house "moved like chewing gum." The furious shaking created a second national emergency for Mexican agencies already bracing for Hurricane Katia on the other side of the country. Intense rains were reported in the Gulf state of Veracruz, where the storm was expected to make landfall late Friday or early Saturday as a Category 2 storm that could bring life-threatening floods. President Enrique Pena Nieto said Friday evening in a televised address that 61 people were killed — 45 in Oaxaca state, 12 in Chiapas and 4 in Tabasco — and he declared three days of national mourning. The worst-hit city was Juchitan, on the narrow waist of Oaxaca known as the Isthmus, where 36 quake victims died. About half of Juchitan's city hall collapsed in a pile of rubble and streets were littered with the debris of ruined houses. A hospital also collapsed, Pena Nieto said after touring the city and meeting with residents. The patients were relocated to other facilities. The president said authorities were working to re-establish the supply of water and food and provide medical attention to those who need it. He vowed the government would help people rebuild and called for people to come together. "The power of this earthquake was devastating, but we are certain that the power of unity, the power of solidarity and the power of shared responsibility will be greater," Pena Nieto said. Mexico City escaped major damage, but the quake terrified sleeping residents, many of whom still remember the catastrophic 1985 earthquake that killed thousands and devastated large parts of the city. Families were jerked awake by the grating howl of the capital's seismic alarm. Some shouted as they dashed out of rocking apartment buildings. Even the iconic Angel of Independence Monument swayed as the quake's waves rolled through the city's soft soil. Part of a bridge on a highway being built to the site of Mexico City's planned new international airport collapsed due to the earthquake, local media reported. Elsewhere, the extent of destruction was still emerging. Hundreds of buildings collapsed or were damaged, power was cut at least briefly to more than 1.8 million people and authorities closed schools Friday in at least 11 states to check them for safety. The Interior Department reported that 428 homes were destroyed and 1,700 were damaged in various cities and towns in Chiapas. "Homes made of clay tiles and wood collapsed," said Nataniel Hernandez, a human rights worker living in Tonala, Chiapas, who warned that inclement weather threatened to bring more down. "Right now it is raining very hard in Tonala, and with the rains it gets much more complicated because the homes were left very weak, with cracks," Hernandez said by phone. The earthquake's impact was blunted somewhat by the fact that it was centered 100 miles offshore. It hit off Chiapas' Pacific coast, near the Guatemalan border, with a magnitude of 8.1 — equal to Mexico's strongest quake of the past century. It was slightly stronger than the 1985 quake, the U.S. Geological Survey said. The epicenter was in a seismic hotspot in the Pacific where one tectonic plate dives under another. These subduction zones are responsible for producing some of the biggest quakes in history, including the 2011 Fukushima disaster and the 2004 Sumatra quake that spawned a deadly tsunami. The quake struck at 11:49 p.m. Thursday (12:49 a.m. EDT; 4:49 a.m. GMT Friday). Its epicenter was 102 miles (165 kilometers) west of Tapachula in Chiapas, with a depth of 43.3 miles (69.7 kilometers), the USGS said. Dozens of strong aftershocks rattled the region in the following hours. Three people were killed in San Cristobal, including two women who died when a house and a wall collapsed, Chiapas Gov. Manuel Velasco said. "There is damage to hospitals that have lost energy," he said. "Homes, schools and hospitals have been damaged." In Tabasco, one child died when a wall collapsed, and an infant died in a children's hospital when the facility lost electricity, cutting off the ventilator, Gov. Arturo Nunez said. The quake triggered tsunami warnings and some tall waves, but there was no major damage from the sea. Authorities briefly evacuated a few residents of coastal Tonala and Puerto Madero because of the warning. The Pacific Tsunami Warning Center reported waves of 3.3 feet (1 meter) above the tide level off Salina Cruz, Mexico. Smaller tsunami waves were observed on the coast or measured by ocean gauges elsewhere. In neighboring Guatemala, President Jimmy Morales appeared on national television to call for calm while emergency crews surveyed damage. Officials later said only four people had been injured and several dozen homes damaged. The quake occurred near the point of collision between three tectonic plates, the Cocos, the Caribbean and the North American. The area has seen at least six other quakes of magnitude 7.0 or greater since 1900. Three of those occurred within a nerve-wracking nine-month span in 1902-1903, according to Mexico's National Seismological Service. Scientists were still reviewing data, but a preliminary analysis indicated the quake was triggered by the sudden breaking or bending of the Cocos plate, which dives beneath Mexico. That type of process does not happen often in subduction zones. Usually, big quakes in subduction zones occur along the boundary between the sinking slab and the overriding crust. "It's unusual, but it's not unheard of," said seismologist Susan Hough of the USGS, describing how stresses on the seafloor can produce big earthquakes. The new quake matched the force of a magnitude 8.1 quake that hit the country June 3, 1932, roughly 300 miles (500 kilometers) west of Mexico City. A study by the seismological service concluded that that quake killed about 400 people and caused severe damage around the port of Manzanillo. A powerful aftershock that hit 19 days later caused a tsunami that devastated 15 miles (25 kilometers) of coastline, killing 75 people. In Veracruz, tourists abandoned coastal hotels as winds and rains picked up ahead of Hurricane Katia's expected landfall. Workers set up emergency shelters and cleared storm drains, and forecasters warned that the storm threatened to bring torrential rainfall, high winds and a dangerous storm surge off the Gulf of Mexico. Katia had maximum sustained winds of 105 mph (165 kph), according to the U.S. National Hurricane Center. "The arrival of (hashtag)Katia may be particularly dangerous for slopes affected by the earthquake. Avoid these areas," Pena Nieto tweeted.
---
Death toll in Mexico earthquake rises to 61 as search for victims continues

MMNN:9 September 2017

The quake that hit minutes before midnight onThursday was strong enough to cause buildings to sway violently in the capital city more than 1,000 kilometers away. One of the most powerful earthquakes ever recorded in Mexico struck off the country's southern coast, toppling hundreds of buildings and sending panicked people fleeing into the streets in the middle of the night. At least 61 people were reported dead. The quake that hit minutes before midnight on Thursday was strong enough to cause buildings to sway violently in the capital city more than 650 miles (1,000 kilometers) away. As beds banged against walls, people still wearing pajamas ran out of their homes and gathered in frightened groups. Rodrigo Soberanes who lives near San Cristobal de las Casas in Chiapas, the state nearest the epicenter, said his house "moved like chewing gum." The furious shaking created a second national emergency for Mexican agencies already bracing for Hurricane Katia on the other side of the country. Intense rains were reported in the Gulf state of Veracruz, where the storm was expected to make landfall late Friday or early Saturday as a Category 2 storm that could bring life-threatening floods. President Enrique Pena Nieto said Friday evening in a televised address that 61 people were killed — 45 in Oaxaca state, 12 in Chiapas and 4 in Tabasco — and he declared three days of national mourning. The worst-hit city was Juchitan, on the narrow waist of Oaxaca known as the Isthmus, where 36 quake victims died. About half of Juchitan's city hall collapsed in a pile of rubble and streets were littered with the debris of ruined houses. A hospital also collapsed, Pena Nieto said after touring the city and meeting with residents. The patients were relocated to other facilities. The president said authorities were working to re-establish the supply of water and food and provide medical attention to those who need it. He vowed the government would help people rebuild and called for people to come together. "The power of this earthquake was devastating, but we are certain that the power of unity, the power of solidarity and the power of shared responsibility will be greater," Pena Nieto said. Mexico City escaped major damage, but the quake terrified sleeping residents, many of whom still remember the catastrophic 1985 earthquake that killed thousands and devastated large parts of the city. Families were jerked awake by the grating howl of the capital's seismic alarm. Some shouted as they dashed out of rocking apartment buildings. Even the iconic Angel of Independence Monument swayed as the quake's waves rolled through the city's soft soil. Part of a bridge on a highway being built to the site of Mexico City's planned new international airport collapsed due to the earthquake, local media reported. Elsewhere, the extent of destruction was still emerging. Hundreds of buildings collapsed or were damaged, power was cut at least briefly to more than 1.8 million people and authorities closed schools Friday in at least 11 states to check them for safety. The Interior Department reported that 428 homes were destroyed and 1,700 were damaged in various cities and towns in Chiapas. "Homes made of clay tiles and wood collapsed," said Nataniel Hernandez, a human rights worker living in Tonala, Chiapas, who warned that inclement weather threatened to bring more down. "Right now it is raining very hard in Tonala, and with the rains it gets much more complicated because the homes were left very weak, with cracks," Hernandez said by phone. The earthquake's impact was blunted somewhat by the fact that it was centered 100 miles offshore. It hit off Chiapas' Pacific coast, near the Guatemalan border, with a magnitude of 8.1 — equal to Mexico's strongest quake of the past century. It was slightly stronger than the 1985 quake, the U.S. Geological Survey said. The epicenter was in a seismic hotspot in the Pacific where one tectonic plate dives under another. These subduction zones are responsible for producing some of the biggest quakes in history, including the 2011 Fukushima disaster and the 2004 Sumatra quake that spawned a deadly tsunami. The quake struck at 11:49 p.m. Thursday (12:49 a.m. EDT; 4:49 a.m. GMT Friday). Its epicenter was 102 miles (165 kilometers) west of Tapachula in Chiapas, with a depth of 43.3 miles (69.7 kilometers), the USGS said. Dozens of strong aftershocks rattled the region in the following hours. Three people were killed in San Cristobal, including two women who died when a house and a wall collapsed, Chiapas Gov. Manuel Velasco said. "There is damage to hospitals that have lost energy," he said. "Homes, schools and hospitals have been damaged." In Tabasco, one child died when a wall collapsed, and an infant died in a children's hospital when the facility lost electricity, cutting off the ventilator, Gov. Arturo Nunez said. The quake triggered tsunami warnings and some tall waves, but there was no major damage from the sea. Authorities briefly evacuated a few residents of coastal Tonala and Puerto Madero because of the warning. The Pacific Tsunami Warning Center reported waves of 3.3 feet (1 meter) above the tide level off Salina Cruz, Mexico. Smaller tsunami waves were observed on the coast or measured by ocean gauges elsewhere. In neighboring Guatemala, President Jimmy Morales appeared on national television to call for calm while emergency crews surveyed damage. Officials later said only four people had been injured and several dozen homes damaged. The quake occurred near the point of collision between three tectonic plates, the Cocos, the Caribbean and the North American. The area has seen at least six other quakes of magnitude 7.0 or greater since 1900. Three of those occurred within a nerve-wracking nine-month span in 1902-1903, according to Mexico's National Seismological Service. Scientists were still reviewing data, but a preliminary analysis indicated the quake was triggered by the sudden breaking or bending of the Cocos plate, which dives beneath Mexico. That type of process does not happen often in subduction zones. Usually, big quakes in subduction zones occur along the boundary between the sinking slab and the overriding crust. "It's unusual, but it's not unheard of," said seismologist Susan Hough of the USGS, describing how stresses on the seafloor can produce big earthquakes. The new quake matched the force of a magnitude 8.1 quake that hit the country June 3, 1932, roughly 300 miles (500 kilometers) west of Mexico City. A study by the seismological service concluded that that quake killed about 400 people and caused severe damage around the port of Manzanillo. A powerful aftershock that hit 19 days later caused a tsunami that devastated 15 miles (25 kilometers) of coastline, killing 75 people. In Veracruz, tourists abandoned coastal hotels as winds and rains picked up ahead of Hurricane Katia's expected landfall. Workers set up emergency shelters and cleared storm drains, and forecasters warned that the storm threatened to bring torrential rainfall, high winds and a dangerous storm surge off the Gulf of Mexico. Katia had maximum sustained winds of 105 mph (165 kph), according to the U.S. National Hurricane Center. "The arrival of (hashtag)Katia may be particularly dangerous for slopes affected by the earthquake. Avoid these areas," Pena Nieto tweeted.
---
US Asks Pak Bank To Pay $225-Million Fine Over Money Laundering Concerns

MMNN:8 September 2017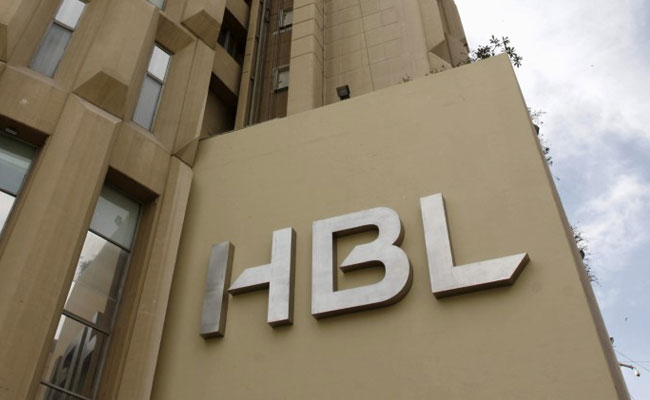 WASHINGTON: The New York State Department of Financial Services on Thursday said Pakistan's Habib Bank had agreed to pay $225 million to settle an enforcement action brought against it for infringing laws designed to combat illicit money transfers. The DFS said in a legal filing last month it was seeking to fine the bank, Pakistan's biggest lender, up to $630 million for "grave" compliance failures over anti-money laundering and sanctions rules at its only US branch. The regulator said the bank, known as HBL, agreed to pay just over a third of that sum as part of a broader settlement in which it will shutter its New York branch, subject to conditions. These include submitting to a DFS investigation of transactions processed by the branch from October 2013 to the end of September 2014, and from April 2015 through the end of July 2017. In a statement HBL said it "remains committed to strengthening its compliance processes, operations and controls" across its 1,700 branches. Shares of HBL surged 5 percent, to 160.58 rupees per share, amid investor relief that the fine was not larger than $225 million. Thursday's announced settlement does not preclude further future enforcement action if the DFS investigation reveals further problems. The enforcement action followed a 2016 review in which the regulator said it found "weaknesses in the bank's risk management and compliance" that management had failed to tackle. The review showed HBL had failed to properly screen thousands of transactions and had processed payments for known criminals and sanctioned entities, among other failings. "The bank has repeatedly been given more than sufficient opportunity to correct its glaring deficiencies, yet it has failed to do so," Financial Services Superintendent Maria Vullo said in the statement. "DFS will not stand by and let Habib Bank sneak out of the United States without holding it accountable for putting the integrity of the financial services industry and the safety of our nation at risk." HBL disclosed it was in negotiations with the DFS last month and said the potential fine and closure of its New York branch would have no material impact on its business outside the United States. "HBL is pleased to have this matter behind it and has begun the orderly wind-down of its New York operations," Matthew Biben, a partner at Debevoise & Plimpton LLP and the bank's US lawyer, said in a statement. "HBL believes that the opportunity to resolve this matter consensually at this time is in the best interests of its investors, shareholders and customers. HBL remains committed to strengthening its operations and controls." The DFS said a court hearing set for later this month had been canceled as part of the settlement. Pakistani brokerage firm Intermarket Securities said the hefty fine would hurt profits and could force HBL to issue foreign-currency subordinated debt to pay the regulator. But the sum was "manageable" and the medium-term outlook for the bank should not be affected, it said in a research note. "Under the circumstances, we believe it makes sense for the bank to take this one-off hit, rather than approaching courts which would have put the share price under a cloud for longer."
---
UK's Prince George's First Day At School, Pregnant Mum Kate Too Ill To Go

MMNN:7 September 2017

LONDON: Britain's Prince George, the great-grandson of Queen Elizabeth and third-in-line to the throne, started school on Thursday but without his pregnant mother Kate to support him because she is suffering from severe morning sickness. George, 4, was taken by his father, Prince William, from their Kensington Palace home to Thomas's Battersea school in southwest London, which says its most important rule is to "Be Kind" and charges almost 18,000 pounds ($23,490) per pupil per year. "We expect our pupils to make impressive progress as a result of their own hard work, the best efforts of their teachers, the judicious support of their parents and the encouragement of their peers," the school says on its website. A nervous-looking George, wearing a school uniform of dark shorts and a navy jumper with red trim, held his father's hand as the Head of Lower School, Helen Haslem, escorted the royal duo to his classroom. His mother Kate missed the occasion due to acute morning sickness and has cancelled other engagements this week after the palace announced on Monday that she was expecting her third child. Like his parents, George and his younger sister Charlotte have already appeared on the front covers of magazines around the world and this summer they travelled on official royal tours of Poland and Germany where crowds cheered them.
---
Trump's 'China First' option in North Korea will Make China Great Again

MMNN:6 September 2017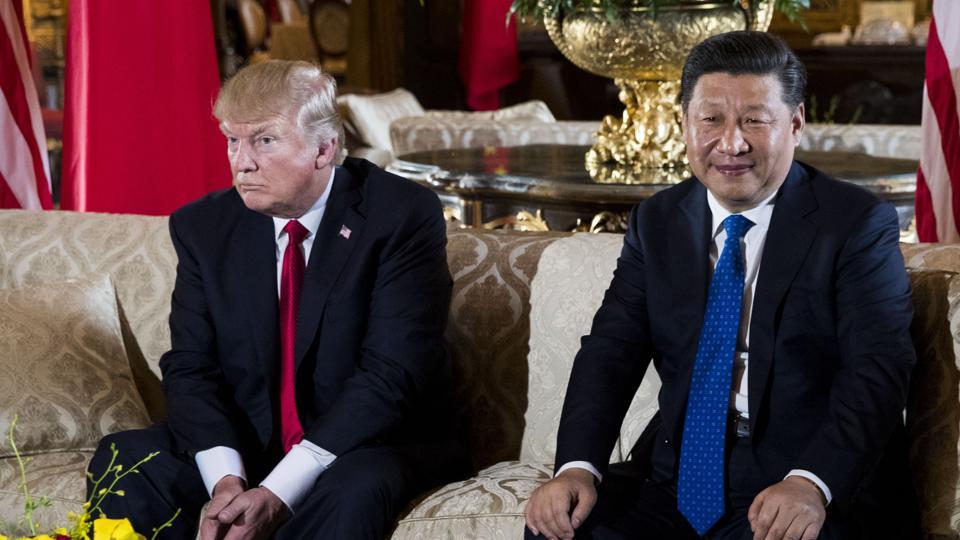 Although a Chinese military intervention in North Korea is unlikely, it's Beijing's best opportunity to achieve greater strategic parity with the US in the region Most pundits agree that the least bad way to deal with North Korea's nuclear sabre rattling is a continued combination of tight containment and aggressive diplomacy. Fewer, however, have recognised that the least bad military option — the one implied by US President Donald Trump's insistence that China take responsibility for its dangerous neighbour — is a Chinese invasion, or regime change forced through China's threat to launch one. This outcome, which would sharply shift East Asia's strategic balance in China's favour, is not as unlikely as most people think. In fact, its very plausibility is one reason why it needs to be taken seriously, including by Chinese military planners. In Trumpian terms, this is a 'China First' option that could help 'Make China Great Again'. Any military intervention, Chinese or otherwise, would carry huge risks. But before dwelling on them, consider what a successful Chinese intervention would achieve. For starters, it would put North Korea right where the country's post-Korean War history suggests it belongs: Under a Chinese nuclear umbrella, benefiting from a credible security guarantee. Mao Zedong used to say that his country and North Korea were "as close as lips and teeth" — a fitting description, given Chinese troops' role in averting an American victory in the Korean War. But while Japan and South Korea have remained close allies of the United States during the six decades since then, hosting US bases and sheltering under US nuclear protection, China and North Korea have drifted ever further apart. As a result, China has little control over its neighbour and purported ally, and probably scant knowledge of what is going on there. It could, it is true, tighten the existing siege on North Korea by cutting trade further and blocking energy supplies. But this might achieve little beyond pushing Kim Jong-un's cloistered regime to look for support from its other neighbour, Russia. If, as is commonly assumed, North Korea wants some sort of credible security guarantee in exchange for curtailing its nuclear programme, the only country capable of providing it is China. No American promise would remain credible beyond the term of the president who gave it, if even that long. So if China were to combine threats of invasion with a promise of security and nuclear protection, in exchange for cooperation and possible regime change, its chances of winning over large parts of the Korean People's Army would be high. Whereas a nuclear exchange with the US would mean devastation, submission to China would promise survival, and presumably a degree of continued autonomy. For all except those closest to Kim, the choice would not be a difficult one. China's strategic gains from a successful military intervention would include not only control of what happens on the Korean Peninsula, where it presumably would be able to establish military bases, but also regional gratitude for having prevented a catastrophic war. No other action holds as much potential to make Chinese leadership within Asia seem both credible, and desirable, especially if the alternative is a reckless, poorly planned US-led war. What China needs, above all, is legitimacy, and intervention in North Korea would provide it. Successful use of hard power would bring China, to borrow the distinction coined by Harvard's Joseph S. Nye, huge reserves of soft power. But now to the 64 billion renminbi question: Could it work? We can't know the answer for sure, and any military intervention carries great risks. The Chinese armed forces are now well equipped, but lack comparable battlefield experience. Their inferior opponents have leaders who might be prepared to use nuclear weapons or other weapons of mass destruction, if they did not simply accept Chinese terms and surrender. What we can say with near certainty is that a Chinese land and sea invasion, rather than an American one, would stand a better chance of avoiding Kim's likely response: An artillery attack on the South Korean capital, Seoul, which lies just a few dozen miles south of the demilitarised zone. Why would North Korea slaughter its southern brothers and sisters in retaliation for a Chinese invasion that came with a promise of continued security, if not autonomy? Moreover, while the Kim regime's nuclear restraint could hardly be taken for granted, China would be a less likely target than the US for North Korean missiles. Were a Chinese military option to be contemplated seriously, some intelligence and missile-defense collaboration with the US might be worth exploring. Given the risks, it would be hard for the US to refuse. This scenario may well never happen. But it is so logical that the possibility of it should be taken seriously. It is, after all, China's best opportunity to achieve greater strategic parity with the US in the region, while removing a source of instability that threatens them both.
---
After 288 Days And 4623 Orbits Of Earth, Astronaut Peggy Whitson Returns To Earth

MMNN:2 September 2017

WASHINGTON: Record-breaking NASA astronaut Peggy Whitson is set to depart the International Space Station (ISS) and return to Earth after completing a 288-day long mission, the US space agency said. Ms Whitson, along with fellow Expedition 52 Flight Engineer Jack Fischer of NASA and Commander Fyodor Yurchikhin of the Russian space agency Roscosmos will undock their Soyuz MS-04 spacecraft from the space station and land in Kazakhstan at 9:22 pm EDT. On Friday, Mr Yurchikhin will hand over station command to NASA's Randy Bresnik. Ms Whitson is completing a 288-day mission that began in November 2016, spanning 122.2 million miles and 4,623 orbits of Earth - her third long-duration stay on the outpost. At the time of their landing, she will have accrued a total of 665 days in space over the course of her career, more than any American astronaut, placing her eighth on the alltime space endurance list. Mr Yurchikhin and Mr Fischer, who launched in April, will complete 136 days in space. Mr Yurchikhin will return to Earth with a total of 673 days in space on his five flights, putting him in seventh place on the all-time endurance list. As a result of the impacts of Hurricane Harvey, NASA is reviewing return plans to Houston of Ms Whitson, Mr Fischer and the science samples landing in the Soyuz spacecraft. The crew will participate in standard post-flight medical evaluations. While living and working aboard the space station, the Expedition 52 crew pursued hundreds of experiments in biology, biotechnology, physical science and Earth science aboard humanity's only orbiting laboratory, NASA said. At the time of undocking, Expedition 53 will begin aboard the station under the command of Randy Bresnik. Along with his crewmates Sergey Ryazanskiy of Roscosmos and Paolo Nespoli of ESA (European Space Agency), the threeperson crew will operate the station until the arrival of three new crew members. Mark Vande Hei and Joe Acaba of NASA and Alexander Misurkin of Roscosmos, are scheduled to launch on September 12 from Kazakhstan.
---
We Only Kill Black People', Says US Cop, Loses Job

MMNN:1 September 2017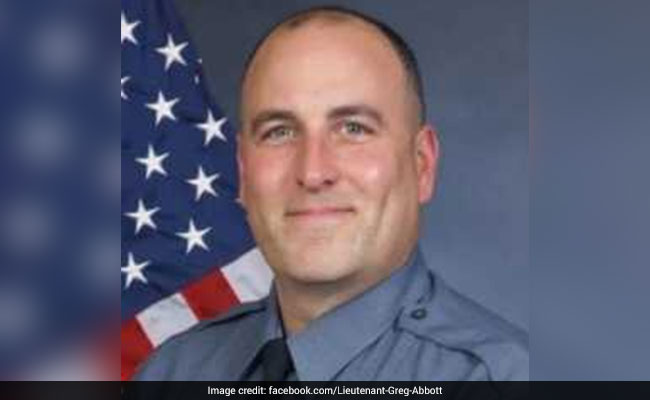 WASHINGTON: A Georgia police lieutenant who faced being fired over racially charged comments captured on dash-cam footage has announced his retirement, according to local media. In the video Lieutenant Greg Abbott told a woman who feared moving her hands during a traffic stop not to worry because "we only kill black people." Told she could pick up her cell phone, the woman said she did not want to move her hands because she has seen "way too many videos of cops." "But you're not black," Abbott replies in the July 2016 video. "Remember? We only kill black people." Police Chief Mike Register told journalists Thursday that Abbott would be removed from the force, saying "there's really no place for these types of comments in law enforcement." "I feel that no matter what context you try to take those comments in, the statements were inexcusable and inappropriate." According to the Atlanta Journal-Constitution, Abbott emailed the county announcing his retirement from the force, which he had served in nearly three decades. The dash-cam video was released after a local television station obtained it through an open records request. The timestamp on the footage shows it occurred amid a spate of race-tinged violence involving law enforcement, including the fatal shootings of black men Alton Sterling and Philando Castile that came just days apart. Those deaths sent shockwaves nationwide, fueling mass protests and a fierce debate over race and criminal justice
---
Israel Prime Minister: Iran Building Missile Production Sites In Syria, Lebanon

MMNN:28 Aug 2017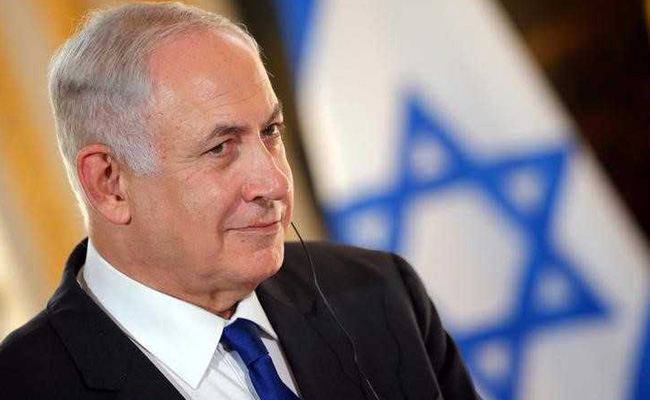 ERUSALEM: Iran is building sites to produce precision-guided missiles in Syria and Lebanon, with the aim of using them against Israel, Israeli Prime Minister Benjamin Netanyahu said on Monday. At the start of a meeting with U.N. Secretary-General Antonio Guterres, Netanyahu accused Iran of turning Syria into a "base of military entrenchment as part of its declared goal to eradicate Israel." "It is also building sites to produce precision-guided missiles towards that end, in both Syria and in Lebanon. This is something Israel cannot accept. This is something the U.N. should not accept," Netanyahu said.
---
Trump tells Mattis to indefinitely ban transgender recruits in US military

MMNN:26 Aug 2017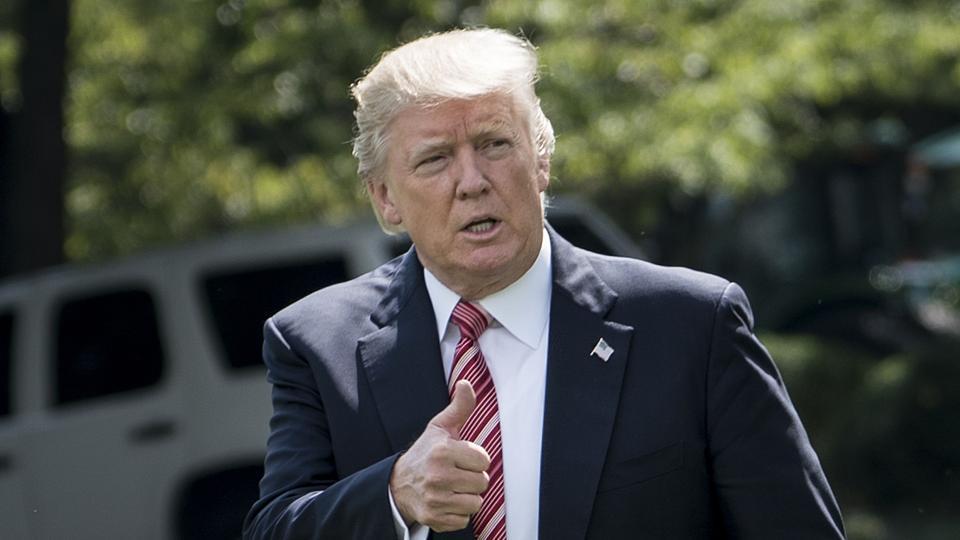 President Donald Trump on Friday directed the Pentagon to extend indefinitely a ban on transgender individuals joining the military, but he appeared to leave open the possibility of allowing some already in uniform to remain. Trump gave Defense Secretary Jim Mattis authority to decide the matter of openly transgender individuals already serving, and he said that until the Pentagon chief makes that decision, "no action may be taken against" them. The Obama administration in June 2016 had changed longstanding policy, declaring that troops could serve openly as transgender individuals. And it set a July 2017 deadline for determining whether transgender people could be allowed to enter the military. Mattis delayed that to Jan. 1, 2018, and Trump has now instructed Mattis to extend it indefinitely. But on the question of what will happen to those transgender individuals who already are serving openly - estimated to number in the low hundreds - Trump seemed to leave wiggle room for exceptions. A White House official who briefed reporters on the presidential order would not say whether Trump would permit any exceptions. That official, who spoke on condition of anonymity under ground rules set by the White House, said Mattis has been directed to take a number of factors into consideration in determining how to deal with transgender individuals already serving. Those factors are to include broad measures such as "military effectiveness," budgetary constraints and "unit cohesion," as well as other factors Mattis deems "relevant." It was not clear whether that means it is possible for Mattis to come to the conclusion that some transgender troops should be allowed to remain. Trump gave Mattis six months to come up with a policy on those currently serving, and he must implement it by March 23, 2018, the official said. In a tweet last month, Trump said the federal government "will not accept or allow" transgender individuals to serve "in any capacity" in the military. Carl Tobias, a legal expert at the University of Richmond's School of Law, said he interprets the Trump directive as leaving open the chance for some transgender servicemembers to stay. "Trump seems to be granting Mattis discretion to decide which currently serving transgender people can continue to serve," Tobias said via email. "It appears that Mattis has discretion substantively and procedurally. The White House official on Friday said Trump also directed Mattis to halt the use of federal funds to pay for sexual reassignment surgeries and medications, except in cases where it is deemed necessary to protect the health of an individual who has already begun the transition. That policy is to be written within six months and implemented by March 23. In his directive to Mattis, Trump said he found that his predecessor's transgender policy was flawed. "In my judgment, the previous administration failed to identify a sufficient basis to conclude" that ending the longstanding ban on transgender service would not "hinder military effectiveness and lethality" and be disrupting in the ranks, he wrote. The Pentagon had little to say on the subject Friday. Dana W. White, the main spokeswoman for Mattis, issued a two-sentence statement saying Mattis had received White House guidance on transgender policy, adding, "More information will be forthcoming." Only one year ago, in June 2016, then-Defense Secretary Ash Carter announced that transgender individuals could serve openly for the first time. Prior to that, most transgender people in the military had been forced to keep their status secret to avoid being discharged; Trump's order appears to have returned the military to that same situation. Since Carter's policy change, some troops — possibly a couple hundred — have openly declared their status as transgender individuals. Carter also had given the military services until July 1 of this year to present plans for allowing transgender individuals to join the military. Shortly before that date, Mattis extended the study period to the end of this year. And shortly after that, Trump went to Twitter to announce a total ban, without having used the customary interagency policy process. At the time of Trump's tweet, the Pentagon was not prepared to change its policy. A flurry of White House meetings ensued, with participation by representatives of the Defense Department, to translate Trump's announcement into guidance that could be implemented and would stand up to expected legal challenges. Just last week, Mattis suggested he was open to the possibility of allowing some transgender troops to remain in uniform. "The policy is going to address whether or not transgenders can serve under what conditions, what medical support they require, how much time would they be perhaps non-deployable, leaving others to pick up their share of everything," he said Aug. 14. Estimates of the number of transgender troops in the service vary widely. A Rand Corp. study said roughly 2,500 transgender personnel may be serving in active duty, and 1,500 in the reserves. It estimated only 30 to 130 active-duty troops out of a force of 1.3 million would seek transition-related health care each year. Costs could be $2.4 million to $8.4 million, it estimated. Among those who have cheered Trump's tweet, Elaine Donnelly said the president is halting "a massive social experiment." "Expensive, lifelong hormone treatments and irreversible surgeries associated with gender dysphoria would negatively affect personal deployability and mission readiness, without resolving underlying psychological problems, including high risks of suicide," said Donnelly, president of the Center for Military Readiness. Sen. Tammy Duckworth, D-Ill., an Army combat veteran, said the Pentagon should not exclude people based on gender status. "If you are willing to risk your life for our country and you can do the job, you should be able to serve — no matter your gender identity or sexual orientation," she said Thursday. "Anything else is not just discriminatory, it is disruptive to our military and it is counterproductive to our national security
---
The new Obama': Abdul El-Sayed, the man who could be US' first Muslim governor

MMNN:25 Aug 2017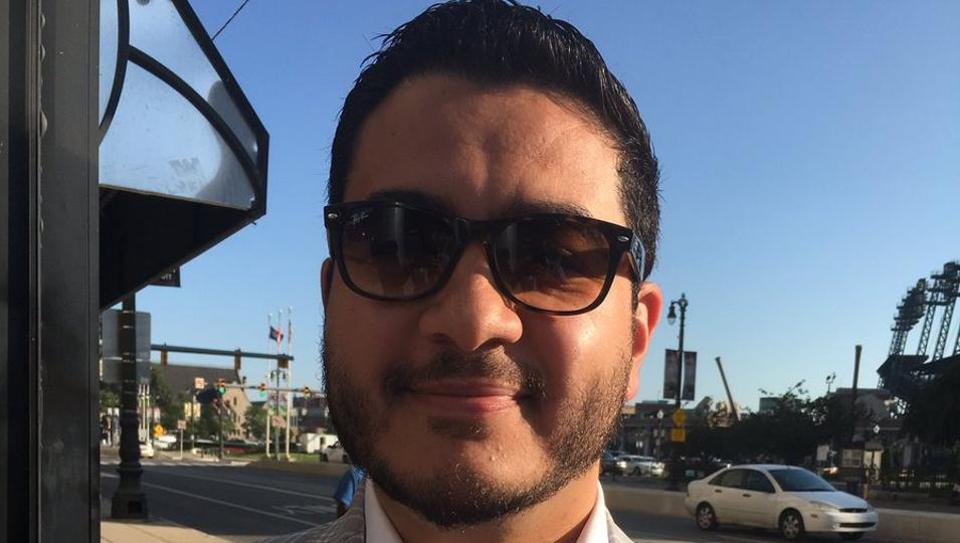 At seven years old, Abdul El-Sayed sat in the eye of Hurricane Andrew, the most destructive hurricane in US history until Katrina. Living near Miami, El-Sayed drank juice while swaddled under mattresses between his father and stepmother, who was holding El-Sayed's newborn baby brother just home from the hospital. The 1992 storm had taken an unexpected turn southward, and the El-Sayeds could not be evacuated. The wind made an awful rattling sound on the screens. The front door blew in. The wind and the rain whipped into the house, "as if the ocean was coming at you." El-Sayed's father, Muhammad, crawled on his stomach to shut the door, the rain whipping his face, the wind beating his body. The eye of the storm passed directly over them and The National Guard eventually evacuated them. At the moment, American politics feels a bit like being in the eye a hurricane. Donald Trump has stated America's nuclear arsenal is " locked and loaded ", should North Korea make any false moves and neo-Nazis are openly parading in the streets bearing torches, resulting in a young woman, Heather Heyer , being murdered in Charlottesville, Virginia. No one man can stop the hurricane. But in Michigan, a grown up El-Sayed is now having a go, trying to keep the storm at bay in a state that is having some of the hardest times in the union. He's still a year out from the primary, but in his attempt at running for governor of the state, he is trying not just to win, but to change American politics itself When driving from Detroit to Adrian, Michigan, my hometown, you pass by a mosque near Ypsilanti that was burned to the ground in an arson last March. Adrian is 45 minutes from any freeway, the county is rural, and the cornfields rolling. You pass by a number of road signs offering jobs – $28 dollars an hour for skilled work, less for driving a truck. The city itself, the largest town in the county, holds only about 20,000 people. It is the kind of place with lots and lots of American flags. It's also Trump country, white and Christian, the county voting with the president 57% to Clinton's 36%. El-Sayed was speaking there on a recent Sunday afternoon in a public hall. A young local transgender man introduced El-Sayed to the audience – a brave choice for a region still coming to terms with gay rights, let alone trans rights. Just a few miles away in Jackson, Michigan, the house of two organizers for the town's first ever pride parade was burned in what investigators are calling a possible arson . El-Sayed's stump speech revolves around fleshing out his personal story. He's the son of an Egyptian immigrant, who remarried to a now-converted white, rural protestant mother. His uncles learned to prepare venison Halal so his entire family could share in the meals. Throw in an atheist mathematician uncle from the former Soviet Union, and Thanksgiving dinners were interesting to say the least. At this stage in his speech, El-Sayed usually pivots to speaking about the US constitution and the soaring rhetoric of hope and commonality. "As you can imagine, these people come from fundamentally different walks of life, they have known different realities. But. They see a common future. And that's because it's a common future they have built together," he said. "I learned about a society that was founded on an ideal that my father invested in back in 1978 when he came here, one that told him, 'we hold these truths to be self-evident, that all people are created equal.'" One of the first questions El-Sayed gets asked that day is about Sharia law, asking about his thoughts on the custom, by a clearly agitated man in a checked button-down shirt. The rumors surrounding El-Sayed's faith are small but persistent, spread by a handful of far-right websites preying on the uninformed and fearful. One morning, I asked him about them over breakfast. "Are you the spear-tip of a vast Muslim conspiracy to bring Sharia law to the US?" "No," he said. "Are you a front for the Muslim brotherhood to pervert American politics towards terrorism?" "No." "Were you handpicked by George Soros to lead a vast liberal takeover of the government?" "No. I've never met George Soros." It's tempting to make any story about El-Sayed about his faith, and how it is central to how voters perceive him. He answers questions about his faith like all the others about more mundane matters like tax policy or infrastructure development: head on, with razor-sharp intellect and rhetoric. But to reduce him to his faith would also be a disservice. His story is one of responsibility, courage and hope. "I believe in a separation of church and state," he started, making a note that John F Kennedy's Catholicism was also a turning point in American politics. "I can tell you that my ability to practice my faith in person, in my own home, when I choose to, where I'm allowed to, because of freedoms in this country have everything to do with that separation of church and state," he said. "If I am going to want to be able to put my face on the ground 34 times a day, like I do, because I'm Muslim, I want to make sure no one can take that right away from me. And I will not take that right away from anyone else." He received an enormous round of applause after answering the question – in a nearly completely white and Christian room – and a standing ovation at the end of the event, that went over time by almost an hour. Afterward, I asked the man who asked the Sharia question if, after hearing El-Sayed speak, he thought he would bring Sharia law to the United States. "No," the man said. "I don't." El-Sayed's résumé and progressive bonafide are nearly impeccable. He is a Rhodes Scholar, a doctor, formerly a professor at an Ivy League university (where he wrote the textbook for his class) and is the former director for the health department in Detroit, the youngest in any major city. He's only 32, and would be the youngest governor since Bill Clinton in 1978. He will also become a father for the first time in less than three months. He has pledged to take no corporate Pac money and is unabashedly disdainful of big money influencing elections, opening calling corporate campaign contributions "bribes". He has pledged universal healthcare to all Michiganders if it fails on the federal level, says he will push to legalise marijuana, raise the minimum wage to $15 an hour and make Michigan a "sanctuary state", defying federal immigration law for non-violent undocumented immigrants. And he has a real chance of winning. A year out of the Democratic primary he has raised $1m, Bernie Sanders style, through individual donations – more than $1,300 last month alone – despite little name recognition or support from the "establishment" Democratic party in the state. His campaign is lithe and muscular, knocking on tens of thousands of doors already. Maybe most importantly, El-Sayed has a rhetorical style and charisma that draws easy comparisons to a young Barack Obama, his events often inexplicably packed. At a campaign event in Ann Arbor one woman, Tamanika Terry Seward, said: "I think the last time I sat there and gave that kind of smirk is when I first heard Obama in Chicago, when he was running for senator." Michigan is ready for change. Flint's water was just poisoned by the state government in what is likely the largest environmental disaster of the 21st century so far. And according to a study from the Center for Michigan , public trust in state government has never been lower, with staggering numbers like 80% of people mistrusting the government in areas like education. El-Sayed's personality, policies and campaign apparatus are clearly large enough to overcome Islamophobia in the state – a decade ago, who would have thought the president of the US would have been black and bear the middle name of Hussein, and the mayor of Detroit, the blackest city in the nation, would be white? The question becomes, can he overcome the cynicism and distain for current politics tearing the US apart? El-Sayed's campaign staff is young, fun and smart. Political stickers slapped on laptops are ubiquitous, staffers hail from Harvard and other elite institutions, and the campaign on the whole seems incredibly diverse and well run. After chatting for a few moments with campaign interns, I ran into two of them in the bathroom. One, a Muslim, was washing his feet in the sink before praying. Another, pierced and dyed and queer, washed his hands in the sink directly next. The campaign, reflected in his staff, is a reflection of a different America to the one hailed by the alt-right – pluralistic and diverse . El-Sayed himself reflects this, bouncing between subjects in casual conversations in a campaign vehicle en route to speak to voters at polling places for a primary election in Detroit. We talk about the percentage of C-sections and Shakespeare, and he makes uproarious jokes likely never to be seen in public like faux campaign slogans ("The Egyptian Prescription"). But El-Sayed can also be deadly serious and ferociously passionate about America's political reality, speaking with barbs in a way nearly unheard of from the mouths of politicians who hedge and weasel. "I'm trying to remind people why the system is built the way it is, and that it has been corrupted by a very small, very powerful, very rich group of people, who have fundamentally bought out our politicians," he said. "I don't think our forefathers were imagining huge corporate behemoths that were not aligned to anything but a quarterly bottom line of some amorphous group of stockholders, who would then be ruled as having the rights of people, and then be able to either, up front of behind closed doors, buy out our politicians to create a system of politics that was not beholden to anything but corporate bottom lines." The turnout in Detroit's primary election that day was just over 10%, heavily favouring the incumbent mayoral candidate awash in big money . I asked El-Sayed if he would rather win with corporate money or lose without it. He replied the latter. Many of his staffers are veterans of the Sanders campaign, and his funding structure is remarkably similar. He's also running on his conscience, not trying to "reverse engineer" a candidate with poll testing opinions or policies. Where Sanders failed, though – he never broke from a laser focus on economics or really addressed inequalities brought by race and gender – El-Sayed embraces those challenges, represents them even. "The electorate [in Michigan] doesn't know what it wants, but it wants something different," his campaign manager, Max Glass, said. "I wouldn't have taken this race if I didn't think we could win." The other, less comfortable, comparison is to Trump. El-Sayed is an outsider candidate who speaks his mind, with no elected political experience aside from his appointment as health director of Detroit. In many ways, he's the other side of the same coin, a populist candidate in a populist time. A fan of hip-hop, El-Sayed played a song late one night coming home from a campaign event. In vulgar terms, the song, America by Logic , decries racism, anti-immigrant sentiment, police brutality and other modern ills, a sort of 21st century "Mississippi Goddamn". "This is the best line in the song," he said turning the music up ever so slightly. "Don't run from Trump," it went. "Run against him." Running against Trump – a President who touted a "Muslim travel ban" as one of his policies – poses its logistical challenges. The location of the campaign office is a guarded secret and many staffers have had to speak with their families about potential danger before starting their jobs. Since April 2013, there have been 370 hate incidents directed at US mosques and Muslim community centers. In 2015 alone, there were 257 anti-Muslim hate crimes in the US, according to the FBI. And in Michigan, the village president of Kalkaska, a small town in the north, has called for the death of Muslims, " all, every last one ". He still sits in office. As much of El-Sayed's public persona and story revolves around his multicultural family, I went to visit some of them including his step-grandparents, whom he lived with during college at the University of Michigan, his parents, and his wife. I asked them if they were worried about the candidate's safety.
---
'After Donald Trump's Warning, China Jumps To Defense Of Pakistan

MMNN:22 Aug 2017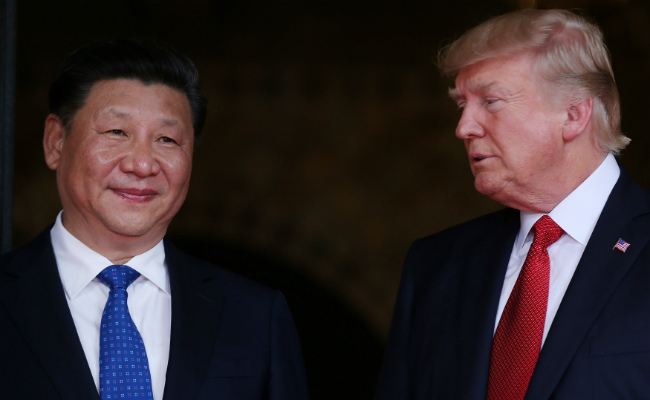 NEW DELHI: China today jumped to the defence of its all-weather ally Pakistan in the wake of US President Donald Trump's stern warning to it over providing safe havens to terrorists, claiming that Islamabad is at the frontline of combating terrorism. Donald Trump, in his first prime-time televised address to announce his Afghanistan and South Asia policy, hit out at Pakistan for providing safe havens to "agents of chaos" that kill Americans in Afghanistan and warned Islamabad that it has "much to lose" by harbouring terrorists. Chinese Foreign Ministry spokesperson Hua Chunying, while reacting to President Trump's comments on Pakistan, said, "Hope the relevant policy decision by US side will be conducive to promoting security, stability of the relevant region." "(On) President Trump's remarks on Pakistan, I should say that Pakistan is at the frontline of fighting terrorism, has made sacrifices in fighting terrorism, making an important contribution to upholding peace and stability," Ms Hua said, strongly defending Beijing's all-weather friend Pakistan. Donald Trump, in his address, said a pillar of his new strategy was a change in America's approach to Pakistan. He slammed Pakistan for its support to terror groups and warned Islamabad of consequences if it continues to do so. "We can no longer be silent about Pakistan's safe havens for terrorist organisations, the Taliban, and other groups that pose a threat to the region and beyond," President Trump said. "Pakistan has much to gain from partnering with our effort in Afghanistan. It has much to lose by continuing to harbour terrorists," he said, in a warning to Pakistan. Ms Hua, in response to Donald Trump's scathing criticism of Pakistan's support to terror groups, said, "I think the international community should truly affirm" the efforts made by Pakistan in combating terrorism. "We are pleased to see US and Pakistan to conduct cooperation in anti-terrorism efforts on the basis of mutual respect and contribute to the global peace and stability," she said. In his speech, Donald Trump slammed Islamabad for harbouring terrorists who target US service members. "But that will have to change. That will change immediately. No partnership can survive a country's harbouring of terrorists who target US service members and officials. It is time for Pakistan to demonstrate its commitment to civilisation, order, and to peace," President Trump said.
---
'No Element Pointing To A Terrorist Attack': Marseille Prosecutor

MMNN:21 Aug 2017

NEW DELHI: One person was killed and another seriously injured in the southern French city of Marseille on Monday after a van ploughed into people at two different bus stops, police sources, adding that the suspected driver had been arrested. Marseille's prosecutor Xavier Tarabeux said that investigators had no "element pointing to a terrorist attack" and that the driver was believed to suffer from "psychiatric" problems. "He was found with a letter from a psychiatric clinic and we are leaning towards treating it as a mental health case," Tarabeux told AFP. The vehicle first drove at speed towards a bus stop in the city's northern 13th district at around 9:00 am (0700 GMT), leaving one person seriously hurt. The driver then continued onto the eastern 11th district, where he drove at another bus stop, causing one fatality. The incident comes as police across Europe search for the driver of a van that mowed down pedestrians in Barcelona last week, killing 13. Several European cities, including London, Berlin and Stockholm, have been targeted in a wave of attacks by Islamist radicals using vehicles to run down people. Terrorism experts have warned that the intense media coverage of the attacks could spur copycat attacks by people with mental health problems that include a propensity for violence. Julien Ravier, mayor of the 11th and 12th districts, told the BFMTV news channel that the victim in the Marseille incident was a woman in her 40s who was waiting alone for a bus. A police source, who asked not to be identified by name, said the driver was in his mid-30s and was not from Marseille. The local La Provence newspaper reported that he was known to police for minor offences. BFMTV reported that a bystander noted the registration number of the van, which the police used to trace the vehicle to the city's Old Port district, where the suspect was arrested. Police sealed off the port area and urged residents in a tweet to avoid the neighbourhood, which is popular with tourists. Police forensic teams also combed the area around the bus stops for evidence. The bloodiest vehicle attack in Europe took place in the French city of Nice in July 2016, when a radicalised Tunisian drove a truck through crowds celebrating France's national holiday, killing 86 people. The Islamic State group has claimed responsibility for several of the attacks.
---
Citing Trump remarks on Charlottesville, entire president's arts council quits

MMNN:19 Aug 2017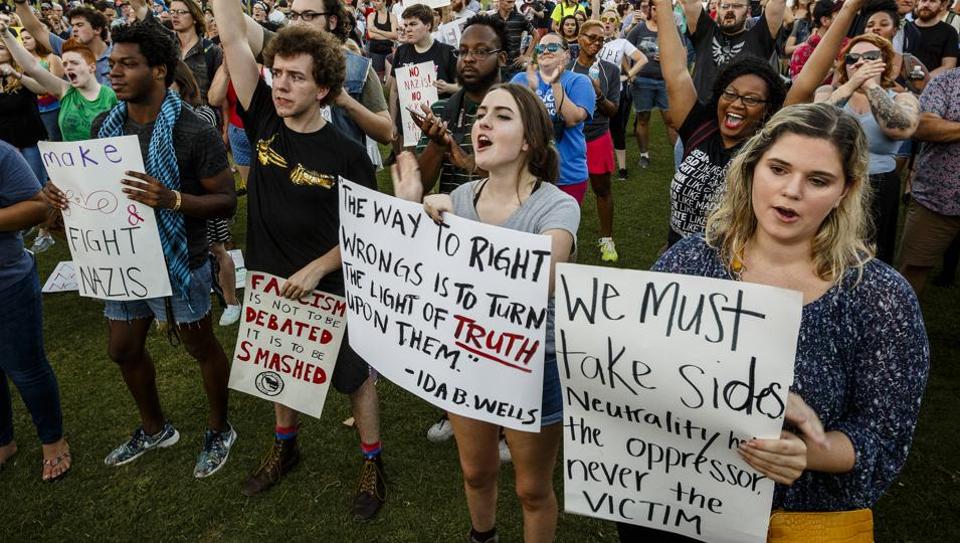 The arts and humanities committee was established in 1982 under President Ronald Reagan and all the current members had been appointed by President Barack Obama Two Indian Americans – actor Kal Penn and author Jhumpa Lahiri – are among 16 members of the US president's committee on arts and humanities who resigned on Friday, protesting Donald Trump's remarks regarding the Charlottesville clashes last week. "Ignoring your hateful rhetoric would have made us complicit in your words and actions," they wrote in a joint letter of resignation signed by all but one of the 17 committee members. "Supremacy, discrimination, and vitriol are not American values. Your values are not American values. We must be better than this. We are better than this. If this is not clear to you, then we call on you to resign your office, too." The letter cited the "false equivalence" of Trump's comments about last weekend's "Unite the Right" gathering in Charlottesville. Trump has blamed "many sides" for the demonstrations that left an anti-racism activist dead. Over the past few days, members of the president's advisory councils on manufacturing and strategy and policy resigned, forcing him to shut them down. He disbanded the infrastructure council on Thursday. In a statement Friday, a White House spokesperson said Trump was going to disband the panel anyway. "While the committee has done good work in the past, in its current form it simply is not a responsible way to spend American tax dollars," the statement read. The members of the committee on arts and humanities brought on other issues as well: "You released a budget which eliminates arts and culture agencies. You have threatened nuclear war while gutting diplomacy funding. "The administration pulled out of the Paris agreement, filed an amicus brief undermining the Civil Rights Act and attacked our brave trans service members. You have subverted equal protections, and are committed to banning Muslims and refugee women & children from our great country." The arts and humanities committee was established in 1982 under President Ronald Reagan and all the current members were appointed by Barack Obama.
---
Earth-Like Planet May Exist In Nearby Star System: Indian Origin Scientists

MMNN:18 Aug 2017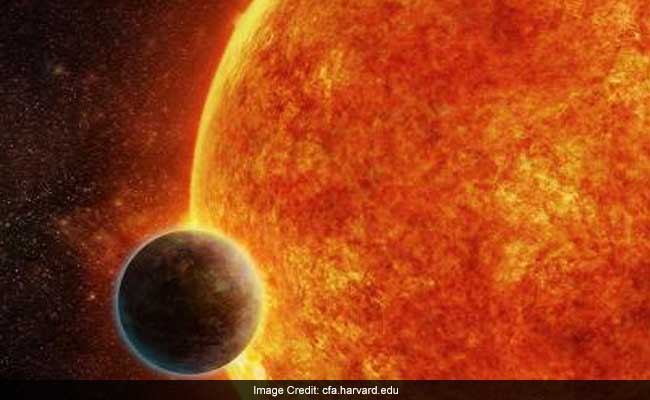 WASHINGTON: An Earth-like planet may be lurking in a star system just 16 light years away, scientists including one of Indian origin have predicted. Astrophysicists at the University of Texas at Arlington (UTA) in the US investigated the star system Gliese 832 for additional exoplanets residing between the two currently known alien worlds in this system. Their computations revealed that an additional Earth-like planet with a dynamically stable configuration may be residing at a distance ranging from 0.25 to 2.0 astronomical unit (AU) from the star. "According to our calculations, this hypothetical alien world would probably have a mass between 1 to 15 Earth's masses," said Dr Suman Satyal, UTA physics researcher and lead author of the research published in The Astrophysical Journal. Gliese 832 is a red dwarf and has just under half the mass and radius of the Sun. The star is orbited by a giant Jupiter-like exoplanet designated Gliese 832b and by a super-Earth planet Gliese 832c. The gas giant with 0.64 Jupiter masses is orbiting the star at a distance of 3.53 AU, while the other planet is potentially a rocky world, around five times more massive than the Earth, residing very close its host star- about 0.16 AU. "This is an important breakthrough demonstrating the possible existence of a potential new planet orbiting a star close to our own," said Dr Alexander Weiss from UTA. "The fact that Dr Satyal was able to demonstrate that the planet could maintain a stable orbit in the habitable zone of a red dwarf for more than one billion years is extremely impressive," Dr Weiss said. The team analysed the simulated data with an injected Earth-mass planet on this nearby planetary system hoping to find a stable orbital configuration for the planet that may be located in a vast space between the two known planets. Gliese 832b and Gliese 832c were discovered by the radial velocity technique, which detects variations in the velocity of the central star, due to the changing direction of the gravitational pull from an unseen exoplanet as it orbits the star. By regularly looking at the spectrum of a star- and so, measuring its velocity - one can see if it moves periodically due to the influence of a companion. "We also used the integrated data from the time evolution of orbital parameters to generate the synthetic radial velocity curves of the known and the Earth-like planets in the system," said Dr Satyal. "We obtained several radial velocity curves for varying masses and distances indicating a possible new middle planet," he said.
---
Pakistan's Apex Anti-Corruption Group Summons Nawaz Sharif, Sons

MMNN:17 Aug 2017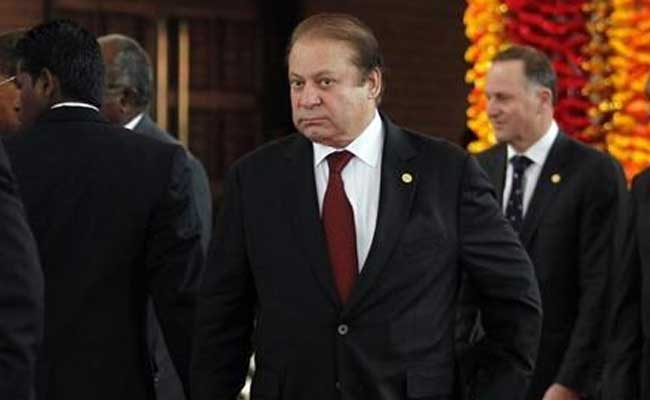 LAHORE: Pakistan's ousted prime minister Nawaz Sharif and his two sons have been summoned by the country's top anti-graft body to appear before it tomorrow for interrogation in connection with the money laundering and corruption cases. The National Accountability Bureau (NAB) on the directive of the Supreme Court issued summons to Mr Sharif and his sons Hussain and Hasan -- to interrogate them in its Lahore office in connection with their offshore properties revealed by the Panama Papers case. On July 28, the five-member bench of the Supreme Court had disqualified Mr Sharif for possessing a work permit in the firm of his son in the UAE. The apex court had also directed the NAB to investigate money laundering and other corruption charges against Mr Sharif and his children, son-in-law Safdar and relative federal finance minister Ishaq Dar in light of the report of the Joint Investigation Team. The NAB confirmed that Mr Sharif and his sons have been directed to appear before its Lahore office on August 18. The NAB said that it will take up the reference against Mr Sharif's close aide Ishaq Dar on August 23 and summons has been issued to him. Mr Sharif, however, has not yet decided to appear before the NAB. "Nawaz Sharif is considering boycotting the NAB proceedings because he thinks it is very much likely that like the Panama Papers case he may not get justice in its case as well," a PML-N senior leader told PTI. He said Mr Sharif has already expressed his concern over a Supreme Court judge who is supervising the NAB's investigation against him, fearing that he (judge) will ensure adverse verdict against him in the accountability court. "Sharif will discuss the NAB summons with his confidants on Thursday before making a final decision about his appearance in NAB," he added.
---
Clerical sex abuse scandal hits Argentine president's school

MMNN:14 Aug 2017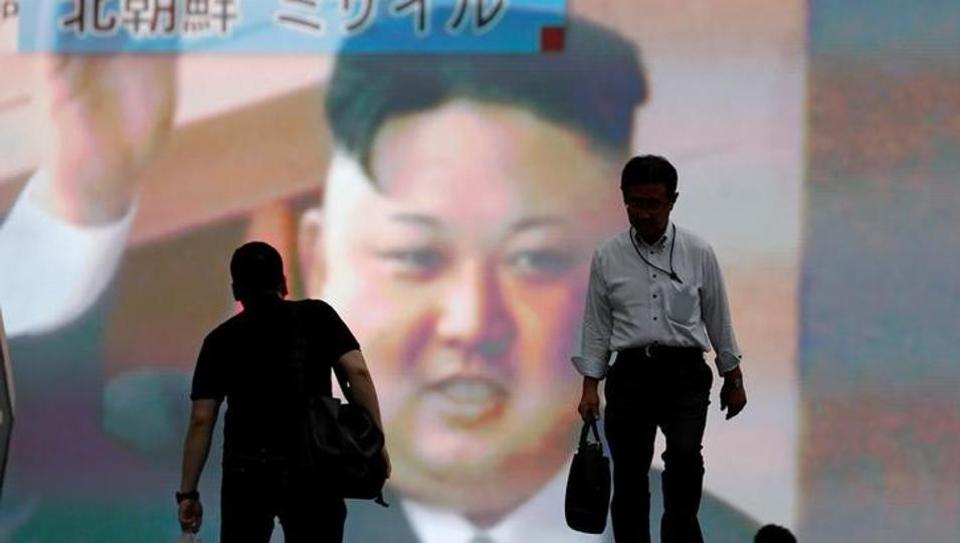 The case is one of several that have shown the church has not been spared sexual scandals even in the home territory of Pope Francis. Rufino Varela was a distraught, confused 12-year-old when he went looking for help from the school chaplain to tell him he'd been sexually abused by a mason at his family's home. Instead of aiding, Varela says, the Rev. Finnlugh Mac Conastair took off the boy's pants, flogged him and fondled him in a room below the chapel at one of Argentina's most prestigious schools. Then, the Irish priest known by many as "Father Alfredo," offered him candy and told him that they should keep it as a secret with God. "I had come looking for help, but I felt that it was a punishment from God," Varela said. "I came back to the classroom, holding back tears, went home and never spoke about it." The secret was kept for nearly four decades. But in recent months, Varela's decision to break his silence has led several other former students to denounce clerical abuse at a school that has educated President Mauricio Macri and many other members of Argentina's elite. The case is one of several that have shown the church has not been spared sexual scandals even in the home territory of Pope Francis, who has pledged a zero-tolerance policy against abuses that have rocked the church around the world. While the pope had no connection with the abuse at the time — he led the Argentine branch of the Jesuit order with no relationship to the school — Varela said he received a call from the pontiff this year after revealing the abuse publicly. The Cardenal Newman school was launched in Argentina in 1948 by the Christian Brothers, a religious order founded two centuries ago to focus on educating disadvantaged youth. In recent years, it has faced abuse claims at many of the schools it has opened worldwide. At the time of Varela's 1977 encounter with Mac Conastair, the socially conservative church school had evolved into something of a refuge for children of the rich. Varela said he decided to confront Newman authorities about the abuse after he heard that the school planned to add a crown to the lion in its coat of arms in honor of Macri, a 1976 graduate who was elected president in 2015. "Instead of a crown, it would give me more comfort to see a whip or a crown of thorns," Varela said in a letter to the rector. "This would be in remembrance of the aberrations that many others suffered." Varela said Newman's rector, Alberto Olivero, then met with him, offered psychological treatment and tried to dissuade him from going public with the story. The school refused to comment and referred questioners to written statements. Frustrated at the lack of public acknowledgement, Varela said, he spoke to Argentina's La Nacion newspaper in December 2016. He also began writing about it on Facebook. In February, his phone rang and Pope Francis was on the line. The pontiff expressed his solidarity and apologized on behalf of the church. "He told me that I needed to understand that I was a very important part of a broken link," Varela said. The Vatican doesn't confirm or deny such calls, saying they are part of Francis' pastoral Varela said about 20 other former students have contacted him to describe similar abuse carried out by Mac Conastair, a Passionist, and by at least one Christian Brother priest at the school. At least four of the ex-students repeated accounts of witnessing or suffering abuse to The Associated Press, though it is not clear if the others had reported the incidents earlier. Both of the priests have died. Pedro Ellis told the AP he was about 14 years old when Mac Conastair called him into his room. With the excuse of giving him a sex talk, he asked him to get naked and lie down on his bed. "He touched my buttocks and then, he introduced one or two fingers inside my rectum," Ellis told the Associated Press. Ellis, now 52, said that he's considering seeking compensation for the abuse. Julio Castano said the chaplain he'd seen as "God's representative on earth" called him into his room in 1979 and fondled the then 12-year-old. "I decided it was now time to tell it, so we can get this off our backs," said Castano, who until then, had not told anyone else publicly or informed the school. Another former student alleged that the Brother John Derham sat him on his lap in the school library and kissed him on the mouth. A fourth ex-student, Guillermo Newbery, 68, told the AP that he witnessed Derham make students sit on his lap during his class, saying he would "caress students excessively, rubbed them and hugged them inappropriately." Newbery said he told his parents in 1963 and they reported it to the school's Parent Association. Derham died in 1986. After Varela spoke to the press, Olivero sent a letter addressed to the Newman community and acknowledged the abuse of at least one student 40 years ago. A copy of the letter was posted on the school gate. Without naming anyone, it said that the Christian Brothers apologized "for the abuse that all former students could have suffered as a result of the inadequate and unjustified behavior" of the chaplain. The head of the Christian Brothers for Latin America, Hugo Caceres, sent Varela a letter expressing "solidarity and Christian compassion" for all abuse victims. At the time of Varela's abuse, the rector was John Burke, an Irishman who was in charge of Newman from 1979-1996. Burke was later named member of a Christian Brothers committee for safeguarding children in Europe. Burke confirms he learned of the abuse in 1980, but said he didn't know the identity of the victim until Varela went public. "Towards the end of the school year of 1980, I was made aware of a complaint of inappropriate behavior by the college chaplain towards a pupil whose identity was not known or revealed to me," Burke said in a statement to the AP. It wasn't clear how Burke had learned of the case, though Varela said that he once told lay brother Desmond Finnegan, who counseled him to remain quiet about the incident and pray for the elderly chaplain. In an odd twist, Burke said he sought advice about the case from a lawyer who turned out to be Varela's father, a judge in charge of child protection cases. "I can understand your shock at hearing that I had spoken with your father concerning the priest," Burke wrote in a June 2016 letter to Varela. Varela said his father died without ever learning of the abuse of his son. Burke told Varela that, "I took immediate and what I judged to be appropriate measures to ensure the safety and wellbeing of all the pupils in the school and of every person who had contact with the chaplain." The measures included "immediate removal of the chaplain by his religious superior and the Bishop of the Diocese." Records obtained by the AP show that Mac Conastair was transferred to the San Cayetano vicary, but it's unknown whether he had contact with other children before he died in 1997. Clerical abuse experts say Burke's action was significant because in the 1970's there were no church rules for reporting such crimes. "It sounds like at least John Burke took some action and the bishop forced the priest out of the school," said Maeve Lewis, executive director of victims group One in Four. "That happened here (in Ireland) all the time and no one brought it to the attention of their bishop." But Varela remained frustrated at the failure of Burke, the school and the Brothers to acknowledge the "abhorrent sexual and psychological abuses" in public. "I am not the only victim of Newman School. We both know it," Varela wrote in a letter to Burke in October 2016. He also criticized for former rector for failing to mention the abuse when he spoke at an annual alumni dinner attended by Macri that month. A video published online by Newman's alumni association five years ago, shows Burke referring to Derham as his novice master and praising him as "the most extraordinary person."
---
North Korea warns of a strike on Guam after Trump says threats to be met with fire, fury

MMNN:9 Aug 2017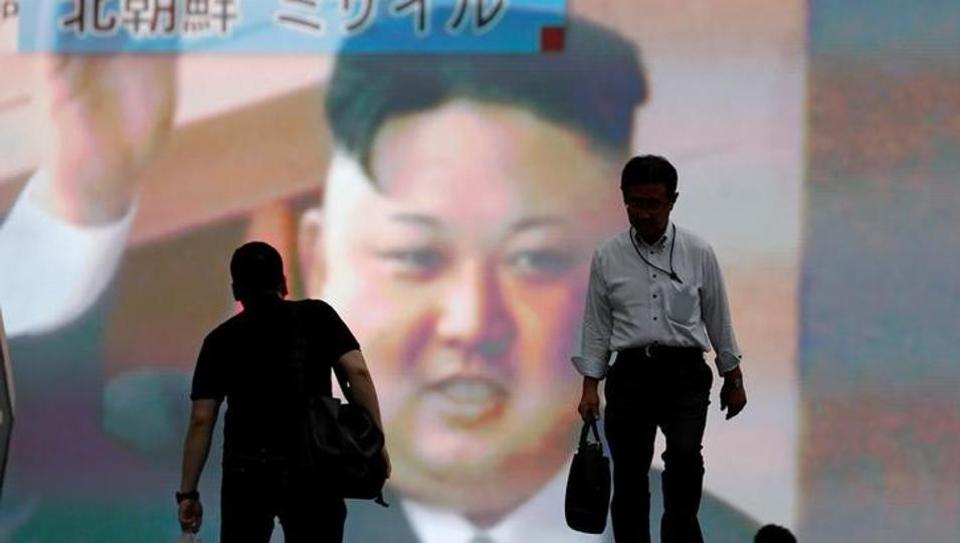 The official North Korean news agency said Pyongyang is examining operational plan for making an enveloping fire around Guam with medium-to-long-range strategic ballistic rocket Hwasong-1 ust hours after President Donald Trump said the US will respond to further North Korean threats with "fire and fury", Pyongyang shot back saying it was examining plans for a missile strike on US territory in the Pacific Guam. "The KPA (Korean People's Army) Strategic Force is now carefully examining the operational plan for making an enveloping fire at the areas around Guam with medium-to-long-range strategic ballistic rocket Hwasong-12 in order to contain the US major military bases on Guam including the Anderson Air Force Base," a spokesman for the North Korean army said in a statement carried by the country's state news agency. The spokesman added the plan will be put into effect when the North Korean leader Kim Jong Un decided. There was no mention in the statement to President Trump's threat earlier in the day, which some critics said was too sharp and that he had gone too far too soon. "North Korea best not make any more threats to the United states," Trump said in remarks at his golf resort in New Jersey. "They will be met with the fire and the fury like the world has never seen." He was responding to questions on the North Korea's nuclear capabilities. "He has been very threatening beyond a normal state, and as I said they will be met with the fire and fury and frankly power, the likes of which this world has never seen before," he added presumably referring to Kim Jong-Un, the North Korean leader, who oversaw a series of missile tests since Trump took office The president's remarks raised concerns at home if he was indeed ready to carry out his threat and punish Pyongyang if pushed. Republican senator John McCain, who heads the senate armed services committee, told a TV station he takes exception to Trump's comments "because you got to be sure you can do what you say you're going to do". Senior Democratic Senator Dianne Feinstein said the situation on the Korean peninsula was already volatile and Trump was not helping with "his bombastic comments". Shortly after the president's remark, US military announced two B-1 bombers flew from Guam over the Korean Peninsula as a part of "continuous bomber presence", a US official said, in a sign of the strategic importance of Guam. Trump's remarks followed news reports North Korea may have developed miniaturised nuclear warhead that could be carried inside missiles, and Pyongyang's threats to teach the US "a severe lesson with its strategic nuclear force". And that was in response, in a back-and-forth on for weeks now, to the UN security council slapping new sanctions on North Korea based on a US-led resolution — after two ICBM tests carried out by Pyongyang in one month. North Korean said it was ready to use nuclear weapon against the US if it was attacked. "Should the US pounce upon the DPRK with military force at last, the DPRK is ready to teach the US a severe lesson with its strategic nuclear force," it said in a statement on Monday.
---
Iran's Rouhani presents new male-only cabinet

MMNN:8 Aug 2017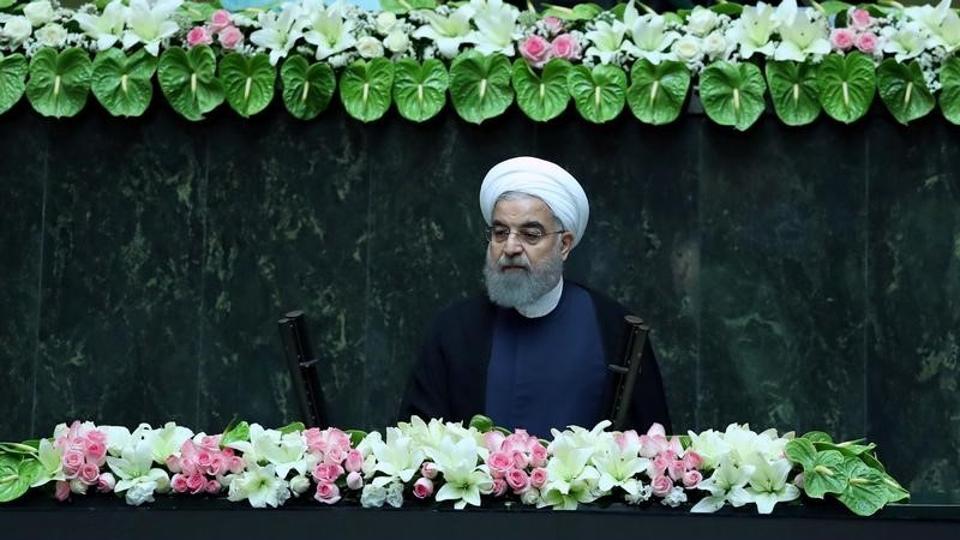 Iranian President Hassan Rouhani put forward a new cabinet line-up on Tuesday that again included no women, despite criticism of their absence from his reformist allies. There were no major changes to Rouhani's government, which is expected to continue his push for greater foreign investment and a technocratic approach to reviving the country's stagnant economy. He did replace the defence minister, Major General Hossein Dehghan, with his deputy, General Amir Hatami -- the first time in more than two decades that the post has been filled by someone from the regular army rather than the elite Revolutionary Guards. The deputy economy minister, Masoud Karbasian, also replaced his boss, Ali Tayebnia. Key names in Iran's efforts to rebuild ties with the West -- Foreign minister Mohammad Javad Zarif and Oil Minister Bijan Namdar Zanganeh -- retained their positions. All 18 cabinet members must be approved by parliament over the coming week. Rouhani's reformist allies have already criticised the president after news leaked that he would again fail to appoint any women to the cabinet -- seen as a capitulation to religious leaders. "The lack of women ministers shows we are treading water," Shahindokht Mowlaverdi, Rouhani's outgoing vice president for women's affairs, told the reformist Etemad daily on Monday. During his first term, she was one of three women among his large cohort of vice presidents, who do not require parliamentary approval. The 68-year-old president is a moderate cleric, who won a sizeable election victory over hardliner Ebrahim Raisi in May, thanks largely to the support of reformists, who have felt ignored in the selection process for the new government. Ironically, the sole female minister since Iran's 1979 Islamic revolution came under Mahmoud Ahmadinejad, Rouhani's hardline predecessor, whose health minister Marzieh Dastjerdi served between 2009 and 2013. With no official parties in parliament, Rouhani must coordinate among a shifting pattern of political factions, none of which holds a definitive majority of the 290 seats. He is known to have coordinated closely on his appointments with other power-brokers, including supreme leader Ayatollah Ali Khamenei, the Revolutionary Guards and the judiciary.
---
Trump's global warning: US launches process to exit Paris climate agreement

MMNN:5 Aug 2017

US officially informs UN it will withdraw from the Paris Climate Agreement, pressing ahead with President Donald Trump's announcement in June. The United States on Friday formally communicated to the UN its intent to withdraw from the Paris Agreement on climate "as soon as it is eligible to do so" but left the door open for re-joining if and when terms were "more favorable to it". President Donald Trump announced in June he was pulling the US out of the accord alleging it unfairly favoured countries such as India and China at the expense of America, but had said he was open to re-negotiating the deal. His offer was was rejected by most signatories, who vowed to press ahead with the Paris deal that aims to prevent the Earth from heating up by 2 degrees Celsius since the start of the industrial age. A state department statement, however, said the US will continue to participate in international climate change negotiations and meetings, including the 23rd Conference of the Parties (COP-23) of the UN Framework Convention on Climate Change. The US will be sending delegations to COP-23 in Bonn, Germany in November and such other conferences and meetings, according to a state department official who spoke on the background. "As the President indicated in his June 1 announcement and subsequently, he is open to re-engaging in the Paris Agreement if the United States can identify terms that are more favourable to it, its businesses, its workers, its people, and its taxpayers," the statement said. The president had then insisted that leaving the accord would not diminish America's commitment to protecting the environment but the series of measures ordered by him rolling back some of President Barack Obama's green regulations — such as those pertaining to mining of coal, for instance — would have severely limited the ability of the US to fulfill its commitments. Underlining Trump's position, the statement said the US supports a balanced approach to climate policy that lowers emissions while promoting economic growth and ensuring energy security. The US is on a very short list of countries with Syria and Nicaragua that are not a part of the global pact signed by 195 countries in 2015 and that came into effect last November, the month Trump was elected president running on the promise of ending America's association with it. The impact of the US exit on global warming will be severe. Climate Interactive, which tracks global emissions and pledges, estimates that if the US doesn't reach its Paris Agreement goal an additional 0.3 degrees Celsius will be added to global warming by the end of the century. Climate Action Tracker, another outfit, expects lesser impact — additional 0.1 to 0.2 degrees Celsius by 2100. Associateed Press said the earliest the US can be out of the climate agreement is November 4, 2020 -- the day after the next presidential election. "The state department is telling the UN what the president already told the world on June 1 and it has no legal effect," said Nigel Purvis, who directed US climate diplomacy during the Bill Clinton and George W Bush administrations. Purvis said countries can't withdraw from new international agreements, including the Paris climate one, until three years after they go into effect. Then the process takes a year. The state department cited the same timeline, saying it can officially start withdrawing as soon as November, 2019. Under Obama, the US agreed to reduce polluting emissions more than a quarter from 2005 levels by the year 2025. There is no climate court. All that's required in the agreement is a plan and reporting on progress toward reaching self-set goals.
---
In India-Israel Defense Ties, A Rope-Maker Makes Big Gains

MMNN:27 July 2017

Garware-Wall Ropes Ltd. aims to win defense contracts by forging partnerships and developing new products to complement its traditional offerings of industrial ropes, textiles and nets used in fishing and sports Amid the scores of companies looking to cash in on India's plans to boost defense spending and open up contracts to the local private sector, one unlikely hopeful stands out: a ropemaker. Garware-Wall Ropes Ltd. aims to win defense contracts by forging partnerships and developing new products to complement its traditional offerings of industrial ropes, textiles and nets used in fishing and sports. The company plans to begin making fabric covers that protect radar equipment from weather conditions, and earlier this month it signed a pact with Israel's Aero-T to manufacture surveillance balloons called aerostats. "We will work out the details on the venture such as revenue-sharing and investments soon, and Garware aims to have a significant stake in it," Shujaul Rehman, chief executive officer of the Pune-based company, said in a phone interview on Tuesday. India plans to spend $250 billion by 2025 to modernize its armed forces and in May approved a policy that allows companies to partner with foreign firms and to boost local manufacturing. The plans have helped inflate shares of companies that are queuing up to bid for supply contracts ranging from explosives and surveillance equipment to combat planes and submarines. Garware-Wall's stock has nearly doubled in the past 12 months compared with a 32 percent gain in the S&P BSE Small Cap Index. While the ropemaker has yet to officially factor in any boost from defense orders, the CEO envisions a total revenue contribution of about 1 billion rupees over 2020-22. "Demand from all the businesses that it supplies to is expected to improve the top-line, and we see the defense sector adding to the stream in the next couple of years," Hyderabad-based Anil Kumar, an equity analyst at Firstcall India Equity Advisors Pvt., said by phone. Kumar, who has an overweight rating on the stock, expects Garware-Wall Rope's operating profit and net income to rise at least 22 percent annually and sees its partnership with Aero-T as "another step for future growth." Widening margins have helped the ropemaker's profits rise at a faster pace than revenue. Net income increased at an average 47 percent annually for the past three financial years versus around 8 percent sales growth. The company cites lower costs and sales of more-profitable products as the main reason for the margin improvement. Garware-Wall aims to maintain its recent growth and profitability levels. "We sell a considerable percentage of high-margin products and aim to improve it to as much as 70 percent of total sales from the current contribution of around 50 percent," Rehman said.
---
Trump blames Obama for Russia and Iran's control over Syria

MMNN:26 July 2017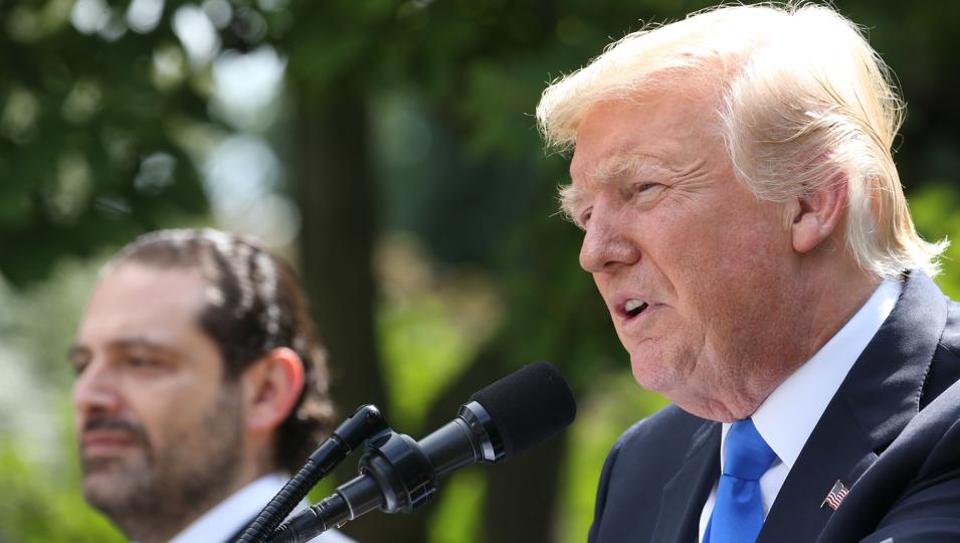 President Donald Trump said he will not let Bashar al-Assad get away with using chemical weapons on his people in Syria, as he slammed his predecessor Barack Obama for not taking enough action on "horrible acts against humanity" in the war-ravaged country. Had President Obama gone across that line and done what he should have done, I don't believe you'd have Russia and I don't believe you'd have Iran to anywhere near the extent, and maybe not at all, in Syria today," Trump told reporters at a joint news conference with visiting Lebanese Prime Minister Saad Hariri on Tuesday. "I am not a fan of Assad. I certainly think that what he's done to that country (Syria) and to humanity is horrible. I have been saying that for a long time. I am not somebody that will stand by and let him get away with what he tried to do," he said. In the "red line" warning of 2013, Obama responded to reports that Assad had used chemical weapons by saying he would meet further chemical weapons use with force. Later, Assad again used chemical weapons, and Obama opted to have Russia step in to remove them. "He (Assad) did it a number of times when President Obama drew the red line in the sand, and then he should have crossed that red line, because some horrible acts against humanity took place, including gas and the killing through gases. That was a bad day for this country," Trump said. He said the US is having extraordinary success against the ISIS One of the things that we have made tremendous strides at is getting rid of ISIS. We have generals that don't like to talk, they like to do," he said. Trump said the US has made "tremendous strides" against the Islamic State terror group in Syria, Iraq and other locations. "Our military is an incredible fighting force. And as you know, I let the commanders on the ground do what they had to do," he said. The US president added that before he took charge, "The commanders had to call the White House and speak to people that didn't know what was happening, where they were, what locations, practically, probably never heard of the countries they were talking about or the towns." Responding to another question, Trump said he would be making his position clear on the Hezbollah clear in the next 24 hours. "I'll be making my position very clear over the next 24 hours. We're going to see what is exactly taking place. I have meetings with some of my very expert military representatives and others. So I'll be making that decision very shortly," he said.
---
US Envoy Holds Russia Responsible For 'Hot War' In Ukraine

MMNN:24 July 2017

Kurt Volker, who was appointed this month as the State Department's special representative for negotiations to end more than three years of fighting, was visiting Kiev on the eve of telephone talks between the leaders of Ukraine, Russia, Germany and France on how to stem a conflict that has claimed 10,000 lives. KIEV: The new US special envoy on Ukraine said Sunday that Russia is responsible for the "hot war" in the country's east, after fresh clashes between government forces and Russian-backed rebels. Kurt Volker, who was appointed this month as the State Department's special representative for negotiations to end more than three years of fighting, was visiting on the eve of telephone talks between the leaders of Ukraine, Russia, Germany and France on how to stem a conflict that has claimed 10,000 lives. "This is not a frozen conflict, this is a hot war and it is an immediate crisis that we all need to address as quickly as possible," Volker said while visiting the government-controlled city of Kramatorsk in the war-torn Donetsk region. "I wanted to come here... and to see firsthand the situation along the line of conflict," Volker, wearing a bulletproof vest, told journalists. "It is truly a high degree of suffering, there was a high human cost to this conflict and that is another reason why it is so urgent that we address it." His visit follows a fresh flare up in fighting in eastern Ukraine which has claimed the lives of 11 Ukrainian troops over the past few days, the most serious surge in bloodshed in recent months. Ukraine and the West say Moscow has funnelled troops and arms across the border to fan the flames of the war in Europe's backyard. Moscow has denied the allegations, despite overwhelming evidence that it has been involved in the fighting and its explicit political support for the rebels. Volker agreed when asked whether he considered the conflict to be the result of Russian aggression rather than a Ukrainian civil war. "We understand the way this conflict has begun, we understand the way it is being managed today and that is why it is important the US become more engaged," the former US ambassador to NATO said. On Monday, Volker will have talks with Ukrainian authorities in Kiev and next week will visit France, Belgium, Austria and Britain before going back to Washington to make "some recommendations about exactly how the US can engage better". The US and EU have imposed sanctions on Russia, but efforts to secure a peace Ukraine deal have ground to a halt as the fighting has dragged on. The conflict, along with Russia's annexation of Crimea from Ukraine in 2014, has pushed ties between Moscow and the West to their lowest point since the Cold War.
---
Nawaz Sharif's brother to replace him in case of conviction: Report

MMNN:22 July 2017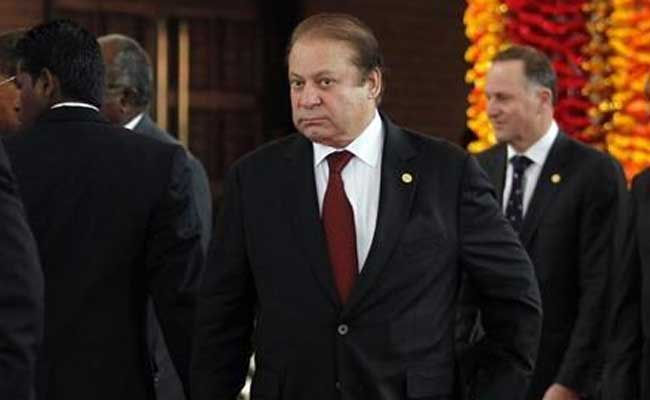 Defence minister Khawaja Asif will most likely become the interim prime minister for 45 days till Punjab province chief minister Shehbaz Sharif is elected in bypolls, Geo News reported, Beleaguered Pakistani Prime Minister Nawaz Sharif's younger brother and Punjab province chief minister Shehbaz Sharif is expected to replace him if he is disqualified by the Supreme Court for alleged corruption and money laundering in the sensitive Panama Papers case, according to a media report. Since Shehbaz is not a member of the National Assembly — the lower house of the Parliament — he cannot succeed immediately and would have to contest elections. Therefore, defence minister Khawaja Asif will most likely become the interim prime minister for 45 days till Shehbaz is elected in bypolls, Geo News reported, citing sources, that it was decided in a high-level huddle of ruling Pakistan Muslim League Nawaz (PML-N) on Friday. It was also decided during the meeting that the party will utilise all legal and constitutional options available if the verdict goes against the premier. The meeting, chaired by Prime Minister Sharif, was also attended by Shehbaz along with federal ministers, advisers and the legal team representing the Sharif family in the Panama Papers case. The meeting reviewed the situation following developments in the Supreme Court. According to sources, the legal team briefed the prime minister on the Panama Papers case. Speaking in a talk show, Asif rebuffed the media reports. "The entire party is behind the leadership of Nawaz Sharif. There is no any prime ministerial candidate. There has been no discussion in the meeting on this issue". The Supreme Court concluded hearing the sensitive Panama Papers case against Sharif, 67, and his family on Friday for alleged corruption and money laundering, but reserved its verdict that could jeopardise his political future. The judgement was reserved after counsels of both sides concluded their arguments before a three-judge bench of the apex court headed by Justice Ejaz Afzal Khan. The bench did not immediately give any date to give its judgement. A six-member JIT was set up in May by the Supreme Court with the mandate to probe the Sharif family for allegedly failing to provide the trail of money used to buy properties in London in 1990s. The JIT has recommended that the report's Volume-X should be treated as confidential as it contains the details of correspondence with other countries. So far Sharif has refused to quit, calling the investigators' report a compilation of "allegations and assumptions". His decision to stay in power was endorsed by the federal Cabinet last week.
---
Two killed, over 100 injured as 6.7-magnitude earthquake hits Greek, Turkey tourist resorts

MMNN:21 July 2017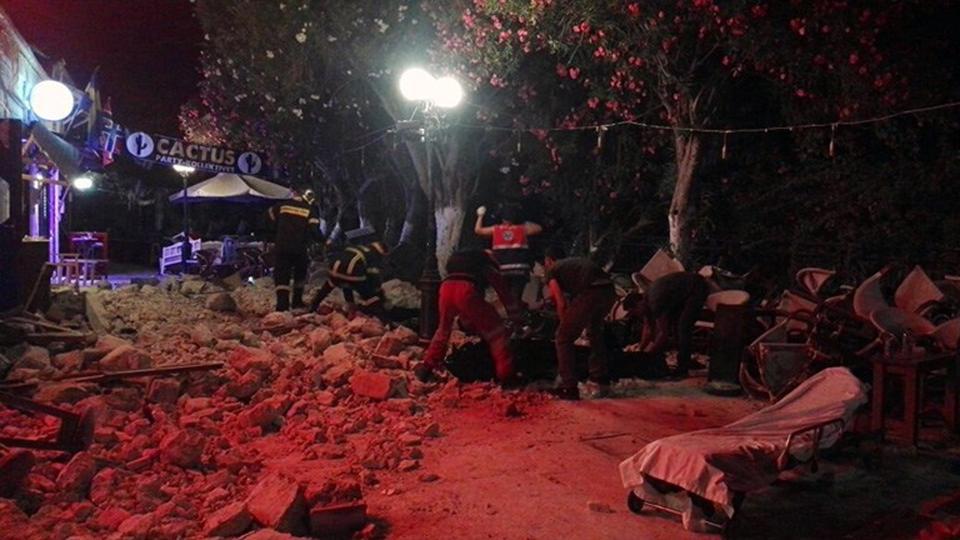 Two people, likely foreign tourists, were killed and more than 100 people injured on the Greek island of Kos when an earthquake shook popular Greek and Turkish holiday destinations in the Aegean Sea. The epicentre of the shallow 6.7 magnitude quake was some 10.3 kilometres (6.4 miles) south of the major Turkish resort of Bodrum, a magnet for holidaymakers in the summer, and 16.2 kilometres east of the island of Kos in Greece, the US Geological Survey said. "We have two dead and people injured," a hospital official on Kos told AFP, adding that the victims were killed when the ceiling of a building collapsed. Kos mayor Georges Kyritsis told Skai radio the two victims were foreigners. A local journalist, interviewed by the same station, said the victims were found in a bustling part of the town. The Greek secretary of state for the merchant navy Nektarios Santorinios, said the injury toll had risen to 120. Reports said the state hospital in Bodrum was evacuated after cracks appeared, with new patients being examined in a garden outside. The governor of the southern Mugla province -- where Bodrum is located -- said some people had been slightly injured after falling out of windows in panic. Television footage showed throngs of worried residents and holidaymakers in Bodrum's streets. "The biggest problem at the moment are electricity cuts in certain areas (of the city)," Bodrum mayor Mehmet Kocadon told NTV television. "There is light damage and no reports that anyone has been killed" in the area, he added. The quake struck Friday at 0131 local time (2231 GMT Thursday). 'I screamed' The Adliye mosque in central Bodrum suffered some damage, with police cordoning it off to prevent people being wounded by fallen debris, the state-run Anadolu news agency said. The quake was also felt on the Datca peninsula -- also a major resort area -- as well as Turkey's third city of Izmir on the Aegean to the north. Turkish television said the earthquake triggered high waves off Gumbet near Bodrum which flooded a road and left parked cars stranded. There were no reports of casualties. An AFP correspondent holidaying in Bodrum said the quake was followed by aftershocks. "The bed shook a lot. Some bottles fell and broke in the kitchen and the patio," said Turkish pensioner Dilber Arikan, who has a summer house in the area. "I screamed I was very scared because I was alone." Erdinc Kalece, 47, and his son Baris, 23, were seeing out the night in the open air in a makeshift bed outside their house in the Turgutreis district outside Bodrum. "My father and mother were sleeping, I was driving. It was very bad. The road was trembling... I slowed down, waited. I was not scared but anxious," said Baris. Erdinc added: "Now we're waiting for the aftershock quakes to end." The quake was also felt on the Greek island of Rhodes. "We were very surprised. We were scared and we immediately went outside," Teddy Dijoux, who was holidaying with his family at a Rhodes resort, told AFP. "That lasted a long time. I quickly gathered up my children to leave the hotel," said holidaymaker Sylvie Jannot. Turkey and Greece sit on significant fault lines and have regularly been hit by earthquakes in recent years. This year alone, Turkey's western Aegean coast was hit by several significant earthquakes, which brought back memories of past deadly earthquakes. In June, a 6.3-magnitude earthquake gutted a village on the Greek island of Lesbos, killing a woman and leaving more than 15 injured. The quake also caused panic on Turkey's Aegean coast. On August 17, 1999, a huge earthquake measuring more than 7.0 magnitude near the city of Izmit devastated vast areas in the country's densely populated northwestern zone, notably around Istanbul, killing over 17,000 people.
---
Flower seller receiving help from strangers will make you believe that goodness still exists

MMNN:20 July 2017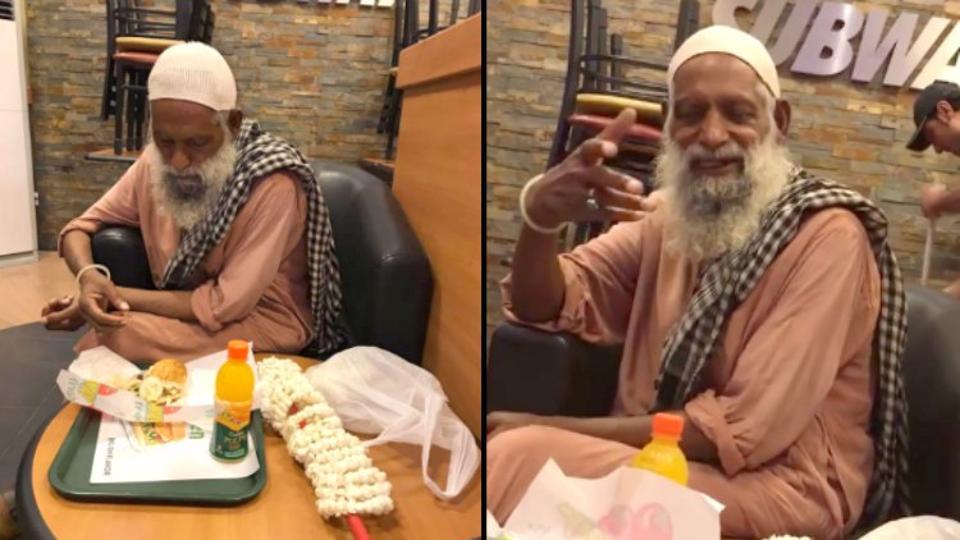 In times when our newspapers are flooded with stories of hatred and negativity, this story of an old man from Karachi, Pakistan is heartening. A Facebook page 'As If I Have Eaten' shared the story of Baba Hameed who was selling jasmine garlands in pouring rain at 2am. A passerby, Muhammad Usman, couldn't stop wondering why was such an old man was trying to sell flowers so late in the night on the deserted road. He stopped to ask if he had eaten anything and if he would like to have dinner with him. Hameed was pleasantly surprised by the offer. They both headed to a nearby Subway and that's when the two got chatting. Usman discovered that Hameed was trying to arrange money for his only daughter's wedding, planned at the end of the month. "I earn a daily wage of 200 to 300 PKR (120-180 INR). How can I go home until I do not earn my targeted amount?" According to the FB post, Hameed was running short of 50,000 PKR (around 30,000 INR). The dinner was finished and both parted ways, but it didn't end there. Usman along with his friend Usama Bin Ahmed run the Facebook page 'As If I Have Eaten' aimed to support the cause to feed poor children. They posted about Usman's chance encounter on the page requesting people to contribute and help Hameed in whatever way they could. In two days, the required amount to help Hameed was collected. The post has over 31k reactions and over 8300 shares in less than a week.
---
We oppose militarisation of South China Sea: Australia's foreign minister

MMNN:19 July 2017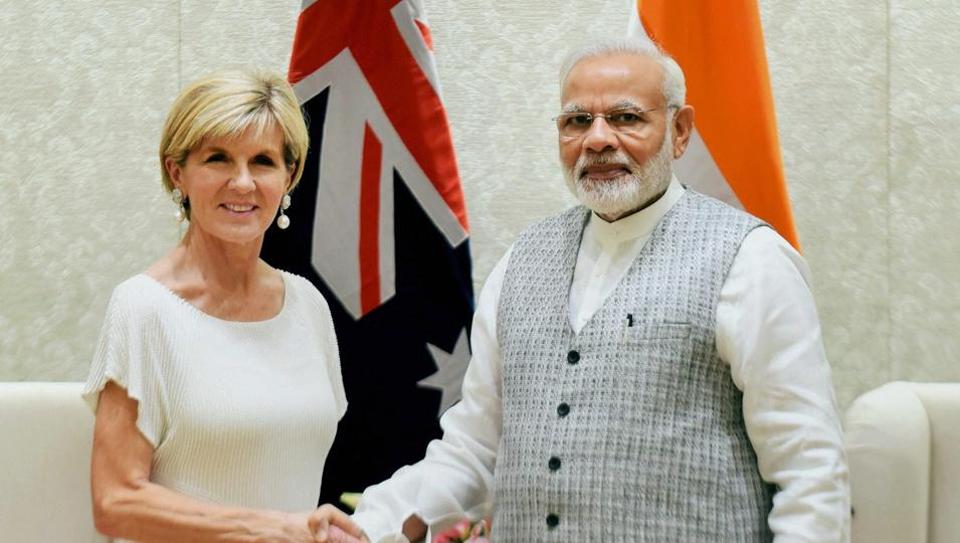 India has commercial interests in the South China Sea and has been pressing for resolving the dispute as per the United Nations Convention on the Law of the Sea. Australian foreign minister Julie Bishop on Tuesday said her country opposes Beijing's construction of artificial reefs and their militarisation in the disputed South China Sea, holding that freedom of navigation must be ensured. The minister, who was delivering a lecture in New Delhi, said at the same time that there was a need to engage with Beijing as it would be in no one's interest to see the Chinese economy falter. "Rising nationalism is leading to a narrow definition of national interest and a more transactional approach in negotiations. These factors reduce the prospects of multilateral cooperation in collective interest," said Bishop, who is on a two-day visit to New Delhi. China has constructed artificial reefs in the resource- rich South China and has been ramping up military infrastructure there despite stiff opposition from countries including Indonesia, Vietnam and Philippines, which are involved in the territorial dispute. "We continue to oppose the construction of artificial reefs and militarisation of those structures in the South China Sea," the visiting minister said. India has commercial interests in the South China Sea and has been pressing for resolving the dispute as per the United Nations Convention on the Law of the Sea, besides advocating freedom of navigation in the resource-rich area. Bishop said the right to freedom of navigation must be ensured as it its crucial for trade. "It is important that all states respect international laws including the United Nation's Convention on the Law of the Sea (UNCLOS) using it as a guide to resolve disputes," she said while delivering the Second Indo-Pacific Oration, organised by think-tank ORF and the Australian high commission. "Our objective must be to encourage China to exercise its economic and strategic weight in a way that respects the sovereign equality of states that upholds and strengthen the rules-based order and benefits all nations," she said. The Australian foreign minister also "applauded" India for successfully and peacefully resolving a long-running maritime dispute with Bangladesh in 2014 under the provisions of the UNCLOS. Bishop emphasised on the need to "close the gaps" for an early conclusion of the negotiations for a free trade agreement between India and Australia. She said that in years to come, the greatest hope of peace and prosperity in the Indo-Pacific region lies in all nations "respecting and contributing to international law to protect national sovereignty" of other nations and strengthen the norms that guide relations between countries. "In the Indian Ocean, we need a collective leadership of Australia, India, Indonesia and other partners to ensure a strong rule-based culture is respected," she said. Bishop also pitched for strengthening the Indian Ocean Rim Association forum. She also said Australia has always supported India's bid for a seat in the United Nations Security Council "to better reflect contemporary realities". Bishop welcomed the implementation of the Goods and Services Tax and said this will increase India's competitiveness, enable it to open up its market and benefit from trade opportunities. She also called for a quadrilateral maritime exercise involving India, Australia and other Indo-Pacific countries. As India looks to increase its energy supply security through a combination of traditional, nuclear and renewable resources to support its growth, Australia is more poised as reliable supplier of resources and technology, she said. India and Australia have signed a nuclear cooperation agreement under which it latter can supply uranium.
---
Lack of 'Calibri': How a humble font has put Pakistan's Nawaz Sharif in the crosshairs

MMNN:12 July 2017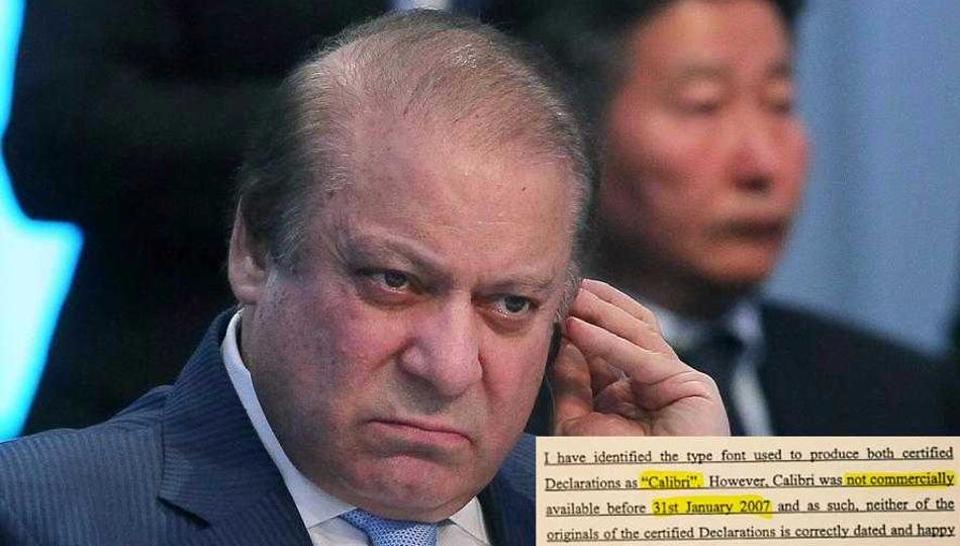 The joint investigation team (JIT) probing Sharif's alleged involvment in Panama Papers graft case has accused Maryam Sharif of providing 'fake/falsified documents'. An inadvertent use of a type font has landed Pakistan prime minister Nawaz Sharif in a soup. The joint investigation team (JIT), probing Sharif's alleged involvement in the Panama Papers graft case, has accused his daughter Maryam Sharif of providing "fake/falsified documents". The JIT said Maryam, her brothers Hussain and Hassan, and husband Mohammad Safdar signed falsified documents to mislead the country's apex court. The forensic laboratory inferred that the font used in the property deed, which dates back to 2006, was Microsoft's 'Calibri', after examining the 'original documents' submitted by Maryam. However, there's a catch. Sharif claimed the deed was signed in 2006 but Calibri was not even "commercially available" before 2007. His alleged goof-up has become the butt of jokes and memes on social media with many terming it as an embarrassment for the sitting prime minister. Some even called it #FontGate The Panama Papers case is about alleged money laundering by Sharif in the 1990s, when he twice served as Pakistan's Prime Minister to purchase assets in London. The Joint Investigation Team was formed by the Supreme Court to probe the money trail
---
Donald Trump's son admits he wanted information on Clinton from Russian lawyer

MMNN:11 July 2017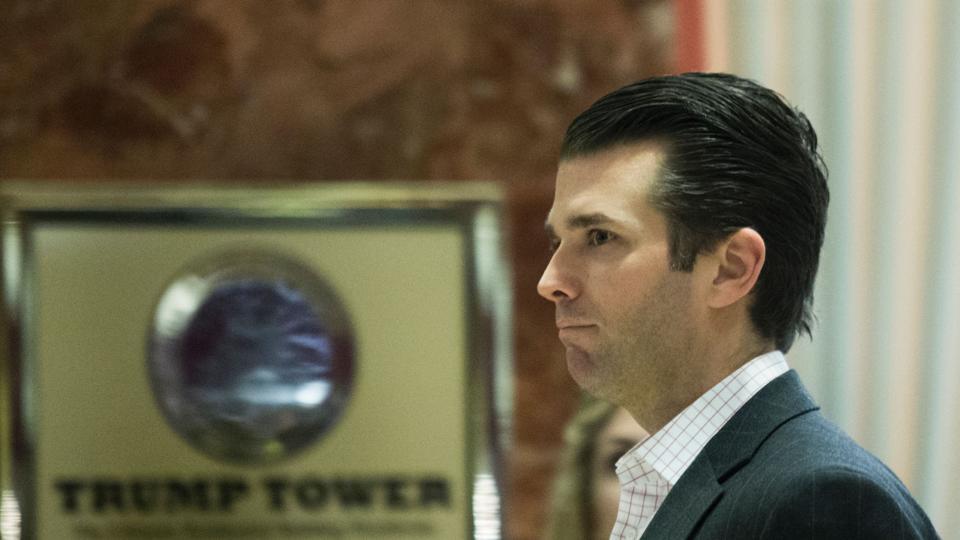 A meeting between US President Donald Trump's eldest son and a Russian lawyer during the presidential campaign occurred at the behest of a Moscow-based singer with family ties to Trump's businesses, according to a participant in the talks. Donald Trump Jr acknowledged on Monday that he made time for the meeting hoping to get information about Democrat Hillary Clinton. The circumstances surrounding the meeting, and a report by The New York Times late on Monday that Trump Jr was told ahead of time that the source of the information was the Russian government, fueled new questions about the Trump campaign's possible ties to Moscow, which are being scrutinised by federal and congressional investigators. The Times reported that Trump Jr, who was a key campaign adviser to his father, was told the Russian government was behind the information on Clinton in an email from music publicist Rob Goldstone. The Times cited three unnamed people with knowledge of the email. The report is the first public word that Trump Jr accepted the meeting with the understanding that he would be presented with damaging information about his father's political opponent and that the material could have emanated from the Kremlin. Goldstone spoke to The Associated Press earlier Monday to confirm he had set up the meeting on behalf of his client, Emin Agalarov, but he did not disclose the contents of the email described by The Times. Goldstone did not immediately respond to attempts to contact him Monday night. In a statement, Trump Jr's New York-based attorney Alan Futerfas called the Times report "much ado about nothing," though he acknowledged his client had received an email from Goldstone to set up a meeting with the purpose of passing along damaging information on Clinton. His statement did not dispute the Times report on the email. Futerfas said Trump Jr. was not told the specifics of the information and nothing came of the meeting. "The bottom line is that Don, Jr. did nothing wrong," Futerfas said in the statement, noting that the younger Trump hasn't been contacted by any congressional panel or special counsel Robert Mueller's office. The White House referred questions to the president's son. Mark Corallo, a spokesman for President Donald Trump's outside legal team, would not comment on the Times story, reiterating only that Trump "was not aware of and did not attend the meeting." Earlier Monday, Trump Jr. tried to brush off the significance of the meeting, tweeting sarcastically, "Obviously I'm the first person on a campaign to ever take a meeting to hear info about an opponent ... went nowhere but had to listen." Trump Jr also said on Twitter he was willing to work with the Senate intelligence committee, one of the panels probing possible campaign collusion, "to pass on what I know." Lawmakers on the committee from both parties said they indeed wanted to talk with the president's son. Senator Susan Collins, R-Maine, said the panel "needs to interview him and others who attended the meeting." Sen. Ron Wyden, D-Ore., agreed, saying, "Based on his own admissions, this is an attempt at collusion." The sequence of events that led to the June 2016 meeting highlighted the tangled web of relationships that investigators now are sorting through. The president's son said the meeting was arranged by an acquaintance he knew through the 2013 Miss Universe pageant Trump held in Moscow. Trump Jr. initially didn't name the acquaintance, but in an interview with the AP, Goldstone confirmed he set up the meeting on behalf of Agalarov. Goldstone said the Russian lawyer, Natalia Veselnitskaya, stated that she had information about purported illegal campaign contributions to the Democratic National Committee that she thought Trump Jr. might find helpful. Goldstone said Trump Jr agreed to squeeze the meeting into a tight schedule. Dmitry Peskov, a spokesman for Russian President Vladimir Putin, said Monday the Kremlin doesn't know Veselnitskaya and "cannot keep track" of every Russian lawyer who holds meetings in Russia or abroad. Although she has not been publicly linked with the Russian government itself, Veselnitskaya represented the son of a vice president of state-owned Russian Railways in a New York money-laundering case settled in May before a trial. A staff member at Veselnitskaya's firm told the AP on Monday that she was unavailable for comment. During his visit to Moscow, Trump spent time with Agalarov, appearing in a music video with him and several contestants in the pageant, which Trump owned at the time. Agalarov's father, Aras, is a Russian developer who sought to partner with Trump on a hotel project in Moscow and tried to set up a meeting between Trump and Putin during the Miss Universe contest. According to The Washington Post and several other media accounts, the elder Agalarov paid Trump $14 million to $20 million to stage the pageant in Moscow. But Aras Agalarov was unable to persuade Putin to meet with Trump. Putin canceled the session, sending a Trump a friendly letter and a lacquered box in appreciation, the Post has reported. On Monday, Goldstone said the Trumps and the Agalarovs stayed in contact after the pageant, and Emin Agalarov asked him to reach out to the Trumps to broker the June meeting with Veselnitskaya. Jared Kushner, Trump's son-in-law and now White House senior adviser, and then-campaign chairman Paul Manafort attended the meeting. Goldstone said he and a translator also participated. During the meeting, Goldstone said, Veselnitskaya made comments about campaign funding "that were not specific," and then turned the subject to a discontinued Russian adoption program and the Magnitsky Act , a bill passed in 2012 that allows the US to impose sanctions on Russians for human rights violations. Goldstone said that at one point during the meeting, Trump Jr or Kushner said, "Can we get to the point?" And later, after Veselnitskaya had finished her presentation, Trump Jr said, "Is that it?" "The whole thing was really vague," Goldstone said. He said he and Trump Jr were the last to leave the room, and "I turned to him and said: 'I'm really embarrassed. I don't know what that was." Unlike Kushner, Trump Jr does not serve in the administration and is not required to disclose his foreign contacts. Over the weekend, Trump Jr initially omitted any mention of Clinton from his account of the meeting, describing it as a "short introductory meeting" focused on the disbanded program that had allowed American adoptions of Russian children. Moscow ended the adoptions in response to the Magnitsky Act sanctions. A day later, Trump Jr acknowledged he was told beforehand that Veselnitskaya might have information "helpful" to the Trump campaign, and was told by her during the meeting that she had something about Clinton. "No details or supporting information was provided or even offered," he said. "It quickly became clear that she had no meaningful information." He said there was no follow-up after the meeting and his father was unaware it happened. Foreign nationals are prohibited from providing "anything of value" to campaigns, and that same law also bars solicitation of such assistance. The law typically applies to monetary campaign contributions, but courts might consider information such as opposition research to be something of value. Bradley A. Smith, a former Bill Clinton-appointed Republican Federal Election Commission member, said that based on what's known about the meeting, Trump Jr's actions are unlikely to be considered illegal solicitation. "It's not illegal to meet with someone to find out what they have to offer," Smith said. But Larry Noble, a former general counsel at the Federal Election Commission, said the situation "raises all sorts of red flags." "You do not want your campaign to be involved with foreign nationals, period," said Noble, now senior director at the Campaign Legal Center. The New York Times first reported the lawyer's meeting with Trump Jr and the meeting's prospect of negative information about Clinton. Trump Jr's acknowledgment that he hoped to get information from her on Clinton only came in response to questions from the Times
---
Panama Papers probe panel submits final report to Pakistan Supreme Court

MMNN:10 July 2017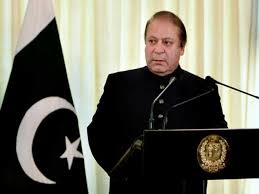 A three-judge implementation bench of the top court headed by Justice Ejaz Afzal Khan will now examine findings of the six-member Joint Investigation Team which it had appointed to probe the allegations brought to light by the Panama Papers leak. A panel probing the alleged offshore assets of Pakistan Prime Minister Nawaz Sharif's family submitted its final report to the Supreme Court on Monday though there was no official word on its findings. A three-judge implementation bench of the top court headed by Justice Ejaz Afzal Khan will now examine findings of the six-member Joint Investigation Team (JIT) which it had appointed to probe the allegations brought to light by the Panama Papers leak. Members of the ruling PML-N have gone into a huddle over the plan of action following the submission of the report. Prime Minister Nawaz Sharif's daughter Maryam Nawaz, who was named in the Panamagate reports, has called the JIT a "conspiracy against democracy." Media reports suggested that the panel had not given a clean chit to Sharif's sons while clearing him. However, there was no official reaction to these reports. The JIT was set up in line with the Supreme Court's April 20 verdict in the Panamagate case where it was alleged that the Sharif family owned millions worth of unaccounted assets abroad. The five-judge bench was split 3-2 while announcing the April 20 verdict, with the head judge and one more ruling against the premier in their dissenting notes. Ads by ZINC Through its final decision, the top court formed a JIT and ordered it to investigate in depth the money trail for the ruling family's London flats. A three-judge bench of the apex court was formed to oversee the implementation of the April 20 verdict. The six-member JIT, headed by Federal Investigation Agency additional director general Wajid Zia, was given two months to find out answers to some 13 questions – mainly related to the money trail for the Sharifs' London properties – and a deadline of July 10 was set by the court. Apart from Prime Minister Sharif, the JIT interrogated seven members of his family over the last two months. His elder son Hussain appeared before the panel six times. His younger son appeared thrice. Other Sharif family members who testified before the JIT included Punjab chief minister and younger brother Shahbaz Sharif, premier's daughter Maryam Nawaz and her husband Capt (retd) Safdar, as well as finance minister Ishaq Dar who is related to the Sharif family through the marraige of his son. The Sharif family's prime defence in the case – Qatari Prince Hamad Bin Jassim bin Jaber al Thani who supported the Sharifs' money trail through two separate letters – did not appear before the probe team.
---
Fresh G20 clashes in Hamburg, police cars torched

MMNN:7 Jul 2017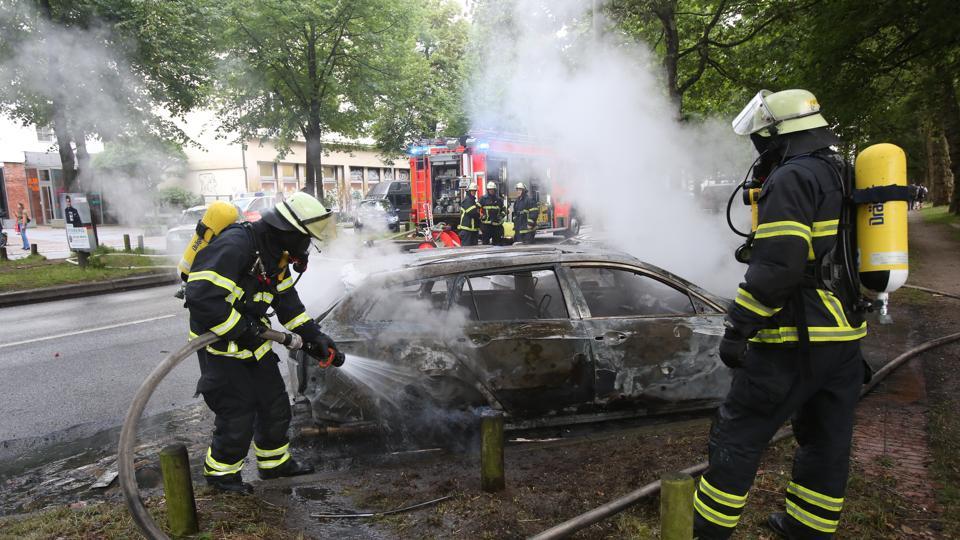 Protesters clashed with police, torched patrol cars and blocked roads in the German city of Hamburg on Friday in fresh violence just before the start of the G20 summit, police said. "An operation is under way against violent individuals" who threw petrol bombs and set fire to patrol cars near a police station in the city's Altona district, federal police said on Twitter. In the west of the city, a "plume of black smoke" was rising, and cars in some areas had been set alight, the local Hamburg police said separately. Police said demonstrators had blocked several intersections and so-called transfer corridors -- roads designated to help delegations move between meetings. On Thursday, a planned peaceful march by around 12,000 people protesting against globalisation turned violent. At least 76 police officers were injured, a Hamburg police spokesman told AFP. Friday's clashes occurred as leaders from the world's 20 biggest developed and emerging economies were to begin a two-day meeting focussing on trade, terrorism, climate change and other key global issues. Hamburg, a vibrant port city, is a citadel of leftwing radicals and authorities have long been bracing for possible violence on the sidelines of the summit. The German police officers' union GdP on Friday hit out at anarchist groups called the Black Blocks, accusing them of "hijacking peaceful demonstrations by tens of thousands of people to deliberately attack" police.
---
Qatar's Gulf neighbours vow to press blockade after their deadline passes

MMNN:6 Jul 2017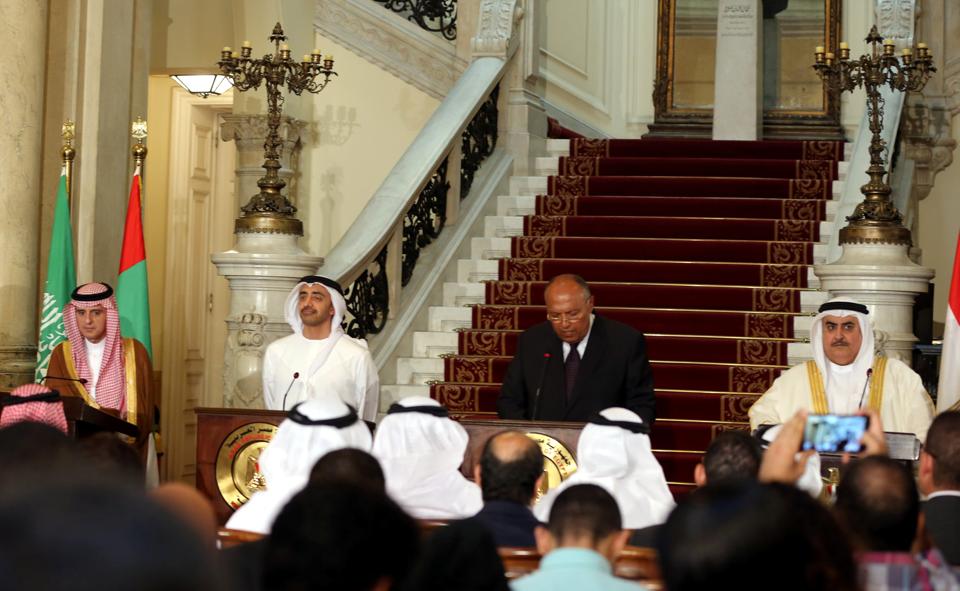 A deadline passed and nobody blinked, so now a high-stakes geopolitical feud in the Middle East looks set to stretch further into the summer. The confrontation between Qatar and its neighbours worsened on Wednesday as four Arab nations vowed to press ahead with the punishing air, sea and diplomatic blockade they imposed one month ago after they accused Qatar of financing terrorism and working too closely with Iran. Qatar rejected an ultimatum that expired on Tuesday to meet a long list of demands. Meeting in Cairo, foreign ministers from the four blockading countries — Saudi Arabia, Egypt, the United Arab Emirates and Bahrain — said they were "disappointed" by the response to their demands, and stepped up their criticism of Qatar, which they say is meddling in the affairs of their countries. "Qatar's role as a saboteur can no longer be forgiven," said Egypt's foreign minister, Sameh Shoukry. The four countries have issued 13 demands, including the closing of Al-Jazeera, Qatar's influential television channel, and, more broadly, the abandonment of Qatar's foreign policy, which includes support for a wide variety of Islamist factions. In London, Qatar's foreign minister, Sheikh Mohammed bin Abdulrahman al-Thani, accused his country's foes of "clear aggression" and said Qatar was ready for a lengthy standoff, having developed new supply routes for imports. He singled out Saudi Arabia and the Emirates as the main foes of Qatar, accusing them of seeking to make it surrender its sovereignty. That, he said, "Qatar will never do." The confrontation could have grown even more serious. But defying expectations, the ministers gathered in Cairo avoided imposing new sanctions on Qatar. The blockading countries said they would meet in Bahrain soon to consider their next steps. "Such significant decisions cannot be taken swiftly," said the foreign minister of Bahrain, Khalid bin Ahmed al-Khalifa. "The decision will be taken at the right time."
---
Stellar sprinters: Milky Way's fastest stars are 'runaways' from another galaxy

MMNN:5 Jul 2017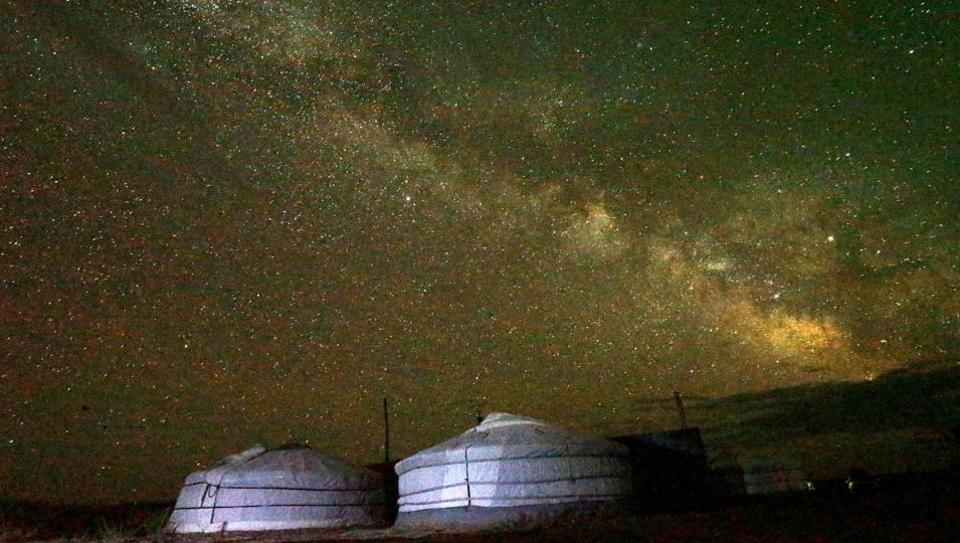 The fastest-moving stars in our galaxy - which are travelling so swiftly that they can escape the Milky Way - are in fact 'runaways' from a much smaller galaxy orbiting around our own, scientists say. The researchers, from the University of Cambridge in the UK, showed that these stellar sprinters originated in the Large Magellanic Cloud (LMC), a dwarf galaxy orbiting around the Milky Way. These fast-moving stars, known as hypervelocity stars, were able to escape their original home when the explosion of one star in a binary system caused the other to fly off with such speed that it was able to escape the gravity of the LMC and get absorbed into the Milky Way. Astronomers first thought that the hypervelocity stars, which are large blue stars, may have been expelled from the centre of the Milky Way by a supermassive black hole. To date, roughly 20 hypervelocity stars have been observed, mostly in the northern hemisphere. "The hypervelocity stars are mostly found in the Leo and Sextans constellations - we wondered why that is the case," said Douglas Boubert, a PhD student at Cambridge. An alternative explanation to the origin of hypervelocity stars is that they are runaways from a binary system. In binary star systems, the closer the two stars are, the faster they orbit one another. If one star explodes as a supernova, it can break up the binary and the remaining star flies off at the speed it was orbiting. The escaping star is known as a runaway. Runaway stars originating in the Milky Way are not fast enough to be hypervelocity because blue stars cannot orbit close enough without the two stars merging. However, a fast-moving galaxy could give rise to these speedy stars. The LMC is the largest and fastest of the dozens of dwarf galaxies in orbit around the Milky Way. It only has 10 per cent of the mass of the Milky Way, and so the fastest runaways born in this dwarf galaxy can easily escape its gravity. The LMC flies around the Milky Way at 400 kilometres per second and the speed of these runaway stars is the velocity they were ejected at plus the velocity of the LMC. This is fast enough for them to be the hypervelocity stars. "This also explains their position in the sky, because the fastest runaways are ejected along the orbit of the LMC towards the constellations of Leo and Sextans," said Rob Izzard, a Rutherford fellow at the Institute of Astronomy. The researchers used a combination of data from the Sloan Digital Sky Survey and computer simulations to model how hypervelocity stars might escape the LMC and end up in the Milky Way. They simulated the birth and death of stars in the LMC over the past two billion years and noted every runaway star. The orbit of the runaway stars after they were kicked out of the LMC was then followed in a second simulation that included the gravity of the LMC and the Milky Way. These simulations allow the researchers to predict where on the sky we would expect to find runaway stars from the LMC. "We are the first to simulate the ejection of runaway stars from the LMC - we predict that there are 10,000 runaways spread across the sky," said Boubert.
---
Pak media on Modi's Israel visit: 'Need to checkmate India's aggressive diplomatic moves'

MMNN:4 Jul 2017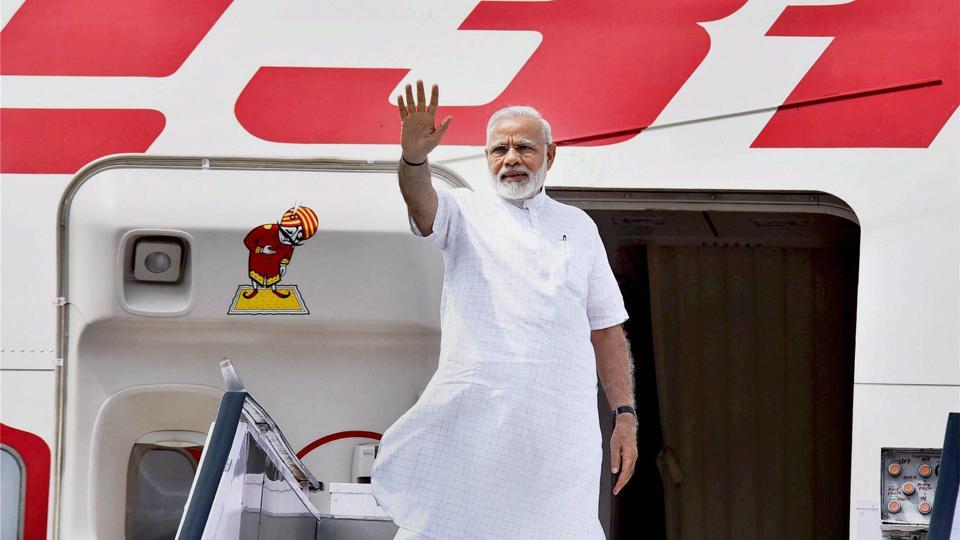 Prime Minister Narendra Modi's groundbreaking visit to Israel is being viewed with suspicion by the Pakistani media, with some commentators saying it is aimed at countering Pakistan's military strength. Indian Prime Minister Narendra Modi's visit to Israel is being viewed with suspicion by the Pakistani media, with some commentators saying the exercise is aimed at countering Pakistan's military strength. Though several TV news channels have focussed on the visit, most English and Urdu newspapers reported on it only briefly in their Tuesday editions. Pakistan does not recognise the state of Israel. The influential Dawn newspaper used a wire copy for its report headlined "Modi set to become first Indian PM to visit Israel", while The Express Tribune headlined its report "Modi visit holds special meaning for Indian Jews in Israel". Khawar Ghumman, a commentator on Channel 42, referred to what he described as the "nexus" between New Delhi and Tel Aviv and contended the two countries were working against Islamabad. "This is an old nexus and we know that in the past, Israel has actively worked with India to counter Pakistan," Ghumman said. Security analyst Brig Ghazanfar Ali said there were "similarities between Hindu nationalism and Jewish nationalism". The meeting of national interests between India and Israel means Pakistan should pay greater attention to the security cooperation between the two countries as this will directly affect Islamabad's security interests. At the same time, Ali said Pakistan has to also look at its own national interests and act accordingly. "At a time when Saudi Arabia is thinking of establishing relations with Israel, Pakistan has to see what is good for its interests in the region," he said. "We need to check mate India's aggressive diplomatic moves." While the sentiments expressed by Ali are not common, there is a growing debate in Pakistan on how it needs to change its foreign policy parameters to cope with changes in the region, including the Saudi Arabia-Qatar row. Most Urdu newspapers, which have a larger readership, used wire copies to inform their readers of Modi's visit, the first by an Indian prime minister to Israel after the two countries established diplomatic relations 25 years ago. However, there was little commentary on the visit in the newspapers, which also did not carry any editorials on the issue. Under former military ruler Pervez Musharraf, Pakistan had established contacts with Israel in 2005 after it withdrew from the Gaza Strip. Pakistan's then foreign minister Khurshid Kasuri held talks with his Israeli counterpart Silvan Shalom in the Turkish city of Istanbul. Shalom had then described the talks as a "historic meeting" but the two sides were unable to make any headway and the contacts stopped soon after.
---
Up to 17 feared dead in Germany after bus bursts into flames: Police

MMNN:3 Jul 2017

There was "only a glimmer of hope" that 17 people missing after the collision would be found alive outside the coach, which was completely gutted. Up to 17 people were feared dead after a tour bus burst into flames following a collision with a trailer truck in southern Germany on Monday, police said. "We are realistic and will have several dead to report at the end of the day," police spokesman Juergen Stadter told rolling news channel NTV. There was "only a glimmer of hope" that 17 people missing after the collision would be found alive outside the coach, which was completely gutted, he added. "Maybe someone ran away in shock," Stadter said. Another police spokeswoman, Anne Hoefer, also told AFP that "it is completely possible that some people did not make it out of the bus, it's unclear where 17 of them are". The bus carrying 46 passengers and two drivers rammed into the trailer in a traffic jam on the motorway A9 close to the Bavarian town of Stammbach.The crash shortly after 7 am (0500 GMT) sent the bus up in flames. Some 31 injured people were pulled out of the bus, said Hoefer. Images on television showed only a charred skeleton of the bus remaining. It was unclear what kind of tour group the bus was carrying. According to the Bild newspaper, the coach was travelling from the eastern region of Lausitz and heading for Nuremberg. The accident struck near the town Bayreuth, which draws thousands of classical music lovers every summer to its opera festival. The region close to the Czech border is also dotted with spas and castles, and the A9 is a trunk motorway leading to many popular summer holiday spots. An emergency team, including firefighters and rescue workers, were at the scene, while traffic on the motorway was halted in both directions. Those hurt were being flown by rescue helicopters to hospitals, many with life-threatening injuries. If those missing are confirmed killed, the accident at the start of the summer holiday season would be one of the worst to hit Germany. Among the deadliest in recent years was a collision in June 2007, when 13 people were killed as their tour bus drove off the road and plunged several metres down a slope in eastern Germany's Saxony-Anhalt state. In September 1992, 21 people died when a bus swerved out of its lane and struck a truck before ramming into the road divider in the southern Black Forest region, a key tourist destination. Across Europe, the last such fatal accident struck on January 21 in Italy, when an accident involving a Hungarian bus carrying teenagers left 16 dead. In France, a head-on crash in October 2015 between a truck and a bus carrying pensioners claimed 43 lives as both vehicles burst into flames.
---
For Iranian-Americans, Trump travel ban keeps families apart

MMNN:1 Jul 2017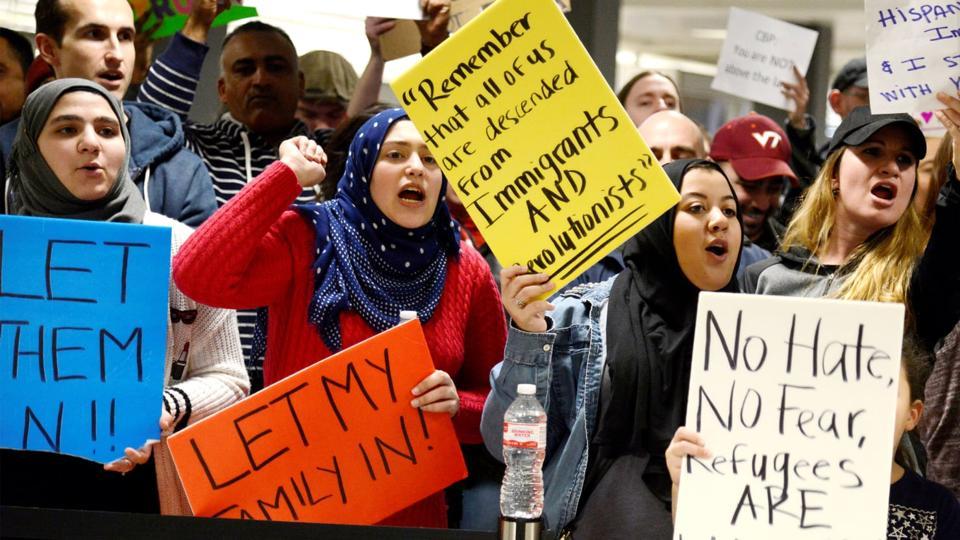 The scaled-back version of President Donald Trump's policy that took effect this week places new limits on visa policies for citizens of six Muslim-majority countries, including Iran. Weddings have been moved and family visits delayed. The Trump administrations travel ban, while a shadow of its original self, has dealt a harsh blow to the Iranian-American community, where family ties run strong and friends and loved ones regularly shuttle between Los Angeles and Tehran. But it isnt the only immigration hurdle facing the community. Iranians allowed to seek visas to visit family in the United States may still have a hard time getting them with a screening process that can take months or longer, immigration lawyers said. In the meantime, families are being kept apart. Iranian-American homemaker Mina Thrani, 38, had hoped to invite her aunt to visit her in Irvine over the Christmas holiday but can't because of the ban. Xena Amirani, an 18-year-old college student from Los Angeles, said her family has been grieving since her grandmother died after being struck by a car while crossing the street. They traveled to Iran to bury her. Now, her uncle and his wife want to travel together to visit the family in California to help console them, but the travel ban is in the way. It is pointless, Amirani said.
---
Japan reveals plans to put a man on moon by 2030

MMNN:30 Jun 2017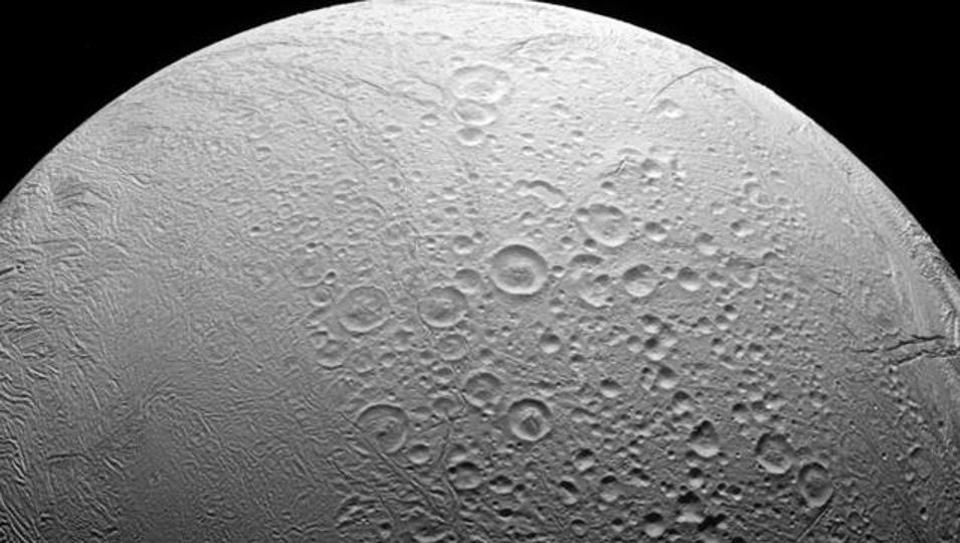 This is the first time the Japan Aerospace Exploration Agency (JAXA) has said it aims to send an astronaut beyond the International Space Station Japan has revealed ambitious plans to put an astronaut on the Moon around 2030 in new proposals from the country's space agency. This is the first time the Japan Aerospace Exploration Agency (JAXA) has said it aims to send an astronaut beyond the International Space Station, an agency spokeswoman told AFP on Friday. The idea is to first join a NASA-led mission in 2025 to build a space station in the moon's orbit, as part of a longer-term effort by NASA to reach Mars. Tokyo hopes that contributing to the multinational mission and sharing Japanese technology will land it a coveted spot at the station, from which it could eventually send an astronaut to the Moon, the spokeswoman said. The plan was presented at an education ministry panel this week, with a more formal blueprint expected next year, according to public broadcaster NHK. The announcement comes as China and India develop their space programmes. In November, China's Shenzhou-11 spacecraft returned to Earth, bringing home two astronauts from the rising power's longest-ever orbital mission. Beijing has also unveiled illustrations of a Mars probe and rover it aims to send to the Red Planet at the end of the decade. NASA and other global space agencies are working hard on sending astronauts to Mars by the 2030s. In March, the US Congress passed a bill -- signed by President Donald Trump -- directing NASA to send a manned mission to Mars in 2033.
---
Documentary on Canada's Little India to premiere on country's 150th anniversary

MMNN:29 Jun 2017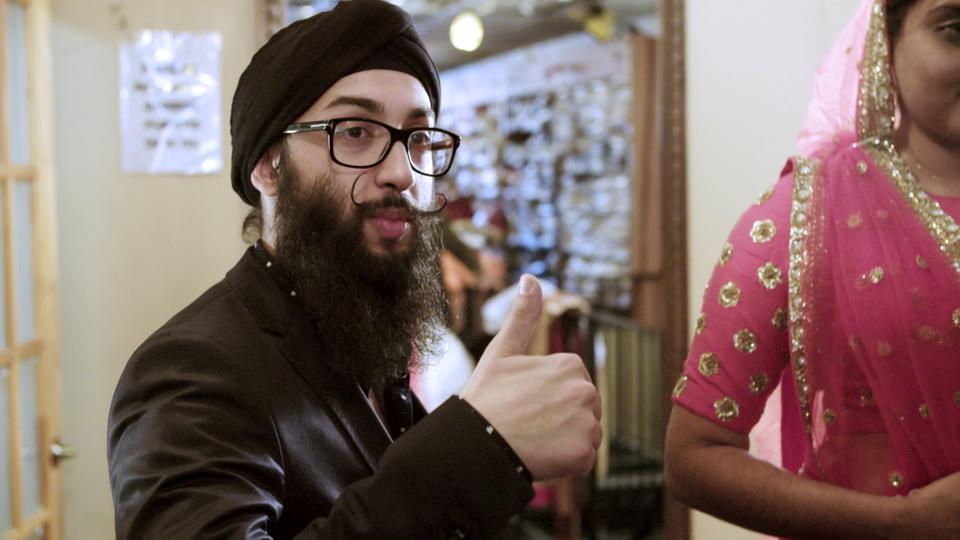 Over four decades after Canada's most iconic desi enclave came into existence in Toronto, that commercial district will get a tribute in the form of a documentary that will screen and stream nationally on July 1, the 150th anniversary of the country's confederation. Little India: Village of Dreams, which celebrates the Gerrard India Bazaar, will premiere on the public broadcaster TVO on Saturday. Fittingly enough, it was directed by a Mumbai-born director Nina Beveridge, who herself had lived in this Toronto neighbourhood for nearly 20 years. The enclave came into being after Gian Chand Naz decided to set up a cinema to screen Bollywood movies in 1972. He had a dream of "building an Indian community" and "felt a movie theatre would be a magnet, so he set about to finance and get the theatre going," said Beveridge in an interview. Naz's vision translated into reality as the area along Toronto's Gerrard Street gradually turned into Little India, even as it also proved an attraction for other communities from the subcontinent. The nearly hour-long documentary looks at what Little India is today, even as smaller stores shutter due to gentrification and the desi community is now largely concentrated in the city's suburbs. Those without marketing sophistication may be evicted from Little India, but others like Chandan Singh of Chandan Fashion are 'very hopeful" of survival, as they take their business forward, while retaining traditions. Beveridge's documentary, in fact, is a narrative seen from the perspective of four different families who have stores in the area – a tale of entrepreneurship, focusing on the children who were born in Canada and are now involved in running the family business. Besides Chandan Singh, who has taken to displaying the fashion line on the ramp; the film chronicles the Khans of Forever Young Beauty Salon and Spa; the Khoranas of Kala Kendar and the Alibhai-Sayanis of Lahore Tikka House. Beveridge, who also returned in her teens to India to attend school in Mussoorie and college in Baroda, already has a strong film-based link to India. Her father, James Beveridge, was among the pioneers of the documentary section of India's Films Division, and also played a significant role in establishing the Media Resource Centre at Jamia Millia Islamia University in New Delhi and that is also named after him. Her film gently looks at handwritten signs advertising Onions from India or a Mumbai Paan store to an art gallery, pizzeria and a café that point to how this is a place "going through a lot of transition", as she put it. Beveridge starting filming during the signature Festival of South Asia at the bazaar last July, and completed it on Diwali last year, and now will see her project going public on another day of celebration. It makes for a suitable marker for an area that occupies a unique place in the community's heritage in Canada.
---
Day after Modi-Trump meet, China speaks up for ally Pakistan

MMNN:28 Jun 2017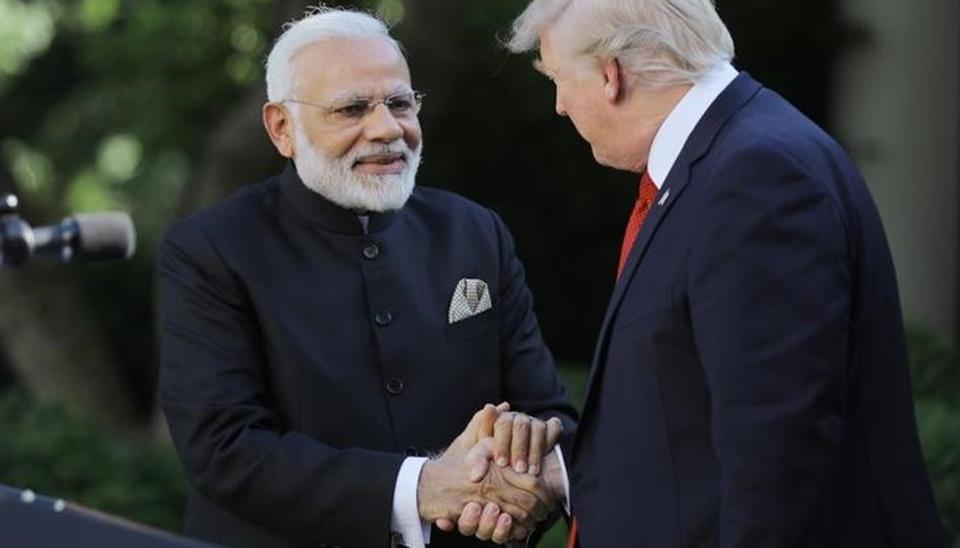 A day after India and the US asked Pakistan to stop cross-border terror, China on Wednesday put up a strong defence of its 'all-weather' ally, saying Islamabad was at the frontlines of the fight against terrorism. "China thinks that the international cooperation against terrorism should be enhanced and stepped up. The international community should give full recognition and affirmation to Pakistan's efforts in this regard," Chinese foreign ministry spokesman Lu Kang told reporters. His remarks came in response to the India-US joint statement issued after the talks between Prime Minister Narendra Modi and US President Donald Trump in Washington. "We have to say Pakistan stands at the frontlines of the international counter terrorism fight and has been making efforts in this regard," Lu said in response to the statement in which India and the US had asked Islamabad to ensure that its soil is not used for cross-border terror. The joint statement issued on Tuesday after the Modi-Trump meeting had also called on Pakistan to expeditiously bring to justice the perpetrators of the Mumbai, Pathankot, and other cross-border terrorist attacks. Modi and Trump also vowed to strengthen efforts to fight terrorism and eliminate safe havens for terrorists. Ahead of the Modi-Trump meeting, the US State Department had set the tone for the summit by declaring Syed Salahuddin, chief of Kashmiri militant group Hizbul Mujahideen, as a 'global terrorist'. The State Department's action had sent out a strong message against the terrorism emanating from the country which is hurting India. During their meeting, Modi and Trump had had also "committed to strengthen cooperation against terrorist threats from groups including al-Qaeda, ISIS, Jaish-e-Mohammad (JeM), Lashkar-e-Taiba (LeT), D-Company (led by underworld don and terror mastermind Dawood Ibrahim), and their affiliates."
---
France's newly-elected lawmakers open first parliament session

MMNN:27 Jun 2017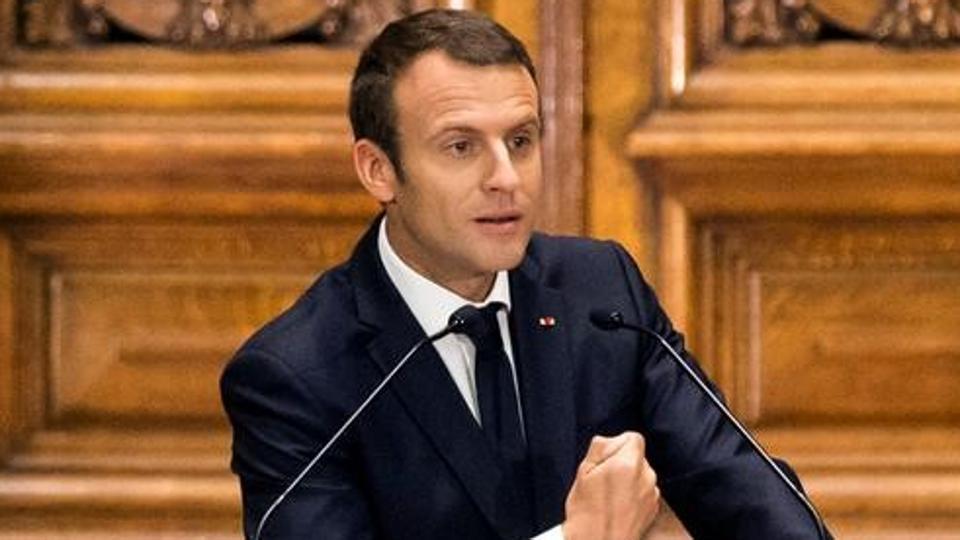 France's newly-elected lawmakers, most of them from President Emmanuel Macron's centrist party, are attending their first parliament session. Macron's 14-month-old Republic on the Move! party won 308 of the 577 seats in legislative elections earlier this month. His allies in Modem took 42 seats, giving the government a wide majority. After Macron vigorously campaigned on a promise to renew France's political landscape, other parties also made efforts to promote new faces. Three-quarters of the lawmakers are starting their first term at the National Assembly and 38% are women — the highest proportion in France's modern history. They expect to get to work quickly tackling the government's proposed law on expanding police powers and a labor reform making it easier to hire and fire.
---
Landslide in China swallows 40 homes, over 140 feared buried

MMNN:24 Jun 2017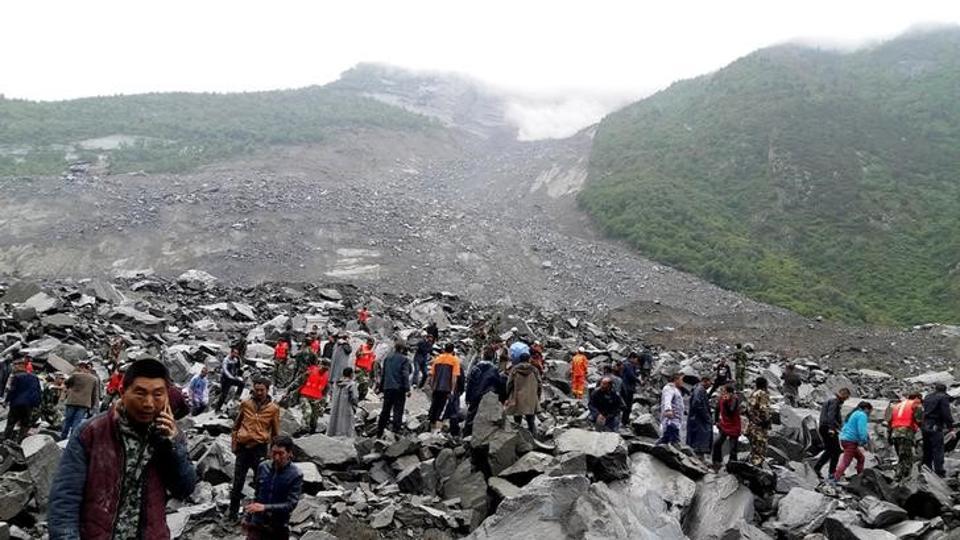 The landslide took place in Xinmo village of Mao county in Sichuan province. Chinese rescuers scoured through rocks on Saturday in a frantic search for more than 140 people feared buried after a landslide smashed through a mountain village in southwest Sichuan province. A couple and a baby were rescued and taken to hospital after more than 40 homes in the village of Xinmo were swallowed by huge boulders when the side of a mountain collapsed, according to the Maoxian county government. At least 141 people and 46 homes were buried, the People's Daily said, citing a Maoxian county government spokesman. The landslide blocked a two kilometre (one mile) stretch of river and 1.6 kilometre of road. Rescuers used ropes to move a massive rock while dozens of others searched the rubble for survivors, according to videos posted by the Maoxian government on its Weibo social media account. Bulldozers and heavy diggers were also deployed to remove boulders, the images showed. Medics were seen treating a woman on a road. Wang Yongbo, one of the local officials in charge of rescue efforts, said the vital signs of one of the survivors "are weak". "It's the biggest landslide in this area since the Wenchuan earthquake," he said, referring to the disaster that killed 87,000 people in 2008 in a town in Sichuan. Local police captain Chen Tiebo said the heavy rains that hit the region in recent days had triggered the landslide. "There are several tonnes of rock," he told the state broadcaster CCTV. "It's a seismic area here. There's not a lot of vegetation," Chen said. Trees can help absorb excess rain and prevent landslides. Some 500 people were taking part in rescue efforts, according to CCTV. An emergency response "to the first class catastrophic geological disaster" is under way, the local government's statement said, adding that the full extent of the landslide was at yet unclear. A report from the state news agency Xinhua said that the landslide came from a high part of a mountain in the Tibetan and Qiang Autonomous Prefecture of Aba had collapsed. The landslide struck the village at around 6am local time (2200 GMT). President Xi Jinping called for rescuers to "spare no effort" in their search for survivors, according to CCTV. China's national weather observatory said more heavy rain was expected in parts of Sichuan and other southwestern provinces. Landslides are a frequent danger in rural and mountainous parts of China, particularly at times of heavy rains. At least 12 people were killed in January when a landslide crushed a hotel in central Hubei province. In October landslides battered eastern China in the wake of torrential rains brought by Typhoon Megi, causing widespread damage and killing at least eight. More than 70 were killed by a landslide in the southern commercial hub of Shenzhen in December 2015, caused by the improper storage of waste. One of the deadliest landslides took place in 1991, when 216 were killed in southwestern Yunnan province.
---
Close to 100% certain IS chief Baghdadi is dead, says Russian MP

MMNN:23 Jun 2017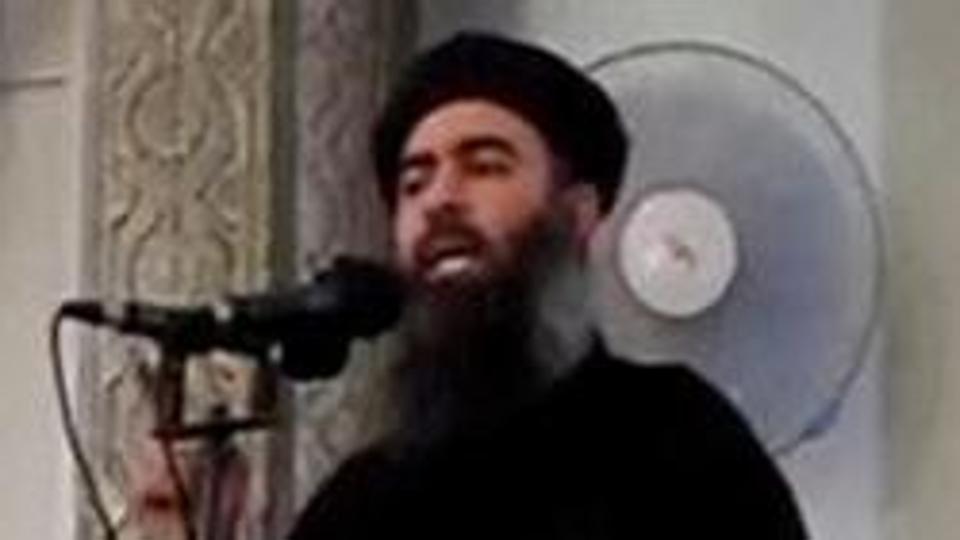 The head of a Russian parliamentary committee has said the the likelihood that Islamic State chief Abu Bakr al-Baghdadi was killed in an air strike is close to 100% The likelihood that Islamic State leader Abu Bakr al-Baghdadi has been killed is close to 100%, Interfax news agency quoted the head of the defence committee in Russia's upper parliamentary house as saying on Friday. Russia's defence ministry said a week ago it believed it may have killed Baghdadi when one of its air strikes hit a gathering of senior Islamic State commanders on the outskirts of the Syrian city of Raqqa. But armed groups fighting in the region and US officials say they have no evidence that Baghdadi was killed, and many regional officials have said they are sceptical about the information from Moscow. Committee head Viktor Ozerov was quoted as saying the defence ministry would not have released information about Baghdadi's death if it believed it could be later proved incorrect. "I think this information is close to 100%," Interfax quoted Ozerov as saying. "The fact that Islamic State has still not shown him anywhere also adds to our confidence that al-Baghdadi has been killed." Baghdadi has frequently been reported killed or wounded since he declared a caliphate from a mosque in Mosul in 2014, after leading his fighters on a sweep through northern Iraq. His death would be one of the biggest blows yet to the jihadist group, which is trying to defend its shrinking territory in Syria and Iraq against forces backed by regional and global powers.
---
Australia to resume air strikes in Syria after Russia threat

MMNN:22 Jun 2017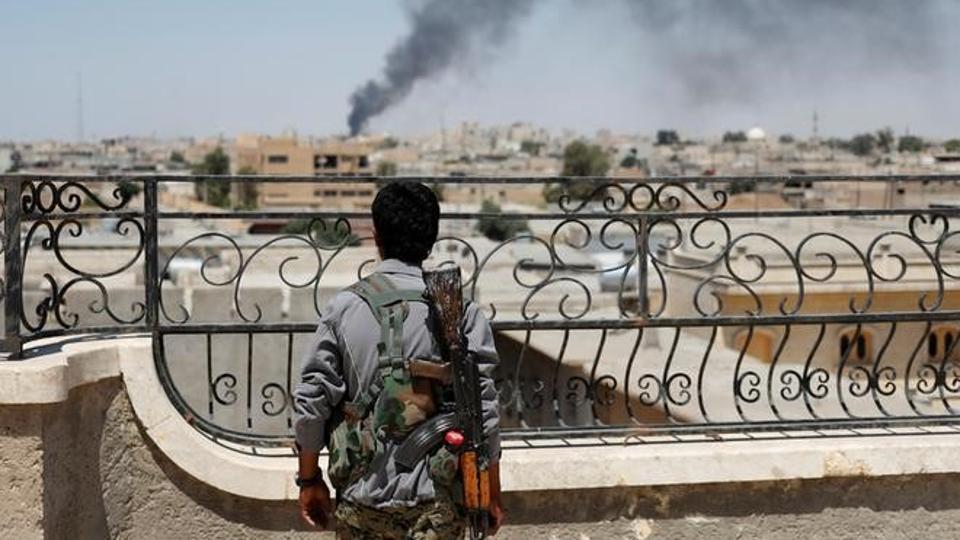 A decision was made to resume the air strikes in Syria after an assessment of the Russian statement, although it did not say when they would begin again. Australia said on Thursday it would resume air strikes into Syria, ending a two-day suspension implemented after the downing of a Syrian military aircraft triggered a Russian threat against Washington-led coalition planes. Russia said on Monday it would treat US-led coalition aircraft flying west of the River Euphrates in Syria as potential targets and track them with missile systems and military aircraft, but stopped short of saying it would shoot them down. As a result of the threat, Australia said on Tuesday it would suspend its military campaign. On Thursday, a decision was made to resume the air strikes in Syria after an assessment of the Russian statement, although it did not say when they would begin again.
---
US, China officials meet to seek tougher lines on North Korea nuclear ambitions

MMNN:21 Jun 2017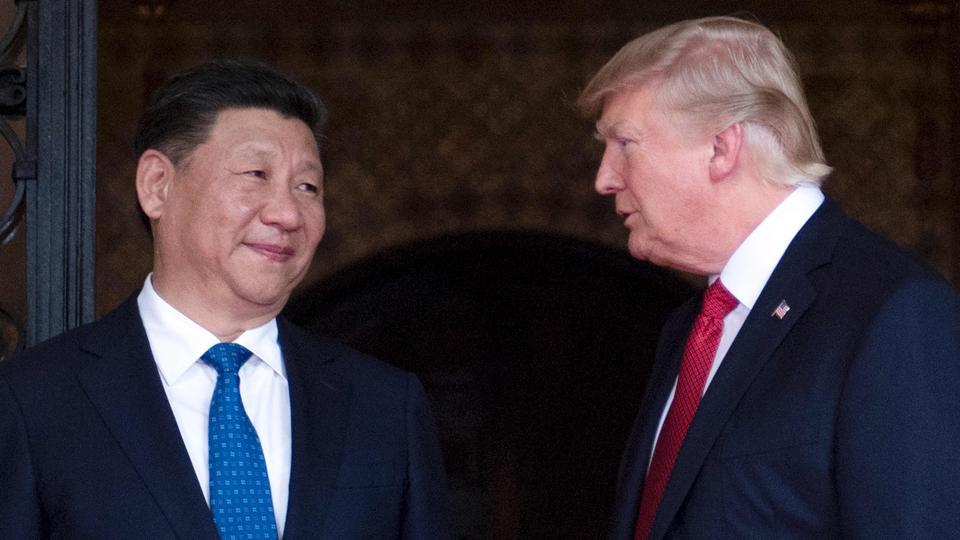 US officials said the first and main item on the agenda would be persuading China to lean on Kim Jong-Un's North Korea regime, in order to halt its provocative missile and nuclear plans. Senior US officials will meet their Chinese counterparts Wednesday to seek a tougher line on North Korea's nuclear ambitions -- despite President Donald Trump implying this is already a lost cause. Secretary of State Rex Tillerson and Defense Secretary Jim Mattis are to meet top Beijing diplomat State Councilor Yang Jiechi and General Fang Fenghui, chief of Chinese army staff, at the State Department. US officials said the first and main item on the agenda would be persuading China to lean on Kim Jong-Un's North Korea regime, in order to halt its provocative missile and nuclear plans. But, just hours before the talks began, Trump sent a tweet implying that China's President Xi Jinping had already tried and failed to rein in Pyongyang. "While I greatly appreciate the efforts of President Xi & China to help with North Korea, it has not worked out. At least I know China tried!" Trump tweeted. Trump did not elaborate on what might happen next, and US diplomats insisted the talks would go ahead as planned, and with the same agenda. In April, Trump hosted Xi at his Mar-a-Lago resort in Florida, glossing over his harsh campaign comments against Beijing and -- after apparently successful talks -- hailing the dawn of "a very, very great relationship." Last month Beijing and Washington signed a limited deal to open new markets for each other's exports, and a long-standing friend of the Chinese leadership, Iowa Governor Terry Branstad, was confirmed as ambassador. But tensions remain -- particularly over China's building of artificial islands in disputed South China Sea waters, and Washington's strong desire to get Beijing to rein in Kim Jong-Un's isolated North Korean regime. Susan Thornton, acting assistant secretary of state for East Asian and Pacific affairs, said that the first meeting of the new "US-China Diplomatic and Security Dialogue" on Wednesday would focus on North Korea. "We continue to urge China to exert its unique leverage as North Korea's largest trading partner, including by fully implementing all UN Security Council sanctions," she said. Despite international condemnation and sanctions, North Korea has a small nuclear arsenal and is developing nuclear-capable ballistic missiles that threaten Japan and South Korea -- and one-day could even hit some US cities. Washington has some 28,000 troops deployed in South Korea and a naval armada in the region.
Prisoner in a coma Last week, the release of a detained US tourist in what initially seemed a gesture of goodwill by Pyongyang turned sour when it was revealed that 22-year-old Otto Warmbier had been in a coma for some time. Warmbier died on Monday after returning to his hometown in Ohio, triggering outrage in the United States.
---
Paris attacker had gun licence despite being on terror watchlist since 2015

MMNN:20 Jun 2017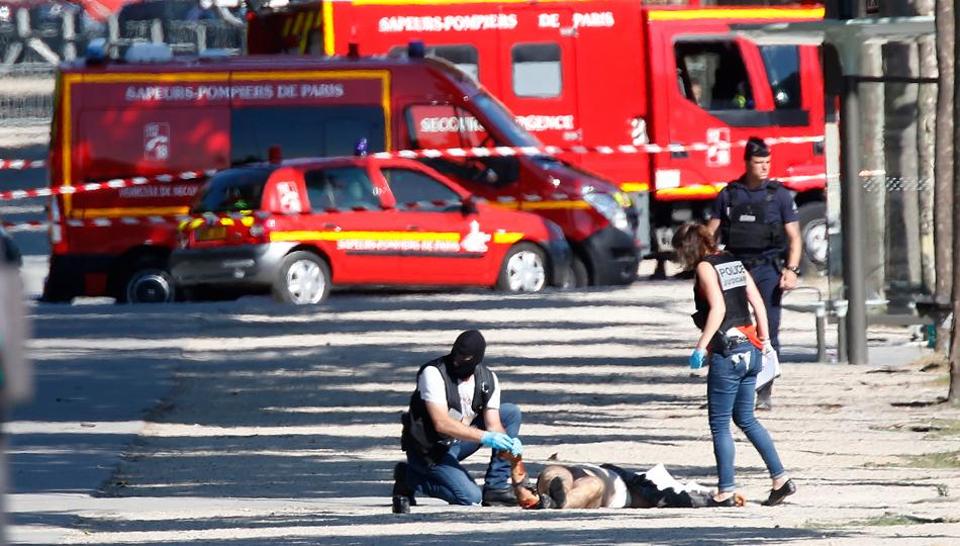 Adam Djaziri, a 31-year-old who had been on a watchlist for radical Islamists, had at least nine weapons, including two pistols and a Kalashnikov-type assault rifle, the source said Questions arose Tuesday over how a known radical Islamist who rammed a car into a police van on Paris's Champs-Elysees was able to hold a gun licence. Adam Djaziri, a 31-year-old who had been on a watchlist for radical Islamists since 2015, was killed on Monday as his car loaded with a gas canister smashed into the van on the French capital's most famous avenue. Two handguns and a Kalashnikov-style assault rifle were found in the car, while a weapons stash was found at the home of the assailant, who died in the incident. Djaziri's father, who has since been detained, told AFP that his son was a licensed gun-owner, and a source close to the probe said he owned nine weapons including pistols and an assault rifle. The attempted attack comes with France still under a state of emergency after a wave of jihadist assaults that have left more than 230 people dead since 2015. As the one-month-old government of President Emmanuel Macron prepares to unveil a tougher new anti-terrorism law, Prime Minister Edouard Philippe expressed dismay that Djaziri was able to have a gun permit despite being on a jihadist watchlist. "What I know at this stage is that the first weapons permit was given before this individual was flagged up," he said in an interview with BFM television and RMC radio, but he added that "no one can be satisfied -- and certainly not me" that Djaziri had evidently still been able to possess dangerous weapons. Djaziri's ex-wife, brother and sister-in-law were detained late on Monday after police questioned them at the family home in Plessis-Pate outside Paris. Djaziri's father was also taken into custody, a judicial source said. Burn marks were found on Djaziri's body but it was not yet clear how he died, according to a source close to the investigation. There were no other casualties from the attempted attack, and no group claimed responsibility. Since the November 2015 Paris attacks that saw 130 people slaughtered, and last year's Nice truck assault that claimed 86 lives, the country has seen a string of smaller attacks targeting security forces. Djaziri died just a short distance on the Champs-Elysees from the spot where a jihadist shot dead a police officer two months ago. Earlier this month an Algerian man attacked a policeman with a hammer outside Notre Dame cathedral, another key tourist draw, while troops shot dead a man at the capital's Orly airport in March after he attacked a soldier on patrol. Few details have emerged of the new anti-terrorism law due to be unveiled Wednesday, but a draft leaked to the daily Le Monde has sparked concern among civil liberties campaigners who worry the emergency measures could become permanent. The measures allow security forces to monitor suspects and carry out searches without warrants, place suspects under house arrest and ban public gatherings. The current state of emergency is due to expire on July 15 but the government is seeking to extend it until November 1 -- presumably after the new anti-terrorism law takes effect. Interior Minister Gerard Collomb said Monday that the Champs-Elysees incident "shows once again that the threat level remains extremely high in France".
---
US shot down Syrian plane that bombed American-backed forces fighting the IS

MMNN:19 Jun 2017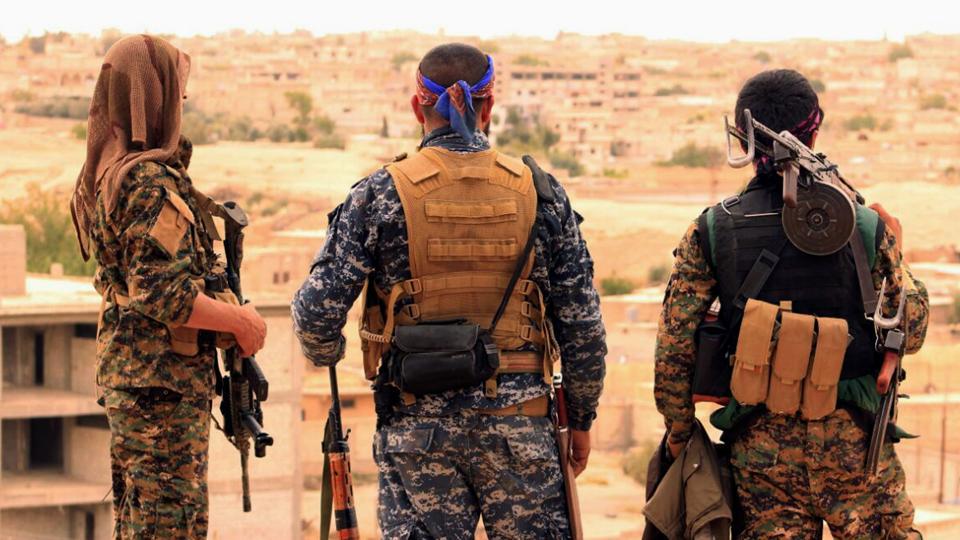 The incident came as a monitoring group reported the first ground fighting between Syrian regime troops and the US-backed alliance of Kurdish and Arab fighters. A US fighter jet shot down a Syrian regime plane on Sunday after it dropped bombs on American-backed forces fighting the Islamic State group in northern Syria, the US-led coalition said. The incident came as a monitoring group reported the first ground fighting between Syrian regime troops and the US-backed alliance of Kurdish and Arab fighters. "At 6:43 pm (1743 GMT), a Syrian regime SU-22 dropped bombs near SDF (Syrian Democratic Forces) fighters south of Tabqah and, in accordance with rules of engagement and in collective self-defense of Coalition partnered forces, was immediately shot down by a US F/A-18E Super Hornet," the Combined Joint Task Force said in a statement. It said that two hours earlier, forces loyal to President Bashar al-Assad attacked SDF fighters in the town of Ja'Din south of Tabqah, "wounding a number of SDF fighters and driving the SDF from the town." Coalition aircraft then stopped the pro-regime forces' initial advance with a "show of force," the coalition added. The Combined Joint Task Force stressed that the coalition's mission is to defeat IS. "The Coalition does not seek to fight Syrian regime, Russian, or pro-regime forces partnered with them, but will not hesitate to defend Coalition or partner forces from any threat," it said. "The demonstrated hostile intent and actions of pro-regime forces toward Coalition and partner forces in Syria conducting legitimate counter-ISIS operations will not be tolerated." Following the downing of the Syrian plane, clashes between regime troops and coalition-backed fighters broke out in two villages some 25 miles (40 kilometers) south of the city of Raqa, the Syrian Observatory for Human Rights said.
---
Donald Trump govt cancels Obama-era policy for illegal immigrant families

MMNN:16 Jun 2017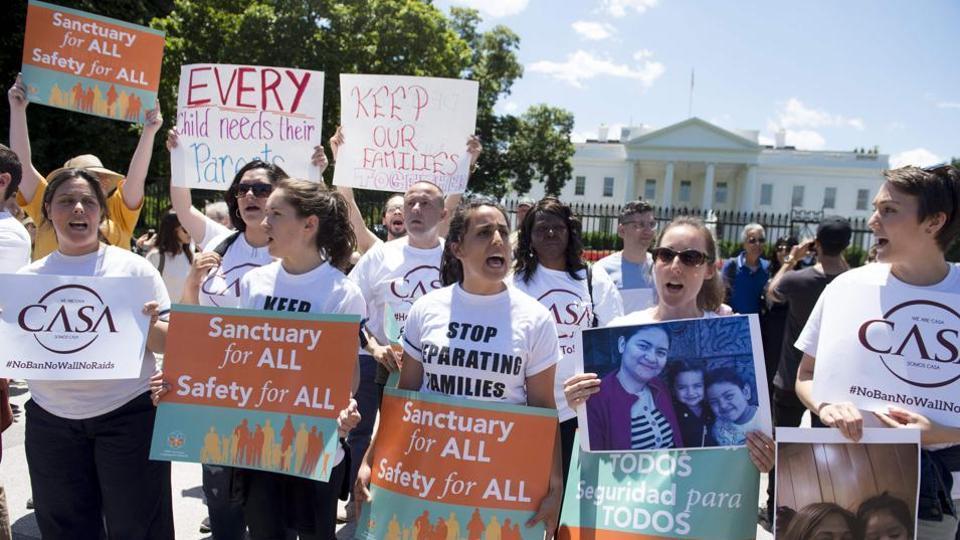 The 2014 policy, known as DAPA, aimed to help the families of so-called "dreamer" children stay together free from the threat of deportation The Donald Trump administration in US on Thursday announced that it is cancelling an Obama-era policy to allow millions of illegal-immigrant parents of children born in the United States to stay in the country. The 2014 policy, known as DAPA, for Deferred Action for Parents of Americans and Lawful Permanent Residents, aimed to help the families of so-called "dreamer" children stay together free from the threat of deportation. It was never implemented after 26 states successfully sued in a Texas federal district court to block it. The US Supreme Court let the lower court ruling stand last year after a four-four tie vote.
---
Somalia restaurant attack: 17 killed, hostages still inside

MMNN:15 Jun 2017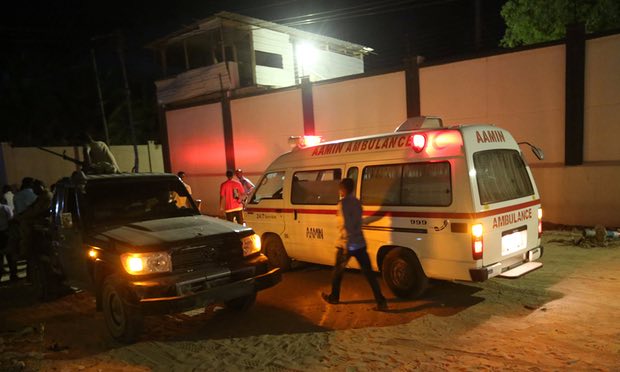 Two of the gunmen were shot dead and 10 hostages were rescued but five other attackers were thought to remain inside Gunmen posing as military forces were holding an unknown number of hostages inside a popular restaurant in Somalia's capital in an attack that began when a car bomb exploded at the gate, police and a witness said, while the extremist group al-Shabab claimed responsibility. At least 17 people, including foreigners, were dead, police and an ambulance driver said. Two of the gunmen were shot dead and 10 hostages were rescued but five other attackers were thought to remain inside, cutting off electricity to complicate security forces' efforts to end the siege, Capt Mohamed Hussein said. He said heavy gunfire was heard. An ambulance driver with the Amin Ambulance service, Khalif Dahir, said early Thursday they had carried 17 bodies and 26 wounded people. Police said the dead included a Syrian man. Most of the victims were young men who had been entering the Pizza House when the vehicle exploded, Hussein said.
---
London fire: Action group, residents raised safety concerns but warnings were ignored

MMNN:14 Jun 2017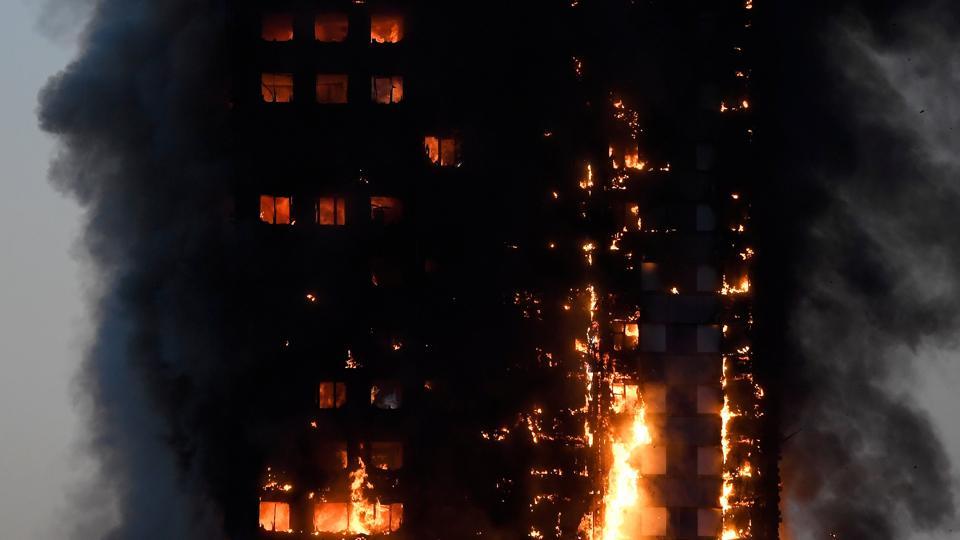 London mayor Sadiq Khan says questions will need to be answered over the safety of Grenfell Tower blocks. A survivor of the massive high-rise apartment fire in London said he was lucky to be alive and that tenants had been complaining for years about issues at the building. Edward Daffarn said he was on the 16th floor and heard a neighbour's smoke alarm go off and another neighbour called and told him to get out. He said there was heavy smoke in the hallway and he could not find the stairs.
A massive fire ripped through a 27-storey apartment
block in west London in the early hours of Wednesday, killing several and injuring 50 people. The fire brigade said 40 fire engines and 200 firefighters had been called to the blaze in Grenfell Tower, which has 120 flats. The Grenfell Action Group, a community organisation formed to oppose a nearby redevelopment project, had been warning about the risk of fire there since 2013.
---
UK explorer's 118-year-old painting found in Antarctica

MMNN:13 Jun 2017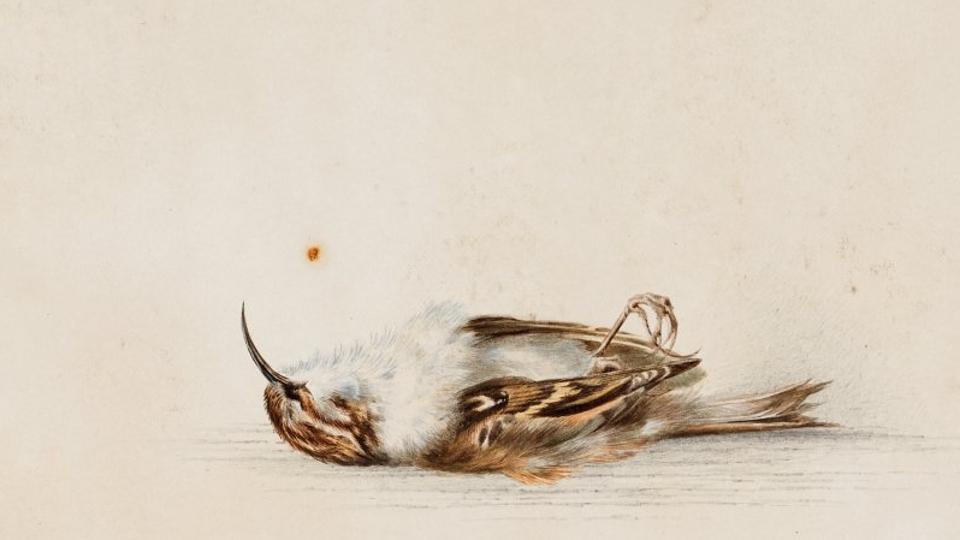 The painting labelled 1899 Tree Creeper has the initial T on it and is believed to be by Edward Wilson, who died on the ill-fated Scott expedition to the South Pole in 1912. A 118-year-old watercolour painting of a dead bird by a celebrated British explorer has been discovered inside a hut in Antarctica, researchers said Tuesday. The painting labelled 1899 Tree Creeper has the initial T on it and is believed to be by Edward Wilson, who died on the ill-fated Scott expedition to the South Pole in 1912. The Scott Expedition, officially the British Antarctic Expedition, which took place between 1910 and 1913, was led by Robert Falcon Scott of the UK. The painting was found in a pile of papers covered in mould and penguin excrement in a hut built by Norwegian explorers, 'BBC News' reported. "There was this gorgeous painting, I got such a fright that I jumped and shut the portfolio again," said Josefin Bergmark-Jimenez, paper conservator at the Antarctic Heritage Trust in the UK. "I then took the painting out and could not stop looking at it - the colours, the vibrancy, it is such a beautiful piece of work," said Bergmark-Jimenez. The discovery was made last year but had been kept as a secret so that conservators could restore some 1,500 other artifacts from two huts built by Norwegian explorers in Cape Adare in 1899. Although buried under paper covered in mould and penguin excrement the darkness worked in favour of the watercolours, preserving the painting perfectly. "Water colour paintings are particularly susceptible to light so the fact this work has spent more than 100 years tightly packed between other sheets of paper in completely dark and cold conditions is actually an ideal way to store it," said Bergmark-Jimenez. Wilson was born in 1872 in Cheltenham, England, where an art gallery and museum are named after him and display permanent collections of his work.
---
Bikini killer' Charles Sobhraj has successful heart surgery

MMNN:12 Jun 2017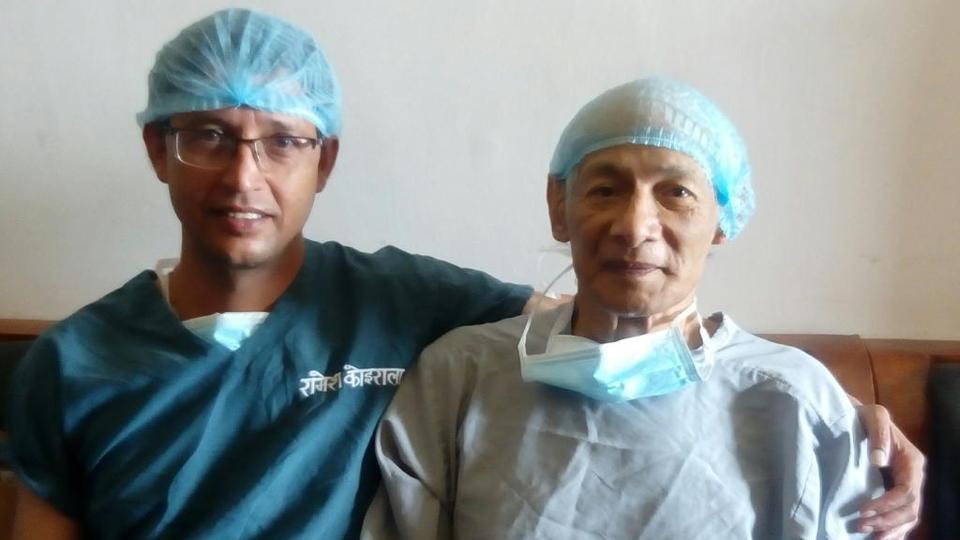 "Yes! He has a heart and I just fixed valves inside. Recovering normally," said doctor Ramesh Koirala, who carried out the operation. Serial killer Charles Sobhraj underwent a successful open heart surgery at a Kathmandu hospital on Monday and is recovering, his doctor said. "Yes! He has a heart and I just fixed valves inside. Recovering normally," said doctor Ramesh Koirala who carried out the operation. Koirala also shared a photo of himself with Sobhraj, minutes before the 73-year-old was taken to the operation theatre at Shahid Ganga Lal Heart Hospital in Kathmandu. Sobhraj, who is serving time in Nepal's central jail in Kathmandu for the past 12 years, was diagnosed with leakage in a valve. The French national had recently fainted in the central jail and was rushed to hospital where he was diagnosed with a mitral valve leakage. The mitral valve is a dual-flap that controls the flow of blood in the left section of the heart. If it fails to function adequately, patients exhibit symptoms including palpitation, exertion and shortness of breath. The man known as 'bikini killer' was ill for some time. He has been in prison after the Supreme Court sentenced him to life for murdering an American tourist, Connie Joe Bronzich, in 1975 in Nepal. He had been linked to multiple killings of backpackers. Sobhraj had earlier spent 21 years in prison in India and escaped from Tihar jail in 1986 after drugging the security guards, serving them sweets in the name of his own birthday. According to a biography, he is believed to have killed 20 people up to the late 1970s, including in Nepal and India.
---
Trump scolds Qatar for sponsoring terror as Tillerson seeks to ease crisis

MMNN:10 Jun 2017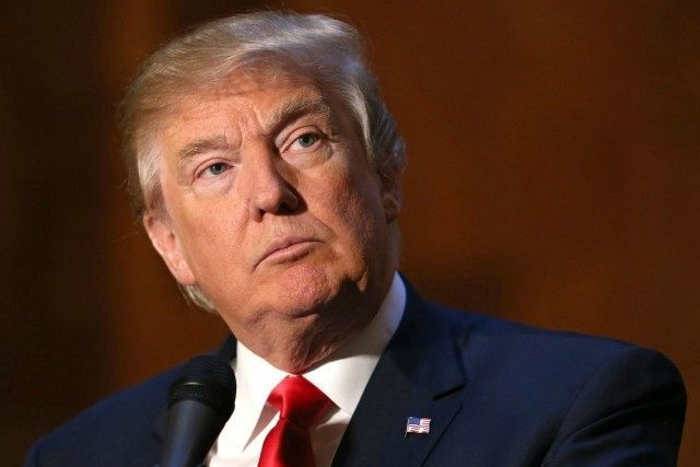 President Donald Trump is accusing Qatar of funding terrorism at a "very high level" and says it must stop now. US President Donald Trump on Friday accused Qatar of being a "high level" sponsor of terrorism, potentially hindering the US Department of State's efforts to ease heightening tensions and a blockade of the Gulf nation by Arab states and others. "The nation of Qatar unfortunately has historically been a funder of terrorism at a very high level," Trump told reporters at the White House. "So we had a decision to make, do we take the easy road or do we finally take a hard but necessary action. We have to stop the funding of terrorism. I decided ... the time had come to call on Qatar to end its funding," Trump said, adding that he helped plan the Qatar action with Arab leaders after a recent summit in Riyadh, Saudi Arabia. A senior administration official told Reuters earlier this week that the United States had no indication from the Saudis or Emiratis in Riyadh during Trump's visit last month that they would sever ties with Qatar. The crisis is a major diplomatic test for the United States, which is a close ally of countries on both sides. Trump has called key players in the region since they severed ties with Qatar on Monday. The Trump administration has given mixed signals on whether to isolate Qatar or bring it into talks with other Gulf nations. The confrontation in the region intensified on Friday as Arab states tightened their squeeze on Qatar by putting dozens of figures with links to the country on terrorism blacklists, while Qatar's ally Turkey rushed to its side with plans to send troops. The Pentagon said the blockade was hindering US ability to plan for long-term operations in the region. Al Udeid Air Base in Qatar is home to more than 11,000 US and coalition forces and an important base for the fight against Islamic State. It is the US Air Force's largest base in the region. US Secretary of State Rex Tillerson said he expected all parties to find a resolution. "We call on the kingdom of Saudi Arabia, the United Arab Emirates, Bahrain and Egypt to ease the blockade against Qatar," he said in Washington. Tillerson told reporters at the State Department that the crisis, which has cut transportation links and trade, had begun hurting ordinary people in Qatar, and that it was impairing business dealings and harming the US battle against the Islamic State militant group. A picture on Facebook showed a supermarket displaying food from Turkey including milk, eggs and chicken. Tillerson demanded that Qatar, as well as the other countries, take steps to curtail support for terrorism. Saudi Arabia and other Gulf states have accused Doha of supporting extremist groups, but Tillerson suggested that all sides needed to do more. "The emir of Qatar has made progress in halting financial support and expelling terrorist elements from his country, but he must do more and he must do it more quickly," Tillerson said. "Others must also continue to eliminate factions of support for violent organizations within their own borders." On Trump's Air Force One flight to New Jersey, a senior White House official told reporters that Trump and Tillerson were on the "same page" on Qatar. "The United States wants a resolution to the situation but it wants a resolution on terms consistent with the principles the president laid out in Riyadh," the official said, adding that Trump was concerned about the humanitarian impact of the crisis but also Qatar's support of "terrorist finance." Riyadh, Cairo and their allies have accused Qatar, the world's richest country per capita, of supporting militant Islamist movements across the region. They have imposed what Qatar said was a blockade of shipping and air traffic and closed Qatar's only land border, causing panic buying at supermarkets and provoking confusion and anxiety across the population. Qatar, which has developed an assertive foreign policy over the past decade, denied that it supports militants and said it was helping to reduce the threat of terrorism by backing groups that fight poverty and seek political reform. Foreign Minister Sheikh Mohammed bin Abdulrahman Al Thani called the moves by Arab neighbours and others "clear violations of international law and international humanitarian law. "They will not have a positive impact on the region but a negative one," the minister said during a visit to Germany. The United Arab Emirates said on Friday that Qatar must acknowledge concerns about its "troubling support for extremism" and "re-examine its regional policies." "This will provide the necessary basis for any discussions," UAE ambassador to the United States Yousef Al Otaiba said in a statement on Friday. German Foreign Minister Sigmar Gabriel called for diplomatic efforts to resolve the crisis. "Along with our American colleagues but above all our colleagues in the region, we must try to find solutions, especially lifting the sea and air blockades," Gabriel told reporters.
The hour of diplomacy
Qatar has vowed to ride out the isolation imposed on it by fellow Arab states and said it would not compromise its sovereignty over foreign policy to resolve the region's biggest diplomatic crisis in years. One U.S. official said that while Qatar needs to do more to combat terrorist financing, it was inaccurate to single out that Gulf nation. "The (counter terrorist-financing) challenges they face aren't unique to them," said the official, who spoke on condition of anonymity. "There are other countries in the region that grapple with the same issues." Qatar is home to 2.7 million people but only about 300,000 citizens. Most of its population is comprised of foreign workers who helped build the tiny finger off the Arabian Peninsula into a natural gas exporting powerhouse, crowned with skyscrapers. Projects include soccer stadiums for the 2022 World Cup. Armed Qatari gunboats patrolled the corniche of the capital Doha on Friday. Tiny Qatar has played an outsized role as a sponsor of factions in wars and revolutions across the Middle East under its 37-year-old ruler, Tamim bin Hamad Al Thani, and his father Hamad who stepped down in 2013 after 18 years in power. With supply chains disrupted and concern mounting about economic turbulence, banks and firms in Gulf Arab states were trying to keep business links to Qatar open and avoid a costly firesale of assets. The riyal currency has tumbled and the cost of insuring Qatari debt against default has risen.
Clashing over brotherhood
Saudi Arabia, the United Arab Emirates (UAE), Egypt and Bahrain added 59 people to terrorist blacklists, among them 18 Qataris, including Abdullah bin Khalid Al Thani, a former interior minister and member of Qatar's royal family. The Qatari government said the move "reinforces baseless allegations that hold no foundation in fact". "Our position on countering terrorism is stronger than many of the signatories of the joint statement - a fact that has been conveniently ignored by the authors," it said in a statement. Those on the list, including the former interior minister, could not be reached for comment. Many of the others added to the list are figures associated with the Muslim Brotherhood who have made Qatar a base, including Brotherhood spiritual leader Yousef al-Qaradawi. Some are prominent jihadists who have fought in Libya and Syria. Turkish President Tayyip Erdogan, whose AK Party has its roots in Islamist politics and who has voiced support for the Brotherhood, signalled his firm backing for Qatar by swiftly signing a law to send troops to a Turkish base there. Turkey will send warplanes and warships to Qatar after an initial deployment of troops, the mass-circulation Hurriyet newspaper said on its website. Turkish officials were not immediately available to comment on the report, but Hurriyet said there were plans to send some 200 to 250 soldiers within two months.
---
Japan clears way for first emperor abdication in over 200 years

MMNN:9 Jun 2017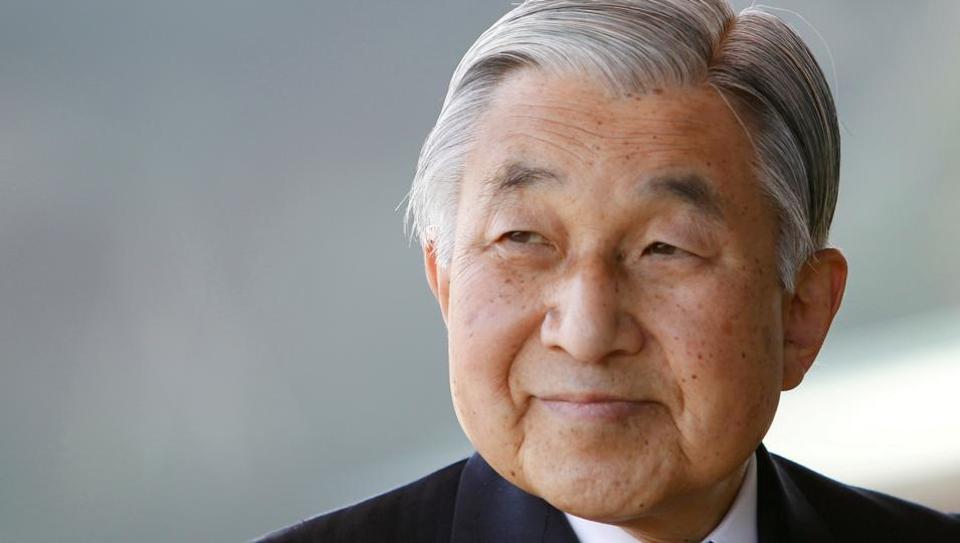 The unexpected move presented a challenge since there was no law to deal with an emperor retiring from what is usually a job for life. Japan's parliament passed a law Friday that clears the way for its ageing Emperor Akihito to step down, in what would be the first imperial abdication in more than two centuries. The popular 83-year-old monarch shocked the country last summer when he signalled his desire to take a back seat after nearly three decades on the Chrysanthemum Throne, citing his age and health problems. The unexpected move presented a challenge since there was no law to deal with an emperor retiring from what is usually a job for life. The one-off rule was passed in the last-stage upper house on Friday in a unanimous decision after the lower chamber gave its stamp of approval last week. The abdication must take place within three years of the new law taking effect or it expires -- and it only applies to Akihito. Japanese media have said the government is eyeing the end of 2018 as a likely timeline for his retirement. The status of the emperor is sensitive in Japan given its 20th century history of war waged in the name of Akihito's father Hirohito, who died in 1989. Some scholars and politicians worried that changing the law to allow any emperor to abdicate could put Japan's future monarchs at risk of being subject to political manipulation. Akihito, who has been treated for prostate cancer and had heart surgery, is expected to step aside in favour of his eldest son, Crown Prince Naruhito. There have been abdications in Japan's long imperial history, but the last one was more than 200 years ago, so politicians had to craft new legislation to make it possible. "The one-off law is a result of political compromises, but it will become a precedent for future abdications," said Setsu Kobayashi, a constitutional expert and professor emeritus at Japan's Keio University. 'Casual image' Akihito was born in 1933 just as Japan was embarking on its militaristic sweep across Asia, and was 11 when the war ended in defeat. His father was allowed to remain on the throne after Japan's defeat, but his status was downgraded from semi-devine sovereign to a figurehead with no political power. Akihito embraced the role and tried to use it to help heal the scars of the war while remoulding one of the world's oldest monarchies for a democratic age. "The emperor prefers the more casual image of himself as a 'symbol' of the Japanese people," Kobayashi said. Even before he assumed the throne, Akihito broke with tradition when he married the daughter of a wealthy flour magnate in 1959, becoming the first imperial heir to wed a commoner. The emperor and his wife Empress Michiko are seen as being the more accessible face of a monarchy that largely remains in the shadows, unlike the British royals. The couple have frequently attended public events and console victims of natural disasters, including Japan's 2011 quake-tsunami disaster. Akihito is officially barred from commenting on politics, but he has over the years hinted at his own anti-nationalist views. Speaking at a memorial marking the 70th anniversary of Japan's surrender, Akihito expressed "deep remorse" for the country's actions in World War II. Some saw this as a rebuke to nationalist Prime Minister Shinzo Abe, who has pushed to change Japan's pacifist constitution and prevent Japanese from having to apologise again for the nation's warring past. Akihito's pending abdication had reignited concerns about a potential succession crisis. There are no more eligible male heirs after the 10-year-old son of Crown Prince Naruhito's younger brother Akishino. Japan's centuries-old succession would be broken if that son, Hisahito, does not have a male child. In response, Japan's parliament has called for a debate on giving women a bigger role in the male-dominated monarchy. The idea -- including the possibility of letting women ascend the throne -- is popular among ordinary Japanese, but it is vehemently opposed by traditionalists including the current prime minister and likeminded conservatives. Female imperial family members lose their royal status upon marriage to a commoner, a point highlighted by recent news that one of Akihito's granddaughters, Princess Mako, plans to marry her college sweetheart.
---
UK poll today: In shadow of terror, election seems to be tighter than expected

MMNN:8 Jun 2017

Most people expect a Conservative victory, but predictions of the margin vary. One forecast even predicted Prime Minister May could lose her majority in the House of Commons.
Britons go to the polls on Thursday in the shadow of terrorism, in an election Prime Minister Theresa May once expected to win easily but has proved increasingly hard to predict. When May called the snap vote in April, presenting herself as the strong leader to take Britain into Brexit talks, opinion poll ratings for the premier and her centre-right Conservative party were sky high. But Islamist attacks in London and Manchester have put her under pressure over her six years as interior minister, while campaign missteps have dented her reputation as a safe pair of hands. Meanwhile opposition Labour leader Jeremy Corbyn, an anti-war campaigner deemed unelectable by a majority of his own lawmakers, has run an energetic campaign promising change and an end to austerity. While May has been touring target seats around the country, delivering slogan-heavy speeches to small groups of hand-picked activists, Corbyn has drawn large crowds to open-air rallies. Polling experts -- many of whom failed to predict the referendum vote to leave the European Union last year -- are now wary of calling the outcome. While most still expect a Conservative victory, predictions of the margin vary widely, and one shock forecast model even predicted May could lose her majority of 17 in the 650-seat House of Commons. "I'd still put my money on a comfortable Tory win -- but who knows?" said Tim Bale, politics professor at Queen Mary University of London.
---
Kabul truck-bomb death toll rises to more than 150: Afghan president

MMNN:6 Jun 2017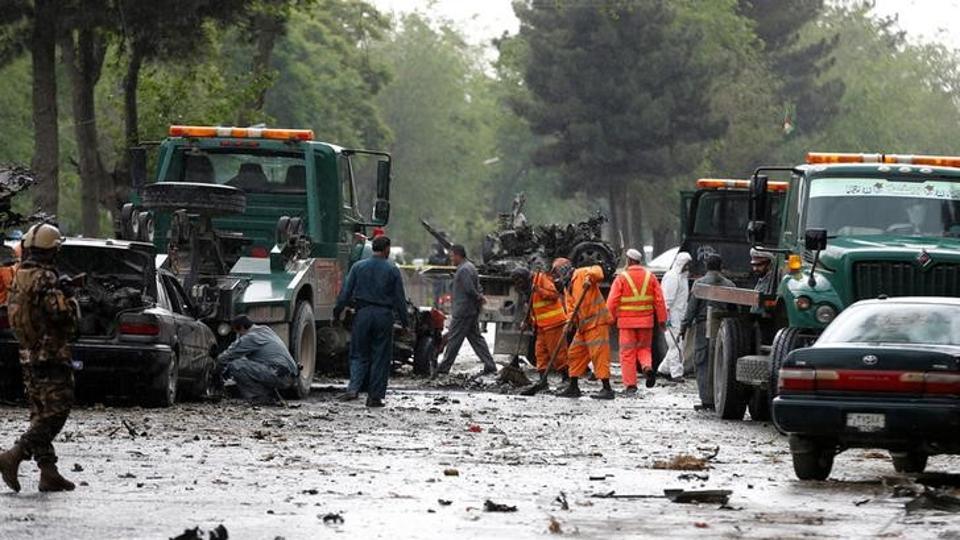 The blast occurred when a sewage truck packed with what Ghani called "military-grade" explosives detonated at the entrance to a fortified area of that city that includes foreign embassies and government buildings.
The death toll from a truck-bomb explosion in Kabul last week has reached more than 150 people, President Ashraf Ghani said on Tuesday, making it the deadliest attack in the Afghan capital since the ouster of the Taliban in 2001. The blast occurred when a sewage truck packed with what Ghani called "military-grade" explosives detonated at the entrance to a fortified area of that city that includes foreign embassies and government buildings. "We were not the only targets, the entire diplomatic community was the target of this attack," Ghani told foreign diplomats gathered for a conference in Kabul.
---
Woman held hostage in Melbourne, police shoot dead man to rescue her

MMNN:5 Jun 2017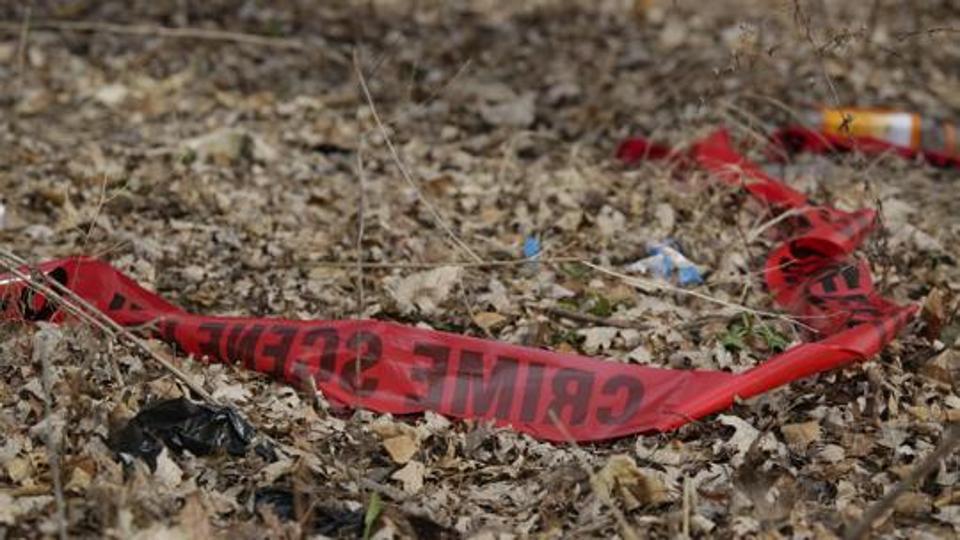 Police shot dead a man to rescue a woman he held hostage in a south eastern suburb in Melbourne on Monday. A major rescue operation was launched at the Bay Street apartment in Brighton following reports of an explosion. The woman was held hostage in an apartment leading to emergency services, including SES crews, being called to the scene where they also located the body of a man who appeared to have been shot in the foyer of the building. "Police are attempting to negotiate with a man in one of the apartments," the spokeswoman said during the operation. "It's believed he has a woman inside with him who he won't allow to leave." Victoria Police, which kept posting updates on its Twitter profile, confirmed that the situation was resolved.
---
Leo Varadkar: Born to an Indian father, a historic gay PM for Ireland

MMNN:3 Jun 2017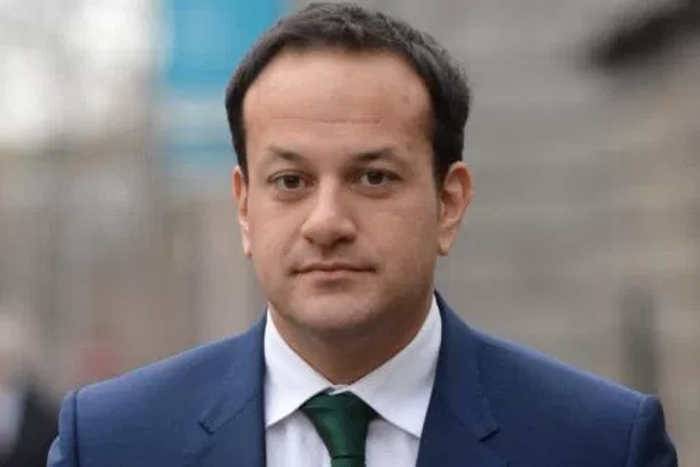 As a gay man born to an Indian father, Leo Varadkar would probably never have become Ireland's prime minister a generation ago, but a transformation of Irish society has propelled him to success. At 38, Varadkar will also be Ireland's youngest prime minister when parliament is set to confirm his nomination this month, after a meteoric rise to the head of the governing centre-right Fine Gael party. He went public about his sexuality a few months before a landmark referendum in 2015 in which Ireland became the first country in the world to vote in favour of same-sex marriage in a referendum. "I am a gay man. It's not a secret, but not something that everyone would necessarily know," he said in an interview with national broadcaster RTE. "It's not something that defines me: I'm not a half-Indian politician, or a doctor politician or a gay politician for that matter," he said, adding that he just wanted to be "honest with people". "It's just part of who I am. It doesn't define me -- it is part of my character I suppose," he said. The influence of the Roman Catholic Church in the traditionally conservative country has waned in the wake of a series of child abuse scandals in Ireland, which decriminalised homosexuality only in 1993. But there are limits to the country's newfound tolerance, and early in his campaign for the party leadership Varadkar said he hoped his sexuality would not be an issue. He also said that if elected he would not expect his partner Matt Barrett, also a doctor, to accompany him on official business. 'X Factor Leo' Varadkar was born on January 18, 1979, the son of a doctor from Mumbai who married an Irish nurse he had met in Britain. He and his two older sisters were raised in Dublin and went on to attend Trinity College in Dublin, where he studied medicine. Although a qualified doctor, he became a councillor in his early twenties and has been a full-time politician since he was first elected to parliament in 2007. Currently the minister for social protection, Varadkar has held various cabinet posts and garnered a reputation as a rightwing straight-talker. But while attracting supporters he has also attracted more than his fair share of controversy, and is regarded as sharply intelligent but socially awkward. In 2008, when unemployment was running high after a catastrophic economic crash, he was widely accused of racism for advocating payments to unemployed immigrants who agreed to return to their countries of origin. More recently, after championing a campaign against "welfare cheats", he said he wanted to lead a party for "people who get up in the morning", prompting accusations that he was pushing the country's centrist consensus sharply to the right. But he is popular with supporters who have dubbed him "X Factor Leo" for his telegenic image. Opinion polls suggest that he will boost Fine Gael's ratings, and while he has ruled out an early general election, speculation is growing that the man who shoots from the hip might not be able to resist.
---
Iraq forces announce gains in west Mosul against Islamic State

MMNN:2 Jun 2017

Iraqi forces have recaptured one neighbourhood in west Mosul and nearly half of another that are targets of a broad offensive against jihadists launched last week, officers said on Friday. Iraqi security forces are more than seven months into a massive operation to retake Mosul from the Islamic State group, which overran the city and swathes of other territory nearly three years ago. Now, IS's grip on Mosul has been reduced to the Old City and several nearby areas, but the jihadists are still putting up significant resistance and up to 200,000 civilians may be caught in the fighting. Forces from Iraq's elite Counter-Terrorism Service (CTS) recaptured Al-Saha al-Oula neighbourhood, Staff Lieutenant General Abdulamir Yarallah, who heads the military command coordinating the Mosul operation, said in a statement. Earlier today, Lieutenant General Raed Shakir Jawdat, the commander of the federal police, said in a statement that his forces "continue to advance cautiously, and have imposed their control over 40 percent of Al-Zinjili neighbourhood". Those are two of the three neighbourhoods that are the target of the current assault by Iraqi forces, with the third being the nearby Al-Shifaa area. All three are located north of the Old City, a warren of narrow streets and closely spaced buildings that has posed a major challenge for security forces. The United Nations said earlier this week that up to 200,000 civilians were estimated to still be trapped in IS- held areas, most of them in the Old City. "Because of the tightness of the area and the presence of a number of residents and fear of injuries and damage... to civilians and buildings, we have avoided entering at the present time," Staff Brigadier General Haidar al-Obeidi, a commander in the CTS, said of the Old City. Instead, security forces have blocked it off from three sides while the Tigris River does the same on the fourth -- keeping IS bottled up inside but also exposing civilians to shortages of food, water and medicine.
---
India, Pak to become full SCO members at Astana summit: China

MMNN:1 Jun 2017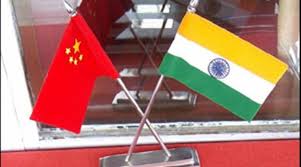 BEIJING: India and Pakistan's admission to the Beijing-backed Shanghai Cooperation Organisation (SCO) will be formalised at the grouping's summit in Kazakhstan next week, China said on Thursday. "The members states of the SCO are accelerating the MoU procedures with the two countries and everything is going very well," foreign ministry spokesperson Hua Chunying said. "We hope India and Pakistan as the full members at the Astana summit (on June 8-9). We also expect the Astana summit will complete the admission procedures for the two countries," Hua told reporters. The political and security grouping - headquartered in Beijing - was founded in 2001 and comprises Russia, Kazakhstan, Uzbekistan, Tajikistan and Kyrgyzstan, besides China as full members. It is mainly aimed at military cooperation between the members and involves intelligence- sharing, counter-terrorism operations in Central Asia. Afghanistan, Belarus, India, Iran, Mongolia and Pakistan have observer status.
---
Indian American envoy defends Kushner, says he will continue to do 'his work'

MMNN:31 May 2017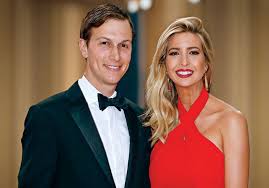 WASHINGTON: President Donald Trump's top adviser and son-in-law Jared Kushner, on the firing line for his reported attempt to set up a "back-channel" with Russia, has received support from US ambassador to the UN Nikki Haley. "If you know Jared, he's a very calm, stable voice," Haley told MSNBC. The Indian-American envoy's defence of Kushner, 36, came after the American media reported last week that he discussed to open a secret "back-channel" between Russia and Trump's presidential transition team in a meeting with the Russian ambassador to the US, Sergey Kislyak, last December. "There is not a lot that rattles him. So I suspect that he'll continue doing his work like he always has. He's said that he will totally comply with the investigation and give every ounce of information that they need. And I think we can expect that," Haley said in response to a question. She said she did talk to Kushner often, but has not since the news came out last week that he wanted to open a secret line of communication with Russia bypassing formal channels. "Well, I haven't talked to him since all of this came out," Haley said.
---
At least 18 killed as suicide car bomber targets convoy in eastern Afghanistan

MMNN:27 May 2017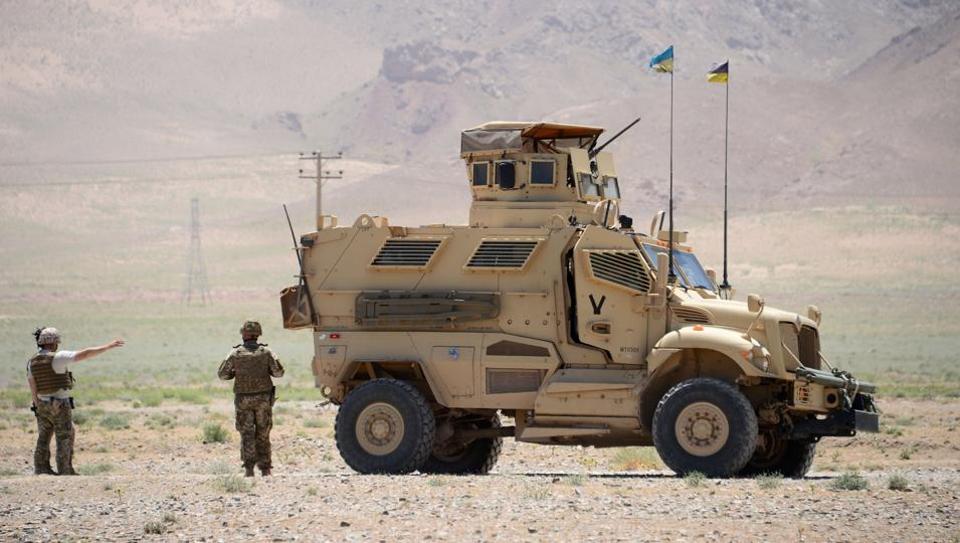 Najib Danish, the ministry's deputy spokesperson, says the target was a group of guards providing security for US forces in Khost province .
An interior ministry official says at least 18 people were killed when a suicide car bomber targeted a convoy of provincial security forces in eastern Afghanistan. Najib Danish, the ministry's deputy spokesperson, says the target was a group of guards providing security for US forces in Khost province but most of the victims in Saturday's attack were civilians. No group immediately claimed responsibility. The convoy of Khost provincial forces was targeted near the province's main bus station, said Danish. The attack comes on the first day of Ramadan, the Muslim holy month.
---
Canada's Trudeau seeks reset as agenda lags, rivals regroup

MMNN:27 May 2017

Canadian Prime Minister Justin Trudeau looks set to shuffle his cabinet and trigger a new session of Parliament to help refocus a flagging agenda in the run-up to an election in late 2019, say political insiders. Trudeau's Liberals took power in November 2015 with ambitious plans but have abandoned some high-profile electoral commitments and are struggling to push others through Parliament. "Things are dragging. We need a reboot," said one well-placed Liberal. One option is prorogation – ending the Parliamentary session and starting a new one, which allows Trudeau to formally unveil a new agenda and inject a sense of purpose in the run-up to the election. "Prorogation is most likely going to happen. The only question is whether it's in the next few months or early 2018," said another veteran Liberal. Trudeau's challenges started in January amid questions about a New Year's vacation he took at a private island. He now faces an ethics probe. In February, he had to scrap plans to overhaul the electoral system. He has also abandoned a vow to run small budget deficits, citing the need to stimulate the economy, and critics say Ottawa botched the creation of a national infrastructure bank, another major electoral promise. Officials fret that time is running out to meet priorities such as drafting legislation to legalize marijuana and creating a new system to assess major natural resource projects. Signs of urgency are visible. Unusually, the government is extending the sitting hours of Parliament to midnight until the legislature rises for the summer in late June.
---
UK police stop sharing info with US agencies after Manchester probe leaks

MMNN:25 May 2017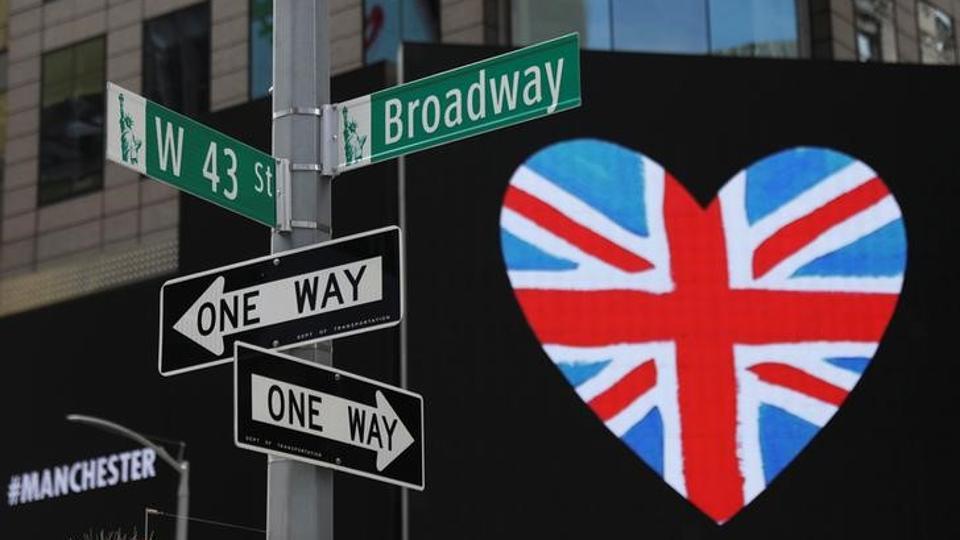 British police have stooped sharing information with US security agencies after leaks on the Manchester terror attack by American officials sparked fears that the investigation may have been undermined.
The Greater Manchester Police have stopped sharing information with US security agencies after leaks on the Manchester terror attack to the media by American officials raised hackles in London, amid fears that they may have undermined investigations. Prime Minister Theresa May is expected to raise the issue with US President Donald Trump when the two meet in Brussels for a NATO summit later on Thursday. The leaks, published in The New York Times and other American media outlets, were widely reproduced in the British news media. Manchester mayor Andy Burnham said he had complained to the acting American ambassador and had been assured that leaks out of the US would stop. The "special relationship" between the US and UK is reflected in intelligence and information sharing. Home secretary Amber Rudd had earlier expressed her irritation over the name of the suspected suicide bomber being released in the US hours before Greater Manchester Police had wanted to make it public. Rudd had warned Washington that "it should not happen again" but more details were leaked. The New York Times published online several photos and details from the ongoing investigation on Wednesday, including bits of shrapnel and remains of the clothing worn by suspect Salman Abedi. They were soon reproduced online and in print in Britain. A Whitehall source described the second US leak as being "on another level", and told the BBC it had caused "disbelief and astonishment" across the British government. A spokesperson for national counter-terrorism policing said: "We greatly value the important relationships we have with our trusted intelligence, law enforcement and security partners around the world. These relationships enable us to collaborate and share privileged and sensitive information that allows us to defeat terrorism and protect the public at home and abroad. "When that trust is breached it undermines these relationships, and undermines our investigations and the confidence of victims, witnesses and their families. This damage is even greater when it involves unauthorised disclosure of potential evidence in the middle of a major counter terrorism investigation." A senior Whitehall source told The Guardian: "These images from inside the American system are clearly distressing to victims, their families and other members of the public. Protests have been lodged at every relevant level between the British authorities and our US counterparts. They are in no doubt about our huge strength of feeling on this issue. It is unacceptable."
---
London on alert as military personnel guard key locations after Manchester attack

MMNN:24 May 2017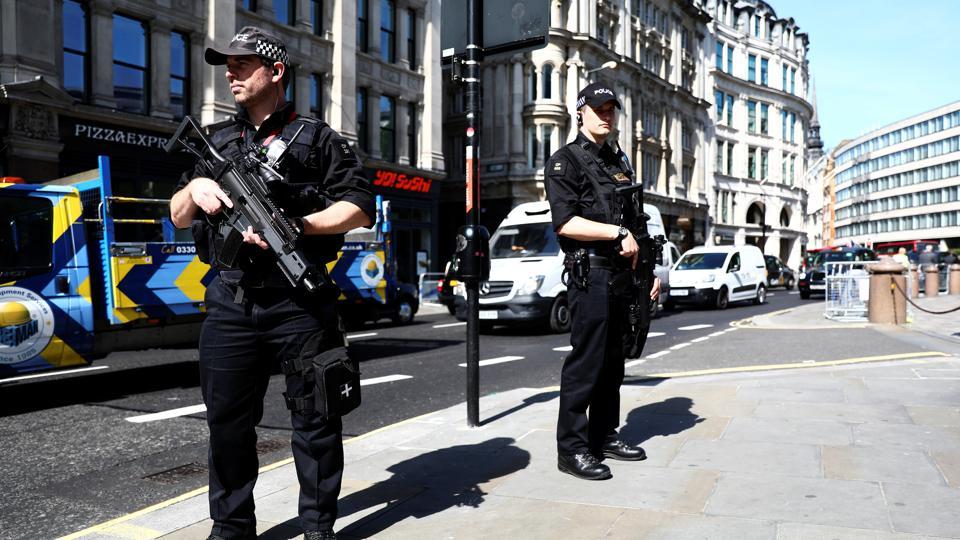 British military personnel were guarding key locations in London a day after the Manchester terror attack as the government raised the threat level from "severe" to "critical"
There was no sign of campaigning for the June 8 election as military personnel took up positions at key locations such as Buckingham Palace, Downing Street and Westminster to free armed police for counter-terrorism operations after Monday's Manchester terror attack. Everyday life in Manchester, London and elsewhere was marked by sullenness and some uneasiness on Wednesday as Prime Minister Theresa May and security officials raised the threat level of international terrorism from "severe" to "critical", anticipating an "imminent" attack. Scotland Yard said on Wednesday it had increased police numbers and operations across London with immediate effect. It said the public would see more armed officers, and the locations of their deployment, types of tactics and numbers would continually change to be most effective and avoid predictability. Military personnel in the stepped-up security plans number 3,800 but their involvement is intended to be a temporary measure, home secretary Amber Rudd said. The police's Project Servator is in place, under which teams of specialist officers are trained to spot telltale signs that a person may be carrying out hostile reconnaissance or committing other crimes.
---
Gunmen kidnap two Chinese nationals in Balochistan

MMNN:24 May 2017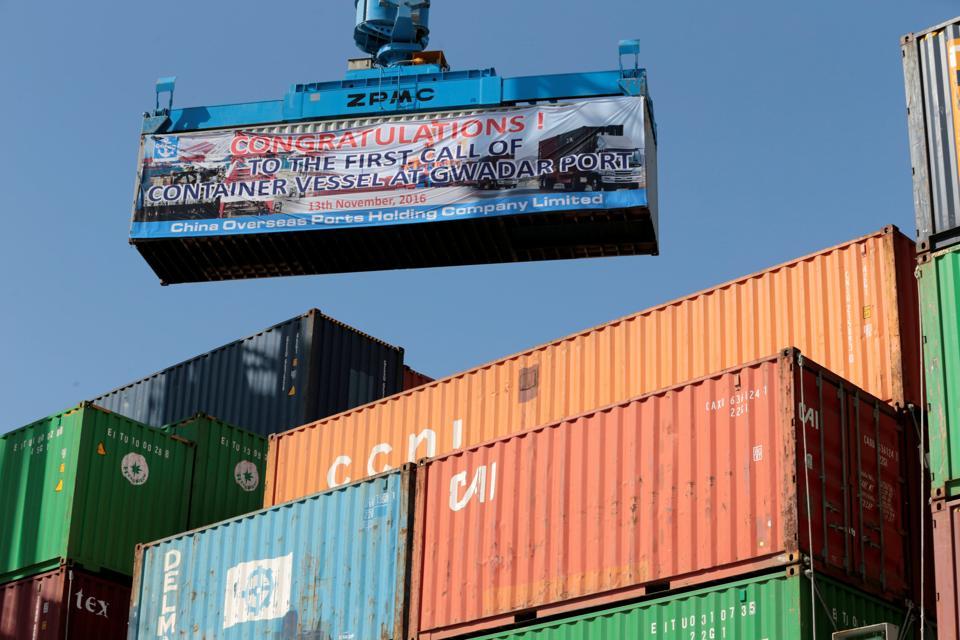 A large number of Chinese nationals, most of them associated with projects that are part of the China-Pakistan Economic Corridor, are based in Quetta and other parts of Balochistan.
Two Chinese nationals were kidnapped from Quetta, the capital of Pakistan's restive Balochistan province, on Wednesday, according to a media report. Unidentified abductors forced the two Chinese nationals, a man and a woman, into a vehicle at gunpoint and drove them away from Jinnah Town area of Quetta, police were quoted as saying by Dawn News channel. Another Chinese national, a woman, reportedly escaped from the abductors. A passerby was injured after one of the abductors opened fire, the report said. Police and Frontier Corps personnel reached the scene of the abduction and launched an investigation. Jinnah Town is one of the affluent residential areas of Quetta. A large number of Chinese nationals, most of them associated with projects that are part of the China-Pakistan Economic Corridor, are based in Quetta and other parts of Balochistan, including Gwadar port. In November last year, two Chinese engineers were killed by unidentified assailants in Pasni district of Balochistan. Two more Chinese engineers were killed in a roadside blast in Hub district last September. Pakistan has set up a special force – the Special Security Division – comprising 9,000 soldiers and 6,000 paramilitary personnel to protect the projects that are part of the $46-billion CPEC and Chinese nationals working on them.
---
Trump calls North Korea's Kim Jong-Un 'madman with nuclear weapons'

MMNN:22 May 2017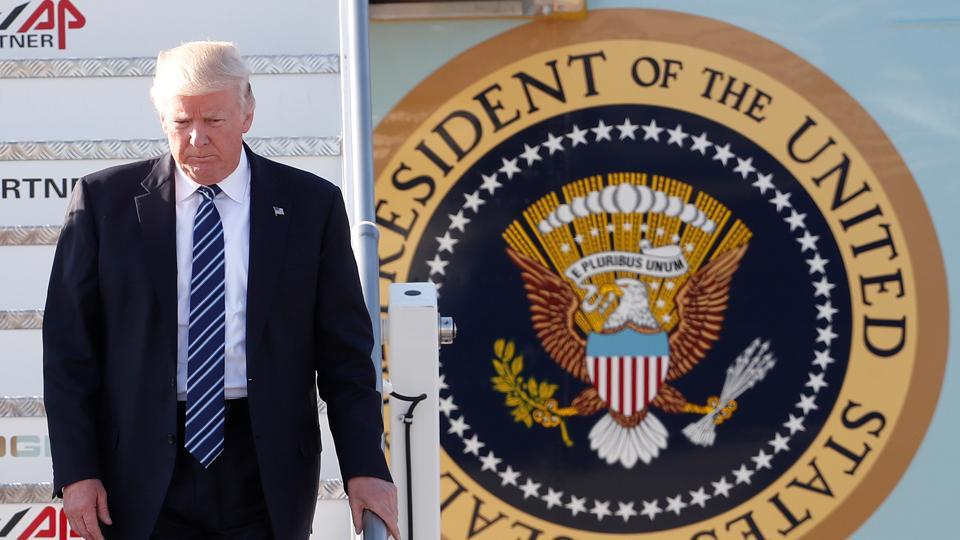 During a telephone call, Donald Trump asked Philippine President Rodrigo Duterte about whether he believed North Korean leader Kim Jong-Un was "stable or not stable."
President Donald Trump called North Korean leader Kim Jong-Un a "madman with nuclear weapons" during a telephone call with Philippine President Rodrigo Duterte, according to a transcript of the conversation released by US media Tuesday. A White House readout of the April 29 call characterized it as a "very friendly conversation." Days after the conversation, Trump said publicly that he would be "honored" to meet with Kim. But in the call, Trump hinted at a possible dramatic escalation on the Korean Peninsula. "We can't let a madman with nuclear weapons let on the loose like that. We have a lot of firepower, more than he has, times 20 -- but we don't want to use it," the US leader said, citing "two nuclear submarines" the Pentagon sent to the area last month. Transcribed by the Philippine government, the conversation was released by The Washington Post and The Intercept. Trump also queried Duterte about whether he believed Kim was "stable or not stable." The Philippine leader responded that their North Korean counterpart's "mind is not working and he might just go crazy one moment." Kim has a "dangerous toy in his hands that could create so much agony and suffering for all mankind," he added. But Trump appeared reassured that North Korea's recent missile tests had failed, saying that "all his rockets are crashing. That's the good news." Turning to China and its ability to counter the nuclear threat, Trump pressed Duterte to call Chinese President Xi Jinping to exert pressure. "I hope China solves the problem. They really have the means because a great degree of their stuff come through China," Trump said, adding: "But if China doesn't do it, we will do it." Duterte agreed, saying "at the end of the day, the last card, the ace, has to be with China." However, he also cautioned, starkly, that "the other option is a nuclear blast, which is not good for everybody." Trump closed the call by inviting Duterte to visit the White House "anytime you want to come," and called him a "good man." "Seriously, if you want to come over, just let us know. Just take care of yourself, and we will take care of North Korea," he added. At the start of the call, Trump congratulated Duterte on doing a "great job" in his controversial drug war that has killed thousands of people.
---
N Korea says missile tests warhead guidance, ready for deployment

MMNN:22 May 2017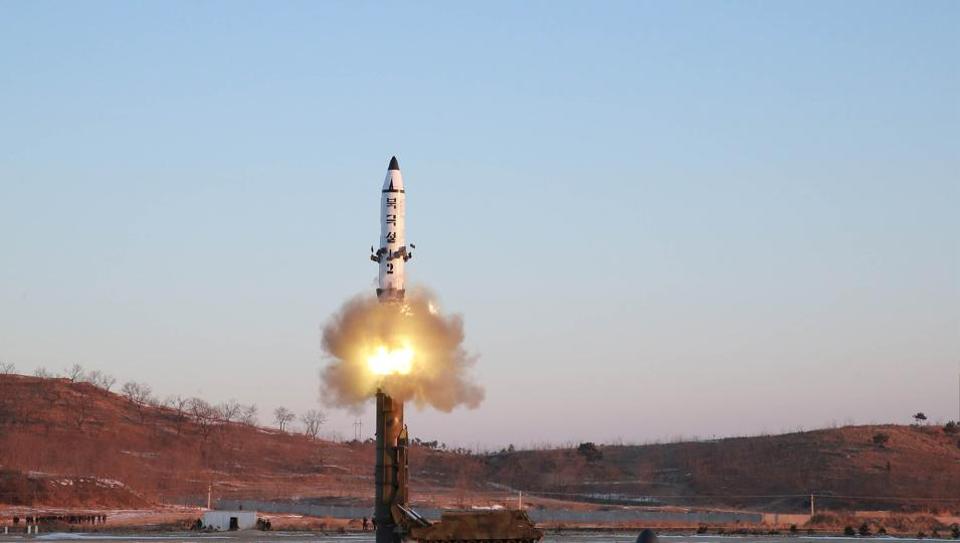 The North Korean state media conducted a ballistic missile test a week ago, while Pyongyang claimed that another projectile was fired on Sunday.
North Korea said on Monday it had successfully tested an intermediate-range ballistic missile to confirm the reliability of the late-stage guidance of the warhead, indicating further advances in the ability to hit US targets.
The North's KCNA news agency said leader Kim Jong Un supervised the test which also verified the functioning of the solid-fuel engine for the Pukguksong-2 missile and ordered it for deployment in field action.
North Korea has defied all calls to rein in its nuclear and missile programmes, even from China, its lone major ally, saying the weapons are needed for legitimate self-defence. The North last conducted a ballistic missile test a week ago.
"Saying with pride that the missile's rate of hits is very accurate and Pukguksong-2 is a successful strategic weapon, he approved the deployment of this weapon system for action," KCNA said, quoting leader Kim Jong Un.
The launch verified the reliability and accuracy of the solid-fuel engine's operation and stage separation and the late-stage guidance of the nuclear warhead which was recorded by a device mounted on the warhead, KCNA said. "Viewing the images of the Earth being sent real-time from the camera mounted on the ballistic missile, Supreme leader Kim Jong Un said it feels grand to look at the Earth from the rocket we launched and the entire world looks so beautiful," KCNA said. The use of solid fuel presents great advantages for weapons because the fuel is more stable and can be transported easily in the missile's tank allowing for a launch on very short notice. The Pukguksong-2 missile flew about 500 km (310 miles), reaching an altitude of 560 km, and landed in waters off the North Korea's east coast, South Korea's military said on Sunday.
S Korea questions re-entry technology
On Monday, the South's military said the test provided more "meaningful data" for the North's missile programme but whether the North mastered the re-entry technology for the warhead needs additional analysis to verify the North's claims of advances.
The reclusive state has been working to develop a nuclear-tipped missile capable of striking the US mainland. On Saturday, it said it had developed the capability to strike the US mainland, although Western missile experts say the claim is exaggerated. The North has yet to demonstrate it has successfully miniaturised a nuclear warhead to mount on a ballistic missile despite claims to having mastered the technology.


---
24 injured in bomb blast at Bangkok hospital

MMNN:22 May 2017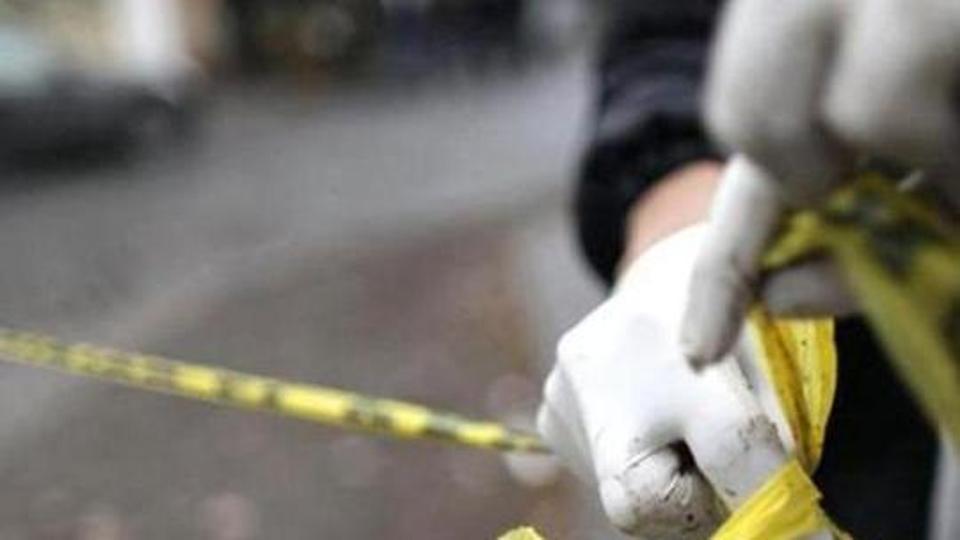 A bomb blast at a hospital in the Thai capital, Bangkok, wounded 24 people on Monday, on the third anniversary of a 2014 military coup.
There was no claim of responsibility for the blast at the Phramongkutklao Hospital, which is popular with retired military officers.
"It was a bomb. We found the pieces that were used to make the bomb," Kamthorn Aucharoen, commander of the police's explosive ordnance team, told Reuters.
"Right now, authorities are checking out closed circuit cameras." Government spokesman Sansern Kaewkamnerd said 24 people had been wounded. (Reporting by Aukkarapon Niyomyat; Writing by Amy Sawitta Lefevre; Editing by Robert Birsel)

---
India victim of terrorism, has endured unspeakable horror: Trump in Saudi Arabia

MMNN:22 May 2017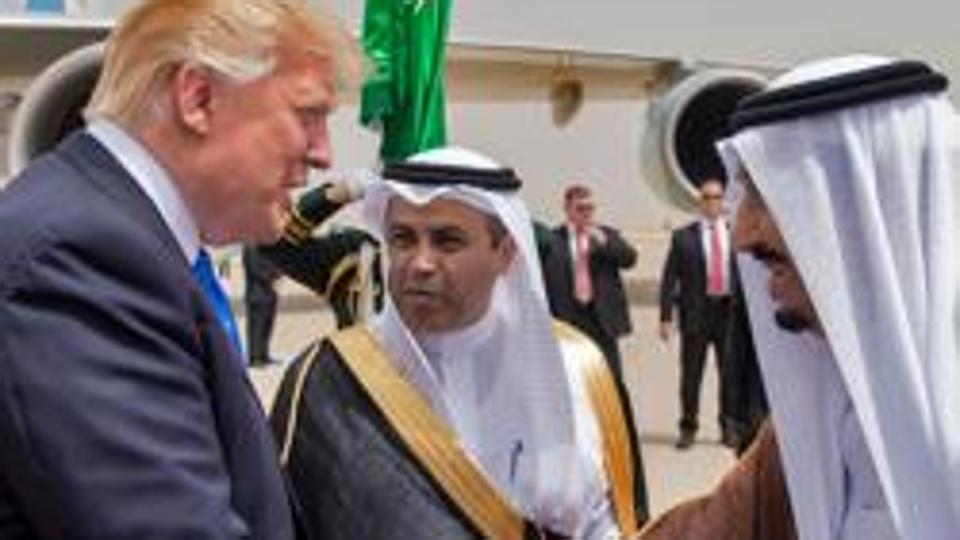 Donald Trump asks Middle-eastern countries to combat the crisis of Islamic extremism emanating from the region
United States President Donald Trump said India was a victim of terrorism and asked countries to ensure that terror groups don't find sanctuaries on their soil.
During his speech at the Arab-Islamic-US summit Trump said, "The nations of Europe have also endured unspeakable horror, so too have nations of Africa and South America, India, Russia, China, Australia have all been victims.".
Without naming Pakistan, Trump said "every country must ensure that terrorists do not find any sanctuary on their lands."

---
Australia nixes skilled-visa programme; Trump to sign executive order on reform of H-1B visa system
MMNN: 18 April 2017
Indians looking for skilled worker visas to countries like Australia and the US will no longer have it easy.
On Tuesday, Australia abolished its skilled visa programme, the employer sponsored temporary work visas, popularly known as the 457 visa. A statement from the Australia high commission said this would be replaced by a new temporary skill shortage work visa by March 2018.
In the US, President Donald Trump is expected to sign yet another executive order that will restrict H-1B visas to skilled professionals, one of the most attractive for Indian techies. While the broad aim behind the move is to add to the "buy American" programme, Trump is also expected to rework the H-1B program to move away from the lottery system to a merit-based system, as was promised by Trump in a series of tweets in recent weeks.
According to Axios, a US media network, "Trump campaigned on making major changes to the H-1B visa program, which many big tech and IT consulting firms use to bring in foreign workers to fill technical jobs. While many companies claim they need visas for job vacancies they can't find qualified Americans to fill, Trump has accused some companies of abusing the program by using the visas to hire cheaper overseas workers."
This year, the H-1B lottery system which opened in April took 1,99,000 applications for 85,000 positions. Indians take about 70 per cent of these visas. On the other hand, Australia takes the merit based system, which they already follow, one step further. "The new visa will have two streams: A short-term stream allowing entry for up to two years, and a medium-term stream allowing entry for up to four years, similar to the current 457 visa," a statement from the Australian government said. "The occupation list for the four year visa includes IT professionals, so there continues to be visa options for skilled Indian nationals."
Australian high commissioner to India, Harinder Sindhu said, "India provides the highest number of temporary skilled workers to Australia ; eight out of the top 10 occupations for Indian 457 visa holders (as at December 2016) were IT professionals."



---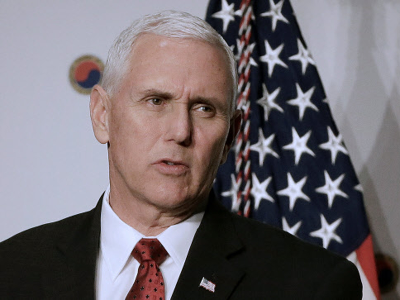 US won't rest until North Korea gives up nuclear weapons, Mike Pence says
MMNN:18 April 2017
The US will not relent until it achieves its objective of ensuring the Korean Peninsula is free of nuclear weapons, Vice President Mike Pence said Tuesday while visiting Japan.
After meetings with Prime Minister Shinzo Abe and other leaders, Pence told reporters that President Donald Trump was confident that economic and diplomatic pressure has a chance of compelling North Korea to cooperate.
"It is our belief by bringing together the family of nations with diplomatic and economic pressure we have a chance of achieving a freeze on the Korean Peninsula," Pence said.
"We will not rest and will not relent until we obtain the objective of a denuclearized Korean Peninsula," he said.
The Trump administration has signaled a more forceful US stance toward North Korea's recent missile tests and threats, including a warning from Trump that North Korean leader Kim Jong Un has "gotta behave."
So Pence struck a stern tone after arriving at a US naval base from South Korea.
"We appreciate the challenging times in which the people of Japan live with increasing provocations from across the Sea of Japan," he said. "We are with you 100 percent."
On Monday, Pence traveled to the tense Demilitarized Zone dividing North and South Korea, where he warned North Korea's leaders that after years of testing the US and South Korea with its nuclear ambitions, "the era of strategic patience is over."
A senior North Korean official then accused the United States of bringing the countries to the brink of thermonuclear war.
Pence, on a 10-day Asia trip that will also take him to Indonesia and Australia, said Trump hopes China will use its leverage to get its longtime ally North Korea to give up its nuclear weapons program and ballistic missiles.
In Beijing, Chinese Foreign Minister Wang Yi made a fresh appeal for calm.
Wang told reporters that although US officials have made clear that a military strike remains a possibility, he believes that Washington would still prefer to de-escalate tensions through multi-sided talks.
Abe said Japan likewise hopes for peaceful dialogue with Pyongyang, "but at the same time, dialogue for the sake of dialogue is valueless." Pressure on North Korea is crucial, the prime minister said.
After meeting with Abe, Pence held talks with Japanese Deputy Prime Minister Taro Aso on a new US-Japan "economic dialogue" to be led by the two.
The new forum for trade talks was launched by Trump and Abe during the Japanese leader's visit to the US in February. In part, it is meant to take the place of the Trans-Pacific Partnership, the regional trade pact that Trump withdrew from shortly after taking office.
Pence and Aso said they believed the dialogue could yield opportunities to create new jobs on both sides and to fortify the economic aspects of the alliance.
"We would like to seek the best shape and forum for our bilateral relationship," Pence said. "The TPP is a thing of the past for the United States of America."
He said Trump is certain that negotiating trade deals with individual countries was the best way to ensure they yield "win-win" situations for both sides.
The talks Tuesday did not delve into sector-by-sector issues such as auto exports. With no US trade representative yet in office and other key positions still unfilled, such nitty-gritty discussions will have to come later.


---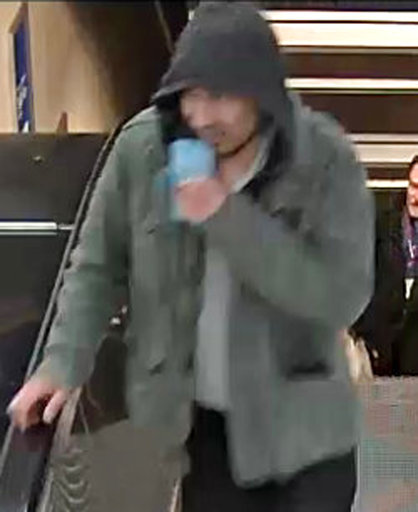 Stockholm attack suspect Rakhmat Akilov admits to 'terror crime'
MMNN: 11 April 2017
Suspected Stockholm truck attacker Rakhmat Akilov, a 39-year-old Uzbek and jihadist sympathiser, admitted today to committing a "terrorist crime" by mowing down pedestrians on a busy street, killing four people and injuring 15 others. "Akilov confesses to a terrorist crime and accepts his custody detention," his lawyer Johan Eriksson told a custody hearing in a Stockholm district court.
Akilov, who was arrested in a Stockholm suburb just hours after Friday's attack, appeared in the courthouse's special heavily-guarded, high-security courtroom. Handcuffed and wearing a thick green hoodie over his head, he kept his head bowed down.
Judge Malou Lindblom ordered him to remove the hoodie and he complied, revealing dark hair with streaks of grey.
Akilov, a Russian speaker, had an interpreter at his side to help him follow the proceedings. He did not address the court directly.
After Eriksson's statement, the judge consented to the prosecution's request to have the rest of the hearing held behind closed doors due to the classified nature of the information in the investigation.
After about an hour, journalists were readmitted into the courtroom and the judge remanded Akilov in custody.
Court documents seen by AFP showed Akilov, who is facing life behind bars, had requested that his state-appointed lawyer Johan Eriksson be replaced by a Sunni Muslim, saying "only a lawyer of this faith could assert his interests in the best way". The court refused the request.
The four people killed in the attack were two Swedes -one woman and an 11-year-old girl - a British man, and a Belgian woman.
Eight people were still in hospital, two of whom were in critical condition.
Akilov, a construction worker who had been refused permanent residency in Sweden in June 2016, had gone underground last year after receiving a deportation order, police said.
Friday's attack resembled previous rampages using vehicles in Nice, Berlin and London, all of them claimed by the Islamic State (IS).
IS has not claimed responsibility for the Stockholm attack, but Swedish media reports yesterday said Akilov had told investigators that he had received an "order" from IS to carry out the attack against "infidels".
The Aftonbladet newspaper reported that he had said he was "pleased with what he had done".
"I mowed down the infidels," Aftonbladet quoted him as saying, citing sources close to the investigation and describing him as a father of four whose family had stayed behind in Uzbekistan.
"The bombings in Syria have to end," he was quoted as saying.
On Sunday, a second suspect - also from Uzbekistan according to media reports - was formally placed under arrest, Stockholm district court judge Helga Hullman told AFP, refusing to disclose any links between the two suspects.
Police have said they expect their investigation to take a long time to wrap up.
"It can take up to a year to finish the investigation," said the head of national police operations, Mats Lofving.
Swedish politicians have meanwhile expressed anger over the failure by the authorities to deport the suspect, as police said around 12,000 people had absconded after being denied the right to stay.
Swedish Prime Minister Stefan Lofven, who led a nationwide minute of silence for the victims yesterday, said he was "frustrated" by the problem, while far-right Sweden Democrats leader Jimmie Akesson called it a "huge scandal".
However, national police commissioner Dan Eliasson said "there was nothing in the system that indicated (the suspect) would do something like what he did on Friday".
The country of 10 million people took in 244,000 asylum seekers in 2014 and 2015, the highest per capita in Europe.
Justice Minister Morgan Johansson meanwhile told AFP he wants to beef up Sweden's anti-terror laws.
"We've criminalised foreign travel for terrorism purposes, we've extended (our laws) on terrorism financing. There is a possibility to extend them further."



---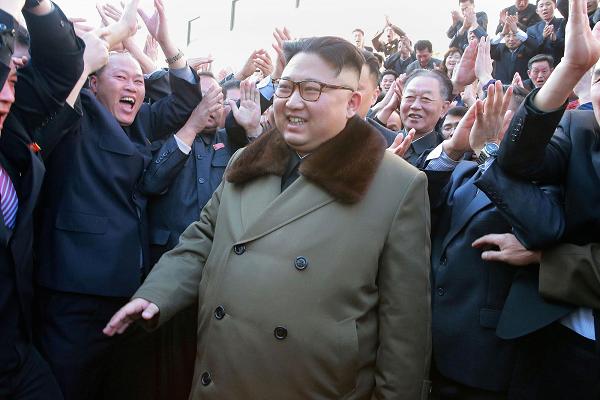 North Korea state media warns of nuclear strike if provoked as US warships approach
MMNN:11 April 2017
North Korean state media on Tuesday warned of a nuclear attack on the United States at any sign of a US pre-emptive strike as a US Navy strike group led by a nuclear-powered aircraft steamed towards the western Pacific.
Tension has escalated sharply on the Korean peninsula with talk of military action by the United States gaining traction following its strikes last week against Syria and amid concerns the reclusive North may soon conduct a sixth nuclear test.
North Korea's official Rodong Sinmun newspaper said the country was prepared to respond to any aggression by the United States.
"Our revolutionary strong army is keenly watching every move by enemy elements with our nuclear sight focused on the U.S. invasionary bases not only in South Korea and the Pacific operation theatre but also in the US mainland," it said.
South Korean acting President Hwang Kyo-ahn warned of "greater provocations" by North Korea and ordered the military to intensify monitoring and to ensure close communication with the United States.
"It is possible the North may wage greater provocations such as a nuclear test timed with various anniversaries including the Supreme People's Assembly," said Hwang, acting leader since former president Park Geun-hye was removed amid a graft scandal.
The North convened a Supreme People's Assembly session on Tuesday, one of its twice-yearly sessions in which major appointments are announced and national policy goals are formally approved. It did not immediately release details.
But South Korean officials took pains to quell talk in social media of an impending security crisis or outbreak of war.
"We'd like to ask precaution so as not to get blinded by exaggerated assessment about the security situation on the Korean peninsula," Defence Ministry spokesman Moon Sang-kyun said.
Saturday is the 105th anniversary of the birth of Kim Il Sung, the country's founding father and grandfather of current ruler, Kim Jong Un.
A military parade is expected in the North's capital, Pyongyang, to mark the day. North Korea often also marks important anniversaries with tests of its nuclear or missile capabilities in breach of U.N Security Council resolutions.
Groups of men and women in colourful outfits were singing and dancing on street corners in Pyongyang, which was illuminated by better lighting than in previous years, apparently practising for the parade planned for later in the week.
Syrian President Bashar al-Assad sent a message of congratulations to mark the event, lambasting "big powers" for their "expansionist" policy.
"The friendly two countries are celebrating this anniversary and, at the same time, conducting a war against big powers' wild ambition to subject all countries to their expansionist and dominationist policy and deprive them of their rights to self-determination," the North's KCNA news agency quoted the message as saying.
"The two peoples of Syria and the DPRK are as ever struggling for their rights to self-determination and national sovereignty and the security and prosperity of their countries."
DPRK stands for the Democratic People's Republic of Korea, the North's official name.
The North's foreign ministry, in a statement carried by KCNA, said the U.S. navy strike group's approach showed America's "reckless moves for invading had reached a serious phase".
"We never beg for peace but we will take the toughest counteraction against the provocateurs in order to defend ourselves by powerful force of arms and keep to the road chosen by ourselves," an unidentified ministry spokesman said.
North Korea and the rich, democratic South are technically still at war because their 1950-53 conflict ended in a truce, not a peace treaty. The North regularly threatens to destroy the South and its main ally, the United States.
SANCTIONS WARNING
North Korea is emerging as one of the most pressing foreign policy problems facing the administration of US President Donald Trump. It has conducted five nuclear tests, two of them last year, and is working to develop nuclear-tipped missiles that can reach the United States.
The Trump administration is reviewing its policy towards North Korea and has said all options are on the table, including military strikes, but US officials said non-military action appears to be at the top of the list.
Russia's foreign ministry, in a statement ahead of a visit by US Secretary of State Rex Tillerson, said it was concerned about many aspects of US foreign policy, and particularly concerned about North Korea.
"We are really worried about what Washington has in mind for North Korea after it hinted at the possibility of a unilateral military scenario," a statement said.
"It's important to understand how that would tally with collective obligations on de-nuclearising the Korean peninsula, something that is underpinned in UN Security Council resolutions."


---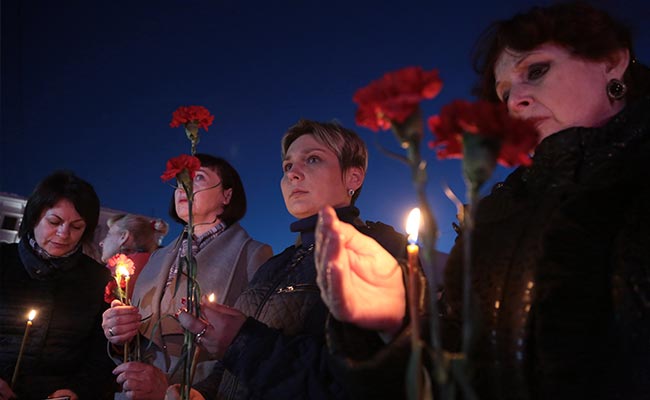 St Petersburg Mourns After Metro Attack By Alleged 'Suicide Bomber'
MMNN: 4 April 2017
Russia's second city Saint Petersburg was in mourning Tuesday after an explosion in the metro system killed 11 people and injured dozens, as Kyrgyzstan said a suicide bomber from the Central Asian nation was responsible.
Russian flags flew at half-mast as the city observed the first of three days of mourning.
Heightened security measures were imposed in the metro system, which has reopened, but the attack still weighed heavy on commuters.
"Everyone in the metro can only think of this," said 45-year-old Svetlana Golubeva as she entered the Saint Petersburg underground.
Investigators have launched a probe into an "act of terror" but stressed they would look into other possible causes of the blast, which hit a busy central metro line on Monday afternoon.
Kyrgyzstan security services said Tuesday the attack was staged by a "suicide bomber" named Akbarjon Djalilov, a naturalised Russian citizen born in southern Kyrgyzstan in 1995.
"He is a citizen of Russia," spokesman Rakhat Sulaimanov told AFP in Bishkek, adding that Kyrgyz security services are "in contact with Russian security services."
Russian authorities have not commented on the alleged bomber's identity.
There was no immediate claim of responsibility for the explosion, which comes after the Islamic State group called for attacks on Russia in retribution for its military intervention in Syria against the jihadists.
Pictures screened on national television showed the door of a train carriage blown out, as bloodied bodies lay strewn on a station platform.
The blast occurred in the tunnel between two key hubs in the system.
President Vladimir Putin on Monday offered condolences as he was holding meetings outside Saint Petersburg and later placed a bouquet of red flowers at the entrance to one of the stations, Technological Institute, where people have improvised a memorial.
The death toll from the blast stood at 11, with 45 injured, according to anti-terror authorities.
"I will be afraid to take the metro now," said Maria Ilyina, 30, standing near the station. "Before we thought that this would not come to Saint Petersburg -- now our city is under threat."
'Barbaric act'
The blast occurred in a train carriage between stations at 2:40 pm (1140 GMT), said anti-terrorist committee (NAK) spokesman Andrei Przhezdomsky.
The NAK committee later confirmed security services had found another explosive device at the Vosstaniya Square metro station. This device did not explode and was immediately "neutralised."
Authorities on Monday said the Moscow metro as well as transportation hubs and crowded spots around the country were stepping up security.
German Chancellor Angela Merkel condemned the explosion as a "barbaric act," while US President Donald Trump spoke with Putin.
"President Trump offered the full support of the United States Government in responding to the attack and bringing those responsible to justice," the White House said in a statement about the phone call.
"Both President Trump and President Putin agreed that terrorism must be decisively and quickly defeated."
EU foreign policy chief Federica Mogherini wrote on Twitter that she was following developments "together with all EU foreign ministers" gathered for a meeting in Luxembourg.
"Our thoughts are with all the people of Russia," she wrote.
Russia has not been hit by an apparent attack this deadly since the bombing of a plane carrying holidaymakers back to Saint Petersburg from the Egyptian resort of Sharm el-Sheikh in October 2015, which was claimed by IS. All 224 people onboard were killed.
Russian ground transport has also been hit by extremists before.
In 2013, twin suicide strikes within two days at the main railway station and a trolleybus in the southern city of Volgograd -- formerly known as Stalingrad -- claimed 34 lives and raised alarm over security at the Sochi Winter Olympic Games.
A suicide raid on Moscow's Domodedovo airport claimed by Islamic insurgents from the North Caucasus killed 37 people in January 2011.



---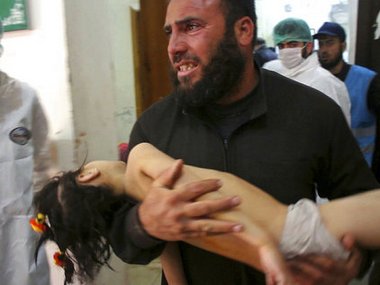 Syria: Suspected chemical attack in Idlib claims 58 lives, 11 children among dead
MMNN:4 April 2017
A suspected chemical attack in a town in Syria's northern Idlib province killed dozens of people on Tuesday, Syrian opposition activists said, describing the attack as among the worst in the country's six-year civil war.
The Britain-based Syrian Observatory for Human Rights monitoring group put the death toll at 58, saying there were 11 children among the dead. Meanwhile, the Idlib Media Center said dozens of people had been killed.
The media center published footage of medical workers appearing to intubate an unresponsive man stripped down to his underwear and hooking up a little girl foaming at the mouth to a ventilator.
There was no comment from the government in Damascus or any international agency in the immediate aftermath of the attack.
It was the third claim of a chemical attack in just over a week in Syria. The previous two were reported in Hama province, in an area not far from Khan Sheikhoun, the site of Tuesday's alleged attack.
Tuesday's reports came on the eve of a major international meeting in Brussels on the future of Syria and the region, to be hosted by the EU's High Representative Federica Mogherini.
The Syrian American Medical Society, which supports hospitals in opposition-held territory, said it had sent a team of inspectors to Khan Sheikhoun before noon and an investigation was underway.
The Syrian activists had no information on what agent could have been used in the assault. They claimed the attack was caused by an airstrike carried out either by the Syrian government or Russian warplanes.
It was also not immediately clear if all those killed died from suffocation or wounds sustained in the airstrikes.
Makeshift hospitals soon crowded with people suffocating, activist said.
Mohammed Hassoun, a media activist in nearby Sarmin - also in Idlib province where some of the critical cases were transferred - said the hospital there is equipped to deal with such chemical attacks because the town was also struck, early on in the Syrian uprising. The Sarmin hospital is about 50 kilometers (31 miles) away from the scene of the attack.
"Because of the number of wounded, they have been distributed around in rural Idlib," he told The Associated Press by phone. "There are 18 critical cases here. They were unconscious, they had seizures and when oxygen was administered, they bled from the nose and mouth."
Hassoun, who is documenting the attack for the medical society, said the doctors there have said it is likely more than one gas.
"Chlorine gas doesn't cause such convulsions," he said, adding that doctors suspect sarin was used.
Hussein Kayal, a photographer for the Idlib Media Center, said he was awoken by the sound of a bomb blast around 6:30 a.m. When he arrived at the scene there was no smell, he said.
He found entire families inside their homes, lying on the floor, eyes wide open and unable to move. Their pupils were constricted. He put on a mask, he said. Kayal said he and other witnesses took victims to an emergency room, and removed their clothes and washed them in water.
He said he felt a burning sensation in his fingers and was treated for that.
A Turkey-based Syrian man whose niece, her husband and one-year-old daughter were among those killed, said the warplanes struck early, as residents were still in their beds. He spoke on condition of anonymity because he feared for the safety of family members back in Syria.
The province of Idlib is almost entirely controlled by the Syrian opposition. It is home to some 900,000 displaced Syrians, according to the United Nations. Rebels and opposition officials have expressed concerns that the government is planning to mount a concentrated attack on the crowded province.
Claims of chemical weapons attacks, particularly the use of the chlorine agent, are not uncommon in Syria's conflict. The worst attack was what a U.N. report said was an attack by toxic sarin gas in August 2013 on the Damascus suburb of Ghouta that killed hundreds of civilians.
The Syrian Coalition, an opposition group based outside the country, said government planes carried out the airstrike on Khan Sheikhoun, south of the city of Idlib, the provincial capital.
It said the planes fired missiles carrying poisonous gases, killing dozens of people, many of them women and children. The coalition described the attack as a "horrifying massacre."
Photos and video emerging from Khan Sheikhoun show limp bodies of children and adults. Some are seen struggling to breathe; others appear foaming at the mouth.
A medical doctor going by the name of Dr. Shajul Islam for fears for his own safety said his hospital in Idlib province received three victims, all with narrow, pinpoint pupils that did not respond to light. He published video of the patients on his Twitter account.
Pinpoint pupils, breathing difficulties, and foaming at the mouth are symptoms commonly associated with toxic gas exposure.
The opposition's Civil Defense search-and-rescue group, which released photos showing paramedics washing down victims, has not published a casualty toll.
The activist-run Assi Press published video of paramedics carrying victims from the scene by a pickup truck. The victims were stripped down to their underwear. Many appeared unresponsive.
The New York-based Human Rights Watch has accused the Syrian government of conducting at least eight chemical attacks using chlorine gas on opposition-controlled residential areas during the final months in the battle for Aleppo last year that killed at least nine civilians and injured 200.
Also, a joint investigation by the United Nations and the international chemical weapons watchdog determined the Syrian government was behind at least three attacks in 2014 and 2015 involving chlorine gas and the Islamic State group was responsible for at least one involving mustard gas.


---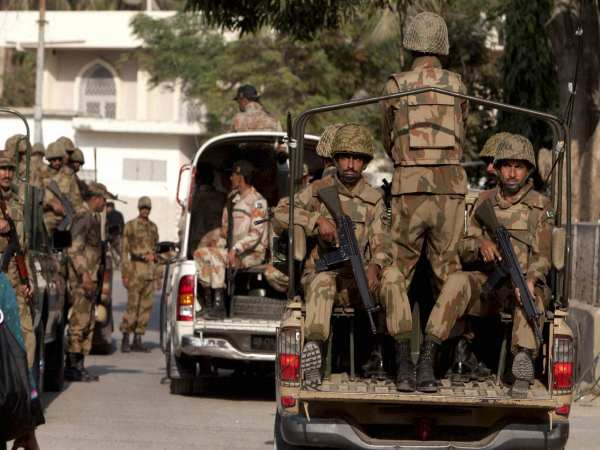 Pakistan temporarily opens two border crossings with Afghanistan
Islamabad: MMNN:7 March 2017
Pakistan on Tuesday temporarily reopened two border crossings with Afghanistan which were closed in February after a spate of terror attacks in the country.
The opening of the Torkham and Chaman border crossing points on March 7 and 8 is being seen as a move to ease tension between the two neighbours and relieve some of the backlog of people and vehicles at the border, Dawn online reported.
According to the Pakistan Foreign Ministry, Afghans and Pakistanis with valid travel documents will be allowed to cross the border points for two days. The two crossing points are major arteries for trade and commerce between Islamabad and Kabul. Other crossings, which are less in use, will remain closed. "We have only allowed patients to cross borders on the basis of valid documents," a Pakistani official told The News International.
According to an Afghan official, no trade activity between Pakistan and Afghanistan has resumed so far. Another security official at Chaman said hundreds of Afghans were crossing the border and Pakistanis were returning amid tight security. Pakistan shut the crossings hours after a bombing at the shrine of Lal Shahbaz Qalandar in Sehwan town of Sindh on February 16.
Nearly 90 persons died in the attack which Islamabad blamed on militants operating from Afghanistan. Islamabad also sought to use the closure as a tool to pressure Kabul to act against militants with sanctuaries across the border.
The reopening came a day after the killing of five Pakistani soldiers in a gunfight with militants crossing over from Afghanistan, officials said. Islamabad demanded that Afghanistan take action against militants launching attacks in Pakistan. Afghanistan has described the allegations as baseless.



---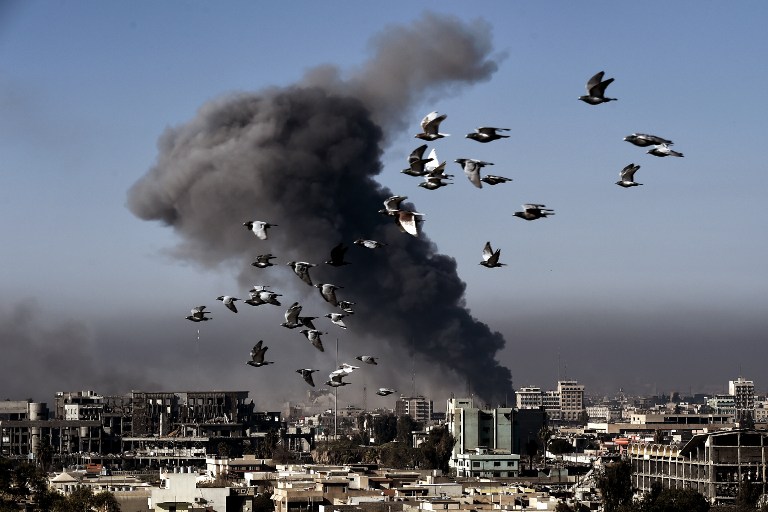 Iraqi forces regain control of Mosul airport from ISIS
MOSUL:MMNN:7 March 2017
Iraqi forces said Tuesday they had seized the main government offices in Mosul and its famed museum as they made steady progress in their battle to retake the city's west from jihadists.
News of the advances came on the third day of a renewed offensive against the Islamic State group in west Mosul -- the largest remaining urban stronghold in the "caliphate" declared by the jihadists in 2014.
Supported by the US-led coalition bombing IS in Iraq and Syria, Iraqi forces began their push against west Mosul on February 19. The advance slowed during several days of bad weather but was renewed on Sunday.
Recent advances have brought government troops and police closer to Mosul's densely populated Old City, where hundreds of thousands of civilians are believed to still be trapped under IS rule.
Iraq's Joint Operations Command said in a statement that federal police and the elite Rapid Response unit had been able to "liberate" the headquarters for the Nineveh provincial government.
They also seized control of the Al-Hurriyah bridgehead, it said, in a step towards potentially relinking west Mosul with the city's east, which government forces seized from the jihadists earlier in the offensive.
All the bridges crossing the Tigris in Mosul have been damaged or destroyed, and Iraqi forces would either have to repair them or install floating bridges to reconnect the two banks of the river, which divides the city.
Officers said Tuesday that security forces had also managed to recapture the Mosul museum, where the jihadists destroyed priceless artefacts, releasing a video of their rampage in February 2015.
The video showed militants at the museum knocking statues off their plinths and smashing them to pieces. In another scene a jackhammer was used to deface a large Assyrian winged bull at an archaeological site in the city.
The jihadists' attacks on ancient heritage in Iraq and Syria have sparked widespread international outrage and fears for some of the world's most important archaeological sites.
The museum was on a police list released Tuesday of sites recently recaptured from IS, which also included Mosul's central bank building, which the jihadists looted along with other banks in 2014, seizing tens of millions of dollars.
Other sites recaptured during the last few days include the provincial police headquarters, the courts complex and the water and electricity directorates.
The recent fighting in west Mosul has forced more than 50,000 people to flee their homes, according to the International Organization for Migration. But the number who have fled is still just a fraction of the 750,000 people who are believed to have stayed on in west Mosul under IS rule.
Emerging from the chaos of the civil war in neighbouring Syria, IS seized control of large parts of Syria and Iraq in mid-2014, declaring its Islamic "caliphate" and committing widespread atrocities.
The US-led coalition launched air strikes against the jihadists in both countries several months later and has backed both Iraqi forces and fighters in Syria battling IS.
The jihadists have been pushed from most of the territory they once seized but remain in control of key bastions including west Mosul and the caliphate's de facto Syrian capital Raqa.
In Syria they have faced offensives by three rival forces.
Turkish troops and their Syrian rebel allies have pushed south from the Turkish border and drove IS out of the northern town of Al-Bab.
Syrian government troops have pushed east from second city Aleppo with Russian support and seized a swathe of countryside from the jihadists.
The Syrian Observatory for Human Rights, a Britain-based monitor of the conflict, said Tuesday that regime forces had neared a key water pumping station for Aleppo and a military airport under IS control.


---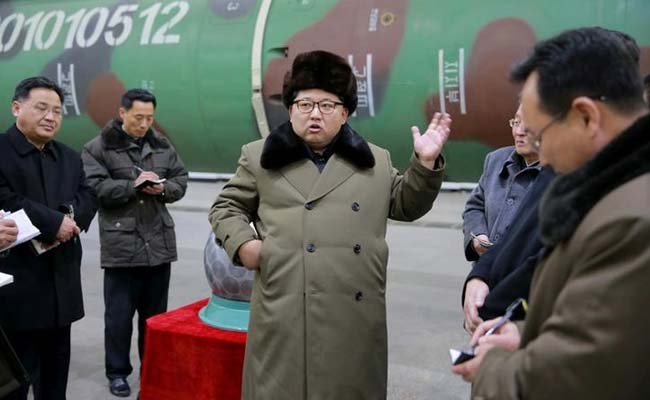 North Korea Has Large Chemical Weapons Stockpile: Seoul
SOUTH KOREA: MMNN:24 Feb. 2017
North Korea has up to 5,000 tonnes of chemical weapons, South Korean experts said Friday, including the toxin used to assassinate its leader's half-brother.
Traces of VX -- a nerve agent listed as a weapon of mass destruction by the United Nations -- were detected on swabs from the face and eyes of Kim Jong-Nam, who was poisoned at Kuala Lumpur's international airport last week, Malaysian police said Friday.
Malaysian detectives are holding three people -- women from Indonesia and Vietnam, and a North Korean man -- but want to speak to seven others, four of whom are believed to have fled to Pyongyang.
South Korea's defence ministry said in its 2014 Defence White Paper that the North began producing chemical weapons in the 1980s and estimated that it has about 2,500 to 5,000 tonnes in stock.
North Korea has chemical weapons production facilities in eight locations including the northeastern port of Chongjin and the northwestern city of Sinuiju, it said in the 2012 edition of the document.
"North Korea is believed to have a large stockpile of VX, which can easily be manufactured at low cost," defence analyst Lee Il-Woo at the private Korea Defence Network told AFP.
Developed some 100 years ago, VX can be produced at small laboratories or facilities producing pesticides, he said.
"Chemical and biological weapons can be delivered through various means such as artillery, missiles and planes", he added.
If absorbed through the skin, eyes or nose, just a tiny drop of the colourless, odourless nerve agent is enough to fatally damage a victim's central nervous system.

- Bubonic plague -

Military science professor Kim Jong-Ha at Hannam University said the North has 16 kinds of nerve agents including VX and sarin, used by a Japanese doomsday cult, Aum Shinrikyo, in the 1995 attack on the Tokyo subway system that killed 12 people.
It also possesses other lethal chemicals, including suffocating, blistering and blood agents, Kim said, as well as 13 types of biological weapons such as anthrax and bubonic plague.
Defence analyst Joseph S. Bermudez Jr. has said that North Korea "produces and possesses the capability to effectively employ throughout the Korean peninsula, significant quantities and varieties of chemical weapons", and could have as many as 150 chemical weapons warheads for ballistic missiles.
"It also has, to a lesser extent, the ability to employ these weapons worldwide using unconventional methods of delivery," he wrote on the closely-watched US-Korea Institute's website 38North in 2013.
There was a "growing body of evidence" that the North had an "ominous" history of proliferating chemical weapons capabilities to countries such as Syria and Iran, he added.
North Korea has not signed a global chemical weapons convention that prohibits the production, stockpiling and use of chemical weapons.
More than 160 countries signed the treaty, that went into force in 1997.
In a 2015 assessment, the Washington-based Nuclear Threat Initiative wrote: "North Korea claims that it does not possess chemical weapons.
"While assessing stockpiles and capabilities are difficult, the DPRK is thought to be among the world's largest possessors of chemical weapons, ranking third after the United States and Russia."



---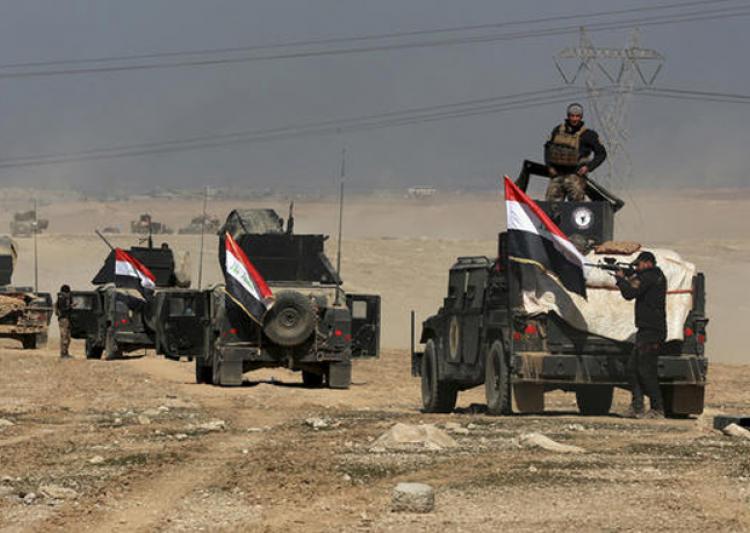 Iraqi forces regain control of Mosul airport from ISIS
MMNN:24 Feb. 2017
Iraqi forces closely supported by the US-led international coalition have seized control of the airport in the northern city of Mosul from Islamic State militants.
The three-pronged attack began just after sunrise, with three convoys of Iraqi forces snaking north across Nineveh's hilly desert on Mosul's southern approach.
Iraq's special forces joined federal police and rapid response units in the push — part of a major assault that started earlier this week to drive IS from the western half of Iraq's second-largest city. By afternoon they had entered the Ghazlani military base south of the city, as well as the airport.
Iraqi helicopters circled above Mosul firing down onto the city's southwestern edge. Coalition and Iraqi airstrikes that hit targets inside Mosul sent plumes of white smoke into the air on the horizon.
"We've broken the first line of IS defenses," said Iraqi special forces Lt. Yaser Mohsen, whose troops captured the key village of Tell al-Rayan, where Islamic State snipers had been slowing the government offensive. They then moved to the edge of Mosul's western Mamun neighborhood, where they were working to surround it before punching into the city.
Several armored coalition vehicles could be seen in the line of military vehicles, and security officials said coalition troops were embedded with the forward advancing forces, advising the Iraqi troops as they conducted the assault. The officials spoke to The Associated Press on condition of anonymity because they were not authorized to talk to reporters.
The cautious advance stood in sharp contrast to the first days of Iraq's push into Mosul from the east, when Iraqi forces quickly advanced deep into the city's congested neighborhoods, where they were hit with heavy IS counterattacks, including dozens of car bombs that struck the slow-moving Iraqi convoys with deadly consequences.
Clashes at Mosul's airport continued for hours, with IS militants hunkered down inside several airport buildings. By early afternoon, federal police commander Maj. Gen. Raid Shakir Jawdat told Iraqi state TV that his troops had control of "more than half" of the airport complex. About 200 families were evacuated to safe areas in government-controlled areas, he said.
Separately, the spokesman of the Joint Military Operation Command, Brig. Gen. Yahya Rasool confirmed to the AP that Iraqi special forces entered the Ghazlani military base next to the airport on the southern edge of the city.
On Sunday, after weeks of preparations, Iraqi forces launched the operation to take Mosul's western half, with the Iraqi regular army and federal police forces taking part in the initial push. Since then, the military says they have retaken some 120 square kilometers (nearly 50 miles) south of the city.
Thursday marked the first time the Iraqi special forces, which played a key role in securing the eastern half of the city, joined the fight for western Mosul.
A special forces officer overseeing the operation said IS targeted the advancing troops with dozens of bombs dropped from drones. The officer, who spoke on condition of anonymity because he was not authorized to brief the media, said his troops sustained at least a dozen casualties, including some inflicted by a car bomb attack.
Making up for a lack of fighters, IS militants are increasingly relying on modified commercial drones to guide suicide car bombers to their targets and to launch small-scale airstrikes on Iraqi forces.
While some 750,000 civilians are estimated to be trapped in Mosul's western sector, only a few dozen could be seen fleeing the city on foot Thursday alongside convoys of Iraqi Humvees.
Hamad Khalaf fled the Mamun neighborhood in southern Mosul with his wife and four children. Covered in dust, he said IS fighters were targeting people as they tried to escape.
"There are many injured still inside," he said.
"We've been walking since the morning," said his wife, Badriya, cradling their 1 ½-year-old daughter in her arms. A few meters (yards) away a mortar fired from inside the city hit a nearby hill.
In January, Iraqi authorities declared the eastern half of Mosul "fully liberated" from IS. The battle for western Mosul, the extremist group's last major urban bastion in Iraq, is expected to be the most daunting yet.
The streets are older and narrower in the sector of the city that stretches west from the Tigris River that divides Mosul into its eastern and western halves. The dense urban environment will likely force Iraqi soldiers to leave the relative safety of their armored vehicles.
Mosul fell to IS in the summer of 2014, along with large swaths of northern and western Iraq. But the Sunni militant group has been steadily losing territory, as backing by the U.S.-led coalition proved critical for Iraqi government efforts clawing back territory lost to the extremists.
IS has suffered losses in Syria as well: Turkish troops and Syrian opposition forces seized the center of the Islamic State-held town of al-Bab on Thursday, breaking a weeks-long deadlock between the two sides at the periphery of the town, Turkey's state news agency and opposition activists said. The northern Syrian town in Aleppo province is one of the militants' last urban strongholds in Syria west of Raqqa, the Islamic State group's de facto capital.
The Iraqi special forces officer overseeing this week's operation said he expected heavier IS resistance once his forces punched inside the city, but he said Iraqi forces wouldn't make the same mistakes they made in the east: quickly punching into dense neighborhoods only to be hit with overnight IS counterattacks.
"It's not caution," he said, adding, "They've learned, they're smarter now."


---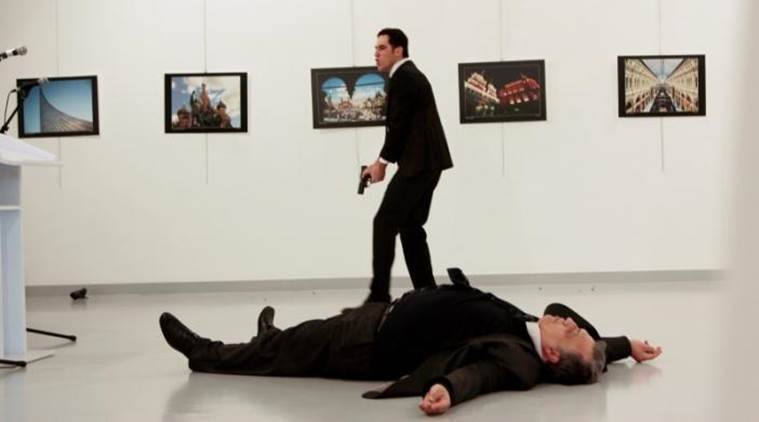 Turkey: Police detain six after Russian ambassador shot dead
TOKYO: MMNN:20 Dec. 2016
Turkish police have detained six people over the killing of the Russian ambassador, state media said, who was shot in the back as he gave a speech in Ankara on Monday by an off-duty police officer shouting "Don't forget Aleppo" and "Allahu Akbar". The state-run Anadolu agency said on Tuesday the attacker's mother, father, sister and two other relatives were held in the western province of Aydin, while his flatmate in Ankara was also detained.
Police paced up and down behind a cordon on Tuesday morning outside the art gallery where the ambassador, Andrey Karlov, was shot. A crime scene investigation van was parked outside the building.
The United States said its three missions in Turkey would be closed on Tuesday after a gun was fired in front of the U.S. embassy in Ankara overnight. The embassy was near the art gallery where Karlov was shot and Turkish police detained a man over the incident, state media reported.
Russia's foreign ministry said on Tuesday the two countries' foreign ministers had underlined the need to put more effort into effectively fighting terrorism in a phone call overnight.
The Russian, Turkish and Iranian foreign ministers will meet in Moscow later on Tuesday to discuss the crisis in Syria. A Russian delegation was due to arrive in Ankara at 11 a.m. (0800 GMT) to conduct investigations into the attack, broadcaster CNN Turk reported.
Security Threats
Turkey faces multiple security threats, including from the Islamic State militant group. A spokesman for the hardline Sunni Muslim group urged sympathisers around the world this month to carry out a fresh wave of attacks, singling out Turkish diplomatic, military and financial interests as preferred targets.
However, a senior Turkish security official said there were "very strong signs" the gunman belonged to the network of the U.S.-based cleric Fethullah Gulen, who Ankara says orchestrated a failed coup in July. Erdogan has denounced Gulen as a terrorist, but the cleric, a former ally, denies the accusation, and has also denied any role in the assassination.
A video showed the attacker shouting: "Don't forget Aleppo, don't forget Syria!" and "Allahu Akbar" ("God is Greatest") as screams rang out. He paced about and shouted as he held the gun in one hand and waved his other hand in the air.
Russia is an ally of Syrian President Bashar al-Assad and its air strikes helped Syrian forces end rebel resistance last week in the northern city of Aleppo. Turkey, which seeks Assad's ouster, has been repairing ties with Moscow after shooting down a Russian warplane over Syria last year.



---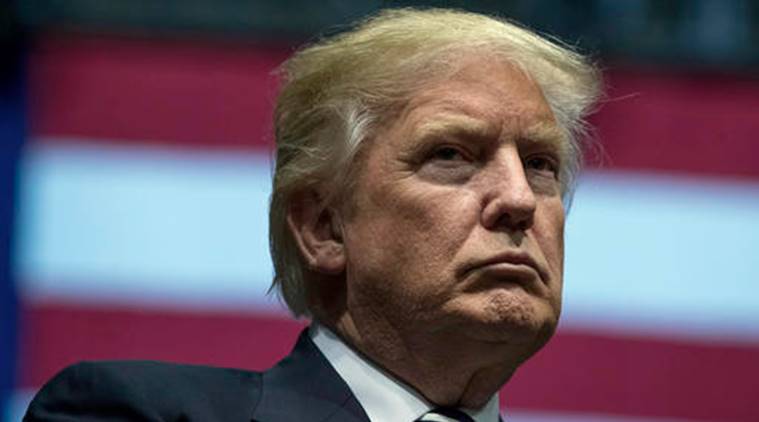 US expects China to return drone by Tuesday in South China Sea
Washington/beijing:MMNN:20 Dec. 2016
The United States expects China to return soon an underwater US drone seized by a Chinese naval vessel last week, with one U.S. official telling Reuters the exchange could happen as early as Tuesday at an agreed location in the South China Sea. China's seizure of the unmanned underwater vehicle (UUV) triggered a diplomatic protest and speculation about whether it will strengthen US President-elect Donald Trump's hand as he seeks a tougher line with Beijing.
A Chinese warship took the drone, which the Pentagon says uses unclassified, commercially available technology to collect oceanographic data, on Thursday about 50 nautical miles northwest of Subic Bay in the Philippines. The US officials, who spoke on condition of anonymity, said talks with Beijing on the timing of the exchange were advancing, with two saying they expected the incident to be resolved satisfactorily "relatively soon."
One said the exchange could take place near the disputed Scarborough Shoal in the South China Sea as early as Tuesday, local time. A U.S. destroyer would likely receive the drone, although the mechanics of the exchange were unclear. Pentagon spokesman Peter Cook at a news briefing said only that "We're working out the logistical details with Chinese officials". In Beijing, China's foreign ministry said the Chinese and US militaries were having "unimpeded" talks about the return.
The seizure has added to US concerns about China's growing military presence and aggressive posture in the disputed South China Sea, including its militarization of maritime outposts. The US Navy has about 130 such underwater drones, made by Teledyne Webb, each weighing about 60 kg (130 pounds) and able to stay underwater for up to five months. They are used to collect unclassified data about oceans, including temperature and depth. They are used around the world, but it is unclear how many are used in the South China Sea.
KEEP THE DRONE!
Trump, who takes office on January 20, waded into the dispute over the weekend, saying in a tweet: "We should tell China that we don't want the drone they stole back – let them keep it!" Trump has threatened to declare China a currency manipulator and force changes in U.S.-Chinese trade policy, which he says has led to the greatest theft of American jobs in history. Trump has also raised questions about the most sensitive part of the U.S.-China relationship: whether Washington would stick to its nearly four-decades-old policy of recognizing that Taiwan is part of "one China." Asked about Trump's comments, Hua said describing the drone as stolen was "completely incorrect".
"China's navy had a responsible and professional attitude to identify and ascertain this object," she said. "If you discover or pick something up from the street you have to examine it and if somebody asks you for it you have to work out if it's theirs before you can give it back." Cook called the seizure illegal and said Washington was using military and diplomatic channels to secure the drone's return. Pentagon officials have sought to be firm without escalating the incident.
Another senior U.S. official, speaking on condition of anonymity, said the somewhat muted U.S. response to the seizure, coupled with Trump's abandonment of the Trans-Pacific Partnership trade agreement, Philippine President Rodrigo Duterte's erratic policies and Malaysia's corruption scandal, has caused some U.S. allies to worry increasingly about the possibility of a declining American commitment to the region. The Philippines said it was troubling that the incident took place inside its exclusive economic zone (EEZ), saying it increased the likelihood of "miscalculations that could lead to open confrontation" very near the Philippine mainland.
DEEP SUSPICIONS
China is deeply suspicious of any US military activities in the resource-rich South China Sea, with state media and experts saying the use of the drone was likely part of U.S. surveillance efforts in the disputed waterway. The overseas edition of the ruling Communist Party's People's Daily said in a commentary on Monday the USNS Bowditch, which was fielding the drone and was set to pick it up, was a "serial offender" when it came to spying operations against China. Ni Lexiong, a naval expert at Shanghai University of Political Science and Law, told Reuters he believed the Chinese navy probably had orders to take the drone.
But Ni said the incident was very different from the 2001 intercept of a U.S. spy plane by a Chinese fighter jet that resulted in a collision that killed the Chinese pilot and forced the American plane to make an emergency landing at a base on Hainan. "This is a much smaller incident, it won't affect the overall picture of China-U.S. relations," he said, adding he did not expect China to seek an apology. The 24 US air crew members were held for 11 days before being released, souring U.S.-Chinese relations in the early days of President George W. Bush's first administration.
However, Greg Poling, a South China Sea expert at Washington's Center for Strategic and International Studies, said the U.S. military could feel compelled to take steps to further assert freedom of navigation in the region. "For a lot of folks in the Pentagon, this over-stepped that line between legal contestation and a military threat," he said.
While the US Navy under the Obama administration has sent warships periodically sailing near artificial islands claimed by China over the last year or so, it has mostly acted cautiously, seeking to avoid escalation with Beijing, which claims large swathes of the resource-rich waterway. In October, the United States carried out a freedom of navigation operation in the South China Sea, sailing within waters claimed by China, but not within the 12-nautical-mile territorial limits of the islands. Despite Trump's more aggressive tone, he has given no clear policy on how he plans to deal with the dispute in the South China Sea.


---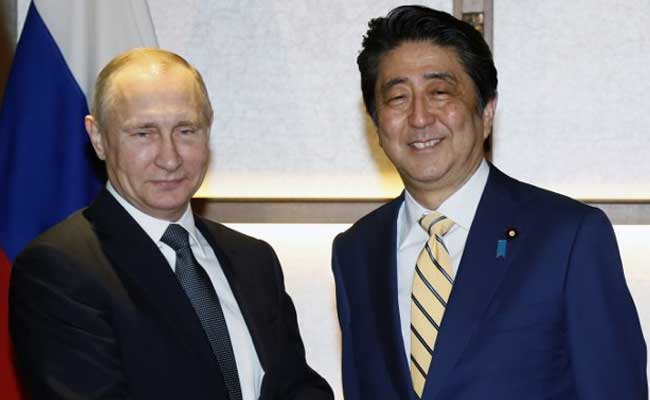 Japan And Russia Wrap Up Peace Treaty Summit
TOKYO: MMNN:16 Dec. 2016
Japan and Russia on Friday struck economic deals to build confidence towards a peace treaty to formally end World War II that has been prevented by a spat over Russian-occupied islands claimed by Tokyo.
The second and final day of talks in Tokyo comes after Prime Minister Shinzo Abe and President Vladimir Putin met Thursday in Abe's ancestral hometown in western Japan in the hopes of achieving a breakthrough.
But despite a "frank" exchange of views the leaders announced no major headway on a peace treaty, though they did make progress on ways to cooperate economically, including in the contested area.
Mr Abe, speaking at a luncheon with Mr Putin, said they had agreed on "more than 60 projects" in economic-related areas, with details to be announced at a news conference later in the day.
"I believe there are a wide range of areas where Japan and Russia have not exercised our fullest potential, despite the fact that we are neighbouring nations," Mr Abe said.
Mr Putin said business ties were a way to build confidence.
"Our work together on the economic front will help us create a foundation to improve relations," he said.
Local media reported Japan was expected to agree to provide an economic package worth about 300 billion yen ($2.5 billion), including private sector projects in areas such as mining, and loans for natural gas exploration and economic development in Russia's Far East.
The Soviet Union seized four islands off Japan's northern coast in 1945 in the closing days of the war.
'Legal Position'
The dispute over the islands, known as the Southern Kurils in Russia and the Northern Territories in Japan, has prevented the two sides from fully putting the conflict behind them.
The summit is the latest attempt to reach an agreement since Japan and the former Soviet Union began discussions in 1956.
Mr Putin, who is accomplished in the Japanese martial art of judo, has said he sees the lack of a peace treaty as an "anachronism" and wants to resolve the issue, while acknowledging that progress has been "difficult".
Mr Abe has looked to win concessions by dangling the prospect of major Japanese investment in front of Moscow, which is mired in an economic crisis made worse by falling oil prices and Western sanctions over Crimea and Ukraine.
He said Thursday that the two discussed joint economic development of the islands and making it easier for former Japanese residents, whose average age is 81, to visit.
Yuri Ushakov, a Kremlin adviser, told reporters Thursday that the two leaders called for experts to find ways to achieve joint exploitation of the four islands, citing "fishing, tourism, culture and medicine".
Business leaders from the two countries are also meeting Friday.
But few believe Mr Putin is likely to hand the islands back, not least because of their strategic value sitting astride the entrance to the Sea of Okhotsk as well as Russian pride at having taken them as spoils of war.
A Japanese official briefing reporters on the summit suggested that legal questions could be a formidable stumbling block, notably regarding the regulatory framework for any economic projects in the islands.
"In any case, not damaging our country's legal position is a prerequisite to joint economic activities on the four islands," he said.



---
South China Sea row: China's first aircraft carrier conducts maiden live-fire drills
BEIJING:MMNN:16 Dec. 2016
China's first aircraft carrier battle group has carried out its maiden live-fire exercises on a massive scale, in a show of strength amid increasing tensions with the US over the South China Sea and Taiwan.
Aircraft carrier 'Liaoning' conducted the mammoth drills with live ammunition in the Bohai Sea involving dozens of ships and aircraft as well as several air-to-air, air-to-ship and ship-to-air missiles, the PLA Navy said in a statement.
The exercise was aimed at testing combination of various types and numbers of ships to optimise the carrier's combat ability, the navy said.
The carrier, destroyers and frigates carried out exercises covering air interception, sea-based attacks and air-defense as well as reconnaissance, early warning and anti-missile systems.
The carrier's original design allows it to carry about 30 fixed-wing aircraft.
The time and exact location of the exercises were not disclosed accept that they were held in the Bohai Sea which is located between Chinese coast off Dalian and North and South Korea.
Earlier reports said the aircraft carrier would be deployed in the disputed South China Sea when it is ready.
It was the first time that the weapons used on the carrier were displayed in public since it entered service in 2012.
Videos of the Liaoning's J-15 fighters firing missiles were broadcast on China Central Television, the first time images of J-15 live-fire exercises have been shown to the public.
Rear Admiral Chen Yueqi, commander of the Liaoning carrier battle group, said the exercise is a "milestone" for the unit.
"It enabled us to explore how to organise a carrier battle group exercise and to test the training levels of our sailors and pilots. It can also boost the battle group's efforts to become combat ready as early as possible," he told CCTV.
The exercises were conducted as China struck a more aggressive posture over the disputed South China Sea issue and braces to have a showdown with US President-elect Donald Trump, who questioned 'One-China' policy and held an unprecedented phone talk with Taiwanese President Tsai Ing-wen, which drew strong diplomatic protests from Beijing.
China has become more assertive over the South China Sea after an international tribunal struck down its claim over all most all of the area.
The Philippines, Vietnam, Malaysia, Brunei and Taiwan also have counter claims over the disputed SCS.
China on Thursday confirmed that it is building military facilities in some of the reclaimed islands, saying the deployment of necessary defensive facilities on some islands in the South China Sea is legitimate and normal.
Reacting to the reports showing satellite images of the military facilities in the islands revealed by US think tank, Chinese foreign ministry spokesperson Geng Shuang said the South China Sea islands are China's inherent territory and China is building necessary defensive facilities on its own territory which is completely normal and has nothing to do with militarisation.
"If China's building normal facilities and deploying necessary territorial defensive facilities on its own islands is considered militarisation, then what is the sailing of fleets in the South China Sea?" he said questioning the movement of US naval fleet in the area.
Besides Liaoning, China is currently building two more aircraft carriers one of which was expected to be ready by next year.
Chinese defence ministry spokesman Yang Yujun said in earlier briefings that there will surely be more carriers in future.
Commander Xu Ying, chief of a J-15 squadron that participated in the event, was quoted by the State broadcaster as saying that through the exercise, pilots improved their use of tactics and weapons and enhanced confidence in their equipment.
Though the Navy did not disclose components of the carrier battle group, Zhang Junshe, a senior researcher at the PLA Naval Military Studies Research Institute, told China Daily that the battle group would have three Type 052C or Type 052D destroyers, both of which have advanced vertical-launch missile systems and cutting-edge air defence radar, three Type 054A frigates, one replenishment ship and one attack submarine.
"The recent exercise is really a landmark for the carrier battle group because it means the group's ships and aircraft have achieved a high level of integration and cooperation and that the unit is closer to gaining combat readiness," Zhang said.
"Next, the group would focus on honing its air defence and counter-submarine capabilities."
Wu Peixin, an aviation industry observer in Beijing, said the news indicates that the J-15 fighter force has obtained initial operational capability.
"The J-15 is as mighty as the United States' F/A-18E/F Super Hornet. It is capable of carrying out multiple operations such as fleet air defense and anti-ship strikes," he said.
"Given that dozens of ships were used in this drill, the aircraft carrier was likely to be accompanied by submarines, depot ships and fast combat support ships, in addition to guided missile destroyers as well as two guided missile frigates," Li Jie, a Beijing-based naval expert, told state run Global Times.
Liaoning is a refitted vessel based on an unfinished Russian-made carrier and delivered to the Chinese Navy on September 25, 2012.
Its battle group took shape in December 2013, when the carrier and several escort vessels, including two guided missile destroyers, two guided missile frigates and an attack submarine took part in a long-range formation drill in the South China Sea.


---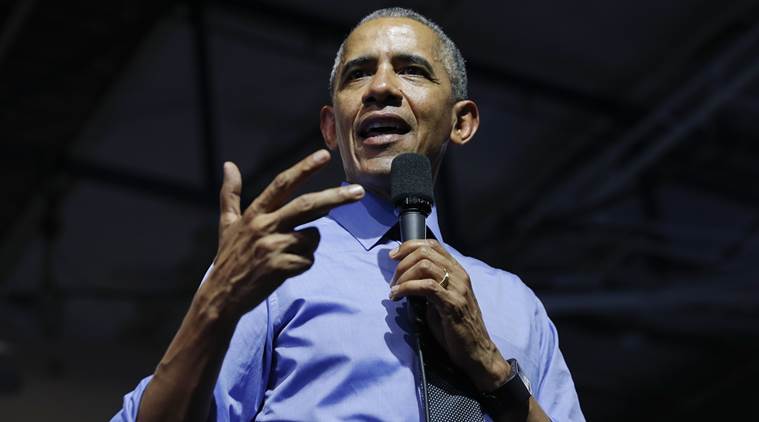 Taiwan not 'bargaining chip', committed to 'One China': White House
Washington: MMNN:13 Dec. 2016
The Obama administration has made it clear that Taiwan was not a "bargaining chip" and America was firmly committed to the decades-old "One-China" policy, an assertion that came after President-elect Donald Trump questioned the policy's relevance. "The United States government, under the leadership of President Obama, has been and remains firmly committed to our One-China policy. That's also the policy, by the way, that previous presidents in both parties have pursued and our country has benefited from adherence to that policy," White House Press Secretary Josh Earnest told reporters.
"One reason that we have pursued that policy is because the Obama administration does not view Taiwan and our relationship with Taiwan as a bargaining chip," he said, adding that Taiwan is the ninth-largest trading partner of the US. Earnest made the remarks after Trump questioned the relevance of continuing with the "One-China" policy if Beijing refuses to make any concessions on trade and other issues. He had said that China was "very badly" hurting the US by devaluing its currecy and accused the communist nation of not helping in reigning in North Korea.
Trump has suggested he can leverage Taiwan by questioning the "One China" policy and force China to "make a deal". Trump's "One China" rhetoric prompted the strongest public warning from China yesterday that bilateral ties will be damaged. "Adherence to one-China principle is the political bedrock of the China-US relations. If it is compromised or disrupted, the sound and steady growth of China-US relationship as well as bilateral cooperation in major field would be out of question," Foreign Ministry spokesman Geng Shuang said.
The US since 1979 has respected China's stance on Taiwan, which it sees as a breakaway province. But Trump said, without concessions from China, he did not see why it should continue. "Bargaining that away is not something that this administration believes is in our best interest. In fact, I think you would be hard-pressed to make the case that it's in the interest of Taiwan," Earnest said.
Under Obama administration, the US has been able to lower tensions around cyber issues and they have been able to work effectively with the Chinese to ramp up pressure on the North. "We certainly don't agree with the Chinese on everything, but where common ground does exist, we've been able to make progress in a way that benefits the American people and benefits the Chinese people… That kind of progress is much more difficult if tensions are heightened around our one-China policy," Earnest said.
Obama, he noted, has worked hard to manage relationships with China and Russia in a way that gives the US the opportunity to capitalise on common ground where it exists. "In each case, our differences are substantial, but in each case effective diplomacy resulted in both those countries bolstering our effort to prevent Iran from obtaining a nuclear weapon and further isolate the North Korean regime for their destabilising activities on the (Korean) peninsula," he said.



---
Trump selects Exxon CEO Tillerson for State, dismissing Russia ties
MMNN:13 Dec. 2016
President-elect Donald Trump has selected Exxon Mobil CEO Rex Tillerson to lead the State Department, dismissing concerns about the businessman's close ties with Russia, two people close to Trump's transition said Monday night.
Trump's decision caps a lengthy process that often played out in public and exposed rifts within his transition team. It also sets Trump up for a potential fight with Congress over confirming Tillerson, who has connections with Russian President Vladimir Putin.
Trump was set to announce Tillerson's nomination on Tuesday morning. The people close to his transition team insisted on anonymity because they were not authorised to disclose the decision ahead of that announcement.
The president-elect had moved toward choosing Tillerson after a meeting Saturday, their second discussion in a week. Trump was said to be drawn to the idea of having an international businessman serve as the nation's top diplomat.
Concern on Capitol Hill
But the prospect of Tillerson's nomination sparked immediate concern on Capitol Hill, where lawmakers are already grappling with intelligence assessments suggesting Russia interfered with the U.S. presidential election to help Trump. Sen. Marco Rubio, R-Fla., wrote on Twitter that "being a 'friend of Vladimir'" was not an attribute he was seeking in a secretary of state.
In a weekend interview with "Fox News Sunday," Trump cast Tillerson's deep relations with Moscow as a selling point. As Exxon Mobil's head, he maintained close ties with Russia and was awarded by Putin with the Order of Friendship in 2013, an honour for a foreign citizen.
"A great advantage is he knows many of the players, and he knows them well. He does massive deals in Russia. He does massive deals for the company," Trump said.
If confirmed by the Senate, Tillerson's test will be whether his corporate deal-making skills translate into the delicate world of international diplomacy. He would face immediate challenges in Syria, where a civil war rages on, and in China, given Trump's recent suggestions that he could take a more aggressive approach to dealing with Beijing.
Trump's choice
A native of Wichita Falls, Texas, Tillerson came to Exxon Mobil Corp. as a production engineer straight out of the University of Texas at Austin in 1975 and never left. Groomed for an executive position, Tillerson came up in the rough-and-tumble world of oil production, holding posts in the company's central United States, Yemen and Russian operations.
Early in the company's efforts to gain access to Russian market, Tillerson cut a deal with state-owned Rosneft. The neglected post-Soviet company didn't have a tremendous amount to offer, but Exxon partnered with it "to be on the same side of the table," Tillerson said, according to Private Empire, an investigative history of Exxon by reporter Steve Coll.
Tillerson, who became CEO on Jan. 1, 2006, is expected to retire in 2017. Tillerson's heir apparent, Darren Woods, was put in place a year ago, so there would be virtually no additional disruption to Exxon's succession plans if Tillerson were to become Secretary of State.
Trump's choice to serve as Secretary of State initially appeared to be a toss-up between former New York City Mayor Rudy Giuliani and Mitt Romney, the 2012 GOP presidential nominee. But Giuliani's prospects fell amid revelations of his overseas business ties. And Romney became the source of a fierce fight within the transition team, with some advisers strongly opposed to the prospect of tapping a Republican who was critical of Trump during the campaign.
Indeed, Romney blasted Trump as a "fraud" during his White House run, but was full of praise for the President-elect after they discussed the State Department post over a private dinner in Manhattan.
Late Monday, Romney wrote in a Facebook post that he was honored to have been considered to lead the State Department. He said his discussions with Trump were "enjoyable and enlightening."
"I have very high hopes that the new administration will lead the nation to greater strength, prosperity and peace," Romney wrote.


---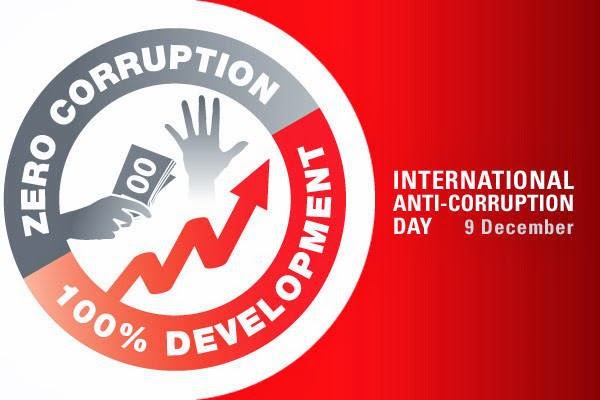 International Anti-Corruption Day: 70% corporate employees feel note ban will curb graft, says EY survey
MMNN:9 Dec. 2016
Indicating popular support to the government's effort to curb illicit wealth, about 70 percent of India Inc employees feel demonetisation can help control corruption in the long run, says a survey by EY.
The findings are based on survey of 650 individuals working for corporate houses in India, ahead of International Anti-Corruption Day, which is being observed today.
Noting that black money and corruption have been the key challenges for global economies, including India, in recent times, EY India Partner Yogen Vaidya (Fraud Investigation & Dispute Services) said, "Broadly, this (demonetisation) is expected to boost India's anti-money laundering efforts and curb the menace of unaccounted illicit wealth, which has been hoarded in the form of cash."
"Though still at an initial stage, the demonetisation move can help banks identify and report suspicious transaction patterns through close monitoring," Vaidya added.
Besides, he said at the macro-level the move can help in the ease of doing business, improve investor confidence and enable a more ethical way of conducting business in India.
Further, on anti-bribery and anti-corruption (ABAC) frameworks adopted by corporate houses, 40 percent of the respondents said they have never attended training sessions sensitising them on the issue, the survey noted.
However, only 15 percent of the respondents were found to be "not aware that they may be held personally liable for improper activities, done on behalf of their organisation".
Also, 94 percent of the respondents believe the private sector should be covered under the amendments proposed in the Prevention of Corruption Act, it added.



---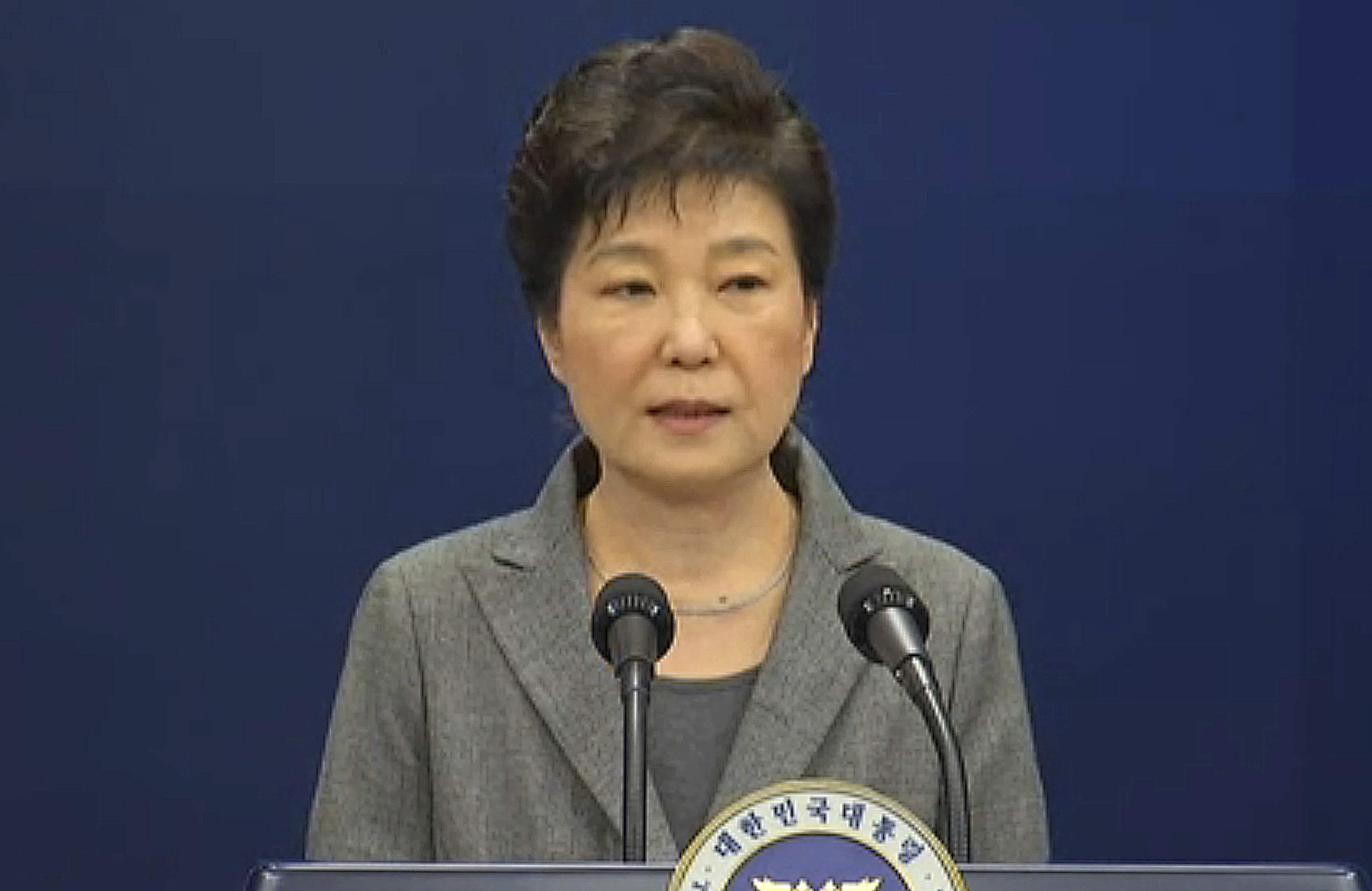 South Korean president is impeached in stunning fall
SEOUL: MMNN:9 Dec. 2016
South Korean lawmakers on Friday impeached President Park Geun-hye, a stunning and swift fall for the country's first female leader amid protests that drew millions into the streets in united fury.
Once formal documents are handed over to the presidential Blue House later Friday, Park will be stripped of her power and her No. 2, Prime Minister Hwang Kyo-ahn, will assume leadership until the country's Constitutional Court rules on whether Park must permanently step down.
Park did not immediately comment, but she convened a Cabinet meeting for later Friday where she was expected to speak publicly. The hand-over of power prompted the prime minister to order South Korea's defense minister to put the military on a state of heightened readiness to brace for any potential provocation by North Korea. No suspicious movements by the North were reported, however.
The Constitutional Court has up to 180 days to decide on Park's fate. She will be formally removed from office if at least six of the court's nine justices support her impeachment, and the country would then hold a presidential election within 60 days.
Once called the "Queen of Elections" for her ability to pull off wins for her party, Park has been surrounded in the Blue House in recent weeks by millions of South Koreans who have taken to the streets in protest. They are furious over what prosecutors say was collusion by Park with a longtime friend to extort money from companies and to give that confidante extraordinary sway over government decisions.
National Assembly speaker Chung Sye-kyun said the bill on Park's impeachment was passed by a vote of 234 for and 56 opposed, with seven invalid votes and two abstentions. That well surpassed the necessary two-thirds vote needed in the 300-seat assembly, with the opposition getting strong support from members of Park's party.
Present for the vote were relatives of the victims of a 2014 ferry disaster that killed more than 300 and was blamed in part on government incompetence and corruption; they cheered and clapped after the impeachment was announced. Most lawmakers left the hall quietly, though some could be seen taking selfies as they waited to vote.
Lawmakers from both parties faced huge pressure to act against Park, the daughter of a military dictator still revered by many conservatives for lifting the country from poverty in the 1960s and 1970s.
Her approval ratings had plunged to 4 percent, the lowest among South Korean leaders since democracy came in the late 1980s, and even elderly conservatives who once made up her political base have distanced themselves from her. An opinion survey released Thursday showed about 78 percent of respondents supported Park's impeachment.
South Korean lawmakers last voted to impeach a president in 2004, when they accused late liberal President Roh Moo-hyun of minor election law violations and incompetence. The Constitutional Court restored Roh's powers about two months later, ruling that his wrongdoings weren't serious enough to justify his unseating.
The chances of the court reinstating Park are considered low because her charges are much graver. Some legal experts say the court might need more than a couple of months to decide. This is because Park's case is much more complicated than Roh's, and because her lawyers will likely press the court not to uphold the impeachment unless the suspicions against her are proven.
More than 1,500 protesters massed in front of the National Assembly building to urge lawmakers to impeach. Some had spent the night on the streets after traveling from other cities. There were scuffles between angry anti-Park farmers, some of whom had driven tractors to the parliament from their farms, and police.


---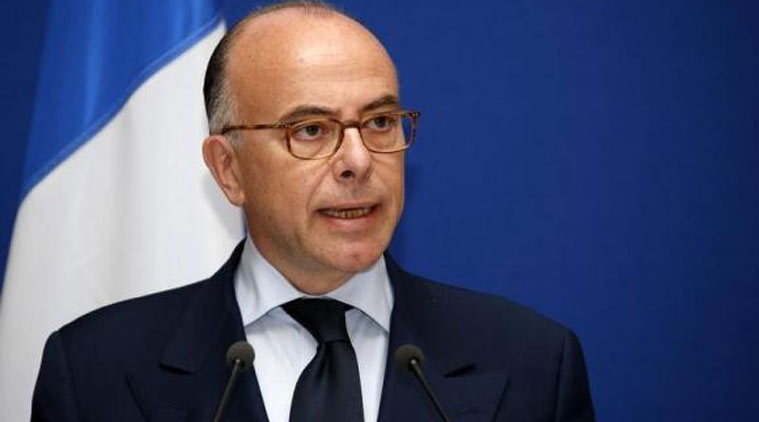 Bernard Cazeneuve named French PM after Manuel Valls quits: Official
Paris:MMNN:6 Dec. 2016
French Interior Minister Bernard Cazeneuve was appointed as the new prime minister on Tuesday after Manuel Valls resigned to seek the Socialist nomination in the presidential election, the presidency said.
Cazeneuve, who has overseen the security forces' reaction to a string of jihadist attacks that have killed more than 230 people in France over the past two years, will take control of the Socialist government until legislative elections in June.
Cazeneuve was named prime minister after Valls presented his resignation to President Francois Hollande early on Tuesday. Hollande's office said Valls' resignation had been accepted. "The President of the Republic has appointed Bernard Cazeneuve as prime minister and asked him to form the new government," the statement said.
Valls, who had been prime minister for the past two and a half years, announced yesterday he would step down to try to rally the fractured French left ahead of a primary in January.
In a combative speech, 54-year-old Valls vowed to take the fight to the conservative opposition and the far-right National Front, who are both leading the Socialists in election polls.
His announcement came four days after Hollande said he would bow out after a single term, paving the way for Valls to try to become the left's new standard bearer.



---
Iran will not let Trump rip up nuclear deal: Rouhani
BEIRUT: MMNN:6 Dec. 2016
Iran's President Hassan Rouhani said on Tuesday he would not let US President-elect Donald Trump rip up a global nuclear deal, warning of unspecified repercussions if Washington reneges on the agreement.
Trump had said during campaigns for the White House that he would scrap Iran's pact with world powers - under which Tehran agreed to curb its nuclear programme in return for lifted sanctions - describing it as "the worst deal ever negotiated".
" wants to do many things, but none of his actions would affect us," Rouhani said in a speech at University of Tehran broadcast live on state television.
"Do you think the he can rip up the JCPOA (Joint Comprehensive Plan of Action nuclear deal)? Do you think we and our nation will let him do that?"
Analysts have said Trump's comments could signal a harder U.S. line on Iran, a development that could in turn empower hardliners on Iran's political scene, including rivals of Rouhani.
Iran's Supreme Leader, Ayatollah Ali Khamenei, warned against any changes to the nuclear deal after Trump's comments in June, and said last month that an extension of a U.S. sanction regime would be viewed as a violation of the accord.
Rouhani echoed Khamenei's comments on the U.S. Congress decision last month to pass legislation to extend the Iran Sanctions Act (ISA) for 10 years to make it easier for Washington to reimpose sanctions if Tehran contravenes the nuclear deal.
U.S. President Barack Obama still needs to sign the legislation.
"There is no doubt that the United States is our enemy," said Rouhani, who is expected to stand again in Iran's own presidential elections in 2017.
"If Obama signs ISA but uses waiver rights to cease its implementation, it still infringes the nuclear agreement and we will react to it."
Rouhani said he will attend the meeting of an experts committee on Wednesday to decide on Iran's reaction to what he called the US violation.


---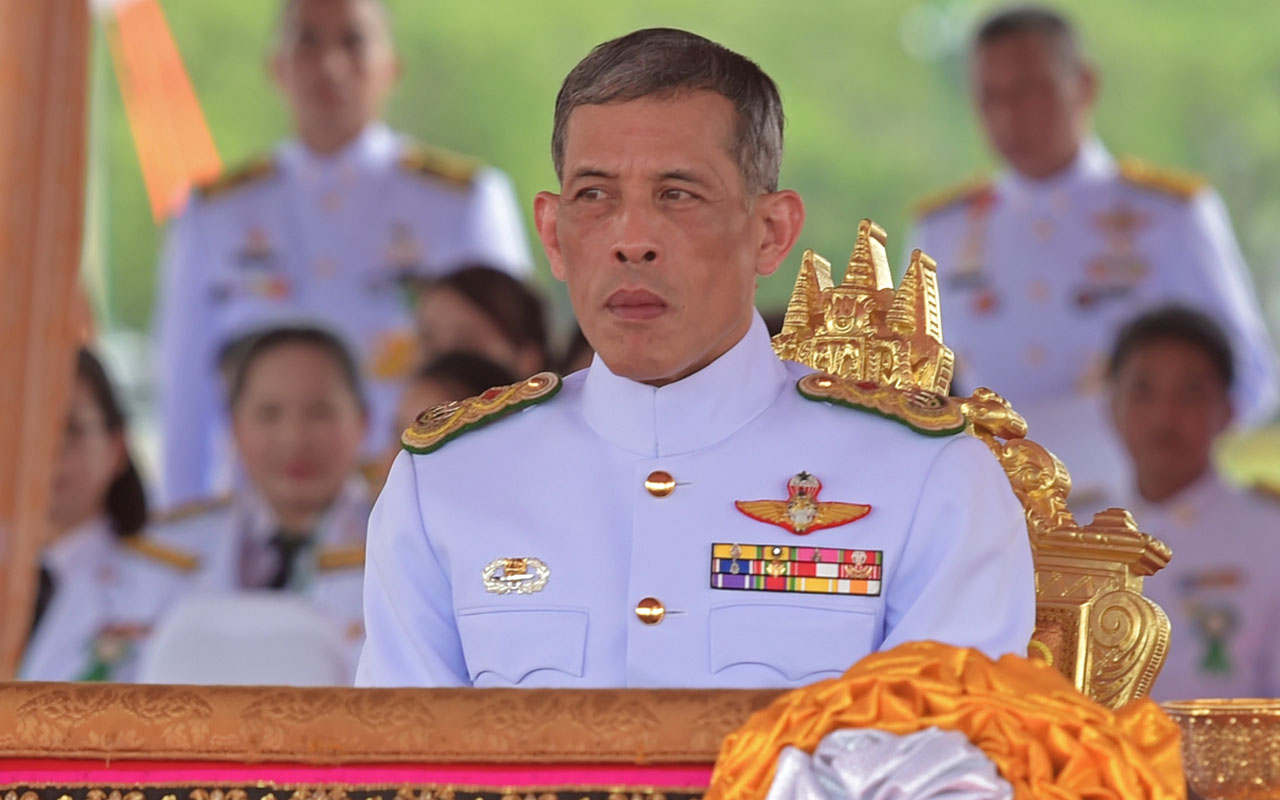 Thailand's new king makes first public appearance
BANGKOK:MMNN:2 Dec. 2016
Thailand's new king on Friday made his first public appearance since ascending the throne the previous day, ending a period of uncertainty since the death of his father, King Bhumibol Adulyadej, on October 13.
King Maha Vajiralongkorn Bodindradebayavarangkun, 64, took part in a merit-making ceremony at Bangkok's Grand Palace to mark 50 days since his father's death plunged the country into grief.
Civil servants dressed in black and white, the official colours of mourning, lined the streets to the palace as the new king's convoy passed.
King Maha Vajiralongkorn, who was then the crown prince, surprised some when he asked to delay his succession following the death of his father, leaving the throne unoccupied for seven weeks.
His official taking of the throne, in a brief ceremony televised late on Thursday, ends that unprecedented interregnum while raising new questions about the palace's relationship with the generals who have been in power since a 2014 coup.
The military government has made it clear it wants to oversee economic and political developments for years to come, even after a general election it has promised to hold in 2017.
Critics say a military-backed constitution, which will need the new king's stamp of approval, will consolidate the army's power, but financial analysts were upbeat about the outlook.
"Forget about Game-of-Thrones intrigue. With a new constitution in place and the royal succession behind, the conditions for institutional stability are in place," Tim Condon, chief economist for Asia at ING in Singapore, said in a note.
"We blame its absence since 2013 for the dismal economic performance and we consider its return an important turning point."
Southeast Asia's second-largest economy has suffered over more than a decade of on-off political unrest stemming from confrontation between the old royalist establishment and new populist political forces.
Since taking power in 2014, the junta has struggled to revive an economy hobbled by weak exports and slack domestic demand.
"Thailand remains politically fragile and it remains to be seen how the new king will navigate uncertain waters," a senior Western diplomat based in Bangkok, who declined to be identified because of the sensitivity of the matter, told Reuters.
Thailand is a constitutional monarchy but the palace is one of its most influential institutions.
On a street near the Grand Palace, shops on Friday displayed gold-framed portraits of the new king alongside pictures of his father.
Criticism of the monarch, the regent or the heir, known by the French term lese majeste, is a crime that carries a jail sentence of up to 15 years in Thailand.



---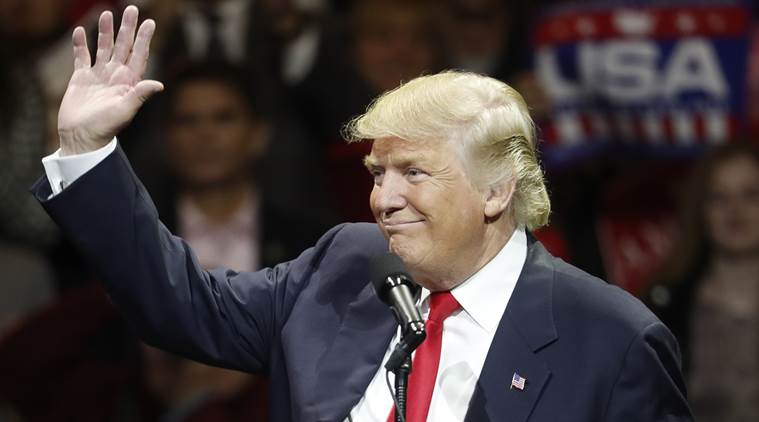 Donald Trump unlikely to 'insert' himself in Kashmir issue: Expert
Washington: MMNN:2 Dec. 2016
Donald Trump is unlikely to "insert" himself in resolving the Kashmir issue between India and Pakistan as the US President-elect has signaled his interest in deepening ties with India, a top American expert has said. "It is highly doubtful that Trump administration will consider inserting itself into the volatile Indo-Pakistani dispute, especially when Trump has signaled his interest in prioritising deepening ties with India," Lisa Curtis of The Heritage Foundation said in an op-ed in The Daily Signal.
"Indeed, if there is any useful role the US can play in tamping down tensions between the two nuclear-armed rivals, it is to press Pakistan to crackdown on anti-India militants that operate freely in Pakistani territory," Curtis said. In her op-ed, Curtis said concerns are being raised about the US President-elect Donald Trump's phone conversation with Pakistani Prime Minister Nawaz Sharif and what it might mean for his policies toward the subcontinent.
Pakistan in a statement said that Trump, during a telephonic conversation with Prime Minsiter Nawaz Sharif, offered to play "any role" in helping Pakistan address its outstanding issues, which it claimed was a reference to Kashmir issue. "These comments, however, should merely be seen as friendly banter that could have been made to almost any foreign leader," Curtis said.
"It is not surprising that Pakistani leaders would take advantage of a polite and warm exchange to push their agenda of bringing international attention to the Indo-Pak conflict in Kashmir," Curtis wrote. Observing that the US handling of India-Pakistan relations is a delicate matter, she said it is important for US officials to avoid the mediation trap and "any illusion that the US itself can resolve this nearly 70-year-old dispute."
Referring to the series of attacks against Indian Army bases, Curtis said the Uri attack demonstrates Pakistan's willingness to up the ante in order to draw international attention to Kashmir at a time when civil protests had been wracking the region. "The US must demonstrate that such Pakistani behaviour is unacceptable and will have consequences," Curtis said.


---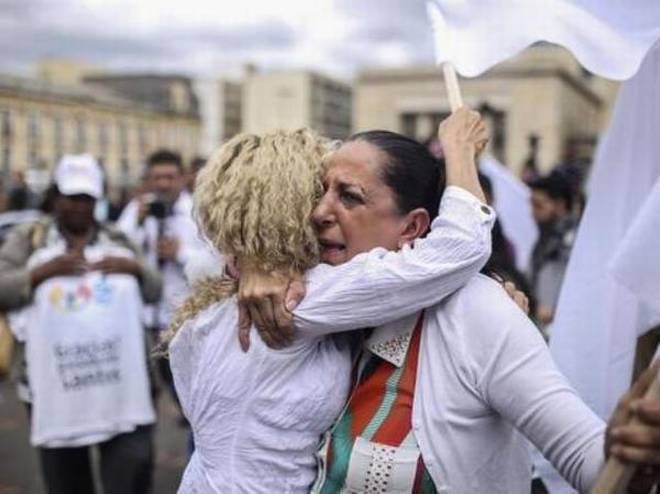 Colombian government, FARC sign revised peace agreement
MMNN:25 Nov. 2016
Colombian President Juan Manuel Santos and the leader of the Revolutionary Armed Forces of Colombia (FARC), Rodrigo Londono, signed a revised peace agreement here on Thursday.
This came less than two months after a plebiscite narrowly rejected the original agreement, which took four years to negotiate, Xinhua news agency reported.
Londono apologises
In his speech, Londono apologised to the victims of the conflict in the name of the FARC, and hailed the new agreement as the common wish of all Colombians to end the war.
"Words are the only weapons that Colombians allow us to use," said Mr. Londono, who called on the former enemies to coexist despite their differences.
Mr. Santos said the revised agreement was the result of a rigorous discussion between the government and FARC, who had gathered for weeks in Havana, Cuba, to consider proposals to those who opposed the first peace agreement.
'Colombia as peace model'
Mr. Santos stated that peace must be the most important topic for any nation and that Colombia should become an example in a world riven by conflicts.
"Building a country at peace is the most ambitious and transformational project that any generation has ever had the opportunity to fulfil. I cannot imagine a more noble, a more sublime task, a more elevated effort than protecting life and building peace," he stated.
Unlike the previous agreement, this new deal will not be subject to a public vote but will have to be approved by Congress over the course of the next week.
Next step: laying down arms
Within 90 days after the approval, the FARC will begin to lay down arms. And within five months, all the weapons of the FARC will be in the hands of the United Nations.



---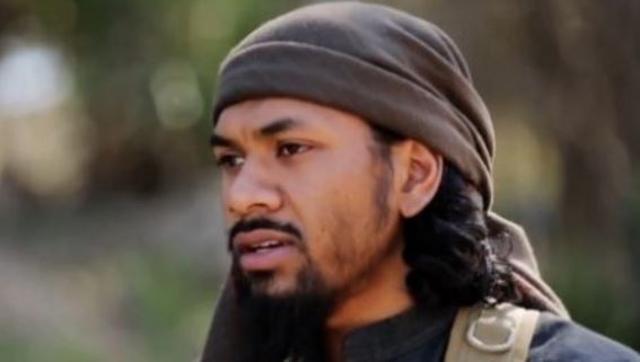 IS recruiter Neil Prakash survived drone strike, arrested in Middle East
MMNN:25 Nov. 2016
Australia's most wanted Islamic State terror suspect Neil Prakash, who was believed to have been killed in an air strike earlier this year, is still alive and was recently arrested by a Middle Eastern government, according to a media report.
Prakash, the child of Cambodian and Fijian migrants, was wounded when he was targeted in a drone strike in Iraq in April, The New York Times reported.
"In the last few weeks, however, a Middle Eastern government arrested Mr Prakash, another senior American military official said," the report added without giving details or naming the country that had detained the IS operative.
Prakash, who was known as Abu Khaled al-Cambodi, was linked to several failed attacks in Sydney and Melbourne. Australian and American authorities had earlier said he had a prominent and influential role as a senior recruiter for the group.
Australia's attorney general George Brandis called him "the most dangerous Australian involved with ISIL in the Middle East", using an acronym for the Islamic State. "If you wanted to describe him as Australia's number one terrorist you wouldn't be off the mark," Brandis told Sky News.
Australia had been informed by US authorities in May that Prakash died in Mosul, Iraq, on April 29 after Canberra provided intelligence on his identity and location.
Besides being linked to several Australia-based attack plans, Prakash had called for lone-wolf attacks against the US.
He was a member of several Melbourne gangs as a teenager. He converted to Islam in 2012 in the company of Harun Mehicevic, a radical preacher linked to Melbourne's al-Furqan Islamic Centre. Prakash sneaked into Syria in 2013 and appeared in several IS propaganda videos.
In recent months, Australia has worked closely with the US to target Australian nationals fighting with the IS in Iraq and Syria. Australian officials have said some 60 Australians have so far been killed fighting in Iraq or Syria.


---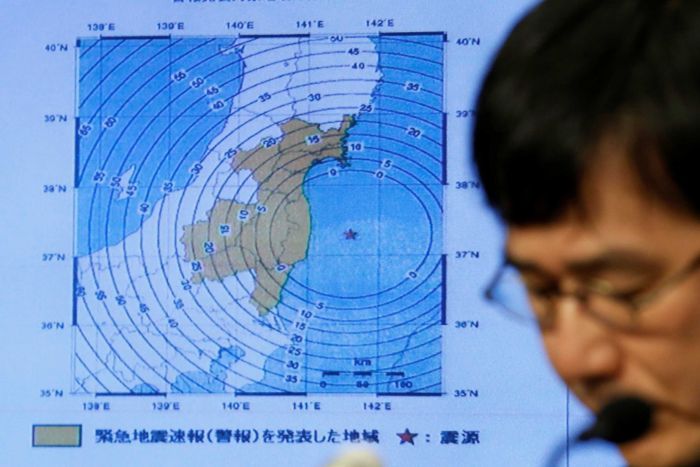 Japan earthquake: A look back at other major quakes that hit the country this decade
MMNN:22 Nov. 2016
The Japan Meteorological Agency says the strong earthquake that struck Tuesday off the coast of Fukushima prefecture was an aftershock of the magnitude 9.0 earthquake that spawned a deadly tsunami in the same region in 2011.
The agency warned that another large quake could hit in the next few days and urged residents to remain cautious for about a week.
Tuesday's magnitude 7.4 quake triggered moderate tsunamis, but nothing high enough to cause major damage. It was the largest earthquake in the northeast Japan region since the 2011 quake and some large aftershocks the same day.

Here are some major earthquakes to have hit Japan in the past decade:

2011 Tōhoku earthquake and tsunami
A 8.9-magnitude earthquake — Japan's most powerful since records began has struck the north-east coast — struck about 400 kilometres north-east of Tokyo, triggering a massive tsunami.
The earthquake and subsequent tsunami left 15,894 dead, 2,557 missing and 6,152 injured. Japan's Fukushima Daiichi nuclear power plant also experienced full meltdowns at three reactors.
2015 off the Ogasawara islands
A 8.5 magnitude earthquake struck near remote Japanese islands and shook most of the country, although it occurred well beneath the earth's surface and did not trigger a tsunami warning. Several people suffered non-life-threatening injuries, and there were no reports of deaths or major damage.
The quake struck off the Ogasawara islands at a depth of 590 kilometres.
2010 Bonin Islands earthquake
A 7.4-magnitude earthquake struck in the Pacific Ocean off southern Japan. The epicentre of the earthquake was 155 kilometres off the Bonin Islands, some 1,000 kilometres south-east of Tokyo, according to the US Geological Survey (USGS).
There were no reports of casualties or damage from the earthquake, reported BBC.
2012 Kamaishi earthquake
A 7.3-magnitude quake struck off Japan's eastern coast, triggering a small tsunami, reported NBC News.
The quake's epicentre was around 245 kilometres south-east of Kamiashi at a depth of around 36 kilometres, the US Geological Survey (USGS) said.
The US-based Pacific Tsunami Warning Center had said there was no threat to the wider Pacific Ocean, reported the BBC.
2016 Kumamoto earthquakes
Two strong earthquakes hit southern Japan's Kumamoto prefecture followed by more than 1,700 aftershocks, leaving at least 50 dead and causing widespread damage.



---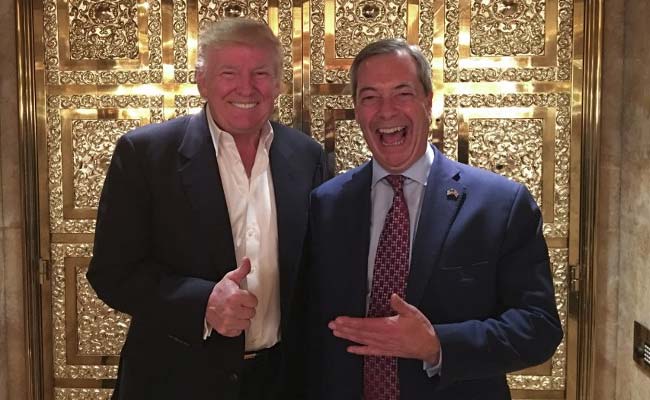 Donald Trump Backs Nigel Farage As British Ambassador To US
WASHINGTON: MMNN:22 Nov. 2016
Donald Trump has tweeted that Brexit campaigner Nigel Farage "would do a great job" as British ambassador to the US, in the latest unorthodox intervention by the president-elect.
The decision on who is appointed to represent the United Kingdom in Washington is a matter for the British government, but that did not stop the controversial property mogul turned world leader from weighing in on social media.
"Many people would like to see @Nigel_Farage represent Great Britain as their Ambassador to the United States," Trump said on his Twitter account. "He would do a great job!"
Farage, interim leader of the nationalist UK Independence Party which campaigned for Britain to leave the European Union, met recently with the president-elect at Trump Tower in New York.
The British politician said he was flattered by Trump's tweet.
"I'm very flattered by the comments," Farage told Britain's Press Association. "I have said since I met the president-elect that I would like to do anything I can to act in a positive way to help relationships between our two countries."
But according to a Downing Street spokesman, "there is no vacancy. We already have an excellent ambassador."
Kim Darroch, the UK's former national security adviser, took over the diplomatic post in January.
During the divisive US presidential campaign, Donald Trump repeatedly compared his presidential bid to the Brexit referendum in which a majority of Britons voted to split from the EU.
Trump's call on Twitter is unusual -- ambassadors are appointed by the governments they represent, not by the administration of the country in which they serve.
Britain is keen to build bridges with Trump after many of its leading government figures criticized the president-elect during his successful election campaign.
London is also interested in sounding out a US trade deal as it plots its departure from the European Union.
Queen Elizabeth II could host Trump within months of him becoming president, with the British government confirming Monday that it was considering a state visit next year.
Royal officials said the government was responsible for organizing state visits, and a spokeswoman for Prime Minister Theresa May said the proposal was "under consideration".
Trump told May that he was a "big fan of the Queen" when the pair spoke by telephone following his victory, and is also reported to have told Farage that his late mother Mary would be "chuffed to bits when I meet the Queen."
Britain will not issue an invitation to a president-elect, but is expected to make its move shortly after Trump's inauguration on January 20.


---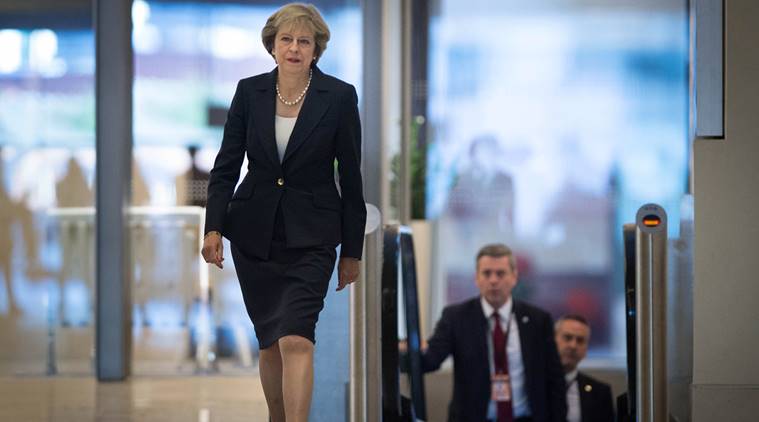 Britain has no Brexit plan, leaked memo claims
London: MMNN:15 Nov. 2016
The British government has no overarching plan for Brexit and may take another six months to agree a negotiating strategy, according to a leaked memo today. Civil servants are struggling to cope with more than 500 Brexit-related projects and an extra 30,000 extra staff may be needed to handle the workload, according to the memo published by The Times, reportedly prepared for the government by a consultant. The document, dated November 7 and titled "Brexit update", says "no common strategy has emerged" for leaving the European Union, despite lengthy debate among senior officials. The government of Prime Minister Theresa May denied the claims and said it did not commission the report.
"This is not a government report and we don't recognise the claims made in it," a spokesman for May's office said. "We are focused on getting on with the job of delivering Brexit and making a success of it," he said. It could take another six months for the British government to agree on its priorities for Brexit, the memo, also seen by the BBC, suggests.
Although each government department has developed plans to cope with the departure, "this falls considerably short of having a 'Government plan for Brexit' because it has no prioritisation and no link to the overall negotiation strategy," the memo reportedly states. It criticises May's approach, accusing her of "drawing in decisions and details to settle matters herself".
May has promised to trigger Article 50 of the Lisbon Treaty by the end of March next year to formally start the process of leaving the EU, but she has so far given few details of her strategy. The leaked memo also says big businesses are expected to "point a gun at the government's head" after the government assured carmaker Nissan that it would not lose out on investment after Britain leaves the EU.
May used a key address in the City of London late yesterday to say that Britain will seize on Brexit to become a global leader on free trade and "forge new and dynamic trading agreements".



---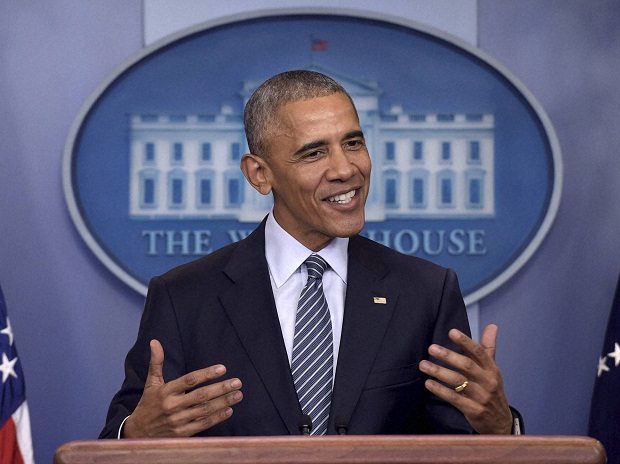 As Trump mellows, Obama calls him non-ideological pragmatist
New York:MMNN:15 Nov. 2016
With signs of a mellowing Donald Trump backtracking on some of the harshest elements of his election promises, President Barack Obama, who had called him unfit for the high office, has now described him as a non-ideological pragmatist and hoped he would build on his successes.
"President-elect Trump is now trying to balance what he said in the campaign and the commitments he made to his supporters with working with those who disagreed with him, and members of Congress, and reaching out to constituencies that didn't vote for him," Obama said at his White House news conference in Washington on Monday.
"My advice, as I said, to the President-elect when we had our discussions was that campaigning is different from governing," he added. "I think he recognises that. I think he's sincere in wanting to be a successful President and moving this country forward."
A somber Trump softened some of the controversial election rhetoric in his first extensive media interview that he gave to Lesley Stahl of CBS and was broadcast Sunday.
While during his campaign the Republican had threatened wholesale deportation of the estimated 11 million illegal - or undocumented - immigrants, he said he would round up and deport or detain only the criminals and drug dealers among them, whom he estimated to number about two to three million.
As for the rest, whom he called "terrific people," he said their future would be determined later when the borders have been secured.
On building a wall along the Mexican border, he said he was now open to a mix of wall and fence.
He also came out in favour of some elements of Obamacare, the universal health insurance program that is the capstone of Obama's presidency. During the heat of the campaign, he had vowed that dismanting it was his first priority.
In a direct threat to his Democratic rival Hillary Clinton during a presidential debate, Trump said he would have a special prosecutor appointed to look into her cases.
He repeated it during his rallies, calling her "Crooked Hillary," while the crowds chanted "Lock her up."
But asked about this during his interview he said of the Clintons: "I don't want to hurt them. They're, they're good people. I don't want to hurt them."
Obama, who had declared during the campaign that Trump was unqualified for the job, now reciprocated his turn around with a states manly gesture.
"He is coming to this office with fewer set hard-and-fast policy prescriptions than a lot of other Presidents might be arriving with," Obama said. "I don't think he is ideological. I think ultimately he's pragmatic in that way."
From coast to coast, Democratic party supporters have been holding protests against Trump since his election, chanting: "He is not our president."
In a message directed at them, Obama said, "Look, the people have spoken. Donald Trump will be the next President, the 45th President of the United States."
Recalling the caustic opposition he had faced after his election, Obama said, "When I won, there were a number of people who didn't like me and didn't like what I stood for. And I think that whenever you've got an incoming President of the other side, particularly in a bitter election like this, it takes a while for people to reconcile themselves with that new reality."
Obama, who left for Europe Monday night after his news conference, had a calming message for the allies across the Atlantic troubled by Trump's election.
He said that Trump had in conversations with him "expressed a great interest in maintaining our core strategic relationships." Obama said from this, "one of the messages I will be able to deliver is his commitment to NATO and the Transatlantic Alliance."
During his campaign, Trump had criticised the international alliances saying that they had forced the US to bear the their burden and that he would insist on the allies picking up the tab and being more responsible for their defences.


---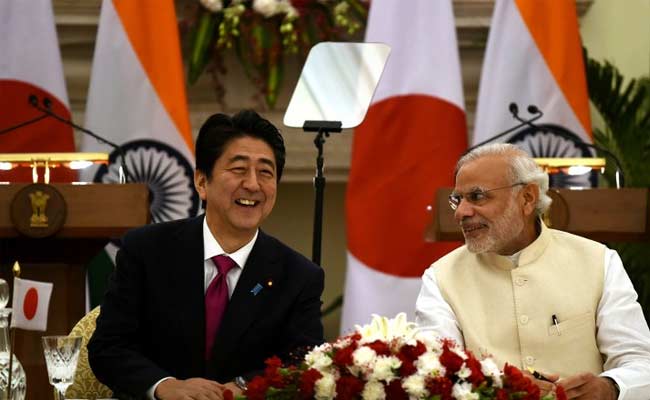 To Beat China, Japan Wants New Bullet Train Deals In India
MMNN:11 Nov. 2016
In the strategic rivalry between Japan and China, high-speed rail contracts are one of the best ways to project power. And no Asian country offers more opportunities than India.
Prime Minister Narendra Modi meets counterpart Shinzo Abe in Tokyo on Friday, almost a year after the Indian leader picked Japan as a partner for the nation's first line -- a 980-billion-rupee ($15 billion) rail linking Mumbai and Ahmedabad, roughly the distance from Paris to London. Abe hopes that will make Japan the front-runner if India implements five other planned lines.
"The 'Rail Wars' between China and Japan are a battle for influence in the region that is way more important than just sales and profits," said Jeff Kingston, director of Asian studies at Temple University's Japan campus. "Modi would prefer to play one off the other and see what he can get for India, but geostrategically his government is leaning towards the U.S. and Japan."
The competition between Asia's biggest economies for high-speed rail contracts has been intense. China beat out Japan for a line in Indonesia last year, and the two are set to face off again over a proposed Singapore-Kuala Lumpur link. A Chinese proposal to build one in Thailand fell through this year, while a Japanese-backed plan for Vietnam was rejected by the country's national assembly. Taiwan's Japan-sponsored line has proved to be a financial flop and had to be bailed out by the government last year.
Nuclear Cooperation
Since taking office in May 2014, Modi has boosted defense and energy ties with the U.S. and allies like Japan, including getting close to signing a long-awaited deal on nuclear power cooperation. At the same time, tensions have increased with China, in part because of its support for Pakistan, India's main adversary.
Indian Railways carries 23 million people daily on congested and aging tracks with roots dating back to British colonial rule. Sometimes, trains slow to a walking pace. Modi plans to spend 8.5 trillion rupees through 2020 on new tracks, including bullet trains and modern stations, as he looks to spur a manufacturing boom.
The project Japan is backing will see the financial capital Mumbai linked by a 508-kilometer (316-mile) high-speed track to the economic hub of Ahmedabad, the largest city in Modi's home state of Gujarat. Japan has agreed to provide loans to cover up to 81 percent of the cost of one of India's biggest infrastructure endeavors.
Modi's meeting with Abe in Tokyo will be the eighth between the two leaders since he took office. In those talks, Abe has persistently been a key salesman for Japan's signature Shinkansen technology as he looks to triple infrastructure exports to 30 trillion yen ($287 billion) by 2020.
More Rails>
While Japan is happy to divvy up the huge market for urban transit in increasingly traffic-choked cities across Asia, Abe wants to take the lead in high-speed rail, according to Hiroto Izumi, an adviser to the prime minister who has been negotiating the rail deal with India. He said it's important to get a foothold in Asia's second-most populous country to outpace China, Japan's primary competitor.
"If Japan gets to work on the first plan, of course we have expectations" to win India's other high-speed rail projects, Izumi said in an interview at the prime minister's residence. "With urban railways, you can have various different plans mixed up together, but with high-speed rail, I don't think you would have several different systems in one country."
Asian Rivals
China, which boasts the world's largest high-speed rail network, supports main manufacturer CRRC Corp. through financing from state-run banks and an ecosystem of railway construction firms. The nation has the ability to build train lines in areas with extreme weather and challenging geographical conditions, said Chen Suming, an analyst at Shanghai Chongyang Investment Management Co.
"CRRC is poised to win train orders if purely judged by technology, pricing and quality," Chen said. "But there are political factors at play in overseas market which will complicate its chances of winning orders outside China."
Japan's sales pitch revolves around quality: its network boasts a record of zero fatal accidents in more than half-century of history. Izumi said Japan's relatively high initial costs can be offset by lower repair expenses over a lifespan of decades. The nation's main manufacturers are Hitachi Ltd. and Kawasaki Heavy Industries Ltd., while Mitsubishi Electric Corp. makes electric parts for bullet trains.
Modi is set to take a Shinkansen trip on Saturday to Kobe, where the Indian leader will visit a Kawasaki Heavy rolling stock factory.
Where Next?
Izumi traveled to India last month for a third round of talks on the project, focusing on technology transfer ahead of this month's visit to Japan by Modi, who is looking to ensure a chunk of the funds go to local contractors Larsen & Toubro Ltd., Gammon India Ltd. and GMR Infrastructure Ltd.
"When the start of construction on Mumbai-Ahmadebad is in sight, the question will arise about where is next," Izumi said. "That's a problem that has to be considered from a political perspective."
Japan has already built up a positive reputation in India with construction of a subway system in Delhi, a success that Tokyo has touted in advertisements playing on CNN and BBC.
In India, safety and durability are more important than equalizing ties between Japan and China, according to Gaurang Shah, vice president at Geojit BNP Paribas Financial Services Ltd. in Mumbai, which offers investment advisory services to more than 840,000 clients in India and the Middle-East.
"Striking a balance is not necessary," he said. "You should give it to the country which has credibility, technology and a past track record that is proven."



---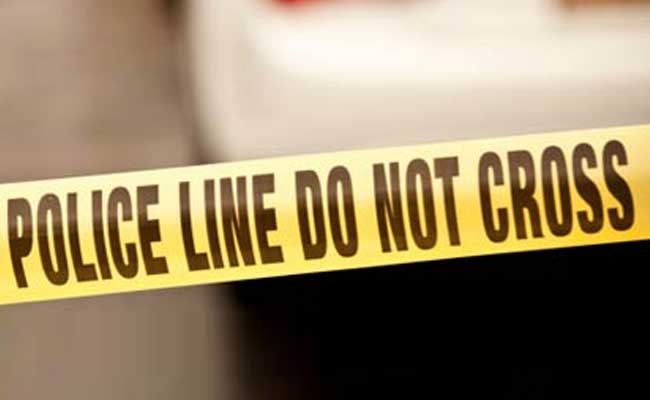 Taliban Attack On German Consulate In Afghanistan Kills 6
AFGHANISTAN:MMNN:11 Nov. 2016
The death toll from a powerful Taliban truck bombing at the German consulate in Afghanistan's Mazar-i-Sharif city rose to at least six Friday, with more than 100 others wounded in a major terrorist assault.
The Taliban said the bombing late Thursday, which tore a massive crater in the road and overturned cars, was a "revenge attack" for US air strikes this month in the volatile province of Kunduz that left 32 civilians dead.
The explosion, followed by sporadic gunfire, reverberated across the usually tranquil northern city, smashing windows of nearby shops and leaving terrified local residents fleeing for cover.
"The suicide attacker rammed his explosives-laden car into the wall of the German consulate," local police chief Sayed Kamal Sadat told AFP.
All German staff from the consulate were unharmed, according to the foreign ministry in Berlin.
But seven Afghan civilians were killed, including two motorcyclists who were shot dead by German forces close to the consulate after they refused to heed their warning to stop, said deputy police chief Abdul Razaq Qadri.
A suspect had also been detained near the diplomatic mission on Friday morning, Qadri added.
Local doctor Noor Mohammad Fayez said the city hospitals received six dead bodies, including two killed by bullets.
At least 128 others were wounded, some of them critically and many with shrapnel injuries, he added.
"The consulate building has been heavily damaged," the German foreign ministry said in a statement. "Our sympathies go out to the Afghan injured and their families."
A diplomatic source in Berlin said Foreign Minister Frank-Walter Steinmeier had convened a crisis meeting.
"There was fighting outside and on the grounds of the consulate," a ministry spokesman said. "Afghan security forces and Resolute Support (NATO) forces from Camp Marmal (German base in Mazar-i-Sharif) are on the scene."
Afghan special forces have cordoned off the consulate, previously well-known as Mazar Hotel, as helicopters flew over the site and ambulances with wailing sirens rushed to the area after the explosion.
The carnage underscores worsening insecurity in Afghanistan as Taliban insurgents ramp up nationwide attacks despite repeated government attempts to jump-start stalled peace negotiations.
'America's Longest War'
Taliban spokesman Zabihullah Mujahid said the "martyrdom attack" on the consulate had left "tens of invaders" dead. The insurgents routinely exaggerate battlefield claims.
Posting a Google Earth image of the consulate on Twitter, Mujahid said the assault was in retaliation for American air strikes in Kunduz.
US forces conceded last week that its air strikes "very likely" resulted in civilian casualties in Kunduz, pledging a full investigation into the incident.
The strikes killed several children, after a Taliban assault left two American soldiers and three Afghan special forces soldiers dead near Kunduz city.
The strikes triggered impassioned protests in Kunduz city, with the victims' relatives parading mutilated bodies of dead children piled into open trucks through the streets.
Civilian casualties caused by NATO forces have been one of the most contentious issues in the 15-year campaign against the insurgents, prompting strong public and government criticism.
The country's worsening conflict has prompted US forces to step up air strikes to support their struggling Afghan counterparts, fuelling the perception that they are increasingly being drawn back into the conflict.
The latest attack in Mazar-i-Sharif comes just two days after a bitter US presidential election.
Afghanistan got scarcely a passing mention in the election campaign -- even though the situation there will be an urgent matter for the new president.
President-elect Donald Trump is set to inherit America's longest war with no end in sight.


---
Indonesia: Muslim protesters march to demand Jakarta governor's resignation
Jakarta: MMNN:4 Nov. 2016
Tens of thousands of hardline Muslim protesters in Indonesia marched on Friday to the presidential palace to demand the resignation of the governor of the capital, Jakarta, who they said had insulted the Koran.
Indonesia is the world's most populous Muslim country, where many people follow a moderate form of Islam. While hardliners have launched occasional agitation in the past, protests on such a large scale have been rare.
The atmosphere in Jakarta was tense and some companies asked employees to work from home, access to business districts was restricted and embassies urged caution.
Truck loads of soldiers and police, some equipped with rifles, were on patrol and others secured shopping malls. A total of about 18,000 security personnel are expected to be deployed in the sprawling city of 10 million, police said.
The protesters, led by a group called the Islamic Defenders Front, are calling for Jakarta governor Basuki Tjahja Purnama, a Christian and the first ethnic Chinese in the job, to be jailed for blasphemy.
They say he insulted the Koran by dismissing a political attack by an opponent who urged opposition to Purnama by citing a verse from the Koran.
"He is not Muslim but he humiliated the Koran," protester Muhammad Said told Reuters.
"Don't refer to anything in the Koran, especially interpreting it incorrectly ... I call on God to jail him."
Purnama served as deputy to President Joko Widodo when Widodo was city governor from 2012 to 2014, and has long been seen as an ally of the president.
Widodo would work as usual on Friday, with plans to visit a rail construction project at the capital's airport, presidential spokesman Johan Budi told reporters.
Budi said Wiranto, the coordinating minister for political, legal and security affairs, and state secretary Pratikno were expected to meet representatives of the protesters.
Widodo and Vice President Jusuf Kalla called for a peaceful protest in a joint statement on Thursday, saying "everything and everyone should continue to work as normal".
Police are investigating the case against Purnama, who has apologised for the remarks. Widodo, a Muslim, has vowed not to interfere in any legal proceedings against Purnama, according to the Indonesian Clerical Council.
Many of the protesters wore white robes and Muslim caps and gathered at the central Istiqlal Mosque, the biggest mosque in the country, before they began moving towards the presidential palace, with their numbers expected to swell.
Critics say Widodo's government has not done enough to contain the religious and ethnic tension that is mounting ahead of a city governor election in February.
Purnama, popularly known as "Ahok", has a reputation as a tough reformer. He will compete for re-election against two Muslims - Agus Harimurti Yudhoyono, a son of former president Susilo Bambang Yudhoyono, and a former education minister, Anies Baswedan.
Ethnic Chinese make up just over one percent of Indonesia's 250 million people, and they typically do not enter politics.
There has been opposition to the hardliners on social media and some banners draped from an overpass called for respect of diversity.
"Your religion or ethnicity doesn't matter, as long as you can do something good for everybody," said one banner.
Indonesia suffered a series of Islamist militant attacks early in the last decade. In the most serious incident, 202 people were killed in bombings of a nightclub on the island of Bali in 2002.
An attack in Jakarta early this year by supporters of Islamic State raised fears of a new wave of violent militancy.



---
Voice shaking, S Korean leader says scandal 'all my fault'
South Korea:MMNN:4 Nov. 2016
In an extraordinary display of abject apology during a moment of supreme crisis, South Korean President Park Geun-hye took sole blame Friday for a "heartbreaking" scandal amid rising suspicion that she allowed a mysterious confidante to manipulate power from the shadows.
Park also vowed to accept a direct investigation into her actions, but the opposition, sensing weakness, immediately threatened to push for her ouster if she doesn't distance herself from domestic affairs and accept a prime minster chosen by the Parliament.
"I feel a huge responsibility (for the scandal) deep in my heart," Park said, her voice shaking during the high-stakes televised address to the nation. "It is all my fault and mistake."
Park's comments were rife with astonishing moments, and included a frank assessment of her relationship with the woman at the heart of the scandal, Choi Soon-sil, the daughter of a cult leader and a longtime friend of Park's.
"I put too much faith in a personal relationship and didn't look carefully at what was happening," Park said. "Sad thoughts trouble my sleep at night. I realize that whatever I do, it will be difficult to mend the hearts of the people, and then I feel a sense of shame and ask myself, 'Is this the reason I became president?'"
In another exceptional moment, Park denied media speculation that she had "fallen into worshipping cult religions or that shamanistic rituals were held at the presidential Blue House."
Her comments come at what may well prove to be the crucial moment of her presidency. Park is attempting to show the contrition and sense of responsibility that South Koreans demand while also trying to re-establish her tarnished credibility. She is in the fourth year of a single five-year term and faced criticism even before this scandal, particularly for the government's response to a 2014 ferry sinking that killed more than 300 people.
One national poll released earlier Friday had her approval rating at 5 percent, the lowest for any president in South Korea since the country achieved a democracy in the late 1980s following decades-long dictatorships.
"Anyone found by the current investigation to have done something wrong must be held responsible for what they have done, and I am also ready to face any responsibility," Park said. "If necessary, I'm determined to let prosecutors investigate me and accept an investigation by an independent counsel too."
Last week Park surprised many when she acknowledged that she had relied on Choi for help editing presidential speeches and other undefined "public relations" issues.
Anger has exploded in the days since, with media reports claiming that the influence Choi had went much deeper. There are reports that Choi reviewed and made recommendations on government policy papers and pushed businesses to donate millions of dollars to two foundations that she controlled. Other reports speculate Choi also helped choose presidential aides and even picked out Park's wardrobe.
Thousands have protested. Park has fired eight presidential secretaries and nominated three new Cabinet members, including the prime minister, in an effort to regain public confidence. Opposition parties have described Park's personnel reshuffles as a diversionary tactic.
Soon after Park's speech, the main opposition Democratic Party said her apology lacks sincerity and issued a set of demands that it says Park must immediately accept if she doesn't want see rallies calling for the end of her government. The demands include Park withdrawing her prime minister nomination which the opposition says is "unilateral"; nominating a new person recommended by the National Assembly for the country's No.2 job; and accepting separate investigations by lawmakers and an independent counsel.
"The president now comes right into a dead end," party chief Choo Mi-ae told a televised conference. Park "must comply with what the people want."
Park may survive what has become the worst patch of an already rocky term. But if she is forced to name a prime minister chosen by the opposition, it will hamstring her authority and may end her ability to govern.
Only Choi has been formally arrested in connection with the scandal. Prosecutors on Friday requested an arrest warrant for ex-Park aide, Ahn Jong-beom, for his alleged involvement in extracting $70 million in donations. On Wednesday night, prosecutors detained another ex-presidential aide, Jeong Ho-seong, for allegedly leaking confidential documents to Choi, and are reviewing whether to seek an arrest warrant for him, too.
Park said she couldn't talk about many specifics because of the investigation, but she was frank in her comments about Choi, who has been the subject of widespread rage.
Choi was "a person who stood with me during the hardest moment in my life," Park said in her speech, apparently referring to the assassinations of Park's mother and later her father, the dictator Park Chung-hee. "It's true that I lowered my guard and my sense of wariness" of Choi.


---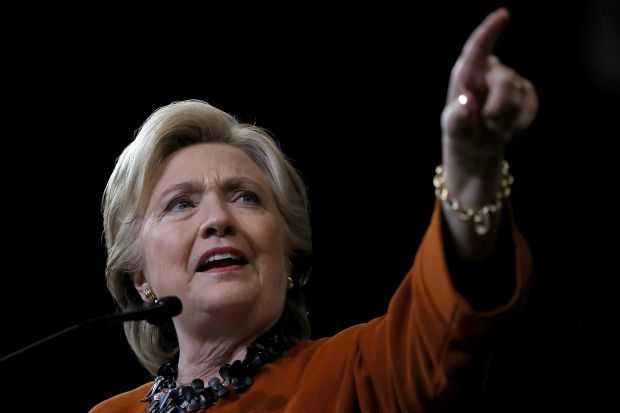 US markets not fully buying into polls showing a Hillary Clinton win
New York:MMNN:28 Oct. 2016
As the US presidential election moves into the home stretch, financial markets are not fully invested in polls that show a win for Hillary Clinton.
Even though polls show the Democratic candidate with a strong lead over Republican Donald Trump, analysts say investors are waiting until after 8 November to lay their money on the table.
"I don't think it's fully 100 percent Clinton is in," said JJ Kinahan, chief market strategist at TD Ameritrade, who sees a pullback in risk-oriented investments as a sign of investor caution.
"Usually people are looking to take on extra risk for reward," he said. "I think this is one case where people are paring back on their risk."
Wall Street is thought to generally favor Clinton over Trump for president, and equity markets have hovered at historically high levels since July, with the S&P 500 less than three percent below its all-time peak.
Clinton is considered the more market-friendly outcome, expected to maintain the policies of outgoing President Barack Obama, while the market views Trump as a great unknown, both because of his penchant for controversy and his lack of a record in public office.
Trump has attacked trade partners China and Mexico and accused Federal Reserve Chair Janet Yellen of being a political tool of the Democratic party. Investors are also unsettled by Trump's seeming embrace of Russian President Vladimir Putin, a sign he may take foreign policy in radical new directions.
Signs of nervousness have been seen in certain trades, analysts say, like the Mexican peso. Trump's pledge of immigration controls and trade restrictions with Mexico have raised worries over its economy.
The peso sank against the dollar as Trump's campaign added momentum, but then rebounded on Clinton's gains following the first presidential debate on 26 September.
But it remains down about 9 percent since Trump secured his party's nomination in May.
On the other hand, another gauge of market sentiment has been the biotechnology sector, which is seen as vulnerable in a Clinton presidency given the Democrat's vow to address runaway drug prices. The Nasdaq biotechnology index has fallen about nine percent over the last month.
Some analysts say the markets have already assumed a Clinton victory.
"To me, the markets clearly want a Clinton win and they have priced that in," said Nathan Thooft, senior managing director at Manulife Asset Management.
"That's what they predict, and that's what they want. If that doesn't happen, I feel there's a great level of uncertainty and possible downside to the markets."
Some 'complacency' over Trump
Indeed, investors are aware that Trump has been consistently underestimated by the political, media and business establishment. Many are also loath to repeat the error of Britain's June referendum to leave the European Union, when polling supported the market bet on a "stay" vote, only to be thrown into turmoil when Brexit passed.
"There's a bit of complacency in the market." said Kathy Lien of BK Asset Management,
"I think the market's underestimating the possibility of things going wrong as a result of either a Trump victory or the possibility of internal strife in the nation as a result of Clinton winning," she said.
Briefing.com analyst Patrick O'Hare cited sluggish trading volume, as well as the flatness of the S&P 500, as a sign investors are in "seeing is believing mode" with respect to polls pointing to a Clinton triumph.
One sign of a pickup in caution is the VIX volatility index, also known as the "fear" index. The index has risen the last three days and jumped nearly 8 percent Thursday to 15.36. Still, that is far below the 25.76 level on the day after the Brexit shock.
A big jump in the VIX before 8 November would signal "that the market is fearing something odd," Kinahan said.



---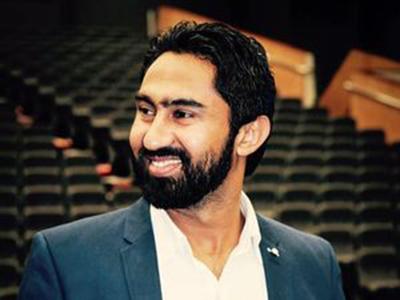 Indian-origin bus driver burnt alive in Australia
MELBOURNE:MMNN:28 Oct. 2016
In a horrific incident, a 29-year- old Indian-origin bus driver was today burned to death when a man poured some flammable liquid on him in front of several shocked passengers in Australia's Brisbane city, police said.
Manmeet Alisher, a well-known singer in the Punjabi community, was driving a Brisbane City Council bus when he was targeted by the man who threw an "incendiary device" at him which sparked a fire.
Alisher died on the spot while several passengers on board the bus at the time managed to escape through the rear door, said police in Brisbane, the capital of Queensland.
Six persons were rushed to a nearby hospital for smoke inhalation and minor injuries, they said.
Police said there was "no apparent motive" including terror or race related.
A 48-year-old man was taken into custody over the incident.
Detectives from South Brisbane district and the state crime command's homicide group have commenced a homicide investigation, Police Commissioner Ian Stewart said.
Preliminary inquiries indicate just after 9 AM (local time) passengers were boarding a bus on Beaudesert Road when a man threw an item at the driver causing fire, police said.
Police said the bus, carrying six passengers, pulled into Moorvale Shopping Centre on Beaudesert Road to pick up three passengers when the incident took place.
Flags will be flown at half mast across Brisbane tomorrow as a mark of respect for the Alisher.
Stewart ruled out any possibilities of the attack being a racially motivated one, saying there was no such indication.
"There is no evidence at this time of any linkage to terrorist-type activities and certainly that has not become evident through the ongoing investigations that have occurred. We do not believe there is any evidence at this stage linking this to a racial complaint or concern by either of the people involved," Stewart said.
"While we do not know the actual motive at this stage, I want to reassure the community that we take these incidents very seriously and that is why as a precaution, officers from the state security and counter terrorism group have also been involved," he said.
Meanwhile, the Punjabi community in Brisbane expressed shock over the death of Manmeet Alisher, also known as Manmeet Sharma.
"Words escape me, it is a horrific incident here in the quiet suburb of Moorooka," Queensland Police Superintendent Jim Keogh said.
"A bus driver, going about doing his business, supporting the community, has had his life taken from him in what is a senseless and needless act. The fire was substantial, he would have stood little chance," he said.


---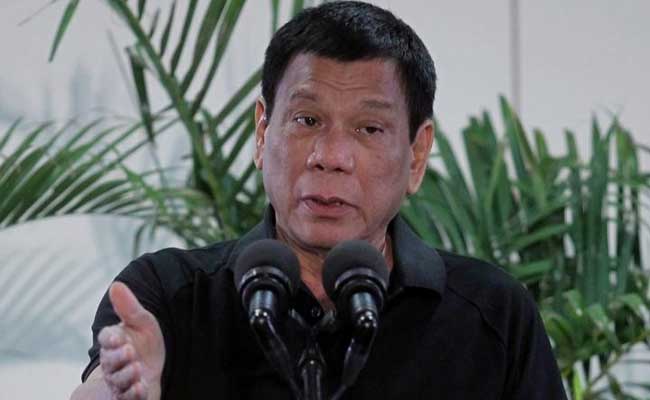 Philippine President Rodrigo Duterte Hits Out At US, Then Heads To Japan
MANILA/TOKYO:MMNN:25 Oct. 2016
Philippine President Rodrigo Duterte lashed out anew at the United States on Tuesday and said it could forget a bilateral defence deal if he stayed in power long enough, in the latest jarring statement from Manila about the future of the alliance.
The fresh broadside from Duterte came as he was about to board a plane for an official visit to fellow U.S. ally Japan, a big investor in the Philippines that is becoming nervous about its apparent pivot towards rival power China.
The volatile, crime-busting Duterte had on the eve of the visit softened his remarks last week about a "separation" from Washington, telling Japanese media he wasn't planning to change alliances and was only seeking to build trade and commerce with China.
But he pulled no punches on Tuesday when he said he hated having foreign troops in the Philippines and told the United States not to treat his country "like a dog with a leash".
Commenting on a visit to Manila on Monday by Daniel Russel, an Assistant Secretary of State, Duterte said Washington should forget about an Enhanced Defence Cooperation Agreement (EDCA) with the Philippines if he were to stay in charge longer.
"You have the EDCA, well forget it. If I stay here long enough," he said. "I do not want to see any military man of any other nation except the Filipino. That's the only thing I want."
He did not elaborate on what staying longer meant. In the Philippines, a president is allowed only one six-year term in office.
The remarks were another perplexing swing from Duterte, who last week announced in China his "separation" from the United States, before assuring that ties were not being severed and he was merely pursuing an independent foreign policy.
His latest swipe at Washington could rattle Japanese Prime Minister Shinzo Abe, who wants to keep ties with the Philippines tight.
In a composed reading of a statement prior to departure for Tokyo, Duterte described Japan as a true friend that had played a "preeminent and peerless role" as a big investor and Philippine development partner.
'I Didn't Start This Fight'
But he quickly became vexed when answering questions and held up the front page of a Philippine newspaper which carried the headline "Duterte sparking international distress - U.S.".
Duterte vented at Washington on several fronts, from its bombings of Manila at the end of World War Two to embassy officials once questioning his intentions when he applied for a visa to visit a girlfriend.
"You know, I did not start this fight," he said of the spat with Washington.
His overtures to China and hostility towards the United States have raised questions about what Duterte's overall goal is and the extent to which his actions could shake up the geopolitical dynamic of a region wary about Beijing's growing influence and U.S. staying power.
Abe has sought to strengthen ties with the Philippines and other Southeast Asian countries, particularly Myanmar, Thailand and Vietnam, as a counter-balance to Beijing.
Japanese Chief Cabinet Secretary Yoshihide Suga on Tuesday said both presidents would have a meeting to "further the strategic partnership with the Philippines".
It is unclear where Duterte's latest diatribe leaves U.S.-Philippines ties. Russel had left Manila in confident mood and U.S. Secretary of State John Kerry had expressed optimism the two countries could "work through" a period of confusion caused by Duterte's remarks last week.
Duterte has railed against U.S. expressions of concerns about the high loss of life in his campaign against drugs and Washington's calls for due process.
Japanese officials said Abe would not overtly try to mediate between Tokyo and Washington but would probably explain the importance of the U.S. role in the region.
Foreign Minister Fumio Kishida will meet Duterte on Tuesday for a low-key dinner, and Abe will hold rare one-on-one talks with Duterte at his residence in Tokyo the next evening following a larger, more formal meeting with senior officials.



---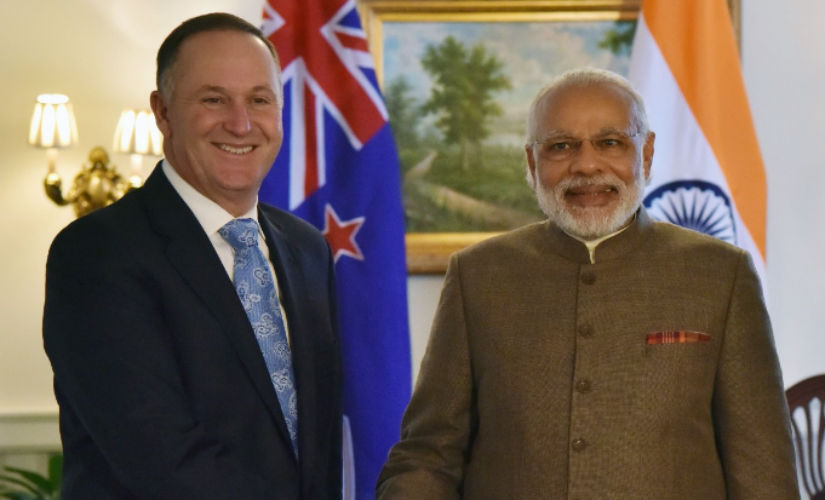 As New Zealand PM John Key makes his way to India, here's what you should know
MMNN:25 Oct. 2016
New Zealand Prime Minister John Key has been delayed by a day in his trip to India after the Air Force Boeing 757 carrying him and 80 other passengers broke down in Townsville.
Key was due to land in Mumbai on Monday at around 7 pm but, will be picked up by a second plane sent from New Zealand on Tuesday, reported NzHerald. Due to this unfortunate incident, his Mumbai programme has been scrapped altogether. He will now directly fly to New Delhi via Jakarta.
He will hold a one-on-one meeting with Prime Minister Narendra Modi followed by official delegation level meeting to discuss growing bilateral relations in Delhi.
During this, his second visit to India, he is also scheduled to go to Kochi and undertake a short tour of the new Cochin International Terminal and the work undertaken by the New Zealand company, Glidepath.
The agenda of both the countries for Key's bilateral visit might not be the same but, it will ensure stronger economic and social ties between the two countries. It might also strengthen the political relation between the two leaders.
In an editorial written for The Times of India, Key says that the ties are based on "our shared democratic values, social outlook and passion for sport and our ambition for greater prosperity for Indians and New Zealanders."
While Key and Modi have had talks on similar lines while in Washington during the two-day Nuclear Security Summit hosted by US president Barack Obama, this visit will be more crucial for India, which is struggling to muster Wellington's support for its Nuclear Suppliers Group (NSG) membership.
New Zealand has been one of the countries who have expressed reservation over India's inclusion in the elite 48-member grouping because New Delhi is not a signatory to the Nuclear Non-Proliferation Treaty (NPT).
Key is looking at better ways to engage the countries with increasing opportunities for New Zealand businesses. From education, manufacturing and food and beverage to IT and aviation, every sector is expected to benefit from his visit. Modi's sole agenda seems to be to convince New Zealand of its readiness to join NSG.
Despite President Pranab Mukherjee's visit to New Zealand, Wellington had stuck to its reservations unless a new criterion is formed about the non-NPT countries. Modi might have decided to charm Key or simply flatter him to try and change his decision.
New Zealand also wants to push for Free Trade Agreement (FTA) negotiations, which both the countries have been working on since 2010. Even after 10 rounds of talks, the nations are still a fair way from arriving at a deal.
Key is also travelling with a 35-strong business delegation to capture the huge market in India. Both the countries are also committed to negotiating improved trade and investment agreements via two ways. "One is through the Regional Comprehensive Economic Partnership (RCEP), and secondly through our bilateral free trade agreements discussions," wrote Key.
There is an urgent need to significantly increase or at the least maintain the bilateral trade figures between the two countries. India's total bilateral trade with New Zealand is $855 million, and the deficit stands at $240 million. However, there has been a 42 percent growth in two-way trade in goods and services over the last five years, according to Key.
The revival of this disappointing trade relation should be one of the core agendas for India to turn around unfavourable economic ties.
One of the main concerns that widens the trade deficit between the two countries is India's tariff on dairy products.
According to NewsHub, New Delhi has a policy of being self-sufficient for milk production and protecting its smaller farmers. Tariff on some agricultural products can also be as high as 100 percent, which makes it uneconomic for outsiders.
According to the Department of Commerce, the export of dairy products has reduced from $0.25 million to $0.07 million since 2015. Considering that almost 40 to 50 percent of food goes waste in India, New Zealand believes that its storage and distribution systems can help in a major way.
A Wellington official told The Indian Express that "India is protective of its market in in agricultural products and loathe to drop tariffs."
Signing more trade deals and agreements with new Zealand might restore the balance in trade, which India desperately needs at the moment. But aside from goods trade, an important aspect of India-New Zealand economic relations are the education services the Antipodean nation offers.
"India is New Zealand's largest source of skilled migrants and 29,000 indian students are currently enrolled in our academic institutions, making them the second largest overseas student population studying in New Zealand," writes Key.
The number of Indian tourists to New Zealand has also increased significantly. Last year around 46,000 Indians visited New Zealand and this number is expected to grow to 93,000 by 2022.
Further, a report by former New Zealand High Commissioner Graeme Waters, for the Asia New Zealand Foundation suggests that the future of trade between India and New Zealand lies in services such as IT, fashion design, film making and aviation.
Both the countries still don't have direct flights, which forced Key to skip the Mumbai leg of his India trip. According to Waters' report, India is reputedly a price-sensitive market and with no direct flights, and hub carriers can try to offset time increases with cheaper fares.
The trade deficit and the need to start direct flight between the two countries should be the focus of Key's visit. Apart from this, New Zealand can also help India in finding sustainable ways to keep up with the pace of development. Almost 83 percent of Wellington's electricity generation comes from renewable sources and identifies itself as a "world leader" in geothermal energy, writes Key in the editorial.


---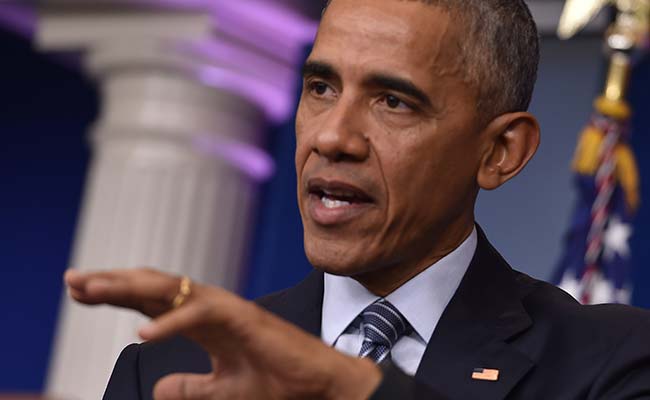 Britain accuses Russia of "making the situation worse" in Syria
GENEVA:MMNN:21 Oct. 2016
Britain sought to shame Russia on Friday for its deadly air strikes on the Syrian city of Aleppo,
during a special session of the United Nations Human Rights Council called by London to set up a special inquiry into violations.
"Russia, you are making the situation worse, not solving it," Tobias Ellwood, the British government Minister for Africa and the Middle East,
said in a speech to the Geneva forum.
"This is shameful and it is not the action or leadership that we expect from a P5 nation," he said,
referring to the five permanent members of the U.N. Security Council — Britain, China, France, Russia and the United States.



---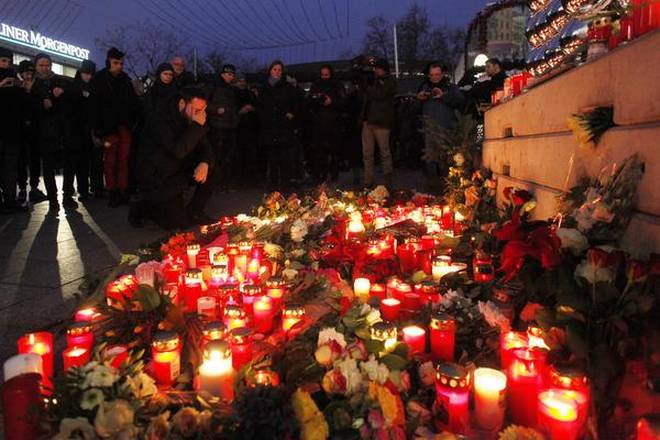 6.2 Earthquake Hits Western Japan: US Geological Survey
TOKYO:MMNN:21 Oct. 2016
A strong 6.2 magnitude earthquake hit western Japan on Friday, the US Geological Survey said, but there was no tsunami risk.
The quake, at a shallow depth of 10 kilometres (six miles), struck shortly after 2:00 pm (0500 GMT) in Tottori prefecture.
Initially, the USGS had pegged the quake's magnitude at 6.6 before downgrading it.
Public broadcaster NHK quoted local officials as saying they had received reports that a house collapsed in the town of Yurihama, while fires broke out in another part of the prefecture, without giving details.
In Kurayoshi City, the fire department reported receiving seven emergency calls for injuries.
Television images showed severe shaking in the region.
"We felt fairly strong jolts, which I think were the biggest in years, but we have not seen any damage or things falling," Suminori Sakinada, a local government official, told AFP.
Bullet train services were suspended in the area, while nearly 40,000 homes were left without electricity as the quake damaged power lines, officials said.
NHK said switched-off nuclear reactors in the region were not affected.
Japan sits at the junction of four tectonic plates and experiences a number of relatively violent quakes every year, but rigid building codes and their strict enforcement mean even strong tremors often do little damage.
A massive undersea quake however that hit in March 2011 sent a tsunami barrelling into Japan's northeast coast, leaving more than 18,000 people dead or missing, and sending three reactors into meltdown at the Fukushima nuclear plant.
In April, two strong earthquakes hit southern Japan's Kumamoto prefecture followed by more than 1,700 aftershocks, and left at least 50 dead and caused widespread damage.


---
UN Security Council Condemns North Korea Failed Missile Launch
UNITED STATES:MMNN:18 Oct. 2016
The UN Security Council on Monday denounced North Korea's latest test of a powerful missile that one leading US expert warned could be put into operational service as early as next year.
North Korea test-fired the medium-range Musudan -- capable of hitting US bases as far away as Guam -- on Saturday.
Although the exercise was a failure, with the missile exploding soon after lift-off, it still represented a breach of UN resolutions prohibiting the North's use of ballistic missile technology.
In a unanimous statement backed by the North's main ally China, the council "strongly condemned" the test, branding it a "grave violation" of North Korea's international obligations.
Council members agreed to "closely monitor the situation and take further significant measures," the statement said.
First unveiled as an indigenous missile at a military parade in Pyongyang in October 2010, the Musudan has a theoretical range of anywhere between 2,500 and 4,000 kilometers (1,500 and 2,500 miles).
The lower estimate covers the whole of South Korea and Japan, while the upper range would include US military bases on Guam.
The missile has now been tested seven times this year -- but only once successfully.
A Musudan launched in June flew 400 kilometers into the Sea of Japan (East Sea), and was hailed by leader Kim Jong-Un as proof of the North's ability to strike US bases across "the Pacific operation theater".
Despite the string of failures, John Schilling, an aerospace engineer specializing in rocket propulsion, said the missile was moving swiftly towards operational deployment.
The aggressive launch schedule, while multiplying the risk of failure, also increases the information gleaned from each test, Schilling said.
"If they continue at this rate, the Musudan intermediate-range ballistic missile could enter operational service sometime next year -- much sooner than had previously been expected," he wrote on the 38North website of the US-Korea Institute at Johns Hopkins University.
The latest Musudan test came with the United States and China still thrashing out a new sanctions resolution to punish Pyongyang for its fifth nuclear test carried out last month.
North Korea has been hit by five sets of UN sanctions since it first tested a nuclear device in 2006.
After Pyongyang carried out its fourth nuclear test in January, the Security Council adopted the toughest sanctions resolution to date, targeting North Korea's trade in minerals and tightening banking restrictions.
The ongoing negotiations on the new sanctions measure are focused on closing loopholes and zeroing in on North Korea's nuclear and ballistic missile technology industry, according to Security Council diplomats.



---
Saudi Arabia welcomes liberation of Dabiq from ISIS
MMNN:18 Oct. 2016
The Kingdom of Saudi Arabia has welcomed the liberation of the Syrian town of Dabiq from ISIS and has commended the Turkish-backed Free Syrian Army forces for the success.
A statement released by the Saudi Press Agency quoted an official source at the Ministry of Foreign Affairs as confirming that "this victory is a blow to ISIS given the symbolic significance this town represents to this terrorist organization, and it is an important step towards defeating terrorism."
Reports earlier said that Turkish-backed Syrian opposition forces captured the symbolically-significant town of Dabiq from ISIS militants on Sunday as government forces reversed recent rebel advances in the center of the country.
Though only a small town of marginal strategic importance in northern Syria, Dabiq has figured centrally in ISIS propaganda.


---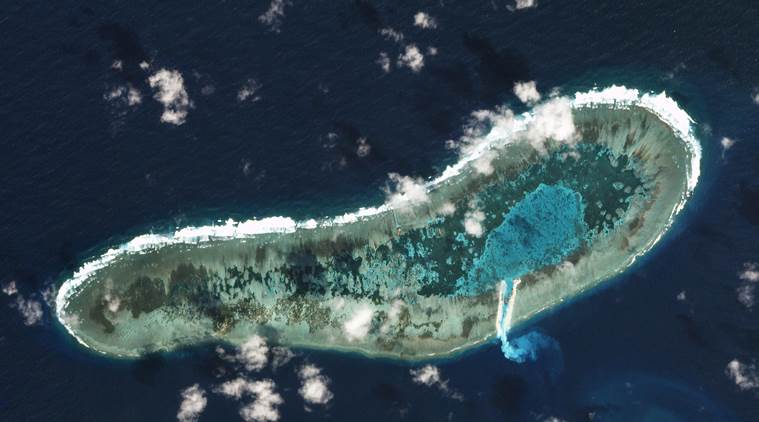 China to sign $24 billion in loans to Bangladesh, overtakes PM Modi's $2 billion credit line
Dhaka/beijing:MMNN:14 Oct. 2016
China is set to sign off on loans worth over $24 billion to Bangladesh during President Xi Jinping's visit on Friday, Dhaka's biggest foreign credit line to date that will help it build power plants, a seaport and railways.
Xi's trip, the first by a Chinese president in 30 years, is aimed at boosting China's involvement in infrastructure projects at a time when India is pushing investments of its own in Bangladesh, a country New Delhi considers its area of influence.
Japan, helped by India, has also got involved in Bangladesh, offering finance at low interest rates to build a port and power complex, sharpening competition for influence in the country of 160 million people located on the Bay of Bengal.
China plans to finance around 25 projects, including a 1,320 megawatt (MW) power plant, and is also keen to build a deep sea port, Bangladesh junior finance minister M.A. Mannan said.
"Xi's visit will set a new milestone. (A) record amount of loan agreements will be signed during the visit, roughly $24 billion," he told Reuters.
Among the proposed projects are highways and information technology development, he said. "Our infrastructure needs are big, so we need huge loans."
China's Jiangsu Etern Co Ltd signed a deal worth $1.1 billion to strengthen the power grid network in Bangladesh, the company said on Thursday. Beijing is especially keen to revive a plan to build a deep sea port in Sonadia which has been on hold for years, officials said. Xi is visiting Bangladesh on his way to a BRICS summit of the world's leading emerging economies in Goa, India.
His trip comes at a time when Prime Minister Narendra Modi is leading efforts to boost ties with neighbouring countries, from Sri Lanka to Nepal, by offering them a share of India's fast-growing economy. Last year PM Modi announced a $2 billion credit line during a visit to Dhaka, but China looks set to go well beyond that.
Zhao Gancheng, director of South Asia Studies at Shanghai Institute for International Studies, said both India and China supported development in Bangladesh, and that it did not have to be one or the other. "I really don't think there is a zero sum game going on in Bangladesh between China and India. Bangladesh welcomes both Chinese and Indian investment…" said Zhao.
Bangladesh has backed Xi's "One Belt, One Road" initiative to boost trade and transport links across Asia and into Europe, seeing it as an opportunity to lift growth. India has reservations about the plan, amid worries that it is an attempt to build a vast zone of Chinese influence.
Beijing had proposed an economic corridor linking Bangladesh, Myanmar, China and northern India, but New Delhi did not seem keen on the idea, Zhao said. "Bangladesh has an enormous need for investment, and I don't think it's going to become a site for strategic competition, a game between the great powers or a pawn," he said.



---
Israel: PM Benjamin Netanyahu's top adviser Dore Gold resigns
JERUSALEM:MMNN:14 Oct. 2016
A top diplomat and longtime adviser to Israeli Prime Minister Benjamin Netanyahu has resigned from his post for personal reasons, the foreign ministry announced on Friday.
Dore Gold has served as director general of Israel's foreign ministry since June 2015 and has been a close adviser to Netanyahu for more than two decades. The ministry statement did not provide further details of why he was resigning.
"I would like to thank Prime Minister Netanyahu for his confidence in me," the statement quoted Gold as saying. "As in the past, I will make myself available to the prime minister's needs in any capacity he sees fit."
Netanyahu, who also holds the post of foreign minister, praised the "important contribution" made by Gold to reinforce relations between Israel and the international community, including in Africa. "Dore has been at my side for 25 years and I am sure he will remain available for any (future) mission," he said in a statement.
Netanyahu's office later announced that the prime minister had chosen career diplomat Youval Rotem to replace Gold. Rotem is a former ambassador to Australia and the ex-head of the cabinet of the foreign minister.
Gold's resignation comes at a crucial time for Israeli diplomacy. Israeli leaders are concerned US President Barack Obama will seek to lay out parameters for a resolution to the Israeli-Palestinian conflict before he leaves office in January.
There have also been suggestions the US president could support or at least refrain from vetoing a UN Security Council resolution on the conflict that Israel opposes.


---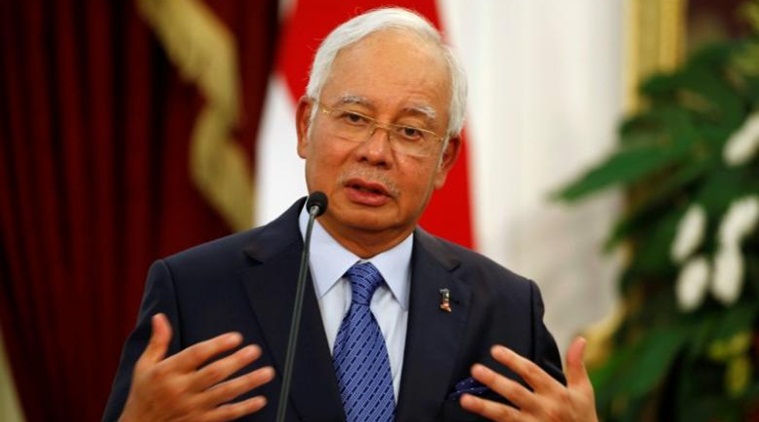 Nobel Peace Prize 2016 winner: Meet Colombia's President Juan Manuel Santos
Stockholm:MMNN:7 Oct. 2016
Efforts by Colombian President Juan Manuel Santos to end five decades of war in his country were recognised with the Nobel Peace Prize on Friday.
The award came despite voters' shock rejection of the terms of a historic deal he reached last month with FARC chief Rodrigo Londono, alias Timoleon "Timochenko" Jimenez, after nearly four years of talks.
"The Norwegian Nobel Committee has decided to award the Nobel Peace Prize for 2016 to Colombian President Juan Manuel Santos for his resolute efforts to bring the country's more than 50-year-long civil war to an end," said committee chairwoman Kaci Kullmann Five.
Colombian President Juan Manuel Santos and FARC guerrilla leader Timoleon "Timochenko" Jimenez come from different worlds: one a rich businessman and politician; the other a country boy turned communist guerrilla.
Here are profiles of the conservative president and the Marxist guerrilla leader who brokered the end of half a century of conflict.

Santos: fighter for peace
Santos, 65, led a major offensive against the Revolutionary Armed Forces of Colombia (FARC) as defense minister from 2006 to 2009.
After becoming president in 2010, he shifted tack and negotiated for a settlement with the guerrillas.
"He made war as a means to achieve peace," said his brother-in-law and adviser, Mauricio Rodriguez.
"He weakened the FARC to make them sit at the negotiating table."
The peace drive "required courage, audacity, perseverance and a lot of strategy — those are Santos's strengths," Rodriguez added.
Despite fierce opposition to the talks from some former allies, Santos staked his presidency on the peace process.
"I am not looking for applause. I just want to do the right thing," he said.
He won reelection in 2014 in a vote widely seen as a referendum on the talks.
Santos is the scion of a wealthy, powerful family entrenched in Colombian politics and the media.
He has described himself as politically in the "extreme center."
He was educated at the London School of Economics and began his career as a journalist, covering the Sandinista revolution in Nicaragua as a young man.
He then switched to politics, serving in various ministerial posts.
Timochenko: Convict negotiator
The bearded, bespectacled FARC leader's real name is Rodrigo Londono, but he is better known by his noms de guerre Timoleon Jimenez and Timochenko.
He was born to a Christian mother and a communist father in a coffee-growing region where he says he soon became aware of social injustice.
"At school, I wondered why there were some classmates who went without breakfast while others lived wastefully," he once said.
He has said the first book he read as a child was the Bible but he also read Karl Marx's "Communist Manifesto" by the age of 12.
State intelligence services say he received military and medical training in the Soviet Union and Cuba, which he denies.
"Eighty-five percent of what they say about me is lies," he once told Venezuelan TV network Telesur.
The stocky Timochenko, 57, is renowned as a strategist and former intelligence chief in the FARC, which battled state forces for decades in the jungle.
He has been convicted in absentia for various attacks for which he has been sentenced to more than 150 years in jail.
He took over as FARC leader in 2011 after his predecessor, Alfonso Cano, was killed by the army.
The following year, he wrote to Santos proposing fresh peace negotiations after efforts by previous leaders had failed.
He agreed to Santos's demand that the FARC end its campaign of kidnappings.
As a guerrilla he often said: "I prefer to die on my feet than live on my knees."
But in recent peace talks he softened his tone. At Monday's signing he apologized on behalf of the FARC to all the victims of the conflict.
Asked recently what he has learned in his career as a guerrilla, he said: "There shouldn't be wars."
"He is one of the most well-liked guys in the FARC," Ariel Avila, an analyst at Colombia's Peace and Reconciliation Foundation told AFP.
"He is the man who will go down in history for bringing the FARC into the peace process."



---
Will Tony Blair return? Ex-PM hints at comeback to politics to save Brexit-hit UK
London:MMNN:7 Oct. 2016
Former Prime Minister Tony Blair could return to a frontline role in British politics to try to prevent Theresa May's Conservative Party from destroying the country with a so-called "hard Brexit", he said in an interview.
The only Labour prime minister to win three general elections, Blair was hugely popular during the start of his 10 years in power but his support for the US-led invasion of Iraq severely tarnished his reputation.
In an interview with Esquire Magazine, Blair said it was a "tragedy" that Britons were left with a choice between a Conservative Party intent on a hard Brexit and a Labour Party that he described as "ultra-left" and stuck in the 1960s.
"I don't know if there's a role for me," he said. "There's a limit to what I want to say about my own position at this moment.
"All I can say is that this is where politics is at. Do I feel strongly about it? Yes, I do. Am I very motivated by that? Yes. Where do I go from here? What exactly do I do? That's an open question."
Britain's shock vote to leave the European Union in June propelled May to power and the former interior minister has indicated that she sees the vote as a demand for wide-ranging change in the way Britain is run.
May's approach has spooked investors who believe Britain is heading for a "hard Brexit", meaning it will give up trying to remain in the EU's single market in order to impose controls on immigration from the other 27 member states.
The vote, which has triggered the deepest political and financial turmoil in Britain since World War Two, has also rocked Blair's Labour Party, with leftist leader Jeremy Corbyn accused of failing to campaign hard enough to keep Britain in the bloc.
First elected last year on a wave of enthusiasm for a new type of politics, Corbyn was forced to compete again for his job. Although he was returned as leader with a higher mandate than before, he still lacks the backing of the centrist members of his party.
Blair said Corbyn offered a "mixture of fantasy and error". As a result, he said Britain was a "one-party state".
"The reason why the position of these guys is not one that will appeal to an electorate is not because they're too left, or because they're too principled. It's because they're too wrong," he said.
"Frankly, it's a tragedy for British politics if the choice before the country is a Conservative government going for a hard Brexit and an ultra-left Labour Party that believes in a set of policies that takes us back to the Sixties."
Blair's chances of forging a new major role might be limited after a seven-year inquiry delivered a scathing verdict in July on his handling and justification for the Iraq War, with many Britons believing he should face criminal action.


---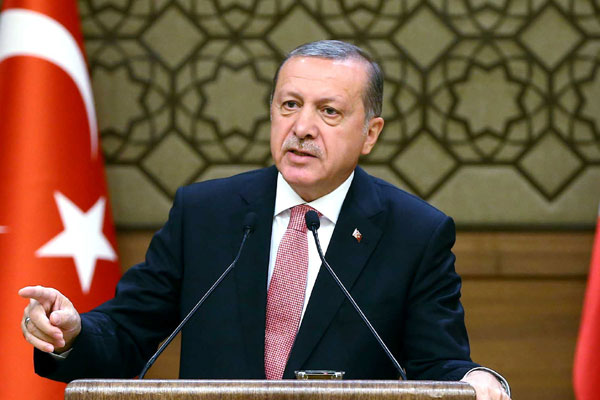 Post-coup purge: Turkey suspends more than 12,000 police officers over alleged links to Gulen
Ankara:MMNN:4 Oct. 2016
Turkish authorities suspended more than 12,000 police officers over alleged links to Muslim cleric Fethullah Gulen, accused of masterminding the July failed coup, the police headquarters said on Tuesday.
Of the 12,801 suspended from duty as part of the investigation into the coup attempt, 2,523 were police chiefs, the police authorities said in a statement. In total, Turkey has around 270,000 police officers.
They were suspended over suspected links to the Gulen movement which Turkey blames for the attempted putsch which tried to oust President Recep Tayyip Erdogan from power.
Gulen, who has lived in self-imposed exile in the United States since 1999, strongly denies Ankara's accusations.
Tens of thousands of people in the judiciary, civil service, military and education sector have been suspended while 32,000 suspects have been placed under arrest on charges of links to to the movement.
The government's crackdown has alarmed Turkey's Western allies who have warned Ankara that it must act within the rule of law.
Turkey yesterday extended the state of emergency introduced after the failed putsch for another 90 days starting on 19 October. Erdogan previously suggested that it might be necessary for the state of emergency to be kept for at least 12 months.



---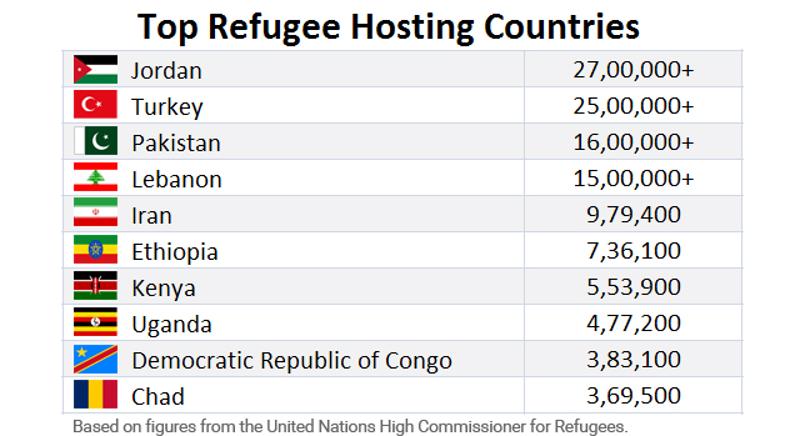 10 countries host half world's refugees: Amnesty
London:MMNN:4 Oct. 2016
Ten countries accounting for 2.5 per cent of world GDP are hosting more than half the world's refugees, Amnesty International said today as it slammed what it called the selfishness of wealthy nations.
In a report on the plight faced by the world's 21 million refugees, the London-based human rights body lamented that countries immediately neighbouring crisis zones bear the brunt of the global refugee problem.
Fifty-six per cent of refugees are being sheltered in 10 countries, according to the report, in which Amnesty proposed a solution whereby the world's countries find a home for 10 per cent of the planet's refugees every year.
"A small number of countries have been left to do far too much just because they are neighbours to a crisis," said Amnesty secretary general Salil Shetty, presenting the report entitled "Tackling the global refugee crisis: from shirking to sharing responsibility".
"That situation is inherently unsustainable, exposing the millions fleeing war and persecution in countries like Syria, South Sudan, Afghanistan, and Iraq to intolerable misery and suffering.
"It is time for leaders to enter into a serious, constructive debate about how our societies are going to help people forced to leave their homes by war and persecution."
Amnesty said the top refugee hosting country was Jordan, which has taken in more than 27 lakh people, followed by Turkey (more than 25 lakh); Pakistan (16 lakh) and Lebanon (more than 15 lakh).
The remaining six nations listed in the top 10 each hosted hundreds of thousands of refugees: Iran (9,79,400); Ethiopia (7,36,100); Kenya (5,53,900); Uganda (4,77,200); Democratic Republic of Congo (3,83,100), and Chad (3,69,500).
The statistics are based on figures from the United Nations High Commissioner for Refugees.
Amnesty said many of the world's wealthiest nations "host the fewest and do the least".
"It is not simply a matter of sending aid money. Rich countries cannot pay to keep people 'over there'," it said.
The "self-interest" of such countries meant the international refugee crisis was set to get worse, not better, Amnesty claimed.
"If every one of the wealthiest countries in the world were to take in refugees in proportion to their size, wealth and unemployment rate, finding a home for more of the world's refugees would be an eminently solvable challenge," said Shetty.


---