By Metro Mirror Team
Urban grilling an authentic Punjabi barbeque and grill restaurant at Shahpura
Our Correspondent : 23 Aug. 2016, Bhopal
Inaugural ceremony of a Punjabi joint - Urban Grill, offering a range of dishes. So give your cravings a kick start with mouth watering kebabs and tikkas....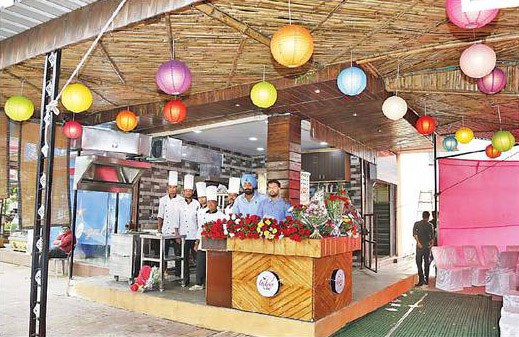 You know life is as good as it could be when you've a plate full of tempting food whose smell drives you into a world full of bliss. Sunday was such one affair where
Chef Gurbir Singh
and
Chetan Sharma's
long time friendship resulted into a restaurant serving grilled and barbeque food.
With dishes never heard, Urban Grill has introduced interesting, smoky and mouthful Indian cuisine which will make you have more ever after. With Gurbir's gigantic 12 year experience as an ex-chef atn The Oberio and Club Mahindra and Chetan's seven years of expertise in human resources, their friendship has gifted Bhopal a place of its own kind.
With a team of 5 specialised chefs from major hotels of India, the joint is no less than a treat to our appetite.
FROM THE PIT TANDOOR
VEG
NON VEG
Kesri Paneer Tikka
PRICE : 150/-
Murg Pallu Kebab
PRICE : 200/-
Lucknawi Paneer Roll
PRICE : 150/-
Cheezy Chooza
PRICE : 200/-
TEAM OF THE BESTS

Chef Ankit- Hotel Sheela,
Banglore (4 star)

Chef Sanjay- Hotel Babylon
International, Raipur (3 star)

Chef Satya Narayan- Hotel Amber,
Delhi (3star)

Chef Sandeep- Hotel Punjab Grill
Delhi (3 star)

Chef Kuldeep- The ND Hotel
Chandrapur (MH) (4 star)
HUNT ENDS HERE
"The ambience is soothing. I tried Dum-Aloo, which was so amazing that i literally ordered a second round.
I'm certain that Bhopal's end for authentic punjabi food ends here,"
said Tarun Sharma.
---

Sweet Hut
Spot:Shop No 4-28, Roshanpura Chouraha, Malviya Nagar, New Market, Bhopal, 462003.
Features:-As the name suggest this sweet hut contains all kinds of sweets and that too at very reasonable price which other shop does not.
Time:10a.m to 11 p.m
Expenses (estimated) : Varies according to sweet
Contact :0755 422 0422
Bapu Ki kutiya
Spot:MP Nagar Zone I,
Features:Papa's Shack has been serving up delicious Indian veg dishes since 1964 and is so popular you often have to share a table. Does handy half portions if you just fancy a snack. There's an English menu, but no English sign. Look for the picture of a beach hut and palm tree above the door.
Time:10a.m to 11 p.m
Expenses (estimated) :mains rs50-120, special thali rs110
Contact :098 27 271188
Indian Coffee day
Spot:Street New Market Rd
Features:As always, Indian Coffee House is a top spot for breakfast, with waiters in fan-tailed hats serving good-value coffee plus South Indian favourites such as dosa, idli and vada (doughnut-shaped deep-fried lentil savoury). The upstairs 'family' restaurant is the more relaxed and welcoming of the two dining options.
Time:7am-11pm.
Expenses (estimated) :mains 50-140
Contact : 464316, 284055
Chappan Bhog
Spot:10 No. Bus Stop, Arera Colony
Features:Located at the Heart of 10 No. Bus Stop; known for light, peppery, & aromatic dishes. Dahi-Bada & Pav-Bahji are liked most. Sweetmeat is available with more than forty varieties such as Bundi ke Laddoo, Milk-Cake, Donda-Barphi & Imarti etc. Lassi, Milk, Rabdee, Rasmalai & Rasgulla are also available. It is also known for Samosa, Kachauri Jalebee & Dhokla.
Time:From 7.30 a.m. to 10.00 p.m.
Expenses (estimated) : 80/- (for a family)
Contact : 464316, 284055
Amer Bakery
Spot : Bittan Market
Features : Splendid location with a different varieties of Pizza, Cake, Pastry & Patiz. Perhaps, that is why the youths of the city like to spend their lovely evening only at Amer Bakery. As the evening prevails the flock of the youths begin to gather there.
Pizza is available in different varieties for 26 to 79 Rs. and Cake flavours pastries with 12 sorts of tests. At the first sight, you would say ' Jee Lalchaye Rahaa Na Jaye'. Token system, Self service; take it up and get start. Why to get late then? Let us get the Amer Bakery this evening.
Time :
Expenses (estimated) :
Contact :
Evening Point
Spot: Bittan Markt
Features: In summer days, at the dusk, the flock of the wandering & amusing youths is seen everywhere. Evening Point has become the youths'favourit place for passing time in chatting with friends & for having a light meal. The 'Paneer Tikka' here has an inexplicable test. As the end of the day, the place begins to be flocked with people. The guys of IHM & MST are seen here for most of the time. At the open & cool place, the baking-on-pan Kebab & the test & fragrance of Chicken gravy are not troublesome to the youths' pocketmoney. Chicken Biryani here is only for Rs. 55 & vege burger with cold drink, as a light meal, is also a favourite one for all. There are nine test varieties of Tikka here. Along with all these, service charge & sale tax are also waived of