Ola launches 'Prime SUVs' in 10 cities

NEW DELHI: 24 Aug. 2016: Transportation app Ola has added SUVs such as Toyota Innova, Nissan Evalia and Chevrolet Enjoy on its platform under 'Prime' category to cater to customers travelling in big groups.
The Prime SUV option, available for ?80 onwards (base fare), will let customers seat up to six passengers.
"We identified that our 'Prime' customers wanted more options, especially in cases where people are travelling in groups and hence, need a bigger car or if they are travelling to the airport and need enough space for their luggage," Ola Senior Director Marketing Communications Anand Subramanian told.
The six-seater 'Prime SUV' will also have auto-connect WiFi that addresses the need of staying connected to the internet even when a commuter is on the go, he added.
"We have launched Prime SUV in 10 cities including Delhi, Mumbai, Bengaluru, Kolkata, Hyderabad, Chennai, Pune, Ahmedabad, Chandigarh and Jaipur," he said.
According to industry analysts, Ola is strengthening its presence across various price points with multiple offerings to tap into the booming cab transportation segment in the country.

---
Strictly comply with e-com rules: Govt

NEW DELHI: 24 Aug. 2016: The government has asked online retailers to strictly comply with the e-commerce guidelines following complaints by offline players on the advertisements being given by them in newspapers announcing a sale.
This was instructed to the online retailers during a recent meeting held in the Commerce and Industry Ministry.
"In the meeting, it was made clear to the online companies that they can not announce any kind of sale discounts and if they are giving advertisements, then it should clearly mention that those discounts are extended by their vendors and brand owners only," an official said.

---
ASKME NO MORE

NEW DELHI: 24 Aug. 2016: Hit by a cash crunch, e-commerce company AskMe has decided to shut shop,
leaving 4,000 staffers jobless. Its investor, Astro, threatens audit.

---
Sunil Bharti Mittal to take home Rs30 cr in salary

NEW DELHI: 24 Aug. 2016: Sunil Bharti Mittal, chairman of Bharti Airtel Ltd, will take home a higher annual pay package of over Rs.30 crore, excluding perquisites, for this fiscal.
Mittal, who has been re-appointed chairman of the company for another five years, will get a fixed pay of Rs.21 crore per annum and performance-linked variable pay of Rs.9 crore.
The package, however, excludes perquisites that shall not exceed 50% of the fixed pay in any financial year. This was approved at the company's 21st annual general meeting held on 19 August 2016, people familiar with the matter said, adding the package is applicable for the fiscal year.
As per the company's annual report, Mittal took home a total package of Rs.27.8 crore, which includes Rs.24.6 crore in salary and Rs.1.17 crore in perquisites, for 2015-16.
The AGM also approved revision in remuneration of Bharti Airtel's managing director and CEO (India and South Asia) Gopal Vittal, who will now take home fixed pay of Rs.7 crore per annum.
He will also be entitled to performance linked incentive, ESOPs, and perquisites. The revision in the remuneration is with effect from 1 June 2016 for the remaining period of his tenure up to 31 January 2018.
Vittal's pay package for 2015-16, as per the company's annual report, stood at Rs.10.3 crore which includes salary of Rs.5.9 crore and the rest coming from perquisites and stock options.

---
Punjab National Bank makes locker visiting facility free

NEW DELHI: 24th Aug. 2016: Aadarsh Pvt. Ltd., a one stop solution for all printing and publishing needs, is the Licensing Agent in India for Punjab National Bank (PNB) has made locker visiting facility free for its customers.
Earlier, the customers were allowed 12 free visits at lockers in a year. Now, the PNB locker holders can make any number of visits in a year without paying any additional cost.
The new rule has been put in place since August 1, 2016. With this, PNB has become the first public sector bank to make locker visiting facility free for its customers. PNB used to charge customers Rs 50 per visit after the limit of 12 free visits in a year.
The bank reported a fall of 57.49% in its net profit at Rs 306.36 crore for the quarter ended June 30, 2016 as compared to Rs 720.71 crore for the same quarter in the previous year.
However, total income of the bank increased 3.71% to Rs 13930.00 crore for the quarter under review, from Rs 13432.05 crore for the corresponding quarter of the previous year.

---
Samsung to Launch Faster Galaxy S4 Smartphone

SUWON , 18 June 2013: Samsung Electronics Co plans to sell a variation of its flagship Galaxy twice the normal speed, the head of its mobile business said on Monday.
JK Shin, also co-Chif executive of the world's biggest technology firm by revenue, said the phone would be sold in South Korea as early as this month.
"We'll be the first with the commercial launch of the advanced 4G version of the smartphone, "Shin said. The new S4 will use LTE-Advanced 4G technology, an upgrade from conventional 4G called LTE, or long term evolution. LTE-Advanced offers data transmission at up to twice the normal 4G speed.
The phones will be powered by Qualcomm chips. A movie download that takes 3 minutes with conventional 4G would take slightly more than 1 minute, Samsung said.

---
Google Launches 'Product Listing Ads' in India

MUMBAI , 18 June 2013: Search engine Google on Monday launched a new ad format 'Product Listing Ads' in India to provide users information like images, price and brands of products, which will help people shop better both online and offline.
Everyday, millions of shoppers use Google search to research and discover products to purchase online and offline, and this new format connects users to rich product-information like looks, price and brands, Google India said in a statement.
Product Listing Ads will appear on shopping-related queries on Google.co.in. This feature will initially be placed on the right-hand side of the search results page above text ads, and it will be labeled as 'sponsored', it added.

---
By Metro Mirror Team

Aashima Mall gets @ Nostrum, Pan America and Duke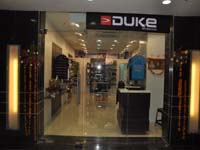 Bhopal, Aashima Mall, Hoshangabad road has added new feathers to its cap by launching well known brands like Nostrum, Pan America and Duke.

Aashima mall which is situated in Hoshangabad road is a one shop stop for all the requirements; be it shopping, food, fun or movies. . Aashima Mall already has many International & National brands such as Reliance Mart, Reliance Trends, AVE.NEU by DLF, Cinepolis, Wrangler, Roxton, Sia Jewels etc, as part of the mall, by opening Nostrum, Pan America and Duke; is yet again something more they wish to provide to their customers.

Mr. Sanjay Bulchandani, Director, Aashima Mall says "With an endeavor to offer the right mix of brands & price points to our customers, we are now adding another feather to our cap by opening Nostrum, Pan America and Duke for our customers. All the brands are very well known and have their own specialties. We are happy that we are offering these brands, as people of Bhopal will love the newness and quality in them."

Nostrum established in 2005, is a dedicated cotton based bottom wear manufacturing company. The company has grown to build itself a good name in the quality market by producing thousands of pieces every month. With an In-House finishing unit, the company keeps a strike check on quality control and every product undergoes scrutiny before dispatch, ensuring best quality.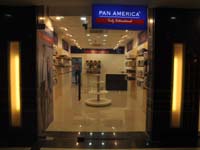 Founded in 1999, Pan America's designer trousers and denims have been a hit with all ages. Sub-brands such as Pan America Corporate for formal wear in the mid-premium range, Pan America Platinum for party and marriage wear, Pan America Legend for casual wear, Pan America Legend for Designer Shirts and the newly introduced jeans – makes Pan America a well sought after clothing station with finest quality materials.

Duke fashions limited pioneered the T Shirt culture and gradually established several new trends in knitting garments and fabric research. Stringent quality control mechanisms punctuate the entire operations and make certain that the final products enjoy true value for money status and first choice of customers.

Introduction of these brands will bring more variety to its people with great quality and pricing. Its time that we should try something new and better.

About Aashima Mall:

Aashima Mall is part of the 5,00,000 sq.ft. Development of Commercial & retail Area on the main Hoshangabad Road in Bhopal. The Mall has been developed by Shri Govind Realty Pvt. Ltd. which has about 2 decades of experience in Real Estate. Shri Govind Realty is part of

the 700 Crore ARK Group, which has played a major role in changing the face of Bhopal with over 1 million sq.ft. of commercial development & over 100 million sq.ft. of residential development in the city. Aashima Mall Already has many national & international brands such as Reliance Mart, Cinepolis, Reliance Trends, AVE.NEU by DLF, Wrangler, Roxton, Sia, etc, as part of the Mall.

---
NDTV, with it's New Venture
From 1st October onwards, NDTV (New Delhi Television) will launch its new programme "SHUKRIYA". Most famous & well renowned personalities like Sushmita Sen, Farah Khan, Hema Malini & Rakesh Roshan will appear in the programme. The main theme of the story would be to thank the general masses, for their over whelming response & to help these celebrities for making their mark in their respective fields.

Om-TVS with its new time schedule
Keeping in view the facility of it's customers, OM -TVS, the authorized dealer, situated in M.P.nagar Zone-II, has decided to extend the timings of their workshop from 8 a.m. in the morning - till 8 p.m. at night. This service will commence from 1st October.

Huge Responses in the Grand sale
Huge responses have been received in a Grand sale, going on in hotel Surendra Vilas & Gandhi Bhawan. Brands like Adidas & Lee Cooper have received huge sales response. In outfits, especially trousers, sales have touched the heights. Trousers amounting to Rs.1200 & Rs.1800 are being sold at only Rs.500.Other than garments, foot wares are being sold at 60-70% discount.

Grand Diamond Exhibition
Ambajee Jewellers has organized a grand exhibition of diamond jewellery for the brand 'NAKSHATRA', at its showroom in Malviya Nagar.
An exclusive and exquisite range of diamond jewellery is being showcased, the quality for which the brand Nakshatra is countrywide famous.

MP's potential underlined
Madhya Pradesh can be a potential hub of industrialisation and employment, said former secretary, Federation of MP Chambers of Commerce & Industries, Pratap Verma here today. He said Madhya Pradesh has emerged as a centre of industrial development and employment opportunities for management & engineering graduates.

Voltas launches .8-ton split AC
VOLTAS HAS launched its .8-ton split AC at a prize of Rs. 15,990 that fits into the budget. Voltas Limited branch manager Sanjeev Tiwari said in a press release in Indore that last year company introduced .8 ton window AC that was successful in the market. The company has also introduced its new advertising compaign "Thande Dimage Se Socho" . The company plans to spend Rs. 20 crore this finanacial year.

Ultra-Modern fruit market to come up in city
The State Government is planning to set up an ultra modern fruit and vegetable market in the city. The market would be designed on the same lines as the fruit and vegetable market in Banglore. The Government has zeroed down on a 40 acre piece of land at Karond for the purpose. The Jaipur based National Institute of Agriculture Marketing has initiated the groundwork for the marketplace. Mr. Bhagirath Patidar, Chairman of the Bhopal Krishi Upaj Mandi said, "A modern Mandi that would address the needs of the farmers as well as the traders is the need of the hour".



IDEA brings new offer
The IDEA cellular Ltd. has brought a new offer to its prepaid customers. In the offer the customers will be able to make mobile to mobile outgoing calls for 99 paise per minute on the charge of Rs. 50 extra for 30 days. The Company would also provide additional talk-time worth Rs. 50 on first recharge.
Home-loan carnival started
The State Bank of Indore started Home-loan Carnival in which all the 202 branches of the bank functioning in the Bhopal region are taking part.
New Touchtel centre inaugurated
The newly established customer service centre of Touchtel at Shahpura was inaugurated by the Sales Gen. Manager of the Company, Shri Rakesh Shala.
SBI holds Doctors' meet
The SBI MP Nagar branch organised a doctors' meet at hotel Residency in which the doctors were brought to know the loan schemes & life insurance plans initiated by the bank for doctors. The meet was presided over by Shri B V Sarthi, Assistant Gen Manager, SBI.
BHEL gets over Rs 197 crore order
The BHEL has received an over Rs 197 crore order from the Gujarat Electricity Board to launch lignite-based 75mw project.
Hub & Spoke system inaugurated

In a function organized in the Hamidia-road-situated regional office of the SBI, the Deputy Gen manager of the bank Shri Ashok Gupta inaugurated the 'Hub & Spoke system' started by the bank.

BHEL Gets Rs. 599 cr order
The Bharat Heavy Electrical Ltd (BHEL) has acquired a Rs.599 cr order of setting up a 250 mw unit in the new parley Thermal Power Station Extension in Maharashtra. The BHEL will manufacture steam generator, steam turbine & other auxiliary equipments for the project.
'Ma Foi' management consultants franchisee starts
With its Bhopal franchisee given a start in the city of lakes, India's biggest Human resources providing company 'Ma Foi' Management Consultants Ltd. will now serve in MP also. At the time of the Inauguration-function there was present MPIDC managing director Shri Raghva Chandra as chief guest along with the MaFoi's staffing solution chief Shri E. Balaji.

BHEL to Supply Electricity to Indian Navy
Bharat Heavy Electrical Limited (BHEL) has got a mark of honour as it has been assigned with the prestigious responsibility of supplying electricity to the Indian Navy. This service will be provided to a Navy 'project seabird' running at Karwar in Karnataka.