Scroll down to fill in the application form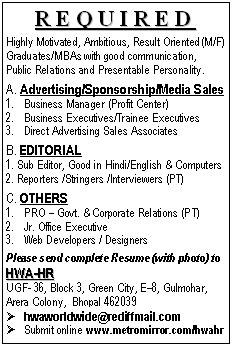 Resumes Invited


For senior, Middle, Junior and Trainee officer/execuive level position in all disciplines.

Empanelment of professionals for Part-time/ contractual/ free lance assignments
All level of professionals from various sectors and disciplines may also send their C.V. online or by post(with photo).


EARN WHILE YOU LEARN - INTERNSHIP OPPORTUNITIES


* FOR PG/ GRADUATE STUDENTS OF
MANAGEMENT, COMMERCE, IT, ENGINEERING, MEDIA & PUBLIC RELATIONS

STUDENTS INTERESTED TO DEVELOP THEIR PROFESSIONAL SKILLS AND HAVE THEIR EXPERIENCE/ EXPOSURE WHILE PURSUING THEIR PG/ GRADUATION IN THE FOLLOWING AREAS MAY CONTACT WITH THEIR RESUME (WITH PHOTO):

(1) MANAGEMENT/CORPORATE SERVICES AND CONSULTANCY
(2) IT/ WEB SERVICES AND CONSULATNCY
(3) MARKETING AND ADVERTISING SERVICES AND CONSULTANCY
(4) MEDIA, PR AND EVENT MANAGEMENT
(5) MARKET RESEARCH
(6) EDUCATION/ TRAINING FOR EXECUTIVES AND STUDENTS

* SKILLS/ MINDSET: HIGHLY LEARNING POSITIVE MINDSET WITH GOOD COMMUNICATION AND INTERPERSONAL SKILLS.
* SELECTION PROCESS: WRITTEN TEST, PRESENTATION AND INTERVIEW
* STIPEND: SUITABLE STIPEND AND LUCRATIVE INCENTIVES WILL BE PAYABLE.
* OTHER OPPORTUNITIES: OPPORTUNITIES TO LEARN ON THE JOB. SOFT SKILLS, ENGLISH COMMUNICATION AND PROFESSIONAL GROOMING.
* PLACEMENT AFTER SUCCESSFUL INTERNSHIP MAY BE CONSIDERED FOR DESERVING STUDENTS

EXECUTIVE TRAINEES


THOSE WHO HAVE COMPLETED THEIR PG/ GRADUATION IN 2004-05 MAY SEND THEIR RESUME(WITH PHOTO) FOR PLACEMENT OR SUBMIT ONLINE at www.metromirror.com/hwahr

ADDRESS FOR CORRESPONDENCE
UGF-36, BLOCK-3, GREENCITY
E-8, GULMOHAR, ARERA COLONY, BHOPAL 462039
PHONES: 9893096880, 5279181, 2562882
SUBMIT ONLINE AT: www.metromirror.com/hwahr

REQUIRED

Really Ambitious, Confident and Result Oriented Graduates/MBAs. Good Growth Prospects for the right Candidates. Good Communication and Presentable personality required for all.
Advertising & Events Services
Manager/Asstt. Manager : Buisness Development and Client Relations
Executives/Trainee Executives (BD & CR) - 4
Public Relations Officer - 1 : Who can Establish and Maintain Effective Relations with Corporates/Govt. of Media. Part time assignments also available.
Credit Card & Financial Services
Buisness Executives (30) : Graduates/Under Graduates. Fixed Salary plus Incentives. Mobile & Conveyance expenses.
Mail : Complete Resume (with photo) to : HWA, 36, Block-3, Green City, E-8 Gulmohar, Arera Colony, Bhopal-462039 within 3 days.
Walk-in At : Brainpower Group, Prime Plaza, 3rd Floor, 10 No., Above Kothari Pathology. (Time 12-2/5-7 PM)

E-mail : hwaconsulting@rediffmail.com, Details on www.metromirror.com
Submit your Application
HWA-HR
36, Block-3, Green City
E-8 Gulmohar Arera Colony Bhopal
E-MAIL : hwaconsulting@rediffmail.com
Phone : 9893096880, 2562882