Maharaja Agrasen National Award for Shri Ramesh Chandra Agrawal
Our correspondent 8 June 2012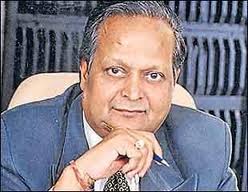 Madhya Pradesh Culture Department will bestow Maharaja Agrasen National Award for the year 2011-12 upon famous social worker Shri Ramesh Chandra Agrawal.

Announcing Maharaja Agrasen National Award, Culture Minister Shri Laxmikant Sharma informed that a selection committee comprising Shri Babulal Jain, Shri Kamtanath Vaishampayan, Shri Sachchidanand Joshi, Shri Tirubhavan Nath Shukla and Shri Sunil Bansal decided in its meeting at Bhopal to bestow the award for the year 2011-12 upon Shri Ramesh Chandra Agrawal. The award is given for excellent service in the sectors of social harmony and unity, unparalleled contribution and social upliftment, assistance to victimised destitute persons and have-nots and other special works.

Maharaja Agrasen National Award carries Rs. two lakh, citation and honour plaque.

Shri Ramesh Chandra Agrawal, who is well-known in the sphere of Indian journalism, has been selected for the award on the basis of his adherence to high standards in human service, motivating several poor and destitute persons and extending the assistance for self-employment activities, providing education forum to children, arranging marriages of sons and daughters of economically weaker people, efforts for water conservation and creating awareness in society.

As a result of untiring efforts of Shri Agrawal, his newspaper is being published from 26 cities of six states. A number of people in the country and abroad have been benefited by his efforts to unite country and society through inspirational news and articles published in various newspapers and magazines published by him. Holder of several national awards, Shri Agrawal is committed to works like social upliftment after entering multimedia in the 20th century and engaging himself in works like radio, television, film studio, publishing house etc.
---
Rajaram Mourya bags first Jananayak Tantya Bhil Samman
With a view to promoting tribal talents, the Madhya Pradesh Tribal Welfare Department had constituted Jananayak Tantya Bhil Samman-2008 which has been bagged by Shri Rajaram Mourya of Dewas. This award is given to those who excel in education, sports and other fields.
Giving this information, Principal Secretary Tribal Welfare Shri O.P. Rawat said that the decision about the winner of the award has been taken by a high level jury at its meeting at Bhopal. The award carries Rs one lakh and citation.
Shri Mourya's contribution in education, agriculture, employment and sports activities assumes much significance since he did so on his own inspiration and through his own resources. Under the leadership of Shri Rajaram Mourya, One Star Public School was opened in the village itself for providing high quality education to poor tribal children. At present 127 tribal children are imbibing high level education in this school for their bright future and career.
Shri Mourya organized people under catchment area development scheme and Sukha Mukti programme helped in increasing agriculture yield from 80 to 160 percent. This has stemmed tribal people's migration up to 80 percent. Through Mahila Bachat Samooh he has organized about 13000 women of Dewas and Khargone districts. Their joint savings amount to over Rs 2 crore. These women are transacting business to the tune of Rs 10 crore.

Hindi Sammaan
Hindi Literatteur Dr.V.Vyankatesh will be awarded by the "SARVOCCHA HINDI SEVI SAMMAAN 2005". Madhya Pradesh Rashtra Bhashaa Prachaar Samiti will do the honour. The State Chief Minister, Shri Babu Lal Gaur will preside during the occasion. The award will be presented by the state Governor Dr. Balram Jakhad, on 25th of October in Hindi Bhawan.

Dr. Sudha Awarded
Dr. Sudha Dixit, an assistant Professor of Sarojini Naidu girls College has been awarded by AKHIL BHARTIYA MAHILA PARISHAD, for creating awareness about musical instrument -SITAAR in the city . Initially Dr. Sudha Dixit, started this project with only three students during 1989-90, but in these 15 years, she has trained almost 41 students. Dr. Sudha's contributions are worth mentioning & the state is real obliged for her contribution.

PALAK - Born To Win Hearts
An icon for the youth-not only for her singing talent but for her extra ordinary feat saving lives of 99 children suffering from cardiac disorders. And who is the person-a mere 11-year Palak Muchhal.
Palsk's name is enlisted in the "Guinness Book of World Records" as the 'Youngest child singer'. She has also received various awards in the same field including "Rashtriya Baal Puraskar" presented to her by late Vice-President Krishan Kant on Feb. 5, 2002.
Recently she was blessed with the "Rashtriya Samanvay Puraskar" by Maha
Mandleshwar Swami Satyamitranand. Her fan list goes right from president APJ Abdul Kalam, Vice-President Bhairon Singh Shekhawat, Prime Minister Atal Bihari Vajpayee and M.P. C.M. Digvijay Singh.
Palak was name different from other kids in her up bringing. Only it was her talent for singing, which made her a cut above the rest. She was nominated for the "Little wonder Troupe" led by Kalyanji -Anandiji. She travelled distances, nation and abroad with her troupe while performing. Only name and fame were not her priorities. She decided to contribute socially. On March 8, 2002, She gave a fund-raising stage show and helped a child patient with heart ailment. She donated the entire money raised towards the child cure.
And the series continued. In the past three years, Palak has raised Rs.57 lakes and in turn saved the lives of 99 children on Medical grounds Her century completes on July15 when a child patient undergoes heart surgery at the Bhandari Hospital and Research centre, Indore. The same hospital operated her 99th patient, Akhilesh Patidar of Barwani district. And her waiting list includes as many as 210 patients do.
She attributers her life saving feat the Dr. Vinod Bhandari and Dr. Dheeraj Gandhi. They were least money conscious at times during & after operations were successfully executed.
Her helpage act also extended its span to Kargil war victims. Her troupe is responsible for over a 280 Stageshows across the country for the Kargil war victims, besides victims of natural calamities like Gujarat Earth quake.
Her mission is not single handed but the contributions of money a lot who had come forward to help her in her mission. Some even didn't disclose their name.
BHEL - BHOPAL

PhD to Dheerendra
Dheerendra Kumar S/o Shri Ram Nath Mishra, Foreman, Technology Thermal has qualified for PhD in the 'Applied Economics & Business Management (Commerce)'. He has completed his thesis under the guidance of Dr. Vivek Sharma, Deptt. Of Commerce, Barkatullah University, Bhopal. 'Problems and Prospects of Sugar Industry with special reference to MP' was the title of his thesis.

SGT Sheetal
Sheetal, D/o Shri MS Thakur, ExChargeman, TC Planning, SWM Department, has been awarded scholarship worth Rs.5, 000 from CSW and a certificate of merit for her performance by NCC, Bhopal for the training year 2002-2003. At present, she is studying in M.Sc. (Electronics) in Barkatullah University, Bhopal.

Varsha Tops MOM Diploma
Varsha, D/o Shri RN Chopade, Engineer, Engg. Coordination Div. Completed her Diploma with First Division in Modern Office Management Branch Examination-2003 from Govt. Women's Polytechnic College, Bhopal. She secured First Position in her college.

Special Privilege to Sonam
Sonam, D/o Shri Yukti Sharan, Artisan Gr. II, FCX/Civil, Zone-A and a student of Asha Niketan Deaf H S School Bhopal, passed Primary School Certificate Exam. with First Division from the Primary Education Board Certificate Exam-2002-2003 Distt. Bhopal. She stood second in her class.
Mr. Sandeep Chaudhury Honoured For Winning International Competition
Mr. Sandeep Chaudhury has astonished everybody by winning Gold & Silver medals in swimming competition during Special Olympics World Summer Games 2003 at Dublin, Ireland.

The victory is astonishing as Mr. Sandeep Chaudhury is mentally disabled & as many as 7000 athletes from 166 countries participated in the Special Olympics. Along with Mr. Sandeep Chaudhury two other participants also won Gold & Silver medals in the same competition. The three winners study at the different schools conducted by BHEL for the mentally disabled children. MR. Sandeep Chaudhyry was honoured by Shri Ram Naik, the central petroleum & natural gas minister, at a function held in New Delhi recently.