Rani Mukerji On Hichki's Success: "Audience Celebrated Working Mothers"
NEW DELHI:MMNN: 24 March 2018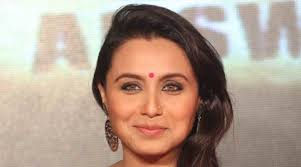 Actress Rani Mukerji's Hichki, tale of an aspiring teacher with Tourette Syndrome, passed with flying colours on the opening days. The film opened across 961 screens and earned Rs. 3.30 crore on Day 1, for which Rani Mukerji said: "This box office validation gives me incredible confidence to continue my journey as a working mother who can aim to balance her professional and personal life to a T. Thank you all for giving me the power to continue living my dream." Rani returned to the silver screen after a gap of four years (she was last seen in 2014's Mardaani) and in a statement she said that she enjoyed being a mother to her 2-years-old daughter Adira during the sabbatical of sorts but acting was her "first love." Rani Mukerji said that the commercial success of Hichki was immensely important for her and "for all my fellow lovely, outstandingly talented actresses who dream to follow their passion post their marriage, or even after becoming a mother." She added: "Deep down I was nervous that if I fail, I would be forever succumbing to the archaic stereotypes, to the same hichkis that have been prevalent for so many years." Rani Mukerji said that the success of Hichki reinstates the fact that for the audience "good cinema and good performance is the only thing that matters - not marital status, not parenthood." She said that the movie-goers have "celebrated working mothers today." Hichki is directed by Siddharth P Malhotra and it is co-produced by Maneesh Sharma and Yash Raj Films.
---
Hichki Celeb Review: 'Watch Rani Mukerji's Film With A Box Of Tissues
NEW DELHI:MMNN: 23 March 2018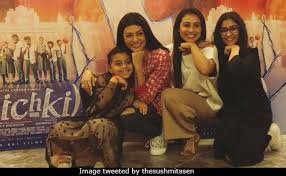 Rani Mukerji's Hichki has already earned a lot of love from her colleagues, who have every nice to say to say about it. Celebrities like Aamir Khan, Karan Johar, Anil Kapoor, Madhuri Dixit, Sushmita Sen, Shilpa Shetty and Urmila Matondkar have enjoyed special screenings of the movie ahead of its release and shared their reviews on social media. Aamir Khan, Rani's co-star of Ghulam, watched the film just a day before release and reviewed it as "one of the most enjoyable films". "Great story, amazing perfomances! Superb film," he added. Mr Kapoor was one of the first to post his review on Twitter. In a tweet directly addressed to Rani, he wrote: "Watched Hichki last night and absolutely loved it! The whole team has done an exceptional job especially the kids and Neeraj Kabi! And Rani you are my new favourite teacher! Your performance has left me speechless!" Karan Johar, who has directed Rani in films such as Kuch Kuch Hota Hai and Kabhi Alvida Naa Kehna, said Hichki will indeed make you nostalgic about school and that Rani is "the soul and life of this film." With Hichki, Rani makes a comeback after four years and plays a teacher named Naina, who suffers from Tourette Syndrome - a disorder, which leads one to make involuntary sounds and movements. In Naina's case, she utters "chuck, chuck" as she speaks. Madhuri Dixit, who reportedly got teary eyed while watching Hichki, Instagrammed to say: "Hichki is a moving and heart-warming film helmed by a brilliant story with a wonderful cast. A strong content driven film, very well directed by Siddharth P Malhotra and of course another stupendous performance by Rani. Kudos to Team Yash Raj Films." Shilpa Shetty gave Rani a shout out for her "splendid and flawless performance" while Sushmita Sen said Hichki "is a must watch with a box of tissues." This is what Urmila wrote: "Congratulations dearest Rani on yet another superlative performance. Directed by Siddharth P Malhotra and produced by Maneesh Sharma, Hichki releases tomorrow.
---
Salman Khan's Veergati Co-Star Pooja Dadwal Receives Help From Ravi Kishan
NEW DELHI:MMNN: 22 March 2018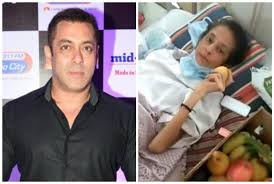 For Salman Khan's Veergati co-star Pooja Dadwal, who is battling tuberculosis alone in a Mumbai hospital, actor politician Ravi Kishan extended a helping hand, reports Hindustan Times. Earlier this week, Pooja told Navbharat Times that tried to contact Salman Khan to help her fund her treatment but she's not been able to reach the 52-year-old actor, who is busy with several projects. However, Ravi Kishan, who co-starred with Ms Dadwal in 1997 film Tumse Pyar Ho Gaya, came to her rescue when he got to know about her condition while promoting his upcoming film in Hyderabad. According to a Hindustan Times report, Ravi Kishan sent his colleague with money and fruits for the actress, who is admitted in Mumbai's T B Hospital, Sewri for the past 15 days. A video of Ravi Kishan's colleague handing over the money and a carton full of fruits is also being circulated on the Internet. Earlier, Pooja told Navbharat Times that she is "penniless" and had to "depend on others for even a cup of tea." The former actress said that she was working as a casino manager in Goa for several years before she was diagnosed with tuberculosis, after which her family had also abandoned her. "I got to know six months ago that I was suffering from tuberculosis. After learning about this I tried to contact Salman Khan but there's been no response yet. I have been admitted to the hospital for 15 days now. I was the manager at a casino in Goa for several years. I am penniless. I am dependent on others for even a cup of tea," she told Navbharat Times
---
Aamir Khan's Magnum Opus Mahabharata To Be Co-Produced By Mukesh Ambani
NEW DELHI:MMNN: 21 March 2018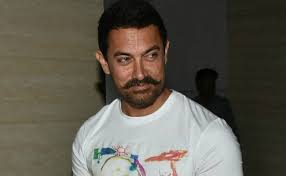 MUMBAI: EXCLUSIVE >> Insiders in the know have told mid-day that Reliance boss Mukesh Ambani, who had only recently invested in entertainment companies Eros and Ekta Kapoor's Balaji, will co-produce superstar Aamir Khan's most ambitious film yet, the Mahabharata series, for the big screen. Whether this marks Ambani's full-fledged foray into film production with a separate company, or he'll be involved through his existing media-related entities, Jio, Viacom 18 (where he holds controlling stake), is not known. The source, however, insists on the former, stressing on this being a "one-off" engagement. COMMENTSImagined along the lines and scale of Peter Jackson's Lord Of The Rings trilogy, HBO series Game Of Thrones, Khan's Mahabharata franchise has already created much buzz in film trade circles owing to rumours flying over a Rs. 1,000 crore budget. This, of course, is impossible to ascertain, given the series - likely to comprise anywhere between three to five parts, involving multiple directors - is only at a pre-production/ideation stage. Sources say international writers will be brought in to sharpen Mahabharata's story-line, to appeal to a global audience Late last year, Aamir Khan's planned magnum opus - something he has publicly spoken about as his dream project in the past - came into news, when the actor-producer (currently shooting for the Yash Raj production, Thugs Of Hindostan), had to turn down Mahesh Mathai's biopic on cosmonaut Rakesh Sharma, to be produced by Siddharth Roy Kapur, owing to the big-ticket series that's going to singularly keep him busy for the next few years.
---
How Kareena, Saif And The Kapoors Celebrated Shashi Kapoor's Birth Anniversary
NEW DELHI:MMNN: 20 March 2018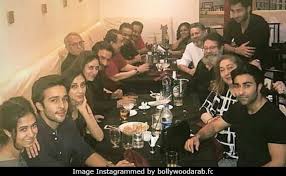 The Kapoors got together over the weekend to celebrate the 80th birth anniversary of Shashi Kapoor, who died in December last year. Kareena Kapoor and Saif Ali Khan reportedly hosted a dinner to mark the special day, a photo from which has been doing the rounds on the Internet. In attendance were Kareena's husband Saif Ali Khan, father Randhir Kapoor, his sister Rima Jain, Kareena's cousins Armaan and Adar Jain, Shashi Kapoor's son Kunal Kapoor and several other Kapoors. It's always a delight to see the Kapoors getting together, like during the annual Christmas brunch or for birthday celebrations. In an interview with mid-day, just days after Shashi Kapoor died, Randhir Kapoor explained why fam-jamming together is essential for the Kapoors. "My uncle (Shashi Kapoor) was a family man and always believed in celebrations. In fact, he had told us that we should not mourn his death and instead, celebrate his life. I think his kids are just doing that and are paying an ode to him. Like my father, Raj Kapoor said, 'The show must go on'," he said. Christmas was celebrated and gifts were exchanged in the Kapoor household last December, especially as a tribute to Shashi Kapoor. Rishi Kapoor, Neetu Singh, Randhi Kapoor, Rima Jain, Krishna Raj Kapoor, Neila Devi, the Jain brothers - Armaan and Adar and the Kapoor sisters - Kareena and Karisma had also arrived with the families. This year, Christmas was all about sharing fond memories of Shashi Kapoor, Randhir Kapoor had told mid-day: "Like every year, we are expecting the entire family to be there. As usual, there will be lots of food, and this time around, it will be special as we will remember Shashiji and share our fond memories of him. On December 4, Shashi Kapoor died in Mumbai after battling kidney-related ailment for months. The legendary actor was cremated with state honours with a three-gun salute by Mumbai Police the next day
---
Salman Khan's Veergati Co-Star Pooja Dadwal Is Ill And Reportedly Trying To Contact Him For Help
NEW DELHI:MMNN: 19 March 2018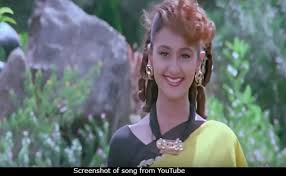 Former actress Pooja Dadwal, who once co-starred with Salman Khan in 1995 movie Veergati, is reportedly trying to reach out to the superstar for financial aid. A report in Navbharat Times states that Pooja is suffering from tuberculosis and lung-related ailment and has been admitted to Mumbai's T B Hospital, Sewri for the past 15 days. The report also adds that Pooja has reportedly tried to get in touch with the 52-year-old actor to ask for financial help but apparently Salman has not responded yet. "I got to know six months ago that I was suffering from tuberculosis. After learning about this I tried to contact Salman Khan but there's been no response yet," Navbharat Times quoted Pooja as saying. Pooja, who appears to have sent a video message to the actor, claims that her financial condition is extremely weak. The report quotes her as saying that she was a casino manager in Goa before she got diagnosed with tuberculosis. "If Salman Khan sees my video, he might help me. I have been admitted to the hospital for 15 days now. I was the manager at a casino in Goa for several years. I am penniless. I am dependent on others for even a cup of tea," she told Navbharat Times. COMMENTSMeanwhile, there's been no reaction from Salman Khan yet but a section of Twitter has urged Salman to provide aide. "Pooja Dadwal waiting for your financial help. Please help her," read a tweet Navbharat Times report also states Pooja Dadwal was abandoned by her husband and in-laws once her health started deteriorating. Pooja Dadwal has also starred in films like Inteqam, Hindustan and Dabdaba.
---
Raid Movie Review: Ajay Devgn's Brooding Presence Makes This Riveting Fare
NEW DELHI:MMNN: 16 March 2018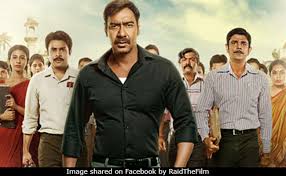 Raid movie review: Together, Ajay Devgn and Saurabh Shukla give Raid its heft Cast: Ajay Devgn, Ileana D'Cruz, Saurabh Shukla Director: Raj Kumar Gupta Rating: 3.5 Stars (Out of 5) Five years after the misfiring Ghanchakkar, a film that went round in circles with no apparent purpose, director Raj Kumar Gupta regains some of his mojo in Raid, a gripping search-and-seizure procedural boosted by its focused intensity and the commendably restrained performances from Ajay Devgn and Saurabh Shukla. It hits the right buttons consistently and, barring the largely gratuitous background songs, does not stray from its chosen course. Inspired by "true stories" surrounding an early 1980s tax raid on a powerful Uttar Pradesh political goon, the film has contemporary resonance because the broad themes that it touches upon are undeniably as relevant today as they were four decades ago. The nation and its people may, on the surface, seem to have moved on, but, at levels that matter, the rot has only worsened in alarmingly dangerous ways. Raid, scripted by Ritesh Shah, tells the story of an income tax deputy commissioner, Amay Patnaik (Devgn), who lands in Lucknow with his wife Malini (Ileana D'Cruz) on his 49th transfer in seven years. He wastes no time in making his presence felt in UP's capital city. Acting on an anonymous telephonic tip-off, Patnaik, with a posse of policemen and tax officials, marches into the den of a dreaded, crooked politician Rameshwar Singh "Tauji" (Shukla) with a search-and-seizure warrant. What ensues from here onwards is a riveting battle of attrition between a power-crazed man convinced that he can get away with murder and an upright, intrepid government functionary wedded to his none-too-easy job and mindful of the rules of service that he must necessarily adhere to. The film's action is principally confined to one house occupied by a large joint family presided over by the ruthlessly domineering Rameshwar. His hold over his brood is emphasized in the course of two protracted dining table sequences that lay out the relational dynamics between him and his brothers, sisters and ageing mother. Both scenes are wonderfully written and perfectly placed in the flow of the narrative. In a way, Raid is a classic cop and robber yarn. But it is set apart from the norms of the genre just a tad because the man leading the crusade against the bad guy isn't a beefed-up action hero in uniform. Neither is his antagonist a scowling, snarling, sadistic law-breaker. He is simply a man with a bloated sense of self-importance, one who has gotten so accustomed to a culture of impunity that he is baffled by the temerity of the taxman. After his bluff and bluster comes to naught, Rameshwar Singh hurls a challenge at Patnaik: let me loose and see what I can do. The income tax officer takes his word for it and lets him go even as the raid continues. Rameshwar turns to everybody - the state chief minister, the Union finance minister and even the then Prime Minister (a lady, obviously Indira Gandhi, but the actor's face is never revealed) - with an appeal to have the tax recovery operation called off. His entreaties yield little as Patnaik stands his ground and deflects all pressure. When somebody describes the protagonist as a fearless officer who doesn't kowtow even to the Prime Minister - she, on her part, is heard saying later that the country needs more officers like Patnaik - how one wishes that we actually had more of this man's ilk in times when all major institutions in this country are being brazenly manipulated and compromised. Pitched as a tribute to unsung officers who keep the wheels of the economy running despite the scourge of widespread corruption, Raid probes the price one has to pay for being honest in a system that entices many, and browbeats some, into opting for the line of least resistance and putting self-preservation ahead of duty. The passing allusion (in a dinnertime conversation between Patnaik and his wife) to Munshi Premchand's short story Namak Ka Daroga lends the current and ever-relevant tale its timelessness, a pointer that the issue has been alive forever and isn't going away anytime soon. In one scene, the hero says to Rameshwar that it isn't the poor who are to blame for the poverty that they are condemned to; the dishonest rich who corner most of the wealth generated in the country are the culprits. At another point in the film, the corrupt MLA, seeking help from political higher-ups, draws the chief minister's attention to the funds that he put into the party coffers at election time. 1981 and 2018 - same difference! Raid obviously alludes to an array of economic offences - black money, sales tax and excise duty evasion, money laundering, hawala rackets. None of these has been weeded out. If anything, they have only assumed new forms, just as corruption, as a whole, has. Raid isn't without its share of flaws. While Ritesh Shah's screenplay and dialogues are first-rate, it is hard to fathom why the film needed to use Punjabi lyrics for a couple of its background songs or draw attention to the courage of the hero through the means of a corny number that goes Mar bhi gayaa agar/marne ka darr nahi. Amay Patnaik does enough through the 128-minute film not to require this sort of unsubtle musical underscoring of his defining trait. Devgn's brooding presence, which shores up film, is reminiscent of the actor's Najaayaz and Zakhm> days. Shukla is brilliant as the cynical politician who does not abandon his defiant stance even when the chips are hopelessly down. Together, the two actors give Raid its heft. The fetching Ileana D'Cruz is unlikely to fetch too many points for this performance: the character of the wife, rebellious enough not to sport a mangalsutra but dutiful enough to take lunch in a tiffin-carrier for her husband and his team all the way to the supposedly top-secret raid location, is riddled with contradictions. Mercifully, the film, as a whole, isn't. Raid delivers riveting fare without resorting to too many standard Bollywood tics
---
Amitabh Bachchan's Doctors Are 'Fiddling Around With His Body' In Jodhpur
NEW DELHI:MMNN: 13 March 2018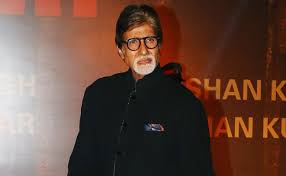 Actor Amitabh Bachchan, 75, is being attended in Jodhpur - where he's filming - by a team of doctors from Mumbai, who arrived in Jodhpur today morning. "I am getting my team of doctors in tomorrow morning to fiddle around with my body and set me up again. I will rest and keep informed in process," Mr Bachchan wrote on his blog in a post shared early this morning. Exactly what has happened to him is not clear - his blog seems to indicate that he's been working long hours on Thugs Of Hindostan - the film he's currently shooting in Jodhpur - and that "it's been rough." Some people need to work for a living and work hard," Amitabh Bachchan wrote - that's pretty much most of us, Mr Bachchan. He seems quite cheerful on Twitter, however. This was his last tweet, shared some hours after his blog post: He tweeted before that about getting back from his shoot at just short of 5 am The accident on the sets of Coolie that put Amitabh Bachchan in a coma all those years ago has left him with a list of medical complaints. Mr Bachchan has written earlier about living with pain. He was pictured at Lilavati Hospital in Mumbai last month, reportedly because of lower back trouble. Hospital authorities later revealed that it was a routine check-up. The actor was admitted briefly and discharged the same day. Mr Bachchan later posted a poem on his blog which began "Jee haan janaab, main aspatal jaata hoon." Amitabh Bachchan's work-in-progress project Thugs Of Hindostan also stars Aamir Khan, Katrina Kaif and Fatima Sana Shaikh. Mr Bachchan also has 102 Not Out with Rishi Kapoor lined up for release.
---
A Tribute To Sridevi, From The Tamil Film Industry. Janhvi, Khushi And Others Attend
NEW DELHI:MMNN: 12 March 2018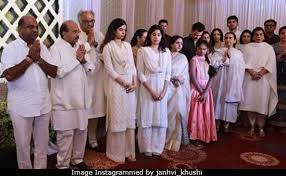 Late actress Sridevi was fondly remembered in a prayer meet organised by actors and filmmakers of the Tamil film industry in Chennai on Sunday. Sridevi is survived by her husband Boney Kapoor and daughters - Janhvi and Khushi - all of who were part of the prayer meet held at a city hotel in Chennai. Sridevi's close friend designer Manish Malhotra also appears to have accompanied the family to Chennai and shared a few photos on Instagram. The media was not present at the event but photos have been curated by several fan clubs on Instagram. Sridevi was born in Sivakasi in Tamil Nadu on August 13, 1963. Her debut in film was as a child artiste in 1969 Tamil movie Thunaivan. Ahead of that, Southern film stars including actors Sivakumar, Sripriya and Padmini along with actor-filmmaker K Bhagyaraj, had paid their last respects to the late superstar at an event organised by the South Indian Artistes' Association (SIAA), which is also referred to as Nadigar Sangam in Chennai. Those who gathered at the prayer meet, paid their last respects to Sridevi in front of a photograph of the actress adorned with white flowers. SIAA President and actor Nasser was also part of the meet. On Twitter, actor-director Manobala, who is also part of South Indian Artistes' Association, shared a photograph of the SIAA members remembering Sridevi. Earlier, other celebrities like actor Ajith, filmmaker Priyadarshan and actress Meena visited the residence of Sridevi in Chennai to pay their tributes. In February, Kamal Haasan, Rajinikanth and his wife Latha Rajinikanth had also visited Anil Kapoor's residence in Mumbai to be Sridevi's family after her death. On February 24, Sridevi accidentally drowned in a hotel bathtub in Dubai, where she was attending the wedding festivities of nephew Mohit Marwah. After three days, Sridevi was flown back to Mumbai and a condolence meet and funeral were organised by the Kapoors on February 28. COMMENTSSridevi, whose is best known for films like Chandni, Mr India and Nagina, took a sabbatical from the big screen after she married Boney Kapoor in 1996. She made a comeback with English Vinglish in 2012 and Tamil fantasy drama Puli remains one of her last movies. MOM was her last film that released and she has also shot for Shah Rukh Khan's Zero, which releases later this year.
---
Get ready to fall in love with Ronnie, Neha in O Saathi from Baaghi 2
NEW DELHI:MMNN: 10 March 2018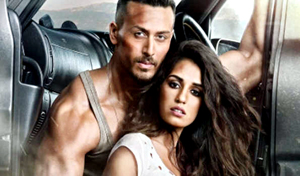 Song O Saathi from Sajid Nadiadwalas Baaghi 2 showcases the innocent and pure love story of two students Ronnie and Neha played by Tiger Shroff and Disha Patani respectively. Featuring Tiger Shroff as the star player and Disha Patani as the cheerleader, the second song from the action film is the perfect love song of the season.The first song Mundiyan showcased the two dancing powerhouses set the dance floor on fire, the second song showcases the love story. One of the most good looking couple, Tiger and Disha prove to be the best example of an ideal college romance.The soulful melody and heartwarming lyrics perfectly compliment the endearing video featuring the leading pair. The trailer had created a mystery behind their love story, O Saathi showcases how the duo fell in love in their early days as students.Baaghi 2 would bring to celluloid the pair of Tiger and Disha for the first time. Sajid Nadiadwala has managed to bring to screen one of the most anticipated pairs of Bollywood. There has been immense excitement amongst the fans to witness the powerhouse of action perform kickass stunts yet again. The trailer has been receiving rave reviews from all quarters. Tiger is being lauded for his deadly action avatar creating anticipation for the film. The second instalment will enhance the action for the audience showcasing Tiger Shroff in a more muscular avatar than the prequel. Co-Produced by Fox Star Studios and Sajid Nadiadwala under the banner name Nadiadwala Grandson Entertainment, Baaghi 2 is directed by Ahmed Khan and is slated to release on March 30.
---
Dil Juunglee Movie Review: Taapsee Pannu And Saqib Saleem's Film Is More Pain Than Fun
NEW DELHI:MMNN: 9 March 2018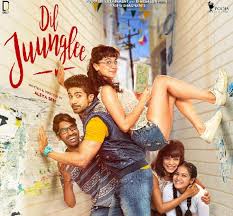 Dil Juunglee Movie Review: Every bit in Taapsee Pannu and Saqib Saleem's film is a bit on the wild side, completely arbitrary and illogical Cast: Tapsee Pannu, Saqib Saleem, Nidhi Singh Director: Aleya Sen Rating: 1.5 Stars (Out of 5) It all begins with a girl in a tearing rush. She is about to elope with her lover. Bites of brinjal sandwiches, loads of airy-fairy talk and a diamond ring later, the flaming red car carrying the twosome veers off a highway and plunges into a river. The duo survives the mishap and ends up in a jungle. The trek through the forest does them no good at all. They disappear ever deeper into the woods as they seek to shrug off the repercussions of the accident. Their fate mirrors that of Dil Juunglee, written and directed by debutante Aleya Sen. The shallow, soulless rom-com never finds a clearing large enough for sunlight to filter in and illuminate the goings-on. Neither the heroine, a corporate scion who is obsessed with romance and aspires to be a writer of love stories, nor the hero, a Lajpat Nagar gym instructor and Bollywood star aspirant, evolves into believable characters that we could wrap our hearts, if not our heads, around. Sumeet Uppal (Saqib Saleem) is hopelessly aquaphobic. The staid Koroli Nair (Taapsee Pannu), who teaches spoken English to the former in order to prepare him for his foray into Mumbai filmdom, keeps coming within inches of being drowned. But the love story of the two, when it plays out on terra firma and wanders off in no particular direction, first in Delhi and then in London, holds no water. It takes the girl nearly two hours to figure out that "we sound really, really boring together". O yes, they do! But by then the boy is too far down the path of unreason to take her seriously and attempt a course correction. "Get a life, Sumeet," Koroli suggests. He refuses to. And so does the film. Dil Juunglee looks pretty in a superficial sort of way, but at no point of its sloppy narrative arc does make any sense even in a superficial sort of way The female protagonist, who is constantly berated by her entrepreneur-dad for not taking any interest in the thriving family business, is a strange creature. Despite being a girl apparently with a mind of her own, she is willing to surrender to a mamma's boy who is easily swayed by the reservations that his mother (Supriya Shukla) has about the prospect of her only son bringing home a manglik bride. It is only when Sumeet refuses to come to her aid when she falls into a river from a rope-bridge that realization dawns on Koroli. She wakes up, discovers her spine, and walks away from a temple wedding, leaving the hero high dry. Seven years on, Koroli, now rid of her hideous wavy wig that she sported in the first half, is in London launching a fashion line of her own and taking active part in the running of her dad's biz empire. She is for good measure also on the verge of marrying Jai Singh Rathore (Santosh Barmola), the uber-rich son of her father's childhood pal. Re-enter Sumit on the pretext of an under-production movie to be shot in London. The mess already created gets infinitely worse as the would-be husband asks Koroli sheepish questions about their compatibility as a couple. Sumeet seems to regard Koroli as his personal property. The girl's suave but feckless fiancee is no better. He repeatedly refers to Koroli as a "deal" - she's been the best deal ever, I know when a deal is off, and so on. It is hard to believe at times that Dil Juunglee isn't Sonu Ke Titu Ki Sweety, that it is a film that has been conceived and executed by a woman. Everything about Dil Juunglee is a bit on the wild side, completely arbitrary and illogical. The screenplay does not, for instance, care to explain why Koroli would want to spend as much time as she does with her ex-flame when her life has moved well and truly away from Sumeet's orbit. Of course, the audience knows where the narrative is headed as Koroli and Sumeet loiter around the city, allowing the camera to take in the sights of London. Without any convincing psychological underpinnings to help it along, the romantic drama can only limp and lurch without striking any highs The acting is rudimentary although it must be said that Taapsee Pannu looks fetching and Saqib Saleem tries his very best to rise above the limitations of the script. In both cases, the effort shows. They both deserve, and are capable of, better. COMMENTSThe other actors in the cast, notably Nidhi Singh in the guise of a garrulous movie starlet for whom the hero falls on the rebound and Shristi Srivastava as the heroine's bestie, ham their way through the film. In one scene, the heroine, dismissing the possibility of her ever reuniting with her former lover, confesses that "we were just kidding, it was a joke". Indeed. But Dil Juunglee does not work even as a joke. It is more pain than fun.
---
International Women's Day 2018: How Virat Kohli Made Anushka Sharma Feel Special
NEW DELHI:MMNN: 8 March 2018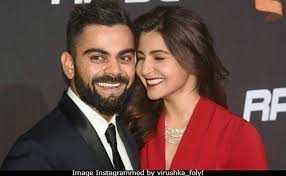 Anushka Sharma is "the extraordinary woman" in Virat Kohli's life, there's no doubt about it. But just to make Anushka feel special on International Women's Day, Virat posted a subtle note on Twitter. "Tag the extraordinary woman in your life who is #BetterThanEqual," wrote Captain Kohli, tagging Anushka. Isn't he just adorable? This is just one of the many sweet, little ways Virat makes Anushka smile. Remember how he contributed to the promotional duties ahead of Pari's release and then even touched down in Mumbai just in time for a special screening. Virat Kohli was playing series matches in South Africa. Apart from being the "extraordinary" one in Virat Kohli's life, Anushka is also Virat's favourite actress, especially after watching Pari. "Watched #Pari last night, has to be my Wife's best work ever! One of the best films I've seen in a long time. Got quite scared but so very proud of you," is how Virat reviewed Anushka's Pari a day ahead of the film's release. Earlier, Virat did not shy away from saying that he was "blown away" by the trailer of Pari and that he "loved" the teaser Moving on, Anushka Sharma also did her part and shared an inspirational message for fans and followers on Women's Day: "Every step makes a difference when you believe in something strongly and do your bit. It might not show immediately but the results do create a ripple and an impact. To all the women fighting for what they believe in, don't give up," she tweeted. After years of being together, Anushka Sharma and Virat Kohli had a big fat Punjabi wedding in December last year after. After the shaadi festivities, Anushka accompanied Virat to South Africa. Virat had stayed on for the series while Anushka returned to work commitments. Pari done, Anushka She also has films like Sui Dhaaga and Zero lined up for release this year.
---
Sridevi Cremated With State Honours. Shah Rukh Khan, Katrina Kaif Attend Funeral
NEW DELHI:MMNN: 28 February 2018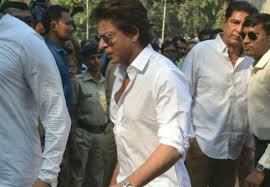 Wrapped in the national flag and dressed in bridal red, iconic actress Sridevi was cremated with state honours in Mumbai on Wednesday. Her last rites were attended by Shah Rukh Khan, Katrina Kaif and other stars, as well as industrialist Anil Ambani. Sridevi was taken to the Pawan Hans crematorium in Vile Parle from the Celebration Sports Club in Lokhandwala, where the film fraternity and thousands of fans, some of them who had come from Chennai and Karnataka, lined up to bid Sridevi farewell. She was then accompanied by her family - husband Boney Kapoor, brothers-in-law Anil and Sanjay Kapoor, stepson Arjun Kapoor and nephew Mohit Marwah - to the last rites. Her glass casket was draped with flowers, an enlarged picture of her forming a backdrop. Tearful fans, holding flowers and photos of the star, crowded the route - a distance of 5 km - from the Lokhandwala club to the crematorium. Shah Rukh Khan, who co-starred with Sridevi in Army, and Katrina Kaif were not among the morning's mourners - they went directly to the cremation. Their December release Zero will see Sridevi in a posthumous cameo. Many others attended the funeral - some, like Vidya Balan, had also been at the Lokhandwala club in the morning. The morning's mourners included most of the Hindi film industry. The South was represented by Chiranjeevi, Sridevi's co-star in several films, Prakash Raj and Tohfa co-star Jaya Prada. Rekha, Hema Malini and Madhuri Dixit were there; Aishwarya, Jaya and Shweta Bachchan; Deepika Padukone, Kajol, Ajay Devgn and Tanuja; Vidya Balan, Shahid Kapoor and Mira Rajput; Tabu, Karisma Kapoor, Raveena Tandon, Jacqueline Fernandez, Amrita Singh and daughter Sara Ali Khan, who is a good friend of Sridevi's daughter Janhvi Kapoor - there were few from the film fraternity who didn't make it. Fans of the Sridevi, who considered to be India's first female superstar, were on the streets holding posters, pictures and flowers. "It's a shock to believe that she is no more. We want to pay her one last visit today and thank her for all her wonderful performances," Nandini Rao, a 32-year-old teacher, told news agency AFP. The heavy police presence at the funeral did not deter those who loved Sridevi. "I'm an avid Sridevi fan. I loved her smiling personality. She had such a commanding presence in the film industry. Her death was so sudden and I feel terrible," 45-year-old Kuldeep Singh told AFP. Sridevi died on Saturday in Dubai. A post-mortem report stated that she drowned due to accidentally drowning in the bathtub of the hotel she was staying in. She was brought to India on Tuesday, after a delay of three days. Sridevi has made 300 films in a career spanning fifty years in several languages. Her best known Hindi films are Sadma, Mr India, Chaal Baaz and English Vinglish. COMMENTSSridevi is survived by her husband Boney Kapoor and two daughters - Janhvi and Khushi.
---
Sridevi's Stepson Arjun Kapoor Flies To Dubai To Be With Dad Boney Kapoor
NEW DELHI:MMNN: 27 February 2018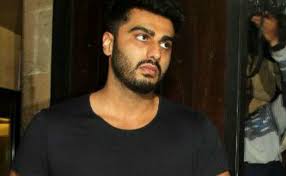 Sridevi's stepson Arjun Kapoor left for Dubai this morning to be with his father Boney Kapoor, Yash Raj Films' PRO told news agency ANI. Sridevi died at a hotel in Dubai on Saturday. She was 54. The PRO informed that Arjun has gone to Dubai to be with his father at the hotel while the formalities are being wrapped up and to oversee the return journey. Meanwhile, Sridevi will be brought to Mumbai later today. On Monday afternoon, Dubai police said that a postmortem revealed that she 'accidentally drowned' in her hotel bathtub. Arjun, an actor, is Boney Kapoor's son with his first wife Mona, who died in 2012. Arjun also has a sister Anshula. Janhvi and Khushi are their stepsiblings. After Sridevi's sudden death, Arjun Kapoor flew to Mumbai from Amritsar, where he was shooting for Namastey England, one of his upcoming films with Parineeti Chopra. Sridevi, along with husband Boney Kapoor and younger daughter Khushi, attended nephew Mohit Marwah's wedding in UAE all of last week. Their elder daughter Janhvi skipped the festivities due to work commitments. Her debut film Dhadak is scheduled to release this year. Most of Sridevi's family members were also in attendance, including Arjun. Sridevi's MOM co-star Adnan Siddiqui was among the first few people to meet Boney Kapoor after Sridevi's death. "When everything was settled, Boney saab called me upstairs. He was there along with a family friend, his wife and a daughter. Boney saab was crying like a baby; he was inconsolable. I was with him until 5 am. He was under a lot of stress, so I advised him to rest, and then left," he told mid-day. COMMENTSA stream of Bollywood celebrities gathered at Sridevi's brother-in-law Anil Kapoor's Mumbai home on Monday to pay their condolences.
---
Sridevi Died A Day Before Himmatwala Anniversary. Co-Star Jeetendra's Memories Of Her
NEW DELHI:MMNN: 26 February 2018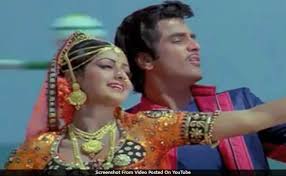 Actress Sridevi died at 54 in Dubai late Saturday (February 24), just a day before her blockbuster film Himmatwala, co-starring Jeetendra, would have completed 35 years. Speaking to mid-day, Jeetendra, 75, revealed that Rekha was the original choice for the film and Sridevi's death has terribly shocked him. "We all know how it changed both our fortunes. Not many know that Rekha was the original choice for Himmatwala. But I guess Sridevi was destined to do the film - she bagged the role and the film became one of the biggest grossers of the year. And with it, Bollywood woke up to the magic of Sridevi. Today [February 25] marked the 35th anniversary of the film's release and it's tragic how she passed away just a day before... I was terribly shocked when I heard about her demise," Jeetendra said. Himmatwala, directed by K Raghavendra Rao, proved to be a turning point in both Sridevi and Jeetendra careers. Sridevi had made her debut as a heroine in Bollywood with Solva Sawan (1979) but it was Himmatwala, which made her a star. It was a remake of Telugu film Ooruki Monagadu, starring Krishna and Jaya Prada. Songs like Nainon Mein Sapna and Taki O Taki were instant hits. "I first met Sridevi at the 100th day jubilee function of one of her Tamil films. I walked up to this bright-eyed girl and congratulated her on her performance. Little did I know that we would be working together in a few months' time. I was going through a low phase after Deedar-E-Yaar (1982) - the film suffered heavy losses, and brought me back to square one as an actor and producer. Sridevi, too, was coming out of Solva Saawan (1979), her debut film as a full-fledged heroine in Bollywood. The film didn't fare well and almost put her out of the Hindi film industry. So Himmatwala, directed by K Raghavendra Rao, was a turning point for both of us," Jeetendra told mid-day. After the successful pairing in Himmatwala, Sridevi and Jeetendra co-starred together in 15 other films, including Tohfa, Majaal, Aag Aur Shola and Ghar Sansaar. "Sridevi was one of my closest co-stars and we did 15 movies together. She was an actor par excellence. What was even more admirable about her was her dedication to the craft - she would keep rehearsing a scene until she was fully satisfied with it. I had deep admiration for her discipline towards her work," Jeetendra told mid-day. "I remember I used to be nervous whenever I would have to dance with Sridevi. She was a fabulous dancer who would get the steps perfectly, right at the first attempt while I had to keep doing rehearsals to match up to her. I have so many beautiful memories of Sridevi. It's still so difficult for me to come to terms with the fact that the woman, who ruled over everyone's hearts with her shy smile and bright eyes, is no more," he added. Jeetendra's son Tusshar Kapoor condoled the death of Sridevi and shared a still from Himmatwala. "Ironically, today is also the 35th anniversary of #Himmatwala! Mam u will be missed! Huge loss for the audiences that welcomed her back to films!" he wrote. His daughter Ekta Kapoor also remembered the megastar. Himmatwala was later remade by Sajid Khan in 2013, starring Ajay Devgn and Tamannaah. Sridevi died after suffering a cardiac arrest in Dubai. She was also the star of blockbusters like Sadma, Lamhe, Nagina, Mr India, Chaal Baaz and Chandni. Her body will be flown to Mumbai on a private jet and the last rites are expected to be performed today. Sridevi is survived by husband Boney Kapoor and daughters Janhvi and Khushi.
---
Sonu Ke Titu Ki Sweety: another hilarious romcom from Luv Ranjan with class act by Karthik
NEW DELHI:MMNN: 24 February 2018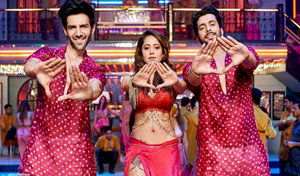 In Pyaar Ka Panchnaama and Pyaar Ka Panchnaama 2, he entertained us with stories on the flip side of love and relationships where men were at the receiving end of the flippancy of the women. In Sonu Ke Titu Ki Sweety, director Luv Ranjan brings to viewers a fresh take on love and relationships with an element of bromance thrown in between. Sonu Ke Titu Ki Sweety is a story about two brothers from another mother, Sonu (Kartik Aaryan) and Titu (Sunny Singh) and Sweety (Nushrat Bharucha), who acts as a spoiler in their relationship. Titu is the sanskaari boy while Sonu is a street smart guy who is aware of all the tricks of love.Everything is fine in life of Sony and Titu till Titus family starts finding a suitable girl for him.Sonu, who has been his best friend at every juncture of Titus life and who has found a family in his parents, is now scared of losing him to a girl. The film is about the happenings among the trio of Sweety, Sonu and Tutu.The film seems to be an extension of the two films in the Pyar Ka Panchnaama series in that the director delves at length on the flippant and crafty nature of women in relationship with men. For instance, the film shows Sonu indulging in attempts to paint Sweety as greedy and one who is after Titus wealth.Infact , attempts by Sonu to paint Sweety as greedy leave the audience laughing in the aisles. As the director, Luv Ranjan gives us another hilarious romcom after the Pyar Ka Panchnaama series. In terms of performances, Karthik Aryan is clearly the best of the lot. After his monologue in Pyar Ka Panchnaama 2, Karthik again impresses with his comic timing. He also manages to look quite hot in the film, which is likely to leave the female audiences drooling over him. As the sanskaari Tutu, Sunny Singh comes across as the epitome of innocence with his innocent boy look evoking a sharp laugh among the audience. .As the greedy Sweety, Nushrat Bharucha does an excellent job. She exudes the required style and attitude for the role.Others like Alok Nath and Virendra Saxena too impress, especially with their ability to evoke laughs. The music of the film is another USP with many foot tapping songs. Hitesh Soniks background music is another highlight and carries forward the story.Sonu Ke Titu Ki Sweety is another hilarious romcom from Luv Ranjan with brilliant performances by the cast.
---
Viral: Kareena Kapoor's Son Taimur Ali Khan Can't Take His Eyes Off Dad, Saif Ali Khan
NEW DELHI:MMNN: 23 February 2018
Taimur Ali Khan's recent picture of him looking at his father Saif Ali Khan's photo has gone viral. Dressed in a blue t-shirt with his curly hair tied in a cute pony, Taimur looked adorable. The picture was shared by one of Kareena's fan clubs. Taimur, who has always been one of the Internet's favourite star kids, surely knows how to get attention - just sit back and look cute. His pictures usually make it to the top trends, even if he's simply peeking over his nanny's shoulder. Take a look at Taimur's picture: Whenever Taimur is spotted with parents or his nanny, he instantly gets followed by the paparazzi, something which really annoys his grandfather Randhir Kapoor. During a media interaction Mr Kapoor said: "Every day, I get up in the morning and I see a picture of my grandson in the newspapers. Now everyone recognises his maid also! That's because of the paparazzi," reported Filmfare. Taimur is Saif Ali Khan's third child and first with wife Kareena Kapoor. Even Kareena doesn't want his son Taimur to be 'looked upon as a star kid'. "I just don't want him to be looked upon as a star kid. I want him to grow up as normally as possible. I want to let him be just the way he is," PTI quoted Kareena as saying. 7 COMMENTSKareena is awaiting the release of Veere Di Wedding, her first film since Taimur's birth.
---
Deepika Padukone And Irrfan Khan's Film With Vishal Bhardwaj Delayed. Here's Why
NEW DELHI:MMNN: 22 February 2018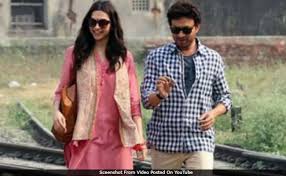 Piku co-stars Deepika Padukone and Irrfan Khan's next film with filmmaker Vishal Bhardwaj has been delayed due to both the stars' health issues. Mr Bhardwaj, who is directing the untitled film announced it on Facebook and wrote, "I am pushing back the film by a few months as both of my lead actors are down with different health problems. Irrfan is down with jaundice and it will take him a few weeks to recover and Deepika Padukone's back problem which had previously developed during the shooting of "Padmaavat" has now resurfaced." On Wednesday, news agency IANS reported that Irrfan Khan has been advised complete bed rest and his team is working on 'rescheduling all his commitments.' Meanwhile, Deepika was reportedly spotted with a bandage on her neck at the airport earlier this week. She suffered a neck injury while filming "Padmaavat" last April. "Her role in the film is very physically demanding and the doctor has advised her not to do any strenuous work for a couple of months. In the past few weeks, I felt like I was back in the days of Maqbool while prepping with them. Deepika and Irrfan's look tests have come out exceptionally well, nothing like you've seen before, and it took me a moment to recognize them when I saw the test photographs. I want both of them to be strong and fit before we start the film," read Vishal Bhardwaj's Facebook post. Is the film a biopic on mafia queen Rahima Khan (Sapna Didi)? No, it's not. Vishal Bhardwaj dismissed the reports suggesting the same and wrote, "I would also like to clear that the film is still untitled and is not based on Rahima Khan/Sapna Didi's life. Yes, it's a take-off from the story Femme Fatale from Hussain Zaidi's book Mafia Queens of Mumbai but as we worked on this idea, the story and screenplay have taken on a new identity and shape which is nowhere close to the above-mentioned names. Hence, it's definitely not a biopic
---
Sridevi Shares Pic From Mohit Marwah's Wedding. Missing - Janhvi
NEW DELHI:MMNN: 21 February 2018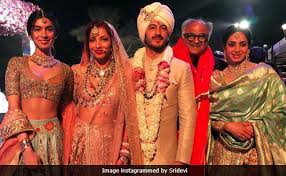 Actor Mohit Marwah is now a married man. The Raag Desh actor married his longtime girlfriend Antara Motiwala on Tuesday in a lavish ceremony hosted in Waldorf Astoria Ras Al Khaimah in UAE. Sridevi was one of the first in the Kapoor family to introduce 'Antara Marwah' to the world. In the picture Sridevi instagrammed, Antara and Mohit posed with her, Boney Kapoor and Khushi. Antara looked pretty in a pastel shade embellished lehenga festooned with kundan, emerald and pearl jewellery. Mohit looked dashing in an ivory sherwani. Sridevi wore a beautiful green embellished lehenga with banarasi dupatta. Khushi looked gorgeous too. Sridevi's elder daughter Janhvi skipped the wedding festivities probably because of her work-in-progress film Dhadak Filmmaker Karan Johar also shared a selfie with the newly-weds. "With the most gorgeous couple. Bless them with years of happiness and love." Take a look at Karan Johar's post here Karan also posted a picture with his 'shaadi poser' partner, Shweta Bachchan. "With the gorgeous Shweta Bachchan at the #antumoh (the wedding hashtag) Shaadi," he captioned the picture. Karan Johar wore a fabulous achkan designed by Manish Malhotra. Several fan clubs shared glimpses of the baaraat procession. Of course, Anil Kapoor was the life and soul of the baaraat with his scintillating dance moves Maheep Kapoor shared the initial few pictures of the baaraat where her daughter Shanaya performed some rituals to be carried out by the groom's sister Mohit is the elder son of Reena and Sandeep Marwah (founder of Noida Film City). Reena is Boney, Anil and Sanjay Kapoor's sister. His younger brother Akshay is a producer. Sonam, Rhea, Arjun, Anshula, Shanaya, Khushi and Janhvi Kapoor are Mohit's cousins. Mohit Marwah made his Bollywood debut in 2014's Fugly and he was last seen in Tigmanshu Dhulia's Raag Desh. Mohit has also featured in short films such as Strangers In The Night (directed by Shakun Batra) and Love Shots - The Big Date
---
Ameesha Patel Trolled For Photoshoot Pics. Why Are We Not Surprised?
NEW DELHI:MMNN: 20 February 2018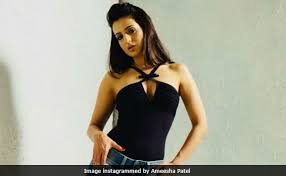 Actress Ameesha Patel posted pictures from a photoshoot on Instagram, which have gone viral because of some vile comments posted by social media trolls. The 41-year-old actress shared two similar pictures from a recent photoshoot, which were bombarded with appalling comments. Some Instagram users slut-shamed her for 'posing without clothes' while some comments read: "Pull that bed sheet further down and reveal more." Some Internet users also called the Kaho Naa... Pyaar Hai actress "aunty" adding, "(She is) now old with bags under her eyes." Ameesha Patel debuted opposite Hrithik Roshan in Kaho Naa... Pyaar Hai in 2000. It seemed like Ameesha was in the game to stay after her second film Gadar: Ek Prem Katha rocked the box office. Soon her success graph deteriorated with projects such as Aap Mujhe Achche Lagne Lage (also with Hrithik) and Kya Yehi Pyaar Hai, but there were occasional hits like Humraaz and Bhool Bhulaiyaa. Her upcoming projects are Bhaiyyaji Superhitt and Desi Magic. COMMENTSIn the last few years Ameesha featured in the headlines for all the wrong reasons. In 2016, she snubbed actress Pooja Hegde, who debuted opposite Hrithik Rohan in the ill-fated Mohenjo Daro, saying: "I'm sorry that Mohenjo Daro didn't do well, and the plan was to come with a newcomer, but every film cannot achieve the same success as Kaho Naa... Pyaar Hai." Before that it was reported by mid-day that she flipped out at a journalist who called her by her name, saying, "Call me Ameesha ji."
---
BAFTA 2018: Complete List Of Winners
NEW DELHI:MMNN: 19 February 2018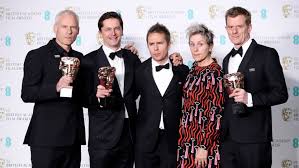 Crime drama Three Billboards Outside Ebbing, Missouri won maximum prizes at the British Academy of Film and Television Arts (BAFTA) Awards, which took place at the Royal Albert Hall in London on Sunday. (Monday morning in India). Three Billboards Outside Ebbing, Missouri swept five trophies including Best Film, Best British Film and the Best Actress for Frances McDormand. Gary Oldman's Darkest Hour won two awards, including the Best Actor prize for his performance as Winston Churchill in the film. Both Frances McDormand and Gary Oldman won a Golden Globe last month and have also been nominated in the Best Actress, Actor category respectively at next month's Oscars. The Shape of Water took three trophies, including Best Director for Guillermo Del Toro. COMMENTSHere's the list of winners for BAFTA 2018: Best Film: Three Billboards Outside Ebbing, Missouri Outstanding British Film: Three Billboards Outside Ebbing, Missouri Director: Guillermo Del Toro, The Shape of Water Best Actress: Frances McDormand, Three Billboards Outside Ebbing, Missouri Best Actor: Gary Oldman, Darkest Hour Best Supporting Actress: Allison Janney, I, Tonya Best Supporting Actor: Sam Rockwell, Three Billboards Outside Ebbing, Missouri Best Cinematography: Roger Deakins, Blade Runner 2049 Original Screenplay: Martin McDonagh, Three Billboards Outside Ebbing, Missouri Adapted Screenplay: James Ivory, Call Me by Your Name British Short Film: Cowboy Dave British Short Animation: Poles Apart Outstanding Debut By A British Writer, Director Or Producer:I Am Not a Witch, Rungano Nyoni (writer/director), Emily Morgan (producer) Special Visual Effects: Blade Runner 2049Best Animated Film: Coco Best Film Not In The English Language: The HandmaidenBest Documentary: I Am Not Your Negro Best Production Design: Paul Austerberry, Jeff Melvin, Shane Vieau, The Shape of Water Best Editing: Jonathan Amos, Paul Machliss Baby Driver Best Sound: Dunkirk Best Original Music: The Shape of Water Best Costume Design: Phantom Thread Best Make Up & Hair: Darkest Hour The Ee Rising Star Award (Voted For By Public): Daniel Kaluuya
---
Pari Trailer: Who's Afraid Of Anushka Sharma? You Will Be
NEW DELHI:MMNN: 16 February 2018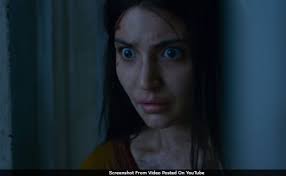 The trailer of Anushka Sharma's upcoming film Pari was just unveiled and it is every bit horrifying. The trailer opens on Anushka Sharma and a spooky voice echoes in the background. "Jiss kaam ke liye bani hai na, vo kaam jaan jao ho gaya," is heard. Later, Parambrata Chatterjee's character is introduced, who rescues Anushka Sharma, against the wishes of his mother. He asks her, "Kaun maarna chahta hai?" Her reply - "Vo aadmi." Enter Rajat Kapoor. It seems that Anushka plays the role of a possessed girl. However, it is unclear whether she will star in a double role in the film. Now, coming back to Pari trailer. As mentioned earlier, it is surely not for the faint-hearted and it 'isn't a 'fairy tale.' Pari is Anushka's third film as a producer, after NH10 and Phillauri. The film is directed by Prosit Roy. She co-owns the production house Clean Slate Films with her brother Karnesh Sharma. Actor Parambrata Chatterjee is best-known for his role in Vidya Balan's Kahaani. Anushka has earlier scared the heck out of us with some spooky screamers and posters of Pari. Like these: Pari releases on March 2 (during Holi). Ready for it? After Pari, Anushka Sharma has Zero and Sui Dhaaga lined-up for release.
---
T-Series, Nikkhil Advani to produce thriller starring John Abraham
NEW DELHI:MMNN: 15 February 2018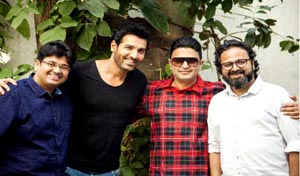 Bhushan Kumars T-Series and Nikkhil Advanis Emmay Entertainment have come together to jointly produce a thriller starring John Abraham and Manoj Bajpayee. The movie is written and directed by Milap Zaveri. We are extremely excited by this joint venture. Nikkhil and his team are creatively and technically extremely competent. Milap has the pulse of masses and classes and has written a racy script with extremely powerful scenes and dialogues. John and Manoj are a perfect fit in their respective roles and it is no surprise that they came on board instantly says Bhushan Kumar, head honcho of T-Series. Nikkhil said, T-Series is the best studio to present this film as they provide producers like me best in class marketing support and exhaustive distribution reach to our audiences. We trust them fully and are very pleased to have them on board. The film goes on floors on March 5 and will release in the second half of 2018
---
Priya Prakash Varrier Reveals That The Wink Which Went So Viral Was Spontaneous
NEW DELHI:MMNN: 14 February 2018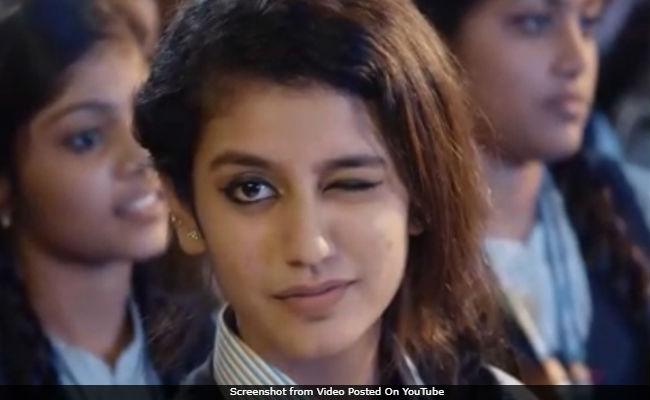 Malayalam actress Priya Prakash Varrier became an Internet sensation last weekend with just a wink. A video clip of Priya, from her upcoming film Oru Adaar Love, went insanely viral. However, the young actress says that the wink was spontaneous and she never thought that video clip would become such a hit.' In an interview to NDTV, Priya Prakash Varrier said, Actually, the director wanted to capture something cute between me and my hero. So he told me if I can do the eyebrow thing and wink at him. I told him that I could give it a try. Thats how it worked out. It was spontaneous and we hadnt planned anything. The Internet was smitten with Priyas wink. The viral clip is from a song titled Manikya Malaraya Poovi from the film Oru Adaar Love. In the song, Priya flirts with a fellow student (co-star Mohammed Roshan), who like everyone else, is overwhelmed by the wink and smile. I never thought this would become such a sensation. Everybody told me that it was good. But I never expected it to become a big hit, she added. The viral clip sent the Internet into a meltdown. #PriyaPrakashVarrier has been trending on and off since a couple of days. On being called the nations new crush, Priya said, I am very happy and exciting. So many people falling in love and all that, its new but Im very happy. The Internet calls the viral clip a perfect Valentines Day gift and some are actually reliving their high school romance days through it. But, for Priya, its nothing like that. As I am studying in a womens college now, it was really nice to have a gang full of people of my own age. We had fun on the set. I remember my mixed school education time at that moment, she said. The official Manikya Malaraya Poovi clip has been watched over 14 million times (and counting on YouTube). Her Instagram account got verified and with just less than 100 posts, Priya has over 2.8 million followers now. Priya says, with such a response, she's a bit 'tensed.' "I'm tensed about that because it is a big responsibility now. People have a lot of expectations from me now. When the movie releases, I hope to keep up with the expectations and do my level best, concluded Priya.
---
T-Series, Nikkhil Advani to produce thriller starring John Abraham
NEW DELHI:MMNN: 15 February 2018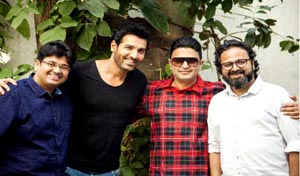 Bhushan Kumar's T-Series and Nikkhil Advani's Emmay Entertainment have come together to jointly produce a thriller starring John Abraham and Manoj Bajpayee. The movie is written and directed by Milap Zaveri. 'We are extremely excited by this joint venture. Nikkhil and his team are creatively and technically extremely competent. Milap has the pulse of masses and classes and has written a racy script with extremely powerful scenes and dialogues. John and Manoj are a perfect fit in their respective roles and it is no surprise that they came on board instantly" says Bhushan Kumar, head honcho of T-Series. Nikkhil said, 'T-Series is the best studio to present this film as they provide producers like me best in class marketing support and exhaustive distribution reach to our audiences. We trust them fully and are very pleased to have them on board.' The film goes on floors on March 5 and will release in the second half of 2018
---
Sui Dhaaga First Look: Anushka Sharma As Mamta And Varun Dhawan As Mauji Look Perfect Together. Seen Yet?
NEW DELHI:MMNN: 13 February 2018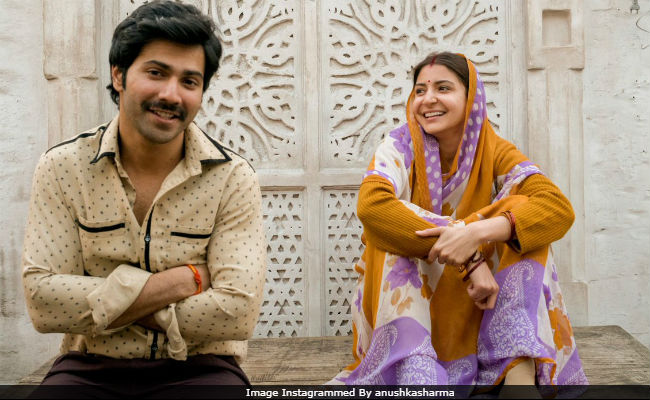 The first look of Anushka Sharma and Varun Dhawan's forthcoming film Sui Dhaaga was unveiled last night. Anushka plays Mamta while Varun stars as Mauji in the film. In the poster, Anushka and Varun are all smiles and look like a perfect couple from a small town. Anushka is seen wearing a sari and perfects her look with a small bindi and sindoor. Varun's sports a moustached look and is wearing a cream-coloured shirt along with brown trousers. Sui Dhaaga is Anushka and Varun's first film together. "Mamta aur Mauji aa rahe hain 28 September ko," Anushka wrote while sharing the first look on social media. Varun also shared a picture of them from the film. Sui Dhaaga is directed by Sharat Katariya. Sui Dhaaga is based on the ideology of Make In India. On Gandhi Jayanti, the actors revealed details about their film. "A dream, #MadeInIndia. He made it happen for us. Team Sui Dhaaga bows down to Mahatma Gandhi," Varun tweeted along with a video. Of the film, Varun earlier told news agency PTI, "From Gandhiji to Modiji (Narendra Modi), our country's leaders have always endorsed the mantra of Made in India. With Sui Dhaaga, I am proud to take their message to millions of movie lovers in a manner that is entertaining and relevant. I really liked the script Sharat had written and I am happy that I am teaming up with YRF on this movie. Anushka and I are teaming up for the first time so I am sure there will be fireworks." While Anushka Sharma said, "It's a story of self-reliance that I believe will connect with every Indian. And I am really looking forward to work with Varun and the team of Maneesh and Sharat."
---
Anushka Sharma And Virat Kohli To Appear On Koffee With Karan? An Update
NEW DELHI:MMNN: 12 February 2018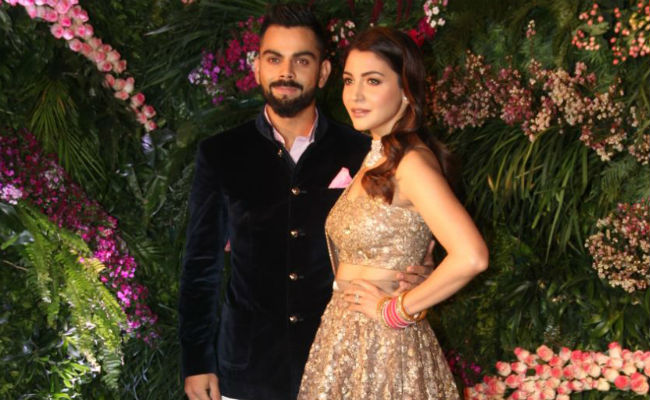 Anushka Sharma and Virat Kohli will not appear on Karan Johar's talk showKoffee With Karan 6 together, the actress' spokesperson confirmed. Over the last few weeks, several media reports claimed that the couple are likely to appear on Koffee With Karan 6 and just a couple days ago, Bollywood Hungama reported that Anushka would come on the show to promote her forthcoming film Pari while Virat might appear for two segments. "There is absolutely no truth to the rumours doing the rounds that Anushka Sharma and Virat Kohli will be on the next season of Koffee With Karan. Request you to please refrain from any such conjecture," Anushka Sharma's spokesperson said in a statement. Actress Anushka Sharma and cricketer Virat Kohli, both 29, married at a Tuscan resort in Italy in December. The ceremony was attended by only family members. Two receptions were held in New Delhi and Mumbai, respectively. Post that, the couple flew to South Africa, where Virat is currently playing an ODI series. Anushka came back to Mumbai after celebrating New Year, to resume her work commitments. The Bollywood Hungama report stated, "Anushka Sharma and Virat Kohli are not keen on doing any talk show together. But Karan may tempt them if he mixes business with pleasure. So Anushka would come on Karan's show to talk about her film Pari, which she stars in and produces. She will be accompanied by the film's co-producer Prernaa Arora. Virat may just join the two ladies for one or two segments." Meanwhile, there's also no confirmation on when Koffee With Karan 6 will air on television. COMMENTSAnushka has previously appeared on various seasons of Koffee With Karan. Last year, she shared the couch with Katrina Kaif, her Jab Tak Hai Jaan and Zero co-star. Anushka Sharma's Pari releases next month on March 2. She has Zero and Sui Dhaaga in the pipeline.
---
Amitabh Bachchan admitted in Mumbai hospital
NEW DELHI:MMNN: 10 February 2018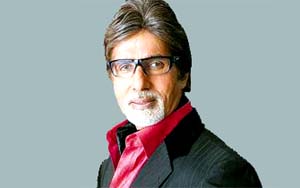 Mumbai: Bollywood's star of the millennium, Amitabh Bachchan, was admitted to the Lilavati Hospital in western suburb of Bandra on Friday for a routine check up. Mr Bachchan was earlier admitted in the hospital on few occasions, after he had complained of abdominal pain.
---
PadMan Movie Review: Akshay Kumar Is Modest And Masterful In This Solid Film
NEW DELHI:MMNN: 9 February 2018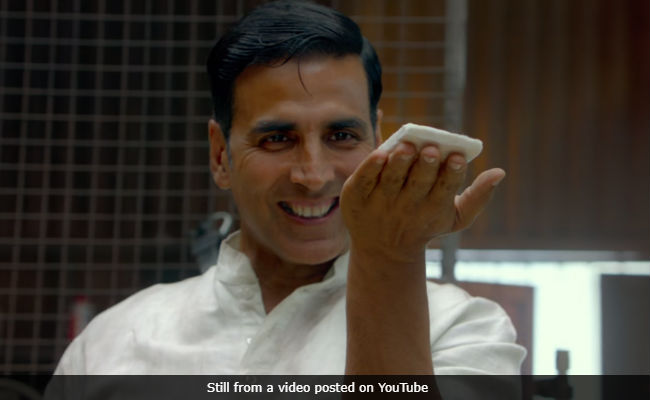 ast: Akshay Kumar, Sonam Kapoor, Radhika Apte Director: R Balki Rating: 4 Stars (Out of 5) Heres to the ones who cant sit still. Unlike his wife and neighbours, Lakshmikant Chauhan is unimpressed by the Hanuman idol at a village fair that breaks coconuts inserted in its mouth, simply because he can see how it works. Lakshmi makes things. He works in a factory, welding chains onto playground swings and taking care of whatever needs fixing, but he is at heart a questioner of the status quo and a finder of solutions. One of the first things we see him do is repurpose a wind up toy into an onion chopping machine, in order to spare his wife some sobs. Based on the extraordinary life of innovator Arunachalam Muruganantham, PadMan is a film about those who need to take things apart in order to build something better. Muruganantham did this with pads as well as with stigma. Menstrual hygiene is still an alarmingly taboo subject in India, with education and urbanity unable to prevent, for instance, a woman with her period from attending family rituals. There is an infuriating notion of the unclean attached to the period a notion that makes little sense in a country full of mother goddesses and is it a subject most conversations skirt away from. It is therefore impressive to watch this story told featuring Akshay Kumar, a mainstream hero known for his bulletproof manliness. In R Balkis inspiring and touching film, we have this very hero trying on a sanitary napkin, then riding a bicycle with his trousers bloodied. In a country where people buy undershirts based on what Kumar claims to wear, this feels historic. It is important here to note that while many a film can be labelled relevant or commendable, that does not automatically make it a fine film. PadMan written by Balki and Swanand Kirkire, based on a short story by Twinkle Khanna is a genuinely strong movie, telling an unlikely story in likeable fashion and doing it briskly and smartly. This is not a groanworthy melodrama or a government flattering Public Service Announcement or an overt collection of cliches (all descriptions that suit Kumars 2017 film Toilet), but instead an intelligent film that pays attention to detail. It is a film that aims for nuance. Like Muraganantham in real life, Lakshmi is branded a pervert for his single minded focus on creating affordable sanitary napkins, and the film allows us to relate both to his noble enthusiasm and to his familys inability to understand his attempts. Lakshmi is shushed by a chemist and told not to say sanitary pad out loud because women are present. But theyre the ones who use it, protests Lakshmi, confounded by the need to treat a medical product like a contraband drug. A disgusted villager calls him a dheele naade ka aadmi, literally a man with pants that come off too easy. Lakshmis wife, meanwhile, is perpetually distraught by her husbands obsession with impure things, and desperately asks, What kind of a man has his life trapped between a womans legs All he wants to do is serve. Lakshmi lovingly wraps each batch of homemade napkins in leaves and puts a jasmine flower on top. The films first song Aaj Se Teri tells us that Lakshmi has devotedly given himself over to his wife and will do anything for her, and asks merely for a smile, or for her to make malpua for him once in a while. Written by Kausar Munir, the songs have consistently superb lyrics. There is a particularly terrific line during one performed at a young girls coming of age function, saying kal tak thi gul, ab gulel lagegi, meaning she was a flower till yesterday but today shes the catapult from the plucked to the weaponised an intentionally pointed line in a film about giving women the power of choice. The first time we see Kumar, hes been catapulted already. Hes smiling his trademark smile wider than ever that broad grin of a good-looking doofus looking as if he cant believe his luck at getting married. The actor is exceptional in the film, calm and keen-eyed when at work, and it takes balance and restraint to play a character so singular and earnest and yet never appear cloying. There is a tenderness to his touch, be it when lifting a fingerful of candyfloss or when patting a girl s pillow with mosquito ointment (instead of daring to touch her). At one point, when a sanitary napkin of his making is described by a first user as just another pad, this attaining of regular status makes him swell with glee. It is an undoubtedly affecting performance, and one of the actors best. He is simplistic but never a simpleton. There are times Kumar appears naive, but only in the way that people who change the world often do. Radhika Apte, who plays his wife, performs entirely in gasps of different registers everything is a shock to this immediately appalled wife but she is evocative enough to make the whimpering work. Sonam Kapoor, who plays Lakshmis first user and later his assistant (modelled somewhat on the English language teacher Muruganantham had a crush on) provides a sharp contrast as the exact opposite, an entitled girl who, on hearing Lakshmi say abhishaap (curse) believably asks abhi what She is, importantly, the one who emphasises the importance of a female voice in the empowerment of women. Even women in villages dont like mansplaining. The cinematography by PC Sreeram is characteristically strong, with lots of aerial shots to emphasise greens and wide shots to establish the world. Amit Trivedis music is rather lovely, though the background score is irritatingly overdone as it tries to spell things out, swelling with hope and sighing with despair and doing so repetitively enough for us to notice. This is one of the reasons why, at some points, the film feels stretched, since we see Lakshmis triumphs converting some people over, and then again have to wait for further triumphs to convert the rest. Still, the lack of overwrought hysterics and a fine pace keeps the story ticking. The film ends with a grand speech delivered to the United Nations in a peculiar pidgin English, something Lakshmi winningly calls Linglish. It is a smashing speech, given to us in full, and really puts things in perspective as we see how, without an eye on profit or commerce, this inventor soldiered on to make the world a cleaner place. I loved this stretch because, for once, broken English was not played for laughs but for sincerity, and because Kumar handles it masterfully. Many years ago, there was a song with the words na main Amitabh, na Dilip Kumar, na kisi hero ke bachche, celebrating that Kumar may not be an all-conquering talent like those titans or the son of a kid, but was instead plain old Akshay (Akshay-Akshay, as that song goes.) More than two decades later, as Kumar attaches a makeshift bladder to pink underwear and squeezes it with joyous impunity, the song has changed. The PadMan title track revels in the fact that he doesnt have to break bones in slow-motion or leap tall buildings in order to be a superhero. Films like this are why a new actor may someday mouth a song about how he isnt Akshay Kumar. The cape is optional when the wings are built in.
---
Shahid Kapoor On Daughter Misha Getting Paparazzi Attention: 'What's Her Fault?
NEW DELHI:MMNN: 8 February 2018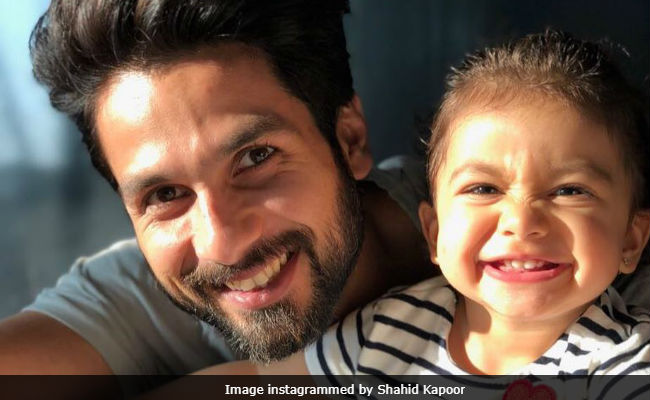 Shahid Kapoor's one-year-old daughter Misha is as popular as her father but the 36-year-old actor told mid-day that he 'hates' the paparazzi attention on his toddler. "My daughter didn't choose this glamorous life. What's her fault?" he told mid-day. Shahid Kapoor, who was recently seen in "Padmaavat," added: "I hate to think of all the glare that's on her. That is probably the only time I feel I should have had another job. I don't want her to deal with it. It's not good for children to go through this. They have a right to a normal childhood." Shahid Kapoor also said that he had a 'regular childhood' despite being the son of actors Pankaj Kapur and Neelima Azeem. "No one knew I was Pankaj Kapur's son till I joined the industry. It was only after an IMDB page about me was made that people discovered who my father is. My mother was a struggling actor, who separated from my dad when I was growing up. I got to know my father only after turning 18. So, I had a regular middle-class childhood, devoid of attention," the Ishq Vishq actor told mid-day. But it's not the same for Misha, who was born in August 2016. "She has to deal with it because I am her dad. It's tough for me, as a parent, to make peace with that. I hope she will learn how to tackle it when she grows up," Shahid Kapoor told mid-day. Earlier, Shahid Kapoor's wife Mira Rajput has also requested the paparazzi to keep a distance from their children, when pictures of Misha playing in a park went viral. 1 COMMENTSSeveral Bollywood celebrities such as Rani Mukerji and Kajol among others have also spoken against the paparazzi clicking pictures of their children. Rani Mukerji earlier revealed that her husband Aditya Chopra is absolutely against sharing pictures of Adira on social media (she was missing from the photos of her own birthday party). She also told news agency PTI that they took steps to shield Adira from the shutterbugs. "My husband being a private person wants Adira to have a normal upbringing. Seeing the circumstances around her, where the parents are slightly known, there will always be an intrigue as to 'how our child is?'. You don't want them to have extra privileges or importance. You want them to grow up as normal people," Rani told PTI
---
A Rajiv Gandhi Story on "Telugu Pride" In PM Modi's Parliament Offensive
MMNN:7 February 2018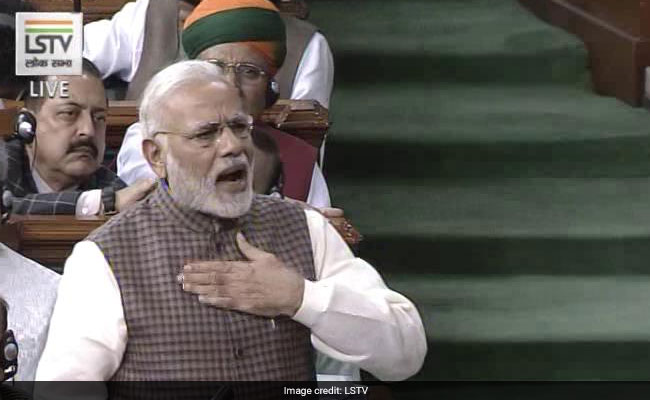 Prime Minister Narendra Modi once again showed that he is most certainly a smart politician. That is why while he was still being heckled by the Telugu Desam Party (TDP) and other parties in parliament over unfulfilled promises to Andhra Pradesh, he spoke about "Telugu pride". Hitting two targets with one stone, PM Modi made a reference to a widely known incident in which Rajiv Gandhi, the father of Congress president Rahul Gandhi, called then Andhra Pradesh Chief Minister T Anjaiah of the Congress a "buffoon" at Hyderabad's Begumpet airport in 1982. Rajiv Gandhi, who was then Congress general secretary and had arrived in Hyderabad for a private visit, had reportedly lashed out at Mr Anjaiah publicly for bringing a large number of party men to the airport tarmac. PM Modi said it was in reaction to this insult of a "Dalit chief minister" that legendary actor NT Rama Rao left films and decided to start the TDP to save "Telugu atmagouravam" or Telugu pride. Raising that episode in parliament to demonstrate what he repeatedly called the Congress's arrogance and patchy record with democracy, PM Modi ripped into the opposition party for "dividing" Andhra Pradesh, likening it to the 1947 partition. "This is your character. You divided India. Even after 70 years of Independence, 125 crore people of India continue to suffer because of the poison you sowed. Not a single day passes when people of India are not punished for your sins," PM Modi said, speaking in the Lok Sabha on the Motion of Thanks to the President's address. As he was speaking, there was slogan-shouting by some MPs demanding a financial package for Andhra Pradesh as promised by the government when Telangana was carved out of it. The Prime Minister said the Congress "hastily" divided the southern state for political gains. COMMENTSPM Modi's comments are significant at a time the TDP, his party's biggest south ally, has been displaying its anger at what it feels the centre's neglect. TDP chief Chandrababu Naidu, the Chief Minister of Andhra Pradesh, is deeply upset that his state didn't get a special consideration in the Budget. It took phone calls from Amit Shah and Rajnath Singh to calm him on Sunday, when he met with top party leaders to decide on the future of the alliance.
---
Priyanka Chopra's Relationship Status: Single But Used To Be In 'Committed Relationship
NEW DELHI:MMNN: 7 February 2018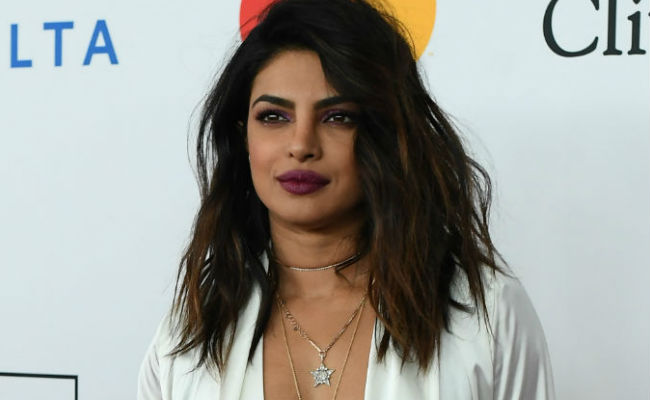 Priyanka Chopra has an extremely hectic work schedule - we have all seen her Instagram posts - but she did find time to date, the actress revealed in an interview with Filmfare. Priyanka, 35, covers the latest issue of the magazine and was unusually candid (for her) about her current - single - and past relationship status - 'double,' as she put it. What we learnt: she used to be in a 'committed relationship' till about a year ago, she hasn't dated a Quantico co-star, she's been 'wooed' but is still waiting for her 'mind to explode.' Okay then. Let's take it one at a time. Asked about her relationship status, Priyanka Chopra she said: "Right now, I'm single. Of course, I've been double ya! What do you think I'm a saint? But recently, I've been single. Let's just say that." No, she hasn't dated any of her Quantico co-stars (because they are married) and yes, she has dated an American. She also told Filmfare: "I'm a serial monogamist. I was in a very committed relationship. But since almost a year, I've been single. I've met a bunch of people. I've gone out with people. I let someone woo me but no... My mind hasn't exploded, not yet." No names were named, and we're not surprised. It's unlikely we'll ever know who the mystery guy Priyanka was 'committed to' was. Super busy Priyanka Chopra is currently filming the third season of Quantico - only yesterday she posted a picture from a group script reading session for the 309th episode. Quantico also stars Jake McLaughlin (Priyanka's onscreen love interest), Blair Underwood and Yasmine Al Massri among others. Apart from Qauntico, which made her a household name, Priyanka made two Hollywood films A Kid Like Jake (which was screened at the Sundance Film Festival) and Isn't It Romantic?. COMMENTSIn Bollywood, Priyanka Chopra was last seen in Jai Gangaajal. She has produced several regional films like Ventilator in Marathi, Sarvann in Punjabi and Sikkimese film Pahuna. However, Priyanka hasn't announced her next Bollywood film yet. Priyanka Chopra is likely to be spotted at the Oscars next month - she appeared in one of the visuals used to announce the nominations some weeks ago.
---
Lakme Fashion Week 2018: Sisters Kareena And Karisma Kapoor Make Final Day Extra Glam'''.
NEW DELHI:MMNN: 5 February 2018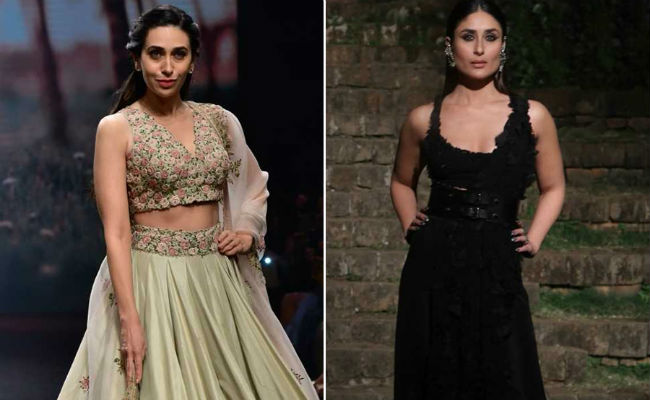 The Lakme Fashion Week 2018 ended on a flawless note with sisters Kareena Kapoor and Karisma, who made head-turning appearances as showstoppers. Dressed in a stunning black ensemble, Kareena walked the runway for designer Anamika Khanna. The Jab We Met actress looked ethereal in a black cropped top and a matching skirt teamed up with a broad belt. With her hair slicked back, Kareena went for nude makeup with a hint of winged eyeliner, which complemented the tone for the night. Karisma Kapoor walked the ramp for label AARBEE by designer Ravi Bhalotia, dressed in breath-taking white silver embroidered lehenga choli. Speaking of her appearance at the event, Karisma posted a video on Instagram, which she captioned: "It was a pleasure walking for @aarbee_by_ravi_bhalotia #midsummerwreath#collection #@lakmefashionwk #lfw2018#showstopper @6degreeplatform @instagladycame @maddiea24 styled by @mohitrai Before stepping out for their respective runway appearances, Karisma and Kareena, shot for a teaser video, which was posted by the former on her Instagram page, along with a caption: "#rockedit #bebo both in @anamikakhanna.in lfw2018 #grandfinale #sistersister #blackandwhite." Both Kareena and Karisma were in Goa last week, to attend their friend Amrita Arora's 40th birthday party. They definitely set sister goals, dressed in boho- tribal and glittery outfits. They were joined by Saif Ali Khan, Shakeel Ladak, Seema Khan, socialite Natasha Poonawalla and others. COMMENTSKareena Kapoor, who was last seen in 2016's Udta Punjab, is currently busy with her next project Veere Di Wedding. The film also starring Sonam Kapoor and Swara Bhasker, is expected to release in June. Kangana Ranaut, Shilpa Shetty Kundra, Swara Bhasker were also among others, who walked the runway at the Lakme Fashion Week 2018 grand finale.
---
Shah Rukh Khan Almost Ignored Ranveer Singh On Twitter. Here's Why'''.
NEW DELHI:MMNN: 3 February 2018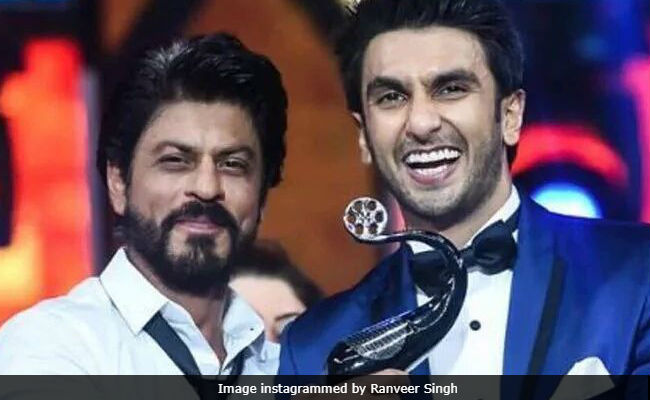 On Friday, Ranveer Singh plugged "Padmaavat" promotion during Shah Rukh Khan's #AskSRK session and was initially ignored by the 52-year-old actor. Hours after he ended the #AskSRK session, the Jab Harry Met Sejal actor replied to Ranveer's tweet about his new film Padmaavat. SRK's excuse for delayed reply - he didn't recognise it was Ranveer Singh. He tweeted: "So sorry didn't realise it was you, because now you are Khilji (Ranveer played Alauddin Khilji in "Padmaavat") for me. Bahut acchhi picture hai bhai... I saw it and loved it." Happy, Ranveer? Padmaavat," which released on January 25, has collected Rs. 166 crore so far. The Sanjay Leela Bhansali-directed film also stars Deepika Padukone and Shahid Kapoor. Ranveer Singh's portrayal of uncouth Alauddin Khilji has been praised by several Bollywoodwallahs, including Amitabh Bachchan. 1 COMMENTSEarlier today, Shah Rukh Khan decided to interact with his fans on Twitter on "one of those rare days" when he was "free at home and family is working," he tweeted. Naturally, Shah Rukh Khan was flooded with questions about his upcoming film Zero, the ongoing U19 world cup and also some puzzles. He was funny, as always, during the interaction. Here are few examples: Shah Rukh Khan was last seen in 2016's Jab Harry Met Sejal, which tanked at the box office. His next film is Aanand L Rai-directed Zero, co-starring Anushka Sharma and Katrina Kaif.
---
Tagged By Twinkle Khanna, Aamir Khan Poses With Sanitary Pad In 'PadMan Challenge'''.
NEW DELHI:MMNN: 2 February 2018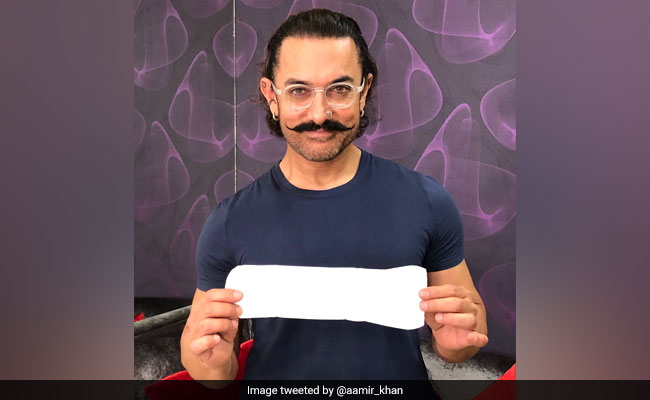 PadMan producer Twinkle Khanna nominated her friend Aamir Khan for the PadMan challenge, in which the superstar had to pose with a sanitary pad and further nominate three people. Aamir Khan obliged soon. He just posted a picture with a pad and wrote, "Thank you @mrsfunnybones. Yes, that's a pad in my hand & there's nothing to be ashamed about. It's natural! Period. #PadManChallenge. Copy, Paste this & challenge your friends to take a photo with a pad. Here I am Challenging @SrBachchan , @iamsrk & @BeingSalmanKhan." (Aamir, that's so cool). The 52-year-old actor has nominated Amitabh Bachchan, Shah Rukh Khan and Salman Khan for the PadMan challenge. Twinkle Khanna was nominated by Arunachal Muruganantham, a Tamil Nadu-basded entrepreneur on whom PadMan is based on. Apart from Aamir, Twinkle, in her tweet, has also nominated actress Shabana Azmi and businessman Harsh Goenka PadMan is headlined by Akshay Kumar (Twinkle Khanna's husband) and is directed by R Balki. The film is based on Mr Muruganantham's life, who invented low-cost sanitary pad making machines and created menstrual hygiene in his village. Twinkle Khanna spoke about PadMan at the Oxford Union last month. In her speech, she mentioned about the taboos about menstruation and how meeting Arunachalam Murugunantham inspired her to make PadMan. "PadMan is not just a film, it's a movement. I hope now woman will not be held back or embarrassed by their biology."
---
Lakme Fashion Week 2018: Shahid Kapoor And Mira Rajput Turn Heads As Showstoppers''.
NEW DELHI:MMNN: 1 February 2018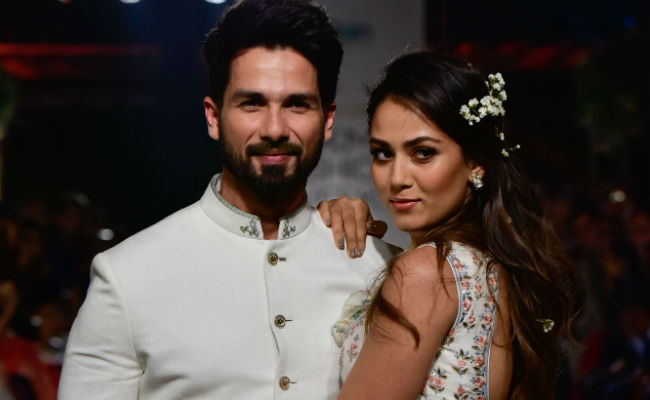 "Padmaavat" actor Shahid Kapoor and wife Mira Rajput, was the first couple to walk as showstoppers for designer Anita Dongre, on Day 1 of the Lakme Fashion Week 2018, held in Mumbai. Shahid and Mira looked like a couple straight out of a fairy tale. Their Instagram pictures are a proof. Dressed in an ivory bandhgala-sherwani, Shahid Kapoor looked a dapper groom and wife Mira looked an ethereal bride in a matching floral-printed lehenga choli. Shahid Kapoor and Mira Rajput, who for the very first time walked as showstoppers for designer Anita Dongre, also made their debut at the Lakme Fashion Week 2018. After the show, Shahid tweeted, "Excited to have walked for @anitadongre 's @lakmefashionwk collection tonight. Great to see creations that will truly define #FutureCouture, designed with exclusive fabrics of the future from R | Elan @RElanOfficial." Shahid Kapoor has walked the ramp for Lakme Fashion Week, before, but it was Mira's debut at the ramp. Also, it was their very first walk as showstoppers for Lakme Fashion Week. Designer Anita Dongre posted a picture of her along with her showstoppers for the night, which she captioned: "Here's our bride and groom @mira.kapoor and @shahidkapoor singing the songs of summer @lakmefashionwk." Even the team of Lakme Fashion Week, couldn't resist posting a cute picture and a video of the couple. Last week, both Shahid and Mira had posted their "evening swag" pictures ahead of their appearance at the HT Most Stylish Awards. The couple even bagged the Most Style Couple Award, the same night and looking at their pictures, can we question the decision? Shahid Kapoor played the role of Maharawal Ratan Singh in the recently released "Padmaavat", also starring Deepika Padukone and Ranveer Singh. The film was released on January 25. Shahid will be next seen in Batti Gul Meter Chalu. The film is scheduled to release this year on August 31.
---
Swara Bhasker On "Padmaavat" Letter: 'Didn't Expect So Much Chaos For Using The V-Word''.
NEW DELHI:MMNN: 31 January 2018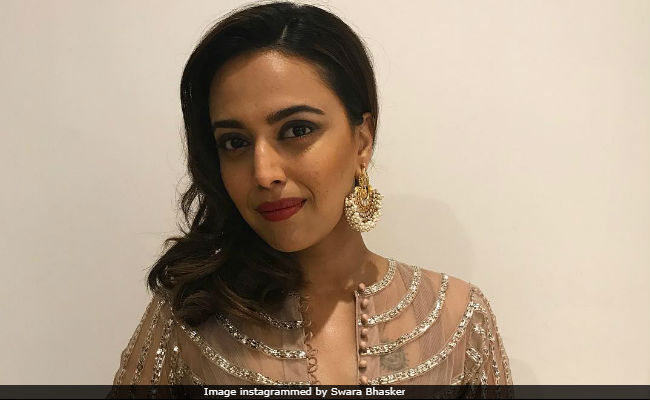 Actress Swara Bhasker has spent this week waging war against trolls on Twitter, ever since her open letter to "Padmaavat" director Sanjay Leela Bhansali was published on The Wire. Her op-ed is critical of the film's glorification of jauhar and sati and details how Swara felt 'reduced to a vagina' after watching it. Twitter has similarly reduced Swara's open letter to the word 'vagina,' which the actress has addressed in tweets and now in a quote to news agency ANI, saying she didn't "expect so much chaos just because of a word that starts with 'V'". Swara Bhasker's letter, which went viral, underlined the right of women to live despite the horrors of sexual violence and deaths of their men. The controversial "Padmaavat" is based on the legend of Padmini, the Rajput queen supposed to have committed jauhar when Sultan Alauddin Khilji invaded her kingdom. Speaking to ANI, Swara said, "Everybody has right to express opinion. I kept my views in a very polite manner and had no wrong intentions. I put forward a few legitimate questions. I didn't expect so much chaos just because I used a word which starts with 'V On Twitter, Swara continues to fight a spirited battle against those heaping abuse on her - and there are many. Told by director-producer Vivek Agnihotri that she should meet survivors of rape in Bastar to "understand what the Real Vagina feels like," Swara responded scornfully, asking if Mr Agnihotri suggested she be raped herself On Monday, a day after her open letter went viral, Swara Bhasker noted in her responses to actress Suchitra Krishnamoorthi and journalist Sonal Kalra that many of those reacting to what she wrote couldn't get beyond the use of the word 'vagina.' While "Padmaavat" director Sanjay Leela Bhansali has not responded to the open letter, actor Shahid Kapoor told news agency IANS, "I haven't read it yet. We have been busy with other things, but I think this isn't the right time. It has been a tough battle for us to be able to bring forth the film to the audience. It feels great to receive support from the entire industry but it feels odd that someone said something on a personal level. That's OK though as everyone has the right to say what they want but I haven't read it yet." Shahid plays Padmavati's husband Ratan Singh in the film. Deepika Padukone and Ranveer Singh play the queen and Khilji Swara Bhasker's letter articulates in detail the criticism several reviews of "Padmaavat" have made. The box office, however, doesn't seem to agree. The film is well past Rs. 100 crore and counting, and is also drumming up impressive ticket sales abroad. Swara Bhasker was last seen in 2017's Anaarkali of Aarah, and is currently busy with her upcoming project Veere Di Wedding headlined by Kareena Kapoor and Sonam Kapoor. Veere Di Wedding will hit the screens on June 1.
---
Deepika Padukone, Mom And Sister Attend Prakash Padukone's Award Ceremony In Delhi'.
NEW DELHI:MMNN: 30 January 2018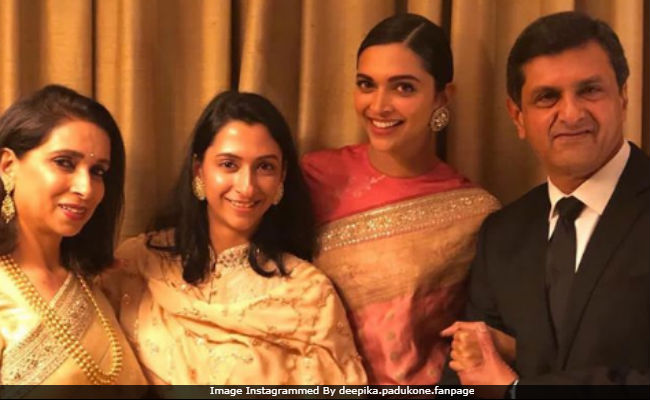 Actress Deepika Padukone was in New Delhi last night, where her father Prakash Padukone, an ace badminton player, was felicitated. She was accompanied by her mother Ujjala and sister Anisha. Mr Padukone was honoured with the Badminton Association of India (BAI) Lifetime Achievement Award by Vice President Venkaiah Naidu. Deepika, 32, was dressed in a beautiful peach-coloured silk sari and paired her look with a low bun and earrings. Her mother Ujjala and Anisha also chose to wear Indian outfits. A selfie of the Padukones was shared by badminton player PV Sindhu. Deepika's fan clubs on Instagram have also shared some nice pictures of the "Padmaavat" star with her family. Deepika, the proud daughter, clicked a picture of her dad while he received the award PV Sindhu shared this selfie with the caption, "Many congratulations to Prakash Padukone sir for the Lifetime Achievement Award and also had a lovely time with the family and with one of my favourite Deepika Padukone. On Monday afternoon, Deepika and Anisha were photographed at the Mumbai airport. Bot the sisters were twinning in denims and white t-shirts. They paired their looks with black jackets and white sneakers. Deepika Padukone stars in the much-anticipated film "Padmaavat", which released last week. The film is performing extremely well at the box office and has broken the records of many major films in just a week. Deepika co-stars with Shahid Kapoor and Ranveer Singh in "Padmaavat", directed by Sanjay Leela Bhansali.
---
IPL Auction 2018: Juhi Chawla's Daughter Jahnavi Gave Preity Zinta A 'Run For Her Money'.
NEW DELHI:MMNN: 29 January 2018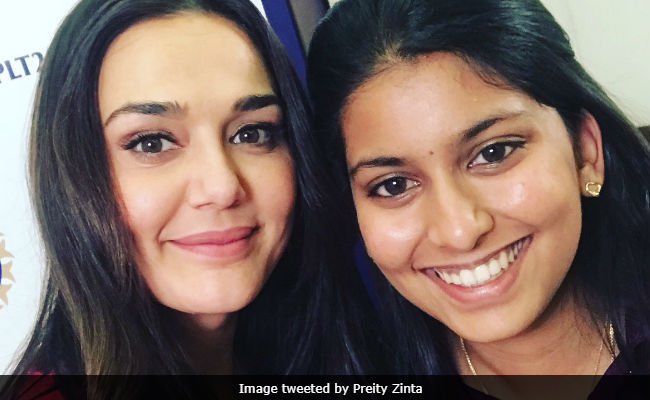 Juhi Chawla's daughter Jahnavi, who was apparently the youngest person to ever be at the Indian Premier League (IPL) auction table, gave actress Preity Zinta 'a run for her money' at the IPL auction over the weekend. Juhi Chawla co-owns IPL team Kolkata Knight Riders (KKR) while Preity is the owner of Kings XI Punjab. Jahnavi, who is all of 17, apparently helped making decisions for KKR which unsettled Preity's strategy because of which the actress tweeted: "It's awesome to meet the super smart Jahnavi Mehta who gave me a run for our money. #smartgirlsrock." Juhi Chawla replied: "You're a sweetheart. Bright, beautiful and a bundle of joy. Thank you, for being so kind to Jahnavi." In a post shared by Kolkata Knight Rider's verified Twitter handle, Jahnavi can be seen engrossed in the decision making process with the team's data analyst AR Srikkanth, head coach Jacques Kallis, KKR CEO Venky Mysore and her father Jay Mehta. Jahnavi was included in the group of "masterminds behind planning and building" KKR squad Here's another photo of Jahnavi from the two-day event, dressed in KKR team shirt, seated Venky Mysore, who is also the CEO of SRK's Red Chillies Entertainment. Juhi Chawla married business man Jay Mehta in 1995 and they are parents to Jahnavi and 14-year-old Arjun. As of now, it seems Jahnavi is interested to follow her father's footsteps. Jahnavi, who was a school (Dhirubhai Ambani International School in Mumbai) topper, will reportedly complete her higher education in London. Juhi Chawla was last seen in Bollywood film Chalk n Duster and then in web-series, titled The Test Case
---
Parineeti Chopra's Stretch Marks Pic Is Winning The Internet.
NEW DELHI:MMNN: 27 January 2018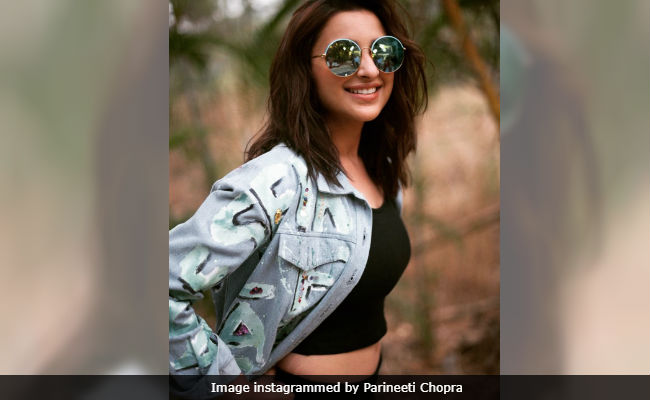 Actress Parineeti Chopra's latest Instagram post is a hit with the Internet. The 29-year-old actress, who recently lost kilos, posted a picture of herself which shows her stretch marks. "Flaunting stretch marks proudly," wrote one user in comments. Recently, actress Kareena Kapoor's photoshoot for a magazine was heavily criticised on social media for allegedly photo-shopping her stretch marks (this was Kareena's first photoshoot after losing the baby weight). But the Internet is mighty impressed with Parineeti. "The stretch marks represent your hard work," read one comment on the post, which had over four lakh likes in 13 hours. Parineeti took a gap of three years after 2014's Kill Dil to work on her fitness. Speaking to news agency about her 'fat-to-fit' story, Parineeti had said in an earlier interview: "I have struggled with my weight. I was big and unhealthy, not chubby. I took it upon myself to work towards this. There was pressure of Bollywood to bring me on right part. I am fit now. People need to be fit no matter what size they are. I was big and unfit. It took me a year and half to reach here." 1 COMMENTSOn the work front, Parineeti was last seen in Golmaal 4. Parineeti returned to the big screen in 2017 and started her year with Meri PYaari Bindu, which tanked at the box office. Parineeti's upcoming films are Kesari with Akshay Kumar and Sandeep Aur Pinky Faraar and Namaste Canada - both co-starring Arjun Kapoor.
---
Saif, Madhavan reunite for Anand Rais next production.
NEW DELHI:MMNN: 25 January 2018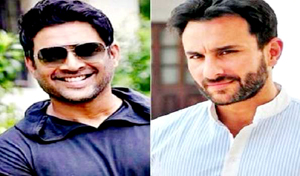 The Rehna Hai Tere Dil Mein duo Saif Ali Khan and R Madhavan are all set to reunite for Anand L Rais next production which is a period drama, trade sources said on Tuesday. The duo, who hasnt shared screen space since this Hindi film Rehna Hai Tere Dil Mein that marked the debut of former beauty queen Dia Mirza in 2001, will, however, be seen in a completely different avatar in this Navdeep Singh directorial. The movie is a historical tale, a period drama set against the backdrop of Rajasthan. The untitled project will have action sequences with Saif and Madhavan taking up training sessions in sword fighting and horse riding for the film, the sources said. The film will make use of prosthetics, it said. Zoya Hussain who made her debut with the last Anand Rais production Mukkabaaz, has been signed as the leading lady. Deepak Dobriyal will also be a part of the film, the sources said. The movie is expected to be extensively shot in Rajasthan, Uttar Pradesh and Mumbai with the first schedule kicking off in February in Rajasthan.
---
Padmaavat Movie Review: Sanjay Leela Bhansali's Boring Film Doesn't Do Justice To Deepika Padukone.
NEW DELHI:MMNN: 24 January 2018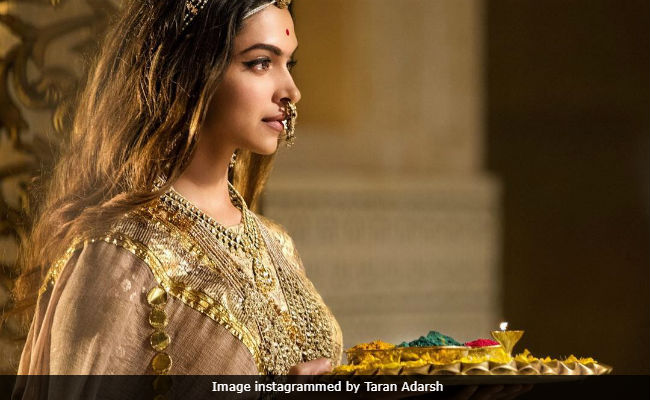 The creation and eventual release of Padmaavat may well make for a more dramatic and impassioned tale than the film itself. The offscreen narrative is complete with death threats, bounties on noses, altered spelling, digitally clothed bellies, and, as I've written about before, politically shielded psychopaths encouraged by the media. What spectacle dare compete with a country gone bonkers? Not that this film doesn't try. Director Sanjay Leela Bhansali, a man well versed with excess, lays it on thick to the point of being tiresome. This is an all-out assault on the senses, a circuitous take on an old legend that is now being flogged to breaking point. Based rather loosely on the epic poem of the same name by Malik Muhammad Jayasi, here we have a king and his lovely queen, interrupted by a barbarian who, on hearing that the queen is pretty, lays siege to their city. As you may probably be aware, all of this ends in a climax that, as the kids now say, is lit. Alas, Bhansali takes an unbearable length of time to spark the flame. Things go on and on and on, with characters it is impossible to care about. They may appear attractive from time to time, certainly, but these protagonists are inconsistent, infuriating and test the patience. There is only that much of a damn that can be given about window dressing, and about people who dress like windows. (I'd accuse the film of navel-gazing, except visible midriffs have since been cloaked by our censor board.) The word 'Nayaab' - meaning 'invaluable' - is used several times over in the film, for different objects: a priceless gem, a priceless ostrich, a priceless princess. As a result, nothing seems to hold true value. This is an epic bore. The film's cardboard nature is exemplified by Shahid Kapoor, who plays Rajput king Ratan Singh, meant to be the unyielding moral core of the story. Kapoor struts around with that particular stiffness of a man sucking his stomach in, with his mouth forever in a soured pucker, lips seemingly sucking at invisible coconuts through imaginary straws. A man who believes pigheadedly in archaic codes of honour, this character holds no appea Yet he lands a Sinhalese warrior queen. Padmavati, played by Deepika Padukone, doesn't need cupid to shoot down her lover. She does this herself, and then chooses to confront him, hostile and coquettish in turns. For some reason, this striking woman takes a fancy to the insipid Ratan Singh, but so be it. She knows her mind. She also steps up when her kingdom needs someone at the helm. This striking woman, in fact, shows us strength and fortitude throughout this slow-moving film, right up until the end when she makes a demand of her king: she asks for his permission to kill herself. The reason she must do this is because she fears contact with Alauddin Khilji, the wily king from the history books who is depicted here as a merciless savage. In the name of extreme villainy, Ranveer Singh plays him without consistency or caution: he giggles, he grunts, he breaks into Amitabh Bachchan's dastardly laugh from Aks, he wrestles with men not allowed to beat him, and he dances like a goblin. He wins at chess and also, at one point, snuffs out a man's life using his formidable armpit. It is a loud and overblown performance, only occasionally rescued by Singh's natural screen presence. This Khilji amuses - primarily because he jolts the film out of its stupor - but he makes little sense. He is The Great Unwashed. He stinks but he knows things What I would like to know is why Padmaavat isn't a better looking film. Bhansali is all about scale and there is indeed pomp to the proceedings, but this time the sets always look like sets - sometimes with the 'carvings' on pillars in the background visibly looking drawn on. Cinematographer Sudeep Chatterjee doesn't get to show off his work, dulled and hindered by an entirely unnecessary 3D conversion, and unlike Bhansali's other films, there is no truly memorable imagery, save for the final sequence. It would, however, be unfair to credit the imperiousness of Ms Padukone's eyes to the film's production design, and the lesser said about the slow-motion glorification of self-immolation the better. Still, there are some lovely touches in Padmaavat. The fluttering fabric of the palanquin the queen is carried in when her king brings her home, the way the villain's shoulderplates bounce as he runs with feverish urgency, the sight of an imposing crown being used to weigh down and blind a fragile princess. There are even hints at Khilji being bisexual, limited to verbal digs in what is otherwise a highly visual film. These deft asides are tragically dwarfed by the rest of this exhausting and bombastic affair, where captive princesses are made to stand in wading pools while being pelted by pearls. Bhansali's last film, Bajirao Mastani, was an undeniably compelling one - here's my review - and while that, too, felt overlong, it was a dramatic film with a heavily plotted storyline that featured many a conflict.
---
Alia Bhatt's Pics From Her Best Friend's Shaadi Are Winning The Internet.
NEW DELHI:MMNN: 23 January 2018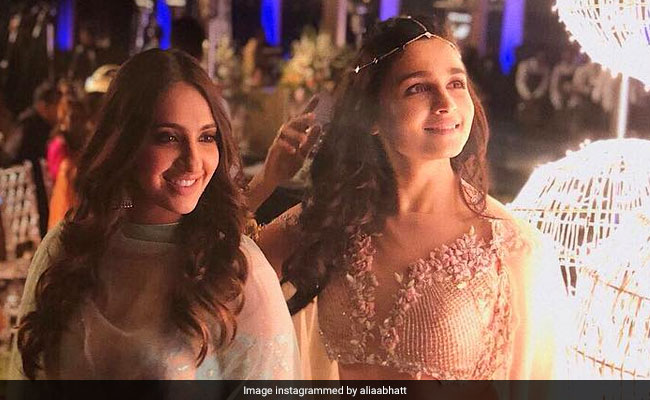 Social media is currently obsessing over Alia Bhatt's pictures from her best friend Kripa Mehta's wedding in Jodhpur. Alia is definitely having a gala time and is enjoying all the shaadi festivities. Alia has already clicked some amazing photos in a bright yellow ensemble at Kripa's haldi ceremony, danced to some famous Bollywood songs at the sangeet function and twirled in that beautiful lehenga at her best friend's wedding - we know all of this because the Internet is filled up with gorgeous pictures of Alia and her BFFs. Striking a pretty pose with her friend Akansha Ranjan Kapoor, Alia wrote: "& the best is yet to come" while in the other picture Alia is all smiles with her friend Devika Advani. 1 COMMENTSAlia Bhatt was overwhelmed to receive so much love from her fans. In her latest Twitter post, she thanked everyone and wrote: "Wonder what I've done to deserve this sudden burst of love! Not complaining just very very touched! Thank you for all the constant love I love you guys tooooooo much.
---
Secret Superstar China Box Office: Aamir Khan's New Film Breaks A Dangal Record.
NEW DELHI:MMNN: 22 January 2018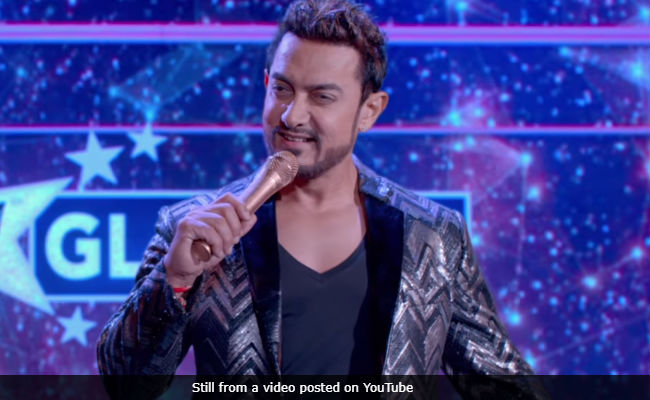 Aamir Khan's Secret Superstar is off to a great start in China. The film, starring Zaira Wasim in lead role, pocketed Rs. 174 crore in the opening weekend beating Aamir's Dangal's opening weekend record in China from May last year. Trade analyst Taran Adarsh tweeted: "Secret Superstar packs a solid punch in its opening weekend in China. Close to Rs. 175 crore in three days." The opening weekend collection of Secret Superstar in India was merely Rs. 30 crore. For Secret Superstar, which was made on a budget of Rs. 15 crore, this is as Taran Adarsh puts it: "Mind-boggling indeed." Before Secret Superstar it was Aamir Khan's Dangal, which took the China box office by storm. Dangal became the highest grossing Indian film in China within weeks of its release in May 2017. The success story of Dangal in China is unparalleled and now, a Variety magazine report states that Secret Superstar is "poised to top China box office." Aamir Khan is also scheduled to visit China in the upcoming days. COMMENTSSecret Superstar is the story of Insia Malik (Zaira Wasim), who breaks regressive societal shackles to become a successful singer against all odds. The film is directed by Advait Chandan and it also stars Meher Vij in a pivotal role. Secret Superstar has a month before Salman Khan aims for the China box office with his 2015 hit film Bajrangi Bhaijaan. The Kabir Khan-directed film will open across 8,000 screens on March 2 in China.
---
Shraddha Kapoor's commitment to work.
NEW DELHI:MMNN: 20 January 2018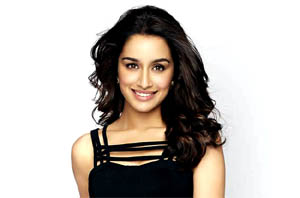 Shraddha Kapoor who is currently shooting for her horror comedy Stree has flown down from Bhopal to attend a brand event for just two days. Busy with commitments, Shraddha Kapoor is quite loaded with work these days. While the actress first multilingual project Sahoo along with Prabhas is on the floors, Shraddha Kapoor has also begun the shooting for her horror comedy Stree opposite Rajkummar Rao. Post which the actress will start shooting for the Saina Nehwal biopic. Shraddha Kapoor will also be seen in Batti Gul Meter Chalu along with Shahid Kapoor and Yami Gautam. Amidst all the buzzing work, Shraddha Kapoor has taken out time for a brand event which she had committed prior. The actress took to Instagram to share a picture depicting her two-day break from the films shoot for the brand event. Shraddha Kapoor shared an Instagram story saying, For two nights & then back to Chanderi. The actress began the year with the announcement of her first horror comedy alongside actor Rajkummar Rao. Within just a few days of the announcement, the shoot for Stree commenced in Bhopal. Shraddha Kapoor is also currently working on Sahoo, the shoot for which will be resumed by the actress after the schedule of Stree. The versatility of the actress is yet again at the display as the films she has to offer to differ from each others genre. While Sahoo is a high octane action film, Stree is a horror comedy. Shraddha Kapoor will also be seen in the Saina Nehwal biopic and Batti Gul Meter Chalu which is a film dealing with a social issue.
---
This Pic Of Madhuri Dixit, Kajol And Sonali Bendre Will Transport You To The 90s.
NEW DELHI:MMNN: 19 January 2018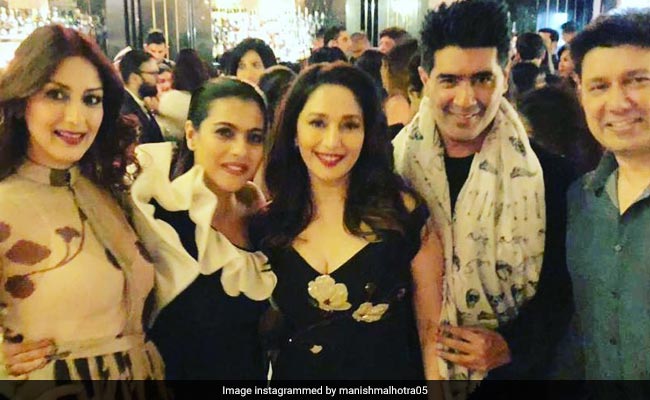 Designer Manish Malhotra posted a lovely picture with actresses Madhuri Dixit, Kajol and Sonali Bendre, and our day was made. The three actresses posed for a perfect picture together at an event yesterday and we are extremely happy with the end result. The photo will definitely transport you to the 90s. In the picture, Sonali Bendre looks stunning in a floral dress while Madhuri Dixit, who dropped by with husband Sriram Madhav Nene had generous amounts of stardust sprinkled. Kajol also stepped in for her fair share of the limelight. In 10 hours, the photo received 29,731 'likes' and the comment section is filled up with compliments like: "tremendous," "divas" while one user wrote that Madhuri, Kajol and Sonali should feature in a film together. (We can't agree more) Madhuri Dixit, Sonali Bendre and Kajol have not worked together in any movie but the three actresses have starred in some super hit films. Madhuri is known for films like Hum Aapke Hain Koun!, Dil To Pagal Hai, Ram Lakhan while Kajol gave blockbuster hits such as Kuch Kuch Hota Hai, Kabhi Khushi Kabhie Gham... and Dilwale Dulhania Le Jayenge. Sonali Bendre worked in films like Sarfarosh and Hum Saath-Saath Hain. On Thursday, Mickey Contractor celebrated 12 years of his association with a makeup and the party was attended by celebrities like Aishwarya Rai Bachchan, Karan Johar and Sushmita Sen Mickey has worked with actresses like Urmila Matondkar in Rangeela, Madhuri Dixit and Karisma Kapoor in Dil To Pagal Hai, Kareena Kapoor in Kabhi Khushi Kabhie Gham... and Priety Zinta in Kal Ho Naa Ho. He will also work in upcoming films like Veere Di Wedding, which stars Sonam Kapoor and Kareena Kapoor Khan. Madhuri Dixit is all set to make her Marathi debut with Bucket List while she's also prepping for Total Dhamaal, co-starring Anil Kapoor and Ajay Devgn. Kajol was last seen in VIP 2 and Sonali Bendre was a judge on TV show India's Best Dramebaaz.
---
Bigg Boss 11's Hina Khan Won't Appear On Entertainment Ki Raat. No, It's Not Because Of Shilpa Shinde.
NEW DELHI:MMNN: 17 January 2018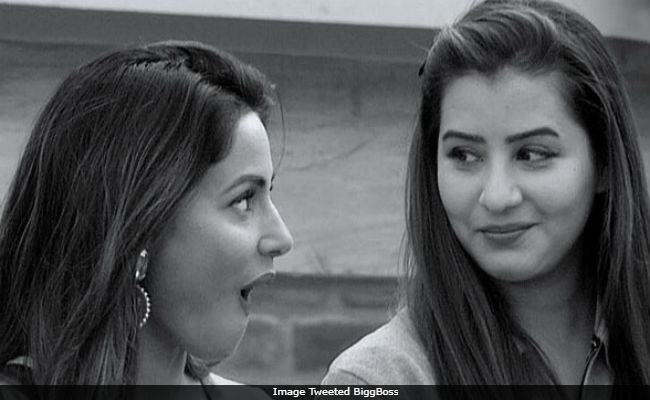 Bigg Boss 11 winner Shilpa Shinde and her co-contestants like Arshi Khan, Vikas Gupta and others have shot for an episode of chat show Entertainment Ki Raat. However, Hina Khan gave it a miss. It was believed that Hina did not appear on the show because of her issues inside the Bigg Boss 11 house with Shilpa. However, she refuted the rumours and told The Times Of India, "I am not aware of this at all. I have got to know it from you. I don't understand what is this all about. In fact, I was told about the shoot after BB finale, on the set itself. I had clearly informed that I would want to spend some time with my family whom I had met after so long." Hina Khan lost to Shilpa Shinde during the finale. During their stay in the house, the duo often got involved in fights. Shilpa also said that she doesn't want to meet Hina now. "I am happy in my own space and so is she. Now that the show has ended, I don't even want to meet her or see her face again," Shilpa told Indian Express. Of not appearing on Entertainment Ki Raat, Hina further explained, "Most importantly, my mother is unwell. She was overwhelmed seeing me after so long and inconsolable to an extent that she fell ill. She has never stayed away from me for so long. She just kept on crying. That's the reason why I said that I wouldn't be able to shoot for the show immediately. In fact, the channel guys had come to my vanity. They saw my mother's condition and said that I should take my time. I don't understand what's the hype about." COMMENTSTowards the end of Bigg Boss 11, Shilpa and Hina played together in tasks and competed against Vikas Gupta. However, their friendship stayed for a few weeks only and in the finale week, things took an ugly turn. Shilpa Shinde, Hina Khan, Vikas Gupta and Puneesh Sharma were the final four finalists of Bigg Boss 11. Puneesh was eliminated first and Vikas was declared the second runner-up.

---
Zombie Singer Dolores O'Riordan Dies At 46.
NEW DELHI:MMNN: 16 January 2018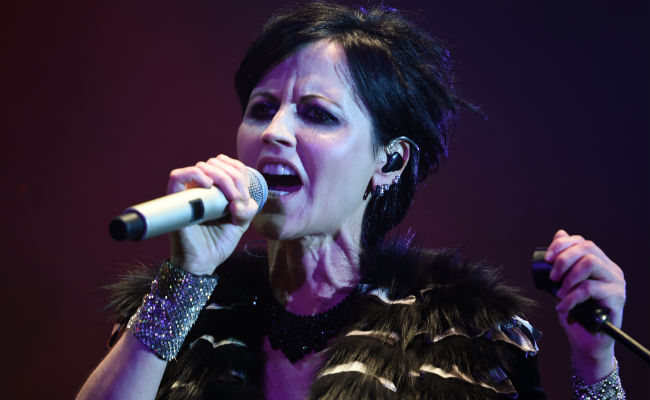 Irish singer-songwriter Dolores O'Riordan, frontwoman of the multi-million selling rock band The Cranberries, died suddenly in London on Monday, aged 46, her publicist said. "Irish and international singer Dolores O'Riordan has died suddenly in London today, family members are devastated," Lindsey Holmes said in a statement. "The lead singer...was in London for a short recording session," she added. "No further details are available at this time." A spokeswoman for London's Metropolitan police said officers are "dealing with a sudden death" after they were called to a hotel in Park Lane, in the centre of the British capital, at 0905 GMT this morning. She did not confirm the identity of the person found. "A woman in her mid-40s was pronounced dead at the scene," the spokeswoman said. "At this early stage it is being treated as unexplained and enquiries continue," she added. Irish Prime Minister Leo Varadkar was among the first to pay tributes, calling O'Riordan "the voice of a generation". "For anyone who grew up in Ireland in the 1990s, the Cranberries were an iconic band, who captured all of the angst that came with your teenager years," he said in a statement. "Her voice and her contribution to music will be remembered far beyond her native county for many years to come." Family 'very devastated' The London Hilton on Park Lane confirmed "with deep regret" that an unnamed guest had "sadly passed away" at its hotel. "Team members acted swiftly to alert the Metropolitan Police and we are co-operating fully with their investigation," a spokeswoman said. The Cranberries achieved international success in the 1990s with their debut album Everyone Else is Doing it, So Why Can't We?, which included the hit single Linger. Follow-up album No Need to Argue went to number one in Australia, France and Germany, and number 6 in the United States. The album also gave rise to politically-charged single Zombie, an angry response to the deadly Northern Ireland conflict, which hit number one across Europe. The band sold around 40 million records worldwide. O'Riordan, from Friarstown in the Irish county of Limerick, will be buried in Ireland, according to the parish priest in her home town. James Walton, priest at Ballybricken and Bohermore parish, told Britain's Press Association her family "is very devastated and upset". "Her family are still waiting for more details to come from London about her death," he said. "The plan is for her to be buried here at home. When that will be will depend on when her body is released." 'Immense influence on rock' The Cranberries, formed in 1989 but went on a hiatus in 2003. O'Riordon told AFP in a 2012 interview that "we were stuck in a rut. We just needed a break." She headed to Canada, where she gave birth to her third child, but The Cranberries reformed in 2009 after getting together for a one-off show. "At home I'm a house-keeper and a mum. The kids are, like, 'What's for dinner? Where are my clothes?'. On tour it's, like: 'room-service'," she said of the comeback. She hit the headlines in 2014 after pleading guilty to assaulting three police officers and a flight attendant during a flight from New York to Ireland, and was diagnosed with bipolar disorder shortly afterwards. The band was forced to cancel 14 concerts last year due to "medical reasons associated with a back problem" for O'Riordan. The singer's last Facebook posting came shortly before Christmas. "Hi All, Dolores here. Feeling good! I did my first bit of gigging in months at the weekend, performed a few songs at the Billboard annual staff holiday party in New York with the house band," it read. "Really enjoyed it! Happy Christmas to all our fans!! Xo". The band recently played in South America, with O'Riordan tweeting pictures of a show in Lima, Peru. O'Riordan married Don Burton, former tour manager of Duran Duran, in 1994 but the couple, who had three children together, divorced in 2014. British 1980s band Duran Duran posted on their official Twitter page that "we are crushed to hear the news about the passing of Dolores O'Riordan. Our thoughts go out to her family at this terrible time". 2 COMMENTSThe Cranberries released their final album Something Else last year.

---
Bigg Boss 11 Grand Finale: Shilpa Shinde Is The Winner Of The Show.
NEW DELHI:MMNN: 15 January 2018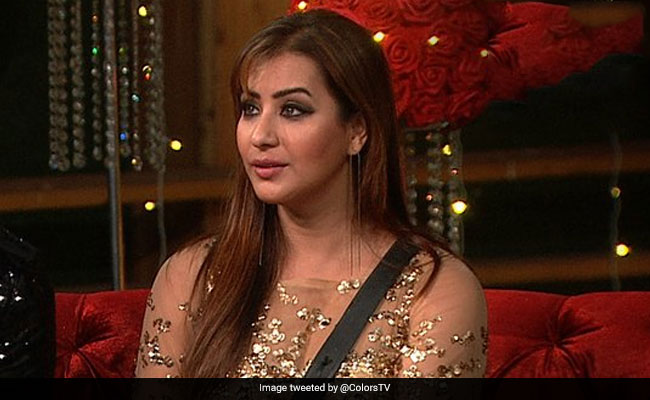 105 days, 19 contestants and umpteen tasks later, Bigg Boss 11 finally has a winner and the winner is Shilpa Shinde! The popular TV actress took the trophy home from the grand finale of Bigg Boss 11, which aired on Sunday night. Not just the trophy, Shilpa's winning basket also includes prize money of Rs. 44 lakhs and dher sara pyaar from her fans. While Shilpa was the star of the night, a considerable amount of limelight was also on Hina Khan, who was in the list of top two contestants. Puneesh Sharma was the first of the four finalists to be eliminated while Vikas Gupta was the second finalist to leave the house. Shilpa Shinde, Vikas Gupta, Hina Khan and Puneesh Sharma were the four finalists of the show, which was hosted by Salman Khan. It is not unknown that Bigg Boss always has a trick up its sleeves. And the last twist of this season was that voting lines were made live for 10 minute during the episode before the winner was announced, which gave fans of Hina and Shilpa a chance to shower more votes in favour of their favourite contestants What lead to the announcement about Shilpa Shinde's bigg win is a blockbuster grand finale of Bigg Boss 11, which was made entertaining times infinity with the ex-contestants performing on stage. And, as a surprise package, Akshay Kumar joined Salman on stage and the duo had loads of fun with ex-contestant Dhinchak Pooja. On the show, Akshay Kumar also spoke about his upcoming movie PadMan Puneesh Sharma and his girlfriend - ex-contestant Bandgi Kalra - also set fire on water with their performance to Tip Rip Barsa while there was a glimpse of Shilpa Shinde and Vikas Gupta's bitter-sweet relationship. Hiten Tejwani and Aarshi Khan also delivered a hilarious performance about their onscreen flirting-shirting. And who can forget Aakash Dadlani, who had some rapping-shapping to do Hina Khan performed with her two best friends on the show - Luv Tyagi and Priyank Sharma. Hina has also signed up for a solo performance to Main Heroine Hoon Ahead of the winning announcement, Salman Khan met the contestants through the live TV inside the house, when Shilpa Shinde was asked about how she managed to garner such a massive fan following. Shilpa, who turned out to be almost everyone's favourite Bigg Boss 11 contestant, said she had no strategy for the show but only to just be herself, which she thinks worked in her favour.

---
Mukkabaaz movie review: Anurag Kashyap's angry film spares no one; Vineet Singh is our own Rocky.
NEW DELHI:MMNN: 13 January 2018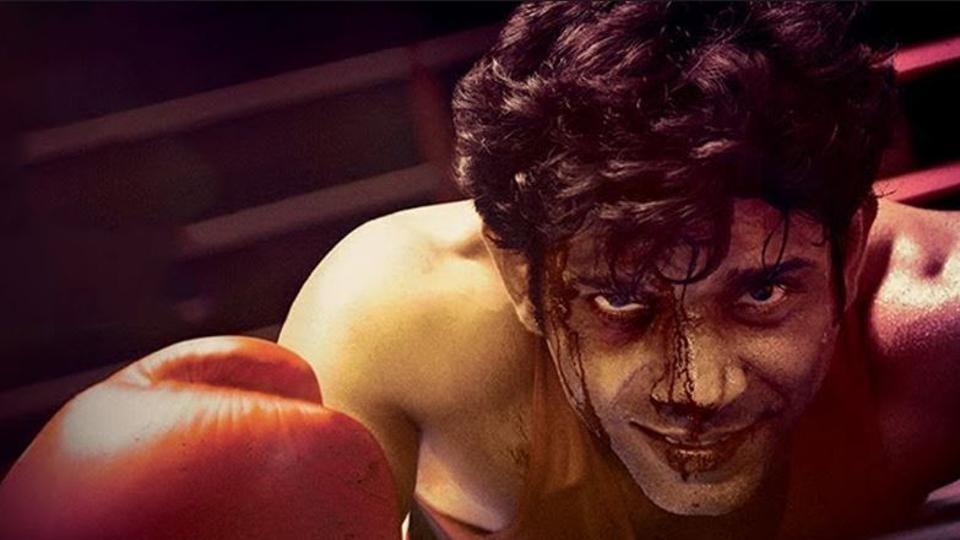 Slow motion fist fight never looked more intriguing. A passionate but mostly untrained boxer is brawling with some ruffians on a congested street, and a mute girl is looking at him from a rooftop. There is pain, there is lust and there is a challenge. Can the boxer rise up, accept the invitation and fall in love with the girl who is so near yet so distant? A gritty young man Shravan Singh (Vineet Singh) wants to be known as a boxer. Its not just a game for him. Its his ticket to a better life, one that offers respect. He keeps Rockys posters and calls himself Uttar Pradeshs Mike Tyson. Boxing is the only thing he is good at, but he is way past the age he should have made it Like most of the sports federations in India, the UP federation is also cracking under political pressure. Bareilly politician and mobster Bhagwan Das Mishra (Jimmy Shergill) is the kingpin who makes or breaks careers. Unfortunately, the girl is his niece and that might kill Shravans only reason to breathe, boxing. Its a set-up we have accepted as part of our lives. Itna toh chalta hai As if struggle is the one thing aspiring sportspersons should accept as part of their career graph. The officials are neck-deep in corruption. Everybody wants to be in the good books of political heavyweights. A malfunctioning system is internalized, accepted. Shravan with his idealism is a misfit. He is angry, mostly aimless and certainly not the one to bow down. Even hundreds of punches cant bend his spine Director Anurag Kashyap takes us inside the modest Singh household where they dont understand everyday English; in fact they are irritated by it. They probably consider English as one of the reasons for their misery. The son talks about passion and the electrician father hears fashion and keeps lecturing him. Its weirdly funny and a tight slap on the face of the education system and a society which equates knowing English with being educated. Mukkabaaz keeps getting darker. In one of the scenes, Bhagwan Das asks a waiter to bring another jug for a harassed, helpless coach Sanjay Kumar (Ravi Kishan in a very unlike Ravi Kishan role), who belongs to a backward caste. Bhagwan Das, who is blind in one eye, immediately notices that the waiters right eye is of stone. For a second, it appears like the natures way of teaching him humility. But he isnt the one to leave his caste pride. Men like him are the reason boxing tournaments take place in open and the place allotted for it becomes somebodys private property. Players dont understand the difference between medicines and prohibited drugs. For them, winning the state or national level championship is about getting a government job. They never aspire to win medals. Kashyap brings all these facets out in the open and then makes strong comments From calling out gau rakshaks to calling the championship sponsor Bedaag (spotless), he teases us with in-your-face humour. You dont know whether to nod in acceptance or just look away when a boxing official tells Shravan, Nobody wants to know whats happening in your life. Kashyaps terrific form continues as he spares no one. From reverse casteism to the messed-up political scenario, he trains his gun on many evils. Mincing words was never his style, but this is bolder and very effective. Interestingly, Shravans love story with Sunaina (an enigmatic Zoya Hussain) never takes a backseat. It remains the prime emotion. The more ruthless the masters become, the more rebellious the oppressed get. Jimmy Shergill might look over-dramatic to some, but he has tried his best to justify his persona, but such characters are not rare. Political aspirations collaborated with a strong sense of entitlement can lead to fatal actions. Zoya Hussain is at the lack of words, but her eyes are not. She is aptly supported by the background music which needs a whole new article. Its wonderful and non-mainstream but the songs dare you to overlook lyrics And then there is Vineet Singh. This is the performance we all will cherish for years. Its legendary and who knows it might become his performance of a lifetime. You will root for him, youll duck the punches with him and then youll go down with him, but youll never leave him. He wont let you. Our very own Rocky is born. The 156-minute Mukkabaaz is the best film in last one year or so, and this year couldnt start on a better note. Lets cherish Vineet Singh and his thickheaded brawler with open heart

---
Kaalakaandi Movie Review: Saif Ali Khan Makes His Character Work In Fizzy, Freewheeling Film.
NEW DELHI:MMNN: 12 January 2018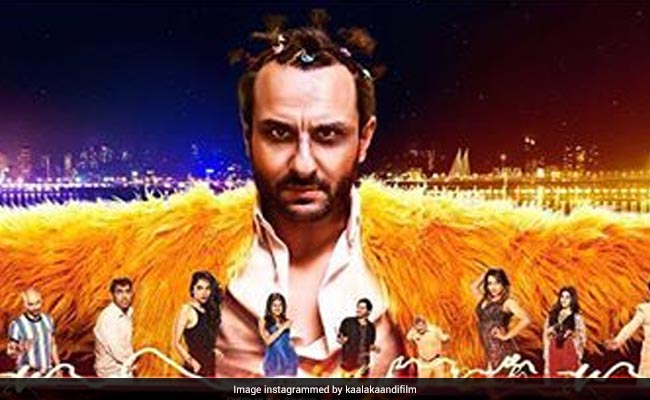 Delhi Belly scripter Akshat Verma's maiden directorial venture, in essence, possesses the madcap spirit that propelled the 2011 hit. Kaalakaandi is set in Mumbai and focused primarily on more mature characters. So its tone, texture and treatment are markedly different. The film is primarily in English, with only two underworld underlings conversing in street-level Hindi peppered liberally with expletives. It is clear that Verma is fascinated by mavericks and misfits. But armed with the quality of his writing, he turns the freaky, freewheeling, fizzy Kaalakaandi into a human drama that explores life's surprises, love, mortality, greed and betrayal. Not all of it adds up as neatly as one would have liked, yet it works. Wicked wit and macabre humour leavened with a sense of humanity define this dark comedy's more felicitous moments. The characters are quirky yet real, like the morally conflicted girl shaken by a hit-and-run case that she is involved in or a young man assailed by pangs of guilt at having cheated on his would-be wife Several other confused Mumbaikars have their already messed-up lives thrown into further disarray in the course of a single night that sees mishaps galore. A well-heeled man receives a grim, point-blank medical diagnosis: his days are numbered, he is told. Another, carried away by a gun-slinging Feroz Khan's curry-western act in Khotay Sikkey, accidentally shoots himself in the groin. There is more. Two partners in crime (Vijay Raaz and Deepak Dobriyal) hatch a get-rich-quick plan as they ferry bags of cash in a red hatchback - the plot ends in betrayal and quick comeuppance. Two men on a speeding motorcycle are knocked off their perches on a rain-washed road. And coitus interruptus mars an intended quickie in an upscale hotel room Led astray by alcohol, psychotropic substances, passion and the lure of money, every character in Kaalakaandi invites trouble for himself/herself and for all those whose paths they cross wittingly or unwittingly. It is an eventful plot all right, but most of the crucial reveals some via conversations that occur principally inside three moving cars, each denoting an aspect of the city of Mumbai. For cinema trivia geeks, Kaalakaandi is strewn with interesting takeaways. The principal protagonist (Saif Ali Khan), who like the conscientious but dull bureaucrat Watanabe in the Akira Kurosawa classic Ikiru, is diagnosed with stomach cancer and given only a few months to live. The character's name isn't revealed until the very end of the film, when he is drawn towards a comely wedding photographer. He could well be, like the self-effacing Watanabe, just another Everyman wasting away his life in the belief that being a "good person" is good enough. He does not smoke, does not drink, and has never done drugs except when his friends tricked him into eating a brownie laced with marijuana. It was an accident. So it wouldn't count as a transgression, he reasons. But be that as it may, he has a lot of lost time to make up for. He heads to the wedding of his brother (Akshay Oberoi). At the party, after popping a red star microdot, he takes the would-be groom for a prenuptial haircut. On the way, everything that could go wrong goes wrong, or right, depending on who is doing the judging. In another part of town, another pair (Kunaal Roy Kapoor and Shobhita Dhulipala) have their own seemingly insignificant issues to deal with. The couple weighs the pros and cons of the girl leaving for the US for higher studies. The girl is all for it. But the boy frets: Why are you so gorgeous? The white boys will fall for you The New York flight is still a few hours away. So the two drop by at the birthday celebrations of a friend (Shehnaz Treasury) in a nightclub. The threesome and the latter's boyfriend (Shivam Patil), who a little later in the film rattles off a whole string of Emraan Hashmi films and sheepishly admits that he is a fan (is that wrong, he asks), are caught in a drug bust. Angad, on his part, ends up with a gash on his forehead and the hero, motivated strictly by "scientific curiosity, Madame Curie curiosity," and drug-induced hallucinations, hooks up with a transgender streetwalker (Nary Singh). His life, or what is left of it, changes completely. The multiple tales unfold in parallel arcs. It is only in the penultimate scenes and a zany final shot that the plot connects a few of the characters but only in a tenuous manner. Kaalakaandi takes a while to warm up but when it does it sets a lively pace, especially in the second half. Three sequences stand out. One is a romantic, whimsical chit-chat between the hero and the wedding photographer that enthuses the former to forget the inevitable. The second is when the brother, wanting to be as fair as he can be, stands before the girl who he is about to marry to announce that he is having second thoughts. And the third is a scene in which one of the criminals, despite his best efforts, is caught lying by his wily boss (Arif Basra). COMMENTSSaif Ali Khan brings to the table just the mix of befuddlement and cockiness that is needed to make the character work. The performances around him (notably from Dhulipala and Dobriyal) are in the right zone. Kaalakaandi may not be for all palates, but the film has enough spice for those in the mood for an off-the-beaten-track Bollywood experience

---
Deepika Padukone Reportedly Wants To Be A Sabyasachi Bride, Like Anushka Sharma.
NEW DELHI:MMNN: 10January 2018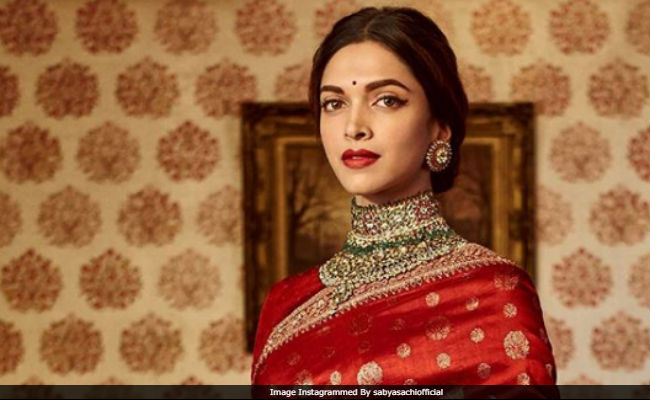 When Deepika Padukone gets married - whenever, wherever and, most importantly, to whomever - she would like to be a Sabyasachi bride, reports mid-day. Just like Anushka Sharma, Sagarika Ghatge and other recent celebrity brides. Rumours that Deepika and actor Ranveer Singh were getting engaged occupied a large part of social media's mindspace last week - the couple were on holiday together, reportedly in the Maldives, to celebrate Deepika's 32nd birthday. Other unconfirmed reports suggest that Ranveer's parents have given Deepika diamonds and a Sabyasachi sari, and that she's also met Ranveer's grandmother. Engagement rumours apart, this much mid-day seems to know - Sabyasachi will be Deepika Padukone's wedding couturier of choice. A source from the sets of Neha Dhupia's show Vogue BFFs reveals that Deepika Padukone was asked who she would pick between Sabyasachi and Manish Malhotra - she reportedly chose the former, whose clothes she wears often, to potentially design her wedding outfits. Deepika was on Vogue BFFs with her sister Anisha. Here's Deepika Padukone in a Sabyasachi hybrid saree - spotted recently. Sabyasachi has already dressed celebrity brides Bipasha Basu, Samantha Ruth Prabhu, Sagarika Ghatge and, most recently, Anushka Sharma who married Virat Kohli last month The source also told mid-day that on a Vogue BFFs segment titled 'Scary Spice Or Platter Of Punishment' on the show, Deepika was asked about the one thing Ranveer should "stop doing" - her response was pretty epic. "Deepika good-naturedly poked fun at his flamboyant style of dressing. In a segment called 'Scary spice or platter of punishment,' Neha asked her to complete the sentence 'Ranveer, stop doing ...' She immediately said, 'Stop doing outrageous clothes.' Anisha and Neha burst out laughing," mid-day quoted the source as saying. 1 COMMENTSAmong the several rumours surrounding the supposed Deepika Padukone-Ranveer Singh engagement, is this one - SpotboyE reports that Ranveer recently introduced Deepika to his nani at her Bandra residence, where the couple spent a couple of hours. It was also reported that Deepika's birthday gifts from Ranveer's parents included an expensive diamond set and a Sabyasachi sari for her birthday. "Deepika was gifted an expensive diamond set and a Sabyasachi sari by Ranveer's family. Her happiness knew no bounds. This was indeed a special occasion for the actress," SpotboyE quoted a source as saying. Deepika Padukone and Ranveer Singh, co-stars of two Sanjay Leela Bhansali movies, is awaiting the release of yet another Bhansali period piece, Padmavat. Earlier titled Padmavati and also starring Shahid Kapoor, the film is reported to be hitting screens on January 25.

---
Amitabh Bachchan Posts Pics Of Shweta, Reminds Us That 'Daughters Are The Best.
NEW DELHI:MMNN:9 January 2018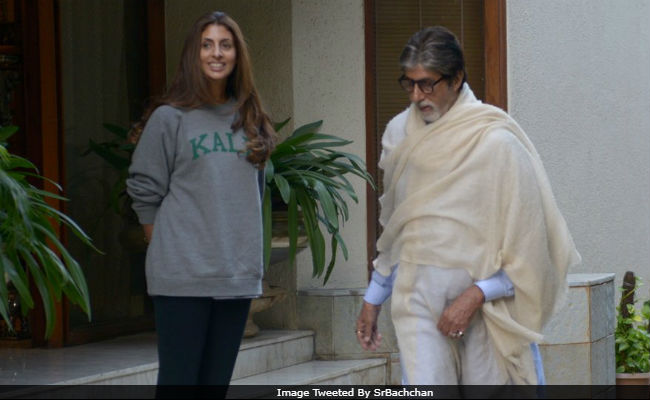 Megastar Amitabh Bachchan delighted his fans with some wonderful pictures with daughter Shweta Bachchan Nanda on social media. "Daughters are the best," he captioned the post. The pictures appear to be taken on a Sunday when Big B meets his fans gathered outside his Jalsa residence. The pictures, shared some three hours ago, have been liked on Twitter over 1,200 times and counting. Several months ago, the 75-year-old megastar had shared a similar picture with Shweta. Big B adorably waved to Shweta and she recorded the moment. "Sunday well-wishers and the best wave and smile for the daughter Shweta," he wrote. Amitabh Bachchan and his wife Jaya are parents to two children - daughter Shweta and son Abhishek (also an actor). On New Year, Big B had shared a couple of pictures from the Bachchans' family-only celebrations, featuring granddaughters Navya Naveli and Aaradhya. "Daughters be the best ... granddaughters the bestest .. Navya Naveli and Aaradhya," he wrote Shweta, 43, is a columnist and is married to businessman Nikhil Nanda. They are parents to daughter Navya and son Agastya. 3 COMMENTSMeanwhile, Abhishek also shared an adorable picture with his six-year-old daughter Aaradhya and captioned it as, "My pride and joy." Abhishek Bachchan, 41, is married to actress Aishwarya Rai, 44, for over 10 years now Amitabh Bachchan last featured in Sarkar 3 and is awaiting the release of 102 Not Out. He is also filming Thugs Of Hindostan, featuring Aamir Khan, Katrina Kaif and Fatima Sana Shaikh.

---
Golden Globes 2018: 'Oprah For President'? Sorry Twitter, She Doesn't Plan To Run.
NEW DELHI:MMNN:8 January 2018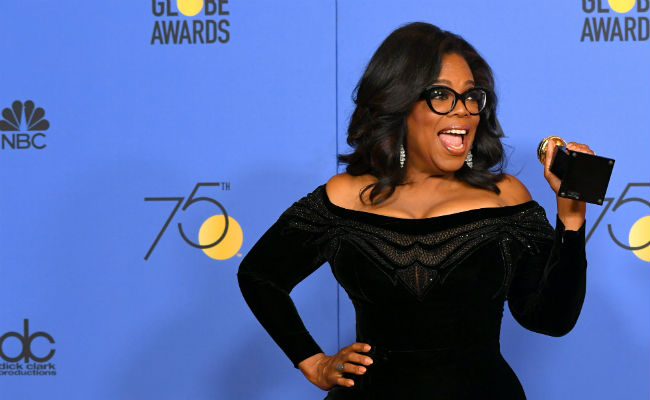 Oprah Winfrey, the first African-American woman to receive the Golden Globes' annual Cecil B DeMille award, won't run for the White House in 2020. Sorry, everyone. Minutes after Oprah delivered her powerful speech at the Globes, the hashtag #OprahForPresident started trending on Twitter. "If that speech doesn't make you want to change the world, nothing will. #oprahforpresident," wrote one Twitter user. Several celebrities and writers also agree, one of whom said: "Wow. Oprah. Powerful, inspiring, eloquent. I'm in tears. Please run for president? You really do have all the best words." Sorry, though. Bloomberg reports that the 63-year-old activist and actress' response backstage after being asked if she planned to give 'Oprah 2020' a shot was "I don't, I don't." In her speech, Oprah Winfrey who was introduced by Reese Witherspoon, referenced both the #MeToo and Time's Up campaigns. Needless to say, she wore black in protest of sexual harassment, as did most others attending the Golden Globes. Here are some key quotes from Oprah's speech: #1 "For too long, women have not been heard or believed if they dare speak the truth to the power of those men. But their time is up! Their time is up!" #2 "I want all the girls watching here now to know that a new day is on the horizon" #3 "The new day... will be because of a lot of magnificent women and some pretty phenomenal men, fighting hard to make sure that they become the leaders who take us to the time when nobody ever has to say 'me too' again" #4 I want to say that I value the press more than ever before as we try to navigate these complicated times Oprah Winfrey's film credits include The Color Purple, Selma and Beloved. The big winners at the Golden Globes were Three Billboards Outside Ebbing, Missouri, and Reese's TV series Big Little Lies

---
Rani Mukerji Advises Salman Khan To 'Skip Marriage And Become A Father.
NEW DELHI:MMNN:6 January 2018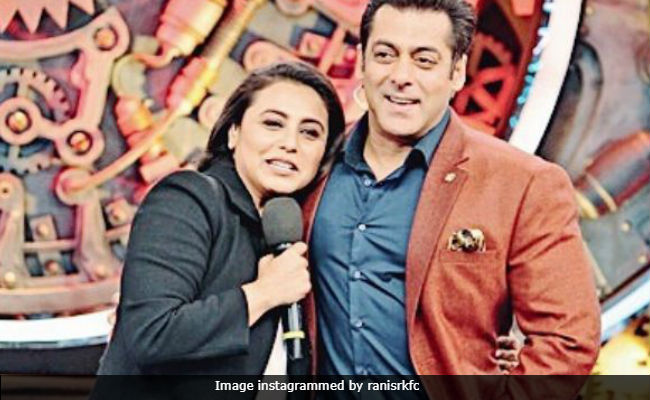 Rani Mukerji has an advice for her friend and colleague, Salman Khan, which is ditch marriage, have babies, reports mid-day. Rani Mukerji, star of upcoming film Hichki was on the sets of Salman Khan-hosted Bigg Boss 11 when she gave him the advised him to become a father. A source told mid-day: "Rani told Salman that he should avoid getting married, and simply become a father. She went on to add that Salman's kid could be a companion for her daughter, Adira." Rani Mukerji is married to Yash Raj Films boss Aditya Chopra and they are parents to two-year-old Rani Mukherji also said that Salman's baby will be "as good-looking as him." The source added: "When Salman questioned what would happen if the child resembled a not-so-good-looking mother, the duo simply burst out laughing," reports mid-day. Bollywood has several examples of single parents - Sushmita Sen adopted two girls while Tusshar Kapoor and filmmaker Karan Johar became single fathers through IVF and surrogacy. In Hichki, Rani Mukerji plays an aspiring teacher with Tourette syndrome. She is given an oddball section (lower income group students in an elite school) to teach and how she works with the group and overcomes her own shortcomings forms the film's plot. Hichki is directed by Siddharth P Malhotra for producer Maneesh Sharma (director of Band Baaja Baaraat and Fan). The film is presented by Yash Raj Film.

---
Bigg Boss 11: Hina Khan Mobbed At Mall, Hair Pulled By Crowd.
NEW DELHI:MMNN:5 January 2018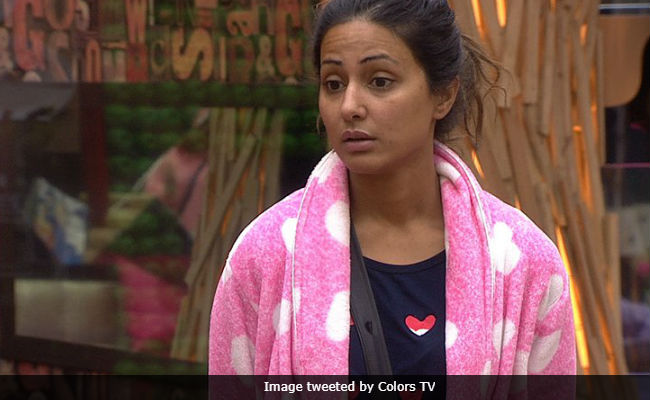 As Bigg Boss 11 is inching closer to the finale, the contestants are facing twists and turns at every corners. While Puneesh Sharma and Luv Tyagi failed to get the Ticket To Finale, things didn't go down too well for celebrity contestant Hina Khan as well. In a fresh move, the Bigg Boss makers closed the voting lines for a Live Poll - the contestants were taken to a mall, where the Live Poll took place on Thursday, reports mid-day. During the polling session, the crowd went unruly and Hina Khan was hurt as someone pulled at her hair, said mid-day. Certain photos and videos from the mishap have been released on social media but the happenings in the video are not exactly clear. Just like last year, the Bigg Boss 11 contestants were accompanied by heavy security and they interacted with their fans from inside barricaded area. "Things went out of control when the fans broke the barricades to see their favourite contestant," states mid-day. One particular fan of Hina Khan wanted a selfie with the contestant and while being clicked he reportedly pulled Hina's hair and in one of the videos, Vikas Gupta can be seen rushing to Hina's aid. The security staff of the mall failed to bring the situation under control and within 15 minutes, the contestants were escorted out of the mall. Meanwhile, updates from the Bigg Boss 11 episode tell us that though Puneesh did not win the Ticket To Finale, he is safe in this week's eviction and so is Aakash. Hina Khan, Shilpa Shinde, Vikas Gupta and Luv Tyagi will see one of them leaving the house this week

---
Sridevi, Daughter Janhvi Kapoor And Ishaan Khatter Watch A Film Together.
NEW DELHI:MMNN:4 January 2018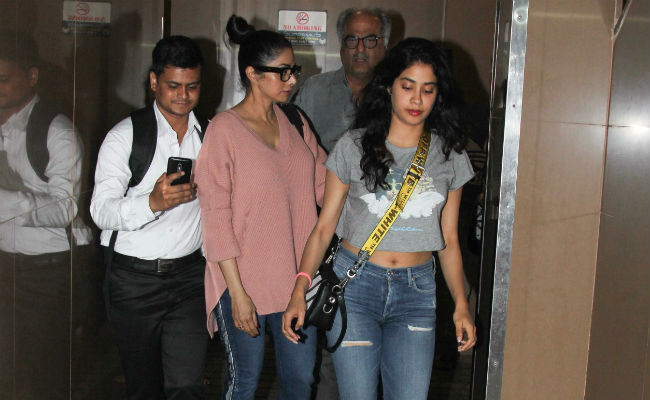 Star couple Sridevi and Boney Kapoor were spotted outside a movie theatre in Mumbai's Bandra with their daughter Janhvi and her co-star Ishaan Khatter. Janhvi is paired opposite Ishaan in Dhadak, her debut film. Sridevi was dressed casually in blue jeans and peach-coloured top. Janhvi opted for a grey crop top with blue low-waist jeans and pink shoes. Janhvi is Sridevi and filmmaker Boney Kapoor's elder daughter. Her sister's name is Khushi. Ishaan is Shahid Kapoor's brother. Dhadak, directed by Shashank Khaitan, went on floors a couple of months ago. It is also Ishaan's first Hindi film. He has earlier starred in Indo-Iranian film Beyond The Clouds. Dhadak is a remake of Marathi blockbuster Sairat and is being co-produced by Karan Johar, who recently wrote a note to Janhvi and Ishaan on embarking their journey in Bollywood. "It's a new year which means new beginnings and time for new relationship goals... Dear Janhvi and Ishaan, you are going to embark on a new journey of stardom this year. You will face many firsts in 2018 from promotion to paparazzi to link-ups and trolling to fame and failures. You are going to see it all," he wrote, new agency IANS reported Dhadak's first schedule was shot in Rajasthan. Sridevi and designer Manish Malhotra had visited the team on sets The basic premise (of Dhadak and Sairat) is same. But there are variations. My story is based on another set up. It is (set) in Rajasthan. It comes with its own challenges, conflicts and style of a love story," Shashank Khaitan told PTI.

---
Oh, Nothing. Just Some New Pics Of Suhana And Shah Rukh Khan From Family Wedding.
NEW DELHI:MMNN:3 January 2018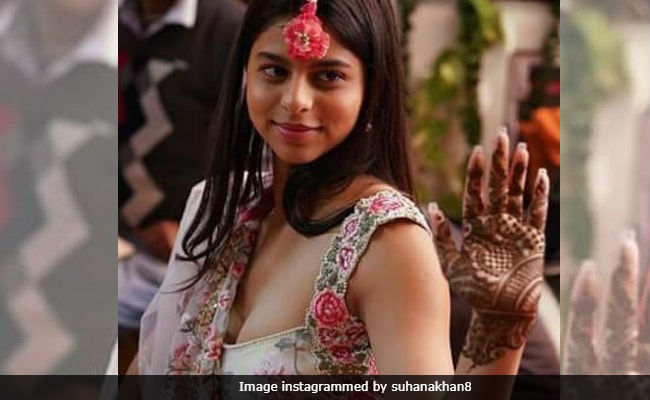 Social media is obsessing over a new picture of Shah Rukh Khan's daughter Suhana from a family wedding in New Delhi. Suhana, dressed in a floral printed soft pink lehenga by Seema Khan and matching phool maan-tikka, is winning the Internet. There's a new picture of Suhana and Shah Rukh Khan from a different day of the wedding festivities, which is going viral - in this, Shah Rukh and Suhana posed in a dramatic fashion (or are they getting ready to get a picture clicked?). Pictures of Suhana from the Delhi wedding rocked the Internet on December 31 and now again, today. Suhana is Shah Rukh and Gauri Khan's only daughter and second of their three children. Suhana's elder brother is Aryan, 19, who is currently pursuing a course in films in California. Her younger brother is five-year-old AbRam. Like Aryan, Suhana also wants to make a career in films but only after completing her studies, as revealed by Shah Rukh Khan. SRK told Femina that he's okay with Suhana becoming an actor "if she has the passion and guts to work five times harder than me and get paid 10 times less than I do." COMMENTSSeveral clips of Suhana Khan's theatre performance have found its way to the Internet earlier and even National Award-winning actress Shabana Azmi tweeted: "Mark my words Suhana Khan is going to be a seriously good actor. I've watched a short clip of her acting and it was terrific. Bless her." Shah Rukh Khan was last seen in Jab Harry Met Sejal and his next film, titled Zero, will release in December 2018.

---
Bye Bye 2017: Kareena Kapoor - Saif Ali Khan, Akshay Kumar - Twinkle Khanna All Set To Welcome The New Year.
NEW DELHI:MMNN:30 December 2017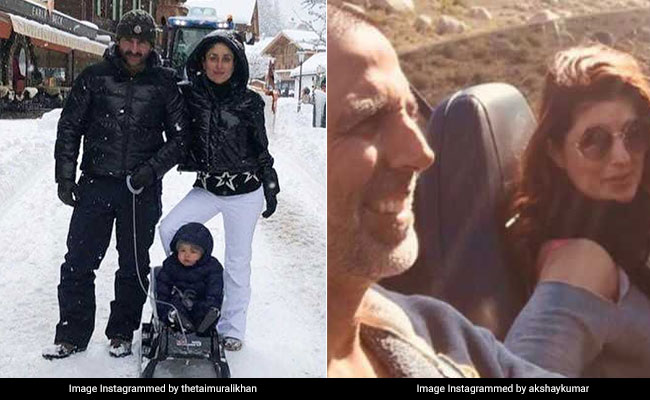 Our favourite stars are all set to ring in the New Year with new hopes, new possibilities and new dreams. Some of the Bollywood stars have decided to skip a grand New Year party while the others are in a perfect holiday mood and are enjoying the joyous celebrations at their manpasand vacation destination. Bollywood Khiladi Akshay Kumar has double reasons to celebrate. The actor is currently enjoying in Cape Town with wife Twinkle Khanna (who celebrates her 43rd birthday today) and daughter Nitara while little Nawab Taimur is off on a Swiss holiday with mom Kareena Kapoor and dad Saif Ali Khan. Here's how and where our favourite stars with ring in New Year 2018.
#Kareena Kapoor - Saif Ali Khan In Switzerland Switzerland is Kareena Kapoor's favourite holiday destination and nothing could have been better for Kareena than to enjoy in the Swiss alps in such beautiful weather. Kareena and Saif Ali Khan along with their one-year-old son Taimur will celebrate the coming year in Gstaad, a resort town in the Swiss Alps. A photo of the trio was shared on social media recently and is now viral.
#Akshay Kumar - Twinkle Khanna In Cape Town Actor-turned-writer Twinkle Khanna is making the best out of her birthday and the holidays in her favourite destination - Cape Town. Akshay Kumar shared a picture in which he drives across the African port city while Twinkle sits beside him.
#Alia Bhatt In Bali Alia Bhatt has flown to Bali with her BFFs to ring in the New Year and the pictures on her Instagram feed just cannot be missed. "Yes, I have my New Year's plan in place. My best friend is getting married, so we're going on a girls' trip," Alia said during an award show.
#Virushka In South Africa Sabka favourite couple Virat Kohli and Anushka Sharma are off to South Africa, where captain Kohli will play his next series and the newlyweds will also ring in the New year. The duo gave a grand reception in Mumbai on December 26 and Aishwarya Rai, Abhishek Bachchan, Amitabh Bachchan, Priyanka Chopra, Shah Rukh Khan and others were in attendance.
#Shilpa Shetty In Dubai Sharing a photo with her son Viaan Raj Kundra, Shilpa Shetty revealed her New Year plans. The Super Dancer judge is vacationing in Dubai with husband Raj Kundra and son Viaan.
#Jacqueline Fernandez In Bali Race 3 star Jacqueline Fernandez is on a vacation with her family in Bali and is having all sorts of adventures on her holiday. She shared a couple of pictures on Instagram.
#Rajkummar Rao In Thailand Rajkummar Rao, who had a great 2017, is now having a 'mad' time in Thailand with girlfriend Patralekha. Rajkummar shared his clicks with Patralekha from Ko Samui and wrote, "Being mad with @patralekhaa. #kohsamui #thailand."
#Sunny Leone In Dubai Sunny Leone, who recently had a great time in London, is now off to Dubai for New Year's celebrations with husband Daniel Weber. Holiday is holiday but 'last minute workout can't be missed.'
#Sushant Singh Rajput - Kriti Sanon In The Alps Sushant Singh Rajput and Kriti Sanon along with their friends are somewhere in the Alps and making the most around the snow clad mountains. The photo will give you some chill vibes.
#Madhuri Dixit In Japan Madhuri Dixit is having a good time with husband Sriram Nene in Japan.

---
Yo Yo Honey Singh makes comeback with 'Dil Chori' in Luv Ranjan's next.
NEW DELHI:MMNN:29 December 2017
Indian Rapper Yo Yo Honey Singh, who was away from the limelight for the past two years, is back with Luv Ranjans upcoming film Sonu Ke Titu Ki Sweety. Collaborating with T-series, Honey Singh has rejiged Dil Chori by Hans Raj Hans, giving the audience a song to dance on the new year. The comeback song by Honey Singh, whose last song was Aankhon Aankhon from Bhaag Johnny (2015),is a reprised version of the 1990s hit number by Hans Raj Hans Dil Chori Saada Ho Gaya. After sharing a teaser, the makers of the film starring Kartik Aaryan, Nushrat Bharucha and Sunny Singh unveiled the song in Delhi on Tuesday night. Speaking about the song, Director Luv Ranjan said, Well, for preparing Honey Singh for this song, the whole credit goes to Bhushan Kumar ji, because I actually dont know Honey Singh closely, but Bushan ji made this possible to convince Honey Singh to do this song for us. About the movie he said, Nowadays, marriage is not about two families engaging with each other but for friends also it have a same feeling, so the concept of this film is about a clash a war between Bromance & Romance. I wont reveal much about this movie instead I would say just watch the movie you will understand the modern concept of marriage. You will see a Tom & Jerry chemistry in this film. Sonu ke Titu Ki Sweety is the first of a three-film contract between T Series and Luv Ranjan.The movie is based on the theme of bromance vs romance where a friend (Kartik) is trying to save his best buddy (Sunny Singh) from getting married to a girl (Nushrat) who he does not like. It is said to be a quirky, new age love story set in Delhi and UP. Produced by Luv Films Luv Ranjan, Ankur Garg and Bhushan Kumar and Krishan Kumar of T-Series, the film is slated for release on February 9

---
Tiger Zinda Hai Box Office Collection Day 6: Salman Khan, Katrina Kaif's Film Makes Just A Shade Under Rs. 200 Crore.
NEW DELHI:MMNN:28 December 2017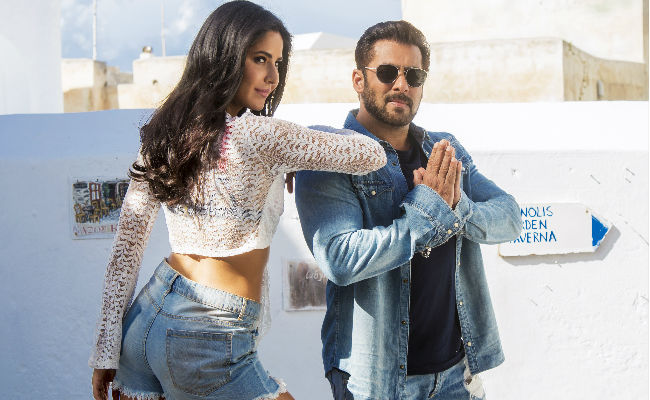 Tiger Zinda Hai is on a roll, no really. It's been six days that Salman Khan and Katrina Kaif's new film has been making steady progress towards the Rs. 200 crore bounty at the box office. And with its sixth day collection figures, Tiger Zinda Hai has scored just a shade under the big number, reports trade analyst Taran Adarsh. But do not worry, prediction says, the movie will surpass double century with Thursday's collections. For the three consecutive week days after the film's first weekend, Tiger Zinda Hai has made numbers like Rs. 36.54 crore, Rs. 21.60 crore, Rs. 17.55 crore - something which corroborates the predictions. In his analysis of Tiger Zinda Hai's box office progress, Taran Adars writes: "Tiger Zinda Hai is a ONE-HORSE RACE... Continues its DREAM RUN... All set to cruise past Rs. 200 cr mark today [Thu]... Fri 34.10 cr, Sat 35.30 cr, Sun 45.53 cr, Mon 36.54 cr, Tue 21.60 cr, Wed 17.55 cr. Total: Rs. 190.62 cr. India biz." In the Ali Abbas Zafar-directed movie, both Katrina Kaif and Salman Khan reprise their roles from 2012's Ek Tha Tiger. But, according to Salman, the entire credit goes to his heroine. "Tiger Zinda Hai has done well all because of one reason, that is Katrina Kaif," news agency IANS quoted Salman as saying on his 52nd birthday. After the film touched Rs. 150 crores, this is how Salman congratulated his team and Katrina, of course: "The love that the movie is getting right now only validates the efforts everyone put in to make a really good entertainer. I congratulate Katrina for her extraordinary performance and Ali for his vision and awesome direction to pull off Tiger Zinda Hai," IANS quoted Salman as saying. Ek Tha Tiger is proof that Tubelight may have underperformed at the box office but Salman Khan's charm still works wonders at the theatres. Don't you think so too?

---
Anil Kapoor And Salman Khan's Jhakaas Birthday On The Sets Of Race 3.
NEW DELHI:MMNN:26 December 2017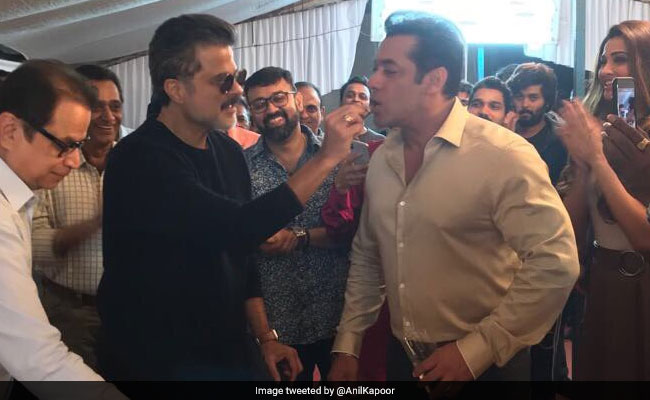 The makers of Race 3 had many reasons to celebrate this Christmas. The team of the film not only enjoyed Christmas festivities but also celebrated our favourite stars Anil Kapoor and Salman Khan's birthday on the sets. The team threw a mini party for Anil Kapoor, who celebrated his 61st birthday on December 24 and Salman Khan, who is all set to blow out 52 candles on December 27. The Race 3 team was also in high spirits owing to the tremendous success of Salman Khan's latest release Tiger Zinda Hai, which is already a super hit. Anil Kapoor also posted a picture on social media, in which he can be seen sharing birthday cake with co-star Salman Khan. "Who says an on-set birthday has to be boring?! My Birthday was made extra special by the @SKFonline & @tipsofficial teams! Thank you all for your love and wishes," tweets Anil Kapoor. Recently, Salman welcomed his Race 3 co-star Anil Kapoor in style on social media. He shared a picture of himself with Mr Kapoor and producer Ramesh Taurani Anil Kapoor played the role private detective Robert D'Costa in the previous two films of the Race series while Salman Khan is the new addition to the Race franchise. Directed by Remo D'Souza - Race 3 also stars Jacqueline Fernandez, Daisy Shah, Saqib Saleem and Pooja Hegde. The film went on floors in November and it is expected to hit the screens in the first half of 2018. Salman's latest film Tiger Zinda Hai released on December 22 and opened to an overwhelming response by the audience. The film has already made over Rs. 100 crore. The film is a sequel to 2012's Ek Tha Tiger and also stars Katrina Kaif. As for Anil Kapoor, the actor is currently filming Fanne Khan, which also stars Aishwarya Rai Bachchan and Rajkummar Rao.

---
Merry Christmas: Alia Bhatt, Katrina Kaif And Other Stars Wish 'Joy' And 'Love'.
NEW DELHI:MMNN:25 December 2017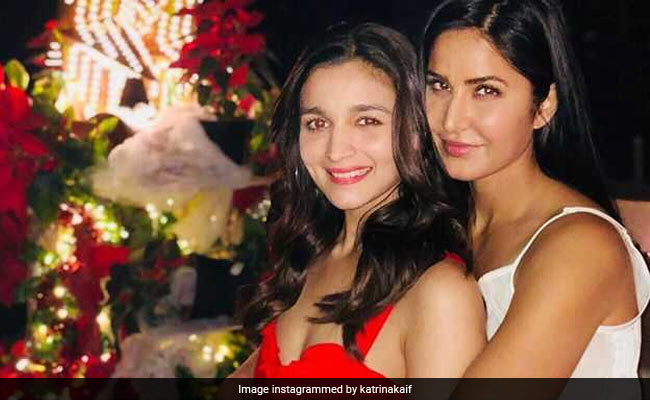 The big tree is all decorated and lit up, the sound of carols in the air; the dinner feast with wine and plum cakes is ready, and yes, Christmas is finally here! Our favourite stars have posted sweet wishes on social media and have wished everyone Merry Christmas. Sridevi has sent her Christmas wishes on Twitter and has wished everyone a fun filled day with loads of laughter and happiness as another year comes to an end while Twinkle Khanna has posted a video featuring herself and husband Akshay Kumar, in which they are dancing around Christmas trees. Alia Bhatt and Katrina Kaif have Instagrammed identical photos with each other wishing everyone Merry Christmas. "Wish you all a very Merry Christmas. Hope you have a fun filled day with loads of laughter and happiness," tweeted Sridevi. Christmas is definitely a joyous time to spread love and the spirit of festivity. We too wish everyone Merry Christmas.

---
Nanis MCA takes exceptional opening, mints over Rs 15 crore on first day.
NEW DELHI:MMNN:23 December 2017
Having already registered two blockbusters this year with Nenu Local and Ninnu Kori, actor Nani is all set to finish the year with a bang as his latest outing MCA - Middle Class Abbayi - is creating box-office ripples. According to trusted trade sources, the film is said to have grossed over Rs 15 crore on the first day worldwide, making it the biggest ever opening in Nanis career. Despite mixed response to the film from critics, Nanis popularity amidst the masses has worked big time and theyve lapped up the film for its overall entertainment angle. MCA released a day before Akhil Akkinenis Hello, and the trade sources said the films will eat into each others collection. However, at the press meet of MCA last week, producer Dil Raju said: I dont think therell be any competition between MCA and Hello. I believe both the films can do well. If theatres can accommodate 4-5 films releasing during Sankranti festival every year, I dont think therell be any problems to have two films release together during any week. I saw the visuals of Hello, and they look very rich. I wish both the films succeed. Directed by Venu Sriram, the film explores the love-hate relationship of Nani and Bhumika Chawla, who plays his sister-in-law. Sai Pallavi, after winning over audiences hearts in Fidaa earlier this year, played the lead heroine in MCA and her role was very well accepted. Meanwhile, MCA is the US is having a dream with earnings over $420K and is expected to breach into the half million mark by weekend.

---
Tiger Zinda Hai Movie Review: When You Have Salman Khan, Why Do You Need Logic?.
NEW DELHI:MMNN:22 December 2017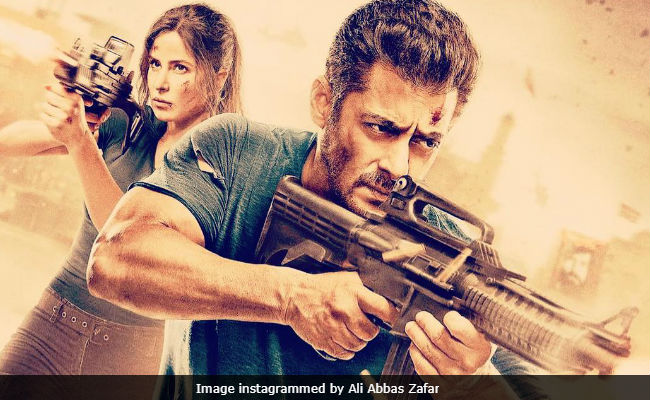 Tiger is on the prowl again. He is still a super adroit, unstoppable livewire. So what if he is borderline brain-dead? Given the cloak of invincibility he dons, he is in no danger whatsoever of going extinct. What goes missing without a trace in Tiger Zinda Hai, however, is logic. But what's that? The film is targeted at fans of Salman Khan. It's all strut and swagger, primed to give the constituency that the star serves more than its money's worth. He even sheds his shirt in one sequence. As for the rest of us, ordinary mortals who usually seek cinematic stimuli less extraordinary, Tiger Zinda Hai, directed by Ali Abbas Zafar, is a spy thriller that could have done with more sense and subtlety. But these attributes appear to be the last thing on the mind of the invincible, chest-thumping, Rambo-esque RAW agent-protagonist and his mates as they, teaming up with ISI operatives (yes, that's how woolly-headed it gets), take on their deadly common foes for the sake of aman (peace) and insaniyat (humanity) We hear the film's title being uttered by one character or other on four separate occasions. On the first occasion it's a question, on the second a firm assertion, and on the third it exudes assurance. The final 'Tiger zinda hai', reserved for the final scene, is a pointer to the possibility that we haven't heard the last of the insuperable secret agent. Sounds a bit like a threat all right, but if TZH roars loud enough at the box-office, we've got to live with it. Filmed predominantly in Abu Dhabi, which passes off for war-ravaged Iraq, TZH is strictly mechanical, by-the-numbers filmmaking that throws at the audience random allusions to contemporary geopolitics but makes it a point to disown any connection with reality. The film, as a pre-credits rider avows, is inspired by a true event, but all 'places and names' in the story are fictitious. We would have known anyways Tikrit becomes Ikrit and ISIS is rechristened ISC. But Mosul remains Mosul. There is also talk of a Caliphate. It is lorded over by a dreaded terrorist named Abu Usman. Fighting a last-ditch battle to save his turf from American drones and warplanes and the Iraqi army, he unleashes mayhem in the desert. The hyper-virile, stone-faced persona of Avinash Singh Rathore 'Tiger', which is stretched much further than it was in 2012's Ek Tha Tiger, strays dangerously close to snapping point. The spy walks in and out of raging fires with the nonchalance of a boy swatting flies. He has the blanket license to be part of improbable action sequences in which oil tankers turn into balls of fire, vehicles fly and do somersaults before exploding, and bullets are sprayed from all manner of weapons without let. Our man Tiger emerges from it all, time and again, not only in one piece but also without as much as a hair out of place That his survival instincts and combat skills haven't lost their edge is established right at the outset. Tiger, out camping in the Alps with his son, encounters a pack of wolves. He keeps his wits about him and shakes the predators off his back. No big deal - it's all in a day's work for him. The attack of the wolves prepares him for much worse. When a group of Indian and Pakistani nurses - 40 of them - are taken hostage by religious extremists in Iraq - this part of the plot is yanked from newspaper headlines - a resting Tiger is nudged out of his cozy sinecure in Austria, where he now lives with his wife of eight years Zoya (Katrina Kaif), the selfsame Pakistani spy who fell in love with him in the precursor. Summoned by the Indian spy agency chief (Girish Karnad), Tiger and Zoya plunge into the mission aimed at taking out the terrorists and saving the nurses. The hero handpicks his comrades-in-arms - ageing tech whiz Rakesh (Kumud Mishra, who provides the lighter moments), explosives expert Namit (Angad Bedi, who has just enough to do not be lost in the din) and sharpshooter Azaan (Sudeep), the token Muslim patriot who carries the tricolour in his backpack and has to do more than the others to demonstrate his love for the nation. Inspired by an incident that is also at the heart of the Malayalam smash hit Take Off, Tiger Zinda Hai goes haywire in pursuit of its outmoded notions of masculinity and heroism. The film robs the trapped women of any kind of agency. The only nurse allowed a voice and some space is Poorna (Anupriya Goenka, the sole female actor in the film who actually 'acts'). TZH has another bunch of cornered women - captives who work for the terrorists under duress. Zoya, who is instrumental in roping two ISI agents into the Indo-Pak rescue mission, turns the heat on the captors and liberates these girls single-handedly. Her entry scene, too, has the lady knock out a trio of muggers who raid a convenience store and live to regret the decision. End of story for Zoya. She, too, needs her hubby to rescue her from trouble in the film's climax. But we are getting ahead of ourselves. TZH simply isn't interested in achieving any balance. The emphasis is unwaveringly on Salman Khan the Saviour. Katrina, fetching but flimsy, is compelled to take a backseat. Mercifully, the principal antagonist Abu Usman, played by Iran-born, UAE-raised Sajjad Delafrooz, is no pushover: he makes his presence felt in no uncertain terms. Undeniably impressive in terms of its scale and flawless technical attributes - the production design is fabulous, the action sequences are spectacular and the camerawork by Polish cinematographer Marcin Laskawiec is dazzlingly good - Tiger Zinda Hai is an exercise that eventually rings utterly hollow. Its surface nous cannot conceal the sheer purposeless of all the noise Tiger Zinda Hai generates. May be, at least for some, the star power on show might help the film paper over its patchy screenplay

---
Anushka Sharma, Virat Kohli Invited PM Modi To Their Wedding Reception.
NEW DELHI:MMNN:21 December 2017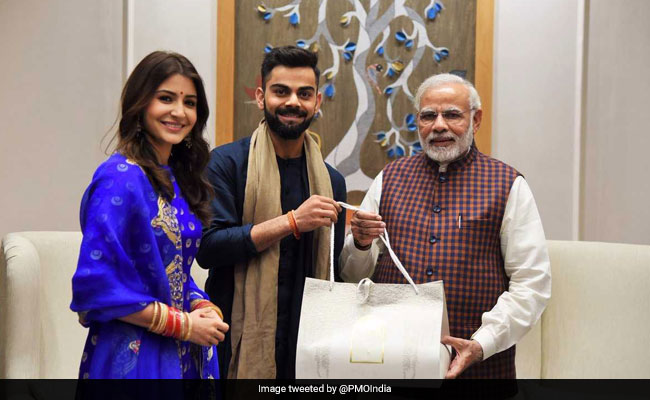 Prime Minister Narendra Modi received an invite to Anushka Sharma and Virat Kohli's wedding reception, as revealed on his official Twitter account. The newlyweds posed for a picture with PM Modi, who congratulated them on their wedding. It is unclear if PM Modi will actually attend. The reception is in Delhi, which is Virat's hometown, on Thursday. It will be the first of two receptions the couple have planned. The second will take place in Mumbai on December 26. Anushka Sharma and Virat Kohli married in Italy last week, after having managed to (almost) keep the wedding secret for a year. Anushka and her family were photographed flying out of Mumbai days before the wedding. They were headed to Italy where a heritage resort in Tuscany had been booked for the nuptials. Pre-wedding ceremonies included a mehendi and haldi. No celebrities were invited. The newlyweds made the wedding announcement on their Twitter accounts with an identical message: "Today we have promised each other to be bound in love forever. We are truly blessed to share the news with you. This beautiful day will be made more special with the love and support of our family of fans & well wishers. Thank you for being such an important part of our journey." Anushka and Virat also posted a honeymoon picture from somewhere snowy in Europe last week. On Tuesday, pictures of the couple in New Delhi went viral. They had flown back without the press being alerted After the Mumbai reception, Anushka Sharma and Virat Kohli will fly to South Africa to ring in 2018. Virat will stay on to play a series, Anushka will return to resume work on her pending films, one of which co-stars Shah Rukh Khan and Katrina Kaif

---
On Bill Gates' Best Of 2017 List, Akshay Kumar's Toilet: Ek Prem Katha.
NEW DELHI:MMNN:20 December 2017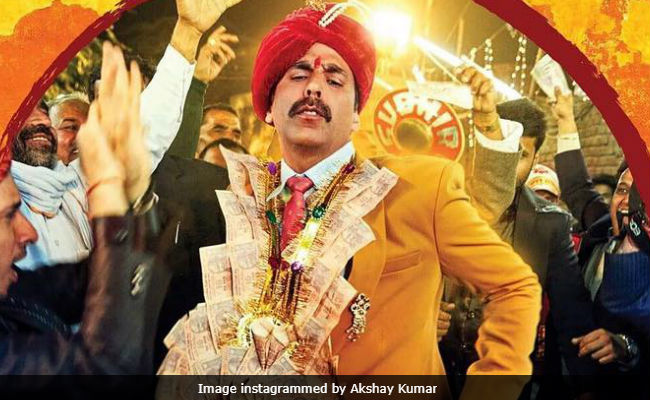 Bill Gates, no less, has listed six positive things that happened in 2017 (which has been 'a tough year') and the second of these six is.. wait, for it - Akshay Kumar's film Toilet: Ek Prem Katha. "Toilet: A Love Story, a Bollywood romance about a newlywed couple, educated audiences about India's sanitation challenge," tweeted the Microsoft co-founder. What a shout-out. The five other things on his list - Edwardo Sanchez, the first person in his family to graduate from college; Bhutan and Maldives eradicating measles; World Food Prize-winner Akinwumi Adesina using his award money for grants to young Africans involved in agriculture; a New York Times report on how helping others is good for your health; and a 'new sport' - extreme reading (to which he contributed). "There's no denying 2017 was a really tough year... but it also delivered some amazing moments of hope and progress," Bill Gates prefaced his list. "These tweets made me feel better about 2017 and more optimistic about the new year Toilet: Ek Prem Katha, starring Akshay Kumar and Bhumi Pednekar, received mixed reviews but was praised unanimously for its theme, which highlighted the need to build toilets in India, particularly rural India. The focus on sanitation meshed with the Swachh Bharat Abhiyaan spearheaded by Prime Minister Narendra Modi. We can give Bill Gates a heads up for 2018 - Akshay Kumar's new film PadMan shines a light on menstrual hygiene and spotlights A Murugunantham, the inventor of a low-cost sanitary napkin making machine. Put that on your list next year, Mr Gates

---
Karan Johar's Emotional Letter To Twins: You Are Different, Not Wrong.
NEW DELHI:MMNN:19 December 2017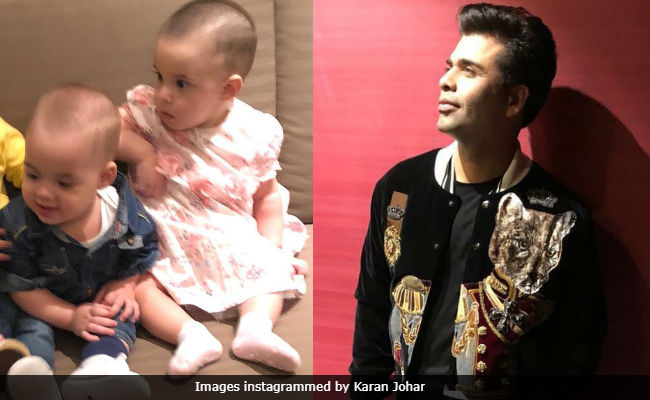 Karan Johar is all set to appear on new television show TED Talks India: Nayi Soch, which is hosted by Shah Rukh Khan, where he will read a letter addressed to his twins Yash and Roohi, reports mid-day. In one part of the letter, Karan tells his twins that no one can "label you" for being different. mid-day reports that Karan read: "As you grow up, people will try to label you according to colour, looks, religion, popularity, and money. People will gossip about you, but know that no one can label you. Just because you are different, it doesn't make you wrong. You may be treated differently in school; mothers of your classmates will come to drop them, but you will have your father to take care of that. While most of your classmates' mothers will make a WhatsApp group to discuss your homework, I will be the only father in it." Karan Johar's twins were born via surrogacy in February this year. Karan Johar described his first meeting with the tins to news agency PTI as: "When I saw them for the first time, I didn't realise there were tears rolling down. I couldn't believe they were two big pieces of me who are staring at me, who are innocent, vulnerable. It was the most surreal overwhelming emotion I have ever experienced." Karan Johar is a protective father and he shared the first picture of his twins on social media on Raksha Bandhan, when they were six-months-old. He shared some pictures subsequently and the most recent ones are from Rani Mukerji's daughter Adira's birthday party, where yash and Roohi bonded with Kareena Kapoor's son Taimur. Karan named his son after his late father Yash Johar and Roohi's name is derived by rearranging the letters of his mother Hiroo Johar's name

---
Star Wars: The Last Jedi Is The Luke Skywalker Movie You're Looking For.
NEW DELHI:MMNN:15 December 2017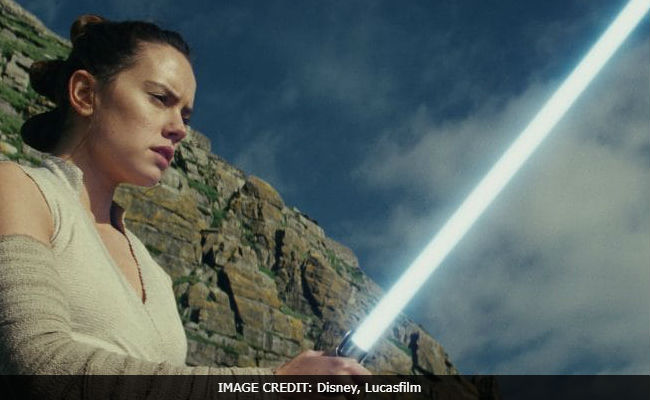 WASHINGTON: The Last Jedi is a bolder and darker take on the Star Wars episodic cinematic universe that isn't scared to take some chances. Whereas J.J. Abrams's The Force Awakens may have played it safe (minus Kylo Ren killing his father, Han Solo), following a previous template of how a Star Wars movie should feel, The Last Jedi is allowed to breathe under the assurances that the fandom is happy these movies are back. That allows director and writer Rian Johnson to take the film's major characters to unexpected places. Johnson's masterstroke is his handling of Mark Hamill's return as now-reluctant Jedi Master Luke Skywalker. Hamill was limited to a quick appearance at the end of The Force Awakens, but his role in The Last Jedi is meaty and impactful. Johnson gives us a look into the soul of the greatest Jedi there ever was and forces Skywalker to revisit the moments that led to his self-imposed exile. Luke is joined by apparent Jedi apprentice Rey (Daisy Ridley), who quickly realizes if she's ever going to truly learn the ways of the Force, she's going to have to help Luke realize they're worth teaching again. Despite the newness of this trilogy and its new generation of stars, Hamill's presence is what makes this movie special. He brings it all: Humor. Sadness. Pain. Those hoping he'd get another shot at the action won't be disappointed, and credit goes to Disney and Lucasfilm for keeping those moments out of the trailers, so it didn't feel like you'd already seen the movie, which happens a lot. But for all the excitement of Hamill potentially breaking a sweat in this film, it's the quiet moments that shine. Johnson doesn't give us a Luke Skywalker who swoops in and realizes he must save the day right away. Instead, Luke is a man of regret. The best advice he can give to an eager-to-learn Rey are the mistakes he made along the way. Those mistakes give The Last Jedi a bit of shock-value and show Luke as all too human with the ability to sometimes make the wrong choice. Luke's doubts in himself cast a shadow over Rey's development into a Jedi. It's no secret from the trailers that there's a moment where Kylo Ren, who Rey still shares a mysterious connection with, reaches out his hand to her. That might have seemed shocking at first, but what leads to that moment is probably "The Last Jedi's" biggest surprise of the entire movie. The internal struggle of dark and light within Kylo Ren continues. The would-be Sith legend who had no trouble executing Han Solo in The Force Awakens struggles when given the same opportunity to take down his mother, Leia (Carrie Fisher). Driver's performance within a performance is something to see. Of all the characters in this movie, Kylo Ren is the toughest to figure out. Supreme Leader Snoke (Andy Serkis) believes Kylo's true inner-Vader is there for the embracing. Rey feels her connection with Kylo has shown her things he can't see. But only Kylo Ren truly knows for sure, staying one step ahead of everyone, just like grandpa Vader would. Driver is solidifying his character as a true next-generation Vader. The kid gloves are off, but the uncontrollable attitude and squiggly red lightsaber remain. Outside of the big three (Luke, Rey and Kylo), several other characters are given a chance to shine and have an impact on the plot. That also explains why this movie is 2.5 hours long. Finn (John Boyega) brings more heroics alongside newcomer Rose (Kelly Marie Tran). Poe Dameron (Oscar Isaac) and his swashbuckling-in-a-jet attitude gets him in trouble. There are, of course, plenty of fun BB-8 moments and Fisher, as Leia Organa, shows that Luke isn't the only one strong with the Force. Johnson has been handed the Star Wars ball and played a beautiful game (before passing back to Abrams for episode IX). The Last Jedi is exactly the type of "new" Star Wars film fans expected when Disney announced there would be more "episodes." This film plays on the power of the past with the promise that things will only get more exciting in the future

---
Anushka Sharma And Virat Kohli Will Live In A Swish Mumbai Apartment. Details Here.
NEW DELHI:MMNN:13 December 2017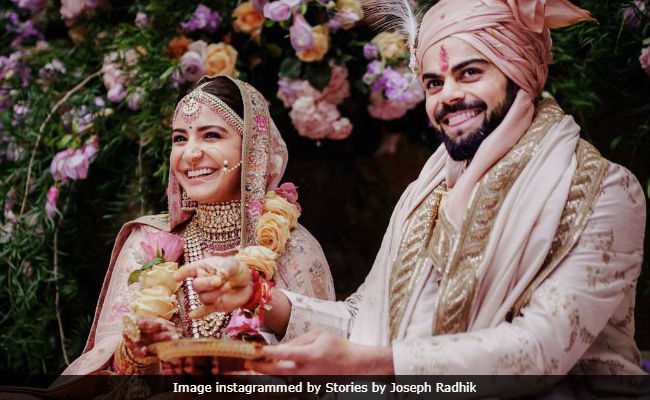 After the grand wedding, actress Anushka Sharma and cricketer Virat Kohli will move into a sea-facing apartment in Mumbai, say reports. Virat will be making the shift between cities, from his hometown of New Delhi to Mumbai where Anushka lives - this has been hailed with delight as it is so often the bride who moves. Details of the couple's spectacular new home have been shared by Architectural Digest. Virat and Anushka's new apartment is in Worli, part of Omkar 1973 Towers. The 29-year-old cricketer bought the 7,171-square-foot luxury apartment, which faces the Arabian Sea, in 2016 and it is said to be located in the most luxurious of the three towers of the complex, reports Architectural Digest. The Worli high-rise offers state-of-the-art amenities such as an indoor tennis court and a pet clinic. According to the Architectural Digest report, the complex houses "a dedicated spa for pets, fitness and sports facilities, a sky terrace for hosting parties and dedicated areas for kids - including a creche, pool, and play area." Virat and Anushka's apartment apparently also has large verandas that extend off each of the four bedrooms. Jealous much! Anushka will move out of the apartment in Badrinath Towers in Versova where she lives with her family. Anushka Sharma and Virat Kohli married in a Tuscan resort on December 11. Their big fat Italian wedding was strictly family and close friends - nobody from the couple's celebrity circles was invited. Their wedding festivities, including a mehendi function and an engagement ceremony, were held over the weekend. For all three days, Anushka and Virat's wedding wardrobes were designed by Sabyasachi. Anushka and Virat will return to India for a reception in Delhi scheduled for December 21. They will also host a reception for their colleagues on December 26 in Mumbai. Anushka and Virat will ring in the new year in South Africa. Virat will remain to play a series, Anushka will return to complete her pending projects - Aanand L Rai's film and Yash Raj Films' Sui Dhaaga, and for the promotion of her own production Par

---
Zaira allegedly molested in flight.
NEW DELHI:MMNN:11 December 2017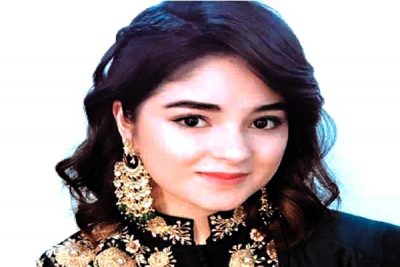 Dangal actress Zaira Wasim was allegedly molested on a Delhi-Mumbai flight by a man sitting behind her, the actress claimed in a post on social media. In a post on instagram, the actress alleged that the man was rubbing his foot against her back and neck while she was half asleep. In a video posted on her instagram account late last night, Zaira narrated the incident. Zaira said she was on an Air Vistara flight from Delhi to Mumbai when a co-passenger sitting behind her put up his feet on her armrest. When she objected, the man reportedly claimed he was resting his feet due to "turbulence". The actor said she tried to click a photo of the man, but couldn't get a clear shot due to dim lights. "Managed to get this (shot of the molester's foot). The lights were dimmed so it was even worse. It continued for another 5-10 minutes and then I was sure of it. He kept nudging my shoulder and continued to move his foot up and down my back and neck. I tried to record it on my phone to understand it better. But because the cabin lights were dimmed, I failed to get it. I ignored it the first time, blamed the turbulence for it. Until I woke up to this pleasant sight of his beautiful foot rubbing my back and neck… Guess he couldn't sit like a civilised human being and placed his foot on my arm rest while he's fully 'pheloaed' his body on his seat " she posted.Breaking down several times in the video, Zaira said, ''This is not done at all. This is not the way, this is not a way a girls should be made to feel." Zaira Wasim, in one of her posts, also slammed the airline. "Slow claps for Vistara's crew guys! Wonderful!" she wrote. In its response, Vistara said it is carrying out a detailed investigation into the case and expressed their support for Zaira. "We @airvistara have seen the reports regarding @ZairaWasim experience with another customer on board last night. We are carrying out detailed investigation and would support Zaira in every way required. We have zero tolerance for such behavior," the airline tweeted. Vistara COO Sanjiv Kapoor also tweeted, saying the company has zero tolerance towards "this kind of thing". Talking to a TV channel, Zaira's manager Tuhin Mishra said, "This is shocking. Zaira approached cabin crew but they didn't react. We have written to Vistara. We will file a police complaint. She is in a state of shock." The National Commission of Women has also said it is sending a notice to the airline for not getting the accused arrested. " Sending notice to @airvistara for not helping #ZairaWasim and not getting the man arrested after landing. Why have they not named this man?" tweeted Rekha Sharma from the women's panel. Sources say that the Civil Aviation Ministry and the Directorate General of Civil Aviation (DGCA) have sought details on the incident from Air Vistara.

---
Gauahar Khan makes to sexiest Asian list for fourth consecutive time.
NEW DELHI:MMNN:9 December 2017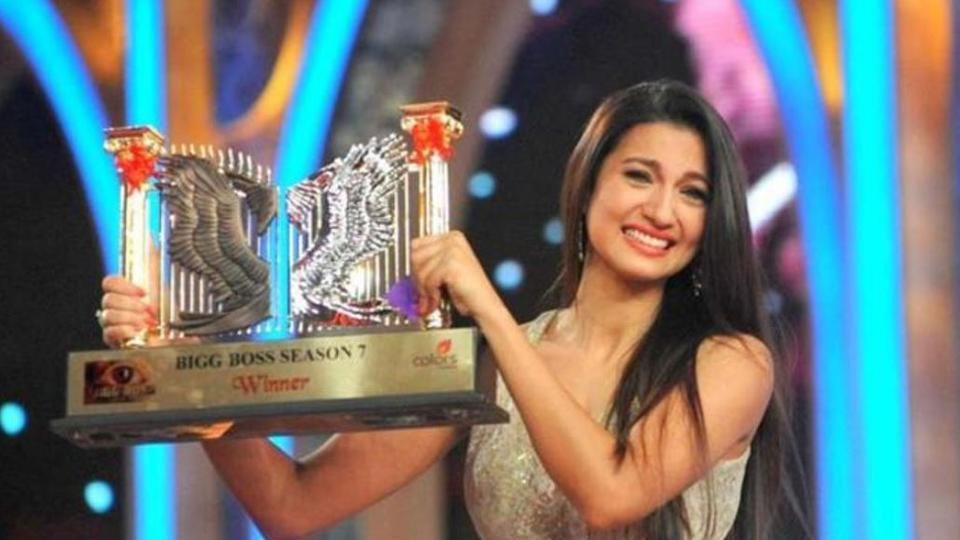 For the fourth consecutive year, Bollywood actress and model Gauhar Khan has been voted to the top 10 list of 50 Sexiest Asian Women list in the world. It is an annual UK poll, which has been released in London recently. The actor, who is known for her choice of unconventional roles and movies, has ranked ninth position in the coveted list of renowned celebrities. The 34-year-old actress strongly believes that she has managed to achieve this feat because of her undying love and support from her ardent fans. It is a fan based forum which actually votes for their favourite actors, she said. The word sexy has followed the model, actress and TV personality for her entire career like a homing missile. Its not just because of her explosive beauty, knockout figure and heaven-sent ability to make any outfit look hot. Its also that winning personality, inspirational outlook on life and kind heart, the Begum Jaan actor added. The Fever actor is currently working to launch her own clothing line.

---
Fukrey Returns Movie Review: Hunny, Choocha And Gang Return - But Should They Have?.
NEW DELHI:MMNN:8 December 2017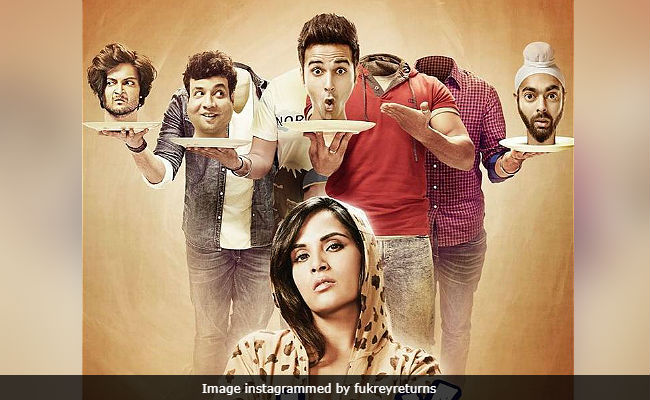 Cast: Pulkit Samrat, Manjot Singh, Ali Fazal, Varun Sharma, Richa Chadda, Priya Anand, Vishakha Singh and Pankaj Tripathi Director:Mrighdeep Singh Lamba Rating: 2 stars (out of 5) Call it what you will - deja vu or deja choo - it is written all over every single frame of Fukrey Returns. The film is unable to shake off the effects of the law of diminishing returns. It's more of the same but with markedly less impact. The slacker comedy, like the boys that it is about, drifts aimlessly from one gag to another, with a caged tiger and its cuddly cub serving as the fulcrum. Add to that a King Cobra for good measure. Sadly, Fukrey Returns lacks the animal instinct to heave itself out of its trough. It does has some deliriously funny moments - most of them emanating from the chubby and guileless Choocha's actions and utterances - but its flaccid stretches are one too many and they rob the film of any realistic chance of pulling off a repeat act. Fukrey Returns comes nowhere near being the rip-roaring ride that the 2013 sleeper hit Fukrey, at least in parts, was. Director Mrighdeep Singh Lamba and co-writer Vipul Vig, juggling with elements that have clearly lost their sheen, fail to rustle up anything that could be described as refreshing. The fact that the screenplay does not accord balanced treatment to the oddball characters that pumped life into the first film does not help matters either. Fukrey Returns starts off with a zingy opening-credits number that provides a brief recap of the story so far. Fair enough but not good enough. The film's frequent throwbacks to the past is bound to throw off those that haven't seen - or remember - Fukrey. The screenplay proceeds on the assumption that the audience, down to the last member, is familiar with all the characters and their back stories. That is likely to leave many gaps in comprehension for those that aren't fully acquainted with the world of Fukrey. In the film's bizarre first sequence, we watch Choocha and Hunny taking a dump in a forested area off the river Yamuna. Hunny begins to whistle in the woods. Don't, Choocha warns him, or a snake will slither our way. Lo and behold, the sibilant appears out of the undergrowth, bites Hunny on the bum, and assumes the form of Bholi Punjaban. Hunny is out of the way, and you now have me all for yourself, the snake-woman exults. Choocha is understandably thrilled to bits. But the joy is short-lived. His post-dawn reverie is rudely interrupted by a sandal hurled at him by his angry mother. Between these weird dreams and risky misadventures, the Fukrey boys of east Delhi are pushed to the wall by the feisty Bholi Punjaban, the reigning queen of the Trans-Yamuna underworld. They are once again engaged in hatching get rich quick plans and flirting with danger, but nothing that they do can whip up the sense of edgy urgency of the past. They seem to be merely going through the motions as Fukrey Returns wends its way to a huge letdown of a climax The novelty has worn off and the dreams of Choocha that yielded several lottery wins on the back of Hunny's freewheeling but spot-on interpretations no longer sound either convincing or intriguing. The attempts to squeeze humour out of the camaraderie of the boys amid the many setbacks that they suffer, therefore, fall rather flat. Hunny (Pulkit Samrat), Zafar (Ali Fazal) and Lali (Manjot Singh) are reduced to glorified hangers-on - and the girlfriends of the first two (Priya Anand's Priya and Vishakha Singh's Neetu) fare much worse - as Choocha (Varun Sharma) and Pandit (Pankaj Tripathi) have their stocks appreciably enhanced in this follow-up that struggles to find a narrative sweet spot. It never does. As a result, the Panditji's laconic wisecracks and Choocha's chatter do not add up to much beyond a few, stray chuckles. Fukrey Returns has a full-fledged baddie in the person of Delhi government minister Babulal Bhatia (Rajiv Gupta), who helps Bholi Punjaban cut short her prison term. The pound of flesh that he demands from her pushes her, her two African henchmen and a pair of pliable zoo employees Changu and Mangu into acts of indiscretion that spell trouble for the titular protagonists. The boys, presumed dead, are compelled to go into hiding, with hordes of angry Ponzi scheme investors baying for their blood. The wily, smooth-talking political scamster, who clandestinely runs a shady lottery business and has his sights set on the chief minister's chair, steps up to the plate and offers to bail out the boys in a soup, but once again for a price. But Panditji has other ideas. That sets off another chain of events that lead the gang into an underground tunnel and from thence to an abandoned rail yard. In the end, it is all much ado about nothing. Last time around, Choocha would dream up numbers that helped the Fukrey foursome get their guesses right. He now has a new 'God's gift' - he can see flashes of the future. Thanks to one of the premonitions that he has, the boys set out on a wild goose chase for a hidden treasure. On the acting front, the only ones who are allowed a proper run in the sun are Varun Sharma, Pankaj Tripathi and Rajiv Gupta. For Gupta, long typecast as a Haryanvi cop in Delhi-NCR thrillers and stuck in blink-and-miss cameos, Fukrey Returns is a rare extended outing. He makes the most of the opportunity to demonstrate his considerable acting chops. Sharma is a livewire who is a delight to watch and Tripathi, as always, is outstanding. Wish one could say the same about the rest of the cast - and the film as a whole. For a film that aspires to be a full-on laugh riot, Fukrey Returns is a bit of a trudge.

---
No, Anushka Sharma And Virat Kohli Aren't Getting Married. But Twitter Is Losing It Anyway.
NEW DELHI:MMNN:7 December 2017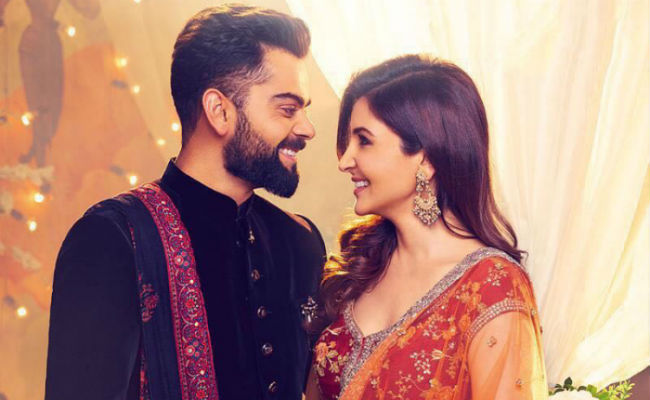 Well, it's December already - which means time for Anushka Sharma and Virat Kohli to trend for reports about a speculated wedding. And that's exactly what's happened Wednesday evening. Just when the gossip mills and the Internet and fans of the star couple were about to delve into the details of a 'destination wedding in Italy next week', a statement arrived from Anushka Sharma which dismissed the rumours as "absolutely" rubbish. "There is absolutely no truth to it (rumours of marriage)," Anushka's spokesperson told news agency PTI. However, Twitter's level of excitement is off the charts, courtesy the rumours. Before Twitter could calm itself down, this is all that has gone down already. Early congratulations poured in for the lovebirds - "Congratulations Virat Kohli and Anushka Sharma on getting hitched," read a tweet while another added: "Congratulations and best wishes to Virat and Anushka." Folks, you need to save your best wishes for later, because Virat and Anushka are not getting married just yet It was only last month when rumours about a December wedding prompted the actress to set things straight - Anushka Sharma's manager had told NDTV: "These are just rumours doing the rounds. No truth to it." Fresh rumours speculated that the celeb couple were to fly out for destination Italy on Thuraday, where there would be a three day wedding between December 11-13. Anushka and Virat have been dating for years now and have been spotted in locations across the world plenty of times in the past few months - the duo shared Instagram posts from their vacations in Sri Lanka and New York, from where a back-seat selfie went crazy viral. Anushka Sharma is currently busy with an Aanand L Rai's film in which she co-stars with Shah Rukh Khan and Katrina Kaif. Meanwhile, Virat Kohli has led India to nine successive series win as captain

---
Tiger Zinda Hai: How Salman Khan got all ripped, director Ali Abbas Zafar outs his secret.
NEW DELHI:MMNN:6 December 2017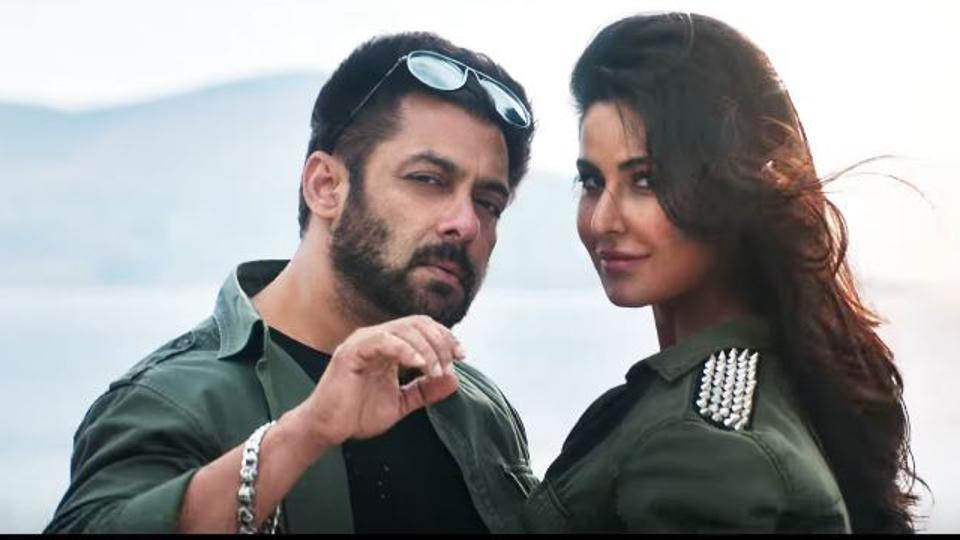 Salman Khan was the one who ushered in the trend of a ripped bod in Bollywood. Over the years, he has maintained his physique and helped many to achieve it as well. Last year, he was seen in Sultan where he played a middle-aged wrestler. Now, he returns to his favourite genre that is action-thriller with Tiger Zinda Hai. His director Ali Abbas Zafar has spilled the beans around Khans fitness secrets in an interview to Deccan Chronicle. He said, Salman had trained, and actually, we should say he has killed himself for about three months at the gym before the shoot began. Altitude training is something that Salman had to do given the fact that we were shooting in the Alps and pulling off some daring stunts with him Zafar further said, During the shoot, be it the middle of a desert or on top of the snow-capped mountains; Salman was training every day. He used to ride his cycle to the set and we all know its not easy to cycle in such harsh environments. He used to easily ride for more than 10 kilometres every-day to get to the set. He had worked out his own exercise regime given the limited options. Salmans diet was incredible. His diet kept him light and agile and he paid minute attention to whatever he was eating. The cheat day came in the last schedule of Greece Tiger Zinda Hai, which features Katrina Kaif opposite Khan, is set to hit the screens on December 22, 2017

---
Shashi Kapoor's State Funeral: Amitabh Bachchan, Shah Rukh Khan Attend.
NEW DELHI:MMNN:5 December 2017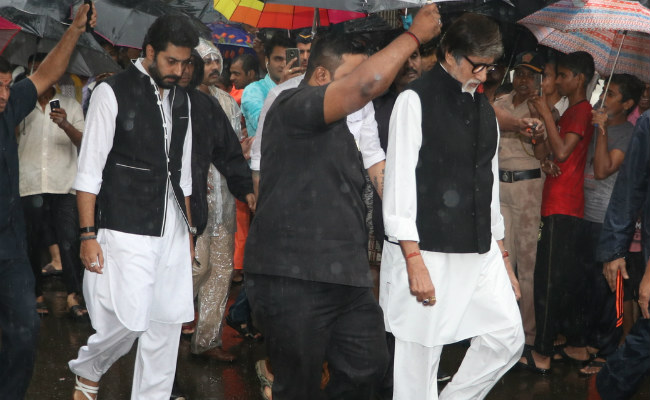 Actor Shashi Kapoor's last rites took place on a Tuesday, as Mumbai was lashed by Cyclone Ockhi. Wrapped in the tricolour, the late star was cremated with state honours at the Santa Cruz crematorium, with a three-gun salute by Mumbai Police. His body was taken to Prithvi Theatre first. The hearse was accompanied by several family members, sheltering from the torrential rain under umbrellas - Shashi Kapoor's son Kunal, nephews Randhir and Rishi, who rushed back to Mumbai from a film shoot, his son Ranbir and several other Kapoors were pictured. Many of Shashi Kapoor's colleagues from the film industry were photographed at the crematorium, among them Amitabh Bachchan, his son Abhishek and Shah Rukh Khan. Celebrities like Sanjay Dutt, Anil Kapoor, Naseeruddin Shah and Ratna Pathak Shah were pictured at the Kapoor residence before the funeral. Shashi Kapoor was taken to hospital on Sunday and died yesterday. He was 79 and had been on dialysis for failing kidneys. Shashi Kapoor, star of such as Deewar and Junoon, was the last of the Kapoors of his generation - Raj and Shammi Kapoor were his older brothers, actor Prithviraj Kapoor was his father. Shashi Kapoor is survived by his three children with late actress Jennifer Kendal - Sanjana, Kunal and Karan. Amitabh Bachchan, who was Shashi Kapoor's co-star in some 12 films, visited the family last evening with son Abhishek and daughter-in-law Aishwarya. Other celebrities who were pictured at the residence included Rani Mukerji and Kajol. Amitabh Bachchan also posted an emotional tribute to his friend on his blog, writing "With men like Shashi Kapoor around, I stood no chance." On Twitter, messages poured in from the President, several politicians, cricketers and stars like Kamal Haasan, Aamir Khan, Ajay Devgn, Hrithik Roshan, Madhuri Dixit and Priyanka Chopra. Shashi Kapoor's Siddhartha co-star Simi Garewal wrote: "Am deeply saddened by the passing away of my co-star Shashi Kapoor. The last of that generation of Kapoors gone. A gentleman and friend gone. An era gone... All that remains are his films...and precious memories..." Shashi Kapoor leaves behind a rich legacy of cinematic and theatre work. He also gave Bollywood one of it's most famous dialogues - "Mere paas Maa hain" from Deewar. Shashi Kapoor received the Padma Bhushan and Dadasaheb Phalke Award as well as several film honours.

---
Monsoon Shootout trailer: Nawazuddin Siddiqui is back in the dark alleys with an axe and a hammer.
NEW DELHI:MMNN:4 December 2017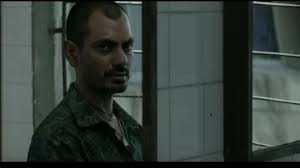 Bollywood star Priyanka Chopra shared the first trailer of Nawazuddin Siddiquis upcoming thriller, Monsoon Shootout. Arguably Indias first interactive trailer, the video lets the viewers decide whether the cop will shoot at a suspect. The trailer has double twists, corresponding to shoot and do not shoot selections by viewers. The settings are perfect for a crime thriller - rain, dark alleys, and to make it all the more dangerous, we have a suspect who prefers axes and hammers to pistols when it comes to killing someone. Reminds us of Anurag Kashyaps Raman Raghav 2.0. Directed by Amit Kumar, Monsoon Shootout is about the choices a cop faces, highlighting how ones choices can alter lives. Vijay Verma, who is best known for his role in Amitabh Bachchan-starrer Pink, essays the protagonists role of Adi - a cop - while Neeraj Kabi is his senior. Nawazuddin plays the prime suspect and a criminal, Shiva. Trailing the suspect in a chase, Adi faces Shiva with a gun pointed at the criminal, and you get to decide whether he shoots or not. Priyanka shared the trailer on Twitter and wrote, Shoot or not to shoot? YOU get to decide what happens next in the trailer for #MonsoonShootout what a cool idea! So glad to see filmmakers innovate & push boundaries of the filmmaking process With each selection, comes a twist and a separate angle of psychological thriller for the film. What if you shoot at the wrong guy and get him convicted. And what if you let a criminal escape because you chose not to shoot Produced by Monga, Anurag Kashyap, Arun Rangachari and Vivek Rangachari, the film also stars Tannishtha Chatterjee.Presented by Moving Pictures and produced by Sikhya Entertainment, Monsoon Shootout releases on December 15

---
Kajol 'Explaining God' To Son Yug Is A Priceless Moment Not To Be Missed.
NEW DELHI:MMNN:1 December 2017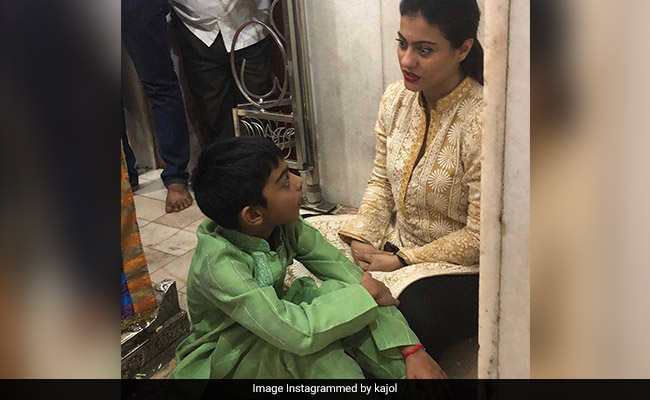 Actress Kajol visited Siddarudha mutt in Hubli, Karnataka on Thursday. Kajol was accompanied by her seven-year-old son Yug, mother Tanuja and sister Tanisha Mukherjee. Kajol offered prayers to the idol of Gurunatharudha and Siddarudha at the holy place. Kajol has not shared an update about her visit to Siddarudha mutt on social media explain a picture of herself 'explaining GOD!!!' to Yug. But thanks to the 42-year-old actress' fans who shared a couple of pictures of Kajol with her family offering prayers at the temple. Kajol was dressed in a gold suit while son Yug was cute in a green kurta pyjama. In one of the pictures, Kajol poses with her mother Tanuja at the temple while in the other the mother-son duo had a picture perfect moment. Fans have also shared a video of Kajol's son Yug performing abhisheka of Gurunatharudha and Siddarudha's idols. Isn't this so cute? "Kajol visits the mutt each time she visits Karnataka and receives blessings from Siddarudha. She had been here when she was a young girl and had visited the mutt five years ago," said the mutt's Trust Committee Narayana Prasad Pathak, reports Deccan Herald. Kajol is married to actor Ajay Devgn, her co-star from films like Ishq and Pyar To Hona Hi Tha, in 1999. The couple are also parents to 14-year-old daughter Nysa. Recently, in an interview with news agency IANS, of her kids, Kajol said: "I've been learning from my kids ever since I was pregnant. I have learned a lot from my kids. My biggest gurus are my kids. I learn something new from them every day." Kajol, star of films such as Dilwale Dulhania Le Jayenge and Kabhi Khushi Kabhie Gham recently featured in Tamil release VIP 2, co-starring Dhanush

---
Ranveer Singh, Ranbir Kapoor, Arjun Kapoor Are Trending Because Of Pahlaj Nihalani.
NEW DELHI:MMNN:30 November 2017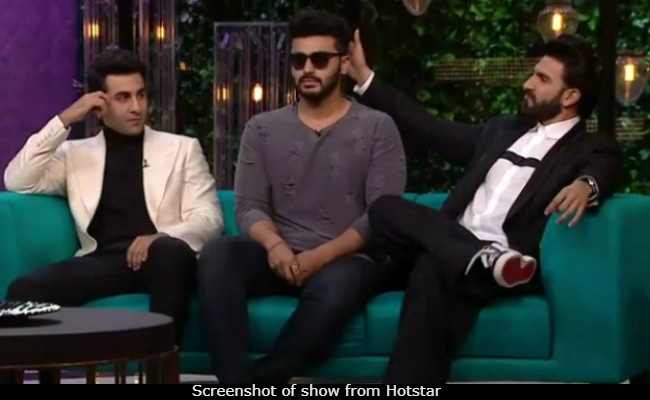 "Ranveer Singh and Arjun Kapoor are No 1 on my wish-list. I want them to play the leads in Aankhen Chaar," former Censor Board chief Pahlaj Nihalani told mid-day while talking about his next venture. Mr Nihalani wants to make a contemporary version of his 1993-produced film Aankhen. This was enough to make the two colleagues trend, and also joining them on the trends list is Ranbir Kapoor, courtesy the ex-CBFC chief again. If things do not work out with the Gunday, then he wants to approach Ranbir and Imran Khan for the remake, which will be a complete comedy. Ranbir and Shahid Kapoor; Ayushmann Khurrana and Rajkummar Rao are also some of the other combinations he has in mind. "Ranbir and Imran will also make an excellent combination, as will Ranbir and Shahid Kapoor and Ayushmann Khurrana and Rajkummar Rao," Mr Nihlani told mid-day. Aankhen, which turned out to be a blockbuster hit, cast Govinda in dual roles. About the new project, this is what the filmmaker said: "With each character playing a double role, we will see two Ranveers and two Arjuns, along with a chimpanzee." Pahlaj Nihalani recently tasted failure with the damp performance of Julie 2 at the box office, told mid-day: "people want entertainment" and hence the Aankhen remake will have a fresh story-line. "The subject will be completely different. It should reflect current times. It should be modern, keeping the trends and the youth's preferences in mind. It will have Indian values and sentiments at its core, but, will be one that appeals to the youth," mid-day quoted him as saying. Ranveer Singh is currently awaiting the release of Padmavati, which has been postponed indefinitely because of the ugly controversy around it. Ranbir Kapoor is prepping for the Sanjay Dutt biopic at the moment while Arjun Kapoor will next be seen in Sandeep Aur Pinky Faraar.

---
IFFI 2017: 'Embarrassed' By Akshay Kumar, Amitabh Bachchan Tweets 'Not Done.
NEW DELHI:MMNN:29 November 2017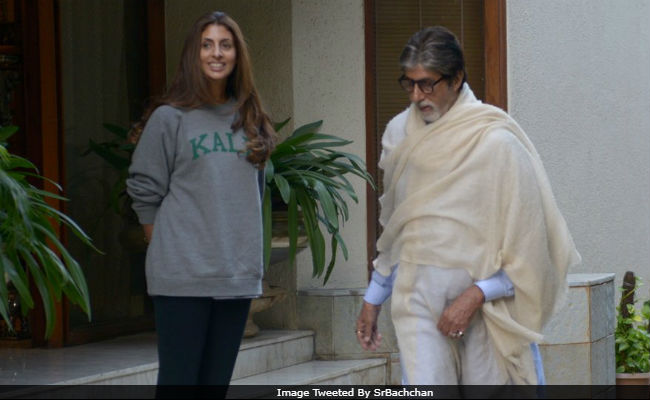 Amitabh Bachchan was honoured with the Indian Film Personality Of The Year award at the recently concluded International Film Festival of India in Goa. The closing ceremony on Monday evening was a star studded affair, at which Information and Broadcasting Minister Smriti Irani and Akshay Kumar presented the award to the 75-year-old megastar. That's also when Akshay Kumar, in Big B's words, "embarrassed" the legend. No, it wasn't a joke or a commentary that got Big B tweeting about being embarrassed - it was actually Akshay's attempt to touch Amitabh Bachchan's feet. In photos shared on social media, one can see that Akshay, who was yet to present the award, reached for the actor's feet, who then pulled him up and greeted Akshay with an embrace. "Embarrassed that Akshay does this ... no Akshay this is not done," tweeted Big B. We can't decide what's more adorable - Big B's words or the IFFI moment Amitabh Bachchan also shared photos from the felicitation ceremony, along with a message: "A most humbling evening at the IFFI awards... honoured and filled with such gratefulness to IFFI and the extremely endearing words by Akshay Kumar, Karan, and the dignitaries The closing ceremony of the 48th International Film Festival of India was also attended by Salman Khan, Katrina Kaif, Sidharth Malhotra, Huma Qureshi, Sonali Bendre, Bhumi Pednekar and Sushant Singh Rajput. Akshay first co-starred with Amitabh Bachchan in 2002's Aankhen and has also shared screen space with Big B in films like Rishtaa, Waqt and Family. Amitabh Bachchan will next be seen in Thugs Of Hindostan while Akshay Kumar's next is Padman.

---
Manushi Chhillar Says No Bollywood For Now. An Aamir Khan Film Might Tempt Her.
NEW DELHI:MMNN:28 November 2017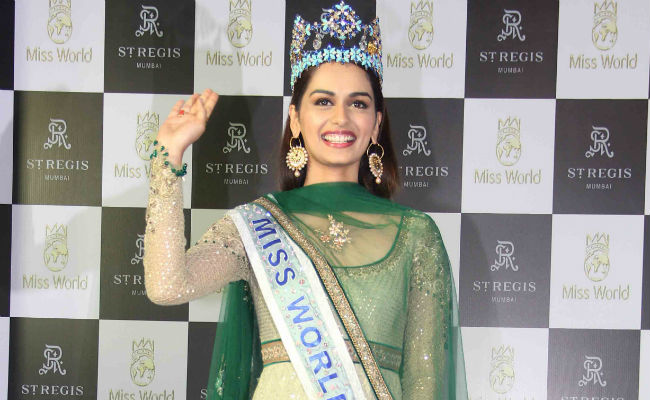 Will Miss World 2017 Manushi Chhillar answer if Bollywood comes calling, as Aishwarya Rai Bachchan and Priyanka Chopra did before her? The 20-year-old pageant winner, now back in India after being crowned in China, says she has no celluloid dreams as of now - that said, she would eventually like to work in an Aamir Khan film. Manushi Chhillar, a former medical student from Haryana, is currently addressing press conferences across cities. In Mumbai, she was asked about a possible career in films. "Bollywood is just something that is not on my mind as of now so I really can't say anything about it," IANS quoted Manushi as saying. For now, Manushi Chhillar is drawing on her medical training to advocate for menstrual hygiene. "Sanitary pads are a necessity for every woman, so they should be available at a low cost. Indian women must have access to safe and affordable menstrual hygiene management," she said, according to mid-day. Through her year-long reign as Miss World, Manushi will travel across four continents to raise awareness about hygiene for menstruating women. But she's not ruling Bollywood out entirely. On Manushi's wishlist - a film with Aamir Khan. "I would like to work in an Aamir Khan movie because I think he has really challenging roles. His movies have a message and connect to the society. So, that will be very interesting to do," she told the press on Monday. Apart from Aamir Khan, Manushi also has a favourite actress: "In actresses, my personal favourite is Priyanka Chopra." Manushi is the sixth Indian contestant to have been crowned Miss World and a direct successor to Priyanka Chopra. Priyanka Chopra won the Miss World pageant 17 years ago in 2000. Priyanka and Aishwarya are former Miss Worlds who since built massively successful careers in showbiz. Diana Hayden and Yukta Mookhey also had brief stints as actresses. Manushi Chhillar was crowned Miss World in China's Sanya city earlier this month and touched down in Mumbai on Saturday. "I thank each and everyone who came to welcome me. It was overwhelming and I am grateful for your support. Thank you for showering me with all your love," Manushi told PTI after the grand homecoming.

---
Padman New Poster Stars Akshay Kumar As A 'Superhero'.
NEW DELHI:MMNN:27 November 2017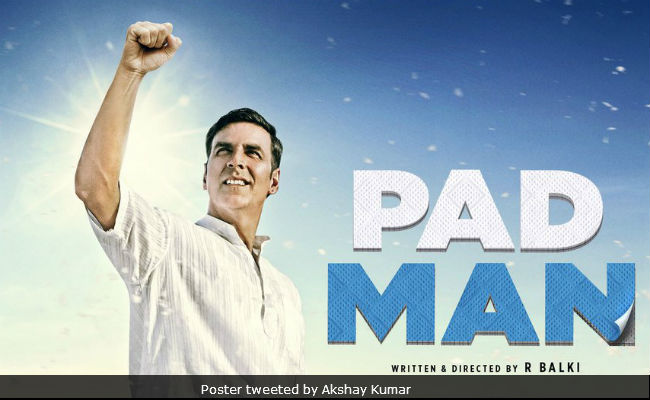 Akshay Kumar shared a new poster from his upcoming film Padman and we love it. In the new poster shared by Akshay, the 50-year-old actor is posing like a 'super hero,' which is also the tagline of his film, directed by R Balki. Padman is a biopic on entrepreneur Arunachalam Muruganantham (played by Akshay), who became a popular figure for inventing low-cost sanitary making machines and hence, the name of the movie. In the poster, Akshay can be seen standing on a pile of cotton, which looks like a set-up for making sanitary pads. Sharing the poster on Twitter today, Akshay reminded his fans about the release date of the film, which is January 26, 2018. "Super hero hai yeh pagla, aa raha hai 26th January, 2018 ko: #Padman," Akshay captioned the poster. Earlier, Akshay had revealed the first looks of his co-stars Sonam Kapoor and Radhika Apte from the movie. Radhika Apte has been cast as Padman's wife while Sonam's character appears to have helped him in his venture. Check out how Sonam and Radhika's looks from Padman: Earlier in August, the first look of Akshay Kumar as Padman pedalled his way to social media like this. The film was scheduled to release in April then but has now been rescheduled to hit screens on January 26. Padman will be co-produced by Twinkle Khanna's Mrs Funnybones Movies and KriArj Entertainment while Sony Pictures has also come on board for worldwide distribution of the movie. R Balki, who last directed 2015's Ki and Ka, said that this project is going to be as interesting as Sholay. In an interview to news agency IANS, the director said, "His (Muruganantham's) life itself is equal to Sholay. It is as entertaining as the biggest masala entertainers... And when you have a life that is so entertaining, why do I need to add entertainment." Sonam Kapoor is currently prepping for Veere Di Wedding, co-starring Kareena Kapoor Khan and Swara Bhaskar while Akshay will also feature in 2.0, co-starring Rajinikanth.

---
Mahira Khan Trolled For Film 'Disclaimer,' Told To Leave Pakistan.
NEW DELHI:MMNN:25 November 2017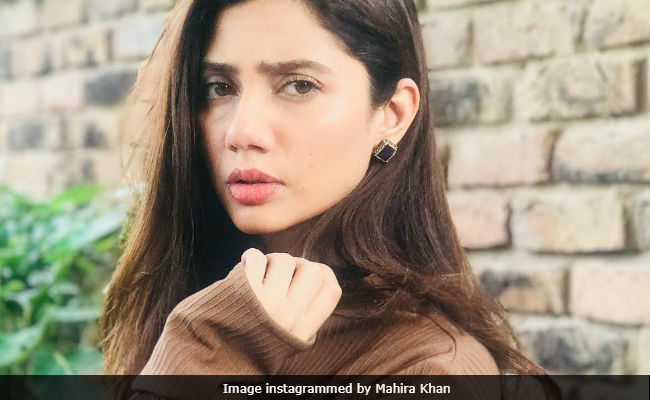 Actress Mahira Khan's embattled film Verna recently hit the screens to mixed reviews. The film was initially not cleared for release because of the film's plot - rape of a woman by a governor's son - which was slammed by the Pakistani Censor Board. Now that the film has released, Mahira Khan, who plays a rape survivor in film, shared what she says is the disclaimer shown before the film begins. It reads: "Everything in this film is imaginary. Imaginary because the reality is too bitter to be told or shown. Events shown in this film are jokes compared to what has actually been happening in countries like ours." It is not known if the disclaimer below actually displays before the film or if Mahira shared it to highlight the sorry state of affairs. In either case, the point Mahira wanted to make was made with this Instagram post Several Instagram users praised Mahira's bold move and said: "This thing was necessary." But there were also those, who did not appreciate "the disclaimer" (and also the film) and said: "Nothing is happening in our country. Other countries have much worse situations. If you don't like it here... just go wherever you want to go... just leave my country Verna is directed by Shoaib Mansoor, who has earlier made critically acclaimed films like Bol and Khuda Ke Liye, which also depicted certain follies of the state of affairs in Pakistan. "Why Shoaib Mansoor never finds a positive side of our country to make a movie on?," objected one Instagram user nitially, Pakistan's Central Board of Film Censors took time to review the Verna while he provincial censor boards, which operate independently in Pakistan's Sindh, Punjab and other area did not issue any certificate for the screening. A member of the Punjab Censor Board told news agency PTI that they had found several objectionable scenes in the film. "Firstly, it shows a governor's son involved in a rape case - which was the biggest objection. Secondly, it includes many bold dialogues and scenes. The general plot of the movie revolves around rape, which we consider to be unacceptable," he was quoted as saying.

---
Is The Risque Julie 2 Based On Nagma's Life? 'News To Me,' She Says.
NEW DELHI:MMNN:24 November 2017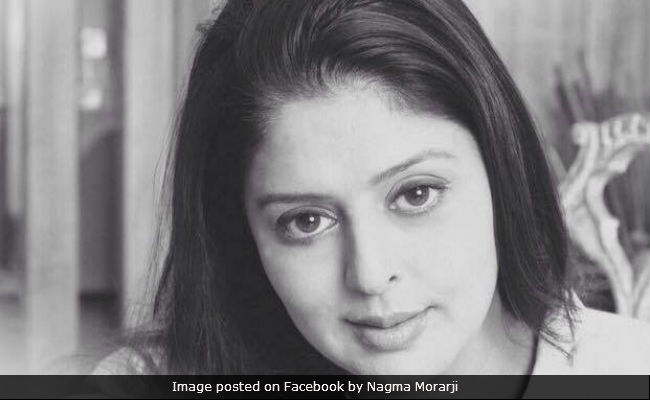 Actress-politician Nagma has reacted with surprise to rumours that new film Julie 2, described by its presenter Pahlaj Nihalani as a 'clean adult film,' is a thinly-veiled version of certain events in her life, including an affair with a married South star. The makers of Julie 2 have revealed that the film is based on the life of a real-life actress - they have withheld her identity for legal reasons. Hints dropped by the film's team point to a star of the 90s and 2000s who debuted opposite a Khan. Nagma, whose first film was Salman Khan's 1990 release Baaghi, fits - she is popularly supposed to have had an illicit romance with married actor Sarathkumar, effectively ending her career down South after which she moved to the Bhojpuri film industry. Nagma, 42, disclaims knowledge of Julie 2, telling Deccan Chronicle, "This is news to me. I have no knowledge about it and was not informed about it earlier. I am listening to it for the first time. Maybe the film Padmavati is garnering all the hype and the makers of Julie 2 need some publicity, which is why they might have hinted on such a development." Julie 2 released today and the actress-politician told Deccan Chronicle that she will catch a show to verify this 'interesting development.' According to Pahlaj Nihalani, the identity of the actress Julie 2 is based on will be plain to everyone once the film releases. "It's definitely based on the actress.... In fact, one of the main actors who is a part of our cast was also involved with that actress. We are not naming her as we don't want our film to be stopped. But once the film opens next Friday, it will be obvious to all which real-life actress Raai Laxmi is playing," he told news agency IANS - the actor he mentions as being previously involved with the movie's real-life inspiration is presumed to be Ravi Kishan, one of Nagma's co-stars from the Bhojpuri films she starred in. Julie 2 actress Raai Laxmi told IANS, "I am not denying the similarities between my character and the actress. These similarities are there. I don't know if they're deliberate or just a coincidence." "It's possible that the actress may recognize herself and come forward. However, we have made sure she is not mentioned anywhere in any of the press meets," Pahlaj Nihalani said, when asked if he expected legal consequences of the Friday reveal.

---
On Wedding Anniversary, Shilpa Shetty Posts A Special Message For Her 'Superman' Raj Kundra.
NEW DELHI:MMNN:22 November 2017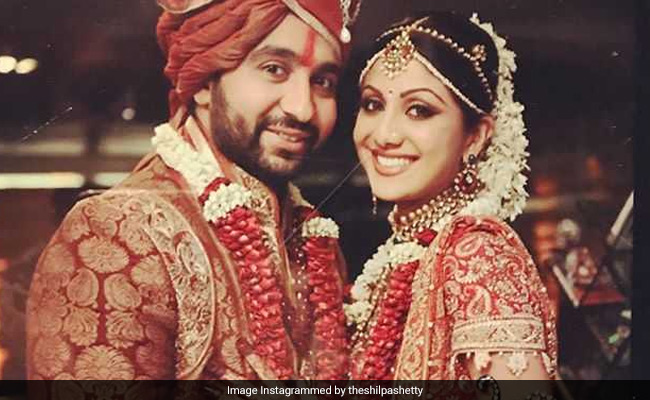 Shilpa Shetty and husband Raj Kundra are celebrating their eight wedding anniversary today and the actress has posted a special message for her 'superman' (as cutely addressed by Shilpa) on social media. The 42-year-old actress posted an adorable photograph with Raj Kundra, which is from their wedding day and mentioned that she is "blessed to be with her family maker, superman, sunshine, soulmate, best friend and anchor." In the picture, the couple are looking gorgeous and are all smiles. The Dhadkan actress Shilpa Shetty married businessman Raj Kundra in 2009. The couple are parents to a five-year-old son Viaan Raj Kundra. "I loved you then, I love you still. I love you now and always will. Happy Anniversary @rajkundra9, my family maker, superman, sunshine, soulmate, best friend and anchor.....8yrs Down, FOREVER to go," Shilpa captioned the picture. See the wedding anniversary image shared by Shilpa Shetty here: On their special eight years, Raj Kundra too had a sweet wish for his wife Shilpa with a picture collage of their 'BEST' memories together. "Some of my BEST memories are with you and because of you. Thank you for being my LIFE partner. I am not perfect but then a perfect marriage is about two imperfect people who refuse to give up on each other. Happy Anniversary my darling wife. #love #life #happiness #partner," Raj Kundra wrote. Shilpa Shetty is the star of films such as Baazigar, Dhadkan and Apne. Shilpa has now been known as a yoga expert and also has a range of yoga fitness videos. Shilpa also inspires her fans with her fitness and diet tips. She has appeared in two famous songs - UP Bihar Lootne and Shut Up & Bounce. Shilpa has also featured as a judge on Jhalak Dikhhla Jaa. We wish Shilpa and Raj Kundra a very happy wedding anniversary!

---
Dear National Media, You Are To Blame For "Padmavati" Too.
NEW DELHI:MMNN:21 November 2017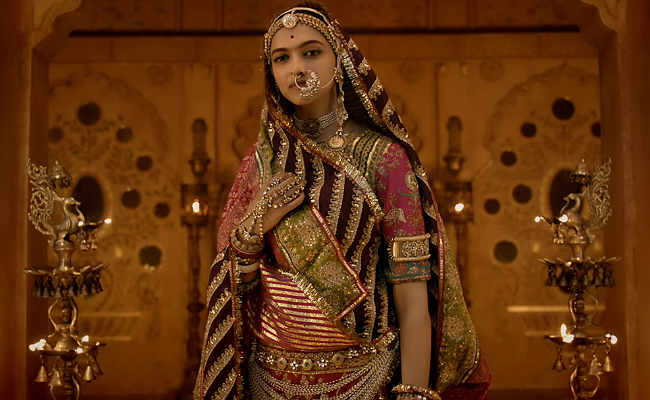 The Karni Sena, a group of half-wit fundamentalist hotheads with far too much time to spare, have suggested that someone chop off the actress's nose for a giant reward, possibly imagining that such an act would leave her shamed like Ravan's sister Shurpanakha. Yet, cowardly violence only ever shames the cowards. Instead, given Padukone's statuesque and towering stature, I suspect she would emerge more like The Great Sphinx of Giza - all the grander and more iconic because of her inimitable noselessness. Padukone's 'crime' has been to act in a film called "Padmavati" that has the country up in arms. Better to be without a nose than be without shame, an allegation that must be levelled against several: these various bullying organisations attacking a movie, political parties choosing to exploit religious fervour in time for the elections, a censor board that sheepishly toes the government agenda, and the media who has legitimised these harebrained threats by treating them like real news. As a journalist, let me start with us. It is absolutely unforgivable to give these opportunistic, attention-hungry rabblerousers a mainstream platform and to broadcast their threats across the nation. News organizations of screen and word alike nowadays gravitate toward the popular, and I am aware outrage earns eyeballs, but - I ask this with honest curiosity - how do you report a headline that says "Haryana BJP leader announces reward for beheading Deepika Padukone, Bhansali" with a straight face? Those in print should feel free to use adjectives like "idiotic" and "absurd" not merely to add colour to their pieces, but also to make them more accurate. If news anchors claim they are unable to actually giggle loudly while saying something this patently stupid, then, at the very least, the words need to be accompanied by an expansive rolling of the eyes. It is our responsibility to make it clear how foolish these threats and hate-mongering is. We cannot legitimize these loons anymore, because in India these days, the inmates are increasingly taking control of the asylum. How else can we explain this baffling situation? A film has been made about a Queen we know through an epic poem. She is, in all likelihood, entirely imaginary, yet a film that shows her dancing has angered some hate groups who demand that the film be banned and those who made it be harmed. This makes no sense. Dancing is what all of Sanjay Leela Bhansali's heroines do, regardless of historical appropriateness and context, and his operatic circus-ry has been hugely successful with audiences of late. Now, however, he has 'hurt the sentiments' of some idiots who unforgivably assaulted him on his set and have now, sadly, imperiled his massive December release. This 'hurting the sentiments' claptrap is another thing we need to urgently stop paying attention to - because this is the core argument being made by those who are irresponsibly rewriting our history books, making, for instance, certain rulers appear more valiant and successful than they ever were. If these people feel a Queen possibly dreamt up by a Sufi poet needs to be sacrosanct according to their own blinkered and idealized version of the truth, it is not our responsibility, as creators or commentators or simply un-angered people, to care. History - even highly debatable history - may have been written by the victor, but it belongs to us all. If you are hurt by the existence of a film, you should use the singular means of protest: don't watch it The most heartbreaking part of this whole controversy, for me, has been the reassurance constantly offered by the filmmakers to the Rajput community and these terrorist-like fringe groups. Bhansali, who has cast real-life lovers Padukone and Ranveer Singh as Padmavati and Alauddin Khilji, has gone on record repeatedly to assure these idiots that Padmavati and Khilji are never on screen together, and that there isn't even "a dream sequence" showing them united via song. Then, following a private screening for select television anchors, the alarmingly popular newsmen took to their respective channels to proclaim that no sentiments would be hurt. "Not a single dialogue, not a single scene, not a single sequence can be said to go against the proud history of the Rajputs of Rajasthan," said one, and while that declaration is meant to pacify the protesting fools, I truly wish things were drastically different. I wish "Padmavati" had indeed pushed boundaries wildly and completely offended many of these quickly outraged goons - and that we would stand by it anyway. Years ago, in Shyam Benegal's exceptional television series Bharat Ek Khoj, there was a two-episode story about Delhi ruler Alauddin Khilji where he was played by the late Om Puri and where - as this recent article reminded us - he was depicted as a cold and ruthless ruler who cared more about the jewels of Chittor than its Queen. Bhansali was one of the young men working as an editor on that episode, nearly thirty years ago. Now, Bhansali's film is a far more gigantic affair - a three-dimensional blockbuster - and looks like an entirely different creature. There are problems apparent in the trailer, which shows Khilji as a bloodthirsty beast - in decidedly anachronistic fashion - while appearing to encourage casteism by playing up the glory of the brave Rajputs. These, however, matter less now and should only be judged once the film is out. You and I may or may not end up liking Mr Bhansali's film, but, to paraphrase Evelyn Beatrice Hall, we must defend to the death his right to make it.

---
Manushi Chhillar Isn't Upset Over Shashi Tharoor's Pun. Read Her Tweet.
NEW DELHI:MMNN:20 November 2017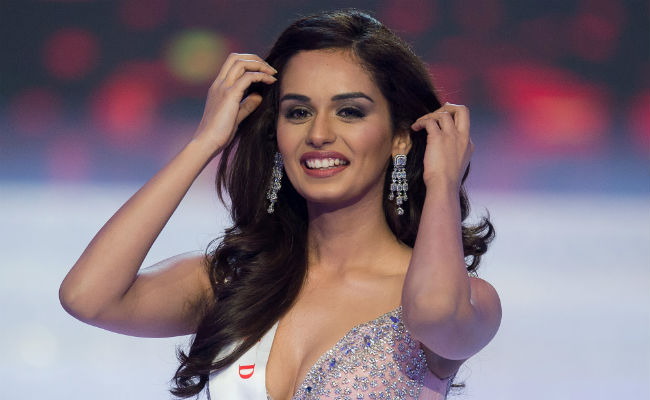 'Chill,' tweeted Shashi Tharoor after a pun he made about the newly-crowned Miss World 2017 Manushi Chhillar went down badly on social media. A post on Manushi's as-yet unverified Twitter account backs him up. "A girl who has just won the world isn't going to be upset over a tongue-in-cheek remark. 'Chillar' talk is just small change - let's not forget the 'chill' within Chillar," reads Manushi's tweet. The post is a response to one from Times of India boss Vineet Jain which advocated 'more tolerance towards light-hearted humour.' Here is Manushi Chhillar's tweet: Shashi Tharoor has been hauled over the coals for a tweet referencing Manushi Chhillar's last name and demonetisation. He posted this shortly after Manushi was crowned Miss World over the weekend: "What a mistake to demonetise our currency! BJP should have realised that Indian cash dominates the globe: look, even our Chhillar has become Miss World!" Mr Tharoor was attacked online for his tweet and also offline by the National Commission of Women who demanded that he apologise for 'degrading a daughter of India.' Shashi Tharoor posted this apology later Manushi Chhillar, a native of Haryana who studied in New Delhi and Sonepat, won Miss World in Sanya, China on Saturday with Miss Mexico and Miss England placing after her. She is the sixth Indian to win the coveted title after Reita Faria, Aishwarya Rai Bachchan, Diana Hayden, Yukta Mookhey and Priyanka Chopra, who was crowned Miss India 17 years ago in 2000. Other messages came from Prime Minister Narendra Modi and M L Khattar, Chief Minister of Haryana. Manushi received her crown from last year's winner Stephanie Del Valle from Puerto Rico

---
Tumhari Sulu Movie Review: Vidya Balan Is The Heart And Soul Of This Watchable Film.
NEW DELHI:MMNN:17 November 2017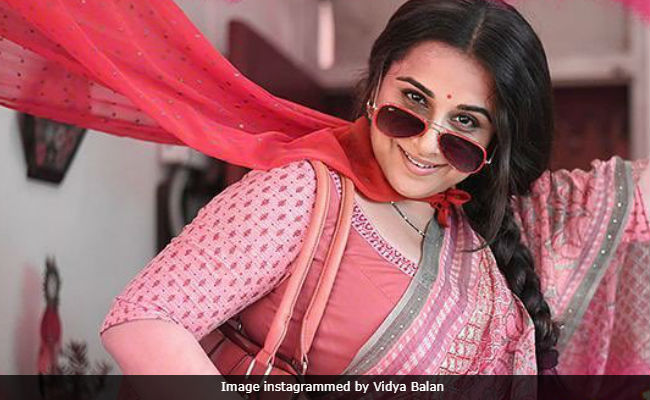 Tumhari Sulu Movie Review: It is not a perfect film, but it is definitely well worth a viewing as much for the quality of the acting and for its technical finesse Cast: Vidya balan, Manav kaul, Neha Dhupia, Vijay Maurya, Malishka Mendonsa Director: Suresh Triveni Rating: 3 Stars (out of 5) A lady cabbie (Trupti Khamkar) drives the titular protagonist - housewife-turned-radio jockey (Vidya Balan) - back and forth from her suburban Mumbai home to the studio. In a conversation, she reveals her back story. Her husband, who initially missed her greatly when she opted for a job that kept her out for hours, got so used to her absence that he eventually left her. Nary a hint of regret in her voice, the chatty woman happy being free and unencumbered. Just a thought: wouldn't the story of the taxi driver, had it been expanded, have been far more interesting and radical than the one that Suresh Triveni's big screen debut film tells? Her dreams and aspirations notwithstanding, the Tumhari Sulu heroine is suspended rather indecisively between assertion and compromise. She doesn't have a real go at dismantling the status quo. Not that the unlikely turn of events in the placid life of the spirited Sulochana aka Sulu of Jal Padma Housing Society, Virar isn't of import, but it seems somewhat familiar in plot terms despite the fact that it is on the FM airwaves, a universe rarely portrayed in Hindi cinema, that she finds her true calling. The job gives her a sense of confidence and achievement, but it does not inspire her to attempt a full-fledged rebellion. We have of late seen several Bollywood films about strong female protagonists thriving on defying expectations. Only the other week, in Ribbon, located in pretty much the same social ambience, it was Kalki Koechlin's turn to grapple with the daunting task of striking a balance between work pressures and home front demands. That is exactly the place that homemaker Sulu, materially comfortable and stable thanks to the supervisor's job her husband Ashok Dubey (Manav Kaul) has in a garment sweatshop, finds herself in when she is hired as a radio jockey and called upon to be her seductive best on air much to Ashok's consternation umhari Sulu is a decent enough film propped up by a wonderful pivotal performance from Vidya Balan, but parts of it - most notably the facile climax - scupper the possibility of it soaring to the heights that at times appear well within its reach. In addition to dutifully discharging her household duties, which include keeping homing pigeons from pooping on the clothes drying in the balcony, Sulu loses no opportunity to participate in neighbourhood competitions and keep count of her victories and near-wins. When it comes to introducing herself to the world, she, however, never appends her husband's family name to Sulu. She is simply Sulochana. So it is a tad incongruous that the nameplate outside her home reads "Mr. and Mrs. Ashok". It should have been simply Ashok and Sulochana if it is the lady's individuality that the film is seeking to underline. Sulu and Ashok are, of course, no spring chickens. Ashok suggests that the couple should plan a sister for their 11-year-old son Pranav (Abhishek Sharma). Sulu is quick to point out they aren't young enough to make another baby. Interestingly, most of the songs that the couple croons - Batata vada (Hifazat), Zubi Zubi (Dance Dance) and, of course, Hawa Hawai (Mr. India), which receives a full-on party number treatment - are from films released in 1987. That sure is an indication of Sulu and Ashok's vintage. But as the radio channel head Maria (Neha Dhupia) exclaims the first time they meet, Sulu is a quick learner. She slips into her role pretty painlessly, but never ceases to be amused by the new-age colloquialisms she hears around her in the studio - what's up, chill, dude, bro - a fact that she shares with her hubby. Sulu's transformation from a happy-go-lucky housewife who preens at her success rate in all manner of insignificant pastimes - a lemon and spoon race, a sack race, a tug-of-war and radio contests for listeners - to a proud pro who uses her voice to stoke the nocturnal fantasies of lonely men is undeniably intriguing With Vidya Balan diving deep into the character and coming up with many moments of pure magic and a competent supporting cast led by the usually underutilized Manav Kaul contributing its mite, Tumhari Sulu, warts and all, is never less than watchable. It could have been an even better film had the second half not veered away from the delightfully tongue-in-cheek tone of the first, which follows the charming but somewhat impractical self-advancement plans that Sulu hatches, offering her husband a 50-50 partnership in every proposed enterprise, and her run-ins with her twin elder sisters Aradhana (Sindhu Shekharan) and Kalpana (Seema Taneja), dismissive of the high school dropout who seeks pleasures in trivial triumphs while devoting herself to looking after her husband and her son. It is making the abrupt tonal transition from the lighthearted to the somewhat melodramatic that Tumhari Sulu misses a few tricks, but director Triveni does have a way with the scenes that truly matter. Especially striking is the restrained treatment that he brings to bear upon a confrontation between Sulu and her scoffing siblings when a crisis precipitated by the former's son engulfs the family. The director takes no recourse here to shrillness or overt see-how-gutsy-this-woman-is grandstanding. A simple point is made forcefully as Sulu puts her foot down and refuses to budge from her chosen position. The scene conveys the strength of the steel that she is made of. The elliptical editing by Shivkumar Panicker is strikingly effective, lending momentum to Tumhari Sulu even when not much appears to be happening on the screen by way of 'action'. Director of photography Saurabh Goswami frames real spaces within a lower middle class home as well as the cheerful but charged atmosphere in the much flashier interiors of the studio where Sulu works Vidya Balan is the heart and soul of Tumhari Sulu, but the film also benefits immensely from the performances of the other cast members. Besides the impressively natural Manav Kaul, Vijay Maurya, cast as a poetry-spouting RJ who has to surmount initial misgivings before he mentors Sulu, gives the role his best shot. Tumhari Sulu isn't a perfect film, but it is definitely well worth a viewing as much for the quality of the acting and for its technical finesse. In any case, a film is easy to fall in love with when Vidya Balan is this stupendous

---
Presenting Janhvi Kapoor And Ishaan Khattar In Brand New Dhadak Poster.
NEW DELHI:MMNN:16 November 2017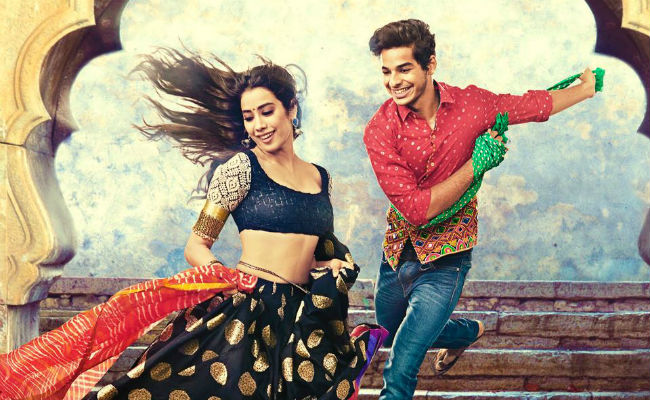 Netizens woke up to a brand new poster of Janhvi Kapoor's Bollywod debut Dhadak, also starring Ishaan Khattar. The new poster arrived hours after the first looks of Janhvi and Ishaan were released in three fresh posters on Wednesday evening. Directed by Shashank Khaitan, Dhadak "is an official adaptation of Sairat," announced Karan Johar's Dharma Productions. Dhadak goes on floors next month and is slated to release on July 6 next year. While the first look posters had only mid-shots of the young on screen couple, the new is a more detailed glimpse of Janhvi and Ishaan's great on screen rapport The new Dhadak poster may remind you of certain scenes from Ranveer Singh and Deepika Padukone's Ram-Leela, courtesy Janhvi's colourful lehenga choli, Ishaan's bandhni shirt and the playful flirting.

---
Padman: Akshay Kumar Shares Sonam Kapoor And Radhika Apte's First Looks.
NEW DELHI:MMNN:15 November 2017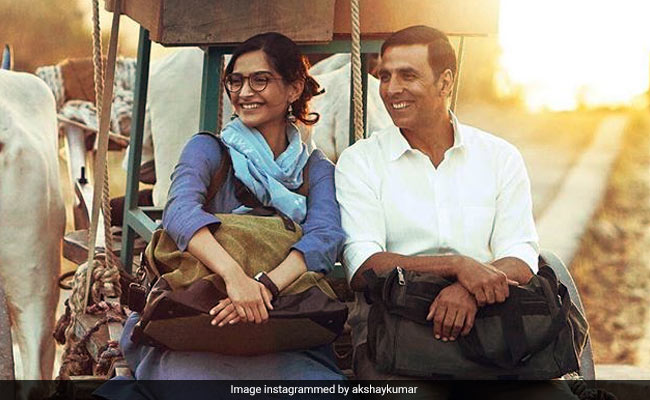 In delightful Padman updates, Akshay Kumar revealed the first looks of his co-stars - Sonam Kapoor and Radhika Apte - from the movie and we love them. Tweeting a photo with Sonam, Akshay captioned it: "The STRENGTH behind #PADMAN," while sharing a photo with Radhika, the actor wrote: "The REASON he became #PADMAN." Directed by R Balki, Padman is a biopic on entrepreneur Arunachalam Muruganantham (played by Akshay), who became a popular figure for inventing low-cost sanitary making machines and hence, the name of the movie. Mr Muruganantham felt the need to come up with a convenient solution to tackle menstrual health for women after he learnt his wife used newspaper and rags during her menstrual cycle. Radhika Apte has been cast as Padman's wife while Sonam's character appears to have helped him in his venture. Check out how Sonam and Radhika's looks from Padman: Sonam also could not resist sharing her first look from the much talked about film. She added a thank you not for Akshay and the director: "Such a pleasure working with the indomitable Akshay Kumar. He was the perfect person to play the role of #Padman and has brought a sense of humour and love to the film. Of course none of these would have been possible without the humble visionary R Balki." Earlier in August, the first look of Akshay Kumar as Padman pedalled his way to social media like this. The film was scheduled to release in April then but has now been rescheduled to hit screens on January 26. Padman will be co-produced by Twinkle Khanna's Mrs Funnybones Movies and KriArj Entertainment while Sony Pictures has also come on board for worldwide distribution of the movie The much anticipated Padman is taking fast steps towards its release date, which clashes with yet another Akshay Kumar movie - Rajinikanth's 2.0. Earlier in an interview with mid-day, the actor had said Padman will be moved from the Republic Day weekend if Rajinikanth decides to release 2.0 during that time.

---
Children's Day 2017: Shah Rukh Khan And Akshay Kumar To Kajol And Sridevi, 10 Celeb Posts To Make You Go 'Aww'.
NEW DELHI:MMNN:14 November 2017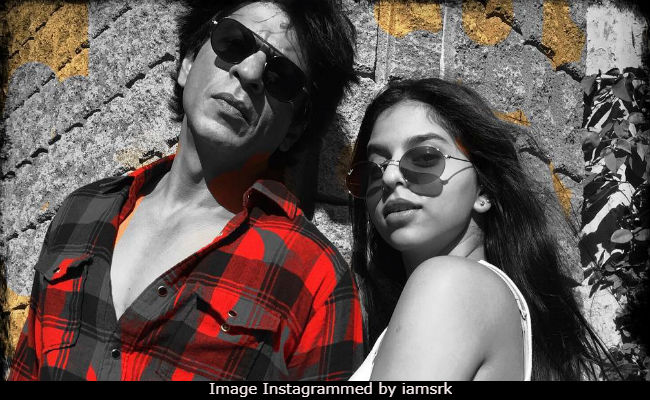 Be it Suhana, Aryan and AbRam or Jhanvi and Khushi or Aarav and Nitara - these Bollywood star kids have something in common. They all feature on their celebrity parents' social media posts and are absolute favourites of folks on the Internet. Shah Rukh Khan, known to be the undisputed kind of one-liners, include his kids in interestingly creative confessions (remember the recent one about his 'three' vices? More on that below) while Twinkle Khanna will post about her children to make sure you crack up. And not just Shah Rukh and Twinkle but Kajol, Hrithik Roshan, Shilpa Shetty, Shahid Kapoor and others - they all have their Instagram flooded with posts about their little ones. On Children's Day today, here's a lowdown of our favourite celebrity posts and yeah, you're welcome. Shah Rukh Khan Just Can't Do Without These 'Vices':
Test Case In a recent DAD-special post, Shah Rukh revealed he's home to three vices, along with a post that could have been crowned as 'The Sweetest Post' ever. Sharing a collage of Suhana, 17, Aryan, 19, and AbRam, 5, he wrote... well, why don't you just see it
The Secret Behind Akshay Kumar's Clean-Shaven Look: Akshay Kumar and Twinkle Khanna are parents to five-year-old daughter Nitara and Aarav, 15. While Aarav is Akshay's coach for assisting him "climb trees and making video calls", Nitara helps him out with the grooming. This was posted on Nitara's fifth birthday. Awwww.
Funny Mom Twinkle Khanna: Aarav's 15th birthday meant a birthday wish dipped in love and Twinkle's signature humour: "Happy birthday my darling! May you always land firmly on your feet," she wrote to go with the video below
Hrithik Wants To Travel The World With Hrehaan And Hridhaan: There's proof. Hrithik has filled up his travel diaries with brilliant jealous-worthy posts from his many vacations with the kids - Hrehaan and Hridhaan. Switzerland, Maldives, Venice and Dubai are only a couple of places Hrithik's been spotted checking off the travel list with his kids. Here's Hrithik taking over the world with the kids.
Kajol Was Trolled For This Post But She Didn't Mind! Nysa, 14, and seven-year-old Yug are Kajol's aankhon ka taara, clearly. Posted in January, Kajol trended a great deal after sharing this - not for the post actually, but for what Nysa wrote in the comments section: "Mommmmm, why do you have to be so extra?" ROFL. Kajol and Ajay Devgn married in 1999.
Shilpa Shetty And Viaan Are Partners In Crime: Shilpa Shetty and Raj Kundra are parents to five-year-old Viaan, who often feature on the actress' Instagram posts. In one the recent ones, Shilpa shared about an adventure the duo had at a farmer's field - it was all for one organic pomegranate for the little one.
Misha Kapoor Loves Cake And Shahid Shows Us How Much: Shahid Kapoor has been documenting the memorable moments in Misha Kapoor's life - like when she got her ear pierced, when she made her dancing debut and when she finished Mira's birthday cake. Misha is just one!
Jhanvi And Khushi Don't Need Instagram, Courtesy Sridevi: A look at Sridevi's Instagram might make you cross check if you've landed up in Jhanvi or Khushi's profiles - yes, that how regularly she posts about her two daughters. And to top it all, she doesn't think captions are necessary when it's her fabulous kids doing all the talking
Sanjay Dutt's Twins Are Superstars Already: Seven-year-old twins Shahraan and Iqra are the stars of every party Sanjay Dutt and Maanyata host or attend together. And this amazing photoshoot will tell you why. These kids are such superstars already
Riteish With His 'Darlings' Riaan And Rahyl Riteish Deshmukh and Genelia D'Souza are parents to Riaan, 3, and Rahyl, who turned one this year. While adorable wishes arrived on Riteish's Instagram on the kids' birthdays, our favourite is the Deshmukhs' family portrait:

---
Bigg Boss 11: Kapil Sharma enters Salman Khan show. Can he bring some happiness inside?.
NEW DELHI:MMNN:11 November 2017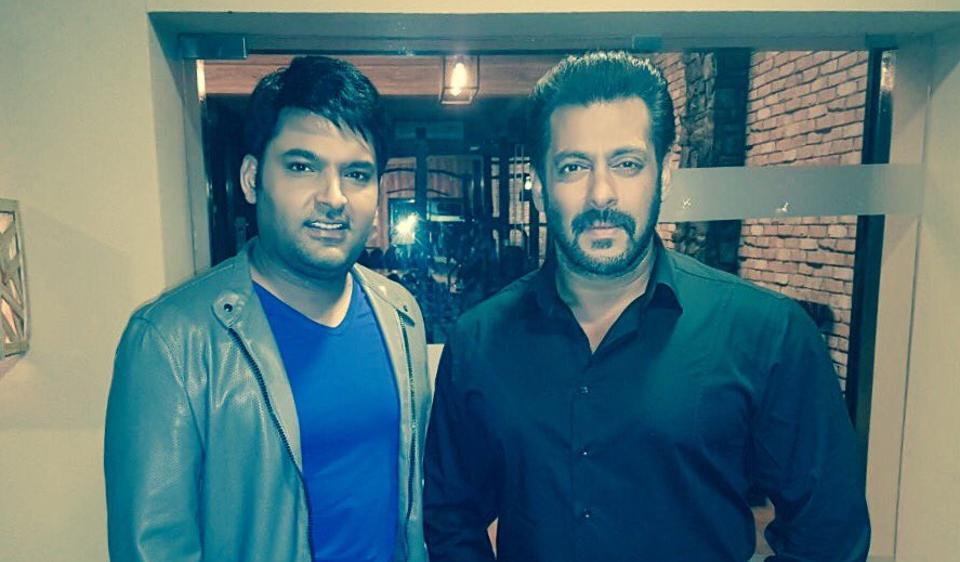 TV star Kapil Sharma, who had a rather ugly and public spat with Colors earlier when his popular show was shelved and he had to shift to Sony, will be seen on the channel promoting his upcoming film Firangi. Kapil will appear on Salman Khans Bigg Boss 11 this weekend. In fact, he is building bridges with not just Colors but also Bigg Boss contestant Shilpa Shinde, who despite being cast in Kapils show could not make it because of Bhabiji Ghar Par Hain controversy. As part of a task, Kapil asks the contestants that if they had an option to kick someone on the show, who will they choose. Arshi chooses Hina, while Akash chooses Priyank. Both get to kick mannequins wearing Hina and Priyanks masks. Vidya Balan also visited the house for promotions of Tumhari Sulu and will be seen playing games with the contestants on Sunday. She will also be present with Salman on the stage and a group of kids will join them It has been over a month since Bigg Boss 11 premiered on October 1. While the makers have tried every trick in the book - from intimate kisses to ugly fights and cheap brawls -- but nothing seems to be getting ratings for the show The show began with 18 contestants and is now left with 12. Shilpa Shinde, Hina Khan, Hiten Tejwani, Sabyasachi Satpathy, Luv Tyagi, Priyank Sharma, Mehjabi Siddiqui, Arshi Khan, Benafsha Soonawalla, Bandgi Kalra, Akash Anil Dadlani and Puneesh Sharma are fighting it out inside the Bigg Boss house

---
Shaadi Mein Zaroor Aana Movie Review: Despite Rajkummar Rao, Ignore This Invite.
NEW DELHI:MMNN:10 November 2017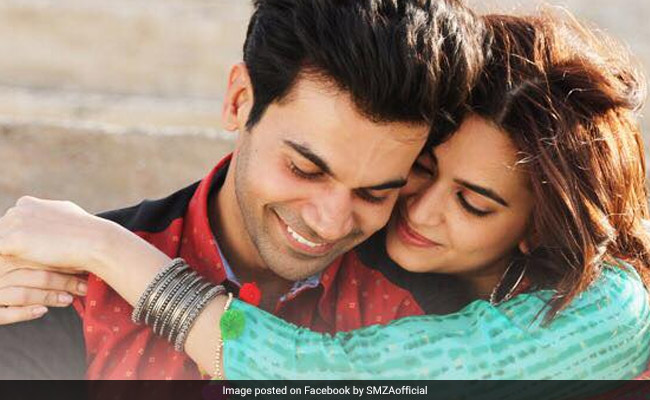 Small-town shaadi films are the flavour of the season, but this one, despite the presence of a solid-as-ever Rajkummar Rao, stinks to high heaven. A film that this actor, who is in the midst of a deservedly fine run, cannot rescue isn't worth rescuing. Shaadi Mein Zaroor Aana is such a terribly confused take on a girl who dares to run away from a wedding in order to pursue her career ambitions that, by the end of it, it is difficult to tell which side of the gender and ethical divide the film is really on. Debutante director Ratna Sinhaa wants to embrace everything in one go (anti-dowry, anti-corruption, pro-women's empowerment). In the bargain, her film winds up being a sorry hodge-podge of inanities that do more disservice than justice to the causes that it espouses. Does Shaadi Mein Zaroor Aana make a strong enough case against the evil of dowry? No. It actually appears to accept it as an unavoidable part of big fat Indian marriages. Does it go out all guns blazing on behalf of a woman's right to decide what is right for her? No again. It ensures that the rebel receives her comeuppance. Is its voice strident enough in railing against the corruption that gnaws at the vitals of our bureaucratic and administrative system? Not yet again. Actually, Shaadi Mein Zaroor Aana is a massive, uncontrollable cinematic blob that runs its tiresome two-and-a-half-hour course without ever getting its perspectives in order. That is a shame because the film starts off on a rather promising note and stays on course for roughly the first 30 minutes - this phase is devoted to an about-to-be-married couple's awkward courtship. And then the dowry blow is delivered. It is all downhill from here on. The boy's family demands dowry and gets it and the hero, who until this point had seemed like a reasonable guy with agreeable views, plays along without raising a voice in protest. To make matters worse, theirs is a conservative brood that believes that its bahu cannot step out of the house no matter how qualified or how talented she might be. Their orthodox beliefs are in consonance with those of the girl's stern father who has no patience for women who aspire to for independence from housework. So, despite his limited means, he agrees to cough up a huge sum of money for the bridegroom. Shaadi Mein Zaroor Aana is a love story set in Kanpur and centred on a Satyendra Mishra (Rao), a rookie excise department clerk whose life does a 360-degree turn following a personal setback, and Aarti Shukla (Kriti Kharbanda), a college topper eying a civil service job and wary of being trapped in the four walls of domesticity. The two decide they are made for each other after a cursory conversation in a café, where they meet without their parents and extended families in tow. Dowry amount agreed upon, it is time for the marriage vows. But even as struts around in her best wedding finery, Aarti receives the news that she has sailed through her state civil service examination on her very first attempt. Wat to go, girl! But should she go ahead with the wedding that might shut all doors on her face or risk the wrath of her dad and make a dash for a new life? Her decision hurts Satyendra's family and the man decides to settle scores for the affront. One bizarre twist after another is sprung upon the poor girl - never has a Hindi film heroine on this side of new millennium been subjected to such ignominy for the 'crime' of following her heart. How dare she defy the established order? In a bizarre turn of events, Aarti's act of self-assertion comes back, five years on, to haunt her in the form of the very man she loves. Humiliated and hounded, she has her nose repeatedly rubbed in the dirt. She suddenly seems to lose all her resolve and is unable to stand up and fight back. It is unlikely that Rajkummar Rao has ever had to play a role so sloppily written. Satyendra Mishra mutates from a self-effacing, sensitive young man to a vengeful lout whose actions fly in the face of basic human decency - and, of course, all the ideals that the film aspires to uphold. Female lead Kriti Kharbanda (Raaz Reboot, Guest Iin London) is a one-trick pony saddled with far too much load to carry in Shaadi Mein Zaroor Aana. She wilts under the weight while sticking steadfastly to a single expression to convey a range of emotions. Her drawbacks stand out in sharp contrast to the formidable skills that Rajkummar Rao brings into play despite essaying a character hobbled by glaring inconsistencies. No matter what she is meant to be - joyous, chirpy, emphatic, rebellious, cornered, contrite or confused - Kharbanda does not let her feelings register on her visage. The actor's methods clearly need a reboot. The lead actors of Shaadi Mein Zaroor Aana are surrounded by a bunch of talented supporting cast members - K.K. Raina, Alka Amin, Govind Namdeo, Navni Parihar, Vipin Sharma, Manoj Pahwa - who do everything in their power to inject some semblance of sanity into the proceedings. But, no, they do not stand chance for it is all too flimsy and slovenly to be salvaged. Shaadi Mein Zaroor Aana? Ignore the invite. But if you still want to give it a shot simply because of Rajkummar Rao, heed this advice: he has done, and will do, infinitely better films? Wait for the next one

---
How Deepika Padukone Became Om Shanti Om's Shantipriya. Her First Photoshoot For First Film.
NEW DELHI:MMNN:9 November 2017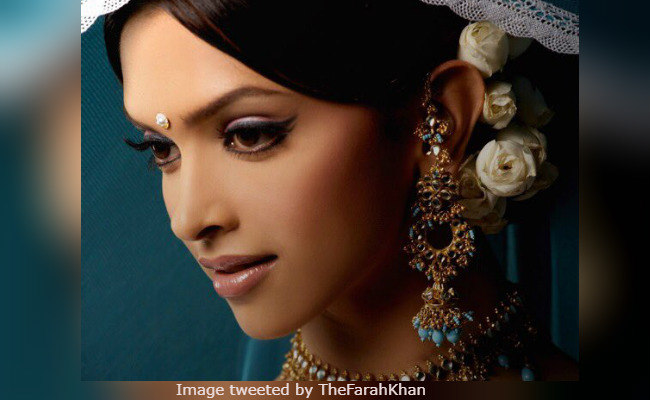 Hard to believe, but it's already been a decade since Deepika Padukone made her debut opposite Shah Rukh Khan in 2007 blockbuster Om Shanti Om, directed by Farah Khan. She was a top model at the time, and was cast in the double role of 70s' actress Shantipriya and the modern day Sandhya. Om Shanti Om released on November 9, 2007 and today, 10 years later, Farah Khan marked the milestone with shout-outs to both her lead stars. For Deepika, this picture from the photoshoot for the film by photographer Avinash Gowarikar - this, Farah explains, was the moment she knew Deepika Padukone was her Shantipriya. Deepika, who has since become an international star, was singled out for praise over her performance in the reincarnation and revenge drama - as Shantipriya, the star murdered by her villainous lover, and as Sandhya, the hip young woman who looks just like Shantipriya and who is recruited by Shah Rukh Khan's reborn Om Kapoor in his plot to avenge the dead actress. For Shah Rukh Khan, director Farah tweeted a reference to Dard-e-Disco, the outstanding feature of which song was Shah Rukh Khan's abs. Om Shanti Om was the first of three films SRK and Deepika collaborated on - several years later, they starred in Chennai Express and Happy New Year, the last of which was also directed by Farah Khan. Deepika Padukone has a big release coming up soon in Padmavati, currently the focus of attention from several groups which claim they are concerned it misrepresents the legend of Rajput queen Padmini who is believed to have committed jauhar to escape invading Emperor Alauddin Khilji. Deepika plays Padmini with Ranveer Singh and Shahid Kapoor cast as Khilji and Rawal Ratan Singh. Shah Rukh Khan, last seen in the poorly-received Jab Harry Met Sejal with Anushka Sharma, is currently working on a project in which he plays a dwarf.

---
The Real Reason Why Mahima Chaudhary Disappeared From Bollywood.
NEW DELHI:MMNN:7 November 2017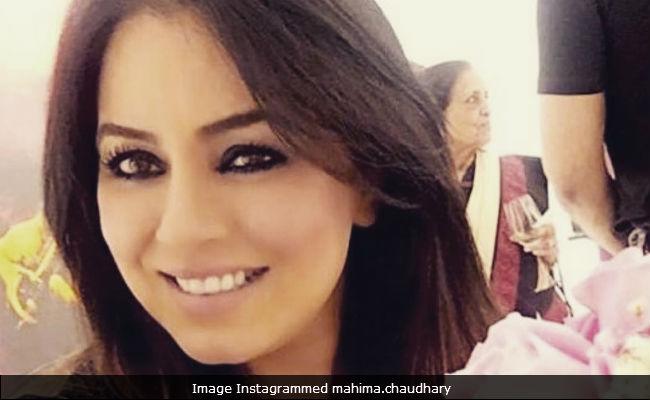 Actress Mahima Chaudhary has not made an appearance at the big screen for long. The actress, who made her debut opposite Shah Rukh Khan in the 1997 hit Pardes, went low in 2006. "Bored of her routine" or something else? Well, Mahima Chaudhary thinks that the industry lacks to provide good roles to senior female actors and thus she has now decided to stay away, reports mid-day. The 44-year-old actress, who was last seen in Bengali thriller Dark Chocolate, says that she prefers to do 'nothing' rather than do 'mediocre' roles, reports mid-day. Mahima Chaudhary starred in other films like Daag: The Fire, Pyaar Koi Khel Nahin, Dhadkan, Deewane, Kurukshetra, Om Jai Jagadish and Dil Hai Tumhaara. Well, we hope Mahima soon makes a comeback. Mahima dated tennis player Leander Paes for a couple of years. Later, she broke up with Leander. Of her breakup she said, "His exit had no impact on my life. In fact, I became more mature as a person and I feel he did the same thing with Rhea Pillai as well." Mahima later married architect businessman Bobby Mukherji in 2006. Mahima is a mother to an eight-year-old daughter Ariana. Mahima separated from Bobby in 2016. Mahima made the headlines when she spoke about her separation with husband Bobby Mukherji and said that would formalise divorce only when she found new love. Mahima told mid-day: "I was a single mother and had to earn money. With a child, it was difficult to take up films, as it would have consumed a lot of time. I started judging a few television shows, making appearances at functions or cutting ribbons because it was convenient for me. It also gave me quick and good money. Now, when I look back, I feel those assignments ruined me as an actress

---
The Wait For Salman Khan's Tiger Zinda Hai's Trailer Is Becoming Impossible. Here's Why.
NEW DELHI:MMNN:6 November 2017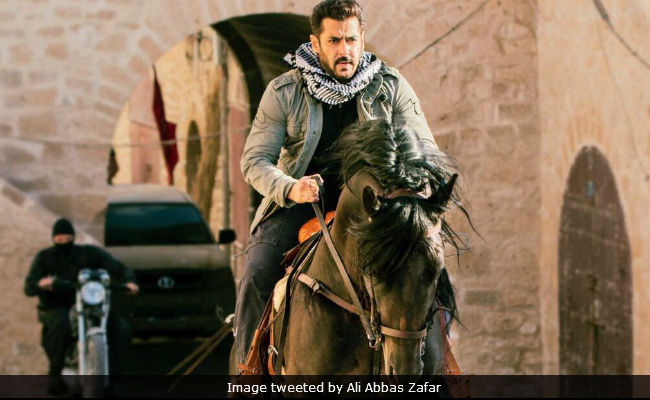 Each day the wait for Tiger Zinda Hai is becoming more tad-bit. Director Ali Abbas Zafar has flooded social media with thrilling and electrifying stills from the movie. With each new still, Salman Khan and Katrina Kaif, promise to take us on a never-seen-before ride. From guns, ammunition and action car sequences to riding an ATV bike in scorching heat, our favourite RAW agent Salman aka Tiger, has done it all. And, now he's back and all set, riding his way to reach you with the trailer of Tiger Zinda Hai soon. In the new still, Salman can be seen riding a stallion and black commandoes can be seen chasing him. The Morocco schedule of the film features high octane action scenes that Salman had to pull off riding on a horse. Amongst all this, Twitter can't keep calm. Hashtag #Calm before the TZH storm is trending Tiger Zinda Hai's team had hired expert horse trainers, who have worked on Hollywood productions, like Brad Pitt's Troy and Alexander. Salman spent just three days in preparation for this chapter of the action thriller. Ali Abbas Zafar explains, "Salman is a trained rider. He returned from the IIFA awards and took just three days to get familiar with his horse, Wado. A prized Spanish stallion, with a gleaming black mane, the horse was trained to cross hurdles, jump over barricades and ride down hills. We have shot risky and edgy portions on horseback with Salman. Getting Wado to know Salman and vice versa therefore, was key to ensuring that this portion of the shoot goes off well. We've shot for eight days and getting trained, skilled horses actually made this portion of the shoot fairly easy to execute." The trailer of the movie will be out tomorrow (November 7) but the makers as well as the actors have made sure to keep their fans eager by posting photos from the sets in continuous intervals. Salman Khan and Katrina Kaif will share the screen space in Tiger Zinda Hai after five years. They were last seen together in Ek Tha Tiger, which released in 2012. Salman and Katrina Kaif have made pit stops in four countries across the globe because Ali Abbas Zafar wanted the shots to be perfect. Amongst Morocco, Greece, Austria and Abu Dhabi, the central European country had unexpected challenges for the film's team and especially Salman. "For a significant chapter in Tiger Zinda Hai, we had to film in a place that had a certain amount of aloofness and isolation. We found that spot in the mountains of Austria, a place where time seemed to stand still and frozen," the director said in a statement, reported IANS.

---
Bigg Boss 11: Sabyasachi, Bandgi should be kicked out this week, says poll.
NEW DELHI:MMNN:4 November 2017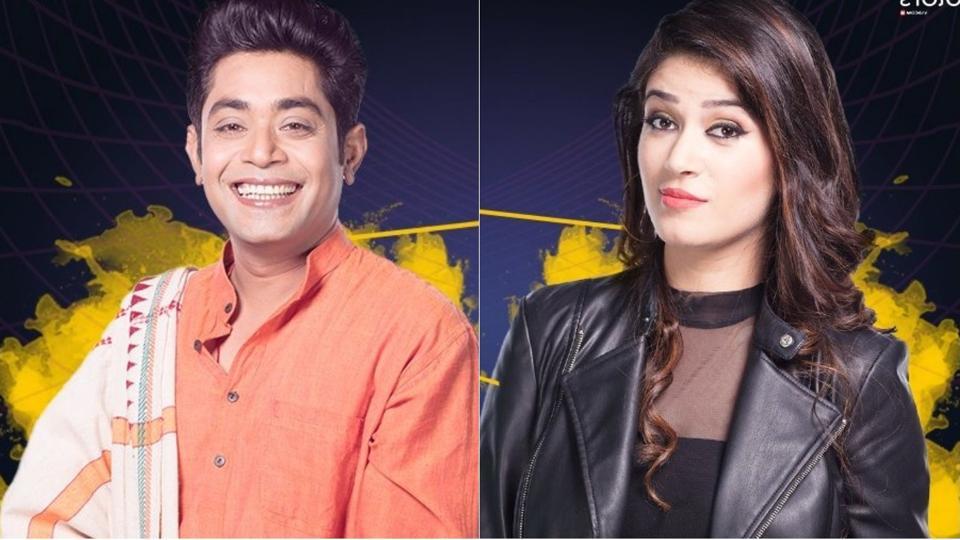 Fans of Bigg Boss 11 cant wait enough for Saturdays episode as the special Weekend Ka Vaar also brings host Salman Khan with it. However, Saturdays are dreaded by the contestants as it means one of them will be voted out of the game. During the nominations on Mondays episode, a record nine people were nominated for evictions, including Dhinchak Pooja, Sabyasachi Satpathy, Bandgi Kalra, Sapna Choudhary, Shilpa Shinde, Benafsha Soonawalla,Priyank Sharma, Hina Khan and Hiten Tejwani. Among the nine, Priyank was nominated for breaking an important rule of the house -- what is happening outside cannot be relayed to the contestants. After the nominations for this week, we ran a poll seeking votes for your least favourite contestant and the verdict is out! As per Hindustan Times readers, it is almost a tie between Sabyasachi and Bandgi with 21 and 26 per cent of the total 2,536 votes. While Sabyasachi has not been so active in the game, Bandgi has had her share of fights and controversies on the show. In just one month, she has managed to lock horns with Hina Khan, Zubair Khan and even initiated what looked like a fake relationship with Puneesh. Dhinchak Pooja comes a close second with 15 per cent of those who took the poll wishing for her exit from the Bigg Boss house. During her two weeks inside the house, she has already been linked to Luv Tyagi and Akash Dadlani. She keeps the housemates and audience entertained with her rap songs. Around 12 per cent of the votes were cast seeking eviction of Benafsha while nine per cent voted for Shilpa Shinde and Hina Khan to be kicked out of the show.Benafsha, Shilpa and Hina are some of the most visible faces inside the house, thanks to their full participation in tasks and some strong opinions that they hold. While Hina and Benafsha are often in the middle of fights because of their opinionated selves, Shilpa is mostly the instigator when it comes to tussles in the house. Priyank Sharma and Hiten Tejwani emerged as clear favourites among HT readers, receiving mere five and two per cent of votes respectively, seeking their elimination from the game.Hiten is one of the most well-mannered and quiet contestants this season. Priyank, on the other hand, was kicked out of the show in the first week itself when he attacked Akash. He was later brought back as a wild card entry.

---
Ittefaq Movie Review: Sidharth Malhotra And Sonakshi Sinha Murder A Mystery Movie.
NEW DELHI:MMNN:3 November 2017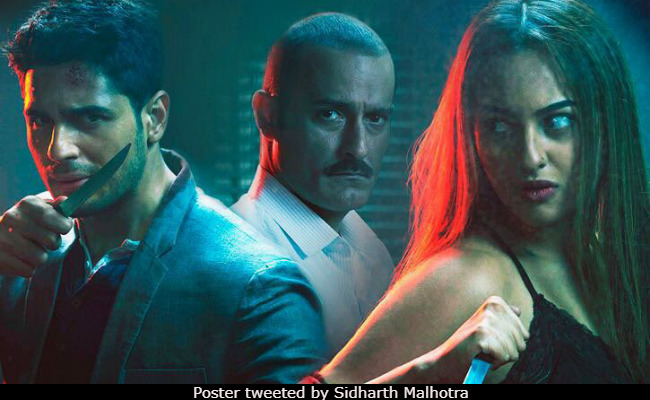 Ittefaq begins with a car spill, and it's one we've seen before. In the brilliant 2006 Bond film Casino Royale, Daniel Craig speeds through a bend in a secluded road when we sees a woman tied and trussed up in the middle of the road. Bond's Aston Martin screeches and swerves with appropriate urgency, and he flies over and past her in a spectacular pirouette that has already become one of cinema's most memorable crashes. In Ittefaq, Sidharth Malhotra flips a sedan while barrelling down a crowded Mumbai street while a generic background score desperately tries to excite. Dare we call it a Royale with cheese Credit where it's due, this remake of Yash Chopra's songless thriller does not skimp on the cheese. Made by Abhay Chopra, here is a film about an interrogation and differing accounts, and while that can be riveting - as we've seen in films like No One Killed Jessica and Talvar - things here are awfully basic and feebly performed. In a film about inscrutability, the only one hard to read is the cop. Both murder suspects look like they're trying their hardest to act innocent, which, given their credentials, doesn't go all that far There are two murders, there are two suspects, and there is one scowling police detective trying to unravel things on a very rushed timeline. Yet, for the sake of some non-linear flipfloppery, we have interrogations stretched over several days, as if the cop is only allowed to ask them one flashback's worth of questions at a go. Despite the relatively brisk running time and a double murder at its heart, the case runs cold and Abhay Chopra's film emerges unforgivably dull. The young man next to me in the theatre vanished after the intermission while I sighed enviously at the screen. 'Who cares who dun it' really doesn't have the same ring to it. So we have a writer on the run, played by Sidharth Malhotra, an actor who manages to makes the lam appear uninteresting. He bumps into Sonakshi Sinha, a housewife who spends rainy nights watching India TV in her negligee, and wears a permanently stunned expression, like she's wondering where the eve-teasing and item songs are hidden. Corpses of both their spouses are found on the same night, forcing Akshaye Khanna to play tough cop and grill them, looking like a decaffeinated Basil Fawlty. To me, the big and mysterious crime this film brings to light is the way Sidharth Malhotra now finds himself typecast as a novelist. It happened in Kapoor And Sons, and it happened here again, in this film that describes him as a "mashoor novelist" and where cops chase a murder suspect down the street yelling "Ei, writer!" as if it were an expletive. Then again, to those who make Hindi cinema these days, perhaps it is

---
Shah Rukh Khan's Birthday Bash In Alibaug Will Make You Want To Join The Party.
NEW DELHI:MMNN:2 November 2017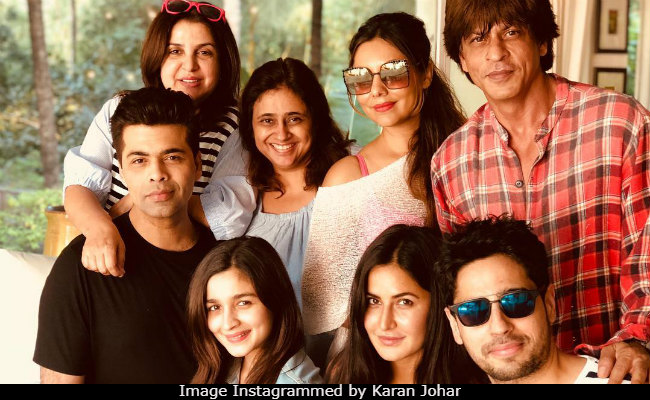 Birthday celebrations had begun for Shah Rukh Khan at his farmhouse in Alibaug on Wednesday evening. The superstar blew out 52 candles on his birthday cake at midnight yesterday but ahead of that it was party time with friends! You say the word 'party' and Karan Johar is there... so are Deepika Padukone, Alia Bhatt, Katrina Kaif, the Arora sisters - Malaika and Amrita, Sidharth Malhotra, Riteish Sidhwani and Farah Khan, all of who feature in jealous-worthy snippets from the guests' Alibaug diaries. "Eve of the birthday!" Karan wrote for the photos on Instagram. Gauri Khan, Suhana and AbRam have also checked in already and are having a blast too - we know this because the little one was already photobombing Katrina and Alia's pictures. Other guests at Shah Rukh's birthday bash included guests like Shweta Nanda Bachchan and Sussanne Khan while Bhavana Pandey and Maheep Kapoor joined with their daughters Ananya and Shanaya. During the party, Shah Rukh also stepped out of his Alibaug residence to meet and greet the line of waiting paparazzi. This is how the celebs were unwinding ahead of the big party Meanwhile, there was actually everything nice about this get together. It was Shah Rukh's birthday after all! We haven't got a glimpse of Shah Rukh's eldest son - Aryan is away from home, studying films in the University of South California. Meanwhile, Shah Rukh's guests have been leaving Alibaug in batches since today morning. Alia, Deepika, Sidharth and Karan were one of the early ones to head back to Mumbai. Shah Rukh Khan's birthday celebrations are a break from the schedule of his film with Aanand L Rai, in which he co-stars with Anushka Sharma and Katrina. Shah Rukh has made two films this year - Rahul Dholakia's Raees and Imtiaz Ali's Jab Harry Met Sejal.

---
Viral: Kangana Ranaut's Rani Laxmibai Look From Manikarnika Sets.
NEW DELHI:MMNN:1 November 2017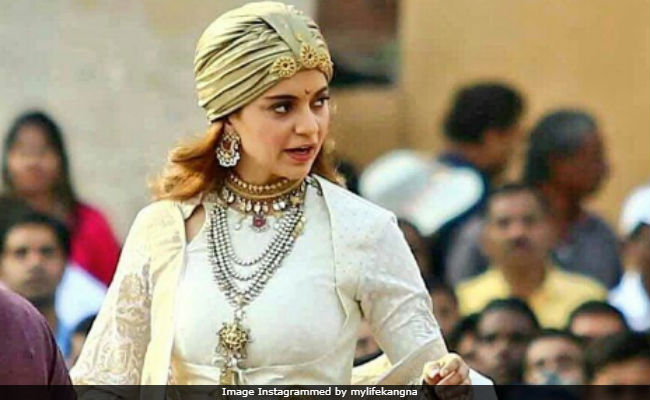 Actress Kangana Ranaut is currently busy shooting for historical drama Manikarnika: The Queen of Jhansi, in which she plays the role of Rani Laxmibai. But, pictures of her, dressed as the warrior, are doing the rounds on the Internet. In the viral pictures, shared by one of Kangana's fan clubs on Instagram, the Queen actress can be seen with a sword, turban and exquisite jewellery. According to reports, team Manikarnika: The Queen of Jhansi is now shooting in Jaipur's Amber Fort. Manikarnika: The Queen of Jhansi is written and directed by K Vijayendra Prasad. He has earlier written blockbuster films such as Baahubali series and Bajrangi Bhaijaan. The period drama is a biopic on Jhansi's historic ruler Rani Laxmibai, who played a pivotal role in the Indian Rebellion of 1857 In July, Kangana got severely injured while shooting for a sword-fight scene for Manikarnika: The Queen of Jhansi. She got 15 stitches on her forehead and was under medical supervision for a few days. "I am a bit embarrassed to be thrilled to have a battle scar on my face. Also, people from my team have been telling me that it's like that Peshwa teeka that Manikarnika wore. It's a bit dramatic but I am excited that my face was covered in blood and I got a genuine and authentic glimpse of the Queen's life," she told news agency PTI. Kangana Ranaut has trained herself extensively in horse-riding and sword-fighting for the film. Manikarnika: The Queen Of Jhansi also stars television actress Ankita Lokhande. It is scheduled to hit the screens next year in April.

---
Ranveer Singh And Shahid Kapoor's Padmavati Costumes Decoded In Detail.
NEW DELHI:MMNN:31 October 2017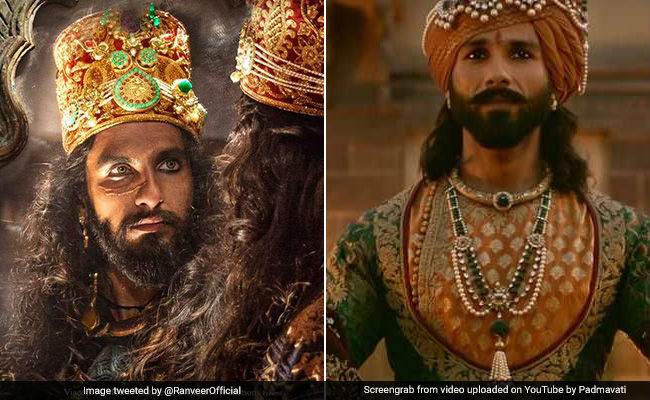 Padmavati, starring Deepika Padukone, Ranveer Singh and Shahid Kapoor, is one of the most-awaited films of the year. The characters, their exquisite costumes and the sets of the film, without any doubt, look absolutely stunning. Right from Deepika's jewellery and costume, to Ranveer's kohled-eye and Turkish-inspired robes to Shahid's Rajput look, everything in Padmavati seems to be perfect. Deepika plays Rani Padmini of Chittor and Shahid stars as her husband Rawal Ratan Singh while Ranveer plays the emperor Alauddin Khilji. mid-day reports that in order to reflect Ranveer and Shahid's characters in their costumes, director Sanjay Leela Bhansali hired the services of a brand co-owned by artist Vipul Amar and psychologist Harsheen Arora for certain sequences of the film. Harsheen Arora looked after the costumes for the final war sequence. "Ratan Singh was noble and honourable, Khilji believed in invasion and power. So, their attires need to reflect it," she told mid-day. Citing the importance of how colours play an important role in depicting different personalities, she added, "The colours used for Shahid's armour are red and gold. Red depicts honour and an eagerness to serve one's land. Gold represents courage, generosity and passion. His chest plate is made of sculpted vintage leather and is infused with metal. In the lower half of the armour, we have used geometric patterns in leather. Rajputs preferred geometric designs over floral. As for Khilji, the depiction of lions in his armour are to enhance the darkness of the character". Harsheen Arora and Vipul Amar also told mid-day that they consulted an engineer to check on the mobility in the armours. "It was imperative that the actors be able to perform stunts while wearing them," they said. Meanwhile, designers Rimple and Harpreet Narula, who worked on Deepika, Ranveer and Shahid's costumes earlier told news agency IANS that it was 'challenging' for them to design the costumes. "Working in tandem with Sanjay Leela Bhansali's vision, we immersed ourselves in the history of that particular period during the initial sessions in which he took us through the script and the characterisations. It is an extremely challenging task to envision and design garments," they said.

---
HAHA... No": Twinkle Khanna Trolled For 'Lame Jokes' Tweet By Mallika Dua And The Internet.
NEW DELHI:MMNN:30 October 2017
Twinkle Khanna shared two 'lame jokes' about her the ongoing controversy about her husband Akahsy Kumar's comments for his The Great Indian Laughter Challenge colleague Mallika Dua. Guess who did not find the jokes 'lame'? Yes, Mallika Dua. She reposted Twinkle's tweet and added: "HAHAHAHAHAHA....HAHA. No" Mallika Dua wasn't the only one unimpressed by this tweet, as the Internet thinks that Twinkle Khanna is "better than this." On Twitter user wrote: "I looked up to you till I read this tweet, This wasn't your best foot forward." On Sunday, Twinkle Khanna issued a statement regarding the controversy asking social media to keep her out of it. In an unaired clip of The Great Indian Laughter Challenge, which found its way on the social media, Akshay Kumar can be heard saying, "Mallika ji aaap bell bajao, main aapko bajata hun." Mallika's father, journalist Vinod Dua, rebuked Akshay's language and wrote on Facebook (the post is now deleted): "I am going screw this cretin Aksahy Kumar." Defending her husband Akahsy Kumar, Twinkle said in her statement: "Should Mr Dua's statement also be taken literally or interpreted in context." She added: "Words, especially humour, have to be seen in its right context. I have always stood up for freedom within comedy including defending AIB's infamous roast on numerous occasion in the past and that is my stance even today." Twinkle Khanna is the author of two bestsellers - Mrs Funnybones and The Legend Of Lakshmi Prasad. Akshay Kumar was last seen in Toilet: Ek Prem Katha and is awaiting the release of 2.0 and Padman in January 2018

---
2.0 Poster: Rajinikanth, Akshay Kumar, Amy Jackson's Blazing Look Needs A Cold Shower.
NEW DELHI:MMNN:28 October 2017
A new poster of the much-awaited 2.0 is here and will definitely set your screen ablaze. Rajinikanth features with both Akshay Kumar and Amy Jackson in the new glimpse of the movie. Akshay plays the antagonist to Rajinikanth's Chitti the robot in the movie, and the clash is going to be a blockbuster one, reveals the poster. Have you seen Akshay's deadly stare? It's not for the faint hearted. "I've never done a role like this in my entire career," Akshay, who is currently promoting the film in Dubai, told news agency PTI. "And, I've never seen anyone doing a character like this. It was a whole new experience to play the role of an anti-hero," he added. The new poster arrived as a special treat for fans who are awaiting the grand music launch of the movie in Dubai, scheduled for later today. Dubai's Burj Khalifa is currently being prepped for the event, which will be hosted by Baahubali star Rana Daggubati. Rajinikanth touched down in Dubai earlier this week and kick-started the promotions with a press meet yesterday. At the press meet, Rajinikanth explained why 2.0 will have a global appeal. "It will appeal to both the global and Indian audiences. Director Shankar has a nice social message for everyone in the film," PTI quoted the megastar as saying. The hype around Rajinikanth's 2.0 is for more than one reasons. Akshay Kumar's first collaboration with the Thalaivar is a point of interest for movie buffs while fans of the Bollywood Khiladi are waiting to witness him in 12 different looks. Rajinikanth will reportedly feature in five different roles. Reports are citing 2.0 as Asia's most expensive movie so far with a budget of Rs. 400 crore. Directed by Shankar, 2.0 is scheduled for the Republic Day weekend in 2018.

---
Hollywood icon Paul Newmans Rolex sold for record $17 million (Rs 115 crore) at auction'.
NEW DELHI:MMNN:27 October 2017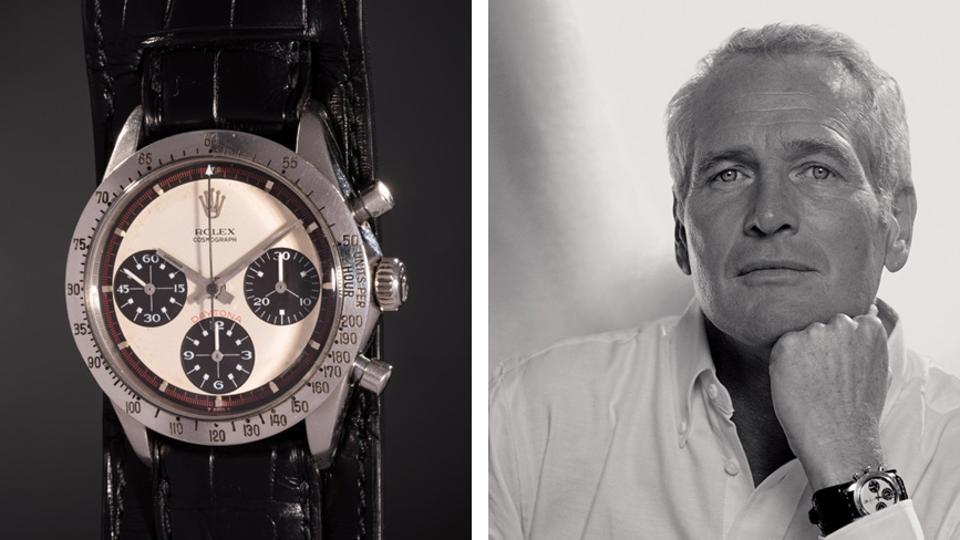 A Rolex Daytona Ref. 6239, owned by and named after the legendary star Paul Newman sold for $17.75 million (Rs 115 crore) at an auction. The sale, made on Friday at a Phillips in association with Bacs & Russo auction broke the record for a Rolex, or any wristwatch, sold at auction. The watch is considered to be one of the most iconic in history. It was sold to an anonymous buyer over phonecall after a 12-minute bidding war. The previous record for a Rolex sold at auction was $5-million for a Rolex Ref. 6062, nicknamed the Bao Dai because it was owned by the last emperor of Vietnam, reported Forbes. Officially called the Rolex Oyster Cosmograph Daytona, the watch was renamed after Newman wore it in 1980. It was a gift from his wife, Joanne Woodward, who engraved it, Drive Carefully, Me. He gifted it to James Cox, the then boyfriend of Newmans daughter Nell. A portion of the proceeds from the sale will go to the Nell Newman Foundation, which continues Paul Newmans philanthropic efforts. Newman died in 2008, and received a posthumous credit in 2017 for his voice performance in the animated film Cars 3

---
Akshay Kumar's Insensitive Remark On Mallika Dua Slammed By Father Vinod Dua'.
NEW DELHI:MMNN:26 October 2017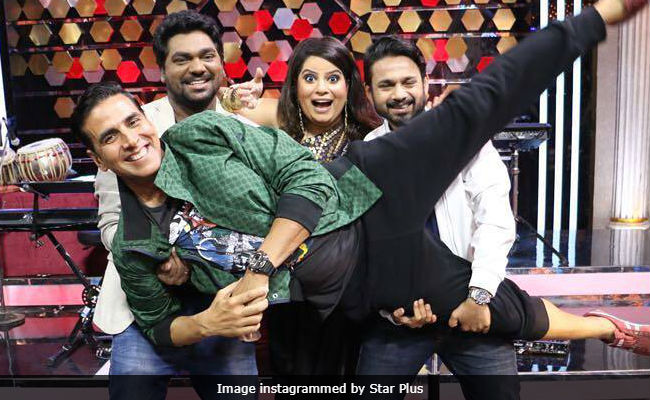 Actor Akshay Kumar's comment on his The Great Indian Laughter Challenge co-judge Mallika Dua did not go down well with the comedienne's father Vinod Dua, who lashed out at the 50-year-old actor on social media. Vinod Dua, a noted journalist, shared the snippet of the show in a Facebook post, which appears to have been deleted later, and wrote: "I am going to s***w this cretin Akshay Kumar for telling his co-worker Mallika Dua that "aap bell bajao main aap ko bajata hun" at 5:26. This is his sense of humor and language. Star Plus.. wake up.." In a separate tweet, Mallika added: "So, I want humor to be limitless. I also don't want to be uncomfortable at my work place. The lines are blurred." Akshay's 'ring a bell' comment refers to the show's format in which judges ring a bell to appreciate an act.According to an IANS source, the controversial part has not been aired by the channel. Vinod Dua told IANS: "I don't expect an apology from Star Plus as they have not aired this episode. But I expect an apology from this fellow (Akshay Kumar) In the past, Akshay Kumar has stood up for his co-stars when he felt they were being insulted in the name of comedy on reality shows - like when he denounced Siddharth Jadhav's alleged racist comments about his Housefull 3 co-star Lisa Haydon on Comedy Nights Bachao. Akshay Kumar was last seen in Toilet: Ek Prem Katha and his upcoming films are 2.0, Padman and Gold.

---
Salman Khan Books Eid 2019 For Next Film Bharat. Details Here'.
NEW DELHI:MMNN:24 October 2017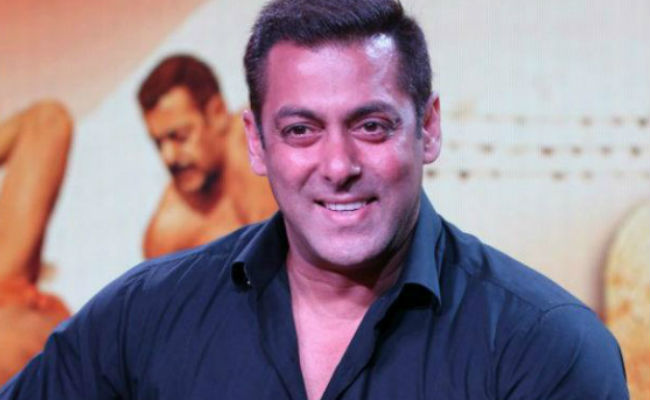 Superstar Salman Khan has yet again booked Eid for the release of his forthcoming film Bharat. The film will star Salman in the title role. Bharat is an adaptation of 2014 South Korean film Ode To My Father, reports news agency PTI. The film will be made by Ali Abbas Zafar, who has also directed Salman in Tiger Zinda Hai, which releases this year on Christmas. Bharat is will be produced by Atul Agnihotri (Salman's brother-in-law), who attended the screening of Ode To My Father at the Berlin Film Festival. Bharat will be shot in Abu Dhabi, Spain and India and will go on floors next year in April. Of the film, Atul Agnihotri told PTI, "It's the journey of a country and also a person, both of whom go by the name of Bharat.That film is just the starting point for ours but since it was an inspiration, we wanted in all fairness to officially own it and acquired the remake rights before going ahead with Bharat." Salman's last Eid release was Tubelight. Since 2011, the 51-year-old superstar has booked Eid for his releases, starting with Bodyguard, Ek Tha Tiger, Kick, Bajrangi Bhaijaan and Sultan. "It's a character that I thought would resonate with him. It's a huge responsibility making a film with Salman as there are big expectations that come with the job. I'm very conscious about Salman's fan base and what they want. And once again, I'm convinced that being a family film it's worthy of coming during the festive time. And anyway, an Eid release is always every producer's preferred choice," Atul Agnihotri told PTI, adding that Bharat's casting will be decided over the next three months.

---
I Scooped Her Up, Headed To Bedroom": Nawazuddin Siddiqui's Biography'.
NEW DELHI:MMNN:23 October 2017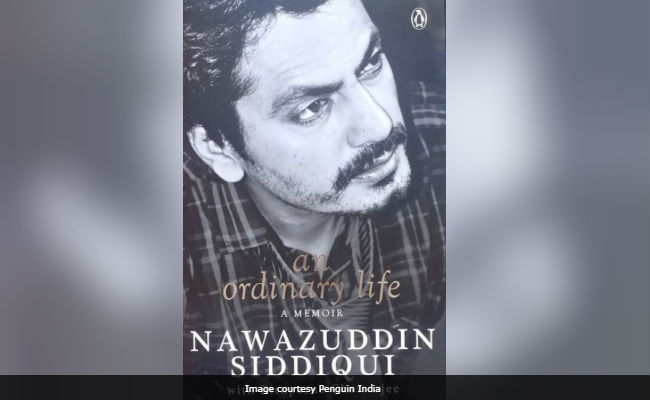 I was performing in a play in Mumbai which was when I finally had my first romantic relationship. Incidentally, she too happened to be an NSD graduate, though we had never met there. It was very sweet, like rain is after a very long spell of drought. Sunita had fallen madly in love with me. Every day, she would come over, hang out at my house in Mira Road and scrawl our names in tiny font all over the wall... Then she went off on a holiday to her home town in the hills to see her folks. When she returned, Sunita would not take any of my calls. And when she did at last, I was flabbergasted. After such a deep, passionate love, she simply said, 'Nawaz, you focus on your career. And I will focus on my career.' She cut off all contact after that and I plunged into another deep, deep depression. I took a bucket of fresh white paint and began to replace her artwork on my walls with the blank canvas that they were before... Living in Mira Road meant that the local train was our lifeline. We were at the station almost all the time. Soon after her call, one day I was at the station and stood there staring at the tracks. A train was coming, screaming its arrival with a lusty horn. It would be simple and instant. Should I jump on to the tracks and end it all? End this struggle, end this life? I had nothing. No love, no work, no money. But some being woke up in me and gave me a metaphorical slap. 'You know this is not your department,' the voice in my head said. 'Then why? Why did you go that way? Why!' it screamed at me. The train sped away, screaming pompously, cutting through the air... I decided that I would never again be emotional in any relationship... Never again did I allow myself to be vulnerable like that again, not even with my wife... Yet it was important to analyse what had happened... [Sunita must have been advised] she should probably date someone successful, not a struggling, desperate actor who was out of work. Today, Sunita tells everybody that she was once together with me in a very serious relationship. Incredible, isn't it?
'What happens in New York stays in New York'
Those years between 2006 and 2010 were pretty incredible too. The industry had begun to notice me... Strangely, the West was kinder to me first, both in terms of love and work... I was at a cafe once with my friend in New York City's Soho area. The stunning waitress kept staring at me... 'You? You are an actor?' she asked a rhetorical question. 'Yes!' I replied. 'Which film of mine did you see? Gangs of Wasseypur? She squinted, trying to remember, 'No, no,' she said. 'Another film!' After a few moments, she responded: Lunchbox! We got talking and let's just say what happens in New York stays in New York...
'Why are you not mailing me, Nawaz?'
Before that came Suzanne: a lovely, dear Jewish girl from New Jersey, who lived in New York City. We met there and hit it off. She came to Mumbai and began to live with me... Every few months, she kept extending her visa... The shooting of Miss Lovely commenced. Suzanne used to accompany me there. Then came the day when her visa expired and she needed to return to New York to sort it out. She was gone for many months. One day, while we were shooting a dance scene, something happened to my co-star Niharika Singh... She was suddenly cold, went out of her way to maintain a distance from me and began to keep mum. I was puzzled... She used to be friendly, social and talk quite a bit. I thought it was best to ask her what had happened and so I did, not once, not twice, but several times, for several days... I invited her over for a home-cooked meal, a mutton dish which was my speciality. She politely agreed and came over... Not only did she eat everything that was on her plate, but she praised it as well. Now you come to my house, Nawaz. I will cook mutton for you,' she said warmly. For the very first time I went to Niharika's house... When she opened the door, revealing a glimpse of the house, I was speechless with amazement. A hundred, or so it seemed, little candles flickered beautifully. She wore soft faux fur, looking devastatingly gorgeous, her beauty illuminated even more in the candlelight. And I, being the lusty village bumpkin that I am, scooped her up in my arms and headed straight for the bedroom. We made passionate love. And just like that, out of the blue, I began a relationship with Niharika Singh, a relationship which I did not know then would last for almost one and a half years... Meantime, emails from Suzanne started coming. 'Why are you not mailing me, Nawaz? What's wrong?' I did not respond... I trusted my silence would convey what needed to be conveyed. When I was checking my inbox one day, Niharika happened to see one of her emails. 'Who is this?' she inquired. 'You know very well who it is,' I said. 'It's Suzanne.' 'Wo-ow! It's still going on between you two! Amazing!' Niharika thundered in anger. 'It is wrong. I hope you know that...' From that day, Niharika began to send emails to Suzanne from my email address. She would type, 'I cannot continue with you ...' and sign off as me. Imagine the shock for Suzanne. She would send heartbreaking replies... After a few of these email exchanges, Suzanne figured that this was not my voice at all. 'Who is this writing, Nawaz? I know this is not you... Who is she? Who is this b***h?' 'B***h!' That word infuriated Niharika so much that she made me end all correspondence with Suzanne forever... I was very sad. Then I thought, so be it, it's all right, I am with Niharika. My melancholy evaporated quickly.
'I was a rascal who cared only for himself'
Niharika was an intelligent girl. Being an actor herself meant that she knew and understood my struggle for work... She would call me in frequent spurts throughout the day demanding to know of my whereabouts... [Then] The regularity of the questions felt like being nagged non-stop... There was another piece to this puzzle. Like all girls, Niharika obviously expected some of the sweet conversations that lovers have, to take place between us. But I was quite a selfish b*****d. I had a plain aim: go to her house, make out and leave. I could not talk lovey-dovey too much. It finally struck her that I was a rascal who cared only for himself. (Actually, all the girls I have ever been with have had this same complaint about me. I would only come to them for my own needs. Otherwise, I might not even take their calls.) When I went to her place next, she was wearing a silk robe. I ran my hand over its coolness around her waist, grabbing her but she pushed me away. 'No, Nawaz!' she said. 'I won't meet you again. This is enough.' I pleaded, I cried, I apologized. But she remained adamant. She had had enough. So that was that, we broke up cutting off all contact. Two months later, another girl came into my life in a most mysterious way. I did not know then that years later, I would marry her."

---
Alia Bhatt, Sonam Kapoor, Mouni Roy and more attend Ekta Kapoor's Diwali party'.
NEW DELHI:MMNN:18 October 2017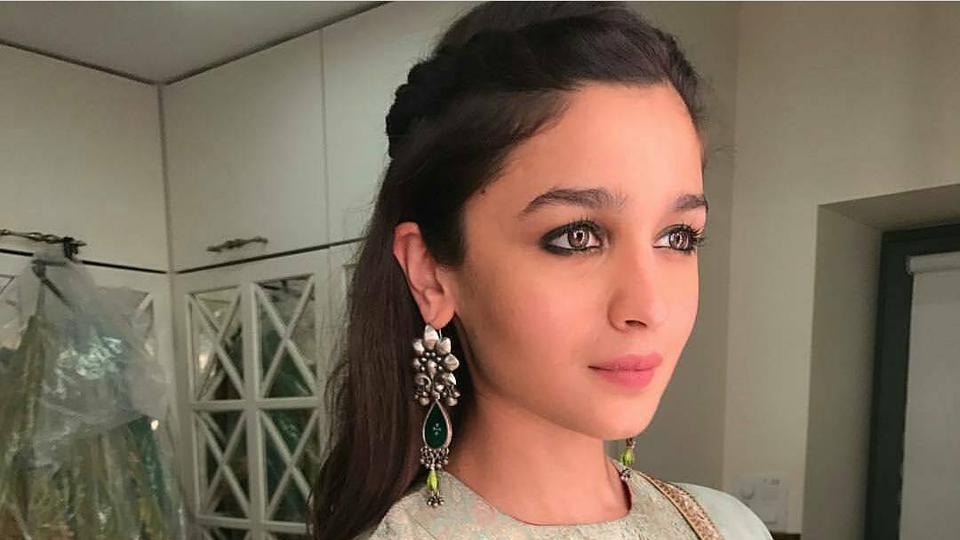 With just one day to go for Diwali, Bollywood has gone into an overdrive when it comes to partying. Film and television producer Ekta Kapoor threw a bash on Tuesday which was attended by all the biggest names of Bollywood and TV. Rumoured couple Alia Bhatt and Sidharth Malhotra arrived together to the party, shutting down rumours of their breakup. Alia wore a gorgeous mint suit with oxidised silver earrings. Sidharth was seen in a red kurta pyjama Sonam Kapoor turned up in a heavily embellished white saree with a cold-shoulder blouse and frilly sleeves. She posed for photos with director Karan Johar and her sister Rhea Kapoor Television star Mouni Roy also wore a pretty lehenga and posed for selfies with Adaa Khan and other actors. The party was also attended by Divyanka Tripathi and Vivek Dahiya, Rajeev Khandelwaal, Sanjay and Manyata Dutt and more.

---
Aamir Khan, Zaira Wasim And Team Dangal Watch Secret Superstar'.
NEW DELHI:MMNN:17 October 2017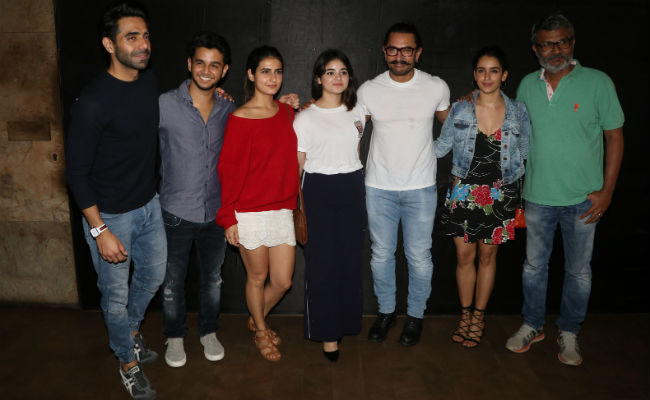 Aamir Khan hosted a special screening of his forthcoming film Secret Superstar for his industry colleagues and friends in Mumbai on Monday evening. Secret Superstar is headlined by Aamir's Dangal co-star Zaira Wasim, who played the younger version of wrestler Geeta Phogat. Team Dangal, including director Nitesh Tiwari, also came to cheer for Aamir and Zaira's film. Secret Superstar is directed by Advait Chandan and tracks the story of an aspiring young singer, played by Zaira, whose dreams are not supported by her father. However, a music composer Shakti Kumaarr (Aamir Khan), helps her in building her dreams. Secret Superstar is produced by Aamir Khan and Kiran Rao. Sexy Baliye, one of the songs in Secret Superstar, is choreographed by Sanya Malhotra (Aamir's Dangal co-star). Dangal broke major box office records at home and also in China and Hong Kong. However, Aamir, 52 believes that Secret Superstar, will be a 'much bigger film.' "While Dangal was about the dream of a father which a daughter fulfils, this is about the hopes and aspirations of a 14-year-old girl from a small town in India. I don't know what the box office will be but it's a bigger film than Dangal in what it's trying to say," said Aamir, news agency AFP reported. Of his co-star Zaira, Aamir said, "She, for me, if you ask me who is the finest actor in the Hindi film industry today, I would say Zaira. She's absolutely amazing." Zaira won a National Award this year for Dangal.

---
Tumhari Sulu trailer: Vidya Balan promises a sweet comedy and a brand new version of Hawa Hawai'.
NEW DELHI:MMNN:14 October 2017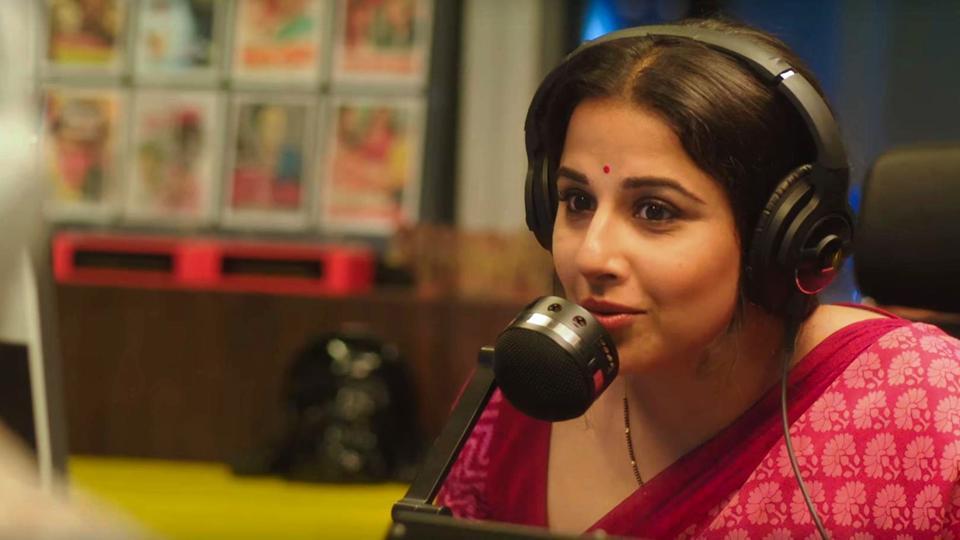 We may have never noticed it before, but Vidya Balan has a really sultry voice. Dont believe us? Just check out the trailer for her upcoming comedy, Tumhari Sulu. The trailer for the film was released on Saturday and features Balan as a saree wali bhabhi, Sulu, who wishes to be more than a housewife. She lives with her husband and a son, but wants to bring more spice in her life. A regular winner at competitions hosted by the local radio station, she is not happy with just the pressure cooker she has won. She wishes to be an RJ. Neha Dhupia plays the head at the radio station and while she isn't too sure about the demure middle-aged womans ability to host a radio show, she has the idea to let her have the late night slot. And to everyones surprise, Sulu is custom made for the job. With a voice as smooth as honey, she becomes an instant hit with the listeners. However, her new-found success isnt all good news. Her husband complains of her not giving the family enough time anymore and a montage teases more problems that she would have to tackle The trailers biggest pull is, of course, Vidyas performance as an ambitious and lovable woman, the bright, colourful look of the movie and lastly, the brand new version of Hawa Hawai. The song, originally picturised on Sridevi in Mr India, gets a new life with slick beats and it fits the temperament of the movie just right. The film is directed by Suresh Triveni and will release on November 17.

---
Victoria And Abdul, Hollywood's Latest Racist Fantasy'.
NEW DELHI:MMNN:13 October 2017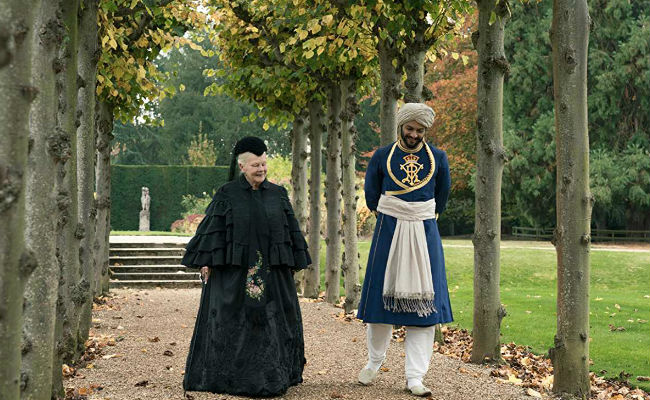 WASHINGTON: The British Empire in South Asia remains an enduring source of conflicting narratives even 70 years after its collapse. In recent years, Brexit supporters have sought to reclaim their island's lost greatness while India's nationalists have disposed of imperial statues into distant parks and basements left unseen. In Western popular culture, the age of British high colonialism, wrapped in the regal pomp and circumstance of Windsor courtesies, still manages to evoke wanderlust fantasies in khaki and white, tented tiger hunts and bejeweled glamour. Oscar-nominated director Stephen Frears' new film Victoria & Abdul is only the latest offering in a long line of Hollywood's imperial confections. It stars the delightful Dame Judi Dench as Queen Victoria in an effervescent, charming and sweet portrait of an unusual friendship between the monarch and her beloved Indian servant, Abdul. As this cheeky colonial comedy opens, the widowed Queen Victoria is sluggishly pushing through her last decade. She is cranky and bored, but her eyes and appetite perk up when she meets her new special delivery, a handsome Indian Muslim subject turned servant named Abdul Karim. He's been handpicked and shipped from Agra to serve in Indian regalia at the Queen's upcoming jubilee. The film shows how the weary queen quickly comes to admire the strapping Abdul and wakes to rediscover her inner light and joy. Her curiosity aroused, she learns Urdu from her beloved munshi (teacher) and listens attentively as Abdul describes the romantic drama of the Taj Mahal. Queen Victoria also happens to be the only racially woke one around here and has no patience for her staff's blatant racism-based hatred of her beloved brown Abdul. Characters storm off in snide English tantrums screaming of Victoria's "Munshi Mania!" Against her court's insistence, she whisks Abdul away to Florence, joining him in candlelit dances and contagious laughter. Dench can elevate the shallowest of moments into Shakespearean pathos and without her presence, this would be a travesty of the highest order. The film is elegant and warm and entirely misleading. Its charming inoffensiveness is at the root of its insidious politics. The facts of empire are a stubborn thing. It's true that the late 19th century was an extraordinary period of territorial expansion, political advancement and intellectual growth for Britain. The Victorian age, with the voracious queen at its helm, was the age of High Empire. Along with her husband Albert, Victoria had weathered the violent Indian uprising of 1857, deposed the Mughal monarch whose dynasty had reigned in Delhi for centuries and brutally crushed the remains of the resistance. Victoria's empire was born in blood, and the ensuing shock waves transformed Indian borders, society and politics forever. In the year of Victoria's jubilee celebrations in Britain that heralded the arrival of Abdul from Agra, a brutal famine across India led to more than 5 million deaths. Protests against the mismanagement and neglect by British administrators inspired a new generation of anti-colonialists who would eventually form Mohandas Karamchand Gandhi's Indian Congress Party. Victoria & Abdul, is keenly aware of that history and yet intentionally chooses to keep its audience entertained on the lush grounds of Victoria's palaces, parlors and gardens. We see the empire as she did: a confection, a distant dream, a realm of personal prizes. For a film about the legacy of a global empire, that is intentionally and unforgivably narrow. Abdul's world is shown through hazy and cliched scenes of exotic marketplaces and in the distant tourist views of a glimmering Taj Mahal. There is no real conversation or parity between Victoria and Abdul. In the screenplay, his character is simply there to serve as her Manic Pixie Dream Brownie. There are several scenes of him simply collapsing to the ground to kiss her feet. Abdul joins a long line of South Asian male characters delegated to prop status in Hollywood features. Once they were silent servants in black-and-white adventure films a la Gunga Din, then accented comedic sidekicks or exotic freak shows, and in recent years, terrorist villains in newsy thrillers. In Victoria & Abdul, he is an object of exotic eroticism. It is a kind of advancement. Abdul is dashingly handsome, bejeweled and dressed in finery inviting the audience's ogling. But it's this objectification that creates such an imbalance in what is advertised on posters as the portrait of a couple, a duo, a religious duet and a cultural conversation. Victoria and Abdul's was a real friendship that brought crisis to the court. Her successor would later burn all evidence of their relationship and correspondence. Despite the film's saccharine efforts at highlighting the unusual historical connection, by keeping the focus on court gossip it misses the political structure that allowed Victoria to control Abdul at her whims. (Imagine a film about slavery in America that shows the ways a whimsical, poetic slave could enliven massuh's melancholia without addressing the structural reason for said condition.) And yet, ads for the film are seemingly everywhere, and it is even one of the sponsors of the recent Keeping Up With the Kardashians marathon in which this writer may have indulged. This kind of shallow Raj revisionism is possible because of how little we've confronted the enduring and painful legacy of the British Empire. Since the film premiered at the Venice Film Festival, the filmmakers and marketers have sought to underscore the message of racial and religious reconciliation against the current strain of anti-Muslim, anti-immigrant bigotry across the West. Discussing the message of tolerance, director Stephen Frears sarcastically joked to the Hollywood Reporter, "I thought to myself: 'What film would Donald Trump most like to see?' " But in the service of that mission, a less glossy portrayal of empire would actually have more of the intended effect. The stakes and mistakes would be clear. The drama of Victoria's demise and Abdul's eventual banishment by her successor is more poignant than this comedic romp of courtly manners. As the film opens, the screen reads "Based on a true events . . . mostly." By winking at the audience with its self-awareness, the film seeks to soothe cranky viewers bearing torches of political correctness and historical outrage with its charm. Beyond the audience, that is mostly a disservice to the film's subjects and their enduring legacy. - Qureshi, a writer and radio journalist, is working on a memoir about contemporary Muslim identity. From 2008 to 2015, he was a producer and editor with NPR's All Things Considered.

---
Why Aamir Khan Was 'Afraid Of Losing Stardom' With Dangal'.
NEW DELHI:MMNN:12 October 2017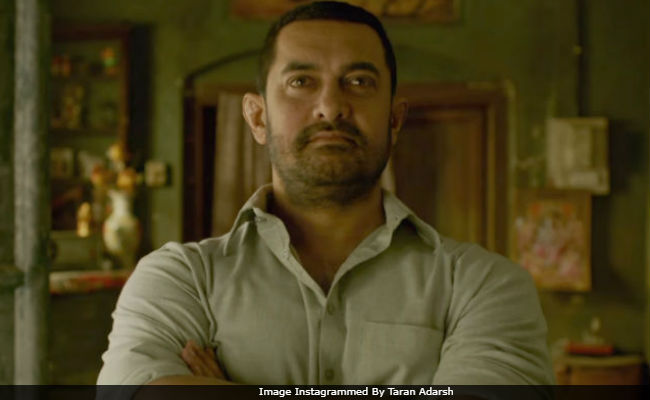 Aamir Khan's last release Dangal was a gift to Indian cinema that broke major box office records not only here (Rs. 385 crore) but in China and Hong Kong too. However, Aamir, 52, who played the role of Haryanvi wrestler Mahavir Singh Phogat in the film, revealed that he was 'scared of losing his stardom' with Dangal. "I do get scared (of losing stardom). When I heard the story of Dangal, I thought I have to do this film. But then I thought that I have just done Dhoom 3 and PK, and have six-packs and star-image. If I will do this film (Dangal), then I will become old and fat. What my fans will think? I hope I don't lose my fan-following," Aamir told news agency IANS. Dangalwas based on the story of Mr Phogat, who despite all odds, trains his daughters Geeta and Babita Phogat, to become world-class wrestlers. Debutants Fatima Sana Shaikh and Sanya Malhotra played Geeta and Babita respectively in the film. Aamir underwent massive physical transformation for playing the younger and older versions of Mahavir Singh Phogat. He put on weight up to 95 kilos and later reduced to around 70 kilos. "Mahavir is a 55-year-old in the film. I am 52. So, there is less difference between us. We are too close. But fans don't know that as they see me as 30-year-old. So, I told the director that I liked the film and I will do it after 10 years when I will be old. They agreed to that too. But the story of the film couldn't leave my mind. So, I decided that I should do it and not get afraid of anything," he said. Dangal won several Filmfare Awards this year including the Best Actor and Best Director trophy. The film was directed by Nitesh Tiwary. Aamir is currently promoting Secret Superstar, directed by first-time director Advait Chandan. The film stars Aamir's Dangal co-star Zaira Wasim, who played the younger version of Geeta Phogat. Of working with Aamir, Zaira told IANS, "I am glad that I got to work with him twice. I never wondered of working with him. I have been very lucky." They were speaking at a promotional event related to Secret Superstar, which releases on October 19. Aamir has special role in the film. Aamir Khan's next film is Thugs Of Hindostan, co-starring Amitabh Bachchan, Katrina Kaif and Fatima Sana Shaikh.

---
Happy Birthday, Amitabh Bachchan. 10 Yaadein Bhari Photos, Ranked'.
NEW DELHI:MMNN:11 October 2017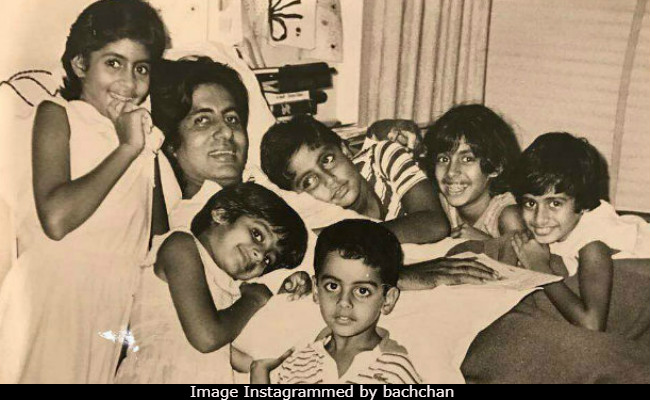 Happy birthday, Amitabh Bachchan! As the Bollywood ka Shahenshah celebrates his 75th birthday on the beaches of Maldives, we would like to take a moment and thank him for having delighted us with an array of throwback pieces. Be it a Throwback Thursday or Flashback Friday, fans and followers rush to Big B's social media feed to always find some blast from the past. It's not just the senior Bachchan but his actor son Abhishek is also responsible for making us nostalgic. From the sets of Big B's iconic movies like Amar Akbar Anthony and Sholay to vintage-hued memories from family photo albums, all feature on the Bachchans' Instagram. Here's a look at the 10 best posts from and/or starring Amitabh Bachchan that has made us happy, ranked in order. We'll start with the one starring the "Bachchan bunch," comprising Shweta and Abhishek Bachchan and their cousins. This is from sometime in the mid-eighties, when Big B was hospitalised while shooting for a Manmohan Desai film and the kids had paid him a visit This is what Amitabh Bachchan shared to commemorate 40 years of Amar Akbar Anthony. Big B co-starred with Rishi Kapoor and Vinod Khanna in the cult comedy. Here are Big B and Dharmendra as harmless looking criminals. "Two very keen, committed, interested artists on the sets of Sholay, the jail sequence," Big B captioned.

---
Salman Khan Gets Brother-In-Law Aayush Sharma His Ticket To Bollywood'.
NEW DELHI:MMNN:10 October 2017
Salman Khan's brother-in-law Aayush Sharma is all set for his Bollywood debut - a love story to be produced by Salman Khan's production house. Aayush's first will be directed by Abhiraj Minawala - one who worked as the Assistant Director for films like Jab Tak Hai Jaan and Fan, and also with director Ali Abbas Zafar in Salman's Sultan. In an interview with Bombay Times, the 52-year-old superstar said that the yet untitled love story will go on floors next year: "Yes, we are producing Aayush's debut film. Shooting will start in February and we'll release the film later in 2018." Aayush is married to Salman's sister Arpita - the duo married in 2014 and they are parents to a son named Ahil Salman Khan announced the big news yesterday and Aayush has already received a warm welcome with Bollywood celebrities sending their best wishes on Twitter. This is how Aayush responded to the whole lot of love: "Honored and humbled with all the love I have received today. Thank you for welcoming me with open arms. Karan Johar, one of the first ones to congratulate Aayush, Instagrammed: "Welcome to the movies". "Dear Aayush Sharma , thrilled to hear your announcement made by Salman Khan - I know how hard you have been training for this #BreakALeg," tweeted Riteish Deshmukh while Varun Dhawan added: "Wishing you all the love and luck my gym partner." This is how Salman announced that Aayush is now a new member of Bollywood: "Now is the time for a lot of mehnat aur lagan. Wish you all success God Bless." Aayush Sharma has reportedly begun script reading sessions for the movie, which is expected to be set in Gujarat. On the work front, Salman Khan was last seen in Tubelight and Tiger Zinda Hai with Katrina Kaif is his next.

---
Karva Chauth: Sridevi, Shilpa Shetty Lead Bollywood Festivities'.
NEW DELHI:MMNN:9 October 2017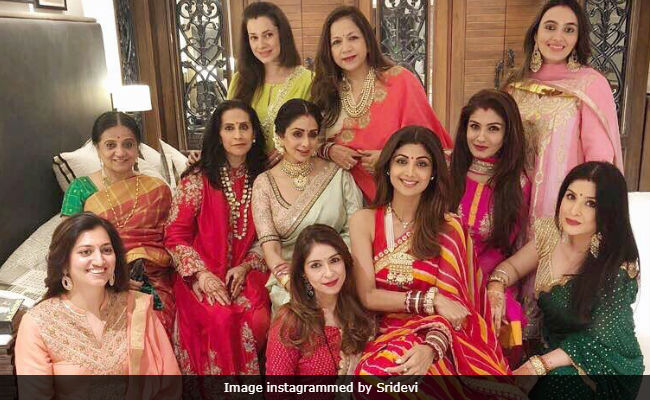 Like every year, actor Anil Kapoor's wife Sunita Kapoor hosted a "Karva Chauth bash," in which actresses Shilpa Shetty, RaveenaTandon and Neelam Kothari joined the ladies of the Kapoor household. Actress Sridevi and Maheep Kapoor, who are Sunita's sisters-in-law, all grouped together for a bright Karva Chauth picture. Shilpa posted a short video of the all the women, dressed in their fineries, chanting, 'Happy Karva Chauth.' Sridevi looked stunning in a pastel green sari while Shilpa opted for a bright Lehariya sari. Maheep wore a bottle green sari with mukesh work and Raveena Tandon was dressed in a pink suit. Hostess Sunita Kapoor looked pretty in red. In another picture, Anil Kapoor, Sanjay Kapoor and Raj Kundra joined their wives and the other ladies. "Thank you Sunita Kapoor and Anil Kapoor, always amazing hosts," Raj Kundra captioned the picture. Here are snippets of Raj Kundra and Shilpa Shetty's Karva Chauth. Shilpa Shetty opened her fast by looking at a picture of the moon in Amritsar (sent to her on phone), as the Mumbai weather (it was rainy last night) made the moon's visibility quite difficult. Raj Kundra had shared this picture with caption: "Chand chupa iphone mean Sanjay Kapoor also posted a picture of himself with Shilpa Shetty and Anil Kapoor. Shilpa and Anil Kapoor have co-starred in films like Rishtey and Badhaai Ho Badhaai while she and Sanjay are co-stars of films such as Darna Mana Hai, Auzar and Zameer.

---
Jaane Bhi Do Yaaron to Kabhi Haan Kabhi Naa: Kundan Shah's best works to watch'.
NEW DELHI:MMNN:7 October 2017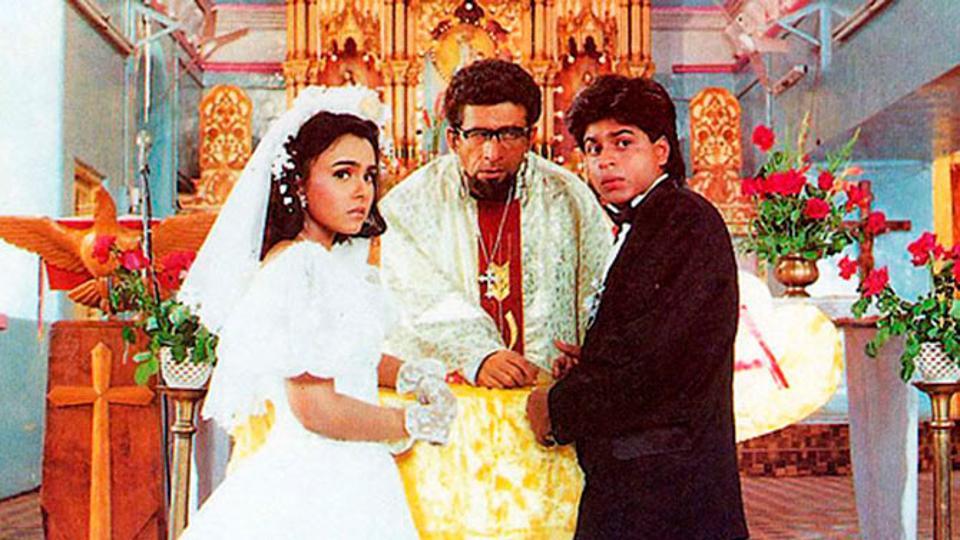 Director Kundan Shah died in Mumbai on Saturday. He was 69 years old and known for his short but interesting filmography in Hindi cinema. Shah, even with all the critical acclaim that he earned, could never really deliver a commercially successful film. Nonetheless, he was considered one of the most intelligent directors in Bollywood after his 1983 debut, Jaane Bhi Do Yaaron. With Kabhi Haan Kabhi Naa in 1994, he delivered a sweet romantic story of a loser, which star Shah Rukh Khan considers to be one of the best films of his career. He also directed some of the best TV?series to ever be telecast on Indian television like Yeh Jo Hai Zindagi, Nukkad and Wagle Ki Duniya. The mild flavour of these shows and the warmth that emanated from them could never be recreated by any other show in the years that followed. However, with films like Kya Kehna, Dil Hai Tumhara and Hum Toh Mohobbat Karega, the critical acclaim that he proudly carried with him, also started to wane. His last film, P Se PM Tak, was about a prostitute who became the Prime Minister. Here, we bring you a list of some of his best works. Watch these over the weekend and remember Kundan Shah like he should be remembered.
Jaane Bhi Do Yaaron
Before filmmakers learned to talk about about corruption and misuse of power through their films, Shah took the bull by the horns, with Jaane Bhi Do Yaaron. In this not-so-subtle satire, he brought to the screen a story so tragic but still so hilarious, it made you feel ashamed about laughing at the clear misery of the characters. Naseeruddin Shah and Ravi Baswani as two photographers, hired by a magazine to unmask the corrupt ways of a real estate mogul and a municipal head. But a series of disastrous events later, the good guys are sacrificed at the altar of opportunism by selfish men with power in one of the darkest endings ever to a Hindi comedy.
Kabhi Haan Kabhi Naa
The casting was just right for Kabhi Ha Kabhi Na. Suchitra seemed like the perfect girl next door, Shah Rukh in his typical Raju Ban Gaya Gentleman role and of course, every main heros best friend of the 90s, Deepak Tijori. Shah Rukh has called the film his favourite. But among so many things, what we do remember about Kabhi Ha Kabhi Na is the surprise ending, when our loser hero, who has been ditched by Suchitra, is sitting moping on a pavement. And in walks Juhi Chawla, who is lost and asking for directions and they walk away together. A sweet, hopeful ending to a sweet, hopeful film.
Ye Jo Hai Zindagi
Yeh Jo Hai Zindagi, starring Shafi Inamdar, Swaroop Sampat, Rakesh Bedi and Satish Shah, was written by acclaimed writer Sharad Joshi and directed by Kundan Shah, Manjul Sinha and Raman Kumar. The show went on to become so popular that it even started affecting the business of films, as it used to be aired late on Friday nights. It started in 1984, and was on the air for 61 episodes. The serial revolved around a married couple, Ranjit Verma (Shafi) and Renu Verma (Swaroop), who had the latters unemployed annoying younger brother, Raja (Rakesh) living with them. Satish played a different character in every episode, and was always the highlight of each one.
Nukkad
Nukkad (Street Corner) was an immensely popular TV serial aired on Doordarshan between 1986-87, co-directed by Saeed Mirza and Kundan Shah. A slice of Mumbai chawl life, the plot revolved around the lives of characters drawn from the humdrum of urban Indian life. Ask any person in their 40s and see how they fondly recall characters like Khopdi, Kaderbhai and Ghanshu Bhikari. The serials a warm humanism and humour was endearing to many generations of TV viewers of that era. Written by Prabodh Joshi, it dealt with the everyday issues of lower middle class people and often revolved around one or two specific characters. The simplicity and realism of the serial are its most endearing legacies.
Wagle Ki Duniya
Yet another popular TV serial, again aired on Doordarshan, was Wagle Ki Duniya (1988 to 1990). Starring veteran actors Anjan Srivastav and Bharati Achrekar as his wife, the serial was a charming account of a bumbling sales clerk working in a multinational firm. Modelled on RK Narayans famous common man cartoon strip, and characters often seen in them, the serial gave a peek into the lives of a middle class Indian family. The serial was directed by Kundan Shah and produced by character actor of the 70s and 80s, Durga Khote. Like actors from Nukkad, Anjan Srivastav won much acclaim and would soon become a household name.

---
Saif Ali Khan's Chef - 5 Reasons To Watch'.
NEW DELHI:MMNN:6 October 2017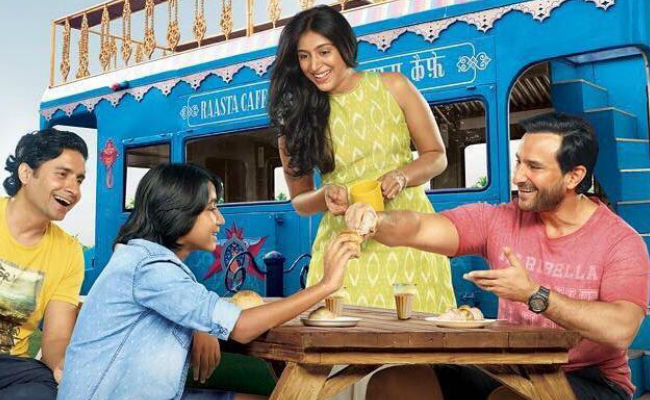 MUMBAI: Did you just ask - isn't Saif Ali Khan reason enough? That might be so but here are a few others. Chef, a remake of Jon Favreau's star-studded Hollywood hit of the same name, is this week's big Bollywood release. Saif is cast as the divorced chef who takes his son on the road with him in order to connect. A food truck takes them on a journey of discovery - they find not only great food but also each other. Here's why you should not miss Saif Ali Khan in Chef.
Spoilers Ahead

1) Saif Cooks Up A Delight
Chef is an out-an-out Saif Ali Khan film. His fans have loved him in films like Dil Chahta Hai (2001), Kal Ho Na Ho (2003), Parineeta (2005) and Omkara (2006) after which he occasionally delivered an impressive performance along with many duds. In Chef, they will get to see shades of Saif they missed all these years. The actor learned cooking to play the role with conviction, and it shows every time he is in the kitchen. Talking about preparing for the role, Saif told me, "Cooking is like magic, with a little bit of this and a little bit of that. With all completely different ingredients, you prepare one mouth-watering dish." The fact that he believes in the art of cooking reflects on the big screen.
2) Saif Still Has The Best Comic Timing
What clicked with the audience in Dil Chahta Hai and Kal Ho Na Ho about Saif's character were his poker face expressions and his comic timing. In Chef, there are many hilarious moments, which will leave the audiences in splits. What's important is that he is not trying to be funny in any of those scenes. It's his casual talk with perfect timing, which director Raja Krishna Menon has used very well.
3) Smart In-Film Jokes Always Work
It's not easy to make people laugh that's the reason filmmakers and actors always say that comedy is the toughest genre. When writing funny lines for actors like Saif Ali Khan who is good with good jokes, one has to think of smart lines. In Chef, when Saif Ali Khan is in Goa with his friend and his son, as a passing mention, he tells them about an incident that happened to him 20 years ago when he visited Goa with his two friends. He was mugged! Please don't make me spell it out for you!
4) Good Supporting Cast Plays a Key Role
As much as the lead actors may perform it's the supporting cast that keeps the narrative going on the big screen. Every actor in Chef performs brilliantly, which only means that Raja Krishna Menon didn't just keep his focus on his main lead. Padmapriya Janakiraman, who plays Saif's ex-wife, is outstanding. Terrific actors like Dinesh Prabhakar, Chandan Roy Sanyal and Sobhita Dhulipala bring a lot to the Chef's table. Singer Raghu Dixit who makes an appearance in a song is placed well and is there for a reason. Each of them has important roles to play. Chef works because of its significant supporting cast.
5) Chef Is A Good Pick To Be Made For The Indian Audience
Good food is not bound by geography - that's the reason an article, recipe videos, TV show or a film on food has no boundaries. Master Chef Australia is one of the most popular reality TV show across the world as the focus is always on preparing the best and the tastiest dish. Indians, as we know love food and the range of cuisines in India are worth a story. Chef may not talk about the delicacies that India offers, but when you watch Saif take his son to Delhi's Chandni Chowk to eat Chole Bature, you will wish you were right there biting into the hot and spicy street food of Delhi

---
Hrithik Roshan Takes A Stand On Kangana Ranaut, Says 'Was Harassed For 4 Years'.
NEW DELHI:MMNN:5 October 2017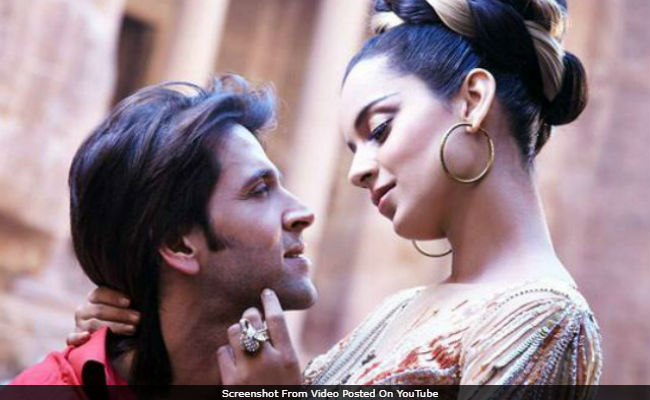 Hrithik Roshan has tweeted a lengthy statement about the feud with Kangana Ranaut that has hogged headlines for a year-and-a-half now. The 43-year-old actor claims that he never spent any time alone with Kangana - they starred in Kites and Krrish 3 - and that he has been 'harassed' by the actress over the last four years. "We want to believe the other party because the rhetoric is - why would the girl lie," the statement says. Hrithik also says an examination of his passport will prove that he wasn't in Paris when Kangana claimed he was (proposing to her) and that he is speaking up in what he calls a 'dirty perverse mess' because 'families suffer, children suffer.' This is Hrithik's first public response about Kangana. Kangana Ranaut has alleged that she and Hrithik Roshan dated ever since Kites in 2009 - he disputes this and sent her a legal notice last year after she appeared to refer to him as a 'silly ex' in an interview. A public exchange of recriminations and accusations followed, with Hrithik also going to the police over e-mails that he claimed were sent to Kangana by an imposter pretending to be him. Kangana Ranaut allegedly sent over 3,000 emails to Hrithik Roshan, some of which were reproduced by news outlets this week, extracted from a police complaint filed by the Roshans' lawyer Mahesh Jethmalani. Hrithik Roshan has accused Kangana Ranaut of stalking him. The only responses from Team Kangana have come from her lawyer, who put out a statement, and her sister Rangoli Chandel who posted a series of tweets about Kangana having 'moved on' from Hrithik. Kangana Ranaut invoked the feud with Hrithik Roshan while promoting her film Simran last month. She spoke to TV channels in New Delhi saying that Hrithik and his father Rakesh Roshan had 'made fools of themselves' and that she wanted an apology. Rakesh Roshan told DNA that the complaint is now available in the public domain, that the "facts of the case will shock you," and that the Roshans are not "loose talkers."
READ HRITHIK ROSHAN'S STATEMENT HERE
"I choose to be on a path of creativity, productivity and constructive work. Anything that isn't in alignment with that, I tend to ignore, sidestep and treat as a distraction. I believe that ignorance, non reaction and staying on the path of dignity is the best way to discourage any persistent unwanted intrusions. But Just like a nagging health issue sometimes ignored can turn malignant, this situation for me has unfortunately turned malignant. In case of the matter at hand , it seems the media has no intention of letting go. I don't see any grace in adding to this circus by testifying in defence of my character in a situation that I have no involvement in whatsoever. I have been dragged into a dirty perverse mess without a choice in the matter. This is something that is not of my making. The truth is, I have never met the lady in question one on one in my entire life. Yes, we have worked together, but there has been no meeting in private. That's the truth. Please understand, I am not fighting against an allegation of an affair. Or being childish trying to uphold a 'good guy" image. I am very aware of my faults, I am human. I am in fact protecting myself from something far more serious, sensitive and destructive than that. Sadly, very few from the media or the public seem to be interested in the truth. This has been a hard-learnt fact for me. If the people are comfortable with a lie because it doesn't threaten their model of the world where a girl is the victim and the man the aggressor then so be it. I am ok with that too. Women have suffered centuries of abuse at the hands of men and it infuriates me how some men can be so brutal and they deserve the harshest punishment. But by that logic if it ordains that one man can't be vulnerable and one woman can't be a liar, so be it. I'm ok with that too. An alleged 7-year long, passionate affair between two high profile celebrities with no trail left behind. No evidence, no paparazzi pictures, no witnesses, not even a memento in possession like a selfie taken at the alleged engagement which is claimed to have happened in Paris in Jan 2014. Nothing that constitutes an exchange or any sort of proof of a romantic relationship. Yet we want to believe the other party because the rhetoric is -why would a girl lie. My passport details show no travel outside the country in Jan 2014, which is the date that this alleged engagement supposedly took place. In Paris. The only so-called proof presented of this alleged "relationship", was a photoshopped picture in the media. This was immediately exposed, the very next day by friends including my ex-wife. These questions are not even asked, because we are taught to protect the woman, as we should. I myself have been brought up to think the same way, by my parents and the wonderful women in my life who have been my rock and support system. I'm deeply grateful to them. I will do my best to teach my children the same values of family and dignity. And yes, I will teach them to stand up for women. Always. There are 3000 one sided mails which either I have sent to myself or the woman in question has sent to me. The Cyber-Crime Dept. can prove or disprove either story, in just a few days. Towards that purpose, I have surrendered all my devices including laptops / phones etc which are still lying with the cyber cell , but the other party has refused to do so. The investigation hasn't been closed. This is not, and I repeat, not a lovers spat. I humbly request people to stop labelling it as one and, for a second, try and see it for what it really is. I have been harassed by this for 4 years and the well meaning and probably necessary social bias toward women has deemed me helpless in defending myself. I am not angry, I have seldom allowed anger into my life. I have not had a single fight in my life, with a man or a woman. Even in my divorce, there was no fight. I, and those around me, have always chosen peace. I am not here to accuse or judge anyone, but it's time I defend the truth because when truth suffers the collective consciousness of society suffers. Civilization suffers. Closer to home, families suffer. Children suffer."

---
Padmavati: Presenting Ranveer Singh As Sultan Alauddin Khilji.
NEW DELHI:MMNN:3 October 2017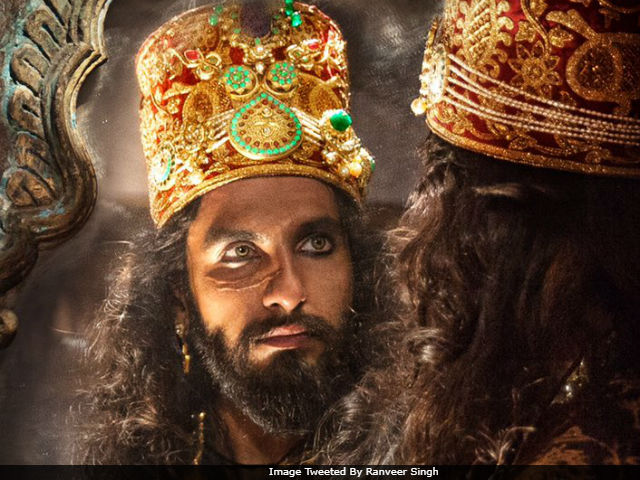 Finally, actor Ranveer Singh's much-awaited look for his forthcoming film Padmavati is out. The 32-year-old actor, who plays ruler Alauddin Khilji in the period drama, looks fierce in both the posters. Kohl eyes, long hair and a scar make his look deadly. "SULTAN ALAUDDIN KHILJI #Khilji," Ranveer wrote while sharing the posters on social media. His look was revealed just a few hours ago and soon, it became the top trends on the Internet. "A transformation of an all-rounder actor. Versatile and all-time entertainer. Can't wait for this movie," "Khattarrnaaakk" are some of the comments on Ranveer's Padmavati look. Alauddin Khilji was the most powerful ruler of the Khalji dynasty. Padmavati, directed by Sanjay Leela Bhansali, also stars Deepika Padukone and Shahid Kapoor. Deepika and Shahid's looks have been revealed earlier. Deepika plays Rani Padmini of Chittor while Shahid features as her husband Ratan Singh. Soon after Deepika's look as Rani Padmini was released, a Rajput Karni Sena burnt posters of the film in Jaipur in protest. "While shooting in Jaipur, Mr Bhansali had promised to show the film to us and historians before releasing it. But since then no one has contacted us, nor has the film been shown to us," Karni Sena president told news agency IANS. Padmavati is Ranveer Singh and Deepika Padukone's third collaboration with Sanjay Leela Bhansali. He has previously directed the actors in Goliyon Ki Rasleela Ram-Leela (2013) and Bajirao Mastani (2015). It is Shahid's first film with Mr Bhansali as well as Ranveer and Deepika.

---
Shah Rukh Khan Posts Pic With Sridevi, Kajol, Rani Mukerji, Alia Bhatt And Karisma Kapoor. Internet's Smitten.
NEW DELHI:MMNN:2 October 2017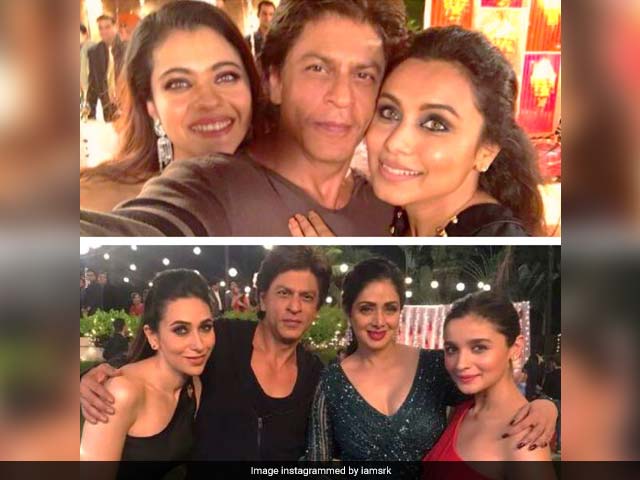 Monday blues? Nah, superstar Shah Rukh Khan made our Monday morning bright, very bright. SRK posted a lovely picture collage with actresses Sridevi, Kajol, Rani Mukerji, Alia Bhatt and Karisma Kapoor and our day was made. In the first picture, SRK poses with Kajol and Rani Mukerji (his Kuch Kuch Hota Hai and Kabhi Khushi Kabhie Gham co-stars) and in the second one, he shares the frame with Sridevi, Alia Bhatt and Karisma Kapoor. (Wow). "Some nights the stars with you shine brighter than the ones in the sky. Thank you ladies for your graciousness beauty & love," the 51-year-old captioned his post. (We would like to thank Shah Rukh Khan for this amazing picture). Like us, Internet too is smitten to see to see SRK with these actresses. "Looking so beautiful ladies and SRK so handsome," "Such a beautiful picture," are some of the comments on the post, shared just an hour ago. Meanwhile, SRK fans are delighted to see him, Kajol and Rani in one picture. "Oh, how sweet. Anjali-Rahul-Tina in one frame again," wrote a user. Kuch Kuch Hota Hai, directed by Karan Johar, was a massive hit. Shah Rukh Khan has co-starred with Sridevi in Army while he shared screen space with Karisma Kapoor in Dil To Pagal Hai and Shakti: The Power. Dear Zindagi, starring SRK and Alia Bhatt, released last year. Shah Rukh Khan last starred in Jab Harry Met Sejal and Raees was his other release of the year. He is currently filming Aanand L Rai's untitled film, co-starring Katrina Kaif and Anushka Sharma.

---
Judwaa 2 Movie Review: Varun Dhawan Tries But Can't Come Close To Salman Khan.
NEW DELHI:MMNN:29 September 2017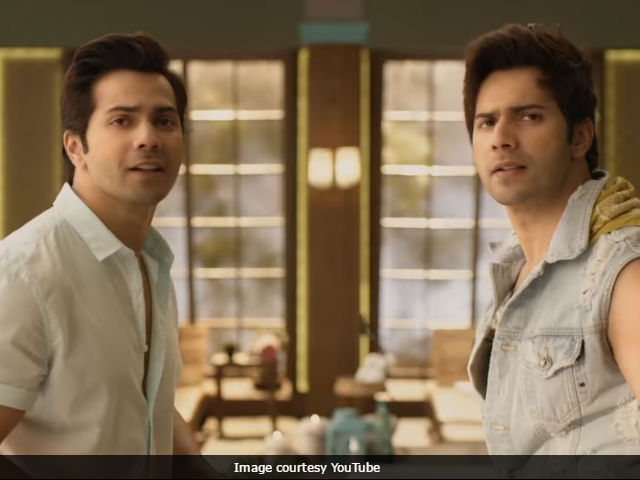 Cast: Varun Dhawan, Jacqueline Fernandez, Taapsee Pannu, Vivan Bhatena, Anupam Kher, Ali Asgar, Upasna Singh Director: David Dhawan Rating: 1.5 Stars (out of 5) There is a lunacy that makes a David Dhawan movie a David Dhawan movie. The nineties, a time when Hindi cinema was shrugging off melodrama and villains, let Dhawan's madcap cinema flourish. Dhawan, a trained editor, made harebrained farce with immediacy and economy; the reason we didn't think about how little a David Dhawan movie made sense was because each successive scene tickled us enough not to care. And then - despite his films being a breeding ground for comedians and mimicry artists - there were Dhawan's heroes, leading men who had several swigs of silliness and embraced the madness with unashamed glee. Govinda, Anil Kapoor, Chunky Pandey, Salman Khan... they all acted as if they'd never seen a script before in their lives, and it is that spontaneity, along with Kader Khan's dialogue, that kept audiences chuckling through the decade. In Judwaa 2 - a remake of Dhawan's twenty year old Judwaa that is, for some reason, titled like a sequel - there is a relatively inconsequential scene where Varun Dhawan, waiting at a hospital, pulls the oxygen mask off an old man in order to give himself some air. This old man wheezes and strains frantically, and while this may surely be a coincidence, it is rather telling that the old man looked like Manmohan Desai, king of the commercial entertainer. Desai might have remade his own movies and recycled many a plot, but a movie like Judwaa 2 would certainly leave him gasping. Because it is as unnecessary as it gets It is also telling that Varun Dhawan - a spontaneous, breezy, enormously likeable leading man - is using borrowed air to fly. I like young Dhawan. I enjoy his work in movies as disparate as Badlapur and Badrinath Ki Dulhaniya, but in Judwaa 2 he isn't allowed to do his own thing. Instead, he's trying to match a marvellously inane Salman Khan performance. Bad move. The new film is almost exactly like the old one - it is as if they used the same script - but the unpredictable off-the-wall bounciness of the original is now executed by template. As Prem, the nerd, Dhawan isn't half bad as he chastises his twin for thrusting his pelvis, but as the ruffian Raja, doing said thrusts, he seems significantly out of his depth. That sleaziness came so much easier to Salman. Perhaps because he wasn't copying anyone. Judwaa 2 starts off with a villain, Charles (played by Zakir Hussain, a fine actor who is usually trapped in Ram Gopal Varma movies) kidnapping a child from a hospital and laying him on a railway track. This child would be doomed were it not for his twin brother, in a hospital bed, turning on his side, which let the precariously positioned child flip onto the right side of the tracks, so to speak. Now, one child grows up meekly in London, while the other is a young boy who goes around slapping fisherwomen on the butt. In case you don't remember, this posterior fixation was a big part of the original film. One of the Salmans - tragically, the one named Raja - had a hand that started quivering whenever any woman bent over, and he was compelled, almost magnetically, to thwack her bottom. Karisma Kapoor and Rambha felt Khan's palm frequently through the film, and at one point the two women even bent over on purpose in order to tell the twins apart. The new film has chosen not to drop this ghastly impulse, but instead this time we cut away instead of showing the point of impact, focussing instead on horrified reactions and cheeky grins. So he does still get to slap - just without eyewitnesses At first, it looks like the Dhawans can pull this off. Prem, complimented on his jacket, immediately responds with "My mom bought it for me," and soon, after being stripped to his boxers and ridiculed, he has his clothes (and, therefore, his izzat) restored by Taapsee Pannu, the girl. Meanwhile, Raja is dancing to nuttily subversive songs that casually rhyme 'Ganapati Bappa Maurya' to the word 'chhoriyaan', as in the ladies who don't leave the hero alone. This is weird in a way only David Dhawan can conjure. Varun channels The Rock in a couple of fight scenes, while trying to be Jackie Chan in the involuntary twin-related slapstick as he falls onto conveyor belts or starts punching policemen. It all seems harmless enough, till the girls start talking and the chaos is amped up. Soon, it is too inane to bear. The girls are particularly horrid, with Jacqueline Fernandes playing a ditsy girl who must be developmentally disabled, and Taapsee, who goes from shy geek to wanton siren without explanation. Pannu also keeps making weird faces, and looking away off camera, as if searching for Shoojit Sircar. Clearly the buildings aren't the only things that are high here. There are a couple of off-beat laughs, like when the film goes meta and Varun starts talking about Jacqueline's face as botoxed and caked in makeup - while the actress nods gamely along and agrees with all that is said - and Manoj Pahwa plays a man called Sharafat Bhai who, alliteratively, speaks only in F-words, but these stray glimpses of vintage David Dhawan nuttiness can't salvage this tiresome remake. Salman isn't the only one Varun tries to borrow from. He keeps falling back on a hastily mimicked Shah Rukh line and stutter, and there are times where he tries to make a blank face like Govinda used to, so memorably, only to look unfunnily vacant. The other problem Varun and this film face, of course, is that the Khans are still very much around. Salman shows up in Judwaa 2 as well, tight tee-shirt and everything, and, even twenty years later, puts this unnecessary remake in its place. All we have here is a weak cover version.

---
Priyanka Chopra On World's 10 Highest Paid TV Actresses List, Again.
NEW DELHI:MMNN:28 September 2017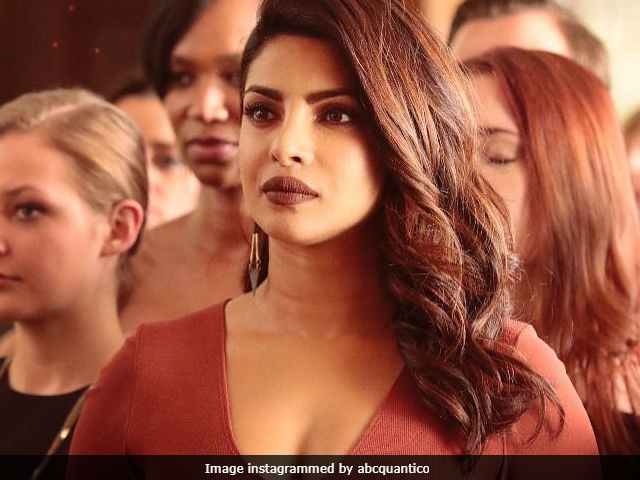 Actress Priyanka Chopra returned to Forbes List of Top 10 Highest Paid TV Actresses this year at position #8. Priyanka "takes advantage of her worldwide appeal," stated the Forbes report. The report also revealed that endorsements are Priyanka's most 'consistent money-maker.' Priyanka Chopra debuted on the list last year and though she took a drop of a million earing-wise, she held on to the eighth spot. Meanwhile, actress Sofia Vergara topped this list (with $41.5 million in her pocket) for the sixth consecutive year courtesy of her licensing deals and plethora of television shows such as Modern Family and Killer Women, which she produces. Kaley Cuoco of The Big Bang Theory stood second and took home nearly half of what Sofia Vergara earned - $26 million. Ellen Pompeo of Grey's Anatomy ranked third and earned $13 million in the same time period. House Of Cards Robin Wright and NCIS' Pauley Perrette rounded off the Top 10 list Priyanka became a household name in the West after starring in ABC's Quantico, which was renewed for the third season in May, despite low viewership and TRPs. Quantico's rating has gone down by 45 per cent from season 1 to season 2 and its viewership dropped by 36 per cent, according to a report in Variety magazine. It was also reported back then that Priyanka took a pay cut to ensure the show doesn't go off air as she need publicity for then soon-to-release Hollywood debut film Baywatch. Priyanka has twice won People's Choice award for her portrayal of Alex Parrish in Quantico. After the success of Quantico, Priyanka is all set to produce an American show based on the life of Madhuri Dixit - this should help her take a higher rank next year.

---
Bigg Boss 11: Salman Khan Lays Down The Rules For Contestants. Ready?.
NEW DELHI:MMNN:27 September 2017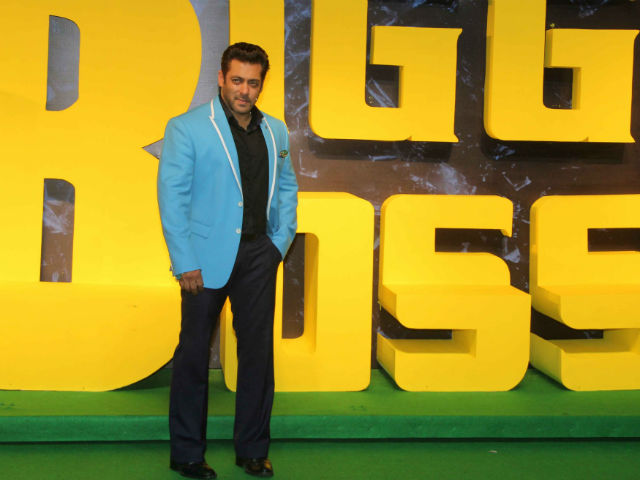 The eleventh season of Bigg Boss is all set to start this Sunday (October 1). Ahead of the premiere, Salman Khan, the host of the show, launched Bigg Boss 11 in Mumbai on Monday night. Salman, who has so far hosted six seasons of Bigg Boss, has some expectations from this year's contestants and he wants them to 'behave properly.' "Well, I want everyone to behave properly. I know it is not easy considering the situation where all the participants are coming from different background and mingling the first time; there are friendship, politics, people deal with the tricky situation. However, they should behave," the 51-year-old actor told news agency IANS. The final list of contestants hasn't yet been revealed by the makers but what we know is that television actress Mouni Roy will co-host Bigg Boss 11 with Salman. For contestants coming to bring a change in their career, Salman has a piece of advice, "I think many people come to the show for revamping their career and if they are fighting and misbehaving with people, industry professionals will not prefer to work with them," he told IANS. Last year, Salman had asked Priyanka Jagga, a non-celebrity contestant, to leave the house due to her distasteful comments and Swami Om, a self-styled godman, was thrown out of Bigg Boss for misbehaving with the contestant. The format of Bigg Boss changed last year as non-celebrity contestants were also invited. The format remains unchanged this year but there's a twist - some padosis (neighbours) have also been invited. Of the new twist, Salman said, "We all have neighbours of every kind and every hue. Some of us have wonderful memories of them and some of us may have not so good ones. Bigg Boss is one show that the country awaits with bated breath along with my movies; and like every year, I'm thrilled to welcome the new contestants into the Bigg Boss house. The theme of Padosis and Gharwale is very refreshing and we have a full entertainment package coming up for the viewers

---
Karan Johar Trolled For Vogue Women Of The Year Cover. What's Wrong With You, Twitter?.
NEW DELHI:MMNN:26 September 2017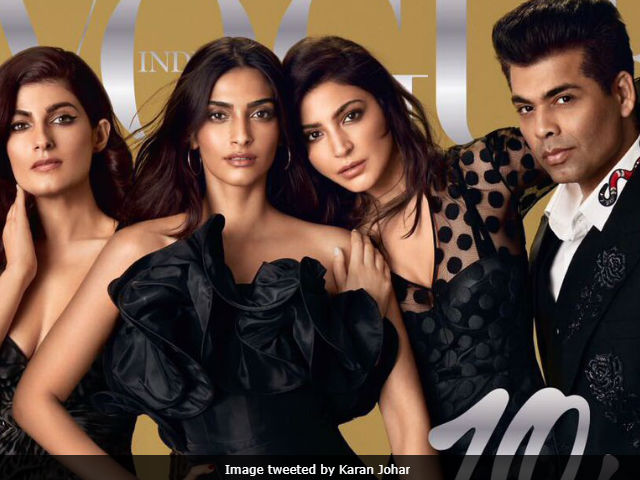 The version of Vogue India's 10th anniversary cover that Karan Johar appears on carries the subtitle "and the men we love" - headline: 'Women of the Year' - but that has been conveniently overlooked by Twitter, which is trolling the 44-year-old filmmaker for being one of the girls, so to speak. Vogue has issued multiple versions of its celebratory cover and Karan Johar appears on one with Twinkle Khanna, Sonam Kapoor and Anushka Sharma. Shah Rukh Khan is also one of the 'men we love,' on a cover with cricketer Mithali Raj and businesswoman Nita Ambani, but his presence doesn't seem to have jigged the trollishness of Twitter. Social media thinks Karan Johar has absolutely no business covering a Vogue edition that celebrates women and is expressing disapproval with insults - "Four beautiful ladies," wrote one commenter, another asked, "Did you have a gender malfunction? Karan Johar was named Man of the Year at the Vogue Women of the Year awards held over the weekend, attended not only by those who made the cover but also Aishwarya Rai Bachchan, Gauri Khan and other achievers. Last year, Karan Johar severely trolled trolls (in style) when he wrote about the reactions to his social media posts in Karan Affairs, a column for NDTV.com: "Why is it that every time I put up a pouting picture on Instagram, I'm just called chakka, gay, I'm told "chup kar ch***ye? That's my favourite, by the way. My absolute favourite. Anything I ever say, these three golden words are thrown at me. I maybe as sad as you, as lonely as you, as messed up as you, but here's what I also know: I'm just a lot nicer than you." Back to Vogue - Karan Johar and his celeb gang had lots of fun at the event. They posted spectacular pictures and videos, which reveal what transpired on Sunday night. Karan Johar's last film as director was Ae Dil Hai Mushkil and as producer it was Badrinath Ki Dulhania. He is awaiting the release of Ittefaq, Drive and Raazi.

---
Padmavati: Shahid Kapoor As Ratan Singh On New Poster.
NEW DELHI:MMNN:25 September 2017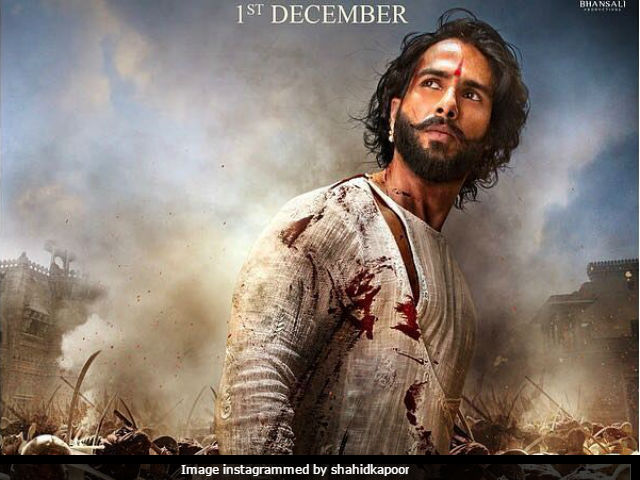 Monday mornings can be difficult to deal with but actor Shahid Kapoor has delighted everyone by sharing the first look of his character Rani Padmavati's Rawal Ratan Singh from Sanjay Leela Bhansali's much-talked about film Padmavati. The 36-year-old actor shared two posters from his upcoming film on social media with a caption that read, "Maharawal Ratan Singh. Saahas, Samarthya aur samaan ka prateek. #MahaRatanRawalSingh #Padmavati @FilmPadmavati." One of the posters shared by Shahid Kapoor shows him standing in a battle field with a fierce and royal look. Padmavati also stars Deepika Padukone and Ranveer Singh, both of whom have also shared the posters on their social media accounts. In the film, Deepika Padukone features in the title role as Rani Padmini while Ranveer Singh will portray the role of historic ruler Alauddin Khilji. Last week, Deepika Padukone shared the first look of her character Rani Padmini. "Devi sthapana ke shubh avsar pe miliye Rani Padmavati se," she wrote. Two days after Padmavati posters featuring Deepika as Rani Padmini were released, an outfit of the Rajput community Shri Rajput Karni Sena burnt the posters of the film outside Rajmandir Cinema Hall in Jaipur in protest, reported news agency IANS. They claimed that filmmaker Sanjay Leela Bhansali had promised to the have the movie cleared by the outfit first but has not followed up. "While shooting in Jaipur Bhansali had promised to show the film to us and historians before releasing it. But since then no one has contacted us, nor has the film been shown to us," said Narain Singh Divrala, the district president of Karni Sena, reported IANS. Padmavati also stars Aditi Rao Hydari and Jim Sarbh in key roles. The film marks Deepika and Ranveer's third collaboration with director Sanjay Leela Bhansali after Goliyon Ki Raasleela Ram-Leela and Bajirao Mastani. Padmavati will release in theatres on December 1.

---
Newton Movie Review: Rajkummar Rao Is Perfect As The Eponymous Everyman'.
NEW DELHI:MMNN:22 September 2017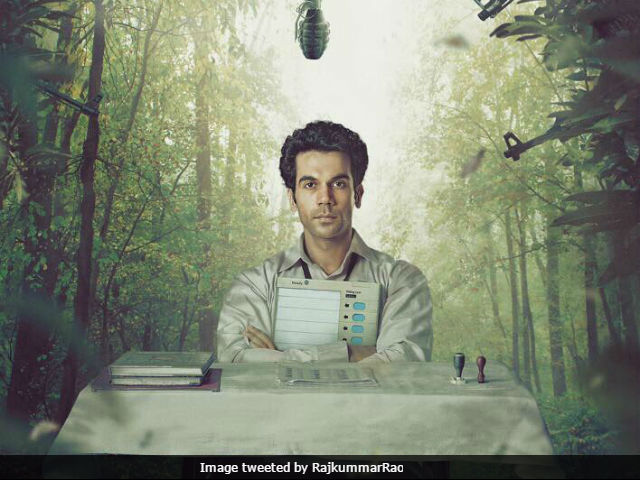 Newton movie review: Newton journeys to a terrain - physical and thematic - that Hindi cinema has seldom probed and tackles prickly issues in an impressively even-toned manner
Cast: Rajkummar Rao, Pankaj Tripathi, Anjali Patil, Raghubir Yadav
Director: Amit V Masurkar
Rating: 4 stars out of 5 The infectious verve of a stand-up comic meets the acerbic acuity of a political satirist in Newton, Amit V Masurkar's second directorial outing. This film is a gem whose sparkle isn't superficial. Its glow emanates from the depths of its insight. Newton journeys to a terrain - physical and thematic - that Hindi cinema has seldom probed and tackles prickly issues in an impressively even-toned manner. Call the humour what you will - outright black, slyly sardonic or out-and-out confrontational - the real eureka moments of this delectably free-flowing, brilliantly written and wonderfully well-acted film spring from its seemingly more innocuous tics, which articulate the dark truths that the powers-that-be and the Mumbai movie industry's 'status quo' cinema would rather not confront. The defining image that ends the film's opening sequence is that of a life-size cutout of a political leader swaying feebly in the wind. It is as unsteady as the hollow electoral promises that the pompous, complacent neta has just made at a small rally and paid the price for. This sets the stage for what is to follow - a tale that blows the lid off the deficiencies of Indian democracy, the world's largest, where voters are treated as mere numbers. They are stepping stones to power. They catapult cynical self-servers to the role of people's representatives who, more often than not, do anything but represent the people. Later on in the film, the screenplay (Masurkar and Mayank Tiwari) touches upon yet another important aspect of the lopsided power equations that are at play in far-flung parts of the country where indigenous ways of life and languages are under constant majoritarian threat. A teacher of tribal students rues that she has to instruct her Gondi wards with the help of Hindi textbooks that they can barely read. The disregard for India's many sub-cultures and diverse linguistic traditions is obviously a direct attack on those that don't have the numbers to rise in resistance. This of course isn't the central theme of Newton, but the very fact that it has seeped into the narrative as a significant, if oblique, strand is a minor miracle. Newton sweeps nothing under the carpet, but it does not revel in muck-raking either. Its jibes at India's electoral system, bureaucracy and law and order machinery are always cloaked in gentility but are never less than trenchant and to the point. It is highly entertaining and gloriously illuminating: a rare feat that anybody that loves intelligent cinema must vote for with his/her feet. A newly recruited government officer Newton Kumar (Rajkummar Rao), who is earnest to a fault and has unwavering faith in the system, volunteers to lead a small poll team under army protection to a remote, violence-prone part of Chhattisgarh - Dandakaranya, "forest of the damned", to be precise. He steps into a breach created by the original presiding officer, who cries off at the eleventh hour citing medical reasons. We instantly know what Newton is getting into. He doesn't. He is just too focused on the job at hand to worry about the likely consequences. The booth in question, located in a Maoist-infested forest where elections haven't been held in years, is meant for only 76 tribal voters. For Newton, the paltry number is no deterrent, it is the process that matters. He is inevitably sucked into an adversarial contest with paramilitary commander Atma Singh (Pankaj Tripathi). While Newton is determined to ensure free and fair polling come what may, all that Atma Singh is keen on is getting out of the place with his men before darkness descends. Newton's team has two other members - 59-year-old government clerk and part-time Hindi writer Loknath (Raghuvir Yadav) and local schoolteacher Malko Netam (Anjali Patil). The former has seen it all and has reason to be disillusioned with the way life has panned out for him. The latter, a feisty and clear-headed tribal girl, is an object of suspicion for the man in uniform detailed to provide security to the polling officers In the course of a conversation, one character asks Malko: "Are you nirashavadi (pessimistic)?" Her reply is prompt and loaded: "I am Adivasi". Hers is the voice that reminds the audience of what is amiss in this part of the world - indiscriminate mining, exploitation of forest land, rampant insurgency, and a clunky political system that changes nothing on the ground no matter how many elections are conducted. Newton raises serious and weighty questions about the distortions that have crept into India's much-vaunted democratic processes, but it never succumbs to the temptation to embrace agitprop methods. It doesn't call for revolution; it seeks resolution. The film is always light on its feet, aided doubtless by a bunch of fine actors, and intersperses its little manic sprints with pensive pauses that open up space for introspection. Newton is Rajkummar Rao's film all the way. He is perfect as the eponymous Everyman who lets no doubt get in the way of his mission. The actor stamps his class both on the role and the tale. Newton also benefits immensely from the fabulous supporting cast led by the irrepressible Pankaj Tripathi. The brooding paterfamilias of Gurgaon and the jovial dad of Bareilly Ki Barfi transforms into a manipulative and mercurial security official with minimum apparent effort. Tripathi is a marvel. No less commendable are the contributions of the seasoned Raghuvir Yadav, who articulates the despair of a defeated man with the slightest of modulations, and the superb Anjali Patil, completely convincing as a woman whose understanding of the landscape and its people is far deeper than anyone else's. Sanjay Mishra, in a cameo as a sceptical election trainer who serves as the protagonist's sounding board, is utterly delightful. His fleeting appearance leaves as indelible an impact as the film does as a whole. Newton is, in one word, unmissable. It is only rarely that wit and wisdom come together in a Hindi film as felicitously as it does here.

---
Deepika Padukone's Padmavati Unibrow Stops Twitter In Its Tracks'.
NEW DELHI:MMNN:21 September 2017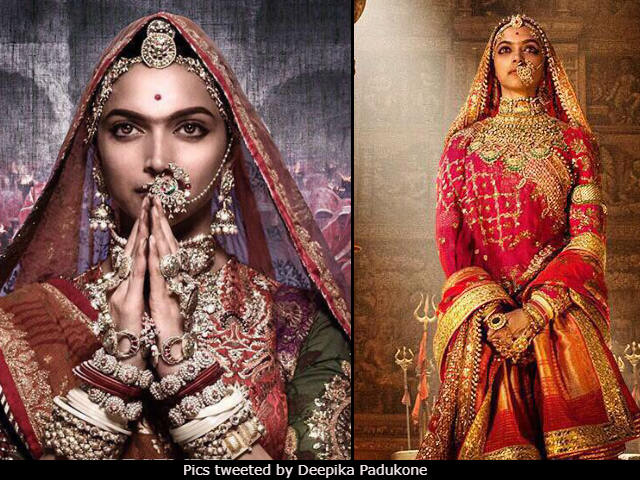 Deepika Padukone's unibrow... umm... we mean Deepika's Padmavati unibrow is what the Internet woke up to on Thursday and was left startled. Team Padmavati dropped the first posters of the movie on Thursday morning, featuring Deepika Padukone in an utmost regal attire and that talked about unibrow. Twitter in particular can't figure out what to say, actually. "I don't know how I feel about Deepika Padukone's unibrow in Padmavati though," read a tweet while another one found it hard to believe that Deepika actually sports a unibrow: "Is it just me or Deepika Padukone does seem to have a unibrow in the first look of Padmavati?" Deepika plays the titular Rani Padmavati in the Sanjay Leela Bhansali-directed period piece and a section of Twitter has taken up the responsibility to explain Deepika's brow-connection. Wonderfully put, here it goes: "Deepika rocking the unibrow, coz queens got no time to tweez their brows!" However, not all are happy to see their favourite actress in the new look. Some netizens even evaluated Deepika's look in accordance with cliched beauty standards. "Why is she having a unibrow? This picture is depressing," it said Majority of Twitter quickly shrugged off the tweets trolling the actress and moved on to better thoughts. Like how Kajol must be having a deja vu right now. One Twitter user made a hilarious reference to Kajol, who is known to have sported a unibrow for over two decades of Bollywood Padmavati is arriving in theatres on December 1.

---
Mumbai Rains: Amitabh Bachchan Tweets, 'Gods Be Angry Again'.
NEW DELHI:MMNN:20 September 2017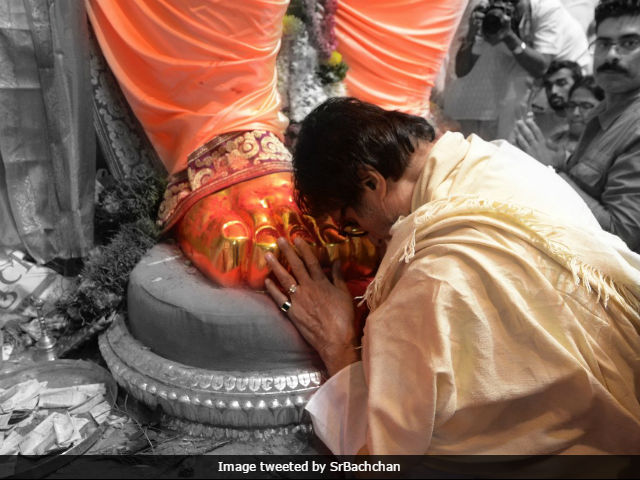 Mumbai has been battling torrential rain since Tuesday coupled with thunderstorm and lightning. The heavy rain has triggered traffic jams and waterlogging in many areas and the downpour is expected to continue for the next 24 hours as predicted by the weather department. Superstar Amitabh Bachchan shared his concern on social media and asked the people of Mumbai to stay indoors. The 74-year-old actor posted a picture of himself on Twitter in which he is seen bowing down to Lord Ganesha. "The God's they be angry again .. ! They thunder and lightning loud and now it pours here in Mumbai .. be safe remain in the house," tweeted Mr Bachchan Filmmaker Shirish Kunder, husband of director- choreographer Farah Khan, seems to be facing a major conflict at home due to the heavy rain in Mumbai. "Wife praying for rain to stop, so she can travel. Kids praying for rain to go on, so no school tomorrow.#MumbaiRains," he tweeted. Actor Riteish Deshmukh noticed Shirish's tweet and asked, "What are you praying for?," to which he responded, "Silently observing whose God is more efficient." Heavy rains in Mumbai disturbed the city's normal life last month as well and it was considered to be the worst the city witnessed since 2005. Bollywood celebrities like Deepika Padukone, Priyanka Chopra, Alia Bhatt, Abhishek Bachchan, R Madhavan and Mahesh Bhatt shared their concern on Twitter and requested people to stay indoors. On the work front, Amitabh Bachchan is currently hosting the ninth season of Kaun Banega Crorepati. He will next be seen in Umesh Shukla's 102 Not Out along with Rishi Kapoor. Mr Bachchan's other upcoming films are - R Balki's Padman and Vijay Krishna Acharya's Thugs Of Hindostan, co-starring Aamir Khan.

---
Ileana D'Cruz On Her Struggle With Depression And Body Dysmorphic Disorder.
NEW DELHI:MMNN:19 September 2017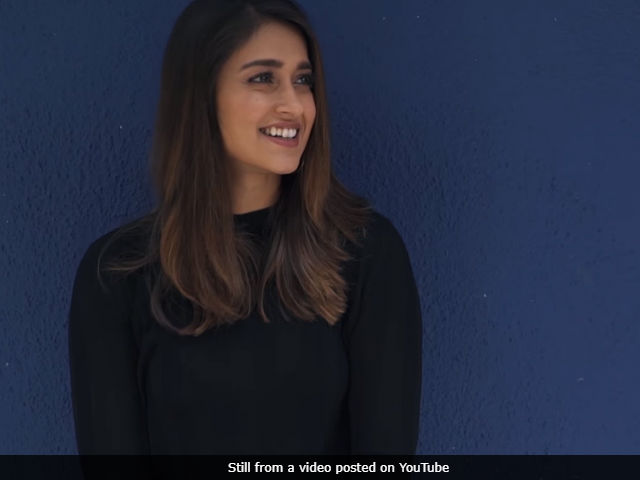 Actress Ileana D'Cruz opened up about battling depression and body dysmorphic disorder at the start of her career in a latest advertisement of a denim brand. She shared a snippet of the ad on Instagram and captioned it: "Unapologetic. Unfiltered. Imperfect. This is me. Flaws and all." The 29-year-old actress, who was last seen in Bollywood film Baadshaho, said that for the longest time she never knew she had a body image issues and when she started her career in films, 'it just made it a little bit worse.' In the advert, Ileana said: "There was a period, approximately three years ago, I'd go from happy to be completely depressed and not knowing what it was. The most comforting thought was, 'What if I just to end things now.' And I thankfully released that this is not right I was shy, self-conscious person once I hit my teens. I was constantly hit on for my body type. The obsession started when I was 15. My entire life goal was to be accepted by everyone. I think that's what I wanted the most. I never got it," said Ileana. Ileana says that acceptance is the first step to overcome depression. "I never expected to be someone who'd be dealing with anxiety, dealing with depression. I've got every possible thing I could want. And I wondered, 'Why am I so depressed?' I still don't know sometimes. Then they told me you have depression, you have anxiety, you are going through body dysmorphic disorder. There was an acceptance which almost came immediately and that I think is one of the biggest steps that you can take towards change. You can't move forward otherwise." "You're human, you're not meant to be perfect. You're meant to be flawed. I'm just going to keep pushing and try and be the best of version that I can be of me," she added. Apart from Bollywood, Ileana D'Cruz is quite famouls in Telugu cinema courtesy films such as Devadasu, Kick and Jalsa. In 2015, actress Deepika Padukone featured in headlines when she talked about her phase of dealing with depression, which started while she was filming Happy New Year. Later, she opened The Live Love Laugh Foundation to help those who need help in battling mental illnesses. Filmmaker Karan Johar also talked about dealing with depression in his autobiography An Unsuitable Boy.

---
Emmys 2017: That's Priyanka Chopra, Not Chopa. Twitter Schools Announcer.
NEW DELHI:MMNN:18 September 2017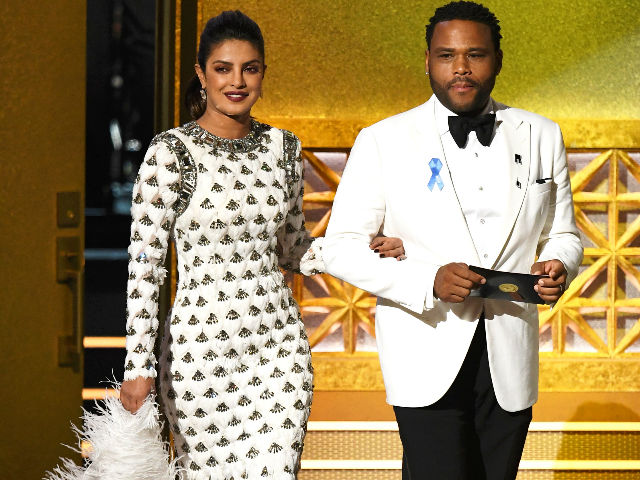 Homegirl Priyanka Chopra, dressed in glittering Balmain white, acquitted herself with honours while co-presenting an Emmy with Blackish actor Anthony Anderson (to John Oliver for Outstanding Variety Talk Series). Not so much the Emmys announcer who appeared to flub the 'Chopra' while introducing Priyanka - missing out the R and making it 'Chopa.' Umm, oops? John Travolta's mangling of Idina Menzel's name at the Oscars comes to mind. While 'Priyanka Chopa' was not quite as extreme as 'Adele Dazeem,' Twitter is not pleased. Twitter is mightily outraged on behalf of the actress. Twitter is schooling the Emmys online. Here's a clip of Priyanka Chopra and Anthony Anderson presenting at the Emmys - honesty compels us to admit that we can't really tell if the announcer mispronounced Chopra but we've gotta say Priyanka and Anthony killed it with a quip about going to bed separately. Priyanka's appearance at the Emmys is being seen as a win for diversity, specifically for representation of Asian actors: Aziz Ansari won an award for Master Of None, so yay. This is the second year in a row that Priyanka Chopra has been to the Emmys, courtesy her starring role on the ABC drama Quantico. Last year, dressed in red, she presented an award with, wait for it, Tom Hiddleston. The big winners at the Emmys this year were Big Little Lies (actors Nicole Kidman, Laura Dern and Alexander Skarsgard all won awards) and Saturday Night Live. Alec Baldwin won an Emmy for playing Donald Trump on SNL and dedicated his award to 'Mr President.' An evening of very political speeches was briefly interrupted by the surprise cameo of Sean Spicer, former White House press secretary, who came out during host Stephen Colbert's opening monologue and poked fun at his own statement about the size of the crowd at Donald Trump's inauguration.

---
Simran Movie Review: Kangana Ranaut Is Fine But The Film Doesn't Hold Up.
NEW DELHI:MMNN:15 September 2017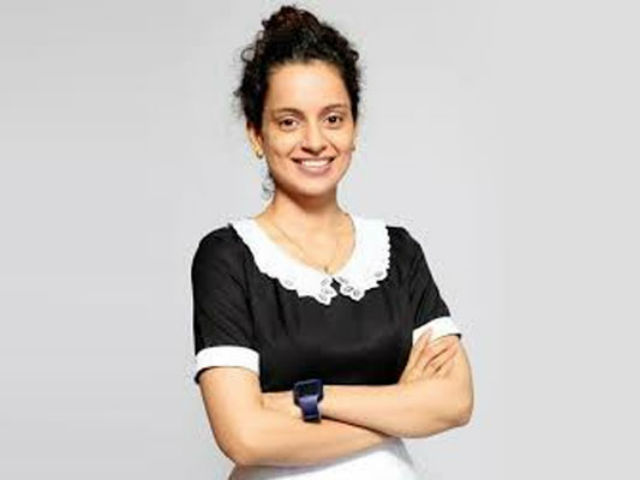 Kangana Ranaut's solid performance keeps the film watchable, but Simran is ultimately an exhausting film. Robbing a bank is traditionally a man's job. According to the FBI, the few women caught in bank robberies are mostly accomplices or driving the getaway car. Of course, the phrase "traditionally a man's job" is anathema to Kangana Ranaut and the defiant characters she plays, which is why Simran - a story based on a real-life female bank robber - sounds tailored for the actress. At one point in the film during a quick Pretty Woman tribute, Ranaut, like Julia Roberts in the 90s film, covets dresses she can't afford but, unlike Roberts, she's the one who singlehandedly raises the money, goes back and shocks the sneering shopgirl. It is a smart and telling alteration. Kangana may well be a pretty woman, but she is also her own Richard Gere. This can be both amazing and alarming. It is super to watch a self-assured performer vault over any challenge a script throws, but never ideal to see a script contort in order to give the actress room to show off everything she can do - including things that don't necessarily suit the film. Hansal Mehta's Simran works best when breezing along with a light touch, when Ranaut effervescently befriends bartenders and cheerily refuses to take no for an answer. Unfortunately the film, doubling up as a showreel for the actress, pretends also to be a drama, a thriller, even a sweet romance. None of these other gears work well enough, and the eventual result is tedious. Simran opens well, with Ranaut's character Praful Patel cleaning a hotel room. Part of the Hilton housekeeping staff, she picks up an upturned Milan Kundera book, dusts beneath it, and replaces it carefully as it was, before she makes a bed and scrubs a sink, thorough as can be. This is a laser-focussed Gujarati girl who wants to buy her own house, even though the "Indian temple" in the neighbourhood holds no attraction (it's a Gurudwara), and neither does the nearby kebab shop (she's vegetarian). She wants it because it's a minority housing bargain, and the divorcee can't wait to move out of her parents' house and do her own thing. One evening, Praful Patel meets the game James Bond plays. Everything changes once she wins her first hand of baccarat, and soon she's looking up YouTube videos on how to hold up banks and spook cashiers. This is the meat of the film, yet the robberies soon feel repetitive. In a film that seems otherwise realistic and grounded, they come across as unreal and convenient. All her robberies are performed in the same outfit using the same technique - handing a bank teller a note scrawled in lipstick - and while news channels are constantly showing footage of her thefts, people in banks seem blissfully unaware of her modus operandi and fall for it over and over again. Most banks, it seems, don't even have security guards. Just cashiers, one of whom Patel even blows a kiss to as she escapes. Besides Praful, every character in the film is one note, from the rigid father to the helpless mother to the scary moneylender to the sincere suitor. These actors seem particularly stagey and theatrical in contrast with Ranaut, who shines with a spontaneous and often irresistible performance. Sure, her character's English improves and worsens inconsistently, but Ranaut makes it work, especially in brilliant moments like when, about to confess to her crimes, she compares the feeling to that of losing control of her bowels. This may feel like a familiar Kangana performance with a Gujarati accent thrown on, but there's something special about the way she makes the character appear constantly amused by herself. Ranaut and a few clever lines keep the film watchable, until the third act where the script sadistically starts piling misfortune on the character to ratchet up the dramatic tension. This is a bad move, leading to a prolonged climactic chase sequence featuring a leading lady who - we were told near the start of the film - is a poor driver. The last half hour has cringeworthy pacing and feels more mean-spirited than the rest of the film for no good reason. Perhaps we are only allowed one spectacular bank robbery film set in the city of Atlanta in one year. Based on the fascinating story of young nurse and compulsive robber/gambler Sandeep Kaur, this is a film that - judging from the warm, funny bits - would have benefited from an overall jauntiness, in the vein of Catch Me If You Can. Instead we have a film that wants to tell jokes, make us cry and make us gasp, and - with no real flow between the tonally different sequences, save for jarring songs every now and then - only the jokes ever work. (And not all of them. There is a terribly cheesy moment, for example, where we learn why the film is called Simran.) The finest scenes in Simran are the ones where Ranaut is playfully bantering with a Las Vegas bartender. There's true charm and crackle to these moments where he takes a shine to her. She asks him for free fries and, undeterred by their absence, demands and settles for free peanuts instead. I was reminded of a old buddy from school who, when offered cheap beer, used to say, "Free mein toh hum phenyl bhi pee lete hain" - "for free I'd even drink phenyl" - a sentiment Praful Patel would likely applaud. That happens also to be the least disappointing way to consume this film: go watch a good performance and get the rest of the film for free.

---
Priyanka Chopra Made People Very Angry By Calling Sikkim 'Insurgency Troubled'.
NEW DELHI:MMNN:14 September 2017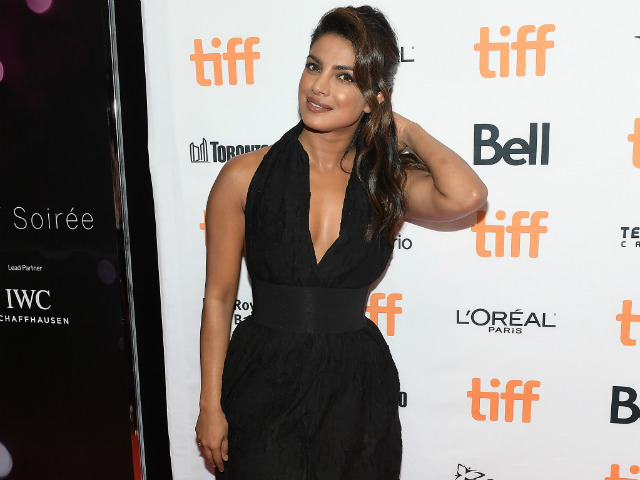 "Shame on you, Priyanka Chopra," the actress was told after she referred to Sikkim as a state "troubled with insurgency" in an interview to ET Canada, at the ongoing Toronto International Film Festival. Priyanka was speaking in connection with her new Sikkimese production - Pahuna - which premiered at the prestigious film fest last week. Twitter is furious and condemned Priyanka as "stupid" and "pea-brained" for her choice of words. Twitter is in no mood to pardon Priyanka and is also separately angered with the actress who tagged Pahuna as the first film from Sikkim. "Priyanka Chopra, you called Sikkim an insurgency affected state. Idiot. God doesn't give everything to everybody. Find better uses for your loud mouth," she was told. "Get your facts right before speaking out. Sikkim is one of the most beautiful states of our country," added another netizen on Twitter. Others invoked Bollywood and movie stars in general for the lack of sound political knowledge. "Infact it is foolish to create controversy on Priyanka Chopra's statement over #Sikkim as celebs like her are 'politically illiterate'," read a tweet while: "If you have no idea about Sikkim, don't speak about it then. "Big star"," said another. Priyanka was also slammed for appeared to have not been thorough with her research: "Priyanka Chopra says Sikkim is a troubled state in interview to US media. Pea-sized brain, zero homework. Is this how you make money?" a tweet said. A section of Twitter quickly resorted to Google to hand over a list of movies released from Sikkim - Kaatha And Myth and Letter By Samten Bhutia - are a few, highlighted Twitter. The first film to come out of Sikkim," is what the excerpt of Pahuna read on the official handle of the film fest on Twitter This is what Priyanka actually said in her interview to ET Canada: "This is a Sikkimese film. It is a small state in the North East of India, who never had a film industry or anyone who made films from there. And this is the first film ever that's come out of that region because it's very troubled with insurgency and troubling situations..." Priyanka's comments arrive amidst the Darjeeling shut down, which was initiated to demand a separate state. Apart from Darjeeling, other parts of North Bengal, which are close to Sikkim, are also witnesses of regional territorial issues. Pahuna, directed by Paakhi A Tyrewala, was applauded with standing ovation at TIFF. Apart from the director and Priyanka, the premiere was also attended by the actress' mother Madhu Chopra, who is the co-owner of Priyanka's production house Purple Pebble Pictures Priyanka Chopra is currently looking forward to two more Hollywood movies - Isn't It Romantic? and A Kid Like Jake and will also reprise her role in the third season of Quantico. Priyanka Chopra will not sign up for a Bollywood project this year - as told by her mother last month

---
Twinkle Khanna, Akshay Kumar Kept Awake By Mumbai Rain. So Khiladi Suggested This..
NEW DELHI:MMNN:13 September 2017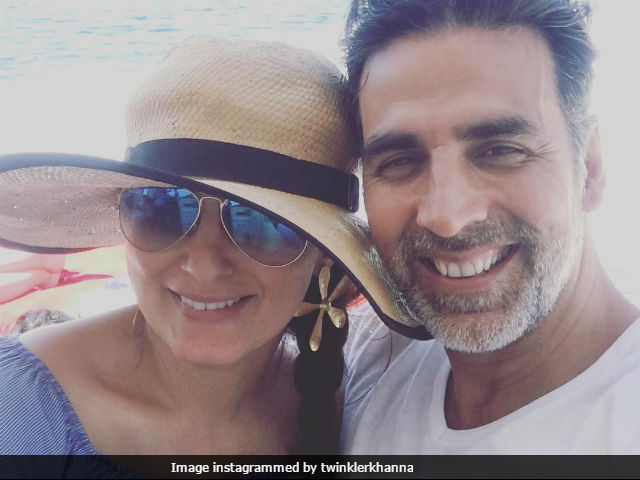 Twinkle Khanna aka Mrs Funnybones has time and again left us all in splits with her amazing sense of humour. The actress-turned-author has now shared a joke on Twitter which sums up her last night's experience. Twinkle Khanna and her husband, actor Akshay Kumar were awakened in the middle of the night due to powerful thunderstorm and rains in Mumbai. To make most of the time, the fitness enthusiast actor suggested an idea which seems to have frightened Twinkle a little. "Awake because of the thunderstorms and Mr K asks, 'Want to exercise? We can run up and down the building stairs!' #Yikes #MumbaiRains," she tweeted. Last month, Mumbai experienced heavy rains that disturbed the city's normal life and it was considered as the worst the city witnessed since 2005. Bollywood celebrities like Deepika Padukone, Priyanka Chopra, Alia Bhatt and Abhishek Bachchan shared their concern on Twitter and asked people to stay safe and stay indoors. Twinkle Khanna and Akshay Kumar recently returned to Mumbai after their short vacation in the Swiss Alps where the family celebrated the Khiladi actor's 50th birthday (September 9). Twinkle Khanna had posted a picture on her Instagram account, in which she was seen trying her hands at paragliding. "Flying off the handle comes easy - now let's see how I handle just the flying off bit Twinkle Khanna got married to actor Akshay Kumar in 2009 and the couple have two children - Aarav and Nitara. Twinkle Khanna is the daughter of actors Rajesh Khanna and Dimple Kapadia. She is a former actress, who is best known for her role in films like Baadshah, Joru Ka Ghulam, Itihaas, Jab Pyaar Kisise Hota Hai and Mela. In 2001, Twinkle Khanna quit acting and she is now an author of two bestsellers - Mrs FunnyBones and The Legend Of Lakshmi Prasad. Twinkle Khanna is also a columnist, interior designer and producer. She has co-produced films like Patiala House and Holiday: A Soldier Is Never Off Duty, which feature Akshay Kumar in the lead role. Twinkle Khanna is now producing Padman, her first film under her own production banner Mrs FunnyBones Movies. The film is being directed by R Balki and features Akshay Kumar, Sonam Kapoor and Radhika Apte in lead roles.

---
Parineeti Chopra Trolled For Pic With Koala Is Everything That's Wrong With Social Media
NEW DELHI:MMNN:12 September 2017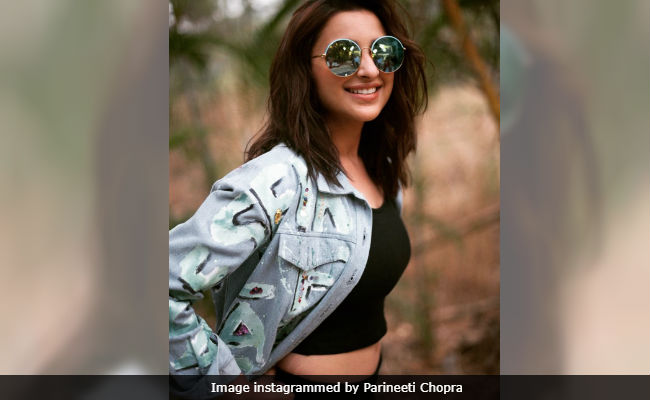 Parineeti Chopra, who is currently touring Australia by invitation of their PR, shared several pictures from her visit to the Island Country. One of her recent posts from Brisbane, in which she cuddles a koala, was trolled on the Internet for all the bizarre reasons. The 28-year-old actress was skinny-shamed (apparently her face looked thin but also 'resembled' the chubby and cute marsupial) while several Instagram users only noticed where the koala's paw was placed. Parineeti was least perturbed with the koala's paw and posted a lovely pout selfie, which she captioned: "This little furball is just what I needed to kickstart my holiday in Brisbane, never miss a Koala cuddle." But haters gonna hate and trollers gonna troll. One user wrote: "Ma'am pahle aap jyada khoobsurat thi" and another added: "Aap ki face bhi isi ke jaisa deikh raha hai... dieting band kar di jiye. Some Instagram users also posted comments like: "Very luck koala, at least he is touching your bust." Parineeti Chopra is not new to the concept of body-shaming and has often talked about her struggle with body-image issues. Last year in May she opened up about her weight loss journey in an Instagram post where she wrote: "I was constantly made fun of, but the person I was, I generously laughed with them. Today, many people ask me what triggered the weight loss, did I give in to the "Bollywood pressure"? To that I say - thank god I became an actor and had that pressure!" Parineeti starred in back-to-back flops in 2014 and took a sabbatical for a year during which she refashioned herself through her Built That Way campaign. "I feel more confident, I feel at peace, and I feel proud! Girls and women meet me all around the world, at airports, events, on the street; they hold my hand, hug me, and tell me their struggles and how I changed their lives," she had written in the Instagram post. Parineeti Chopra returned to the big screen in a special song for Dishoom (2016) and in 2017 she featured in Meri Pyaari Bindu opposite Ayushmann Khurrana. Her next release of the year is the Rohit Shetty-directed Golmaal Again. Parineeti has also signed up Sandeep

---
Kangana Ranaut Dated My Husband, Never Treated Her Like A Daughter: Zarina Wahab
NEW DELHI:MMNN:11 September 2017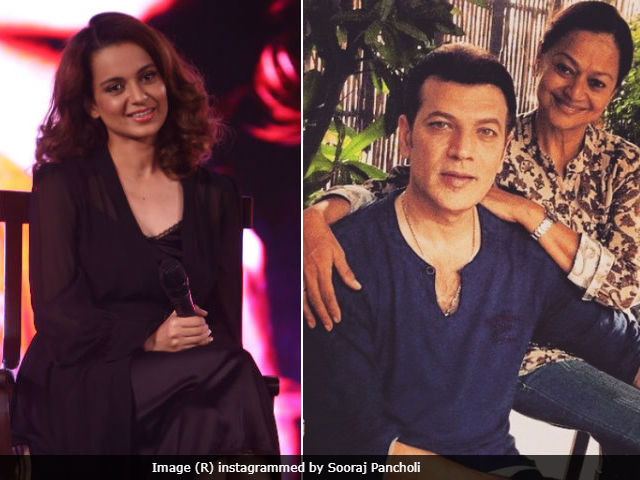 Zarina Wahab has responded to Kangana Ranaut's claim that her romance with Ms Wahab's husband Aditya Pancholi was in fact abuse and that she had asked the older actress for help A new front has opened up in Kangana Ranaut vs the world - Zarina Wahab has responded to Kangana's claim that her romance with Ms Wahab's husband Aditya Pancholi was in fact abuse and that she had asked the older actress for help. Kangana's many explosive comments made to separate television channels in New Delhi some weeks ago set off a chain reaction of minor shockwaves in the film fraternity. Apart from demanding an apology from actor (and purported former paramour) Hrithik Roshan and his father Rakesh Roshan, Kangana also said that she had been a minor during her alleged four-year relationship with Aditya Pancholi several years ago, that she had been a year younger than his daughter Sana and that she had approached Zarina Wahab asking for help because she couldn't tell her parents. Speaking to Pinkvilla, Zarina Wahab expressed incredulity, especially about claims that she had treated Kangana as her daughter. "This is completely untrue! When I knew she was dating my husband how can I say she's like my daughter? That is ridiculous. She was dating my husband (Aditya) for four-and-a-half-years so how can I say that she's like my daughter?" Ms Wahab told Pinkvilla. Ms Wahab also denied outright that Kangana asked her for help. "I met Kangana a few times because my husband wanted me to take her to meet Sanjay Leela Bhansali so I took her there," Zarina Wahab told Pinkvilla adding that "there was no question" of Kangana appealing to her. Ms Wahab also said asked why Kangana dated Aditya Pancholi for over four years if she thought of him as a 'bad person' and dismissed the allegations as Kangana raking up '14-15-year-old stuff' in order to promote her new film Simran. It's not the first time Kangana has been accused of using her romantic history to generate publicity for Simran - singer Sona Mohapatra wrote her an open letter calling her various headline-making remarks 'PR in bad taste.' Kangana Ranaut's sister Rangoli Chandel launched an attack on Zarina Wahab after the interview was carried on Pinkvilla. Her tweets: Kangana Ranaut dated Aditya Pancholi during her earliest years in Bollywood - she debuted in 2006 film Gangster and, in her decade on screen, won three National Awards for Fashion, Queen and Tanu Weds Manu Returns. Simran, directed by Hansal Mehta, has been mired in controversy for a while now with writer Apurva Asrani alleging that Kangana Ranaut had been given writing credits over him unfairly. Simran comes up this Friday.

---
Poster Boys Movie Review: Sunny And Bobby Deol Have A Rustic Charm
NEW DELHI:MMNN:9 September 2017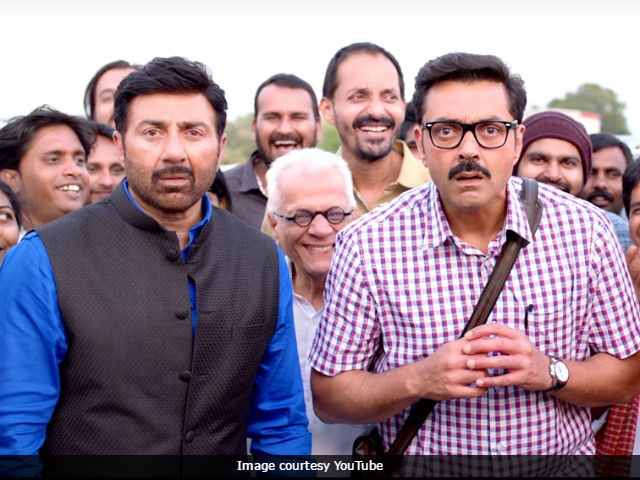 Poster Boys Movie Review: It Is the base writing credited to Bunty Rathore and Paritosh Painter that keeps the momentum of the narrative well-greased. With puns, film referenced dialogues, fast-paced dumb repartee and farcical situations the film is a hilarious ride Actor-director Shreyas Talpade's Poster Boys is a screw-ball comedy about three men who find themselves socially ostracised after they feature in a poster promoting a public service campaign on suture-less-vasectomy. Adapted from the 2014 released Marathi film Poshter Boyz, directed by writer-director Sameer Patil, this film is now set in a fictitious village called Jangheti somewhere in North India. Initially on a mysterious note, the plot unravels the lives of the three men -- Jagaavar Chaudhary (Sunny Deol), Vinay Sharma (Bobby Deol) and Arjun Singh (Shreyas Talpade) in a parallel narrative. The selfie obsessed Jagaavar Chaudhary is an ex-army man, now a farmer. He is all set for his sister's engagement, when all of a sudden the ceremony is called off. Similarly, Recovery Agent Arjun Singh finds himself at tethers-end when his marriage proposal to his girlfriend Riya is called off and school teacher Vinay Sharma finds himself at loose ends when his 'son-fixated' wife Surajmukhi gives him an ultimatum for a divorce. No obvious reason is spelt out in each case, except that the cause of the mishaps is assigned to the trio's misdeeds. It is only after they chance upon the objectionable poster that their paths unite. The film is their journey, from being humiliated to inadvertently becoming ambassadors of the campaign. While the premise is wafer-thin, the frothy plot after a few minutes becomes tedious. But it is the base writing credited to Bunty Rathore and Paritosh Painter that keeps the momentum of the narrative well-greased. With puns, film referenced dialogues, fast-paced dumb repartee and farcical situations the film is a hilarious ride. The various social messages are astutely integrated, in a light-hearted manner, into the script, thus making the bitter pills more palatable. The performances of the entire cast are loud and over the top. Sunny and Bobby Deol have a rustic charm and they sink their teeth into their characters with natural ease. Bobby Deol's extra mile of histrionics to portray his quirky character seems a bit forced at times. Shreyas Talpade as the flamboyant Vinay Sharma seems more of a side-kick than a protagonist. He does stand-out more for his costume than his performance. The female leads; Sonali Kulkarni as Jagawaar's wife Sunita, Samiksha Bhatnagar as Vinay's wife Surajmukhi and Tripti Sharma as Arjun Singh's love interest Riya match their male counterparts with equal gusto. Bharati Achrekar as the fiery blind "Amma" is wasted in a cameo. Technically, sound and made with moderate production values the film offers a convincing appeal. The background score by composer Amar Mohile and the songs choreographed by Ganesh Acharya add life to the jamboree

---
Daddy Trailer: Arjun Rampal As Gangster-Turned-Politician Arun Gawli Will Leave You Intrigued
NEW DELHI:MMNN:8 September 2017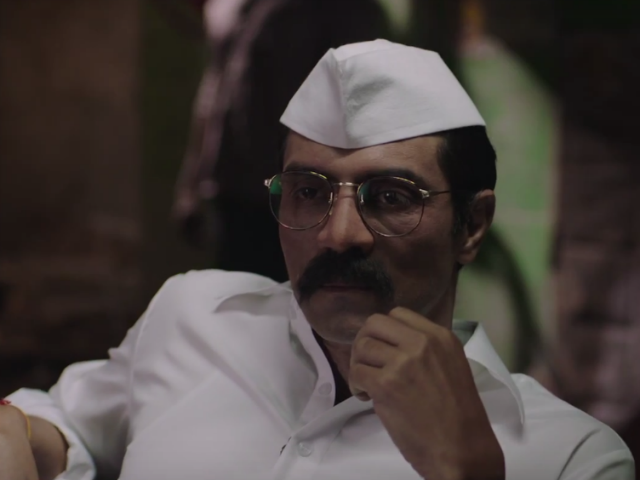 The trailer of Arjun Rampal's upcoming movie Daddy was unveiled by the makers of the film on Tuesday. The two-and-a-half minute trailer, which recreates the 1970s Mumbai, is sure to leave you enthralled as it gives a sneak peek into the journey of gangster-turned-politician Arun Gawli, to be played by Arjun Rampal. In the trailer, Arjun Rampal is seen in the signature Maharashtrian attire with perfect Marathi accent. Daddy has been directed by Ashim Ahluwalia and produced by Arjun Rampal and Rutvij Patel. The film, which also stars also stars Farhan Akhtar and Aishwarya Rajesh in pivotal roles, will be Arjun Rampal's first biopic. On Monday, Arjun Rampal had unveiled the first poster of Daddy. "Ambition.Power.Mystery! Experience a sneak peek into the life of Daddy," wrote the Aankhen actor. Daddy is scheduled to release in theatres on July 21. Arjun Rampal made his acting debut with Pyaar Ishq Aur Mohabbat (2001). He got his breakthrough in Bollywood with Don (2006), starring Shah Rukh Khan and Priyanka Chopra. Arjun Rampal has also featured in films like Aankhen (2002), Om Shanti Om (2007), Rock On!! (2008), Housefull (2010) and Ra.One (2011), in which his performance was highly appreciated by the film critics and the audience. Arjun Rampal has won the National Film Award for Best Supporting Actor and the Filmfare Award for Best Supporting Actor for his performance in 2008 movie Rock On!!, directed by Abhishek Kapoor. Arjun Rampal was last seen in 2016 movie Kahaani 2: Durga Rani Singh, co-starring Vidya Balan.

---
Kareena Kapoor Khan On Nepotism And What Makes Kangana Ranaut 'A Great Actress'
NEW DELHI:MMNN:7 September 2017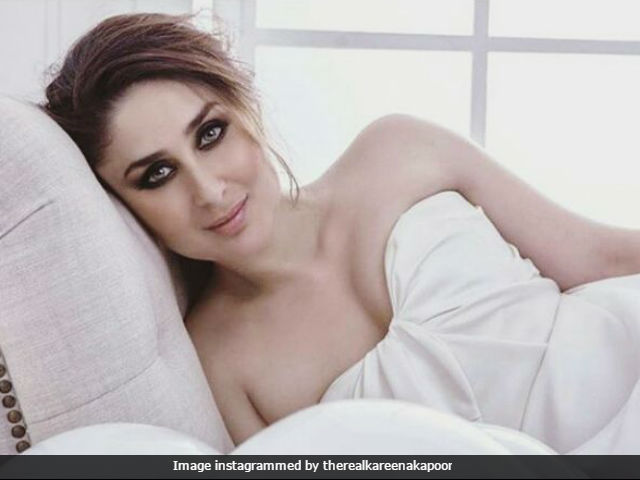 Actress Kareena Kapoor Khan is the latest celebrity to speak on the nepotism debate, which was triggered after Kangana Ranaut branded filmmaker Karan Johar as the 'flag bearer of nepotism' on his popular chat show Koffee With Karan. In an interview with Filmfare, the 36-year-old actress said that nepotism exists in every possible field but in the film industry it 'makes for a nice read.'' "A lot of things seem out of context. Doesn't nepotism exist in every possible field? But nobody addresses that. In business families, the son takes over the business. A politician's son takes over his place. These are not considered nepotism but in the industry it makes for a nice read," Kareena told Filmfare. The Kurbaan actress added that film industry is a 'ruthless place' and it's that talent that matters. "Not many star-kids have achieved what their parents have. So I don't understand why people are going on about it. Basically, the industry is a ruthless place. It's about talent and survival of the fittest. Otherwise, a lot of star kids would've been No.1 stars in our country," Filmfare quoted Kareena as saying. Kareena Kapoor also said that nepotism is 'overrated.' "If there's Ranbir Kapoor, there's also Ranveer Singh who's not from the industry. So honestly, nepotism is overrated. More than in business, more than in politics, in the industry, it's your hard work and talent that will take you far. That's exactly the reason why Kangana Ranaut is considered such a great actress. And she's not from the industry. If there's Alia Bhatt, there's also Kangana. It's not only about star kids," Filmfare quoted Kareena as saying. Kareena is the daughter of actors Randhir Kapoor and Babita Kapoor. Her elder sibling is Karisma Kapoor. At the IIFA Awards that was held in New York in July, the nepotism debate was renewed after Karan Johar, actor Saif Ali Khan and Varun Dhawna took a jibe at Kangana Ranaut in her absence. The trio declared that they succeeded in the industry because of their parents and chanted 'nepotism rocks' in unison. Karan Johar, Saif Ali Khan and Varun Dhawan apologized for their comment after they were criticized for mocking the Queen actress. Varun posted an apologetic tweet, KJo expressed his regret in an interview with NDTV.com and Saif Ali Khan wrote an open letter on the issue in which he spoke about 'genetics', 'eugenics' and 'campism.' His Rangoon co-star Kangana found the letter to be 'disturbing.' On the work front, Kareena Kapoor Khan is all set to make a comeback to the big screen. She is currently shooting for Shashanka Ghosh's Veere Di Wedding in Delhi, co-starring Sonam Kapoor and Swara Bhaskar.

---
Ganesh Chaturthi 2017: Ranbir And The Kapoors Spotted During Ganpati Visarjan
NEW DELHI:MMNN:6 September 2017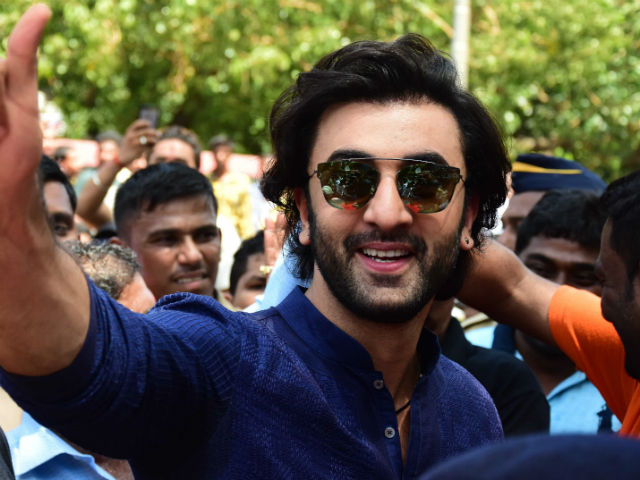 On the last day of Ganesh Chaturthi, Ranbir Kapoor joined his dad Rishi Kapoor, uncles Randhir and Rajeev Kapoor for Ganpati visarjan procession. The Kapoors were spotted at RK studios in Mumbai's Chembur. Every year, the family celebrates the festival will full fervour and brings a Ganesh idol to their office. Ranbir totally rocked the Indian look. He was dressed in a blue kurta and white pyjama and tied a red bandana on his forehead. Ganesh Chaturthi, the 10-day long festival, began on August 25 and concludes on September 5. Randhir Kapoor, Rishi Kapoor and Rajeev Kapoor are the sons of legendary actor, filmmaker Raj Kapoor. Ranbir Kapoor, son of Rishi Kapoor and Neetu Kapoor, is an also an actor. He has an elder sister Riddhima, who is a jewellery designer. Actresses Karisma Kapoor and Kareena Kapoor Khan, daughter of Randhir Kapoor and Babita, are his cousins Ranbir Kapoor, 32, last seen in Ae Dil Hai Mushkil, is now filming Dragon, co-starring Alia Bhatt and Amitabh Bachchan. However, his next release is a biopic on Sanjay Dutt, currently in the filming stage. He plays the titular in the Rajkumar Hirani-directed film, which also stars Sonam Kapoor, Anushka Sharma and Dia Mirza. Meanwhile, on Monday, Aishwarya Rai Bachchan visited Mumbai's famous pandal Lalbaugcha Raja to seek Bappa's blessings. She was dressed in a red Sabyasachi sari and looked extremely beautiful. Actors like Shah Rukh Khan, Hrithik Roshan, Sanjay Dutt, Vivek Oberoi also welcomed Lord Ganpati home while Amitabh Bachchan, Ajay Devgn, Priyanka Chopra and other celebs visited Lalbaugcha Raja

---
Priyanka Chopra's 2017: Not Gustakhiyan Or Any Other Hindi Film This Year, Says Mom'
NEW DELHI:MMNN:5 September 2017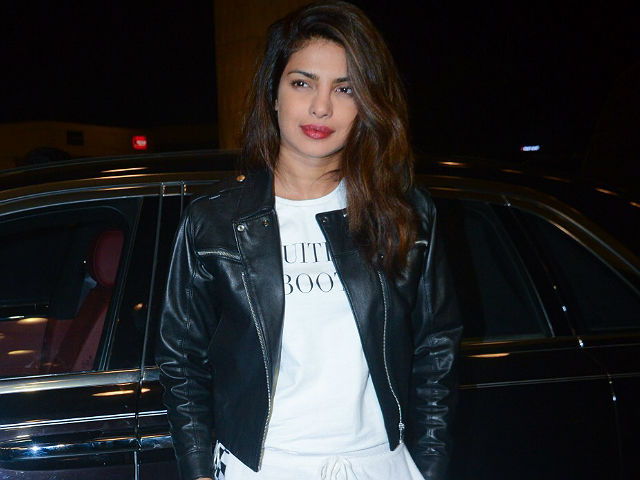 Priyanka Chopra may not star in Sanjay Leela Bhansali's Gustakhiyan, a biopic on Amrita Pritam, if it's made this year because the 35-year-old actress is quite busy. Priyanka's mother Madhu Chopra told news agency PTI that she hasn't 'seen any paper work or documents,' which can confirm that Priyanka has signed Mr Bhansali's film as of now. She added that Priyanka doesn't have time to star in a Bollywood film this year. "I have not seen any paper work or documents so I can't say anything (of Priyanka working with Mr Bhansali). Priyanka has no time this year to do a Hindi film. If he is making it this year then Priyanka is definitely not doing it." Priyanka is the star of American television show Quantico, which is gearing up for season 3. After making her Hollywood debut in Baywatch, Priyanka has filmed two more Hollywood movies - A Kid Like Jake and Isn't It Romantic?. Priyanka is also producing an American television series based on the life of actress Madhuri Dixit. Therefore, yes, Priyanka Chopra has quite a lot on her plate. Recently, when Priyanka returned to Mumbai, it was reported that the actress was here to finalise the lead actor of Gustakhiyan with Mr Bhansali. However, Madhu Chopra said: "Priyanka and Mr Bhansali are good friends they share a special relationship. They both meet whenever she is here." Of Gustakhiyan, Madhu Chopra told PTI: "It is really nice, I have read the script and it is beautiful and I think he is the right person to make it." Sanjay Leela Bhansali has directed Priyanka in 2015 film Bajirao Mastani and in the song Ram Chahe Leela in 2013's Ram Leela. Mr Bhansali has also produced Priyanka's National Award-winning film Mary Kom. As of now, he is busy filming Padmavati with Deepika Padukone, Ranveer Singh and Shahid Kapoor. The film is expected to release in November this year.

---
Kangana Ranaut Vs Hrithik Roshan: His Ex Sussanne Khan Posted This. A Response To Kangana?'
NEW DELHI:MMNN:4 September 2017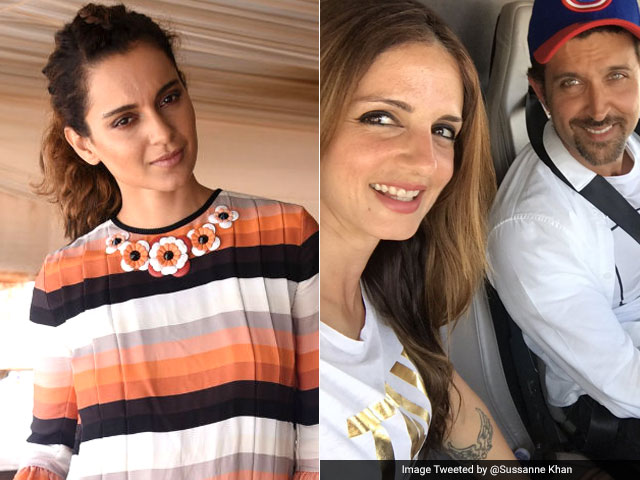 Actor Hrithik Roshan's ex-wife Sussanne Khan has posted a picture on Instagram that is being seen by social media as a response to Kangana Ranaut's explosive comments last week. Kangana spoke to several media outlets while promoting her new film Simran in New Delhi and said, among other things, that she would like an apology from Hrithik, whom she claims to have dated - he disputes the alleged romance. Sussanne Khan, who divorced Hrithik Roshan in 2014, has now posted a picture of herself with her ex-husband. The caption accompanying this picture reads: "There is no allegation or a sad evil plot that can have the weight to triumph over a good soul." Sussanne added hashtags like #poweroftruth and #pureheart. Sussane's post has been liked by celebrities such as Twinkle Khanna, Priyanka Chopra, Varun Dhawan and Ekta Kapoor. However, many non-celeb users have criticized her and taken Kangana's side. Comments read: "Then why did you divorce him?" "I'm glad you said this. I support Kangana who at least has guts to confront this topic unlike this loser," "Our doubts are clear now. Kangana was right. This father-son duo can do anything." There were also some who want to see Hrithik and Sussanne together again. "You make the best couple. Clear the misunderstanding. Get back together and I will start believing in love again," read a comment. Hrithik Roshan, 43, and Sussanne Khan, 38, married in 2000 and divorced in 2014. They are parents to sons - Hrehaan and Hridhaan - and are still good friends.
Kangana Ranaut Vs Hrithik Roshan
The Kangana-Hrithik feud blew up at the beginning of last year after he sent her a legal notice demanding an apology for appearing to refer to him as a 'silly ex' in an interview. She responded with a legal notice of her own and the actors spent the rest of the year exchanging recriminations. Hrithik also went to the police claiming that an imposter had been corresponding with Kangana pretending to be him - she argued that there was no imposter and it had been Hrithik mailing her all along. The actors co-starred in the films Kites and Krrish 3. Speaking to India TV and News 18 last week, Kangana Ranaut said Hrithik and his father Rakesh Roshan had made fools of themselves, that she wanted them to apologise, that Hrithik avoids her and that she is still waiting for him to 'expose' the romance she claims as a lie.

---
Shah Rukh Khan guides kids Suhana and AbRam through Ganpati Visarjan'
NEW DELHI:MMNN:2 September 2017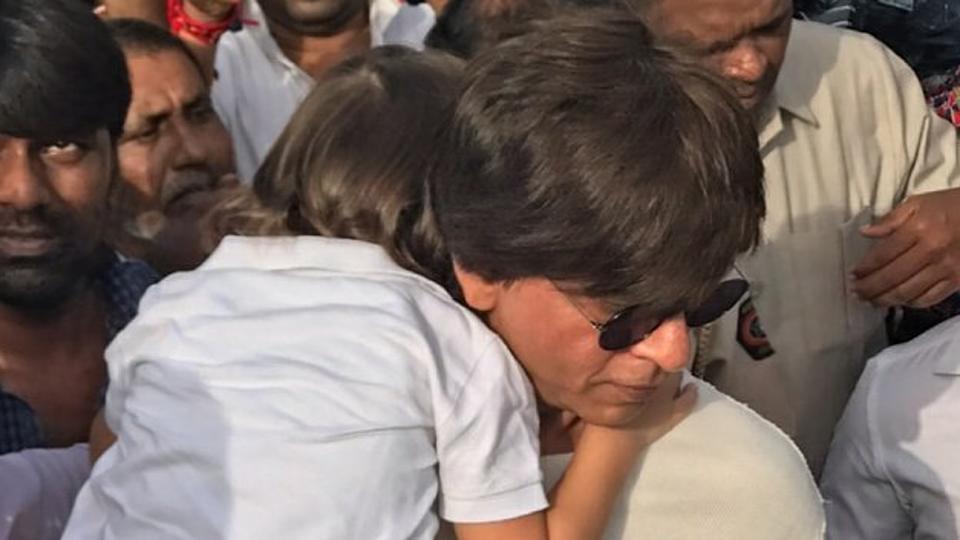 Shah Rukh Khan was spotted celebrating Ganesh Chaturthi in Mumbai with his children, Suhana and AbRam. A fan club tweeted pictures and video of the star, who was seen carrying a Ganesh idol, surrounded by fans and staff In one of the pictures, he picked up his youngest child, AbRam, and carried him on his shoulders. Shah Rukh even showed AbRam how to do a namaste for the large crowd. Suhana, who is becoming more visible publicly, with rumours of her Bollywood debut reaching fever pitch, was also present, wearing ethnic clothes. Shah Rukh wasnt the only star who was seen celebrating the festival this year. Riteish Deskhmukh and Richa Chadha made special, eco-friendly idols for the occasion. On August 26, photos of stars such as Vidya Balan, Sanjay Dutt, Hrithik Roshan, Govinda, and Jackie Shroff were all over the internet.

---
Baadshaho Movie Review: Ajay Devgn's Thriller Devoid Of Highs Despite A Passable Emraan Hashmi'
NEW DELHI:MMNN:1 September 2017
Director Milan Luthria's fourth collaboration with star Ajay Devgn, Baadshaho, is anything but the emperor of all it surveys. It's more a like a king without a kingdom. The heist thriller is devoid of the sort of highs that could be talked about. Rajat Aroraa's screenplay yields no end of high-voltage action sequences, fist fights, shootouts and explosions staged to the accompaniment of ear-splitting background music. But it lacks the meat to lend the onscreen derring-do real muscle and hold all the flab in place. What's worse is that at the end of the sound and fury that the film generates, Baadshaho has no climax worth the name. It ends. Just like that. Seriously. We rarely, if ever, see a Bollywood action flick fizzle out so tamely. It's either a radical departure from norm or plain daft: make what you will of it. For this critic, it's the latter. The fictional tale is set in a real historical context contrary to what a mandatory upfront disclaimer claims. "Emergency hai, aadha desh jail mein hai," one desert rat claims with gleeful exaggeration in order to create the simulated setting for the witless, plotless yarn that unfolds amid the sand dunes and whips up a whole lot of dust to no real avail. The story is wildly fanciful but very basic: a young Rajput queen Gitanjali Devi (Ileana D'Cruz) has her ancestral gold hoard impounded from her palace by the government. The year is 1975 and we hear the voice of Indira Gandhi declaring Emergency while exhorting her countrymen not to panic. The maharani has earned the wrath of a rapacious Sanjay Gandhi lookalike (who answers to the name of Sanjeev and wields tremendous power even over the Indian army). Not one to go down without a fight, the slighted queen, serving time in jail, orders her brooding personal security in-charge Bhawani Singh (Ajay Devgn) to grab the lost booty back for her. The loyal Bhawani, who is the queen's retainer and secret lover, cobbles together a band of four desperadoes, including the maharani's trusted aide Sanjana (Esha Gupta), for the mission to waylay the high-value consignment when it is transported in an armored truck from Rajasthan to Delhi, an eight-hour trip by road. "Woh army hai, hum haraami hai," he declares, playing down the risk involved, to allay the fears of both the ageing cat burglar Tikla (Sanjay Mishra) and the happy-go-lucky gun-for-hire Dalia (Emraan Hashmi) that he ropes in. The bunch of badasses takes several detours as the gold is targeted and trailed, but there is little at the end of this flashy but vacuous exercise that glitters and glows. A no-nonsense army officer, Major Seher Singh (Vidyut Jammwal), surfaces and becomes a massive obstacle in the way of queen's assault team. It transpires that Bhawani isn't the only pawn on Maharani Gitanjali's chessboard. A big pre-interval reveal changes the rules of engagement and blurs the line separating the hunter from the hunted. It's a recipe for disaster. From here on, and that's pretty much all of the second half, all semblance of sense and logic is jettisoned. Cheesy lines - "jab baat zubaan ki ho toh jaan ki keemat kam ho jaati hai" or "main batua nahi churata dil churata hoon" - fly as thick and fast as the bullets. Baadshaho is the sort of film that banks solely on style. The story is strictly bare-bones, a glaring fact that is sought to be disguised through the means of gratuitous chase scenes and meaningless banter. How much can menacing, gun-crazy men, scheming, seductive women - the film throws in an item number featuring Sunny Leone for good measure - and doses of dark humour achieve when all that the characters have to play with is empty bluster? Baadshaho does have a couple of passable performances - one from Sanjay Mishra, whose comic timing as the alcoholic and wisecracking Tikla is phenomenal; the other comes from Hashmi as a loveable, fatalistic rogue. Kohl-lined eyes, a tattoo of a gun on one arm and witticisms such as "I am a camel, leave me where you want, I will find my way back home" define the character he plays. He pulls it off to the extent the script allows him to. Parts of this vapid actioner are made somewhat tolerable by the two actors who articulate just enough scepticism to mirror exactly what the audience feels about the goings-on on the screen. Sharad Kelkar, in the guise of a policeman, uses his booming voice to great effect. He is heard loud and clear above the din. But no matter how much he roars he remains a bit player. Sadly, there are too many others in the cast who are swept away by this sandstorm of a movie. The two actresses get the shortest shrift, if not in terms of footage, certainly with regard to what the plot permits them to be. They are pretty mannequins and just as lifeless. Ajay Devgn, whose entry scene takes one's breath away with its utterly nonsensical excess, merely goes through the motions It's been said earlier in this review: there is no dearth of surface sheen in Badshaho. But a peep behind the glossy curtain reveals an overcooked but terribly bland curry western that deserves instant banishment to the wilderness that it has emerged from. One is sure that there will be takers for this piece of cinematic tripe, but the audience deserves better. There can be no two ways about that.

---
Ranbir, Rishi, Neetu, Riddhima At Kapoor-Only Dinner'
NEW DELHI:MMNN:31 Aug 2017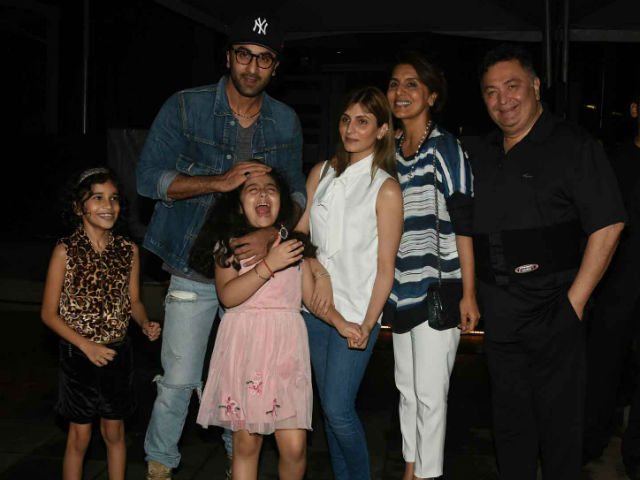 Actor Ranbir Kapoor was photographed outside a restaurant in Mumbai along with his parents Rishi Kapoor, Neetu, sister Riddhima Kapoor Sahni and his adorable five-year-old niece Samara on Wednesday night. The 34-year-old actor was seen dressed in a grey t-shirt paired with ripped jeans and a denim jacket. The Kapoor khandaan happily posed for the cameras post dinner. As the family got ready to pose, the Barfi actor was seen trying to cover Samara's face playfully to annoy her. With her expression, we guess he succeeded. Rishi Kapoor was seen dressed in an all-black outfit while Neetu wore a white and blue striped t-shirt paired with white pants. Riddhima looked beautiful in a white sleeveless top paired with denims. It is indeed wonderful to see the entire Kapoor family posing together considering their busy schedule. On Wednesday, Neetu Kapoor shared a photograph of her granddaughter Samara on Instagram in which she is seen bidding adieu to Ganpati with her hands folded. The idol of Lord Ganesha was immersed in a pot of water in what appears to be the garden area of the house. Neetu captioned the image as, Sam's farewell Pranam to ganesh #savethesea #savemarinelife #homeimmersion #spreadawareness On the work front, Ranbir Kapoor was last seen in Anurag Basu's Jagga Jasoos, co-starring Katrina Kaif. He is currently busy shooting for Rajkumar Hirani's yet-to-be-titled Sanjay Dutt biopic, in which he plays the title role

---
Pehredaar Piya Ki Cast Will Return With 'Better Story,' Say Makers'
NEW DELHI:MMNN:30 Aug 2017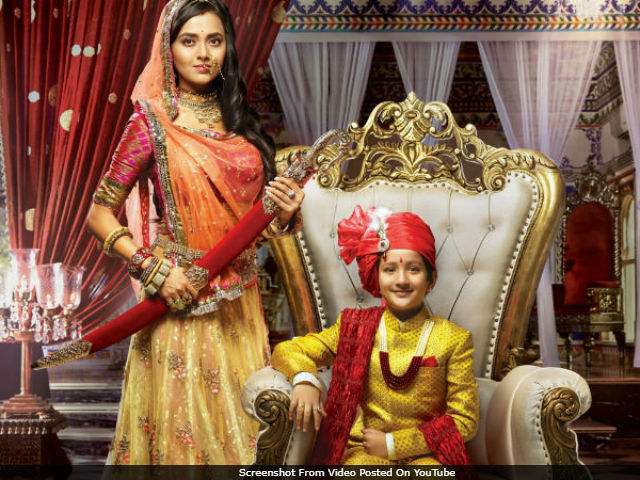 The makers of controversial show Pehredaar Piya Ki, which has now been pulled off air, plan to make a 'comeback' with a new show and the same cast, reports The Times Of India. Pehredaar Piya Ki received backlash for its plotline, where an 18-year-old woman (Tejasswi Prakash) marries a 10-year-old boy (Afaan Khan). "We treat audience as an asset so we don't want to lose them. We will return with a new show and the same team very soon. In fact, we have started working on the same. The next show will have a better story. The actors will be with us till then," producer Sumeet Mittal told TOI, adding that pulling off the show mid-way is like 'suffering from a miscarriage.' Pehredaar Piya Ki was criticized for glorifying child marriage, which would affect the society in a negative way. "We are pulling off our programme Pehredaar Piya Ki from television. While we understand that the decision to end this serial will be disappointing to those whose creative energies are vested in it, namely, its crew and cast, we (as a channel) are convinced that we will be better served by focusing instead on developing viewer interest in our upcoming, new shows," read an official statement issued on behalf of the channel, quoted news agency IANS. Of the show's abrupt ending, Mr Mittal told TOI, "It's a very painful process to end the show abruptly. It surely feels bad. Taking a show off air is like suffering a miscarriage. We work hard for each of our creation, without thinking about the outcome. Whether the show works or not, we put in the same amount of hard work and passion. We didn't want to wait for the audience to reject our show." Sumeet Mittal also added that the decision to end the show wasn't sudden. "We decided to end the show mutually. It was a difficult call, but we had to do it," he said. Pehredaar Piya Ki began last month on Sony Entertainment Television. After a few days, a petition to ban the show was sent to Information and Broadcasting Minister Smriti Irani. Later, the channel was asked to move the show out of prime time (from 8.30 pm to 10 pm). A disclaimer, stating that the show does not promote the concept of child marriage, was also carried.

---
Kapil Sharma Keeps Baadshaho Cast Waiting, Ajay Devgn 'Storms Out'
NEW DELHI:MMNN:28 Aug 2017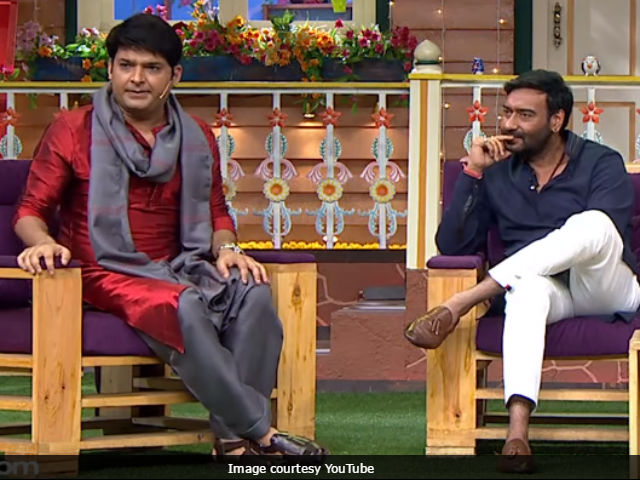 Kapil Sharma just cancelled another shoot of his series The Kapil Sharma Show, reports mid-day - this time with actor Ajay Devgn and his co-stars from the film Baadshaho. Given that the 36-year-old comedian's health has been a concern and shoots with other stars have previously been cancelled, representatives for Baadshaho is reported to have checked in with Kapil Sharma's team in advance and were told that filming would take place as scheduled. This, apparently, was not what happened - the cast of Baadshaho waited 15 minutes and then 'stormed out' when he didn't show up. Kapil Sharma didn't show up at all, mid-day reports, allegedly because he struggled to wake up after a late night. In the last few months, a number of stars have shown up to the sets of The Kapil Sharma Show and then left without filming when their host failed to appear - these stars include Shah Rukh Khan and Anil Kapoor (with his co-stars) from Mubarakan. This ill-fated recording of The Kapil Sharma Show, scheduled for the Saturday that just went by, was meant to feature Ajay Devgn, Emraan Hashmi, Ileana D'Cruz and Esha Gupta. The Baadshaho actors were reportedly assured that Kapil Sharma would be present and on time. A report in SpotboyE quotes a source as saying, "Kapil's phones were switched off. The team was leaving no stone unturned to get in touch with him, but to no avail. Even Kapil's team did not give a proper answer." Kapil Sharma's colleague Kiku Sharda told BollywoodLife last month that the comedian was not depressed as some reports suggested. "Kapil's absence due to his ill-health has fanned stupid speculations. I don't want to comment and fan all this further. We have started shooting for the coming weekend," he said. The Kapil Sharma Show has been hit by falling ratings after a fraught few months that saw many cast members exiting. The departures were headlined by comedian Sunil Grover and spurred by an alleged brawl on a flight out of Melbourne in which Kapil Sharma, reportedly drunk, assaulted Mr Grover and insulted the rest of his team. Changes in line-up continued till some weeks ago when Archana Puran Singh was brought in to replace series regular Navjot Singh Sidhu.

---
Gangs of Wasseypur is not the longest movie. This British film is
NEW DELHI:MMNN:26 Aug 2017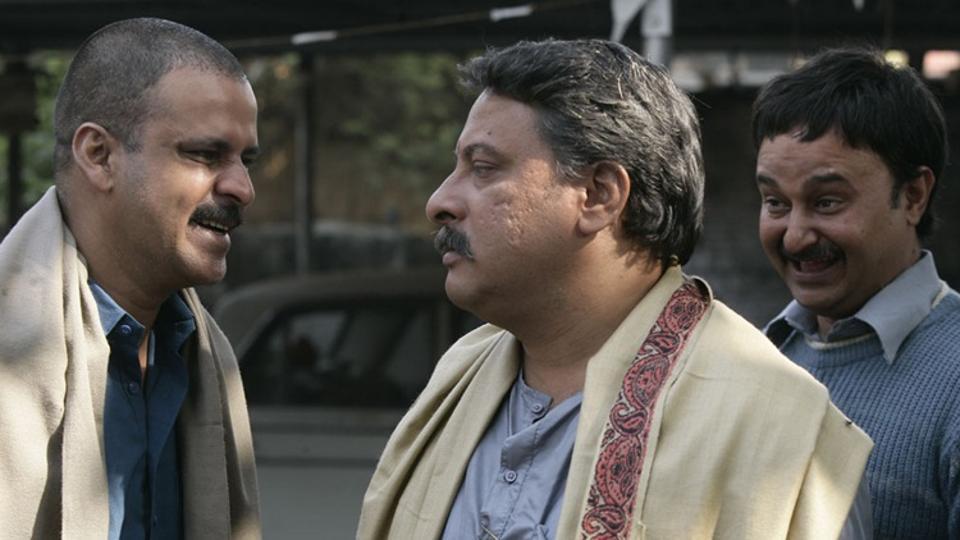 We often crib about the length of Bollywood films - from three-hour Karan Johar movies to the five-hour Anurag Kashyap crime saga, Indians have an appetite for long films. We would like to believe that Indian films are the longest, but thats not true! You will be surprised to know that a UK film (London EC1, 2015) holds the record for the lengthiest films across the world since 1991. Anurag Kashyaps Gangs of Wasseypur (which was released in two parts in India but was one 5-hr-long film around the globe) comes on the second slot, even in India Subal Sorals Funusiin (2016) tops India list with 24-hour run time Globally, the German film Ember Glow (2015) ranks second with a reel time of 81 hours while the American film Fail (2016) ranks third with a run time of 78 hours. However, when we look at the average length of films, India ranks on the top with two hours 11 minutes of average run time between 1991 and 2017. Interestingly, South Korea is a distant second with the average films length being one hour 41 minutes. Argentina is the last one on the list with the run time of one hour 28 minutes for an average film.

---
Babumoshai Bandookbaaz Movie Review: Nawazuddin Siddiqui Isn't At His Best In This Film Riddled With Holes
NEW DELHI:MMNN:25 Aug 2017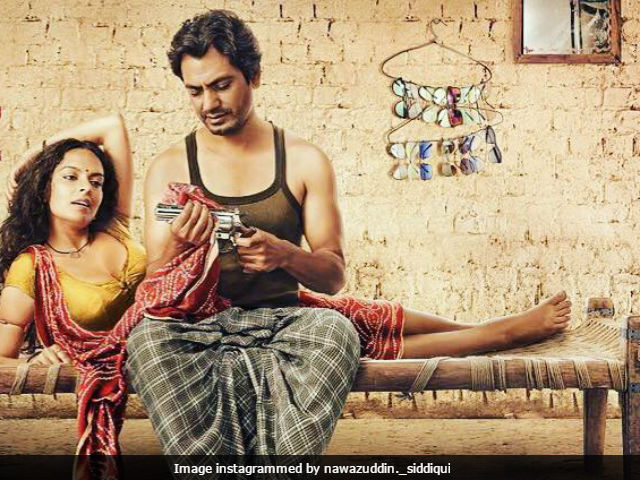 Babumoshai Bandookbaaz Movie Review: Nawazuddin Siddiqui's film, in the end, is a tumbledown see-saw that never heaves itself off the ground. Cast: Nawazuddin Siddiqui, Bidita Bag, Jatin Goswami, Shraddha Das, Divya Dutta Director: Kushan Nandy Rating: 1.5 Stars (Out Of 5) As capricious as its unfounded title, Kushan Nandy's rough-hewn hinterland noir Babumoshai Bandookbaaz is a roaring mess. It misfires on most counts. So, what was all the kerfuffle for? While this Babumoshai obviously has no affinity with Dr. Bhaskar Banerjee, the thriller, no matter how hard it pushes itself, is merely a country cousin of Bollywood's gangster sagas. Bijuria - a fictional police station area somewhere in Uttar Pradesh - is no Wasseypur. And its denizens are emaciated shadows of the trigger-happy, fast-talking thugs that peopled Anurag Kashyap's cult film. Babumoshai Bandookbaaz, scripted by Ghalib Asad Bhopali, may seem authentic in terms of its location and lingo, but its plot is riddled with holes the size of craters. Even the ever-dependable Nawazuddin Siddiqui, hard pressed to pump life into the poorly conceived titular character of a coldblooded contract killer, can do little to salvage the film. It whips up plenty of heat and dust and packs rustic romance, love, lust, betrayal, doses of black humour and a great deal of carnage into its tenuous two hours. The characters turn upon each other like hungry hounds baying for blood. Logic is torn to shreds in the bargain. Babumoshai Bandookbaaz, in the end, is a tumbledown see-saw that never heaves itself off the ground. The men are louts and the women are impossible to fathom. As the deviants are introduced one by one, the least that the audience expects is that the characters, at least the pivotal ones, will emerge out of the crowd and assume lives of their own. They don't. The story, whatever there is of it, is all over the place. Titillation comes by way of a criminal-contractor who derives pleasure from watching the masseur go to work on his wife. A corrupt cop keeps impregnating his ageing wife because she is unable to bear him a girl. And a tough cobbler girl, a victim of sexual assaults by a politician and his brothers, extracts a price from the male protagonist when he hits upon her and expects her to reciprocate his passion. These are sought to be passed off as radical breaks from Bollywood convention. It just doesn't come off. If last year's Freaky Ali, in which Nawazuddin played the lighthearted lead role of a poor drifter-turned-gangster-turned-golfer with customary flair, didn't measure up to his talent, Babumoshai Bandookbaaz fares much worse. This twisted tale of an impoverished boy who grows up in the badlands of northern India and learns to kill at the tender age of ten for a couple of life-saving bananas, is by far the weakest film that the Mumbai-independent cinema poster boy has ever done. The character Nawazuddin plays, Babu Bihari, is a hired gun who works for two disparate individuals - the sleazy businessman Dubey (Anil George) and the paan-chewing, expletives-spouting politician Sumitra (Divya Dutta). His earning per kill - Rs. 25,000, 20 per cent of which he has to share with a middleman - isn't good enough to change his life. His strike rate is, however, high enough to instill fear in the hearts of both victims and benefactors. But soon enough, he has competition. Another sharpshooter, Banke Bihari (Jatin Goswami), is roped in by the power brokers to supplement Babu Bihari's killing spree. The people who pay to keep the guns blazing then begin to gun for each other. The upshot of the endless skirmishes (one leads into another without ever making much sense) is that the protagonist is caught in a battle of attrition with Banke Bihari, who admits to being a fan of the bandookbaaz. The tussle between the two men, which stems from one's desire to protect his long-held turf and the other's aspiration to wrest control, takes the form of a series of deadly games that soon adds up to much more than the mounting body count. It infects their personal relationships with unsurprisingly violent consequences. A pre-interval twist leads to an eight-year leap. But matters do not get any better. They only turn fuzzier as unsettling secrets are revealed and more people end up dead. Babu Bihari lives with Phulwa (Bidita Bag), who mends shoes for a living, and Banke Bihari has an open relationship with the local dancer Yasmin (Shraddha Das), who gets to away to a raunchy remix of Hai Re Hai Mera Ghungta. But after a point it stops to matter who is with him and who is out to get whom. It degenerates into an utterly meaningless rigmarole. Babumoshai Bandookbaaz hurtles towards an insipid, unintelligible climax, which includes a bout of Russian roulette between two adversaries. It is, in the end, much ado about nothing because the outcome of the life-and-death contest is as predictable as everything else in the film. Nawazuddin isn't at his best for he can be only as good as the script allows him to be. Bidita Bag makes a fair fist of her first Bollywood lead role. Jatin Goswami, too, makes his presence felt. Another proven actor who finds herself hard done by amid the mayhem is Divya Dutta. The only surprise - nay, shock - that Babumoshai Bandookbaaz delivers is an instrumental rendition of a Rabindranath Tagore hymn (Aguner Parashmoni) arranged by composer Debojyoti Mishra for the end credits. Has the bard ever had such an ignominy heaped upon him - tailed so casually to a film that revels in blood and gore? The lyric is a prayer seeking purification by fire. If that is what the makers of this film are looking for, let it be said that even a full-fledged inferno cannot purge Babumoshai Bandookbaaz.

---
Ganesh Chaturthi 2017: Sanjay Dutt And Wife Maanyata Perform Ganesh Aarti. See Pics
NEW DELHI:MMNN:24 Aug 2017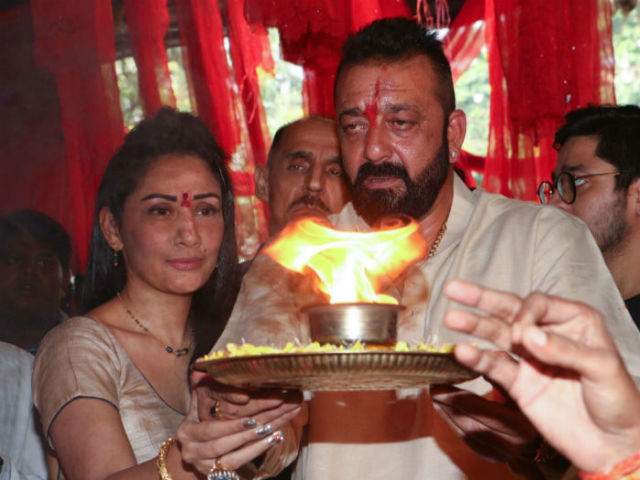 Actor Sanjay Dutt, who is gearing up for the release of his forthcoming film Bhoomi, visited a Ganpati pandal in Lokhandwala on Wednesday along with his wife Maanyata. The couple performed aarti together and seeked blessings of Lord Ganesha. Sanjay Dutt was seen dressed in kurta and pyjama while Maanyata looked beautiful in a sari. The couple posed for the paparazzi before heading towards the pandal for aarti. The 58-year-old actor will be singing Ganesh aarti in his film Bhoomi. Earlier this week, Sanjay Dutt recorded his first Ganesh aarti, which will be released soon. The ten-day long Ganesh Utsav begins tomorrow and Mumbai is all decked up to welcome Lord Ganesha. In an interview with news agency IANS, Sanjay Dutt said, "I am happy to sing a great song for Bappa. We celebrate Ganesh Chaturthi at my house. We worship him a lot, so I feel lucky that I have the chance to sing this song for him The film, directed by Omung Kumar, is a revenge drama which highlights the relationship between a father and a daughter. Aditi Rao Hydari will portray the role of Sanjay Dutt's daughter in the film Bhoomi has been co-produced by Bhushan Kumar, Sandeep Singh and Omung Kumar. The movie also features television actors Sharad Kelkar and Sidhanth Gupta in pivotal roles.

---
Shah Rukh Khan, Salman Khan, Akshay Kumar On Forbes' Highest Paid Actors List. Aamir Khan? Nope
NEW DELHI:MMNN:23 Aug 2017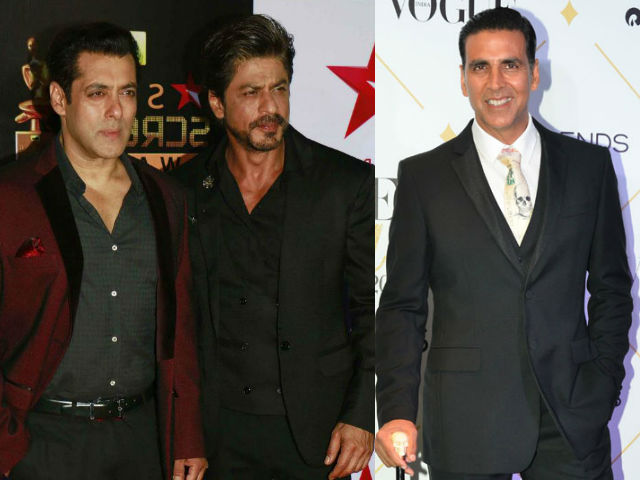 Forbes has released its list of the world's 20 highest paid actors of 2017, just days after the corresponding list of actresses. "A quarter of this year's list hail from outside the US, including three stars from Bollywood," as Forbes puts it - these three actors comprise two Khans and Akshay Kumar. Aamir Khan, whose 2016 release Dangal currently has the distinction of being India's top grossing film, is not on the list. The Khans who made it are Shah Rukh and Salman. SRK, Salman and Akshay are now Forbes regulars and have been ranked among the top 20 actors for the 3rd year. The stars are placed at the last three spots on 2017's list. Amitabh Bachchan, who scraped into the list last year, has dropped off this one. The highest ranked Indian actor is Shah Rukh Khan at #8, the same position he occupied last year. His stated earnings have risen from $33 million in 2016 to $38 million in 2017. Forbes summed up SRK's annual earnings from films and endorsements deals "of brands most Americans have likely never heard of" - this year, Shah Rukh Khan starred in Raees and Jab Harry Met Sejal, the last of which was a spectacular flop. At ninth place is Salman Khan, several notched up from his 2016 ranking of #14. Salman, whose film Tubelight also tanked, took home $37 million - significantly more than the $28.5 million he made last year. "Khan still earns top rupee," says Forbes about the 51-year-old actor who counts hosting reality show Bigg Boss among his many high-paying gigs. Akshay Kumar completes the top 10, a repeat of last year's list, with $35.5 million. He made $31.5 million last year. Akshay, referred to as "king of Bollywood box office for over a quarter of century" by Forbes, earned his millions from four films released in the scoring period which is June to June. His latest film, Toilet: Ek Prem Katha, opened two weeks ago and has made over Rs. 100 crore. Forbes' highest paid actors list is topped by Hollywood star Mark Wahlberg at $68 million - courtesy of Daddy's Home 2, Transformers: The Last Knight and reality show Wahlbergers. Last year's topper Dwanye Johnson dropped a place. He took home a pay cheque of $65 million thanks to Baywatch, Jumanji and TV show Ballers. At #3 is actor Vin Diesel, whose earnings amount to $54.5 million. Adam Sandler and Jackie Chan round up the top five and the spots above Shah Rukh Khan are filled by Robert Downey Jr and Tom Cruise. Below the top 10 are several actors who play superheros - Chris Hemsworth, Chris Evans, Ryan Reynolds, Chris Pratt and Mark Ruffalo. Jeremy Renner makes it as well, although not for playing Hawkeye in the Avengers series. Ryan Gosling and Samuel L Jackson also make it. The absence of Aamir Khan from the list is easily explained - he only makes one film in a year or two years and is similarly choosy about endorsements. Like Deepika Padukone, who dropped out of this year's list of highest paid actresses after being ranked #10 last time, superstar Amitabh Bachchan has had a slower year than previously. Aamir and Mr Bachchan are currently filming Thugs Of Hindostan together

---
Twinkle Khanna, Trolled For Mocking 'Dignity Of Men,' Posts The Same Pic Again'
NEW DELHI:MMNN:22 Aug 2017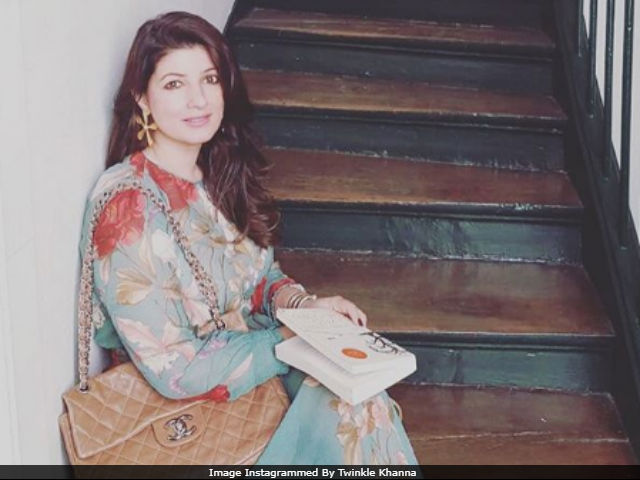 Twinkle Khanna is defiant after a picture she tweeted over the weekend offended some sensibilities. The 42-year-old author posted the same picture again today with this message: "I found the timing ironical with ToiletEPK's release and the OD free certification- If you see the sardonicism in it - fine! If not-so be it." The photo that earned Twinkle a string of reprimands showed an unidentified man squatting to do his business on a Mumbai beach. "I guess here is the first scene of Toilet Ek Prem Katha 2," Twinkle wrote, referencing her husband Akshay Kumar's newly released film which deals with the issues of sanitation and open defecation. Twinkle Khanna's sharp observations usually evoke a laugh from Twitter. Not this time though. "A public apology should also be made for playing with dignity of men," read an angry comment, one of several that asked Twinkle to take the post down. A case of shooting the messenger, one might say. At any rate, Twinkle Khanna wasn't taking this s*@t, pardon the language and the pun. Some of Twinkle Khanna's critics also accused her of making capital out of the situation in order to promote her husband's film - not that it needs it because Toilet: Ek Prem Katha has already made Rs. 115.05 crore in less than two weeks. However, Twinkle Khanna's's tweet also received instant approval from some. "Let's spread this as message to us that we should build more and more toilets," wrote a user. Twinkle also responded to a comment that said that people had the choice of using public toilets. "Exactly. The public toilet is a 7-8 minute walk from this particular spot," Twinkle wrote back. Twinkle Khanna is the author of two best-selling books - Mrs FunnyBones and The Legend Of Lakshmi Prasad. She and Akshay Kumar have been married for over 15 years now and are parents to son Aarav and daughter Nitara.

---
Kalki Koechlin, Trolled For Viral Nude Pic, Says 'Never Been Ashamed'
NEW DELHI:MMNN:21 Aug 2017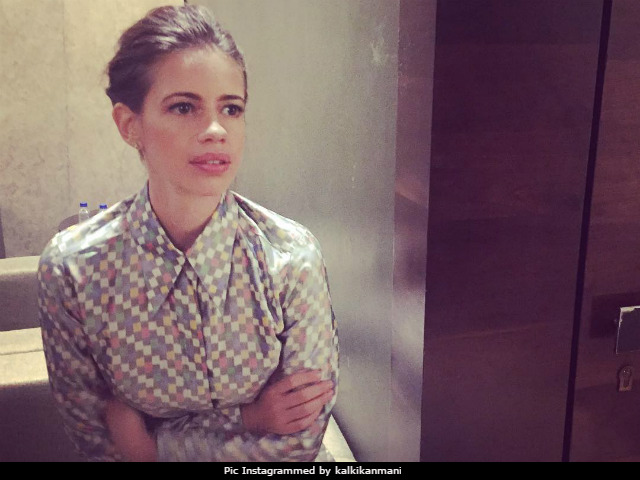 Actress Kalki Koechlin shrugged off the hateful comments she received for posting a nude picture of herself, telling mid-day , I have never been ashamed of whatever I do. Kalki, 33, recently posted an image from a photoshoot on Instagram in which shes seen from the back and appears to be naked. Halfway between shadow and light, she captioned the picture, shot by photographer Riva Bubber. The post, which swiftly went viral, has received 331 comments so far, several of them slut-shaming the actress. Speaking to mid-day , Kalki said, "As women, we often are depicted through a man's perspective, but this picture was clicked by a woman photographer. That's why I found it significant to share the photograph." Kalki Koechlins intent may have been to offer a perspective other than the male gaze but her post appears to have provoked many of her followers, some of whom suggested the actress submit her picture to adult sites rather than post it on social media. Nudity limit me rakho, Indian culture ko barbaad tum jaise log kar rahe ho, read one comparatively restrained comment on her post. She was also told not to 'show off.' Some fans applauded the actress with comments such as 'Brave Kalki, keep rocking' - but these were in the minority. Just days ago, model-actress Esha Gupta was also shamed online for posting a series of pictures from a photoshoot in which she was partially unclothed. Esha also spoke to mid-day later, saying, Its my body. In an interview with news agency IANS last year, Kalki Koechlin said, "Of course it affects me, but I have learnt to stop responding to them. Heres one picture from the photoshoot with Riva Bubber, which was posted with a quote Harper Lees novel How To Kill A Mockingbird - She was one of the rare ones, so effortlessly herself, and the world loved her for it. Kalki Koechlin joins a select band of actresses to have the dubious distinction of being shamed on Instagram for photos of themselves - Deepika Padukone, Priyanka Chopra, Sunny Leone, Soha Ali Khan and Dangalactress Fatima Sana Shaikh have all been recently trolled for outfits they wore in their posts. Kalkis short film Naked from earlier this year, in which she plays an actress who stars in a sex scene that is leaked and goes viral, addresses the theme of what happens when the covers are drawn back from womens sexuality. Kalki Koechlin is known for her performances in acclaimed film such as Margarita, With A Straw, Waiting and, most

---
Deepika Padukone and Ranveer Singh spotted a day after viral kissing pic. See photos
NEW DELHI:MMNN:19 Aug 2017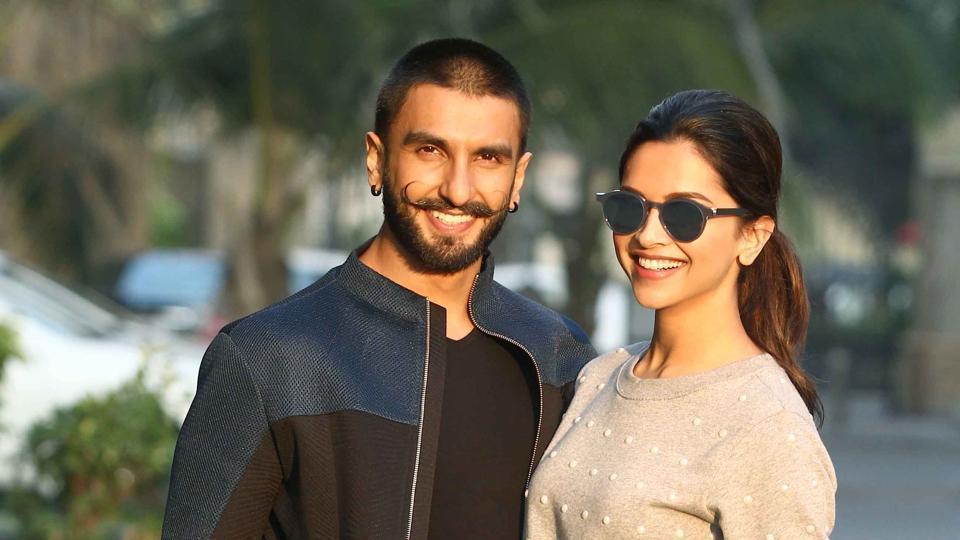 A day after a picture of Deepika Padukone and Ranveer Singh lit up the internet, the rumoured couple was spotted on the streets of Mumbai. According to an Indian Express report, the two were out for a dinner date, and as always, the paparazzi lapped it up. While neither Deepika nor Ranveer has ever confirmed their relationship, situations such as this are very common. Ranveer even visited Deepika on the sets of her first Hollywood movie, xXx: The Return of Xander Cage. Only a day ago, an old picture in which the rumoured couple was seen getting cosy - it was a screengrab from a behind-the-scenes video of a photoshoot the two had done in 2015 - went viral. Several fans took to Twitter to share their favourite pictures of the two with the hashtag, 'DeepVeer'. In an earlier interview to Deccan Chronicle, Ranveer commented that Deepika was the best kisser ever. "I think Deepika Padukone is the best kisser. Have you seen that 'Ang laga de re, mujhe rang laga de re' (song from Goliyon Ki Rasleela: Ram Leela)?" he said. The two have played lovers on screen twice, in director Sanjay Leela Bhansali's Ram Leela and Bajirao Mastani. They will re-team with the filmmaker for a third time in Padmavati, which is currently in production.

---
Bareilly Ki Barfi Movie Review: Kriti Sanon Makes This Sweet Concoction Work
NEW DELHI:MMNN:18 Aug 2017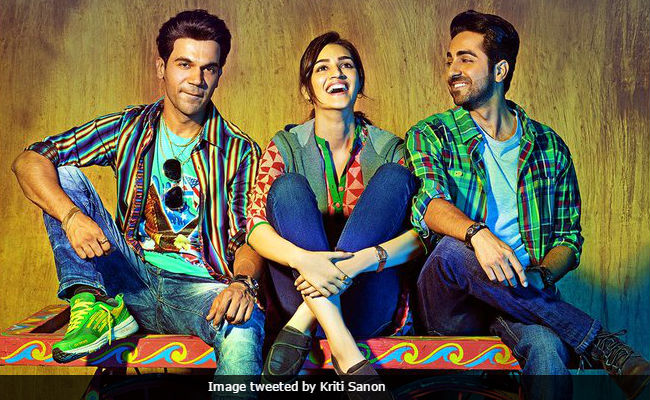 Bareilly Ki Barfi Movie Review:isnt the kind of film that will sweep you off your feet, but there is sufficient charm and chutzpah in this effervescent brew to keep you invested all the way through Cast: Kriti Sanon, Ayushmann Khurrana, Rajkummar Rao, Pankaj Tripathi, Seema Pahwa Director: Ashwiny Iyer Tiwari Rating 3 Stars Ashwiny Iyer Tiwaris sophomore effort Bareilly Ki Barfi is a sweet and delicious but eventually slight concoction. But that isnt meant as criticism. It is a largely inoffensive, mildly diverting small-town romance that generally hits the right buttons thanks primarily to a crisp and lively screenplay, earthy dialogues and effortless acting by a fine cast. If not exactly scintillating, it is definitely entertaining enough not to fritter away its inherent advantages. Indeed, Bareilly Ki Barfi isnt the kind of film that will sweep you off your feet, but there is sufficient charm and chutzpah in this effervescent brew to keep you invested all the way through. There is indeed something to be said about a Bollywood romantic comedy that lays so much store by its script, its relatable setting and believable characters. The creative choices the director makes reflect amply in the final outcome. It does not ride on crowd-pulling stars. It does not need to because it reposes its faith unwaveringly and squarely in a lively story of secret love and deliberate subterfuge and props it up with light touches and the weighty talent of a bunch of actors who are endowed with the natural ability to breathe life into everyday situations with minimum visible effort. The stars of the show are Rajkummar Rao (in the guise of an unassuming young man who is pushed around too easily until he decides to take a stand) and Pankaj Tripathi (as the endearingly broad-minded father of a rebellious girl who thinks nothing of throwing caution to the wind in the conservative boondocks). Seema Pahwa, playing a sedate matriarch, is perfectly clued in to the spirit of the story and the setting. Not that the two actors who get top billing, Ayushmann Khurrana and Kriti Sanon, are overshadowed by the aforementioned trio. The former does a convincing job of mutating from a brooding jilted lover to a crooked manipulator who puts his own interests above everyone else's. The burden of making Bareilly Ki Barfi work rests upon Kriti Sanon and she doesn't put a foot wrong. Bareilly Ki Barfi is a loose adaptation by Nitesh Tiwari (the writer and director of Dangal) and Shreyas Jain from French writer Nicolas Barreau's 2012 English-language novel, The Ingredients of Love. The story is transported to the small Uttar Pradesh town of Bareilly where the emotions and aspirations of the young clash head-on with the entrenched traditions and mores. With Javed Akhtar providing an amusing voiceover narration, the film takes us into the world that pulsates inside Mishra Sadan, Ekta Nagar, Bareilly. This is home to sweetmeat shop owner Narottam Mishra (Pankaj Tripathi), his wife Sushila (Seema Pahwa) and only daughter Bitti (Kriti Sanon). Her father allows Bitti Mishra - she works in the customer complaints department of the state electricity board - all the freedom that she craves for, including an occasional swig and a smoke. Her schoolteacher-mother, infinitely more orthodox, is more intent on finding a suitable boy for her daughter. Kriti is a natural born rebel, loves breakdance, watches English movies and makes absolutely no concessions to the norms that society lays down for a middle class girl like her. When a potential husband asks her if she is a virgin, she shoots back: Are you It makes no difference if I am a virgin or not, replies the boy, but you better be one. I am not a virgin, says Bitti. The guy is put in his place, end of chapter, and its absolutely no skin off Bitti nose. Bittis exasperated mother is often at her tether's end and bemoans her luck: Harkate laundo wali karti hai, is sey toh achcha beta hi paida ho jaata". The girl's response, in a heart-to-heart chat with her sympathetic father, is: Ladki hona na disaster hai ekdum." Much later in the film, the mother wonders: Raat raat bhar ghumti rehti hai. Ladki hain koi chudail thodi hai. Nothing can stop Bitti in her tracks. She runs away from home, boards a train to nowhere in particular, and, during the trip that she eventually aborts, chances upon a novella titled Bareilly Ki Barfi. It changes her life. The heroine in the story is exactly like her and Bitti falls under the spell of the unknown writer Pritam Vidrohi (Rajkummar Rao). She seeks the help of printing press owner Chirag Dubey (Ayushmaan Khurrana) to locate the author. Chirag, himself coming off a failed love affair, traces the man to Lucknow, where he is now sari salesman. He brings the writer back to Bareilly with the intention of ensuring that Bitti rejects him outright. Chirag has developed feelings for Bitti but is unable to profess his love to her. Matters begin to spin out of his hand when the diffident Pritam, hiding behind a fake voice and demeanour, worms his way into Bitti's heart. Desperate measures spark more complications as Bitti's best friend and neighbour Rama (Swati Semwal), whose terrace is where the heroine hones her breakdance moves, is pulled into the frame. For all the energy that Bareilly Ki Barfi exudes, it never quite lifts itself above its featherweight category. But that is barely a disqualification. If anything, it keeps the film chugging along at an even pace, its tongue-in-cheek levity preventing it from being sucked into sticky sweetness. Bareilly Ki Barfi is definitely worth a watch provided you do not expect the world from it. It is happy to be what it is: a modest barfi from nondescript Bareilly. A bite wouldnt be a bad idea.

---
Emma Stone Tops Forbes List Of Highest Paid Actresses. Missing: Deepika Padukone
NEW DELHI:MMNN:17 Aug 2017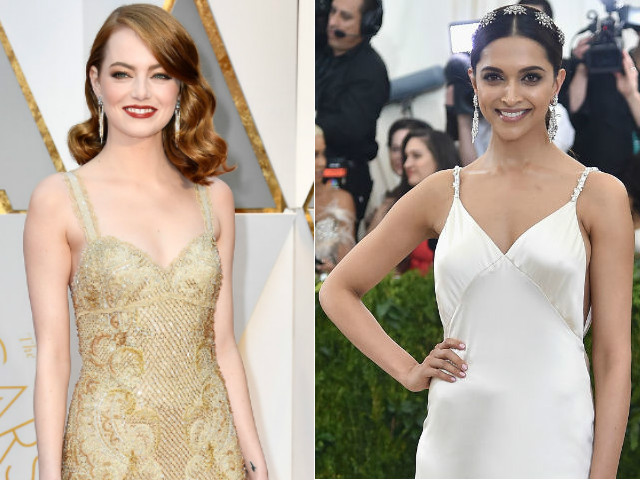 Forbes has released this year's list of the world's 10 highest paid actresses and homegirl Deepika Padukone, ranked #10 in 2016, has not made the cut this time. As Forbes put it: "The list examined actresses the world over, but no stars from Asia made the cut, as Fan Bingbing and Deepika Padukone dropped off due to quieter years." Deepika's starring role in xXx: The Return Of Xander Cage - also her Hollywood debut - contributed hugely to her earnings of $10 million last year. She has no international project currently and is working on one film at home - the period drama Padmavati, co-starring Ranveer Singh and Shahid Kapoor. Also absent from Forbes' 2017 list is Scarlett Johansson - this is the first time in three years that she hasn't made the grade So who is on the list? Emma Stone, Oscar-winner for La La Land, is #1 for the first time, with Forbes reporting earnings of $26 million. Jennifer Lawrence, who topped the list two years in a row, has slipped to third place, behind Jennifer Aniston. The Jennifers are at $25.5 and $24 million respectively - JLaw made just half of her 2016 total. The top three on the list of 10 are the only actresses to have made over $20 million. They are followed by Melissa McCarthy, Mila Kunis, Emma Watson, Charlize Theron, Cate Blanchett, Julia Roberts and Amy Adams. Forbes reports a 16% drop in the cumulative earnings of the world's top actresses - $172.5 million this year, down from $205 million in 2016. Forbes also notes that half the actresses on the list are over 40 - Jennifer Aniston, Melissa McCarthy, Charlize Theron, Cate Blanchett, Julia Roberts and Amy Adams - a significant achievement given the scarcity of roles for women their age. Forbes also flags another ugly truth - only 28.7% of speaking roles in films are filled by women.

---
Priyanka Chopra attends fundraiser with Robert Downey Jr, dances with Jamie Foxx
NEW DELHI:MMNN:14 Aug 2017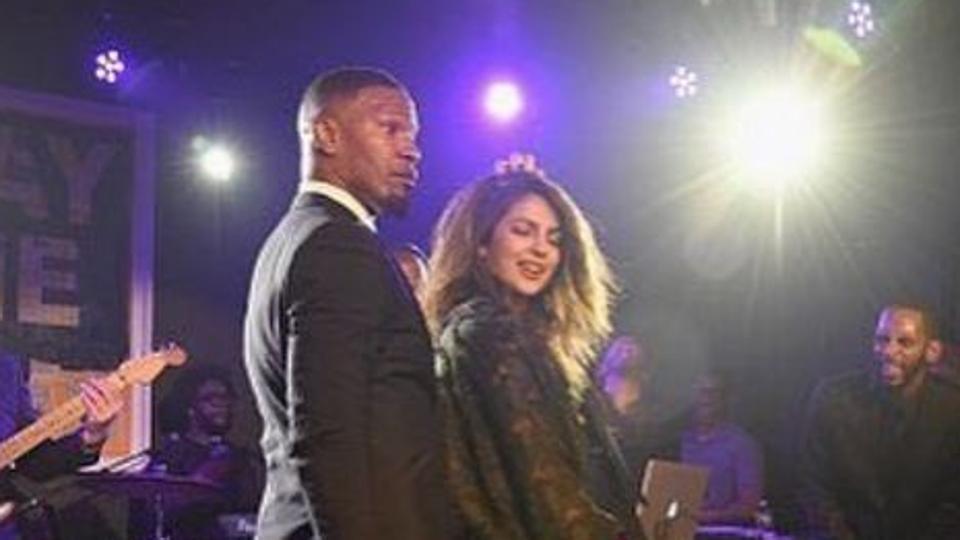 The whole world knows that Priyanka Chopra is a busy girl. She is juggling between her next Hollywood projects and her hit-TV show Quantico. But, she always manages to take some time away from her busy schedule and enjoys her life to the fullest. The 35-year-old recently attended Ron Perlman's Apollo fundraiser, where she can be seen enjoying and dancing her heart out with none other than Hollywood heavyweight Jamie Foxx. Meanwhile, the Baby Driver actor can be seen performing for the audience. He also introduces the actress to the people and dances with her afterwards. The Bajirao Mastani star is seen wearing a black sheer robed dress with a side waist high slit and a diamond studded brooch pinned on the front. On the work front, Priyanka is busy in shooting for his second Hollywood feature 'Isn't it Romantic?' which also stars Rebel Wilson, Adam Devine and Liam Hemsworth.

---
Toilet-Ek Prem Katha movie review: Akshay Kumar fights evil traditions
NEW DELHI:MMNN:11 Aug 2017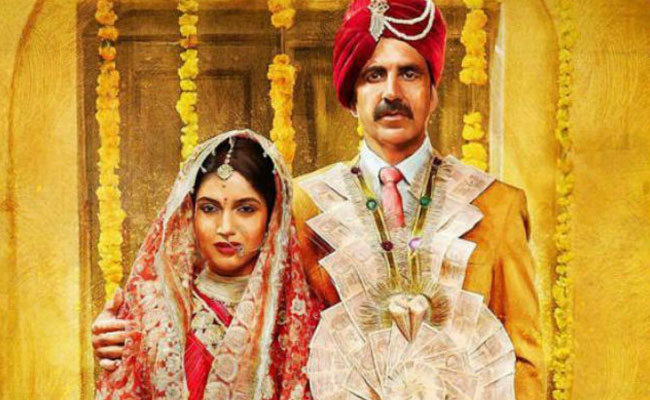 Toilet Ek Prem Katha has a witty first half with sparkling performances by Akshay Kumar and Bhumi Pednekar. Here's our movie review. Rating: 2.5/5
Toilet Ek Prem Katha,

Cast: Akshay Kumar, Bhumi Pednekar,

Director: Shree Narayan Singh

Rating: 2.5/5,
Biwi paas chahiye toh ghar me sandaas chahiye. With this motto, Akshay Kumar sets out on a mission to hold a mirror to those who support open defecation in the name of age-old traditions and so called Indian culture. Bhumi Pednekars idealistic stand on marriage and overflowing love for her husband accompany Akshay Kumar while he takes on the system, society and his own father. Keshav (Akshay Kumar), the son of a Manusmriti-following brahmin, is waiting to get married for years. Now in his 36th year, he is made to marry a buffalo to neutralise his maanglik stars in the opening sequence and you laugh at his pathetic condition. You know how unique can Akshay Kumar be in such scenes. His toothy smile and battameez bol lo madam lekin bhaisaab mat bolo kind of dialogues set the mood. He isnt your average village boy who would be a celibate before marriage or wouldnt stalk a girl because its wrong. The proprietor of a cycle store, his general knowledge and understanding of the society and religious texts are also satisfactory. Director Shree Narayan Singh moulds Akshay Kumar into a combination of Jolly LLB 2 and Khiladi 786. In short, Akshay is in comfort zone. His marriage with Jaya Joshi (Bhumi Pednekar), a state topper and angrezi padhi likhi ladki, meets a roadblock when Jaya discovers his house doesnt have a toilet. She refuses to be the leader of the lota party and forces Keshav to go for desperate measures. Obviously they wont last long and the couple is back to square one. But will the elusive toilet be made in Keshavs house First thing first. Toilet Ek Prem Katha endorses the Indian governments Swacch Bharat Abhiyaan so seriously that after a point it starts to look like that Priyanka Bharti ad featuring Vidya Balan. The idea is to highlight the disadvantages of open defecation through a humorous tale. It happens in the first half with Akshay Kumar and Divyendu Sharma sharing some side-splitting scenes. Their flawed Bundelkhandi accent aside, they show a grip on their comic timing. Their praudh siksha (old age education) and Mallika bhabhi (Kumar was first married to a buffalo named Mallika) gags work. They even try to replicate the Sholay marriage proposal scene in their own way. Some deviations happen in form of Anupam Kher, a Sunny Leone admirer, and chattering housewives of Mandgaon who show a deaf ear to the enormous outcries over not using the open space for defecation. Jaya also knows her part and gets a hang of the situation before it all goes out of everyones hand. What initially begins as a son-versus-father ideological tussle escalates into a full-fledged war involving the state. We get to know that its a scam, but the current government is quite seriously tackling it. Meanwhile Akshay Kumar undergoes a transformation from someone who advises his wife to adjust a bit because its been happening for ages to the crusader of womens rights. He does it delicately. Before you pin-point flaws in his thought process, he presents a different side of his persona and you keep rooting for him. Bhumi Pednekar, as a feisty wife, provides the support he needs. The fluid first half hits speedbreakers in the second half, and the prime among them is the theory of fighting with sabhayata (with civility) that the director introduces. It widens the canvas and shifts focus to many parties, including the government. Meanwhile, Akshay Kumar keeps repeating how we should not expect the government to do everything for us. Apart from this confusion, its a story that delivers a really important message about personal hygiene and proper sanitation system in rural areas. Its just that we hear the messages clearly in the first 50 minutes. Kumar and Pednekar have a chemistry thats visible in songs, even in the weirdly worded Has mat pagli pyaar ho jayega. Kumar, of course, is the backbone of Toilet Ek Prem Katha, but Pednekar is no less a contributor to this story. At 155 minutes, Toilet Ek Prem Katha is just short of becoming another Akshay Kumar masterclass in comedy, but it has enough to entertain you.

---
Hrithik Roshan And Twinkle Khanna Exchange Tweets For Akshay Kumar's Toilet: Ek Prem Katha
NEW DELHI:MMNN:10 Aug 2017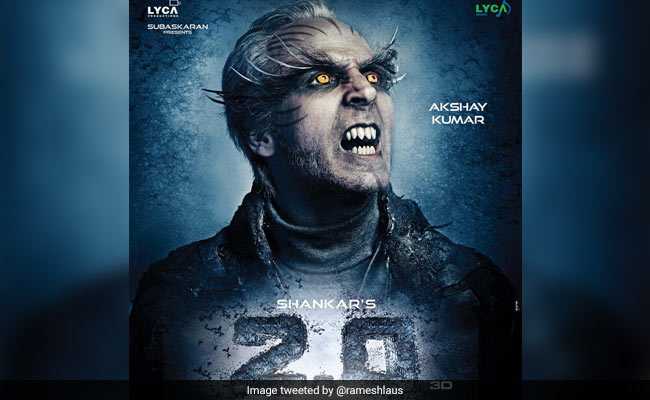 Hrithik Roshan said that Akshay Kumars Toilet: Ek Prem Katha, which releases tomorrow, doesnt need luck because it looks fantastic. Akshay's wife Twinkle replied to Hrithik's tweet saying, "Thank you kind sir, big hug." Toilet: Ek Prem Katha celebrity PR machinery is going very well, courtesy actors Sidharth Malhotra, Arjun Kapoor, Alia Bhatt, Varun Dhawan, Ranveer Singh and filmmaker Karan Johar. They've all posted hilarious videos reminding their fans and followers that Akshay's film shouldn't be missed. Hrithik Roshan, who is also Twinkle and Akshay's neighbour, did not make a video to promote Toilet: Ek Prem Katha but his good luck tweet was good enough Last year, Akshay Kumars Rustom co-released with Hrithik Roshans Mohenjo Daro. The two actors had wished each other luck by exchanging tweets, before their films released. Unfortunately, Hrithik Roshan's Mohenjo Daro didn't do well at the box office while Akshay Kumar received the National Film Award for Best Actor for Rustom. But, Hrithik was happy for Akshay's success of Rustom - proof is his tweet which tells it all Shree Narayan Singh's Toilet: Ek Prem Katha is a satirical comedy which emphasises on the eradication of open defecation in public areas. It features Akshay Kumar and Bhumi Pednekar in the lead roles. The film releases on August 11. Meanwhile, Akshay will also feature in Padman, produced by his wife while, Bhumi Pednekar is awaiting her upcoming Shubh Mangal Saavdhan co-starring Ayushmann Khurrana.

---
Toilet Ek Prem Katha: Here's the secret behind Akshay Kumar's ageless looks
NEW DELHI:MMNN:9 Aug 2017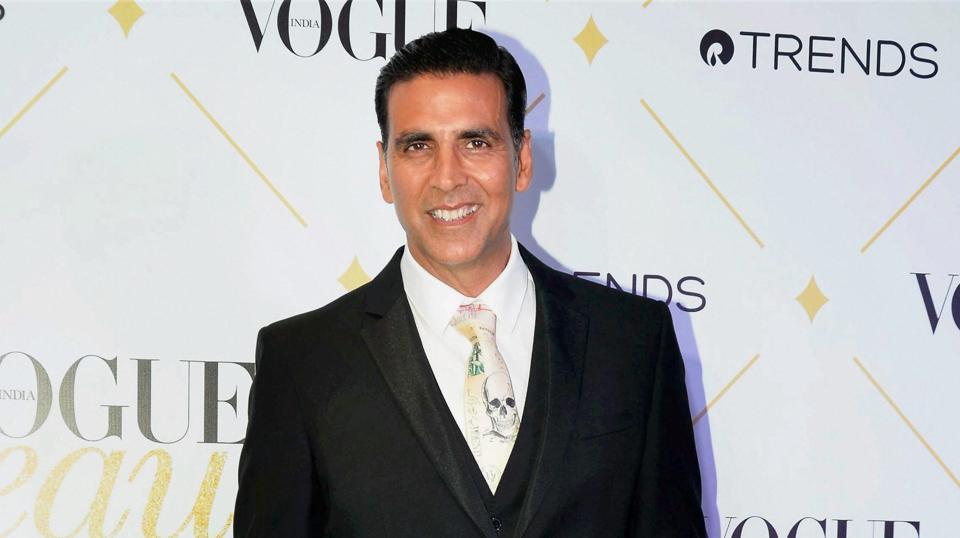 Akshay Kumar is almost 50-years-old, and as he prepares for the release of his new film, Toilet - Ek Prem Katha, he reveals the secrets behind his ageless looks. He will turn 50 next month, but Akshay Kumar manages to look ageless on screen opposite co-stars like Bhumi Pednekar and Anushka Sharma, who are in their 20s. The Bollywood star says the secret lies in living a simple, easy and happy life. I have only one job in my life, and thats to do films. Then I take care of my family and workout. Theres no stress... I dont take too much stress. I concentrate on happiness and I exercise, take care of what I eat, and I control my intake of sweets. Theres no science behind it. Live a simple, easy life," Akshay told the media here on Wednesday, When I used to stay in Chandni Chowk, we used to have a one bedroom house and around 22 people used to stay in it. But we used to feel happy in it. We have continued living with that happiness, added the actor, who is one of the most bankable actors in Bollywood today. The National Award winner is currently promoting his forthcoming film Toilet: Ek Prem Katha with co-actors Bhumi Pednekar and Anupam Kher. The movie, which is releasing on Friday, delves on the need for sanitation and is an attempt to urge people to stop open defecation to work towards a Swachh Bharat. The message coincides with Prime Minister Narendra Modis Swachh Bharat Abhiyaan. Asked if he will make more movies related to Modi's various initiatives, Akshay said: I have made the film because I liked the script and not because anyone asked me to make this film. Its a different thing that when our PM came to office, he started spreading the Swachh Bharat Abhiyaan message. This film is similar to his Abhiyaan and takes forward the Clean India message. But in general, Clean India is not a topic that he started... Its a topic relevant to each one of us... We have to keep our surroundings clean because it is directly related to us and our health. Its wrong if people think its a village-based problem. Even cities have a lot to do with this problem."

---
Salman Khan, Malaika Arora celebrate family love at Arbaaz's birthday party. See pics
NEW DELHI:MMNN:5 Aug 2017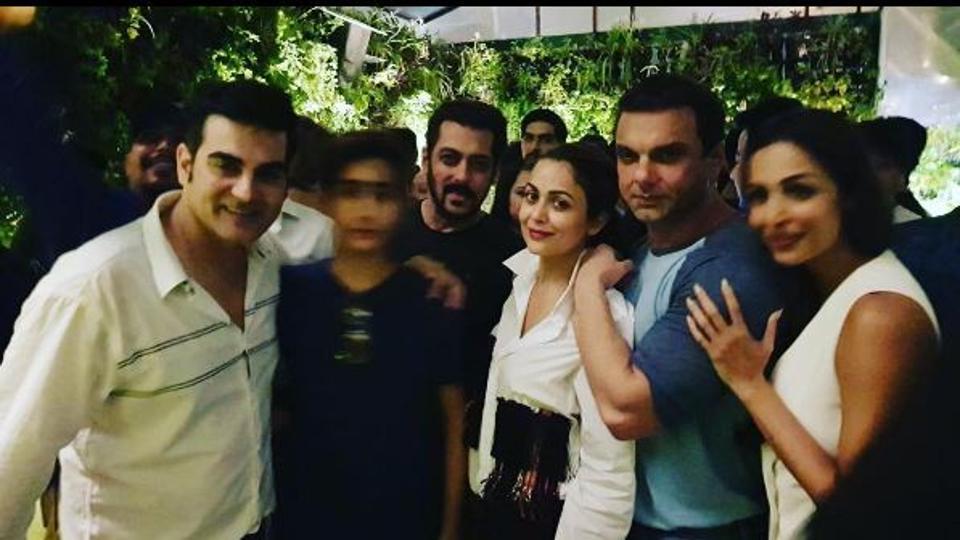 Bollywood actor-director Arbaaz turned 50 on Friday and his entire family, including ex-wife Malaika Arora and brother Salman Khan were in attendance when he rang in the birthday celebrations. Check out the pictures. Bollywood actor-director Arbaaz Khan turned 50 on Friday and his entire family, including ex-wife Malaika Arora and brother Salman Khan were in attendance when he celebrated his birthday late on Thursday. Malaika went out of her way to not only attend but also help in creating a fun birthday party for her ex-husband. She also shared several pictures from the gala on Instagram Salman Khan, who is shuttling between Mumbai and Morocco, balancing his shooting schedule for Ali Abbaz Zafar's Tiger Zinda Hai and other commitments, also made sure he was in the city to celebrate his brother's birthday. Sohail Khan was also in attendance. Malaika's sister and actor Amrita Arora shared pictures from the party on her Instagram page. On the work front, Salman Khan is on the verge of completing the shoot of Tiger Zinda Hai opposite Katrina Kaif and is rumoured to begin work on his hit reality show - Bigg Boss. The first promo of Bigg Boss 11 has already been shot. Arbaaz, on the other hand, is currently working on the script of Dabangg 3.

---
Jab Harry Met Sejal Movie Review: Shah Rukh Khan, Anushka Sharma's Film Riddled With Toe-Curling Mush
NEW DELHI:MMNN:4 Aug 2017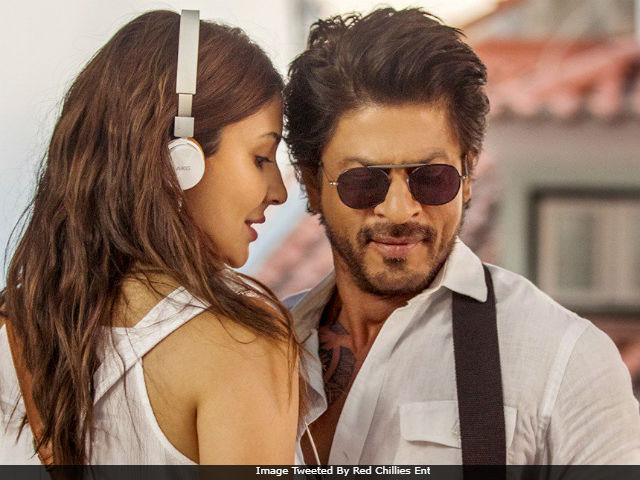 Jab Harry Met Sejal Movie Review: It is cinema's equivalent of a shiny bauble that glitters wholly in vain. Watch it only if you fancy a vicarious romp through Europe with an off-colour megastar trying hard to get going First half: breezy and unabashedly banal. Second half: riddled with toe-curling romantic mush. Sum total: a wayward, winding journey without maps that weaves concentric circles around sweet nothings and empty prittle-prattle. That, in a nutshell, is Imtiaz Ali's perambulatory rom-com Jab Harry Met Sejal. It leaves you wishing they hadn't met. A raffish man who isn't getting any younger, a standoffish girl who has an entire life ahead of her and a not-so-brief encounter in Europe that takes the rootless duo across several picturesque locations add up to a mothballed bromide that holds no real surprises. Jab Harry Met Sejal is all style. The frames are pretty. The lighting (of the interiors of and around the magnificent medieval structures that dot the locations) is exquisite. Cinematographer K.U. Mohanan's fluid camera possesses the kind of tactile grace that has a touch of mastery. It caresses the sights of Amsterdam, Prague, Budapest and Lisbon, and even the oft-seen swaying wheat fields of Punjab, with controlled sensuousness. If only the film had a story substantial enough to hold the construct together and propel it forward, Jab Harry Met Sejal might have amounted to more than just the slight gust of air that it is. Its all phurr... the sensation is fleeting. If you are looking for recent Bollywood reference points, Jab Harry Met Sejal is a cross between Imtiaz Ali's own Tamasha (where what happens in Corsica is meant to stay in Corsica but doesn't), Zoya Akhtar's Zindagi Naa Milegi Dobaara (where a road trip across Spain becomes an excuse for the untangling of matters of the heart) and, somewhat more tangentially, Dear Zindagi (where an older man plays agony uncle to a confused ingénue). To be sure, Jab Harry Met Sejal is underpinned by the unfettered, Sufi spirit of Imtiaz Ali's previous free-wheeling explorations of love and longing. It, however, lacks the flashes of ideational, experiential and tonal originality that livened up parts of the earlier films. This is essentially a two-hander in which the pivotal duo isn't believable at all. They are more stereotypical caricatures than tangible characters. The man is Punjabi, so he talks of farmers, tractors and high-pitched song. The girl is Gujarati, so for her it is money above all else. SRK's return to conventional lover boy terrain - he plays a louche but lonely tourist guide in Europe - does not yield the expected magic. This is certainly not for want for trying. The superstar plunges himself gamely into this shallow pool. Sadly, there simply isn't enough depth in here for a steady, refreshing swim. Many of the situations created around the character that he plays appear arbitrary and far-fetched. Anushka is a picture of poise and energy in the guise of a young, chirpy lawyer looking for a lost engagement ring, is high-spirited enough to push this plotless whimsy along for a while. In the end, the task proves too onerous for her not to be weighed down by its demands. Not that there is nothing in Jab Harry Met Sejal for hardcore SRK fans, but those moments come only in fits and starts as he dons the persona of the footloose Harindar 'Harry' Singh Nehra, who makes no bones about his womanizing tendencies. He even brags shamelessly about his amorous conquests while admitting to the many ways he's got into trouble owing to his rampaging libido. He is a superficially charming man all right, but he isn't particularly likeable. Sejal Zhaveri, on the other hand, is a diamond merchant's snooty daughter who takes inordinately long to warm up to Harry. Until that transpires, she misses no opportunity to take jabs at him. Yet, she has no qualms in taking offence when the guy dismisses her as a girl of the "nice, sweet and sister type". There is a limit to levity. The inconsistencies in Sejal's character are glaring. The screenplay would have us believe that she is a confident, no-nonsense girl who knows exactly where to draw the line. Why, then, is she in constant need of endorsement, of being told that she is worth lusting for. In one scene, she asks Harry: "Mere pe try maar rahe ho (Are you hitting on me)?" Harry replies: "Bilkul nahin (Not at all)." She shoots back: "Kyun main sexy nahin hoon (Why, am I not sexy)?" It is difficult to fathom why Sejal must stoop to objectifying herself, especially before a man she hardly knows. At one point, Harry, who Sejal calls "Hairy" in her thick Gujarati accent, describes her as a China vase - porcelain, delicate, not to be touched. However, when push comes to shove, he poses a barely disguised question to her: Will you be the kind of bad girl (cheap and ghatiya are the two adjectives he uses) who leaves her fiancée and runs away with her tour guide? Jab Harry Met Sejal, in the main, unfolds in this vein until the very end of a journey that winds up in Mumbai outside a wedding venue The beautiful locations are obviously eye-catching, but surely surface gloss, star power, lively music and sparkling cinematography can never turn a patchy and whimsical film into a convincing romantic drama about a pair of strangers thirsting for more than what their lives have offered them thus far. Harry is in search of true love. Sejal, too, is on a voyage of discovery. Do they get what they are looking for? Not a chance in hell. So flabby is this flighty film that it moves only in hops and skips. It never really gets off the ground. Jab Harry Met Sejal is cinema's equivalent of a shiny bauble that glitters wholly in vain. Watch it only if you fancy a vicarious romp through Europe with a megastar trying hard to get going.

---
Phurr: Watch Anushka tease Shah Rukh, Diplo in new song from Jab Harry Met Sejal
NEW DELHI:MMNN:3 Aug 2017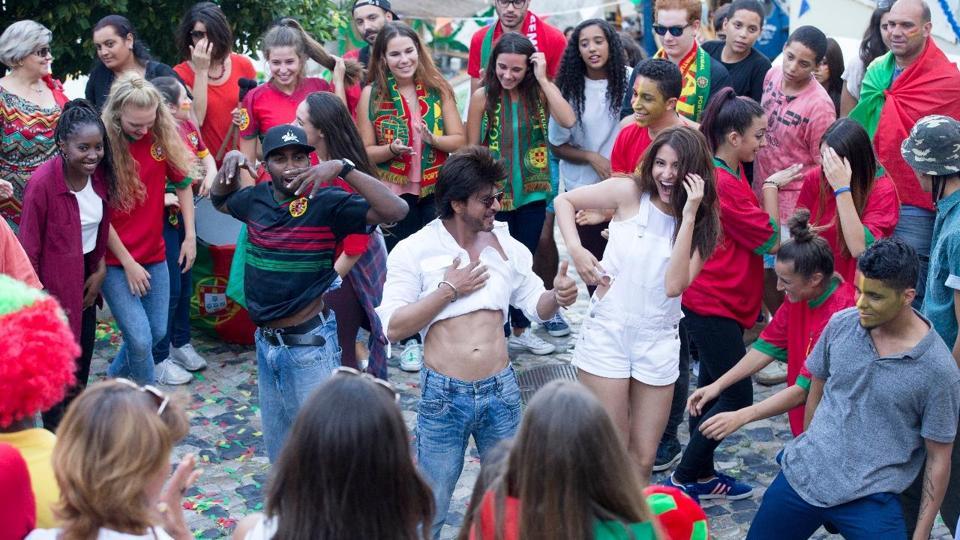 Phurr, a song that marks the collaboration of DJ Diplo and Pritam for Imtiaz Ali's Jab Harry Met Sejal, is out and Anushka Sharma and Shah Rukh Khan are sure to infect you with their charming energy in the video. A day after teasing fans with a sneak peek of Phurr, Shah Rukh Khan unveiled the much-awaited Diplo song from Imtiaz Ali's Jab Harry Met Sejal early on Thursday. And the number , which has the popular American DJ teaming up with Pritam and team for the first time, is already going viral While Irshad Kamil has penned the lyrics for the song, the music comes from Pritam. The voices in the peppy number belong to Mohit Chauhan and Tushar Joshi. At one-and-a-half minutes, the video looks like a smaller version of the entire song. A foot-tapping number, it will certainly make you want to copy the flying gesture. A day before Phurr's launch in Delhi, Sony Music India — in a landmark move — unveiled the song behind a limited-time paywall. The song is available on premium subscription for anywhere between Rs 99 and Rs 120, subject to service and platform. While SRK?has collaborated with Anushka Sharma in the years gone by, this is the first time Imtiaz is working with the two actors. They had earlier co-starred in Rab Ne Bana Di Jodi and Jab Tak Hai Jaan. Starring Shah Rukh as 'Harinder Singh Nehra aka Harry' and Anushka as 'Sejal Jhaveri', Imtiaz's film follows two strangers as they cut an adventurous path through six countries in search of a missing engagement ring. Jab Harry met Sejal will hit the theatres on August 4.

---
'Bhairavi Goswami Who?' What Kriti Sanon Said About Body-Shaming Tweet
NEW DELHI:MMNN:2 Aug 2017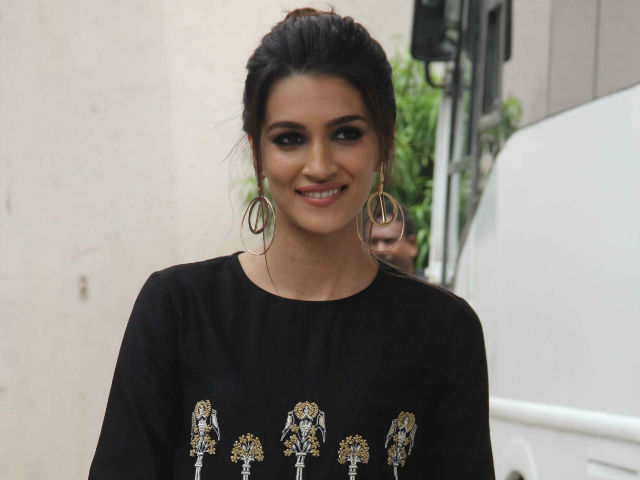 Actress Kriti Sanon reacted exactly the same way many of us did to a distasteful body-shaming tweet posted last week by another, less well-known, actress. Who is Bhairavi Goswami Kriti enquired when asked by the press to comment at an event in Mumbai on Tuesday. Told that Bhairavi appeared in the film Hate Story, Kriti said, I think, Im just happy for her. She got a lot of publicity. Now you guys know her name also, so yeah. Kriti Sanon, 27, was made the target of two offensive and unprovoked tweets from Bhairavi Goswami and self-appointed critic Kamaal R Khan, known as KRK, some days ago. 'Who is Bhairavi' was the general reaction on Twitter. On July 22, KRK posted a tweet ridiculing a video clip of Kriti Sanon dancing and referencing the poor box office performance of her last film Raabta. In a responding tweet, Bhairavi attacked Kriti, calling her 'deranged' and shaming the way she looks The comments thread on Bhairavis tweet was swiftly deluged with unflattering responses. Tum kaun ho been and "Googled you, got no result were some of the more polite reactions Bhairavi Goswami, however, appears to consider herself more sinned against than sinning. She announced on Twitter two days ago that Instagram accounts trolling her had been suspended and that she would be reporting Twitter accounts next. Raabta might have been a flop but all it needs is a quick perusal of the respective resumes of the two actresses to learn that one is a bonafide star and the other is obscure, at best. 2012's Hate Story and the 2007 film Bheja Fry are the only noteworthy films on Bhairavi Goswami's short roster of big screen appearances. The 32-year-old former model also has some TV, music video and theatre credits. Kriti Sanon, on the other hand, debuted in Heropanti with Tiger Shroff and has worked with Shah Rukh Khan, Kajol and Varun Dhawan in Dilwale. She stars in Bareilly Ki Barfi with Ayushmann Khurrana and Rajkummar Rao next.

---
Mohammad Rafi death anniversary: Five moods, 25 evergreen songs
NEW DELHI:MMNN:31 July 2017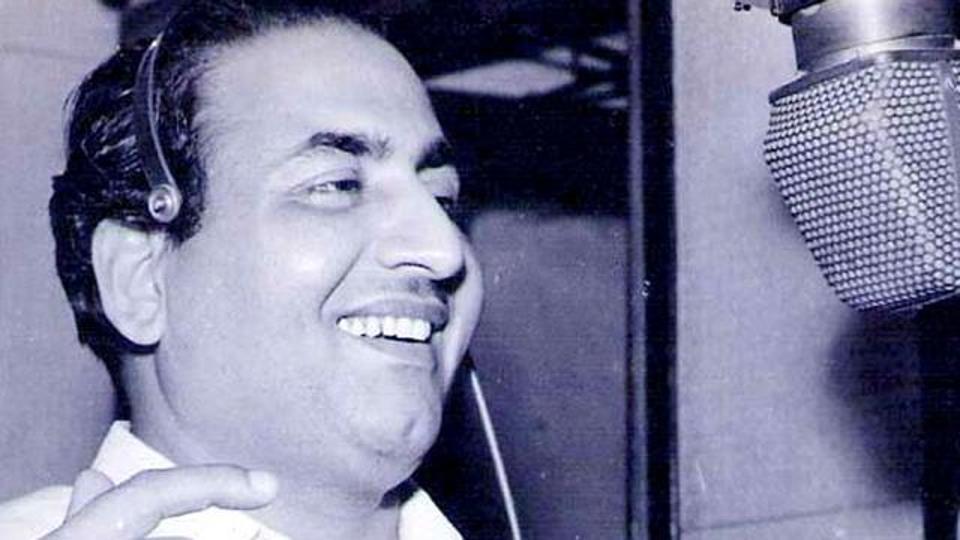 Monday marks the 37th death anniversary of one of the most loved singers of Bollywood, Mohammad Rafi. Here's remembering the legendary singer with a collection of 25 songs divided into five moods Monday marks the 37th death anniversary of one of the most loved singers of Bollywood, Mohammad Rafi. Born on 24 December 1924, Rafi has Padma Shri, one National Award and six Filmfare Awards to his credit. He is known for his versatility as he has crooned classical numbers to patriotic songs, melodious sad songs to romantic numbers, ghazals and even bhajans. The troika of Md Rafi, Kishore Kumar and Mukesh will remain the pioneers of film music in India for their sheer talent and depth in voice that suited each occasion and every mood. The debate about who is the better singer, Rafi or Kishore, can go on for ages but a glimpse of Rafi's talent is that he also did playback for Kishore da! OP Nayyar used Rafi's voice for Kishore Kumar in the song Man Mora Bawra for Ragini in 1957 and Shanker Jaikishan made Rafi sing Ajab Hai Dastan for Shararat in 1958. On July 31, 1980, Rafi passed away after a massive heart attack. Mohammed Rafi was a legend of legends and is a fan favourite till date. To sum up the man, one can just quote what his contemporary and competitor Talat Mahmood, "The voice was a gift from God to Rafi, but what Rafi made of it was a gift to God".

---
Narayani Shastri: Those who find naagin concept regressive, watch shows on vampires
NEW DELHI:MMNN:29 July 2017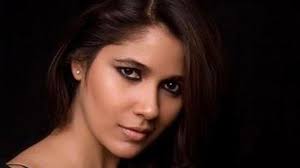 TV actor Narayani Shastri, who will soon be seen in Rishton Ka Chakravyuh, says Indian TV is rather progressive, as it gives importance to female characters. With TV shows focusing on naagins, men having two wives and actors turning into flies and other animals, many feel that TV has now become regressive. However, actor Narayani Shastri, who will be playing the role of a mother in Rishton Ka Chakravyuh has a different opinion. According to the actor, the small screen is progressive in many ways. Indian television shows women in a strong light. A woman working as a CEO in an organisation in the show doesnt mean progression. For me, along with it, TV also throws light on women wearing saris and salwar kameez, managing personal and professional lives, and doing everything that is otherwise is considered a mans domain. That justifies progression, says Narayani, adding that her role in her next is also of a strong fiercely independent woman, who is both manipulative and opportunistic, who yet gives utmost importance to her family. Talking more about the hullabaloo around fantasy fiction shows on small screen, Narayani adds, "People who find the naagin concept regressive, ask them if they watch international shows on vampires. We all know that audience there loves supernatural and sci-fi shows and how a lot of us here enjoy watching them. In India, we have grown up reading Chacha Chaudhary, Tinkle etc and we have also heard stories about shapeshifters and naagins. They are to us what Batman, Superman and Deadpool are to them." The actor says that if people enjoy watching these super heroes then why cant they accept their own heroes? I remember when Sridevis Nagina (1986) released people saw it several times. So what is the problem with TV showing such shows? Also, we can't forget that India has both urban and rural areas and TV caters to both of them. I am proud of my culture and I believe we all should be, she points out. But, Narayani feels that the visual treatment of the show can be improved. But for sure, the quality of such shows can be made better treatment wise. The improvement would add to its popularity, says the actor.

---
Today's Big Release: Indu Sarkar And Mubarakan
NEW DELHI:MMNN:28 July 2017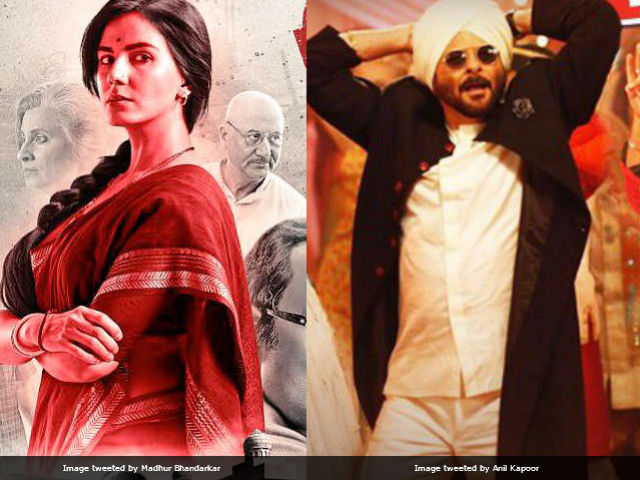 The wait to watch Madhur Bhandarkar's Indu Sarkar is over as the film hits the screens today after facing opposition from the political circuit. Madhur Bhandarkar's film is set during the Emergency but the director categorically said that Emergency just serves as a backdrop of the actual story of his protagonist named Indu Sarkar (played by actress Kirti Kulhari). He told NDTV that the film is the story of Indu and her husband Navin Sarkar (played by Tota Roy Choudhury) and how their happy relationship turns our due to their opposing views on the Emergency. "It's a beautiful human relationship story and that's what I wanted to convey but I didn't know this reaction would come out of it," he said. Speaking to NDTV, Mr Bhandarkar reiterated the Emergency is just used as a backdrop to flesh out a love story during testing times. He said that all the information about Emergency used in his film is available in documentaries and books too. "I don't why don't I have my freedom of expression when people have written books about it? Why not approve a film also? Why are you trying to put obstacles for a film?" he said. On a lighter note, Anees Bazmee's Mubarakan, starring Anil Kapoor, Arjun Kapoor, Ileana D'Cruz and Athiya Shetty also hits the screens today. The wedding dramedy features Arjun in a double role. He plays Charan, who is engaged to his lookalike Karan's girlfriend while Karan is engaged to Charan's girlfriend. The only person who can fix the comedy of errors is Karan and Charan's uncle Kartar Singh, played by Anil Kapoor. Backed with peppy music and comic dialogues, Mubarakan is all set to tickle your funny bone. Another period film releasing this week is Raag Desh, directed by Tigmanshu Dhulia. Raag Desh features Kunal Kapoor, Amit Sadh and Mohit Marwah. The film is based on the trial and court martial of Indian National Army (founded by Subhash Chandra Bose) officers Colonels Prem Sehgal and Gurbaksh Singh Dhillon and Major Shah Nawaz Khan.

---
Sushant Singh Rajput has a lovely birthday wish for rumoured girlfriend Kriti Sanon
NEW DELHI:MMNN:27 July 2017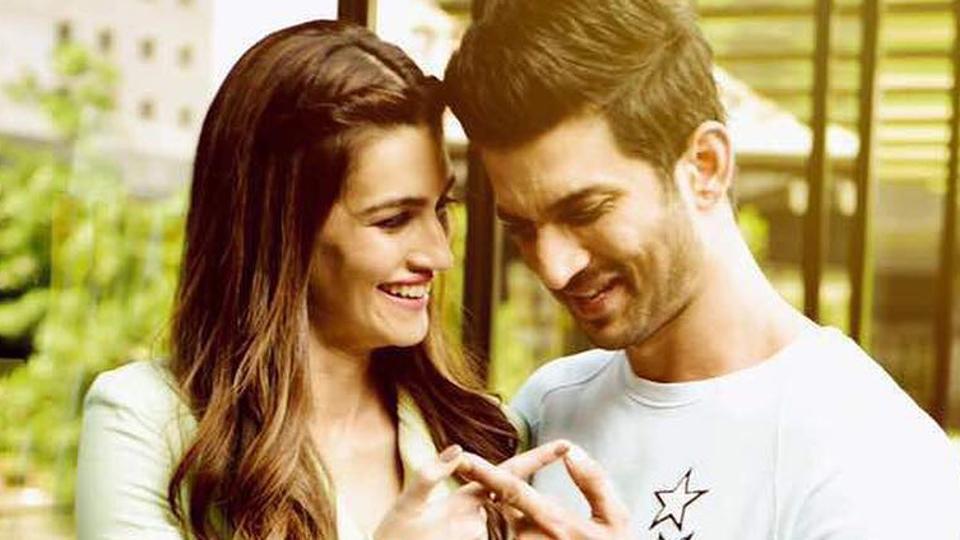 Sushant Singh Rajput found a special way to wish Kriti Sanon on her birthday. The actor tweeted a dialogue from her upcoming film, Bareily Ki Barfi but tweeked it just enough to make it very personal. Sushant wrote in the tweetDilli ki he, Bahut talented he, Jabardast dikhti he, Superstar he, O beta ye to tum he ho . Happy birthday (Shes from Delhi, is very talented, Looks great, is she a superstar Oh Its you) The dialogue features in the recently released trailer and is said by an actor who plays Kritis friend in the film. Kriti, who celebrates her 27th birthday on Thursday, will be seen with Ayushmann Khurrana and Rajkummar Rao in the film .She is rumoured to be dating Sushant and also worked with him in Raabta.

---
Sunil Grover Reportedly Doubled His Fee After Quitting Kapil Sharma's Show
NEW DELHI:MMNN:26 July 2017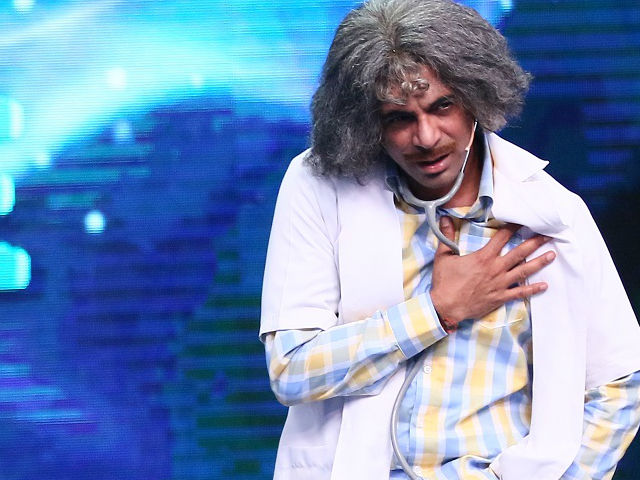 The mid-air altercation between warring comedians Sunil Grover and Kapil Sharma had contrasting effects on the career graphs of the two. The Kapil Sharma Show witnessed a sudden dip in popularity with dwindling viewership ratings after Sunil quit the show to do solo gigs, special appearances and live shows. Now, a report in DNA states that Sunil has doubled his fee after exiting Kapil's show and only wants to sign up for "guest appearances and stage shows." According to the DNA report, Sunil Grover's remuneration has gone up by 100% - the actor comedian previously charged Rs. 7-8 lakhs per episode but now he demands a reported amount of Rs. 13-14 lakhs for a single appearance. "Sunil has been getting some really good offers for shows but he's focussing on guest appearances and stage shows. Sunil was previously charging Rs. 7-8 lakhs per episode on Kapil's show. Now, he charges around 13-14 lakhs per appearance," DNA quoted a source as saying. Meanwhile, Sony Entertainment Television, which airs The Kapil Sharma Show, has signed Kapil's rival comedian Krushna Abhishek to headline a new comedy series titled Comedy Company, which will also feature guest appearances by Sunil Grover. Amidst speculation about Sunil's upcoming projects and shows, it was revealed last month that the 39-year-old comedian will not sign up for one particular show permanently. "After his fight with Kapil Shama, Sunil Grover doesn't want to take on any show permanently. However, he will make guest appearances on Comedy Company playing different characters. He doesn't want to be bound to any one show or channel," a source close to Sunil had told DNA. However, Kapil was also looking forward to getting a contract worth Rs. 107 crores renewed with Sony, which has been stalled, reported DNA. Things are not really in order for Kapil Sharma. He recently reportedly failed to shoot two new episodes for being unwell - once for a show with the cast of Mubarakan and then for an episode with Shah Rukh Khan and Anushka Sharma. Earlier this month, a source told Indian Express that Team Mubarakan "waited for hours" for Kapil to turn up on sets while Arjun Kapoor (who stars in Mubarakan) later tweeted a clarification of sorts: "He didn't keep us waiting. He unfortunately fell sick. The Mubarakan team wishes Kapil Sharma gets well soon and keeps making us smile." According to a report in Hindustan Times, Kapil fainted ahead of a promotional episode for Jab Harry Met Sejal for being stressed, following which the shoot was cancelled. In an interview to Daily Bhaskar over the weekend, Kapil's sister Pooja admitted to Kapil being diagnosed with low blood pressure and added that he's been advised complete bed rest. "He is taking lot of stress due to low TRP of his show," she told Daily Bhaskar. Kapil's co-star Kiku Sharda dismissed reports that the show host is under depression and told Bollywood Life: "Kapil's absence due to his ill-health has fanned stupid speculations. I don't want to comment and fan all this further. We have started shooting for the coming weekend." Kiku Sharda is the only celebrity comedian who continued to be in Team Kapil Sharma after Ali Asgar, Chandan Prabhakar and Sugandha Mishra left the show citing creative differences. Mr Prabhakar recently made a comeback on The Kapil Sharma Show while Ali Asgar will be seen in The Drama Company.

---
Avengers Infinity War Comic Con trailer leaked: Guardians meet Thor, Iron Man fights Thanos
NEW DELHI:MMNN:24 July 2017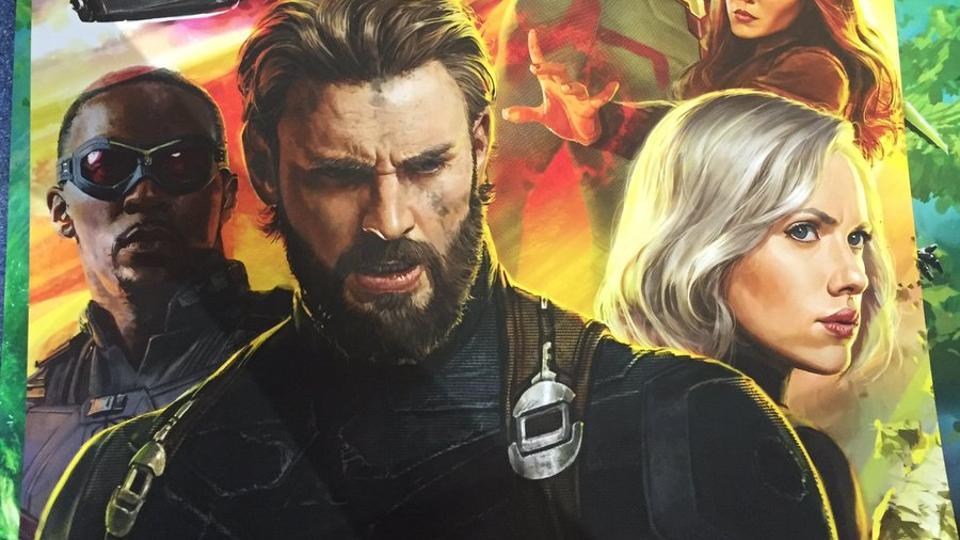 The first footage from Avengers: Infinity War, which was debuted on Saturday at the ongoing San Diego Comic Con, has been leaked online. Marvel did not release the footage officially, much to the dismay of those who werent present at their grand unveiling at Hall H at the Convention Centre. Action was swiftly taken against YouTube and Twitter accounts sharing the blurry video, with several of them being taken down. The footage itself is a treat for Marvel fans, finally uniting their vast world on screen. The Guardians of the Galaxy run into Thor, Iron Man battles alongside Star Lord, and Thanos fights Doctor Strange. Photographs taken at the Con also showed new posters for the film, in which a bearded Captain America and a blonde Black Widow look concerned Avengers: Infinity War is scheduled for a My 2018 release. The incredible cast includes Robert Downey Jr. (Iron Man), Chris Evans (Captain America), Mark Ruffalo (Hulk), Chris Hemsworth (Thor), Scarlett Johansson (Black Widow), Jeremy Renner (Hawkeye), Chadwick Boseman (Black Panther), Tom Holland (Spider-Man), Sebastian Stan (Winter Soldier), Anthony Mackie (Falcon), Paul Rudd (Ant-Man), Paul Bettany (Vision), Elizabeth Olsen (Scarlet Witch), Don Cheadle (War Machine), Brie Larson (Captain Marvel), Josh Brolin (Thanos), Benedict Cumberbatch (Doctor Strange), Benedict Wong (Wong), Chris Pratt (Star-Lord), Zoe Saldana (Gamora), Dave Bautista (Drax), Bradley Cooper (Rocket), Sean Gunn (Rocket, Kraglin), Vin Diesel (Groot), Karen Gillan (Nebula), Pom Klementieff (Mantis), Tessa Thompson (Valkyrie), Tom Hiddleston (Loki), Samuel L. Jackson (Nick Fury), Cobie Smulders (Maria Hill), Benicio Del Toro (The Collector), Danai Gurira (Okoye), Winston Duke (MBaku) and Peter Dinklage and Terry Notary in as-yet-unrevealed roles.

---
Kangana Ranaut writes her own open letter: Can't compare hybrid racehorses to artistes
NEW DELHI:MMNN:22 July 2017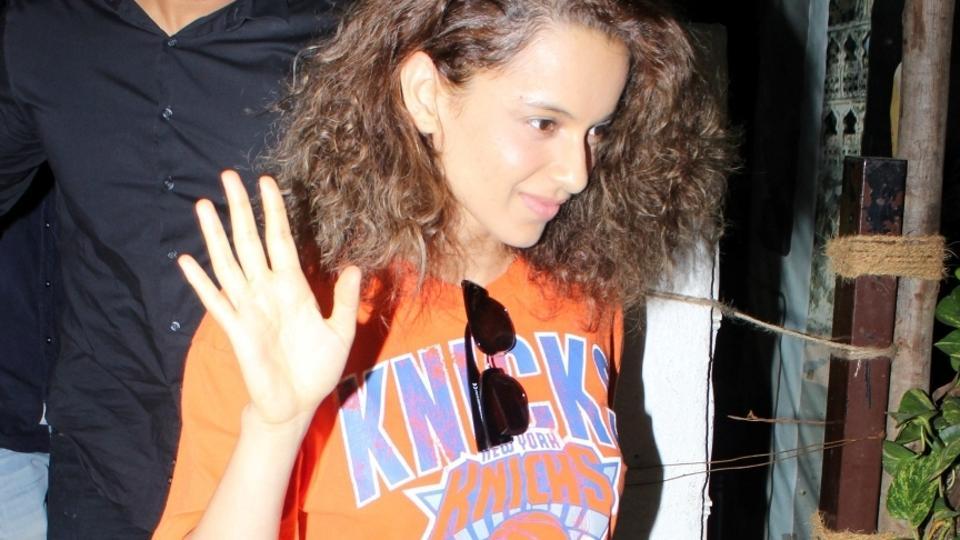 Kangana Ranaut has broken her silence on the nepotism debate, which hit the headlines when Karan Johar, Saif Ali Khan and Varun Dhawan brought it up on the IIFA stage, and said she would be "a farmer" if the point about family genes were true. The three stars chanted "nepotism rocks" in New York during the IIFA awards last week and Johar took a swipe at Kangana who had called him "flag bearer of nepotism" on his chat show. While Johar and Varun apologised, Saif claimed in an open letter that he had personally said sorry to her. The debate and exchange of thoughts on nepotism is "exasperating, but is healthy", Kangana responded, also in an open letter. Quoting a part of her Rangoon co-star's letter, where he "emphasised" on nepotism being an investment on tried and tested genes, Kangana said, "I have spent a significant part of my life studying genetics. But, I fail to understand how you can compare genetically hybrid racehorses to artistes! "Are you implying that artistic skills, hard-work, experience, concentration spans, enthusiasm, eagerness, discipline and love, can be inherited through family genes? If your point was true, I would be a farmer back home." While she enjoyed some of the perspectives on this subject, she did find a few of them disturbing, she said. "Saif, in your letter you mentioned that, 'I apologised to Kangana, and I don't owe anyone any explanation, and this issue is over.' But this is not my issue alone. Nepotism is a practice where people tend to act upon temperamental human emotions, rather than intellectual tendencies," Kangana wrote. The actor said any business run by human emotions and not by great value-systems, might gain superficial profits, but cannot be productive enough to tap into the true potential of a nation. "Nepotism, on many levels, fails the test of objectivity and rationale. "I have acquired these values from the ones who have found great success and discovered a higher truth, much before me. These values are in the public domain, and no one has a copyright on them," she added, giving examples of greats like Swami Vivekananda, Albert Einstein and William Shakespeare. Kangana said the aim of the conversation started by her was to encourage outsiders; her agenda was not to blame people from the industry. "I think the privileged are the least to be blamed in this debate, since they are part of the system, which is set around chain reactions. Change can only be caused by those who want it. It is the prerogative of the dreamer who learns to take his or her due, and not ask for it." In response to Johar and his comments on the issue, she said talent does exist beyond the "superficiality of branded clothes, polished accents, and a sanitised upbringing The actress added that many examples of people succeeding on the basis of "genuine hard-work, diligence and eagerness to learn" do exist all over world in every field. "I don't know if he was being misinformed, or simply naive, but to discredit the likes of Dilip Kumar, K Asif, Bimal Roy, Satyajit Ray, Guru Dutt, and many more, whose talent and exceptional abilities have formed the spine of our contemporary film business, is absolutely bizarre," Kangana said. The Queen star clarified that she was not fighting with anyone in the industry and her views should not be misconstrued to pit her and Saif against each other. In her opinion, "Nepotism is an extremely pessimistic attitude for a Third World country, where many people don't have access to food, shelter, clothing, and education." "The world is not an ideal place, and it might never be. That is why we have the industry of arts. In a way, we are the flag-bearers of hope," she said, adding that people who feel nepotism works for them are free to make peace with it

---
Munna Michael movie review: This Tiger Shroff film makes even Nawazuddin Siddiqui look bad
NEW DELHI:MMNN:21 July 2017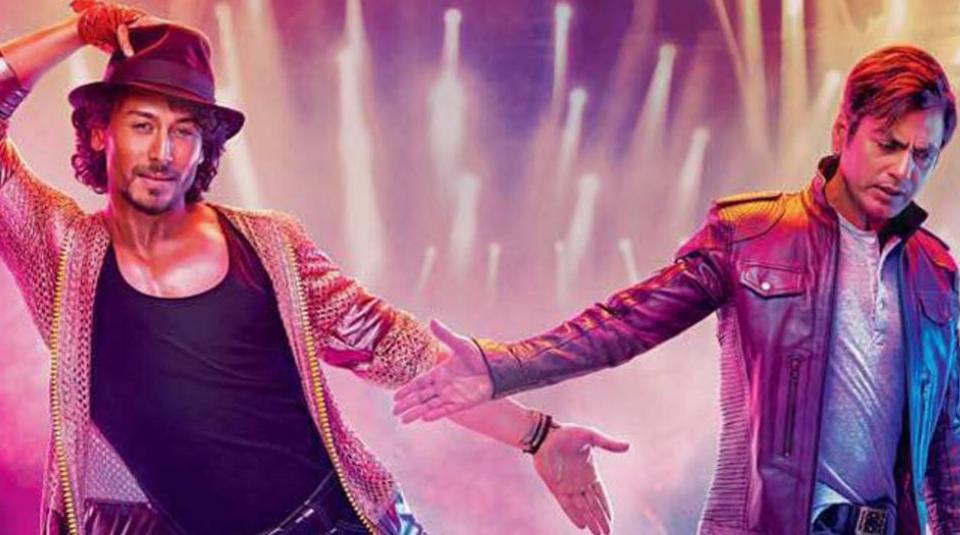 Everybody, including Tiger Shroff and Nawazuddin Siddiqui, is out of sync in this film. Here's our movie review. Rating: 1/5 Munna Michael
Cast: Tiger Shroff, Nawazuddin Siddiqui, Nidhhi Agerwal
Director: Sabbir Khan
Rating: 1/5
Remember Lena hai, lena hai? A hit song of the 90s from a film titled Bomb Blast. That was the last time we saw Ronit Roy dancing. Here's the video to remind you of how it looked He shakes a leg again in Munna Michael after almost three decades, and that makes for a promising opening. His character believes Michael (Jackson, of course) lives forever, but getting thrown out of his dancing troupe, wavers his faith in dancing as a profession. So, he takes to drinking. This is what disillusioned artists do in Bollywood. But that's not all. He then finds an orphan in a dustbin and brings him home. Because this is also what Bollywood does. Like typical Bollywood kids, this one too grows up to become Munna (Tiger Shroff), a super dancer, in one song. His antics and need for money takes him to Delhi where he begins teaching dance steps to Mahinder Fauji (Nawazuddin Siddiqui), a land shark and a closet dancer. Their fine-tuned romance goes for a toss the moment Dolly (Nidhhi Agerwal) enters the frame. Oh, we never saw that coming! Just joking. Now, it's finally a film where everybody would look disinterested and jump on a chance to break into a song. Why? Because this is what Bollywood does. Some assistant must have reminded Sabbir Khan that the current year is 2017 and the film is looking like the glossier version of the '80s movies. So, he brings in the idea of dance face-off and a reality show. How would you fit in Tiger Shroff otherwise? How innovative! Taking a cue from MJ's signature moonwalking to picking a dialogue from Wong Kar-wai's Chunking Express, Sabbir Khan keeps trying to infuse Munna with traits that can strike a balance between Delhi and Mumbai. It's pretty simple math. Base the film in two biggest territories because that is what Bollywood does. He isn't done yet, but Tiger Shroff can't bear the pressure anymore, so Sabbir Khan shifts his focus to Nawazuddin, one of the finest of our times, and makes him do one of the most bizarre roles of his lifetime. Hamming his way to Hotel Bluestar, a property he owns in Delhi, Siddiqui probably knows how it is going to look in the end. Still he tries to not seem completely clueless. His efforts go in vein though. It's sad to see him sleepwalking in Munna Michael after a top-class performance in Mom. Khan's vision of making Nawazudin Siddiqui acrobats doesn't help either. You can easily figure out the body doubles. Even if you don't, background dancers make sure you do. Their close ups are so over the top that you would wander whether they all decided together to look in a certain way? Talking of close ups, the award for most exciting close up goes to Farah Khan who judges a reality show in Munna Michael. Her enthusiasm knows no boundary and every time Tiger Shroff does a summersault, you wait for Farah's 'oh my god' reaction. All this is happening because Dolly wants to make her father proud by becoming an accomplished dancer. By the way, we never meet her father. She announces her arrival with these lines: Hil jaande sab mere naal, jab main shake karaan From UK to Nainital, sab shake karaan. It may sound like a conspiracy theory, but her striking similarity with Kriti Sanon might have prompted Sabbir Khan to cast her. Sanon was the heroine of Khan's earlier film Heropanti.

---
We've sold our souls for selfies: Shah Rukh Khan
NEW DELHI:MMNN:20 July 2017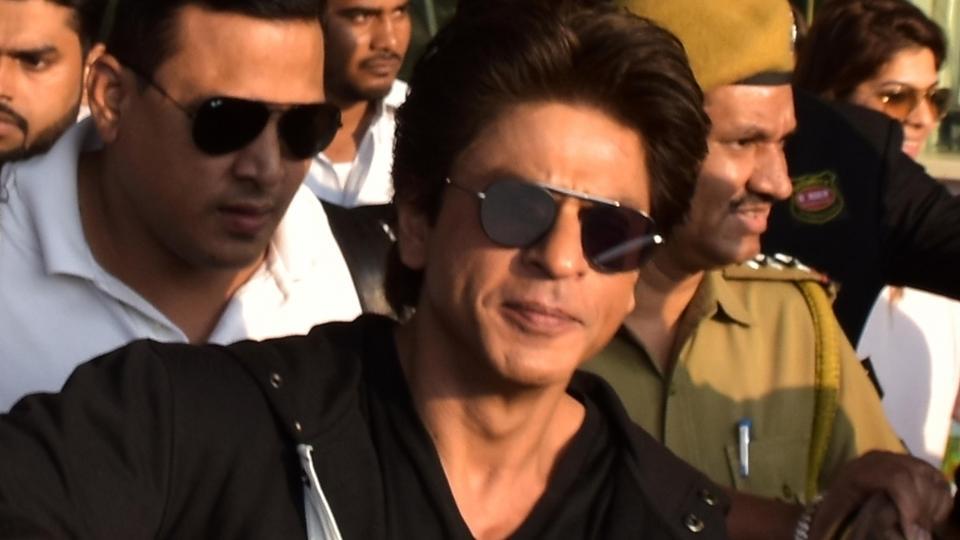 Talking about the media frenzy around his family, SRK says, "(Being photographed is) the part of stardom that we all have accepted...I think everybody in this day and age is fair game. We've sold our souls for selfies. Bollywood star Shah Rukh Khan has said his family has considers paparazzi culture a part of their lives and added that his family has sold their souls for photographs. "(Being photographed is) the part of stardom that we all have accepted...I think everybody in this day and age is fair game. We've sold our souls for selfies," Shah Rukh told CNN-News18. Shah Rukh, who is married to Gauri Khan, has three children -- Aryan, Suhana and AbRam. In a video gone viral last month, Suhana, 17, looked helpless and uncomfortable as she tried to hide her face and turns around to escape shutterbugs while she waited for the doors of an elevator to open at a theatre's basement. "I think the kids started feeling awkward with all the paraphernalia. Every time I go out in a public place, I don't take them with me. My wife doesn't come, my children don't come. I go to functions alone or post they have gone," Shah Rukh said. To avoid such occasions, Shah Rukh said he made few adjustments for his family. "Some adjustments have to be made - one of them was that I sent them abroad to study. Not because of the scrutiny, but because they were feeling a little awkward with all the attention they have," Shah Rukh said. "I'm happy they've gone. Where they're studying, to a large extent people don't know me. (But) I'm Okay with them being photographed. I understand photographs (need) to be taken, I've explained it to my kids also that listen, if photographers come, stand, do the picture and say, 'Please can I go now?' And they'll listen to you. I've known them for 25 years," he added Shah Rukh said his children feel that being "photographed doesn't make you important." "More often than not they'll tell me how to behave with the paparazzi. They'll say, 'Papa, now don't lose your temper. There will be too many people.' I think they're quite mature about it," he said.

---
Kids' reality shows: Former child artistes Sunidhi Chauhan, Shekhar Ravjiani weigh in on the debate
NEW DELHI:MMNN:17 July 2017
Filmmaker Shoojit Sircar's tweet asking for a ban on kids' reality shows has caused a furore in the industry. Will it yield any result or will the fire soon die down? From Sa Re Ga Ma Pa Lil Champs to The Voice, Sabse Bada Kalakaar to Junior Masterchef India and Super Dancer, reality shows featuring children are a common feature on Indian television. Last week, filmmaker Shoojit Sircar, known for films like Piku, Pink and Madras Café, tweeted that authorities should ban reality television shows for children. The tweet got close to 12,000 likes and was retweeted over 7,000 times, reigniting a long-standing debate. Other voices joined the debate, including filmmaker Amol Gupte, who worked with child artistes in Taare Zameen Par, and protested against the long working hours and exploitative conditions. Reality shows are sold as platforms to discover and showcase the latent talent of children. Parents and children from differing socio-economic backgrounds are attracted to the idea of a dream launchpad. In India, the success stories of singers Sunidhi Chauhan and Shreya Ghoshal, who were discovered as child artistes on reality shows, are the benchmarks that every parent with a talented child aspires towards. Sunidhi was 13 when she won India's first singing reality show on Doordarshan, Meri Aawaz Suno. "The year was 1996 and it was pure competition," reminisces Sunidhi. But her opinion of today's reality shows is decisive: children are "exposed to so much, so soon". "I would never want my children to go through this," says Sunidhi, who has judged contestants on leading singing shows like Indian Idol and The Voice. "I don't think it's required for any reality show to make children do things that only older people would do. They don't need to mature ahead of their age," she says. In the name of showcasing talent, 'cuteness' becomes a saleable factor, blurring the line between precocious and inappropriate. For Shekhar Ravjiani, one half of the music composer duo Vishal-Shekar, and a judge on Indian Idol Junior Season one (2013) and The Voice India Kids (2016), singing show Sa Re Ga Ma Pa back in 1997 was his first break. While he doesn't advocate an all-out ban, there are concerns. "Some shows encourage children to dress and behave like adults and that to me is jarring," says Shekhar. "It takes away their purity, simplicity and most importantly their innocence and makes them aware of things that don't matter at all." Behind the scenes Reality shows featuring children have been around for a long time, but the pressures involved have changed. When Sunidhi participated in Meri Awaz Suno more than two decades ago, there was no system of vote-and-SMS from the audience. She was judged by legends such as Lata Mangeshkar, Bhupen Hazarika and Manna Dey, and the winners were chosen based on their performances alone. While a reality show was always a full-scale production, on-stage theatrics and appearances were kept to a minimum. "There were no back stories shared with the viewers, it was all about the quality of singing," says Sunidhi. "Their singing will tell their stories, if they are good." Back in the 1990s, popular dance show Boogie Woogie and the singing competition Sa Re Ga Ma Pa, both of which started as contests for adults, were introduced in an all-new avatar targeting children. "The idea then was to showcase young and obscure talent," notes a 2008 article in Mint, "nothing was promised or bequeathed, except the vague idea that once seen, someone, somewhere would maybe sign them on for a minor playback singing role in a movie." For Shekhar, his reality show stint meant recognition of his talent. "In an era where being a musician wasn't considered to be a credible career choice, my talent was given the importance that made my family and others sit up and notice," he says. The focus has shifted. Children on reality shows are not just 'discovered' or polished, but are groomed to become versatile artistes who can perform onstage and enthral millions. Meghna Prem, a TV programming and content strategist with an experience of over 20 years in the entertainment industry, says, "Teenage kids are expected to diet to look a certain way, dress a certain way. Because unlike yesteryears, today when you are selecting a reality star, s/he can't just be a great singer and not be good looking." When ambition meets pressure Aruna Broota, a Delhi-based psychologist has counselled several professional child actors and child atheletes. According to her, the pressures faced by children on reality shows are no different, perhaps worse. Not only are the participants too young to worry about discovering their ambitions, but are often under pressure from fame-thirsty parents trying to live their dreams vicariously. "The child's 'ambitions' are artificially hyped, because it's mostly an adult who takes the decision for them," says Broota. "S/He might have that S-Factor, or the special ability factor, be it in singing, dancing or acting. But when one starts expecting a lot from one's s-factor in terms of competition, it distorts the personality development of the child." At an age when all they should be worried about is playing, studying and having fun, children are entangled in a web of competition and stress. This is not the first time that a discussion on the need to regulate child participation in reality shows has come up. In 2011, the National Commission for Protection of Child Rights (NCPCR) drew up new guidelines to prevent exploitation of children participating in TV shows and advertisements. Over five years have elapsed since the report was released, yet the realities on the ground paint a different, disturbing picture. Under the NCPCR guidelines, no child should be made to deliver lines or enact scenes that are inappropriate for his or her age. Yet, children dancing on raunchy numbers or belting out romantic songs is mined for applause and laughs.

---
Happy to be hosting IIFA after so long: Saif Ali Khan
NEW DELHI:MMNN:15 July 2017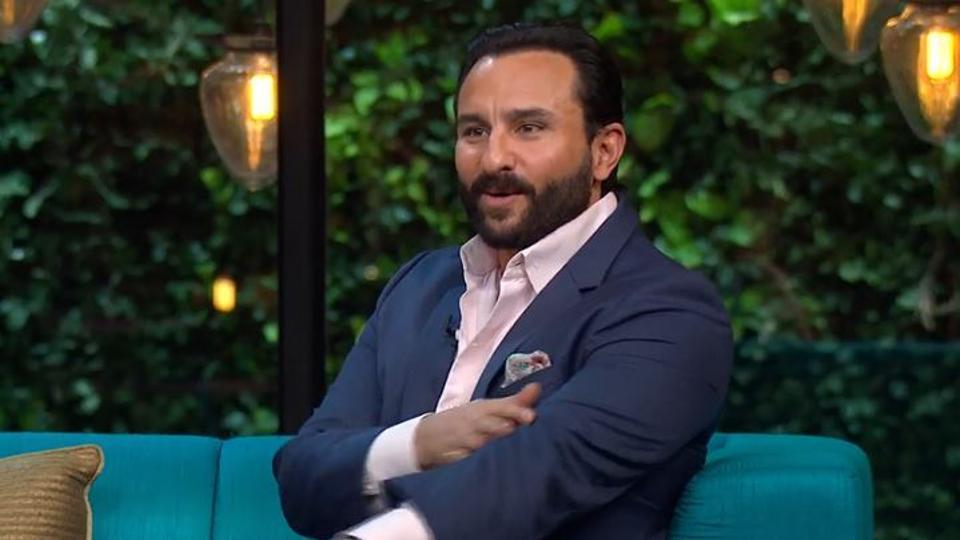 Bollywood star Saif Ali Khan, who will join the inimitable Karan Johar to host the 18th edition of the International Indian Film Academy (IIFA) Awards, says the event is going to be a lot of fun as the two have worked hard on the script. At the IIFA Rocks green carpet, Saif said, "I am hosting after a long time. KJo and I have worked a lot on the script and have tried it to make it interesting and funny." He added, "We'll make fun of ourselves and a bit of others too! I am sure it's going to be a lot of fun. It's a huge stadium, lots of people will be here, and the whole world will see the program, I am sure they will like it." Starting its journey in the year 2000 in London, IIFA has taken place at 15 locations across 12 countries and four continents. Talking about one of Bollywood's biggest awards, the Rangoon star said, "IIFA is like a gala and not just a normal award function. It has become a three-day cultural event now."

---
'Devdas' is Shah Rukh Khan favourite film
NEW DELHI:MMNN:13 July 2017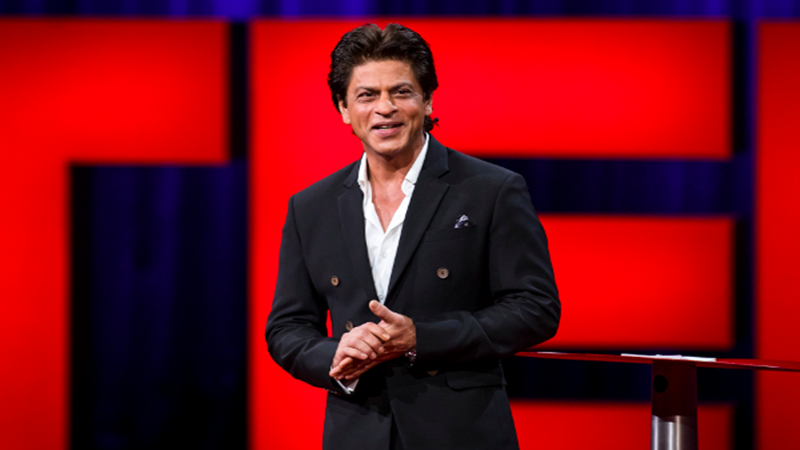 Mumbai: Superstar Shah Rukh Khan has thanked the cast and crew of "Devdas" to mark 15 years of the release of his "favourite film". "15 beautiful years 'Devdas'. Thanks Sanjay, Binod (Cinematographer Binod Pradhan), Bela (editor Bela Sehgal), Madhuri Dixit, Aishwarya Rai Bachchan, Jackie Shroff, Kirron Kher and cast and crew for my favourite film," Shah Rukh tweeted on Thursday morning. Directed by Sanjay Leela Bhansali, "Devdas" revolves around the scion of a wealthy family who is prevented from marrying the woman he is in love with. His life spirals downward as he takes to alcohol and a life of a vice to alleviate the pain. Currently, Shah Rukh is busy promoting his next film "Jab Harry Met Sejal". The film is directed by Imtiaz Ali and also features actress Anushka Sharma in a key role. Shot is picturesque locations of Budapest, Prague, Lisbon and Punjab, "Jab Harry Met Sejal" is set to release on August 4

---
Priyanka Chopra begins work on new Hollywood film, with Liam Hemsworth, Rebel Wilson
NEW DELHI:MMNN:11 Jul 2017
After Baywatch, Priyanka Chopra will be seen as a yoga ambassador alongside Rebel Wilson, Liam Hemsworth, Adam Devine in Isn't It Romantic? The production of the romantic comedy is underway. Principal photography has begun on New Line Cinema's romantic comedy Isn't It Romantic?, under the direction of Todd Strauss-Schulson, read a statement. The film follows the life of a New York City architect Natalie, who works hard to get noticed at her job, but is more likely to be asked to deliver coffee and bagels than to design the city's next skyscraper. She has an encounter with a mugger that renders her unconscious, waking to discover that her life has suddenly become her worst nightmare. Wilson stars as Natalie, alongside Liam Hemsworth as Blake, a handsome client; Adam Devine, as her earnest best friend, Josh; and Priyanka as yoga ambassador Isabella. Strauss-Schulson is helming the project from a screenplay by Erin Cardillo, Dana Fox and Katie Silberman, and Paula Pell. The movie's filming is taking place in and around New York City. The film is set for release beginning Valentine's Day, February 14, 2019. It will be distributed worldwide by Warner Bros Pictures, a Warner Bros Entertainment Company.

---
Watch: Tom Holland reacts to Desi Spider-Man and gets his 'dil ka chain' stolen
NEW DELHI:MMNN:10 Jul 2017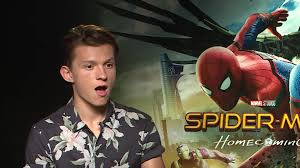 For Indian fans of Spider-Man, the mere mention of the Marvel superhero's name conjures certain tunes and images in our minds. Desi Spider-Man – with his uninhibited dancing, unique fighting style that utilises utensils, and tendency to stalk his lover in fields – is unforgettable, and unavoidable. And what did an Indian interviewer show Spider-Man star Tom Holland when he met him? Desi Spider-Man. Spider-Man: Homecoming opened to massive box office numbers, and enthusiastic reviews on July 7. On July 5, Comic Con India posted a video interview with Holland, conducted by East India Comedy's Sahil Shah. Sahil told him about the character's popularity in India, and how there is an official, Marvel version of the superhero who swings across the Mumbai skyline in a dhoti. But this was all done to prepare Holland for the real deal – the infamous Bhojpuri Spider-Man video. He is justifiably bemused. And then, he his made to recite the evergreen lyrics, "Eespiderman, eespiderman, tune churaya mera dil ka chain." The video became a popular viral sensation after being viewed millions of times. It is a dance sequence which is a part of a film.

---
Sushant Singh Rajput:?After MS?Dhoni biopic, people think I've become arrogant
NEW DELHI:MMNN:6 Jul 2017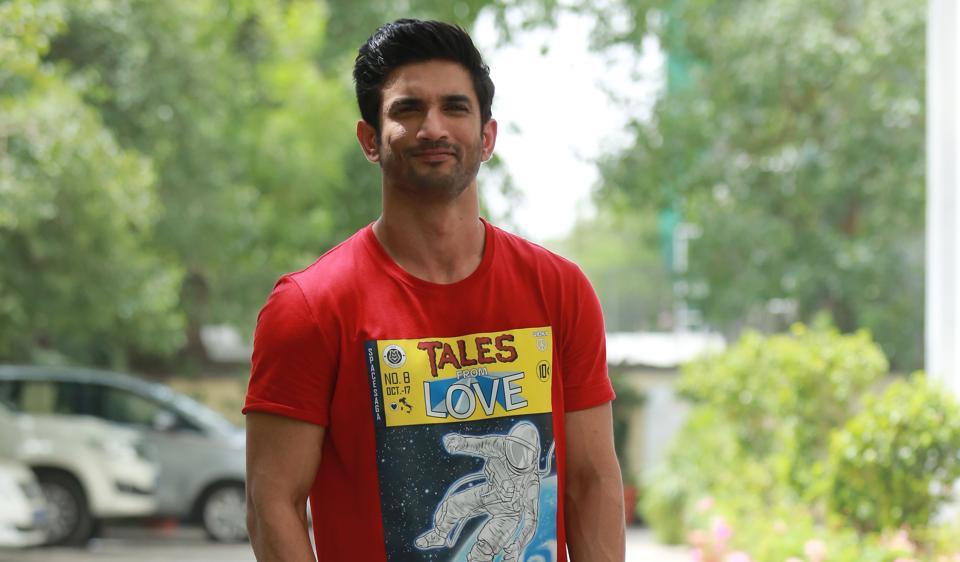 Actor Sushant Singh Rajput has been called "arrogant", especially after his film MS Dhoni: The Untold Story (2016) earned more than Rs 100 crore at the box-office. Sushant, who stars in the recently-released film Raabta, is a bit baffled by this tag. "Earlier, before MS, when I used to speak my mind, people used to tell me, 'Oh you are such a refreshing personality in the industry. You are so honest and please don't change'. Now, after MS has earned Rs 130 crore and I don't get a single f*****g penny [out of it], they think I have become a big star. Now if I speak what I feel, people think I have become a big star and I am arrogant," he adds. After his success, Sushant feels that the public expects him to be full of himself. "People don't see things that they don't expect. So, it's not that I have become arrogant, but it is their belief, that I have become so. I am okay with that really," says the actor who has worked in films such as Kai Po Che! (2013), PK (2014), Raabta among others. However, the 31-year-old actor has a unique way of handling such remarks. Unlike other actors who try not get worked up, he prefers to get affected by these comments. "I let things affect me, and I want to be bothered by all the negativity. As an actor, one of the most important things is to remain vulnerable. I have been acting for 11 years and I have access to that vulnerability part of a character, when I am playing it on-screen. That's why people say, 'his acting is realistic.' So, I have to condition myself to get used to negativity, or else I can't be a good actor," Sushant adds.

---
Bakheda: Akshay Kumar, Bhumi Pednekar fall in love in new Toilet- Ek Prem Katha song
NEW DELHI:MMNN:5 Jul 2017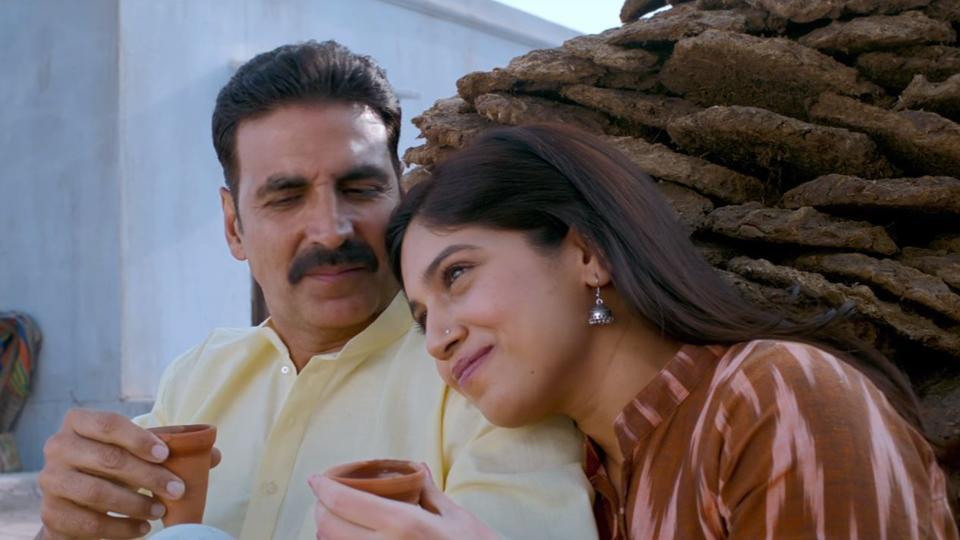 After Hans Mat Pagli, Toilet- Ek Prem Katha has released a soothing new song, Bakheda. The song traces the love story of Keshav and Jaya, played by Akshay Kumar and Bhumi Pednekar. Keshav, searches for a bride in the beginning of the video and later, finds her in Jaya. Bakheda tells of the perils and messiness of love. It has been sung by Sunidhi Chauhan and Sukhwinder Singh. The lyrics are by Garima Wahal and Siddharth Singh the music is composed by Vickey Prasad. Toilet- Ek Prem Katha tells the story of a newlywed woman who leaves her husband's house because it has no indoor toilet. The film also stars Anupam Kher, Divyendu Sharma, Sudhir Pandey and Shubha Khote and is directed by Shree Narayan Singh. It releases on August 11.

---
Salman Khan to shoot with Varun, Taapsee and Jacqueline for Judwaa 2
NEW DELHI:MMNN:4 Jul 2017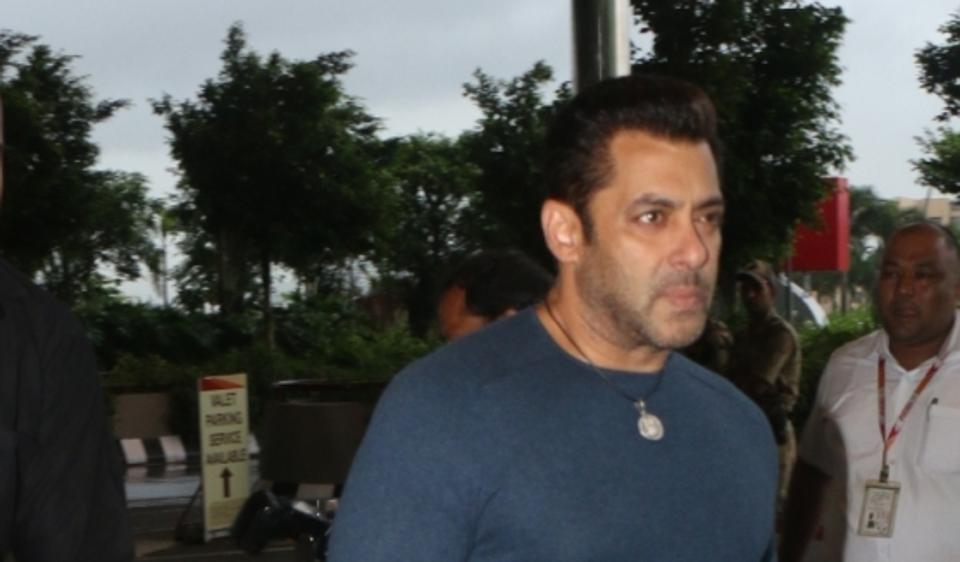 Salman Khan was seen in a double role in the 1997 hit Judwaa. He will make a cameo appearance in Varun Dhawan-Jacqueline Fernandez-Taapsee Pannu-starrer Judwaa 2 Bollywood star Salman Khan is all set to revisit the '90s with a special cameo in Varun Dhawan-Jacqueline Fernandez-Taapsee Pannu-starrer Judwaa 2. Varun, Taapsee, and Jacqueline will soon be shooting the special cameo with Salman. While his role in the film is still a secret, Taapsee shared her excitement in a press statement on Tuesday. "We are all excited to shoot with him. Something we all have been looking forward to. He's someone who everyone loved in the original film and is an inseparable part of the franchise and I'm glad he will be part of Judwaa 2 as well," she said. Varun steps into the iconic double role in the film being directed by David Dhawan. He's been posting songs from film, including Tan Tana Tan and Oonchi Hain Building, on his social media handles to ensure the buzz around the film doesn't wane.

---
Toilet: Ek Prem Katha gets embroiled in a Copyright issue! Here are all the details!
NEW DELHI:MMNN:1 Jul 2017
With just a few days remaining for the release of the Akshay Kumar starrer 'Toilet: Ek Prem Katha', it's needless to say that all the eyes are totally glued on to the film. The film, which happens to be a take on India's Prime Minister's dream project 'Swachh Bharat Mission', recently got itself embroiled in a copyright controversy. Filmmaker Praveen Vyas, whose 2016 docu-feature 'Manini', besides winning everyone's attention and applause, also won the third prize amongst the 4500 entries which were shortlisted at the last year's International Film Festival of India (IFFI) in Goa. After seeing the trailers of 'Toilet: Ek Prem Katha', Praveen Vyas was shell shocked as it resembled his 'Manini' in many ways. That's why; he sent a legal notice to 'Viacom 18 Motion Pictures' (who happen to be the film's production and distribution company) and also a 'cease and desist' notice on the promotional campaign of the film. As per a report, on his part, Praveen Vyas had allegedly stated that many scenes and dialogues from 'Toilet: Ek Prem Katha' were a direct copy from his Manini. Praveen Vyas added that his film Manini followed the female protagonist and her protests for the lack of a toilet in her marital home on the first night of her marriage and the events which follow that. Praveen Vyas added that, even the scenes in 'Toilet: Ek Prem Katha's trailer showed the similar kind of interaction between the characters. Praveen Vyas also added that no one could make any another cinematographic work or any other copied work without his written consent if their work directly resembled his work. Even though Praveen Vyas had sent a legal notice of copyright infringement through his lawyers of the Delhi based 'Litmus Legal', the makers of Toilet: Ek Prem Katha responded to that notice through their legal team at 'Naik Naik & Co.', only on June 28. Praveen Vyas added that, since the makers of 'Toilet: Ek Prem Katha' had denied all their allegations and have also refused to financially reimburse them; they will now be fighting the case in court. Meanwhile, co-producer of 'Toilet: Ek Prem Katha' Shital Bhatia along with Neeraj Pandey and Akshay Kumar has denied all of Praveen Vyas' allegations. Shital clarified that their film's script had been registered under their writers' names, Siddharth and Garima, with the authorised industry association since the year 2013. He added that, they totally repudiate all the claims made by Praveen Vyas. Watch this space for developments.

---
The Kardashian sisters invited India's first openly gay prince over, and here's what happened
NEW DELHI:MMNN:30 Jun 2017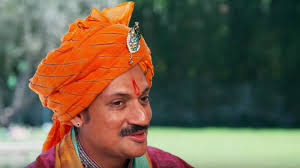 The Kardashian sisters - Kim, Kendall, Khloe and Kourtney - invited India's first openly gay prince Manvendra Singh Gohil to dinner for a new episode of their show, and here's what happened The Kardashian sisters - Kim, Kendall, Khloe and Kourtney - had a special guest in a new episode of their reality show Keeping Up With the Kardashians: India's first openly gay prince, Manvendra Singh Gohil. Kendall Jenner, who is an international model, first heard of the prince's story when she visited India in February 2017 for a modelling assignment with photographer Mario Testino. She posed alongside star Sushant Singh Rajput, for Vogue India's 10th anniversary issue. She told her sisters about the prince, 51, when she returned home, and they put together a dinner for him. "In India," says Kendall in a clip from the episode, "it is not acceptable to be gay." She drew similarities between the prince, and her father Caitlyn Jenner, who came out as a transgender woman. "What's similar between him and my dad is the bravery to take that chance to come out," she says At the dinner, the sister made an attempt to learn more about the prince, and his story. "My parents publicly disowned me and they disinherited me from the ancestral property," he says, also talking about how people burnt him in effigy after he came out. And while his relationship with his parents has improved over the years - he credits the media for helping change mindsets - his relationship with his ex-wife, whom he divorced in 1992, is non-existent. "We haven't spoken since the divorce," he says. "I felt guilty about ruining her life." But the prince, who came out in 2006, is working to make a change. He went to San Francisco to raise funds to make an LGBT community centre in India.

---
Transformers: The Last Knight movie review - Made with rusty old parts, and Mark Wahlberg
NEW DELHI:MMNN:29 Jun 2017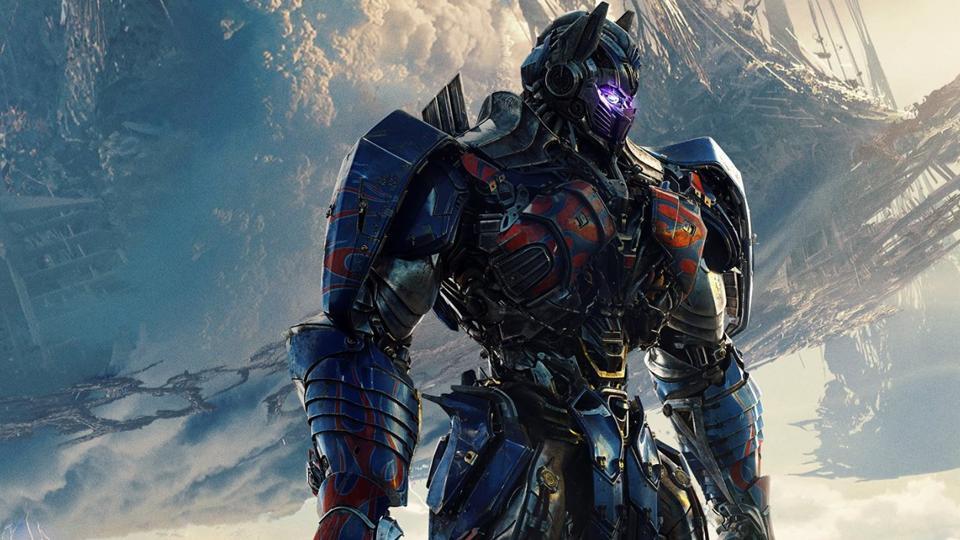 Transformers The Last Knight movie review: Director Michael Bay returns for the fifth time, and Mark Wahlberg for the second, to pound your brain into a pulp with wall-to-wall cacophony.
Transformers: The Last Knight
Director - Michael Bay
Cast - Mark Wahlberg, Laura Haddock, Anthony Hopkins, Josh Duhamel, Stanley Tucci, John Goodman
Rating - 1.5/5
There is no worse treatment a movie fan could be subjected to than being made to feel guilty for liking a movie. Millions of fans of the Transformers saga would agree. How often have we been ridiculed for sticking by director Michael Bay's most extravagant whims, despite knowing, deep down, that his movies were only getting worse. How often have we had to defend his almost fetishistic abuse of pyrotechnics, his blatant sexism, the occasional racism, and that ever-inflating ego which he represents so well in his art… Transformers: The Last Knight, the fifth in this series of films in which giant robots decapitate, sever, and butcher each other in the most violent manner, will be the acid test for fans. It will either be the moment when you slip into full-blown denial, willingly ignoring everything that is wrong with these movies (and with yourself), or, it will be the moment you finally snap out of it (as I have). Full disclosure: It is my opinion that the first Transformers film is a modern action classic, endlessly re-watchable, and filled with memorable characters and moments. It is Michael Bay at his best. I even wrote a long defence of the movie, arguing that it was an excellent example of the sort of film it was, a coming-of-age story disguised, like its hulking heroes, as an action blockbuster. The Last Knight is everything the first movie wasn't. It is the evil, gloating Megatron to that film's earnest Optimus Prime. It represents the worst, most self-indulgent, most conceited corners of Michael Bay's personality, and is, despite not being the worst of the lot (that honour still belongs to Age of Extinction), a monumentally overblown film that constantly threatens to crumble under its own weight – much like an ancient building with a wobbly foundation upon which new floors are illegally added every year. When it all comes crashing down, it will take the neighbourhood with it. Its story picks up soon after the events of Age of Extinction, which, to everyone's surprise, made us miss Shia LaBeouf and Megan Fox, who were – and I maintain – the best parts about the Transformers movies in the first place. But now, after causing more destruction to the planet than even the humans had managed in their thousands of years pillaging its resources, the Transformers have, in the absence of their leader Optimus Prime, once again become the enemy. The world has seemingly turned into the United Nations of Donald Trump, where no immigrants are allowed in, and those that do manage to jump over the wall (or, in this case, crash land in burning fireballs from the sky into important landmarks), are hunted by the Transformer Reaction Force. The TRF is a multinational militia of sorts whose only purpose is to locate and destroy stray Transformers – without determining whether or not they're the heroic Autobots or the villainous Decepticons. And Cade Yaeger, played for the second time by Mark Wahlberg, has made it his life's mission to protect the aliens. There is also a labyrinthine subplot involving King Arthur (how unkind has the summer of 2017 been to him, am I right?), Merlin the Wizard, and a bemused Anthony Hopkins, who, in one memorable moment that will no doubt cause much second-hand embarrassment on his behalf, utters the words, "That's a bitchin' car". So much happens in this movie, and yet, we get nowhere. It is a film in perpetual motion; new characters are introduced, and swiftly sidelined; there is, for the second time in the series, after the third film Dark of the Moon, a mini Coen Brothers reunion in the cast; the story spans thousands of years, but it feels like millions; and scenes cut - and not transition - to next one without a firm idea of where the story is headed. Often, it seems, the end goal is only to arrive at the next great action set-piece. The characters – the living ones, at least – are just stepping stones, crushed under the giant robots' weight. It took six human beings to edit together this heap of rusty scrap metal into a whole, possibly with hammers and screws. It took four people to write it, and thousands to composite its undeniably magnificent special effects, and yet, the one man whose job it was to bring it all together, was busy flexing his muscles and smouldering at his own reflection in the mirror. Michael Bay earned a paycheck, as did the rest of his cast. And there is no more to this story than meets the eye. The Transformers universe is lush, and filled with lore, just waiting for a talented storyteller to come and play with all the toys – just as it was first intended. But Bay is satisfied with repainting an old chassis in glossy new colours, he is happy taking state-of-the-art tech (in this case, revolutionary IMAX 3D cameras), and cranking out the same, tired stories, populated with the same stock characters – the feisty female, the racist robots, the man destined to save the planet, and, of course, this series' Death Star, Megatron. Now, it is up to them to win us back. No more free passes. No more passionate arguments against strangers. Shamefully, we have now arrived at a time when we must hide our true colours, for fear of being mocked, for being made to feel guilty. Here's hoping that we wear them with pride sooner rather than later.

---
Rajinikanth's 2.o makers kick-off air balloon promotional drive. See pic
NEW DELHI:MMNN:28 Jun 2017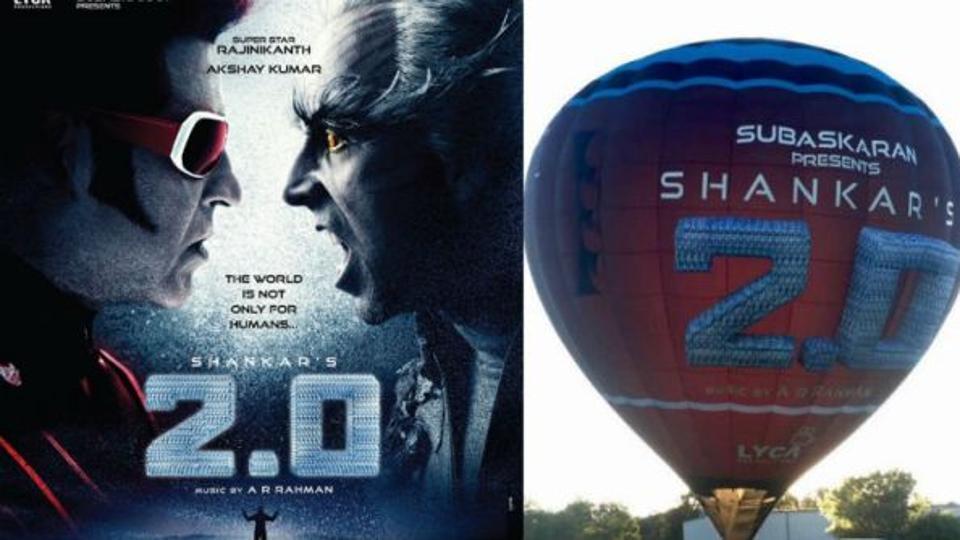 While Akshay Kumar will be seen playing an Ornithologist in 2.o, Rajinikanth will be seen as a scientist and a robot. Following the overwhelming response to SS Rajamouli's Baahubali franchise, makers of superstar Rajinikanth's 2.o are under high pressure to draw attention with their project. Lyca Productions, the makers of superstar Rajinikanth's upcoming Tamil science-fiction action drama 2.o, are pushing the envelope as they begin the promotional campaign for the costliest Indian film. As part of the promotions, a hot-air balloon adorned with life-sized images of Rajinikanth and Akshay Kumar will travel around the world. "We plan to take the 100-foot-tall hot-air balloon to as many balloon festivals as possible across the world. Since we see our film as a Hollywood production, we also plan to tie up the balloon over the Hollywood signage in Los Angeles," Raju Mahalingam, creative head, Lyca Productions told The Hindu. The balloon will fly to many countries such as London, Dubai and Australia among others as part of the promotional drive. On Tuesday, the makers gave audiences the first glimpse of the air-balloon and pictures went viral in no time. Amy Jackson is paired with Rajinikanth, and she is rumoured to be playing a humanoid robot. A sequel to Enthiran, the film also stars Sudhanshu Pandey and Adil Hussain. While Akshay Kumar will be seen playing an Ornithologist, Rajinikanth will be seen as a scientist and a robot. The project is bankrolled by Lyca Productions. The film's satellite rights across all languages were recently bagged by Zee Network for a whopping Rs 100 crore, making it the highest amount paid for an Indian film. Tipped to be the most expensive Indian film being made on a budget of Rs 450 crore, 2.o is slated for release in Tamil, Telugu and Hindi next year in January in a record number of screens worldwide.

---
Jagga Jasoos: After Govinda, now Sanjay Dutt joins Katrina Kaif and Ranbir Kapoor
NEW DELHI:MMNN:27 Jun 2017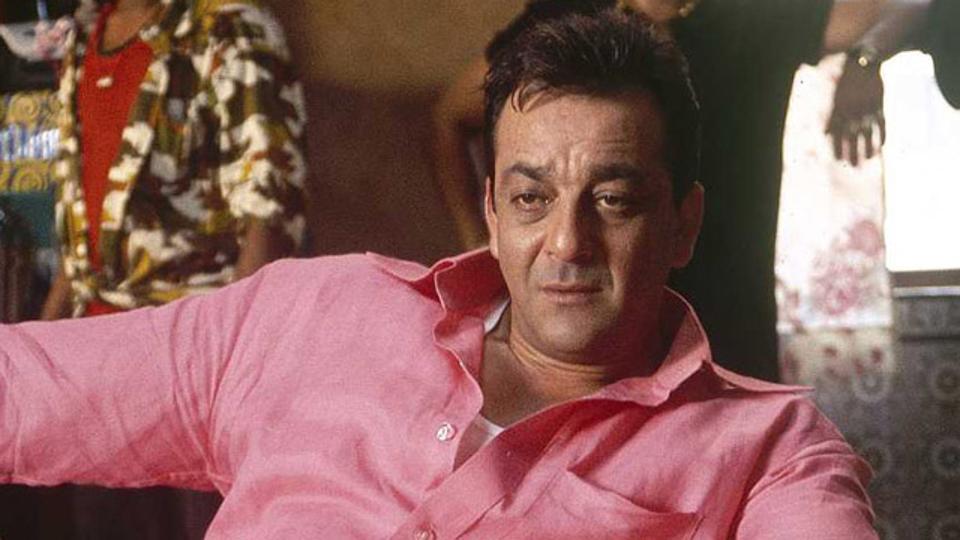 Sanjay Dutt will be the sutradhar (narrator) for Jagga Jasoos that stars Katrina Kaif and Ranbir Kapoor in lead roles. Days after reports that Govinda has a special role in Katrina Kaif-Ranbir Kapoor-starrer Jagga Jasoos, rumours now claim that Sanjay Dutt is also part of the Anurag Basu film. A Mid Day report claimed Sanjay will be the sutradhar (narrator)?in the movie. Ranbir Kapoor had recommended Dutt's name for the part, it suggested. Jagga Jasoos is a Hindi comedy-drama film directed by Anurag Basu and produced by Basu and the film's lead actor Ranbir Kapoor. The film also features Sayani Gupta and Adah Sharma in lead roles, and is the story of a teenage detective in search of his missing father. Jagga Jasoos releases on July 14.

---
Tubelight movie review: Salman Khan, Kabir Khan come up with a tearjerker
NEW DELHI:MMNN:23 Jun 2017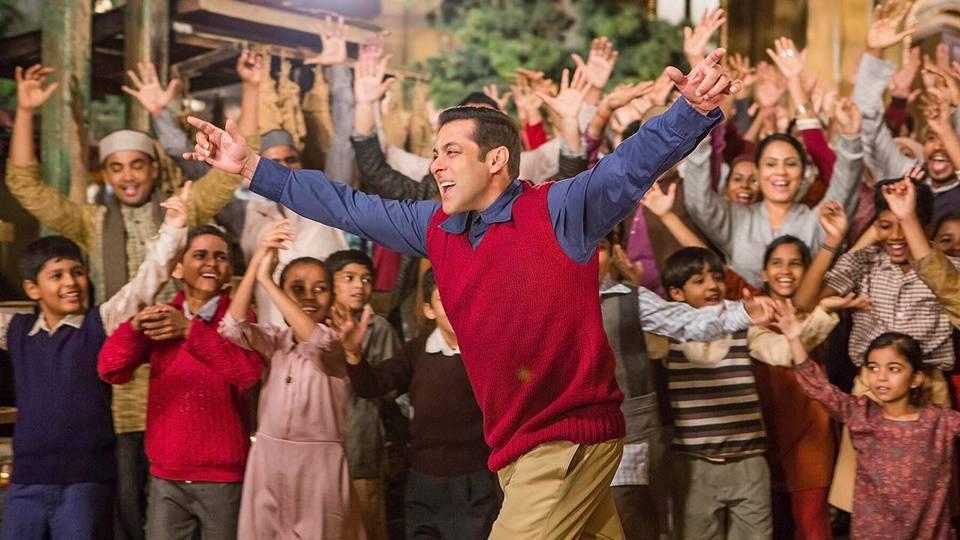 Tubelight, as Salman Khan is fondly called in the film, completely plays to Khan's strength of adapting a Boy Scout onscreen. Here's our movie review. Rating: 3/5. Tubelight Director: Kabir Khan Cast: Salman Khan, Sohail Khan, Zhu Zhu, Matin Rey Tangu Rating: 3/5 It's been a while since Salman Khan started playing a clumsy yet golden hearted man-child. He has aced this game by now and Tubelight might be his best shot at it. Laxman Singh Bisht aka Tubelight is the favourite entertainer of Jagatpur in the Kumaon region. He doesn't mind being bullied, mocked or slapped as he believes in humanity in its purest form. It also works as a tactic that will force the audiences, typically fans, to clap later in the film when he will resort to a 'little action'.

---
Seeti Maar: The next big chartbuster from Allu Arjun's DJ is here
NEW DELHI:MMNN:21 Jun 2017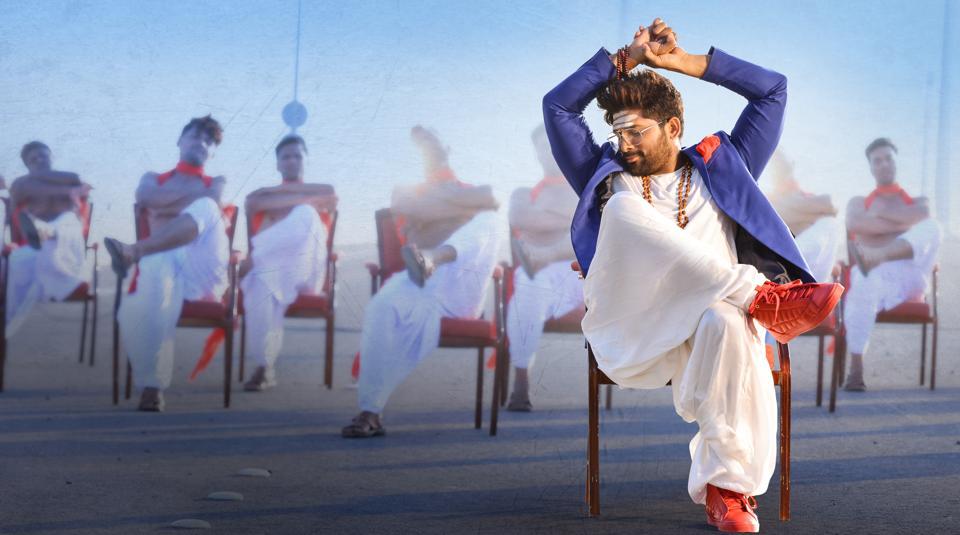 Days before the release of Allu Arjun's new film DJ, the makers have released a promo to a song Seeti Maar featuring Pooja Hegde and Arjun. Allu Arjun is undoubtedly one of the best dancers in Telugu industry. With his latest outing, DJ aka Duvvada Jagannadham, slated for release in cinemas on Friday, its makers released the glimpse of the hit song Seeti Maar from the film on Tuesday and in no time it went viral. With its catchy lyrics and mass-appealing steps, the song immediately became a chartbuster. Directed by Harish Shankar, the film is tipped to be an action entertainer made on a whopping budget, and it marks the first time collaboration of Arjun and Harish, most popular for directing Gabbar Singh. Industry insiders reveal that the film has come out very well and the makers are very confident about its success. In the film, Arjun plays a brahmin chef, and he apparently took his role so seriously that he gave up eating meat, while shooting the portion where he plays the chef, as he wanted to get under the skin of the character and stay pure. His dedication stunned the entire unit, including his director and co-star Pooja Hegde, who plays his love interest. It's for the first time in his career, Arjun is playing such a character and he didn't want anything about it to stick out like a sore thumb.

---
Farhan Akhtar's short film on Vidya Balan has a strong feminist message. Watch the video
NEW DELHI:MMNN:19 Jun 2017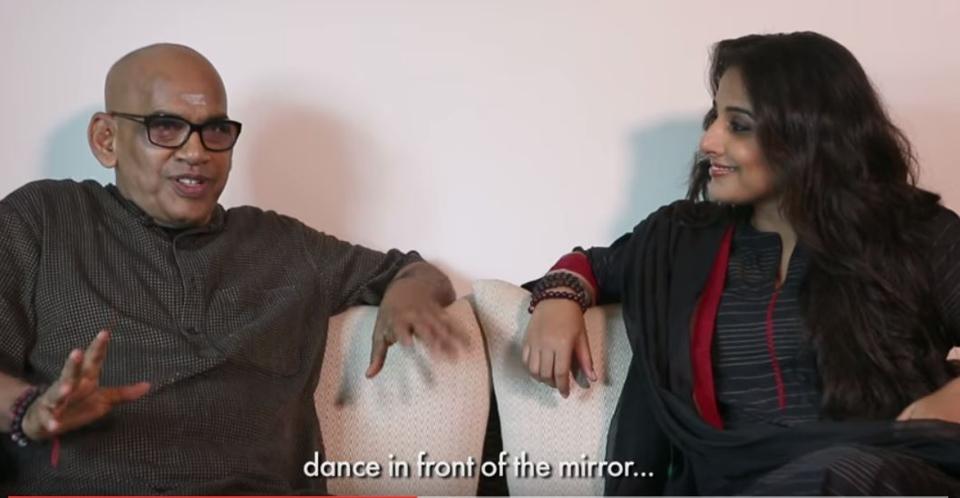 Farhan Akhtar has made a short film on Vidya Balan and her dad. The film is a sweet but strong message on gender equality Actor-filmmaker Farhan Akhtar has made a short film on Vidya Balan and her dad under his initiative MARD. Amitabh Bachhchan shared the short film on Sunday. Sharing the film, Amitabh wrote, "A short film on Vidya Balan and her Father, made by Farhan Akhtar .. a moving pertinent strong statement ." The six-minute film shows Vidya's father PR Balan talk about bringing up two girls in a patriarchal society and how he never prayed for a son. Vidya Balan also enters the frame and reveals how supportive her dad has been throughout. The duo also discuss The Dirty Picture, the film that got Vidya Balan her National Award. The short film is both encouraging and sweet. Watch it here:

---
Jagga Jasoos: Can Anurag Basu and Ranbir Kapoor repeat the magic of Barfi?
NEW DELHI:MMNN:15 Jun 2017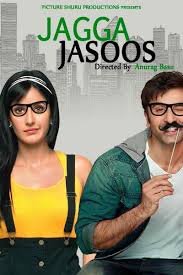 Anurag Basu gave Ranbir Kapoor a challenging role in Barfi and the actor passed the test with flying colours. The Sultan of Bollywood did just that as he returned from Mehboob Studios on Tuesday night. He was accompanied by filmmaker Ramesh Taurani. Director Anurag Basu has wished his frequent collaborator, Pritam Chakraborty, on his birthday and said the music composer is one of greatest strengths behind his movies. Pritam turned 46 on June 14.

---
Salman Khan ditches his SUV for an auto rickshaw ride
NEW DELHI:MMNN:14 Jun 2017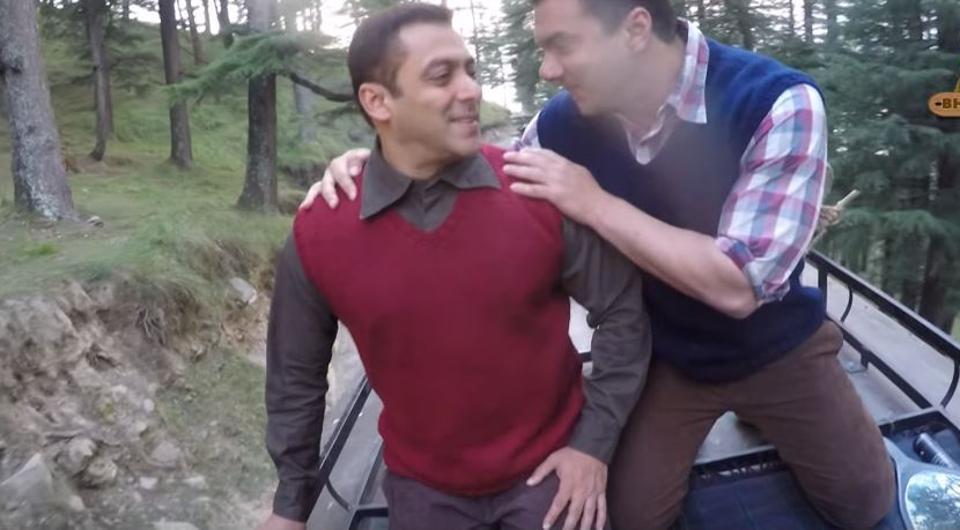 The Sultan of Bollywood did just that as he returned from Mehboob Studios on Tuesday night. He was accompanied by filmmaker Ramesh Taurani. It's not everyday that one would find superstar Salman Khan hopping into an auto rickshaw to take a breezy ride back home. The Sultan of Bollywood did just that as he returned from Mehboob Studios on Tuesday night. He was accompanied by filmmaker Ramesh Taurani.

---
Shah Rukh Khan is world's 65th highest-paid celebrity, Salman Khan 71st in Forbes list
NEW DELHI:MMNN:13 Jun 2017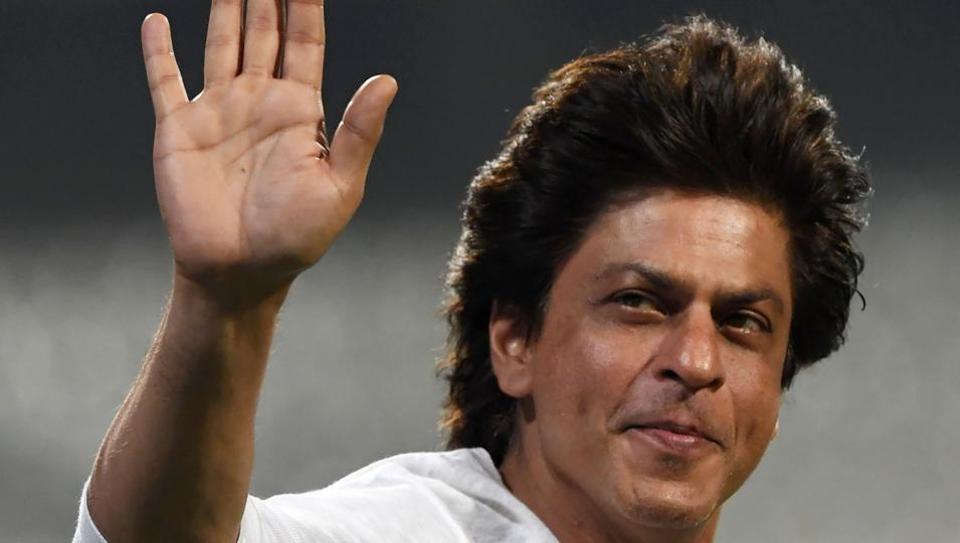 Shah Rukh Khan is ahead of his Indian contemporaries and global celebrities like Novak Djokovic, actor Amy Schumer,Tiger Woods, Neymar, Ed Sheeran, Rihanna and more. Bollywood superstars Shah Rukh Khan, Salman Khan and Akshay Kumar are in Forbes magazines Worlds Highest-Paid Celebrities list, led by rapper P. Diddy, also known as Sean Combs. Shah Rukh, who earned a whopping $38 million between June 1, 2016 to June 1, 2017, is ranked 65 on the list ahead of his Indian contemporaries and global celebrities like tennis superstar Novak Djokovic, actor Amy Schumer, golf legend Tiger Woods, footballer Neymar and singers Ed Sheeran, Rihanna, Britney Spears and Katy Perry

---
Akshay Kumar tweets out new poster of Toilet: Ek Prem Katha; trailer to release on 11 June
NEW DELHI:MMNN:10 Jun 2017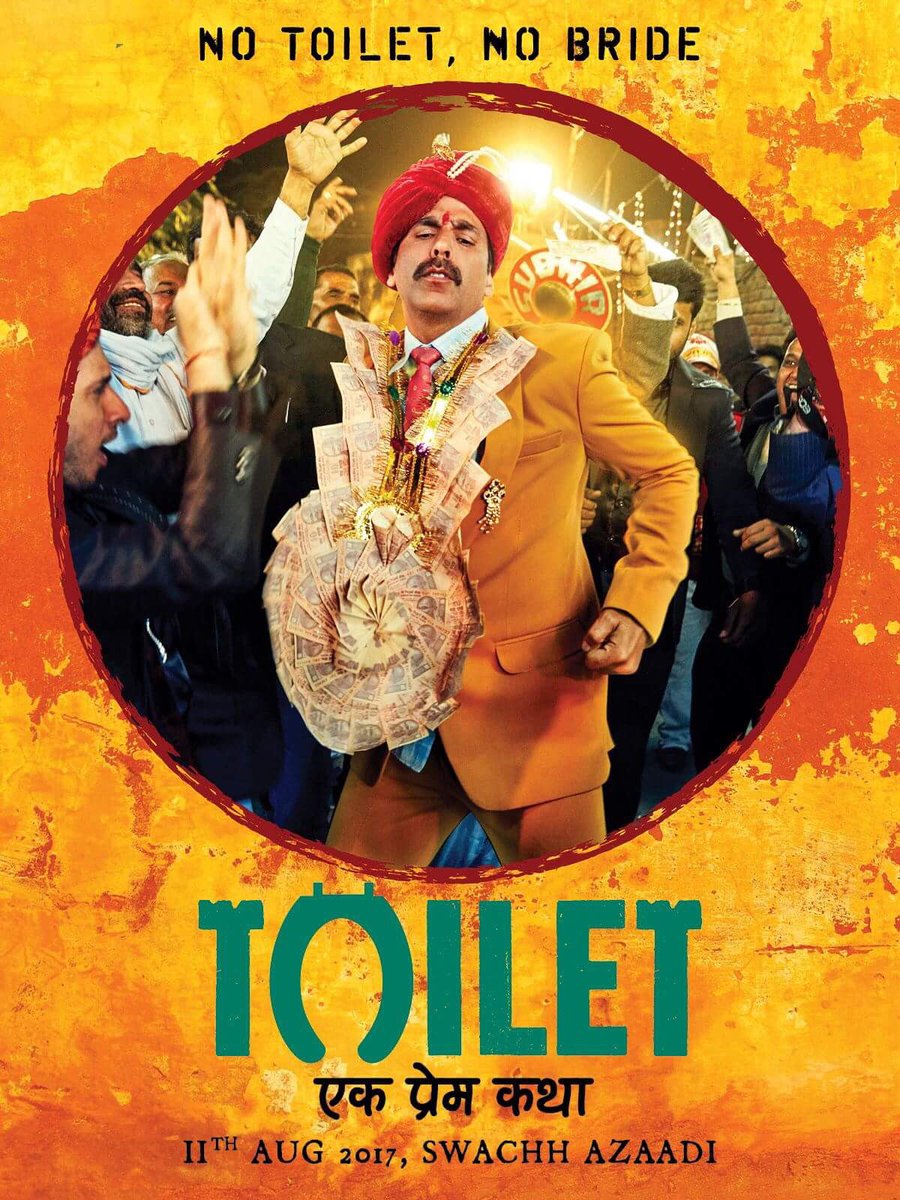 Akshay Kumar released a new poster of his upcoming Toilet: Ek Prem Katha on Twitter. The film has Bhumi Pednekar opposite Kumar. The satirical comedy is directed by Shree Narayan Singh. The film is creating a lot of buzz in the run-up to its August 2017 release. Kumar can be seen channeling the Indian bridegroom in the poster, dressed up in a yellow suit. The poster is captioned "No Toilet, No Bride," which sends out a not-so-subtle indication about what the film is based on. Pednekar is playing the bride in the film. Kumar had earlier tweeted a poster in which both Pednekar and Kumar could be seen in an Indian bride and groom's getup. The cast also includes Sana Khan and veteran actor Anupam Kher. The film is inspired by Narendra Modi's Swachh Bharat Abhiyan, which is aimed at improving sanitation facilities and reducing open defecation in the country by constructing adequate washrooms. The film is expected to have a strong social commentary on the current sanitation facilities in the country. Kumar also tweeted that the trailer of Toilet: Ek Prem Katha will be out on 11 June 2017. The film is all set to release on 11 August 2017.

---
This is why Salman Khan called Rohit Roy a fat cow
NEW DELHI:MMNN:8Jun 2017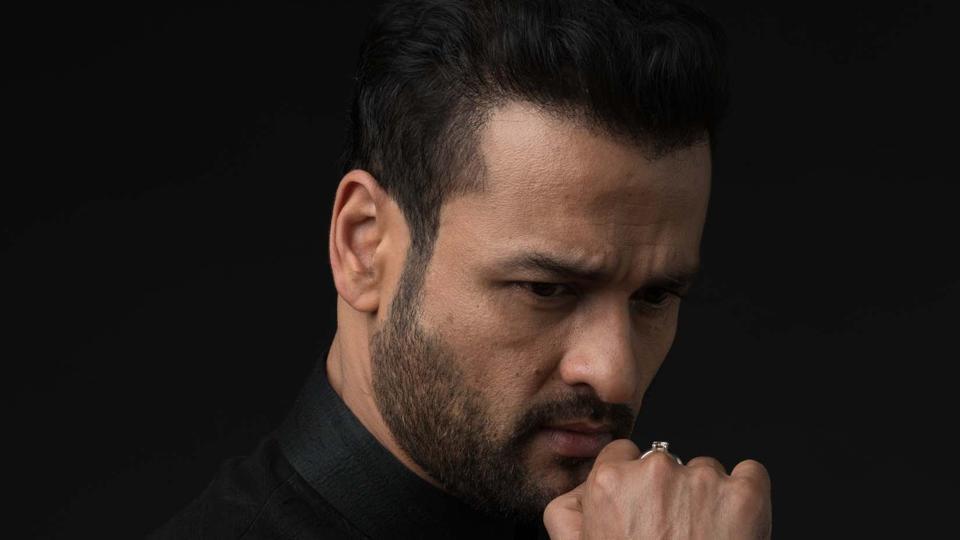 It was an advice Rohit Roy badly needed when he was preparing for Hrithik Roshan-starrer Kaabil in which he had to look leaner and younger. During late '90s, Salman Khan became the fitness inspiration of a country that wanted to move on from the usual chubby Bollywood leads to muscle builders. His films Pyar Kiya Toh Darna Kya and Veergati worked mostly because he didn't hesitate in showing off his chiselled body. This intro is just to make you understand how serious is Salman Bhai about his body and fitness in general.

---
Fate of the Furious made Rs 650 crore in two days and it''s still less than expected

New Delhi:MMNN:17 April 2017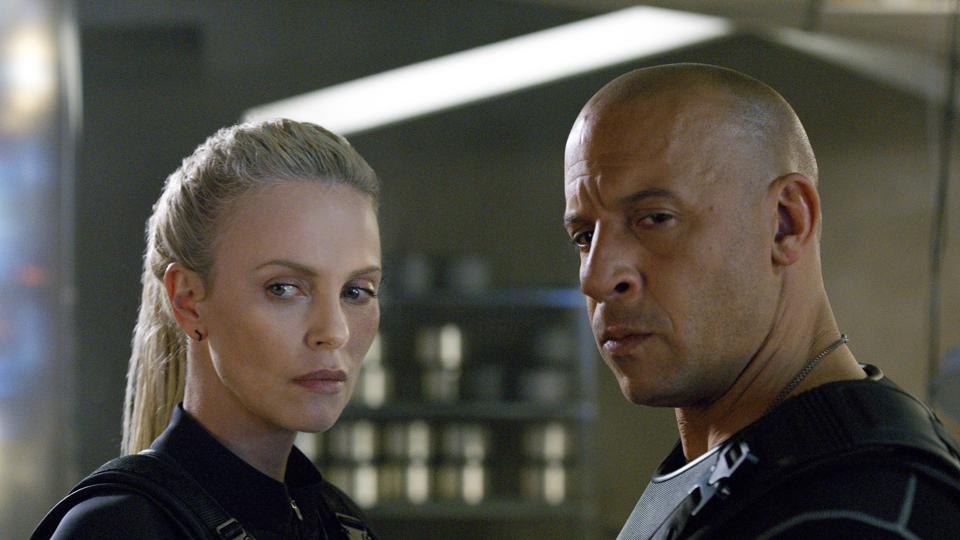 The Fate of the Furious is roaring to a record-setting global debut over the weekend.
Final numbers have yet to be released, but based on earlier estimates, the action-thriller is poised to set a new worldwide high-water mark. It is expected to pass the previous record of $529 million set by Star Wars: The Force Awakens.
If that happens, a large part of the credit will to China, where The Fate of the Furious has already racked up a massive $135 million in its first two days of release. It is worth noting that Chinese theaters only give studios about 25% of ticket sales, roughly half of what they receive in most major territories.
Domestically, there are indications that a franchise centered on muscle cars and physics-defying stunts, has crested. The Fate of the Furious took in an estimated $100.2 million (Rs 644 crore), an impressive result, but a steep drop off from Furious 7''s $147.2 million (Rs 947 crore) kick-off. Heading into the weekend, most analysts expected the film would roar past the $100 million mark, instead of inch over the line.
There are important reasons for the fall off. Furious 7 served as a memorial of sorts to Paul Walker, the franchise star whose 2013 death in a car accident shattered his co-stars and many fans. This time, there wasn''t the same emotional resonance. The Fate of the Furious continues the franchise without Walker, adding in series newcomers such as Charlize Theron and Helen Mirren.
Then there was the off-screen drama. This film had to contend with reports of off-screen tension between Vin Diesel and Dwayne Johnson that undermined one of the franchise''s key selling points -- that these films are celebrations of family and brotherhood. Both stars steered clear of each other at the picture''s New York premiere and Diesel''s attempt to brush aside the reports of a beef between the actors left something to be desired.
Reviews were also weaker. IndieWire''s David Ehrlich labelled the film the worst of the series, while the Los Angeles Times'' Justin Chang argued the franchise had jumped the shark, or in this case, the nuclear submarine. That''s not to say there weren''t some loud advocates. Variety''s Owen Glieberman, for instance, praised the picture as a "dazzling action spectacle." Audiences agreed, handing The Fate of the Furious an A CinemaScore.
Beyond Johnson, Diesel, Mirren, and Theron, The Fate of the Furious brings back franchise veterans Kurt Russell, Ludacris, Tyrese Gibson, Jason Statham, and Michelle Rodriguez. F. Gary Gray, fresh off the success of Straight Outta Compton, slid into the director''s chair.

---
'Raabta' trailer: Sushant Singh Rajput-Kriti Sanon weave magic with their dreamy chemistry

New Delhi:MMNN:17 April 2017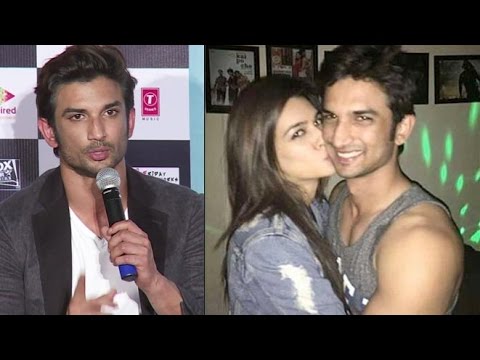 The much-awaited trailer of Sushant Singh Rajput and Kriti Sanon starrer 'Raabta' is out now and it definitely looks dreamy.
The larger than life love story of the duo fills the screen with heartfelt romance that is bound to make you go weak in the knees.
The over-two-minutes trailer starts off with the quirky romance of Sushant and Kriti's characters without spilling the beans on their respective backgrounds much.
Next comes 'Neerja' actor Jim Sarbh into the picture as the ultimate baddie. In a reincarnation story laced with vengeance, will the duo strive to make their love win is the key takeaway from the trailer. The trailer also includes a recreation of the hit melody 'Raabta' from Saif Ali Khan-starrer 'Agent Vinod'.
'Raabta', a romantic drama, which was extensively shot in Budapest is set to release on June 9. The film is directed by debutant Dinesh Vijan. He has earlier produced films like 'Badlapur', 'Cocktail' and 'Finding Fanny'.

---
FINALLY! Priyanka Chopra has LOCKED in on a Bollywood film!

New Delhi:MMNN:10 April 2017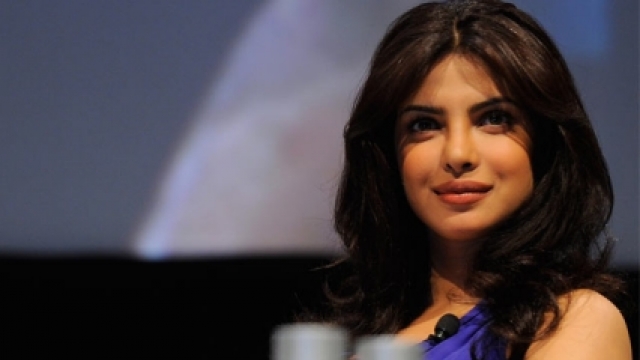 Priyanka Chopra may soon be homeward bound! After making waves for years as one of Bollywood's biggest stars, Chopra decided to head West, where she has been ruling the small screen for the past couple of years as Alex Parrish on Quantico. And now she'll also be making her mark on Hollywood, being a part of Baywatch, which is due to hit screens this summer. She's won several accolades
abroad. But now, Chopra's decided to make her return to Bollywood, with intentions to return to work as soon as this summer.
The actress has promised to start work on two films when she returns to India from the US. And she's finally locked in on a project. According to Mid-Day, Pink director Aniruddha Roy Chowdhury has been signed on by Chopra's production house. He has reportedly been roped in to create a women-centric film, with reports that Chopra herself might have a part to play in the film. While there is no word on what kind of role she'll be taking up, whether as the lead or in a cameo, we might find out soon as Chopra will finalise all the details upon her return to Mumbai from the US.
Chopra was last seen on Indian screens in Prakash Jha's 2016 Jai Gangaajal, which only received mixed reviews. She is currently in negotiations with Sanjay Leela Bhansali and Rakeysh Omprakash Mehra, among others. Chopra is currently involved in promotional activities for her Hollywood debut Baywatch, due to release May 26. Chopra will return to the US after shooting for her Bollywood efforts amidst reports of a season 3 for Quantico and a potential role in Mission Impossible 6.

---
Arjun Kapoor : People are made fun of if they don't speak English well

New Delhi:MMNN:10 April 2017


Actor Arjun Kapoor says it is sad that people judge others on the basis of how well they speak English and those who struggle with the language are often made fun of. Arjun says there are people who will understand Hindi but will respond in English to sound cool.
"In India, if you're smart but don't understand English no one gives importance to you. If you can't speak English then you're looked at differently.This is the biggest issue in the country. You may understand Hindi but will speak in English to sound cool," he said.
The actor was speaking at the trailer launch of 'Half Girlfriend' here. The romantic drama is based on the novel of the same name written by Chetan Bhagat and also stars Shraddha Kapoor .
Arjun says there are certain actors, who also struggle with this issue but he is thankful to his grandparents for always speaking to him in Hindi.
"People are told that if you speak in English you will sound better. So, a consciousness comes in, people are made fun of, they're not taken seriously. This has personally bothered me," he said.
"The youth of today is very fluent in English but you ask them three questions in Hindi and they face a problem. We are actors so we need to learn Hindi, and thankfully my grandparents always spoke to me in Hindi so my Hindi is clean but there are many actors also (who are not fluent in the language)," he adds.
The 31-year-old actor insists Hindi is a language which one must understand as it is something which will take the country forward.

---
Meri Pyaari Bindu Trailer 3#: Meet Parineeti Chopra, 'Kolkata's Madonna'

New Delhi:MMNN:5 April 2017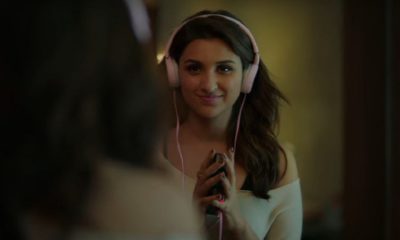 The third chapter of Meri Pyaari Bindu, starring Ayushmann Khurrana and Parineeti Chopra is out, titled Kalkatte Ki Madonna. The one-and-a-half minute video shared on YouTube, focuses on Parineeti aka Bindu's passion for singing and how Abhimanyu, played by Ayushmann supports her in her journey to become a rockstar and gets 'trapped.' Meri Pyaari Bindu, which has been shot in Kolkata, features Ayushmann Khurrana as a Bengali author.
The third trailer from the movie has the popular song Disco '82 song from the movie Khud-Daar playing in the background. The film, directed by Akshay Roy, is scheduled to release in theatres on May 12.
The first two chapters of the film, titled Samosa Aur Chutney and Gabar Aur Sambha were released on Monday and Tuesday, respectively. The makers of the film have promised to release five chapters from Abhimanyu Roy's book, in the form of trailers.
The makers of the film released the first song from the movie, titled Mana Ke Hum Yaar Nahin, even before the trailers. Parineeti Chopra made her debut as a playback singer with this song. Mana Ke Hum Yaar nahin crossed over 4 million views in a day. The 28-year-old actress received a lot of appreciation from her cousin Priyanka Chopra, Golmaal Again co-stars and other close friends.
Parineeti Chopra was last seen in 2014 movie Kill Dil.
After Meri Pyaari Bindu, Ayushmann Khurrana will be seen in Bareilly Ki Barfi. The film, directed by Ashwiny Iyer Tiwari, also stars Rajkummar Rao and Kriti Sanon. He will also feature in Aanand L Rai's Shubh Mangal Savdhan opposite Bhumi Pednekar.

---
'Naam Shabana' box-office collection Day 5

New Delhi:MMNN:5 April 2017


Taapsee Pannu's spy thriller 'Naam Shabana' collected approximately Rs 2.50 crore on its first Tuesday (Day 5) taking its total to Rs 22.50 crore (nett), as reported by Boxofficeindia.com.
The prequel to Neeraj Pandey's 'Baby' had opened at Rs 4.75 crore and earned Rs 17.75 crore over the first weekend.
Starring Taapsee Pannu in the lead role, the film has an extended cameo by Akshay Kumar with many key players from the cast of 'Baby' coming together for the film. While Akshay, Anupam Kher, Danny Denzongpa and Madhurima Tuli reprise their roles from the 2015 film, 'Naam Shabana' also stars Prithviraj Sukumaran and Manoj Bajpayee.
The film delves into the back-story of Taapsee's character Shabana Khan and shows the audience how she is trained to become a spy.

---
Why Sunil Grover might not quit 'The Kapil Sharma Show'

New Delhi:MMNN:22 March 2017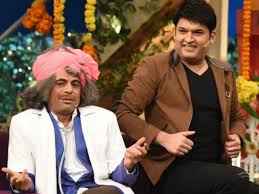 It is out in the open that Kapil Sharma assaulted and abused good friend and co-actor Sunil Grover on a flight recently. Post this, the latter has decided to quit the 'The Kapil Sharma Show', where he plays characters that are loved by the viewers - Dr Mashoor Gulati and Rinku Bhabhi. While Kapil apologised to Sunil in a Twitter post, Sunil's reaction to it has not yet confirmed the news that he would leave the show. While this hints at the possibility that Sunil might just return to do what he does best - make people laugh, his not making his exit public also suggests that Sunil might not be too confident to venture out alone after the failure of his previous stints.
Going by Sunil's career in Television, success had eluded the talented actor for a long time. He was a part of many shows that did not do well, which included Gutur Gu, Professor Money Plant, Lo Kar Lo Baat, Chala Lallan Hero Ban Ne and Kya Aap Paanchvi Fail Champu Hain?. None of his works did justice to the talent that he has, until he worked on Comedy Nights With Kapil, where he rose to unprecedented heights with his enactment of a cross-dressed woman, Gutthi. He left the audience in splits with his comic act and proved his mettle as a comedian.
However, his creative differences with Kapil Sharma when he was doing Comedy Nights made him switch to another channel with a new show. Sunil went on to do 'Mad In India', his own show, which turned out to be a dud, doing nothing for the comedian. He then returned to Kapil's show after a reconciliation and continues to receive the same adulation till date, even when he now plays an aged Dr. Mashoor Gulati, who offers unique medical treatments to his patients, on The Kapil Sharma Show.
Sunil now probably knows the result of working with Kapil and without him, as he has experienced both. Hence, his possibility of returning to the show cannot be ruled out completely. Also, this pretty much sums up the fact that just as Kapil is nothing without Sunil, Sunil is also a non-entity without Kapil. It is true that some people work best, when they work together. We can only hope that two bury their differences and shift their energies to create magic with their humour and wit.

---
Salman Khan and Katrina Kaif's picture from the sets of 'Tiger Zinda Hai' is perfect

New Delhi:MMNN:22 March 2017


Salman Khan and Katrina Kaif are all set to recreate magic on the big screen with 'Tiger Zinda Hai'. One of the most sought-after on-screen jodis, the two were last seen together in the film's prequel, 'Ek Tha Tiger' in 2012. And for those who can't wait till the film's release to witness Salman and Katrina's sizzling chemistry, here's a surprise from the actor.
Salman posted a beautiful picture of him and Kat on the sets of 'Tiger Zinda Hai' on his Instagram handle. The actress looks gorgeous in a blush-coloured tube gown while Salman is his dashing self in a black tuxedo. The picture sees the two caught in a romantic moment as they are lost in each other's eyes. Salman captioned the image, "Back together, in Tiger Zinda Hai."

---
This superstar wanted to play Ranbir's role in Sanjay Dutt's biopic

New Delhi:MMNN:8 March 2017


Filmmaker Rajkumar Hirani, who is making a film on actor Sanjay Dutt's life, went to superstar Aamir Khan for a role and the latter thought that the director came to him for Sanjay's role.
Reportedly, Raju offered Aamir the role of Sanjay's father Sunil Dutt.
If reports are to be believed than Rajukumar asked Aamir that he wanted to meet him, as he was keen to cast the superstar in Sanjay Dutt's biopic. The director met Aamir with writer Abhijat, and started giving narration on Sunil Dutt's role.
The actor who was expecting that the lead role told the filmmaker that he thought that they would narrate Sanjay's role to him adding that he was not interested in playing his father.
Well, this is indeed interesting. This is known to all that actor Ranbir Kapoor is playing the lead in the film.
Though, Ranbir is a talented actor and the hard work that he is doing for the biopic is not hidden from anyone. But, things would have been different if whatever Aamir was thinking was right and he was approached for the main role.
Along with Ranbir, the biopic also features Sonam Kapoor as Sanjay's one of the love interests, Dia Mirza will be seen as his wife Manyata Dutt, and Manisha Koirala will portray Nargis Dutt.
Paresh Rawal will essay the role of Sanjay's father Sunil Dutt.

---
Anushka Sharma: I think I've represented ghost community well

New Delhi:MMNN:8 March 2017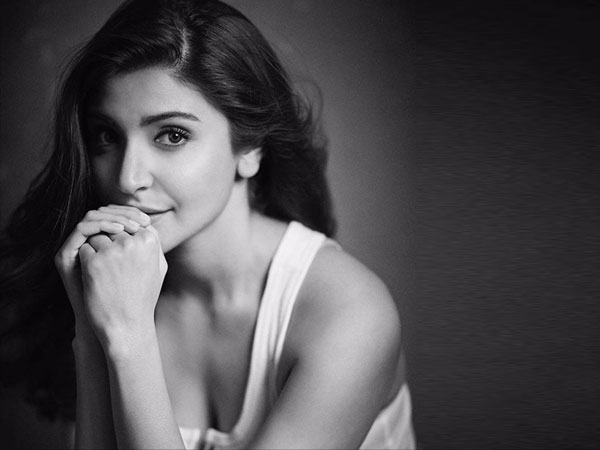 Actress Anushka Sharma, who will be essaying the role of a ghost bride in her second production 'Phillauri', says she does believe in ghosts.
During media interaction to promote her upcoming flick, the 'Rab Ne Bana Di Jodi' star revealed, "I believe ghosts exist and I have felt it too."
The 28-year-old then described her experience of becoming one and said, "It was fun to play a non-living character. Normally we play characters which are in the flesh and its boring to portray a living character in each film. You should keep doing a different thing. I think I've represented the ghost community well by presenting their feelings in front of all of you."
Anushka ventured into production with 2015 thriller 'NH-10' and is now gearing up for her banner's next project starring Diljit Dosanjh.
When asked as to what she enjoys the most, the actress replied, "I enjoy being both, an actor and producer. I have realized that with more responsibilities, I tend to perform better. It's because I get to collaborate on a film from scratch, from the beginning of it. This is creatively an extremely satisfying experience."
"For example right now when I am working on Imtiaz Ali's film, I just act and that's it. But when it's your film, there is even more involvement which I really enjoy," added the 'PK' star.

---