---
Sunil Grover, Ali Asgar to return on screen together, but not for Kapil Sharma show?

New Delhi:MMNN:18 April 2017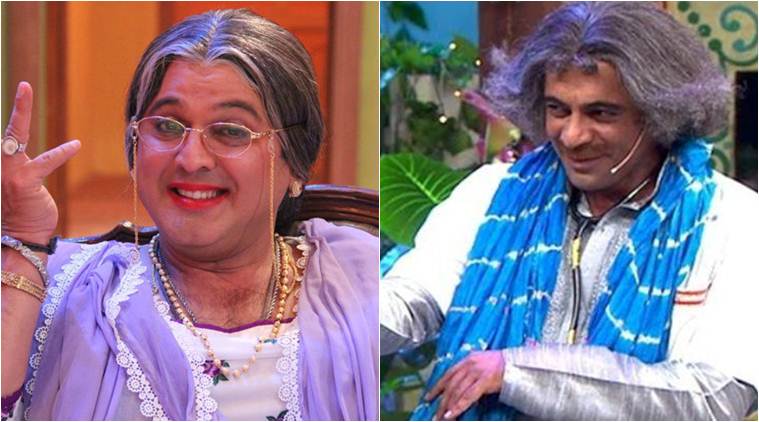 The fans of The Kapil Sharma Show have been eagerly waiting to see ace-comedians Kapil Sharma, Sunil Grover, Ali Asgar and Chandan Prabhakar in the same frame ever since their infamous mid-air fight left the team in chaos. Sunil, Ali and Chandan have so far chosen to maintain a safe distance from Kapil and his show. The trio has not spoken to Kapil and has also not turned up for the shoot even for a single episode. As a result, the comedy show has witnessed a drastic drop in its ratings leaving it out of the race of the top ten television shows. In fact, Kapil's new line-up of comedians has also failed to bring back the much-needed humour and life to the show.
But bound by a contract with channel Sony, Ali Asgar, Sunil Grover and Chandan Prabhakar have to abide by its demands till the day it ends. Probably this is the reason that will bring back, if not all of them, but at least Ali Asgar and Sunil Grover in the same frame. The two will be tickling the funny bone of the audiences in this week's episode of reality show Sabse Bada Kalakar which is being judged by Raveena Tandon, Arshad Warsi, and Boman Irani. According to a report in DNA, Sunil and Ali will shoot for an episode of Sabse Bada Kalakaar to live up to their work commitments with the channel. Though indianexpress.com could not individually verify the news.
Now, whether Ali and Sunil will appear in their Kapil Sharma show avatars of Nani and Doctor Mashoor Gulati respectively, or will it be completely new characters, is still unknown. If we go by the recent stint of Sunil on other shows and the feedback it got. then the duo will have to go an extra mile to beat the ratings of The Kapil Sharma Show, which Sunil failed to do the last time, during his appearance on the Indian Idol 9 grand finale.
Earlier in the day, Sunil Grover also made it clear that he will not be returning to Kapil's show when veteran actor Rishi Kapoor urged both him and Kapil to get back together. Also, he has been posting several cryptic posts on Instagram ever since his fight with Kapil took place over a month back.

---
Judwaa 2: Varun Dhawan grooves with students at London University

New Delhi:MMNN:18 April 2017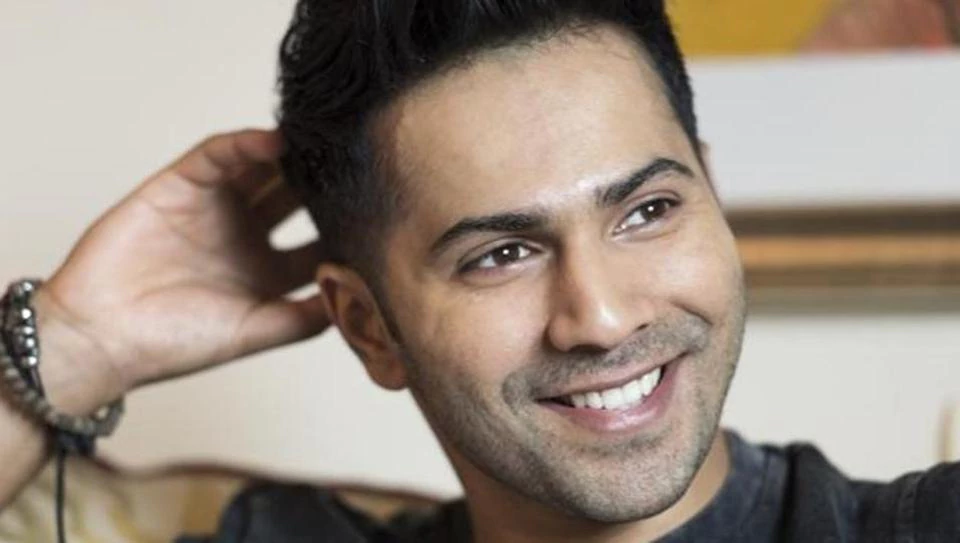 Varun Dhawan, who is currently abroad shooting for the reprised version of song Oonchi Hai Building for Judwaa 2, is having a gala time grooving with students at London University.
The team recently flew to London for the film's shoot and the makers are currently filming the iconic track from 1997 Salman Khan, Karisma Kapoor- starrer.
While shooting the song, many students from the university have been stopping by and grooving along with Varun Dhawan and Taapsee Pannu, who will be seen performing to this track.
A source said, "Varun's affable nature allows him to bond with students easily. Over the weekend, a bunch of his fans had come to meet him and he was a thorough gentleman with them."
The song is being recreated by none other than Anu Malik and choreographed by Bosco.
Directed by David Dhawan and produced by Sajid Nadiadwala, Judwaa 2 is set to release on September 29.

---
Fate of the Furious made Rs 650 crore in two days and it''s still less than expected

New Delhi:MMNN:17 April 2017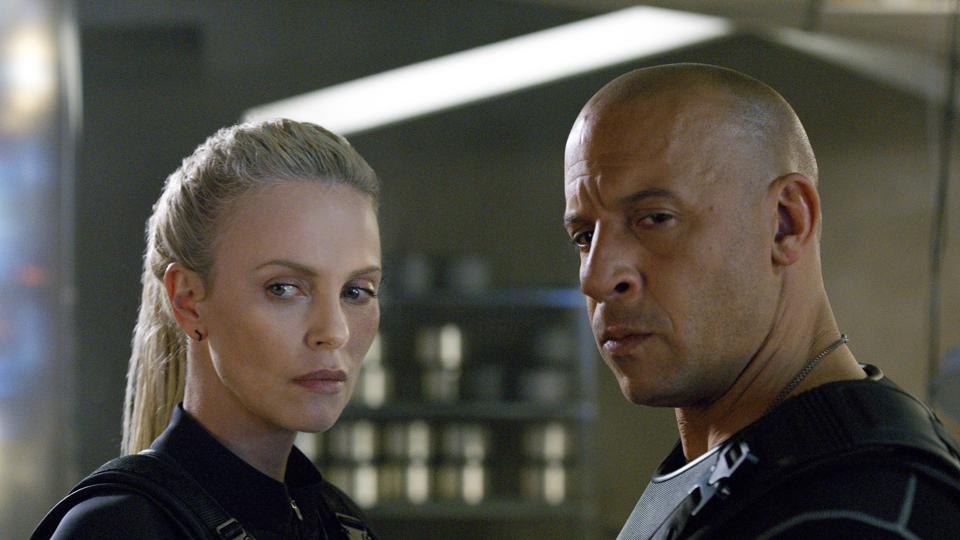 The Fate of the Furious is roaring to a record-setting global debut over the weekend.
Final numbers have yet to be released, but based on earlier estimates, the action-thriller is poised to set a new worldwide high-water mark. It is expected to pass the previous record of $529 million set by Star Wars: The Force Awakens.
If that happens, a large part of the credit will to China, where The Fate of the Furious has already racked up a massive $135 million in its first two days of release. It is worth noting that Chinese theaters only give studios about 25% of ticket sales, roughly half of what they receive in most major territories.
Domestically, there are indications that a franchise centered on muscle cars and physics-defying stunts, has crested. The Fate of the Furious took in an estimated $100.2 million (Rs 644 crore), an impressive result, but a steep drop off from Furious 7''s $147.2 million (Rs 947 crore) kick-off. Heading into the weekend, most analysts expected the film would roar past the $100 million mark, instead of inch over the line.
There are important reasons for the fall off. Furious 7 served as a memorial of sorts to Paul Walker, the franchise star whose 2013 death in a car accident shattered his co-stars and many fans. This time, there wasn''t the same emotional resonance. The Fate of the Furious continues the franchise without Walker, adding in series newcomers such as Charlize Theron and Helen Mirren.
Then there was the off-screen drama. This film had to contend with reports of off-screen tension between Vin Diesel and Dwayne Johnson that undermined one of the franchise''s key selling points -- that these films are celebrations of family and brotherhood. Both stars steered clear of each other at the picture''s New York premiere and Diesel''s attempt to brush aside the reports of a beef between the actors left something to be desired.
Reviews were also weaker. IndieWire''s David Ehrlich labelled the film the worst of the series, while the Los Angeles Times'' Justin Chang argued the franchise had jumped the shark, or in this case, the nuclear submarine. That''s not to say there weren''t some loud advocates. Variety''s Owen Glieberman, for instance, praised the picture as a "dazzling action spectacle." Audiences agreed, handing The Fate of the Furious an A CinemaScore.
Beyond Johnson, Diesel, Mirren, and Theron, The Fate of the Furious brings back franchise veterans Kurt Russell, Ludacris, Tyrese Gibson, Jason Statham, and Michelle Rodriguez. F. Gary Gray, fresh off the success of Straight Outta Compton, slid into the director''s chair.

---
'Raabta' trailer: Sushant Singh Rajput-Kriti Sanon weave magic with their dreamy chemistry

New Delhi:MMNN:17 April 2017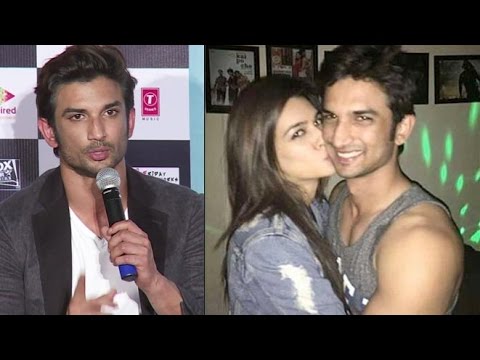 The much-awaited trailer of Sushant Singh Rajput and Kriti Sanon starrer 'Raabta' is out now and it definitely looks dreamy.
The larger than life love story of the duo fills the screen with heartfelt romance that is bound to make you go weak in the knees.
The over-two-minutes trailer starts off with the quirky romance of Sushant and Kriti's characters without spilling the beans on their respective backgrounds much.
Next comes 'Neerja' actor Jim Sarbh into the picture as the ultimate baddie. In a reincarnation story laced with vengeance, will the duo strive to make their love win is the key takeaway from the trailer. The trailer also includes a recreation of the hit melody 'Raabta' from Saif Ali Khan-starrer 'Agent Vinod'.
'Raabta', a romantic drama, which was extensively shot in Budapest is set to release on June 9. The film is directed by debutant Dinesh Vijan. He has earlier produced films like 'Badlapur', 'Cocktail' and 'Finding Fanny'.

---
Is Sunil Grover hinting at Kapil Sharma with his latest 'shoe' picture on Instagram?

New Delhi:MMNN:11 April 2017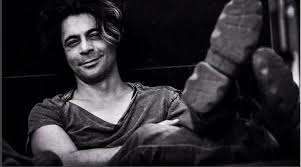 It's been quite a few weeks since Kapil Sharma allegedly abused and misbehaved with comedian Sunil Grover, even hurling a shoe at him on a Melbourne-Mumbai flight. However, the controversy around the two seems never ending. Adding fuel to the fire is Sunil's latest picture on photo sharing app, Instagram.
Captioned 'Shoe Size US 10', Sunil can be seen wearing heavy boots. The timing of the picture is such that it might make anyone wonder if it is a hint thrown at friend-turned-foe Kapil Sharma, who was accused of hurling a shoe at Sunil during their fight.
While Sunil continues to boycott 'The Kapil Sharma Show' and is unlikely to return, there are reports that he might just come back with his own show with comedian Chandan Prabhakar, who played 'Chandu Chaiwala' on TKSS.
Talking about the same, a source had told The Times Of India, "Talks are on and several meetings have taken place, but Sunil is biding his time. He is getting offers from other channels too. He would be happy to take Chandan Prabhakar along as well. Chandan was also treated badly by Kapil on the same flight, which is why he too left the show."

---
Kangana Ranaut responds to sexual harassment allegations against Queen director Vikas Bahl

New Delhi:MMNN:11 April 2017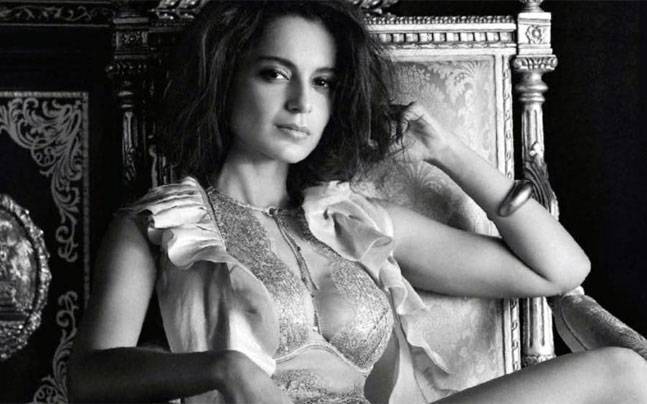 Kangana Ranaut, the star of Queen, the film directed by Vikas Bahl who was recently accused of sexual harassment, has finally opened up about the controversy surrounding her director.
A few days ago, Vikas Bahl was accused of molestation by a female employee of Phantom Films, the production company owned by Bahl, Anurag Kashyap, Vikramaditya Motwane and Madhu Mantena. The news sent shock-waves through the film industry just weeks after The Viral Fever (TVF) CEO Arunabh Kumar was accused of sexual harassment by multiple women who have previously worked with the company.
Vikas Bahl, on his part, has denied the allegations and has said that he has known the accuser for a long time. The woman, Vikas added, is his friend and she never looked uncomfortable around him.
"I have heard about this particular lady you are speaking about and the Goa incident. She is not my employee. Yes, I am friends with her, we have worked together and there is a production job we have done together... but if she is feeling like this I would like to sit across a table from her and talk to her. I want to ask her if I have crossed a line, whether I have done anything to hurt her and if she feels that way I would like to apologise for it. I have known her for long," Bahl recently told Mumbai Mirror.
Now, at an event when Kanagana Ranaut was asked about her Queen director Vikas Bahl and the allegations against him, she said, "It's a very serious issue. I can only say that it is very courageous of a woman to come out and speak about sexual harassment. It's not regarding this particular event, because I am not the party involved, but generally speaking, women who face this should be encouraged to talk about it by their families and their colleagues without feeling ashamed about it."Noticeably, Kangana Ranaut refrained from commenting on Vikas Bahl even though she did acknowledge the seriousness of sexual harassment and considered it a matter of courage to come out and talk about being harassed in the open.
"More women should come out and talk about whatever they feel because that's how there will be awareness about these issues and of course, there will always be another side of the story as well and then there will be the authorities, who can decide what is the right thing to do. But people should speak up about whatever they feel, whether they are right or wrong, they must speak up and discuss," Kangana added.
On the work front, Kangana Ranaut was recently seen in Vishal Bhardwaj's Rangoon. She will be seen next in Hansal Mehta's Simran and has currently begun training her upcoming movie Manikarnika, based on the life of Rani Laxmibai.

---
FINALLY! Priyanka Chopra has LOCKED in on a Bollywood film!

New Delhi:MMNN:10 April 2017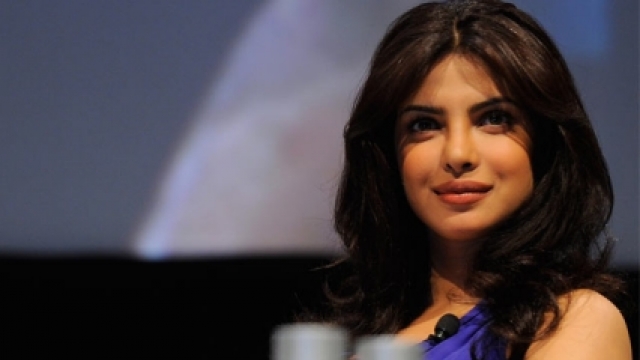 Priyanka Chopra may soon be homeward bound! After making waves for years as one of Bollywood's biggest stars, Chopra decided to head West, where she has been ruling the small screen for the past couple of years as Alex Parrish on Quantico. And now she'll also be making her mark on Hollywood, being a part of Baywatch, which is due to hit screens this summer. She's won several accolades
abroad. But now, Chopra's decided to make her return to Bollywood, with intentions to return to work as soon as this summer.
The actress has promised to start work on two films when she returns to India from the US. And she's finally locked in on a project. According to Mid-Day, Pink director Aniruddha Roy Chowdhury has been signed on by Chopra's production house. He has reportedly been roped in to create a women-centric film, with reports that Chopra herself might have a part to play in the film. While there is no word on what kind of role she'll be taking up, whether as the lead or in a cameo, we might find out soon as Chopra will finalise all the details upon her return to Mumbai from the US.
Chopra was last seen on Indian screens in Prakash Jha's 2016 Jai Gangaajal, which only received mixed reviews. She is currently in negotiations with Sanjay Leela Bhansali and Rakeysh Omprakash Mehra, among others. Chopra is currently involved in promotional activities for her Hollywood debut Baywatch, due to release May 26. Chopra will return to the US after shooting for her Bollywood efforts amidst reports of a season 3 for Quantico and a potential role in Mission Impossible 6.

---
Arjun Kapoor : People are made fun of if they don't speak English well

New Delhi:MMNN:10 April 2017


Actor Arjun Kapoor says it is sad that people judge others on the basis of how well they speak English and those who struggle with the language are often made fun of. Arjun says there are people who will understand Hindi but will respond in English to sound cool.
"In India, if you're smart but don't understand English no one gives importance to you. If you can't speak English then you're looked at differently.This is the biggest issue in the country. You may understand Hindi but will speak in English to sound cool," he said.
The actor was speaking at the trailer launch of 'Half Girlfriend' here. The romantic drama is based on the novel of the same name written by Chetan Bhagat and also stars Shraddha Kapoor .
Arjun says there are certain actors, who also struggle with this issue but he is thankful to his grandparents for always speaking to him in Hindi.
"People are told that if you speak in English you will sound better. So, a consciousness comes in, people are made fun of, they're not taken seriously. This has personally bothered me," he said.
"The youth of today is very fluent in English but you ask them three questions in Hindi and they face a problem. We are actors so we need to learn Hindi, and thankfully my grandparents always spoke to me in Hindi so my Hindi is clean but there are many actors also (who are not fluent in the language)," he adds.
The 31-year-old actor insists Hindi is a language which one must understand as it is something which will take the country forward.

---
Damage is done! The Kapil Sharma Show's ratings hit all-time low
New Delhi:MMNN:31 March 2017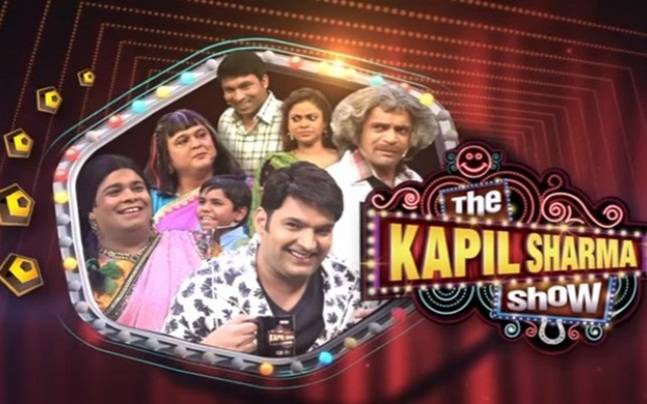 The verdict is loud and clear. Post Kapil's tiff with Sunil Grover and other cast, The Kapil Sharma Show is no longer enjoying the same popularity, as before. The impressions of the show have witnessed a sharp fall for the current week (March 18-24), according to the latest data released by BARC India. The Kapil Sharma Show has recorded 5.3 million impressions, compared to last week's 6 million impressions.
However, the Youtube 'dislikes' on the recent episode of the show gives us some hint about the impending impressions too. For the record, the episode of Youtube has an unbelievable 1,11,875 dislikes, while the likes are a meagre 26,599. The total views are also quite low--3,629,041.
The show, that premiered in April last year, has seen its share of ups and downs. First, it did not exactly open on a brilliant note. In the initial few weeks, the show, on an average, could just about manage 5-5.5 million. But as the weeks passed by, the show's ratings saw a marked improvement, also because the creative team and Kapil worked really hard on their guest list and introducing innovative concepts.
In 2017, the show--barring the first week--managed the average rating of 6.4 million impressions, which is commendable for a non-fiction weekly show. But for the past three weeks, the show has witnessed a downward trend and it is definitely not a good news for Kapil.
We would all agree that TKSS was popular not just because of Kapil Sharma, but also because of its brilliant team. With prominent faces (read Sunil Grover, Ali Asgar, Chandan Prabhakar, Sugandha Mishra, Preeti Simoes) leaving the show, Kapil Sharma has reached a point where he really needs to think hard to sustain his show's TRPs and popularity. And most importantly, his image, which is severely damaged right now.


---
Meri Pyari Bindu teaser: Ayushmann messes up his life while falling in love with Parineeti
MMNN:31 March 2017


Days after the first song was revealed, the makers of Meri Pyari Bindu have revealed the first teaser of the film that stars Ayushmann Khuranna and Parineeti Chopra in lead roles.
The video shows Ayushmann introducing us to his beloved Bindu even as a cassette with her songs is playing in the background.
It looks intriguing and quite promising with certain hints of twists - there is perhaps a tragedy or a betrayal that hits the much-in-love couple and Abhimanyu is left to cope with it all alone. How will he take it? We shall wait for the film to know.


---
Naam Shabana: 5 reasons we are looking forward to Taapsee-Akshay's film
New Delhi:MMNN:30 March 2017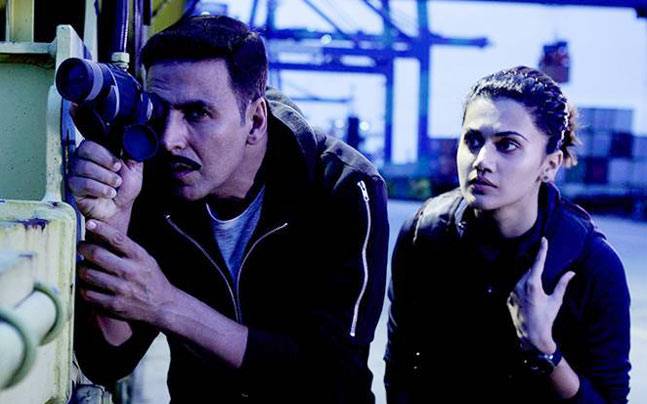 She was a Southern actor until she made her Bollywood debut with Chashme Baddoor in 2013. Her first brush with Hindi film industry did not fetch her any recognition, forget accolades. She was written off by audience and critics alike, leaving her with the only option of going back to her safe haven- Tollywood. Until she was found again by Neeraj Pandey for a role that got her back in Bollywood and how.
An almost forgettable Taapsee stunned audience with some kickass action in 2015 film Baby. A movie which rode high on Akshay Kumar's star power saw Taapsee turning the tables with her cameo. Many sat up and took notice of this girl who had almost become a memory.
And two years later, she is back with her Baby team. But not in a cameo. Naam Shabana is all about Taapsee, and that's reason enough to book a ticket to the film as soon as possible.
Come March 31, and audience will get to see Taapsee in yet another author-backed role. With a day left for the film to hit the screens, we give you 5 reasons to look forward to this film.
Taapsee Pannu
After giving a fiery performance in Shoojit Sircar's 2016 film Pink, Taapsee has reserved her place in this short list of good actors. And a film like Naam Shabana only promises to be an extension to her powerful on screen performances. Naam Shabana tells the story of making of a spy, and going by its trailer, Taapsee promises to be a firecracker.
Baby hangover
If Neeraj Pandey's 2015 film Baby made it to your list of favourite films, then its prequel definitely deserves a watch. Shivam Nair's Naam Shabana traces back the journey of a special agent Shabana Khan, and how she becomes a spy. And the good news is that your favourite characters from Baby will also make a cameo in Naam Shabana. Who wouldn't want to watch Anupam Kher or Danny Denzongapa again in this prequel? With Naam Shabana, get set for another edge-of-the seat thriller.
Khiladi Kumar is back
Baby franchise cannot be complete without Akshay Kumar. Though, Taapsee is the hero of Naam Shabana, Khiladi Kumar's extended cameo has got his fans all excited. With a little bit of role reversal this time, it is Akshay who will come to the aid of Shabana on another dangerous mission.


---
Phillauri box office collection day 6: Anushka Sharma film earns Rs 21.03 cr
MMNN:30 March 2017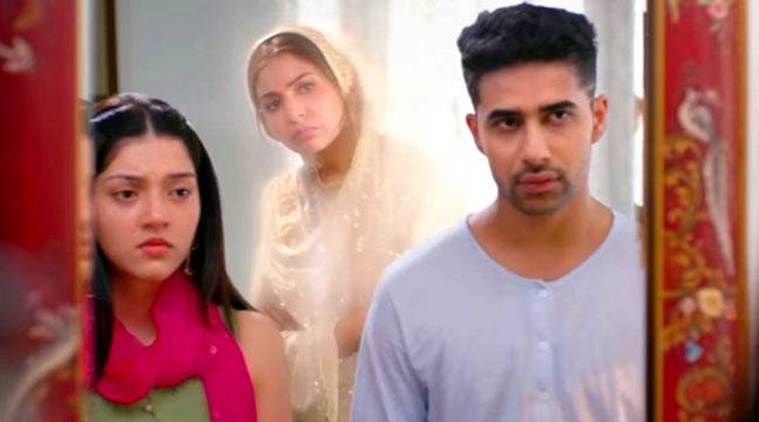 Anushka Sharma and Diljit Dosanjh starrer Phillauri is staying steady at the box office. Trade analyst Taran Adarsh, who keeps us updates about the latest collection of the films, shared Phillauri's day six box office collections too. He tweeted, "Phillauri Fri 4.02 cr, Sat 5.20 cr, Sun 6.03 cr, Mon 2.02 cr, Tue 1.95 cr, Wed 1.81 cr. Total: ? 21.03 cr. India biz."
Though the film witnessed a slight dip at the start of the week on Monday, a strong word of mouth is helping it maintain the pace.
Phillauri is the story about a friendly ghost, Shashi, who ends up in the living world due to certain reasons. The ghost, played by Anushka herself, is winning hearts due to her unique role. The film also stars Suraj Sharma and Mehreen Pirzada.
Anushka Sharma's production is doing its best business in north India, mainly Punjab, which has contributed 52 percent to the total Phillauri collections.


---
Why Sunil Grover might not quit 'The Kapil Sharma Show'
New Delhi:MMNN:22 March 2017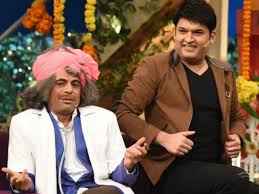 It is out in the open that Kapil Sharma assaulted and abused good friend and co-actor Sunil Grover on a flight recently. Post this, the latter has decided to quit the 'The Kapil Sharma Show', where he plays characters that are loved by the viewers - Dr Mashoor Gulati and Rinku Bhabhi. While Kapil apologised to Sunil in a Twitter post, Sunil's reaction to it has not yet confirmed the news that he would leave the show. While this hints at the possibility that Sunil might just return to do what he does best - make people laugh, his not making his exit public also suggests that Sunil might not be too confident to venture out alone after the failure of his previous stints.
Going by Sunil's career in Television, success had eluded the talented actor for a long time. He was a part of many shows that did not do well, which included Gutur Gu, Professor Money Plant, Lo Kar Lo Baat, Chala Lallan Hero Ban Ne and Kya Aap Paanchvi Fail Champu Hain?. None of his works did justice to the talent that he has, until he worked on Comedy Nights With Kapil, where he rose to unprecedented heights with his enactment of a cross-dressed woman, Gutthi. He left the audience in splits with his comic act and proved his mettle as a comedian.
However, his creative differences with Kapil Sharma when he was doing Comedy Nights made him switch to another channel with a new show. Sunil went on to do 'Mad In India', his own show, which turned out to be a dud, doing nothing for the comedian. He then returned to Kapil's show after a reconciliation and continues to receive the same adulation till date, even when he now plays an aged Dr. Mashoor Gulati, who offers unique medical treatments to his patients, on The Kapil Sharma Show.
Sunil now probably knows the result of working with Kapil and without him, as he has experienced both. Hence, his possibility of returning to the show cannot be ruled out completely. Also, this pretty much sums up the fact that just as Kapil is nothing without Sunil, Sunil is also a non-entity without Kapil. It is true that some people work best, when they work together. We can only hope that two bury their differences and shift their energies to create magic with their humour and wit.


---
Salman Khan and Katrina Kaif's picture from the sets of 'Tiger Zinda Hai' is perfect
MMNN:22 March 2017


Salman Khan and Katrina Kaif are all set to recreate magic on the big screen with 'Tiger Zinda Hai'. One of the most sought-after on-screen jodis, the two were last seen together in the film's prequel, 'Ek Tha Tiger' in 2012. And for those who can't wait till the film's release to witness Salman and Katrina's sizzling chemistry, here's a surprise from the actor.
Salman posted a beautiful picture of him and Kat on the sets of 'Tiger Zinda Hai' on his Instagram handle. The actress looks gorgeous in a blush-coloured tube gown while Salman is his dashing self in a black tuxedo. The picture sees the two caught in a romantic moment as they are lost in each other's eyes. Salman captioned the image, "Back together, in Tiger Zinda Hai."


---
Haven't reached that position where I can choose roles Taapsee Pannu
New Delhi:MMNN:20 March 2017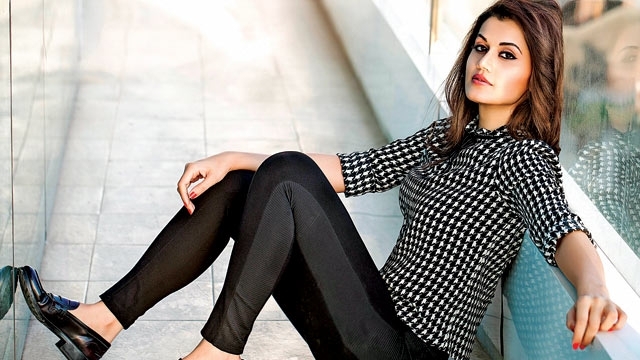 Known for her hard-hitting performances in films like 'PINK' and 'Baby', Bollywood actress Taapsee Pannu, currently in midst of promoting her next 'Naam Shabana', believes that she has not reached that position yet where she can choose her roles.
Taapsee, who set off on her Bollywood journey with David Dhawan's 'Chashme Baddoor' in 2013, is now riding high with back-to-back action packed movies, to which the 'PINK' actress said, 'Beggars can't be choosers but I was fortunate enough to work with such directors who offered me different kind of roles.'
Talking exclusively to ANI about her choices, Taapsee shared, 'Only thing I keep in my mind is, I shouldn't repeat my roles as after 'Baby', I got a long list of action films but I didn't wanted to do it as even I will get bored if I will continue doing the same thing again and again.'
Sharing about her preferences in terms of success, the 'PINK' actress said, 'I would want a Box Office success over critical acclamations. I genuinely believe if a film can hold the audiences to seats for two hours then it's a good film and it will get a Box-Office success.'
Taapsee Pannu, who was promoting her upcoming film 'Naam Shabana' here, further shared, 'BO collection is also important because then only I will get to be a part of more films and I would like all my films to do good at Box Office.'
Written by Neeraj Panday and produced by Plan C Studios, Shivam Nair's directorial 'Naam Shabana' is all set to release on March 31.
'Naam Shabana' will shed light on the life of Shabana, Akshay Kumar's mostly silent but obedient junior officer in ' Baby'.
The 'PINK' actress will begin shooting for 'Judwaa 2' from next month, co-starring Varun Dhawan and Jacqueline Fernandez in the lead roles.


---
Rise and fall of the great comedian Kapil Sharma
MMNN:20 March 2017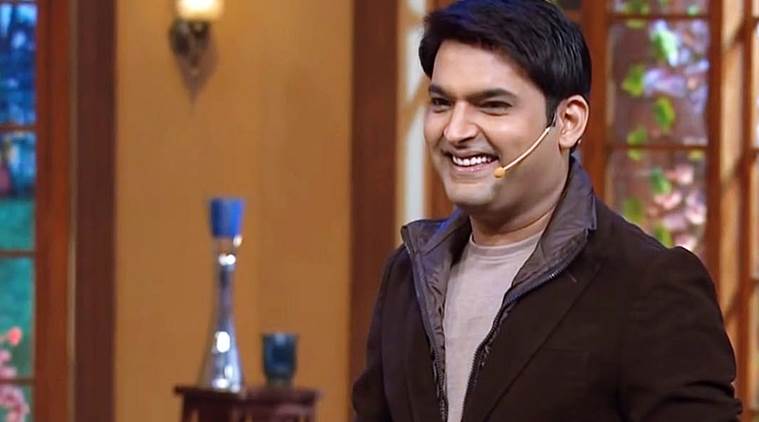 Kapil Sharma has reached a stage where he needs no introduction. An artist par excellence, the comedian is known for his wit, humour and comic timing. Over the years, he has managed to gain great reputation through his hard work, which has resulted in many successful shows like The Kapil Sharma Show and Comedy Nights with Kapil. His work, so far, has solidified his position in the industry and given him the status that he enjoys today. However, all has not been well in the recent past. With the actor being a part of several controversies and people around him a witness to his changed demeanor, have we lost the man who made us laugh and forget about our worries?
Rise to stardom: Looking at Kapil's journey, there is no doubt that all the fame and adulation he has earned didn't come easy. He has fought for it and made his way through the tough world of showbiz, even when he was an outsider. He first tasted success by winning the comedy reality television show The Great Indian Laughter Challenge in 2007. Post his stint, he was a part of different reality series on Television which included Comedy Circus, Jhalak Dikhhla Jaa, Chhote Miyan, Ustaadon Ka Ustaad and several others. Kapil wore different hats in all of them - he was a host sometimes or a stand-up comedian. He got noticed for his talent and sheer hard work. After his steady rise through these shows, the comedian ventured into his own and launched Comedy Nights with Kapil in 2013 on Colors, which remains his biggest success on the small screen. Currently, he is hosting The Kapil Sharma Show on Sony TV.
Owing to the brilliant work he has done, Kapil has several awards tucked under his kitty. In 2016, Forbes India ranked him at 7th position in terms of fame and at 11th position in terms of income on their Celebrity - 100 list. He was also nominated by Prime Minister Narendra Modi for the Swachh Bharat Abhiyan and was invited to the Rashtrapati Bhavan by President Pranab Mukherjee in September 2015 to acknowledge his contribution for the same.
Decline of stardom: While everything was looking up for Kapil when he was hosting Comedy Nights With Kapil, his fallout with Colors came as a huge blow, not just to him but also to the viewers of the show. There was a lot of mud-slinging involved, wherein the CEO of the channel told The Times Of India in an exclusive interview that Kapil found it difficult to manage his success. He accused him of renegotiating and asking for more money after Comedy Nights With Kapil turned a hit. This didn't go down well with the comedian who felt he asked, what he deserved. Kapil shifted to Sony TV soon after, but there again, he was and continues to be constantly pitched against Sunil Grover, who has become the show-runner in no time.


---
Naam Shabana trailer: Taapsee Pannu, Akshay Kumar are ready to kill, or die, for India
New Delhi:MMNN:17 March 2017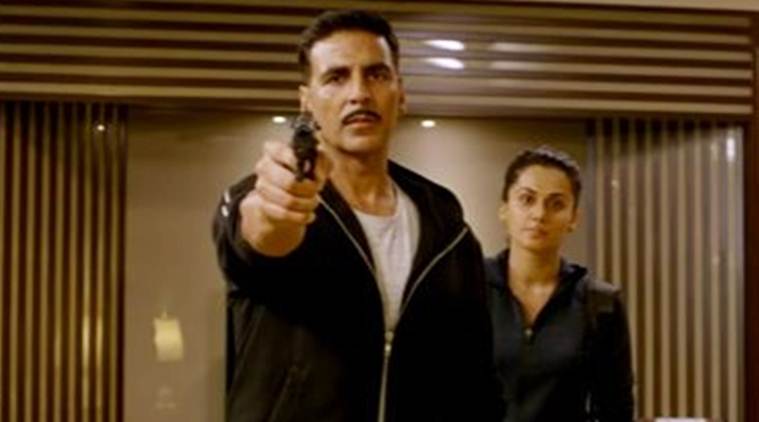 It is hard not to associate reel with real when we are so obsessed with Bollywood. A day before the second trailer of Naam Shabana landed, the news emerged that Akshay Kumar has donated Rs 1.08 crore to families of Indian Army martyrs. And today, we see him as a special agent who is ready to sacrifice his life for his country. Along with him is film's Shabana, Taapsee Pannu, Anupam Kher reprising his role as the doom-and-gloom Shukla and Manoj Bajpayee. Together, they have presented us with a trailer which is high in action, edge-of-the-seat moments and quotable dialogues. As we say in Bollywood, paisa vasool.
Naam Shabana is a spin-off of 2015's Baby. It was Taapsee Pannu's eight-minute sequence in Baby that so impressed the makers that they decided to make a full-fledged film with her. The film is directed by Shivam Nair, and has Akshay Kumar reprising his role as Ajay Singh Rajput in a cameo. The film also stars Prithviraj Sukumaran as the bad guy.
Akshay Kumar shared the trailer with the caption, "Want to know how Shabana became a part of Team Baby?Watch the new #NaamShabanaTrailer to know Her Story Before Baby!"
Taapsee's intense training in the mixed martial arts is what we got to see in the first trailer of the film. But in this one we got to see more punch and action sequences done by other cast members of the film too. Prithviraj said about the film, "All the fight in the film is because of my character, and that is all I can say."
Before sharing this new trailer, Taapsee took to Twitter and shared, "You know the promotions are on full swing when u start catching early morning flights. To Delhi for The New Trailer Of Naam Shabana!." The 49-year-old Akshay too took to his Twitter handle to say, "Are you guys ready for another peek into the life of Shabana? New #NaamShabanaTrailer will be out tomorrow at 12 noon. Stay tuned!"


---
Baahubali 2 trailer: Why Kattappa killed Baahubali and 5 other big moments you missed in the trailer
MMNN:17 March 2017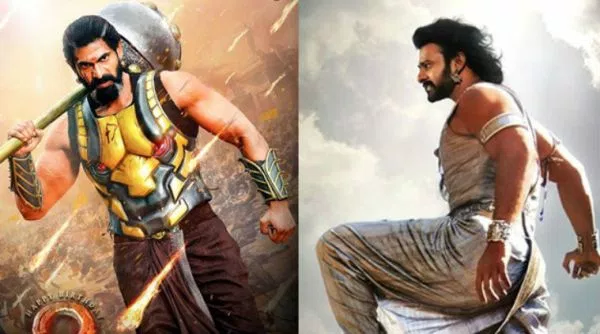 Finally, the trailer of Baahaubali: The Conclusion has arrived and we just can't have enough of it. The makers had announced that the Baahubali 2 trailer will be released on the internet only by Thursday evening. However, they were kind enough not to make the fans across the world wait any longer and unveiled all versions of the trailer along with its theatrical release in Andhra Pradesh and Telangana. So a big shout out to the filmmakers. And yes, it's real, the trailer is here to assure the fans that almost two years of wait and anticipation will come to an end when the film will hit the screens on April 28. That is when all our questions and hundreds of fan theories about the film will be checked. The second part was supposed to release in 2016, according to the initial plan. However, that didn't happen. Before we tell you more, here's the trailer of Baahubali 2
The trailer has clocked over four million views on its Hindi trailer within hours of being posted online. It was also trending worldwide and we would say for all the right reasons. Beyond all those grand visual effects and emotionally-charged performances, one may tend to pay very less attention to the story. So here we break Baahubali 2 trailer for you.
We know Sivagami Devi chose Baahubali over her own son Bhallaladeva to rule the kingdom of Mahishmati just before Baahubali ended on a massive cliffhanger. The second part opens with Baahubali taking oath as the king of Mahishmati but it is shown in a gloomy setting in the trailer, hinting at the death of Baahubali at the hands of his loyal guard Kattappa.
Following the death of Baahubali, Sivagami, holding up the baby, declares Mahendra Baahubali the next rightful heir to the throne. Now, that explains why Bhallaladeva wanted to the kill the baby as it stood in the way of his ascendance to the power.
In the first part, Baahubali and Bhallaladeva joined forces to fight the brutal warrior tribe led by warlord Kalakeya. Now, a war breaks out within Mahishmati between the factions led by Baahubali and Bhallaladeva. What triggers the war between them? Although the kingdom is the main bone of contention, in the first part, we saw that Bhallaladeva concedes and accepts Sivagami's decision to make Baahubali the king of Mahishmati. So there should be something more pressing issue between the brothers that triggers this civil war.
Despite Kattappa telling him that he is the one who backstabbed his father, literally, Shivudu continues to place his trust in Kattappa as they both seemingly join forces to take on Bhallaladeva. So one thing we can be sure of is that Kattappa was the victim of circumstances when he drove his sword into Baahubali's back.


---
Akshay Kumar donates Rs 1.08 crore to martyred jawans' kin
New Delhi:MMNN:16 March 2017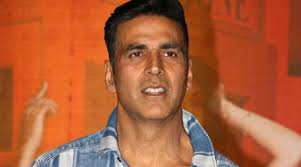 Bollywood superstar Akshay Kumar continues to do his bit for the jawans. The actor has donated Rs 1.08 crore to the families of twelve slain jawans of the Central Reserve Police Force (CRPF). Belonging to the 219 battalion, these brave jawans were killed in Chhattisgarh's Sukma district after a group of the Naxals' armed militia ambushed a road opening party (ROP) in the area's Bheji village on Saturday, March 11, 2017.
The actor has been in regular touch with IPS officer Amit Lodha, DIG of Jaisalmer sector north. Akshay enquired about this encounter and requested Lodha to share all pertinent details of the slain jawans' kin. Soon after going through the details, Akshay called DIG Lodha and expressed his desire to donate Rs 9 lakh each to families of the martyred jawans.
DIG Lodha was touched by the superstar's gesture and told The Times of India, "Akshay himself has been in touch with me and he keeps enquiring about incidents and when I told him about the Sukma incident he immediately told me he would like to contribute and do his bit for the families of the martyred jawans, we are all grateful to him for this kind gesture."


---
Love 'Dobara': Salman Khan to get back with Katrina Kaif?
MMNN:16 March 2017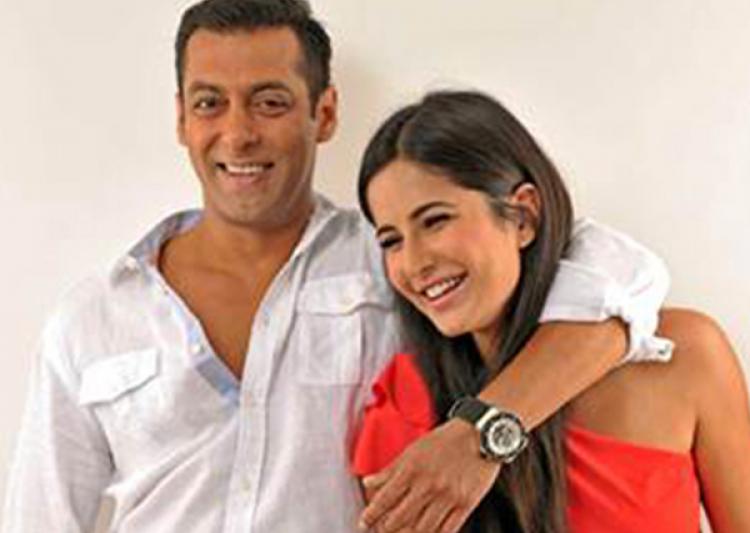 Salman Khan's bachelor tag has been one of the most talked about topics since ages and, latest buzz has it that the Bhai of Bollywood is getting back with ex-girlfriend Katrina Kaif.
The actor who is often referred to as the most eligible bachelor of B-town has cleared the air for everyone and said that he is not settling with rumoured girlfriend, Iulia Vantur, fresh reports suggest.
Now that Katrina has reportedly parted ways with Ranbir Kapoor and Sallu has no long-term plans with Iulia, it is being said that the ex-lovers might give love a second chance.
Interestingly, Salman and Katrina will be seen as onscreen pair in Ali Abbas Zafar's "Tiger Zinda Hai".
The film is a sequel to 'Ek Tha Tiger' where Salman will be reliving his role as a RAW agent with Katrina as his co-star.
The duo is currently shooting for the film in Austria, and reportedly, the "Sultan" actor has been looking after his co-star post her back injury.
Buzz has it that the superstar is making sure that Katrina is absolutely fine and only shooting easy scenes.
Besides the film, the pair are coming together for an endorsement deal for the Middle-East based fashion brand Splash.
"Tiger Zinda Hai" is scheduled to hit the screens on Christmas this year.


---
Baahubali 2 Trailer Releases, Producer Is 'A Little Nervous'
New Delhi:MMNN:15 March 2017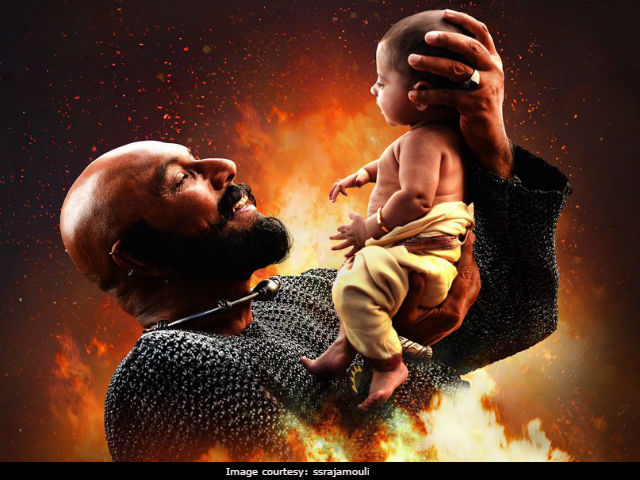 The trailer of the massively anticipated Baahubali: The Conclusion will release tomorrow - in some 25-odd theatres across Andhra Pradesh and Telangana, as news agency IANS reports - and producer Shobu Yarlagadda admits to being "a little nervous." The film, part two of director S S Rajamouli's epic fantasy starring actors Prabhas and Rana Daggubati, has been certified U/A. In a tweet this morning, Mr Yarlagadda attached the certificate and wrote: "Just a day more! A little nervous, I must say. Hope all of you will love it." The trailer of Baahubali: The Conclusion is about two minutes and 20 seconds long.
The trailer will release across screens tomorrow morning and online later in the day. "The trailer will play in theatres across Andhra Pradesh and Telangana from March 16, 9 am. It will be made available on online platforms from 5 pm or 6 pm the same day," director S S Rajamouli told.
A teaser for the film was released days ago. Very few glimpses of Baahubali: The Conclusion have been made available - filming was shrouded in secrecy with heavy security on the sets, and one person was later arrested for leaking a war scene, believed to be the climax.
Baahubali: The Beginning, part one of Rajamouli's magnum opus, released in 2015 and made over Rs 650 crore worldwide. It also won National Award for Best Feature Film.
Baahubali: The Conclusion sees most of its original cast-members returning - apart from the lead actors, Tamannaah Bhatia, Anushka Shetty and Sathyaraj will reprise their roles as Avanthika, Devasena and Katappa. The film is also expected to explain the cliffhanger ending of part one, in which Baahubali was killed by Katappa.
Baahubali: The Conclusion will release in Telugu, Tamil and Hindi on April 28.


---
The Kapil Sharma Show: Anushka Sharma turns Kapil's English teacher
New Delhi:MMNN:15 March 2017


By now it is common knowledge that Kapil Sharma has been trying hard to hone his English speaking skills and interestingly he has already started receiving support from all his loved ones. Recently, when Bollywood actor Anushka Sharma visited the set of his show, the actress made it a point to make him speak in English and turned his English teacher.
A source from the set informs, "Anushka read out Hindi proverbs to Kapil and asked him to translate the same in English. The English learning practice not only had the audience in splits but Anushka made it clear to Kapil that it will help him in polishing his language. Kapil too enjoyed the session and was glad to have a teacher like Anushka who is known for her rapid speech."
In fact, not only Anushka but the fans of the show also insisted Kapil to recite the Hindi proverbs in English. "The book from which Anushka was reciting the Hindi proverbs was gifted by a senior citizen who was a big fan of The Kapil Sharma Show. Anushka, fans and the entire team of the show had a gala time shooting for the episode."


---
I am non-violent person in real life: Taapsee Pannu
New Delhi:MMNN:11 March 2017


Taapsee Pannu, who has been portraying strong characters in her films, says in real life she is a non-violent person.
"I can't even slap someone in real life. Naturally, I am quite a hyperactive girl because I was into sports in my school days. So, because of that, my attitude seems like that only. Otherwise, I am a non-violent person in real life," she said at the launch of training video of the new song 'Zinda'" from 'Naam Shabana' on Friday.
After delivering a powerful performance in the critically acclaimed 'Pink' last year, Pannu is back with another intense film 'Naam Shabana', in which she plays the no-nonsense and fearless spy Shabana.
Speaking about the film she said: "I had to practise a lot for action sequences. Sometimes I had to take physiotherapy because I felt stiffness in muscle and joints became weak because of action stunts. Mentally and physically this character is really very tough for me because it is not at all related to my personality."
On being asked, as the film is a spin-off of the hit film 'Baby', is there any pressure for her, she replied: "We have the same star cast in the film but Akshay is in a cameo. Also, there are Manoj Bajpayee and Prithviraj Sukumaran who are also outstanding actors in their own way.
"However, playing the title role isn't a pressure for me because Neeraj (Pandey) and Akshay sir supported a lot. I am not in a pressure but I am excited to learn that if being a two-film-old actress, I can play the central character in the film, then the usual idea about the industry, which says it is tough to get the lead for a new actor, is proven wrong."
The action spy thriller is directed by Shivam Nair and produced by Neeraj Pandey. It is a prequel/spin-off from the 2015 film 'Baby' and also features Anupam Kher, Danny Denzongpa and others. The movie is scheduled to release on March 31.


---
'Baahubali 2' trailer to be launched on March 16
New Delhi:MMNN:11 March 2017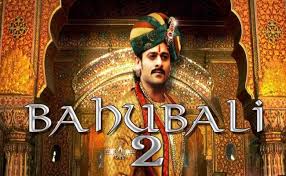 The much awaited theatrical trailer of S.S. Rajamouli's 'Baahubali 2' will be released on March 16, the makers announced on Saturday. In a Facebook chat, Rajamouli and producer Shobu Yarlagadda confirmed the trailer will be released between 9 a.m. to 10 a.m. on March 16 in theatres across Andhra Pradesh and Telangana.
The trailer will be released online at 5 p.m. on the same day."This is the same fashion we followed for the trailer of the first part. We had released it across theatres in Andhra and Telangana. We are following the same approach for the second part as well," Rajamouli said.
The makers also confirmed that the film will hit the screens worldwide on April 28.Starring Prabhas, Rana Daggubati, Tamannaah Bhatia, Anushka Shetty, Ramya Krishnan and Sathyaraj, the second part will have a simultaneous release in Telugu, Hindi, Tamil and Malayalam.


---
This superstar wanted to play Ranbir's role in Sanjay Dutt's biopic
New Delhi:MMNN:8 March 2017


Filmmaker Rajkumar Hirani, who is making a film on actor Sanjay Dutt's life, went to superstar Aamir Khan for a role and the latter thought that the director came to him for Sanjay's role.
Reportedly, Raju offered Aamir the role of Sanjay's father Sunil Dutt.
If reports are to be believed than Rajukumar asked Aamir that he wanted to meet him, as he was keen to cast the superstar in Sanjay Dutt's biopic. The director met Aamir with writer Abhijat, and started giving narration on Sunil Dutt's role.
The actor who was expecting that the lead role told the filmmaker that he thought that they would narrate Sanjay's role to him adding that he was not interested in playing his father.
Well, this is indeed interesting. This is known to all that actor Ranbir Kapoor is playing the lead in the film.
Though, Ranbir is a talented actor and the hard work that he is doing for the biopic is not hidden from anyone. But, things would have been different if whatever Aamir was thinking was right and he was approached for the main role.
Along with Ranbir, the biopic also features Sonam Kapoor as Sanjay's one of the love interests, Dia Mirza will be seen as his wife Manyata Dutt, and Manisha Koirala will portray Nargis Dutt.
Paresh Rawal will essay the role of Sanjay's father Sunil Dutt.


---
Anushka Sharma: I think I've represented ghost community well
New Delhi:MMNN:8 March 2017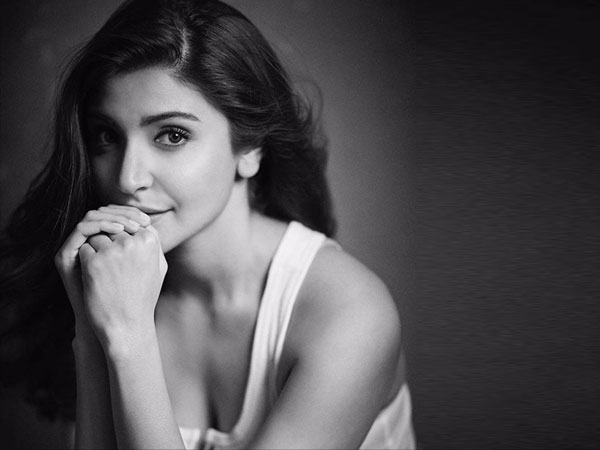 Actress Anushka Sharma, who will be essaying the role of a ghost bride in her second production 'Phillauri', says she does believe in ghosts.
During media interaction to promote her upcoming flick, the 'Rab Ne Bana Di Jodi' star revealed, "I believe ghosts exist and I have felt it too."
The 28-year-old then described her experience of becoming one and said, "It was fun to play a non-living character. Normally we play characters which are in the flesh and its boring to portray a living character in each film. You should keep doing a different thing. I think I've represented the ghost community well by presenting their feelings in front of all of you."
Anushka ventured into production with 2015 thriller 'NH-10' and is now gearing up for her banner's next project starring Diljit Dosanjh.
When asked as to what she enjoys the most, the actress replied, "I enjoy being both, an actor and producer. I have realized that with more responsibilities, I tend to perform better. It's because I get to collaborate on a film from scratch, from the beginning of it. This is creatively an extremely satisfying experience."
"For example right now when I am working on Imtiaz Ali's film, I just act and that's it. But when it's your film, there is even more involvement which I really enjoy," added the 'PK' star.


---
Sonakshi Sinha's 'Noor' to release in Pakistan
New Delhi:MMNN:7 March 2017


Actress Sonakshi Sinha starrer 'Noor', which is based on Pakistani author Saba Imtiaz's novel 'Karachi, You're Killing Me', will release in Pakistan.
When asked if 'Noor' will have a release across the border, producer Bhushan Kumar said, "Yes, we are releasing the film in Pakistan." The Sunhil Sippy-directed film follows journalist-writer Noor's misadventures and love life as she navigates her way through Mumbai.
The setting of the movie has been changed from Karachi to Mumbai and the director says it was meant to be like that as the team worked hard to adapt the book into Indian setting.
"The book was really just the germ of the idea. We took those characters and adapted it to Mumbai. There is no link at all between the two, it's just the germ of the idea," Sippy says.
Sonakshi says her respect for journalists has grown after playing one in the movie. "I have tremendous respect for journalists. It is not easy being a journalist and especially the way you all work. I really respect that. Noor is also one of you."
"As celebrities we don't know in detail what journalists go through. While doing the film, I realised the kind of work journalists do." 'Noor' is scheduled to release on April 21.


---
The Kapil Sharma Show: Alia Bhatt is Dr Mashoor Gulati's Dulhaniya
New Delhi:MMNN:7 March 2017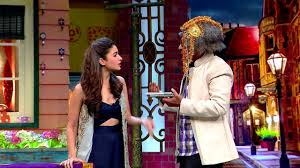 The Kapil Sharma Show on Saturday has Alia Bhatt and Varun Dhawan of Badrinath Ki Dulhaniya as special guests.
Kapil's nani aka Ali Asgar brought Rishta for Alia and it was none other than Dr. Mashoor Gulati.
Unlike all the grooms, Dr. Gulati came on a donkey to take away his Dulhaniya. But Dulhan Alia had some other plans and sneaked out on the pretext of returning dressed as a bride.
And a happy Dr. Gulati is seen dancing on 'Tamma Tamma' and is joined by Varun Dhawan dressed as a bride.
Varun made fun of Dr. Gulati and everyone including Navjot Singh Sidhu was in splits.
Alia and Varun had some fun with Kapil Sharma as he asked them questions about the shoot. And then the trio started decoding the Tamma Tamma song.
And then Kapil revealed how he had failed in Maths and how good he was in English. Alia, Varun and the audience couldn't contain their laughter.
Alia revealed Varun's secrets, how he forgets lines.
Next came Bumper dressed as a bride but she revealed how she has married Varun Dhawan. And her banter continued with Kapil Sharma.
Kapil and Alia also sang the famous 'Tainu Samjhawan ki' and later Kapil also sang a few lines of 'Tere Bina nahi lagda Dil Mera dholna'.
Then came the famous band-Bhabhi duo Santosh and Rinku. Santosh gave her heart to Varun.
The show ended with a performance by Alia and Varun on the title track from their movie 'Badrinath Ki Dulhaniya'.
Keep watching this space for all the updates of The Kapil Sharma Show.


---
Hugh Jackman makes an appearance on 'The Late Show' with Stephen Colbert
New Delhi:MMNN:6 March 2017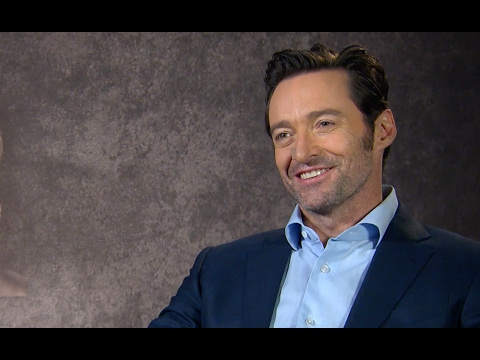 Hugh Jackman has been playing Wolverine since seventeen years and without a doubt it's the most popular and loved character from the X-Men series.
But during an appearance on The Late Show with Stephen Colbert, which airs on Star World Premiere HD in India, Hugh Jackman revealed that his son Oscar, 16, thinks he's nothing like the film's leading character.
'I remember my son having a friend come over. He was about 13 [at the time],' Hugh recalled. 'The guy was peppering him with Wolverine questions and my son was like, nothing,' referring to Oscar keeping completely quiet.
'Finally I hear this, "Listen, Dad is nothing like Wolverine. He's not tough, he's not cool. Don't ask me anything about it",' the Sydney-born actor continued in good humour.
Hugh currently stars in Logan, the latest of the Wolverine spin-off series, but will be the last in which Hugh plays the popular character. His role required many shirtless scenes and a dedicated three-month diet and fitness regime, in the lead-up to filming. He admitted that he is enjoying returning to a normal eating plan.
"Now I'm eating and loving it," Jackman told Colbert. "Sometimes waking up at two in the morning just to have breakfast cereal, and then go back to bed. With it still in my lap," he added.
The Late Show with Stephen Colbert airs on Star World Premiere HD every Monday to Friday at 8:00 PM.


---
Akshay Kumar and Team Naam Shabana celebrated Anupam Kher's birthday a day early
New Delhi:MMNN:6 March 2017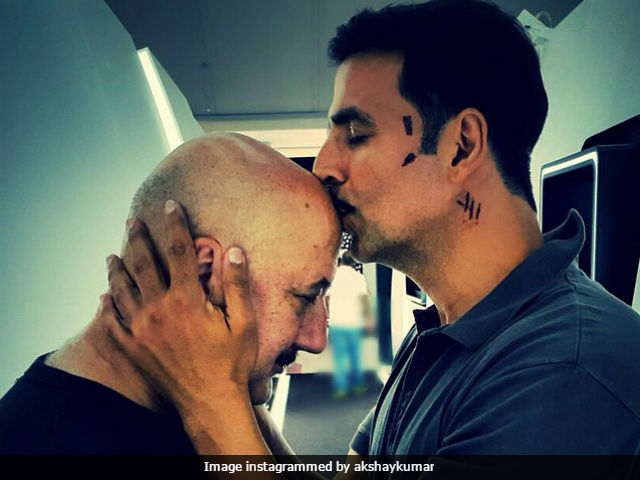 Akshay Kumar, who has co-starred with veteran actor Anupam Kher in films such as - Special 26 and The Shaukeens, shared a video on social media wishing him on his birthday. Anupam Kher celebrated his birthday a day in advance on the sets of Naam Shabana with the entire team. The video posted by the 49-year-old actor has been captioned: "A team that eats together stays together. From Team Baby to now Team #NaamShabana, happiest birthday to our Shukla ji. Love & Prayers @anupampkher(sic)." Anupam Kher later thanked the entire team for the warm wishes. He tweeted: "Thank you my friends for celebrating my birthday one day in advance. It is wonderful to be part of team #NaamShabana. Love u all. Jai Ho.:)."
Naam Shabana is a prequel to the 2015 movie Baby. The film is being directed by Shivam Nair and co-produced by Neeraj Pandey and Shital Bhatia under Friday Filmworks banner. The film will see Taapsee Pannu reprise her role as Shabana. The movie is scheduled for release in theatres on March 31.
Akshay Kumar and Anupam Kher will also be seen sharing the screen space in Toilet - Ek Prem Katha.
Akshay Kumar was last seen in Subash Kapoor's Jolly LLB 2 along with Huma Qureshi, Saurabh Shukla and Annu Kapoor. His other upcoming projects are - 2.0 co-starring Rajinikanth and Amy Jackson and Padman along with Sonam Kapoor and Radhika Apte.


---
Koffee With Karan Season 5: Zoya Akhtar has many suitors, so claims Karan Johar
New Delhi:MMNN:27 Feb. 2017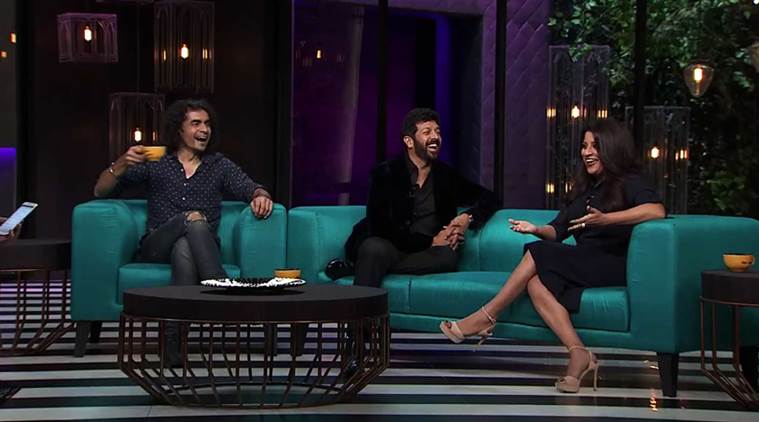 Hosting the Director's special on Koffee With Karan Season 5 this week, Karan Johar was in a mood to talk cinema with people from his side of the business. With master filmmakers Kabir Khan, Zoya Akhtar and Imtiaz Ali giving him company, Karan chatted about films, critics, Twitter reviews and reactions.
Beginning the episode with what he calls himself famous for - frivolous talk, Karan calls Zoya a seductress of Koffee With Karan and someone who is wooed by many popular directors of Bollywood like Anurag Kashyap, Dibakar Banerjee and Imtiaz Ali. To this, Zoya tells Karan how she is waiting for him. When Karan replies that it might never happen, she talks about hope and wait.
Talking about box office success, all the three directors confess that figures matter. Also, Imtiaz elaborated how he appreciates the experimentation that is happening in commercial cinema now. Since Hindi films are all about song and dance, both Imtiaz and Zoya opened up about their love for shooting the musicals on set.
When the topic shifted to stars walking out of their films, Zoya revealed that initially she was cocky, and that is what helped her survive. Imtiaz told Karan how he, somehow, never faced the problem of casting people after Jab We Met. Kabir had an all together different struggle. He joked that it was difficult for him to get the producer on board and not the actor. He was a documentary film maker and that came as a barrier in getting his foothold in commercial cinema.
Quick to point out things, Karan also opened up about how actors never read narrations, and that his are over-the-top, theatrical ones, where he enacts the male lead as well as the female part.
The funniest bit of the show was when Karan confessed that he was obsessed about reading every review of his movie on Twitter. Asking the directors to share their thoughts on the same, Zoya said that these days the critique is pathetic and low ground. They are competing amongst themselves to be meaner and funnier. While Zoya talked about how one critic accused her of making films about rich people. And the same one, gave Karan 4 stars for his film. Kabir, however, came easy on it.
He said he doesn't seek reviews but reads them if he comes across any. Imtiaz was all cool about it and revealed that he doesn't read anything. Karan also ridiculed the trend of live tweet reviews and Zoya called it piracy.
In the rapid fire round, from actors who came late on sets to the best actor/actress, the directors shared their favorites with Karan, without any hesitation. The hamper was won by Imtiaz Ali and Kabir Khan. But Zoya made up for the loss by winning the Koffee Quiz.


---
Rivals Deepika and Katrina to come together for film with SRK?
New Delhi:MMNN:27 Feb. 2017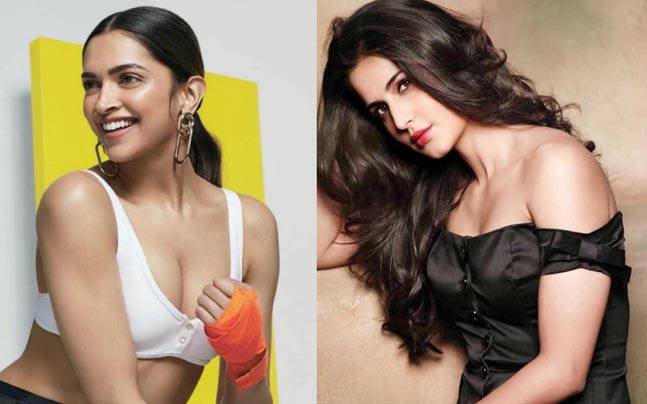 Aanand L Rai's ambitious dwarf film with Shah Rukh Khan has been making headlines for a while now. While we know that the film will have two leading ladies, the speculation about who will essay the roles is never-ending. According to a report in DNA, Deepika Padukone and Katrina Kaif have been finalised to star opposite SRK.
When Ranbir Kapoor reportedly cheated on then-girlfriend Deepika with Katrina, he set the stage for the cold war between the two. Katrina was asked on Koffee With Karan if she was friends with Deepika, and her only response was an awkward silence. The two also go out of their way to ensure that they do not come face-to-face at public events.
"Aanand has been in talks with a few actresses, and has finally sealed the deal with DP and Kat. While there were reports about Deepika replacing Katrina and vice-versa, the film will have both the heroines working together for the first time," DNA quotes a source as confirming.
Adding that they both are reluctant to let go of a plum project due to personal differences, the source said, "Both the roles in Aanand's film are extremely strong and totally different from the other. The team is planning a big announcement soon. The modalities are being worked out currently."


---
Pink: Amitabh Bachchan and Taapsee Pannu happy about special screening at the President's House
New Delhi:MMNN:25 Feb. 2017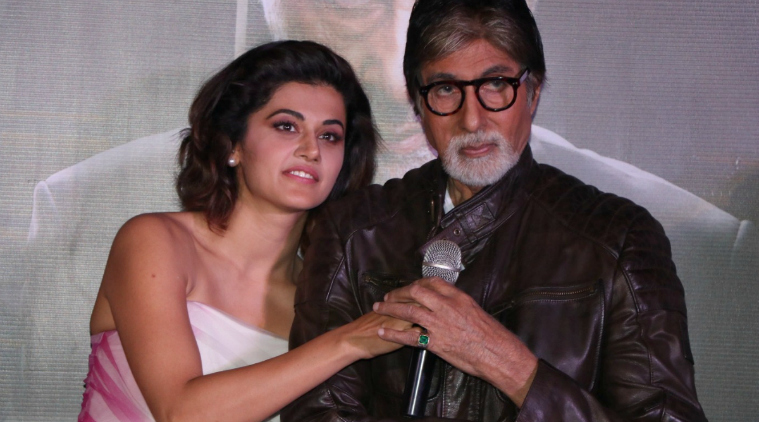 Even after months of having its ripple effects on not just the box office but also the minds of people, Pink continues to make waves. Now, the star cast of the film is set to watch the critically acclaimed film with President Pranab Mukherjee. on Saturday. Lead actors Amitabh Bachchan and Taapsee Pannu have been invited for the screening at the Rashtrapati Bhavan in New Delhi.
Amitabh Bachchan, who plays the titular role of a lawyer in the award winning film, took to his blog last night and wrote about how the President has always been supportive of good cinema.
"The Honourable President of India, Shri Pranab Mukherji, watches our film 'PINK" tomorrow in Delhi, at his residence, the Rashtrapati Bhavan .. and so there shall be travel .. just for a few hours .. he has always been most generous with his time and desire to accommodate the creative elements of cinema, and we cannot thank him enough for it ..," Bachchan wrote on his blog.
With two films releasing together this year - The Ghazi Attack and Running Shaadi, Taapsee's career is on the upswing. The 29-year-old was on cloud nine and took to Twitter to share the good news too. "Guess who has movie and dinner plans with The Honourable President today?" she tweeted on Saturday morning," Taapsee tweeted.
Directed by Aniruddha Roy Chowdhury, Pink is a courtroom drama and also stars actors Kirti Kulhari, Angad Bedi, Andrea Tariang and Piyush Mishra. The film got immense appreciation from the audience and critics alike, for its strong socially relevant message and hard hitting plot, about how choices made by young women in our society need to be accepted and respected.


---
Kangana Ranaut: Was shattered when I came to know about my top-notch scenes being edited
New Delhi:MMNN:25 Feb. 2017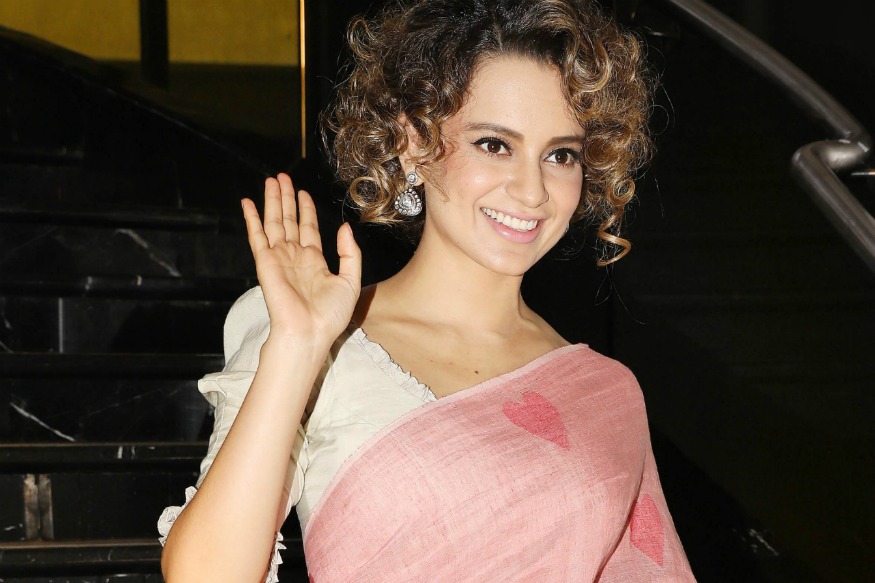 Actor Kangana Ranaut says despite some of the top-notch scenes being edited from the film 'Rangoon', she is happy with the response it is getting.
"Those scenes were my top-notch performances and I was shattered when I came to know about the edit. I thought without those scenes my performance would be regarded as satisfactory and it won't be appreciated that much. Despite that, people loved it. I am very happy," Kangana said.
"Some of my favourite scenes, which were important for the graph of my work were edited. I prepare my character's graph in a linear pattern so when I saw the film Vishal Ji explained why the editing was legitimate," the 'Queen' actor said.
On being asked about compliments from the industry, she said: "More than I expected. Many from industry have complimented and messaged me which is a very sweet gesture."
The period romantic drama, directed by Vishal Bharadwaj stars Shahid Kapoor, Saif Ali Khan, besides Kangana in lead roles.


---
Rangoon review: Saif-Kangana-Shahid's film has got grandeur and glamour but little else
New Delhi:MMNN:24 Feb. 2017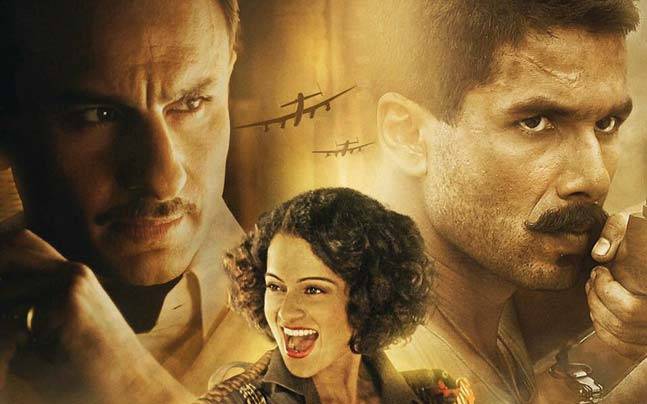 Bloody hell! Another Hindi release with the national anthem playing not once but thrice. If this is the frequency at which Rabindranath Tagore's creation would be played in a Hindi film, Tagore's kin should contemplate seeking royalties of some sort. How about donations to Shantiniketan?
From the conflict in Kashmir, Vishal Bhardwaj gives Bard a break to look at love in times of Indian freedom struggle. It's 1943 and the shayari and classical music-loving British major general David Harding (Richard Mccabe) wants Parsi movie producer Russi Billimoria (Saif Ali Khan) to send his studio's popular action heroine Julia (Kangana Ranaut) to the Indo-Burma border to entertain and motivate the Indian soldiers who are fighting against both the Japanese forces as well as their own countrymen in members of Subhash Chandra Bose's Indian National Army. Billimoria agrees but also never seeks permission of his "kiddo", a term which speaks volumes of their equation - he the master, she his pet.
It ends up being a bad move for once away from Bombay Julia loses her heart to Nawab Malik (Shahid Kapoor), a soldier who has been employed to be her bodyguard. A journey into the beatific wilderness, one involving leeches, sake and a mud fight, brings the patriotic soldier and the childish stuntwoman closer. Soon love joins fight for independence in the air.
Set against the backdrop of World War II and the contentious Indian freedom struggle movement spearheaded by Bose's rebel army, Rangoon joins the bandwagon that no love is bigger than that for one's country. But the love triangle here is surprisingly half-baked, the conflict never seeming dramatic. Far too many plot contrivances and listless songs, rare for a Bhardwaj film, don't help Rangoon. It doesn't take a genius to figure that there is more to Nawab than merely being Kevin Costner to Ranaut's Whitney Houston. One of the better etched characters of the film, Kapoor fits well into the part of a man whose loyalty is unwavering. Bhardwaj does well to look at the relationship dynamics between Billimoria and Julia, a stuntwoman who the makers want us to know is NOT based on 1930s-40s darling daredevil Nadia; though her attire and actions suggest otherwise.
Julia is a bit of a mystery. On one end she is shown as a feisty woman capable of fighting her own battles, on the other she seems strangely vulnerable whenever Malik is around.
There is also the naive pretty woman act which works only in the amusing lost in translation exchange she has with a Japanese prisoner of war. Ranaut channels all her enthusiasm but is limited by a weak character arc. More interesting is Billimoria, an erstwhile action hero whose career is cut short by a dangerous stunt. Khan as the dominating then jilted lover fits well. In one of the few noteworthy sequences, Russi and Julia indulge in a fierce sword fight on stage in which he unleashes his fury for her betrayal. Bhardwaj who has a knack for creating impressionable supporting characters this time around disappoints, despite having talented theatre actors such as Atul Kumar and Puja Sarup at his disposal.
At two hours and forty seven minutes, Rangoon doesn't satisfy either as a period love story or a rousing drama about India's fight for independence. Working on a big canvas, Bhardwaj has enough grandeur and glamour (the sets and costumes are striking) but is short on an engaging narrative. The overblown and protracted climax, with a touch of Tarantino thrown in, makes one giggle. And no it's not Bhardwaj flashing his sardonic humour card which he does rarely here. The filmmaker does seem short on ideas as evident in how often Julia uses the phrase "Bloody Hell". By the end of Rangoon, viewers are likely to use it to sum up the film.


---
Sara Ali Khan gives a thumbs down to Karan Johar's Student Of The Year 2?
New Delhi:MMNN:24 Feb. 2017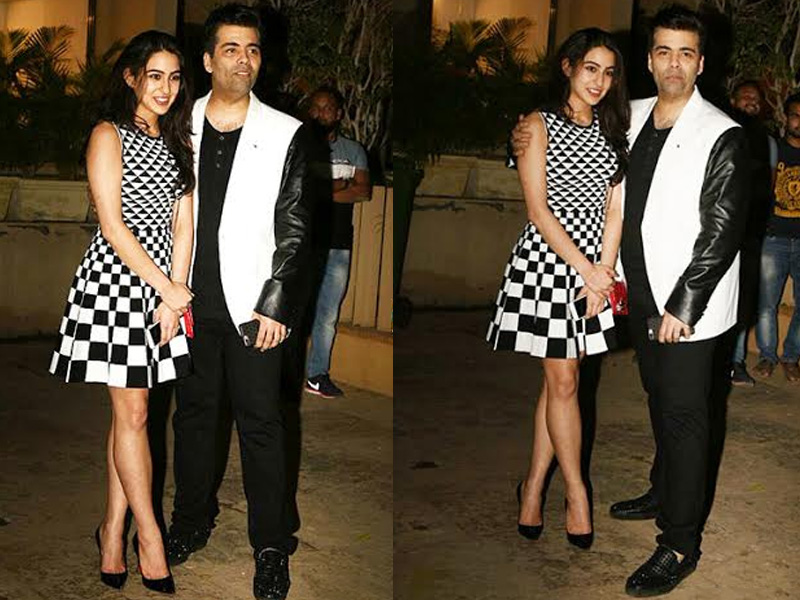 Sara Ali Khan is being choosy about her maiden Bollywood project. While Karan Johar has taken the star kid under his wing, the 21-year-old is not letting KJo take all the calls.
And the latest buzz is that Sara has given a thumbs down to Dharma Productions' SOTY 2. While rumours were doing the rounds that Sara has been signed opposite Tiger Shroff for the sequel, seems like this is not happening.
According to a report in Miss Malini, Sara is not keen on doing a two-heroine film, and wants to be launched as a solo heroine. A source close to Dharma Productions was quoted as telling the website, "Sara will make her debut only in a solo-heroine film. Because of all the media pressure, Karan is getting very anxious about Sara's debut. He has taken on the responsibility of introducing her. And he wants Sara to be as successful as his other Student Of The Year debutante Alia Bhatt. The correct vehicle for Sara's debut is awaited."
Earlier, the reports of Saif being unhappy with Sara's debut with Dharma Productions went viral. But the Rangoon actor rubbished the rumours, saying that he was happy that his daughter was making her debut in a Karan Johar film. And this statement somehow "confirmed" the news that Sara will be seen in SOTY 2.
But the source has a different story to tell. "Saif has done no such thing. Saif only said that his daughter Sara will make her debut in a Dharma film. That's a fact. Saif didn't say anything about Student Of The Year 2. Karan Johar has taken on himself the task of introducing Sara to the silver screen. During the last one year, Karan has offered Sara every Dharma production including Karan Malhotra's comedy with Hrithik Roshan (which has now been shelved) and Student Of The Year 2."
Her debut has been kept under the wraps for quite some time. We need to wait and watch when the official announcement happens.


---
NFAI's New Film Club For Children Will Begin By Screening Satyajit Ray's Sonar Kella
New Delhi:MMNN:23 Feb. 2017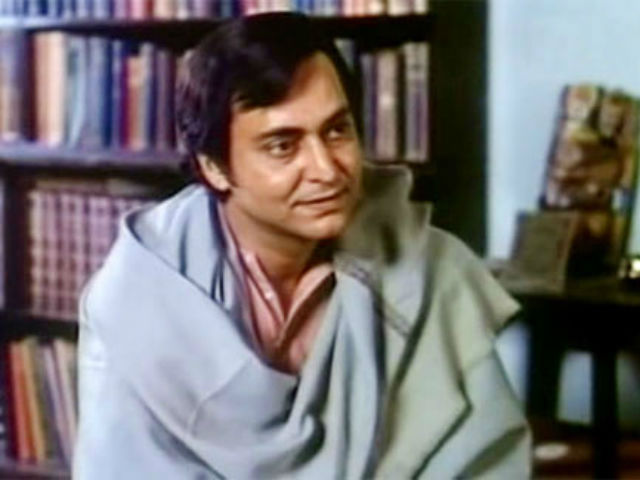 National Film Archive Of India (NFAI) has launched a children's movie club in association with Arbhaat Films, reports Hindu. "We are delighted to start this initiative. We have invited various schools to participate in it," said NFAI Director Dr. Prakash Magdum. NFAI will first screen Satyajit Ray's critically acclaimed Sonar Kella for children in the age group of 9-16 years, who will sign up for the exclusive film club.
Talking about the initiative, Arbhaat Films founder and filmmaker Umesh Kulkarni said: "Children should see great cinema of the world that will help mould their personality," reported Hindu. "The NFAI is the hub for all significant film activities in the country and we are excited and happy to be associated with them in this initiative," Mr Kulkarni added.
Films for children will be screened on the last weekend of every month starting with this week's Sonar Kella (The Golden Fortress), which will be screened on February 25 at NFAI's Kothrud premises in Pune. Through the film club, NFAI intends to propagate "healthy film culture" and "sensitise children to the wonders and importance of cinema" by screening the finest Indian films, reported Hindu.
Sonar Kella (1974) featured actor Soumitra Chatterjee as famous fictional detective Feluda. It is the story of a six-year-old boy Mukul, who claims to remember parts of his previous life and goes on to explore the possibilities with a parapsychologist. When Mukul's father thinks his son might be in danger he hire a private detective to investigate and keep his son away from harm.
Sonar Kella won five National Awards including Best Director for Satyajit Ray and Child Artiste for Kushal Chakraborty and Best Feature Film in Bengali.


---
Rangoon Celeb Review: Here is what Bollywood stars are saying about Vishal Bhardwaj's film
New Delhi:MMNN:23 Feb. 2017


Vishal Bhardwaj is a busy man ahead of the release of his film 'Rangoon'. He has been hosting one too many celebrity screenings, presenting his labour of love to the world.
After Wednesday evening's screening, that saw an overwhelming presence of B-town celebrities, Twitter has been abuzz with congratulatory messages for Vishal and team, including the film's stars Kangana Ranaut, Saif Ali Khan and Shahid Kapoor.
Bollywood has been showering praises on the film, set in the times of World War II. Actors including 'Sarbjit' star Randeep Hooda, 'Tanu Weds Manu Returns' director Aanand L Rai, and writer Prasoon Joshi took to Twitter to laud the film.
Kareena Kapoor Khan attended an early screening of 'Rangoon' and had commented that she expects the movie to be "one of the best films of the year." The film is set to release in cinema halls on February 24, 2017.


---
Jolly LLB 2 actor Akshay Kumar has cracked the hit formula in Bollywood. Decoding Akshay's success mantra
New Delhi:MMNN:22 Feb. 2017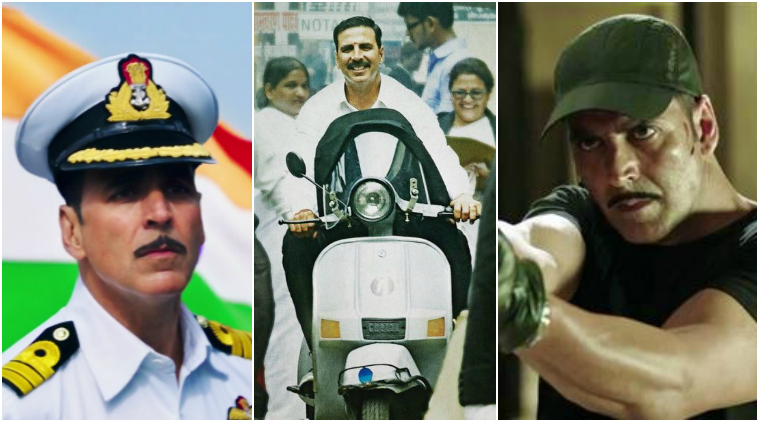 When Akshay Kumar came on a recent episode of Koffee With Karan 5, his wife Twinkle Khanna revealed that she had put a condition for the actor. "I told him I won't have a second child if he doesn't start doing sensible movies," she had said. This was for her husband, who had over the years established himself as a master of comedy. But it seems Twinkle wanted him to grow, just like his fans. A closer look at Akshay's filmography for the past 5-6 years will only make you realise that indeed, he has grown, he has played smart in terms of scripts' selection, and rarely missed the bull's eye.
Akshay's latest film Jolly LLB 2 might not be the first release of 2017, but it is safe to call it the first hit, despite the January films Raees and Kaabil already crossing the Rs 100-crore mark. To put it straight, this is because, in terms of content and performance, Akshay's Jolly avatar has impressed a larger section of audience and critics alike.
But, still if you want to go by numbers, then here is the second reason - Jolly LLB 2 was made at a humble budget, and hence its profit ratio is much better than the other two. So calling Jolly, 2017's big hit in every sense of the term, won't be wrong.
As Jolly LLB 2 crosses Rs 100 crore, it becomes the seventh film of Akshay Kumar to get an entry into the elite club, equalling Shah Rukh Khan's tally. Here are all the film of Akshay which found their way to the club - Rowdy Rathore (Rs 133. 35 cr), Rustom (Rs 128 crore), Airlift (Rs 127. 80 cr), Holiday (Rs 112.5 cr), Housefull 3 (Rs 109. 13 cr) and Housefull 2 (Rs 106 cr).
Akshay's latest film Jolly LLB 2 might not be the first release of 2017, but it is safe to call it the first hit, despite the January films Raees and Kaabil already crossing the Rs 100-crore mark. To put it straight, this is because, in terms of content and performance, Akshay's Jolly avatar has impressed a larger section of audience and critics alike.
But, still if you want to go by numbers, then here is the second reason - Jolly LLB 2 was made at a humble budget, and hence its profit ratio is much better than the other two. So calling Jolly, 2017's big hit in every sense of the term, won't be wrong.
As Jolly LLB 2 crosses Rs 100 crore, it becomes the seventh film of Akshay Kumar to get an entry into the elite club, equalling Shah Rukh Khan's tally. Here are all the film of Akshay which found their way to the club - Rowdy Rathore (Rs 133. 35 cr), Rustom (Rs 128 crore), Airlift (Rs 127. 80 cr), Holiday (Rs 112.5 cr), Housefull 3 (Rs 109. 13 cr) and Housefull 2 (Rs 106 cr).
Content-driven cinema
Akshay, who once appeared in films like Desi Boyz, Tees Maar Khan and De Dana Dan, has suddenly changed his action plan. After 2010, he began doing films like OMG, Special 26,
Once Upon a Time in Mumbai Dobaara, Baby, Airlift and Rustom, all varied plots, all varied performances. While some are based on real-life incidents, others are period dramas. Yes, for Akshay, the film's plot is the hero, more than his own part.


---
Lion Movie Review
New Delhi:MMNN:22 Feb. 2017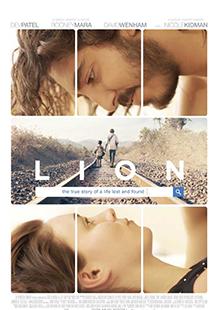 STORY: Lion is an incredible real life story of Saroo Brierley, a 5-year-old Indian boy, who gets separated from his poor family. An empty train carriage drags him to Kolkata, a city that doesn't speak his language. Miles away from his home, braving human traffickers and child predators, he eventually gets adopted by a compassionate couple in Australia.
25 years later, recurring memory flashes of his childhood propel him to search for his lost home and birth mother in India, with the help of Google's mapping program.
REVIEW: Director Garth Davis' six Oscar nominated debut feature film is a gut-wrenching true story that tugs at your heartstrings. Do take a bunch of tissues along for this one's an absolute tear-jerker.
While Dev Patel, as the older Saroo and Nicole Kidman, his Australian adoptive mother Sue, deserve the accolades they have been getting, it's Sunny Pawar, who truly deserves an Oscar. He is ably supported by Abhishek Bharate, who plays his older brother Guddu. The kids' undemonstrative performances, sans histrionics are noteworthy.
What also makes this emotional roller coaster special is Luke Davies' powerful adapted screenplay. Garth's storytelling is equally compelling as he makes you see yourself in Saroo and endure his pain. The narrative evokes fear, concern and compassion without being preachy and that's rare for a film of this genre. Lion has some minor hitches though. The second half gets sluggish and Rooney Mara's irrelevance to the story interrupts the gripping narrative.
While Sunny is the scene-stealer here, Dev and Nicole, prove their mettle as actors in a heartbreaking moment, that's perhaps the best scene of the film. Tears trickle down your cheeks as Sue tells Saroo why she chose to adopt him when she could have had her own children.
The cinematography and background score do justice to the film's sensibility. Tannishtha Chatterjee and Nawazuddin Siddiqui make an impressive guest appearance.
Sad yet uplifting, frightening yet inspirational, Lion breaks your heart into a thousand pieces and puts them back together in the end. It makes you believe in miracles and embrace hardships by celebrating courage and resilience in its own unique way.


---
Akshay Kumar, Bhumi Pednekar wrap up shooting of Toilet- Ek Prem Katha
New Delhi:MMNN:21 Feb. 2017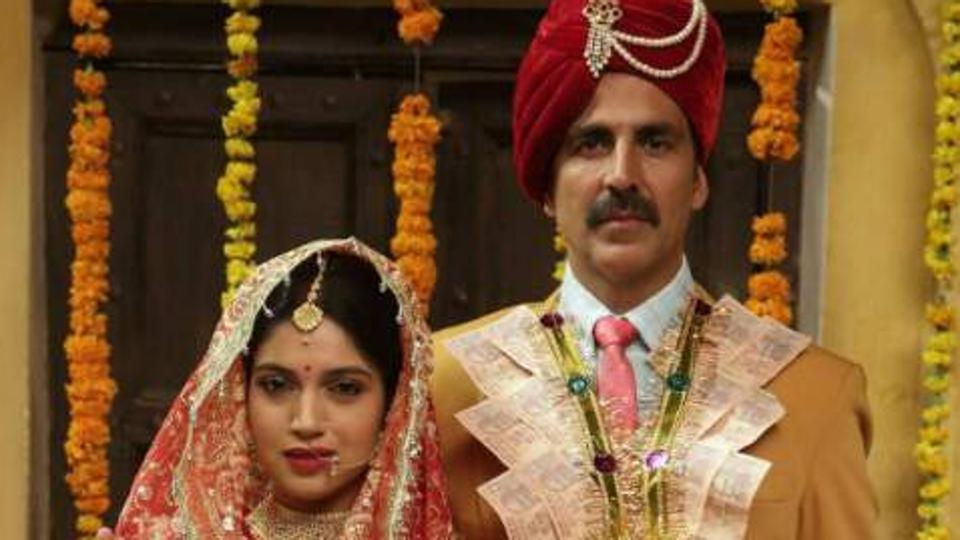 As Akshay Kumar wrapped up the shoot of his upcoming film Toilet- Ek Prem Katha, the actor treated fans with the first look of the movie.
Directed by Shree Narayan Singh, the film has Bhumi Pednekar paired opposite Akshay.
Taking to Twitter, the 49-year-old actor unveiled their looks from the film, which is set to hit the theatres on June 2. "With the wrap of @ToiletTheFilm treating you guys to a still from the film... Keshav and Jaya's unique love story coming to you on June 2," he captioned the picture.
Donning a red-color heavy lehenga with gold jewelry around her neck and minimal make-up, Bhumi, 27, is looking every bit an Indian bride in the first look, while Akshay kept it simple in mustard suit and maroon turban.
This is for the first time Akshay will share scree space with the Dum Laga Ke Haisha actress.
The film went on floors in Barsana near Mathura in November 2016. The shooting venues along with Barsana and Nandgaon in Uttar Pradesh were also Bhopal for the final schedule. The authenticity of real locations of rural India and the hinterland provides the milieu to the story which borrows it's soul from the villages of India.
Toilet- Ek Prem Katha, a unique love story will see editor Shree Narayan Singh making his directorial debut. The film releases worldwide on June 2.


---
First picture of Ranbir Kapoor from the sets of Sanjay Dutt biopic, the similarity is uncanny
New Delhi:MMNN:21 Feb. 2017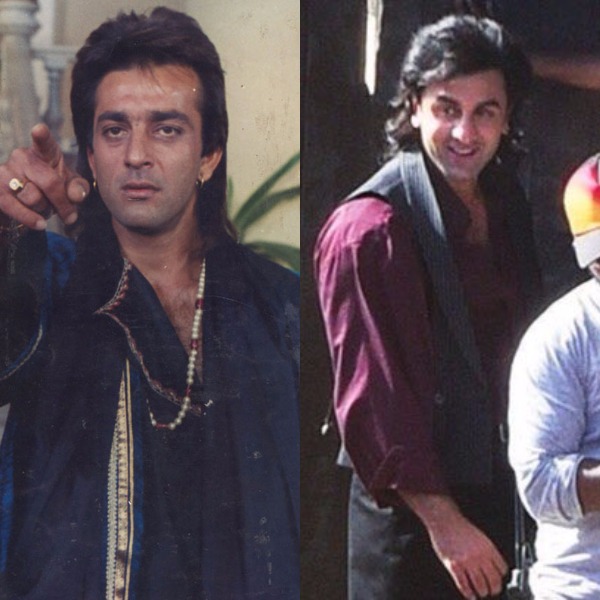 Rajkumar Hirani started shooting his friend Sanjay Dutt's biopic on January 14, and much has been spoken about Ranbir's look and the film's casting. From the guarded sets of the film, a picture of Ranbir Kapoor sporting long locks that Sanju baba had back in the 90s has surfaced on social media.
The picture sees Ranbir dressed in a baggy shirt, a waist-coat and dark trousers. The 'Ae Dil Hai Mushkil' star bore a striking resemblance to Sanjay Dutt. Reportedly, Ranbir has been spending long hours in the gym to bulk up and look as close to Sanjay Dutt as possible. The
young actor was recently photographed exiting Sanjay Dutt's Bandra house late in the night. Accompanying him were the film's director Rajkumar Hirani and producer Vidhu Vinod Chopra. Clearly, the team is spending a lot of time together to work on the character and other details.


---
Will delay Jagga Jasoos release only if we get better date:Basu
New Delhi:MMNN:20 Feb. 2017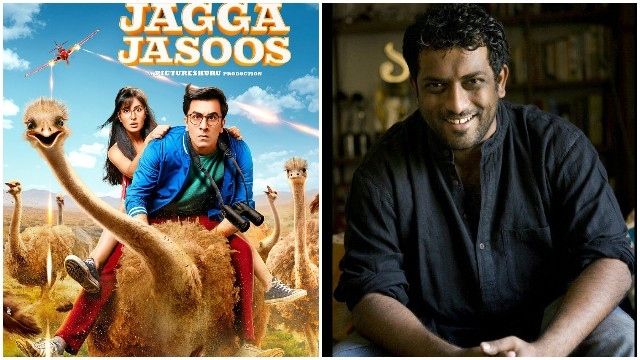 Filmmaker Anurag Basu says the team of "Jagga Jasoos" is contemplating delaying the film's release as it coincides with the board examination dates across the country.
The director's much-delayed film starring Ranbir Kapoor and Katrina Kaif is set to release on April 7.
Board examinations have been postponed from March to April due to the assembly elections in some states and Basu says since "Jagga Jasoos" is a family holiday film, they might delay its release but only if they get a better date.
"JaggaJasoos is a Family Holiday film. Since exams are pushed at most of the places, we are contemplating the delay.
Only IF we get a better Date," Basu tweeted, adding "But for now team is getting ready for 7th April." The trailer of "Jagga Jasoos" was released in December last year.


---
Koffee With Karan 5: Kangana Ranaut Remembers That Karan Johar Once Made Fun Of Her English
New Delhi:MMNN:20 Feb. 2017


Actress Kangana Ranaut was one of Karan Johar's guests on the Koffee With Karan episode which aired on television on Sunday night. Apart from making explosive remarks in general, Kangana left no opportunity to take digs at the show host. Mid-way through the show, she declared Karan has "verbal diarrhea." Very politely, Kangana referred to Karan as an example of nepotism in Bollywood.
Kangana, who continued to deadpan, also confessed that Karan has been the "driving force" in her life. Kangana's brutally-honest statements made for some really strong koffee, which Karan Johar surely was not expecting. Kangana was also announced the winner of the Rapid Fire Round, which Kangana jokingly said is perhaps Karan's attempt to "redeem" himself. Kangana was accompanied by her Rangoon co-star Saif Ali Khan on the koffee couch.
Karan Made Fun Of Kangana's English, She Remembers
Beginning of the show, Karan introduced Kangana as a two-time National Award winner and said that he's a fan of Kangana's performance, especially after watching Queen and Tanu Weds Manu. Previously, Karan said that he thought, "Nothing would happen to her." Kangana, who simply could not hold herself with a simple 'Thank you,' added: "I'm so happy to hear this from you as well because you've been the driving force in my life. If it wasn't for your rejections and mocking and all those... of course you made fun of my English on this and you made fun of everything. I'm not complaining about it. I'm just saying. Somewhere these things do drive you."
Kangana On Karan's Show
Karan introduced his show as "unapologetically frivolous" when Kangana said: "No, me and Saif are going to give it some dignity. Saif is the real nawab and I'm the filmy queen. So, we need to make sense of the show. We need to do that." Karan's comeback was: "The person who is helming the show doesn't want to make any sense of the show. So, I don't know how much you'll manage."
When Karan Was Accused Of Twisting Alia's Words
Alia Bhatt, who also has appeared on Karan's show, had once told him: "I love Kangana's airport look but I don't know where she is going." As Saif rolled his eyes, Kangana explained that Alia's response was to the question " 'Who would you like to stalk?' Karan is putting words in her mouth! And now Saif, you're putting words in my mouth to say something."
Karan, Please Explain What You mean By 'Magnificent Absence'
In his recently released autobiography titled 'An Unsuitable Boy', Karan wrote that Kangana "made a branding out of her absence. People have a magnificent presence; she has a magnificent absence." This left Kangana a little confused, when and she said: "Is it a jibe or a compliment? Is the absence because I'm missing from your parties or on the gossip circle or skipping filmi parties and award shows. I don't feel I am absent."
Karan, Keep Your Attitude In Check, Huh
"Karan Johar is a star and he has given me a lot of unnecessary attitude," said Kangana. She went on to add: "In my biopic, if ever it's made, you'll play that stereotypical Bollywood biggie, who is like you know...very snooty and completely intolerant towards outsiders, flag bearer of nepotism, the movie mafia." Karan got owned.
Karan Johar summed up his experience on the show saying: "Kangana has really attacked my on this show. I love that." Kangana Ranaut and Saif Ali Khan form two thirds of the love-triangle in their upcoming war drama Rangoon. The Vishal Bhardwaj-directed film also stars Shahid Kapoor, who briefly joined the Kangana and Saif on the show. Rangoon releases on February 24.


---
The Ghazi Attack box office opening day collections: Rana Daggubati starrer picks up Rs 1.6 crore
New Delhi:MMNN:18 Feb. 2017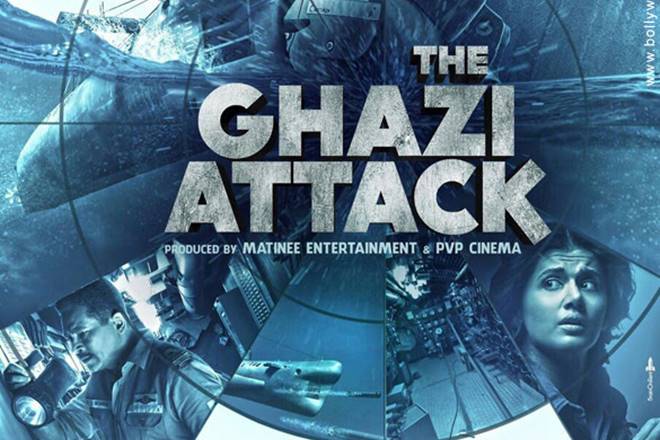 The Ghazi Attack box office opening day collections: Rana Daggubati's underwater adventure is off to a good start. It was expected to make around Rs 2 crore on its first day and missed the mark by very little. On Friday, The Ghazi Attack earned Rs 1.65 crore, according to a report in Bollywood Hungama. While these figures may not seem encouraging for a regular Bollywood release, considering that Ghazi Attack isn't helmed by the usual stars that the north Indian audiences are used to, the movie's revenue is quite decent. It has gotten mixed reviews, which could also explain the limited earnings. The factor that will make the biggest difference in Ghazi Attack's box office fate is word of mouth.
Baahubali, Rana's earlier film, began as a gem only in south Indian cinema, but as word spread about the game-changing special effects it featured, the movie began to pique the interest of north Indian audiences as well. This might work in Ghazi Attack's favour too. Right now, cautious viewers are waiting for the verdict from others who have watched the movie, rather than depending on movie reviews - for every critic who says its a must-watch, another claims it is a forgettable film. When a general consensus is reached by the people who have actually watched the movie, that's when Ghazi Attack will either rake in the big bucks or whimper out of theatres.
Baahubali, Rana's earlier film, began as a gem only in south Indian cinema, but as word spread about the game-changing special effects it featured, the movie began to pique the interest of north Indian audiences as well. This might work in Ghazi Attack's favour too. Right now, cautious viewers are waiting for the verdict from others who have watched the movie, rather than depending on movie reviews - for every critic who says its a must-watch, another claims it is a forgettable film. When a general consensus is reached by the people who have actually watched the movie, that's when Ghazi Attack will either rake in the big bucks or whimper out of theatres.
Given that Akshay Kumar is still going strong with Jolly LLB 2, which is currently in its second week, the Rana starrer isn't expected to get the lion's share of the box office revenues. In this film, Rana himself has very little to lose. He has gotten good reviews for his performance and any failure will be cushioned by his return to the big screen in Baahubali: The Conclusion later this year. If anyone's career hinges on the success of Ghazi Attack, it is that of director Sankalp Reddy. However, it is too early to tell whether Ghazi Attack will sink or swim in these box office tides.
Given that Akshay Kumar is still going strong with Jolly LLB 2, which is currently in its second week, the Rana starrer isn't expected to get the lion's share of the box office revenues. In this film, Rana himself has very little to lose. He has gotten good reviews for his performance and any failure will be cushioned by his return to the big screen in Baahubali: The Conclusion later this year. If anyone's career hinges on the success of Ghazi Attack, it is that of director Sankalp Reddy. However, it is too early to tell whether Ghazi Attack will sink or swim in these box office tides.


---
Rangoon promotions: Kangana Ranaut almost slapped host Sugandha Mishra for mimicking her
New Delhi:MMNN:18 Feb. 2017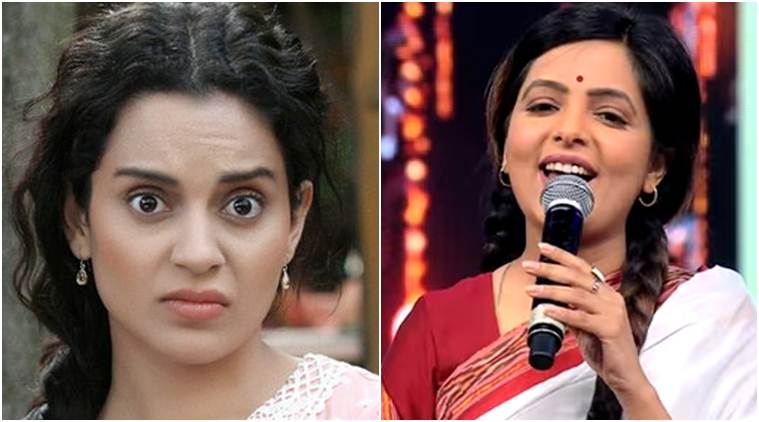 Kangana Ranaut, who plays Miss Julia in her upcoming film Rangoon, is not leaving any chance to draw all attention towards her. From television shows to promotional events she is surely doing everything like the 'hero' of her film as she stands out very prominently wherever she goes. The actor recently took the film on sets of television reality show The Voice Of India Season 2 with her co-star Shahid Kapoor.
While Kangana and Shahid were having a gala time with the little kids on the sets of The Voice India Kids 2, as special guests of the episode, show's host and comedienne Sugandha Mishra allegedly offended the Queen actor. It so happened that singers Salim Merchant and Shaan, who appear as coaches on the show, started to pull Sugandha's leg asking her to mimic Kangana in front of her.
And when the Sugandha took up the challenge and mimicked Kangana, the actor was left fuming. According to an IANS report, Kangana didn't take the joke sportingly and in a harsh tone commented,"I feel like slapping her."
But being the host of the show, Sugandha didn't take the comment to her heart and continued with the shoot. A source from the sets said, "It was a nail biting moment after Kangana's shocking statement. It surely was an awkward moment for Sugandha, but she took it in a sporting spirit and continued with the shoot."
Earlier during the shooting of The Kapil Sharma Show, Shah Rukh Khan too had left Sugandha in tears when he told her that she is a bad performer and should refrain from dancing. But later the Baadshah of Bollywood brought a smile to her by revealing that all he said was just a prank. But this time, it doesn't look like that.
Meanwhile, the episode featuring the Rangoon stars will also witness the new-daddy of Bollywood Shahid Kapoor learning nursery rhymes 'Twinkle Twinkle' and 'Humpty Dumpty' from the little wonders of the show. We must say, Misha has a daunting father.


---
The Ghazi Attack movie review: This underwater thriller is not quite on target, but is a fine effort
New Delhi:MMNN:17 Feb. 2017


The time is 1971. A battle is simmering between Pakistan and India. There's also a battle between East and West Pakistan. And then there's one more tussle between the commander of submarine S21 Captain Rann Vijay Singh (Kay Kay Menon) and his Navy command appointed officer Arjun (Rana Daggubati) assigned with keeping an eye on the hotheaded captain.
There's a fourth fight too - the one you have within yourself, between your ethics and logic and your patriotism and instinct. Debutant writer-director Sankalp Reddy takes on all these issues and plays them out mostly underwater represented by a detailed set of the interiors of two submarines. There are a few other shots in the offices of generals on both sides of the border and the rest is special effects. Sadly these artistic and computer generated images of war craft, docks, floating and submerged submarines and torpedo attacks are nothing less than shabby - almost comic book-like.
Rann Vijay Singh's idol is Colonel George Patton, whose biopic released in 1970. In other words Singh is as shrewd as he is unfettered by rules. Balancing the two and maintaining calm on the boat is loyal-to-a-fault second officer Devaraj (Atul Kulkarni).
The setting of the high sea shenanigans is the Bay of Bengal and the S21 is engaged in a delicate underwater battle with Pakistani sub PNS Ghazi, commandeered by a sneering Captain Razzak (Rahul Singh). Since the Pakistanis are the bad guys not only do they look un-groomed and sweaty but they are also shot from a low angle so that their nostrils flare menacingly into the camera. But Singh is given the dialogue of the film. When a broken S21 dodges the torpedoes by fixing its depth a few metres and simply dodges the line of fire by going up and down, a frustrated Razzak exclaims, "Is he a commander or a lift man!"
At the beginning of the movie you stare at and listen to the narration of an essay packed with disclaimers. You also know that in this film you are going to hear the National Anthem and Saare Jahan Se Acha. But you don't feel that swell of pride and patriotism because barring Kulkarni, the other actors do not represent any firm stand. On the contrary, Kay Kay Menon plays the captain with the consistency of someone with multiple personality disorder. Then there's Tapsee Pannu as a refugee who appears to have one instruction: stand in doorways looking shell-shocked.
The Ghazi Attack is an ambitious film for a first-timer and Reddy does capture the frenzy of an underwater confrontation with some finesse. The strategising and head-to-head between two shrewd seamen at either end of the battle line is handled well as are the dynamics between the officers and crew aboard the ship. It's not quite on target but it's a fine effort.


---
Running Shaadi movie review: Amit-Taapsee make a great pair in an okay film
New Delhi:MMNN:17 Feb. 2017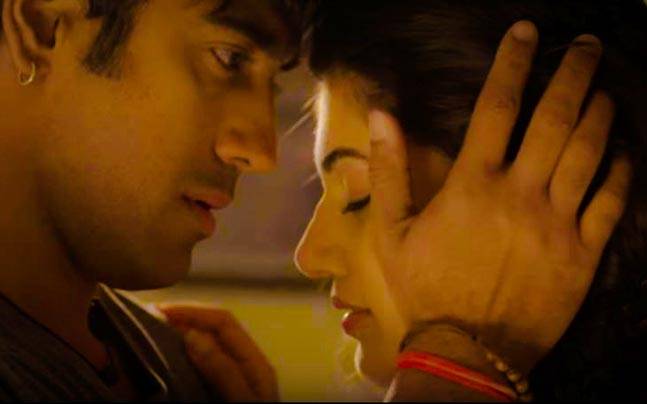 Running Shaadi, previously known as Runningshaadi.com but not anymore because Shaadi.com approached Bombay High Court protesting against the title, is a film that is great in patches but is mostly just about okay.
The story of Running Shaadi involves Ram Bharose (Amit Sadh) and Nimmi (Taapsee Pannu), a boy and girl who grow up together in Punjab and after a fallout with his boss, Ram joins hands with his friend 'Cyberjeet' (the excellent Arsh Bajwa) to start a website called Runningshaadi.com that organises all that an everyday eloping couple from India would need.
Nimmi joins the duo but soon enough, the romantic tension between her and Ram takes the story through unexpected turns.
Running Shaadi was ready two years ago, but the distributors could never find a suitable window to release it. That is unfortunate because within those two years, films like Dolly Ki Doli and Happy Bhag Jayegi released. As such, conceptually, the film seems dated. While watching the film, you would get shades of Band Baaja Baaraat (two unlikely small-towners getting together to become entrepreneurs), and of course, the aforementioned films because there's the entire 'runaway bride' angle. Nevertheless, there is a lot that works for Running Shaadi. And that 'lot' is pretty much the excellent casting.
Amit Sadh as the ambitious and resourceful Ram Bharose gives a career-defining performance as the lead. He is what they call 'lambi race ka ghoda.' Amit gets to showcase a range of emotions in Running Shaadi and he never, ever falters. He is so good. Hopefully, he gets noticed in Running Shaadi for all his worth.
Then, there's Arsh Bajwa as the goofy but smart tech geek Sarabjeet AKA Cyberjeet. The scenes of him worshipping Steve Jobs and Mark Zuckerberg and that funny-for-a-while red turban with the image of a Facebook 'Like' button on it seem forced but that does not take away from Arsh's grade-A supporting act.
Taapsee Pannu gets a very tricky, complicated character, Nimmi. Nimmi is the kind of girl who you will never want to make a team-member if you have to rob a bank. She cons Ram Bharose in the most unexpected manner right before the interval and one will be hard-pressed to sympathise or empathise with her. However, Ram, who has been established as a 'sorted' dude, for some reason, continues to willingly jump into near-fatal situations for her. Is love a good enough reason to justify unconvincing character development?
Three entire paragraphs are devoted to the film's actors because that is how much they hold the story together. Because without them, the plot falls apart. Running Shaadi is made of an err...running chain of unbelievable plot twists but we will suspend our disbelief simply because of the strength of its actors.
Debutant director Amit Roy, who has previously been a cinematographer for Ram Gopal Varma's very uniquely-shot movies such as the Sarkar films, Nishabd and Rann, has the potential to make a great second film. Running Shaadi on paper seems trite, but it is consistently engaging because newer and wilder plot developments get thrown at you (Roy is also the writer) and you cannot help but continue to run with its characters to find out what eventually becomes of them.
In a week packed with multiple Bollywood and Hollywood releases, will Running Shaadi get noticed, more so, by the right people? An extra star for Amit, Taapse and Arsh.


---
Jolly LLB 2 Box Office collections: Akshay Kumar's courtroom drama close to scoring a century!
New Delhi:MMNN:16 Feb. 2017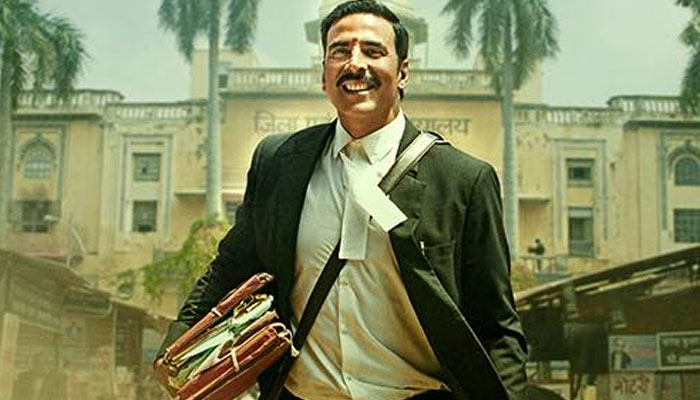 Bollywood's one of the most bankable stars, Akshay Kumar recently was seen in Subhash Kapoor's courtroom drama 'Jolly LLB 2'. The film has been well received by the viewers as it is going strong at the box office windows.
Noted film critic and trade analyst Taran Adarsh revealed the latest India figures of the film which clearly reflect that 'Jolly LLB 2' has been given a thumbs up by the masses.
The film happens to be a sequel to the 2013 hit film by the same name 'Jolly LLB'. The courtroom drama released on February 10, 2017, and is helmed by Subhash Kapoor.
Jolly LLB' had Arshad Warsi, Boman Irani, Amrita Rao and Saurabh Shukla in the lead role. The second instalment has Akshay in the lead with Huma Qureshi opposite him. Also, Annu Kapoor and Saurabh Shukla play pivotal parts in the sequel.


---
The Ghazi Attack Movie Review
New Delhi:MMNN:16 Feb. 2017


THE GHAZI ATTACK STORY: India's first underwater war film tries to decode the mystery behind the sinking of Pakistani submarine PNS Ghazi during the Indo-Pak war of 1971. ?
THE GHAZI ATTACK REVIEW: An elaborate disclaimer at the beginning of The Ghazi Attack clarifies that though it is inspired by historic events, it is 'purely a work of fiction'. While various versions of this underwater incident have surfaced, this film is based on the claim that Indian submarine INS-Rajput (renamed as S-21 here) attacked Ghazi, resulting in its subsequent sinking near India's eastern coast.
Led by the rebellious Capt Ranvijay Singh (Kay Kay Menon), his second-in-command Devaraj (Atul Kulkarni) and righteous officer Arjun (Rana Daggubati), S-21 is assigned a classified search mission after sources tip-off the Indian Navy of a Pakistani vessel infiltrating the Indian waters. Ghazi intends to target INS Vikrant (India's aircraft carrier) in order to reach East Pakistan (now Bangladesh) by sea. What transpires between these two submarines once they get a whiff of each other forms the story.
Given the scale of his ambitious project and limited resources at hand, debutant director Sankalp Reddy deserves a pat on the back for making an engaging film. You wish the execution was more nuanced and performances a tad understated but Sankalp makes you invest in his characters nonetheless.
Kay Kay surprisingly indulges in a 'who hams more' battle with his caricaturish Pakistani counterpart (played by Rahul Singh, Ji Janab!). In a bizarre scene, he whispers to his officers about the Pakistanis as if they might overhear. Rana Daggubati delivers a mature performance and Atul Kulkarni is sincere but supporting actors look nothing like Navy men.
While the visuals and special effects lack finesse, the film compensates for it with its riveting story. The second half keeps you on the edge of your seat as the submarines go head-to-head, firing torpedoes while dodging and defending themselves. Despite the hitches, this underwater thriller is worth a watch. It leaves you in awe of the soldiers, who lay their lives for their country.


---
Dragon: Ranbir Kapoor's superhero film has Amitabh Bachchan, Alia Bhatt. This is a cast made in heaven
New Delhi:MMNN:15 Feb. 2017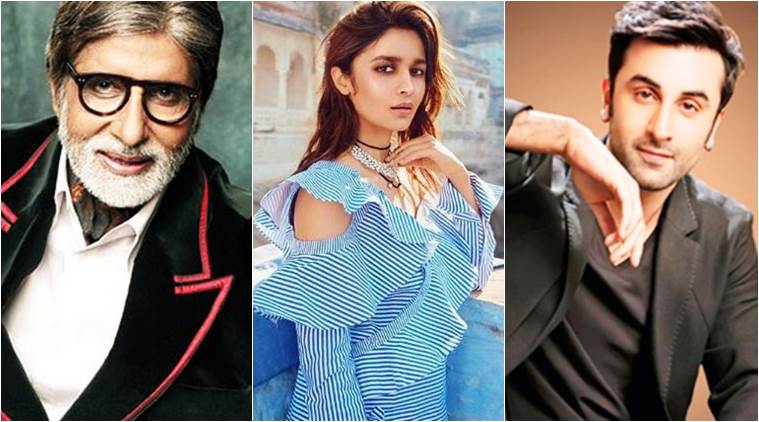 The new-age Bollywood filmmakers have become critical about the right casting in order to make their films riveting. After Zoya Akhtar came up with a fresh on-screen couple Ranveer Singh and Alia Bhatt for her next directorial, Gully Boy, now Yeh Jawani Hai Deewani director Ayan Mukerji has roped in Amitabh Bachchan for his upcoming film Dragon.
Amitabh will be seen in a pivotal role in the movie. "He has given his nod for the film. It's a full-fledged role and not a guest appearance. It's an important role. He will start shooting this year itself," sources said without giving details of Bachchan's role. If all the reports turn out to be true then this will be the first time that Amitabh and Ranbir Kapoor will be seen together on the silver screen. Earlier Ranbir did a cameo Amitabh's Bhootnath Returns. Apart from Amitabh-Ranbir, the movie will also witness Ranbir and Alia Bhatt romancing on-screen for the first time.
The movie has often been called the remake of Hollywood superhero comedy, Deadpool. Talking about his third venture with Ranbir Kapoor after Yeh Jawani Hai Deewani and Wake Up Sid, director Ayan Mukerji says his next film with the Barfi actor will feature a character who has a mystical connection with fire. And since fire is the symbol of power, the director tentatively called the film Dragon though he is yet to finalise the title.
The filmmaker also revealed that he will be shooting the movie in August, once Ranbir is done working on Sanjay Dutt biopic. "Ranbir won't do this film and Dutt simultaneously. He has already begun shooting for Dutt and it should be done by August. That's when I will start with him and Alia Bhatt," Mukerji said.
For now, Ranbir is prepping up for Rajkumar Hirani's Sanjay Dutt biopic and Amitabh Bachchan will be next seen in Thugs of Hindostan with Aamir Khan and Sarkar 3.


---
Badrinath Ki Dulhania music review: This album has chart-buster written all over it
New Delhi:MMNN:15 Feb. 2017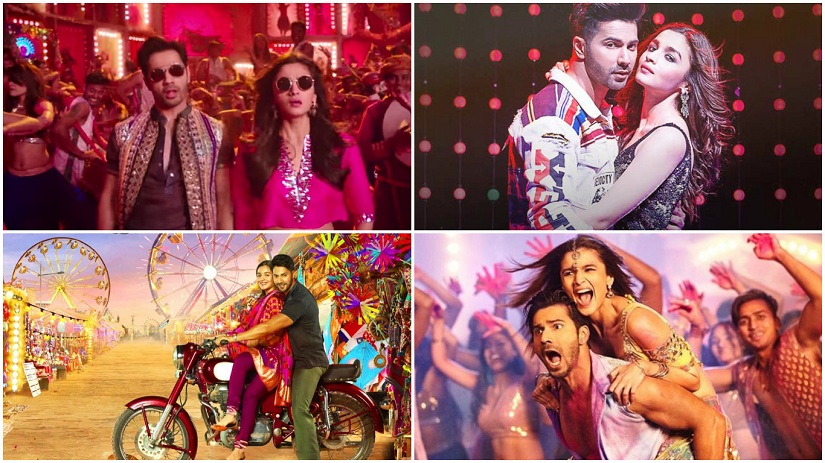 If you pick any Dharma Productions soundtrack from the last 2 years, you will notice a familiar pattern (think of Kapoor & Sons, OK Jaanu, Ae Dil Hai Mushkil or Baar Baar Dekho).
There's usually a remixed/remastered song (or two), a couple of upbeat songs that are wedding/family function friendly, and a sober ballad about love in general. It's a pattern that has worked for pretty much all their music albums, even when the films have not done well.
Dharma's latest offering Badrinath Ki Dulhania, the sequel to Shashant Khaitan's Humpty Sharma Ki Dulhania, follows a similar formula for their 5-track music album.
There are, however, two reasons why this album stands apart from the other Dharma music albums: Alia Bhatt and Varun Dhawan. Put these two in any movie, frame, song or scene and they light up the screen up. They make supremely popular, almost over-heard songs like 'Tamma Tamma' completely their own, and give life to Tanishq Bagchi's composition. It's rightly called 'Tamma Tamma Again' because apart from the hook-step, and Dhawan's fantastic impersonation of the Sanjay Dutt walk, 'Tamma Tamma Again' is Varun and Alia's baby.
The composition itself is a complete restructure of the original, with many contemporary beats. Tanishq has done what he does best (he remastered 'Banno Tera Swagger' with partner Vayu Shrivastav and also rejigged the title track of this film); this song is a true-blue #throwback to the immensely popular 90s track. By retaining the original vocals and some of the beats, he lets you stay in familiar territory but still jazzes up the song.
Similarly, in title track of Badrinath Ki Dulhania, Alia and Varun own the screen with their effortless moves. Each of their videos from this albums seems to be like a fly-in-the-wall capture of two people dancing like no-one's watching. Even when you listen to the audio, you're imagining the two dancing to the chorus. The melody takes off from a Bihari folk song, 'Chalat musafir moh liya re..' and therefore, perfectly adapts to the Holi setting (this is being touted as the next Holi blockbuster after Balam Pichkari).
I dare you to listen to this song and not tap your feet, or break into dance (depending on where you are).
However, this is when the chart-buster songs end. It's a good thing that these two songs are good enough to make the Badrinath Ki Dulhania music album a blockbuster, because the other three songs are just about average. There is a point to be made about how the two best tracks on the album are remixes/adaptations, but that would be a problem only if you're a purist. It takes equal talent to remix a popular song, use the right vocalists (Neha Kakkar is a perfect fit for the title track) and eventually living up to previous expectations.
'Aashiq Surrender Hua' will remind you of 90s songs like 'Main toh raste se jaa raha tha' - frivolously catchy, but unfortunately forgettable compared to Govinda's cult classics. The best thing about the song is Shreya Ghosal singing in a lower pitch; something one rarely gets to hear.
'Roke Na Ruke Naina' and 'Humsafar' are almost interchangeable love ballads, save for the vocalists (Arijit's song emerges as a winner, for obvious reasons). They possibly would have better context with regard to the film, but as stand alone songs, there's nothing too special about them. 'Roke Na Ruke Naina' will remind you of a Sufi-ish version of Bolna from Kapoor & Sons, whereas 'Humsafar' is the trademark Atif-Aslam-type sad song.
Here's the thing about the Badrinath Ki Dulhania album. The two flagship songs from the soundtrack: 'Tamma Tamma Again' and the title track, are more than enough to make this a sure shot hit.


---
Valentine's Day: Shah Rukh Khan's DDLJ scene voted most romantic ever
New Delhi:MMNN:14 Feb. 2017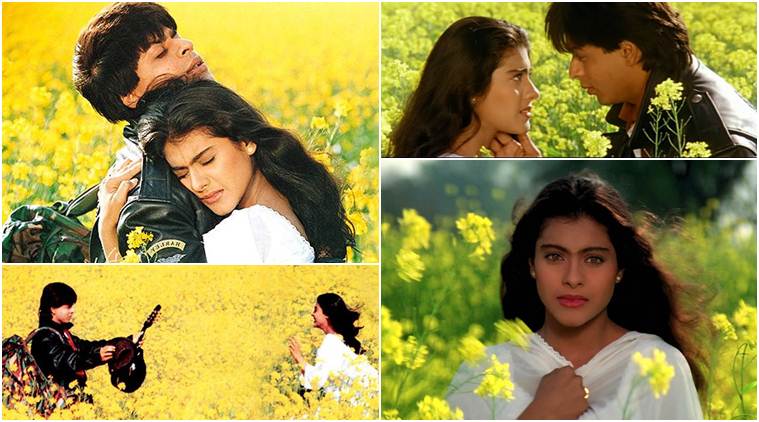 It is the month of love. And if everyone is talking about love and romance, how can we miss on mentioning Bollywood? Over the years, Bollywood has become synonymous with romance. From Mughal-e-Azam to Kabhie Kabhie, Dilwale Dulhania Le Jayenge to Ram-Leela, the movies have taught us a thousand ways of saying, "I love you."
We conducted a poll and asked people about their favourite romantic scene from Bollywood. The results are in and Shah Rukh Khan - Bollywood's king of romance - has made it to the winner's podium. The scene we are talking about is the one where Shah Rukh Khan and Kajol romance in sarson ke khet in Dilwale Dulhania Le Jayenge. Can you hear 'Tujhe Dekha To Ye Jana' already?
In this scene, Simran runs into Raj's arms and finally confesses her love for him. She hugs him lovingly and asks him to take her away from her father's place. But Raj promises Simran that they will get married with the blessings of their elders and he will win the heart of her father too. From our list of top 11 Bollywood romantic scenes, DDLJ scene got 32.9 perfect votes. Salman Khan and Hum Dil De Chuke Sanam's chillies scene came a distant second with 12.7 percent votes. Shah Rukh Khan is at the number three spot again with 8.47 percent votes. And the scene? It is the one where Shah Rukh Khan and Kajol dance in the rain!
1. Hum Dil De Chuke Sanam
Nandini (Aishwarya Rai) orchestrates a prank and makes Sameer (Salman Khan) eat a lot of chillies. She is there with a pot of honey minutes later. Their moment together is pure passion.
2. Kuch Kuch Hota Hai
No music but a lot of chemistry. As Shah Rukh Khan and Kajol dance in the rain, we sit back and let them have the moment.
3. Namastey London
A day before her marriage, Akshay Kumar asks Katrina Kaif for the last dance together and tells her love is not about winning, it is about sacrifice.
4. Jab We Met
In the climax of the rom-com, Geet (Kareena Kapoor) realises that she loves Aditya (Shahid Kapoor) and not her boyfriend Anshuman. A kiss follows, sealing their bond.
5. Hum Aapke Hain Koun
Love amid family celebrations. Finally, Salman's Prem confesses his love, only to be thrown into a pool by Madhuri's Nisha.
6. Mughal-E-Azam
The eternal love between Madhubala and Dilip Kumar in the movie, Mughal-e-Azam left a lot of hearts racing back in the 1960s. The feather scene needs no description.
7. Ram-Leela
In this story of passionate love blossoming in the midst of family animosity, Ranveer (Ram) refuses to hate Leela (Deepika Padukone), no matter what he may have to lose in return.
8. Maine Pyar Kiya
"Mere Rang Mein" portrayed innocent love as Salman kisses Bhagyashree.
9. Dil Toh Pagal Hai
Right after Jimmy's wedding, Pooja (Madhuri Dixit) loses her bangle and ends up at the tent to look for it, where Rahul (SRK) holds her hand and embraces her with a passionate "Aur paas."
10. Barfi
One of the sweetest moments was where Jhilmil (Priyanka Chopra) gets scared of a tree's shadow and thinking that Barfi (Ranbir Kapoor) is asleep, locks her little finger with his.


---
Anushka Sharma and Diljit Dosanjh's love filled NEW 'Phillauri' POSTER is perfect for Valentine's Day!
New Delhi:MMNN:14 Feb. 2017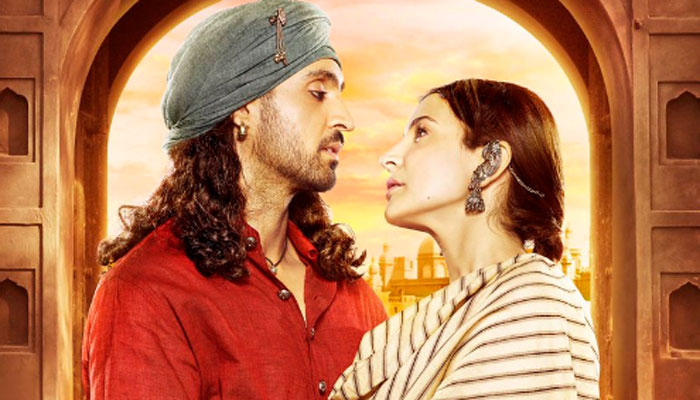 Ever since talented Bollywood actress-producer Anushka Sharma announced her second home production 'Phillauri', the buzz around it refuses to die. More so, after the trailer of the film of released, the fans couldn't stop praising her for the great outing.
Anushka plays a 'friendly ghost' in 'Phillauri' which makes it even more interesting for the viewers. The trailer shows that the actress has some unfinished business and returns as a funny ghost. Well, the comedy-drama stars Diljit Dosanjh, 'Life Of Pie' actor Suraj Sharma and Mehreen Pirzada besides Anushka in the lead.
On the occasion of Valentine's Day, Anushka found a perfect way to wish her fans and followers. She shared the fourth poster of 'Phillauri' which has Diljit and Anushka as a couple in love.


---
'Jolly LLB 2' box-office collection Day 3
Mumbai:MMNN:13 Feb. 2017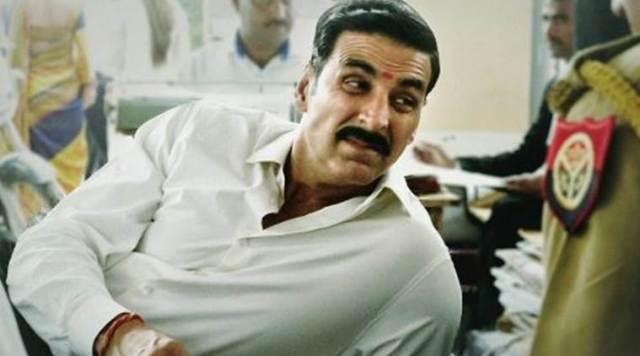 Akshay Kumar's 'Jolly LLB 2', which is the second installment of the hit franchise 'Jolly LLB', hit cinemas on February 10. The film collected Rs 19 crore on its Day 3 (Sunday), thus taking its total collection to Rs 47.25 crore (nett), according to a report on Boxofficeindia.com.
Meanwhile, trade analyst Taran Adarsh tweeted, "#JollyLLB2 has a TERRIFIC Sun. Goes from strength to strength. Fri 13.20 cr, Sat 17.31 cr, Sun 19.95 cr. Total: 50.46 cr. India biz."
The court drama is the sequel to the 2013 film 'Jolly LLB' that featured Arshad Warsi in the title role. Directed by Subhash Kapoor, 'Jolly LLB 2' is a satire on the legal system of the country.
Starring Annu Kapoor as the antagonist and Saurabh Shukla as a judge, the film has Huma Qureshi as the leading lady opposite Akshay Kumar. Laden with funny dialogues, 'Jolly LLB2' is Akshay's first release of the year.
Interestingly, Arshad, who was the lead in the first installment, showered praises on Akshay for his stellar performance in the film. Arshad tweeted, "Brand @akshaykumar does it again, you just can't take your eyes off him,he is funny & fabulous. Thoroughly enjoyed #JollyLLB2 & the new Jolly."


---
Here's what Zoya Akhtar has planned for Ranveer Singh's role in 'Gully Boy'
Mumbai:MMNN:13 Feb. 2017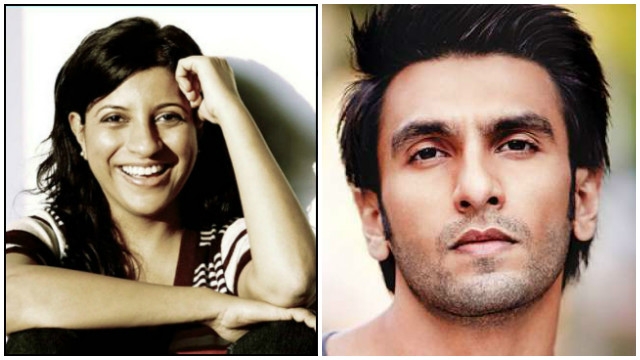 Ranveer Singh is somewhat offbeat than most Bollywood stars, in the sense, that his most special, stand out pairings are with filmmakers of reckoning. Clearly an actor who believes in brilliant acting above all else, Ranveer will pair up with Zoya Akhtar for his next film.
The only filmmaker who captures nuances of human relationships and behaviour in their subtle, real and easy to relate to forms, Zoya and Ranveer will work together in the cutting edge Gully Boy next.
In the past, Ranveer has spoken of his admiration for Zoya as a filmmaker, having delivered a winsome, melt-your-heart performance as Kabir in Dil Dhadhakne Do. In Gully Boy, a completely different side to Ranveer's persona will be explored onscreen.
This time Zoya will dig deep into his quintessential Mumbai roots to present him in a typically Mumbai flavoured story, soaked in the impulsive, ambitious and all heart aspects of India's maximum city. With three films directed by Sanjay Leela Bhansali in his kitty, Ranveer is clearly this autuer's favourite male actor. He is also the top pick and a creative inspiration for Zoya Akhtar, his buddy and a favourite director.
Zoya is known to bring out the best in acting from her stars in all her films. Working with Zoya for the second time, and with a co-star like Alia Bhatt, Ranveer is bound to present a never before seen aspect of his acting and re-establish his versatility as an actor. No doubt, he remains, the most surprising star of this generation.


---
'Bhaijaan' Salman sends this gift to Varun before 'Judwaa 2' shooting
Mumbai:MMNN:8 Feb. 2017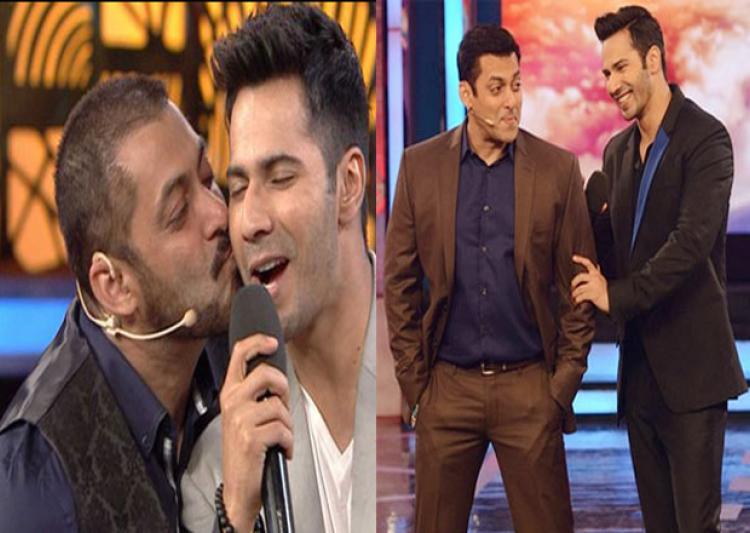 Varun revealed that it was superstar's sweet gesture that he sent his denims and informed him on call that those will go perfect with the 'tapori' character he was portraying in the film. Salman's love for Varun is quite evident from this gesture.
The 'Badlapur' actor also narrated the incident when he called Salman as uncle, and the latter asked him that he will slap him, adding that Varun should address him bhai.
Salman played the lead in prequel of 'Judwaa' and shares great rapport with Varun's father David Dhawan too, who was the director of the film. Thus, it was an emotional moment for the superstar when the sequel started filming after 20 years.
Ever since Varun was announced as the lead of the sequel people started comparing him with Salman. David who is also helming 'Judwaa 2' said that Varun can never match up with the superstar as there is only one Salman Khan.
Recently, the makers launched the first look of the movie in which Varun looked promising in double role. The actor will be seen romancing Jacqueline Fernandez and Taapsee Pannu in the film. 'Judwaa 2' is slated to release on September 29.


---
This leading actress and not Sara Ali Khan will star opposite Ranveer in Gully Boy
Mumbai:MMNN:8 Feb. 2017


We all loved Ranveer Singh and Alia Bhatt's chemistry in a series of television commercials for an online travel portal. According to a daily, the funky and peppy stars will be working together in a full fledged movie.
Filmmaker Zoya Akhtar has roped in Alia and Ranveer for her next movie, 'Gully Boy'. The shooting of the movie will go on the floors in November and will be co-produced by Farhan Akhtar and Ritesh Sidhwani's Excel Entertainment and Zoya's recently-launched banner Tiger Baby.
Isn't that an exciting piece of news?
Alia will be next seen in 'Badrinath ki Dulhania' alongside Varun Dhawan while Ranveer will be seen in another epic film, 'Padmavati' alongside Deepika Padukone and Shahid Kapoor.


---
Kendall Jenner came to India for Sushant Singh Rajput and we can't keep calm
New Delhi:MMNN:7 Feb. 2017


International celebrity and model Kendall Jenner was recently spotted at the Jaipur airport and it left her fans shocked! The 18-year-old model who has walked the ramp for the likes of Chanel, Givenchy and Marc Jacobs was apparently in the Pink City to shoot for a Vogue magazine cover. And guess what? Our very own Sushant Singh Rajput is apparently a part of this as well.
According to Firstpost, the shoot was set in the beautiful Samode Palace and the photographer behind this is none other than Mario Testino, the popular Peruvian fashion and portrait photographer. The shoot was kept under wraps, but Kendall's huge fan following did not help.
Having stayed in Jaipur for two days, Ken Jenner indulged her fans by posing for a selfie or two! Twitterati went wild over the fact after a couple of these photographs started doing the rounds.
It is no wonder that Kim Kardashian's sister, who has a fan following of 73.8 million on Instagram was chosen to appear on the cover of a magazine for Indian women. Her style statement is an inspiration to fashionistas in our country, who follow her every move and decode her appearances.


---
Huma Qureshi: Didn't feel ignored while working with Akshay Kumar
New Delhi:MMNN:7 Feb. 2017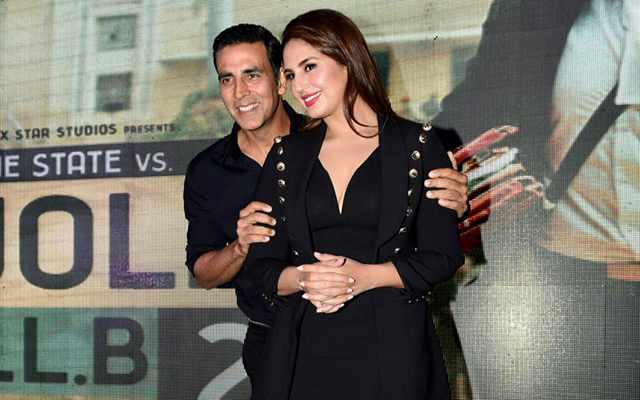 Actress Huma Qureshi, who shares screen space with actor Akshay Kumar in forthcoming courtroom drama film 'Jolly LLB 2', says she doesn't feel that her role will get ignored in front of Akshay's stardom.
Asked whether she felt being ignored by Akshay's presence, Huma said here on Tuesday: "I didn't feel ignored at all."
Akshay, who was also present at the venue, intervened and said: "How can I ignore actresses? Did I ignore my actress in 'Airlift'. In 'Housefull 3', we had three heroines."
"On the contrary, I made shots for her (Huma) in 'Jolly LLB 2'. I made food for her and used to give her a massage," he quipped.
Huma later said: "Actually he has made this film, so that all the boys run away from my life by proving that she is a dominating girl and forces her husband to do all the work."
She said that she is not feeling any pressure of featuring alongside an A-list actor."But I didn't face anything like this (getting ignored by Akshay's part). I love a lot of his films, 'Airlift' being my favourite," Huma said.'Jolly LLB 2' is slated to release on Friday.


---
'Phillauri' trailer: Anushka Sharma serves up a quirky tale of a friendly ghost
Mumbai:MMNN:6 Feb. 2017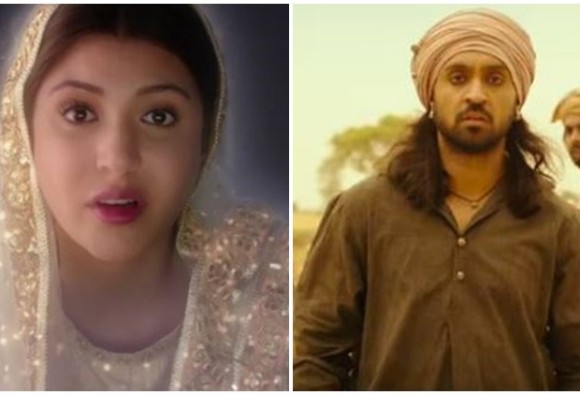 If you've seen Anushka Sharma's 'NH10', you already know that she isn't one to produce a run-of-the-mill story. Well, for her second outing, Anushka has gone to the other end of the spectrum. If ' NH10 ' was raw and gritty, her latest production 'Phillauri' is quirky and lots of fun. But before you think it is just another laugh riot, let us remind you it is the no-nonsense Anushka at the helm of affairs - so 'Phillauri' is bound to be high on content.
The 2-minute-55-second long trailer starts off with Suraj Sharma being asked to marry a tree since he is a 'maanglik'. But that's not the least of his problems. After reluctantly getting married to a tree, Suraj's character finds himself being haunted by a ghost named Shashi (played by Anushka Sharma). The ghost claims that since she resides in the tree, Suraj has unwittingly married her. What follows is a fun ride of events that trace back to Shashi's life before she became a ghost.
While Suraj is endearing, Diljit Dosanjh as Anushka's love interest is charming as ever in front of the camera. However, it is Anushka who steals the show as the friendly ghost, who even has a sense of humour to boot. The trailer, despite its light moments, has a melancholic undertone to it and promises a well etched-out story.
'Phillauri', directed by Anshai Lal and produced by Clean Slate Films and Fox Star Studios, releases on March 24.


---
Pirates of the Caribbean 5 trailer: Jack Sparrow faces a deadly combo
New Delhi:MMNN:6 Feb. 2017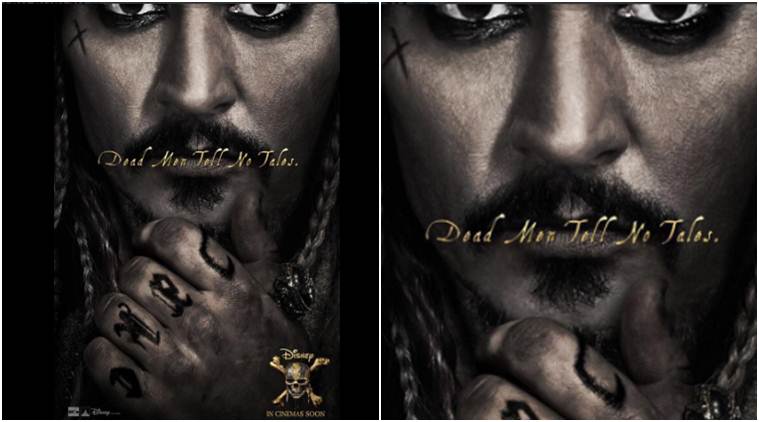 At the onset of Johnny Cash's 'Ain't No Grave,' when the strumming gets more intense and beats would start ringing in your head, is when you assimilate how surrealistically morbid makes Captain Salazar and Captain Barbosa's deadly combination in the new chapter of the Pirates battle.
For the love of the old enemies Pirates of the Caribbean: Dead Men Tell No Tales (The Revenge of Salazar in some countries) gives us a glimpse of devilish power that seems unconquerable giving nightmares even looking at the beasts of the new dead.
The new Super Bowl trailer for the fifth part of Pirates is no less grand than the previous stories. Barbosa (Geoffrey Rush) of the Black Pearl searching for his eternal arch nemesis and Salazar (by Javier Bardem) on the prowl with his horde of undead zombies, who run on water, for the blood of "the Captain of the sea" is a new level of war at sea.
Only now we see Johnny Depp playing Captain Jack Sparrow in the last few seconds, filled with muck and the usual dose of his nonchalant wit and a bottle of rum in his hand. The story is also the return of Will Turner (Orlando Bloom) joining the battle.
The fifth movie in the franchise has new entrants Kaya Scodelario and Brenton Thwaites. The film is being helmed by co-directors Joachim Ronning and Espen Sandberg. The biggest addition to the film is, of course, Beatle's Paul McCartney whose role isn't specified yet.


---
Govinda wants to be a superstar again but here's what is scaring him
Mumbai:MMNN:4 Feb. 2017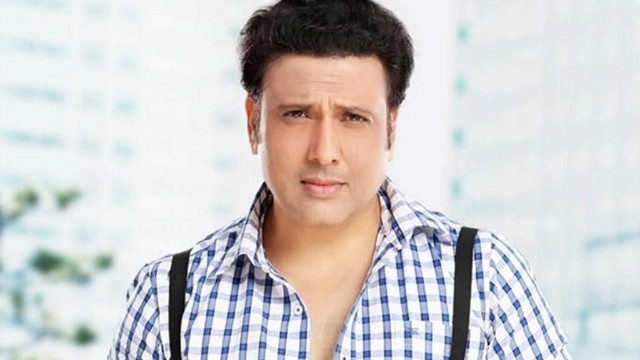 Govinda wants to stay a hero; he isn't interested in character roles. His upcoming film, Aa Gaya hero, also produced by him, is a bid to reaffirm his position in Bollywood. He minces no words in saying he wants to be a superstar again.
Govinda has just released the trailer of the film slated to release next month and it has the feel of the '90s-he is seen in colourful clothes and mouthing funny lines. "After almost 15 years, I am returning as a hero, so the title had to be Aa Gaya Hero. I was known as Hero No 1 (title of his 1997 hit), that's why this was apt."
After Jodi No 1 (2001) and Chalo Ishq Ladaye (2002), Govinda went on to do some forgettable films. He made a comeback with Partner (2007) with Salman Khan, but it did not put him back in the scheme of things. "It was a Salman Khan-starrer," he reasons.
Taking things in his own hands, he went on to produce Aa Gaya Hero. He is aware that in the past decade, the process of filmmaking has changed drastically. "Today's league of filmmakers wear half pants, but we need to model ourselves on the south industry. They know how to create heroes and sustain them," he says.
However, Govinda admits he is afraid. "I get scared thinking whether I will be accepted again. But I have always overcome my fears. I have faced a lot of turmoil, but managed to come out of it."


---
Anushka Sharma unveils the logo of her second production 'Phillauri'
New Delhi:MMNN:4 Feb. 2017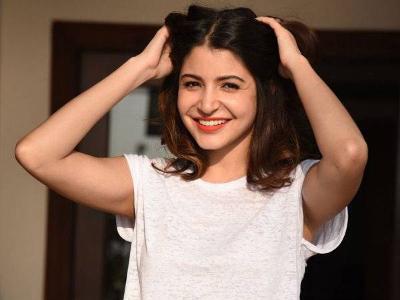 Anushka Sharma's debut production 'NH10' was appreciated by the audiences and critics alike, and now she's back with her second production. The actress took to Twitter to unveil the logo of her next film, 'Phillauri'.
The logo is shiny and full of bling. The actress didn't stop at sharing the logo, she even went ahead and changed her profile picture on the microblogging website. Her Twitter profile has a golden starburst instead of her pretty face.
The romantic comedy features 'Udta Punjab' star Diljit Dosanjh and 'Life of Pi' actor Suraj Sharma, alongside Anushka. The trailer will be launched soon. Directed by Anshai Lal, 'Phillauri' is scheduled to release on March 24, 2017.


---
Raees Box Office Collection Day 9: Shah Rukh Khan's Film Stands At Rs 111.75 Crores
Mumbai:MMNN:3 Feb. 2017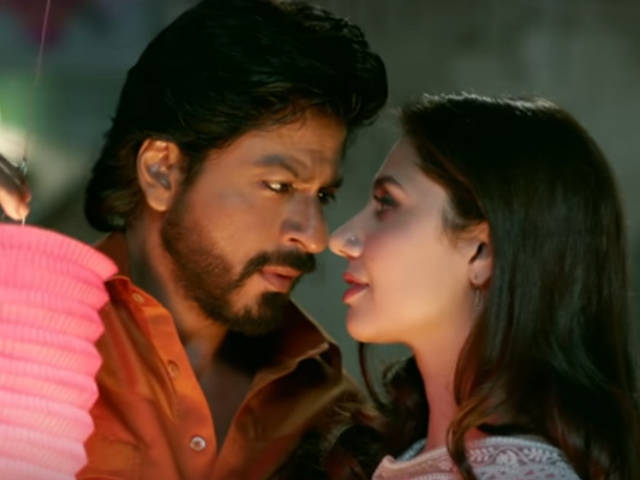 Shah Rukh Khan's Raees has completed nine days at the theatres and made Rs 111.75 crores at the box office, reported boxofficeindia. Raees released mid-week on January 25, when it clashed with Kaabil, starring Hrithik Roshan. Shah Rukh's gangster drama has stayed ahead of Kaabil since day one, and continues to lead the box office race with a difference of Rs 44 crores. Kaabil, which is Hrithik's first movie after box office dud Mohenjo Daro, has scored Rs 67 crores, including collection figures for day nine, reported boxofficeindia. "Raees was had a reasonable extended nine day first week of Rs 111.75 crores nett but collections have down a lot from Monday onward...," reported boxofficeindia.
According to boxofficeindia, Raees' single-day performance at the box office has dipped by 30% - 35% from the beginning of this week whereas, Kaabil's box office score has dropped by 25%. boxofficeindia also predicts that at the end of week two, the box office numbers of Kaabil and Raees might come close to being similar as Raees was already at a better position since the two films released. "The drop in screens in second week is more for Raees than Kaabil with around 30-35% drop for the former and 25% drop for the latter but this is because Raees is coming off a higher number," reported boxofficeindia.
Raees has gone through multiple date and time changes - Raees avoided a probable box office collision on with Salman Khan's Sultan on Eid last year and scheduled their film for the Republic Day weekend of this year. Later, January 25 was zeroed in for Raees.
Shah Rukh Khan stars as liquor smuggler Raees Alam in the Rahul Dholakia-directed films, which also features Pakistani actress Mahira Khan and Nawazuddin Siddiqui in key roles. Kaabil casts Hrithik Roshan and Yami Gautam as characters, who are visually impaired. Directed by Sanjay Gupta, Kaabil is produced by Hrithik's father Rakesh Roshan.


---
Sanjay Dutt biopic in safe hands: Priya Dutt
New Delhi:MMNN:3 Feb. 2017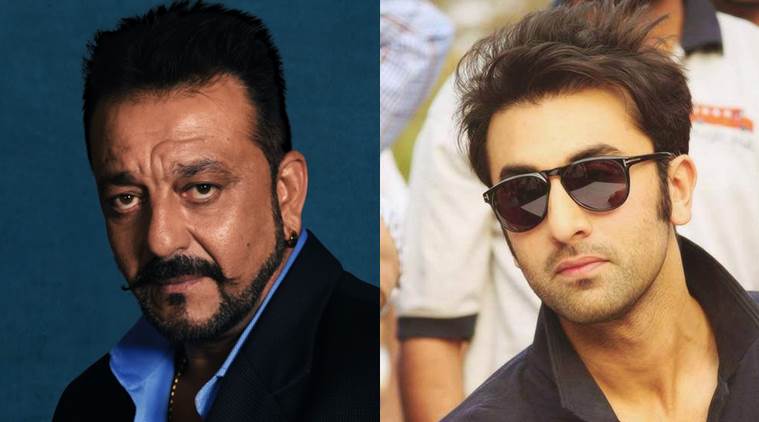 Sanjay Dutt biopic is being helmed by Rajkumar Hirani and the actor's sister Priya says she is confident about the film as she feels it is in safe hands. The film, which is currently being shot, will see Ranbir Kapoor play Sanjay. It also stars Dia Mirza as his wife Manyata. Hirani and Sanjay have collaborated in two Munnabhai film series and PK.
"I always felt that if ever a film is made on Sanjay Dutt there's no one other than Raju Hirani. I know it is on safe hands," Priya told
"I was not very much involved in the scripting process as the film is about Sanjay. But whenever the director would need any help, I would gladly give him the required details," she says. Priya's Nargis Dutt Foundation (NDF) had joined hands with Lakmé Salon for 'My Hair For Cancer' initiative in association with Richfeel.
Launching on World Cancer Day, 4th of February, customers will be able to pledge their hair for donation at a Lakmé Salon in Mumbai. "As a small step in our hectic lives, this is a chance to contribute to a relevant cause," Priya says. After Aamir Khan in Dangal, it is Ranbir Kapoor's turn to put on weight for his next film helmed by Rajkumar Hirani.
The Bachna Ae Haseeno star will be playing the role of Sanjay Dutt in the biopic. Ranbir Kapoor has already gained more than 13 kg but unlike Aamir's weight gain, it is all muscle and no fat to match up with the muscular physique of Sanjay Dutt.


---
Arshad Warsi on Jolly LLB 2: Why are you touching my weak point?
Mumbai:MMNN:2 Feb. 2017


While Jolly LLB had Arshad Warsi in lead, the actor was replaced by superstar Akshay Kumar in the sequel. At a red carpet event in Mumbai last night when Arshad Warsi was asked to comment on the fact that Akshay is playing the lead in Jolly LLB 2, the actor said, "Why are you touching my weak point? Just kidding! It's not like that! I'll tell you honestly and I have said it a lot of times, I am a very lethargic person.
During Bigg Boss, I didn't want to do anything further than that, and Jolly LLB was a coincidence. And as I said earlier, I am very happy that Akshay is doing it. Akshay and I talk a lot, and I think he has done a damn good job. I am really happy, and I really hope that the film does well."
He also added, "I haven't watched it yet, I am busy promoting Irada (Warsi's drama thriller slated to release this year)," when asked whether he has watched the film himself.
Jolly LLB actor Arshad Warsi had earlier said that he was supposed to be featured in the second installment of Jolly LLB too, but then the makers wanted a 'bigger star', which the found in Akshay Kumar.
While Arshad has maintained a friendly demeanour in this situation, Akshay Kumar is also heaping praise on Warsi. He recently thanked Arshad Warsi for showing him the way for doing Jolly LLB 2 and that he hopes for this film to be as successful as the first installment.


---
Ranbir Kapoor's Film With Alia Bhatt Is Not A Superhero Movie
New Delhi:MMNN:2 Feb. 2017


Ranbir Kapoor's next film with director Ayan Mukerji is not a superhero film, news agency PTI reports. Dragon, as the film is called, stars Ranbir and Alia Bhatt but there will be no capes or crime-fighting involved after all. "A lot of people have been saying that it is a superhero film.
But it's not. It's in fact, a modern-day romantic fantasy," Ayan told. This obviously means that Dragon isn't going to be a remake of Ryan Reynolds' Hollywood blockbuster Deadpool, as has been speculated. Ranbir Kapoor is best friends with Ayan Mukerji and has starred in both of his previous films, Wake Up Sid and Yeh Jawani Hai Deewani.
Ayan Mukerji has said that the shoot for his upcoming film will begin this August after Ranbir Kapoor wraps work on the Sanjay Dutt biopic. "Ranbir won't do this film and Dutt simultaneously. He has already begun shooting for Dutt and it should be done by August. That's when I will start with him and Alia Bhatt." Ayan was quoted by PTI as saying, speaking at the premiere of Oscar-nominated film Lion.
The 33-year-old director was also questioned about the recent assault on Sanjay Leela Bhansali during the shoot of his upcoming Indian period drama film Padmavati, allegedly by members of Rajput group Karni Sena. Ayan told : "As a young filmmaker and someone, who really respects Sanjay Bhansali, I feel it's sad and shocking. It shouldn't have happened. It was really unfortunate."
Ayan Mukerji had made his directorial debut in 2009 with Wake Up Sid, which starred Ranbir Kapoor and Konkana Sen. His next directorial is going to be his third project with the Ae Dil Hai Mushkil actor. Ranbir Kapoor has Jagga Jasoos with Katrina Kaif coming up for release.


---
Akshay Kumar's Jolly LLB 2 in legal trouble, SC to hear plea
MMNN:1 Feb. 2017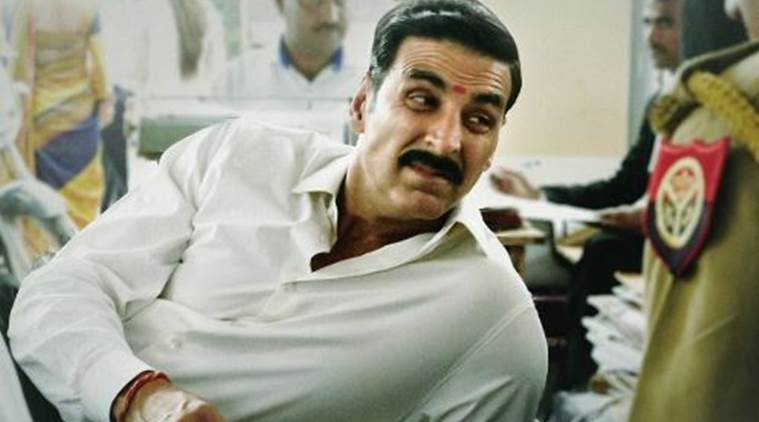 The Supreme Court today agreed to hear on Friday the plea against the Bombay High Court order appointing a panel to review the Akshay Kumar-starrer Jolly LLB 2. A bench comprising Chief Justice J S Khehar and Justices N V Ramana and D Y Chandrachud said that it would hear the appeal of Fox Studio, the producer, on February 3.
Senior advocate A M Singhvi, appearing for the film producer, said the movie, which is releasing on February 10, has already been cleared by the CBFC and the appointment of the panel is not as per the law.
Recently, the Bombay High Court has appointed a 3-member committee to review the film following the allegations that it has made the legal and judicial system a laughing stock. HC appointed lawyers R N Dhorde and V J Dixit would view the movie on Wednesday and submit their report on Friday.
The bench, comprising justices V M Kanade and Sangitrao Patil, had asked the producers to arrange of Jolly LLB 2. The court was hearing the petition of Ajaykumar Waghmare, a Nanded-based lawyer, who challenged the film's screening and said the word LLB should be removed from the title.
He also said scenes in the trailer where lawyers are shown playing cards on court premises should be removed as well as another scene where a judge is seen ducking to evade objects being hurled in the courtroom.


---
'Ready to slut-shame a girl again?' Nia Sharma shuts down trolls with another music video
New Delhi:MMNN:1 Feb. 2017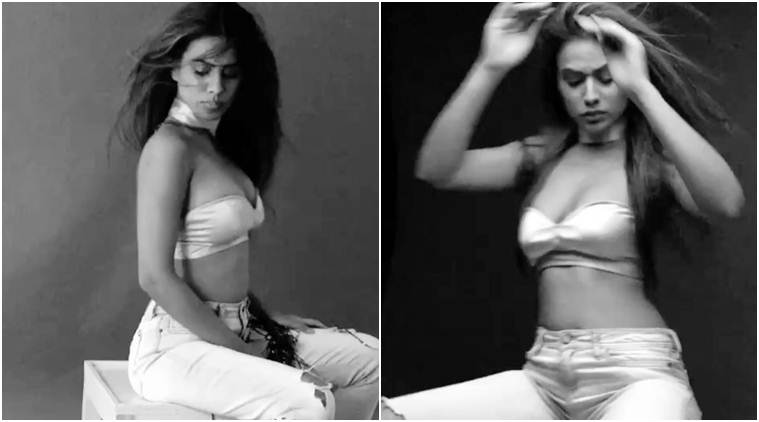 Nia Sharma is the third 'sexiest Asian woman' and probably the boldest in Indian television industry today. The actor recently shared a black-and-white music video and while many were applauding her, her killer dance moves didn't sit well with some trolls.
After Nia posted the first video, a few praised her beauty and confidence but many comments were just disgusting. Her Instagram account was full of ugly comments but Nia had the perfect comeback: she posted a second video with an epic answer to haters.
In answer to the trolls, she wrote, "Oops! Here's one more from the photoshoot!! Ready to slut-shame a girl again? Go aheadddddd.. I'll post five more…Coz thats exactly I got this shoot done.!! And thats exactly how I'll post pictures from the same! I appreciate everyone who took out time from their absolutely worthless lives to write filthy long comments on my previous video.! I got u job again!
Nia is quite active on her Instagram and time and again this hot actor keeps posting her pics impressing her fans and followers with her fashion sense and impeccable style.
Nia's video on Instagram has just gone viral. Nia is best known for playing Roshni in the TV soap Jamai Raja. Also, Nia is all set to release her debut album that also stars musician Tony Kakkar soon.
It seems haters gonna hate but Nia's just gonna shake.


---