---
---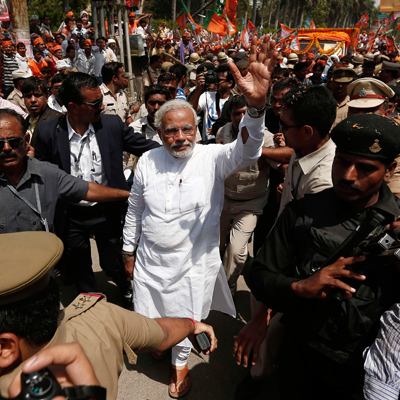 -Sh. Narendra Modi to take charge as the the Prime Minister of india.-Profile
-Narendra Modi win from Vadodara
-Sachin Pilot loses from Ajmer
- Google Celebrate India's General Election with doodle.
-Arun Jaitly loses to Amrinder Singh.
-I take responsibility for congress defeat. I congratulate the new government- Rajiv Gandhi & Sonia Gandhi.

---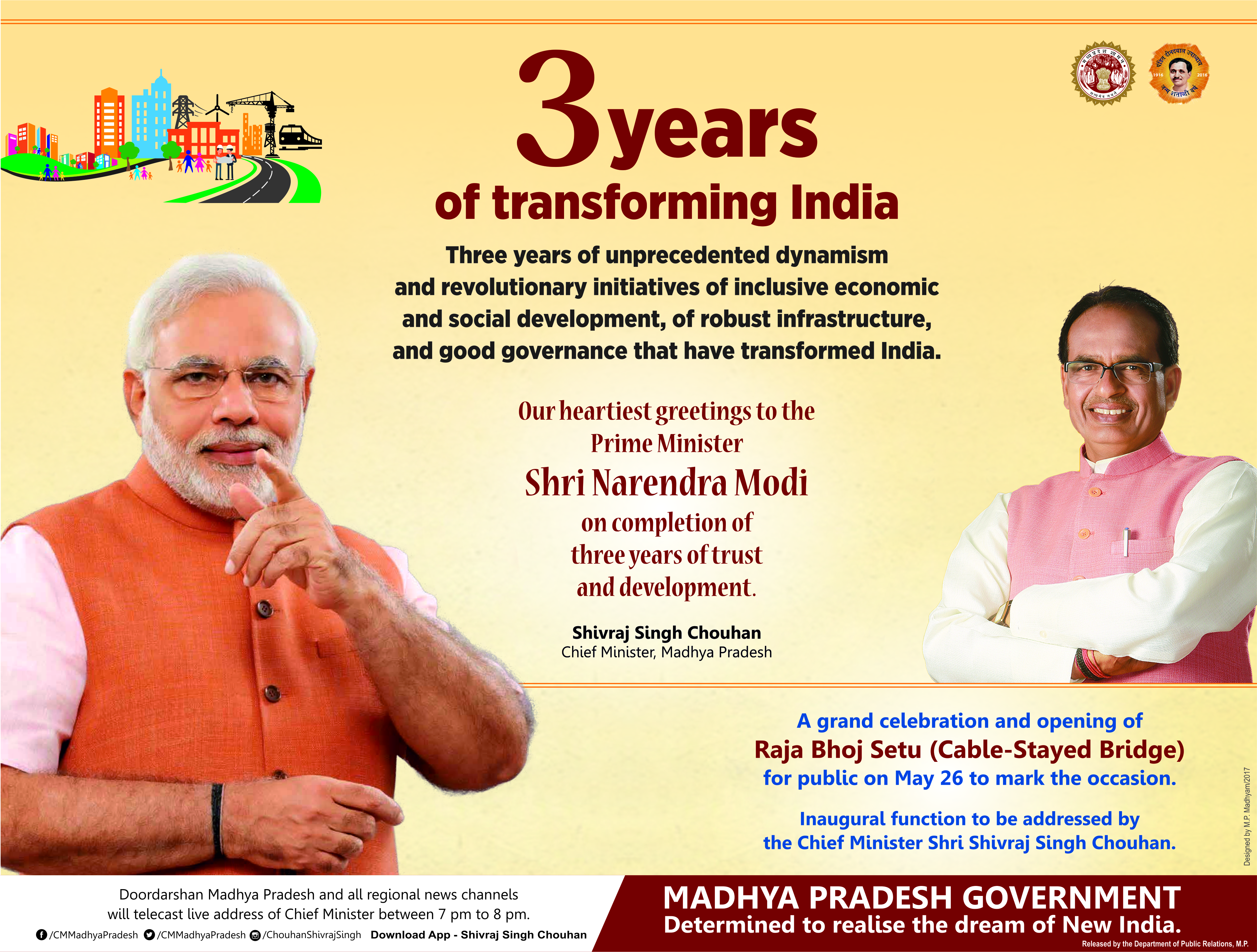 ---
---
National Bravery Awards 2018: 16 Courageous Children To Be Awarded On Republic Day
MMNN:17 January 2018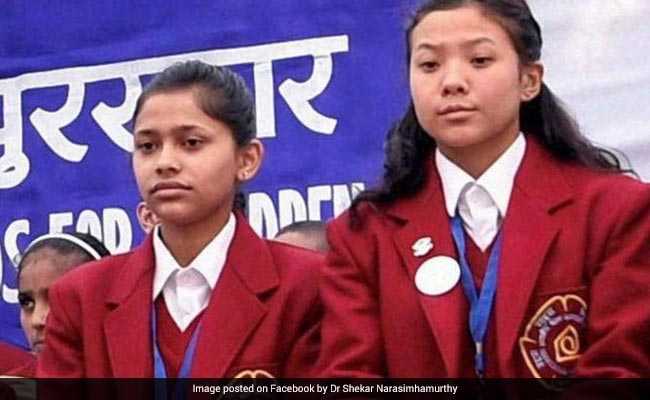 NEW DELHI: Ahead of 69th Republic Day, 16 courageous have been selected from different parts of the country to be given the National Bravery award 2018. Of the 16 children, four would be awarded posthumously. The children have been selected from 13 states, namely, Uttar Pradesh, Maharashtra, Manipur, Mizoram, Karnataka, Punjab, Meghlaya, Odisha, Nagaland, Gujarat, Kerala, Chhattisgarh and Uttarakhand. The National Bravery Awards are given every year under the aegis of the Indian Council for Child Welfare (ICCW) who scrutinize the applications and select the National Bravery Award winners. The award winners will also take part in the Republic Day march
The National Bravery Awards are divided into five categories: Bharat Award Sanjay Chopra Award Geeta Chopra Award Bapu Gaidhani Award General National Bravery Awards The recipients, selected from across India, are given a medal, certificate and a cash prize. They also receive financial assistance to complete their schooling. COMMENTSLast year , 25 child received the national bravery award. Among them were two school girls who helped police bust a cross-border human trafficking racket, leading to the arrest of suspects in the cases of missing girls from both India and Nepal. Shivani Gond, 17, and Tejasweeta Pradhan, 18, were honoured by Prime Minister Narendra Modi for "showing exemplary courage" when acting as decoys to gain the trust of the traffickers, allowing police catch them red-handed. The first National bravery Award was presented to two children in 1958 by then Prime Minister Jawaharlal Nehru. Among the recipient was Harish Chandra who, using his presence of mind, saved the lives of hundreds of people trapped in tent that caught fire due to a short circuit in at Delhi's Ramlila ground at the Red Fort when Mr Nehru was watching a performance. The Sanjay Chopra Award and the Geeta Chopra Award were established in 1978 in memory of two Chopra children who lost their lives while confronting their kidnappers. The Bharat Award was established in 1987 and the Bapu Gaidhani Award was established in 1988. The Sanjay and Geeta awards are given to a boy and a girl for acts of bravery.
---
Chief Justice Met 4 Judges, Ice Has Begun Melting, Say Sources: 10 Points
MMNN:16 January 2018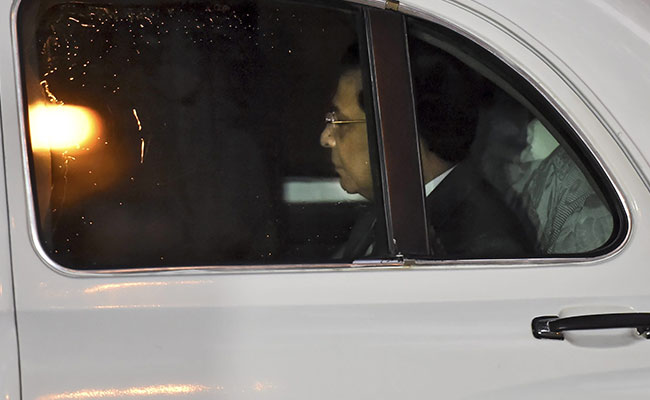 NEW DELHI: Chief Justice of India Dipak Misra today met the four judges who had criticised him publicly, and discussed "all issues", top sources have told NDTV. "The ice has started melting," said the sources, delivering another twist in the story after Attorney General KK Venugopal said that the dispute remained unresolved. One of the main triggers of the unprecedented rift, the case related to judge BH Loya's death, was taken up today by the Supreme Court.
Here's your 10-point cheatsheet to this big story:
1-The Chief Justice had a "long discussion" with Justices Jasti Chelameswar, Ranjan Gogoi, Madan Lokur and Kurien Joseph on issues they had raised in a press conference last week.
2-The judges will continue their discussions tomorrow, sources said, adding that "things are moving in the right direction".
3-The four judges -- who are the senior most after the Chief Justice -- have been kept out of a constitution bench announced yesterday for eight important cases. It is not clear if that will change after the talks.
4-The judges had also chatted during an informal meeting at the Supreme Court lounge, where judges usually spend some time before going to court. Later, Mr Venugopal told reporters that everything "had been settled".
5-But this morning, Mr Venugopal amended: "From what has been reported in The Hindu, I accept that the judges' conflict is not settled."
6-The Hindu newspaper quoted sources close to the four judges as denying any reconciliation and saying that there had been "no attempts so far to resolve the issues raised by the judges".
7-The judges went public against the Chief Justice after the judge Loya case was assigned to Justice Arun Mishra, who is number 10 in the Supreme Court hierarchy. Speaking to the media on Friday, they criticised the way sensitive cases were being assigned "without rationale".
8-Judge Loya died of a cardiac arrest on December 1, 2014, while attending a wedding in Nagpur. At the time, he was handling the Sohrabuddin Sheikh fake encounter case in which BJP president Amit Shah was an accused. Mr Shah was discharged by the judge who replaced judge Loya.
9-Last weekend, judge Loya's son Anuj denied that there was anything suspicious in the death and said it was being politicised.
10-Justice Arun Mishra reportedly "broke down" at the informal meet at the lounge and complained that he had been unfairly targeted. Justice Chelameswar was seen with his arm around Justice Mishra as he was led by the Chief Justice to his chamber, reported news agency IANS
---
Read: Full Text Of PM Narendra Modi's Statement In Press Conference With Israeli PM Benjamin Netanyahu
MMNN:15 January 2018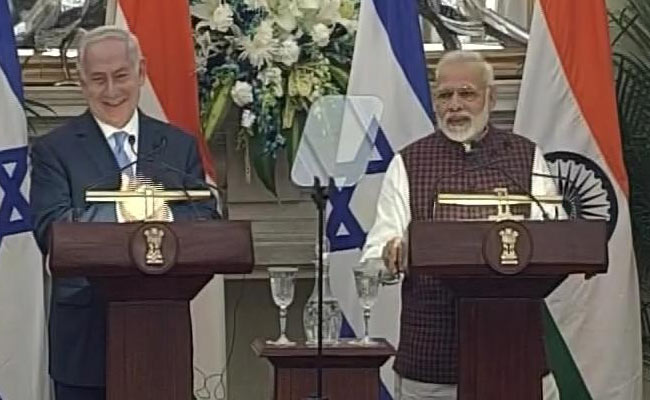 Israeli Prime Minister Benjamin Netanyahu and PM Narendra Modi today held delegation-level talks and delivered a joint statement. Later in the day, Mr Netanyahu will call on President Ram Nath Kovind. Mr Netanyahu will end the day with the India-Israel Business Summit. Following is the full text of PM Narendra Modi's statement: Your Excellency Prime Minister Benjamin Netanyahu, Members of the media, It is a great pleasure to welcome Prime Minister Benjamin Netanyahu, on his first ever visit to India. Your visit, Prime Minister, is a long-anticipated moment in the journey of friendship between India and Israel. Your visit is also a fitting climax to the comemoration of 25 years of diplomatic relations between India and Israel. As our first honoured guest in 2018, your visit marks a special beginning to our New Year calendar. It comes at an especially auspicious time as people all over India are rejoicing the arrival of spring, renewal, hope and harvest. The festivals of Lohri, Bihu, Makar Sankranti, and Pongal celebrate the splendour of India's diversity and unity. Friends, Last year in July, I carried the greetings and friendship of 1.25 billion Indians during my momentous journey to Israel. In return, I was overwhelmed by the generous affection and warmth of the Israeli people, led by my friend, Bibi. In that visit, Prime Minister Netanyahu and I promised each other and our people to build a strategic partnership: of hope and trust and progress of diverse and cutting-edge cooperation, and of joint endeavours and shared successes. Such a promise flows as much from the natural affinity and friendship that have linked us for centuries as it does from the compelling win-win case for engagement in almost all spheres. And it is a measure of our shared ambition and commitment that six short months after that visit; your extraordinary visit is taking place to India. Today and yesterday, Prime Minister Netanyahu and I reviewed the progress in our relations and renewed our conversation on the possibilities and the opportunities that beckon us and need to be seized. Our discussions were wide-ranging and intensive. They were marked by the desire to do more. Prime Minister, I have a reputation of being impatient in getting results. If I may let out an open secret, I know that so are you. Last year in Tel Aviv, you had expressed the intent to cut down bureaucratic red tape with a machete and forge ahead with speed. Prime Minister, I am happy to tell you that in India, we are well on our way to doing just that. We have imparted our shared impatience to the implementation of our earlier decisions. The results are already visible on the ground. Our discussions today were marked by convergence to accelerate our engagement and to scale up our partnership. We will pursue this in three ways: - First, we will strengthen the existing pillars of cooperation in areas that touch the lives of our peoples. These are agriculture, science and technology, and security. We exchanged views on scaling up the Centers of Excellence that have been a main-stay of agricultural cooperation by bringing in advanced Israeli practices and technology. In defence, I have invited Israeli companies to take advantage of the liberalised FDI regime to make more in India with our companies. - Second, We are venturing into less explored areas of cooperation, such as oil and gas, cyber security, films, and start-ups. You will find this reflected in the agreements that were just exchanged. Several of these areas are indicative of our desire to diversify and broad-base engagement. - And third, We are committed to facilitating the flow of people and ideas between our geographies. It requires policy facilitation, infrastructure and connectivity links and fostering constituencies of support beyond Government. We are working with Israel to make it easier for our people to work and visit each other's countries, including for longer work duration. To bring people closer on both sides, an Indian Cultural Center will soon open in Israel. We have also decided to start an annual exchange of bilateral visits by 100 young people from science-related educational streams. Friends, Thriving two-way trade and investment is an integral part of our vision for a strong partnership. Prime Minister Netanyahu and I agreed on the need to do more in this direction. After the meeting in Tel Aviv last year, we will interact for the second time with our CEOs under the bilateral Forum. I welcome the large business component that Prime Minister Netanyahu has brought along with him. Prime Minister Netanyahu and I also exchanged perspectives on the regional and global situation. We reviewed our cooperation as a factor for stability and peace in our regions and the world. Friends, Yesterday, as his first stop after touching Indian soil, Prime Minister Netanyahu joined me at the re-named Teen Murti Haifa Chowk to pay homage to the memory of the brave Indian soldiers who laid down their lives a century ago in the Battle of Haifa in Israel. We are both countries that have never forgotten our history and our heroes. And we deeply appreciate this gesture by Prime Minister Netanyahu. As we look to the future of this exciting partnership with Israel, I am filled with hope and optimism. In Prime Minister Netanyahu, I have a counter-part who is equally committed to taking the India-Israel relationship to soaring new heights. Finally, I am delighted to have the chance to be with you, Prime Minister, in my home state, Gujarat, day after. There, we will have another opportunity to see the fulfillment of the promise, which our mutual cooperation holds in diverse areas such as agriculture, technology, and innovation. COMMENTSI wish Prime Minister Netanyahu, Mrs. Netanyahu and the delegation a memorable stay in India
---
Mumbai Chopper Crash Live Updates: 4 Bodies Recovered, Search And Rescue Operations Continue
MMNN:13 January 2018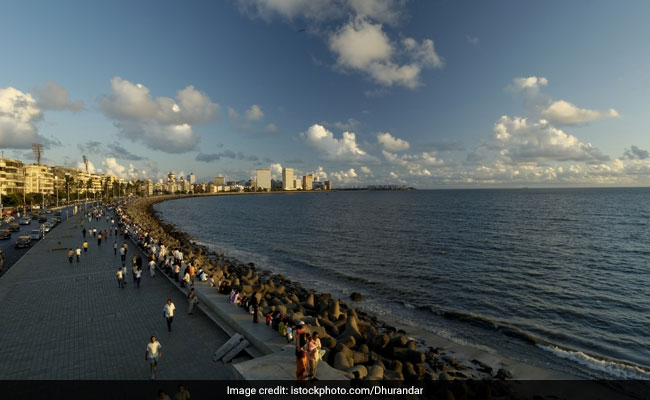 NEW DELHI: A Pawan Hans helicopter crashed off the Mumbai coast with seven people on board, including two pilots. The helicopter lost contact with the air traffic control today shortly after take-off from Juhu Aerodrome at 10:20 AM this morning. The chopper, Dauphin N3 with registration number VT PWA, last contacted the Air Traffic Control at 10:35 AM when it was about 30 nautical miles off the Mumbai coast. Among those on board were officials from the Oil and Natural Gas Corporation or ONGC who were headed for the Offshore Development Area in the north fields of Mumbai High. The Indian Coast guard has launched a search operation for the helicopter. Choppers and Immediate Support Vessels or ISVs have been deployed
---
Democracy At Stake, Things Not In Order: 4 Supreme Court Judges - 10 Points
MMNN:12 January 2018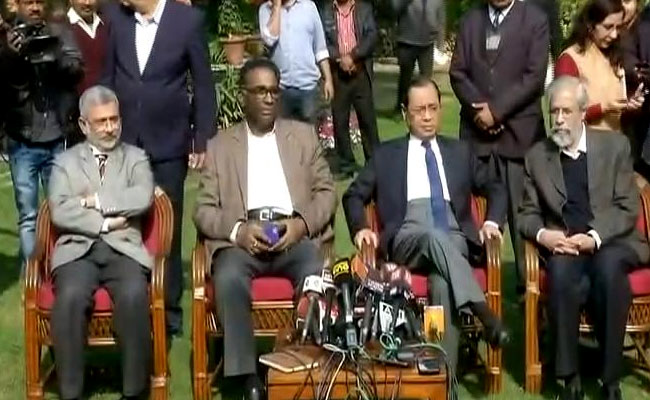 NEW DELHI: Democracy in India is at stake, said four senior Supreme Court judges today as they went public with complaints against the Chief Justice of India, Dipak Misra. The "rebel" judges - the four most-senior at the top court after the Chief Justice - said that "things are not in order" with what they described as "the administration of the Supreme Court". An independent judiciary is essential for a functioning democracy, they said. Asked if they believed the Chief Justice should be impeached, they said, "Let the nation decide."
Here are the 10 latest developments in this big story:
1-The judges have blown the lid off a growing rift with Chief Justice Dipak Misra at their news conference, the first of its kind ever held by sitting judges of the top court. "The four of us are convinced that unless this institution is preserved and it maintains its equanimity, democracy will not survive in this country," Justice J Chelameswar said on the lawns of his residence. He is the second most-senior judge of the Supreme Court.
2-The judges said that their concerns include cases of "far-reaching consequences" being allocated without transparency. They made available a letter written by them to the Chief Justice two months ago, alleging "selective assignment of cases to preferred judges" and that "sensitive cases were being allotted to junior judges".
3-Justices J Chelameswar, Ranjan Gogoi, Madan Lokur and Kurien Joseph said repeated attempts to alert the Chief Justice to their concerns - including a meeting with him this morning - had failed to make any progress which is why they decided to voice their complaints publicly.
4-When asked if their complaints include the case of the death of a CBI judge, BH Loya, "yes" said Justice Gogoi. He however declined to elaborate.
5-Judge Loya was hearing a case that accused BJP president Amit Shah of murder when he died in Nagpur in December 2014. His family has alleged that his death was unnatural and came after he was offered 100 crores as a bribe to rule in favour of the BJP leader. Medical records show Judge Loya died of a cardiac arrest. Within weeks of his death, Amit Shah was acquitted.
6-The Supreme Court has been asked to order an independent inquiry into Judge Loya's death. This morning, the case was assigned to a bench that does not include the four senior judges who held today's press conference.
7-The Chief Justice in December was backed by four other top judges in asserting that he is the "master of the roster" and is alone authorized to allocate cases. The four judges who met the press today said that the rules make him "only the first amongst the equals, nothing more or nothing less."
8-The public confrontation today comes amid growing calls for the judiciary to show more transparency including in how judges are selected for promotion and assignment to the High Courts and the Supreme Court.
9-The Law Ministry says that the explosive trading of charges today is being seen as "an internal matter of the judiciary" on the administration of the Supreme Court and the government sees no reason for it to intervene.
10-In December, the Chief Justice was accused by some lawyers of inappropriately involving himself in hearing a case that alleges judicial corruption even though he was involved in earlier hearings of a linked matter - about whether bribes were paid by a medical college to reverse its blacklisting by the government.
---
Arvind Kejriwal To Address Rally In Maharashtra Tomorrow On Rajmata Jijau Jayanti
MMNN:11 January 2018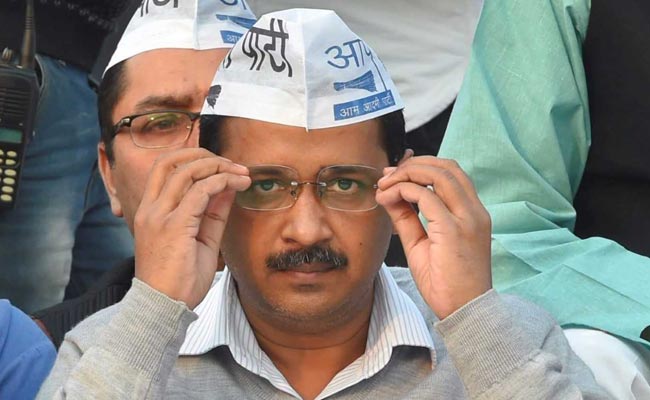 MUMBAI: Delhi Chief Minister and Aam Aadmi Party convenor Arvind Kejriwal will address a rally at the birthplace of Jijabai, mother of Maratha warrior king Chhatrapati Shivaji, in Maharashtra tomorrow. Mr Kejriwal will address the rally at Sindkhed Raja in Buldhana district, and pay tribute to the matriarch on her birth anniversary, party sources said. Every year, lakhs of people, mostly from the politically dominant Maratha community, gather at the place to pay their respects to Rajmata Jijabai. Police had initially denied permission for the rally citing law and order issues, but the rally, scheduled for tomorrow morning, will be held as planned after AAP leaders took up the issue with Chief Minister Devendra Fadnavis and senior police officials, sources said. After the permission was granted, Arvind Kejriwal had tweeted in Marathi saying, "On the occasion of Rajmata Jijau Jayanti on January 12, I am coming to Sindkhed Raja to have a dialogue with the people of Maharashtra." Marathas, who comprise approximately 32 per cent of the state's population, had taken to the streets last year, demanding reservations in education and job sectors. The choice of the venue also underlines the agenda of the party, particularly in the backdrop of the recent turmoil in Maharashtra, where Marathas were pitted against Dalits after the Bhima-Koregaon violence. Mr Kejriwal is expected to induct Brigadier (Retd.) Sudhir Sawant, a former Congress MP from Konkan region, into the party, at the rally tomorrow, AAP spokesperson Preeti Sharma Menon said. Brig (retd.) Sawant is a Maratha. COMMENTSHowever, the AAP spokesperson said her party does not believe in wooing the Maratha community or any other community. "We do not believe in the politics of caste," she added. "We chose this venue because we believe in the values of Jijabai which she imbibed in Shivaji Maharaj," she said
---
New Team To Look Into 186 Anti-Sikh Riots Cases, Says Supreme Court
MMNN:10 January 2018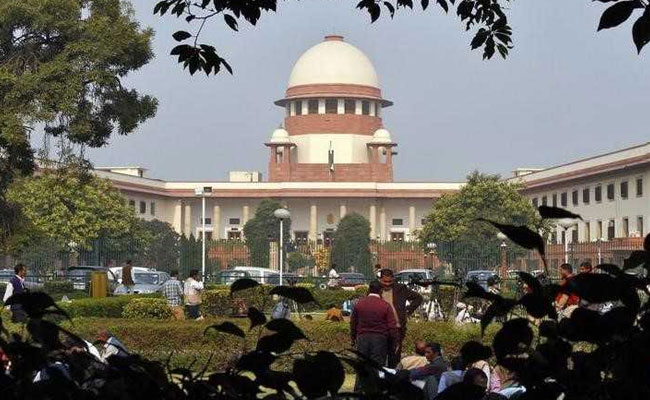 NEW DELHI: The Supreme Court has formed a Special Investigation Team (SIT) to probe 186 cases relating to the anti-Sikh riots in 1984. This comes after a supervisory panel appointed by the court submitted a report that 186 cases were closed without a probe. Last year, the top court had formed a body comprising two of its former judges -- Justices JM Panchal and KSP Radhakrishnan -- to look into 293 cases. S Gurlad Singh Kahlon, a member of the Delhi Sikh Gurdwara Management Committee, had moved court demanding that a special probe team be set up. He had argued that neither has the probe been completed by an earlier probe team in any of these cases, nor any chargesheet filed. COMMENTSAn SIT was formed by the Narendra Modi government in 2015 after a special committee appointed by the centre recommended such a move to examine anti-Sikh riots case pending since 1984. The team was headed by IPS officer Pramod Asthana and had ex-district judge Rakesh Kapoor and additional DCP Kumar Gyanesh as its members. As per today's court order, a retired high court judge, one serving and one retired IPS officer will be on the new probe team. The court will name the members tomorrow
---
BSP Leader Mukhtar Ansari Suffers Heart Attack In UP Jail, Hospitalised
MMNN:9 January 2018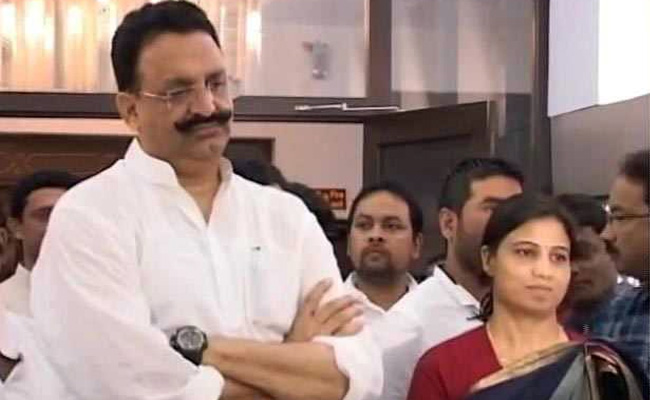 LUCKNOW: Jailed BSP MLA Mukhtar Ansari, who was lodged in Banda jail in connection with various criminal cases against him, today suffered a heart attack and was rushed to the district hospital in Banda. "I have talked to the SSP, Banda, and he told me about it (heart attack). I have sought a report from both the SP and the DM, Banda. The legislator will be provided the best treatment," Principal Secretary Home Arvind Kumar said. About reports in a section of media that Mukhtar Ansari's wife too suffered a heart attack, Mr Kumar said he cannot confirm it immediately. "I can confirm it only after I get a report from there," he said, adding that directives have been issued to provide best possible treatment to the legislator. COMMENTSThe gangster-turned-legislator Mukhtar Ansari from Mau constituency had been in various jails in the state since 2015 under various sections of the IPC.
---
Supreme Court To Revisit 2013 Verdict Criminalising Gay Sex: 10 Points
MMNN:8 January 2018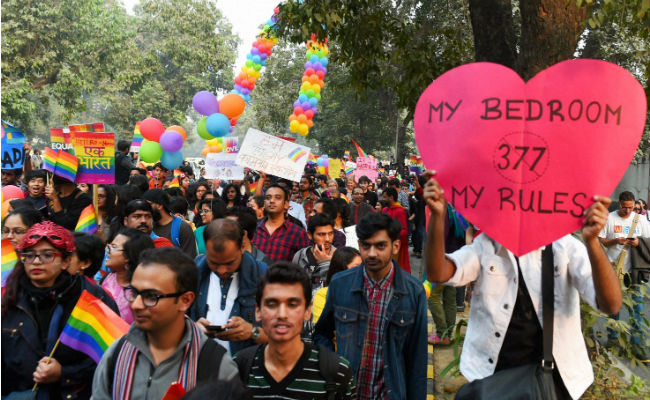 NEW DELHI: Whether homosexuality should be a crime in India will be reexamined by the Supreme Court, which had in 2013 restored a controversial British-era ban on gay sex. No one should have to live in fear because of their sexuality, said three Supreme Court judges including Chief Justice Dipak Misra today, asking a larger group of judges to review Section 377, the 1861 law that criminalises sexual activities "against the order of nature". Responding to a legal challenge by five high-profile petitioners who say they are living in fear of being punished, the judges said: "What is natural to one may not be natural to others
Here is your 10-point cheatsheet to this big story:
1-Top government sources told NDTV they would "go by the court" and not push for criminalising gay sex, commenting that decriminalisation is a global trend.
2-Gay rights activists across the country exulted over the Supreme Court ruling that said "societal morality changes from age to age. Law copes with life and accordingly change takes place".
3-The "section of people who exercise their choice should never remain in a state of fear", said the judges.
4-The Supreme Court also noted that "choice can't be allowed to cross the boundaries of law but the confines of law can't trample or curtail the inherent right embedded in an individual under Article 21, the right to life and liberty."
5-Under the law, those convicted under Section 377 of the Indian Penal Code face up to 10 years in jail.
6-The top court acted on the petition by Aman Nath, the owner of Neemrana hotels, Navtej Johar, a classical dancer, celebrity chef Ritu Dalmia, former editor Sunil Mehra and restauranteur Ayesha Kapur.
7-In 2013, the Supreme Court had cancelled a Delhi high court order that had decriminalized homosexuality by overturning the outdated law and said it was the job of parliament to decide on scrapping laws.
8-That decision needs to be reconsidered because of constitutional issues, said the Supreme Court.
9-In 2009, the Delhi High Court had described Section 377 as a violation of the fundamental rights guaranteed by the constitution. It had responded to a petition by Naz Foundation, which has fought for almost a decade for gay rights.
10-Although prosecution under section 377 is not common, gay activists say the police use the law to harass and intimidate members of their community.
---
Lalu Yadav Sentenced To 3.5 Years In Jail In Fodder Scam: 10 Updates
MMNN:6 January 2018


RANCHI: Bihar's veteran politician Lalu Yadav, who was convicted in a second case of fodder scam -- involving the embezzlement of more than Rs. 84.5 lakh in government funds -- was given three-and-a-half-year's jail term and a fine of Rs. 5 lakh by a special court in Bihar today. In Patna, Lalu's son Tejashwi Yadav, who held an emergency meeting to discuss the party's strategy, said, "The judiciary performed its duty. We will go to the High Court after studying the sentence and apply for a bail". The former Chief Minister, who was in Ranchi's Birsa Munda Jail, received his sentence through video-conference.
Here are the top 10 updates in this bog story:
1-Lalu Yadav was convicted on December 23 for criminal conspiracy, forgery, use of forged documents and under the prevention of corruption act, sources said. This case relates to the fraudulent withdrawal of Rs. 84.5 lakh from the Deoghar district treasury between 1990 and 1994.
2-The sentencing, which was expected last week, had been deferred twice. On Wednesday, the judge said they would proceed with the arguments on the sentencing in an alphabetical order.
3-At the emergency meeting of the party today, Tejashwi Yadav said the people were with Lalu Yadav. "He was chosen (by the people of Bihar in an election) and he's in jail," said the former Deputy Chief Minister in the Grand Alliance government. Last year, Nitish Kumar dissolved his alliance with Lalu Yadav and the Congress and partnered with the BJP instead.
4-Taking a dig at the BJP, Tejashwi Yadav said, "those who had not been elected is now in government... Amit Shah was scared of Lalu-ji".
5-Lalu Yadav has said his conviction was a fallout of political vengeance. After his conviction, he tweeted: "Truth can be made to appear as a lie, as ambiguous or a half lie by concerted onslaught of bias driven propaganda. But blurred layer of bias and hatred will still be removed, come what may! In end Truth will win."
6-The fodder scam involved the embezzlement of more than Rs. 970 crore in government funds in the 1990s during Lalu Yadav's term as the Chief Minister of undivided Bihar from 1990 to 1997. He has been accused in five cases of fodder scam and convicted in two.
7-Four years ago, Lalu Yadav was convicted in the first case of fodder scam and was given a five-year jail term. After being in jail for two months, he got bail from the Supreme Court.
8-The court had acquitted another former Bihar Chief Minister, Jagannath Mishra, and five others in the case. There were initially 34 accused, of whom 11 died during the trial. One admitted to the crime and turned approver. The other 15 people convicted include three former IAS officials.
9-With ally Hemant Soren as Chief Minister of Jharkhand, Lalu Yadav was given VIP treatment during his last jail stint in 2013. A guesthouse had been converted into a jail for him and even the chief Minister came to meet him there.
10-The state has a BJP government now with Raghubar Das as chief minister, who has ignored Mr Yadav's request that he be allowed more visitors as he is a political leader. He has, however, been allowed a cook for his special diet and has access to a television and newspapers.
---
PM Modi Reaches Out To Manmohan Singh, With A Warm Handshake
MMNN:5 January 2018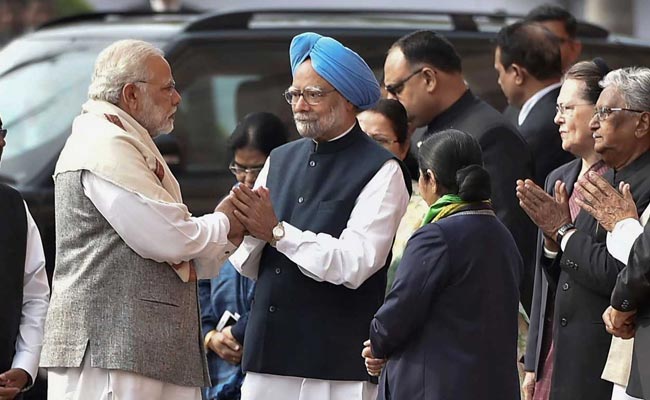 NEW DELHI: Prime Minister Narendra Modi and his predecessor Manmohan Singh greeted each other and shook hands in the Rajya Sabha after the winter session of parliament ended on Friday. The show of cordiality comes weeks after PM Modi, in the middle of an acrid campaign for the Gujarat election last month, appeared to insinuate that Manmohan Singh had conspired with Pakistan to attempt the BJP's defeat in the state. The Congress, aided by other opposition parties, had blocked parliament for days to demand that PM Modi apologise to the former prime minister for the insinuation. "I am deeply hurt by the falsehood being spread, everyone knows my track record," Dr Manmohan had said in the video statement. PM Modi didn't apologise but the ruling party bought peace in parliament by a statement from Finance Minister Arun Jaitley that the Prime Minister did not question, nor meant to question Dr Manmohan Singh's commitment to the country. As soon as Rajya Sabha chairman M Venkaiah Naidu adjourned the House sine die on Friday, PM Modi walked over to the opposition benches and reached out to the former prime minister as well, warmly shaking hands with Dr Manmohan Singh and speaking with him for a bit. There was no word on what they spoke about. But later, parliamentary affairs minister Ananth Kumar asserted that the session had gone off much better than what many people had expected. COMMENTSThe Lok Sabha did work for almost twice as much as the Rajya Sabha in terms of the number of bills passed. But the Rajya Sabha, where the ruling BJP is in a minority, did pass 9 bills, just a little short of the 13 passed by the Lok Sabha. "This is the first time this is happening," Mr Kumar said. PM Modi also shook hands with some other senior leaders too including Deputy Chairman PJ Kurien and veteran Congress leader Karan Singh, whose tenure ends before parliament reconvenes for the Budget session
---
No Benefit To People From Hiked Oil Prices: Congress
MMNN:4 January 2018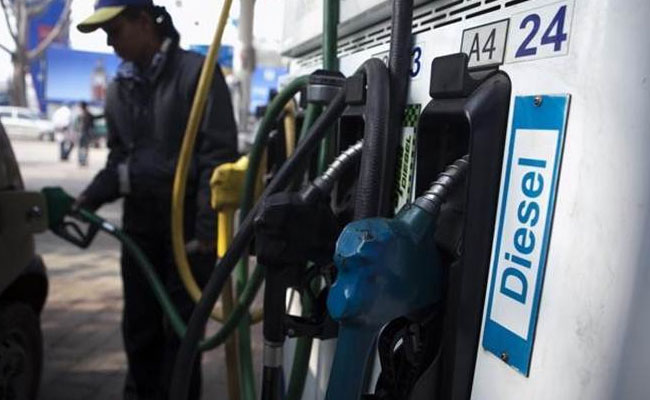 NEW DELHI: The Congress today accused the government of not passing on to consumers the benefits of revenue it has earned by hiking excise duty on oil products, saying it garnered over Rs. 5.5 lakh crore and should tell the people what it has done with the money. Party leader Mallikarjun Kharge raised the issue in the Lok Sabha, noting that the price of crude was USD 110 per barrel in March 2014, two months before the BJP came to power, which had come down to USD 40 in June 2016. It was USD 60 yesterday, he said. He said petrol and diesel prices were not reduced in line with the falling price and instead, excise duty on diesel was hiked by 386 per cent and on petrol by 126 per cent. "You have earned Rs. 1.62 lakh crore annually and Rs. 5.50 lakh crore in total so far. No benefit has reached the people so far, while the extra revenue has gone to public exchequer," Mr Kharge said during the Zero Hour. He claimed that the government has instead reduced the benefits of welfare schemes, including those meant for Dalits. "You should tell the people under which scheme this money has been used," he demanded of the government
---
After Many Rejections, AAP Finds Nominees For Rajya Sabha
MMNN:3 January 2018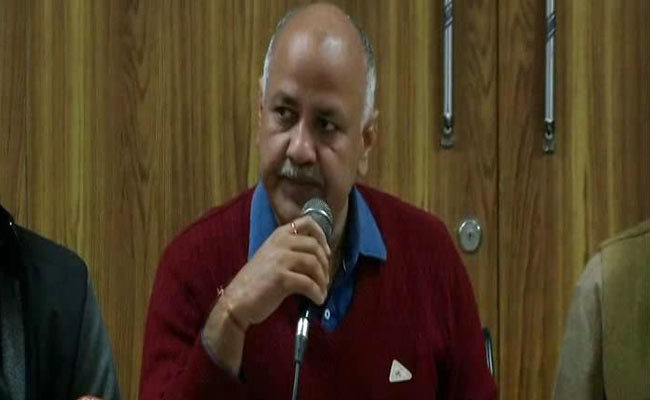 The Aam Aadmi Party today nominated Sanjay Singh, Sushil Gupta and N D Gupta as its Rajya Sabha nominees. While Mr Singh has been associated with the party since its inception, Sushil Gupta is a Delhi-based businessman and ND Gupta a chartered accountant. The decision was taken at Chief Minister Arvind Kejriwal's residence in a meeting attended by around 56 party lawmakers. The party's highest decision making body, the Political Affairs Committee or PAC, met soon after and formally approved the decision. "Sushil Gupta has made big contributions in the education and health sectors in Delhi and Haryana. He provides free education to 15,000 children. Narayan Das Gupta is the former president of the ICAI (Institute of Chartered Accountant of India)," Deputy Chief Minister Manish Sisodia said. Kumar Vishwas, who was angling for a Rajya Sabha slot, did not attend the PAC meeting although he is a member of the committee. Elections to three Rajya Sabha seats from Delhi would be held on January 16. The AAP, which enjoys a brute majority in the 70-member Delhi Assembly, is set to win all three seats.
---
Join Congress: Hardik Patel's Offer To Sulking Nitin Patel, With A Rider
MMNN:30 December 2017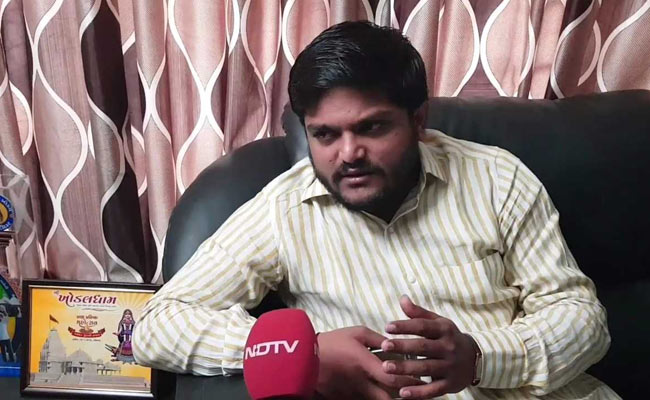 GANDHINAGAR: Hardik Patel, the Patidar leader who had fiercely campaigned against the BJP in the Gujarat elections, today attempted to exacerbate the birth pangs of the state's new government led Chief Minister Vijay Rupani who is struggling with a sulking deputy, Nitin Patel. The 61-year-old Deputy Chief Minister is learnt to be feeling slighted at his boss taking away key portfolios such as finance and urban development, and replacing them with health and education, among others. Nitin Patel hasn't spoken about his disappointment in public but he is learnt to have dropped clear hints to his close supporters that he might contemplate quitting the government too. On Saturday, Hardik Patel waded right in the middle of the political drama playing out in Gujarat around Nitin Patel. "If the BJP does not respect him, he should leave the party," the 24-year-old face of the Patidar campaign for quotas in jobs and education told reporters, according to news agency ANI. Hardik Patel also offered to get the Deputy Chief Minister a good deal from the Congress. But this offer came with a rider. "If Gujarat Deputy CM Nitin Patel along with 10 MLAs is ready to leave BJP, then I will talk to Congress to get him a good position," Hardik said, an offer that is seen as an attempt to emphasise that the BJP did not give its most prominent Patel face a fair deal either. Nitin Patel, who first became the state's health minister back in 1995, was upgraded as a Deputy Chief Minister in 2016 when the BJP decided to drop Anandiben Patel as Chief Minister. The upgrade was meant to signal that the Patel community would continue to get a good deal from the BJP
---
15 die, 23 injured in Mumbai pub fire
MMNN:29 December 2017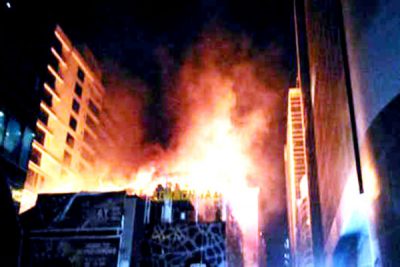 At least 15 people, including 11 women, were killed and 23 others injured when a major fire broke out in a pub in the Kamla Mills Compound here late Thursday night, an official said. The blaze was reported around 00:30 hrs from Mojo's Bistro, a rooftop restaurant pub in the Kamla Trade House, in Lower Parel area of south Mumbai and quickly spread to an adjacent pub and restaurant, official of BMC Disaster Control said here. President Ram Nath Kovind and Prime Minister Narendra Modi and Maharashtra Chief Minister Devendra Fadnavis have condoled the deaths.As per as the official, more than 12 fire tenders were rushed to fight the blaze which was finally brought under control around 06:30 hrs. While the majority of the victims are reported to have perished on the spot, the firemen could rescue ten others safely from the leaping flames. The injured have been admitted in the KEM Hospital, Bhatia Hospital, Airoli Burns Hospital, while two in Sion Hospital who suffered minor injuries were treated and discharged. Autopsies of the victims have revealed that a majority of the casualties occurred due to asphyxiation more than the burns, said Dr Avinash Supe, Dean, KEM Hospital. The entire pub and the surrounding complex was full of patrons, including several women and tourists, thronging the fashionable area to unwind. Mumbai Police has booked the owner of the pub for negligence, culpable homicide not amounting to murder and other charges for the fire, preliminarily suspected to be triggered by an electric short-circuit. There are many major corporates, TV-Radio-print media offices, more than three dozen high-end restaurants, pubs, etc, which suffered damage in the fire in the posh Kamla Mills Complex whose working is likely to be affected Friday. The blaze comes as a huge setback to the government's recent plans to make nightlife attractive by permitting all shops/malls to function round-the-clock, to generate more employment. Barely nine days ago, the state government had notified the amendments, though it was not made applicable to bars, pubs, discotheques and wine shops.However, these were expected to come under the ambit of the new laws in due course, with the BrihanMumbai Municipal Corporation recently initiating measures in this direction. Blaming the BMC for the fire, Mumbai Congress president Sanjay Nirupam said that stringent action should be initiated against those responsible for allowing the eateries to function despite rules being flouted. BJP MP Kirit Somaiya also attacked the Shiv Sena-controlled BMC for lapses on its part which led to the fire and demanded a complete fire-audit of all buildings in the city immediately.
KEM hospital identified the victims as –
Jeet (49), Preeti (36), Tejal (4) Khushboo Bansal (28), Pramila (6) Vishva- (23), Veena (28), Kavita (36), Paroli (30), Dhairya (26), Manisha (30), Yash (27), Shefali, Kinjal and Manisha. The majority of those killed were women attending a birthday party at a rooftop restaurant, police said. Twenty-eight-year-old woman Khushboo celebrating her birthday was among those who died.
---
Triple Talaq And Other Forms Of Muslim Divorce Explained
MMNN:28 December 2017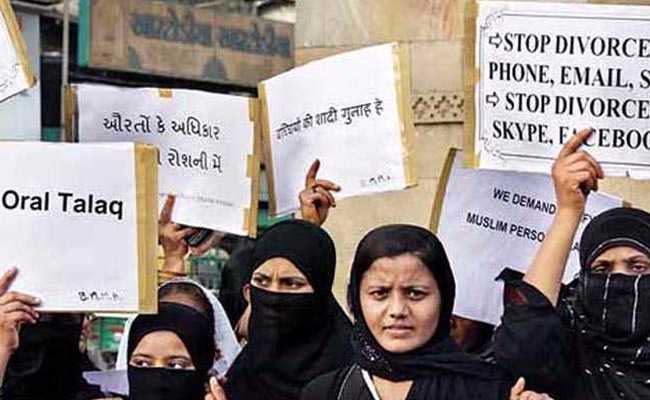 NEW DELHI: Instant "Triple Talaq" or "Talaq-e-Biddat" is an Islamic practice that allows men to divorce their wives immediately by uttering the word "talaq" (divorce) thrice. The pronouncement could be oral or written, or, in recent times, delivered by electronic means - telephone, SMS, email or social media. In a landmark ruling in August, the Supreme Court had said that instant "Triple Talaq" or "Talaq-e-Biddat" was unconstitutional and violated the fundamental rights of women. A bill has been tabled in Lok Sabha today that proposes a three-year jail term and a possible fine for any Muslim man who divorces his wife through instant "Triple Talaq". This law would be applicable on the entire country except Jammu and Kashmir. Also, the proposed law will be applied to only instant "Triple Talaq" or "Talaq-e-Biddat" which is irrevocable divorce and not on "Talaq-e-Sunnat" which is a revocable divorce.
Here's an explanation on types of talaq in Islam:
Muslim Personal Law says that a talaq can either be given by the husband or by the wife. It can also be a mutual divorce.
Talaq given by husband are of following types:
"Talaq-e-Sunnat" or "Talaq-ul-Raje" is a revocable divorce that can be pronounced in Hasan or Ahsan forms. "Talaq-e-Ahsan" is the 'most proper' form of talaq in which the husband expresses divorce in single sentence - "I have divorced thee" - during the period of tuhr (when the wife is not menstruating) and then has to wait till the iddat period is over. During iddat period, which is usually three monthly periods of a woman, the man can revoke the divorce. If before the completion of iddat, the husband resumes co-habitation with his wife or says that "I have retained thee", the divorce is revoked. In case the woman is pregnant, the iddat period lasts until she gives birth. The waiting period for a woman after menopause is three months. "Talaq-e-Hasan" is the 'proper' form of talaq. In this form, three successive pronouncements of talaq are made by the husband in three successive tuhrs (when the woman is not menstruating). In case of a non-menstruating woman, its pronouncement may be made after the interval of a month or thirty days between the successive pronouncements. This form of talaq can be revoked any time before the third pronouncement. "Talaq-e-Biddat" or "Talaq-ul-Bain" (Irrevocable divorce) is instant Triple Talaq and is effective as soon as the word "Talaq" has been pronounced thrice. In this form of talaq, three pronouncements can be made during a single tuhr (when the woman is not menstruating) by saying "I divorce thee" thrice at the same instant. The other ways in which a husband can divorce the wife are Ila and Zihar. In Ila, he husband takes an oath not to have sexual intercourse with his wife. In this case, the husband does not co-habit with his wife for a period of four months and after the expiry of four months, the marriage is dissolved. In Zihar, the husband compares his wife with a woman within his prohibited relationship (like mother or sister). In this case, the wife can approach the court of law.
Divorce given by wife are of following types:
In Islam, only husbands can pronounce the talaq on his wife, and not vice versa. However, he can delegate this power to his wife or a third person by agreement - absolutely or conditionally, temporarily or permanently. This is called "Talaq-e-Tafweez, a delegated divorce. The other type of divorce by wife is called lian. If the husband levels false charges of unchastity or adultery against his wife then this amounts to character assassination and the wife has got the right to ask for divorce. This practice is called lian.
A mutual divorce:
A divorce by mutual agreement is called Mubarrat or Khula. In Mubarrat, the aversion is mutual and both sides desire separation. In this mode of divorce, the offer may be either from the side of wife or from the side of husband. When an offer Mubarrat is accepted, it becomes an irrevocable divorce and iddat is necessary. In Khula, however, wife initiates the divorce. This is effected by the return of her husband's wedding gift called Mahr.
A judicial divorce:
Before 1939, a Muslim wife had no right to seek divorce except on the ground of false charges of adultery, insanity or impotency of the husband, but then came Muslim Marriage Act. Under Muslim Marriage Act, 1939, there are several grounds in which judicial divorce can be pronounced. A woman can seek divorce in the court of law under following circumstances: If the whereabouts of the husband are not been known for a period of four years, if the husband neglects or fails to provide for her maintenance for a period of two years, is sentenced to imprisonment for a period of seven years or upwards, has failed to perform his marital obligations for a period of three years, was impotent at the time of marriage or has been insane for a period of two years or is suffering from leprosy or virulent venereal disease. The divorce can also be initiated by the wife in the Muslim court if the husband treats the wife with cruelty, even if such conduct does not amount to physical violence. The other conditions are if the wife has been given in marriage by her father or guardian before she attained 15 years of age, if the husband associates with women of evil repute or leads an infamous life or attempts to force her to lead an immoral life or disposes of her property, obstructs her in the observance of her religious practice or if he has more wives than one and does not treat her fairly
---
Vijay Rupani Swearing-In Ceremony LIVE: Gujarat Chief Minister Takes Oath For Second Term
MMNN:26 December 2017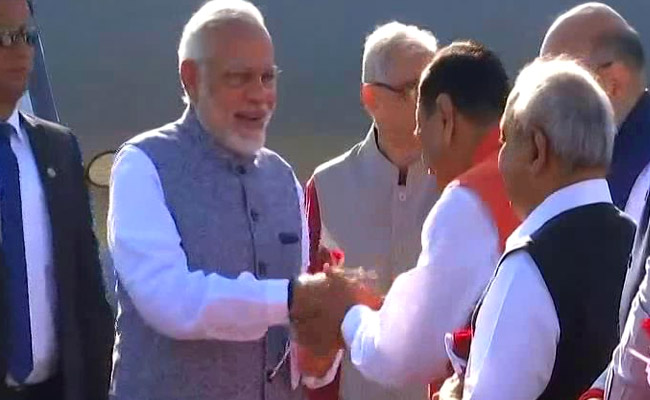 GANDHINAGAR: Vijay Rupani swore in as Gujarat Chief Minister today in the presence of Prime Minister Narendra Modi, BJP chief Amit Shah and several other senior party leaders, including chief ministers of other NDA-ruled states. Mr Rupani, a confidante of BJP national chief Amit Shah, will hold the post for a second term. Mr Nitin Patel also took oath as his deputy. The BJP retained power in Gujarat for the sixth consecutive term by winning the recently-held Assembly polls with a lower margin of victory than last time.
---
PM Modi Asks People To Use Public Transport; Save Fuel Costs, Benefit Environment
MMNN:25 December 2017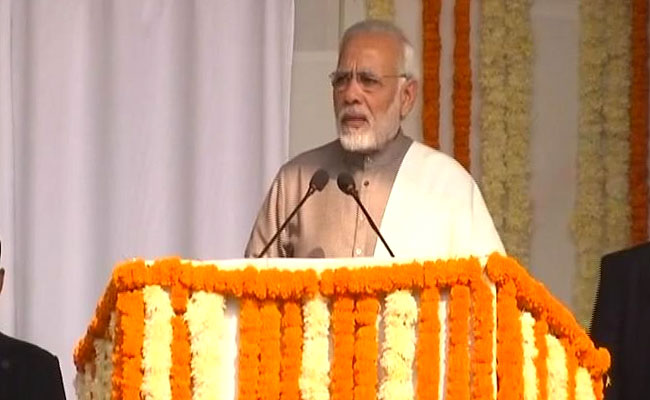 NOIDA: Prime Minister Narendra Modi today advised people to use public transport and help save fuel and costs associated with the import of petroleum. The prime minister, who launched a 12-km section of the Delhi Metro's Magenta Line connecting Noida and south Delhi said, traveling on a metro train should be a matter of pride. Speaking at a public function after flagging off the metro train, PM Modi said governments spend a lot in creating good infrastructure, which, once ready, benefits generations to come. Addressing a public meeting, Prime Minister Modi said that by 2022, when India celebrates its 75 years of Independence, the country should cut down on imported petroleum products. He said a multi-modal transportation system will ensure that the use of fuel is cut down, which will help the common man save money and also be useful for the environment. On December 24, 2002 then prime minister Atal Bihari Vajpayee took a ride on the metro, Prime Minister Modi recalled. "It was a historic moment. Since then, the Metro network in NCR (National Capital Region) has expanded considerably," he said. We live in an era in which connectivity is all important, the prime minister said. "Without connectivity, life comes to a standstill. This Metro is not only for the present but also for future generations," he said. There was need to change the mindset so that people prefer using public transport than their private vehicles. He said travelling on a metro should be a "matter of pride
---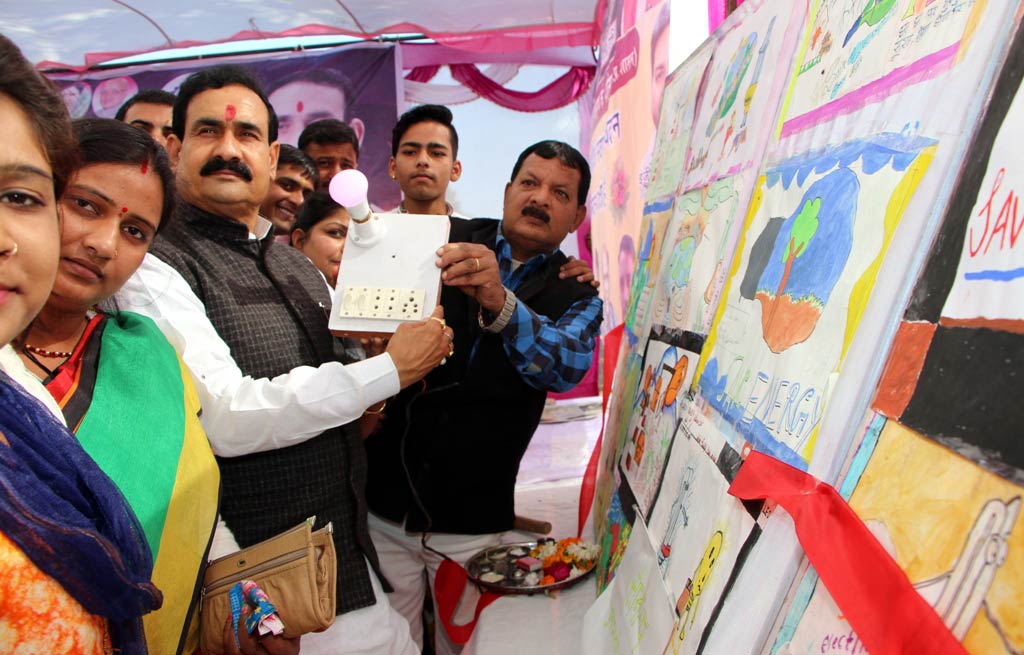 Every House to be Illuminated by Pradhan Mantri Soubhagya Yojana
Bhopal:MMNN: 24 December 2017


Minister for Public Relations, Water Resources and Parliamentary Affairs Dr. Narottam Mishra inaugurated Pradhan Mantri Soubhagya Yojana at Datia today. Dr. Mishra on the occasion, said that Pradhan Mantri Soubhagya Yojana has been implemented in the entire country. Electricity connection will be provided to every house under the scheme. Free electricity connections will be provided in the houses of people belonging to scheduled caste and tribe category. Other categories will get electricity connection in just Rs. 500. He further mentioned that target has been set to give electricity connections to about 30 thousand families of Datia district. Programme was presided over by the President Jila Panchayat Smt. Rajni Prajapati. Other Public Representatives were present on the occasion.
Minister Dr. Mishra Interacts with Hammals (Porters) and Traders
Public Relations Minister Dr. Mishra reached Datia mandi and met hammals and traders there. He also held discussions with the hammals and tulavatis. He deliberated with the hammals about the wheat, rice and salt being provided by the government at the rate of Re. One per k.g. besides scholarship for their children and other facilities. Moreover, Dr. Mishra held talks with the traders about the Bhavantar Bhugtan Yojana. President and Vice President Mandi and the traders accorded welcome to the Minister Dr. Mishra. President Jila Panchayat, President Nagar Palika and other Public Representatives were present on the occasion.
---
32 Killed After Bus Falls Off Bridge In Rajasthan, Driver Was 16
MMNN:23 December 2017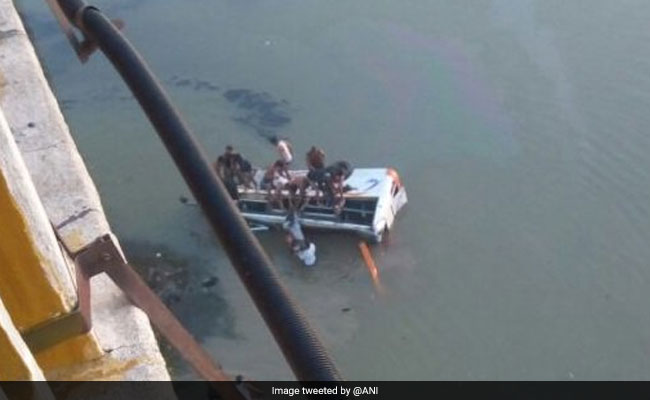 At least 32 people were killed and several others injured when a bus fell into the Banas river from an 100-foot high bridge in Rajasthan's Sawai Madhopur district today. The bus was ferrying passengers from Lal Soth to Sawai Madhopur, about 65 km away. It was being driven by a 16-year-old conductor who was speeding and lost control over the vehicle which fell off the bridge near Dubi. The driver, police say, was sleeping at the time. Both of them died in the accident. "There were around 50 passengers in the bus. The injured have been taken to nearby hospitals," a senior police officer said. Emergency workers equipped with steel cutters rushed to the scene of the accident to rescue those trapped inside the bus. Prime Minister Narendra Modi, anguished by the tragedy, has offered his condolences to the families of the affected. Chief Minister of Rajasthan Vasundhara Raje also tweeted that the state government has been closely monitoring the situation and rescue operations are on. Congress president Rahul Gandhi also asked the Rajasthan unit of the party to help in rescue ops. He tweeted, "Saddened by the tragedy. My condolences are with the families of the deceased. I would appeal to the state government to offer immediate help to the affected." The passengers belonged to Uttar Pradesh, Madhya Pradesh, Rajasthan and Assam. Several of them were going to offer prayers at a temple in Malarna Chour in the district, Sawai Madhopur Superintendent of Police Mamman Singh told news agency Press Trust of India. Police said the death toll may rise.
---
Parliament Being On And Off Not Good For Country: Venkaiah Naidu"
MMNN:22 December 2017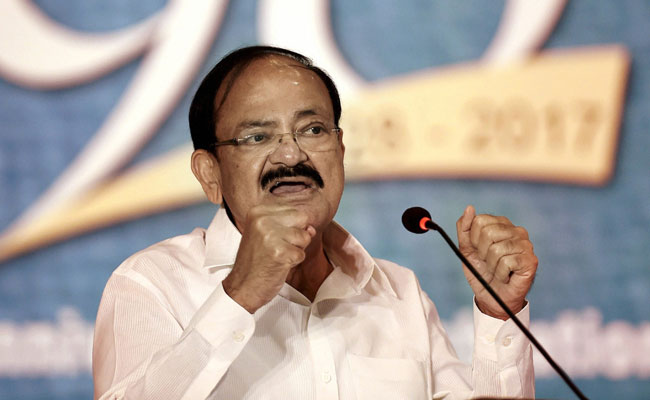 NEW DELHI: Vice President Venkaiah Naidu today made his displeasure known about frequent adjournments during the ongoing session of Parliament, saying the House being "on and off" these days is not good for the country. Today, the Rajya Sabha was adjourned for the day as the Congress insisted on resolving the impasse over Prime Minister Narendra Modi's remarks against Manmohan Singh. The virtual stalling of the Rajya Sabha proceedings due to the Congress protests over PM Modi's remarks against his predecessor denied cricket icon Sachin Tendulkar his maiden attempt to speak in the House yesterday. "Parliament is in session... these days, it is on and off. It is not a good thing for the country," said Mr Naidu, who is also the ex-officio chairman of the Rajya Sabha. The constant endeavour, Mr Naidu said, is to make India the global economic leader by adopting a holistic approach towards inclusive economic growth, highlighting that progress must be made to achieve double-digit economic growth at the earliest. He was speaking at the foundation stone-laying ceremony of the International Exhibition-cum-Convention Centre (IECC) and the Integrated Transit Corridor Development Project here. Referring to various territorial invasions in the past, the vice president said: "This country with its over 10,000-year-old civilisation has no record of attacking any country at any time because we want to live in harmony with all." "Before the invasion, 27 per cent of world GDP was from India alone. So, let us all remember that, and we must all work towards making further progress in crossing 7.5 per cent to double digit at the earliest," he added. Observing that the world economy is slowing, Mr Naidu said: "Even our powerful neighbour (in an apparent reference to China) has gone a little negative. The only economy which is moving forward is India, thanks to the reforms and thanks to the leadership of the country as well as contribution made by people in various sectors." He outlined a series of reforms such as GST, Digital India, liberalisation of foreign direct investment regime and Start Up India that have significantly improved domestic business and investment climate, which have led to huge investment inflows. Development and good governance should be the focus of everybody, including the public sector and the government, the vice president stressed. Pointing to the lack of "proper convention centres" in a country as large as India, Mr Naidu said world-class infrastructure in terms of international convention facilities is very essential to promote trade and commerce and "a growing economy like ours needs high quality venues to host events". Calling on stakeholders for speedy completion of the IECC, he said, "I hope that this project will be completed at the earliest. I would like to see that before the deadline (September 2019). The deadline that you have set for yourself should not be confined to a headline one day." He observed that such a complex was long overdue in Delhi without adding to the congestion and the IECC project will be a landmark state-of-the-art structure. He also spoke of the need for such convention centres in other cities of the country, including Smart Cities and state capitals. On the proposed decongestion plan around Pragati Maidan's redevelopment, the Vice-President asserted that the traffic interventions being implemented will not just significantly improve access to the new complex, but also benefit the public
---
Congress Taking 2G Judgement As A Badge Of Honour, Says Arun Jaitley"
MMNN:21 December 2017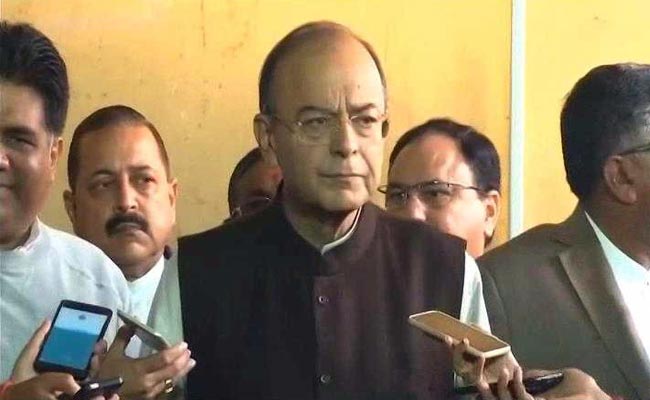 NEW DELHI: After a Delhi court today acquitted all the 17 accused in the 2G spectrum case, including former telecom minister A Raja and DMK leader M Kanimozhi, Finance Minister Arun Jaitley pointed out that the Supreme Court had in 2012 held that the 2G policy of the Congress-led government was "corrupt and dishonest" and cancelled all 122 licences handed by Mr Raja. A judge today said no evidence had been found against the accused. "I have no hesitation in holding that the prosecution has miserably failed to prove the charges and all the accused are acquitted of the charges," said the judge. Congress leaders, including former prime minister Manmohan Singh, say the verdict proves that the charges of massive corruption against the UPA government were unfounded. Mr Jaitley scoffed that the Congress was taking today's ruling as a "badge of honour" that the 2G policy of the UPA government was honest policy. "That this was a corrupt, dishonest policy was upheld by the Supreme Court in February 2012. Each and every case of spectrum allocation was quashed by the Supreme Court as unfair and arbitrary." Mr Jaitley said a first-come-first-serve policy, with a "huge amount of arbitrariness" was followed by the UPA, intended at serving only a selective few. "The first come first served policy was converted to the first pay first served policy and a chosen few were informed about the change of policy...the favourites had their bank drafts prepared," he said. "On the basis of all this, in February 2012, the Supreme Court upheld the challenge and cancelled the policy of first come first served and the government was directed to have a fresh policy through auction," he added. Ripping into the Congress for interpreting todays acquittal as a "certificate", the Finance Minister question: "From this entire scam, who is liable? I am sure investigating agencies will have a close look at it and decide... The fact that this was a corrupt policy intended to promote corruption and there was a loss goes by the Supreme Court verdict and subsequent auctions." While cancelling all licences issued by Mr Raja, the Supreme Court had said that the licences had been allotted in "an unconstitutional and arbitrary manner." At the time, the Congress-led government had called it an indictment of the previous BJP government's legacy of allotting licenses on a first-come-first -served basis
---
PM In House As Congress Shouts "Apologise To Dr Sahab(Manmohan Singh)"
MMNN:20 December 2017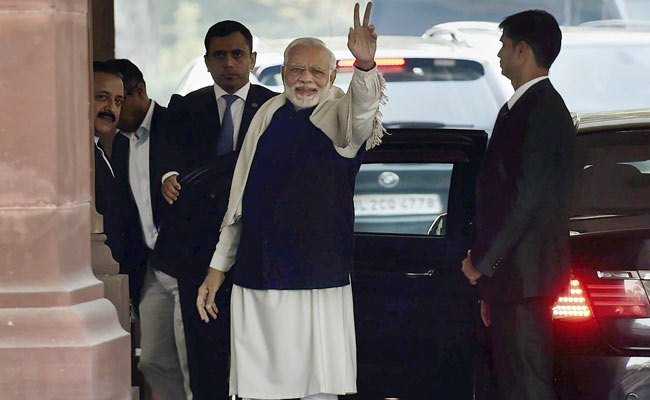 NEW DELHI: The curtailed winter session of parliament lost yet another day as the opposition pressed for an apology from Prime Minister Narendra Modi over his allegations that his predecessor, Dr Manmohan Singh, had colluded with Pakistani officials to influence the Gujarat elections. The Lok Sabha -- where the Prime Minister was present today for the Question Hour -- was adjourned temporarily, the Rajya Sabha for the rest of the day, as slogan-shouting members of the opposition refused to relent. Senior Congress leaders later said they would prefer an explanation. "When did we ask for an apology? We want a clarification from the PM. Let him say he had given this allegation to win the Gujarat election and withdraw the statement," said Ghulam Nabi Azad. "We want nothing less than a discussion and an explanation why such remarks were made," added Mallikarjun Kharge. The government has made it clear that there will be no apology or explanation. Prime Minister was present at the Lok Sabha since today's Question Hour was on his office. But no work was conducted. As the Question Hour started, the members assembled in the Well of the House, shouting "Dr sahab se maafi maango" (apologise to Dr Manmohan Singh). Speaker Sumitra Mahajan adjourned the proceedings of the House till noon. In Rajya Sabha, chairman Venkaiah Naidu's repeated appeals for calm went unheeded. "This is not the way. Nobody is going to give apology. Nothing happened in the House. The statement was not made here," Mr Naidu was heard saying amid the uproar. PM Modi's accusation, made at a pre-election rally in Gujarat last week, has triggered a huge controversy. Dr Singh has made an unusually sharp rebuttal, accusing the Prime Minister of trying to win "political points" through "canards" and demanding that he apologise to the nation. That demand is being hotly pursued by the Congress in parliament. Little was done over the three days since the shortened Winter Session started. Yesterday, Mr Naidu said he had met senior leaders from both sides to try and address the problem. He said he also met Dr Singh. There was an agreement that a joint committee will be formed to find a solution. "PM Modi must either apologise to Manmohan Singh-ji or give a valid proof why he accused him in that speech. He can't carry out such calumny... Our protest will continue till we get what we want," Congress leader Rajiv Shukla later said.
---
Congress Lost Gujarat Election, But Defeated The BJP": Shiv Sena
MMNN:19 December 2017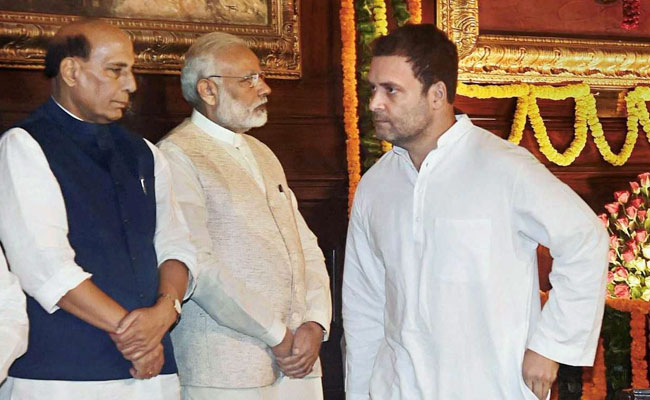 NEW DELHI: The BJP victory in Gujarat has been dismissed entirely by its fractious ally, the Shiv Sena, which has issued fulsome praise for the performance of the Congress and its chief Rahul Gandhi. The drop in the BJP figures, Sena said, was an indication of Gujarat's disappointment with the BJP and its development model. The nail-biting counting session yesterday eventually saw the BJP win 99 seats in the 182-member assembly -- 16 less than their figure in 2012. The Congress gained 19 seats to reach 80. "Although you see the BJP coming to power, the real winner is the Congress party. They may have lost, but have defeated the BJP," senior Shiv Sena leader Sanjay Raut said. Sena has made its change of stance on Rahul Gandhi clear. It had said the Gujarat campaign saw him emerge as a leader in his own right and criticized the BJP for failing to acknowledge it. On the morning of counting, an editorial in Saamna, the Sena mouthpiece had heaped praise on the 47-year-old, who took charge of the Congress from his mother Sonia Gandhi two days ago. "When the faces of bigwigs (in the BJP) were turning grey due to fear of defeat, Rahul Gandhi was in the poll arena without bothering about the result. It is this confidence that will take Rahul forward," the editorial read. Mr Raut said the BJP victory was a "foregone conclusion" given its "22 years of rule in the state, the use of money power and deployment of 14 Chief Ministers for the campaign. But the BJP has not won the victory it expected". The Gujarat results happened "none of the dreams you (BJP) showed the state and the country were realised," Mr Raut said. The BJP, he indicated, should take lessons from Gujarat and gauge the mood of the country. "If people in Gujarat are not happy (with the BJP) today, then understand their psyche, understand what people in the country feel," he said. The Sena, which had been at odds with the BJP since forging afresh alliance after the Maharashtra assembly elections of 2014, has recently spoken of pulling out. Elections will have to be held within a year, Aaditya Thackeray, the son of party chief Uddhav Thackeray has said. The Sena boss's meetings with NCP chief Sharad Yadav and Bengal chief minister Mamata Banerjee have already triggered speculations of a political realignment. The Saamna editorial had also taken a dig at the BJP allegations about the Congress governance. "Are those who think that nothing happened in the previous 60 years and that India progressed only in the last three years, humans or epitome of foolishness
---
Girl, 21, Commits Suicide After Being Allegedly Stalked by Man in UP
MMNN:16 December 2017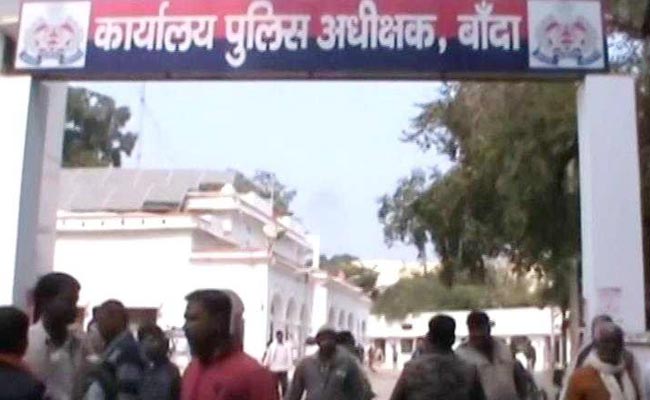 BANDA (UTTAR PRADESH): A 21-year-old woman in Uttar Pradesh's Banda district committed suicide on Thursday evening after being allegedly harassed and stalked for days by a man from her locality. The woman's father has claimed that he went to the local police station regularly over the few days to try and register a case but the police refused to do so. Angry relatives of the girl staged a demonstration outside the district police chief's office on Friday alleging negligence by the police. The woman's family alleged that the boy was initially friends with the girl and had some of her phone conversations and a secretly recorded video, which he was threatening to make public. The girl had informed her parents about this. The family alleges that the police did not help them. "My daughter called police many times but nothing happened. I was out of town, I went to a police station on December 12 when I came back, but I was not given any answers," the girl's father said. Police, however, refuted allegations. "He was not interested in filing a case. He only wanted to know who was behind this, we had put the number under surveillance," the district police chief said adding, that the girl's brother had also shouted at her for speaking to the man, which could also have been a trigger
---
Cabinet Clears Bill That Proposes To Make "Triple Talaq" Criminal Offence
MMNN:15 December 2017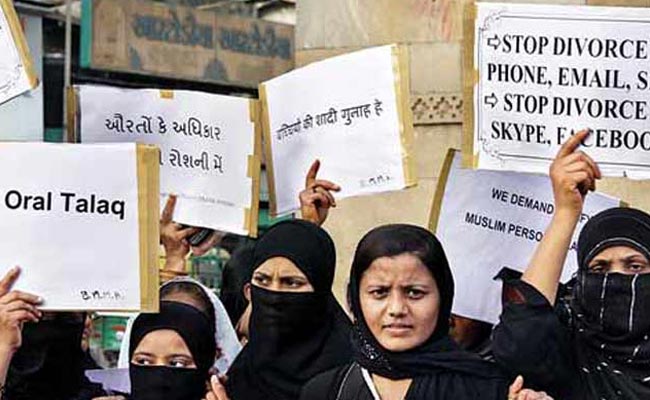 NEW DELHI: A bill that proposes to make the "triple talaq" a criminal offence has been cleared by the union cabinet and the government hopes to get parliament clearance for it during the short winter session that began today. In August, the Supreme Court said in a landmark ruling that the practice of Muslim men uttering "talaq" three times for an instant divorce is unconstitutional. Judges agreed with Muslim women that "triple talaq", often delivered by their husbands over Skype or WhatsApp, violates their right to equality and leaves them destitute. Despite the court's order, however, "triple talaq" still continues to be practiced, the government has said. The proposed bill, called the Muslim Women (Protection of Rights on Marriage) Bill, is a "priority agenda" for the government, people familiar with the matter said. Home Minister Rajnath Singh led a group of ministers to draft the bill. The government's seeking of a ban against "triple talaq" because it is derogatory and discriminatory against women has created an unlikely coalition between Muslim women and Prime Minister Narendra Modi's administration as they took on Muslim groups which say the state has no right to interfere in religious matters The West Bengal subcommittee of the Muslim Personal Law Board met in Kolkata yesterday and has said that the proposed bill has been drafted without consulting any Islamic scholars and amounts to an interference in the personal law of the community. The members have urged the government to initiate consultations saying it would otherwise be a "handicapped" bill that would create discord. Mulayam Singh Yadav's Samajwadi Party and the Trinamool Congress, who count on Muslim voters, have argued against a ban, and said reform should be encouraged from within the community and not imposed on it. However, they have endorsed the Supreme Court verdict. Many Muslim countries have banned "triple talaq", including Pakistan and conservative Saudi Arabia. It survived in India because religious communities are allowed to apply their own laws in personal matters such as marriage, divorce and property inheritance.
---
BJP Brings Up "Kissing Competition" Issue In Jharkhand Assembly
MMNN:13 December 2017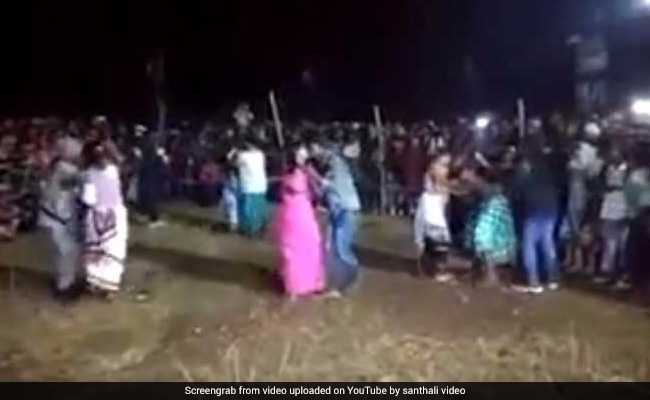 RANCHI: The BJP today raised in the Jharkhand Assembly the issue of some Jharkhand Mukti Morcha legislators organising a "kissing competition" at a village fair, claiming that hosting such an event was an "insult" to women. But the JMM launched a counterattack by raising land acquisition and domicile policy of the state government, forcing adjournment of the House twice, and subsequently for the day. Chief Minister Raghubar Das was present in the House. Two JMM MLAs - Simon Marandi and Stephen Marandi - courted controversy by organising a "kissing competition" for tribal couples during a traditional village fair in Pakur district in Santhal pargana of Jharkhand on Sunday. "It is an insult to women. Half of the population is women. JMM MLA says it is a tradition. Let there be a debate over it," BJP's chief whip Radhakrishna Kishore said after BJP MLAs Ram Kumar Pahan, Biranchi Narayan, Raj Sinha and other ruling party MLAs waved newspapers reporting the event soon after the House convened. They resumed in their seats on the request of Speaker Dinesh Oraon. However, slogan-shouting JMM MLAs trooped into the well of the House, protesting land acquisition and domicile policy of the Raghubar Das government, forcing the Speaker to adjourn the House twice during the morning session. With the chaos refusing to die, the Speaker adjourned the House for the day. The "kissing competition" event has hogged the limelight for the past few days. JMM president Shibu Soren yesterday served a show-cause notice to its MLA Simon Marandi following newspaper reports about the event at Jhumaria in his Littipara constituency in Pakur district on December 10. Shibu Soren, a former chief minister of Jharkhand and JMM patriarch who hails from Santhal pargana region, directed the party MLA to reply in writing within seven days. Today was the second day of the winter session of the Jharkhand Assembly. The BJP has made a scathing attack on its rivals over the event, demanding that the two MLAs be suspended from the assembly as they had "insulted" the local culture. Simon Marandi, the organiser, has argued that the "kissing competition" was held to stop the increasing number of divorce in the tribal society. Party MLA Stephen Marandi was also present at the fair. A video of the "kissing competition" had gone viral on social media on Monday. In the video, tribal couples could be seen locked in a kiss while the crowd cheered
---
Rahul all set to be declared Congress President today
MMNN:11 December 2017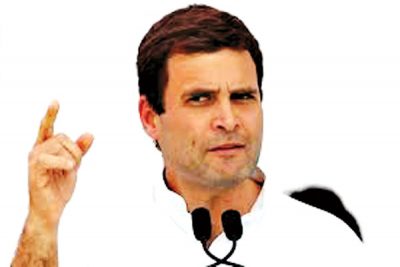 Congress vice president Rahul Gandhi is all set to become party president on Monday, stepping into the shoes of his mother Sonia Gandhi. Tomorrow is the last for withdrawal of candidature for the post of congress president. With Rahul being the only candidate in the race, the announcement of his elevation to the party's top post is likely to be made tomorrow evening when The deadline for withdrawal of nominations ends. The Congress's Central Election Authority chairman Mullapally Ramachandran, and CEA members Madhusudan Mistry and Bhubaneswar Kalita will announce that Mr. Gandhi's was the only nomination for the top job tomorrow, marking his elevation to the top post. Sources, however, said that Mr Rahul Gandhi is likely to assume the reins as Congress president later in the week when he would be handed over the certificate appointing him the party president in the presence of Mrs Sonia Gandhi and other senior leaders. He will be stepping in the shoes of his mother Sonia Gandhi, who has been the longest-serving president of the party. The process for election for Congress president was kickstarted on December 1 with issuance of notification. December 4 was last date for filing of nominations while December 5 was the date for scrutiny. Altogether 89 nominations received in his favour were found to be valid during scrutiny. The announcement of his election as congress president will come three days ahead of voting for second phase of polling for Gujarat assembly elections.
---
Gujarat Election 2017: 397 'Crorepati' Candidates In Poll Fray, Congress' Pankaj Patel Richest
MMNN:9 December 2017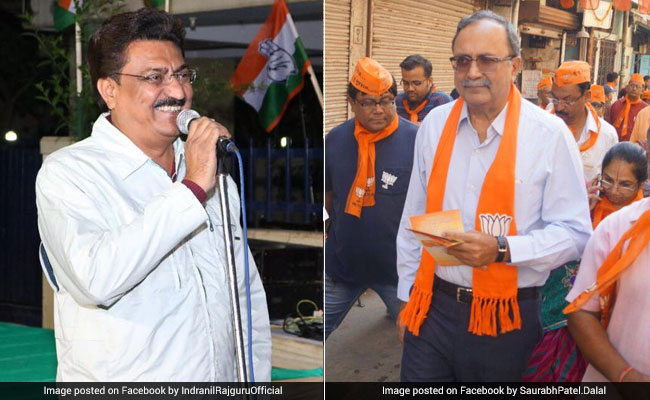 AHMEDABAD: Ahead of the Gujarat Election 2017, an interesting figure has come out from the analysis of election affidavits. Two NGOs have found that of the 1,828 candidates who have filed nominations this time, as many as 397 are crorepati candidates. The report also found that 1,098 nominees have passed class 12 or below. The report by Association for Democratic Reforms (ADR) and Gujarat Election Watch (GEW) also showed that there are only 118 women candidates in the poll fray this time. The Gujarat Election 2017 is a high-stake political contest where two leading parties the BJP and the Congress are battling against each other. The BJP has been in power from the last 22 years in Gujarat and the Congress aspires to break the ruling party's winning spree by wooing the voters from the Patidar community. While 198 out of the total 977 candidates of the first phase have declared assets worth more than Rs. 1 crore, 199 nominees out of the total 851 of second phase have emerged as 'crorepati' as per the analysis of their affidavits conducted by the NGOs. The report said that 131 of these 397 'crorepati' candidates have declared assets worth over Rs. 5 crore, while 124 others have shown movable and immovable assets in the range of Rs. 2 crore to Rs. 5 crore. While the ruling BJP has given tickets to 142 'crorepati' candidates, the opposition Congress has fielded 127 such nominees. The NCP has given tickets to 17 crorepati candidates, the Aam Aadmi Party (AAP) has fielded 13 such candidates and the BSP to five. The report said that 56 independent candidates also fall under this category. The remaining 'crorepati' candidates belong to lesser known parties or outfits. Congress candidate for Daskroi seat, Pankaj Patel has emerged as the richest candidate with declared assets worth Rs. 231.93 crore, it said. He is followed by another Congress nominee Indranil Rajyaguru of Rajkot-West seat who has declared assets worth Rs. 141.22 crore. Mr Rajyaguru is followed by BJP candidate for Botad seat Saurabh Patel, who is former Gujarat finance minister, and has declared assets worth Rs. 123.78 crore, the report said. BJP candidate and prominent businessman Dhanjibhai Patel of Wadhwan seat is in the fourth place with declared assets of Rs. 113.47 crore. Contrasting to these figures, six independent candidates have declared that they have 'zero' movable or immovable assets. As many as 13 candidates have declared that their annual income is more than Rs. 1 crore, based on the last Income Tax returns filed by them, the report stated. At educational front, the report said that as many as 1,098 nominees have either passed only 5th, 8th, 10th or 12th class. 119 candidates mentioned that they were only literate, while 23 others declared that they were illiterate. According to the report, of the 1,828 candidates, 118 were women. 658 candidates were in the age group of 25 and 40 years, 889 between ages of 41 and 60, while 193 of them were between 61 and 80. Voting for the first phase of the polls began this morning, while polling for the second phase will be held on December 14. Counting of votes for both the phases will be held on December 18.
---
Licence Of Delhi's Max Hospital That Declared Newborn Dead Suspended
MMNN:8 December 2017


The licence of an upscale Delhi hospital that found itself in the middle of a huge backlash after it incorrectly declared a newborn dead was suspended today. Max Hospital in Shalimar Bagh cannot take new patients for now, Delhi Health Minister Satyendar Jain said. "The negligence in the newborn death case was unacceptable," he said. On Wednesday, the baby boy found alive after being declared dead along with his still-born twin and handed over to his parents in a plastic bag last month by Max Hospital died after nearly a week of treatment. The twins were being taken for burial when a movement in one of the packages shocked the family. When the wrapping was opened, the baby boy was found breathing and squirming. The baby was taken to another hospital and placed on life support. A three-member panel asked by the Delhi government to investigate the shocking mistake has found Max Hospital guilty of not following rules while dealing with newborns. The panel reports that the hospital failed to carry out ECG tracings to check if the child was alive. Electrocardiogram tracing or ECG tracing helps evaluate heartbeats. Mr Jain said the hospital can continue the treatment of patients who were currently admitted but cannot admit new patients. Patients in the hospital can shift to a different hospital if they wish, he added. Mr Jain said last month they had issued a notice to Max Hospital Shalimar Bagh for problems in the treatment of poor patients as mandated by law. Max Hospital, facing anger and protests, had earlier sacked the two doctors in charge of the twins' case - AP Mehta and Vishal Gupta. Survival in extreme pre-term births is rare, Max Healthcare said in a statement today, expressing grief over the baby's death. The other twin, a girl, was declared still-born after birth. The well-known private hospital had told the parents that the other baby needed critical medical care and had to be kept in an incubator. "The hospital said for three days, it will cost Rs. 1 lakh each and after that, it would cost Rs. 50,000 each day, and he had to be kept for three months," a relative said. But when the parents were debating the costs, they were told that the infant had died
---
Gujarat Election 2017: On 'Safe' BJP Seat, CM Vijay Rupani To Face Stiff Challenge From Congress' Indranil Rajyaguru
MMNN:7 December 2017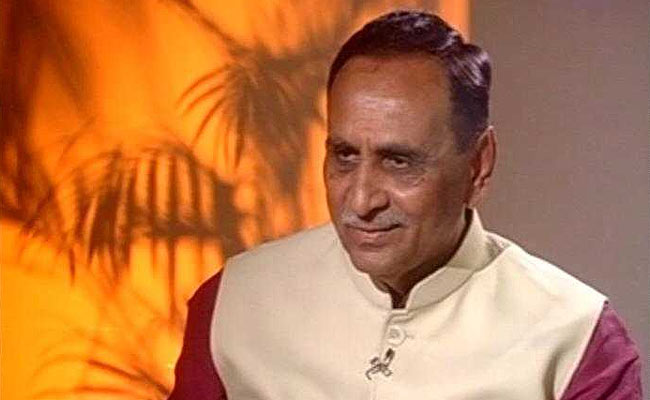 RAJKOT: Gujarat's Rajkot-West seat has traditionally been a BJP fortress and considered safe for the ruling party, which has been representing it since 1985. This time, however, the elections in this constituency could get exciting with Chief Minister Vijay Rupani facing a challenger in Congress' Indranil Rajyaguru, the sitting MLA from Rajkot-East and the richest candidate in Gujarat election. Mr Rajguru -- who has declared assets of Rs. 141 crore, in comparison to the Chief Minister's 7.4 crore -- left his Rajkot East seat to contest against the chief minister. "I have money and I can help people," said the legislator, whom the locals have dubbed "dhankuber" -- roughly an equivalent of King Midas. Vajubhai Vala, incumbent Governor of Karnataka, had won the seat seven times for the BJP - from 1985 to 2012. Mr Vala vacated the seat for Narendra Modi in 2002 after the latter was then nominated as the chief minister. Later, when Mr Modi moved to Maninagar constituency, Mr Vala continued his undefeated run till 2012. After Mr Vala was shifted to Karnataka, Vijay Rupani won the bypoll from the seat in 2014. To rework the caste combination in party's favour, the Congress has fielded Mr Rajyaguru. Mr Rupani has to surmount the angry Patidars and the trading community, which is smarting under the impact of demonetisation and rollout of the Goods and Services Tax (GST). Rajkot West is the largest constituency in the Saurashtra region. Out of 3.15 lakh voters in the constituency which goes to poll on December 9, the number of Kadva and Leuva Patidars is the highest at 62,000, followed by Brahmins, Lohana and Jain communities. Dubbed "CM seat" by many, Rajkot West has given Gujarat three chief ministers - Keshubhai Patel, Vijay Rupani and Narendra Modi, who went on to become the Prime Minister. PM Modi had contested his first elections from this seat in 2001. The Congress is trying to direct the anger among Patidars who are angry over lack of reservation in education and government jobs. The quota agitation and Hardik Patel joining hands with Congress may dent the BJP's base among the Patidars, who till now were considered as the foundation of the BJP's support base in Gujarat. Mr Rajyaguru believes that he has won the "initial battle" against Mr Rupani by keeping him busy in the constituency since the poll schedule was announced. "I wanted to keep the chief minister busy in Rajkot-West constituency and morally I have won the initial battle as the chief minister has to visit his constituency more than once in a week," Mr Rajyaguru was quoted as saying. Mr Rupani, however, remains unfazed and is confident of his victory. "I will win the seat easily,"Mr Rupani had told PTI in an interview recently, citing the work done by him in his constituency, especially bringing the Narmada river water to Rajkot. "As the CM, he has done well and because of his tireless efforts, Rajkot could get the Narmada water in less than five years of the project announced by then chief minister Narendra Modiji," BJP's Saurashtra and Kutch spokesperson Raju Dhruv said. The 182-member Gujarat Assembly will go to the polls in two phases -- on December 9 and 14 -- and the counting of votes will be taken up on December 18.
---
'Why Link Ram Mandir And Elections', Says PM Modi In Sharp Attack On Congress: 10 Points
MMNN:6 December 2017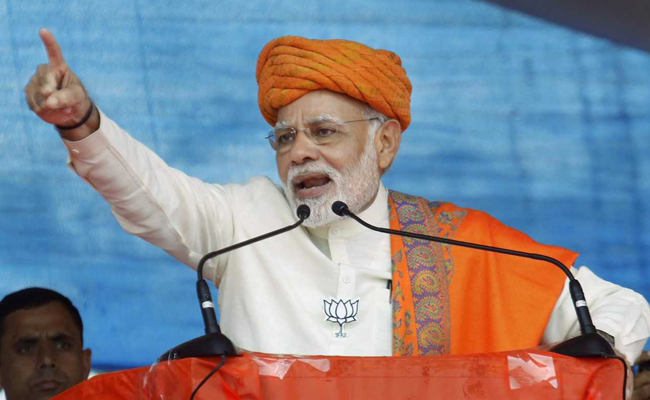 DHANDHUKA, GUJARAT: After BJP chief Amit Shah, Prime Minister Narendra Modi today attacked the Congress over its leader Kapil Sibal's plea in the Supreme Court to defer hearing in the Ayodhya case till after the 2019 parliamentary elections. The Prime Minister said that while he has "no problems with Kapil Sibal representing Muslims," he questioned his plea to postpone hearing till 2019, asking, "Why does he have to link Ram Mandir with elections. Is this thinking proper?" The row comes four days before the first phase of assembly elections in Gujarat, where the BJP has accused Congress leader Rahul Gandhi of visiting temples to draw Hindu votes.
Here is your 10-point cheatsheet to the story:
1-PM Modi was addressing an election rally in Gujarat's Dhandhuka, when he hit out at the Congress over Mr Sibal's remarks. "Now the Congress links the Ram Mandir with elections. They are least bothered about the nation," he said.
2-25 years ago today, the 16th century Babri mosque was demolished in Ayodhya, Uttar Pradesh, by Hindu karsevaks or volunteers who claimed that it was built where a temple marking the birthplace of Lord Ram had stood. The Supreme Court is hearing the claims of Hindu and Muslims to the disputed site.
3-Kapil Sibal, who is also a lawyer, was representing the Sunni Waqf Board in the Supreme Court on Tuesday when he requested judges to postpone hearing in the Ram Janmabhoomi-Babri Masjid dispute till after the 2019 Lok Sabha elections, arguing that the BJP has said "the Ram temple will be built before 2019 through legal means... They want to make it part of their election manifesto and the court should not fall into the trap."
4-The Supreme Court rejected his appeal and said it would begin final hearings from February 8 on a batch of petitions that have challenged a 2010 Allahabad High Court verdict which divided the disputed site in three parts -- one each for Hindu group Nirmohi Akhara, the Ram Lalla or infant Lord Ram represented by the Hindu Mahasabha, and the Sunni Waqf Board which handles properties owned by Sunni Muslims.
5-All the parties have challenged the High Court verdict in the Supreme Court.
6-The Congress has distanced itself from Mr Sibal's comments, saying "who he represents in court is Kapil Sibal's personal matter. The Congress has nothing to do with it." Congress spokesperson Randeep Surjewala also said his party's stand "has always been clear, that the Ayodhya case will be decided by Supreme Court."
7-Mr Surjewala was responding to BJP chief Amit Shah, who said the Congress and its boss Rahul Gandhi must clarify their stand on the Ram temple. The BJP, Mr Shah said, is clear it wants the dispute resolved at the soonest. "The Supreme Court should give a judgment and a grand Ram temple should be built in Ayodhya," he said.
8-Mr Shah also referred to Rahul Gandhi's frequent visits to temples during his Gujarat campaign. "On the one hand, temples are being visited ahead of elections. On the other hand, they are trying to delay hearing of the Ram Janmabhoomi case. The Congress has double standards on the issue," the BJP chief alleged.
9-The BJP, whose political growth was powered by its Ram temple campaign in the 1990s, has in recent years relegated the issue to the back pages of its election manifestos. But the appointment of saffron-robed priest Yogi Adityanath as UP chief minister earlier this year was seen to indicate that the party could again bring back the Ram temple issue to the forefront of its agenda as it preps for the 2019 national election.
10-Yogi Adityanath has asserted that building a Ram temple is a key agenda, including in his campaign for the BJP in Gujarat, which votes for a new government on December 9 and 14. Votes will be counted on December 18. The BJP has ruled the state for the last 22 years.
---
Staff Of Another Kolkata School Arrested For Alleged Sex Abuse Of 3-Year-Old
MMNN:5 December 2017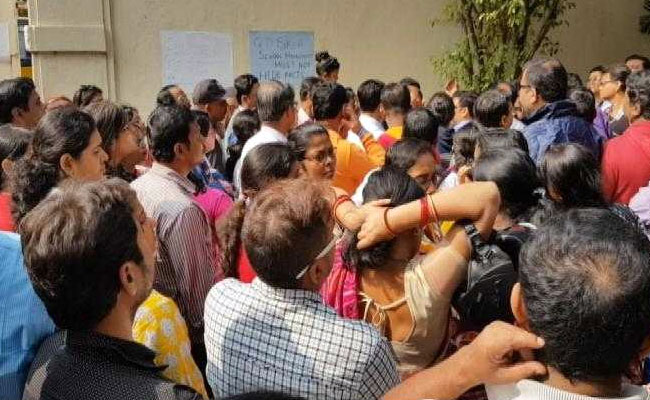 KOLKATA: Protests by parents in Kolkata continued as the staff member of another school was arrested last night in connection with the sexual assault on another student. Manoj, the staff member of MP Birla Foundation Higher Secondary School, had allegedly sexually abused a three-year-old child twice -- in June and September. The parents had lodged a complaint with the police in September, but the arrest was made only after parents of other students held demonstrations following the rape of a four-year-old in G D Birla Centre for Education. The principal of G D Birla Centre for Education is being questioned by the police since morning after the parents of the four-year-old filed a complaint with the police alleging that she had revealed the identity of their daughter in violation of law. In a letter sent to nearly 4,000 parents of the school, principal S Nath jad named the student. The issue concerning [name of the child] is under investigation by the police," read the letter, which has shocked the parents. "This is unethical and illegal," said a parent who got the letter. "The naming of the girl demonstrates how callous the school is about the whole thing," said another parent. The school's communication came after two of its teachers were arrested for the assault and it was shut down indefinitely. But lawyers say the principal's letter further exposes the school's callousness towards its students. The letter, they said, violates every legal norm and the provisions of the Protection of Children from Sexual Offences Act, which prohibits naming of minor sexual assault survivors. Ananya Chatterjee Chakraborti, the chief of the child rights body in the state, said it would showcause Ms Nath for identifying the girl. "This is absolutely illegal. She cannot name the child. We will show cause the Principal for violating the POCSO Act. How can she do it? She has violated the basic tenets of humanity," she was quoted as saying by news agency Press Trust of India. The father of the student in GD Birla has demanded the resignation and arrest of the principal. Otherwise, he said activists would march to Lalbazaar, the police headquarters. He has also threatened to sue GD Birla, the corporate group that runs four schools in Kolkata and has several other business interests
---
Vijay Mallay's Extradition Trial Begins In London Court After Fire Alarm Hiccup
MMNN:4 December 2017


LONDON: Tycoon Vijay Mallya appeared before a court in London today that will decide whether he would be extradited to India to stand trial for fraud and money laundering. The 61-year-old, who arrived with a team carrying four large boxes of evidence, stuck to his "not guilty" stance. The hearing for the liquor baron's extradition will take place over eight days and continue till December 14, after which the date for the verdict will be announced. Ahead of the hearing at the Westminister court, Mr Mallya told reporters, "I have said repeatedly that the charges are false, fabricated and baseless. I have nothing to say, submissions in court will be self-evident". The 61-year-old, who has been out on a 650,000-pound bail bond following his arrest by Scotland Yard in April, told the reporters to "Please hear the proceedings". A four-member team from the Central Bureau of Investigation, which is pursuing the case, was at the court. The Crown Prosecution Service -- led by barrister Mark Summers -- is arguing on behalf of the Indian government. The defence team is led by barrister Clare Montgomery, known as an expert in criminal and fraud law. The opening of the trial, however, was delayed as a fire alarm went off and the courtroom had to be evacuated. Trial resumed after nearly 40 minutes. Mr Mallya's Kingfisher Airlines owes Rs. 9,000 crore to a consortium of banks. He left the country in March 2016 when the banks united to scale up their efforts to recover the money. On May 9, he was found guilty of contempt by the Supreme Court, after he was found to have sent his children millions of dollars.
---
BJP Set For Big Win In Uttar Pradesh Civic Elections: 10 Points
MMNN:1 December 2017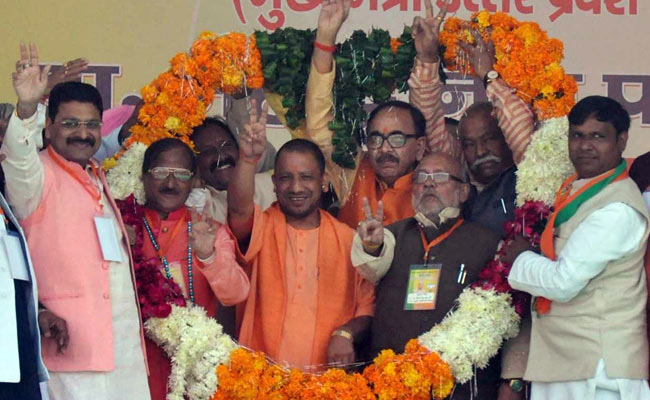 LUCKNOW: Chief Minister Yogi Adityanath has delivered in his first big test, with the BJP set to win mayoral elections in 14 of 16 municipal corporations in Uttar Pradesh. The state's ruling party is also leading in municipal councils and nagar panchayats. "The BJP's historic win in the UP civic polls is because of PM Modi's development policies and Amit Shah's strategies," said the Chief Minister, who conducted a turbo-charged campaign with his party's performance being watched closely after its massive sweep of the UP assembly polls in March this year.
Here are the top 10 updates on UP civic polls:
1The BJP's candidates for mayor are leading in state capital Lucknow, Moradabad, Ghaziabad, Chief Minister Adityanath's home town Gorakhpur and ten other municipalities. The BSP is leading in two, up from the one municipality that an Independent backed by the party won last time.
2Lucknow looks set to get its first woman mayor in the BJP's Sanyukta Bhatia, who said this morning, "I don't consider anyone my competitor. I will be number one, no matter who is second or third."
3In 2012, the BJP had won 10 of 12 municipal corporations, one each were won by Independents backed by the SP and BSP. There are four new municipalities this time, Ayodhya, Saharanpur, Firozabad and Mathura.
4The BJP is also leading in Ayodhya-Faizabad. Chief Minister Adityanath began his campaign with a rally in Ayodhya, which, along with twin city Faizabad, has just been upgraded to a municipal corporation. The 45-year-old Chief Minister addressed 26 rallies, travelling to all 16 districts where civic elections were held.
5The BJP is leading in most of the 198 municipal councils and 428 nagar panchayats or notified area councils with the Samajwadi Party in second place. Independents backed by the Samajwadi Party and the BSP had won a majority of these in the last elections, with the BJP trailing.
6This time, the Samajwadi Party and the BSP, crushed in the assembly elections, contested on their symbols, but in sharp contrast to Yogi Adityanath's high-powered campaign, neither Samajwadi chief Akhilesh Yadav, nor Mayawati campaigned.
7Yogi Adityanath asked voters to support the BJP just the way they did in the 2014 national election and this year's assembly election. The party swept both, winning 73 of the state's 80 parliament seats three years ago and over 300 of 400 seats in the assembly elections.
8The Chief Minister has to both thank his party and prove his worth with a big win. After the BJP's humongous win in March, party leaders unexpectedly picked the saffron-robed priest-politician over several front-runners for the top post.
9A powerful local leader in eastern UP and the head priest of the Gorakhnath temple in his home town Gorakhpur, Yogi Adityanath served as a BJP lawmaker for 19 years and is leading the party in an election across the state for the first time ever.
10The Samajwadi Party, which lost power in UP to the BJP in March, has accused the ruling party of "misusing government machinery to fix the elections" alleging that it tried to rig electronic voting machines. The BJP has called the allegations baseless.
---
Aadhaar To Work As Big Weapon Against Benami Property: PM Modi
MMNN:30 November 2017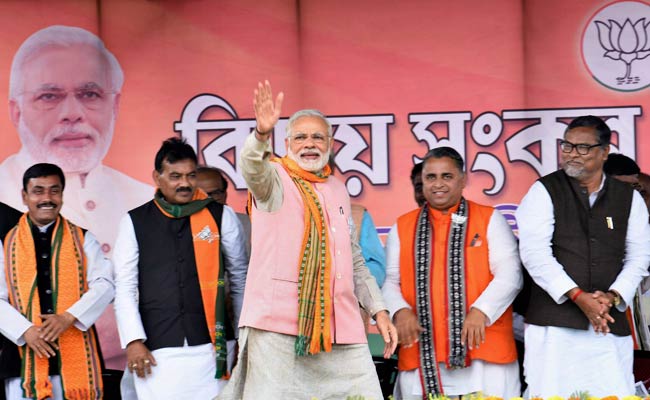 NEW DELHI: Noting that Aadhaar is helping in bringing about an "irreversible change" in the interest of the people, Prime Minister Narendra Modi today said the Unique Identification Number will work as a "big weapon" in the fight against benami property too. Aadhaar has a played a "big role" in ensuring that ration at proper rates, scholarships, pension and government subsidies reached the poor, he said. The Prime Minister made the remarks at the inaugural session of the 'Hindustan Times Leadership Summit - 2017' in New Delhi. "Linking Aadhaar with mobile and Jan Dhan accounts have evolved such a system which was not even thought of till some years ago -- a system which is irreversible," PM Modi said. "Earlier, pension money was distributed in crores of fake accounts. All that has been addressed with the help of Aadhaar in the last three years," he said. PM Modi said Aadhaar will now be used against benami property. "It is going to be a big weapon (in the fight against benami property)," he said. Referring to the notes ban, he said it had brought about a "behavioural change" in the country. Corrupt people, for the first time after Independence, were scared of making illicit money, he said. "The day the country will have a technical and digital address for all monetary transactions, organised corruption will be checked to a great extent," he said. Black money coming into the banking system had also brought along with it massive data, a "treasure trove" that would enable the government take action against wrong-doers, he said, adding that ill-gotten wealth earlier funding a parallel economy was now a part of the formal economy. Recently, Union Housing Minister Hardeep Singh Puri had reportedly said that property transactions would be linked to Aadhaar to eliminate black money from the real estate sector and help in addressing the issue of benami property.
---
Hardik Patel's Show of Strength 30 km Away From PM Modi Rally In Gujarat
MMNN:29 November 2017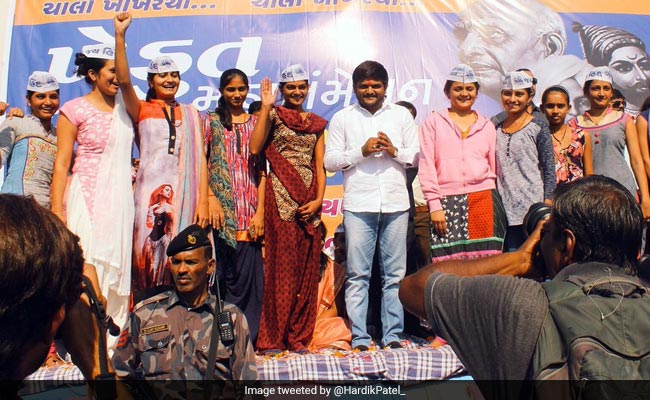 MORBI, GUJARAT: Hardik Patel has tweeted photos to show the kind of crowd he mobilised at a public rally today in Morbi, about 30 km away from where Prime Minister Narendra Modi was campaigning in the same district in the heart of Gujarat's Saurashtra for next month's assembly elections. "This crowd of thousands at a public meeting to discuss reservation and farmers' issues in Morbi district is encouraging," tweeted the 24-year-old, who led the massive Patel agitation for reservation against PM Modi's party, the BJP. Hardik Patel strategically timed his Morbi tour to coincide with the Prime Minister's rally. A comparison of the audiences the two rallies drew was expected after reports of a sub-par turnout for the Prime Minister's public meetings in Saurashtra on Monday. Morbi, a town famous for ceramic tiles and seen as an influencer for surrounding areas, has voted for the BJP for two decades. But it also has a significant Patel population and was one of the epicentres of the community's agitation for reservation in government jobs and colleges in 2015. Hardik Patel, who was jailed for sedition during the agitation and was exiled on court orders from Gujarat for six months, is too young to contest elections. But he has vowed to ensure the BJP's defeat, accusing the party of betraying the Patels, loyal to it for years, by not including them among castes that benefit from affirmative action. He is asking his community to vote for the Congress in the assembly elections after assessing as satisfactory, the party's formula for reservation for Patels if it comes to power. PM Modi told a capacity crowd today that "in good times and bad, we have stood with Morbi," which he said was not true of the Congress. Morbi, he said, was typical of the Gujarat model that he is credited with developing when he was the state's Chief Minister. Indira Gandhi of the Congress, the PM said, "held a handkerchief to her nose against a foul smell when she came to Morbi." Morbi district has three of Gujarat's 182 assembly seats. In 2012, when then Chief Minister Modi led his party to yet another victory in Gujarat, the BJP had won two seats in Morbi and the Congress one. But in panchayat or rural body elections held in 2015, the Congress won most seats in worry for the BJP. Morbi is filled with small traders who have traditionally not just voted for the BJP, but have also funded the party. Congress vice president Rahul Ganhdi has been urging the traders to punish the BJP for a chaotic roll-out of new national tax GST, which he has alleged has brought small businesses to their knees. Rahul Gandhi too is in Saurashtra today and will address three rallies. PM Modi is addressing three in Saurashtra and one in south Gujarat.
---
Hafiz Saeed Files Petition In UN Seeking Removal Of His Name From Terror List
MMNN:28 November 2017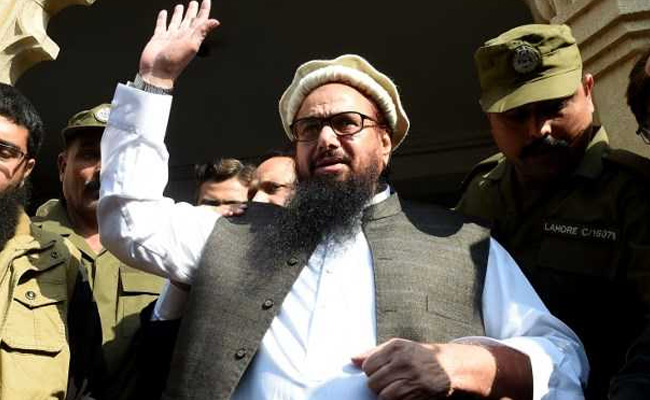 LAHORE: Mumbai attack mastermind Hafiz Saeed has filed a petition in the UN seeking removal of his name from the list of designated terrorists on the ground that none of the allegations against him - either related to terrorism or otherwise - has been proved in the Pakistani courts. The banned Jamaat-ud-Dawah (JuD) head, who carries a USD 10 million American bounty on his head for terror activities, walked free on Friday after the Pakistan government decided against detaining him further in any other case. He was under house arrest since January this year. Lahore-based law firm - Mirza and Mirza Law Associates - has filed the petition on behalf of Saeed in the UN. Supreme Court Advocate Navid Rasul Mirza, the owner of this law firm, told PTI today that his law firm had recently filed the petition in the UN. "My law firm has filed the petition on Hafiz Saeed's behalf at the UN seeking removal of his name from its list of designated terrorists. My son Haider Rasul who is director of this firm is looking after this case," he said. Saeed, who is accused of having masterminded the November 2008 Mumbai attack that killed 166 people, was placed on the terrorism black list by the United Nations under UN Security Council Resolution 1267 in December 2008. To a question about any progress in the case so far, Mr Mirza said: "We have just filed the petition." Mr Mirza was Additional Advocate General of Punjab Government (1993-1996) and Prosecutor General for the National Accountability Bureau, a government anti-graft body (2000-03). This is the first time that Saeed has hired a law firm other than that of his permanent counsel Advocate AK Dogar. "In Pakistan, all cases of the JuD chief are being handled by Dogar. This firm to pursue his case in the UN has been hired in consultation with Dogar," a Jamaat-ud-Dawah office-bearer told PTI. The office-bearer said Saeed has decided to challenge the UN's decision on the basis of different court decisions since 2009 in which no allegation - either related to terrorism or otherwise - has been proved in the Pakistani courts. He said the UN's decision to place Saeed's name on the list of terrorists had caused harm to his reputation as it appeared that this had been done on international pressure. "We have enough ground to fight our case in the UN. The UN should take up our petition and remove Hafiz Saeed's name from the designated terrorists list," he said. LeT operations commander Zakiur Rehman Lakhvi was also placed on the terrorism black list along with Saeed. According to the UNSC's sanctions committee, the LeT leaders were "subject to the assets freeze, travel ban and arms embargo," set out in Security Council resolution 1822. The UNSC website says: "Saeed is proscribed for being associated with Lashkar-e-Taiba and Al-Qaeda for participating in the financing, planning, facilitating, preparing or perpetrating of acts of activities by, in conjunction with, under the name of, on behalf or in support of both entities." India has repeatedly asked Pakistan to re-investigate the Mumbai terror attack case and also demanded trial of Saeed and Lakhvi in the light of evidence it had provided to Islamabad. A Lahore High Court's Judicial Review Board last week unanimously ordered Saeed's release after the Punjab government failed to provide any evidence related to terrorism or otherwise before it. After his release, Saeed said the US, on India's request, pressured Pakistan to detain him. "I was detained on the pressure of the US on the Pakistani government. The US did so on the request of India," he claimed. India had expressed outrage over the decision of the judicial board to release Saeed, calling it an attempt by Pakistan to mainstream proscribed terrorists and a reflection of its continuing support to non-state actors. The JuD is believed to be the front organisation for the banned LeT which is responsible for carrying out the Mumbai terror attack in 2008. Saeed was put under house arrest after the Mumbai attack in November 2008 but he was freed by a court in 2009. Nine of the Mumbai attackers were killed by police while lone survivor Ajmal Kasab was caught and executed after a trial.
---
Request Congress Not To Mock My Poor Origins,' Says PM Narendra Modi In Scathing Attack
MMNN:27 November 2017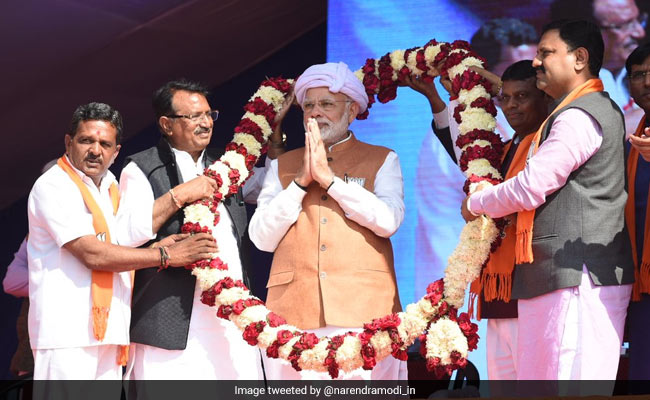 Prime Minister Narendra Modi has requested the Congress "not to mock my poor origins," extending his scathing attack on the opposition party and its leader Rahul Gandhi from one rally in Gujarat to another, as he begins a campaign blitz his home state, which votes early next month for a new government. "The Congress dislikes me because of my poor origins. Can a party stoop so low? Yes, a person belonging to a poor family has become PM. They do not fail to hide their contempt for this fact. Yes, I sold tea but I did not sell the nation," PM Modi said in Rajkot, adding, "I request the Congress not to mock the poor and my poor origins." The PM's comments referred to the latest controversy the Congress landed itself in last week, when the party's youth wing mocked the Prime Minister as a "chai-wala" in a meme it later deleted, but not quickly enough. The BJP has since resurrected its "chai" campaign strategy that it had successfully deployed ahead of the 2014 general election, highlighting the Prime Minister's childhood when he sold tea at railway stations to stress that he is a self-made leader in contrast to the Gandhis' dynastic control of the Congress. The chai campaign was constructed as a result of Congress leader Mani Shankar Aiyar infamously deriding Mr Modi as a tea-seller who could never become Prime Minister The BJP has said the repeated attacks on the PM over his humble origins exemplify the Congress' elitist mindset and that an enraged public will punish it by ensuring the BJP sweeps the Gujarat election. Gujarat, the Prime Minster, said at his first rally in Bhuj today, will not forgive the Congress for making "baseless allegations against the son of the soil," as he pitched the election as a battle between "vikas(development)" and "vanshwaad (dynasty)," in an attack on Rahul Gandhi, who is set to take over from his mother Sonia Gandhi as Congress president before Gujarat votes. "When Keshubhai Patel, a son of Saurashtra became the CM the Congress tried everything to dislodge him. They repeated the same disruptive tactic with Anandiben Patel, a daughter of the Patel Community. Congress has defamed Gujarat always," the Prime Minister said, also accusing the opposition party of learning from the Aam Aadmi Party "whose style is to keep abusing and running away. I thought the Congress, being an older party would not indulge in such politics but they have also taken this short cut in the past two months and only hurled abuses and lies
---
Rahul Trains Guns On Modi Over Rafale Deal, Jay Shah Issue
MMNN:25 November 2017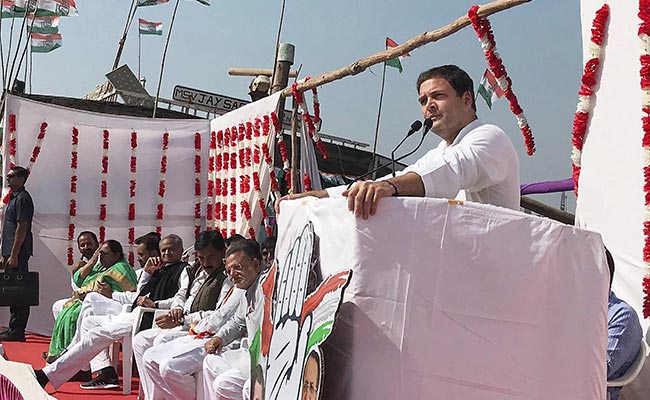 DAHEGAM (GUJARAT): Congress vice-president Rahul Gandhi targeted Prime Minister Narendra Modi in poll-bound Gujarat today and alleged that the latter did not want the "truth" behind the multi-crore Rafale deal and Jay Shah issue to come out before the Assembly election in his home state. He also alleged that the NDA government was delaying the Winter Session of Parliament as Modi was not ready to discuss the Rafale and Jay Shah issues in the House before the Gujarat polls. "I would ask Modiji three questions (on the Rafale deal). First, is there a difference in the cost of planes in the first and the second contract (signed with a French firm) and did India pay more or less money as per the second contract? "And, has the industrialist (whose company has formed a joint venture with the French firm), who was given the contract, ever manufactured planes?," he asked while addressing a public gathering here in Gandhinagar district. The Congress leader also sought to know if the due procedure was followed while inking the deal with France last year to procure the Rafale fighter jets. "And a more important question, did you follow the due government procedure? Why the (then) defence minister was seen catching fish in Goa? And, was an approval from the Cabinet Committee on Security taken (for the mega deal)?," he asked. Gandhi alleged that the prime minister was avoiding answering these questions due to the fear that the "truth" would come out before the crucial polls in his home state. "Narendra Modiji is not replying to these questions because he wants that the truth of Rafale and Jay Shah should not come before the public ahead of the Gujarat elections," he said. "Rafale is a matter related to the Indian Air Force, national security, martyrs. Modiji will have to answer these questions before the people of the country and Gujarat," he said. The 47-year-old Amethi MP said while the mediapersons asked him a lot of questions, they did not do the same with the prime minister over the Rafale and Jay Shah issues. "Modiji will make many tours of Gujarat. Press reporters ask me various questions. Why don't you ask Modi about the Rafale deal and Jay Shah? The people should also ask Modiji about Rafale and Jay Shah when he comes to Gujarat," he said. The prime minister is scheduled to address a series of poll rallies in Gujarat in support of the BJP candidates next week. The 182-member Gujarat Assembly will go to the polls in two phases -- on December 9 and 14. Counting of votes will be taken up on December 18. "Generally, Parliament's (Winter) session is held every year in November and discussions (on crucial issues) take place in the Lok Sabha and Rajya Sabha. But, due to two reasons, Parliament is opening after the Gujarat polls this time. "First, (BJP chief) Amit Shah's son (Jay) converted Rs. 50,000 to Rs. 80 crore in three months. Second, and a more important reason, is the Rafale deal. The entire procedure went on for the purchase of the planes and after all the discussions were over, Narendra Modi himself went to France to change the contract," he alleged. In September last year, India had inked an inter-governmental agreement with France for the procurement of 36 Rafale fighter jets at a cost of around Rs. 58,000 crore. The Congress had recently raised questions over the deal and accused the Modi-led BJP government of compromising on national interest and security while promoting "crony capitalism" and causing a loss to the public exchequer. However, the BJP had rubbished the allegations. In an article published on news portal The Wire, it was alleged that the turnover of a company owned by Jay Shah grew exponentially from Rs. 50,000 to Rs. 8 crore after the BJP came to power at the Centre in 2014. Both Amit Shah and his son have denied any wrongdoing by the company. Jay Shah has filed a criminal defamation case against the news portal
---
Bilkis Bano Case: Gujarat Government Given Time To Explain Action Against Cops
MMNN:24 November 2017


NEW DELHI: The Supreme Court today granted six weeks time to the Gujarat government for apprising it on whether any disciplinary action has been initiated against policemen convicted in the 2002 Bilkis Bano gang-rape case. A bench comprising Chief Justice Dipak Misra and Justices AM Khanwilkar and DY Chandrachud, considered the submission of Additional Solicitor General Tushar Mehta, representing the state government, that some more time be given to get instruction on the authorities concerned in the case. The bench listed the plea for hearing in the first week of January. The bench, however, made it clear that the separate plea, seeking enhancement of compensation to be awarded to Bilkis Bano, would be taken up next week for hearing. The Supreme Court had already granted time, on October 23, to the state government to apprise it whether any departmental action had been initiated or taken against police officers whose conviction was upheld in the Bilkis Bano gang-rape case. The Bombay High Court had on May 4 upheld the conviction and life imprisonment of 12 people in the gangrape case, while setting aside the acquittal of seven people including policemen and doctors. Bilkis Bano, who was gang-raped in March, 2002, while she was pregnant, lost seven of her family members in the aftermath of the Godhra train burning incident. The bench had convicted seven persons, including five policemen and two doctors, for not performing their duties (sections 218) and tampering of evidence (section 201) under the Indian Penal Code (IPC). The convicted policemen and doctors are Narpat Singh, Idris Abdul Saiyed, Bikabhai Patel, Ramsingh Bhabhor, Sombhai Gori, Arun Kumar Prasad (doctor) and Sangeeta Kumar Prasad (doctor). A special court had on January 21, 2008, convicted and sentenced to life imprisonment 11 men in the case. They later approached the Bombay High Court challenging their conviction and sought for the trial court's order to be quashed. The CBI had also filed an appeal in the high court seeking harsher punishment of death for three of the convicted on the grounds that they were the main perpetrators of the crime. According to the prosecution, on March 3, 2002, Bilkis Bano's family was attacked by a mob at Randhikpur village near Ahmedabad during the post-Godhra riots and seven members of her family were killed. The trial in the case began in Ahmedabad. However, after Bilkis Bano expressed apprehensions that witnesses could be harmed and CBI evidence tampered, the Supreme Court transferred the case to Mumbai in August 2004

---
Hardik Patel-Congress Formula For Patidars Not Legally Tenable, Says BJP
MMNN:22 November 2017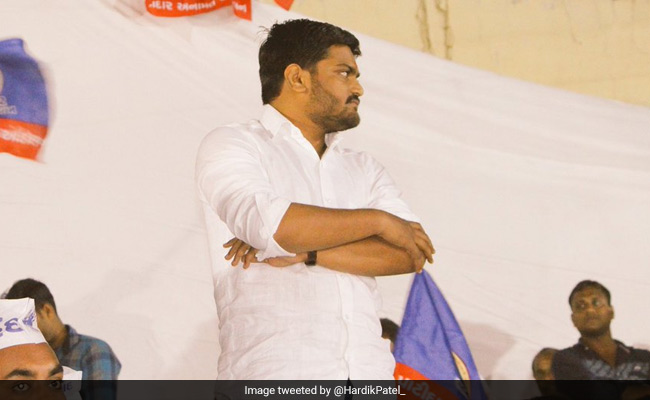 AHMEDABAD: For Hardik Patel it was never about ensuring reservation for the Patidars, alleged Gujarat's deputy chief minister Nitin Patel of the BJP today, accusing the 24-year-old activist of a sell-out after he announced his support for the Congress in next month's Gujarat elections. "The people of the state have seen in the last few days that reservation was a facade and it was all about the political ambition of Hardik Patel," said the Deputy Chief Minister, who too is a Patidar and was appointed last year by the ruling BJP as number 2 in the government to signal to the powerful caste its importance for the party. On the pact between Hardik Patel's Patidar Anamat Andolan Samiti (PAAS) and the Congress on reservations, Nitin Patel said that the two were fooling the Patidar community. ''The judgements that they are quoting, one delivered by a nine-judge bench clearly states no reservation above 50 per cent. They are fooling the Patidars offering a formula which is not legally tenable,'' he said. Hardik Patel, who led a massive agitation two years ago demanding that Patels or Patidars be included in castes that get reservation in government jobs and colleges, today vowed to work with the Congress to oust the BJP as punishment for not meeting the Patels' demand. The Congress, he said, has offered a solution for how to include Patels in castes that benefit from affirmative action and will detail it prominently in its manifesto for the assembly elections, to be held on December 9 and 14, before votes are counted on December 18. Hardik Patel's announcement came after days of negotiations as the Congress attempts to cash in on the recent Patel anger with the BJP. The community, 14 per cent of Gujarat's voters, have for decades supported the BJP, which has been in power in the state for the last 22 years. Hardik said his one-point agenda is "doing my utmost to defeat the BJP." The BJP has sent out strong signals to the Patels too. Patidars make up more than a fourth of the BJP's candidate list announced so far for the assembly elections. A third of the ruling party's current legislators in Gujarat are from the community, including nine ministers. After previous chief minister Anandiben Patel was seen to mishandle the Patel agitation, the BJP effected damage control replacing her with Vijay Rupani and appointing Nitin Patel as his deputy. Nitin Patel has been meeting the different Patidar groups that have been involved in the agitation to try and address their concerns and Hardik Patel had attended such a meeting last month.

---
With Triple Talaq Still Taking Place, Government Ready With New Plan
MMNN:21 November 2017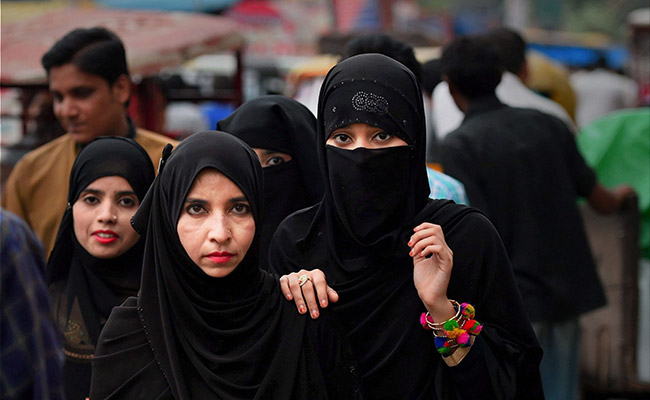 A new bill to ban "triple talaq" will be presented by the government lawmakers when they meet for the next session of parliament. In August, in a landmark ruling, the Supreme Court said the practice of Muslim men uttering "talaq" three times for an instant divorce is unconstitutional. Muslim women say they have been left destitute by husbands divorcing them through "triple talaq", including by Skype and WhatsApp. Judges agreed that it violates their right to equality and abolished the practice. Government sources said that despite the ban, triple talaq is still in effect; they pointed to the recent controversy over a professor from the famous Aligarh Muslim University or AMU who has been accused by his wife of divorcing her by text. The winter session of parliament has not been scheduled yet because Prime Minister Narendra Modi and other top ministers are busy campaigning in Gujarat, which votes next month. Amid fierce criticism from the opposition which has alleged "sabotage" by the PM in delaying the winter session, which usually begins in November, Finance Minister Arun Jaitley said yesterday that the dates for it would be finalised shortly. The government's seeking of a ban against triple talaq because it was derogatory and discriminatory against women created an unlikely coalition between Muslim woman and PM Modi's administration as they took on Muslim groups which say the state has no right to interfere in religious matters. Parties like Mulayam Singh Yadav's Samajwadi Party and the Trinamool Congress, who count on Muslim voters, argued against a ban, and said reform should be encouraged from within the community and not imposed on it. However, they later endorsed the Supreme Court verdict. Many Muslim countries have banned triple talaq, including Pakistan and conservative Saudi Arabia. It survived in India because religious communities are allowed to apply their own laws in personal matters such as marriage, divorce and property inheritance.

---
Veteran Congress Leader Priya Ranjan Dasmunsi, In Coma Since 2008, Dies At 72
MMNN:20 November 2017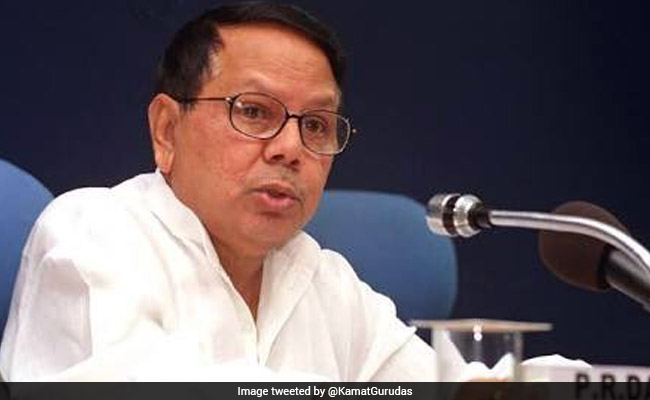 NEW DELHI: Senior Congress leader and former union minister Priya Ranjan Dasmunsi, in coma since 2008, died at a hospital in Delhi today. He was 72. Mr Dasmunsi had been critically ill over the past month, according to the Apollo hospital, and died at 12.10 pm, in the presence of his wife Deepa Dasmunsi and their son. Prime Minister Narendra Modi, Congress President Sonia Gandhi and and former president Pranab Mukherjee were among those who expressed grief at Mr Dasmunsi's death. "Priya Ranjan Dasmunsi was a popular leader with rich political and administrative experience. He did notable work to popularise football in India. Saddened by his demise," tweeted PM Modi. Sonia Gandhi called his death an irreparable loss to the Congress and described him as a "devout political activist and one of the tallest leaders of Bengal". The former union minister fell into a coma after suffering a massive stroke that left him paralysed and unable to speak. One of the Congress's most popular leaders in West Bengal, Mr Dasmunsi enjoyed a good rapport with leaders across the political spectrum. He was union Parliamentary Affairs Minister when he went into coma. The blood supply to a part of his brain was cut off, which caused irreversible damage, according to doctors. The politician was on life support for over a decade. His family even took him to Germany for treatment. Over the years, his wife became active in Congress politics. Deepa Dasmunsi was also a union minister in the Congress-led UPA government. Former president Pranab Mukherjee, who worked with Mr Dasmunsi in the Congress government, said: "Deeply saddened at the passing away of Shri Priya Ranjan Dasmunsi. His loss will be felt forever. Heartfelt condolences to his family and friends." In 2006, Mr Dasmunsi was the first Indian to be a match commissioner in a FIFA World Cup game between Australia and Croatia. He was heading the Indian football governing body at the time of his stroke in 2008, which led to Praful Patel taking over as president.

---
Ram Temple-Babri Masjid Case: Sri Sri Ravi Shankar Meets Muslim Leaders In Lucknow
MMNN:17 November 2017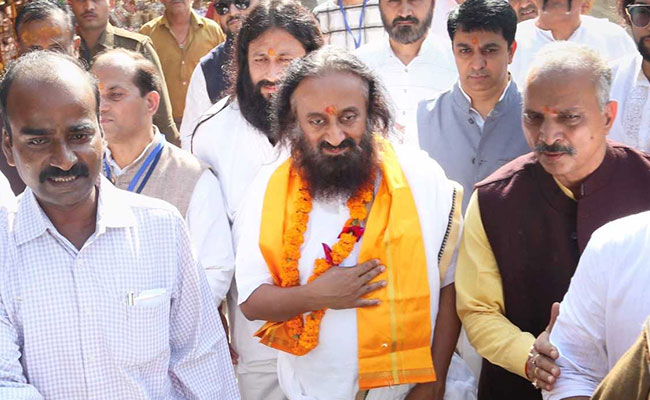 LUCKNOW: All issues can be resolved through dialogue, Art of Living founder Sri Sri Ravi Shankar said in Lucknow today after meeting Muslim leaders as part of his efforts to mediate a solution to the protracted Ram temple-Babri Masjid dispute. Ravi Shankar, who was in Ayodhya yesterday and met various leaders across the religious spectrum, said he respected the courts but they cannot connect hearts. "Even after 100 years, the judgements of courts will remain but if we find a solution through our hearts it will be recognised through the ages," Ravi Shankar told reporters after meeting the rector of the Farangi Mahal Islamic Centre of India, Maulana Khalid Rashid Farangimahli, and other community leaders. Maulana Khalid Rashid Farangimahli is also a senior member of the All India Muslim Personal Law Board or AIMPLB. "We accept that it is a little late for such efforts but we want that the issue should be resolved soon," Sri Sri Ravi Shankar said. "I am confident we will achieve something big for the country through this," he added. According to Sri Sri Ravi Shankar, a new message of brotherhood needs to be taken forward. Asked if his efforts are aimed at a settlement before the court decision on the issue or even after that, he said, "We are not leaving any possibility... we are not working on an agenda but trying to find a way." The Art of Living founder asked for time and said there was no hurry, religious heads would come together and talk. Giving his take on the talks, Maulana Farangimahli said differences will be removed if leaders of both sides sit together and talk regularly. Sri Sri Ravi Shankar yesterday met Dinendra Das of the Nirmohi Akhara as well as Muslim intellectuals in Ayodhya and Faizabad. His efforts to mediate have found favour only with a section of both communities with major parties, including the AIMPLB and the Vishwa Hindu Parishad, expressing their reservations. A day before visiting Ayodhya, he had met Uttar Pradesh Chief Minister Yogi Adityanath in Lucknow and said he wanted "unity and amity.




---
BJP Leader Shiv Kumar, Security Guard Shot Dead In Greater Noida
MMNN:16 November 2017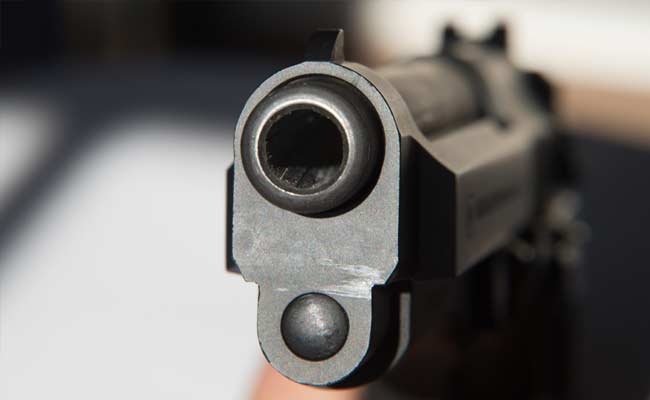 A BJP leader and his security guard were shot dead by attackers in bikes in Greater Noida near Delhi this evening. Shiv Kumar was in his Toyota Fortuner car when the bikers reportedly drove up and fired shots at the car in the Bisrakh area. The BJP leader died instantly. Apart from a security guard who was also killed, there were two more in the car.




---
Will Help Arvind Kejriwal To Prevent Smog Crisis In 2018, Says Haryana
MMNN:15 November 2017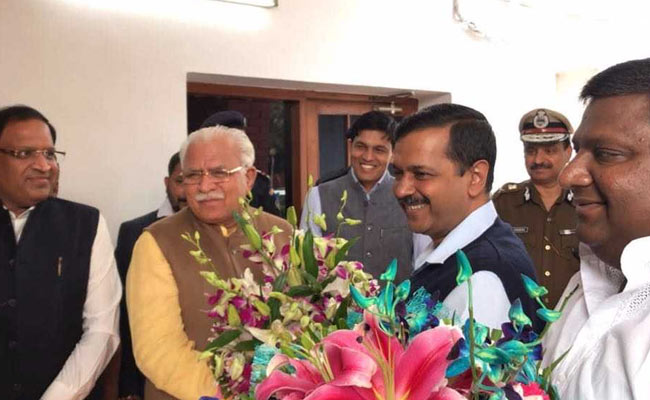 One down, another to go. Haryana has pledged its assistance to Delhi in fighting the toxic smog that has covered the city for over a week, leading doctors to declare a public health crisis. Punjab, the other state whose actions impact the filthy air, has so far ignored Delhi Chief Minister Arvind Kejriwal's entreaty for a meeting to discuss possible solutions. Mr Kejriwal met this morning with his counterpart from Haryana, ML Khattar, who is from the BJP, to toss around ideas on how to protect Delhi in the future from the sort of filthy air that has left residents complaining of headaches, watering eyes and dizziness, and forced the shutdown of all schools last week. The two leaders said in a statement "We agreed upon the need for action on many measures aimed at predicting its re-occurrence in the winter of 2018." The levels of poisonous airborne particles, known as PM 2.5, have been off the charts in Delhi, often crossing 500. How dangerous is that? The upper limit of "good" quality air is 50. "We accept that pollution in Delhi is a concern for the whole country...it is the national capital," acknowledged Mr Khattar who has recently accused Mr Kejriwal of trying to "politicize" the issue to distract from his own government's failures in preventing the toxic smog. The Chief Ministers said they have "jointly identified action points" and are committed to "quick action on a number of fronts." The crisis is a combination of vehicular exhaust, dust from construction sites, and stubble-burning in the agrarian states of Punjab and Haryana which border Delhi. Every year, at this time, farmers set the remnants of their harvested crop on fire to prep their fields for the sowing of the winter crop. The fires send smoke streaming into Delhi Mr Kejriwal flew to Chandigarh to meet with Mr Khattar after the latter refused to make time for him during a two-day trip to Delhi at the start of the week. The Delhi leader asked to meet while in Chandigarh with Punjab Chief Minister Amarinder Singh, who is from the Congress, but was brusquely refused. Captain Singh said a consult would be pointless as the issue of stopping farm fires needs to be resolved by either the centre or the Supreme Court, which is hearing petitions that ask for its intervention in the fight against Delhi's pollution. Farmers are a substantial vote group and no party wants to risk angering them by enforcing a ban on crop burning. Mr Kejriwal has said he understands and accepts that farmers must be given financial aid if they are ordered to stop farm fires for more environment-friendly options.

---
Children's Day 2017: Pandit Jawaharlal Nehru Was A Prolific Writer. A Look At The Books Authored By Him
MMNN:14 November 2017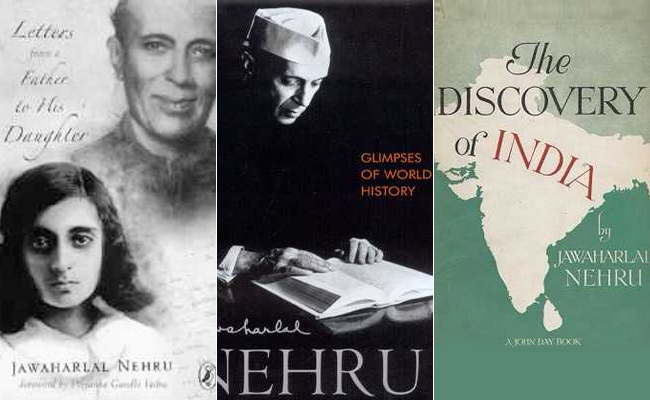 NEW DELHI: Children's Day is celebrated across India on November 14, the birth date of Pandit Jawaharlal Nehru, the first Prime Minister of India, who was very fond of children. Children fondly call him Chacha Nehru. Mr Nehru, under the guidance of Mahatma Gandhi, turned out to be a leader of India's struggle for independence. For laying the foundation of independent India as sovereign, socialist, secular and a democratic republic, he is credited as the architect of modern India. He was a prolific writer in English and wrote a number of books. His speech on the eve of India's Independence, towards midnight on 15 August 1947, is considered to be one of the greatest speeches of the 20th century.
Here's a look at the books Jawaharlal Nehru has authored:
1. The Discovery of India: Jawaharlal Nehru wrote this book while he was in jail for his participation in the Quit India movement. He wrote the book during 1942-46 and dedicated it to the prisoners who provided him a stimulating environment to pen down his thoughts and experiences of living in the country he loves. The book is a mix of personal essays and reflections and provides a broad view of Indian history, philosophy and culture, as viewed from his eyes. The book is seen as one of the finest writings on Indian history.
2. Glimpses of World History: This book is a collection of 196 letters that Jawaharlal Nehru wrote to his daughter Indira when he was in various prisons in British India between 1930-1933. The letters were meant to introduce her to world history. In the first few letters, Mr Nehru expresses his sadness for not being able to be around his daughter and give her the materialistic gifts that other parents could, but he promises to give her a gift that he could afford; in the form of knowledge and wisdom through words that come from the core of his heart. The book contains the history of humankind from 6000 BC to the time of writing of the book. He talks about the histories of every significant place ranging from Greece in the far West to China in the east. The book talks about the wars that were fought during these years and the greatest revolutions that overthrew established dynasties. He has also written about the legendary leaders and kings like Alexander the Great and Mahatma Gandhi.
3. An Autobiography, also called Towards Freedom: This book is an autobiography written by Jawaharlal Nehru during his time in the prison. In the book, he mentions about why he took the path of civil disobedience and ended up being in the prison. The book begins with anecdotes of how his ancestors had to flee Kashmir. He writes about how his life history, from even before his father was born, seems to have led him naturally to where he was. The book depicts the political realisation of an upcoming giant of a nation and the battle for its freedom. The book was published in 1936 and ran nine editions in the first year alone. 4.
Letters From A Father To His Daughter: This book was published in 1929 and has a collection of 30 letters written by Jawaharlal Nehru in 1928 to his daughter Indira Gandhi when she was 10 years old. In the letters, written in English, he is teaching her about natural history and the story of civilisations. At the time of the writing of the letters, Mr Nehru was in Allahabad, while Indira was in Mussoorie.

---
UP Government Spreading Hatred In Name Of Development: Akhilesh Yadav
MMNN:11 November 2017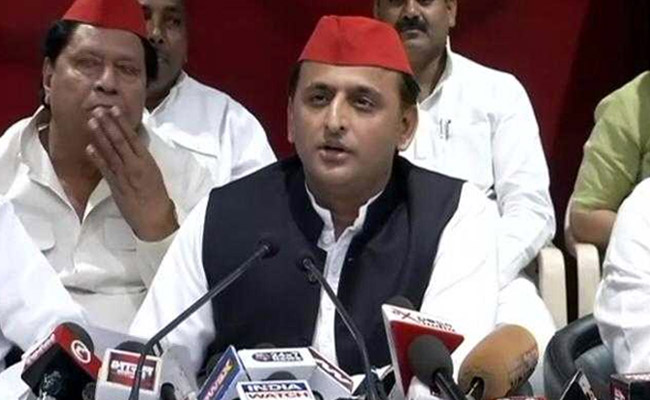 LUCKNOW: Samajwadi Party president Akhilesh Yadav today accused the government in Uttar Pradesh of spreading hatred in the name of development, saying there was no one better than the BJP in creating a "vertical divide". The former UP chief minister also alleged that the projects of the earlier Samajwadi Party government were being inaugurated by the Yogi Adityanath government. "BJP people are very wise in instigating problems, spreading hatred, and there is no one better than them in creating a vertical divide, be it in a family or political party... you can see Gujarat, Bengal or Uttar Pradesh," Mr Yadav said at a newspaper event in Lucknow. "Who is better than them in creating a divide in the name of Hindu-Muslim or castes... People charge us for being casteist but don't call them casteists," he claimed. Mr Yadav also claimed that he had never asked for votes on the basis of caste and religion. The former chief minister also asked, "Was the UP government made for spreading hatred in the name of development. It is only the development of hatred," he alleged. On the rift within the Samajwadi Party, Yadav said that with his party losing power, the problems in his family have also come to an end. "There can be no tiff now as there is no power...when there is no power there is no tiff," Mr Yadav said. Taking a dig at the BJP government in UP, the former chief minister said that during his tenure, he had never inaugurated projects which had been inaugurated previously. "The works done by the Samajwadi Party government are being inaugurated by this government," he claimed. "If they have done anything on their own for the state, they should tell people," he said. The Samajwadi Party president, who had struck an electoral alliance with the Congress before the UP Assembly polls, also stated that his "friendship with Rahul Gandhi will continue". "I am not the one who changes friends and this fact should be clear. On the political front, we were friends and will remain as such...the alliance as it is today, will continue," he stressed. Asked about Congress not asking him to campaign in Gujarat, he said, "It does not matter...Who will stop me from going there for candidates of my party in fray." On his equation with Patidar leader of Gujarat, Hardik Patel, Mr Yadav said that though he has not been introduced to him yet but can be friends with him whenever he wants to. Mr Yadav, however, refused to comment on any possibility of a tie-up with the BSP. Referring to demonetisation, Mr Yadav said that though former prime minister Manmohan Singh, who is an economist, and all other economists say that it has harmed the economy, it is sometimes difficult for people to accept the truth and they ignore many things due to caste and religious considerations. Making a reference to the amendments in the GST, he said more such steps will be undertaken as the elections draw closer. The former UP chief minister said that those who used to talk about digital India are today talking about 'gobar' (cow dung) and cow. On the works done during his government especially his pet project of Agra-Lucknow Expressway, Mr Yadav said, "I still maintain that those who have travelled on it will say that this is how the roads in the country should be made." "The Prime Minister and UP Chief Minister can make roads better than the expressway, but they do not have the intention to do so..officials tell them that there are shortcomings in the River Front and other such projects. And the same officials come to me and say that CM does not know anything," he alleged.

---
100 Suggestions' But You Always Pick Odd-Even, Delhi Government Scolded
MMNN:10 November 2017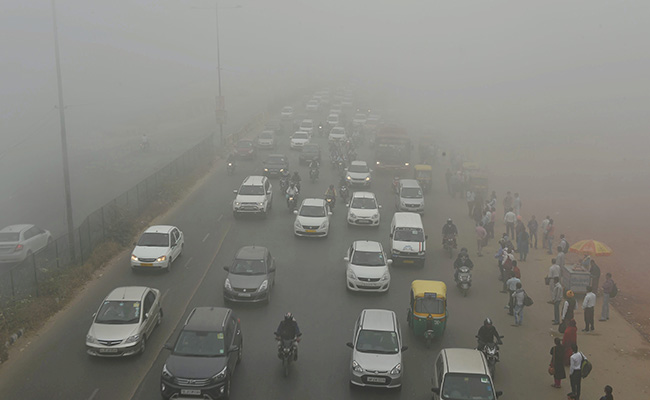 NEW DELHI:Chief Minister Arvind Kejriwal's government confronted resounding criticism today from the country's top environmental court for ordering "odd-even" traffic restrictions in the capital next week. In an attempt to reduce the thick and hazardous smog hanging over Delhi, Mr Kejriwal said that the odd-even scheme, used twice before in the capital to check pollution, will apply from 8 am to 8 pm for Monday to Friday. It limits cars with license plates ending in even numbers to run on one day and odd numbers on the next. "The odd-even formula can't be imposed like this. Nothing has been done from your end for the past one year," the National Green Tribunal rebuked the Delhi government. It said that "100 measures" have been suggested to curb pollution, "but you always opted for odd-even. Delhi government will have to justify the implementation of this scheme The government is expected to present evidence in court tomorrow of why the traffic restrictions are needed. It does not have the support of the centre. "What was the use of the odd-even formula last time? Did it even have any effect?" asked union minister Mahesh Sharma. Thick smog this week swathed Delhi, where pollution readings in some places peaked at 500, the most severe level on the government's air quality index that measures poisonous particles. All 6,000 schools in Delhi have been closed till Monday with the Chief Minister saying the city has turned into a "gas chamber". He has urged Haryana and Punjab to stop farmers from setting existing crop waste on fire - "stubble burning" what's left after fields have been harvested - as they prep to sow the winter crop. Other major contributions to the filthy air are vehicle emissions and dust from construction sites. Trucks have been banned from entering the capital for now; a stop to all construction activity has also been ordered. The problem has been compounded this year by still conditions, the weather office said

---
Reconstructing Pradyuman Murder, CBI Takes Student To Knife Shops, School
MMNN:9 November 2017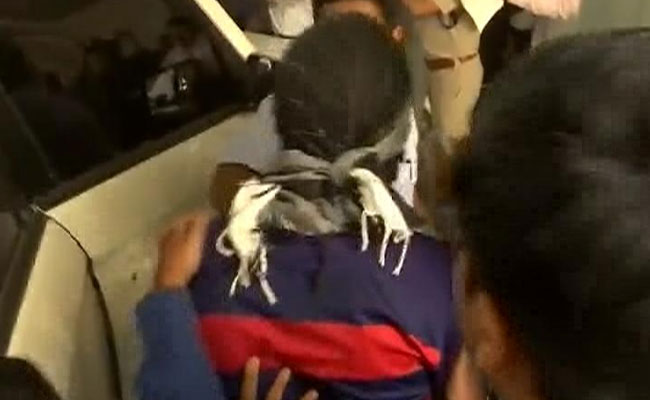 NEW DELHI: A 16-year-old schoolboy accused of slitting the throat of Pradyuman Thakur, his junior at the Ryan International School in Gurgaon, was today taken by a CBI team to knife shops and will also be taken to school in an attempt at reconstructing the crime. The CBI, which started questioning the Class 11 student in custody today, took him to select shops to find out where the murder weapon - a knife - may have been bought. Sources say in the next two days, he will be taken to his school so he can explain his actions on September 8, when seven-year-old Pradyuman was found murdered in a toilet near his classroom. Investigators have told a Juvenile Court that the teen confessed to the crime in the presence of his father and independent witnesses. The motive, apparently, was to delay an exam, but the CBI is yet to find clinching evidence to seal the student's guilt. The agency, for the first time investigating a child for another child's murder, was yesterday granted custody of the student for three days. Pradyuman, a Class 2 student, was found murdered some 15 minutes after he was dropped off by his father, along with his older sister at 7.55 am. Seven hours later, the police told the media that they had the killer. Schoolbus conductor Ashok Kumar, they said, murdered Pradyuman after trying to sexually assault him. They claimed that they had recovered the knife from him. The botch-up, according to the CBI, started from there. "Gurugram Police claimed that Ashok had taken the bus driver's knife with him to the toilet to clean it. There he saw Pradyuman alone and tried to sexually assault him, and when he shouted for help, he slit his neck," an official said, referring to the police theory. Two days after the arrest, the driver said there was no knife in the bus. The police said they would file a charge sheet in seven days. Before that charge sheet, however, the case was handed to the CBI as Pradyuman's family insisted that the police was in a hurry to solve the case and the killer was not Ashok The CBI took over on September 29 and went to the school the next day. The arrested bus conductor, questioned afresh by the CBI, repeatedly denied killing the child. The child's autopsy report didn't mention sexual assault, which made the CBI wonder about the police investigation. The gardener, who was among the first to see Pradyuman's body, told the CBI that he saw Ashok Kumar entering the toilet but didn't see a knife. He also told officials that two students told him Pradyuman was lying in a pool of blood in the washroom. When the students were questioned, they mentioned a Class 11 student who was seen with a knife earlier. The investigation changed course. The CBI then turned to a careful analysis of CCTV footage from near the toilet and saw the teenager near the toilet. The officer says during investigations, a background check of the student revealed that he had received psychiatric counselling for a year and had anger management issues. "When we were questioning him, we realized that he used to pick up fights in school and was termed rowdy by many of his classmates," the officer adds. More inquiries revealed that a day before Pradyuman was killed, he had told a few classmates that they shouldn't prepare for exams as there would be a school holiday next day (September 8). But there is no solid evidence connecting the teen student to such a brutal murder. The agency claims the teenager was not good in studies and wanted to postpone school exams and a parent-teacher meeting. Without proof, none of this will wash in court as motive. It is still not clear whether the crime was planned or spur-of-the-moment. Officials are questioning why Pradyuman was killed so violently without any sexual assault involved. The CBI says after committing the crime, the teenager flushed the knife down the pot. But no forensic evidence links him to the weapon so far. The CBI says that they cannot rule out the possibility of the Haryana police planting evidence (the knife) on Ashok Kumar. "Our probe is going on we will investigate this also and then take a call whether it was deliberately amateur probe or was it all done at someone's instance," reveals the officer.

---
Parking Fee Hiked By 4 Times In Delhi To Curb Air Pollution
MMNN:7 November 2017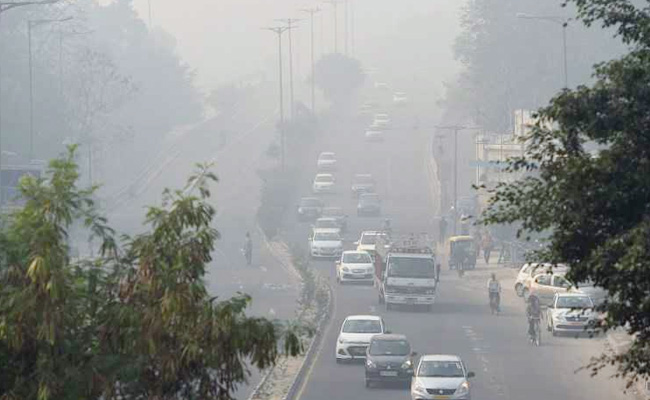 NEW DELHI: People in Delhi will have to pay four times the usual parking fee after severe pollution levels today prompted tougher measures. The decision was taken at a meeting of the Supreme Court-appointed Environment Pollution Prevention and Control Authority (EPCA) to discourage people from using private vehicles. The capital struggled with the worst smog and pollution this year, worse than a day after Diwali, as a brown haze hung heavy. The green panel has recommended reduced fares in the Delhi metro for off-peak hours and the return of the odd-even scheme to regulate the number of cars

---
A Year After Demonetisation
MMNN:7 November 2017

November 8, 2016 would be remembered as a watershed moment in the history of Indian economy.  This day signifies the resolve of this Government to cure the country from "dreaded disease of black money".  We, the Indians, were forced to live with this attitude of "chalta hai" with respect to corruption and black money and the brunt of this attitude was faced particularly by the middle class and lower strata of society.  It was a hidden urge of the larger section of our society for a long period to root out the curse of corruption and black money; and it was this urge which manifested in the verdict of people in May 2014. Immediately after taking up responsibility in May 2014, this Government decided to fulfil the wish of the people in tackling the menace of black money by constituting SIT on black money.  Our country is aware that how even a direction from the Supreme Court on this issue was ignored by the then Government for number of years.  Another example of lack of will to fight against black money was the delay of 28 years in implementation of Benami Property Act. This Government took decisions and implemented the earlier provisions of law in a well-considered and planned manner over three years to meet the objective of fight against black money.  These decisions span from setting up of SIT to passing of necessary laws for foreign assets to demonetisation and to implementation of GST.  When the country is participating in "Anti-Black Money Day", a debate was started that whether the entire exercise of demonetisation has served any intended purpose.  This narrative attempts to bring out positive outcomes of demonetization in short-term and medium-term with respect to stated objectives. RBI has reported in their Annual Accounts that Specified Bank Notes (SBNs) of estimated value of Rs.15.28 lakh crore have been deposited back as on 30.6.2017.  The outstanding SBNs as on 8 th November, 2016 were of Rs.15.44 lakh crore value.  The total currency in circulation of all denominations as on 8 th November, 2016 was 17.77 lakh crore. One of the important objective of demonetisation was to make India a less cash economy and thereby reduce the flow of black money in the system.  The reduction in currency in circulation from the base scenario reflects that this intended objective has been met.  The published figure of "currency in circulation" for half year ending September, 2017 is Rs.15.89 lakh crore.  This shows year on year variation of (-) Rs.1.39 lakh crore; whereas year on year variation for the same period during last year was (+) Rs.2.50 lakh crore.  This means that reduction in currency in circulation is of the order of Rs.3.89 lakh crore.  2 Why should we remove excess currency from the system?  Why should we curtail cash transactions?  It is common knowledge that cash is anonymous.  When demonetization was implemented, one of the intended objectives was to put identity on the cash holdings in the economy.  With the return of Rs.15.28 lakh crore in the formal banking system, almost entire cash holding of the economy now has an address.  It is no more anonymous.  From this inflow, the amount involving suspicious transactions based on various estimates ranges from Rs.1.6 lakh crore to Rs.1.7 lakh crore.  Now it is with the tax administration and other enforcement agencies to use big data analytics and crack down on suspicious transactions. Steps in this direction have already started.  Number of Suspicious Transaction Reports filed by banks during 2016-17 has gone up from 61,361 in 2015-16 to 3,61,214; the increase during the same period for Financial Institutions is from 40,333 to 94,836 and for intermediaries registered with SEBI the increase is from 4,579 to 16,953. Based on big data analytics, cash seizure by Income Tax Department has more than doubled in 2016-17 when compared to 2015-16; during search and seizure by the Department Rs.15,497 crore of undisclosed income has been admitted which is 38% higher than the undisclosed amount admitted during 2015-16; and undisclosed income detected during surveys in 2016-17 is Rs.13,716 crore which is 41% higher than the detection made in 2015-16. Undisclosed income admitted and undisclosed income detected taken together amounts to Rs.29,213 crore; which is close to 18% of the amount involved in suspicious transactions.  This process will gain momentum under "Operation Clean Money" launched on January 31, 2017. The exercise to remove the anonymity with currency has further yielded results in the form of         56 lakh new individual tax payers filing their returns till August 5, 2017 which was the last date for filing return for this category; last year this number was about 22 lakh;         Self-Assessment Tax (voluntary payment by tax payers at the time of filing return) paid by non-corporate tax payers increasing by 34.25% during April 1 to August 5 in 2017 when compared to the same period in 2016.           With increase in tax base and bringing back undisclosed income into the formal economy, the amount of Advance Tax paid by non-corporate tax payers during the current year has also increased by about 42% during 1 st April to 5 th August.           The leads gathered due to data collected during demonetisation period have led to identification of 2.97 lakh suspect shell companies.  After issuance of statutory notices to these companies and following due process under the law, 2.24 lakh companies have been de-registered from the books of Registrar of Companies. 3           Further actions were taken under the law to stop operation of bank accounts of these struck off companies.  Actions are also being taken for freezing their bank accounts and debarring their directors from being on board of any company.  In the initial analysis of bank accounts of such companies following information has come out which are worth mentioning:         Of 2.97 lakh struck off companies, information pertaining to 28,088 companies involving 49,910 bank accounts show that these companies have deposited and withdrawn Rs.10,200 crore from 9 th November 2016 till the date of strike off from RoC;         Many of these companies are found to have more than 100 bank accounts – one company even reaching a figure of 2,134 accounts; Simultaneously, Income Tax Department has taken action against more than 1150 shell companies which were used as conduits by over 22,000 beneficiaries to launder more than Rs.13,300 crore. Post demonetization, SEBI has introduced a Graded Surveillance Measure in stock exchanges.  This measure has been introduced in over 800 securities by the exchanges.  Inactive and suspended companies many a time are used as harbours of manipulative minds.  In order to ensure that such suspicious companies do not languish in the exchanges, over 450 such companies have been delisted and demat accounts of their promoters have been frozen; they have also been barred to be directors of listed companies.  Around 800 companies listed on erstwhile regional exchanges are not traceable and a process has been initiated to declare them as vanishing companies. Demonetization appears to have led to an acceleration in the financialisation of savings.  In parallel, there is a shift towards greater formalisation of the economy in the near term aided by the introduction of Good and Services Tax (GST).  Some of the parameters indicating such shift are given below:         Corporate bond market has started reaping the benefits of additional financial savings and transmission of interest rate reduction.  The corporate Bond market issuance grew to Rs. 1.78 lakh crore in 2016-17, the year on year increase was Rs.78,000 crore. With other sources of issuance in capital market the incremental variation is almost Rs.2 lakh crore in 2016-17 while that was Rs.1 lakh crore in 2015-16.         This trend is further substantiated by the surge in primary market raising through public and rights issues.  There were 87 issues of public and rights for raising equity involving amount of Rs.24,054 crore during FY 2015-16; in the first six months of 2017-18 itself there are 99 such issues amounting to Rs.28,319 crore.         Net inflow into Mutual Funds during 2016-17 increased by 155% during 2016-17 over 2015-16 reaching 3.43 lakh crore; Net inflows in mutual funds during November 2016 to June 2017 was about Rs.1.7 lakh crore as against Rs.9,160 crore during the same period in the year before; 4         Premia collected by life insurance companies more than doubled in November 2016; the cumulative collections during November 2016 to January 2017 increased by 46 per cent over the same period of the previous year.  The premium collections witnessed 21% growth for year ending September 2017 over the corresponding period of previous year. With a shift to less cash economy, India has taken a big leap in digital payment during 2016-17.  Some of the trends are given below:         110 crore transactions, valued at around Rs.3.3 lakh crore and another 240 crore transactions, valued at Rs.3.3 lakh crore were carried out through credit cards and debit cards, respectively.  The value of transaction for debit and credit card was Rs.1.6 lakh crore and Rs.2.4 lakh crore respectively during 2015-16.         Total value of transaction with Pre-Paid instruments (PPIs) have increased from Rs.48,800 crore in 2015-16 to Rs.83,800 crore in 2016-17.  Total volume of transactions through PPIs have increased from about 75 crore to 196 crore.         During 2016-17, National Electronic Funds Transfer (NEFT) handled 160 crore transactions valued at Rs.120 lakh crore, up from around 130 crore transactions for Rs.83 lakh crore in the previous year. With higher level of formalisation, it has brought out related benefits to workers who were denied of social security benefits in the form of EPF contribution, subscription to ESIC facilities and payments of wages in their bank accounts.  Large increase in opening of bank accounts for workers, enrolment in EPF and ESIC are added benefits of demonetisation.  More than 1 crore workers were added to EPF and ESIC system post- demonetisation which was almost 30% of existing beneficiaries.  Bank accounts were opened for about 50 lakh workers to get their wages credited in their accounts.  Necessary amendment in Payment of Wages Act was done to facilitate this.  The reduction in incidences of stone pelting, protests in J&K and naxal activities in LWE affected districts are also attributed to the impact of demonetisation as these miscreants have run out of cash.  Their access to Fake Indian Currency Note (FICN) was also restricted.  During 2016-17, the detection of FICN for Rs.1000 denomination increased from 1.43 lakh pieces to 2.56 lakh pieces.  At the Reserve Bank's currency verification and processing system, during 2015-16, there were 2.4 pieces of FICNs of Rs.500 denomination and 5.8 pieces of FICNs of Rs.1000 denomination for every million pieces notes processed; which rose to 5.5 pieces and 12.4 pieces, respectively, during the post-demonetisation period.  This shows almost doubling of such detection. In an overall analysis, it would not be wrong to say that country has moved on to a much cleaner, transparent and honest financial system.  Benefits of these may not yet be visible to some people.  The next generation will view post November, 2016 national economic development with a great sense of pride as it has provided them a fair and honest system to live in.

---
In Gujarat, Team Of 40 'Chhupa Rustams' Informing Rahul Gandhi Decisions
MMNN:6 November 2017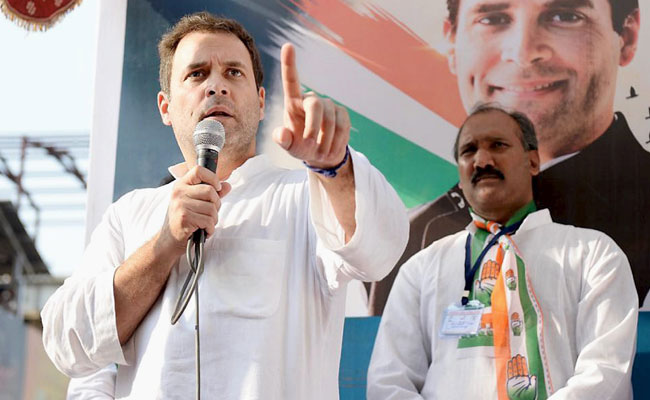 As Rahul Gandhi moves through Gujarat, visiting temples, addressing small neighbourhood gathering and much larger rallies, taking the occasional selfie with a young fan who climbed to the top of his mini-van for a selfie, there's a far more media-shy contingent that's assessing what voters want. You can call them by different names - in Hindi, we refer to them as 'Chhupa Rustom' - but it's crucial that they remain anonymous, unrecognizable," said one of these secret agents. "They source information, then give this information to a boss who is one level above them, and that rung conveys the material to Rahul Gandhi," he said, agreeing to be filmed but in silhouette so that his identity is concealed. The secrecy is not unwarranted, said more than one of these Chhupa Rustoms that we spoke to. On reconnaissance missions, they gauge public mood to help shape what narrative the campaign should follow; more crucially, they try to evaluate which candidates the Congress should shortlist for the 182 seats in Gujarat that will be decided when the state votes next month. As Rahul Gandhi attempts to drive a wedge Prime Minister Narendra Modi and his home state, which has been governed by the BJP for 22 years, his decision to use a secret council of advisors is based on recent experience in Goa and Punjab where the Congress leader's official aides were supplemented by another similar secret council that helped determine candidates. The Congress won the most seats in both states. The "intel agency"of the Congress works like this, explained the source who is part of it. "Rahul Gandhi handpicks the top tier which then chooses the foot soldiers who conduct low-profile surveys of voters and party workers to identify which candidates are likely to be winning acts. He said that senior Congress leaders - like Gujarat president Bharatsinh Solanki and Ashok Gehlot - are "partially in the know" about the role of the Chhupa Rustoms. If there were full disclosure, he said, "they will drive us out...they will finish us in the womb before we do something. But they are not able to that means they have a message". "Any information can only help the party," said Mr Solanki to NDTV, "they are secret stars to allow them to collect unbiased facts." Whether he's fully in on the secret was unclear - he was unable to explain the exact count of "secret agents" but said they have been brought in "from Maharashtra, from Rajasthan, so it's hard to track details." Sources said there are about 40 Chhupa Rustoms deployed in Gujarat, some of whom are covering upto 14 constituencies. Candidates must be formalised by the 20th of this month, but so far, no names have been released by the Congress, which is why there's a voluptuous crowd of aspirants, CVs in hand, at the party office in Ahmedabad. Earlier, in a power play typical of the Congress' centralized leadership, they would have to travel to Delhi, said contenders. Now, a screening committee of four aides to Rahul Gandhi interview them. Its' not clear how much the committee is influenced by the Chhupa Rustoms; its members didn't want to talk to NDTV. But an aspirant, Chamanji Thakor, who has twice been elected as a law-maker, told NDTV that "the party conducts a survey...who does it is a secret...but we are told it is carried out on the instructions of Rahul Gandhi. It is a top secret affair." Congress sources who work closely with its Vice President said that for years, Mr Gandhi has been trying to create a team of young leaders across India whose motivation is not to run for office themselves but to help the party identify and promote deserving talent and candidates. For all the effort that the Congress is putting into determining its candidates, equally crucial will be its strategy in deciding how to handle those it rejects. As Shankersinh Vaghela proved before quitting the party, it's easy to move disgruntled Congressman towards the BJP -at least six Congress law-makers switched teams at that point, in total 43 stayed loyal. Perhaps the secret ops should focus on uncovering other likely defectors, say some Congress sources wrly.

---
Those Who Were In World Bank Now Question Ranking: PM Narendra Modi Slams Opposition
MMNN:4 November 2017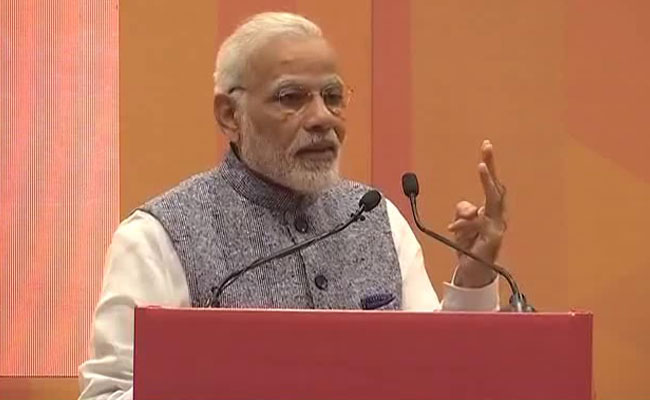 Prime Minister Narendra Modi today took a swipe at the opposition Congress for questioning the country's improved ranking in the World Bank's ease of doing business report, saying those who had worked with the World Bank previously too were raising questioning India's ranking. Speaking at a session on India's business reforms, PM Modi listed the initiatives and reforms that his government had pushed through "in all sectors" that led to an improvement in the ease of doing business ranking from 142 to 100. "But there are some people who cannot understand this... They don't want to work, but are quick to question those who do," PM Modi said at the conference in the presence of World Bank chief executive officer Kristalina Georgieva. "This is not just an ease of business ranking... it is also an ease of living life," PM Modi said at the Pravasi Bhartiya Kendra, responding to the primary criticism from the Congress camp that there was a wide gap between the improvement in rankings and the plight of small businesses. Leading the opposition attack has been Congress vice president Rahul Gandhi who has accused the government's decision last year to ban high value currency notes followed by the Goods and Services Tax of having devastated businesses. "Ask small traders about ease of doing business," Rahul Gandhi has said, describing the two measures as "twin torpedos" that sunk entrepreneurs into losses. The quantum improvement on this ranking means that life has become easier for the common people, the middle class, he said. "Because most of the parameters selected for this ranking are linked to the day-to-day life of people too," PM Modi said, counting efforts to simplify filing tax returns, train reservations and gas bookings as some areas PM Modi said ease of doing business is "critical for small businesses including small manufacturers" that provides the bulk of employment, makes them more competitive and reduces the cost of doing business. He also attempted to blunt the criticism over GST, telling traders that the government had been listening to their concerns with an open mind and was making amends. He announced that the group of finance ministers appointed to smooth out the rough edges had met and "almost all points" flagged by businesses were being "positively addressed". This ranking takes into account reforms initiated only till May-end and does not reflect the impact of the Goods and Services Tax (GST), which was implemented from July 1, he said, confident that India would occupy the pride of place in the ranking when GST and other reforms are also accounted for. World Bank chief Kristalina Georgieva had earlier called India's jump of 30 places in World Bank's ease of doing business ranking as "very rare". "In reforms what pays off is persistence, what we are seeing is extraordinary achievement by India," Ms Georgieva said

---
In Gujarat Election, Why The Role And Influence Of ASHA Workers Matters
MMNN:3 November 2017


VADODARA, GUJARAT: The day before the election for Gujarat was called, the state government announced a 50% raise for ASHA workers in the state, part of an assortment of well-funded schemes introduced quickly to win public favour. Along with the raise, a free sari was promised for the 43,000 women who are trained to provide basic health care in rural areas. ASHA - Accredited Social Health Activists - assist in childbirth, provide first aid, help with vaccinations and educate communities on birth control measures and issues of sanitation as part of the National Rural Health Mission introduced in 2005, which envisaged planting at least one ASHA worker in every village by 2012. For over two years, ASHA workers in Gujarat have been demanding fixed wages, permanent employment with regularized working hours and social security benefits like maternity leave and health insurance. In a state that prides itself on development, prosperity and three terms of Narendra Modi's governance, they say, the basics - education, health, clean drinking water - are far more inadequate here than in states like Tamil Nadu and Kerala. In a sign of their relevance, Rahul Gandhi met with ASHA workers yesterday during his tour of South Gujarat. "Our numbers are not small. Together, we are a formidable vote bank. So the government had to make a token gesture. But they have not addressed a single demand we made," said Tanuja Makwana, an ASHA worker in the Nadiad district of Central Gujarat. ASHA workers are well aware of their influence in the communities they visit, and of their status as government workers. They are also often from families where men work as farmers or are small traders, groups that have been reeling from the impact of the new national sales tax or GST and demonetization. Tanuja points out that ASHA workers are paid for every assignment and are guaranteed no minimum monthly income. In addition, they have to be available around the clock to travel to remote areas. "Presently, for every delivery we are paid Rs. 300 and an additional Rs. 250 for a week of follow-up visits and writing up the delivery report. But this is only if the woman is a BPL card holder (below poverty line); otherwise, we get nothing. For collecting samples for various tests, we get Rs. 15. Our income depends entirely on the number of cases we handle. So when there are fewer cases, we barely earn anything. So how does a 50% hike and a free sari help us?" she asked while giving an insulin shot to a young diabetic patient who has turned up at her house. Each ASHA worker is meant to handle 1,000 people. Very often, she is required to carry out door-to-door visits to check the spread of malaria or a flu. "We spend several days, walking from home to home in the hot sun and in heavy rain, but we are not paid a single paisa for our effort. They make us work for free," said Tanuja. Now in her early 30s, she says that even if spends nearly every day of the month in the field, she barely makes Rs. 2,500 a month despite nine years of experience. "I should be earning at least Rs. 10,000," she says. "The same work is twice as difficult for ASHAs covering Adivasi dominated districts where the terrain is hostile and the infrastructure is limited", says Meena Rathwa, who is based in Chhota Udaipur in South Gujarat, which has a large tribal population. "Often, the distance between one hamlet and the next is several kilometres. We have to make our own transport arrangements and sometimes spend the night in the village. But we have to pay for all these expenses. The government does not reimburse us." That's one reason why the epicenter of the two-year long protest by the ASHAs has been Vadodara with its proximity to the Adivasi belt of South Gujarat. Their peaceful struggle turned aggressive in recent days with members heckling and chasing senior government officials and national and state law-makers from the area. The conflict escalated when a few women leaders were arrested for allegedly throwing bangles at the motorcade of Prime Minister Narendra Modi when he campaigned in Vadodara last month. The ruling BJP has accused the ASHAs of upping the ante at the urging of the Congress before the election. It's a charge they deny. "They are undermining our battle for survival", said Meena. "We are sensitive to their demands and in fact have made announcements recently increasing there wages. As far as the government is concerned, they are satisfied with our response; only a handful could be protesting for reasons best known to them," said Deputy Chief Minister Nitin Patel. Congress workers allege that it is in the vacuum created by Mr Modi's departure for Delhi that protests have begun to take shape and erupt - among farmers, health care workers, the Patels who want affirmative action policies. The Gujarat government has been reducing its spend on health care; in the last three years, it has fallen from 5.6 percent of the state's budget to barely 5%. Of this, barely a third was allocated to rural healthcare, with the bulk reserved for urban areas. The neglect shows, particularly in villages. The Infant Mortality Rate (IMR) of Gujarat, an economic powerhouse, is 35 per 1,000 births; Kerala's is 10. In rural areas of Gujarat, the IMR is 43, nearly double that of urban areas. Similarly, the state registered a Maternal Mortality Rate of 112 per I lakh deliveries as compared to 68 in neighbouring Maharashtra. One reason for these poor figures is an acute shortage of government doctors in Gujarat. More than half the sanctioned posts of 1,500 doctors in primary health centres located in rural areas are vacant. More shockingly, for a state that prides itself on world class infrastructure, the National Rural Health Mission Data for 2015-16 reveals a shortfall of 12 district and 5 sub-district hospitals, 36 community health centres, 113 primary and 20 sub- primary health centres. For its public health schemes to start taking effect, the salaries of frontline workers like ASHAs and anganwadi workers, who staff women and child care centres in rural areas, has to be improved. Earlier this year, about 1.5 lakh anganwadi workers in Gujarat went on a 3-day strike demanding Rs. 4,000 a month. An anganwadi worker is paid Rs. 3,000 in Gujarat making it the 14th lowest-paying state, while states like Haryana and Tamil Nadu pay them between Rs. 8,000 - 10,000 a month. These issues don't decide a voter's preference of party or candidate. But ASHAs and others like them hope to raise awareness of how their low wages create a cycle of negligence

---
Setback For Arvind Kejriwal As Court Says Delhi Needs Lt Governor's Nod
MMNN:2 November 2017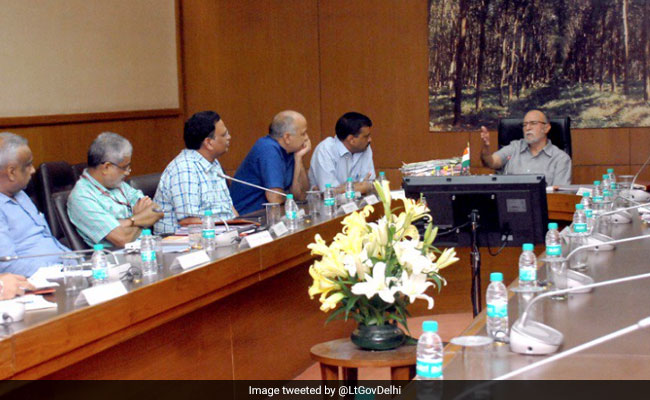 NEW DELHI: The Aam Aadmi Party government in Delhi needs the Lieutenant Governor's nod to govern the national capital but the city's administrative head cannot sit on files beyond a reasonable period, a top bench of the Supreme Court observed on Wednesday. The observation came on a petition by the AAP government against a court verdict that held the Lieutenant Governor was the national capital's boss. During the day, senior lawyer Gopal Subramaniam, representing the AAP government, told a five-judge bench that "an elected government cannot be without any power".

---
Hit A Button On Your Phone, And A Chinese Youth Gets A Job: Rahul Gandhi
MMNN:1 November 2017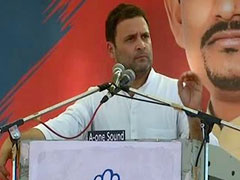 The morning after India was recognised for vast self-improvement making it an easier place to do business, Congress leader Rahul Gandhi said that "it is just a handful of businessmen who have found the going easier" as he accused Prime Minister Narendra Modi of encouraging crony capitalism and failing to create jobs. Mr Gandhi's criticism was made at a public meeting in Gujarat, where he is leading his party's campaign for December's election in Prime Minister Narendra Modi's home state. He reiterated his criticism of the new national sales tax or GST, reminding his audience in Jambusar, "I have called it the Gabbar Singh Tax". Gabbar Singh is one of India's best-known fictional villains from the blockbuster movie "Sholay". Yesterday, the World Bank said that India has improved its ranking by 30 places and is 100th out of 190 countries for doing business. Mr Gandhi said that the PM and his administration are congratulating themselves over an assessment by "foreigners and not by our poor." "Ask small traders about ease of doing business," he said, alleging that GST and demonetisation - described by him in an earlier speech as "twin torpedos" - have sunk entrepreneurs into losses. In retort, Finance Minister Arun Jaitley tweeted that the difference between this government and its predecessor, which was led by Mr Gandhi's party, is "The ease of doing corruption has been replaced by the ease of doing business" India was ranked 142 for ease of doing business during PM Modi's first year in office in 2014. He has declared a target to place India among top 50 and in the last two years has attracted record foreign direct investment. The new ranking of 100 "indicates India's endeavour to further strengthen its position as a preferred place to do business globally," Annette Dixon, World Bank vice-president for South Asia, said at a media conference in New Delhi. India's economic growth slid to a three-year low of 5.7% in the last quarter, the result in part of PM Modi's sudden ban of high-denomination notes a year ago and this July's hurried rollout of the GST. The World Bank rankings didn't take into account impact of demonetisation and the goods and services tax, reported Bloomberg. The BJP has governed Gujarat for 22 years and its campaign is being fronted by PM Modi, who in his speeches emphasizes that GST and the notes ban are key structural reforms that will increase transparency, reduce prices through increased competition, and further economic growth while checking black money and corruption The "transitory" disruptive effects of both reforms are over and India's economic growth will see a "sizable turnaround" when September quarter numbers are out next month, Economic Affairs Secretary Subhash Garg said in an interview recently to Bloomberg. 65% of Gujarat's' population is younger than 35, so concerns over unemployment run high and this election has been overtaken by a tug-of-war between different castes demanding affirmative action policies that would entitle them to government jobs and seats in state-run colleges. Mr Gandhi said that in comparison to China, where "50,000 jobs are provided by the government for the youth every day, in India, only 450 people get jobs every 24 hours". This, he alleged, exhibits the failure of the PM's "Make In India" initiative to promote manufacturing. "Just take you phones and see the back... does it say 'Made in India'? No. It says 'Made in China'. Every time you click a button on your phone, a youth in China is getting a job," he said. Gujarat votes on December 9 and 14; results will be counted on December 18

---
President Ram Nath Kovind And Vice President M Venkaiah Naidu Pay Tributes To Sardar Patel
MMNN:31 October 2017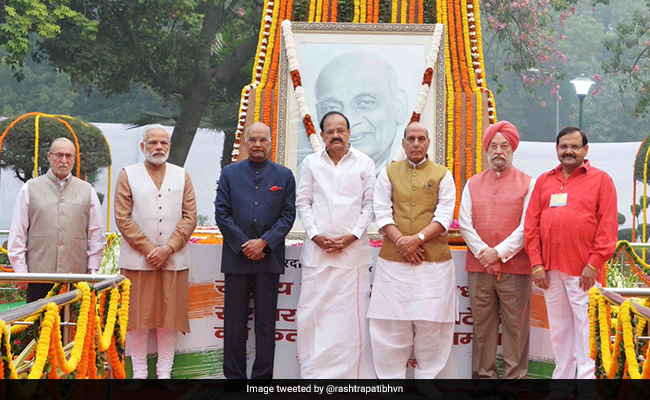 NEW DELHI: President Ram Nath Kovind and Vice President M Venkaiah Naidu today paid tributes to Sardar Vallabhbhai Patel on his 142nd birth anniversary. President Kovind remembered Sardar Patel as "India's Man of Iron, of Integrity and of Integration" in the tweet he posted after paying floral tribute at Patel Chowk. Mr Naidu too, paid floral tribute to Sardar Patel, who is credited for the ensuring integration of the nation post Independence. Born on October 31, 1875 in Nadiad, a small village in Gujarat, Sardar Patel became the first Deputy Prime Minister of India. He died on December 15, 1950. Popularly known as the 'Iron Man' of India, Sardar Patel was conferred with the highest civilian honour, Bharat Ratna, in 1991 for his services to the nation.

---
Bring Hadiya Here: Supreme Court To Father In Kerala 'Love Jihad' Case
MMNN:30 October 2017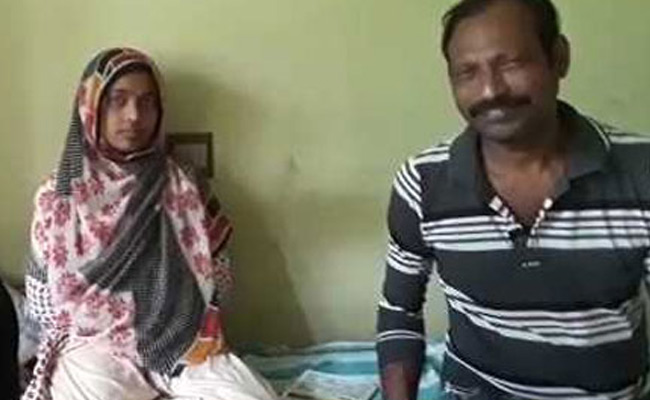 Hadiya is 24 years old, her consent as an adult is "prime" and her version of how and why she married a Muslim man in Kerala last year will be heard on November 27, the Supreme Court today as it examined the landmark "love jihad" case that has become the subject of an investigation by the country's top counter-terror agency. Her testimony next month will be made in open court, judges said today, which means the hearing can be attended by the public. 24-year-old Akhila Ashokan took the name Hadiya after converting to Islam, married a Muslim man she met on an Islamist matrimonial site, and was then taken to court by her father, who alleged that the marriage was a form of recruitment by ISIS that is gaining currency in Kerala. In May, the Kerala High Court annulled Hadiya's marriage and ordered her to return to live with her parents in the Kottayam district. Her husband, Shafin Jehan, has appealed against the annulment as well as the sanction given in August by the Supreme Court to the National Investigating Agency to determine if his marriage is part of an emerging pattern which sees vulnerable Hindu women being lured by Muslim men who are agents of terrorist groups including ISIS. "Get me out of here. Today or tomorrow, I am going to die. I am sure about this. My father is getting angry, I can make out. He pushes me," Hadiya said in a video released last week by an activist who met her family and her in August. Akilha's father, Ashokan KM, has denied his daughter's allegations. The activist Rahul Easwar, says he will submit his recording to the Supreme Court. "While I am a Hindu activist, I believe Hadiya's voice must also be heard," Mr Eashwar told NDTV. The National Investigating Agency or NIA told judges today that it has evidence of nearly 90 "similar cases" of indoctrination and radicalization in Kerala, according to news agency Press Trust of India. The Kerala government earlier this month told the Supreme Court that its police had conducted a "thorough investigation" into Hadiya's conversion and marriage and did not find any merit for the involvement of the NIA.

---
Ahead Of Rahul Gandhi's Visit, Hardik Patel Sets A Deadline For Congress
MMNN:28 October 2017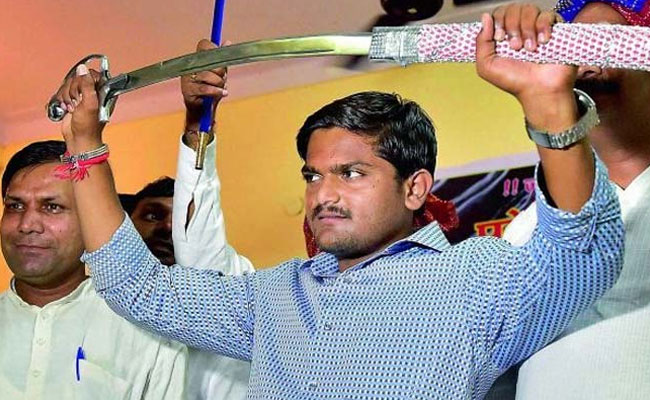 Hardik Patel, the 24-year-old face of the Patidar community's campaign for reservation that has locked horns with the ruling BJP in Gujarat, seems to be playing hardball with the Congress over his support to the party for the state elections to be held in December. A day after Congress sources indicated that Mr Patel would share the stage with Congress Vice President Rahul Gandhi during his visit to Surat on November 3, he tweeted that the party must first come out with a clear stand on the reservation issue. "If the party doesn't not clear its stand on the issue by November 3, it could face the same fate as Amit Shah did during his rally in Surat," tweeted Mr Patel. BJP chief Amit Shah's meeting with leaders of the Patidar community in Surat last month descended into chaos as supporters of Mr Patel went on a rampage, chanting his name and vandalizing the furniture. Though the Congress party has openly expressed its support to the Patidar leader in the past, it is yet to make its stand clear on a separate reservation quota for the community. A separate quota for the Patels in government jobs and colleges could take the reservation percentage beyond the 50 per cent currently allowed by a Supreme Court ruling. The Congress party has still to react to Mr Patel's threat. Mr Patel has been indirectly expressing his backhanded support to the Congress party, making announcements at recently rally like: "If you have to bring down a maha chor (mega thief) it doesn't matter if a chor (thief) is helped". The BJP on its part has been alleging that Mr Patel was nothing but a B-Team of the Congress. A CCTV clip leaked by the Gujarat Police had shown how despite vehemently denying to do so, Mr Patel did apparently meet Rahul Gandhi in a city five star hotel. Both Mr Patel and the Congress have denied any such meeting

---
Decide On Alliance,' Devendra Fadnavis Tells Shiv Sena After New Attack
MMNN:27 October 2017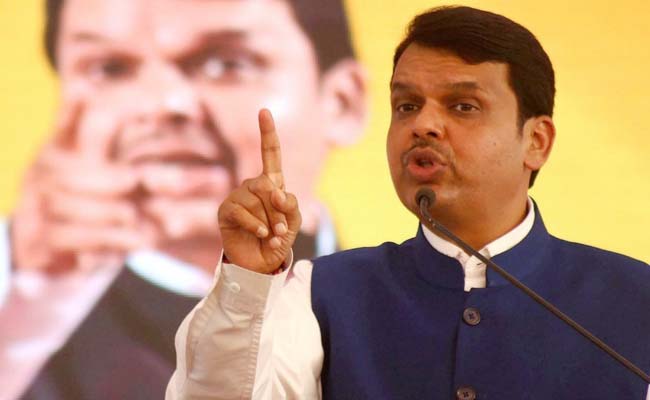 MUMBAI: Maharashtra Chief Minister Devendra Fadnavis has warned partner Shiv Sena that its "dual stand" will not wash and that its chief Uddhav Thackeray must decide if he wants to continue the alliance with the BJP. "The Sena opposes all our decisions. They can give their suggestions, but cannot simultaneously play the roles of a ruling party and an opposition at the same time," Mr Fadnavis said at a function, even as the Sena's Sanjay Raut delivered another set of jibes at the BJP, asserting that the "Modi wave has faded". The Chief Minister said, "As a party, Uddhav-ji has to decide. People do not like the picture they are portraying. Balasaheb (Sena founder and Uddhav's father Bal Thackeray) never saw every decision with negativity, neither does Uddhav-ji. But some of his leaders think they are bigger than the party chief and make statements." Sanjay Raut was participating in television discussion when he also declared that Rahul Gandhi is now capable of leading the country. "People want to hear what he is saying...It is wrong to call him 'Pappu'," the Sena lawmaker said, referring to a name used by BJP supporters to mock Mr Gandhi. "The biggest political power in this country is the people... the voters. They can make a Pappu of anyone," Mr Raut added in an apparent dig at the BJP. The Shiv Sena has not always been kind to Rahul Gandhi, who is expected to take over as Congress president from his mother Sonia Gandhi soon. Just two years ago, the party had said that "even 100 Rahul Gandhis cannot match Prime Minister Narendra Modi's 'mega wave'". But the BJP-Shiv Sena relationship has gone steadily downhill since, with a splenetic Sena now taking regular pot shots at PM Modi and his party and threatening to dismantle their alliance, though it has not done so yet. A break-up will mean that the Devendra Fadnavis government will be in a minority in Maharashtra and will have to take the support of Sharad Pawar's Nationalist Congress Party (NCP). Mr Fadnavis said given a choice, he would choose to work with the Shiv Sena as the two parties have been together for 25 years and have the same ideology. "But I will give Pawar credit for one thing. He never opposes beyond a certain point when it comes to development. He is never against development," Mr Fadnavis said, again asserting, "but our differences with the NCP will continue". On comparisons with Prime Minister Narendra Modi, the young chief minister said, "It is difficult for me to become Modi, he being a great communicator, a master administrator who has changed the country and the way politics is done. However, he should be the role model for every chief minister

---
Rajnath Singh, In Meet With Mehbooba Mufti, Asks About Jobs For Pandits
MMNN:26 October 2017


AGRA: At their first meeting after former intelligence chief Dineshwar Sharma's appointment as the centre's interlocutor for Kashmir, Chief Minister Mehbooba Mufti and Home Minister Rajnath Singh today discussed how the take the initiative forward. They also reviewed the implementation of a special package for the state. One of the key issues that Mr Singh flagged at the 60-minute meeting was the delay in rehabilitation of Kashmiri Pandits, particularly jobs for them in the Kashmir Valley. A senior government official said the Home Minister was particularly concerned about a delay in offering Kashmiri Pandits jobs that they had been promised. The government had earlier announced setting aside 6,000 jobs for the Hindu community in Kashmir who were driven out of the Valley by terrorists. But the Jammu and Kashmir government had reported to the centre that only 3,000 jobs have been given. Ms Mufti has promised to restart making the appointments for the remaining appointments that had been held up due to "legal issues". Prime Minister Narendra Modi had announced a 80,000 crores package for the state in 2015. In two years, the government has sanctioned projects totalling 78 per cent of this package and 28 per cent money has also been disbursed. Much of their 20-minute one-on-one meeting that followed the official meeting focused on the steps needed at the government and political level to consolidate the gains expected to accrue due to the centre's outreach attempt that the opposition Congress has called a "publicity exercise". Following up on the initiative, Ms Mufti yesterday told the state police to stop retaliatory attacks on families of terrorists, prefer surrender of terrorists over killing them and follow the law themselves before enforcing it among people. "You will have to follow the law and not compete with militants by doing what they do," she told them. Interlocutor Dineshwar Sharma and Army Chief General Bipin Rawat have, separately, made it clear that the appointment of an interlocutor to engage in dialogue with stakeholders in Jammu and Kashmir would neither impact the Army operations nor the crackdown on terror funding by the National Investigation Agency.

---
Hizbul Chief Syed Salahuddin's Son, Who Is Government Employee, Arrested
MMNN:24 October 2017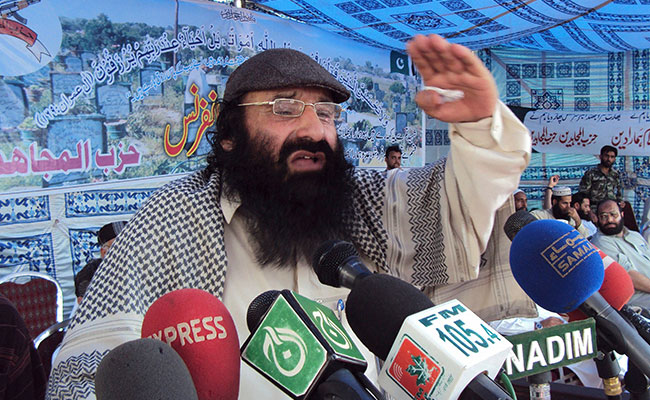 Syed Shahid Yousuf, the son of terror group Hizbul Mujahideen's chief Syed Salahuddin, has been arrested in Jammu and Kashmir by the National Investigation Agency (NIA) in a 2011 terror funding case. Yousuf, 42, works in the state government as a village agriculture assistant and has a family home in Budgam. "He was summoned for questioning to Delhi on Tuesday after initial rounds his role was conclusively established in the case and so we arrested him," NIA spokesperson Alok Mittal told NDTV. The case involves funding through hawala channels by terrorists based in Pakistan and Saudi Arabia. According to the top anti-terror agency, Yousuf was in touch with Saudi Arabia-based Hizbul Mujahideen terrorist Aijaz Ahmad Bhat and had received money to fund secessionist and terror activities in the Kashmir Valley. Sources say Yousuf accepted money transferred through Western Union by Aijaz, who is on the run, and investigators have documents from Saudi Arabia and India confirming the transfers. The money allegedly meant to fund the Hizbul Mujahideen's terror activities in Jammu and Kashmir, was sent in four instalments to Yousuf between 2011 and 2014. The NIA also has call records of multiple conversations between Aijaz and Yousuf. "We have all the documents on money transfers as well as call details. It is on the basis of this irrefutable evidence that we have gone ahead with Yusuf's arrest," said a senior officer. Four accused in the case are in Delhi's Tihar jail while two are missing. The case had been dormant after the four arrests. The NIA revived the investigations recently and questioned Yousuf a few days ago. Yesterday, the central government announced a new interlocutor, former Intelligence Bureau chief Dineshwar Sharma, for a "sustained dialogue" with all stakeholders in Jammu and Kashmir. Yousuf's arrest is a clear sign that the centre does not plan to go slow on its crackdown on separatist leaders. Syed Salahuddin was in June declared a Specially Designated Global Terrorist by the US Department of State.

---
Centre To Start New Dialogue In Jammu And Kashmir Led By Ex-Intel Chief
MMNN:23 October 2017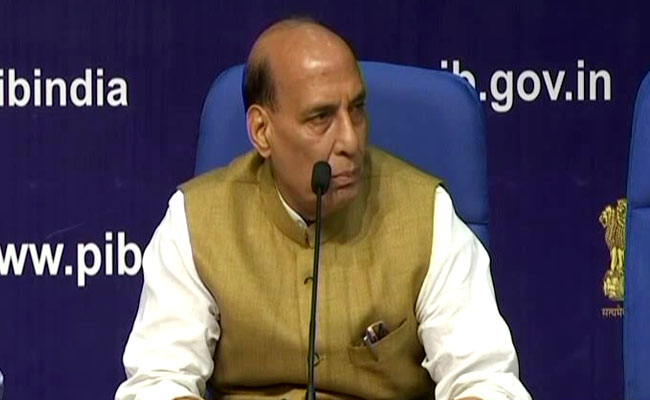 NEW DELHI: Dineshwar Sharma, a former intelligence bureau chief has been appointed by the NDA government as its interlocutor for Jammu and Kashmir, Home Minister Rajnath Singh announced on Monday, declaring that the retired officer would have "complete freedom" to talk to all groups and individuals" including Kashmiri separatists. "There is no bar on him to talk to one group and not another... We want to understand aspirations of people of Jammu and Kashmir," the minister said. This is the first concrete attempt by the NDA government in three years to reach out to Kashmiris and comes after a particularly-focussed offensive by security agencies anchored from Delhi to crack down on foreign funding for separatists. In Srinagar, police and army teams have taken out dozens of local commanders of terrorist groups active in the Kashmir Valley. It also addresses recurring criticism of the central government's approach in handling the problems in Kashmir from the prism of security operations without a matching political outreach. At the government's meetings with political parties, the Union Home Minister said, there had been suggestions that the government from across the political spectrum that there should be dialogue. In 2010, the Manmohan Singh government too had appointed a group of three interlocutors led by eminent journalist Dilip Padgaonkar who had given their final report in two years. But most of their recommendations were not accepted. Asked if the government really needed another report, the Home Minister didn't refer to the initiative by the UPA but underlined that the Modi government's policy and intentions were clear: "To understand aspirations of Jammu and Kashmir and the problems that people are facing, how they can be resolved and the challenges". He also explained the government's decision to go for the intelligence chief as its interlocutor, saying the centre wanted someone who did not have any political affiliations as he would be most-suited to reach out all individuals and organisations concerned

---
Taj Mahal A Hindu Temple Called Tejo Mahal: BJP Lawmaker Vinay Katiyar
MMNN:18 October 2017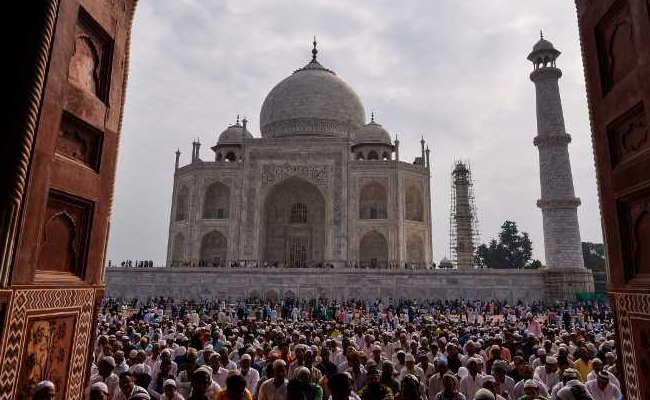 LUCKNOW: The Taj Mahal is originally a Hindu temple and should be renamed as "Tejo Mahal", BJP parliamentarian Vinay Katiyar has said, asserting that a temple was destroyed to build the world-renowned marble monument. "Taj Mahal is a Hindu temple. There are many symbols of Hindu gods and goddesses in Taj. It was known as Tejo Mahal and water used to drip from its ceiling but that was removed from there,"Mr Katiyar, a Rajya Sabha member, today said. The BJP leader went on to buttress his theory on the 17th century mausoleum and said Chief Minister Yogi Adityanath "should go into the Taj Mahal and should see the Hindu signs inside it". "If this was only a grave then why are so many rooms built here? There is no need to demolish any structure anywhere. Its name should be changed to Tejo Mahal...The British did not demolish our structures but the Mughals did,"Mr Katiyar said. His remarks add another facet to the controversy over the Mughal-built monument, which was recently left out of an Uttar Pradesh government tourism brochure. Chief Minister Yogi Adityanath will travel to Agra to visit the Taj Mahal next week for damage control after a legislator of the BJP, Sangeet Som, supported the shocking omission in the tourism booklet and described the Taj Mahal as "blot on Indian culture", a monument built by traitors and a symbol of slavery. Sangeet Som, one of the politician accused of inciting riots in 2013 in Muzaffarnagar, also said Mughal history should be erased. Yogi Adityanath, who had months ago commented that the Taj did not represent Indian culture, said yesterday that the monument was built by the blood and sweat of Indian workers and "it does not matter who built it

---
Prime Minister Narendra Modi Promises Ayurveda Hospital In Every District
MMNN:17 October 2017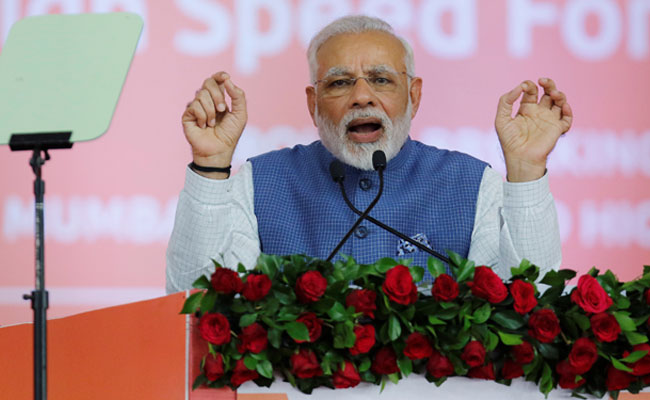 NEW DELHI: Underscoring the importance of Ayurveda, Prime Minister Narendra Modi today said time has come for a "health revolution" led by the traditional medicine system and pitched for affordable and accessible healthcare. Addressing a gathering after dedicating the country's first All India Institute of Ayurveda to the nation, the prime minister noted that the world is heading "back to nature and wellness". Marking 'Ayurveda Divas' today, he described the medicine system as India's strength and urged those working in the sector to revive it. He also asked experts from the field to find medicines which can, like allopathy, give immediate relief to people but without side-effects. The prime minister also urged private players to use part of their corporate social responsibility funds to help strengthen Ayurveda "We have seen the IT revolution in last 30 years. Now, time has come for a health revolution under the aegis of Ayurveda. Let's pledge to strengthen, revive Ayurveda," PM Modi said. Listing steps being taken by his government to revive and strengthen the system, PM Modi said Ayurveda-related hospitals should be set up in each district of the country. He said the Ayush Ministry would ensure that there was a good Ayurveda hospital in each district. Noting that people across the world were getting attracted towards good health as well as wellness, the prime minister suggested that time was ripe for an atmosphere of Ayurveda to evolve. He said there was need for a relook of the Ayurveda syllabus and underlined the requirement for standard guidelines and treatment in the medicine system so it is not overpowered by Allopathy. The government, PM Modi added, respects all health and medicine systems. He said the Ministries of Ayush and Agriculture can guide farmers to sow medicinal plants. This will also help farmers boost their income in line with the government's plan to double their income by 2022, when India attains 75 years of independence.

---
Narendra Modi Bihar Visit LIVE: PM Attends Patna University Function, Will Launch Projects Worth Rs. 5,000 Crore
MMNN:14 October 2017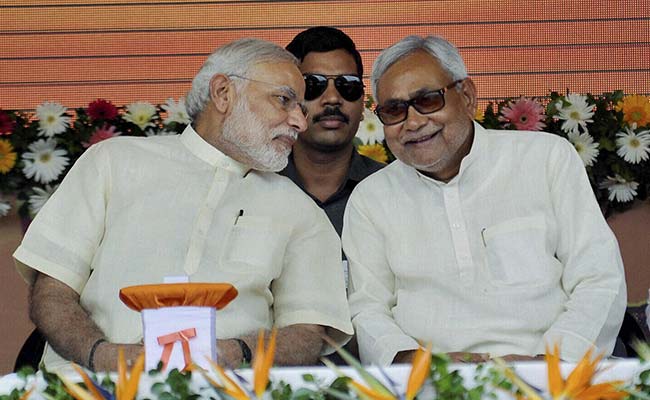 PATNA: Prime Minister Narendra Modi is in Bihar today to launch and attend the centenary celebrations of Patna University. The country's seventh oldest university, standing on the banks of the river Ganga, completed 100 glorious years on October 1 and the administration held a simple function to mark the historic occasion. PM Modi will also launch projects worth Rs. 5,000 crore including a bridge across the Ganga which costs about 1,200 crores. Soon after the celebrations, PM Modi will head to Mokama, about 96 km from Patna, to launch about half-a-dozen schemes including projects under the 'Namami Gange' programme. It will also be the first time since Chief Minister Nitish Kumar's exit from the Mahagathbandhan in Bihar and return to the NDA, that he will share the stage with Prime Minister Narendra Modi in Bihar.
PM Narendra Modi's Speech At Patna University For Its Centenary Celebrations
Here are the highlights of PM Modi's speech at Patna University: Nitish Kumar's dedication and commitment towards to progress of Bihar is commendable. Bihar has the capability to be one of the most developed states in India If the people of Bihar decide to put an effort and work towards it. Bihar has the blessing of goddess Saraswati... it can also get the blessings of goddess Lakshmi if it works towards it... Patna has contributed to knowledge and the civil services for many years. It should now move towards wealth creation and innovation. I am sure this won't be a difficult task for the people of Bihar, who have given us some of India's brightest minds. Today, we cannot imagine that at least one in the top five posts in India isn't an alumni of this grand institution. The seed of education was sowed in Patna a century ago... It has created this iconic institution. Technology is changing the way of life... It is giving a new meaning to the way we live... It is important we embrace it. Sometimes we are rigid and not open to change, but the key to success in life is to learn, unlearn and then relearn. We must look at any situation and any circumstance with an open mind... Universities today must work towards helping students have an open mind... Being rigid only hampers growth and slows us down. Someone told me during a visit to a village once that when we were young we used to play with snakes, but today's children are playing with the mouse (computer)... Times are changing. Technology should be made available to the poorest of the poor and should be user-friendly. India already ranks fourth among all nations in terms of startups... The time is not far when India will rank number one in the world. Another area of utmost importance to Bihar, and India at large is skill development. 12:17 (IST) Soon after the celebrations, PM Modi will head to Mokama, about 96 km from Patna, to launch about half-a-dozen schemes including projects worth 5,000 crores including a bridge across the Ganga under the Namami Gange Programme which costs about 1,200 crores. The four national highway projects for which foundation stones will be laid include four-laning of Aunta-Simariya section of NH-31 and construction of six-lane Ganga Setu. The other three projects are four-laning of Bakhtiyarpur-Mokama section of NH-31, two-lane construction of Maheshkhunt-Saharsa-Purnea section of NH-107 and two-lane construction of Biharsharif-Barbigha-Mokama section of NH-82. 12:16 (IST) PM Modi will launch a special centenary souvenir. The management is hopeful that PM's visit will allow them to request for central university status for the Patna University. 12:11 (IST) Vice-Chancellor Ras Bihari Prasad Singh had also invited the former finance minister, who graduated from the institution with a degree in political science and also taught here, but Mr Sinha has not indicated whether he will attend. The Vice Chancellor said that even if Mr Sinha attends the function, he may not be seated near the PM whose office and security clear all arrangements including seating plans for the stage. 12:10 (IST) But today while welcoming PM Modi to "his Patna University", the former actor tweeted, "...even I got an invitaion, alas very late and with a very short notice...delayed by the 'more loyal than the King's people' involved in the affair. So, though 'Muhabbat Karne waale kam na honge...Teri mehfil mein lekin hum na honge'. However, my best wishes." 12:09 (IST) PM Narendra Modi is attending the centenary celebrations of Patna University. The country's seventh oldest university. Governor Satya Pal Malik, Chief Minister Nitish Kumar, Deputy Chief Minister Sushil Kumar Modi, Lok Janshakti Party president Ram Vilas Paswan and Union minister Ravi Shankar Prasad also participate in the celebrations. The university's famous alumni and BJP leaders-turned-critics Shatrughan Sinha and Yashwant Sinha, however, might not attend the event. Lawmaker from Bihar Shatrughan Sinha had told ndtv.com that he had not been invited to attend the celebrations. The actor-turned-politician, who is "very emotionally attached to my alma mater", said, "I'm pained over being denied invitation on such an occasion." 12:03 (IST) PM Narendra Modi and Bihar Chief Minister Nitish Kumar will attend Patna University's centenary celebrations following which they will travel to Mokama where the Prime Minister will launch several projects. 12:02 (IST) As Prime Minister Narendra Modi arrived at the Patna airport for his day-long visit to the state, Chief Minister Nitish Kumar welcomed him with a red rose. The two leaders are meeting in Bihar for the first time since JD(U)'s exit from the Mahagathbandhan and return to the NDA fold. Soon after they shook hands, PM Modi expressed his desire to visit the newly opened Bihar Museum, to which Mr Kumar said, "why not". Governor Satya Pal Malik presented him a book in line with directions that no bouquet be presented to the PM during his tours in India. Soon after the celebrations, PM Modi will head to Mokama, about 96 km from Patna, to launch about half-a-dozen schemes including projects under the 'Namami Gange' programme. It will also be the first time since Chief Minister Nitish Kumar's exit from the Mahagathbandhan in Bihar and return to the NDA, that he will share the stage with Prime Minister Narendra Modi in Bihar. 12:00 (IST) Prime Minister Narendra Modi is in Bihar today to launch and attend the centenary celebrations of Patna University. The country's seventh oldest university, standing on the banks of the river Ganga, completed 100 glorious years on October 1 and the administration held a simple function to mark the historic occasion. PM Modi will also launch projects worth Rs. 5,000 crore including a bridge across the Ganga which costs about 1,200 crores.

---
Have Documents? Go To Court': Amit Shah Rejects Allegations Against Son Jay Shah
MMNN:13 October 2017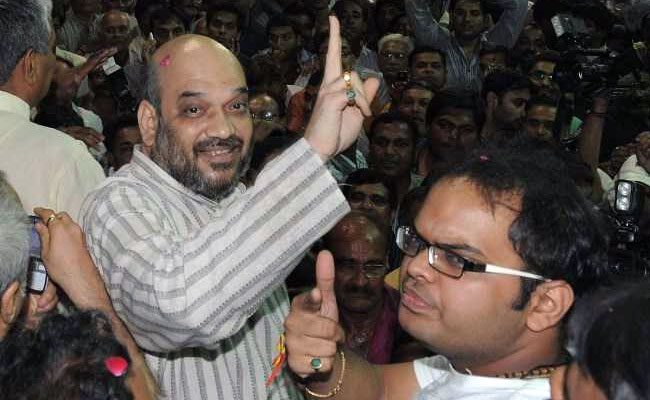 Amit Shah today responded to allegations that his son Jay Shah, an entrepreneur, enjoyed a big upswing in his business after the BJP came to power in 2014. The question of corruption does not arise, the BJP chief told the news channel Aaj Tak. "If you have documents to prove your allegations, bring them to court," Mr Shah said, emphasizing that none of his son's companies "did even one rupee worth of business" with the government or "received kickbacks like in the case of Bofors". Jay Shah has sued news website The Wire for 100 crores for reporting that his firm's revenues escalated by 16,000 times after the BJP came to power. The report also questioned allegedly unsecured loans given to Jay Shah's firms, including from a state-run firm that reports to the Power Ministry. NDTV cannot independently verify the allegations, which, according to the Congress, is an "excellent example" of crony capitalism. "Please understand this is not corruption. Many allegations of corruption were made against the Congress. Did it ever file a civil suit or defamation suit? No. Why they lacked such courage? Today Jay has filed a defamation as well as civil suit and is demanding a probe himself," Mr Shah stressed, responding to questions. He added: "The business was of commodity trade which is a high value low profit venture. If a company's turnover becomes Rs. 1 crore, its profit does not become Rs. 1 crore...It is unfair to say there was an over 16,000 times jump in profit...say what the turnover was...It makes it seem like the turnover was huge but it wasn't." The BJP president also said after achieving a turnover of Rs. 80 crore, his son's company suffered a loss of Rs. 1.5 crore. "All the payments were made through cheques. There is no question of money laundering." The loans, he said, were not unsecured but a line of credit. On Thursday, the BJP's ideological mentor Rashtriya Swayamsevak Sangh (RSS) said there must be enough evidence for the allegations to be worth investigating.

---
Talwars Acquitted Of Daughter Aarushi's Murder By Allahabad High Court: 10 Points
MMNN:12 October 2017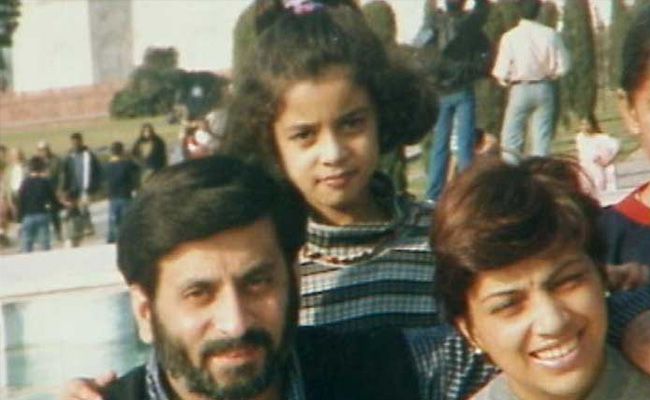 ALLAHABAD: Dentist couple Nupur and Rajesh Talwar are innocent of killing their teen daughter Aarushi and domestic help Hemraj in 2008, the Allahabad High Court said today, stressing that it was giving them the benefit of the doubt. Aarushi, 13, was found dead in her bedroom; Hemraj was the main suspect till his body was found hours later on the roof of the Talwar home in Noida. The CBI has said it will study today's verdict before deciding whether to appeal against the Talwars' acquittal.
Here are the 10 latest developments in this big story:
1- The judges today said that the CBI had been unable to prove the Talwars' guilt. "There is no irresistible conclusion that accused did the murders," they said.
2-The Talwars were in jail in Dasna in Uttar Pradesh when they were acquitted. A jail official said that they had been anxious this morning and were happy to hear of the verdict. "They said they got justice," he told NDTV.
3-Aarushi Talwar was found with her throat slit in her bed, just days before she turned 14. Their live-in help Hemraj was discovered dead the next day on the terrace of the apartment building in Noida.
4-The case was mishandled by the Noida police and after lapses that included reporters to trample all over the scene of the crime, it was transferred to the CBI.
5-The Talwars were arrested in 2013; in 2015, a court found them guilty and sentenced them to life in prison. The CBI wanted the death penalty.
6-That conviction came after the CBI said it wanted to close the case as an unsolved mystery; the agency said it believed Rajesh Talwar was guilty, but did not have the evidence to prove it. That statement was seen by many legal experts as irresponsible. But the CBI was told to continue its probe.
7-AP Singh, who then headed the CBI, told NDTV today, "There were loopholes in our investigation, that's why we had closed the case saying it was inconclusive." He said today's verdict "does not say that the Talwars didn't do it" but that there's not enough evidence against them.
8-The court that convicted the couple accepted circumstantial evidence offered by the CBI. Investigators said the double murder was an inside job because the apartment had not been broken into and that the "last seen" principle indicts the Talwars because the victims were in their presence before they were killed.
9-The police had alleged that the Talwars were furious after finding their daughter in a compromising position with Hemraj, but offered no evidence to substantiate this premise.
10-The Talwars have described their portrayal in the media as a witch-hunt and have repeatedly offered to assist the investigation.

---
RSS worker attacked, bombs hurled at BJP office in Kannur district
MMNN:11 October 2017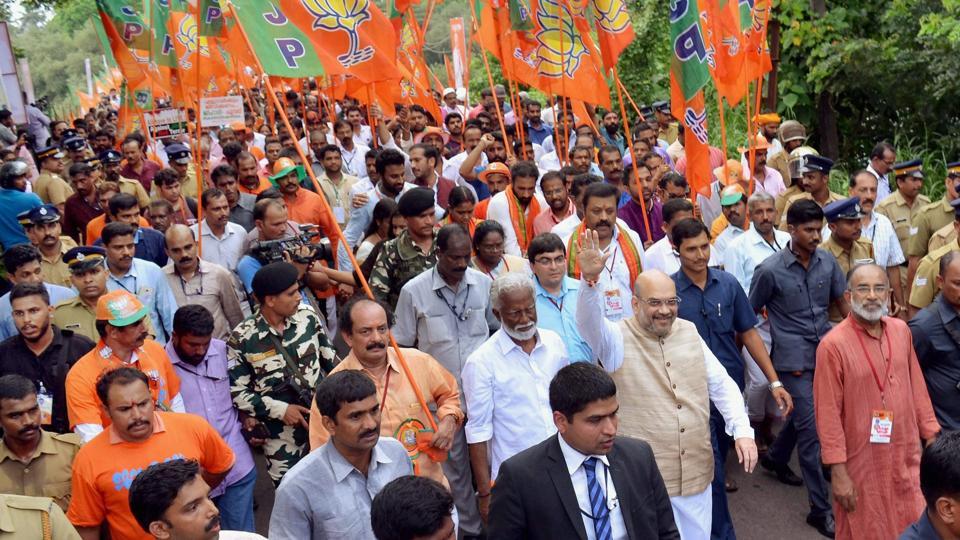 A 36-year-old RSS activist was injured in an attack, while bombs were hurled at BJP office in separate incidents of violence in the district, the police said on Wednesday. The activist KM Suresh, an auto driver by profession, was injured in the knee when some unidentified persons attacked him at Thalassery Tuesday evening. He has been admitted to a hospital here and his condition is stated to be serious, they said. A case has been registered against unknown assailants, police said, adding, they suspect it to be a fallout of political rivalry. Police had recovered some swords, knives and iron rods near the BJP district committee office here Tuesday. In the other incident, police said bombs were hurled at the BJP party office at Patyam around 12.30 am today but no one was injured. Some furniture was damaged in the attack, police said. A complaint has been received from BJP area committee president K Ajeesh and a case has been registered, they said. The incidents come two days after a hartal was observed at Panur in the district on October 9 by CPI (M) to protest the crude bomb attack on its workers allegedly by RSS men. As many as 14 persons, including four police personnel, were injured in the attack on Sunday during a procession taken out by CPI(M) activists at Kaivellikal. The BJP had on October 3 launched its 'Jana Raksha Yatra' from Kannur to highlight "Left's atrocities" in the state. Addressing the Delhi leg of the yatra' on Sunday, BJP chief Amit Shah had slammed Kerala Chief Minister Pinarayi Vijayan, alleging that the maximum killings of BJP and RSS workers have taken place in the latter's home district of Kannur.

---
Huge 2014 Defeat Knocked Sense Into Us, Admits Rahul Gandhi
MMNN:10 October 2017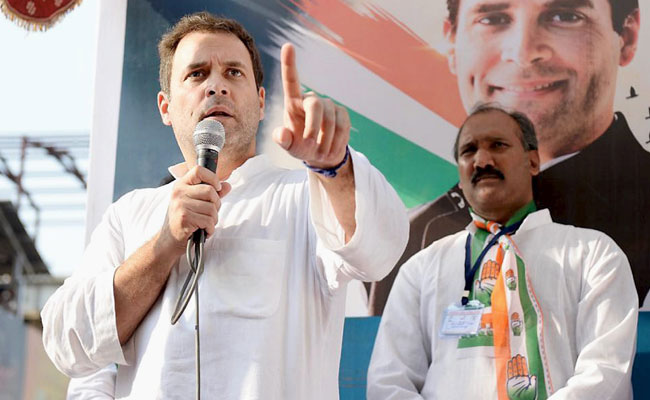 NEW DELHI: On his campaign tour in Gujarat, Rahul Gandhi explained today that a humiliating defeat at the hands of the BJP in the 2014 national election helped him "a lot". The brief concession stood out as Mr Gandhi took generous digs at the ruling party and the Jay Shah controversy on Prime Minister Narendra Modi's home turf. "The BJP helped me a lot. They have really helped me. We lost 2014 but the defeat could not have helped us more. Itni buri tarah haraya ki pit pitkar humein akal aagayi (They beat us so badly in 2014 that it drilled sense into us)," the Congress Vice President said, expressing "gratitude" to the BJP for his party's virtual wipeout after 10 years in power. "They helped me a lot by by pitai karke, gaali deke, maar maarke (they beat me, abused me, thrashed me). They opened my eyes." Ahead of polls in Gujarat later this year, Mr Gandhi is touring the BJP's strongest citadels in the state where the Congress has been out of power for nearly 20 years. Speaking before a gathering of students last evening, he referred to the allegations reported in the Wire website, that BJP president Amit Shah's son Jay Shah's fortunes rose 16,000 times after the BJP came to power -- from Rs. 50,000 to Rs. 80 crores. "Have you heard of start-up India? The most successful is Jay Shah's start up... it's a very interesting story," Mr Gandhi said, going on to sum it up for his audience. Targeting Prime Minister Narendra Modi, he said: "The chowkidaar of India is quiet, he doesn't like to comment on these things." In Mr Gandhi's sharp and pointed attacks, his party men see signs of the new, more savvy and confident leader set to take over as Congress president. Not long ago, on a visit to an American university, the 47-year-old had conceded that Prime Minister Narendra Modi was a "better communicator" than him. Participating in a Q&A session at the University of California, Berkeley, last month, he said, "I am an Opposition leader, but Mr Modi is also my Prime Minister. He has certain skills; he's a very good communicator, probably much better than me.

---
In Godhra Train Blaze, Alleged Mastermind And 62 Others Acquitted Again
MMNN:9 October 2017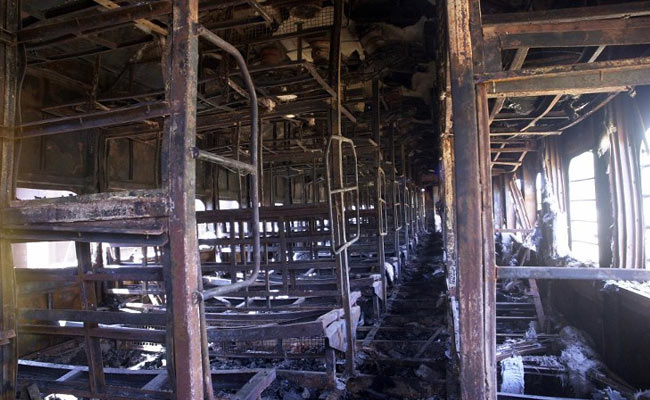 The Gujarat High Court has decided a set of appeals challenging convictions and acquittals in the case of the burning of the Sabarmati Express in Godhra in 2002, which triggered massive communal riots across the state of Gujarat in which more than 1,000 people were killed. A total of 94 people, all Muslims, had stood trial on charges of murder and conspiracy. In 2011, a court acquitted 63 of them. The High Court today has refused to change that verdict. Those acquitted include Maulvi Umarji, accused of being the mastermind behind the fire. 31 people were convicted of murder, attempt to murder and criminal conspiracy. The death sentence for 11 of them has today been changed to life imprisonment. The others remain sentenced to life in jail. In February 2002, 59 people, most of them 'kar sevaks', Hindu devotees returning from Ayodhya, died after a coach of the Sabarmati Express was set on fire at the Godhra station, around 130 km from Ahmedabad. The Muslims who were tried have always denied setting the train ablaze on February 27, 2002. The train was returning with passengers from the site of the Babri Masjid in Ayodhya that had been demolished by lakhs of right-wing workers and volunteers in 1992. The special court, in 2011, in Gujarat ruled that the accused had conspired to torch the train.

---
Woman, 30, Allegedly Gang-Raped In Front Of Husband, Child In UP's Muzaffarnagar
MMNN:7 October 2017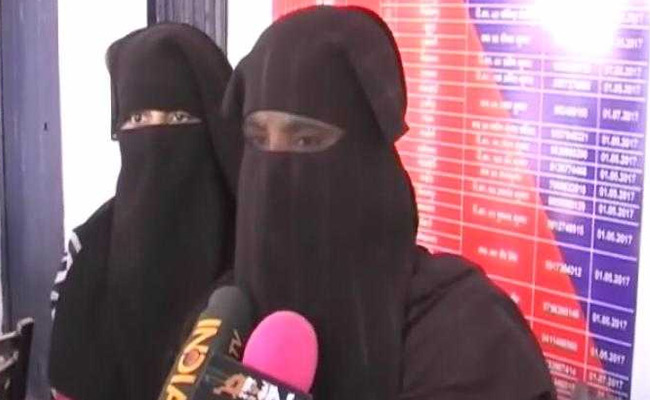 A 30-year-old woman in Uttar Pradesh was allegedly gang-raped by four men in front of her husband and their three-month-old baby, the police said. The woman and her husband, 35, had taken their baby to a pediatrician and were returning home on a motorbike in Muzaffarnagar when they were waylaid by four men, who were carrying weapons, in a car. They stopped them, snatched the baby from her and beat up the man. Then they dragged the woman to a sugarcane field. The men took turns to allegedly rape her after tying up her husband. They threatened to kill the infant who cried through her ordeal. After they were done, they warned the couple against raising an alarm and fled, police said. "Four men dragged me to a sugarcane farm and raped me at gun-point. They threatened to kill my child, also tied and beat up my husband," the woman alleged according to news agency ANI. The family screamed for help and a few farmers from a nearby village rushed to rescue them. The police were informed and the cops took the family to the hospital for treatment and her medical examination. A search for the accused is on, a senior police officer said. "We are waiting for her medical report. A case has been registered against the four and investigation is underway," said Ajay Sahdev, SP Rural, Muzaffarnagar.

---
How Judges Are Appointed By Supreme Court To Be Made Public
MMNN:6 October 2017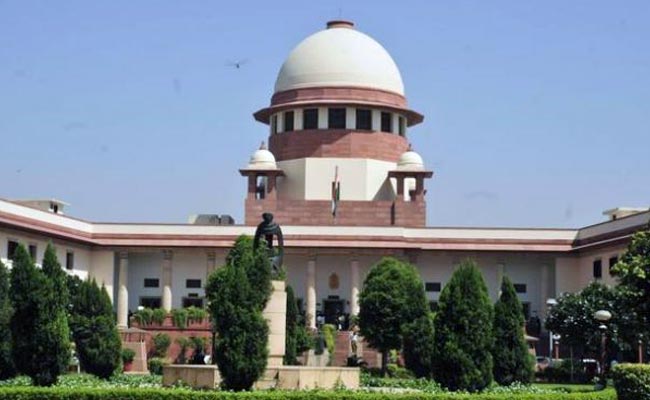 NEW DELHI: How judges are appointed or transferred will be open to the public, the Supreme Court has decided, for the sake of transparency. The Supreme Court collegium - a panel of senior most judges that decides on appointments and transfers - has decided that all its recommendations will be put up on the top court's website. The collegium system of judges appointing judges has been strongly criticized by the government, which has often called for transparency and accountability in judicial transfers and appointments. Many eminent jurists have also said that how judges are appointed needs reform because the process lacks transparency. In 2015, parliament cleared a National Judicial Appointments Commission which would include the Law Minister and two eminent persons selected by a separate panel including the Chief Justice, the Prime Minister and the Leader of Opposition. But the new procedure was cancelled by the Supreme Court, which felt the government would have too great a say in deciding judges and the independence of the judiciary would be eroded.

---
Amit Shah Skips Kerala In Abrupt Sked Change, Meets PM Modi, Arun Jaitley In Delhi
MMNN:5 October 2017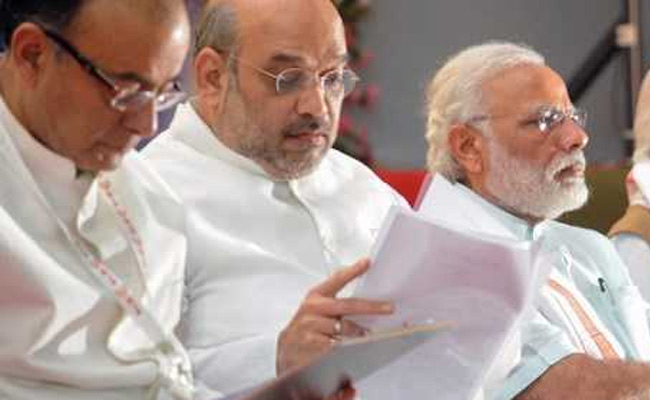 THIRUVANANTHAPURAM: BJP chief Amit Shah today skipped a visit to Kerala, opting out of a walk through Chief Minister Pinarayi Vijayan's village as part of the party's 15-day yatra in the state. He flew instead to Delhi from Mangalore this morning for a key meeting with Prime Minister Narendra Modi and Finance Minister Arun Jaitley. Mr Jaitley has just returned from an official visit to Bangladesh. Sources said the leaders are expected to discuss the economy and also possibly the Gujarat assembly elections due later this year. PM Modi had in a speech yesterday refuted criticism of the government's handling of the economy and promised steps to reverse the current economic slowdown. He also promised to identify and remove hurdles faced by small traders after the launch of the new national tax GST. Amit Shah's abrupt change of plans meant that state BJP leaders led thousands of party workers through Pinarayi village, roads to which were lined with BJP flags and posters to welcome the BJP chief. The party had said earlier that he would walk nine km and address a public rally today. Senior BJP leaders dismissed speculation that the party chief had decided to skip today's Kerala visit because response to the yatra he launched two days ago has been tepid. There is no question of a poor response, they asserted. In Kerala's Kannur, state BJP chief Kummanem Rajasekheran said Mr Shah's presence was not required as he himself could take the party's fight into Mr Vijayan's home base. Chief Minister Vijayan's party, the CPM, had called for a shutdown of the town, amid massive security, in anticipation of Mr Shah's second visit for the yatra, which aims to highlight what the BJP has called the "murder politics" of the ruling CPM. Party spokespersons confirmed Amit Shah will now only join the BJP yatra when it wraps up in Kerala capital Thirvananthapuram on October 17. The BJP chief had launched the Jan Raksha (protect the people) yatra on Tuesday, with prayers at a Kannur temple and a searing attack on the CPM and the Chief Minister, stating, "More than 84 BJP and RSS workers have been killed in Kannur district alone. I want to ask Pinarayi Vijayan...Who has killed them? If he does not have answers, then I am saying that the chief minister is responsible for the killings." Mr Vijayan hit back accusing the BJP of "trying to break the secularism of the state," and alleged, "Amit Shah came and became like a wet cracker here." He said the state government will "not be scared away by the weapons and wealth you have collected. Nobody should think that you can scare us away."

---
Honeypreet, Ram Rahim's Aide, Arrested On The Highway Near Chandigarh
MMNN:3 October 2017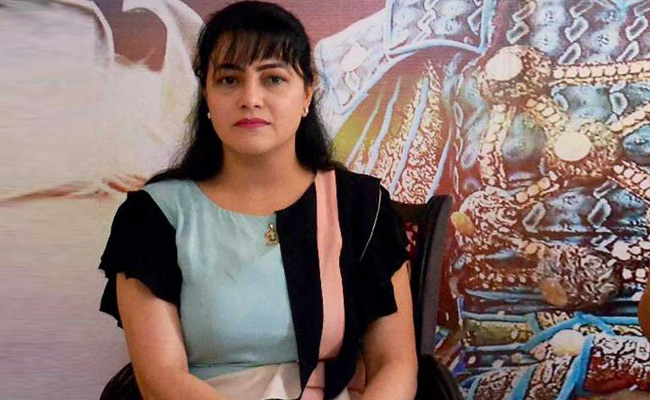 Honeypreet Insan, the "adopted daughter" of self-declared guru Gurmeet Ram Rahim Singh, was arrested today after being hunted for weeks by the police. She was arrested from the highway near Chandigarh by the Haryana police. The 36-year-old had been seen on various media channels since morning, though the police had been unable to track her down. Honeypreet Insan has been charged with sedition and trying to help the Dera Sacha Sauda chief escape after he was sent to jail for rape. She has also been accused of inciting the rioting by mobs of Dera supporters after Ram Rahim was declared guilty on August 25. Thirty-eight people were killed in the violence. She will be produced before a court tomorrow. Hours before her arrest, she told the News 24 channel that she was "devastated and depressed" by the allegations against "Papa" and her. "When Papa went away (was jailed), my world came crashing down," she said. Honeypreet Insan went missing after she accompanied Ram Rahim in a special chopper taking him to a Rohtak jail on August 25. "Have you heard me saying a word where I instigate people? I had gone there (to CBI court in Panchkula) with a hope that my father will return by evening, but when he was held guilty, I went into depression, How could I think about anything else? I was totally devastated," she said. Reacting indignantly to her ex-husband Vishwas Gupta's allegations that her father-daughter relationship with Ram Rahim is fake, she said: "I cannot understand how anyone can point fingers at pious relations that are there between a father and his daughter. What proof do they have? Please don't believe such people." On her vanishing act, Honeypreet said: "Try to understand what my condition was. The woman who used to make patriotic films with her father (Ram Rahim), the woman in whom her father had infused the spirit of patriotism over the years...he goes to jail, which was unthinkable for me. I was completely shaken to hear of sedition charges when I haven't even killed an ant." Honeypreet Insan went on: "I was there with my Papa (Ram Rahim) and discharging my duty as a daughter (on August 25). Every daughter remains with her father, I went with him." She also rubbished the rape charge against Ram Rahim. "We call him 'papa coach'. Crores of women and girls have been empowered by Papaji. You believe two women and not millions others?" Honeypreet, whose real name is Priyanka Taneja, calls herself "Papa's Angel" on social media. She has been by Ram Rahim's side since 2009 and has co-starred with him in five films he made.

---
Over 50 Dead, 200 Wounded In Las Vegas Shooting, Deadliest In US History
MMNN:2 October 2017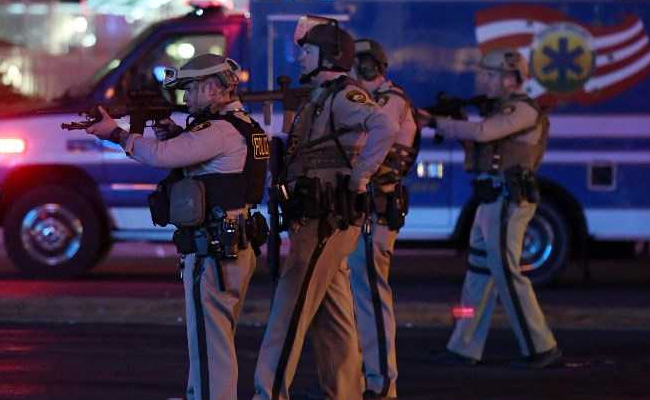 A gunman killed at least 50 people and wounded more than 200 others at a country music festival on the Las Vegas Strip on Sunday, raining down rapid fire from the 32nd floor of a hotel for several minutes before he was killed by police. The death toll, which police emphasized was preliminary and tentative, would make the attack the deadliest mass shooting in US history, eclipsing last year's massacre of 49 people at an Orlando night club. Thousands of panicked people fled the scene, in some cases trampling one another as law enforcement officers scrambled to locate and kill the gunman. Shocked concertgoers, some with blood on their clothes, wandered the streets after the attack. The suspect was a local Las Vegas man who acted alone and was not believed to be connected to any militant group, Clark County Sheriff Joseph Lombardo told reporters. The gunman has been identified by the police as Stephen Paddock. The shooter's 62-year-old companion, an Asian-American woman identified as Marilou Danley, has been located, the police added. "We have no idea what his belief system was," Lombardo said. "Right now, we believe he was the sole aggressor and the scene is static." Police had located two cars that belonged to Paddock. They said that rumours of other shootings in the area were false. Las Vegas's casinos, nightclubs and shopping draw some 3.5 million visitors from around the world each year and the area was packed with visitors when the shooting broke out shortly after 10 p.m. (0400 GMT). Witnesses on social media said the shooting broke out on the last night of the three-day Route 91 Harvest festival, a sold-out event attended by thousands and featuring top acts such as Eric Church, Sam Hunt and Jason Aldean. The spokeswoman for the University Medical Center hospital said 14 of the wounded were in a critical condition. All had suffered gunshot wounds, she said. US media, including Fox News, reported that Aldean was performing around 10:45 p.m. local time on Sunday when the rampage began but that he had been bundled safely off stage at the event outside the Mandalay Bay Resort and Casino in the Nevada gambling mecca. CNN reported all the artists were safe. Lombardo said the gunfire came from the 32nd floor of the Mandalay Bay, where the gunman was killed. The gunman, who was a local man, was killed after police "engaged the suspect," Lombardo told reporters. Police said on Twitter that at this time they did not believe there are any more shooters. Toll May Rise Police warned the death toll may rise. "I don't want to give you an accurate number because I don't have it yet," Lombardo said. At least one police officer was hospitalized with critical injuries, Lombardo said. Las Vegas is an internationally renowned major resort city, known primarily for its gambling, shopping and entertainment. Video on the festival's website showed stage set up outside the front of the Mandalay Bay. The hotel is near McCarran International Airport, which said on Twitter it had temporarily halted flights after the shooting. Later, the airport said that some flights had resumed. One Twitter user posted that the casino hotel was on lockdown, while another, citing police scanners, said two gunmen who had shot at a bodyguard and police were on the 32nd floor, although there was no confirmation from police. Video clips posted online showed what sounded like automatic weapons as panicked concertgoers fled, dropped to the ground screaming. Witnesses heard numerous gunshots at the hotel, where police tactical teams were searching for the attacker, according to reports on CNN and in the New York Times. Police have disclosed no information that would suggest a motive for the shooting or revealed the identify of the suspect. Even so, the rampage was reminiscent of a mass shooting at a Paris rock concert in November 2015 that killed 89 people, part of a coordinated attack by Islamist militants that left 130 dead. A witness named Christine told CNN both she and her husband had separately taken shooting victims to two hospitals, the University Medical Center and the Sunrise Hospital and Medical Center. "The shots just kept coming," she said. "Everyone was telling us 'run, run as fast as you can'." Off-duty police were believe to be among the victims, the sheriff said. The concert venue was in an outdoor area known as Las Vegas Village, across the Strip from the Mandalay Bay and the Luxor hotels. The United States has seen a series of deadly mass shootings in recent years. Prior to Orlando, the deadliest occurred in April 2007 when a gunman killed 32 people at Virginia Tech university and in December 2012 a man killed 26 young children and educators at Sandy Hook Elementary School in Newtown, Connecticut.

---
22 Dead, Many Injured In Stampede Near Mumbai's Elphinstone Station
MMNN:29 September 2017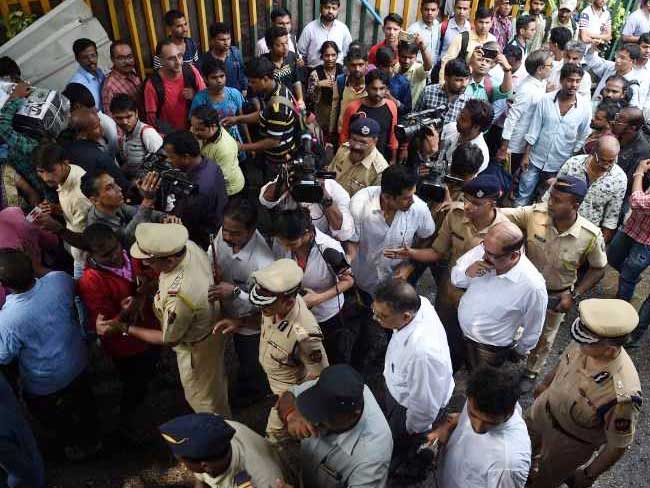 Twenty-two were killed and over 30 seriously injured in a rush-hour stampede in Mumbai this morning, when a crowd tried to leave a narrow railway bridge connecting two stations after heavy rain. Heart-wrenching visuals showed a crush of bodies on the bridge, straining against the railing. Screams were heard from those trying to escape the weight of the bodies and some were seen jumping off the bridge. The stampede broke out around 10.30 am on the bridge between the busy Parel and Elphinstone Road stations. According to witnesses, four trains came at the same time and due to the rain, a few commuters slipped, which led to the tragedy. There were more than the usual people on the bridge at the time, waiting for the rain to end. Many were waiting in the rain. There were too many people in a cramped space. When people were trying to rush to their trains, the stampede happened," said railway spokesperson Anil Saxena. Visuals after the incident showed people on the ground, many not moving at all, and attempts to revive them. Passengers and local people were seen carrying bodies down the bridge. Footwear was scattered next to the bridge and rescuers cleared out more from the stairs. The police are investigating reports that a short-circuit with a loud sound near the bridge led to panic and people started running. The incident took place hours before Railway Minister Piyush Goyal arrived to launch new services. "Just landed in Mumbai. Deeply grieved at tragic loss of innocent lives due to an unfortunate stampede at Elphinstone Road foot over bridge," he tweeted. Prime Minister Narendra Modi also tweeted condolences. The two stations are used by much of Mumbai's local train commuters as there are a large number of offices in the area. Angry commuters and residents said the bridge is too old and narrow and not strong enough to take the busy sector. "It was a disaster waiting to happen," remarked a local resident, saying that the bridge has been overcrowded for years and there have been multiple demands for more railway bridges for the area. "I have been travelling for five-six years. It has always been like this. We have no choice but to use this bridge...where else can we go? No one listens to us," said a woman commuter.

---
Akhilesh Yadav's Invitation To Father Mulayam At First Meeting In Months
MMNN:28 September 2017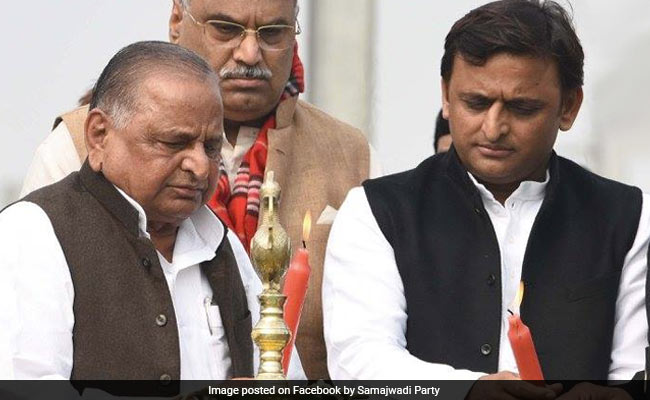 LUCKNOW: Akhilesh Yadav today visited his father Mulayam Singh Yadav at his Lucknow home and invited him to a key meeting next week of the Samajwadi Party, which he now heads after a bitter tussle for power early this year. It is believed to be the first meeting between the two in many months. The Samajwadi Party's national executive will meet in Uttar Pradesh's Agra on October 5. Akhilesh Yadav's visit is seen as a sign that a patch-up could be in the works between the estranged father and son. Another such signal came three days ago, when Mulayam Singh did not, as widely expected, announce a new party. He declared instead that it was Akhilesh who quit the Samajwadi Party and that "He is my son and so has my blessings but I do not agree with his decisions." He recalled that his son had promised to return the post of party chief within three months of the UP elections in March, but that was yet to happen. "A big leader of this country said one who can't honour promises to his father, how can he be there for the people," Mulayam Singh said cuttingly. Akhilesh Yadav merely tweeted in response, "Netaji zindabad, Samajwadi Party zindabad!" Mulayam Singh founded the Samajwadi Party over 25 years ago, but early this year, before assembly elections in Uttar Pradesh, was sidelined by his son who was then the state's Chief Minister. Akhilesh Yadav replaced his father as party chief and consigned him to a mentorship role. A bitter Mulayam Singh did not participate in the UP elections, in which his son suffered a massive loss at the hands of the BJP. Relations since then have remained frosty, marked by periodic public takedowns of Akhilesh Yadav by his father. Both Mulayam Singh Yadav and his younger brother and Akhilesh's bitter rival Shivpal Yadav had pointedly stayed away from a recent Samajwadi Party meeting saying they were not invited. They were expected to announce a new party, but that did not happen and Mulayam Singh said, "I am not forming any new party as of now."

---
Yashwant Sinha Fails Arun Jaitley Big Time, Praises Nitin Gadkari
MMNN:27 September 2017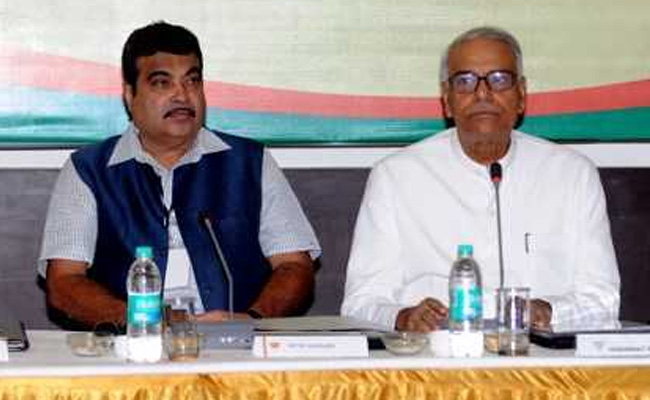 NEW DELHI: After a complete takedown of Finance Minister Arun Jaitley in the Indian Express today, senior BJP leader and former Finance Minister Yashwant Sinha spoke to NDTV and expanded on his view that the economy will not recover by 2019 when the next national election is due. The only exception to his targeted missiles was Nitin Gadkari, the Minister for Road Transport and Water Resources. The government "did not try seriously" to remove the bottlenecks which had led to policy paralysis during the previous Congress-led UPA rule, he said. "Big projects remained stalled as except Nitin Gadkari, no other minister took urgent steps to remove the bottlenecks," noted the 84-year-old, whose son Jayant Sinha is a union minister. Describing demonetisation and Goods and Services Tax (GST) as the "two major disruptions that have slowed down the economy", Mr Sinha said GST - pitched as the biggest tax reform since independence - should have been implemented in October instead of July. "The government hurried through GST," he said, sounding a lot like several opposition leaders. Yashwant Sinha also suggested that demand had weakened, making it difficult to revive growth sentiment in the economy. "The economic slowdown has had a negative impact on employment generation as well. It is making it difficult for the Modi government to create jobs as promised." New private investments had not happened as expected, he added In the Indian Express article that has set the cat among the pigeons - titled "I need to speak up now" - Mr Sinha grimly notes what he calls "the mess the Finance Minister (Arun Jaitley) has made" of the economy and comments that many are silent out of "fear". "I shall be failing in my national duty if I did not speak up even now against the mess the Finance Minister has made of the economy. I am also convinced that what I am going to say reflects the sentiments of a large number of people in the BJP and elsewhere who are not speaking up out of fear," writes the veteran sidelined by the BJP after the Narendra Modi government took charge in 2014. Bluff and bluster is fine for the hustings, it evaporates in the face of reality. The Prime Minister claims that he has seen poverty from close quarters. His Finance Minister is working over-time to make sure that all Indians also see it from equally close quarters." Reacting to the sucker-punch, Home Minister Rajnath Singh said: "India's record is well-known across the world. It is one of the fastest growing economies and its role is acknowledged well." The Congress seized on the article to put out a series of I-told-you-so tweets, with Rahul Gandhi sneering: "Ladies & Gentlemen, this is your copilot & FM speaking. Plz fasten your seat belts & take brace position. The wings have fallen off our plane." Mr Sinha broadly paints a bleak picture of the economy: "Private investment has shrunk as never before in two decades, industrial production has all but collapsed, agriculture is in distress, construction industry, a big employer of the work force, is in the doldrums, the rest of the service sector is also in the slow lane, exports have dwindled, sector after sector of the economy is in distress, demonetisation has proved to be an unmitigated economic disaster, a badly conceived and poorly implemented GST has played havoc with businesses and sunk many of them and countless millions have lost their jobs with hardly any new opportunities coming the way of the new entrants to the labour market."

---
No baton charge, eve-teasing incident a conspiracy against me: BHU vice chancellor
MMNN:26 September 2017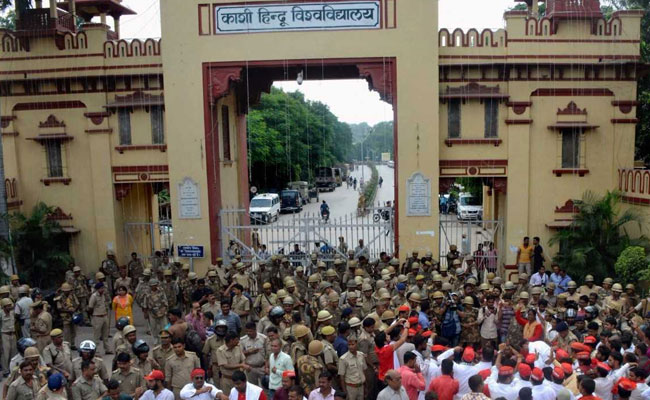 Banaras Hindu University (BHU) vice chancellor Girish Chandra Tripathi said police didn't baton-charge female students, but only used force to drive away anti-social elements who hurled stones and vandalised the campus on the night of September 23. The vice-chancellor also dubbed the eve-teasing incident as part of a larger conspiracy to instigate female students against him. "I will not tolerate this," he said. Since the day I took over as vice-chancellor, I have been treating the students, professors and other faculty members of BHU as my own family. However, some anti-social elements couldn't digest my honest way of working. These people – in association with anti-social elements – hatched this conspiracy against me," he said. Defending the police in a press statement issued late on Monday, Tripathi said: "There was no baton-charge on any girl on the varsity premises during the intervening night of September 23 and 24. Action has been taken against criminal and anti-social elements who (vandalised) varsity property." "They tried to create anarchy at the VC residence by pelting it with stones. In the garb of conducting a dharna near the BHU main gate, some anti-social elements tried to paint the statue of Mahamana Pandit Madan Mohan Malviya black," he said, adding that such an attempt is "nothing less than sedition Tripathi said that the molestation victim and her friends had called him to say that unknown people were conducting a dharna in front of the gate. "She also said that they were not allowing her or her friends to leave the protest venue. They were, in a way, holding her hostage." The vice chancellor went on to claim that the victim requested him to visit Triveni hostel to conduct a dialogue on the matter. "So I decided to go there. However, many anti-social elements waylaid me at the gate and began hurling stones as well as petrol bombs," he said

---
GST Biggest Economic Reform Since Independence, Says BJP At Big Meet: 10 Points
MMNN:25 September 2017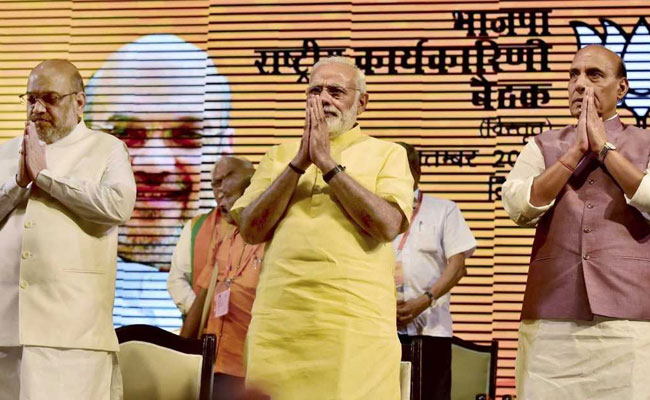 NEW DELHI: BJP chief Amit Shah this morning thanked Prime Minister Narendra Modi for resolving the Doklam standoff with China and praised Foreign Minister Sushma Swaraj for her speech attacking Pakistan over terrorism at the United Nations General Assembly on the weekend, as he highlighted the BJP government's achievements at a meeting of the party's national executive in Delhi. A resolution adopted at the meeting said the Goods and Services Tax (GST) is the biggest economic reform since Independence, union minister Nitin Gadkari told reporters.
Here is your 10-point cheatsheet to the BJP National Executive:
1-PM Modi, who is attending the entire day-long meet, will speak this evening and is expected to counter critics of his government's economic policies and address worries over jobs and a slowdown in economic growth, blamed by the opposition on last year's notes ban and what it alleges was a faulty implementation of GST.
2-About 2,500 members of the BJP, including 13 Chief Ministers and all its elected lawmakers - 1,400 legislators and 280 parliamentarians - are attending today's meet, Day 2 of the national executive, at the capital's Talkatora stadium.
3-Amit Shah, in his opening address, attacked Congress vice president Rahul Gandhi over his remarks on dynastic politics in the US last week, saying the BJP believes in the politics of performance while the Congress banks on the"politics of appeasement and dynasty," pointing out that the current president, vice president and PM Modi have reached their positions due to their hard work, despite their humble origins.
4-Mr Shah said the BJP government led by PM Modi demonstrated patience, perseverance and confident politics in its resolution of the Doklam standoff with China. He also praised the government on its handling of Naxalism and terrorism in its three years of rule.
5-The BJP chief cited figures to say that the economy is stronger under the BJP-led NDA government than it was under the previous Congress-led UPA government.
6-PM Modi is expected to highlight his government's pro-poor measures and other policy decisions. He will also highlight, sources said, the government's success in boosting transparency and curbing black money.
7-The Prime Minister's agenda of development will be a key feature. The PM's address is also expected to provide broad guidelines on how the party can revitalise its connect with the people.
8-A political resolution will be adopted with a road map for crucial state elections ahead and then the 2019 national election, party sources said. Strategy for elections in Gujarat and Himachal Pradesh later this year is expected to be discussed.
9-Sources said the party decided to open its convention to the media after the Rashtriya Swayamsevak Sangh (RSS), the BJP's ideological parent, alerted it about signs of a shift in public mood over the government's performance. Even some of the Sangh's economic fronts have announced a protest in November to flag the BJP-led government's failures.
10-The BJP's national executive is usually a closed-door meeting attended by about 120 top leaders. Today's meeting, however, is being called an "extended" National Executive as the party wraps up year-long celebrations to mark the birth anniversary of its founder Deendayal Upadhyaya. It is also for the first time that the BJP's legislators and lawmakers have been invited for the meet.

---
PM Modi Meets Deadline For Disclosing Assets, Top Ministers Don't
MMNN:22 September 2017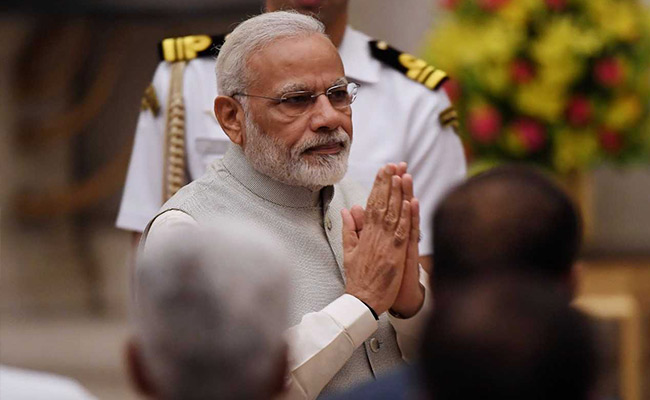 Prime Minister Narendra Modi has disclosed that he has assets worth Rs. 1,00,13,403. He has shared details on a government website in keeping with a rule he introduced after taking office. The PM ordered that all his ministers must, by August 31 ever year, share their assets and liabilities to illustrate transparency and a commitment to fighting systemic corruption. Out of the 92 ministers in PM Modi's cabinet, only 15 have met the August 31 deadline for disclosure. But this year, only 15 of 92 union ministers have met with the deadline. Among those who have defaulted for this year are Piyush Goyal, Smriti Irani, Maneka Gandhi and Ravi Shankar Prasad. So have Home Minister Rajnath Singh and Junior Home Minister Kiren Rijiju. It was, in fact, the Home Ministry that was tasked with coordinating with different ministers to collate the statements of their finances. Ministers are required to provide financial details of their immediate family members as well

---
Terrorist Dawood Ibrahim 'In Talks' With Centre For His Return, Alleges Raj Thackeray
MMNN:21 September 2017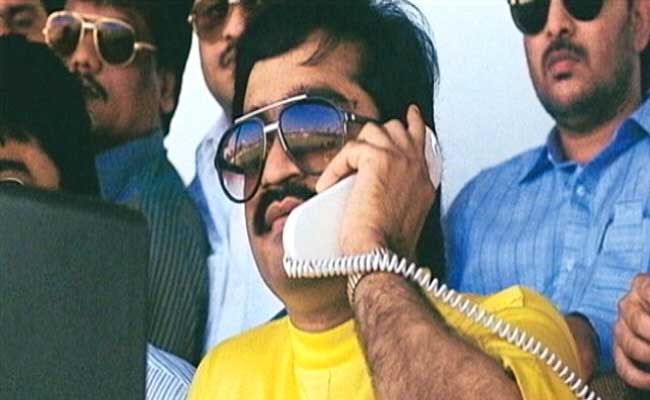 Raj Thackeray dropped a bombshell today as he claimed that India's most wanted terrorist Dawood Ibrahim is trying to negotiate his return with the central government as "he wants to spend his last days" in his home country. The Maharashtra politician claimed that the ruling BJP wants to bring the don back to score in elections. Dawood is "very sick and crippled", said the Maharashtra Navnirman Sena (MNS) chief at a function to mark his Facebook debut. "He is currently in talks for a 'setting' with the government for this and this could happen," he said, commenting that the BJP government would try to take credit for the gangster's return even though he wants to return to India. "It is he (Dawood) who is keen to return... But, the BJP will claim credit for this to win the next elections," Mr Thackeray predicted. Last week, reacting to reporters' questions on the news that Dawood Ibrahim's properties in the UK have been seized, union minister VK Singh had commented that "things are happening". "We will not talk about Dawood at all. Certain things are happening. We can't let the cat be let out of the bag," Mr Singh, the Minister of State for External Affairs, had told reporters in Kerala. Dawood Ibrahim is the mastermind of the 1993 Mumbai serial blasts in which 257 were killed. India says there is proof he has been living in Pakistan's Karachi for decades, which has been confirmed by the UN. In more validation of New Delhi's stand that the man it has hunted for over two decades has been sheltered by Pakistan, Britain's list of Financial Sanctions Targets refers to the gangster's three recorded addresses in Karachi.

---
Part Of Rs. 389-Crore Bihar Dam Crashes Hours Before Launch by Nitish Kumar
MMNN:20 September 2017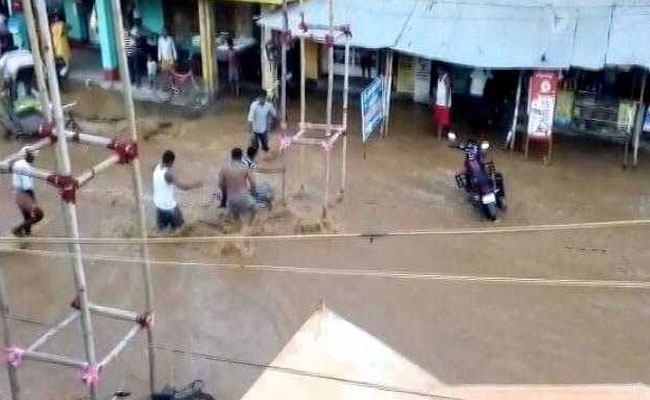 PATNA: Hours before its grand launch by Nitish Kumar, a portion of a Rs. 389-crore dam in Bihar crashed during a trial run and left parts of a town in Bhagalpur flooded. The Chief Minister was forced to cancel the inauguration today of the Ganga canal project that was completed after a 40-year delay. Last evening, Mr Kumar's office cited "technical reasons" for dropping the launch of the Bateshwarsthan Ganga Pump Canal Project, which has been set up to irrigate land in Bihar and neighbouring Jharkhand. Ads in newspapers had announced that Water Resources and Irrigation Minister Rajiv Ranjan Singh Lallan would also be present at the event. The wall of the canal collapsed when water from the river Ganga crashed into it after the pump was switched on for a trial. The water gushed into Kahalgaon village and inundated areas that are part of a thermal power project. The Principal Secretary of the Water Resources department, Arun Kumar Singh, and top Bhagalpur officials are overseeing efforts to drain out water from the submerged areas around 3 km from the canal. "Sandbags are being placed to check the flow of water," Mr Singh told reporters. Experts blame the collapse on the negligence of officials. A joint scheme by Bihar and Jharkhand, the project aims to irrigate 18,620 hectares of land in Bhagalpur and over 4,000 hectares in Jharkhand, a government brochure on the project said. The Planning Commission had originally approved the project in 1977 at an estimated cost of nearly Rs. 14 crore. In a series of tweets, Mr Kumar's former deputy and Lalu Yadav's son Tejashwi Yadav snarked: "One more dam has been sacrificed to corruption...The Water Resources department is a den of corruption...wonder why the Chief Minister is silent on that?" Mr Yadav didn't take names but appeared to be hinting at Mr Lallan, the Water Resources Minister.

---
Dawood's Brother Was Watching KBC, Eating Biryani When Cops Picked Him Up
MMNN:19 September 2017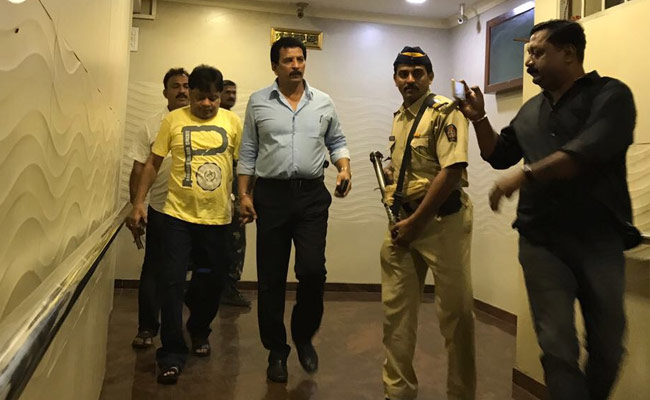 THANE, MAHARASHTRA: When Iqbal Ibrahim Kaskar, the brother of underworld don Dawood Ibrahim Kaskar, was picked up from his home in south Mumbai late on Monday, he was busy watching the "Kaun Banega Crorepati" show and eating biryani, Thane Police Commissioner Parambir Singh said today. Kaskar was picked up from the home of his sister, Haseena Parker, late on Monday by a crack team of the Thane Anti-Extortion Cell (AEC) and later placed under arrest. He will be produced before a court later today. "Iqbal Kaskar demanded four flats and Rs. 30 lakh as ransom from a builder. The names of some other builders and politicians have also emerged during the investigation," Mr Singh told reporters. The police are now examining whether the dreaded Maharashtra Control of Organised Crime Act (MCOCA) can be applied to Iqbal Kaskar and his brother Dawood, believed to be in Pakistan. Mr Singh said that Iqbal Kaskar has been running the extortion racket for quite some time and on Monday night the AEC finally arrested him. The police chief said he has threatened and made extortion calls to several builders in Thane, Mumbai and Navi Mumbai.

---
Amit Shah Testifies In Riots Case In Which Maya Kodnani Is Accused Of Murder
MMNN:18 September 2017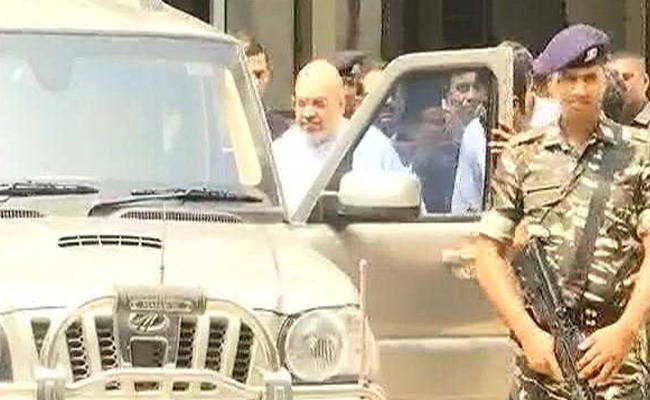 BJP president Amit Shah told a Gujarat court today that he had seen Maya Kodnani, a leader of his party, in the state assembly and then at Ahmedabad's Sola Civil Hospital on the morning of February 28, 2002. Mr Shah appeared as a defence witness in a riot case in which Kodnani is accused of murdering 11 Muslims on that day in Naroda Gam, an Ahmedabad suburb. Ms Kodnani, who is a gynaecologist and was a legislator at that time, has pleaded in court that she was not in Naroda Gam when the rioting happened. She has claimed that she was in the state assembly that day and then went straight to the Sola Civil Hospital, where Amit Shah was present. She had sought that Mr Shah, who was a Gujarat legislator too then, testify to help prove her alibi. "Maya Kodnani was inside the state assembly at 8.30 am," Mr Shah told the court today, adding that he had then left the assembly and reached the hospital at about 9:30 or 9:45 am. He said he met Kodnani while leaving the hospital between 11 and 11.15 am and that they were escorted out together, after which they went their separate ways. Asked by lawyers whether he knew where Maya Kodnani was between the time that he saw her at the assembly and in the hospital, Mr Shah said he did not know. He also said he did not know where she went from the hospital. Witnesses have alleged in court that Maya Kodnani led the rioters who attacked Naroda Gam on February 28, 2002. They have said they saw her in the area between 9.30 and 10 am on that day. The judge had said last week that Amit Shah must appear today either in person or assign a lawyer to respond to Kodnani's claim that she was not present when 11 Muslims were killed during the riots in Naroda Gam. Kodnani had complained that she was unable to reach Mr Shah. Maya Kodnani is one of 79 people facing trial in the case. The Supreme Court had last month asked the Ahmedabad court to conclude trial within four months. Naroda Gam is one of nine major 2002 riots cases investigated by a Special Investigation Team appointed by the Supreme Court. In another case, Maya Kodnani was found guilty of the massacre of nearly 100 Muslims in a neighbourhood called Naroda Patiya, about 10 km from Naroda Gam, on the same day in 2002. She was sentenced to 28 years in jail, but was granted bail in 2014 after pleading that she is very unwell. Kodnani became Gujarat's Minister for Women and Child Development in 2007 and served in that post till her arrest in 2009.

---
Ryan school murder: SC notice to Centre, states on plea over safety of students
MMNN:15 September 2017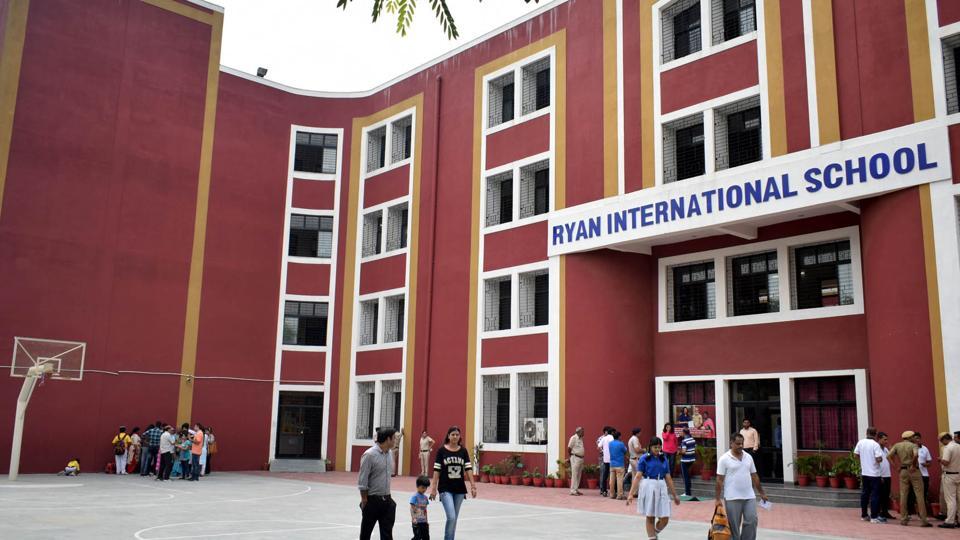 The Supreme Court on Friday issued notices to the Centre and state governments on a petition seeking comprehensive guidelines and a monitoring process for safety and security in schools. The top court has asked for replies to be filed in three weeks. It has also asked solicitor general to assist the court in the case related to school security. Two lawyers had moved the petition after last week's murder of an eight-year-old inside the toilet of Ryan International School in Gurgaon. Earlier, a bench, headed by Chief Justice of India (CJI) Dipak Misra and Justices Amitava Roy and AM Khanwilkar, said it has already issued a notice on a similar plea filed by the father of the child, who was killed at the Ryan International School. The Supreme Court earlier had issued notice to the Centre, the Haryana government and the state's Director General (DG) of Police, the Central Board of Secondary Education (CBSE) and the CBI on a plea seeking a probe by the central agency into the murder of a seven-year-old boy inside the Ryan International School. After this, the CBSE issued a circular mentioning guidelines to be adopted by all schools for ensuring the safety of the students. The CBSE, in its circular, directed schools to install CCTV cameras, ensure police verification of staff and regulate entry of outsiders in school building

---
Prime Minister Modi On Bullet Train Critics Then And Now
MMNN:14 September 2017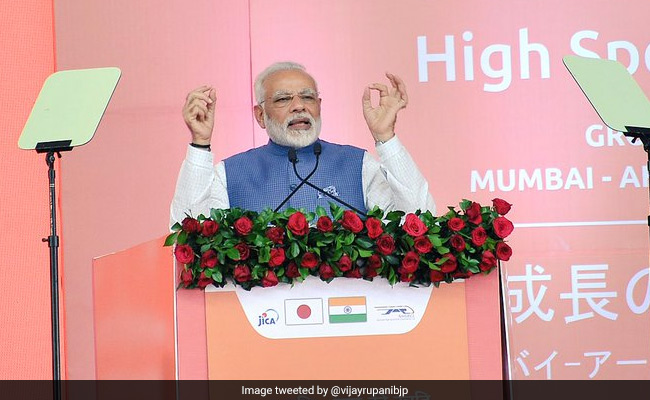 AHMEDABAD: Critics who earlier dismissed the bullet train as "big talk" are now asking what use it is, said Prime Minister Narendra Modi today after inaugurating work on India's first bullet train in collaboration with Japan, whose Prime Minister Shinzo Abe jointly launched the project in Gujarat's Ahmedabad. "When I was in Gujarat and used to speak about the bullet train, they said Modi only talks of bullet trains in India... They kept asking when will he get it. Now that they see I have actually got the Bullet Train to India, they ask why are you getting a Bullet Train?" the Prime Minister said. "It's a new India which has to fly high," PM Modi said. He said the ambitious project would bring pace to development in the country and that no country can grow if they don't dream big. "To grow one needs to expand his dreams and decide his strength to achieve that," the Prime Minister said. The bullet train is not India's priority," said Congress leader Anand Sharma, adding that the strategic partnership between Japan and India is very important and there are more crucial issues to be discussed. "Our prime minister should not limit it to the photo opportunity and theatrics. There are serious issues on the agenda. Prime Minister Modi has misplaced the priority," Mr Sharma said. Sharp criticism also came from the BJP's Maharashtra ally Shiv Sena, which described the new bullet train project as PM Modi's "expensive dream" alleging that it will "loot the nation of Rs. 1,08,000 crore". Among the problems that the Shiv Sena listed in an article in its magazine the Saamna, is that the bullet train will have eight stops in Gujarat and only four in Maharsahtra. And that Maharashtra will "have to shell out Rs. 30,000 crore" for it. It compared the project to those launched by former Prime Minister Jawaharlal Nehru of the Congress, like the Bhakra-Nangal Dam, the Bhabha Atomic Research Centre and other schemes, saying, "All those projects were needed by the country. Is the bullet train a project of national importance for which such a huge amount is being spent to cover the 508-km distance at 350-kmph speed?" The bullet train, which is expected to halve the travel time between Ahmedabad and Mumbai, would be a ride for the rich, the Sena alleged, arguing that the money could've been spent to write off loans to distressed farmers. It has also asked why the bullet train project has been speeded up while existing infrastructure for the Railways is yet to be upgraded. The ally has also questioned the timing of the launch, alleging that the bullet train is aimed at giving "something new to the industrialists of Gujarat where elections are coming up shortly." The Congress has asked why Japanese Prime Minister Shinzo Abe is being hosted by the Prime Minister in Gujarat and not in national capital Delhi. "We do not want to transgress propriety by commenting on a state visit but it is rather quixotic that the Prime Minister of a country as important as Japan, who is almost India's strategic partner in many respects, is strangely not even being hosted in Delhi," aid Congress spokesperson Manish Tewari, and added that he hoped the visit is not being used for "political purposes" in view of the elections in Gujarat.

---
Can't Let Cat Out Of Bag': On Dawood Ibrahim, Minister VK Singh's Hint
MMNN:13 September 2017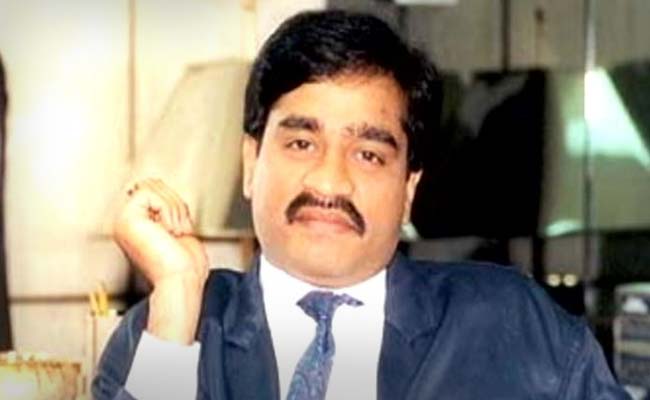 NEW DELHI: Amid reports that the properties of India's most wanted Dawood Ibrahim have been seized by the UK government, union minister VK Singh commented today that "things are happening" but added: "We can't let the cat out of the bag". Reports say Dawood's properties worth nearly seven billion dollars have been seized by the British government. "We will not talk about Dawood at all. Certain things are happening. We can't let the cat be let out of the bag," Mr Singh told reporters in Kerala. Dawood, the mastermind of the 1993 Mumbai serial blasts in which nearly 260 were killed, appears on UK's latest list of Financial Sanctions Targets. He has been based in Pakistan's Karachi for years. He is listed as a global terrorist by the UN Security Council's ISIS and al-Qaida Sanctions Committee. Prime Minister Narendra Modi, during his visit to the UK in 2015, had reportedly handed over a dossier on the terrorist and gangster to his then British counterpart David Cameron. According to the British media, Dawood owns a hotel and other residential properties in the country. Known to be one of the richest gangsters in the world, Dawood allegedly has business interests in more than a dozen countries spread over Europe, Africa and South Asia.

---
Cabinet Nod Soon For Rs. 75,000 Scholarship For Bright Students: HRD Minister Javadekar
MMNN:12 September 2017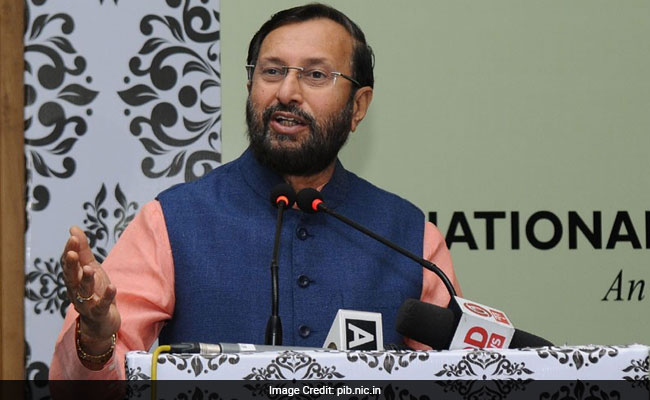 NEW DELHI: The Union Cabinet will soon give its nod to Rs. 75,000 monthly scholarship scheme for bright students in higher education institutes to arrest brain drain and encourage innovation, Human Resource Development Minister Prakash Javadekar today said. The scholarship, the minister said, is meant for bright sparks at institutes like IITs and universities where required infrastructure is being provided under the Vishwajeet project and Uchchatar Avishkar Yojana. "We are also starting PM Scholarship. I have already signed the Cabinet note. That is under circulations. It will come to the Cabinet very soon," Mr Javadekar said after inaugurating 'Sumant Sinha ReNew Centre of Excellence (CoE) for Energy and Environment' at the Indian Institute of Technology (IIT) here. The minister further said the scholarship will be for the best of the best brains who innovate. "It will be Rs. 75,000 per month scholarship, which would be given to 1,000 students (in higher education institutes and universities). Rs. 75,000 per month (per head) is not a small thing. This is happening first time in India. I want to stop the brain drain," Mr Javadekar asserted. The minister expressed hope that this will further push Make in India and help retain talent in the country. He expressed confidence that the proportion of girl students in IITs will increase to 20 per cent by 2022, from the current 8 per cent. About other initiatives, he said: "We have already started three major things on the Vishwajeet project through other agencies. The Higher Education Financing Agency is already operational. With Rs. 2,000 crore budget support, we are leveraging.... can improve debt market creating Rs. 20,000 crore or USD 3 billion. We want to push research in the higher education system." The rationale behind the CoE is to establish a world-class research and development facility to develop cutting-edge renewable energy solutions. It is expected to foster exchange of ideas among the industry, the academia and policy makers from across the world to promote faster adoption of renewable energy. Besides, it looks to offer research and internship opportunities for undergraduate, postgraduate and Ph.D students in the industry. Developing research reports on renewable energy policy also forms part of the mandate. The CoE is carrying out research in three broad fields - integration of large scale solar rooftop capacity with the electricity distribution network using battery storage technology, strengthening of the transmission grid to accommodate flow of renewable energy and development of charging infrastructure for electric vehicles. Chairman and CEO, ReNew Power, Sumant Sinha told reporters that the CoE would also take up more research projects in addition to the three in-hand projects. Professor V Ramagopal Rao, Director, IIT Delhi, said: "The CoE will bring together knowledge and research on clean energy, facilitate clean energy investments, and help deploy clean energy technology solutions to establish India as a rising leader in the world of renewable energy."

---
Supreme Court To Decide CBI's Appeal Against Karti Chidambaram On September 18
MMNN:11 September 2017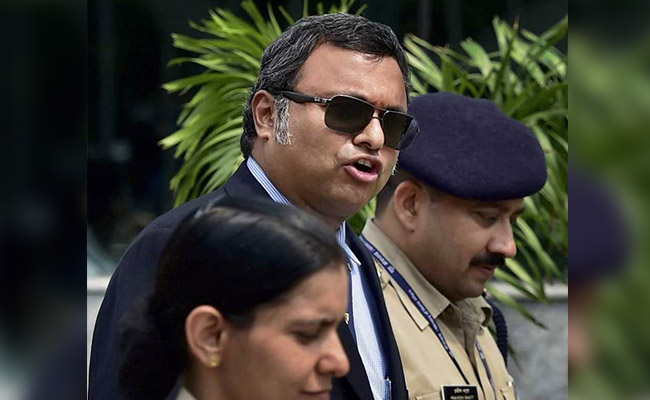 NEW DELHI: The Supreme Court today fixed on September 18 the appeal of the CBI challenging the Madras High Court order staying government's look out circular against Karti Chidambaram, son of former Union Minister P Chidambaram, in a corruption case. The FIR lodged by the CBI on May 15 had alleged irregularities in Foreign Investment Promotion Board (FIPB) clearance to INX Media for receiving overseas funds to the tune of Rs. 305 crore in 2007 when Karti's father was the Finance Minister. A bench comprising Chief Justice Dipak Misra and Justices A M Khanwilkar and D Y Chandrachud, said that its direction staying the Madras High Court order on lookout circular will remain in force in the meantime and as a result, Karti will not be able to leave India. Senior advocate Kapil Sibal, representing Karti, alleged that allegations levelled his client are baseless and challenged the probe agency to bring out the details of any property which the Chidambarams cannot account for. Additional Solicitor General Tushar Mehta, appearing for the CBI, vehemently countered the submission and said that the probe was at a very crucial stage and substantial information have been given to the court in a sealed cover. The bench then fixed the matter for final disposal next Monday. On September 1, the CBI had told the top court that there were "good, cogent" reasons for issuing look out circular against Karti. On August 18, the court had asked Karti to appear before the investigating officer at the CBI headquarters here for questioning in the case. The bench had given the probe agency the liberty to question Karti as many times it wanted. Prior to this, the apex court had said that Karti would not be allowed to leave India without subjecting himself to investigation in the case. The court had then stayed the Madras High Court order putting on hold the LOC issued by the Centre against Karti. The CBI had claimed that the FDI proposal of the media house, cleared by Chidambaram, was "fallacious". The FIR was registered on May 15 before the special CBI judge here and the registration of the case was followed by searches at the residences and offices of Karti and his friends on May 16.

---
Mamata Banerjee's Trinamool Objects To UGC Letter On Viewing PM's Speech
MMNN:9 September 2017


KOLKATA: Prime Minister Narendra Modi will deliver a special address to the nation on Monday to mark the centenary celebration of Pandit Deendayal Upadhyaya and 125 years of Swami Vivekananda's address at the Chicago World Parliament of Religions. The theme of the event is Young India, New India - A Resurgent Nation: From Sankalp to Siddhi. The speech will be broadcast from the Vigyan Bhavan in Delhi at 10:30 am, and the University Grants Commission or UGC, the apex body for hundreds of varsities across the country, wants all students to listen to the address. The UGC has written to all vice chancellors saying they must "provide an opportunity and facility to teachers and students to view the PM's address", which UGC chairman VS Kaushal says, "could be life changing." But the Mamata Banerjee government in West Bengal is not amused. "This is a clear attempt to saffronise education. They are taking decisions on their own without consulting us," West Bengal Education Minister Partha Chatterjee said, hours after he was made aware of the letter Friday. Mr Chatterjee also objected to the clubbing together of Deen Dayal Upadhyay, a politician and head of BJP's fountainhead - Bharatiya Jan Sangh - and Swami Vivekananda, a Hindu monk and philosopher seeking to raise interfaith awareness. Just last month, ahead of August 15, the Mamata Banerjee government had attacked PM Modi for sending out instructions on how to observe Independence Day in schools

---
Gauri Lankesh Dealt With Naxals, Why Did She Not Have Security, Asks BJP
MMNN:8 September 2017


NEW DELHI: Did the Karnataka government know of Gauri Lankesh's work to rehabilitate Naxals, and if it did, why was she not provided adequate security, union minister and senior BJP leader Ravi Shankar Prasad asked today, also attacking Congress vice president Rahul Gandhi for declaring RSS ideology guilty without an investigation having even begun into the journalist's murder. Mr Prasad said the BJP condemned Gauri Lankesh's "dastardly killing", but also attacked what he called the "hypocrisy" of liberals. "Why is it that all my liberal friends who speak so eloquently and so strongly against the killing of a journalist, perfectly so entitled to, or even maoists and naxalites, maintain a conspicuous silence when so many RSS workers are killed in Karnataka or BJP workers in Kerala?" the minister said. He asked the Congress government in Karnataka to "honestly investigate, without politics" the murders of BJP and RSS workers in the state. Rahul Gandhi, he said, had made "prejudiced and malafide" comments soon after Gauri Lankesh was shot dead at her Bengaluru home. "Even before the I of investigation could start, great leader Rahul Gandhi who always speaks without any homework, publicly alleged that the RSS and the right wing ideology is responsible... In the light of this unilateral, malafide comment, should we expect a fair investigation by the SIT of a Congress-led government (sic)? Rahul Gandhi had tweeted after Gauri Lankesh was murdered, "Anybody who speaks against the RSS/BJP is attacked & even killed. They want to impose only one ideology which is against the nature of India." Ms Lankesh, a fierce advocate of secularism and a frequent critic of right-wing ideology, was shot dead at pointblank range as she was entering her home after returning from work on Tuesday night. She worked extensively to rehabilitate Maoists as part of her Communal Harmony Forum Her family has said they believe there was no personal motive behind Ms Lankesh's murder and that she was "killed for her views." A day after her death her brother Indrajit Lankesh said Gauri Lankesh had got hate messages from Naxals. Asked yesterday if he suspected that Naxals could be behind her sister's death, he told NDTV, "It might be, it might not be. It might be the right wing extremists or it might be the Maoists because of the background." But Gauri Lankeshs sister Kavitha said she did not see a Naxal link. "I think basically...I would like to say right-wing activism because her own ideology was dead against them. I don't know, I don't know, it is not personal I know. It is basically killing a thought. They wanted to kill a thought, kill a movement. I don't want to pinpoint right now,"

---
Hotels-for-land scam: Lalu Yadav to appear before CBI on Sept 11, Tejashwi on Sep 12
MMNN:7 September 2017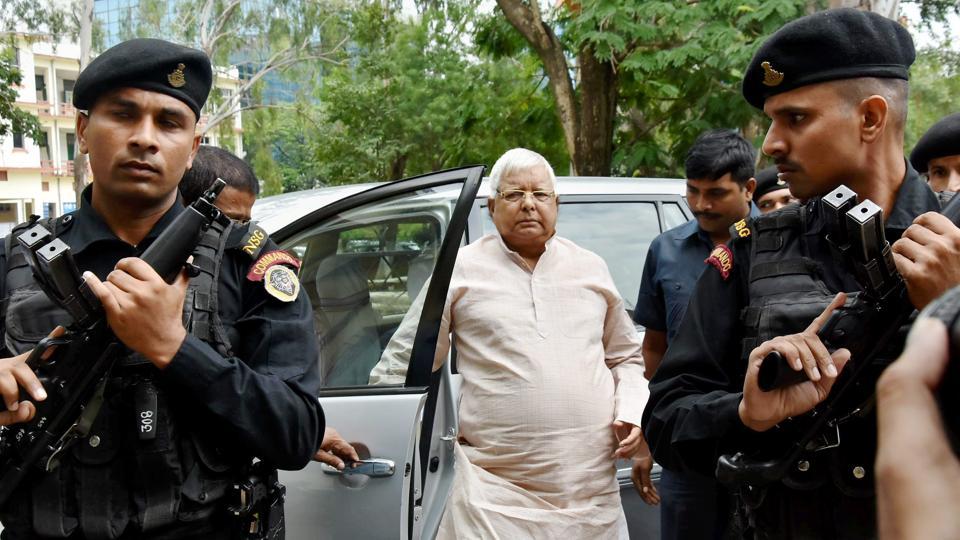 The CBI on Thursday issued fresh summons to Rashtriya Janata Dal (RJD) leader Lalu Prasad and his son Tejashwi in connection with irregularities in awarding the maintenance contract for two IRCTC hotels to a private firm during the former's tenure as the railway minister. The RJD leader has been asked to appear for questioning at the agency headquarter on September 11 and Tejashwi the next day, agency officials said It is alleged that Yadav as railway minister had handed over the maintenance of two Railways hotels-- BNR Ranchi and BNR Puri-- to Sujata Hotel, a company owned by Vinay and Vijay Kochhar, after receiving a bribe in the form of three acres of prime plot of land through a benami company. The FIR alleged that Yadav, as a railway minister, abused his official position for extending undue favours to Kochhars and acquired the "high-value premium land" through a benami company Delight. It alleged that Yadav, "dishonestly and fraudulently", managed the award of leasing out BNRs at Ranchi and Puri to the company of Kochhars in quid pro quo transactions. Reacting to the CBI summon, RJD spokesperson Shakti Singh Yadav that the government was adopting different yardstick in dealing with Prasad and those guilty of swindling public money in the Rs 1,300 crore Srijan government fund transfer scandal in Bihar. He questioned why the Central government did not show the same alacrity in acting against the accused in the Srijan scam. He said there was no point raising brouhaha over a CBI notice to Prasad. The CBI has registered the case against Lalu Yadav, wife Rabri Devi, son Tejashwi, and Sarla Gupta, the wife of former union minister Prem Chand Gupta. Others named as accused in the FIR include Vijay Kochhar, Vinay Kochhar, both directors of Sujata Hotels and owner of Chanakya Hotel; Delight marketing company, now known as Lara Projects and the then Managing Director P K Goel.

---
'India Signs 11 Agreements With Myanmar To Bolster Ties
MMNN:6 September 2017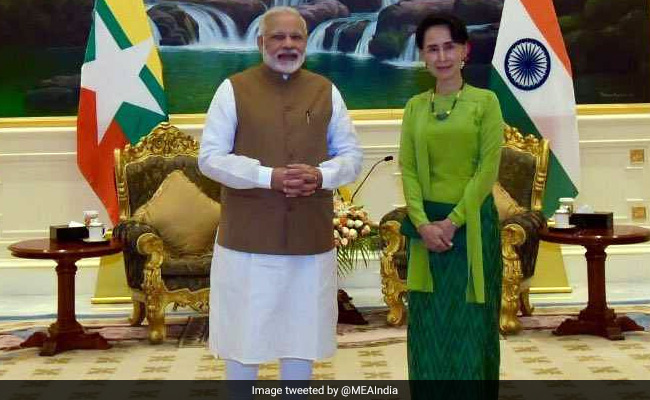 NAYPYIDAW: India and Myanmar today signed 11 agreements in a range of sectors, including one on maritime security cooperation, to further strengthen their multifaceted partnership. The MoUs were signed after Prime Minister Narendra Modi held wide-ranging talks with Myanmar's State Counsellor Aung San Suu Kyi. India and Myanmar signed an MoU to strengthen maritime security cooperation. The two sides also signed an agreement for sharing white shipping information to improve data sharing on non-classified merchant navy ships or cargo ships. The 11 MoUs also include one between the Election Commission and Union Election of Myanmar, the national level electoral commission of Myanmar. An MoU was also signed to organise cultural exchange programme for the period 2017-2020, according to a statement issued by Ministry of External Affairs. The two countries also signed agreements on cooperation between Myanmar Press Council and Press Council of India, extension of agreement on the establishment of India-Myanmar Centre for Enhancement of IT skill. They also signed agreements to cooperate in 'Medical Products Regulation' and in the field of health and medicine. An MoU on enhancing the cooperation on upgradation of the women's police training centre at Yamethin in Myanmar was also inked. Prime Minister Modi arrived in Myanmar on the second leg of his two-nation trip during which he travelled to southeastern Chinese city Xiamen where he attended the annual BRICS summit and held talks with Chinese President Xi Jinping, Russian President Vladimir Putin and other world leaders. This is PM Modi's first bilateral visit to Myanmar. He had visited the country in 2014 to attend the ASEAN-India Summit. Myanmar is one of India's strategic neighbours and shares a 1,640-km-long border with a number of northeastern states.

---
'Teachers Have Central Role In Realising New India Dream: PM Modi
MMNN:5 September 2017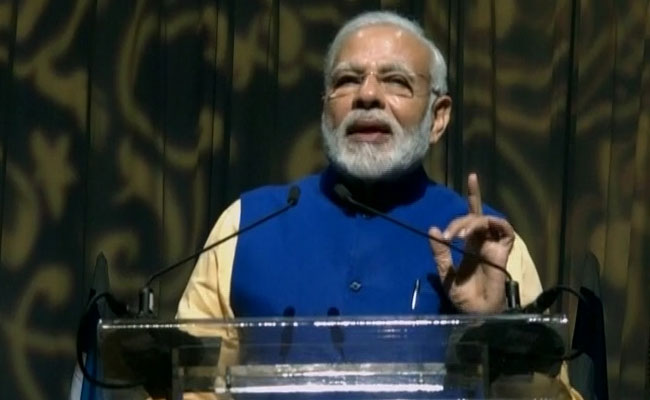 NEW DELHI: Prime Minister Narendra Modi today greeted the teaching community on Teacher's Day and said they had a central role in realising the vision of a new India. The prime minister also paid tribute to former president Sarvepalli Radhakrishnan on his birth anniversary today. The day is celebrated in his honour. "On Teachers' day, I salute the teaching community that is devoted to nurturing minds and spreading the joys of education in society. Teachers have a central role in realising our dream of a 'New India' that is driven by cutting edge research and innovation," PM Modi said. He added that the next five years should be about teach to transform, educate to empower and learn to lead. "My tributes to Dr S Radhakrishnan, an outstanding teacher and statesman on his birth anniversary," PM Modi, who is in China for the BRICS summit from where he will be going to Myanmar, said his message.

---
'Arvind Kejriwal Fined Rs. 5,000 By Court In Arun Jaitley Defamation Case
MMNN:4 September 2017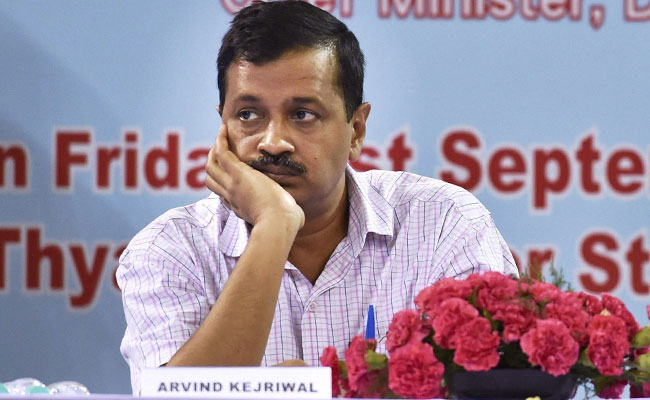 NEW DELHI: The Delhi High Court today imposed another Rs. 5,000 as cost on Arvind Kejriwal over delay in filing his reply to a fresh Rs. 10 crore defamation suit filed by Union minister Arun Jaitley over use of an objectionable word allegedly by the CM's former lawyer. Joint Registrar Pankaj Gupta directed Mr Kejriwal, who was earlier slapped with Rs. 10,000 as cost, to deposit Rs. 5,000 in the 'Army Welfare Fund Battle Casualties'. The cost was imposed after Mr Jaitley's counsel Manik Dogra informed the court that the chief minister's written statement to the suit was filed beyond the time of two weeks granted by this court on July 26. The counsel further submitted that these were delayed tactics on the part of the chief minister. Advocate Rishikesh Kumar, appearing for Mr Kejriwal, urged the court to condone the delay on the ground that the written statement could not be filed due to certain technical objections raised on two occasions by the High Court Registry. Taking note of this submission, the Registrar condoned the delay on behalf of the chief minister and said the same is "subject to deposit of Rs. 5,000 costs." The court has now fixed the matter for October 12. Meanwhile, Mr Kejriwal, in his reply to the defamation suit, filed through advocate Anupam Srivastava submitted that the union minister's suit "is liable to be dismissed as no civil action for damages for slander lies for any statement in pleadings or during the conduct of a suit against a party or a witness in it." The high court had on May 23 sought response of Mr Kejriwal on why defamation proceedings should not be initiated against him. Mr Jaitley had filed the second defamation suit after Mr Kejriwal's then lawyer Ram Jethmalani allegedly "abused" him in open court during proceedings of another defamation suit he had filed against the Aam Aadmi Party (AAP) chief and five other party functionaries. During the cross-examination of the Union minister on May 17 before the Joint Registrar in the High Court, Mr Jethmalani had allegedly used a term Mr Jaitley had found objectionable. A day after, another high court judge, who was hearing a connected matter, had termed as "scandalous" the remarks allegedly made by Mr Jethmalani against Mr Jaitley before the Joint Registrar

---
'PM Modi To Pick New Team In Cabinet Rejig Tomorrow: 10 Points
MMNN:2 September 2017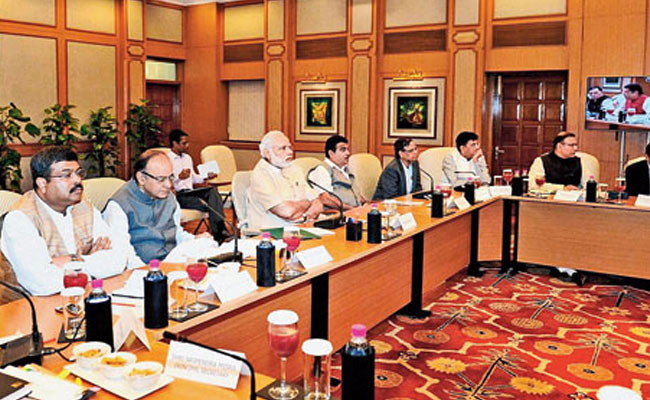 NEW DELHI: More than 10 new ministers will be inducted into Prime Minister Narendra Modi's council of ministers will be sworn in tomorrow morning at 10 am in a big cabinet revamp. Sources says in short while from now the new minsters will start receiving phone calls and they have to be in Delhi by this evening. Since late Thursday night, at least eight ministers, including Uma Bharti, Rajiv Pratap Rudy, Sanjeev Balyan, Faggan Singh Kulaste, Kalraj Mishra and Bandaru Dattareya have resigned and sources say that more resignations are expected to make way for new faces.
Here are 10 updates in the story:
1- A new Defence Minister is expected to be appointed as Finance Minister Arun Jaitley, who took on the extra job after Manohar Parrikar shifted to Goa as Chief Minister, will retain the Finance Ministry and shed off defence portfolio, sources said; he currently handles both key departments.
2- Rail minister Suresh Prabhu is expected to get a new assignment, possibly defence, while his junior minister Manoj Sinha could be elevated in the ministry. Law Minister Ravi Shankar Prasad too could get a new ministry.
3- The new team will also have at least two members from the BJP's new partner in Bihar, Nitish Kumar's the Janata Dal United. Ram Chandra Prasad Singh and Santosh Kushwaha are tipped to be ministers.
4- The cabinet reshaping - the third in as many years - has been due for months now, especially in the scenario of vacancies and shifting alliances. Evictions from the cabinet are based only on performance after a review, the sources said, with PM Modi clear he wants ministers who perform and work hard.
5- A performance review of ministers and their rating was reportedly submitted to PM Modi and BJP chief Amit Shah, and it was the reference point when decisions were taken on changes to the cabinet.
6- Sadananda Gowda, who was demoted from Law to Statistics and Programme Implementation in the last reshuffle, and who has not been among the best performers, is unlikely to lose his place in the cabinet because of elections in his state Karnataka next year. Two more BJP leaders from Karnataka could become ministers as the BJP tries to wrest the state back from the Congress. Agriculture Minister Radha Mohan Singh could be asked to go, sources said, though he denied any knowledge of an imminent exit.
7- Water Resources Minister Uma Bharti did not deny that she has quit when asked, only saying, "I haven't heard that question, will not hear it and will not answer." Sources said though her ministry's performance on the gigantic Clean Ganga project, was found sub-par but she is likely to be retained in the cabinet.
8- The move is expected to fill key cabinet vacancies and also bring into the council of ministers, leaders from states where elections will be held soon. Bhupendra Yadav, who is the BJP's man in-charge of Gujarat, is among those likely to be made a minister. BJP chief Amit Shah has set a target of winning 150 of the 182 seats in assembly elections due in the state by the end of the year and an A-list central team led by Mr Jaitley will shape election strategy.
9- Prahlad Singh Patel, who is from Madhya Pradesh, another state where elections will be held next year, could also be made a minister. The name of BJP Rajya Sabha member from Maharashtra Vinay Sahasrabuddhe who is a party idealogue is doing the rounds as a possible new minister. As is that of Satyapal Singh, former police commissioner of Mumbai who defeated Uttar Pradesh politician Ajit Singh in his bastion Baghpat in the 2014 national election.


---
'Rabba (God), What's My Fault?' Ram Rahim Kept Saying In Jail
MMNN:1 September 2017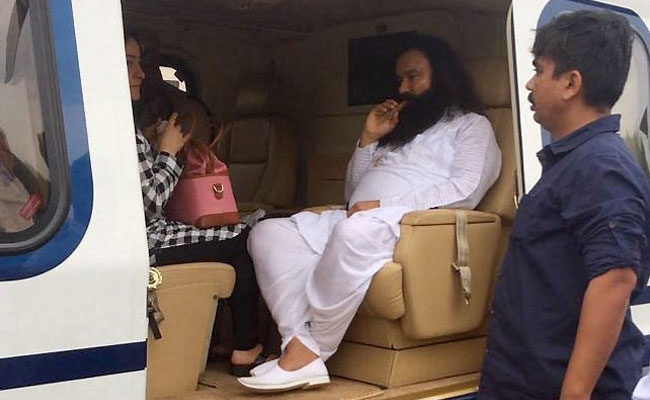 NEW DELHI: When he was taken to a jail in Haryana's Rohtak following his conviction for rape, Gurmeet Ram Rahim Singh, the self-appointed spiritual leader, kept muttering - "Rabba (God), mera kya kasoor hai (what is my fault)?" Another prisoner, who is now out on bail, has also said that the Dera Sacha Sauda chief refused to eat proper meals and couldn't sleep the entire night on the first day. "The five days I was in the jail, he didn't eat anything. We just had milk, tea, biscuits," said Swadesh Kirad, who was also at the Sunaria jail. Swadesh Kirad said when two days later, a judge sentenced him to 20 years in prison for raping two followers, Ram Rahim kneeled down and shouted - "Hang me, I don't want to live anymore." He also sat on the floor and wept loudly, refusing to leave the courtroom until he was led out by commandos. Swadesh Kiran said the flashy and controversial Baba would have been attacked by fellow prisoners had he not been kept separately. "Prisoners were angry due to the violence that caused so many deaths. Had he not been kept separately, they would've attacked him." Over 30 people died and nearly 200 wounded in violence by Dera followers after Ram Rahim was declared guilty by a court in Panchkula. He was later flown by a special government chopper to the Rohtak jail. His "adopted daughter" Honeypreet Insan accompanied him. "He couldn't sleep the entire night. Also, there was no VIP treatment to #RamRahimSingh in jail, treated like every prisoner," Swadesh Kirad insisted

---
Arun Jaitley's Quip, Amit Shah's Meeting With 8 Ministers Fuel Reshuffle Buzz
MMNN:31 Aug 2017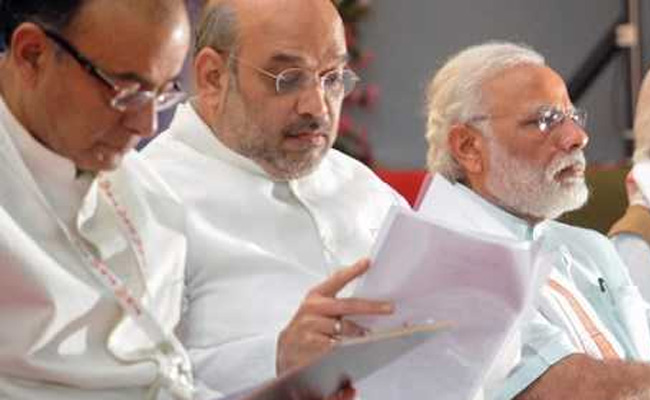 NEW DELHI: Amid strong buzz around a cabinet reshuffle any day now, Finance Minister Arun Jaitley was today asked by reporters how long he would continue as Defence Minister. "At least I hope not very long," he replied, chuckling. Mr Jaitley took on the extra job after Manohar Parrikar shifted to Goa as Chief Minister earlier this year. Sources say he is likely to shed one of the two ministries before he leaves next month for Japan, where he is to attend the annual defence ministers' conference. The possibly last major reshuffle before the 2019 national election is expected before Prime Minister Narendra Modi leaves on Sunday for a Brics summit in China. Amit Shah, the chief of the ruling BJP, has held several meetings over the past few days and today held discussions with eight ministers including Mr Jaitley. "It was about the Gujarat polls, nothing else was discussed," said minister Nirmala Sitaraman. Many expect a change in the Railways Ministry after a series of accidents. For the first time after two derailments within four days, Minister Suresh Prabhu met PM Modi and indicated that he had offered to quit but was "asked to wait". A rejig of the government has been due for months now, especially in the scenario of vacancies and shifting alliances. The ruling BJP may also accommodate leaders like Bhupendra Yadav, the in-charge of Gujarat, with an eye on elections in the state later this year. Two key ministries opened up and were re-alloted after M Venkaiah Naidu was named Vice President of India. The Environment ministry was reassigned as additional charge after the death of minister Anil Dave. The Centre is widely expected to reward Nitish Kumar's Janata Dal (United), which is back to sharing power with the BJP in Bihar after a dramatic break-up with Lalu Yadav's RJD and the Congress in July. Former union minister Praful Patel has denied reports that his NCP or Nationalist Congress Party will join the Modi government. "There is no basis for speculation that the NCP is joining the government in Delhi," Mr Patel tweeted on Monday. Many are not convinced after Sharad Pawar's party has been telegraphing its detachment from the Congress-led opposition. The NCP skipped a meeting of the opposition called by Sonia Gandhi earlier this month, despite Mr Pawar claiming he would depute a representative. It was speculated that Mr Pawar was upset about the Congress suggesting he had betrayed the party in the recent Rajya Sabha election in Gujarat.

---
Mumbai's Civic Body BMC Lists Priorities For Restoring Rain-Ravaged City
MMNN:30 Aug 2017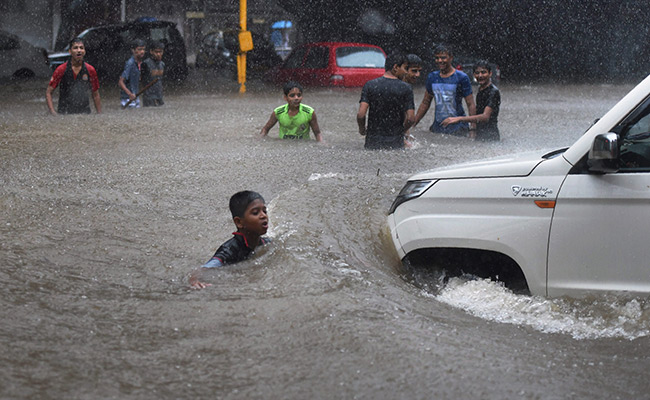 MUMBAI: A day after copious rains, the civic authorities have moved to clear roads which have become slushy and strewn with garbage, and are also gearing up to tackle rush of patients in municipal hospitals. Cars and other vehicles left behind by their owners due to flooding of streets, running out of fuel and breakdowns are causing traffic snarls and the Brihanmumbai Municipal Corporation (BMC) is tackling this issue on a priority basis. "Our first and foremost task is to clear the road traffic which is facing hurdles owing to silt and garbage which has got collected on street several places "People have left their cars on roads, so (removing) them is among our first priority," said Sudhir Naik, Deputy Municipal Commissioner, today. The police have taken note of cars and other vehicles left behind and offered free towing service. "If your car is out of fuel/stranded #Diall100 or 8454999999 or tweet us for free towing till the nearest fuel pump or garage #mumbairains," the Mumbai police tweeted. "Then our second priority would be to attend the flow of patients in civic hospitals and dispensaries which usually see a spurt in their number after a spell of heavy rains," he said. Also, the civic personnel are removing trees and branches which have fallen on roads and housing colonies, said the officer. The civic body is making arrangements for 'visarjan' (immersion) of Lord Ganesh idols in the next few days, the officer said. "We are also repairing non-functional pumps installed at critical locations to flush out rainwaters." Leaves of municipal staff have been cancelled and they have been asked to report to their respective work sites, the commissioner said. He said over 25,000 civic staffers reported for work this morning and they have been immediately deployed for various tasks. Municipal Commissioner Ajoy Mehta was present in the BMC's Disaster Management Cell till late last night and reviewed the situation and the civic body's efforts to deal with heavy rains, Mr Naik said. The officer admitted that a few places like Khar, Linking Road and SV Road in Bandra, Parel, Kalina, Hindmata (Dadar) and Sion were still water-logged. However, water level at these places had receded in absence of overnight rain. Meanwhile, traffic jams on roads and subways at Andheri, Santacruz and Khar continued to cause hardships to motorist. Long-distance passengers were a harried lot after some of the trains were cancelled. Savita Kumari, a stranded passenger at LTT, said, "I had to go to Varanasi yesterday but my train was cancelled due to rains. Now I am clueless what to do and I don't know how long can I survive here without food and water." Central and western railways have short-terminated, diverted or cancelled a number of trains due to submergence of tracks and signal failure

---
Gurmeet Ram Rahim sentencing LIVE: Dera chief gets 10-year jail term for rape, two vehicles set on fire in Sirsa
MMNN:28 Aug 2017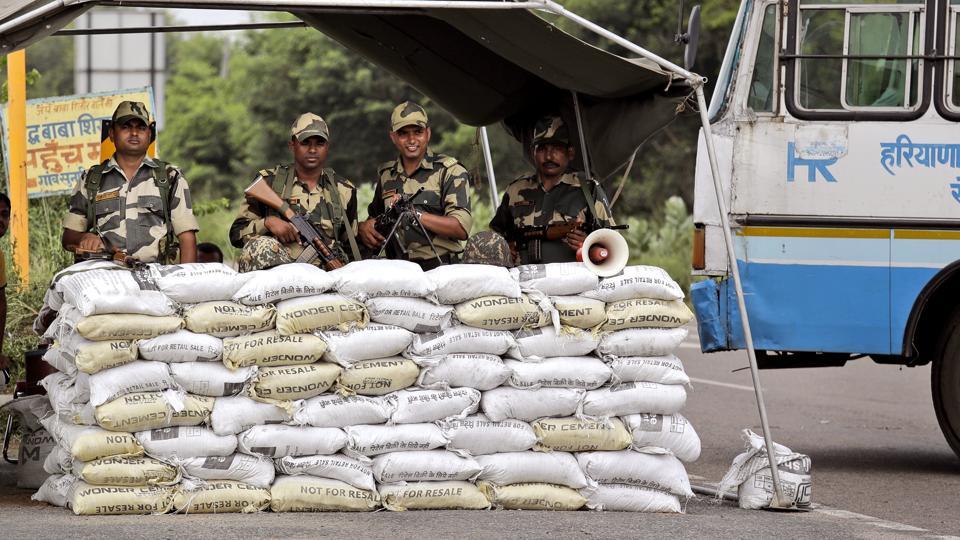 Self-styled godman Gurmeet Ram Rahim Singh was on Monday sentenced to 10 years in jail in a rape case. The court slapped a fine of Rs 65,000 on the Dera Sacha Sauda chief. Authorities are on high alert in Punjab and Haryana, as his followers went on the rampage that left 38 dead after his conviction of Friday. Ahead of the Monday's court proceedings, the two states ordered schools and colleges shut, suspended mobile services, stepped up security and threw a five-tier cordon around a Rohtak jail, where a judge handed out punishment to the Dera chief for raping two disciples 15 years ago. This (sentence) must be accepted by the people and peace must prevail, ANI quotes Punjab chief minister Amarinder Singh as saying. "There is total normalcy, our forces are on their toes. Will not let any untoward incident happen Meanwhile, Dera chairperson Vipassana Insaan appealed for peace amid reports that two vehicles have been set on fire in Sirsa, the headquarters of the sect. The 50-year-old Dera Sacha Sauda leader was on Friday found guilty in the 15-year-old case. Within minutes of the verdict, his followers ran riot and clashed with security forces, leaving 38 people dead and 250 injured. While 32 people were killed in Panchkula, where the case was heard, six died in Sirsa, the headquarters of the sect. The medical examination of Ram Rahim Singh is being done. After this, he will be given a jail uniform and will be allotted a cell in jail. Three ambulances are seen entering the jail premises. Dera Sacha Sauda chief Gurmeet Ram Rahim Singh sentenced to 10 years in jail for rape. Reports of arson from Sirsa's Phulkan village, located within 1 km radius of Dera headquarters, say sources. Two vehicles reportedly set on fire by dera followers Punjab chief minister Captain Amarinder Singh holds security review meeting with DGP, chief secretary and other senior officials Back in Delhi, an official said there were no Metro rail diversions or restrictions. "...these are just rumors to propagate false stories," ANI quoted Delhi Police PRO Madhur Verma saying. "Delhi Police have made proper arrangements and deployment. Additional forces have been mobilised." The deployment of undercover policemen to guard sensitive locations across the national capital is among a slew of measures devised at a high-level police meeting to protect the city on Monday. Miscreants had set on fire two train coaches at Anand Vihar railway terminal, torched a few buses in parts of west and east Delhi and pelted stones at least in 12 locations across the city after Gurmeet Ram Rahim's conviction
Tough talk and assurance
Ahead of the sentencing, the deputy commissioner of Rohtak has said that those creating trouble should expect bullets if they defy warnings. "We will not allow anyone to create any sort of trouble in Rohtak. Anyone breaking law or indulging in acts of violence or arson will himself be responsible for his fate. Anyone creating trouble will be given a warning first and if he still pays no heed, then he will have to face the bullet," Atul Kumar told reporters in Rohtak, where the army has been kept on standby. Kumar also said people do not have any reason to be afraid as stringent security measures have been taken and the situation in the district was "completely under control".
Lockdown and high alert
Central Bureau of Investigation (CBI) special court judge Jagdeep Singh, who had on Friday held the Dera chief guilty of rape and criminal intimidation of two female disciples in 2002, will be flown to Rohtak for announcing the sentence. The district jail premises, about 10 km from Rohtak town, has been completely cordoned off by security forces, including para-military forces and Haryana Police. The Army has been kept on stand-by. No movement of people, other than those authorised, will be allowed within a distance of 10km from the prison premises. "We are fully prepared for any situation. The army has been kept on stand-by," Haryana director general of police (DGP) BS Sandhu said. Rohtak range Inspector General (IG) Navdeep Singh Virk said that 28 companies of para-military forces, along with Haryana Police, have been deployed in Rohtak. Security forces were on high alert again on Monday in Haryana and Punjab as both states braced for the sentencing. Curfew was reimposed in Haryana's Sirsa town, where the sect's headquarters are located, on Sunday. The curfew will continue on Monday. The sect has lakhs of followers mainly in Punjab and Haryana

---
High Court Slams Haryana CM For Alleged 'Political Patronage' To Dera Chief
MMNN:26 Aug 2017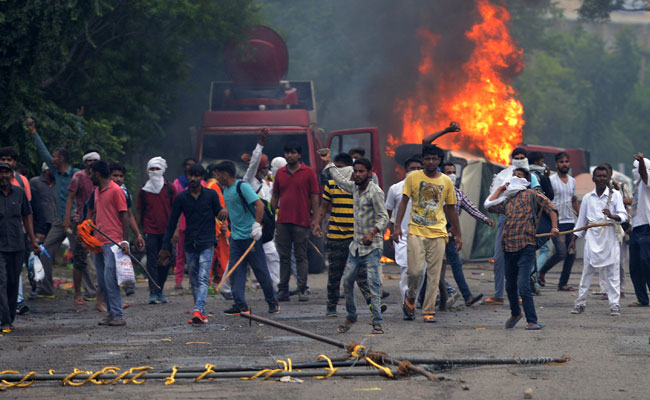 CHANDIGARH: Criticising Haryana Chief Minister Manohar Lal Khattar for allegedly "protecting and extending political patronage" to self-styled godman and rape convict Gurmeet Ram Rahim Singh, the Punjab and Haryana High Court today told the state government to file a case against those who instigated the large-scale violence in parts of Haryana, Punjab and New Delhi. The high court told the state to verify a newspaper report on alleged instigation by leaders of the Dera Sacha Sauda sect, and file a police complaint against the instigators "if the reporter stood by his report". A high court bench of Justices SS Saron, Surya Kant and Avneesh Jhingan, in its resumed hearing, asked the state about its plans to sanitise the Dera Sacha Sauda at Sirsa town, some 260 kilometres from Chandigarh, where hundreds of followers are reportedly still inside. Getting tough, the judges criticised Haryana Education Minister Ram Bilas Sharma for recently granting Rs. 51 lakh to the sect. The judges told the Deputy Commissioners of Punjab and Haryana to provide a list of the sect's properties and not to sell or transfer the assets, besides seeking a report on the violence. A Central Bureau of Investigation court in Haryana's Panchkula town, adjoining Chandigarh, yesterday held Ram Rahim guilty of raping two women followers in 2002, sparking violent protest by his followers. The security forces opened fire to control the mob. Thirty-one people, 29 of them in Panchkula, died while 250 others were injured.

---
DMK Urges Tamil Nadu Governor To Ask Chief Minister Palaniswami To Prove Majority
MMNN:25 Aug 2017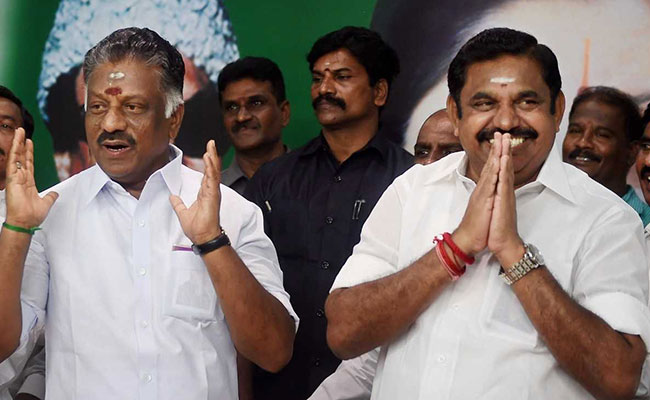 CHENNAI: The DMK today urged Tamil Nadu Governor C Vidyasagar Rao to immediately direct Chief Minister Edappadi Palaniswami to prove his majority in the Assembly in the wake of revolt by 19 AIADMK MLAs, saying any delay could lead to "horse trading". DMK working president and leader of the opposition in assembly MK Stalin, who had earlier this week written to the Governor seeking a floor test, dubbed the Palaniswami regime as a "minority government". In a statement released in Chennai, he also questioned assembly Speaker P Dhanapal's action in issuing notices to the 19 MLAs yesterday on a memorandum by the Government Chief Whip seeking their disqualification for alleged anti-party activities. Mr Stalin said had earlier written to the Governor urging him to immediately ask Mr Palaniswami to prove majority in the assembly. Mr Rao should have immediately convened the assembly to ascertain the government's present strength after the MLAs loyal to sidelined AIADMK deputy general secretary TTV Dhinakaran met him and sought Palaniswami's removal on Tuesday, he said. Mr Stalin said the Governor should ensure that Mr Palaniswami does not continue in power by "creating a constitutional crisis and misusing anti-defection law Referring to the Speaker's action, Mr Stalin said the notices had been issued in connection with an episode that did not happen in the assembly. While the Speaker had not acted against present Deputy Chief Minister O Panneerslvam-led faction for voting against the government in the February 18 trust vote as the then rebel faction, he had issued notices to the 19 MLAs from Dhinakaran camp now, the DMK leader said. "It is clear the Speaker has done so to save Palaniswami's minority government. During such times, every day's delay by the Governor in directing a confidence vote will pave the way for horse trading and other political manoeuvres," he alleged. Mr Stalin's remarks come even as the 19 MLAs remained in a resort in Puducherry and have dismissed the disqualification demand as a "planned drama" and "intimidation" tactics. The Dhinakaran camp MLAs raised the banner of revolt a day after the AIADMK factions led by Mr Palaniswami and former chief minister O Panneerselvam merged on August 21.

---
Ahead Of Ram Rahim Verdict, Court Says Haryana Government Has Failed
MMNN:24 Aug 2017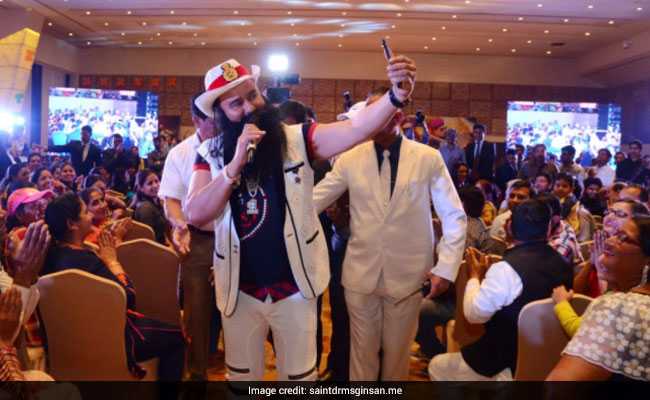 Barely two kms from where a court will tomorrow declare whether self-styled guru Gurmeet Ram Rahim Singh is guilty of rape, formidable groups of his followers have gathered on both sides of the road. The police estimates a lakh all and in this part of the town of Panchkula, it is easily out-numbered. Groups of followers who are called "Premis" gathered on the side of the highway near the court said ''hundreds more of us will come by truck today." Naresh Kumar Insan arrived from Delhi three days back and is staying on the footpath, such is his devotion. There is restricted entry now for Panchkula, a small town in Haryana about 15 kms from Chandigarh. A spokesperson for Ram Rahim's sect, called the Dera Sacha Sauda, says in what seems to be an exaggerated claim that there are at least 20 lakh "premis" in Panchkula for tomorrow's big ruling. As tension swells, their leader has called for peace on Twitter while disclosing that he will appear in person in the courthouse tomorrow. That's likely to throw the crowds into a frenzy. "If that happens, we will ensure that proceedings happen peacefully and there is absolutely no disruption," said BS Sandhu, the top police officer in Haryana. "We intend to seal the entire court premises and shall not allow anybody to enter it, or from nearby." The Punjab and Haryana High Court isn't impressed with the arrangements. It rebuked the Haryana government today for failing to maintain law and order, given the large presence of premis in Panchkula. But clusters of hundreds of premis have already taken position near the courthouse. Sahil Insan, an 18-year-old who travelled by bus from Patiala and then walked 11 kms along with his friends, says the whole point of his journey is to get a glimpse of the 50-year-old guru who has starred in two movies called Messenger of God ('MSG") and its sequel in which he jiu jitsus the bad guys into the air. Ram Rahim's cult of personality includes rhinestone-heavy costumes, some of them in leather, and the odd appearance on a high-end motorbike. He travels largely in a convoy of bullet-proof cars, part of the perks of the Z+ security given to him by the government of Haryana, where his sprawling campus is located in the town of Sirsa. From Sirsa to Panchkula is a five-hour journey by road; many premis we spoke to said their travel was impelled by the need for solidarity at a time when their chief is fighting "fake charges." The case, filed in 2002, accuses Ram Rahim of sexually exploiting two women followers at his ashram; he has denied any wrongdoing. Separately, a court has asked the CBI to investigate whether he encouraged 400 men to undergo castration, promising it would benefit them spiritually. Chandigarh, which has a large prayer centre that doubles up as a major organizational office of the sect, is in total lockdown. Schools and colleges are closed, major roads are being patrolled by the police and buses are being stopped from heading towards Panchkula. Those who have already made it into the town are using the local Ghaggar river to wash; some are cooking on its banks and helping new arrivals to settle in.

---
Air India chief Ashwani Lohani appointed chairman of Railway Board
MMNN:23 Aug 2017


New Delhi: The appointments committee of the cabinet on Wednesday appointed Air India chairman and managing director Ashwani Lohani as chairman, Railway Board. Lohani takes over from A.K. Mittal, whose resignation was accepted by railway minister Suresh Prabhu. Lohani is an officer from the 1980 batch of the Indian Railway Service of Mechanical Engineers (IRSME).
Mittals resignation came as a surprise because the appointments committee of the cabinet had just given him an extension. The extension was cleared by the Prime Ministers Office. The committee had approved Mittals continuation as chairman till he attains the age of 62 in 2018.
A senior government official, on condition of anonymity, said, Appointment of Lohani is a good move and his name was already doing the rounds, especially after his performance in Air India.

---
Will Win Panaji By-Poll With Better Margin, Says Manohar Parrikar
MMNN:23 Aug 2017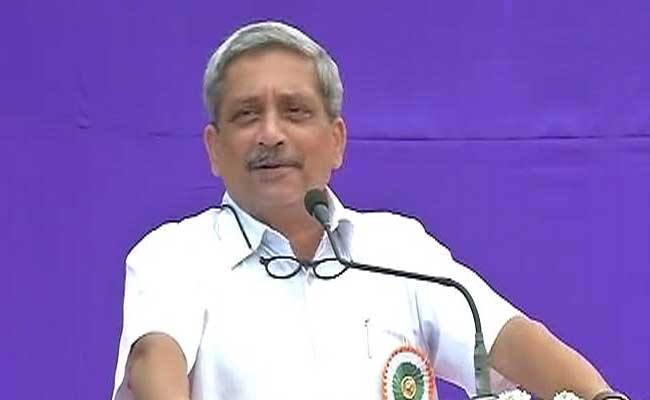 PANAJI: Goa Chief Minister Manohar Parrikar on Wednesday expressed confidence of winning the Panaji assembly by-poll with a bigger margin as there was "virtually no opposition" in the contest. He said 98 per cent of his party's voters would be stepping out to cast their ballots. "My lead will increase," Mr Parrikar said. When asked about his chances of winning the Panaji assembly seat for the sixth time, he said, "I can't see any opposition." Asked about putting in more than usual effort in the by-poll campaign, than he and the BJP had in the past, Mr Parrikar replied: "Shouldn't one campaign?" "There were general elections when I would campaign all over Goa. Now we are campaigning only here," Mr Parrikar said, after casting his vote at the Masson de Amorim polling booth. "From my side we'll get 98 per cent... Two per cent may not be able to ...for some technical, medical reason," said Mr Parrikar, who is contesting against Girish Chodankar of the Congress and Anand Shirodkar from the Goa Suraksha Manch. Speaking to reporters here, former state RSS chief Subhash Velingkar, who is the mentor of the Goa Suraksha Manch said that the Rashtriya Swayamsevak Sangh volunteers would not support Mr Parrikar. "RSS workers will not vote for him and our Anand Shirodkar will win this election, with a small margin," Mr Velingkar said.

---
Triple Talaq Verdict: Muslim Personal Law Board AIMPLB To Plan Future Action At Bhopal Meet
MMNN:22 Aug 2017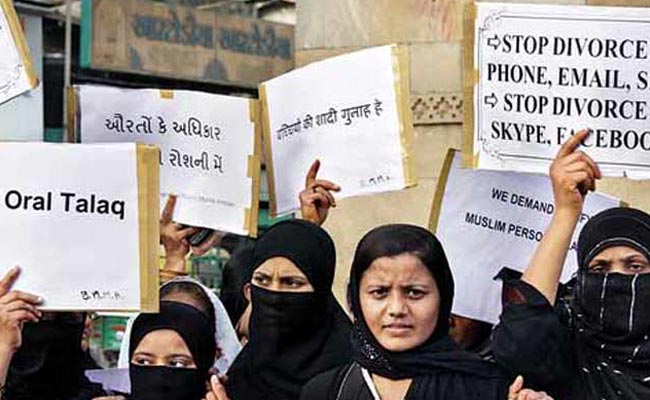 LUCKNOW: The All India Muslim Personal Law Board or AIMPLB will chalk out its future course of action with regard to the Supreme Court's verdict on triple talaq in its working committee meeting slated on September 10 in Bhopal, an official of the body said. The meeting was convened earlier and its agenda was issued yesterday, member of the Board's working committee Zafaryab Jilani said. "The working committee meeting in Bhopal on September 10 will take a decision on the future course of action on today's Supreme Court verdict after studying it in detail," he said. Besides, other issues will also be taken up in the meeting with the verdict being the most prominent one, said Mr Jilani, who is also a senior counsel. He said that the hearing on the Babri mosque case is also on the agenda of the Bhopal meeting. When asked to comment on today's verdict on Triple Talaq, Mr Jilani said it will not be appropriate to comment on the Supreme Court's decision without studying it in detail

---
Lt Col Purohit, first Army officer arrested for terrorism, claims innocence
MMNN:21 Aug 2017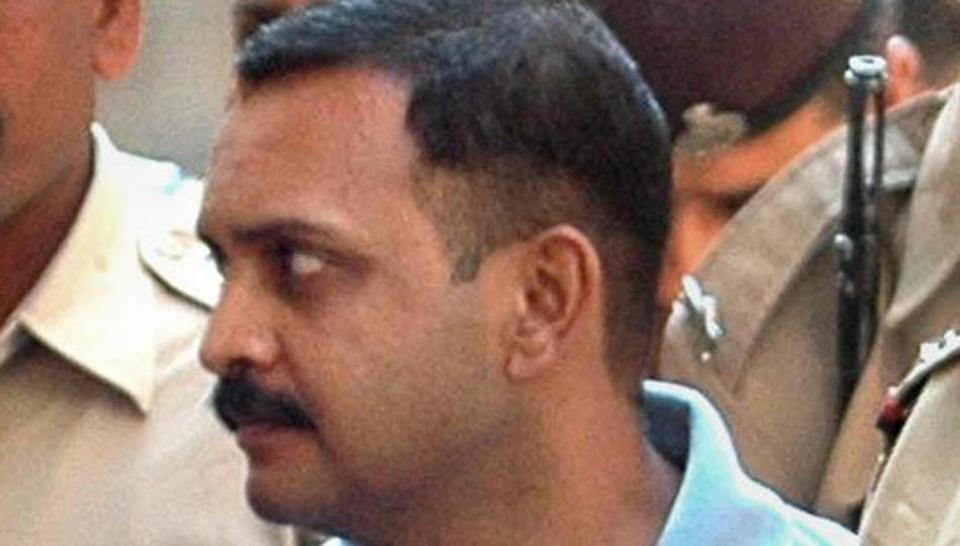 When Lt Col Prasad Shrikant Purohit was arrested in late 2008, it shocked the country. He was the first Army officer to be arrested on charges of terrorism, accused of being a conspirator in the Malegaon blast. Here are key facts about Purohit, who was given bail on Monday. At around 9.30 pm on September 29, 2008, a bomb kept on a motorcycle exploded near Hamidia Masjid in Malegaon, a communally sensitive textile town in Nasik district of north Maharashtra. Six persons were killed and 101 injured in the blast that was probed initially by the Maharashtra Police's Anti-Terrorism Squad (ATS) and then, taken over by the National Investigation Agency (NIA) in 2011. Purohit, 45, was a member of Abhinav Bharat, a trust formed to promote Hindu values but allegedly was a front to carry out attacks against Muslims. He collected funds to buy arms and explosives for the trust and organised meetings where the Malegaon attack was planned, investigators allege. "Purohit was also accused of floating an organisation by the name of Abhinav Bharat in year 2007 with the intention to propagate a separate Hindu Rashtra with their own constitution with the intent to threaten unity, ­integrity and security of India," says the NIA's chargesheet in the Malegaon case . The NIA says Purohit hid his association with Abhinav Bharat, but he claims he was gathering intelligence and his senior officers were aware of his work. "I have said everything before the (Army's) court of inquiry. I have infiltrated Abhinav Bharat. I can only say that I have done my job properly and kept my bosses in the loop. Everything is in the Army records," Purohit told Outlook magazine in an interview in July 2012. "Having a particular ideology does not make me a terrorist or anti-national," said Purohit when he was asked in the interview about allegations that Abhinav Bharat was involved in the Malegaon blast. According to the NIA, Purohit held meetings in Faridabad on January 25 and 26, 2008, where the formation of a Hindu Rashtra was discussed. Purohit allegedly read the constitution of Abhinav Bharat and discussed the formation of a "Central Hindu government in exile in Israel and Thailand. An NDTV profileof Purohit in March 2011 notes Purohit was commissioned into the Maratha Light Infantry after passing out of the Officers' Training Academy at Chennai. He was serving in Jammu and Kashmir when he fell ill and was medically downgraded. He was then shifted to Military Intelligence. The same NDTV report says Purohit was posted at Deolali in Maharashtra when he allegedly came in contact with Ramesh Upadhyay, a retired Major, and a founder of Abhinav Bharat. Upadhyay too is accused in the Malegaon case.

---
Nitish Kumar-led JD(U) passes resolution to join NDA
MMNN:19 Aug 2017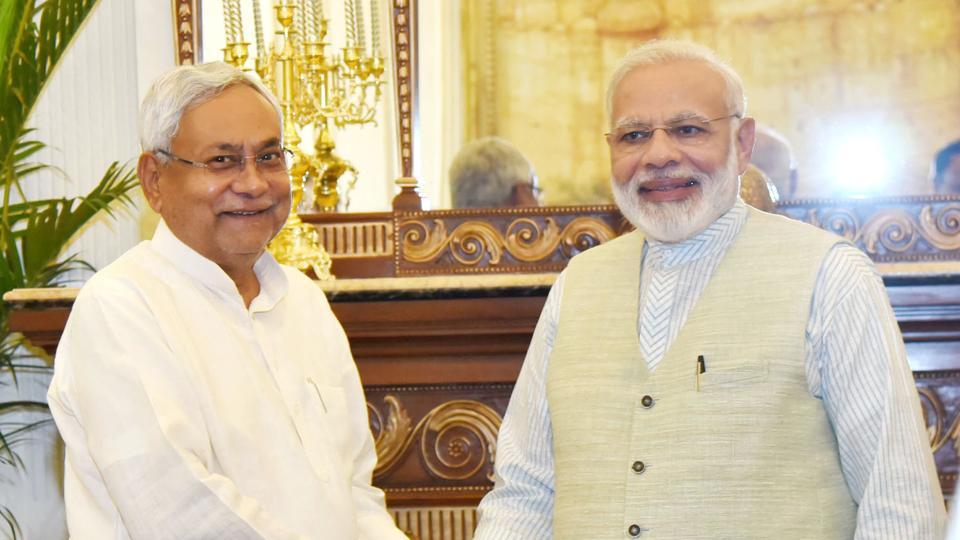 The Janata Dal (United) on Saturday passed a resolution to join the National Democratic Alliance (NDA) during the party's national executive meeting chaired by leader and Bihar chief minister Nitish Kumar. The political move that makes the ruling party in Bihar officially an ally of the NDA at the Centre comes weeks after Nitish broke ties with the Grand Alliance parties - Congress and the Rashtriya Janata Dal - in the state and re-formed the government in alliance with the Bharatiya Janata Party (BJP). Earlier in the day, JD(U) leader KC Tyagi said that senior leader Sharad Yadav has every right to put forward his points of disagreement with the alliance, but he shouldn't attend Rashtriya Janata Dal (RJD) chief Lalu Prasad Yadav's programme as it will break their trust. "Sharad Yadav is invited for the JD(U) national executive meet and he can sort out differences, but he shouldn't attend Lalu Yadav's programme. We will lose our faith in him, if he does so. He is one of the founders of the party, therefore, he can put forward his views in the meeting," Tyagi told the media here. He added that although Sharad Yadav does not agree with party's decisions, there is no rift in the party. Meanwhile, ahead of the national executive committee meeting of the JD(U), the two factions of the party - one led by Nitish Kumar and the other by former party president Sharad Yadav - put up striking publicity material in Patna, leading up to a poster war in the city. Incidentally, both factions claim to be the "real JD(U)". The poster put up by Sharad Yadav's faction showcased him with "Jan Adalat ka Faisla - Mahagathbandhan jari hai (decision of the people's court - the grand alliance continues)" written on it. The other has Nitish with party leaders - state JD(U) chief Basistha Narayan Singh, RCP Singh and others. "Nitish Kumar hi zindabad (hail only Nitish Kumar)," said the poster. Sharad Yadav was sacked as JD(U)'s Rajya Sabha leader when he made his chagrin against Nitish Kumar snapping ties with the Lalu Yadav-led RJD and forging an alliance with the BJP, to form the next government in Bihar, quite evident. Yadav also asserted that Nitish's flip-flop, as far as his views on the BJP were concerned, was an insult to the 2015 mandate of the people given to the "Mahagathbandhan" and that he was still a part of the grand alliance in the state. In the aftermath, the Nitish-led JD(U) even suspended 21 party leaders for participating in Yadav's recent three-day Jan Samwad Yatra, wherein he interacted with the people of the state, indicative of a widening rift in the party. Lalu Yadav had also come out in support of Sharad Yadav, leading up to the Nitish faction, reportedly, warning the latter that if he attended the August 27 "Desh Bachao, BJP Bhagao" rally of the former, he would be sacked from the party. Sharad Yadav will hold a parallel convention in the state under the title 'Jan Adalat' later on Saturday.

---
Not Seeking Power, Positions For Children: Narayana Murthy Responds
MMNN:18 Aug 2017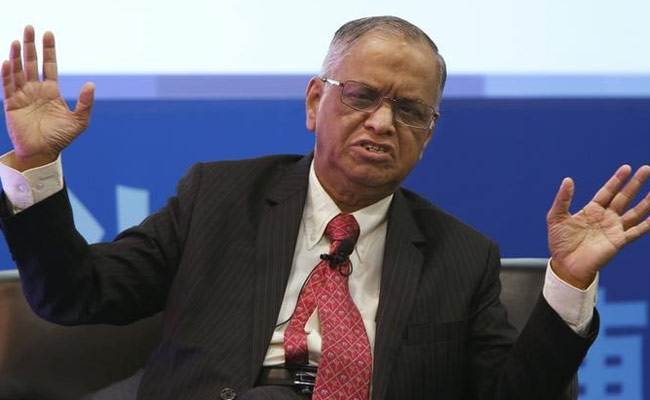 NEW DELHI: Infosys founder Narayana Murthy, singled out by the board of the software giant for the abrupt resignation of CEO Vishal Sikka, today said he is "anguished" by the allegations and is not seeking money, position for children or power." The 70-year-old reiterated that his chief concern has been "the deteriorating standard of corporate governance". Mr Sikka quit Infosys three years after he became the first non-founder to be named the CEO of Infosys. His resignation comes after a protracted clash with Mr Murthy and other founders over his own pay as well as severance packages provided to top executives. The board has promoted Chief Operating Officer U.B. Pravin Rao as the interim CEO till a replacement is named. A recent letter by Mr Murthy which allegedly attacked the integrity of the board was named by the company in its statement on Mr Sikka's exit. "Murthy's continuous assault, including his latest letter, is the primary reason for the resignation of Sikka despite strong Board support," said the IT major in a statement after it accepted Mr Sikka's resignation and appointed him as Vice-Chairman till the new Chief Executive is appointed by March 31, 2018. "Murthy's letter contains factual inaccuracies, already disproved rumours, and statements extracted out of context from his conversations with Board members," asserted the company. Mr Sikka has blamed "unrelenting, baseless/malicious and increasingly personal attacks" for his decision.

---
Uttar Pradesh Police Detain Akhilesh Yadav On Way To Attend Protest Rally
MMNN:17 Aug 2017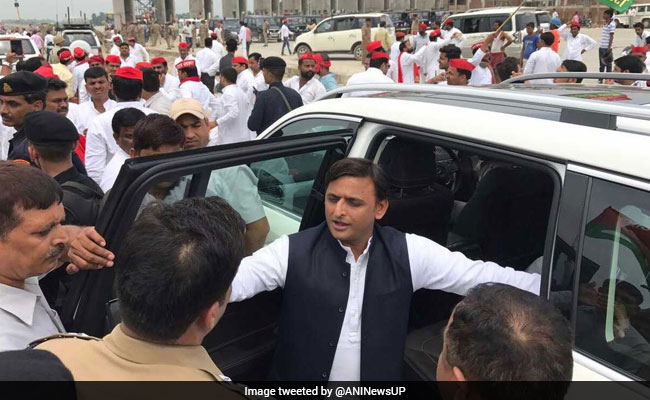 UNNAO: Akhilesh Yadav was today detained by the police in Uttar Pradesh's Unnao district when he was on his way to Auraiya to attend a protest rally. The Samajwadi Party or SP president, who was later released and allowed to go to Lucknow, attacked the Yogi Adityanath government in the state alleging that it was misusing state machinery. The former chief minister was stopped near an under-construction toll plaza in the Hasanganj police station area on the Lucknow-Agra expressway and taken to the agriculture research centre in Dhaurhara from where he was allowed to return to Lucknow, Circle Officer Dhirendra Kumar Singh said. "I was going to Auriaya to meet my party workers who were subjected to barbaric police action. The state government wants to win the zila panchayat post by misusing official machinery. My workers did not do anything wrong in Auraiya," Mr Yadav said. "This dictatorial attitude with the help of police will not be tolerated. The BJP is only doing politics over cow," he added. On a question about the tragic death of several children in a state-run hospital in Gorakhpur, he said it was a result of the government's failure. Yesterday, the police had detained some senior SP leaders after workers allegedly turned violent at not being allowed to accompany their candidate for the zila panchayat chairperson's post to the nomination room in the Auraiya collectorate.

---
Supreme Court stays HC order that put on hold lookout circular against Karti Chidambaram
MMNN:14 Aug 2017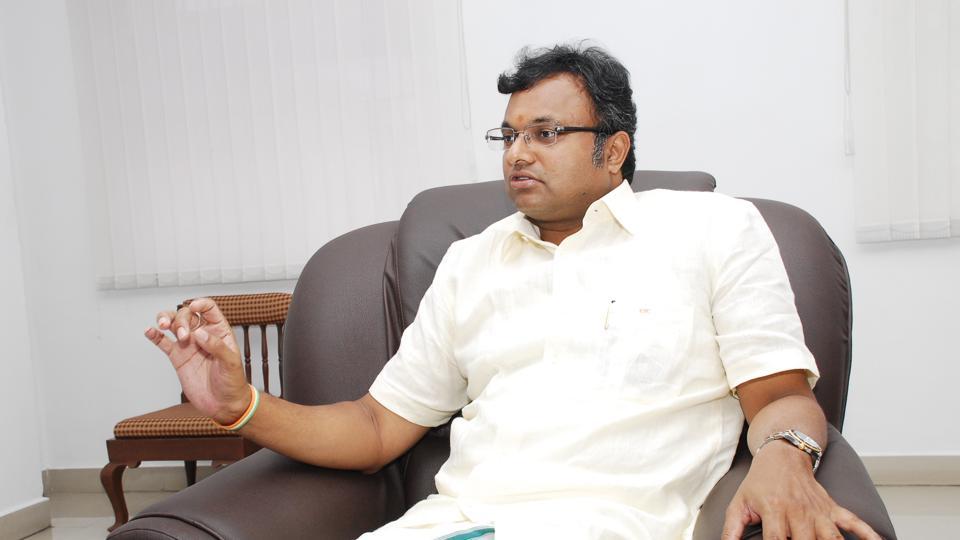 The Supreme Court stayed on Monday the Madras high court order that had put on hold the lookout circular issued by the Centre against Karti Chidambaram, son of former minister P Chidambaram, and others in connection with an alleged corruption case. A bench comprising Chief Justice J S Khehar and D Y Chandrachud also issued notice to Karti Chidambaram and others on an appeal filed by the Centre challenging the high court's order staying the look out circular. The bench, during the hearing, repeatedly observed that Karti had not joined the investigation in the case and, moreover, he has not sought grant of anticipatory bail in the matter. The bench, meanwhile, asked the high court to decide the petition seeking quashing of the FIR lodged by the CBI. The case is related to alleged irregularities in the Foreign Investment Promotion Board (FIPB) clearance to INX Media for receiving overseas funds when Karti's father was the Union finance minister in 2007. The CBI had claimed that the FDI proposal of the media house was "fallacious", but Chidambaram had cleared it. The FIR dated May 15 was registered before the special CBI judge in Delhi. It was followed by searches at the residences and offices of Karti and his friends on May 16.

---
Chandigarh stalking: Vikas Barala, friend sent to judicial custody till Aug 25
MMNN:12 Aug 2017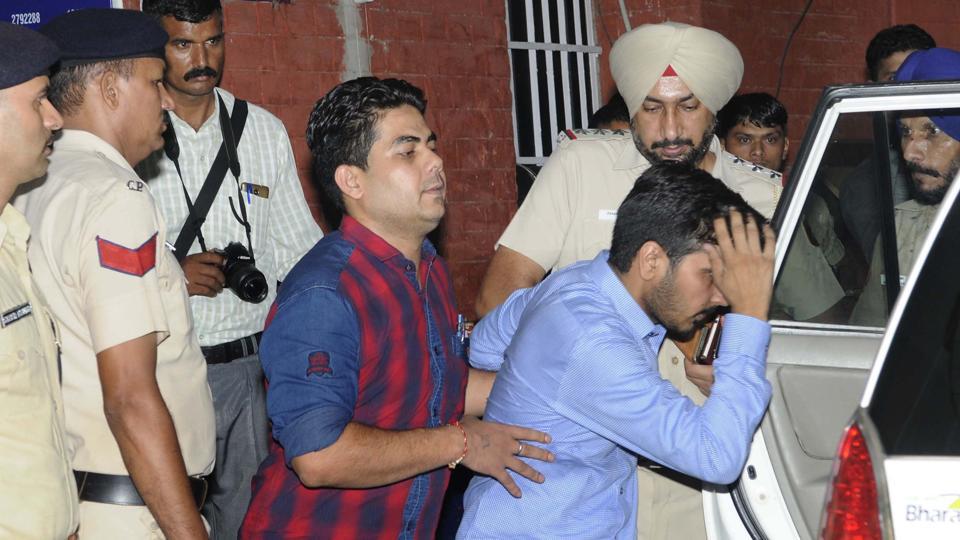 The main accused in Chandigarh stalking case Vikas Barala, son of Bharatiya Janata Party's Haryana unit president Subhash Barala, and his friend Ashish Kumar were sent to judicial custody till August 25 on Saturday. On August 5, Barala and Kumar were arrested on charges of stalking and harassing IAS officer's daughter Varnika Kundu in Chandigarh. But he was granted bail on the same day. The two appeared before duty magistrate Gaurav Datta at the Chandigarh district court on Saturday. The police cops submitted an application asking for their judicial remand for 14 days. The court allowed the application and the two will now be produced in court on August 24. After massive outrage on streets and in the Parliament, the accused appeared before a Chandigarh court on Thursday. The two, were then remanded in two-day police custody and charged with bid to kidnap the 29-year-old woman. However, the accused have denied before police that they either stalked or made any bid to kidnap her. They, however, have admitted that they were in a car seen in the CCTV footage procured for the case. Confronted with the footage, Barala recently also admitted he was driving the vehicle and that he - along with Kumar - had consumed beer before hitting the road when Kundu was allegedly stalked.

---
PM Narendra Modi Welcomes 'Farmer's Son' Venkaiah Naidu to High Post, Congress Defensive
MMNN:11 Aug 2017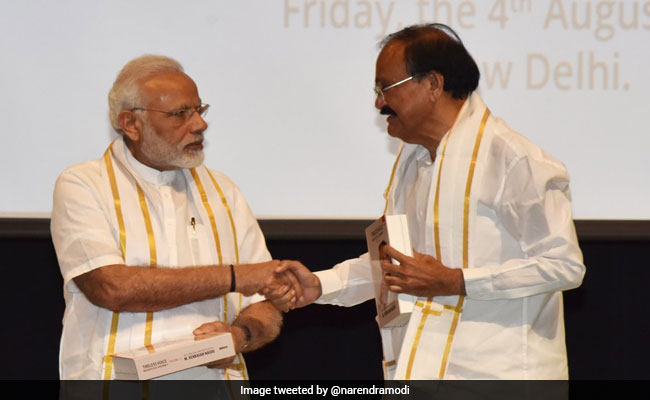 Welcoming M Venkaiah Naidu, India's new Vice President as the Chairman of the Rajya Sabha, Prime Minister Narendra Modi this morning noted that "people from a humble, rural background today occupy the highest positions in India." It showed the "maturity of Indian democracy and the strength of India's Constitution," said PM Modi, who sold tea at a stall in Gujarat when he was a young boy. He talked of how Mr Naidu, a farmer's son, rose to hold top positions in government, always in touch with his roots. "I always felt that he touched more on villages and farmers ...with a greater interest...it has been close to his heart." Mr Naidu, the Prime Minister said, had risen from the grassroots and would lead Indian polity to greater heights, PM Modi said. The inference was not lost on the Congress, for decades led by the Nehru-Gandhi dynasty. "Rich and poor is not the question," said the party's Ghulam Nabi Azad, who is Leader of the Opposition in the Upper House. There were many people, he said, in high posts who came from families of limited means, but added, "salute the society who made this possible but also those who were rich back then. Jawaharlal Nehru was a big lawyer; by today's standards he might have been earning up to 10 crore a day. Gandhiji had a good family background, that is why he reached South Africa. But people like these sacrificed everything for the nation." The Congress leader then reeled off a string of names of leaders who he said "were well-off but sacrificed everything and gave us a nation where anybody can be the President, Vice-President, Army Chief. " Mr Naidu, 68, walked into the Rajya Sabha today to loud cheers and a standing ovation. He was elected earlier this month as Vice President, defeating former West Bengal Governor Gopal Gandhi who was fielded by a joint opposition. A seasoned parliamentarian, Mr Naidu was, till he resigned to contest the vice presidential election, a senior Union Minister. He has also served as the BJP's president. PM Modi, who welcomed Mr Naidu as soon as the Upper House convened today, the last day of the monsoon session, said "Mr Venkaiah Naidu is the first Vice President to be born in Independent India. He is the the only VP according to me who has been for years in this (Parliament) complex, among all these people. He is acquainted with all nitty-gritties of all procedures and functions of the House." Ghulam Nabi Azad too referred to Mr Naidu's experience as a parliamentarian and hoped that "the legacy of not allowing any Bill to be passed in a jiffy will continue." "You as an MP and a minister have been witness to a custom, that everybody has the freedom to express themselves here. This is the forum given to us by our Constitution... MLAs are elected by crores and they send us here...So this House has a dual responsibility, towards the public and the state legislatures," the Congress leaders said. The Samajwadi Party's Ram Gopal Yadav said bills must not be passed amid shouting and chaos, and wished Mr Naidu luck saying, "Hope after Vice President you will move to the next top post," referring to post of President of India.

---
Fear, unease growing among Muslims in India, says outgoing vice president Hamid Ansari
MMNN:10 Aug 2017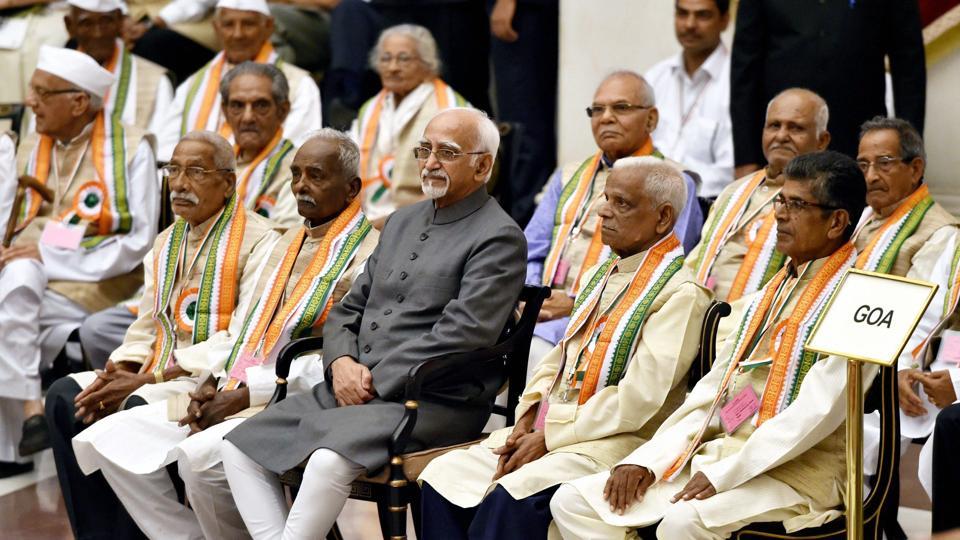 In his parting interview to Rajya Sabha TV, vice president Hamid Ansari ruled out possibilities of Indian Muslims getting influenced by ISI and such other elements but mentioned that it would be a correct assessment to say that the Muslim community is feeling insecure. A feeling of unease and insecurity is creeping in among Muslims in India, vice president Hamid Ansari said, joining a growing number of leaders who have expressed concerns over attacks on minorities. Ansari, who completed two terms as vice president on Thursday, said that there is a breakdown of Indian values and of the abilities among authorities at different levels in different places to be able to enforce what should be normal law enforcing work. "Overall, the very fact that Indianness of any citizen being questioned is a disturbing thought," he said in his parting interview to Rajya Sabha TV, released on Thursday On Wednesday, Congress president Sonia Gandhi raised similar concerns during a speech in Parliament where she urged people to not let "dark forces" diminish India's core values. Neither Ansari nor Gandhi named any party or individual in particular, but their statements can be seen to allude to the leadership of the Bharatiya Janata Party, which the Congress party and other opposition outfits often accuse of pandering to right-wing Hindu ideologies. Ansari was a member of the Congress before being nominated Vice President in 2007. In his interview, Ansari said that he shared his apprehensions to the Prime Minister and other cabinet ministers, but refused to divulge details of their interaction on the plank that "what passes between the vice president and the Prime Minister in the nature of things must remain in the domain of privileged conversation." Ansari was asked a question on his lecture at the National Law School in Bengaluru earlier this month where he said rejuvenating secularism's basic principles was becoming a challenge. "Yes, it is a correct assessment. From all I hear from different quarters, the country. I heard the same thing in Bengaluru, I have heard from other parts of the country, I hear more about in north India. There is a feeling of unease, a sense of insecurity is creeping in," he told journalist Karan Thapar during the interview after being asked to reflect on his statement in Bengaluru. The outgoing vice president also ruled out the possibility of Indian Muslims being influenced by militant outfits. Ansari, the only two-term vice president after S Radhakrishnan, also voice advice for Muslim community. "Do not create for one self or one's fellow beings an imaginary situation which is centuries back, when things were very different. I mean the whole idea was that what are the challenges today... The challenges today are challenges of development, what are the requirements for development; you keep up with the times, educate yourself, and compete..." He said the issue of Triple Talaq is a social aberration and the reform has to come from within the community. "The religious requirement is crystal clear, emphatic, there are no two views about it but patriarchy, social customs has all crept into it to create a situation which is highly undesirable." Former union minister Venkaiah Naidu has been elected as his successor and Ansari thinks that the nature of the job (chairman of Rajya Sabha) will dictate the response and there is no reason why the Opposition will not get a fair deal under Naidu's chairmanship.

---
Parliament Live: Rajya Sabha resumes after adjourning again over MPs protesting BJP
MMNN:9 Aug 2017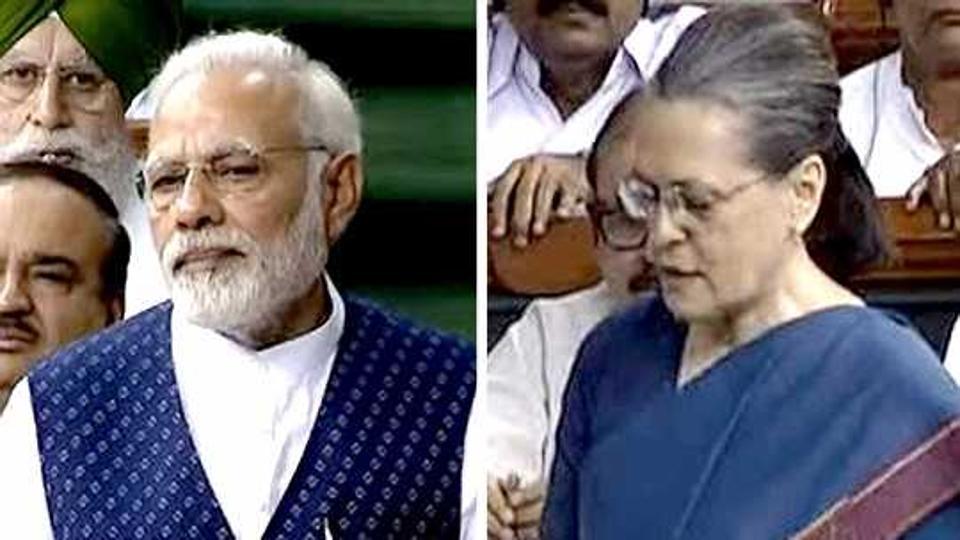 Parliament began its Wednesday session with a commemorative discussion on the 75th anniversary of the Quit India Movement in Lok Sabha. Prime Minister Narendra Modi echoed Mahatma Gandhi's "Karenge ya marenge" (do or die) slogan, saying India needs to tackle its challenges of poverty, lack of education and malnutrition. Congress president Sonia Gandhi recalled the Quit India Movement struggle and added that secularism and free speech are in danger today. The lower house was expected to introduce the National Sports University Bill, while it will also consider the Requisitioning and Acquisition of Immovable Property (Amendment) Bill, the State Banks (Repeal and Amendment) Bill and the Central Road Fund (Amendment) Bill. The Rajya Sabha is expected to take up for consideration the Indian Institutes of Management Bill. MPs still argue about which to take first – opposition's currency issue or the NDA's Banking Ordinance. Few MPs ask to not pass the Banking Ordinance without discussion

---
'Sultanate gone, but we behave like sultans': Jairam Ramesh admits Congress in deep crisis
MMNN:8 Aug 2017


Senior Congress leader Jairam Ramesh said it was wrong for the Congress party to think that anti-incumbency will work automatically against the Modi-led government in the states being ruled by the BJP in the elections The Congress is facing an "existential crisis", senior party leader Jairam Ramesh on Monday said, pitching for "a collective effort" by party leaders to "overcome" the challenges it faced from Prime Minister Narendra Modi and BJP chief Amit Shah. Ramesh also said that business as usual approach will not work against Modi and Shah and advocated for a flexibility in approach to make Congress relevant. "Yes, the Congress party is facing a very serious crisis," Ramesh told PTI in an interview. He said the Congress had faced "electoral crisis" from 1996 to 2004 when it was out of power. The party had also faced "electoral crisis" in 1977 when it lost the elections held soon after the emergency. "But today, I would say that the Congress is facing an existential crisis. It is not an electoral crisis. The party really is in deep crisis," he said, when asked whether the threat of "poaching" of MLAs posed by the BJP in Gujarat had forced the party to transport its MLAs to Karnataka to ensure party leader Ahmed Patel's victory in the Rajya Sabha polls. He, however, justified the Gujarat Congress's decision to send 44 of its MLAs to a resort in party-ruled Karnataka on July 29 to fend off the alleged "poaching" attempts by BJP, saying the saffron party had also "transported" MLAs in the past. He said it was wrong for the Congress party to think that anti-incumbency will work automatically against the Modi-led government in the states being ruled by the BJP in the elections. "We have to understand we are up against Mr Modi, Mr Shah. And they think differently, they act differently, and if we are not flexible in our approach, we will become irrelevant, frankly," the Congress leader said. He said the Congress party must also recognise that India has changed. "Old slogans don't work, old formulas don't work, old mantras don't work. India has changed, the Congress party has to change," he said. The former union minister hoped that party vice-president Rahul Gandhi would end the uncertainty over his taking over as the Congress president to make the party ready for crucial electoral battles in key states in 2018 and the Lok Sabha polls scheduled a year later. "I think in all probability, Rahul Gandhi will take charge (as Congress president) before the end of 2017," he said. The senior leader lamented that he had been proved wrong in the past about his prediction about Rahul's assuming charge of the top party job. "I thought it will happen in 2015, it didn't happen. I thought it will happen in 2016, it didn't happen. So I am the wrong person to ask this question. I feel that it may happen before the end of 2017," Ramesh said. He said he had "no" indication about appointment of Rahul Gandhi as Congress president. "I have only expectation. That's all. In 2018 and 2019 you will be busy with elections. State elections, national elections...and this type of thing ...uncertainty is not good," and urged the Gandhi scion to "finish it off." Asked if there is anyone in the Congress party to give a strong challenge to Modi in 2019 elections, Ramesh said, "I have always maintained that it is the collective strength of the Congress that will overcome Mr Modi not some individual magic wand". "It has to be a collective effort," he said. Ramesh took a potshots at party leaders who still behave as if the party is still in power. "The sultanate has gone, but we behave as if we are sultans still. We have to completely redo the way of thinking, the way of acting, the way of projecting, the way of communicating. "I think there is a lot of goodwill for the Congress, a lot of support for the Congress but people want to see a new Congress. They don't want to see old mantras, old slogans. We must recognise this is a big challenge. Huge challenge for us," he said. He said Nitish Kumar's return to the Indian fold was a big setback for anti-BJP coalition in the country, describing it as a "completely betrayal of the mandate" given to the Mahagathbandhan by the people of Bihar. Ramesh, who shares a personal rapport with Kumar, said, "personally, I was aghast, astonished, deeply disappointed, but we have to move on and we don't have time." Ramesh, representing Karnataka in the Rajya Sabha, expressed hope that the "revival" of Congress will happen in Karnataka next year as it had happened 40 years ago in 1978 in Chikmagalur Lok Sabha seat in the state which gave political rebirth to Indira Gandhi who faced defeat in Rae Bareli in the elections held after the Emergency.

---
Dialogue and debate, Asia's oldest traditions, needed to resolve conflicts: Modi
MMNN:5 Aug 2017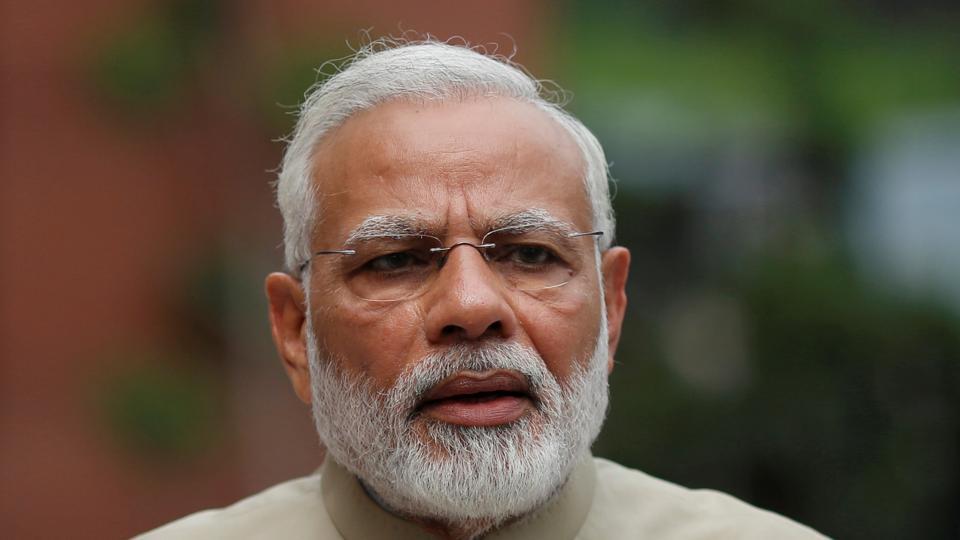 PM Narendra Modi said the ancient Indian concept of "Tarka Shastra" (debate) is founded on dialogue and debate as the model for exchange of views and avoidance of conflict Dialogue is the only way to cut through deep-rooted religious stereotypes and prejudices that divide communities across the world and sow seeds of conflict between nations and societies, Prime Minister Narendra Modi said on Saturday. "As the inter-connected and inter-dependent world of 21st century battles a number of global challenges, from terrorism to climate change, I am confident that the solutions will be found through Asia's oldest traditions of dialogue and debate," he said. Modi said he is a "product of the ancient Indian tradition that firmly believes in dialogue on difficult issues." He stated this in a video message to the 2nd edition of 'Samvad- Global Initiative on Conflict Avoidance and Environment Consciousness' being held in Yangon. The prime minister said the ancient Indian concept of "Tarka Shastra" (debate) is founded on dialogue and debate as the model for exchange of views and avoidance of conflict It is only natural that the search for answers be led by the humanity's longest traditions of thought, rooted in various religions, civilizations, and multiple streams of spirituality, he said. Giving examples of Lord Rama, Lord Krishna, Lord Buddha and Bhakta Prahlada, he said the purpose of each of their actions was to uphold 'dharma' (duty), which has sustained Indians from ancient to modern times. Talking about the environment, he said man must relate to nature and revere it and not merely consider it a resource to be exploited. If man does not nurture nature, then nature reacts in the form of climate change, he said. Environmental laws and regulations, while essential in any modern society, afford only an inferior protection to nature, he added, calling for "harmonious environmental consciousness.

---
For the first time, BJP is largest party in Rajya Sabha; Cong pushed to second spot
MMNN:4 Aug 2017


It is also the first time that the Congress – the grand old party of India – has been pushed to the second spot in the Upper House, reflecting the downswing in its fortunes across the country For the first time ever, the ruling BJP has become the largest party in the Rajya Sabha and is set to add a few more to its tally next year, potentially giving the ruling NDA a chance to push through key legislations in the Upper House. It is also the first time that the Congress – the grand old party of India – has been pushed to the second spot in the Upper House, reflecting the downswing in its fortunes across the country. Madhya Pradesh tribal leader Sampathiya Uikey took oath as a Rajya Sabha member on Thursday, taking the number of BJP lawmakers to 58, one more than the Congress. The BJP already has a brute majority in the Lok Sabha after the party's stunning success in the 2014 Lok Sabha seat. The BJP also is in power in 18 states, either on its own or in alliance with other parties The Congress' power base is now reduced to just six out of 29 states. Even during the Atal Bihari Vajpayee government's tenure, the BJP was mostly below 50 seats in the Upper House. Though the BJP-led NDA is still far short of the majority mark in the 245-member Rajya Sabha, it is likely to change from mid-2018 when it might hope to outnumber the opposition grouping with help from friendly parties. In April next year, 57 Rajya Sabha seats will fall vacant. Of the 10 seats falling vacant from Uttar Pradesh, the BJP is expected to get as many as nine, a gain of eight seats for the ruling party. It will also reap rich harvest in other states, such as Madhya Pradesh, Rajasthan, Bihar and Haryana, where the party is in power While the Modi government may not get a majority in the Rajya Sabha during its current tenure, it is likely to have enough numbers to overcome the opposition with support from like-minded parties including Nitish Kumar's Janata Dal (United), who revived an old alliance with the BJP this month.

---
Income Tax raids continue at Congress minister DK Shivakumar's properties
MMNN:3 Aug 2017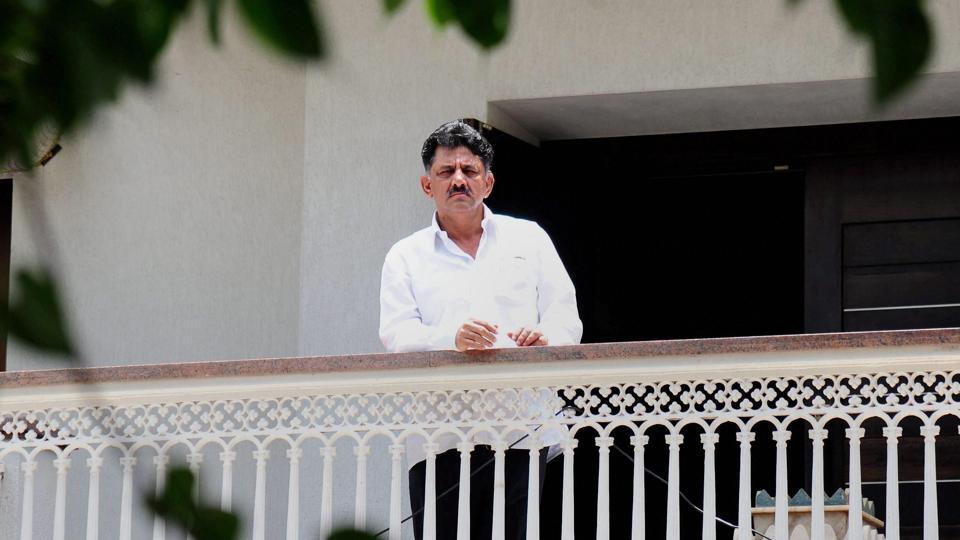 Sources said cash was recovered from the operation, but the value was still to be determined. Officially, the department has not said if it retrieved any money. Income Tax department officials continued for the second day on Thursday their raids on properties linked to Karnataka energy minister DK Shivakumar, who is in charge of hosting Congress MLAs from Gujarat shifted outside to avoid a break in their ranks. Officials said 39 locations in Karnataka were being searched, in addition to some in Chennai and Delhi. IANS identified the Delhi properties to be located in Safdarjung and RK Puram. According to sources, cash was recovered since the searches began at 7am on Wednesday, but there was no indication of the value. The department has not officially confirmed if it retrieved cash. The raids on Shivakumar escalated into a political confrontation between his Congress party and the Bharatiya Janata Party. The Congress raised the issue in parliament, forcing multiple adjournments in the upper house, and the BJP of carrying out "an unprecedented witch-hunt". The Congress legislators taken to Karnataka are crucial for the party's prospects in a close Rajya Sabha election scheduled next week in which Ahmed Patel, the political secretary to party president Sonia Gandhi, is seeking re-election. The party saw a string of defections from its Gujarat cadre, prompting it to accuse the BJP of using money and muscle power to gain an advantage in the RS polls. The raids on Shivakumar triggered protests by Congress members. On Wednesday, youth Congress leaders protested near Shivakumar's residence in Bengaluru and outside the I-T office in Mangaluru. Senior Congress leaders in the state were quick to condemn the raids, especially the use of paramilitary forces at the residence of the minister. "I-T raids targeting energy minister D K Shivakumar is completely politically motivated and central government's role behind it is well known," chief minister Siddaramaiah said in a statement. He said, "It is not right on the part of central government to use I-T department for its political conspiracies. We will not bow down to such intimidation."

---
Note ban had positive impact on incidents of violence, stone-pelting in J-K: Govt
MMNN:2 Aug 2017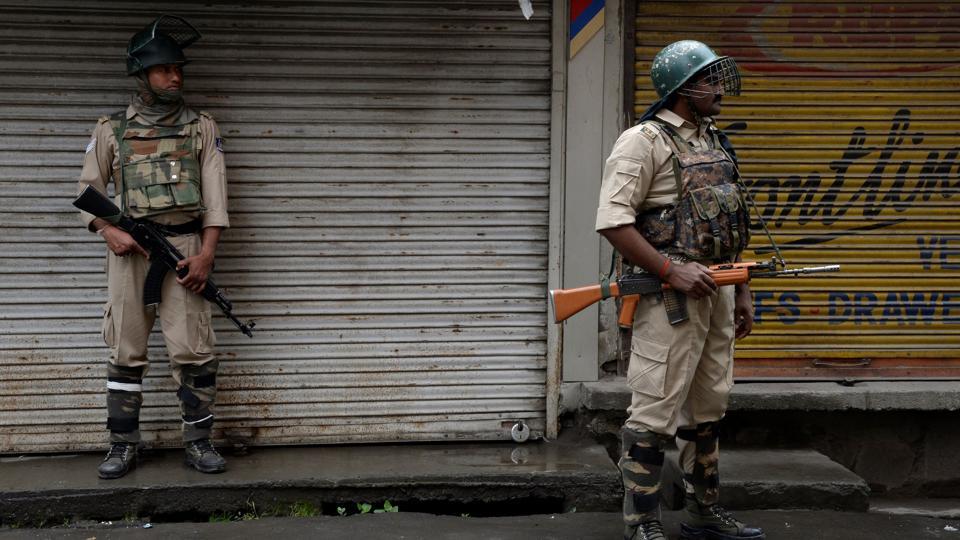 Minister of State for Home Hansraj Gangaram Ahir said terrorist violence in Jammu and Kashmir has been sponsored from across the border. The demonetisation of old Rs 500 and Rs 1,000 notes had a "significant positive impact" on most "theatres of violence" in the country, including stone-pelting incidents in Jammu and Kashmir, the Rajya Sabha was informed on Wednesday. Minister of State for Home Hansraj Gangaram Ahir said since illegally held cash forms a major chunk of terror funding, after the Centre's note-ban decision on November last, most of the cash held by terrorists turned worthless. He said demonetisation led to instant extinguishment of Pak-printed high quality fake Indian currency notes and also adversely affected the hawala operators. "As per reports of agencies, the demonetisation of bank notes of Rs 500 and Rs 1,000 denominations resulted in significant positive impact on most theatres of violence in the country including stone-pelting incidents in Jammu and Kashmir," Ahir said in reply to a question. The minister said the demonetisation caused disconcert among the Maoists, who tried to minimise their losses by having the money deposited in the accounts of sympathisers or of simple villagers on the basis of coercion. Replying to another question, Ahir said terrorist violence in Jammu and Kashmir has been sponsored from across the border. Giving statistics, he said in 2017 up to July 23, there were 184 incidents of violence in Jammu and Kashmir in which 109 terrorists, 38 security personnel and 19 civilians were killed. During the same period in 2016, there were 155 incidents of violence in the state in which 86 terrorists, 31 security personnel and five civilians were killed, Ahir said.

---
'Our Gujarat MLAs threatened by cops, offered bribe ahead of RS polls: Congress in Parliament
MMNN:31 July 2017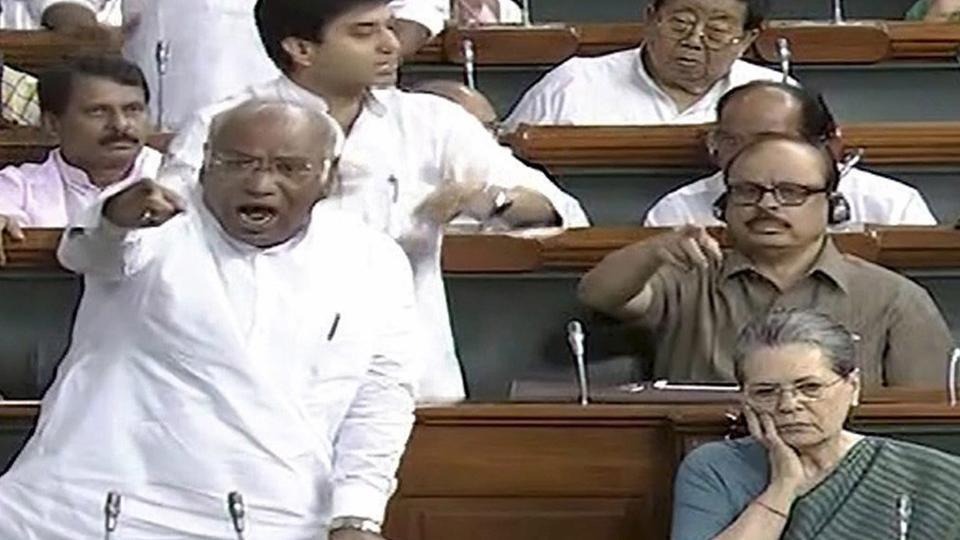 The Congress has accused the BJP of threatening and trying to "buy" MLAs in Gujarat ahead of the August 8 Rajya Sabha election Opposition Congress on Monday forced a brief adjournment of proceedings in the Rajya Sabha, alleging the Gujarat police abducted and threatened its MLAs in the state in order to influence their votes in the upcoming elections to the Upper House. Congress members marched to the Well of the House, raising anti-government slogans, which were matched by counter-sloganeering by the Bharatiya Janata Party benches. Amid the pandemonium, deputy chairman PJ Kurien adjourned the proceedings for 10 minutes during the Zero Hour soon after it met in the morning. Raising the issue, Congress' Madhusudhan Mistry alleged his party's legislators were being "kidnapped" and offered a bribe of "Rs 10-15 crore" in order to influence their vote in the August 8 elections to send three members from the BJP-ruled western state to the Rajya Sabha. The BJP has fielded three members, including party president Amit Shah, Union minister Smriti Irani and a rebel Congress MLA Balwantsinh Rajput for the election. Ahmed Patel, Congress president Sonia Gandhi's political adviser, is seeking a re-election for the fifth time from the state. The saffron party has rejected the Congress' charge and countered tongue and cheek whether the rival lawmakers were "purchasable". Rajya Sabha deputy chairman Kurien said he was not allowing Mistry's notice under rule 267 seeking setting aside of the business to take up the issue as the same matter was raised on Friday as well. Minister of state for parliamentary affairs Mukhtar Abbas Naqvi charged the Congress with "kidnapping" its own MLAs and lodging them in a holiday resort in Karnataka at a time when the people of Gujarat were facing miseries after flash floods. "You should be ashamed," he said, daring the Congress party to debate the matter in the House. As slogan-shouting Congress members entered the Well, some BJP members moved into the aisles and raised counter slogans. Kurien said he was forced to adjourn the proceedings on Friday as well after members from both the sides came into the Well. He said he has heard Naqvi say the government was ready for a discussion. "If you want discussion, give separate notice. We will consider it," he said. Congress members were unmoved but that did not prevent Kurien from calling members to raise their Zero Hour mentions. "If you have something against the government, why do you obstruct other members," Kurien said adding that Zero Hour was members' business and their rights are being obstructed. "By slogan shouting, you will achieve nothing," he added. In the melee, AIADMK's AK Selvaraj raised the issue of hydrocarbon exploration in Tamil Nadu and asked the government to cease all such activities as it would impact ground water table and crops. His colleague S Muthukaruppan sought the government's intervention for the release of 75 Tamil fishermen and their fishing boats from Sri Lankan captivity. But Congress members remained unrelenting and continued to raise slogans, forcing Kurien to adjourn the proceedings for 10 minutes. In the Lok Sabha, Congress leader Mallikarjun Kharge raised the issue, saying: "The Congress MLAs are being put under pressure." Congress chief whip Jyotiraditya Scindia too alleged that each of the Congress MLAs in Gujarat was offered Rs 15 crore in return for supporting the BJP. Both Kharge and Scindia wanted a discussion on the issue in the House. However, Speaker Sumitra Mahajan rejected the demand, saying it was a subject relating to a state and cannot be discussed in the House. The Congress flew most of its Gujarat MLAs to Karnataka, which it rules, after six of its 57 lawmakers in the Gujarat assembly resigned on Friday and Saturday. The defectors are believed to be close to former chief minister Shankersinh Vaghela, who quit the Congress on June 21, his 77th birthday, alleging some party leaders were conspiring against him. The defections reduced the party's strength in the assembly to 51, but Patel still has the numbers to sail through. Patel will need the votes of 45 lawmakers. The party hopes two Nationalist Congress Party (NCP) lawmakers will vote for him. Besides, rebel BJP lawmaker Nalin Kotadiya could switch sides. Congress strategists fear more desertions, considering that 11 party MLAs allegedly cross-voted for the BJP-led NDA candidate, Ram Nath Kovind, in the July 17 presidential election. But with each resignation, the number of required votes for Patel will go down too.

---
'Terrorists wear Pathan suits': How tribunal justified bail for Machil soldiers
MMNN:29 July 2017


The so-called Machil encounter saw three men - Shazad Khan (27), Shafi Lone (19) and Riyaz Lone (20) –killed in a staged shooting in the early hours of April 30, 2010 at Sona Pindi in Machil sector of the LoC. Wearing a Pathan suit in Kashmir can be dangerous, so much so that one can be taken for a terrorist and killed by security forces. A military tribunal, which granted bail this week to five army soldiers convicted of killing three people in a staged shooting in 2010, said it believed the dead were terrorists because they wore Pathan suits. In its bail order, the Armed Forces Tribunal (AFT), said, "The fact that the accused persons were terrorists… cannot be ruled out because they were wearing Pathan suits which are worn by terrorists." The flowing Pathan or Pathani suit is a common men's clothing across Kashmir. HT has a copy of the order. The extra-judicial shooting came to be known as the Machil fake encounter in which three civilians were killed in cold blood by soldiers looking to collect a bounty on militants. Subsequently, an army court sentenced six soldiers, including a colonel, to life in jail but five of them went into appeal before the AFT in New Delhi. The AFT also said they believed the three young men killed were not civilians because they had ventured too close to the de facto border between India and Pakistan, which is often used by militants to travel between the two countries. "There was absolutely no justification for a civilian to be present at such a forward formation near LoC, that too during the night when infiltration from across the border was high," the AFT bench said, referring to the heavily militarised de facto boundary or the Line of Control (LoC). The tribunal is being presided over by Justice V K Shaili and Lt General SK Singh In granting bail to the five soldiers, the court also imputed motive behind a delay in filing of a police complaint by the parents of the dead men. The bench said, "Complaint was belatedly filed only to garner some sympathy or getting material monetary compensation on account of the alleged killing of their child." The so-called Machil encounter saw three men - Shazad Khan (27), Shafi Lone (19) and Riyaz Lone (20) –killed in a staged shooting in the early hours of April 30, 2010 at Sona Pindi in Machil sector of the LoC. Later, investigations found the three were lured with the promise of jobs to an army camp in Kupwara where they were shot dead by soldiers looking to claim a reward for killing militants. The bodies were buried in a local graveyard. The staged gun battle was later exposed by the state police after the families of the victims filed a missing report. A subsequent army inquiry also upheld the police findings and court-martialed the soldiers. The Machil killings triggered a cycle of violent street protests in Kashmir that left more than 100 people dead that year. It was also the first time in Kashmir that army personnel, including a colonel, were given life terms for extra-judicial killings. The bench also questioned why three civilians would be in "combat Pathan fatigue with ammunition belts around their waists and carry firearms". "If a person is a civilian, he would certainly not be in combat uniform, much less he would carry fire arms and ammunition with him," the bench concluded in its bail order.

---
SC dismisses abortion plea for 10-year-old rape survivor who is 32 weeks pregnant
MMNN:28 July 2017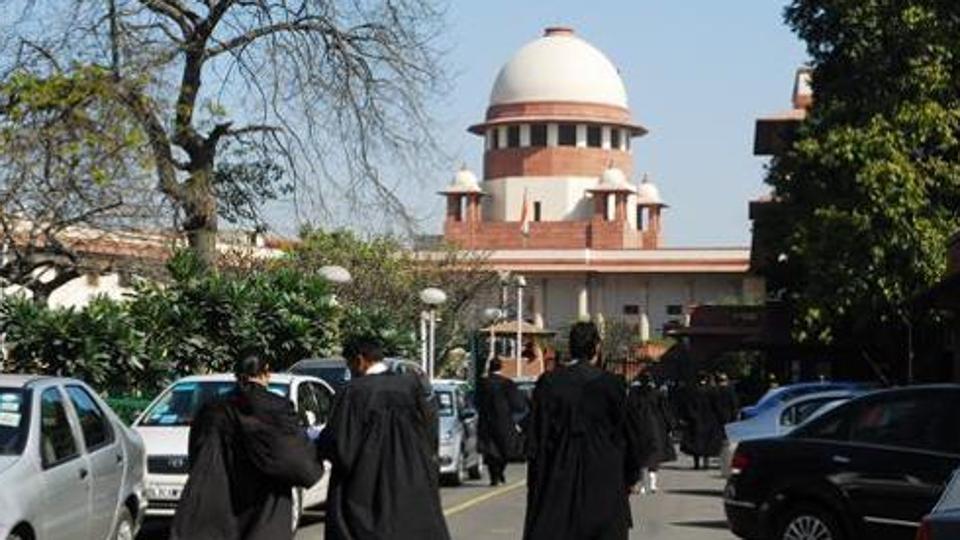 The Supreme Court today dismissed a plea seeking its nod for terminating the 32-week-old pregnancy of a 10-year-old rape survivor after taking note of a medical report that abortion was neither good for the girl nor for the foetus. A bench comprising Chief Justice JS Khehar and Justice D Y Chandrachud took note of the report of the medical board set up by PGI (Postgraduate Institute of Medical Education and Research) Chandigarh to examine the rape survivor and the consequences if the termination of pregnancy was allowed. The bench expressed satisfaction over the medical care being provided to the rape survivor at present and dismissed the plea seeking abortion. The bench asked Solicitor General Ranjit Kumar, who was present in the court room, to consider its suggestion to set up a permanent medical board in every state to take a prompt decision on prospects of early abortion in view of the fact that such cases are reaching the apex court in a big way. The PIL was filed after a Chandigarh district court on July 18 refused to let the girl undergo the abortion. Courts allow medical termination of pregnancy up to 20 weeks under the Medical Termination of Pregnancy Act and can make an exception if the foetus is genetically abnormal. The petition, filed by advocate Alakh Alok Srivastava, has sought appropriate guidelines be framed by the top court to set up a permanent medical board in each district of the country for expedient termination of pregnancies in exceptional cases involving child rape survivors under the best-possible medical facilities.

---
Bihar game of thrones: Nitish Kumar's journey from Modi-baiter to BJP ally
MMNN:27 July 2017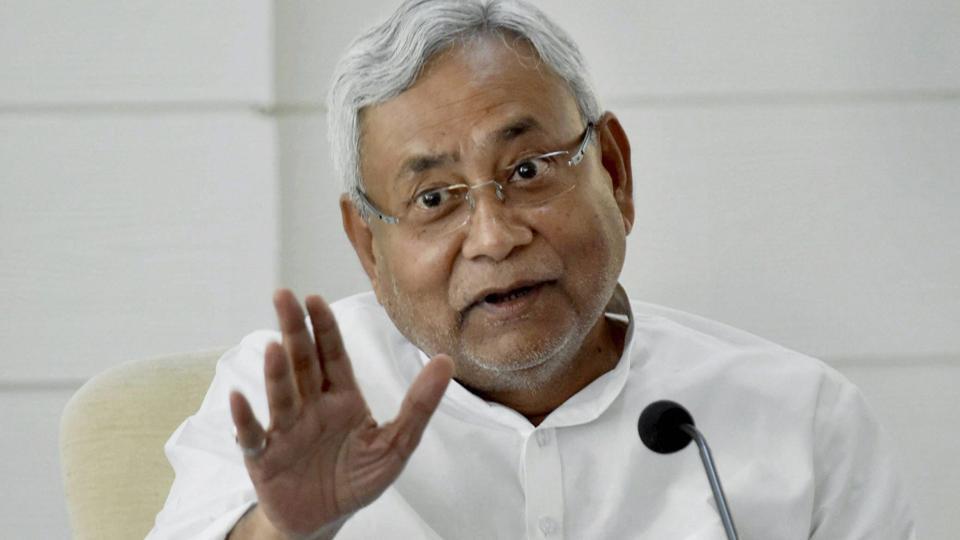 Nitish Kumar has been a pivotal figure in Bihar politics even before he became the chief minister for the first time in 2000, a short term that lasted merely barely a week in a hung assembly. Since then, he has been in charge for many years, growing in stature and even being seen as the opposition's challenger to Prime Minister Narendra Modi in 2019. But four years after challenging Modi, political compulsions forced Nitish to take the support of the same BJP to stay in power. A timeline of Nitish Kumar's political journey... 1994 February: Internal revolt in ruling Janata Dal in Bihar. Nitish Kumar joins the faction opposed to then chief minister Lalu Prasad. "We seek our rightful share, not charity, a government that ignores our interests cannot be allowed to remain in power," he says. June: Nitish quits Janata Dal and floats Samta Party with George Fernandes. 2000 March 3: Nitish becomes chief minister for the first time after assembly elections throw up a hung house. But he lasts only till March 10, barely a week 2003 October 30: Janata Dal, led by Sharad Yadav, merges with Samta Party, forming Janata Dal (United). 2005 November 24: CM Nitish's begins second term that lasts till November 24, 2010. Ahead of taking charge, Nitish says: "People are anxious for a change and would throw Lalu out forever…" 2010 November 26: Returns to power for third term. 2013 June 16: Breaks alliance with BJP after BJP names Narendra Modi as the NDA's prime ministerial candidate for the 2014 Lok Sabha polls. He says defiantly, "We decided not to compromise on our basic principles and whatever happens I am not worried about the consequences." 2014 May 17: Resigns as CM a day after the Modi-led NDA wins a landslide victory in the Lok Sabha elections. The NDA bags 31 of the 40 Lok Sabha seats in Bihar and Nitish's JD (U) manages just two. "I take moral responsibility for the defeat…I should," he says. May 20: Nitish annoints colleague Jitan Ram Manjhi as Bihar CM. Nitish and Manjhi fall apart after 276 days. 2015 June 5: Nitish Kumar named CM candidate of the JD (U)-led grand alliance (GA) that includes RJD and Congress November 8: Nitish-led alliance wins 178 out of 243 assembly seats, forms government. 2016 January 21: First signs of trouble in GA with RJD national vice-president Raghuvansh Prasad Singh blaming Nitish for law and order situation in Bihar September 10: Former Siwan MP and controversial RJD politician Shahabuddin released from jail. He praises Lalu Prasad and terms Nitish a "chief minister of circumstances". September 11: Nitish hits back at Shahabuddin, saying people of Bihar know whom they have pledged support to. "Everybody knows what (the) mandate of the people of Bihar is. Should I go by the people's mandate or pay attention to what someone is saying?" September 29: Nitish praises surgical strike by army across LoC November 9: A day after demonetisation, Nitish and Lalu differ on Modi's step. Nitish calls it as a move to wipe out black money, while the RJD chief calls it a "fraud" 2017 January 5: Prime minister Narendra Modi shares stage with Nitish Kumar in Patna. Modi praises Nitish on total prohibition and says it will inspire others May 26: Nitish skips lunch hosted by Congress president Sonia Gandhi to discuss joint Opposition candidate for presidential post May 27: Nitish attends lunch hosted by Modi in honour of visiting Mauritius Prime Minister Pravind Jugnauth. Nitish also holds private meeting with PM. June 21: Nitish pledges support to former Bihar governor, Ram Nath Kovind, NDA's candidate for president's poll. July 7: CBI raids 12 locations related to Lalu Prasad in connection with the alleged land-for-hotel scam. His son and deputy chief minister Tejashwi Yadav, wife Rabri Devi and business associates named in FIR. July 8: Residence and properties of Lalu's daughter Misa Bharti in New Delhi raided. July 10: RJD rules out Tejashwi's resignation July 11: Nitish breaks silence, tells Tejashwi to reply "fact-wise" in public. He says : "I shall not compromise with my principles. I am firm on my resolve of zero tolerance against corruption." July 15: Tejashwi skips an official function in Patna chaired by Nitish. His nameplate on the dias is first covered with a cloth and later removed. July 18: Tejashwi meets Nitish after Cabinet meeting to explain his stand on the CBI charges. July 26: Lalu reiterates Tejashwi will not resign, says Nitish has not asked him to quit. Nitish meets governor after JD(U) legislature party meeting, submits resignation. BJP extends support to Nitish for forming next government. July 27: Nitish sworn in as chief minister. "Whatever decision we have taken will be in the interest of Bihar and of its people. It will ensure development and justice. It will also ensure progress. This is a collective decision. I ensure that our commitment is towards the people of Bihar," he says after taking oath.

---
PM Modi's 'largesse' for Gujarat floods outrages 'ignored' Assam
MMNN:26 July 2017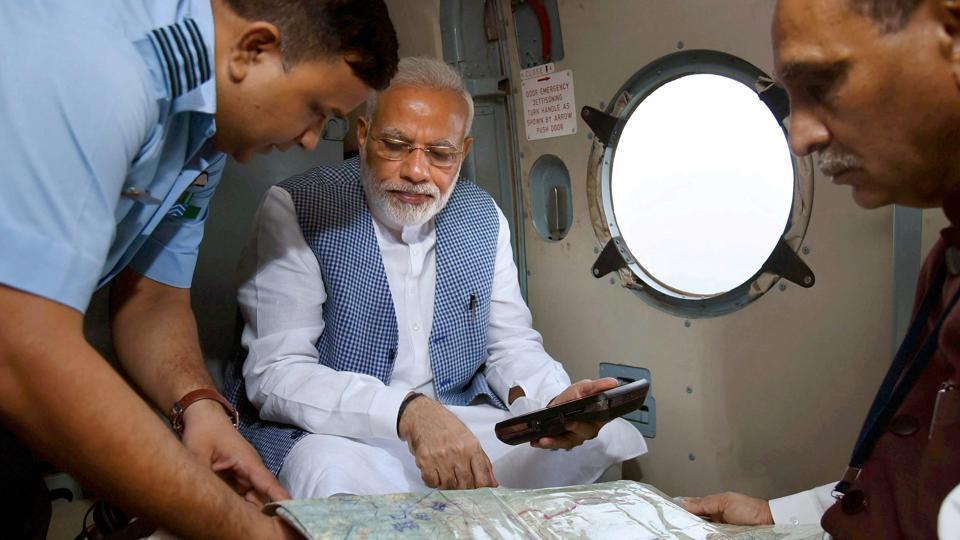 Prime Minister Narendra Modi's aerial survey of flood-affected areas in his home state Gujarat on Tuesday and the announcement of Rs 500 crore as relief haven't gone down well in Assam. Many in Assam, where floods wreaked havoc in 29 of the state's 32 districts this month and claimed 77 lives till date, have vented ire on social media accusing the Centre of neglect. The state government has estimated that the total damage caused by the recent floods is nearly Rs 2,939 crore. The Centre is yet to announce any interim flood-relief package for Assam. "Over 70 died in Assam flood. Modi sends junior minister (Kiren) Rijiju. Flood in Gujarat. Modi flies himself. Why two separate standards?" questioned journalist Atanu Bhuyan on Twitter. While Modi conducted an aerial survey of two flood-ravaged districts in Gujarat, a seven-member central team led by Union home ministry joint secretary VS Sekhar arrived in Guwahati to assess the situation. "Forget the announcement of an aid package, the PM didn't even consider visiting Assam himself or sending a senior minister. It clearly shows Centre's biased attitude to our state," farmers activist Akhil Gogoi told media on Wednesday. Nearly 1.32 lakh people were displaced by the floods and had to seek shelter in 363 relief camps. Over 15,700 flood affected people were evacuated by rescue teams in 21 districts. Flood waters have receded in many areas due to clear skies in the past week, but 9 districts still remained inundated and 4,716 people continue to take shelter in relief camps in five districts. While the state government claims adequate relief was provided to all flood affected, there are accusations of laxity in rescue and relief efforts. Ministers of the Bharatiya Janata Party-led coalition government were heckled by affected residents at several places for their late response. The so-called step-motherly attitude of Centre towards Assam has given fodder to opposition parties in the state as well. "Assam floods claimed 76 lives, Narendra Modi never visited and his government has not released adequate funds," former Congress chief minister Tarun Gogoi tweeted on Tuesday President of the opposition All India United Democratic Front (AIUDF) Badruddin Ajmal also requested the PM to "spare some time for the people of Assam" and visit the state. Many on social media connected Modi's decision to visit Gujarat instead of Assam with the upcoming assembly polls in the western state. "Floods killed many in BJP ruled Gujarat and Assam. Where will Modi go, announce relief for? The state going to elections, where else," Rajnath Kashmiri tweeted.

---
Iraq says has 'no substantial information' on whether 39 Indians abducted in Mosul are dead or alive
MMNN:24 July 2017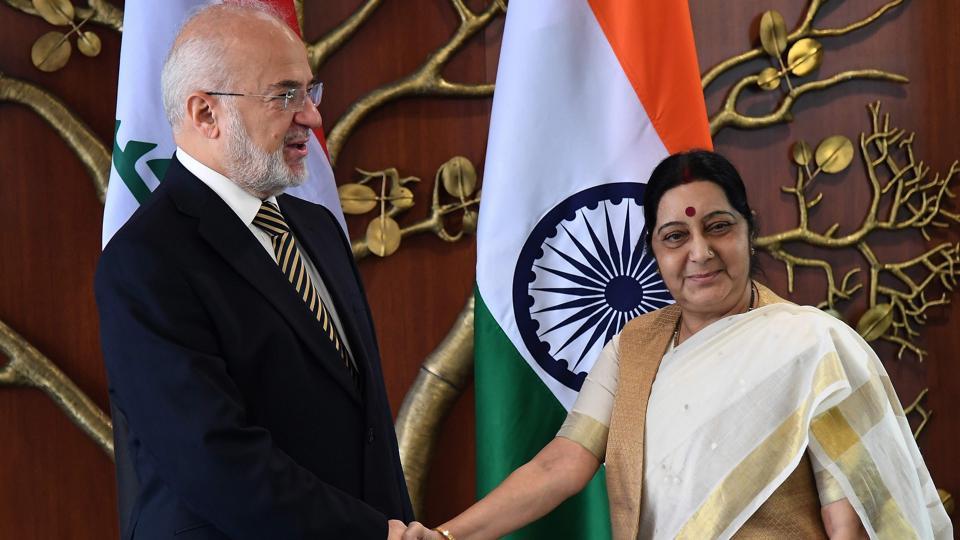 Iraqi foreign minister Ibrahim al-Jaafari has said his government has "no substantial information" on the 39 Indians kidnapped by the Islamic State in Mosul in June 2014. The Iraqi government has "no substantial information" on the fate of the 39 Indians who were taken hostage by the Islamic State terror group in Mosul in 2014, foreign minister Ibrahim al-Jaafari said on Monday. "We have no substantial evidence that they (the Indians) were killed or they are still alive, so we cannot give anything in that regard," al-Jaafari, who is an official visit to India, told reporters here. The Iraqi government, he said while speaking through an interpreter, was as concerned about the fate of the 39 Indians as the Indian government and their families. Al-Jaafari said the Iraq government will continue with its efforts to trace the men, all construction workers, who were kidnapped by militants more than three years ago. Ahead of al-Jaafari's arrival in New Delhi, the Iraqi embassy had said "search operations are on and there is high-level coordination between Iraqi and Indian authorities to locate" the Indian nationals. The matter of the kidnapped Indians is believed to have figured in al-Jaafari's talks with his Indian counterpart Sushma Swaraj. On July 16, Swaraj had told reporters that information gathered by minister of state VK Singh during a recent visit to Iraq suggested the 39 Indians were possibly being held in Badush prison, located a short distance from Mosul. She said she was hopeful of getting more information when al-Jaafari visited New Delhi. However, the Hindustan Times reported on Saturday that the Badush prison is a desolate and abandoned structure that has been unoccupied for weeks, if not months. Harjit Masih, the sole Indian who managed to escape from the group of 40 men kidnapped in Mosul, has told several media outlets the others were gunned down in the desert near Badush on June 15, 2014. His account has been rejected by the government.

---
Railways food unfit for eating: 5 things CAG said about edibles served on trains
MMNN:22 July 2017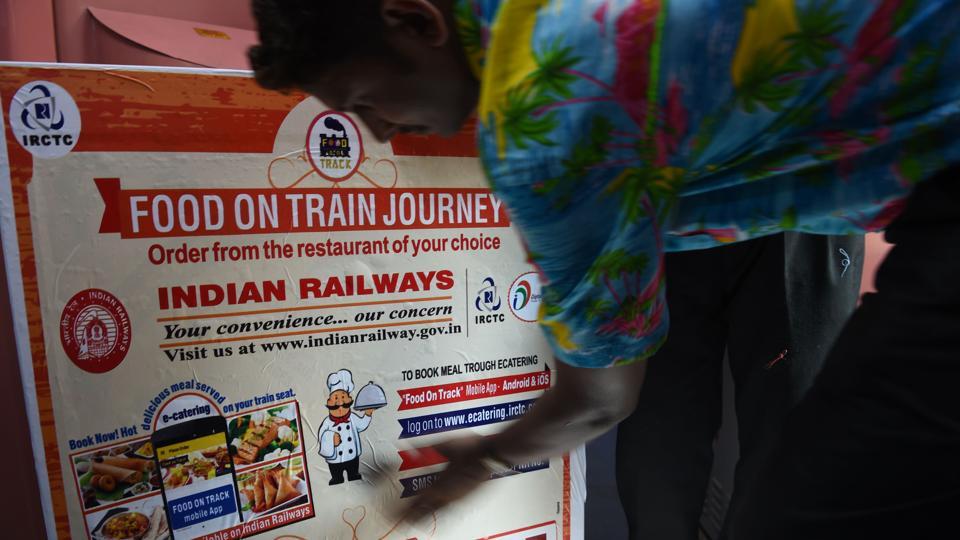 The Comptroller and Auditor General (CAG) has hit out at Indian Railways for serving food "unfit for human consumption" such as recycled, contaminated and expired items and unauthorised water brands. In a joint inspection conducted in collaboration with officials of Indian Railways at 74 stations and 80 trains between July and October 2016, the country's top audit body observed grave deficiencies in the food hygiene standards.
Here are five things the CAG said about the substandard food served to train passengers:,
1. An iron nail was found in a plate of cutlets offered to a passenger on the Lucknow- Anand Vihar double decker in 2016. 2.Fungal growth was found around petha (sweets) served to passengers. 3.Cockroaches, rats, insects and dust was noticed in pantry cars of the premier Duronto trains. 4.Around 100 unsold parathas were found in the base kitchen of the North Central Railways for reuse and recycling, while uncovered food items were found on the floor at the Chapra station in Bihar 5.Buckets of drinking water and beverages were found in the vestibule near the toilet area in the Paschim Express.

---
President-elect Ram Nath Kovind's vote share lowest since 1974: EC data
MMNN:21 July 2017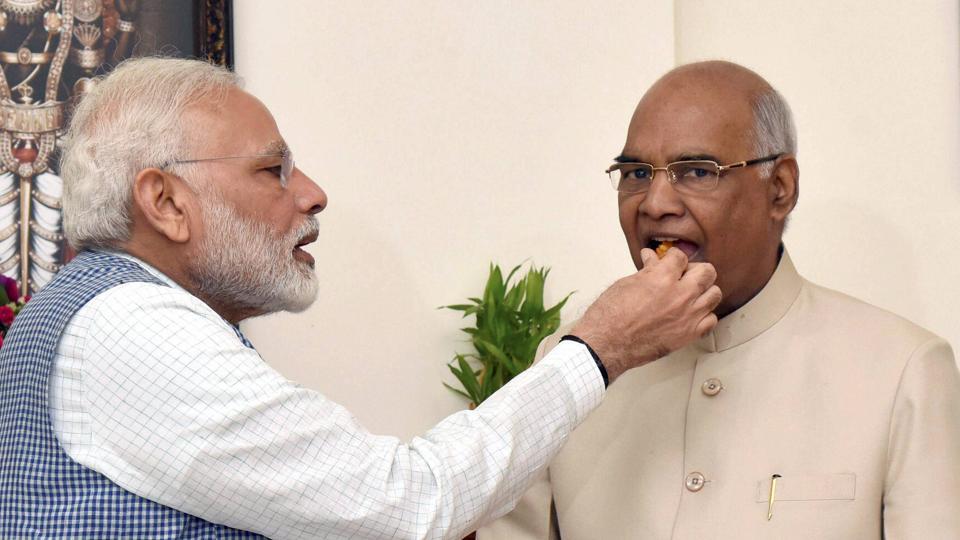 Ram Nath Kovind, the ruling NDA coalition's candidate, may have won the presidential election comfortably, but his vote share is the lowest since 1974, figures reveal. Kovind received 2,930 votes with a value of 7,02,044, while his rival Meira Kumar, the joint opposition candidate, secured 1,844 votes with a value of 3,67,314. This comes to a vote share of 65.65% for the President-elect. However, the victory margin is the lowest since the 1974 presidential poll. According to Election Commission data, Kovind's immediate predecessor Pranab Mukherjee (2012) secured 69.31% votes while Pratibha Patil (2007) got 65.82% of the total votes, marginally higher than the share secured by Kovind. KR Narayanan (1997) and APJ Abdul Kalam (2002) bagged 94.97% and 89.57% respectively, the highest victory percentages since 1974. Only Neelam Sanjeeva Reddy, in 1977, was elected unopposed to the top constitutional post. Gyani Zail Singh (1982) got 72.73% votes, while R Venkatraman (1987) bagged 72.28%. Shankar Dayal Sharma (1992) got 65.87%. Besides Narayanan, only two presidents -- Rajendra Prasad (98.99%) in 1957, and Sarvapalli Radhakrishnan (98.24%) in 1962 -- secured over 90% of the votes.

---
Presidential election results: Ram Nath Kovind's village all prepared for celebrations
MMNN:20 July 2017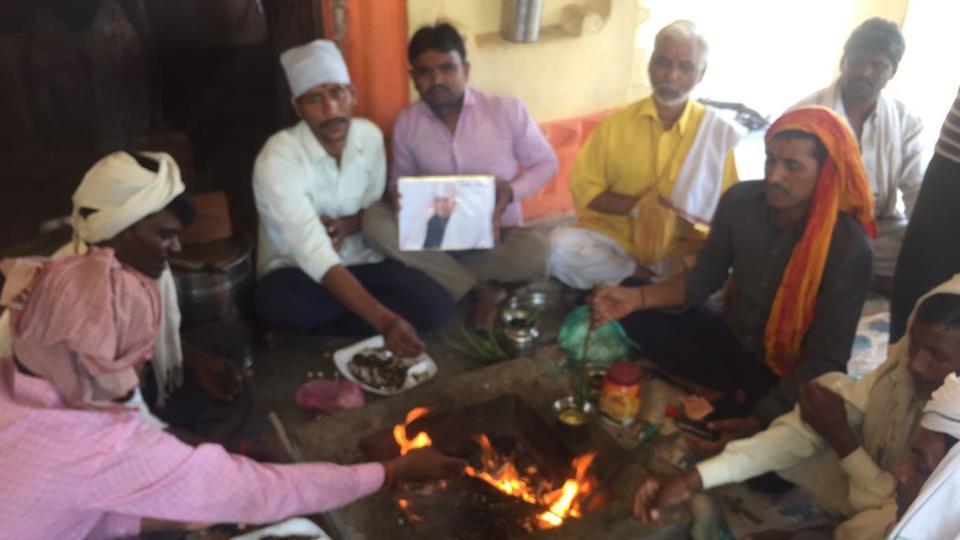 Villagers are glued to TV sets and radios so that they begin celebrations the moment news flashes the NDA presidential candidate's victory Paraunkh and Jhinjhak in Kanpur Dehat district are all set to celebrate as the village and the town are confident that Ram Nath Kovind will become the next President of India shortly. Villagers are glued to TV sets and radios so that they begin celebrations the moment news flashes the NDA presidential candidate's victory. (Live result updates) Paraunk, Kovind's village, comes under Derapur tehsil, 110 kms from Kanpur. Paraunkh has a population of nearly 9,000. Jhinjhak is a very small town (a kasbah) where Kovind's brother Pyarelal lives. Kovind's another brother, late Shivbalak, also lived there. Shivbalak was the one who educated Kovind. Shivbalak's widow, Vidyawati, is fasting in Jhinjhak since Wednesday wishing Kovind's victory. People will play 'Holi' during the day and celebrate 'Diwali' at night. In Paraunkh, villagers have called a 'Bhangra band' with dhols (percussion instrument) for the Holi and dance that they would do once Kovind is declared President. There's a Pathri Devi temple in Paraunkh, where puja and rituals have been going on since the day Kovind's candidature was announced. At the Jhinjhak house of Pyarelal (Kovind's brother), a marquee has been put up to host all those who will come in to congratulate. Sweets will be distributed among them. Kovind had visited Paraunkh village in July 2016, when he became the governor of Bihar. He had converted his village house into 'community hall' for his village people. Late Maikulal, the father of Kovind, ran a small general store in the village and was known as a religious person. It is through his religious bent of mind that he first came in touch with RSS, in which Kovind later became a member.

---
165 people arrested in sedition cases in last 3 years: govt
MMNN:19 July 2017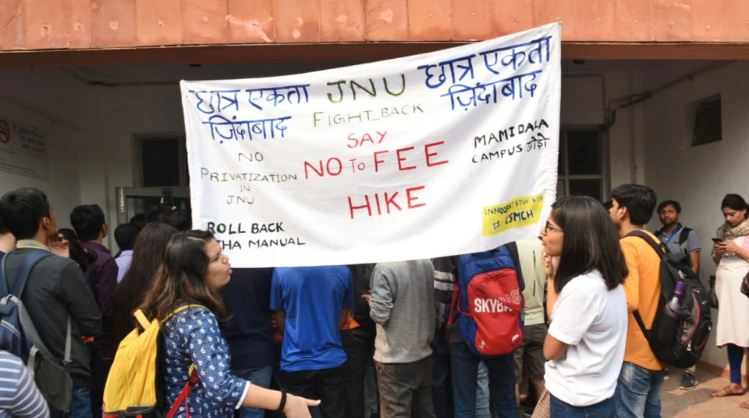 The data for 2016 excludes Uttar Pradesh and West Bengal because figures were not available from these two states. As many as 165 people were arrested on the charge of sedition in the last three years across the country, the Rajya Sabha was informed on Wednesday. Citing data from the National Crime Records Bureau (NCRB), Minister of State for Home Gangaram Ahir said that 58 people were arrested in 47 such cases registered in 2014. "73 people were arrested in 30 cases registered in 2015 and 34 people arrested in 28 cases registered in 2016 under the offence of Sedition (Section 124A of IPC)," he said. The 2016 figure excludes Uttar Pradesh and West Bengal as data from the two states were not available. Ahir said the names those arrested and the current status of cases were not recorded in the NCRB data. The data related to 2017 are being collected by the NCRB

---
Two minor girls among 4 of a family burnt to death over property dispute in Bihar's Katihar district
MMNN:17 July 2017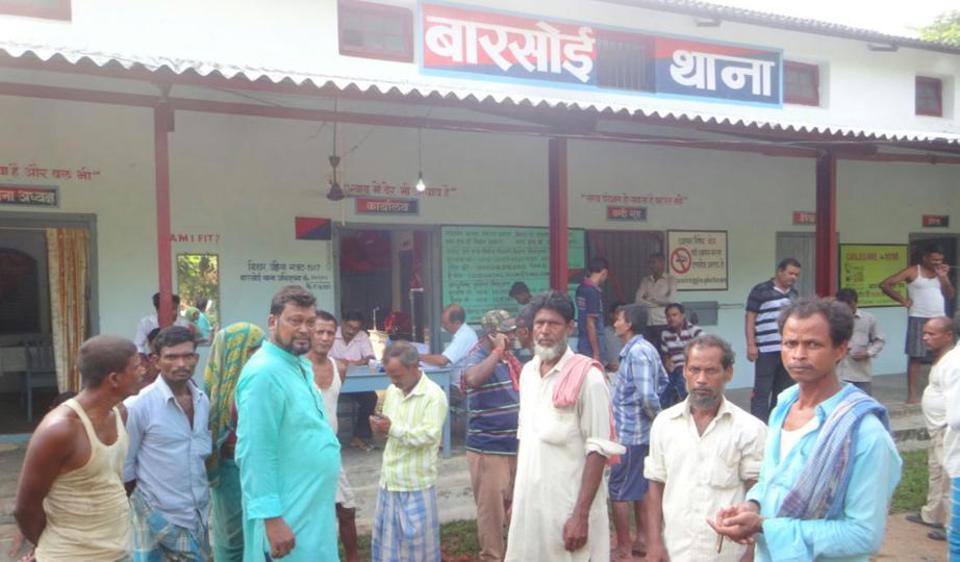 Four people of a family were burnt to death over an alleged property dispute between siblings in Katihar district on Sunday night. A couple and its two daughters were burnt to death in sleep at Coundi village under Barsoi police station, 60 km east of district headquarters Katihar and 305km east of Patna. The charred bodies of the victims were sent for post mortem examination to the district hospital. The victims have been identified as Kedar Singh (45), his wife Pratima Devi (40), and their two daughters Dimple Kumari (15) and Soni Kumari (17). Son Laxman Kumar Singh (12), who was sleeping in the other room, managed to escape in the nick of time. The police have lodged an FIR on the basis of his complaint. The boy has named his uncle Manoj Kumar, younger brother of victim Kedar Singh, as an accused. He is since absconding. Laxman said, "My uncle used to threaten my parents over a piece of ancestral land, which he wanted to grab and sell. On Sunday, he threatened my father of dire consequences and later at night he set the house ablaze, killing my parents and sisters, who were asleep." Laxman's mother and his sisters died on the spot while his father Kedar died at the Katihar Medical College Hospital (KMCH) during treatment. Kedar was initially taken to the Katihar sadar (district) hospital, where doctors referred him to the medical college. Locals said the accused Manoj was a habitual gambler and used to invest money in lottery. "He wanted to sell a chunk of land, held as a joint property with his brother Kedar. Manoj killed his brother when Kedar resisted," said some villagers. They even alleged that Manoj was a habitual drunkard and often spent time gambling in West Bengal. Confirming the incident, Katihar superintendent of police Siddharth Mohan Jain said, "The accused escaped soon after the incident." The police said it was in contact with the West Bengal police and confident of arresting the accused. Katihar has been infamous for killings over property dispute. Two years ago a family of four, including two minor children, were burnt to death over a land dispute. They were sleeping when some villagers locked them from outside and set their house ablaze.

---
Amarnath terror attack: PDP MLA's driver arrested for questioning
MMNN:15 July 2017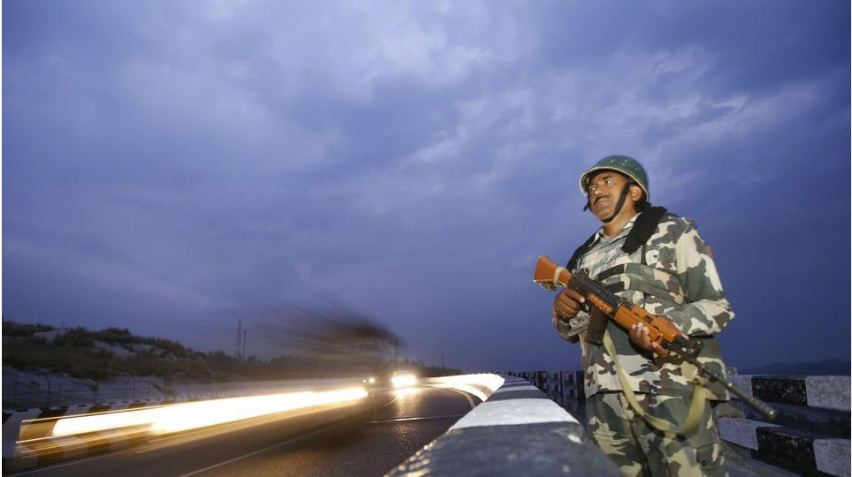 A policeman serving as a driver of PDP MLA has been arrested in connection with investigations into the terror attack on Amarnath pilgrims this week, police sources said on Saturday. Touseef Ahmad, a policeman from the security wing of Jammu and Kashmir Police and Wachhi legislator Aijaz Ahmad Mir's driver, was detained for questioning two days ago. Wachhi is in Shopian district of south Kashmir. Ahmad was formally placed under arrest on Friday as part of investigations into militancy-related violence in south Kashmir, police sources said. The sources said two other people, suspected to be overground workers for militants, have also been detained for questioning. It was not immediately clear whether Ahmad, who was posted as Mir's driver seven months ago, has any direct link to the attack on Amarnath pilgrims at Anantnag on Monday that left seven pilgrims dead and 21 others injured. A police official, on the condition of anonymity, said things are expected to be clearer about the involvement of the driver in the July 10 attack and other militancy-related activities later Saturday.

---
Missing India? There's nothing to miss, says fugitive liquor baron Vijay Mallya
MMNN:14 July 2017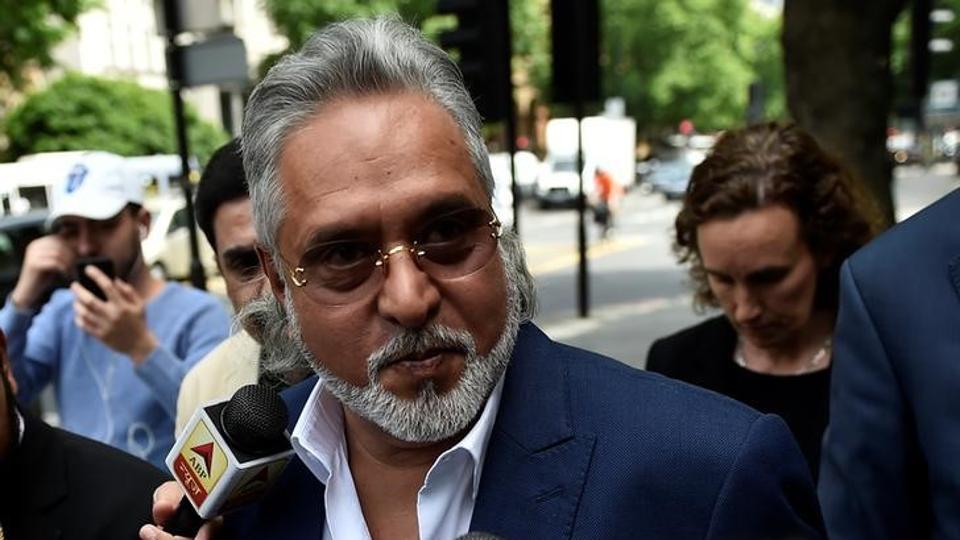 The Supreme Court on Friday is scheduled to pronounce a quantum of sentence against liquor baron and businessman Vijay Mallya in connection with a contempt of court case. However, the flamboyant businessman says he is 'enjoying the fruits' of his labours and is planning high-flying Force India's next decade. In the last hearing, the apex court had convicted him for contempt of court and summoned him to personally appear on July 10. Subsequently, the hearing was adjourned till July 14. Consequently, Mallya is fighting a high-profile Indian extradition request to the UK, where he is currently based. Missing India, and pining for a pit lane he can visit only once a year? Not a bit of it, says the embattled Formula One team owner. He is also, despite the court appearances and travel restrictions, still living the good life and enjoying a summer of sport. Horse racing at Royal Ascot, the Wimbledon tennis championships and Champions Trophy cricket have all been on his social diary, along with Wednesday's Formula One promotional event in London. "There's nothing to miss," the 61-year-old told Reuters at the British Grand Prix when asked if he missed India. "All my immediate family is either in England or the US. Nobody in India at all. As far as my step-siblings are concerned, they are all UK citizens. So there's nothing family-wise to miss." India is seeking Mallya's extradition over $1.4 billion that the authorities say he owes as a result of loans tied to his defunct Kingfisher Airlines. Mallya has dismissed the charges against him. "This witch hunt against me has been going on for a while," said Mallya, who has lived in Britain since 1992 and considers it a second home. "So it isn't as if I have any emotional ups and downs. I have done absolutely nothing wrong. In fact I am glad that it is finally before a UK court and an impartial court. So we wait and see how it plays out." The full extradition hearing has been provisionally listed to start on December 4 and to last two weeks. Until the issue is resolved, Mallya cannot leave Britain but he said that was no hardship, even if Silverstone is likely to be his first and last appearance in the Formula One paddock this year. Novelty value "I enjoy this atmosphere ... I enjoy meeting all the guests and sponsors and walking around the paddock. But while I enjoy it, there's no novelty value any more," he said. "I've been there and done it. " "When I first started I went to every single race to the point where it was getting a bit exhausting, going to 20 races in a year. So it's not as if I am missing something. If you look at my role in the team, there's nothing for me to miss. I am participating in all the decision making and I've got a virtual pit wall at home." "I miss being around but I'm also happy in my space. My time will come and I'll go back to the tracks." Mallya took over the failing Jordan team a decade ago and renamed it Force India as a measure of his pride in setting up India's first Formula One entry. The talk now is of taking India out of the name to attract the sort of big name sponsors who want a global reach rather than a regional focus. "Things have changed. Force India is getting very limited in terms of potential. The Indian Grand Prix is gone, sadly. There are no Indian sponsors who've come to the table. They seem to be spending all their money on cricket," said Mallya "And I need, for the continuing financial stability of this team, to reach out to more international sponsors. We have to think about positioning the team for the next 10 years," he said, adding that he intended to be around as well. Force India are currently fourth overall in the constructors' standings, the position they finished in last year. "When the team is doing well, then I am able to enjoy the fruits of my labour over so many years," said Mallya. "Getting the right people and culture in place and motivating them and developing a car that has fought in the world championship – that's no coincidence or stroke of luck. This is proper performance. "This is the time I'm enjoying the fruits of my 10 years of ownership."

---
Cow vigilantes strike again, beat up Muslim man in Nagpur for 'carrying beef'; 4 arrested
MMNN:13 Jul 2017


A 36-year-old Muslim man was hospitalised with serious injuries after he was assaulted in a Maharashtra town on Wednesday evening allegedly by self-styled cow protectors who accused him of carrying beef. The Nagpur police have arrested four men for the assault in Jalalkheda town, the latest in a series of violent incidents involving cow vigilante groups. "We have arrested all the four accused and they would be produced before the court for police custody," Jalalkheda police station in-charge Vijay Tiwari said on Thursday. The four are the members of Prahar Sanghatana, which describes itself as a social and cultural body. Sanghatana is led by Bacchu Kadu, an independent MLA from Amravati. According to reports, Ismail Shah was pulled off his two-wheeler by four men, who accused him of carrying cow meat. Shah kept telling them it was goat meat and not beef but the men won't listen to him. Police identified the alleged attackers as Ashwin Uike, Janardan Chowdhury, Rameshwar Tayde and Moreshwar Tandulkar. A Delhi youth was stabbed in a train last month after an argument, as the crowd accused him and his brothers of being "beef eaters". The killing sparked nationwide protest, forcing Prime Minister Narendra Modi to say "killing people in the name of protecting cows is not acceptable". There has been a rise in incidents of mob violence in the name of cow, considered holy by many Hindus. Cow slaughter and smuggling is banned in most states of the country. The BJP-ruled states, which includes Maharashtra, have come out with stringent punishment for these offences. To curb cow vigilantism, the Maharashtra government plans to provide beef-detection kits to police for on-the-spot meat tests.

---
CBI raids 23 premises in Bengal, Jharkhand in graft case against Income Tax commissioner
MMNN:12 Jul 2017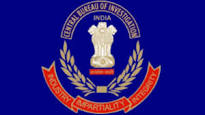 The CBI on Wednesday conducted raids at 23 locations in West Bengal and Jharkhand in connection with a corruption case registered against the principal commissioner of Income Tax and others, an official said. The Central Bureau of Investigation (CBI) took the step against principal commissioner Tapas Kumar Dutta, posted in Ranchi, and three of his colleagues following allegations of criminal conspiracy. They were accused of favouring private persons and companies in the matter of taxes and for taking illegal gratification. "It is alleged that Dutta and three other Income Tax officials conspired with six private persons, including a chartered accountant, and some unidentified persons," the official added. The CBI raids took place at 18 residential and office premises of the accused in Kolkata and five places in Ranchi in Jharkhand, a CBI official said. The CBI officers questioned Dutta at the IT office in Ranchi. Sources in the know of things said the raids were related to hawala transactions.

---
'The firing did not last for more than 20 seconds': Amarnath Yatra survivors recount deadly attack
MMNN:11 Jul 2017


It didn't take much time for the terrorists to create the mayhem in south Kashmir's Anantnag on Monday night when seven pilgrims were killed and several others injured while returning from the Amarnath cave shrine. Survivors of the terrorist attack said had it not been for the driver of the bus they were travelling in, many more would have lost their lives. Recounting the attack, the survivors said they did not realise what was happening as many were sleeping and the gunmen fired indiscriminately in the dark. "The firing did not last for more than 20 seconds. And, we could not see who was firing as it was dark outside," said Amit Kumar, a Rajasthan resident who works as a cook for the pilgrims from Gujarat. "People just rolled on the bus floor one over another," he said. The bus carrying over 50 pilgrims mostly from Gujarat and Maharashtra was attacked around 8.20pm near Batengoo area on Monday. Police said the terrorists initially attacked a bullet proof bunker in the area and later a check post near Khanabal. "Phataphat marne lage goli, andhere mein kuch samaj nahi aaya (They started firing indiscriminately. We could not fathom anything in the dark),'' Baghimani Thakur, another traveller from Palgad Maharastra, added. Kumar said he survived the attack as he was sitting in the back seat. "The people sitting near the driver's cabin bore the brunt but the driver survived," he said. He added the bus driver Saleem's presence of mind saved many lives as he did not stop the vehicle even amid the hail of bullets. "Malik (the owner of the bus) told the driver Saleem: 'Bhai, just rush the bus. Don't stop'. And the driver just drove the bus at full speed and only stopped when we reached an army camp," he said. A policeman from Anantnag, who was keeping a watch over two of the injured at the Sher-I-Kashmir Institute of Medical Sciences in Srinagar, also corroborated Kumar's account. He said the bus stopped in Khanabal Chowk and the injured were immediately taken to the army hospital. "After basic treatment at the army hospital, the injured were taken to the district hospital in Anantnag after which the seriously wounded were rushed to Srinagar hospitals," he said. Prakash Wadani, another survivor, said that the pilgrims had planned to visit Vaishno Devi Shrine in Katra the next day. Kumar said that they left their hotel in Srinagar at 5:30pm and as fate would have it, the bus had a flat tyre. "It took an hour for us to replace the tyre and that caused the delay," he said. Daksha, a pilgrim from Dahnu in Maharashtra, said the passengers spent the time chatting on the roadside while the tyre was being changed "unaware of what lay in store for them minutes later''. All the survivors and injured were airlifted to Delhi on Tuesday morning. Only two of the injured - Pushpa and Lalita – are being treated at the state's tertiary care hospital Sher-I-Kashmir Institute of Medical Sciences in Srinagar. Kumar is looking after them at the hospital. Pushpa was hit on her right hip and is recuperating in the emergency ward and Lalita, doctors said, was in the intensive care unit. Police have blamed Pakistan-based Lashkar-e-Taiba of the attack, however, the militant outfit denied the charges and its spokesperson Abdullah Ghaznavi called it a "highly reprehensible act'' and blamed "Indian agencies'' for the attack. "Islam doesn't allow violence against any faith. We strongly condemn such acts,'' a LeT statement said. Police insisted that the bus came under fire and was not the "actual target of the militants''. A senior police officer, who did not want to be named, refused to call the incident a security lapse saying "the bus had flouted all norms''. "The Amarnath yatris escorted by security cross the Banihal tunnel around 2pm, on Monday the yatris had crossed the area by 1pm. The highway is secured but high security can't be 24 hours. We don't allow any movement of yatris or tourists in the area after 5pm,'' he added. "Technically, they were tourists and not yatris so we could not stop them,'' the officer said. Police have said the bus was a private vehicle and not registered with the Amarnath Shrine Board. The passengers had completed the darshan on July 8 and stayed back in Srinagar for sight seeing. Over 2.20 lakh pilgrims paid obeisance at the Amarnath cave shrine - situated at a height of 3,880 metres in south Kashmir Himalayas - during an unrest in 2016 after Hizbul Mujahideen Burhan Wani's killing in July last year. The number was lowest since 2003. This year the numbers have already crossed 1.5 lakh. The state government has not stopped the pilgrimage and a fresh batch of more than 3000 pilgrims left Jammu for base camps in Kashmir on Tuesday.

---
Narendra Modi and Xi Jinping 'did not have a bilateral meeting' at G20 summit in Germany: China
MMNN:10 Jul 2017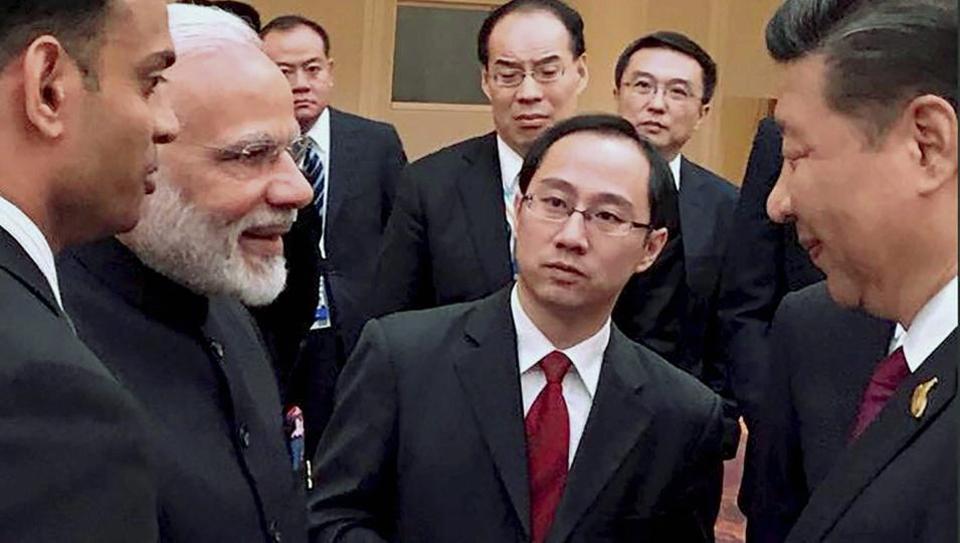 Technically, China is correct but the fact is the Indian side didn't claim the two leaders held a bilateral meeting, which is usually a structured and previously agreed engagement. China on Monday appeared to play down a brief conversation Indian Prime Minister Narendra Modi and President Xi Jinping had on the sidelines of the recent G20 summit, saying the two "did not have a bilateral meeting". Technically, China is correct but the fact is the Indian side didn't claim the two leaders held a bilateral meeting, which is usually a structured and previously agreed engagement. "I can tell you there was no bilateral meet between President Xi and PM Modi in Germany," foreign ministry spokesperson Geng Shuang said at a regular media briefing when asked about the meeting. The brief conversation the two leaders had during an informal gathering of BRICS leaders on the margins of the G20 summit in Hamburg on July 7 made headlines. It came at a time when the two countries were locked in a tense standoff along India's northeastern frontier. China's denial of something that didn't happen is being seen as yet another attempt by Beijing to make its displeasure over the Doklam row known. "According to my information, the two leaders did not hold any bilateral meeting (on the sidelines of the G20 summit)," Geng said, adding Xi presided over the informal meeting of the BRICS leaders that was attended by Modi and others. While repeatedly denying the bilateral meeting, Geng also didn't mention the conversation the two leaders had. External affairs ministry spokesperson Gopal Baglay had on July 7 tweeted a photo of the two leaders smiling and shaking hands. He said Modi and Xi had a "conversation on a range of issues". The border standoff link was not hard to draw, as Geng again said the withdrawal of Indian troops from the Donglang, as Chinese refer to the region, was the precondition for a resolution of the military impasse. To a question about Indian media reports that the soldiers were prepared for the long haul in Doklam, Geng said if those were true, it revealed India's true intentions. "If they (the reports) are true, they are only prove that the Indian trespass was organised and elaborate….and the intention was to damage the status quo at the (Sikkim) boundary," Geng said. "So, how can diplomatic solutions happen under such circumstances? We have said that the Indian troops withdrawal is the pre-condition (for a resolution)," he said. China has accused Indian soldiers of trespass and preventing its soldiers from building a road in Doklam, which is close to the Sikkim border on India's northeast, and is claimed by Bhutan. The Doklam region is located at the narrow but strategically important tri-junction of India, China and Bhutan, with the three countries barely separated by mountains and passes. Chinese-state media has also said that India planned the trespass to coincide with Modi's meeting with US President Donald Trump to convey to the US that New Delhi was ready to check China's rise. Modi met Trump on June 26, 10 days after the standoff started.

---
Govt, BJP have no role in CBI raids on Lalu Prasad Yadav and family: Venkaiah Naidu
MMNN:7 Jul 2017


The government and the BJP have no role in the CBI raids against Lalu Prasad Yadav and his family, Union minister M Venkaiah Naidu said on Friday. The information and broadcasting minister said the Central Bureau of Investigation was doing its duty and acting in accordance with the mandate given to it by law. "What is political vendetta? Where is BJP in this? I am not able to understand. Do you mean to say that anybody against whom any charge is there, it should not be inquired into at all?" Naidu asked. "CBI is doing its duty and it is allowed to do so. Earlier it was not allowed... after our government came there is no interference and that is why CBI is free and acting as per the mandate given to it...," he told reporters. The raids against the Rashtriya Janata Dal (RJD) leader and his family started at 7 am today and were conducted at 12 locations in Patna, Ranchi, Bhubaneswar and Gurugram after the investigating agency registered a corruption case. It is alleged that Yadav as railway minister handed over the maintenance of two railway hotels to a company after receiving a bribe in the form of prime land of three acres through a benami company.

---
After Amit Shah meet row, Goa Cong leader seeks nod to host his wedding at airport
MMNN:6 Jul 2017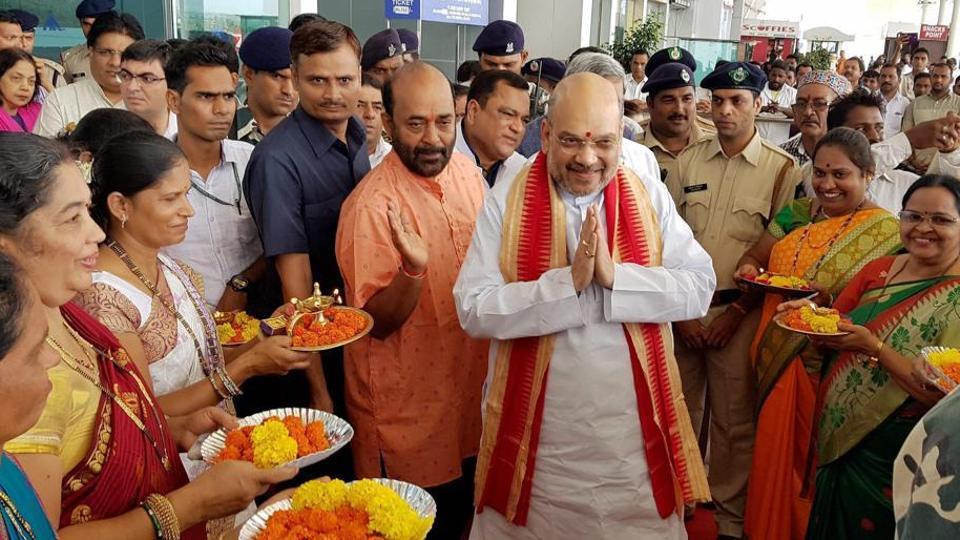 Goa Congress general secretary Janardhan Bhandari has written to AAI for permission to host his wedding reception on Dabolim airport premises in September. Barely days after Bharatiya Janata Party (BJP) president Amit Shah's meeting at Goa's Dabolim international airport triggered a row, a state Congress leader has written to the Airports Authority of India to be allowed to use the premises as his wedding venue. In his letter, also marked to Dabolim airport director BC Negi, on Thursday, Goa Congress general secretary Janardhan Bhandari said he should be granted permission to host the wedding at the airport on the lines of Shah's meeting on July 1, which was attended by more than 2,000 people. Bhandari wrote he would adhere to all rules and regulations, including ban on photography, during his wedding and not allow guests to bring cars to airport premises. His letter states, "I am very pleased to inform you that I have been engaged recently and planning to get married soon. Since my guests will be coming from various states and landing at Dabolim airport and as such I cannot afford to make arrangements for the stay and travel of so many guests. "It would be nice if you could permit me to use your airport for my wedding reception in September 2017. I will fix the date as per the availability of the airport as per your convenience." Shah's meeting at the airport, which is operated from an Indian naval base, triggered allegations of violation of rules and regulations by the BJP, including putting a defence ministry installation at risk. While the airport director claimed no permission was given for the meeting, the BJP said it was an unplanned event and people came on their own to greet Shah. Congress national secretary Girish Chodankar said Shah's meeting was illegal and demanded an FIR be registered. City based lawyer-activist Aires Rodrigues has complained in writing against Shah's meeting to secretary of Civil Aviation, Goa Chief Secretary, and Director General of Police. No action has been initiated so far.

---
PM Modi's Israeli flag-themed attire catches attention
MMNN:5 Jul 2017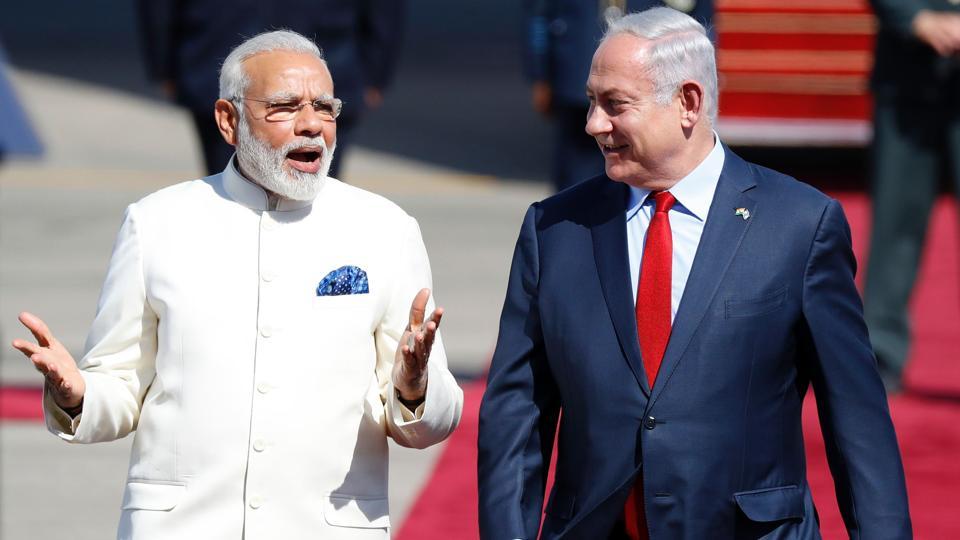 Prime Minister Narendra Modi's recent choice of apparel that grabbed eyeballs was what he wore on the first day of his three-day visit in Israel. The Prime Minister alighted from Air India One at Tel Aviv, in an immaculate white bandhgala. Also quite noticeable was the blue pocket square. Significantly, blue and white are the colours of the Israeli flag; and white is PM Modi's preferred colour for solemn occasions, such as the visit to Yad Vashem on Tuesday, where he added to his look a traditional Himachali cap. He is the first Indian Prime Minister to visit Israel. Terming it to be a historic visit, PM Modi tweeted, "Hello Israel! Today I begin a special & historic visit with the aim of further strengthening the relations between India and Israel." His Israeli counterpart Benjamin Netanyahu donned a blue-and-white suit with a red tie, as he welcomed PM Modi at Tel Aviv airport.

---
UP govt to 'probe' welfare grant sanctioned to NGO run by Akhilesh Yadav's sister-in-law
MMNN:4 Jul 2017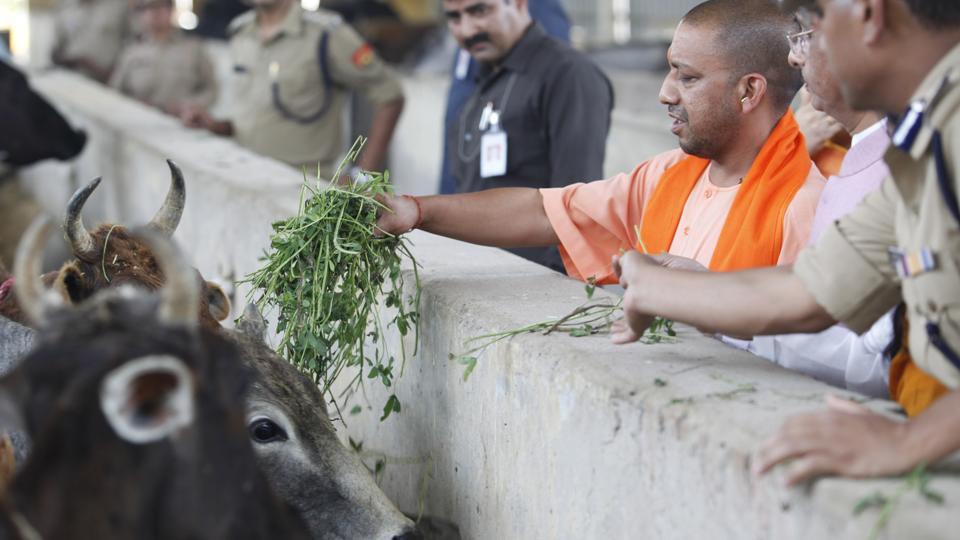 Aparna Yadav's NGO Jeev Ashraya reportedly received 86% of the funds sanctioned by the previous government for organisations working for cow welfare in the state Yogi Adityanath-led BJP government in Uttar Pradesh is planning to initiate a probe into the grant sanctioned by the previous Samajwadi Party-led dispensation to an NGO run by former chief minister Akhilesh Yadav's sister-in-law Aparna Yadav. An indication to this regard was given by state's dairy development minister Lakshmi Narayan Chaudhary while addressing a programme at Sahibabad industrial area on Monday. Nearly 86% of the grant sanctioned by the previous government for organisations working for cow welfare in the state went to Aparna Yadav's Jeev Ashraya, an RTI reply has revealed recently. Aparna is the wife of Prateek Yadav, the step-brother of Akhilesh Yadav. Her NGO runs a gaushala, Kanha Upvan, at Amausi on the outskirt of Lucknow, which Adityanath visited in March, days after taking over as chief minister. He also lauded the facilities provided to bovines there. To a query by activist Nutan Thakur, the UP Gau Sewa Aayog replied that during the tenure of the previous government, it sanctioned Rs 9.66 crore, of which Rs 8.35 crore (86.4%) went to Jeev Ashraya. During 2017-18, till now, Rs1.05 crore has been given to various gaushalas. But Jeev Ashraya was not one of the recipients. "During the Samajwadi Party regime, criminals and mafias were given political protection. In this case, the former CM sanctioned 86% funds meant for organisations working for cow welfare to only one NGO being run by his sister-in-law," Chaudhary said. "The issue cannot be taken lightly as it indicates an organised loot of public money," he said, hinting the government is contemplating to probe the charges of nepotism. The development comes at a time when several projects launched by the Akhilesh government are under scanner. "There have been reports of misappropriation of Waqf properties. We have referred the probe to the CBI," Chaudhary said. Talking to a news agency, Aparna Yadav denied getting any undue favour, there was nothing wrong if works of an active NGO were recognised by the government. "If an organisation is doing good work, it should get 100 per cent funds," she said. "There are approximately 462 'gau shalas' (cow shelters) in UP and of them Jeev Ashray is the most active. Anyone can go there and check," she said. Stating that the RTI should not be used to "terrorise" people, Aparna said she would give a befitting reply to the people who were trying to malign her image.

---
EC can extend voting rights to NRIs in 3 months if govt gives go-ahead
MMNN:3 Jul 2017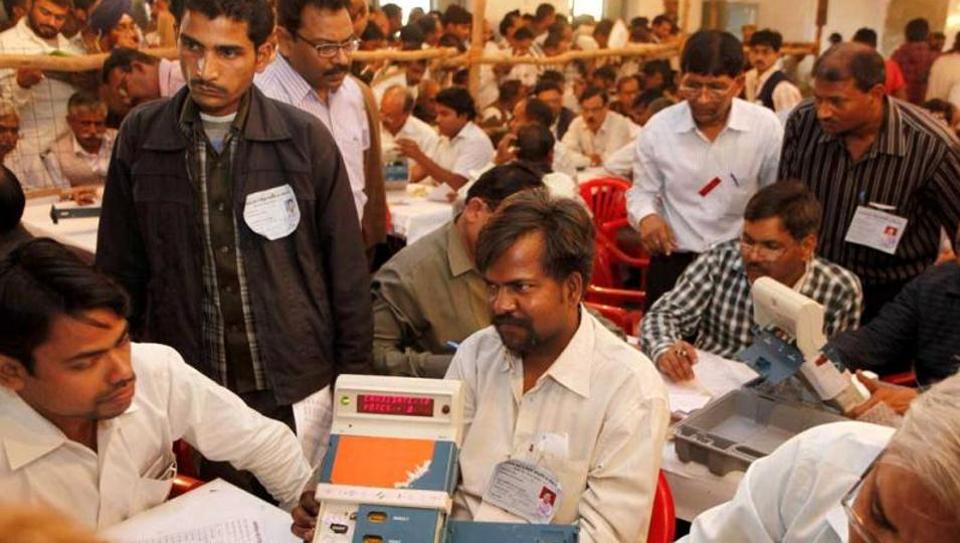 The decision to allow over 10 million NRIs — of whom 24,348 are registered with the EC — to vote through a postal ballot will offer expatriates a chance to participate in the country's electoral process without having to be physically present. The Election Commission has informed the Centre that it can pull off the process of introducing voting rights for non-resident Indians (NRI) within three months of the law being introduced. The decision to allow over 10 million NRIs — of whom 24,348 are registered with the EC — to vote through a postal ballot will offer expatriates a chance to participate in the country's electoral process without having to be physically present at the polling stations. If it comes to fruition, NRIs from states such as Kerala, Punjab and Telangana -- which have large populations of NRIs -- will stand to be benefit. Chief election commissioner (CEC) Nasim Zaidi, who demits office on July 5, told HT that the poll panel is ready to implement the one-way postal ballot system for allowing NRIs to vote, if the government gives the go-ahead. The one-way postal ballot system involves sending e-ballot papers to the voters, which are retuned by post after the voters have marked their choice. The system was introduced for armed forces personnel and service voters in October last year. "Voting rights to NRIs is a long term vision and is under evaluation," Zaidi told HT. He said the commission has proposed a one-way e-postal ballot system for NRIs, but is awaiting for word from the law ministry. "We have written to the Law ministry, we are ready and have been saying it, we only need a law. It will be on the similar lines as the one-way postal ballot that was started for the service personnel. The moment we have the law we will be ready to implement it within three-months" he said. The Centre has told the Supreme Court, where petitions have been filed to allow NRI voters to participate in the electoral exercise, that it is willing to accept the poll panel's recommendation to allow NRIs to vote through e-postal ballots or proxy voting. "We have proved that the technology works," Zaidi said. The proposal can only be implemented after Parliament amends the Representation of the People Act and the Conduct of Election Rules. The CEC said the proposal to allow voting rights for domestic migrants, is also pending. "A committee report (on the issue) has also been given, the government has to take a call," the CEC said. After amendments were made to the RP Act to make provisions for NRIs, the EC undertook an awareness campaign last year to familiarise expatriates with their voting rights.

---
Patna GPO completes 100 years, special stamp likely
MMNN:1 Jul 2017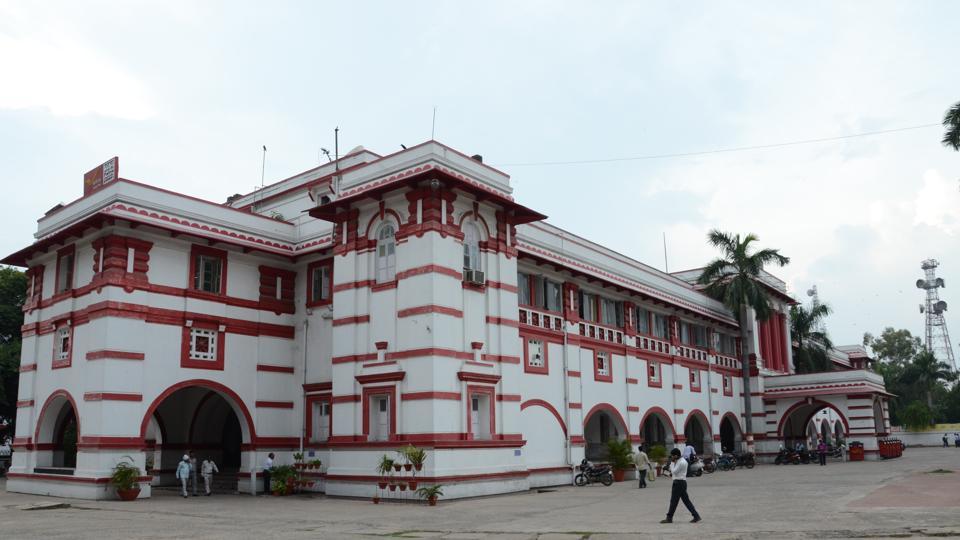 Though officials have planned to commemorate the centenary year of the GPO on July 1, the celebration will continue for a whole year with a number of events and activities The General Post Office (GPO), Patna, completed 100 years of its existence on July 1. The Patna GPO, which earlier housed Bankipore post office, is built in the British Gothic architectural style. It is among the four buildings that came up during the pre-Independence era in the state around the same time. The other three are Patna high court, Patna museum and the old secretariat. Though officials have planned to commemorate the centenary year of the GPO on July 1, coinciding with the launch of first day cover on the Goods and Services Tax (GST), the celebration will continue for a whole year with a number of events and activities, which might include release of a special postal stamp as well. Post master general, Bihar circle, Anil Kumar, said Bihar had showed the way in terms of development of postal services in the country. Besides the grand structure with 1.93 lakh square feet built-up area, Patna happens to be the first postal unit in the world to have evolved a prepaid system for postal services," he said. In 1774, Patna had come out with a copper ticket with a face value of one anna and half anna. "Copper tickets are now rare and available barely at four or five locations in the world, including the National Museum, New Delhi, Postal Museum, London, and in a private collection of a Jabalpur resident," said Kumar. The Department of Posts (DoP) had issued a commemorative stamp on copper tickets in 1980. The ticket had 'Azimabad Ekanni' imprinted on the obverse and 'Patna Post One Anna' on the reverse. In those days, Patna was known as Azimabad. Some of the noted philatelists claimed that the ticket was introduced as a prepaid arrangement to do away with the growing loss of revenue due to the return of undelivered letters, as the persons addressed refused to accept them. "Charges for delivery were decided by the distance, known as stages, at that time," added Kumar. The work on the GPO building, on sprawling 22 acres, began after Bihar was carved out of Bengal. The construction cost was around Rs 2.69 lakh and it was formally opened in 1917. It used to handle both postal and telecom operations then. The building underwent renovation in 2000 at the cost Rs 1.25 crore, which saw five gardens, including one having medicinal herbs, being added to its landscape. At a time when information technology services underwent a sea change, the GPO is still delivering around 25,000-30,000 accountable articles, including those of speed post, parcels, registered and insured letters, every day with 96 postmen. Daily transaction of ordinary letters is estimated to be around 30,000-40,000. Besides, the GPO operates more than 12 lakh accounts of its savings bank equipped with core banking solutions (CBS).

---
Pilgrim dies as landslide hits Vaishno Devi track
MMNN:30 Jun 2017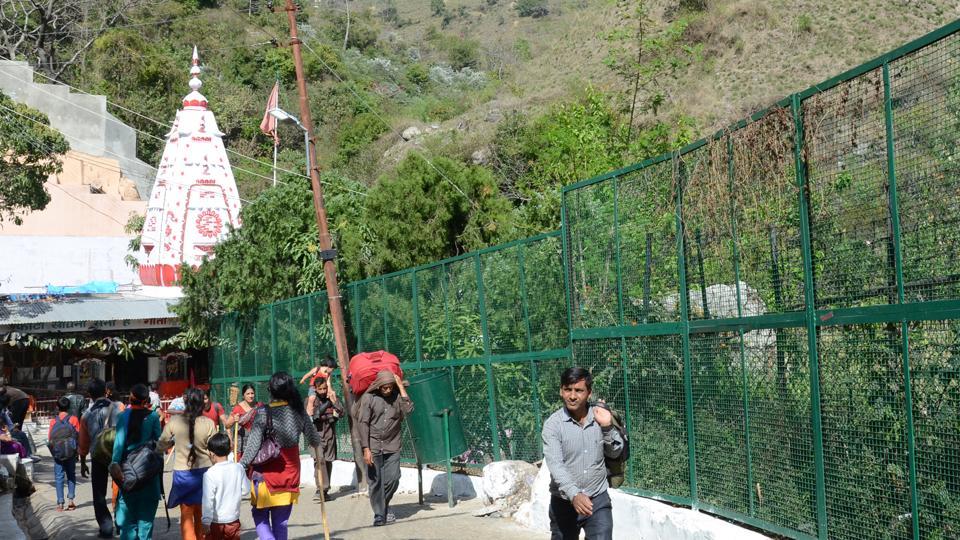 One pilgrim died and five others were injured after a landslide hit between Himkoti and Adhkuwari enroute the cave shrine on Friday morning. A woman has died and five others have been injured. One of them is critical, SSP (Reasi) Tahir Sajjad Bhat told Hindustan Times. He said the landslide hit at about 11.30am. Bhat said the identities of the victims, who are being brought down to Katra, are yet to be ascertained.

---
Minister Radha Mohan Singh caught urinating in public, says there was no urinal nearby
MMNN:29 Jun 2017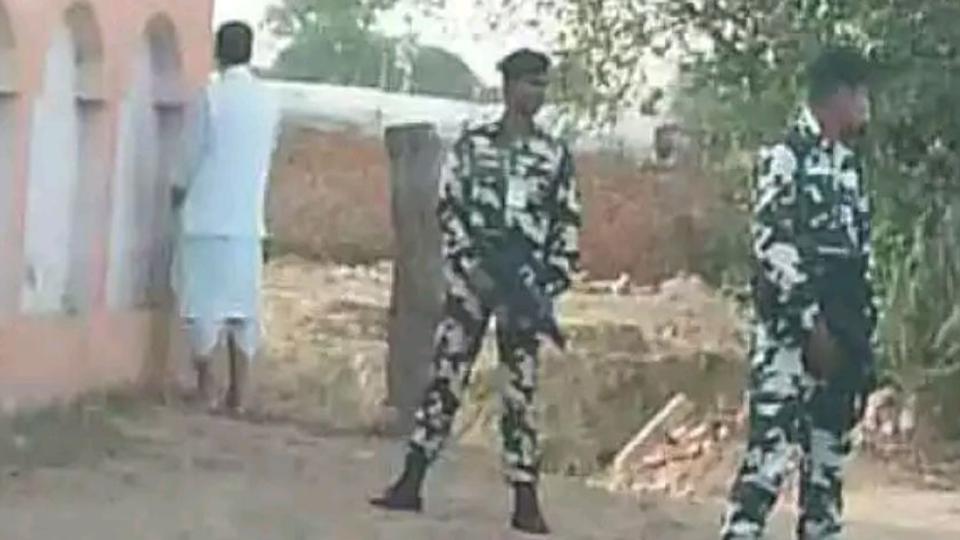 Union agriculture minister Radha Mohan Singh draws criticism with many trolling him saying his act shows Prime Minister Narendra Modi's Swachch Bharat programme in poor light. An undated picture of Union agriculture minister Radha Mohan Singh urinating in public has put the BJP in a spot as the picture went viral on social media on Thursday. The minister, however, defended himself, saying there was no urinal for long distances on National Highway 28 near Pipara when he wanted to relieve himself. Stating that his intention was not wrong, he said the photograph was of a dhaba (roadside eatery) on the NH. The photograph showed the minister urinating on a wall, believed to be in his home constituency Purvi Champaran (East Champaran), as two security personnel stood guard. Netizens trolled the minister for his act, saying it showed Prime Minister Narendra Modi's Swachch Bharat programme in poor light. The photograph was also shared on RJD's Twitter handle, with a sarcastic comment, "Amid tight security, the Union minister of agriculture gives the Swachh Bharat Abhiyan a boost, as he inaugurates an irrigation project in a drought-affected state." State BJP spokesperson, Rajib Ranjan, however, found nothing wrong in the minister's act. "One cannot suppress nature's call for long. What do you do if you are travelling long distances and there are no public urinals on the way?" he asked HT, adding "There is absolutely nothing wrong in what the minister did." He further said the photograph was "six months to one year old" as the minister's SUV had a red beacon, which the government had banned from May 1. Ranjan came down heavily against the ruling coalition in Bihar for deriving vicarious pleasure in sharing the minister's photograph. "They are part of the corrupt combination in state," he said. The party, however, believed that the photograph was taken by an insider who was part of the minister's cavalcade and subsequently leaked.

---
Presidential poll: Sonia, Yechury, Pawar accompany Meira Kumar as she files nomination
MMNN:28 Jun 2017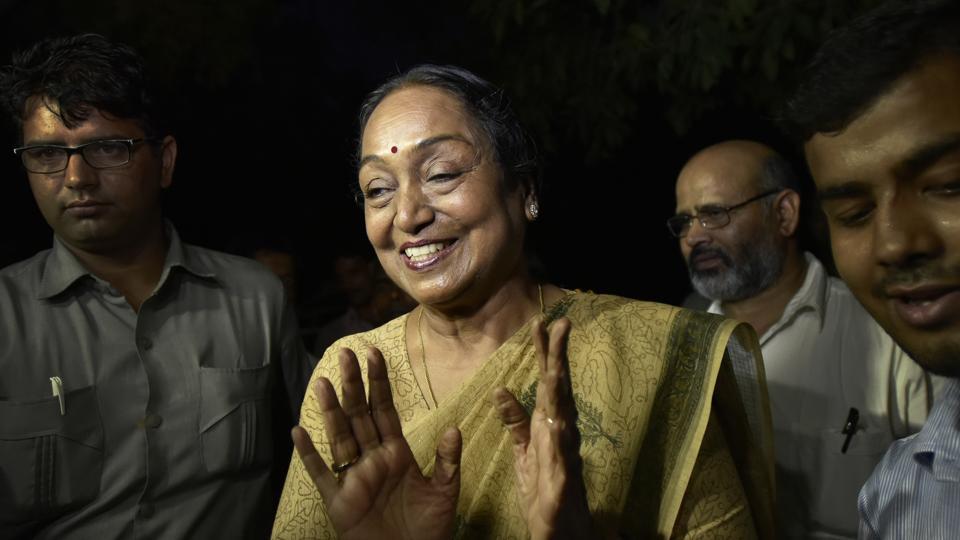 New Delhi: Opposition candidate Meira Kumar filed her nomination for the Presidential election on Wednesday, the last date for submitting the papers. Congress President Sonia Gandhi, CPI(M) general secretary Sitaram Yechury, NCP chief Sharad Pawar and other senior Opposition leaders were present when Kumar handed over the papers to Anoop Mishra, Secretary General of the Lok Sabha, who is the returning officer of this prestigious election. Kumar's competitor, NDA's Ram Nath Kovind had filed his nomination last week before Prime Minister Narendra Modi left for his foreign tour.

---
3 activists of Yogi Adityanath's Hindu Yuva Vahini arrested on rape charge
MMNN:27 Jun 2017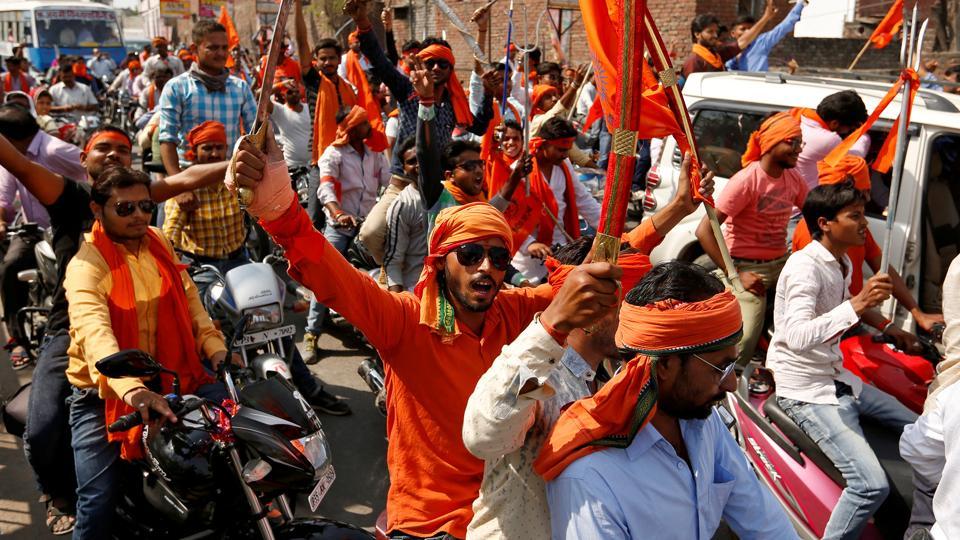 Three activists of the Hindu Yuva Vahini (HYV), an organisation floated by Yogi Adityanath, were arrested in Bareilly on charges of gangrape and thrashing a police officer. The incident took place on Monday night following a dispute between one Deepak and Avinash over playing of loud music in Ganeshnagar locality, Superintendent of Police (City), Rohit Singh Sajwan said on Tuesday. Avinash called his friends, who were HYV workers, and barged into Deepak's house and allegedly misbehaved with the women. Deepak, who later reached with his brother Gaurav, allegedly beat up Avinash and handed him over to the police. When the news spread, HYV regional President Jitendra Sharma and city unit President Pankaj and a number of other HYV activists reached the police station to protest the arrest. BJP city unit chief Umesh Katharia also reached the police station and in presence of police, HVY activists allegedly misbehaved with the BJP leader and allegedly beat up sub-inspector Mayank Arora. The city SP said that two FIRs have been lodged in this connection. One FIR was lodged by Arora against Avinash, Jitendra and Pankaj for allegedly beating him and the other by a woman against the three and another person Anil Saxena for allegedly gangraping her. Avinash, Jitendra and Pankaj have been arrested, police said, adding that a probe is on in the matter.

---
Five STF jawans wounded in gunbattle with Maoists in Sukma
MMNN:24 Jun 2017


The gunfight is underway between a joint team of security forces and Maoists in Chhattisgarh. Five special task force (STF) personnel were on Saturday injured in a fierce gunbattle with Maoists in the dense forests of Chhattisgarh's Sukma district, the police said. The encounter is still going on, they added. The exchange of fire is underway between a joint team of security forces and ultras in the interior forests of Chintagufa police station area, deputy inspector general of police (Dantewada range) Sundarraj P told PTI. "As per the preliminary information, five STF jawans have sustained injuries in the encounter," he said. The joint team, comprising personnel from STF, district reserve guard (DRG) and CoBRA (Commando Battalion for Resolute Action), was carrying out anti-Maoist operation in Chintagufa area, around 500 km from Raipur, he said. The team members were cordoning off a forest patch in southern part of Chintagufa when they came under fire from a group of Maoists, the IPS officer said. The security forces retaliated, triggering an exchange of fire, he said. The DIG said on getting information about the gunbattle, reinforcement was rushed to the spot and efforts were on to evacuate the injured jawans. Further details were awaited, he added. On April 24, 25 CRPF personnel were killed in a rebel ambush in Burkapal area under Chintagufa police station of limits of Sukma, the worst Maoist-affected district in the state.

---
Muslim man arrested in Jharkhand for allegedly making anti-Modi remarks in video
MMNN:23 Jun 2017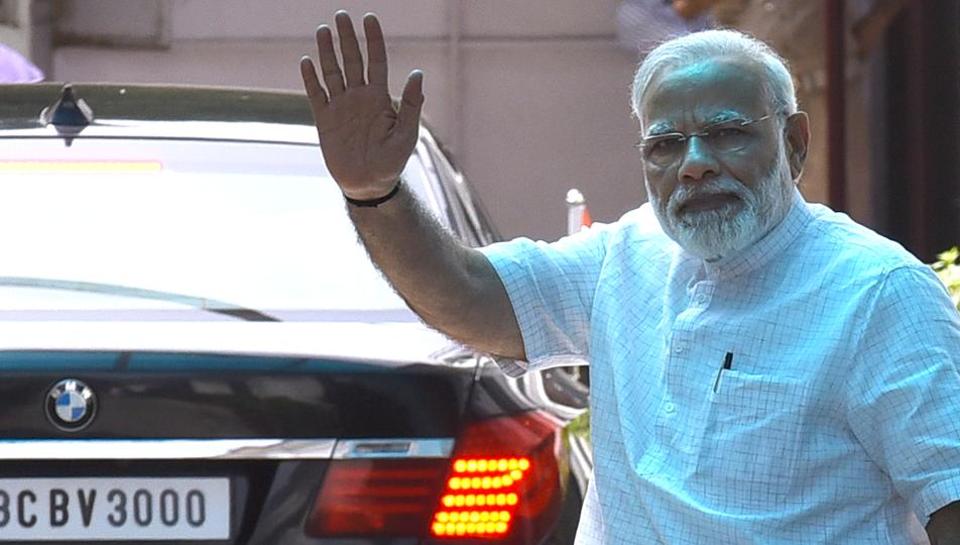 In the video clip Sameer Ansari is seen allegedly heard backing Pakistan cricket team and also voicing his desire to see India humiliated Police arrested a 20-year-old Muslim man on Thursday night in Jharkhand for a viral video clip where he is allegedly heard making derogatory remarks against Prime Minister Narendra Modi and India. The clip was shared widely in the state's Sahibganj region before India's shock loss to Pakistan in the final of the ICC Champions Trophy last Sunday. In the video clip -- HT has a copy of it -- Sameer Ansari is allegedly heard backing Pakistan but also voicing his desire to see India humiliated. "The video was circulated in many WhatsApp groups. His statements were provocative and against the country, so, we had to arrest him, "said Sahibganj superintendent of police P Murugan. Local residents said Ansari was a student but police refused to confirm.

---
RJD to question Nitish Kumar's support for NDA presidential nominee Kovinda
MMNN:22 Jun 2017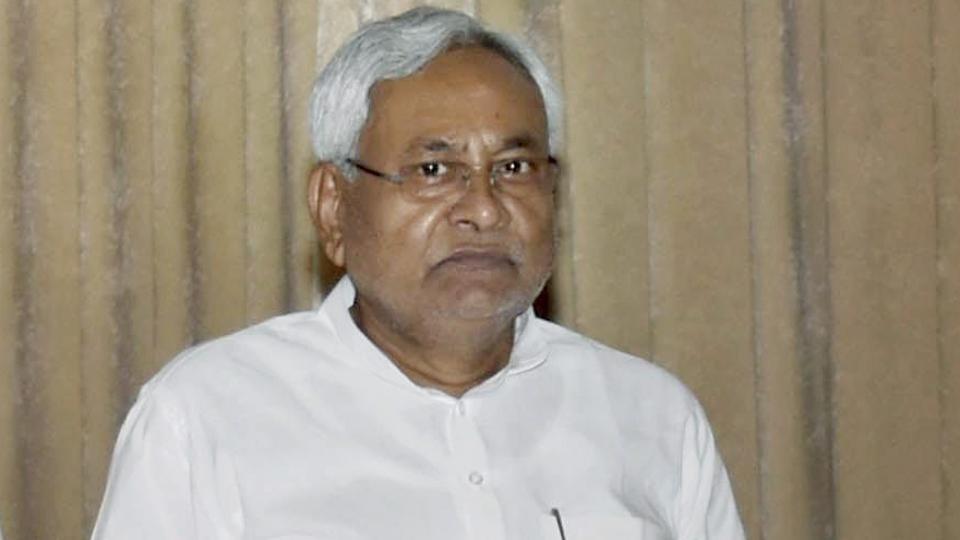 Nitish Kumar took initiative to form a united opposition, but sidelined them to supported the NDA nominee, RJD leader Raghuvansh Prasad said. Questioning Nitish Kumar's extension of support to Centre's nominee for President, its ally Rashtriya Janata Dal (RJD) on Thursday said that it was a very good opportunity for the secular front to counter the saffron party but the Bihar Chief Minister's change of side has put the united opposition's future in jeopardy. Asserting that it was Nitish who had initiated the whole idea of an united opposition and grand alliance to oppose the Bharatiya Janata Party (BJP) at national level, RJD leader Raghuvansh Prasad said that his party will be questioning the JD(U) in this regard. "It was an opportunity for the secular parties to stand united in at the time of Presidential elections. We will be questioning JD(U) for the stand Nitish ji has taken. We would like to ask JD(U) what is their take on the secular party group which was formed to counter the BJP," Prasad told ANI. "We were very happy when Nitish ji had taken the initiative to form a secular front of united opposition on the national level, but now he sidelined us and supported the BJP's candidate. Now the ball is in his court, he will have to think that now how will we oppose the BJP?," he added.

---
Police knew about Karnan's hiding place for 3 days before arresting him
MMNN:21 Jun 2017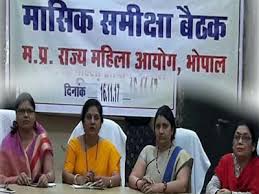 CS Karnan, who was sentenced to six months imprisonment by the Supreme Court for contempt but was untraceable, was arrested near Coimbatore. A police team searching for Calcutta high court's former judge CS Karnan knew about his hiding place in Coimbatore in Tamil Nadu for three days before moving in to arrest him, the West Bengal police chief said on Wednesday. "We knew about his (Karnan's) whereabouts three days back. We were tracking phone calls of people close to him and we also have our own sources," director general of police Raj Kanojia told IANS in Chennai. Kanojia spoke at the Chennai airport before boarding a flight to Kolkata. According to him, this was a unique case he handled in his entire service and "maybe no other police officer will be handling such a case in a long time to come". "Tracking Karnan was difficult. It was a difficult case," Kanojia said. Karnan, who was sentenced to six months imprisonment by the Supreme Court for contempt but was untraceable, was arrested on Tuesday near Coimbatore, around 500 km from Chennai. Karnan was eluding arrest for more than a month.

---
Tripura girl, whose head swelled to over three times its normal size, dies
MMNN:20 Jun 2017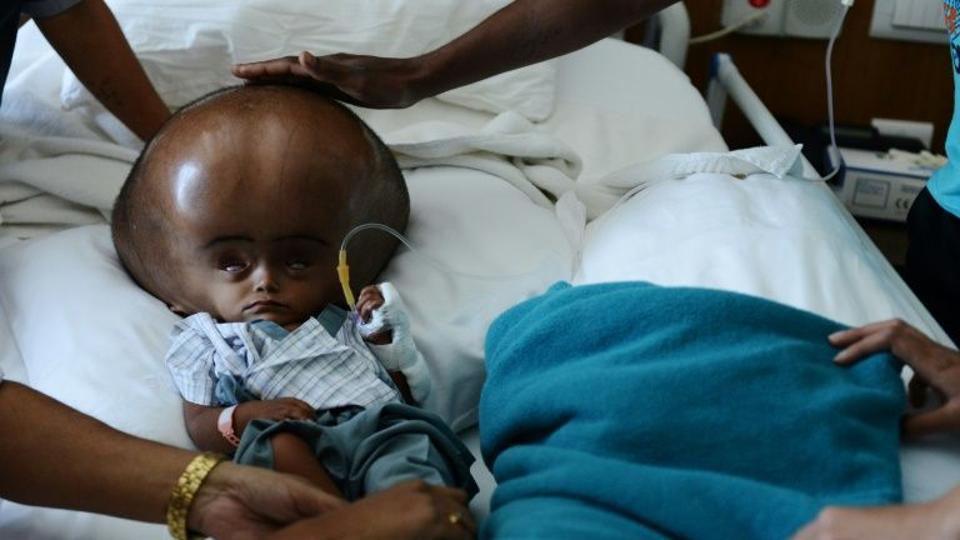 Her condition caused her head to swell to a circumference of 94 centimetres (37 inches), putting pressure on her brain and making it impossible for her to sit upright An girl who made international headlines when a rare condition caused her head to swell to more than twice the normal size has died, days before she was to undergo corrective surgery. Roona Begum's family said she died Sunday at her home in a village in the remote northeast after complaining of breathlessness. "She was otherwise fit and fine. But on Sunday she started having breathing problems and I rang up my husband asking him to come back home," said Fatima Begum. "He rushed home and gave her water but before we could take her to the hospital she died," she told AFP. The five-year-old was born with hydrocephalus, a potentially fatal condition that causes cerebrospinal fluid to build up on the brain. Publication of pictures taken by an AFP photographer in the remote state of Tripura prompted a New Delhi hospital to treat her for free in 2013. Her condition caused her head to swell to a circumference of 94 centimetres (37 inches), putting pressure on her brain and making it impossible for her to sit upright. After several round of surgery at the Fortis Hospital, her head circumference shrank to 58 centimetres. Pictures showed the distraught parents sitting next to her body, wrapped in a cream towel as her younger brother looked on.

---
Ahead of PM Modi's visit, US lawmakers ask India to rethink price cap on stents
MMNN:19 Jun 2017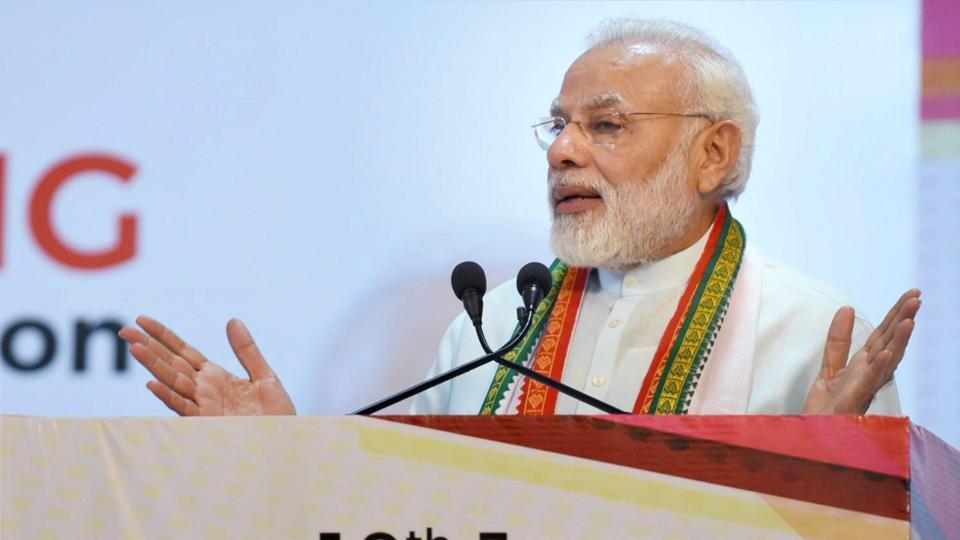 The Narendra Modi government has in recent years capped prices of hundreds of life-saving drugs to make them more affordable. A group of US lawmakers has backed medical device makers by urging India to reconsider its decision to cap prices of heart stents, raising the issue ahead of Prime Minister Narendra Modi's visit to the United States later this week. In a letter sent to the Indian ambassador to Washington last month, and seen by Reuters, 18 members of Congress said they were "troubled" by the price cap, warning that it could deter firms from launching new medical products in India. Modi's government has in recent years capped prices of hundreds of life-saving drugs to make them more affordable. And in February, it imposed a 75% price cut for certain heart stents - wire mesh tubes used to treat blocked arteries. The government justified its action by citing "huge unethical markups". But global medical device makers have protested the new cap, with some saying it would force them to sell below cost. The US lawmakers warned that people would be denied access to the latest medical advances if companies backed away from India's $5 billion medical-technology market. "The sudden and unprecedented nature of the decision threatens citizens' access to the newest and most innovative medical technologies and raises strong concerns about the business environment in India," they said in the May 22 letter, which has not previously been made public. The Indian embassy in Washington did not respond to a request for comment. The US Department of Commerce is likely to raise the issue with Modi during his visit on June 25-26, according to an industry source aware of the plans. "It's one of the biggest pain points," the source said.

---
Soldier killed, another wounded in Pakistani shelling in Nowshera
MMNN:16 Jun 2017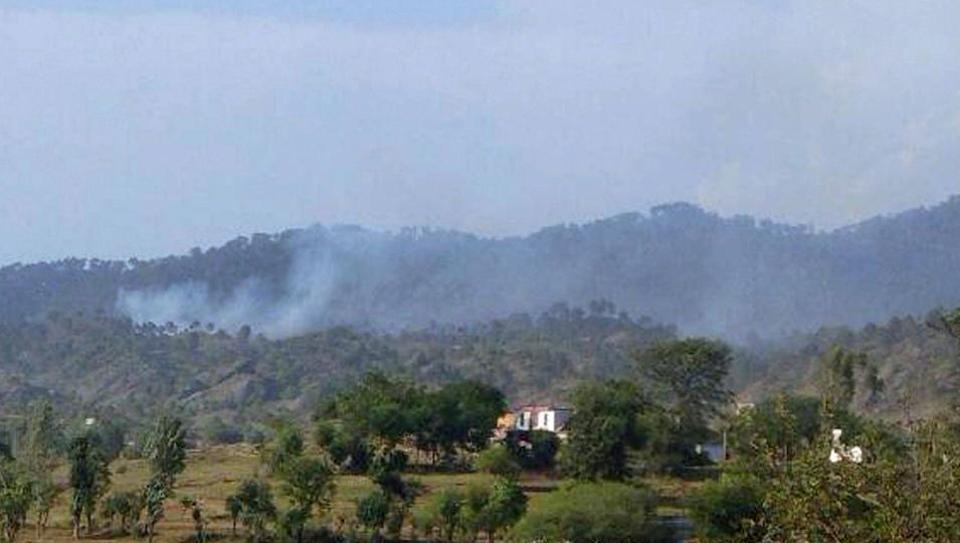 Pakistan has been continuously violating the 2003 ceasefire agreement with India, and the firing and shelling has left the hapless villagers in a precarious situation A soldier was killed and another injured in Pakistani shelling along the Line of Control (LoC) in Nowshera sector of Jammu and Kashmir's Rajouri district on Friday morning, officials said. The dead soldier was identified as Naik Bakhtawar Singh of 8 Sikh Light Infantry, and a resident of Hajipur village in Punjab's Hoshiyarpur district. "Pakistan Army opened heavy fire around 4am and the exchange lasted for around 20 minutes. During brief exchanges, two Indian soldiers were injured at Kalsian. One of them died around 5am," an intelligence official said. Nowshera sub-divisional magistrate Harbans Lal Sharma and Nowshera police station head Kuldip Krishan confirmed that the soldier died around 5am when he was hit by a mortar shell at a forward post in Kalsian area of Nowshera sector. However, the army was yet to issue a statement on it. The identity of the injured soldier has not been ascertained yet.

---
Another farmer commits suicide in Madhya Pradesh, seventh in 7 days
MMNN:15 Jun 2017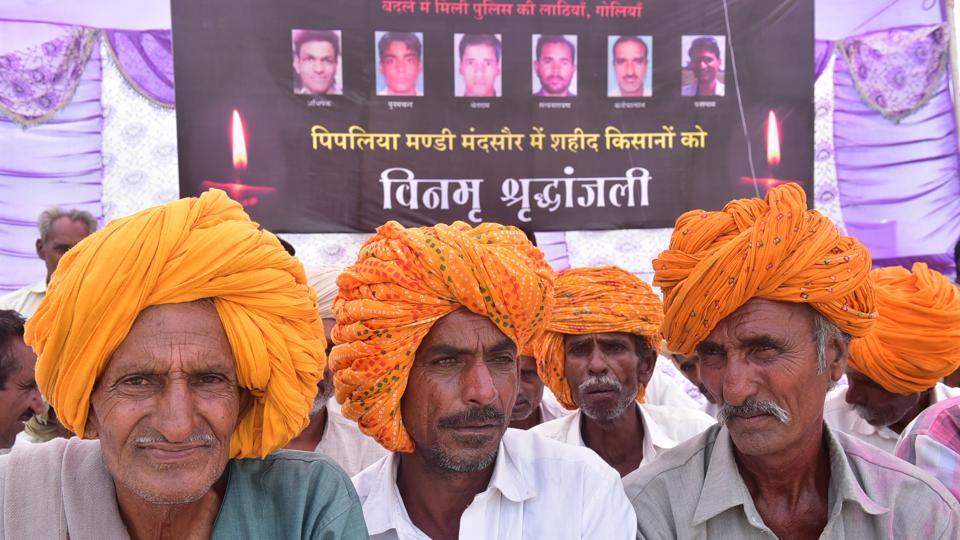 Seven deaths have been reported from Madhya Pradesh in seven days as angry farmers have torched vehicles and ransacked property demanding loan waiver and fair price. A farmer killed himself in Madhya Pradesh's Hoshangabad district on Thursday morning, news agency ANI reported, the seventh such suicide in seven days in a region rocked by violent farmer protests over plummeting crop prices. Narmada Prasad was a resident of Hoshangabad's Babai village and was being pressurized by local moneylenders, ANI added. The details of his death couldn't be immediately ascertained.

---
Opposition's choice of president likely today; Meira Kumar, Gopal Gandhi in focus
MMNN:14 Jun 2017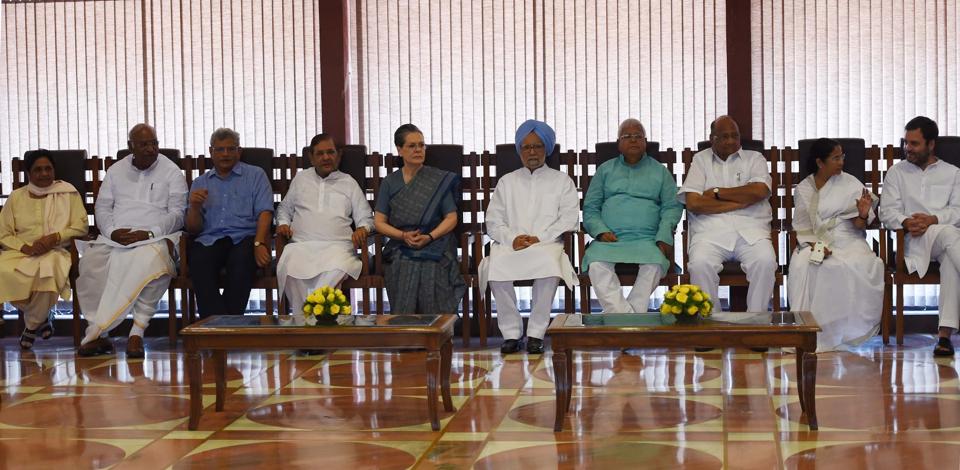 The move to pick the Opposition's candidate comes two days after the ruling BJP announced its committee to talk to all parties in an effort to build consensus for a candidate to succeed President Pranab Mukherjee. The opposition will likely name its candidate for the next President of India on Wednesday, with Congress leader Meira Kumar and Mahatma Gandhi's grandson Gopal Krishna Gandhi among the possible nominees. The meeting of the Opposition's 10-member selection panel is slated for 4pm. The move to pick the Opposition's candidate comes two days after the ruling BJP announced its committee to talk to all parties in an effort to build consensus for a candidate to succeed President Pranab Mukherjee, who demits office on July 24. The Opposition panel comprises Ghulam Nabi Azad and Mallikarjun Kharge from the Congress, CPI(M) general secretary Sitaram Yechury, JD(U) veteran Sharad Yadav, NCP leader Praful Patel, Trinamool Congress' Rajya Sabha floor leader Derek o'Brien, SP leader Akhilesh Yadav, BSP's Satish Chandra Mishra, RJD leader Lalu Prasad and DMK's RS Bharathi.

---
Monsoon session of Parliament likely to begin on July 12, say sources
MMNN:13 Jun 2017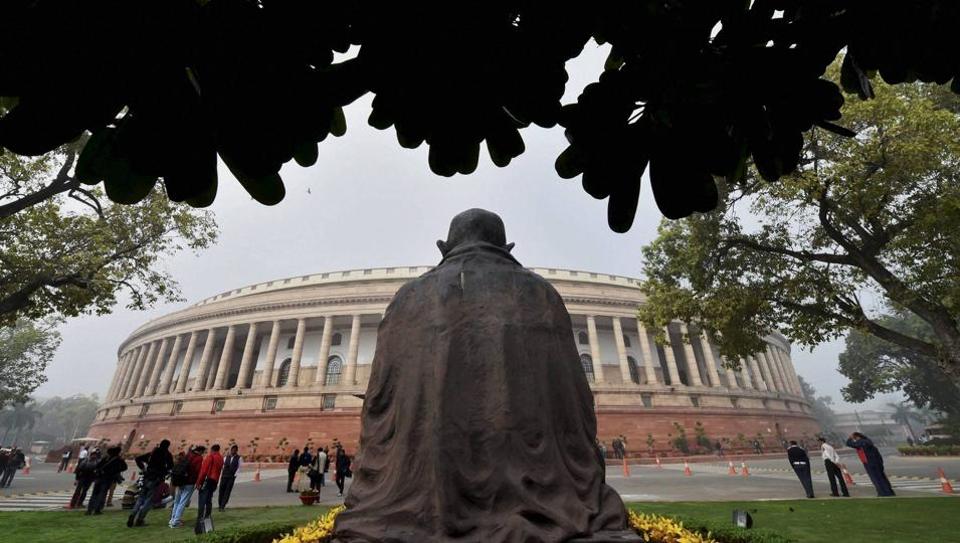 The monsoon session of Parliament will begin from July 12 and conclude on August 11. The month-long monsoon session of Parliament is likely to commence from July 12. According to one of the proposals before the Cabinet Committee on Parliamentary Affairs (CCPA), the session will begin from July 12 and conclude on August 11, according to government sources. The final call on the dates will be taken by the committee, headed by Union home minister Rajnath Singh, after June 20, the sources said. Sources told IANS the session was being convened earlier due to the presidential election in which MPs and MLAs are voters. A session at that time will ensure that all the MPs are in Delhi for the polling. An MP can also vote in his home state where MLAs generally vote.

---
Doyen of Telugu literature C Narayana Reddy dies in Hyderabad
MMNN:12 Jun 2017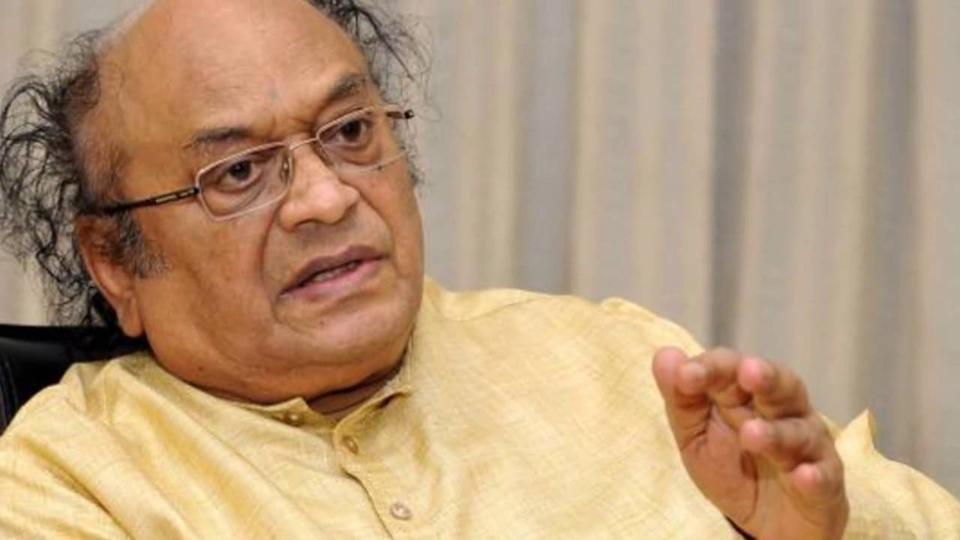 Doyen of Telugu literature and Jnanpith awardee Dr C Narayana Reddy passed away in Hyderabad on Monday following a brief illness. Doyen of Telugu literature and Jnanpith awardee Dr C Narayana Reddy died of brief illness in Hyderabad on Monday morning. He was 86. He is survived by four daughters. Reddy complained of chest pain in the morning and was rushed to a private hospital where he breathed his last. Popularly known as Cinare, the noted litterateur was born at Hanumajipet village of Rajanna Sircilla district (which was part of Karimnagar district till recently) of Telangana on July 29, 1931. Though he studied in Urdu medium school, Reddy mastered Telugu literature and joined Osmania University as a Telugu professor. He also served as vice-chancellor of the Telugu University. Known for his excellent rhyming skills, Reddy wrote several books, including composition of poems like Karpoora Vasantha Rayalu and Nagarjuna Saagaramu. His magnum opus Vishwambhara, which was translated into several other Indian languages, fetched him Jnanpith award in 1988. He was honoured with several literary awards like Kala Prapoorna and doctorates by various universities. In 1992, he was honoured with India's third highest civilian award Padma Bhushan. He was nominated to Rajya Sabha in August 1997. Reddy became more popular among the common people with his lyrics in Telugu films. He had penned more than 3,000 songs for various Telugu films, and all of them were big hits. Andhra Pradesh chief minister N Chandrababu Naidu, his Telangana counterpart K Chandrasekhar Rao and several literary personalities and lyricists from Telugu film industry condoled Reddy's death.

---
MP CM Shivraj on indefinite fast, says pained to see violence in state
MMNN:10 Jun 2017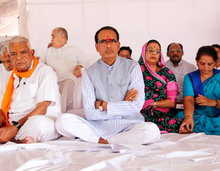 Shivraj Singh Chouhan's decision to observe a fast comes in the wake of violence in several parts of the state during the agitation by farmers and the killing of five farmers in Mandsaur in police firing. Madhya Pradesh chief minister Shivraj Singh Chouhan on Saturday announced the setting up of commission which would assess the input cost of agriculture produce, and said he was pained to see the violence in the state during the farmers' agitation. Chouhan, who began an indefinite fast on Saturday in his bid to restore peace in the violence-hit state, appealed to the farmers for peace, saying when his door was always open for talks, where was the need for violence. A pandal was erected at BHEL, Dussehra Maidan in state capital Bhopal from where Chouhan will run his government. Chouhan's decision to observe a fast comes in the wake of violence in several parts of the state during the agitation by farmers and the killing of five farmers in Mandsaur in police firing a few days back. He announced his decision at a press conference on Friday evening. Chouhan was flanked by his ministerial colleagues and BJP leaders. Many party workers too gathered to listen to the chief minister on the occasion. A number of farmers were brought by the party for interacting with the chief minister. Government officials were also present on the occasion. Leader of Opposition in the state assembly Ajay Singh termed the fast as a "Kejriwal drama", which, he alleged, would involve an expenditure of crores of rupees. He was referring to Delhi chief minister and Aam Aadmi Party (AAP) leader Arvind Kejriwal who had gone on an indefinite fast, promising 24-hour power at half the existing rate and up to 20 kilolitres of free water for all when his party comes to power in the national capital. Congress workers in Indore sat on a dharna and prayed for "wisdom" for the chief minister. Without taking the name of the Congress, Chouhan said he was pained when he heard words like "Thaane me aag laga do" (Set the police station on fire) or "Patthar maro" (Pelt stones). "The Mandsaur incident is the most unfortunate. I was deeply pained. I will get this inquired into as to who were behind the violence and what was their motive. Those who spread violence during the agitation will not be spared," he warned. Chouhan said it was "unfortunate that children are being given stones in their hands. This is painful. Where do they want to the push the state? Where will the state go with such attitude of people?" he asked. He said that during the violence, more than 100 police personnel sustained injuries. Of them, six were seriously injured. As many as 197 buses and 127 government vehicles were damaged. Chouhan said that since he assumed his office 11 and a half years back, his first and foremost priority has been welfare of farmers. The irrigation area has been increased from 7.5 lakh hectares in 2003 to 40 lakh hectares now, he said. The rate of interest on loan to farmers has been reduced from 18% to zero percent. Further, it was minus 10% because if a farmer took a loan of Rs 1 lakh, he was supposed to return Rs 90,000 only. Chouhan said if facilities to farmers had grown manifold, the bumper crop led to sharp fall in prices. That was why a Rs 1,000-crore price stabilisation fund was created to allow farmers to get adequate return on their produce. Thousands of tonners of onion has been purchased at Rs 8 per kg by the government. From June 10, tur daal would be purchased at Rs 5,500 per quintal whereas the market rate was Rs 3,400-3,500 per quintal. Similarly, moong and urad would be purchased at Rs 5,225 per quintal across the state, he said.

---
In new Rajasthan textbooks, Veer Savarkar overshadows Gandhi and Nehru
MMNN:9 Jun 2017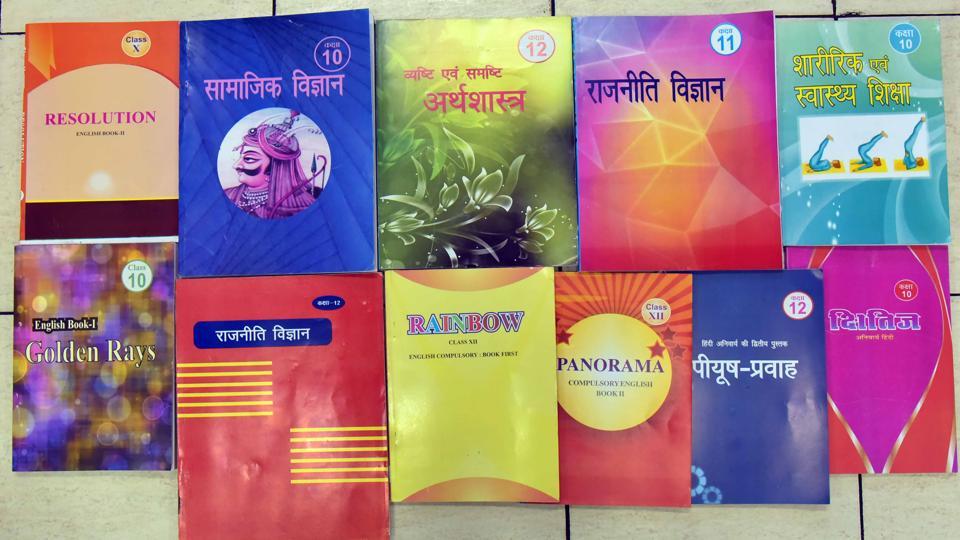 The class 10 textbook reduces Mahatma Gandhi's historical significance during India's freedom struggle to a passing mention while the country's first prime minister Jawahar Lal Nehru is missing from class 8 textbooks. New textbooks for Rajasthan state board schools being taught from this year have an extra dose of nationalism, with Hindutva ideologue Veer Savarkar pushing to the margins the role of Father of the Nation Mahatma Gandhi. One of the textbooks introduced in the BJP-ruled state even describes the first crop of Congress leaders as mostly moderates who were prosperous, middle-class intellectuals hailing from big cities and having no connection with the masses. The revised textbooks for classes 10, 11 and 12 also bring students up to speed on current "hot topics" such as the Uniform Civil Code, Hindi as the country's contact language and Prime Minister Narendra Modi's foreign policies, especially with reference to Pakistan. But what is bound to raise more eyebrows is Savarkar getting a big chuck of space, even edging out Jawahar Lal Nehru from the social science textbook of Class 10 and decimating Mahatma Gandhi to a passing reference. Education experts are calling these history "revisions" as Hinduisation of the country's freedom struggle. Last year, India's first Prime Minister Nehru was erased from the Class 8 textbook. The government, however, defends the revisions saying that Nehru has been given ample space in the Class 9 textbook. "Every hero can't be included in every book," says Vasudev Devnani, state education minister.

---
Army foils infiltration bid in J-K's Nowgam, soldier and 3 militants dead
MMNN:8 Jun 2017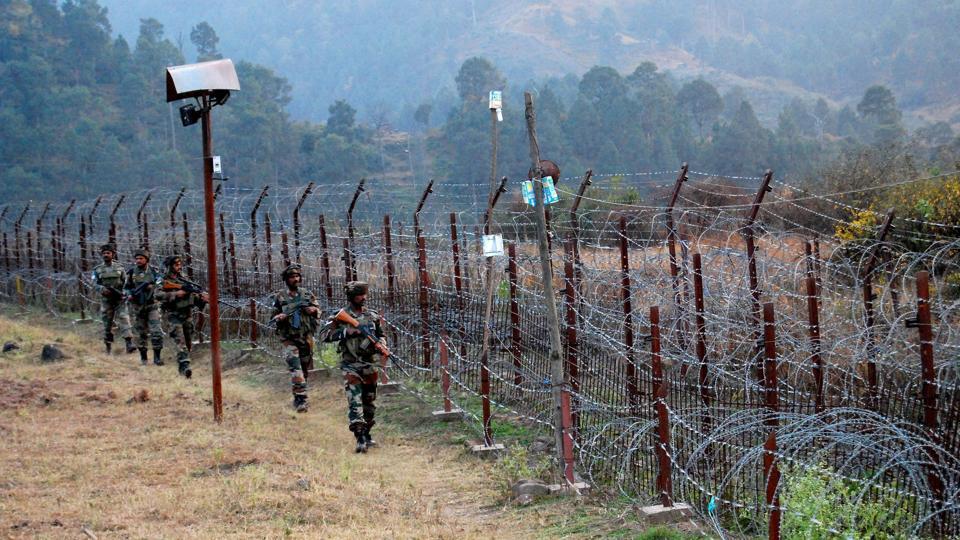 The infiltration bid took place along the Line of Control in Jammu and Kashmir's Nowgam sector. A soldier was killed as the army foiled an infiltration bid on Thursday along the Line of Control (LoC) in Jammu and Kashmir's Nowgam sector, a spokesperson said. Three militants were also killed during the infiltration bid, the spokesperson said, adding that operations are on in the area. Weapons and warlike stores were recovered from the slain militants. On Wednesday, three militants were gunned down in Machhil sector near the LoC in north Kashmir. Three weapons were recovered from them.

---
Team India Players Attend Virat Kohli's Charity Ball And Once Again Absconding Businessman Vijay Mallya Spotted At The Event
MMNN:6 Jun 2017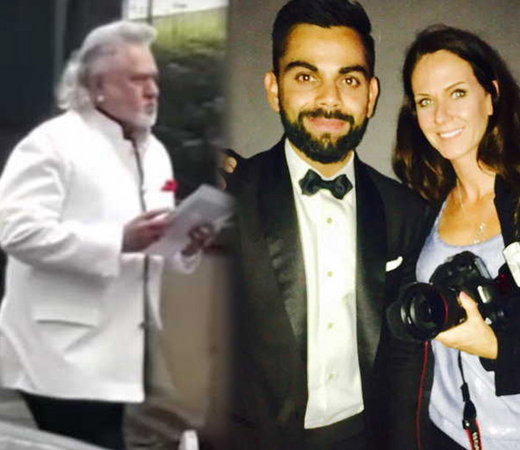 Ahead of Team India's next encounter against Sri Lanka in Champions Trophy, cricketers took part in Virat Kohli's charity ball on Monday. Along with the Indian players in attendance was absconding businessman Vijay Mallya. Mallya made his presence felt once again after he was spotted enjoying the India's match against Pakistan from the VIP stand in Edgbaston on Sunday.

---
Five Pakistani nationals detained in Rajasthan; being interrogated by intelligence agencies
MMNN:5 Jun 2017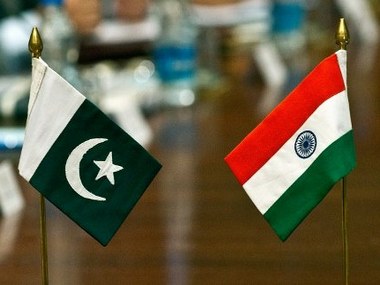 Jaipur: Five Pakistani nationals were detained in Barmer district of Rajasthan for violating visa norms.
Khojo Bhil (60), Chandu Bhil (75), his wife Dhai Bai Bhil (70), and two minors — Naresh Bhil (10) and Dharmi Bai (12) — had a visa for Jodhpur but travelled to Barmer. They were detained from Gadra road railway station in the district when they were waiting for a train to Jodhpur on Sunday. Khojo and Naresh came to Jodhpur two years ago and the other three entered India around 20 days back, Station House Officer (SHO) of Gadra road police station Karan Singh said. They were staying at their relatives' house in Barmer for two days. The place where they stayed is restricted for foreigners, the SHO said. They are being interrogated by intelligence agencies. Barmer is among four districts in western Rajasthan which lies along the border with Pakistan.

---
Infiltration down 45% since surgical strike, Kashmiri youth the future: Rajnath
MMNN:3 Jun 2017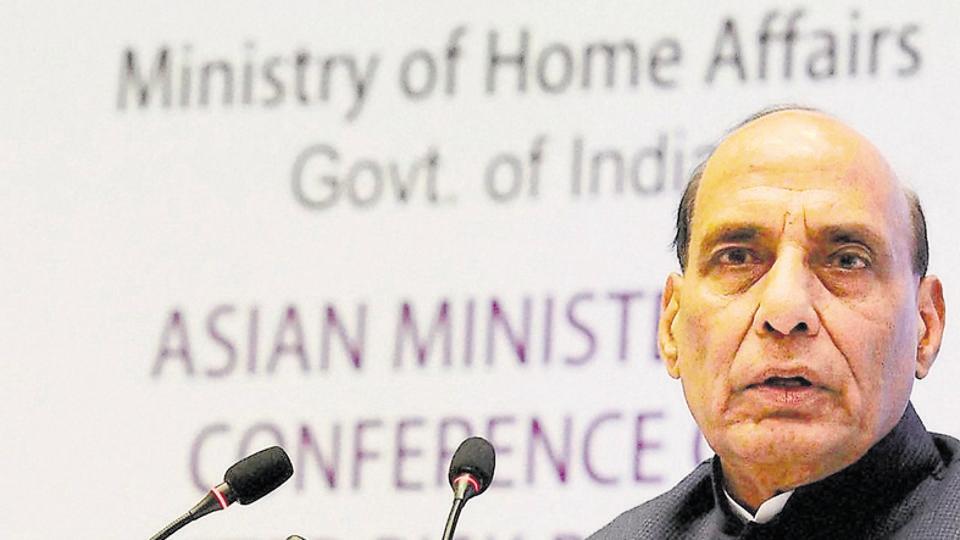 Rajnath Singh reaffirmed the Narendra Modi government's commitment to bringing peace in Kashmir and how the administration had thwarted Islamic State
"There is no dispute within the family. There is no reason for dispute. Whatever, problems are there, they are due to sycophancy and backbiting. Our first priority will be to unite the family", Shivpal said. "If family is united everything will be well. I ask everyone to sit with Netaji (Mulayam Singh Yadav), who is head of the family. I want him to get due respect and honour as he is the one who made Samajwadi Party. Whatever we are is due to him", he said. On his decision to form the 'Samajwadi Secular Front', which will be headed by Mulayam, Shivpal said that it will bring the party on the "right track". Maintaining that he is still in the party and will only try to strengthen it, Shivpal said, "if Mulayam gets due respect in the party, I am ready for any placement". Shivpal, who has been at odds with nephew and SP chief Akhilesh Yadav, however had made it clear that he was forming just a "front" and not a political party. "We will constitute the Samajwadi Secular Front on July 6 to bring the SP on the right track. We will formally announce it at a meeting in Lucknow", Shivpal had said.

---
Indian cricket team upset before Champions Trophy tie vs Pakistan - This is why
MMNN:2 Jun 2017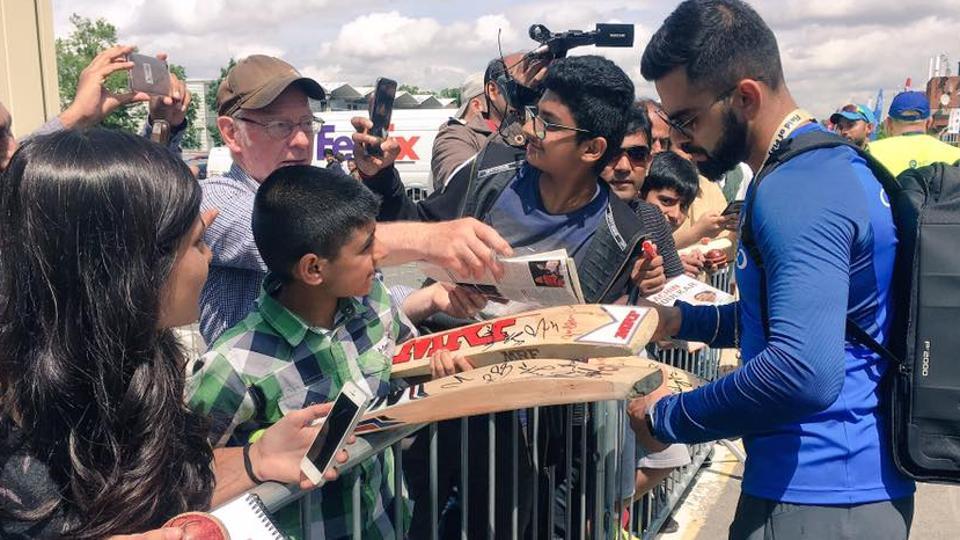 Indian cricket team captain Virat Kohli and coach Anil Kumble had reservations as the practice arena was small in size. The main issue was the run-up for fast bowlers. India will begin their ICC Champions Trophy 2017 campaign against Pakistan in Birmingham on Sunday.
The Indian cricket team was unhappy with the practice facilities at Edgbaston with captain Virat Kohli and coach Anil Kumble making their displeasure known, according to a report on PTI. (ICC CHAMPIONS TROPHY FULL COVERAGE) The report added that both Kohli and Kumble had reservations as the arena was small in size. The main issue was the run-up for fast bowlers.

---
Backbiting, sycophancy responsible for SP woes: Shivpal Yadav
MMNN:1 Jun 2017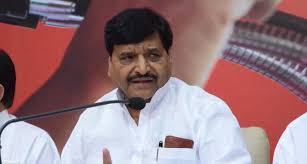 LUCKNOW: Sidelined Samajwadi Party leader Shivpal Yadav on Thursday said he was ready for any "placement" in the party provided Mulayam Singh Yadav got "due respect" even as he held "sycophancy" and "backbiting" responsible for the party's woes. Mulayam's brother insisted that all will be well if the family is united.
"There is no dispute within the family. There is no reason for dispute. Whatever, problems are there, they are due to sycophancy and backbiting. Our first priority will be to unite the family", Shivpal said. "If family is united everything will be well. I ask everyone to sit with Netaji (Mulayam Singh Yadav), who is head of the family. I want him to get due respect and honour as he is the one who made Samajwadi Party. Whatever we are is due to him", he said. On his decision to form the 'Samajwadi Secular Front', which will be headed by Mulayam, Shivpal said that it will bring the party on the "right track". Maintaining that he is still in the party and will only try to strengthen it, Shivpal said, "if Mulayam gets due respect in the party, I am ready for any placement". Shivpal, who has been at odds with nephew and SP chief Akhilesh Yadav, however had made it clear that he was forming just a "front" and not a political party. "We will constitute the Samajwadi Secular Front on July 6 to bring the SP on the right track. We will formally announce it at a meeting in Lucknow", Shivpal had said.

---
Narendra Modi four-nation tour Live: PM meets President of Spain Mariano Rajoy
MMNN:31 May 2017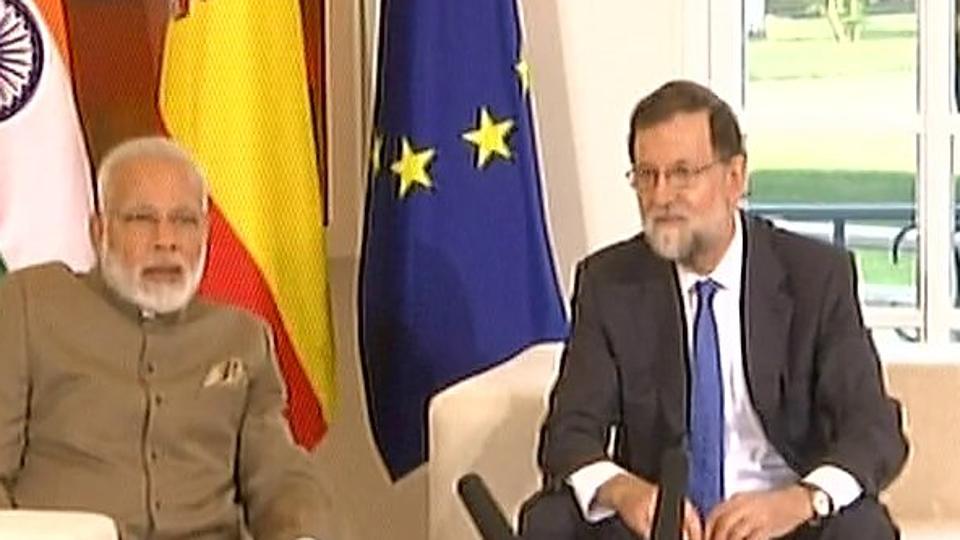 Narendra Modi will hold discussions with his Spanish counterpart Mariano Rajoy on ways to deepen bilateral engagement, including in the high-tech sector
Prime Minister Narendra Modi arrived in Madrid in the Spanish capital on Wednesday on the second leg of his six-day, four-nation tour aimed at boosting bilateral economic engagement with them and inviting more investment for India's transformation. Modi's visit to Spain is the first visit by an Indian prime minister since 1988. "Hola Espana! Prime Minister Modi arrives in Madrid, first visit by an Indian Prime Minister in nearly three decades, is received by Spanish FM in a special gesture," said Gopal Baglay, spokesperson for the Ministry of External Affairs in a tweet.


---
Police may have reached UP highway robbery victims sooner if they called 100
MMNN:27 May 2017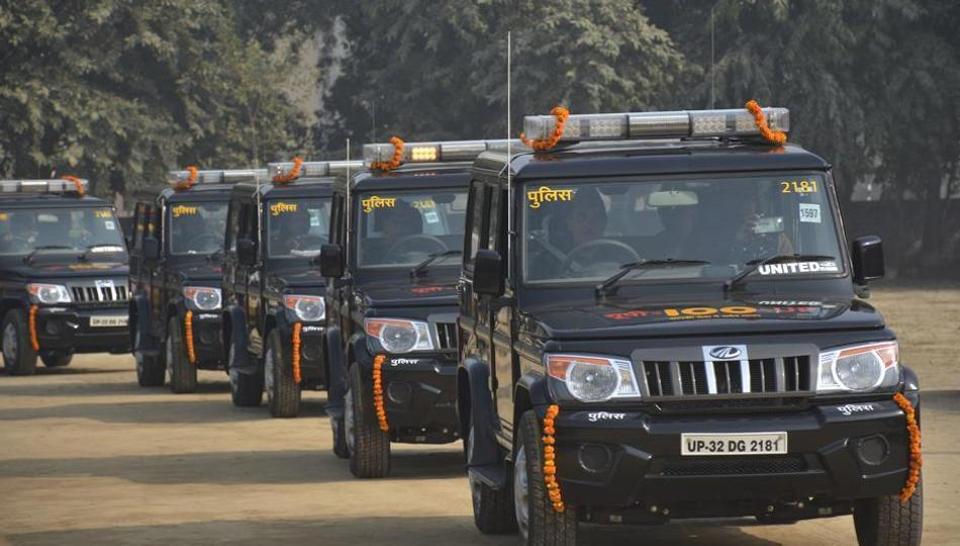 Officials say they have the ability to track people based on their mobile connections, and could have saved time looking for family that lost a member to robbers near Yamuna Expressway if they made the 100 call themselves
The UP police say they could have reached the victims of the highway robbery near Greater Noida within minutes if they had called 100 instead of their relatives back home, an official in the department said. A family of eight was attacked by robbers at around 1.30am on Thursday when they were on their way to Bulandshahr from Jewar on a desolate stretch close to the Yamuna Expressway. One of the men in the group was shot dead and the women said they had been raped. The case triggered fresh criticism of law and order in the country's most populous state. Officials said the victims first called a relative in Jewar, who made the call to police. "A police response vehicle (PRV) located the relative in minutes, but since he had no idea where the victims were, we had to start canvassing the highway," said additional director general (ADG) Anil Agarwal, in-charge of the UP-100 programme. PRVs, Agarwal explained, are equipped with devices that can relay the approximate location from where an emergency call was made to 100. The call lands at a centre in Lucknow, which gets the approximate location of the caller based on the mobile network towers from where he or she was connected. This information is passed on to screens in the PRVs, which are supposed to reach a victim with 30 minutes in rural areas and 15 in cities, the ADG said. In Thursday's incident, the victim's relative in Jewar was far from the crime scene. "The mobile phone of the victims was switched off, making it difficult for the UP-100 team to locate them," said Agarwal. In the region, each PRV patrols a 30-km area and several were deployed to look for the family. When a team found the victims, the suspects had fled leaving one person dead and the others tied up. UP-100, an integrated emergency service, was launched by the previous government headed by the Samajwadi Party in November. The project began with 1,500 squad cars deployed across the state, managed from a control room in Lucknow that receives all calls made to 100 from within the state. Agarwal said that since its launch, UP-100 teams have rescued and attended to scores of people involved in accidents and crimes on highways. Highways are typically a blind spot for local police in India, and emergency response is complicated by matters of jurisdiction. The UP programme earned praise from the Union government's Bureau of Police Research and Development (BPRD), which urged governments in other states to replicate the model. During a presentation by police and home department in April, UP's new chief minister Yogi Adityanath too stressed on the strengthening the UP-100 service.


---
3 years of Modi govt: Terrorism claims more lives in Kashmir, situation mixed in Northeast
MMNN:27 May 2017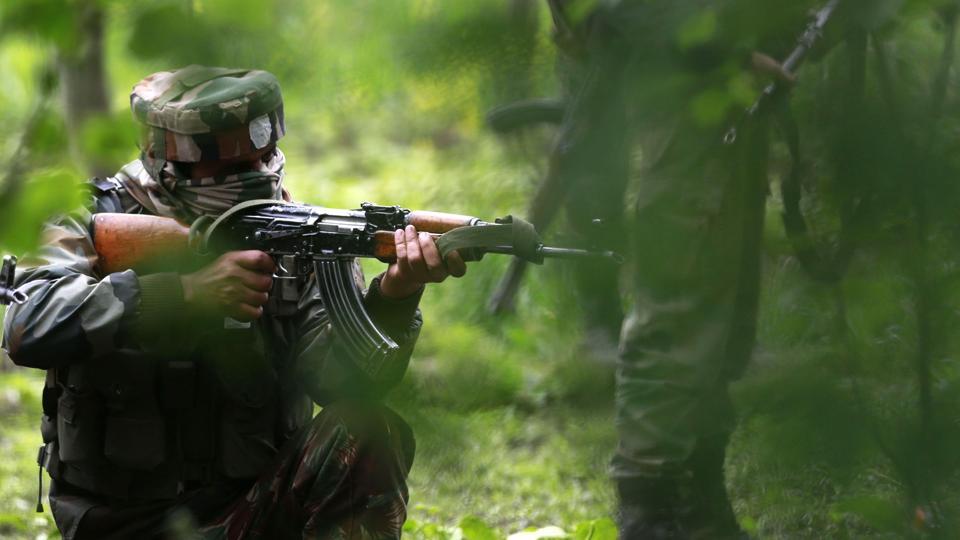 As the BJP government completes three years in office this week, IndiaSpend is analysing five of its key electoral promises–on employment, Swachh Bharat, roads, access to electricity and terrorism.
Eight members of a family were travelling to Bulandshahr from Greater Noida's Jewar when they were waylaid by the gang at about 1.30am. The six looted cash and valuables from the family and then raped the women, the police said, quoting the victims . When the man tried to resist, he was shot dead. "It's a heinous crime. An FIR has been registered. A man has been murdered. Four women have alleged gang rape. Police teams are working on the case," said Love Kumar, senior superintendent of Gautam Budh Nagar. "The women are being taken for medical examination. The post-mortem is being done. Two other teams are hunting for the suspects." Police said the robbers first targeted the wheels of the vehicle, a Maruti Eeco van. "After crossing Sabota village, two tyres got punctured. The driver of the car stopped at 1:30am to check the wheels when six men armed with country-made pistols surrounded the vehicle," said IG Meerut, Ram Kumar. The suspects snatched jewellery and Rs 47,500 in cash before tying the male passengers up with dupattas and taking the women to a field nearby, police said, quoting the victims. "Several teams have been formed to nab the criminals. We are also seeking help of the Uttar Pradesh Special Task Force," said Kumar. Doctors tending to the victims were set to issue a statement on Thursday. Read | Noida woman, daughter raped near Bulandshahr highway, 15 detained Last July, a mother and her 13-year-old daughter were waylaid and raped by a group of highway robbers also in Bulandshahr. A Noida-based family of five was headed to Shahjahanpur when miscreants attacked them about 1.30 am on the Ghaziabad-Aligarh highway at Dostpur village, near Bulandshahr. The incident sparked a political slugfest ahead of the assembly elections and had brought under focus India's largest state's notorious reputation of being unsafe for women. The BJP swept to power two months ago on a promise of tighter law and order. Read | I want to punish attackers with my own hands: Bulandshahr rape victim Uttar Pradesh has the longest network of highways among all states, according to National Highways Authority of India (NHAI) data. National Crime Records Bureau's data for 2014 show the state also accounts for the highest number of highway crimes — 80% of the 84,000 cases of dacoity and thefts on highways across the country were recorded in Uttar Pradesh. "The victim's family is from Jewar. They were travelling in Eeco car and going to Bulandshahr. The criminals threw something on the tyre and it got punctured. However, the driver of the car didn't stop and drove for quite a distance and stopped near a hut," Jewar MLA Thakur Dhirendra Singh said.


---
Women 'gang-raped', man killed: Police launch hunt for suspects in highway robbery near UP's Bulandshahr
MMNN:25 May 2017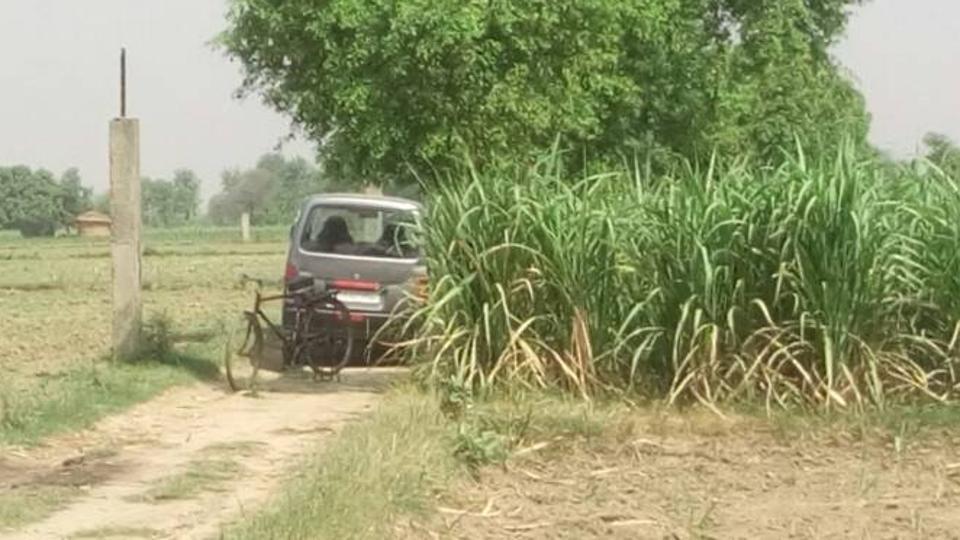 Family travelling to Greater Noida attacked by gang of robbers late night.Senior police officer confirms 'heinous crime'.
Eight members of a family were travelling to Bulandshahr from Greater Noida's Jewar when they were waylaid by the gang at about 1.30am. The six looted cash and valuables from the family and then raped the women, the police said, quoting the victims . When the man tried to resist, he was shot dead. "It's a heinous crime. An FIR has been registered. A man has been murdered. Four women have alleged gang rape. Police teams are working on the case," said Love Kumar, senior superintendent of Gautam Budh Nagar. "The women are being taken for medical examination. The post-mortem is being done. Two other teams are hunting for the suspects." Police said the robbers first targeted the wheels of the vehicle, a Maruti Eeco van. "After crossing Sabota village, two tyres got punctured. The driver of the car stopped at 1:30am to check the wheels when six men armed with country-made pistols surrounded the vehicle," said IG Meerut, Ram Kumar. The suspects snatched jewellery and Rs 47,500 in cash before tying the male passengers up with dupattas and taking the women to a field nearby, police said, quoting the victims. "Several teams have been formed to nab the criminals. We are also seeking help of the Uttar Pradesh Special Task Force," said Kumar. Doctors tending to the victims were set to issue a statement on Thursday. Read | Noida woman, daughter raped near Bulandshahr highway, 15 detained Last July, a mother and her 13-year-old daughter were waylaid and raped by a group of highway robbers also in Bulandshahr. A Noida-based family of five was headed to Shahjahanpur when miscreants attacked them about 1.30 am on the Ghaziabad-Aligarh highway at Dostpur village, near Bulandshahr. The incident sparked a political slugfest ahead of the assembly elections and had brought under focus India's largest state's notorious reputation of being unsafe for women. The BJP swept to power two months ago on a promise of tighter law and order. Read | I want to punish attackers with my own hands: Bulandshahr rape victim Uttar Pradesh has the longest network of highways among all states, according to National Highways Authority of India (NHAI) data. National Crime Records Bureau's data for 2014 show the state also accounts for the highest number of highway crimes — 80% of the 84,000 cases of dacoity and thefts on highways across the country were recorded in Uttar Pradesh. "The victim's family is from Jewar. They were travelling in Eeco car and going to Bulandshahr. The criminals threw something on the tyre and it got punctured. However, the driver of the car didn't stop and drove for quite a distance and stopped near a hut," Jewar MLA Thakur Dhirendra Singh said.


---
Saharanpur Dalit-Thakur violence: 5 things about UP's caste-communal cauldron
MMNN:24 May 2017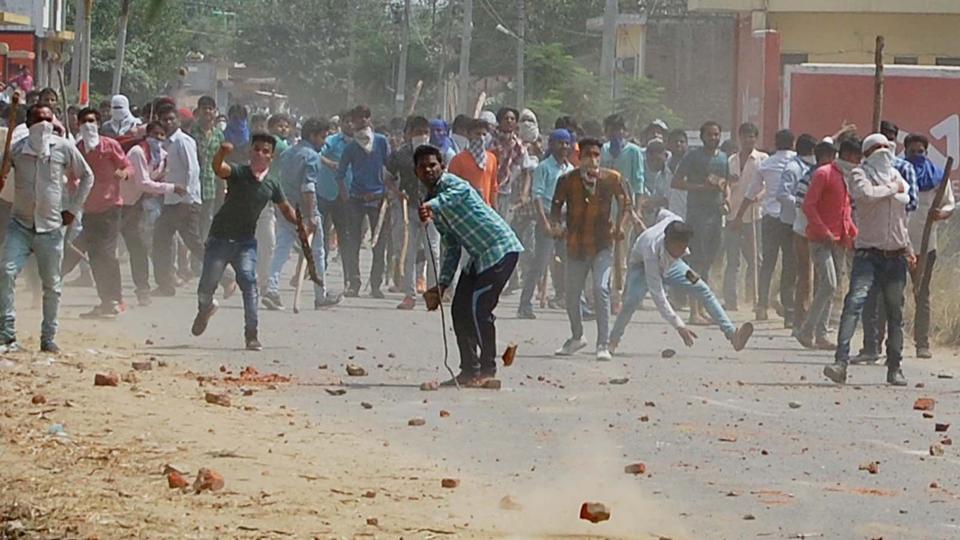 Saharanpur in western UP has a history of caste and communal violence, fuelled by religious diversity and political attempts at polarisation
A wave of caste clashes at the westernmost tip of Uttar Pradesh spanning the past two weeks has killed two Dalits and injured scores. But this is only the latest of many such caste and communal conflagrations in Saharanpur. Here are five things to know about UP's cauldron of sectarian violence:
1. The current flare-up began on May 5 when Dalits objected to a procession carried out by Thakurs and Rajputs to commemorate 16th century king Maharana Pratap. The ensuing clashes killed one Thakur youth. Hours later, around 50 Dalit houses were torched.
2. Earlier this month, A BJP rally held to mark Dalit icon BR Ambedkar's birth anniversary in Sadak Dudhali village near Saharanpur sparked angry protests from locals. The dispute turned violent and injured 15 people, before the police stepped in and stopped the procession for being organised without permission. Hours later, members of the BJP — including MP Raghav Lakhanpal, his MLA brother Rahul Lakhanpal — barged into the house of the senior superintendent of police and their supporters allegedly vandalised the premises.
3. In July 2014, Saharanpur was rocked by pitched battles between the Sikh and Muslim communities over a property dispute. Three were killed, more than 50 injured and police had to issue shoot-at-sight orders to control mobs.


---
Indian national Uzma, who was forced to marry in Pak, allowed to return home
MMNN:24 May 2017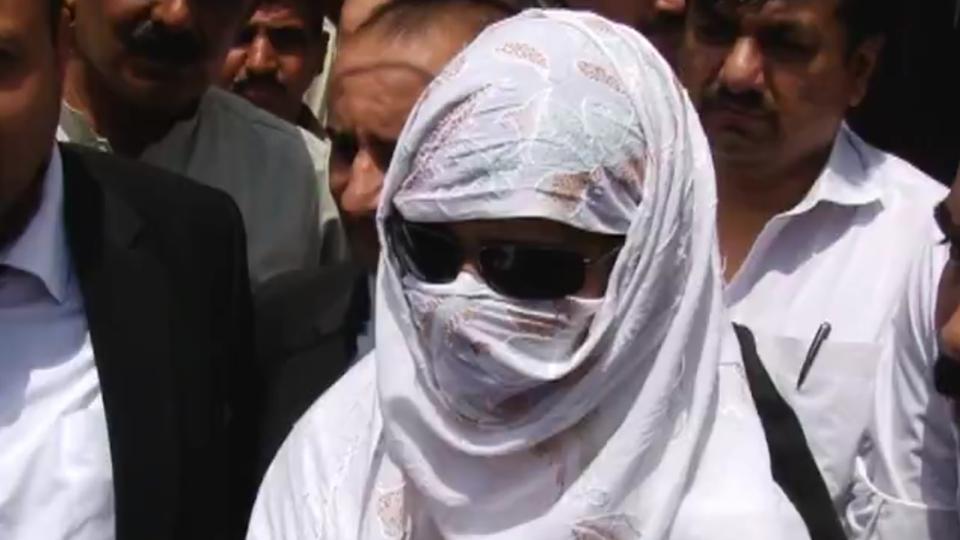 Uzma had travelled to Pakistan earlier this month. She had said that Pakistani national Tahir Ali "forced" her to marry him at gun point.
The Islamabad high court allowed on Wednesday an Indian woman, who has sought refuge at the Indian mission here after accusing a Pakistani man of forcibly marrying her, to return to India, a media report said. Uzma, in her early 20s, had travelled to Pakistan earlier this month. She had said that Pakistani national Tahir Ali "forced" her to marry him at gun point. Justice Mohsin Akhtar Kiyani was hearing pleas filed by Uzma and Ali. While Uzma had requested to be repatriated to India, Ali had asked to be allowed to meet his wife. The HC assured Uzma, who hails from New Delhi, that she was free to return to India at any point and would be escorted to the Wagah Border with police security, Dawn newspaper reported. During the hearing, the judge asked Uzma if she wished to speak to her husband but she refused. She has alleged that her travel documents were stolen by Ali. Uzma had petitioned the court on May 12 with the request and had submitted a medical report, showing that her daughter was suffering from thalassemia - an inherited blood disorder characterised by abnormal hemoglobin production - and she urgently needed to return to India. Uzma and Ali reportedly met in Malaysia and fell in love, after which she travelled to Pakistan on May 1 via the Wagah Border. The two contracted nikkah (marriage) on May 3.


---
Centre renames maternity benefit scheme, adds Pradhan Mantri to it
MMNN:24 May 2017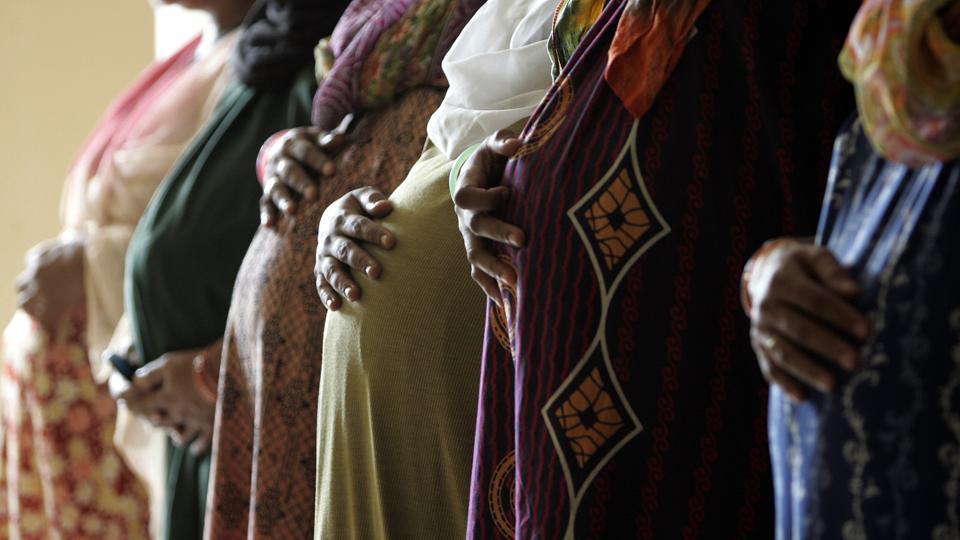 Government sources say the name of the scheme, which was cleared by the Union cabinet last week, was changed to make it more appealing.
The Centre has renamed the Matritva Sahyog Yojana - a scheme under which pregnant and lactating mothers get Rs 6,000 to for the first live birth - as Pradhan Mantri Matritva Vandana Yojana (PMMVY) in yet another instance of the Prime Minister's name being prefixed to a government programme. Government sources said the name of the scheme, which was cleared by the Union cabinet last week, was changed to make it more appealing. "The earlier name did not ring a bell. Many targeted beneficiaries were not even aware," said a senior women and child development (WCD) ministry official. This is the second time that the scheme's name has been changed. When it was launched in 2010 it was called the Indira Gandhi Matritva Sahyog Yojana. After coming to power in 2014, the Bharatiya Janata Party-led National Democratic Alliance government dropped "Indira Gandhi" from the scheme.
PMMVY is the latest to be affixed with Pradhan Mantri. Since 2014, over a dozen schemes have been launched or re-launched across ministries and have been affixed with PM. These include the PM Dhan Yojana, PM Awas Yojana, PM Jeevan Jyoti Yojana, PM Mudra Yojana, PM Sukanya Samriddhi Yojana, PM Gram Sinchai Yojana, PM Suraksha Bima Yojana, PM Fasal Bima Yojana, PM Garib Kalyan Yojana, PM Khanij Kshetra Yojana, PM Kaushal Vikas Yojana among others. The BJP's political adversaries have accused the ruling dispensation of centralising everything around Prime Minister Narendra Modi, who remains the party's most popular face. The saffron party, however, said Pradhan Mantri is a "neutral term" and is connected with development. "Unlike UPA era when programs were named after the Nehru-Gandhi dynasty, the BJP led NDA government has mostly done away with the practice. Instead of naming schemes after some person, they are using Pradhan Mantri, which is a neutral term. The idea is to project the PM as the face associated with development," said a senior BJP leader. It is a similar strategy that the BJP has used in a string of state assembly elections in the last 3 years. "Be it Bihar or the recent Uttar Pradesh and Uttarakhand polls, the party did not project a CM face. In the recent state assembly elections, for instance, the campaign revolved around PM Narendra Modi and his style of development oriented, corruption free governance. And the strategy worked," said another BJP leader, who did not want to be named.


---
Indian taxi driver 'racially' abused, beaten up in Australia: Report
MMNN:22 May 2017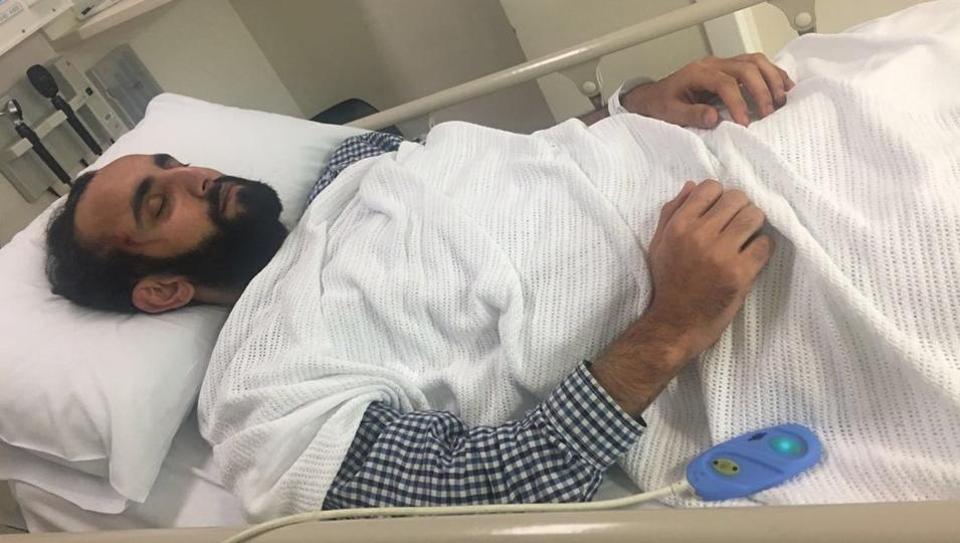 The cab driver Pardeep Singh was beaten at the Sandy Bay McDonald's drive-through in Australia's island state of Tasmania.
A 25-year-old Indian taxi driver in Australia has been assaulted and knocked unconscious by two passengers, including a woman, who yelled racial slurs at him, a media report said on Monday.
Pardeep Singh, who is studying hospitality in the country, was beaten at the Sandy Bay McDonald's drive-through in Australia's island state of Tasmania on Saturday night.
Singh said he was attacked when he asked his passenger to step outside the cab because she was going to vomit, The Mercury reported.
"If you mess up the car you have to pay a cleaning fee," Singh told the passengers. Singh alleged the woman passenger told him in an expletive-filled rant that she wouldn't pay the fare or the cleaning fee. "They punched me too many times and kicked me," Singh said. "[They said] 'You f.....g Indians deserve this'." Singh was admitted to the Royal Hobart Hospital.
Inspector Ian Whish-Wilson said a man and a woman have been charged in relation to the assault on Singh. They will appear in the Hobart Magistrates Court on June 26. "It is alleged that the driver asked the passengers to leave his taxi after one of them was sick," Wilson said. "There was a dispute over payment and it is alleged the passengers assaulted the driver and damaged the vehicle.
"It was alleged a racial comment was made during the assault but it does not appear that the incident was racially- motivated,"Wilson said. It is the third attack on an Indian taxi driver in Australia in less than a year. Indian cabbie Li Max Joy was assaulted by four teenagers in the Argyle St McDonald's in the early hours of March 25 and a third driver was assaulted by four men in June last year. Wilson said charges have also been laid in relation to the March assault on Joy but no "special investigative unit" has been established. Singh said he will not drive taxis again "because it's so dangerous".


---
PM Modi's fourth visit to Gujarat begins today, Congress calls it 'political compulsion'
MMNN:22 May 2017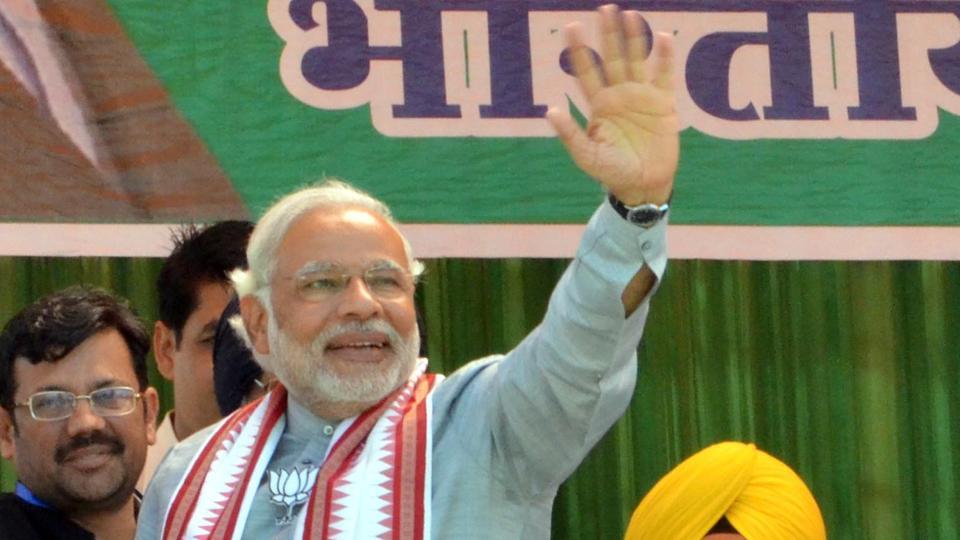 Prime Minister Narendra Modi will preside over annual general meeting of African Development Bank (AfDB), among other programmes. Congress described Modi's visits to Gujarat, which goes to polls this year, as "a political compulsion to bolster a weak state BJP leadership". Prime Minister Narendra Modi's two-day visit to home state Gujarat, where elections are expected by the end of the year, is scheduled to begin on Monday afternoon. This will be Modi's fourth visit to Gujarat in this year. Congress state unit chief Bharatsinh Solanki said the PM's "frequent visits" to Gujarat were "a political compulsion to bolster a weak state BJP leadership". Modi will preside over a couple of inauguration ceremonies and also attend the annual general meeting (AGM) of African Development Bank (AfDB). He is scheduled to land at Bhuj around 2.30 pm and head to a foundation ceremony for two general cargo berths at Kandla Port. Later, he will inaugurate Narmada water pumping station at Bhachchau for Kutch and address a public meeting. On Tuesday, the PM will attend the 52nd AGM of the AfDB at Mahatma Mandir in Gandhinagar. 'Transforming Agriculture for Wealth Creation in Africa' is the central theme of the five-day meet. Apart from 54 African region members, this financial institute has 24 non-regional members. Nearly 3,000 delegates, several heads of state, and finance ministers from 80 countries are expected to participate in the AGM. Union finance minister Arun Jaitley, who is India's governor to AfDB, will be the chairperson at the event. Seminars, exhibitions by private companies, and the release of African Economic Outlook 2017 are among the programmes at the event. On the eve of Modi's visit, Patidar quota stir leader Hardik Patel and 50 of his community youths tonsured their heads, raising the political heat in Gujarat. Patidars, a financially and politically influential community and BJP supporters for three decades, are up in arms against the state government seeking OBC status.
---
'Enough negative politics': Shatrughan takes on critics targeting Lalu, Kejriwal
MMNN:22 May 2017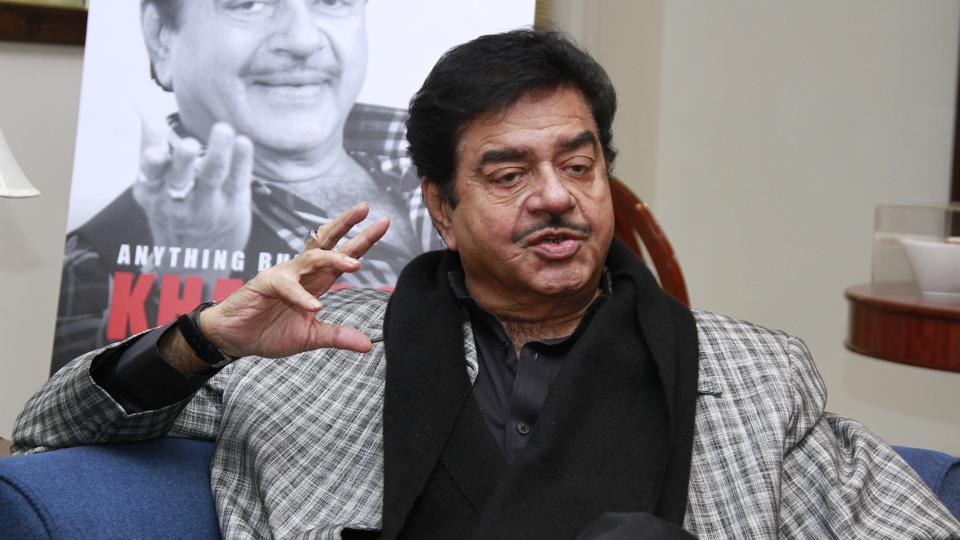 BJP leader wants critics of Delhi CM Arvind Kejrwal and RJD chief Lalu Prasad to substantiate allegations.
Delhi chief minister Arvind Kejriwal and RJD boss Lalu Prasad, facing corruption allegation, have received a support from an unusual ally: BJP's Shatrughan Sinha. "Enough of negative politics & mudslinging by opponents on our political leaders, be it Kejriwal, Laloo Yadav (sic) or Sushil Modi," Sinha tweeted on Monday. The actor-turned-politician said the allegations must be substantiated. "High time to substantiate your claims..or pack up! Can't just keep feeding media with one night stories & sensationalising. Enough is enough!" A Lok Sabha member from Bihar, Sinha said he holds all political leaders, especially Kejriwal, in high esteem for their "credibility, struggle & commitment" towards society. "Our BJP surely believes in honesty & transparency, which seldom go together, but must go together. An allegation is ONLY THAT unless proved!" he wrote on the micro blogging site. Kejriwal's former colleague Kapil Mishra has accused him of giving undue benefits to a relative and taking Rs 2 crore in cash from another minister, Satyendra Jain. Lalu Prasad's family members have been accused of amassing wealth disproportionate to their known income. In both cases, the Bharatiya Janata Party is one of the most prominent voices calling for action against the two leaders. Sinha's tweet triggered an outrage in the BJP. "Jis Lalu ki benami sampatti ke bachav mein Nitish nahi utare, uske bachav mein bhajpa ke shatru kood pade (BJP's 'shatru' came to the defence of the benami properties of that Lalu who is not being defended by even Nitish)," Bihar BJP leader Sushil Kumar Modi wrote on Twitter. Sinha is known for airing views contrary to the party's stand and has been sidelined by the BJP. He has praised Kejriwal and Lalu in the past as well.

---
President, Union ministers may soon have to give speeches only in Hindi
MMNN:18 April 2017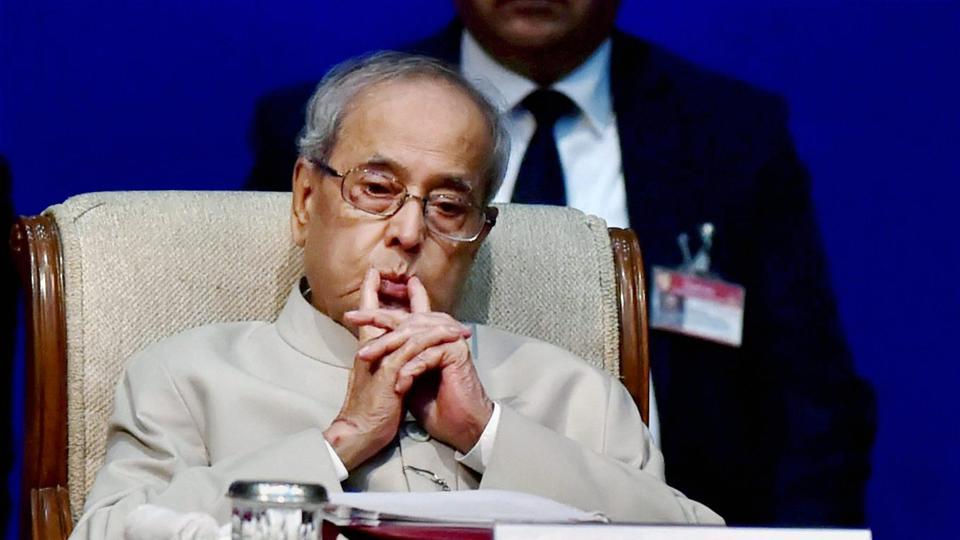 All dignitaries, including the President and Union ministers, may soon start giving speeches in Hindi if a parliamentary panel's recommendations accepted by President Pranab Mukherjee are implemented.
Mukherjee has accepted most of the recommendations made in the ninth report of the Committee of Parliament on Official Language. The report was submitted in 2011.
The panel's recommendation that all dignitaries including the President and ministers, especially those who can read and speak Hindi, may be requested to give their speech/statement in Hindi only, has been accepted, as per an official order.
The President has accepted many other recommendations, including making announcements on civilian flights in Hindi followed by English.
On flights, half the reading material should consist of Hindi newspapers and magazines as "Hindi is grossly neglected by airlines", as per the panel's recommendation, was accepted by the President.
The ministry of civil aviation has been asked to ensure implementation of these recommendations.
Mukherjee has accepted another recommendation of the committee that maximum usage of Hindi should be ensured on all tickets of Air India and Pawan Hans helicopters.
The recommendation favouring 100% availability of training material in bilingual at the Mussoorie-based Lal Bahadur Shashtri National Administrative Academy, the premier institute to train civil servants including those in Indian Administrative Service (IAS), has also been accepted.
The panel had asked the ministry of human resource development to make serious efforts to make Hindi language compulsory in curriculum. "As a first step, Hindi should be made a compulsory subject up to tenth standard in all schools of CBSE and Kendriya Vidyalaya Sangathan," it had recommended.
"This recommendation is accepted in principle. The Union government should form a policy in consultation with state governments," the order said.
Another recommendation accepted by the President is that universities and higher educational institutes situated in non-Hindi speaking states, where the students are not given an option for Hindi to appear in exams/interviews, must be given an option to answer in Hindi.
In Guwahati on Tuesday, Union minister Venkaiah Naidu urged people to use Hindi daily along with regional languages.
"The Centre is using more and more Hindi in government programmes and policies and we have to make the habit of using the Rashtrabhasha in our day-to-day life, along with the regional languages," Naidu said while presiding over a meeting of the Joint Hindi Advisory Committee.


---
Average monsoons: Analysts see farm GDP clipping at 3-4 per cent
MMNN:18 April 2017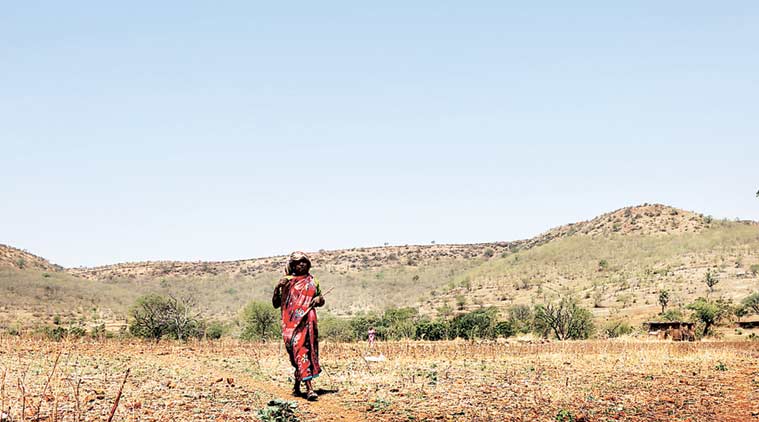 A normal monsoon season, as projected by the Met department (IMD) could help the agricultural GDP grow by 3-4 per cent this year, a tad lower than last year's, says a report. The IMD today said there would be good distribution of rainfall across the country and it will receive 96 per cent of the long period average. "We believe that the agricultural GDP is most likely to be in range of 3-4 per cent, a tad low compared to 2016-17, if rainfall remains normal," an SBI Research said. It said even in case of deficit rainfalls there are instances where agri-GDP has in fact expanded and smartly grew in slightly more than normal rainfall in 2010 and 2011.
In 2009, despite a 22 per cent decline in rainfalls, agri-GDP expanded by 0.8 per cent. The report said the current year's forecast is majorly important for the farm sector with initial reports pointing fingers at the El Nino which may happen during the later part of the year.
The IMD, however, says weak EL Nino and positive Indian Ocean Dipole (IOD) are currently combining to give a positive monsoon scenario in 2017. The report said an analysis of monsoon forecast (1st and 2nd stage) since 2008 indicates that IMD has only once increased its 2nd stage forecast (in 2014), else the forecast remained same or slightly less than the first.
"With a 38 per cent probability of normal rainfalls, we believe rainfall is most likely to be higher than 96 per cent of LPA," the report said.
Meanwhile, Icra in a report said the timing of rainfall will be crucial as higher rainfall in the early part of the monsoon may support sowing while adequate rainfalls in the second half is important for yields. Its principal economist Aditi Nayar said if rainfall is around 96 per cent, our baseline expectation is that growth of agricultural GVA will moderate from above 4 per cent in fiscal 2017 to 3.6 per cent in fiscal 2018.
Partly due to unfavourable rainfalls and reservoir levels, the GVA for crops contracted by 2.2 per cent in 2016, she pointed out.


---
Modi hints at laws to push doctors to prescribe affordable, generic drugs
MMNN:17 April 2017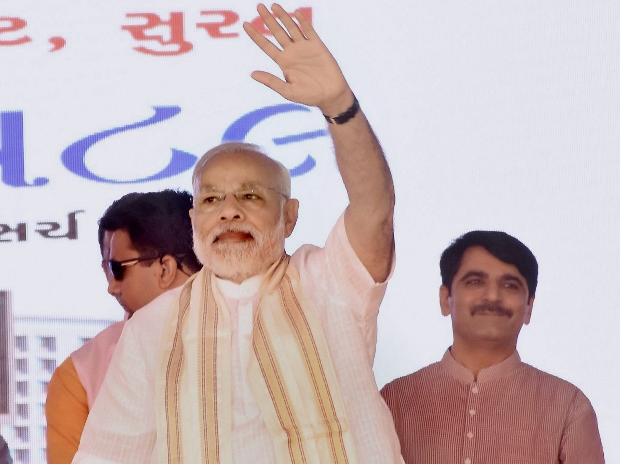 Prime Minister Narendra Modi on Monday indicated that his government may bring in a legal framework under which doctors will have to prescribe generic medicines, which are cheaper than equivalent branded drugs, to patients.
Modi said his government brought in a health policy after 15 years and capped the prices of medicines and stents, which has angered some pharmaceutical companies.
Speaking at the inauguration of a charitable hospital here, he exhorted the wealthy people to come forward and contribute towards health care of the needy people.
This country has not been built by the kings and leaders alone but by the power of the people, he said.
"Doctors write prescriptions in such a way that poor people do not understand the handwriting, and he has to buy that medicine from private stores at high prices," Modi said.
"We will bring in a legal framework by which if a doctor writes a prescription, he has to write in it that it will be enough for patients to buy generic medicine and he need not buy any other medicine," he said.
"In our country doctors are less, hospitals are less and medicines are expensive. If one person falls ill in a middle class family, then the financial health of the family gets wrecked. He cannot buy a house, cannot conduct the marriage of daughter," he pointed out.
"It is the government's responsibility that everybody should get health services at minimal price," the PM said.
"We have recently declared a health policy. The health policy has been brought in after 15 years," he said.
"Earlier, the health policy was brought when Atalji (Atal Bihari Vajpayee) was the Prime Minister. Nothing happened in between (in health sector), which I have to do (now)," Modi said targeting the previous UPA government led by the Congress.
"When I was in Gujarat, I used to attract the wrath of many (by my decisions). Now when I have gone to Delhi, I have been instrumental in making many people angry, everyday I do some work which makes some or other person sulk," he said.
"See these companies which are manufacturing medicines, they used to charge Rs 1,200 for an injection. We called everyone (pharma companies) and ensured that the prices are reduced.
"The prices of 700 medicines were capped so that poor people get medicines at reasonable rates when they face grave diseases," Modi said.
"We have also capped the prices of stents used in heart ailments," he said.
"We have done this work, and you can imagine how angry the manufacturers of medicines will be. Despite the wrath of a very powerful lobby, the government is taking one step after another so that poor people and middle class get quality health services," the Prime Minister said.
He said the government has implemented the 'Pradhan Mantri Jan Aushadhi Pariyojna', where people get generic medicines from stores at reasonable rates.
Modi also stressed on preventive health care saying if people adopt it, they will not have to visit hospitals.
"Preventive health care is very important. My Swachhta Abhiyan (cleanliness campaign) is aimed at preventive healthcare as it has been proved that many diseases are contracted if we live in an unclean environment," he said.
"Yoga is also very important for wellness and I am running a campaign to make it popular across the world," he said.
He exhorted the well-off people to come forward and provide health care to the poor and middle class people.
"We require a jan andolan, jan shakti to provide effective healthcare to every person in the country," he said.
"Our country has a different mentality, our country was not made by governments, our country was not made by kings, neither by leaders, our country was built by the service oriented approach of our countrymen," he said.
"'Seva permo dharma' has been the motto of our people," the PM said.
"You tell me the dharmshalas outside every important pilgrim town, were they built by the government? Who used to build wells and lakes in villages? Did the government build it? he asked.
"The cow shelters in villages are not built by the government, libraries are not built by government," he said asking people to come forward to build and run hospitals in the rural areas.
Prior to his speech, Modi inaugurated the Rs 400 crore Kiran Multi Super Speciality Hospital and Research Centre, built by Samast Patidar Arogya Trust in Katargam area here.
He had also laid the foundation stone of the hospital when he was the Chief Minister of Gujarat.


---
Budget Session most productive; 18 bills passed by both houses: Ananth Kumar
MMNN:17 April 2017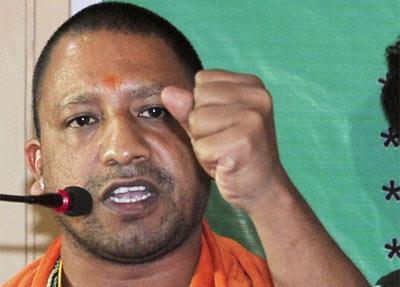 Uttar Pradesh's BJP chief minister Adityanath today compared those who are silent and don't speak out against triple talaq to those who stood by silently while Draupadi was being stripped in the Mahabharat myth.
"I'm reminded of everyone staying silent when Draupadi was being disrobed. Those who stayed silent were as guilty and at fault as those who disrobed her. Similarly, the people who are silent on the issue of triple talaq are equally guilty," he said at a Lucknow event.
"I'm surprised over the silence over a burning issue of triple talaq by certain individuals," he added, while speaking at an event to release a book on late politician Chandrashekhar, who was once India's Prime Minister.
"Even Chandrashekhar was in favour of a common civil code," the UP CM said, adding that everyone should speak out against oral talaq.
The Supreme Court (SC) is currently hearing a case on the constitutional validity of triple talaq+ , the Islamic practice some Muslims follow of divorcing their wife by saying the word 'talaq' three times.
The Centre and some NGOs, who are a party in the case in the SC, have submitted that triple talaq violates the right to gender equality. The All India Muslim Personal Law Board (AIMPLB) and other clerics have argued that triple talaq has the sanction of the Quran, forms part of Muslim Personal Law, and therefore, falls squarely outside the purview of the judiciary. It also said declaring it unconstitutional is akin to "rewriting the Quran."
"Those who give triple talaq without reasons+ prescribed by the Sharia (religious law) will face social boycott," said the AIMPLB yesterday.
"There has been misunderstanding on this issue, we will issue a code of conduct on it," it added.
Adityanath also chose to touch on Kashmir - which has been wracked with violence lately - and said he agreed with Chandrashekhar that Kashmir must remain a part of India.
"Chandrashekhar had said that if Kashmir is separated, India will lose its belief," Adityanath said at the book launch.


---
EVM tampering: Opposition parties have failed to take defeat sportingly, put EC image in dock
MMNN:12 April 2017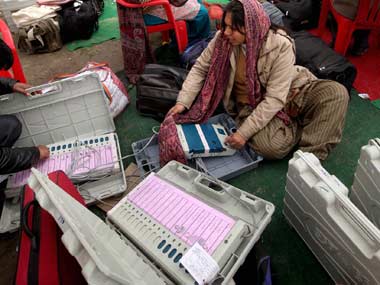 Senior Congress leader M Veerapa Moily's statement taking on his own party the Indian National Congress for showing a "defeatist" mindset on Electronic Voting Machine (EVM) is indicative of the deep divide that exists in the main opposition party's ranks on the issue. It also shows the kind of anxiety that is there among a section of its leaders over the party leadership's rent-a-cause attitude, irrespective of the veracity of the issue, its degree of popular support and potential pitfalls.
The shrillness with which the 16 political parties including Congress, Samajwadi Party (SP), Bahujan Samaj Party (BSP), All India Trinamool Congress (TMC), Dravida Munnetra Kazhagam (DMK), Aam Aadmi Party and the Left parties are alleging EVM tampering essentially suggests they have not reconciled to the defeat in recent rounds of Assembly and local bodies elections.
Finding fault at the EVM, which have been delivering credible and fast results for over 35 years, is an easy alibi to take the attention away from the concerned parties leadership failure to win public trust and votes. Unfortunately, the likes of Rahul Gandhi, Mayawati, Akhilesh Yadav, Arvind Kejriwal, Mamata Banerjee, D Raja, Sharad Pawar, Sharad Yadav and Lalu Prasad Yadav have chosen to fight a flimsy, fictitious battle against trustworthy voting machines when they should have been fighting a political battle against Prime Minister Narendra Modi and the Bharatiya Janata Party (BJP) on policies and issues through varied programmes.
It should be noted that Rahul Gandhi has not held a single review meeting with his party leaders after Congress's rout in UP and Uttrakhand. The UP election results have thrown a situation where Mayawati would not remain a Member of Parliament (MP) in Rajya Sabha after March 2013. With zero seats in Lok Sabha, staring at a zero in Rajya Sabha in times to come and with negligible numbers in the UP assembly, Mayawati, like Congress, is facing an existential crisis. It is anybody's guess why Mayawati came out with EVM tinkering theory even as the results were still coming out. Anyone who had covered UP elections with open eyes could sense a wave-like situation for BJP.
The Congress party is even unmindful of the fact that it was Rajeev Gandhi government with its brute majority in Parliament in 1988 that had amended Representation of the People Act and inserted a new section 61A to empower the Election Commission of India to use voting machines. Since the year 2000, EVMs have been successfully used in 107 Assembly elections and three Parliamentary elections.
Elections of all kinds - Parliamentary, Assembly, Presidential and local bodies (rural and urban included) in the country - are held by ECI and by the election commissions of respective states. All officials, central and state engaged for poll-related works function during election period under the strict supervision of ECI. By alleging that BJP has been tinkering with EVMs, election after election, at whim in whichever part of the country it so wishes is actually a charge against the ECI, a Constitutional Body which is recognised across the world as the finest impartial institution India has created to hold free and fair elections.
The sixteen political parties have not only latched on to Mayawati's accusations on EVMs recording most votes to BJP in the recently concluded UP Assembly election but they stretched it to all recent municipal and panchayat elections in the recent past. The ECI has given a detailed point-by-point rebuttal to charges made by these parties. The poll panel also clarified that there are multi-layered check processes where representatives of political parties participate in testing and sealing of the EVM machines from the point it is released from the factory to polling stations. The parties, candidates and their representatives have multiple occasions to point out a malfunction if they find one.
The EC has also clarified in Bhind and Dholpur incidents.
Those raising a hell against the ECI, the Modi government and BJP on flimsy claims of EVM tinkering should spare some minutes to read various judicial pronouncements. Since 2001, the matter has been settled by five high courts - Madras High Court in 2001, Delhi High Court in 2004, Karnataka High Court in 2004, Kerala High Court in 2002 and Bombay High Court (Nagpur Bench) in 2004. The verdicts of the high courts concluded that EVMs are credible, reliable and totally tamperproof. In some of these cases, even the Supreme Court dismissed appeals filed by some petitioners against the high court orders.
it's worth noting what the Karnataka High Court had to say on the matter: "This invention is undoubtedly a great achievement in electronic and the computer technology and a national pride." The Madras High Court observed: "There is also no question of introducing any virus or bugs for the reason that the EVMs cannot be compared to personal computers. The programming in computers, as suggested, has no bearing with the EVMs. The computer would have inherent limitations having connections through the Internet and by their very design, they may allow the alteration of the programme but the EVMs are independent units and the programme in EVM is entirely a different system."
Supposing for a moment that the charges levelled by the Opposition parties are true then one also has to appreciate the kind of invisible army of thousands and even lakhs of well-trained people that the BJP has created to stealthily manually tamper every single sealed EVM that is kept in polling stations. Not just that, the BJP has compromised the entire system - the ECI, its state subsidiaries, poll officials at all levels, security officials and personnel at all levels, parties' candidates and their representatives in all constituencies - without the world getting an inkling of it. They have done it without getting noticed at any level of the multi-tiered checks. Going by that assumption, Narendra Modi and Amit Shah have to be geniuses of the highest order who could create and an army of invisible "Mr Indias" whose stealth acts - breaking and reassembling of lakhs of EVMs - would not be seen by anyone or captured by any camera.
In 2014, when BJP registered an emphatic victory in the Parliamentary elections, Congress was ruling at the centre and the party and its new-found 16-party EVM brigade were ruling the two-third of the states in India. When BJP won UP in March 2017, the state was under the rule of SP while Uttrakhand was ruled by Congress. AAP won Delhi in 2015, winning 67 out of the 70 seats when BJP was ruling at the centre and the state was in Lt Governor's rule. BJP lost Bihar and Punjab but then the EVM brigade said that BJP consciously didn't tamper polling machines there.


---
Budget Session most productive; 18 bills passed by both houses: Ananth Kumar
MMNN:12 April 2017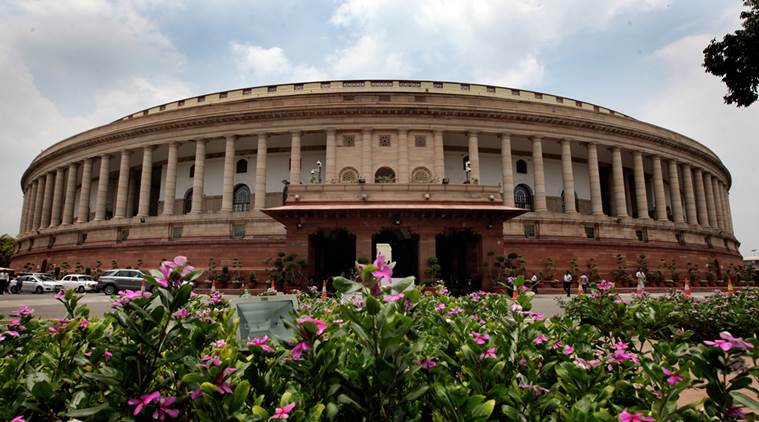 The Budget Session of Parliament has been one of the most productive sessions in its history, Union Minister Ananth Kumar said today, adding that as many as 18 bills were passed by both the houses during the session. The productivity of Lok Sabha during the Budget Session was 114 per cent while that of Rajya Sabha was 92 per cent. As many as 23 bills were passed in the Lower House and 14 legislations in the Upper House, the Parliamentary Affairs Minister said.
While in both houses 18 bills were passed, he said. The major highlight of the session was the passage of four Goods and Services Tax (GST) bills to enable the implementation of the new indirect tax regime from July 1, he said.
"I think this was one of the most productive budget sessions and it will go down as the golden chapter in the Parliament's history," Kumar told reporters here.
It is for the first time in the Indian legislative history that all financial business of government, including passage of finance bill and demand for grants and appropriation bill, was completed before the start of next fiscal, he said.
Besides, some other important legislations including Maternity Benefit (Amendment) bill, Enemy Property bill and Mental Health Care bill were passed by both the houses. The Budget Session started from January 31 and came to a close today.


---
Kulbhushan Jadhav's death sentence: Sushma Swaraj warns Pak, Parliament speaks in one voice; top 10 developments
MMNN:11 April 2017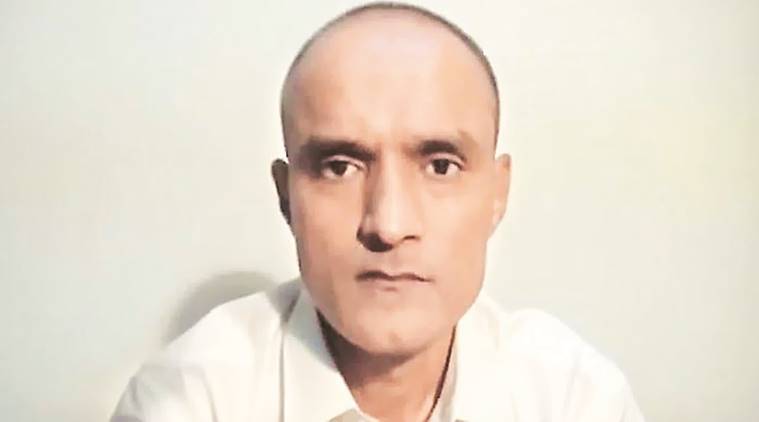 A united parliament stood in protest on Tuesday against the death sentence to former Indian Navy officer Kulbhushan Jadhav in Pakistan. Jadhav was sentenced on charges of espionage and destabilising peace in Pakistan. Pakistan's Inter-services public relations office issued a statement confirming the news on Monday. Here is how things unfolded since his sentencing:
1. Kulbhushan Jadhav was tried though Field General Court Martial (FGCM) under section 59 of Pakistan Army Act (PAA) 1952 and Section 3 of of?cial Secret Act of 1923 and awarded death sentence. The charges levelled against him included destabilising peace in Pakistan's Balochistan region and Karachi in Sindh. He was also charged with waging war against Pakistan. The trial was conducted secretly.
2. Pakistan's Inter-Services Public Relations office issued a press statement announcing his death sentence. The statement named him as Commander Kulbhushan Jadhav of the Research and Analysis Wing (R&AW)India's external intelligence agency.
3. Hours after the announcement of Jadhav's death sentence, India summoned Pakistan's High Commissioner to India Abdul Basit and a demarche was issued terming the sentence as farcical.
A warning was also issued by the Indian government that if the execution was carried out by the Pakistani government, India would consider it as a premeditated murder.
4. External Affairs Minister Sushma Swaraj spoke in Parliament on Jadhav's sentencing. Swaraj issued a stern warning to Pakistan threatening if they go ahead with the death sentence of Jadhav, it will have consequences. The minister cautioned Pakistan that the execution will have a serious impact on bilateral relations between the two neighbours.
5. Swaraj assured that the government will make sure Jadhav gets the best legal support to fight his case. The minister, replying to a question in Rajya Sabha, said: "Our position is very clear, there is no evidence of wrongdoing by Kulbhushan Jadhav," Swaraj also said that the government would raise the matter at different levels indicating that it may resort to applying diplomatic pressure by raising the matter in the United Nations.
6. Earlier, Congress leaders Mallikarjun Kharge, Shashi Tharoor and AIMIM leader Asaduddin Owaisi had raised the issue in parliament demanding a reaction and response from the government. Kharge said: ""If we fail to save Kulbhushan Jadhav, then it will be government's weakness." While Owaisi added that the Pakistani military court was a banana court and the Indian government should use all its clout and influence to bring back Kulbhushan Jadhav. The parliament spoke in a united voice against Pakistani action backing the government to take the sternest measures.
7. Support came from all quarters of the government machinery. Home Minister Rajnath Singh expressed his ministry's support to Kulbhushan Jadhav in his address to Lok Sabha on Tuesday. Rajnath said that the government of India will do all it takes to save the life of Kulbhushan Jadhav.
8. Pakistan Defence Minister Khawaja Asif came out in defence of the military court's decision to grant Kulbhushan a death sentence. He said that all laws of the land were followed and that the sentencing was done only after a three-month trial. In November, Pakistani Prime Minister's advisor on Foreign Affairs Sartaj Aziz had said that there was insufficient evidence on Jadhav. However, he recently retracted his statement and thereafter his trial resulted in a death sentence.
9. Jadhav was charged with carrying out counter-intelligence and subversive operations in Pakistan. Asif also said in his statement that this sentencing should serve as a warning to all those who were "plotting" against Pakistan. "Those plotting against Pakistan will not be spared," he said.
10. Kulbhushan Jadhav was arrested in March 2016 from Mashkel, Balochistan region in Pakistan. After an interrogation of three weeks, a video was released by ISPR where Jadhav was seen giving a confession of being an agent of the R&AW. Indian government denied the validity of the video alleging coercion, tutoring and doctoring of video. According to Indian government, Kulbhushan, 46, is not a serving Navy officer and he left service in 2002. The government states he is a businessman and was in no way related to any government activities.


---
Work like Hanuman, PM Modi tells BJP MPs for govt achievements
MMNN:11 April 2017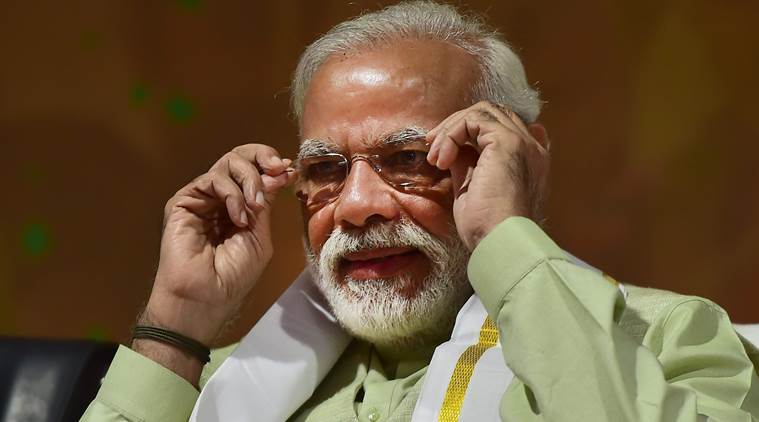 Prime Minister Narendra Modi on Tuesday expressed satisfaction on a successful budget session, which he said had been "very meaningful and useful", and advised BJP MPs to work like Lord Hanuman to publicise the government's achievements. Addressing Bharatiya Janata Party MPs here, Modi told them not to wait for his instructions before carrying out government work among the people.
"When Lakshman went into coma, Hanumanji went to find a cure without any prodding. Similarly, MPs must go ahead without waiting for instructions.
They need to carry forward the government's work among the masses," a BJP MP who attended the meeting quoted Modi as saying.
Modi's remarks came after he greeted people and MPs on the occasion of Hanuman Jayanti. Modi urged the MPs to get inspiration from Hanuman.
"Take inspiration from Hanuman. He never took anything from anyone but he kept giving. You also need to give to people like him," Modi said.
Asking MPs to go their parliamentary constituencies, Modi they too needed to establish their own identity despite banking on him (Modi). Later, talking to reporters, Minister of Parliamentary Affairs Ananth Kumar said the Prime Minister dubbed the budget session as 'Vijay Prapti Satra' (Winner Session) for the government.
"Modiji said the budget session was very meaningful and useful. It was a 'Vijay Prapti Satra'," Kumar quoted the Prime Minister as saying.
BJP sources said Modi also spoke about the positive mood among people reflected in the sweeping win for the BJP in Uttar Pradesh and Uttarakhand in the just held assembly elections.
"This is a golden opportunity for us to lift the lives of the poor, the deprived. This is the time for doing more development and reforms," Modi said.
He congratulated the MPs for the passage of 21 bills in the Lok Sabha and 14 in the Rajya Sabha including the Goods and Services Tax Bill (GST). The Prime Minister said there was an environment in the country in favour of the BJP and the National Democratic Alliance (NDA) it leads.
"This is a golden opportunity to move on the path of development."
Information and Broadcasting Minister M. Venkaiah Naidu also addressed the MPs and hailed Modi for providing the country a tranformative leadership.
Naidu said in just three years, Modi had emerged as the messiah of the poor. Naidu also gave tasks to MPs for the third anniversary celebration of the Modi government. This was the last BJP parliamentary party meeting of the budget session which ends on Wednesday.


---
Kulbhushan Jadhav, accused by Pakistan of being a RAW spy, sentenced to death
MMNN:10 April 2017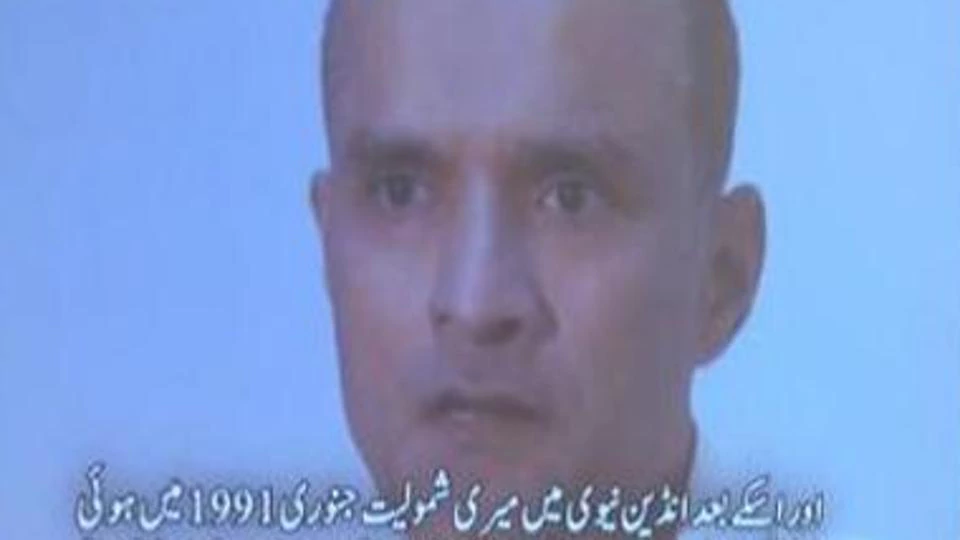 Pakistan said on Monday that a military court has sentenced to death former Indian navy officer Kulbhushan Jadhav for allegedly spying and stoking violence in Balochistan, drawing an angry response from New Delhi which described it as "premeditated murder" if carried out.
India summoned the Pakistani high commissioner Abdul Basit and handed over a demarche describing the court proceedings as "farcical" and also put on hold the release of several Pakistani prisoners, scheduled for Wednesday.
Jadhav was arrested on March 3 last year in Balochistan and accused of being a Research and Analysis Wing (R&AW) agent who was fuelling the Baloch separatist movement and attempting to sabotage the $46-billion China-Pakistan Economic Corridor. India denies the charges.
A statement by the Pakistani military's publicity wing, Inter-Services Public Relations (ISPR), said Jadhav was declared guilty by an army court of waging war against the country.
"The spy was tried through field general court martial under the Pakistan army act and awarded the death sentence. Today chief of army staff Gen Qamar Javed Bajwa confirmed his death sentence awarded by FGCM," the ISPR said.
"He confessed before a magistrate and the court that he was tasked by RAW to plan, coordinate and organise espionage/sabotage activities aiming to destabilise and wage war against Pakistan by impeding the efforts of law enforcement agencies for restoring peace in Balochistan and Karachi."
Relations between the neighbours are at their lowest in several years following a string of militants on defence installations in India, which New Delhi blames on Pakistan-based groups.
Shorty after the Pakistan army statement, Indian foreign secretary S Jaishankar summoned Basit - whose successor was incidentally named on Monday and handed over the demarche.
"If this sentence (is) against an Indian citizen, awarded without observing basic norms of law and justice, is carried out, the government and people of India will regard it as a case of premeditated murder," the demarche said.
"The proceedings that have led to the sentence against Jadhav are farcical in the absence of any credible evidence against him. It is significant that our high commission was not even informed that Jadhav was being brought to trial."
Last December, Pakistan's foreign policy adviser Sartaj Aziz told the upper house of Parliament that the "dossier on Jadhav contained mere statements" and didn't have any conclusive evidence. Hours later, Pakistan denied the statement.
Pakistan Army had also released a "confessional video" of Jadhav who is purportedly heard saying that he was serving the Indian navy. In the video, Jadhav allegedly says he arrived in Iran in 2003 and started a small business in Chahbahar.
Islamabad also repeatedly refused India's request for access to Jadhav, who allegedly held an Iranian residency permit and a passport in the name of Hussain Mubarak Patel. The place of birth given in this passport was apparently Sangli, Maharashtra.
Pakistan has repeatedly accused India of fomenting unrest in Balochistan, the country's largest province, but it has never offered any evidence to back up its claims. India last year launched a new offensive by highlighting Pakistan's human rights abuses in Balochistan.
Though several suspected Pakistani spies were arrested in India over the years, none had been sentenced to death.
In 1999, Pakistan had hanged an Indian, Sheikh Shamim, also on charges of spying.
In 2013, another Indian national, Sarabjit Singh, who was sentenced to death for spying in Pakistan, was killed in jail after being attacked by fellow inmates. Singh was on death row for 16 years. However, previous cases have largely gone through civilian courts.
Months later, a Pakistani prisoner was killed by inmates in the Jammu jail.


---
India, Australia ink pact to expand counter-terror cooperation
MMNN:10 April 2017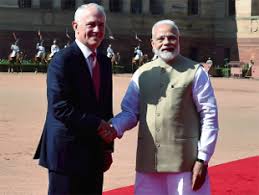 A pact to significantly expand counter-terror cooperation was among six agreements India and Australia inked today as the two countries called for strong action against those financing and providing sanctuary to terror groups.
However, no breakthrough was achieved on a comprehensive economic cooperation agreement (CECA) during talks between Prime Minister Narendra Modi and his Australian counterpart Malcolm Turnbull who merely decided to direct their respective officials to hold an early round of negotiations for the free trade deal.
During their talks, the two leaders decided to significantly expand their ties in several key areas including defence, trade, energy and education.
While Modi thanked Turnbull for passage of a legislation by the Australian parliament with bi-partisan support paving way for the country to export uranium to India, Turnbull said he was looking forward to starting the supply "as soon as possible".
Both the prime ministers felt that commercial export of Australian uranium could begin soon, opening up a new avenue for Australia to support Indias energy requirement.
The entire expanse of bilateral ties was reviewed at the talks including issues relating to Indian students studying in Australia and ways to deepen maritime security in the Indo-Pacific region.
"We took a number of forward-looking decisions to further strengthen our partnership, including the decision to soon hold the next round of negotiations on a CECA," Modi said at a joint media event with Turnbull.
Using cricket analogy, Modi, in a lighter vein, said "I am, of course, glad that our decisions are not subject to the DRS review system." Decision Review System (DRS) is a technology-based mechanism in cricket to review controversial umpiring decisions.
Referring to martime issues, the joint statement said both leaders recognised the importance of freedom of navigation and overflight, unimpeded lawful commerce, as well as resolving maritime disputes by peaceful means, in accordance with the international law. It is seen as a reference to Chinas growing assertiveness in South China.
Modi and Turnbull also welcomed "continued and deepened" trilateral cooperation and dialogue among Australia, India and Japan.
In the talks. Turnbull noted Australias strong support for Indias membership of the Nuclear Suppliers Group. He also said Australia supports Indias entry into the Australia Group and the Wassenaar Arrangement, the two key export control groups.
On CECA, Turnbull did not give a timeline for the deal but said, "I think its fair to say that progress has not been as fast as either of us would have liked."
The two prime ministers have now asked negotiators on both sides to find a way out and list their priorities soon so that talks on it can move forward. There were indications that sticking points on the pact included issues relating to agriculture.
On the threat of terrorism, the two leaders asserted that the fight against terrorists, terror organisations and networks should also identify, hold accountable and take strong measures against those who encourage, support and finance terror, provide sanctuary to terrorists and terror groups, and falsely extol their virtues.
"They emphasised the need for urgent measures to counter and prevent the spread of terrorism and violent extremism and radicalisation and expressed their determination to take concrete measures to step up cooperation and coordination among the law enforcement, intelligence and security organisations," a joint statement said.
The MoUs signed provided for deeper cooperation in areas of health and medicine, sports, environment, climate and wildlife, civil aviation security and cooperation in space technology.
Expressing happiness over cooperation in the energy sector, Modi said, "With the passage of a legislation in the Australian parliament with bi-partisan support, Australia is now ready to export uranium to India."
He also thanked Turnbull for Australias decision to join the International Solar Alliance. Referring to cooperation in the maritime sphere, Modi said peace and stability in the Indo-Pacific was key for economic growth.
"We, therefore, agree on the need for a secure and rule- based Indo-Pacific. We are also aware that in this globalised world, challenges like terrorism and cyber security extend beyond the boundaries of our region and, therefore, require global strategy and solutions," he said.
Modi said cooperation between the two countries in the area of defence and security has reached new heights.
The two prime ministers highlighted their shared desire to ensure that Indian Ocean architecture keeps pace with regional issues and addresses emerging threats and challenges in the region.
Noting that both the countries have been victims of terrorism, Modi and Turnbull said the signing of the MoU on cooperation in combating international terrorism and transnational organised crime will help both countries to address global and regional security threats.
"Our strong and vibrant strategic partnership is of course important for the security and well-being of our societies. But, it is also a major factor for peace, stability and security in our region," Modi said.
He said student exchanges are an important element of bilateral education cooperation and referred to more than 60,000 Indian students studying in the country.


---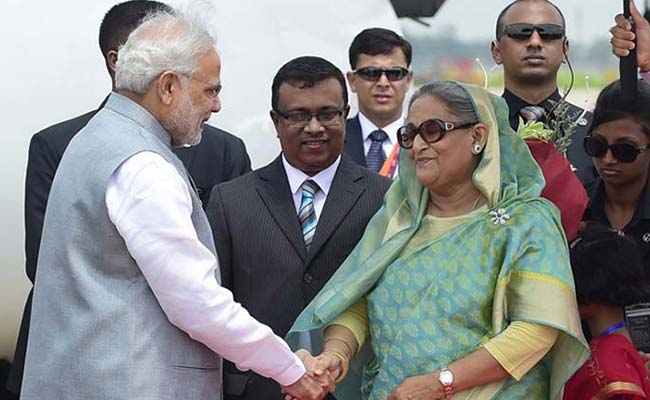 As PM Narendra Modi Welcomes Sheikh Hasina, An Outreach To Mamata Banerjee Too
MMNN:6 April 2017
"A visit without water" is how some officials are describing the visit to India of Bangladeshi Prime Minister Sheikh Hasina, because a crucial water-sharing agreement, negotiated over nearly 20 years, is unlikely to progress during the three-day trip that begins tomorrow. That's because West Bengal Chief Minister Mamata Banerjee remains opposed to the agreement.
Yesterday, she said to officials in West Bengal, "There is a water crisis in Teesta River. Water levels are drying up in Teesta as well as in the Mahananda. Just imagine what will happen during peak summer."
The Teesta is one of nearly 50 cross-boundary rivers between India and Bangladesh. A water-sharing agreement exists only for one of them.
The latest draft of the agreement was prepared by Dr Manmohan Singh's government. It divides the waters of the Teesta equally between India and Bangladesh. Teesta originates in Sikkim and flows through West Bengal into Bangladesh.
In 2011, Dr Singh was prepping to sign the treaty on a trip to Dhaka, but at the last minute, Ms Banerjee pulled out of the visit, stating that the terms were damaging for her state.
Prime Minister Narendra Modi's government has not revised that draft. As part of the outreach to Ms Banerjee, she will be included at his lunch for the Bangladeshi premier on Saturday, and attend the launch of two new trains and a bus between Kolkata and Bangladesh.
This is Sheikh Hasina's first bilateral visit to India in seven years. She has been criticised at home for failing to close the Teesta deal.
During her visit, Bangladesh and India are likely to sign up to 35 agreements and memoranda of understanding for bilateral trade and investment and cooperation in the energy sector as well as better security along the highly-porous border between the two countries.
India is also expected to announce a fresh credit worth about $5 billion for infrastructure projects like railways, roads and waterways as Delhi moves to counter China's influence in neighbouring countries, including Bangladesh. Last year, Dhaka bought two submarines from China. India expects to sign a defense deal with Bangladesh during Sheikh Hasina's trip.

---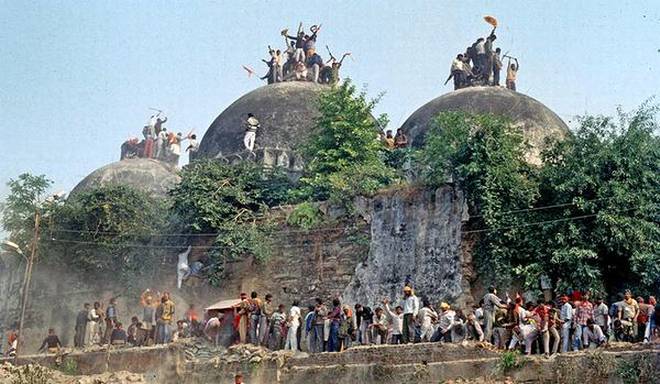 Babri case: SC for concluding joint trial, including one against Advani and other top BJP leaders, in 2 years
NEW DELHI: MMNN:6 April 2017
The Supreme Court on Thursday indicated that it will use its extraordinary powers under Article 142 of the Constitution to transfer the Babri Masjid demolition related trial in Rae Bareilly against top BJP leaders L.K. Advani and Murli Manohar Joshi to Lucknow, where a CBI court is hearing conspiracy and other serious criminal charges against "lakhs of unknown kar sevaks" for the actual act of razing down the 15th century mosque.
A Bench of Justices P.C. Ghose and Rohinton Nariman, while reserving the judgment on the CBI's appeal to revive the conspiracy charges against BJP leaders, indicated during the morning hearing that it plans to order for a joint trial in Lucknow.
Terming the 25-year pendency in the Babri demolition trials an "evasion of justice," Justice Ghose said the Supreme Court plans to order the joint trial to be completed in two years.
"Kindly notice that this is a matter of 1992. Twenty-five years have passed. Our answer is have it on a day-to-day basis and finish it off in the next two years," he observed.
Justice Nariman at one point remarked how "many of the accused are dead and some will die now."
'Evasion of justice'
As far as the Rae Bareilly case is concerned, the court has examined 57 witnesses and have to examine another 105. In Lucknow, in the case against kar sevaks, 195 witnesses had testified before the trial court and it has to examine a whopping 800 more. The court said the pendency of the trial itself for so long was by itself an "evasion of justice".
Arguing for Mr. Advani, senior advocate K.K. Venugopal countered that the Allahabad High Court had set aside the transfer of the Rae Bareilly case to Lucknow in February 2001. The Supreme Court had accepted the Uttar Pradesh government's discretion to continue the trial separately in Rae Bareilly and not club it with the Lucknow one.
A transfer of the Rae Bareilly trial to Lucknow will negate all the past orders. "Your Lordships' use of Article 142 should be in accordance with law and due process of law as guaranteed in Article 21. Your recent order on the highway liquor ban has rendered lakhs of people jobless," Mr. Venugopal hit back.
Additional Solicitor General and CBI counsel Neeraj Kishan Kaul said the February 2001 order of the High Court did not negate the joint charge sheet filed against Mr. Advani, Dr. Joshi and some known leaders of BJP and Hindutva groups.
The CBI said the High Court order of 2001 had said that a prima facie case of conspiracy has been made out against the leaders and it still stood against them.
"The HC had never said that the charge of criminal conspiracy introduced in the Lucknow FIR cannot be applied to the accused [Advani, Joshi, etc] in the Rae Bareilly FIR. The CBI has found an overarching conspiracy. Conspiracy as a charge still remains against them," Mr. Kaul argued.
When asked by the Bench about the practical difficulties of a joint trial in Lucknow, Mr. Kaul said witnesses have to recalled and trial may have to start "de novo [afresh]".
But senior advocate Kapil Sibal, arguing for petitioner Haji Mehboob, said the trial need not start anew. A joint trial would require only the granting of the right to an accused to recall and cross-examine witnesses. It does not require fresh charge sheet and framing of charges all over again.
On March 6, the Supreme Court indicated it may consider reviving the conspiracy charge against Mr. Advani, Dr. Joshi and other BJP leaders in the demolition case.
The sudden development came on an appeal filed by the CBI in 2011, during the UPA era, in the Supreme Court against the dropping of conspiracy charge against Mr. Advani and leaders such as Uma Bharti, Dr. Joshi, Vinay Katiyar, Sadhvi Ritambara, Giriraj Kishore and Vishnu Hari Dalmia.
Noting that "there is something very peculiar going on in this case" , the Bench of Justices Ghose and Nariman said it would examine in detail why the conspiracy charges against the BJP leaders were dropped on mere technical grounds and never revived all these years.
"We prima facie do not approve of the way these people have been discharged... And no additional charge sheet filed so far? See, people cannot be discharged like this on technical grounds," Justice Nariman had observed orally.
"We will allow you (CBI) to file supplementary chargesheet by including the conspiracy charge. We will ask the trial court to conduct a joint trial in a Lucknow court," he had said.

---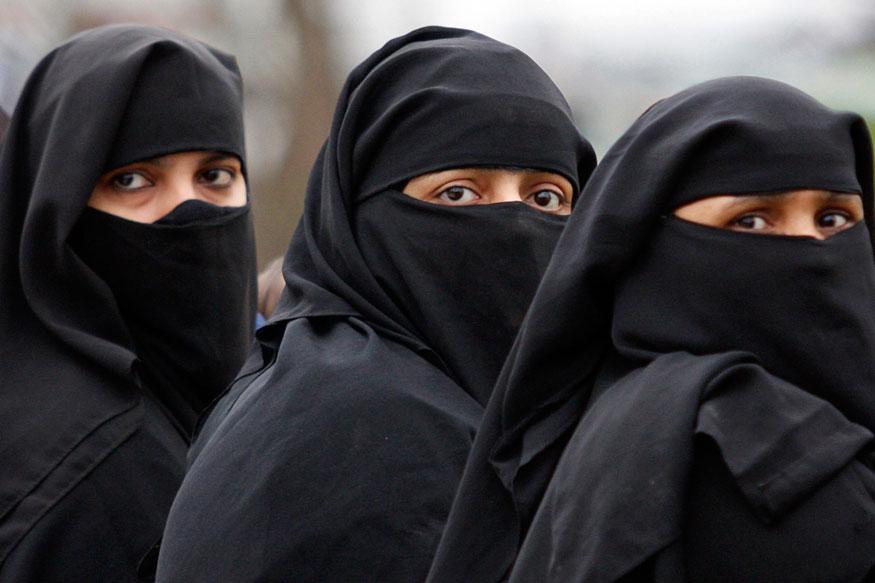 Shia Personal Law Board for Triple Talaq Ban, Issues Fatwa Against Cow Slaughter
MMNN:5 April 2017
The All India Shia Personal Law Board (AISPLB) has adopted three resolutions including a fatwa against cow slaughter, a move to ban Triple Talaq and a call to solve the Ramjanmabhoomi-Babri Masjid dispute through an out-of-court settlement.
The fatwa banning the slaughter of cows in India was issued at its executive meeting in Lucknow on Wednesday after the AISPLB sought a clarification from Ayatollah Sheikh Basheer Hussain Najafi, a top Shia cleric from Iraq. It said communal tensions arise often in the country over cow slaughter.
Seventy five-year-old Hussain Najafi is one of the five Grand Ayatollahs in Iraq and is entitled to issue a fatwa for the community members.
Maulana Yasoob Abbas, member of the All India Shia Personal Law Board told News18 that how this fatwa aims to put an end to communal riots.
"For us Shias, horses are considered an important animal and likewise cows are considered holy by the Hindus. Hence, we need to respect other religions as well. If due to the death of one cow, a hundred humans are killed, I think it is best to save that cow," said Abbas.
This move from the Shia community comes just a day after the Dewan of Ajmer Dargah and an influential Sunni Islamic spiritual leader came down heavily on the practice of triple talaq and called it "un-Islamic" and something which was against the Holy Quran. He also called for a legislation which would ban the slaughter of all the bovine species in India and announced a personal decision to have given up beef along with his family members.
However, this resolution concerning triple talaq was not unexpected as on March 15, Shia Personal Law Board member Maulana Yasoob Abbas had stated that triple talaq in one sitting was not acceptable.
Abbas said: "I am moving an intervening application in the SC in the next two or three days and will request the court to make me a party. This is because I want such a strong law against triple talaq, that a man thinks thrice before divorcing his wife."
The Shia personal law board also seems to have supported the Chief Justice of India's stand by calling for an out-of-court settlement when most of the parties to the dispute had dismissed the offer stating that previous negotiations and mediations have not yielded any result.
On the suggestion for an out-of-court settlement for the Babri Masjid dispute Abbas said: "Whenever there is a religious matter to be decided, it's best to leave the political parties aside and take a call. Hence, this settlement should be without political interference and I am sure it will be successful as we understand each other's concern."
Recently Abbas had paid a courtesy visit to the Uttar Pradesh Chief Minister, Yogi Adityanath, to express their demands in connection with certain demands of the Shias in India.
The Shia delegation headed by Abbas was expected to demand the establishment of a separate committee or commission on the lines of the Sachar Committee report for ensuring development and welfare of minority Shia among the Muslims.

---
India underlines claim over PoK, Gilgit-Baltistan
NEW DELHI: MMNN:5 April 2017
India underlined its claim over territories of Jammu and Kashmir under Pakistani occupation+ today amid moves by Islamabad to declare Gilgit-Baltistan as a new province.
External affairs minister Sushma Swaraj asserted in the Lok Sabha that it would be wrong to think that India will let go of any part of its territory.
She made the statement after BJD leader Bhartruhari Mahtab wondered if the government has even properly responded to Pakistan's move to make Gilgit-Baltistan its fifth province.
Noting that some western countries had criticised it, he asked, "What is our government's response?"
He asked the government to not forget history or it will be condemned to repeat it.
In her response, Swaraj said the Indian government had opposed Pakistan's move the very day it got to know about it.
"Even raising a doubt over this government that it will let go of some area will be wrong," the minister added.
She noted that both Houses of Parliament had passed resolutions which had iterated India's claim over the PoK and Gilgit-Baltistan, both under Pakistan's occupation, and the government was bound by it.
She also quoted a BJP slogan which underlines India's claim over the territory and noted that its founder Shyama Prasad Mookerjee had "sacrificed" his life over this.
"We are bound by Parliament's resolutions and also our resolve," she said.

---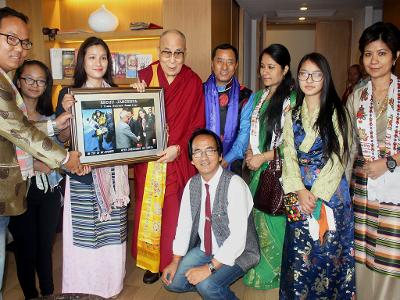 Arunachal Pradesh climber Anshu Jamsenpa to scale Mount Everest again
MMNN:4 April 2017
After seeking blessings from the 14th Dalai Lama here on Sunday, Anshu Jamsenpa, the woman climber from Arunachal Pradesh who had already summited the Mt Everest thrice, has left for Kathmandu in Nepal to scale the world highest peak again. She reached Kathmandu on Monday and is expected to reach the base camp on Tuesday.
This time, with the blessing and good wishes from the Tibetan spiritual on her side, Anshu during her expedition will attempt to summit the Everest twice-the feat she did within 10 days in May 2011. The mother of two children, Anshu again scaled the Everest on May 18, 2013. If she is successful with her double ascend this time, Anshu will add to her record of climbing Everest five times.
Anshu's public relation manager, Nanda Kirati Dewan said the Dalai Lama blessed the mountaineer and flagged off her double ascend expedition for Mt
Everest during a special audience with the Tibetan spiritual leader here. Dewan quoted Dalai Lama saying to Anshu, "your achievement is the testimony of your hard work, firm determination and a strong belief in yourself" .
Anshu said, "His Holiness is the Living Buddha and getting his blessings in person is one of the most treasured and blessed day of my life. I shall cherish it life long especially the warm hug I got. It will always motivate me and infuse strength to overcome all my struggles of life."
Arunachal Mountaineering and Adventure Sports Association president and Anshu's husband, Tsering Wange offered the Indian tricolor flag to the Dalai Lama, who in turn handed over to Anshu to be unfurled at the summit of Mt Everest.
Dewan said that the entire expedition might take 45 to 60 days, depending upon weather condition.
"As she has left for the base camp on Tuesday, the process of her expedition has already started," Dewan added.

---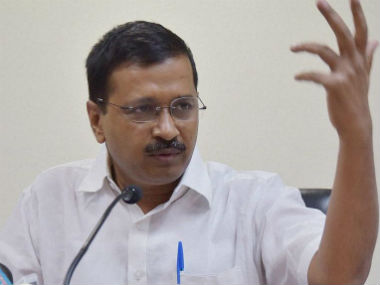 Arvind Kejriwal has failed the test of probity in public life, Ram Jethmalani's offer of help notwithstanding
NEW DELHI: MMNN:4 April 2017
On the auspicious day of Ram Navami, one nonagenarian Ram has vowed to fight for free for a 'poor' chief minister. It could have been a good Bollywood script. Sadly for Arvind Kejriwal, whose entire career is built around high-octane political theatrics, the reel world is dissolving into real.
Ram Jethmalani's belated offer to represent his 'poor client' Kejriwal pro bono in a 'dharm yudh' against Arun Jaitley could be a post facto attempt at damage control after dirt hit the roof. The move doesn't pass the basic smell test though.
The ace lawyer's personal animosity against Jaitley is well known. He may even make good on his promise and not charge Kejriwal a penny for his services.
However, that doesn't absolve the Delhi chief minister of his moral failings. His robe of rectitude in tatters, Emperor Kejriwal now stands in full frontal glory clothed in garbs of trickery and hypocrisy.
After trying every trick in book to force Delhi taxpayers into picking up the tab for his personal legal bill, attempting to bypass the lieutenant governor in doing so, Kejriwal has now relegated AAP into claiming that Jaitley's defamation case was not against 'Kejriwal the individual' but against an 'idea'.
One hopes Delhi citizens will find it reassuring that they voted for an 'idea' instead of an individual as a chief minister. This at least may explain why AAP felt the need to create a deputy chief minister for a Union territory and put him in chair while the original 'idea' went searching for greener pastures. After stinging electoral reverses in Goa and Punjab, the 'idea' is now back in Delhi, dipping into public funds either to spread his awesomeness through media advertisements or to meet Jethmalani's steep legal fees.

---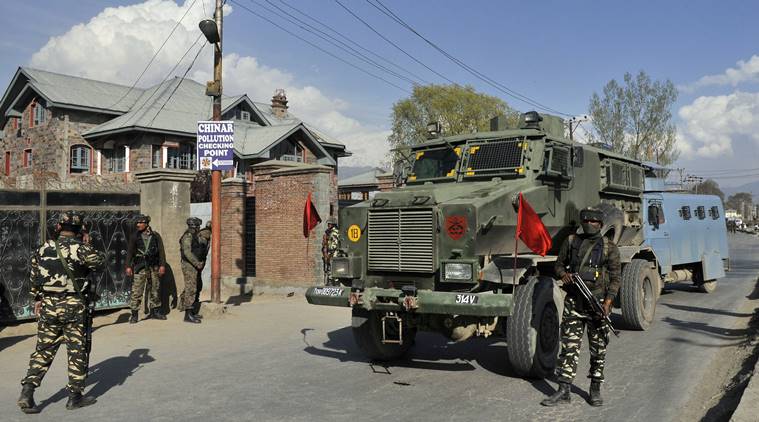 J&K: CRPF convoy attacked near Pantha Chowk, one dead, five injured
MMNN:3 April 2017
A CRPF jawan, who was hospitalised after being injured in firing by suspected militants, has died while five others are undergoing treatment. Six CRPF personnel and a civilian were injured when militants attacked a vehicle carrying security forces in Panthachowk area of Srinagar on Monday afternoon, police said. One of the injured personnel, Head Constable Basappa, later succumbed to his injuries while two other security personnel were said to be critical, the official said.
This is the second such attack in two days against security forces. "Our companies were going from Jammu to Srinagar when they were fired upon by militants, 6 personnel injured and taken to the hospital," CRPF PRO, B Chaudhary told ANI. The CRPF jawans of the 97 Battalion were on their way to Srinagar for election duty for Lok Sabha bypolls scheduled to be held on April 9.
"It's a sensitive time, separatists have called for boycott of elections. We are on high alert; CRPF is doing its duty," Chaudhary added. This is the third militant attack on security forces in Srinagar in as many days. On April 1, militants had opened fire on an army convoy on the Parimpora-Pantha Chowk bypass, injuring two jawans.
Earlier on Sunday, militants attacked a joint party of Jammu-Kashmir and paramilitary forces on the day Prime Minister Narendra Modi was in Kashmir to inaugurate the Chenani-Nashri road tunnel. A policeman was killed and 11 others were injured in the grenade attack. The attack took place in the evening when the security forces, deployed in the old city, were withdrawing. The militants lobbed a grenade at the security personnel near Nowhatta.

---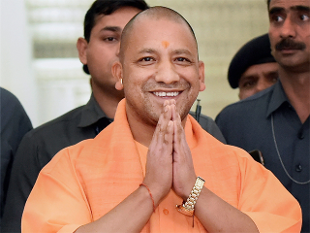 'Misconceptions' due to my saffron-clad look: Adityanath
NEW DELHI: MMNN:3 April 2017
Uttar Pradesh chief minister Yogi Adityanath+ has said "misconceptions" have been created about him due to his saffron-clad look and promised to win hearts of "all sections" by spreading a new idiom of happiness and prosperity.
He also said those who have been "insulting" India's traditions in the name of secularism are feeling threatened after he assumed office.
"Many misconceptions are created about me. Many people say I am saffron-clad, so there are many in the country who are averse to saffron," Adityanath said in an interview to RSS affiliated weekly 'Organiser'.
He said, those who were insulting India's tradition and culture in the name of secularism and appeasement are feeling threatened after he took office.
"We will win hearts of all sections of people with our style of working. We would spread a new idiom of happiness and prosperity," the 44-year-old Adityanath, considered a Hindutva hardliner, said.
Noting that for him power was not for fun and frolic, he said, "We are not in politics to run after prestigious positions and posts."
Listing out the priorities of his government, Adityanath said protection of "rashtra" (nation) will be the main "dharma" (religion) of his government. "This is focal point of humanity. In UP we would provide corruption-free administration and rid the society of goonda raj," he said, adding plans have been made and their impact will be visible in the next two months.
A new industrial policy will be in place to check migration of people from the state and it would make sure that 90 per cent of the employees in any industrial unit were from within Uttar Pradesh, he said.
Promising to clear the dues of sugarcane farmers within 14 days, Adityanath announced five-six new sugar mills will be opened in the state over the next six months.

---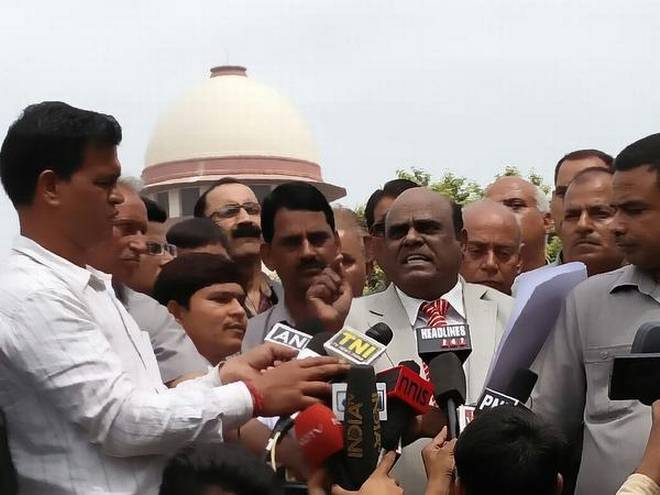 'Arrest and put me in jail', Justice Karnan challenges SC Bench
MMNN:31 March 2017
In an openly confrontational hearing, controversial Calcutta High Court judge, Justice C.S. Karnan on Friday challenged a seven judge Bench of the Supreme Court to "arrest and put him in jail" for contempt.
Countering an order of the Bench led by Chief Justice of India J.S. Khehar to file an affidavit explaining his disparaging remarks and allegations of corruption against fellow High Courts and Supreme Court judges, Justice Karnan accused the Bench of robbing him of his mental and physical balance and his dignity by stripping him of his judicial and administrative powers as a High Court judge.
Justice Karnan was appearing for the first time before the Bench in the contempt action against him. He had refused to appear before it despite repeated notice from the apex court summoning him. Finally, the court had to issue a bailable warrant against him, which was served on him by a police team led by the West Bengal Director General of Police.
Justice Karnan, appearing for himself in a packed courtroom, shouted at the Bench that he will not come before it again.
"Had I not come today, you would have issued non-bailable warrant against me... What way am I an offender or an anti-social element or a terrorist for you... you should protect my dignity, my personal life has been destroyed, police entered my colony and people are watching me," Justice Karnan submitted.
"We issued bailable warrants against you Mr. Karnan not because you were an accused but because you did not enter procedure. You are not a terrorist," Chief Justice Khehar responded.
When the court gave Justice Karnan the choice between rendering an unconditional apology for his scurrilous letters and accusations against the judiciary, Justice Karnan rebutted saying they should first restore his powers as a judge in order for him to be in a position to prove his allegations.
The allegations of Justice Karnan had prompted the contempt action - the first in the court's history against a sitting High Court judge.
Finally, after a 45-minute hearing, Chief Justice Khehar recorded that Justice Karnan was replying neither coherently nor affirmatively about the accusations he had made, thus giving him an option to pen them down in an affidavit to be filed in the next four weeks.
The court refused his plea to restore his judicial and administrative duties.
"I have lost my physical and mental balance... If you do not restore my work, you can very well now impose any punishment you want," Justice Karnan said.
"If you feel you are not mentally fit to respond to us in an affidavit, you give us a medical certificate," Chief Justice Khehar replied.
"Medical certificate is not required. You have disturbed me like anything," Justice Karnan told the Bench.
The hearing started with Justice Karnan explaining that his "fight is not against judiciary or for personal gains".
"My fight is against corruption," Justice Karnan submitted, handing over a letter concerning allegations against 20 judges to the Bench.
"You think about what you want to say. If you want legal help, I suggest you take legal advice. You should be properly prepared," Justice Jasti Chelameswar asked.
"If you unconditionally apologise, this matter will take a different course. If you choose to accuse 'a' or 'y', the matter will be adjudicated," Justice Dipak Misra observed.
The Bench also comprised Justices Ranjan Gogoi, Madan B. Lokur, P.C. Ghose and Kurian Joseph.
When the Chief Justice asked Attorney-General Mukul Rohatgi whether Justice Karnan was in a position to comprehend his predicament, he said there was no question of "non-comprehension" here.
"This gentleman has appeared before My Lords and affirmed and again affirmed that he will continue to make insinuations till the judicial institution is damned. He says 'I will render unconditional apology if I have committed contempt'. Apology for contempt cannot be conditional," Mr. Rohatgi submitted.
Meanwhile, in a separate petition filed by Madras HC, Justice Karnan said he has returned his official bungalow.

---
In Gujarat, it will be life imprisonment for cow slaughter
MMNN:31 March 2017
The Gujarat Assembly on Friday passed The Gujarat Preservation (Amendment) Bill that seeks to award life term to those found guilty of cow slaughter in the State.
The amendment Bill passed on the last day of the budget session of the House also has stringent provisions for punishment for those found involved in transportation and sale of beef or beef products.
The Bill introduced in the House stated that maximum punishment for cow slaughter will be 10 years but not less than seven years. However, junior Home minister Pradipsinh Jadeja sought an amendment to enhance the punishment to life term, which was passed and adopted in the Bill.
With the passing of the amendment Bill, Gujarat becomes the first State in the country to make cow slaughter punishable.
In the statement of objects of the Bill, the government noted that "it is considered necessary to provide for more deterrent punishment for offences committed by contravening the provisions of the Act and also to make the offences cognizable and non-bailable."
As per the provisions of the Bill those found guilty will face "imprisonment for a term, which may extend to 10 years but shall not be less than seven years and with fine, which shall not be less than one lakh rupees."
Another important provision is with regard to vehicles used for transportation of animals for slaughtering.
It says, "The vehicles or any conveyance so seized under sub section (3) shall stand forfeited to government in the manner as my be prescribed. It is, however, experienced while implementing the said Act that still more stringent provisions are required to be made amending the said Act for curbing the menace of illegal slaughtering of the animals covered under the said Act to provide for more stringent punishment and effectively check the rampant use of vehicles for transporting such animals."
The decision comes just ahead of the Assembly polls in the State. The BJP has set a target of winning 150 seats or more in the polls.

---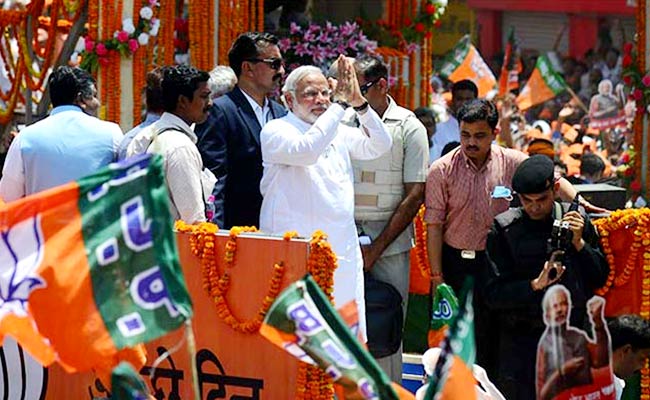 Narendra Modi Set To Become India's Third Most Successful PM: Ramachandra Guha
MMNN:30 March 2017
Narendra Modi is set to become the "third most successful" Prime Minister of India after Jawaharlal Nehru and Indira Gandhi, renowned historian Ramachandra Guha has said, asserting that the 66-year-old leader's "charisma" and "appeal" transcend the boundaries of caste and language.
Speaking at the ongoing London School of Economics (LSE) India Summit 2017 in New Delhi, 58-year-old Ramachandra Guha said Prime Minister Modi's "authority" and "Pan-Indian vision" put him on the same pedestal as that of Jawaharlal Nehru and his daughter Indira Gandhi.
"We live in a time when Narendra Modi is poised to become, and perhaps already is, the third most successful Prime Minister in Indian history. He is the only one you would place on par with (Jawaharlal) Nehru and Indira (Gandhi) in terms of authority that he exudes and the Pan-Indian vision he commands," Mr Guha said yesterday.
"Since (Jawaharlal) Nehru and Indira (Gandhi) there has been no Indian Prime Minister who has had that authority, that sense of command, that charisma, that cross-caste, cross-linguistic, cross-regional appeal in India," he said.
Deliberating on Indian political history, Mr Guha noted that caste system and discrimination against women were two of its "indisputable facts". He alleged that both Islam and Hinduism, the two major religions of the sub continent, "grievously" discriminate against women. "Caste system is the most rigorous, most diabolical system of social stratification ever invented by humans and we Hindus invented it," he said.
"The second indisputable fact is that Islam and Hinduism in their scripture and their social practice grievously discriminate against women," Mr Guha said at the 3-day summit which began yesterday and is organised to commemorate 70 years of India's independence.
Mr Guha, who was Philippe Roman Professor of History and International Affairs at LSE IDEAS in 2011-12, also spoke on LSE's long and rich historical relationship with India. He said the prestigious institution has had more "substantive" and "enduring" impact on the intellectual, social and political history of the 20th century than Oxford and Cambridge. "If you look at Sociology, Philosophy, Anthropology and Public Policy, LSE has had a definitive and formative impact. It has had a great influence on the world and a major influence on India," he said.
Mr Guha said renowned political scientist Harold Laski, an LSE alumni, mentored many Indian social scientists and also influenced Jawaharlal Nehru.
Recounting some of its illustrious alumni such as BR Ambedkar, Krishna Menon, Tarlok Singh among others, Mr Guha said the premier institution possessed an international and democratic spirit which went hand in hand.
Picking Mr Singh as one of his favourites, he said the noted Civil Servant set the foundation of India's Green Revolution and saved the country from becoming a client state of America.
"At the level of civil society, deepening of democracy and egalitarian ethos as well as working for women and peasants, there is an invisible impact of LSE on India," he observed.
Michael Cox, professor Emeritus of International Relations and Co-Director of LSE IDEAS, in his speech said the London-based institution has had more influence abroad than at home.

---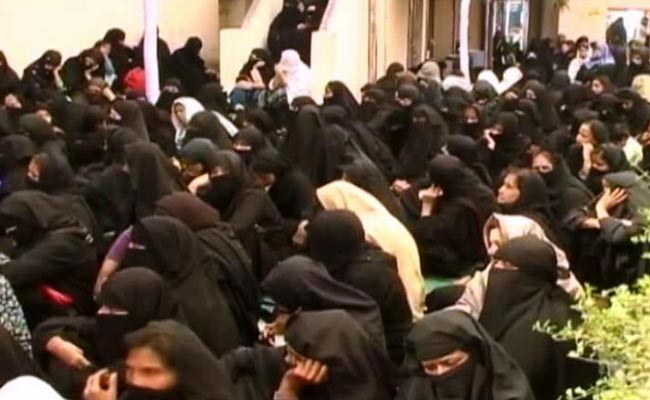 Triple Talaq Important, Will Hear It During Summer Vacation, Says Supreme Court
MMNN:30 March 2017
A decision on the legality of triple talaq -- the practice of Muslim men to divorce their wives by saying talaq thrice -- is crucial and a five-judge Constitution Bench will sit during the summer vacation to examine the issue, the Supreme Court said today. It will be one of the three issues three constitution benches will look into during the summer vacation, Chief Justice JS Khehar today said. The hearing will begin on May 11.
When senior advocates -- including former law minister Kapil Sibal -- objected to the top court's benches working during the summer vacation, Chief Justice Khehar said, "There are three important issues we are taking up during the vacation. These are matters pending and if you don't want us to take them up, then don't say huge pendency of cases in the Supreme Court."
"If we don't take up these cases, they will be pending for years," the Chief Justice added.
A bunch of petitions had been filed in the top court opposing triple talaq after women complained of being divorced on Facebook and WhatsApp. But the court has said instead of looking at individual cases, it would take a call on whether practices like triple talaq and polygamy -- which violate women's rights -- can be upheld under the right to religion. Whether the law should be changed thereafter, by measures such as the uniform civil code, will be left to the legislature, the court had said.
The court took up the matter after the Centre's posed four questions regarding the triple talaq, nikah halala and polygamy.
The NDA government has long contended that such practices violate the fundamental rights of women guaranteed by the Constitution. It also insists that it does not form a part of the "essential religious practices" in Islam. Law Minister Ravi Shankar Prasad has said ideally, the government wants triple talaq to be abolished completely.
The personal law board contends that Muslim practices such as polygamy and triple talaq are matters of "legislative policy" that could not be interfered with by the judiciary.
While triple talaq allows Muslim men get instant divorce by saying "talaq" three times, nikah halala bars a man from remarrying his divorced wife unless she consummates her marriage with another man, and her new husband dies or divorces her.

---
Probe ex-CMs in iron ore mining case: SC to Karnataka SIT
MMNN:29 March 2017
The Supreme Court on Wednesday asked the Special Investigation Team (SIT) of Karnataka Police to investigate the role of former chief ministers N Dharam Singh and H D Kumaraswamy in the iron ore mining case and file a report within three months.
The apex court, however, said that its stay on the investigation against another former chief minister S M Krishna will continue during the period.
A bench comprising Justices P C Ghose and R F Nariman restrained all other courts including the high court from passing any order in the case.
It has been alleged by one of the complainants, T J Abraham that the former chief ministers connived with several bureaucrats and others in de-registering a huge tract of forest land and allowed illegal iron ore mining on a large scale.
The complainant had also referred to various reports of the then Lokayukta justice N Santosh Hegde indicting several politicians, bureaucrats and others.

---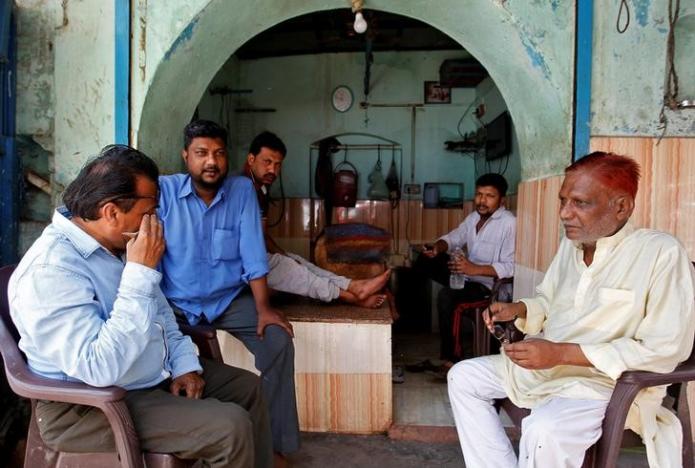 India's crackdown on abattoirs spreads, causing Muslim unease
MMNN:29 March 2017
A crackdown on unlicensed abattoirs in India's most populous state has spread to other states ruled by Prime Minister Narendra Modi's party, as Hindu hardliners press a political agenda that risks alienating the country's Muslim minority.
The latest crackdown started after Modi appointed Yogi Adityanath as chief minister of Uttar Pradesh following the Bharatiya Janata Party's landslide victory in elections there earlier this month.
The demands by right-wing Hindu groups to stop the slaughter of cows, considered holy in Hinduism, could stoke communal tensions with Muslims, who dominate the meat industry and make up 14 percent of India's 1.3 billion people. Most of the beef produced in India comes from buffalo rather than cattle.
Adityanath ordered closure of abattoirs operating without licenses soon after taking over as chief minister on March 18.
"If it is legal, nobody has a right to stop it. But if it is illegal, why should this be allowed to function? We believe in the rule of the land," said Rajiv Tuli, media coordinator of the Rashtriya Swayamsevak Sangh, the ideological parent of the BJP.
A senior BJP official also defended the action, saying it was part of the party's election manifesto in Uttar Pradesh, and followed through on the stand taken by Modi during 2014 general election campaign, when he spoke out against India increasing meat exports.
"Even Modiji vowed to put an end to pink revolution during the 2014 election campaign, so there is nothing wrong in shutting down illegal shops," the official said, referring to the modernisation of meat and poultry processing units and growth of the meat industry.
Several other BJP-ruled states, including Jharkhand, Rajasthan, Uttarakhand, Chhattisgarh and Madhya Pradesh, have followed suit, ordering closures of abattoirs operating without licences, according to media reports and local officials.
"The order has been issued keeping overall issues of public health, hygiene, and safety in mind. We will not allow any illegal abattoirs to operate," K G Rahate, a senior Jharkhand government official told Reuters.
Raghubar Das, chief minister of Jharkhand, also issued advertisements in local papers to appeal to meat sellers to follow his government's instruction.
In Rajasthan, 16 illegal slaughterhouses were shut down last week, a government official said.
The closures have led to fears of meat shortages and disruption of exports of buffalo beef and other meat products.
India is one of the largest exporters of buffalo meat, selling $4 billion worth of beef in the 2015/16 fiscal year. Its biggest buyers included Vietnam, Malaysia and Egypt.
Uttar Pradesh is the biggest producer of buffalo meat in the country, and exporters said the latest crackdown will hurt business.
"Right now everyone is very scared because they don't know whether what they are doing will be termed as legal or illegal," said Priya Sud, partner at Al Noor Exports, which operates slaughter houses in Uttar Pradesh.
Muslims working in the meat industry are fearful for their jobs and meat sellers in Uttar Pradesh have gone on strike in protest.
"Supply of all kinds of meat has been disrupted due to the new rules. Restaurants don't have enough meat to serve," said Iqbal Qureshi, president of the Meat Murga Vyapar Kalyan Samiti, a meat sellers' body in Uttar Pradesh.

---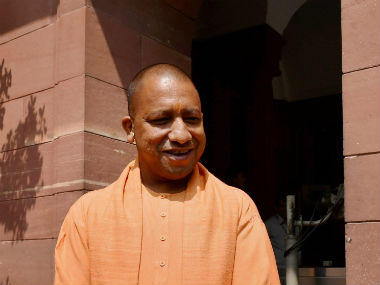 Yogi Adityanath as UP CM: Outrage over crackdown on illegal meat trade is untenable, indefensible and immoral
MMNN:27 March 2017
Liberals are once again missing the point and mainstream media, not for the first time, asking all the wrong questions in the ongoing crackdown on illegal meat trade in Uttar Pradesh under new chief minister Yogi Adityanath.
The liberal position is unambiguous. It sees Yogi's every action through the prism of distrust and interprets his each step as an extension of the larger Hindutva project.
From western media to eminent jurists and almost everyone in between claiming to uphold the edifice of India's liberal-secular order, Yogi's ascension to the UP CM's chair is an Apocalyptic catastrophe. They are not ready to give the Mahant of Gorakhnath mutt even a small fraction of the benefit of doubt they grudgingly extended to Narendra Modi post-2014. Not that it matters.
Openness of ideas is the sine qua non of liberalism. When ideological positions become ossified, it blinkers practitioners and makes them blind to reality. At this stage, liberals resemble indoctrinated ideologues, the antithesis of everything liberalism represents. Right now in India, liberalism is undergoing such a crisis of logic that it finds merit in arguing that illegal abattoirs - that have earned the wrath of courts for slaughtering the environment - should be allowed to function so that shops may serve delectable kebabs.
The entire political discourse over the last few days has seen dire threats of Armageddon being issued from liberal towers over chicken and mutton replacing buffalo meat in 'Tunday kebabs'. Let's wrap our heads around the argument. Shops should be allowed to procure meat from illegal sources so that kebabs may retain their succulence, prices may be kept down and India's liberal edifice may be maintained. That the chief minister has moved to put an end to this illegal ecosystem has been presented as the biggest proof of Yogi's 'persecution of Muslims' and elaborate theories have been spun around how this denies a section of UP populace their daily intake of protein. Without a morsel of evidence.
The ridiculousness of this argument resists a rational rebuttal. If the 'reputed' shops had so long been procuring raw materials from illegal sources then it is time penal action is levied against these instead of lobbying for excuses or lending them a sympathetic ear. Sourcing meat from unlicensed butcher shops not only plays havoc with local economy, it also incentivises law-breakers and makes those who live by rules appear as fools. If ending of this illegal cycle forces eateries to source meat from elsewhere, so be it.
It is also misleading to think that all eateries who have been affected are in opposition to this move. One of them whose kebabs have gone off the platter told PTI that he supported the closure of illegal and mechanised slaughterhouses in the state. The owner admitted that it was "difficult for a common man to pass through a locality where the slaughterhouses were operating almost openly. He also alleged that the illegal abattoirs even indulged in slaughtering dogs."
The more persuasive argument is of the larger ramifications of the step. Abrupt shutting down of the illegal operations renders thousands of people associated with the industry jobless and has a domino effect on the ancillary industries linked with the unlicensed abattoirs. There is no doubt that there may be a temporary spurt in unemployment as these abattoirs and butcher shops, assuming they are intent on running their businesses, apply for a licence and set up effluent treatment units.
There are two intrinsic problems with this argument. One, blaming Yogi Adityanath for acting against illegal butcher shops and meat processing units because a large number of Muslims are associated with this trade is to argue against the very grain of the Constitutionality of his position. A chief minister's job is to ensure rule of law. He cannot be expected to indulge in acts of omission based on which section of the populace is being affected. Since assuming office, Adityanath has also banned chewing of paan and gutkha in all government premises - a trade mostly linked with Hindus. Is the chief minister anti-Hindu?
Closing of illegal abattoirs and unlicensed butcher shops was part of BJP's poll manifesto. The chief minister, in implementing the order, is staying true to one of the promises that presumably has voter support. To argue that he should show some leeway to illegal meat traders and selectively apply rule of law is a slippery slope that might set grave precedents. It is inconceivable how the liberal argument has once again fallen on the wrong side of law and ethics.

---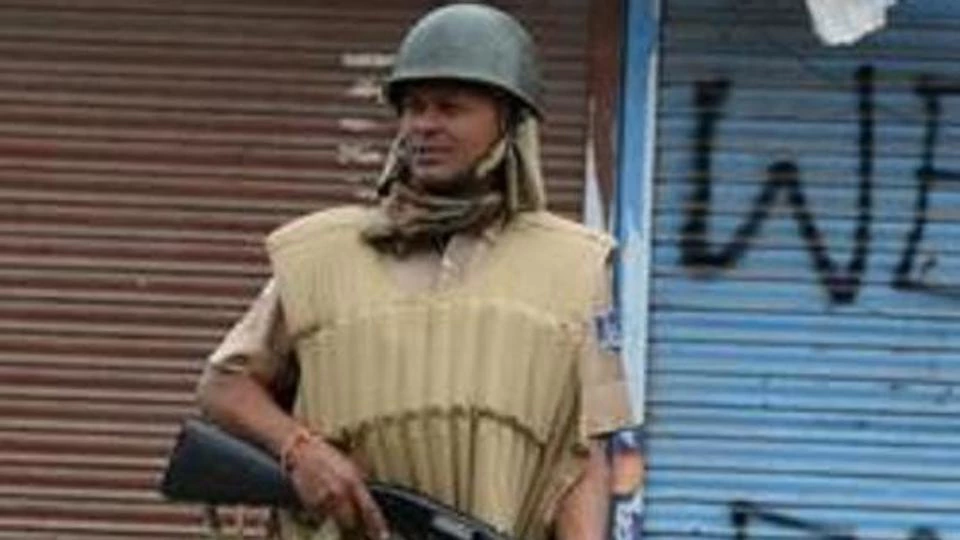 Supreme Court asks Centre to consider alternatives to pellet guns in Kashmir
MMNN:27 March 2017
The Supreme Court asked the Centre on Monday to consider effective means other than use of pellet guns to quell stone pelting mobs in Jammu and Kashmir as it concerns life and death.
A bench headed by Chief Justice J S Khehar also expressed concern over injuries suffered by minors involved in protests in the Kashmir Valley and asked the government what action has been taken by it against their parents.
The top court asked Attorney General Mukul Rohatgi to file a detailed reply on what alternate effective steps could be taken to deal with such situation of agitating mobs in Jammu and Kashmir.
The bench posted the hearing for April 10.
On December 14 last year, the Supreme Court had said pellet guns should not be used "indiscriminately" for controlling street protests in Jammu and Kashmir and be resorted to only after "proper application of mind" by the authorities.
A bench headed by the then Chief Justice T S Thakur had issued notices to the Centre and the Jammu and Kashmir government while seeking their replies on a plea alleging "excessive" use of pellet guns in the state.
The top court had also sought assistance of Attorney General on the issue and asked him to submit copy of the report submitted by the Expert Committee constituted for exploring other alternatives to pellet guns.
The court was hearing an appeal filed by Jammu and Kashmir high court bar association against the high court order seeking stay on the use of pellet guns as a large number of people had been killed or injured due to its use.
The Jammu and Kashmir high court had on September 22 rejected the plea seeking a ban on use of pellet guns on the ground that the Centre had already constituted a Committee of Experts through its memorandum dated July 26, 2016 for exploring alternatives to pellet guns.
Taking note of the statement, the high court had disposed of the petition, saying that no further direction was required since the matter was being looked at by the Centre.
The high court bar association challenged the order, contending that high court should not have disposed the petition and instead waited or called for the report of the expert committee.
The high court had also declined to accept the plea to prosecute the officers who ordered use of pellet guns and those who actually fired them.
It had also directed the authorities concerned to ensure that all the injured are extended adequate medical treatment by specialists for whatever injury they sustain.

---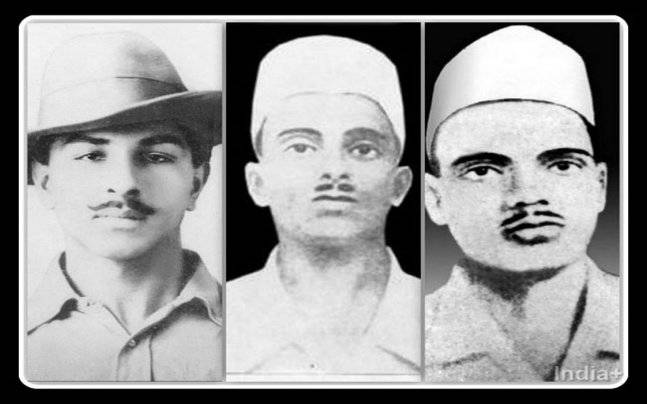 Remembering Bhagat Singh, Rajguru, Sukhdev: India will never forget their sacrifice, says PM Modi
MMNN:23 March 2017
Exactly 86 years ago on this say, freedom fighters Bhagat Singh, Shivaram Rajguru and Sukhdev Thapar were hanged to death in the Lahore jail, a death sentence they earned for the failed Ghadar conspiracy of 1915.
Earlier this morning, Prime Minister Narendra Modi commemorated their death anniversary in a tweet, saying that India will never forget their courage and sacrifice.
"Remembering Bhagat Singh, Rajguru & Sukhdev on the day of their martyrdom. India will never forget their courage & sacrifice," he wrote.
In a step to mark Bhagat Singh's martyrdom, the Border Security Force (BSF) has decided to put on display the pistol he used to kill British officer John Saunders at a new arms museum in Indore.
Singh's historic semi-automatic .32-bore Colt-make pistol is currently on display at the School of Weapon Central School of Weapons and Tactics museum.
Despite the length of time that has passed since Bhagat Singh, Rajguru and Sukhdev gave their lives for our country, they is remembered for their stance and sacrifice without fail.
Here are a few things every generation of Indians should know about them:
As many may know from the score of movies made on him, Bhagat Singh was moved to fight for India's independence at a tender age of 12, when he visited the Jalianwala Bagh after the mass massacre in 1919.
Legend has it that he was so touched by the bloodied sight at the Jalianwala Bagh, he brought home a bottle of the blood-soaked mud as a sign of remembrance.
There have also been stories that say Singh, as a child, used to talk about growing guns in the fields to fight the British Raj.
Singh was an avid reader and writer, and was drawn to the subjects of socialism, socialist revolutions and communism.
Born into a a Sandhu Jat family, he gave up on his faith and became an atheist later in life.
He is the man behind the famous phrase, 'Inquilab Zindabad', which literally means 'Long live the revolution'.
In 1929, Bhagat Singh and his comrades had bombed the Central assemble in Delhi with low-grade explosives, in an attempt to startle the occupants and gain attention to their cause.
He also led a hunger strike against the low-life treatment that prisoners of the revolution received in the jail. He demanded that they, the 'political prisoners', be given the basic amenities and access to books and newspapers while imprisoned.
His comrade Rajguru's full name was Hari Shivaram Rajguru. He was from a Deshastha Brahmin family in Maharashtra.
Rajguru was only 22 at the time of his death (Bhagat Singh was 23 and Sukhdev was 24).
Like Bhagat Singh, Rajguru was not a believer in Mahatma Gandhi's non-violent and civil disobedience ideology to fight the British Raj.
Rajguru, along with Bhagat Singh, had fatally shot Saunders in Lahore, which later got them arrested and eventually, sentenced to death. Khed, his birthplace in Pune, has been renamed as Rajgurunagar in his memory.
Sukhdev Thapar, Bhagat Singh and Rajguru's third comrade, was from Ludhiana, Punjab.
Like his associates, Sukhdev was an active member of the Hindustan Socialist Republican Association (HSRA).
Prior to his execution, Sukhdev is said to have written a letter to Mahatma Gandhi, protesting his disapproval of their (revolutionaries like himself, Bhagat Singh and Rajguru) violent approach of fighting the British Raj.
The 1915 Ghadar conspiracy case, which got Bhagat Singh Rajguru and Sukhdev the death sentence, went awry after they mistakenly killed officer John
Saunders for James Scott, the British police superintendent who ordered the lathi charge that led to Lala Lajpat Rai's death.
Bhagat Singh, Rajguru and Sukhdev were hanged at 7:30pm on March 23, 1931, 11 hours prior to their scheduled execution time.
Their bodies were sneaked out through a hole in the back wall of the jail.
They were secretly cremated in the dark of the night, and their ashes were thrown in the Sutlej river.

---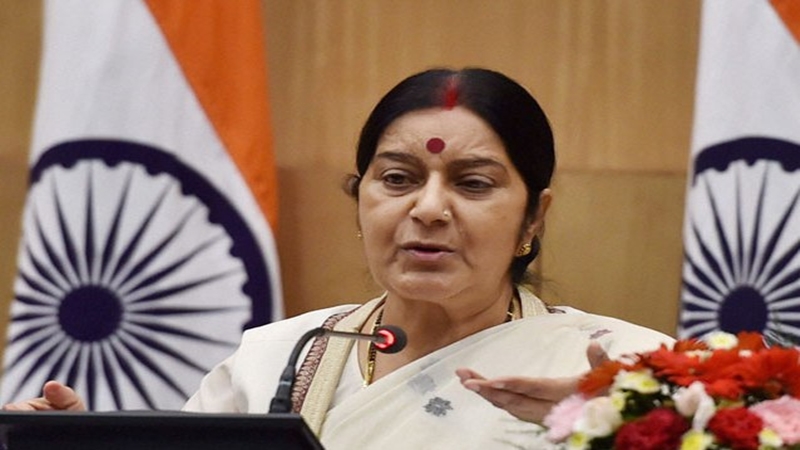 Indian Techies Need Not Worry About H1B Visa Curbs In US: Sushma Swaraj
MMNN:23 March 2017
External Affairs Minister Sushma Swaraj on Thursday said there was no reason to worry about the curbs on H1B visas or the job security of Indian IT professionals working in the US for the time being as the Indian government is in talks with the US regarding this.
"Currently there are four bills in the US Congress about curbs on H1B visas. We are engaged (in a dialogue) with the US at very high level regarding this... We are making all efforts (through diplomatic channels) to ensure these bills are not passed," Ms Swaraj said in the Rajya Sabha.
"So there is no reason to worry about it as of now," she added.
The minister pointed out that even before Donald Trump became President, there had been a "flip-flop" in the H1B visa policy by the US.
"In 1990 when H1B visas were first introduced, the cap was 65,000. In 2000 it was raised to 1,95,000 for three years. In 2004 the number of these visas was again reversed to 65,000 by the US. So there has been a flip-flop on this policy even before Donald Trump government," she said.
The minister also informed the house that the visa facility extended to the spouse of the Indian professionals has not been withdrawn by the US so far.
On illegal migrants, Ms Swaraj said that the US authorities have given a list of 271 persons who they have identified for deportation.
"We have asked for more details about these 271 persons. Once we check their antecedents and find they are actually Indian citizens, we'll provide them travel documents back to India so that they are not put behind bars by US authorities," she said.
She said India will once again raise the issue of totalisation once "the jobs of Indian IT professionals are ensured to be secure".

---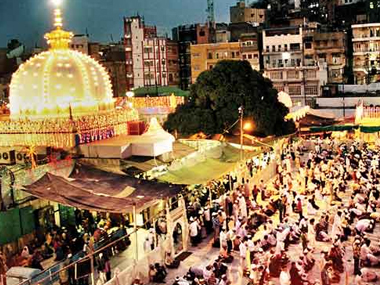 Ajmer dargah blast case: Bhavesh Patel, Devendra Gupta sentenced to life imprisonment
MMNN:22 March 2017
A special National Investigation Agency (NIA) court on Wednesday sentenced Bhavesh Patel and Devendra Gupta to life in jail in the Ajmer Dargah blast case.
The magistrate also imposed a fine of Rs 10,000 on Patel and Rs 5,000 on Gupta, both of whom claimed innocence.
"We will approach the High Court," Lokesh Sharma, Patel's advocate, told IANS.
"We are innocent and it is a political conspiracy against us," Gupta told the media while coming out of the court.
The court found the three guilty for criminal conspiracy and action intended to outrage religious feelings besides charging them under the Explosive Substances Act and the Unlawful Activities (Prevention) Act.
Three of the 13 accused are still missing.
On 8 March, the court had convicted Patel, Gupta and Joshi in the case while acquitting others including Swami Aseemanand. Joshi died soon after the blast.
The case was handed over to the ATS Rajasthan and was later transferred to NIA which re-registered the case with the NIA police station in New Delhi on 6 April, 2011.
There were as many as 149 witnesses in the case and 451 documents were examined and the NIA filed three supplementary chargesheets in the case.
The blast on 11 October, 2007 inside the premises of the shrine of Sufi saint Khawaja Moinuddin Chisti at Ajmer around 6.15 pm at the time of Roza Iftaar, had left three pilgrims dead and 15 others injured.
The revered shrine is visited by thousands of Muslims and non-Muslims, both from India and abroad.

---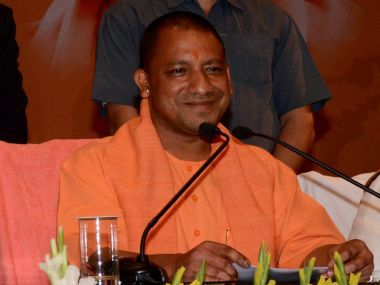 Yogi Adityanath's UP development agenda is a pipe dream unless women are considered equal partners
MMNN:22 March 2017
Yogi Adityanath, after his appointment as the Uttar Pradesh chief minister, was in Delhi on Tuesday to pay the customary obeisance to Prime Minister Narendra Modi and BJP president Amit Shah. Speculations were rife that Adityanath is already in disagreement with deputy chief minister Keshav Prasad Maurya over the allocation of portfolios. But it was his speech in Lok Sabha, reportedly his last one as an MP, that garnered the maximum amount of attention.
Known for his controversial, communally-charged speeches, the Hindutva leader's tone and language suggested a clear departure from his usual style as he made the right noises about development, anti-corruption and inclusivity. "In Uttar Pradesh, the new model of development will be based on 'Sabka Saath, Sabka Vikas'... My government will be for everyone, not specifically for any caste or community... We will work for development of all sections and castes and create a new structure of progress," he said.
The BJP that fought the recently-held Uttar Pradesh election on the tried and tested development plank, it's the selection of Adityanath as the chief ministerial candidate came as a surprise. While trying to make sense of this decision, some came up with a rather weak argument: If you make the naughtiest student the class monitory, then discipline automatically follows. The man who once said, "Probably in the rest of Uttar Pradesh, Hindu women run away with Muslims but in Gorakhpur, Hindu men marry Muslim women and bring them home" can hardly be described as naughty.
For argument's sake, let's assume that Adityanath has renounced his hardliner ways and accepted development as his mantra, his views on women empowerment and equal participation will definitely prove to be an impediment in his road to development. Adityanath was one of the BJP MPs, who went against the party whip, and opposed the Women's Reservation Bill in 2010. On the website www.yogiadityanath.in, in an essay titled 'Matrishakti - Bharatiya Sanskriti Ke Sandarbh Mein', he writes on the importance of women's participation in the development of society, but limits the role of woman to a mother, sister, daughter and a wife.
He goes on to write that just like if energy is not channelised, it goes to waste and proves to be disastrous, a women's power needs to be reined in. He writes that women don't need freedom, they need protection and channelisation. His opinionated, but dubious take on women's freedom gets confusing, considering he has been equally loquacious about cows and their protection.
Continuing in a similar vein, he writes a father offers protection to a girl, in her adulthood the role is taken up by her husband and in her old age it is the son that looks after her. His myopic vision restricts a woman's involvement in the family structure. The struggles of a working woman might as be well non-existent for this leader.
At some point, he acknowledges women's contribution in the Independence movement and in the progress of the nation and lauds their successes in various sectors. He also writes that years of discrimination have pushed women in the background and that though women have made progress in all walks of life, it has been mostly witnessed in urban areas and in affluent families and writes that a lot has to be done in the rural sector.
Making his argument against the Women's Reservation Bill, he writes that the Constitution doesn't discriminate based on caste, gender or community, then how does reservation for women makes sense. He elucidates that it will only fracture the family and the relations between a man and a woman. He says it only politicises women's rights. He exhibits his shaky hold on issues related to gender equality and argues that if progress is made organically, then there is no need rush things up. At one point he talks about women's rights and equal opportunities and goes ahead contradicts his statement by arguing about the futility of the Women's Reservation Bill.
Adityanath also implies in the essay, the West-driven women's liberation movement can potentially prove to be destructive to the Indian family structure.
The newly appointed chief minister might be on track with the development agenda, but unless he stretches his imagination and recongnises the role of women as an equal stakeholder in the socio-economic growth of the state and not just limit to the domestic set-up, all-round development of Uttar Pradesh can remain a myth.

---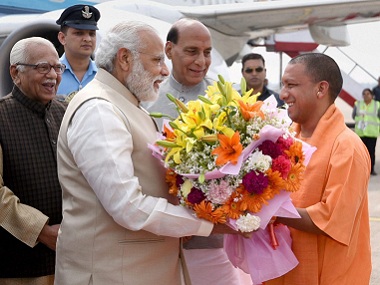 Yogi Adityanath as UP CM: From the ashes of pseudo-secularism rises the phoenix of hardline Hindutva
MMNN:20 March 2017
By appointing Yogi Adityanath as chief minister of Uttar Pradesh, Narendra Modi has made his third disruptive move after surgical strike and demonetisation. So immediate and deep has been the impact that it has annihilated in one stroke all codified cleavages, and redrawn India's ideological map. The Left, Right and Centrist Venn diagrams are now in disarray. The entire Indian political spectrum, as the current Mahant of Gorakhnath Temple took oath on Sunday, resembled a smoking battleground strewn with the debris of conflicting positions.
Leave alone the regressive Alt-Left which has greeted Adityanath's elevation with customary cries of Apocalypse, Adityanath's ascension has spooked centrists and the moderate Right alike, leaving those on the right of Right to justify why Modi's move makes immense political sense and is entirely in line with the logical progression of 'new BJP'.
Among the ideological Right, a rift has risen overnight, with one side interpreting Modi's choice as a "betrayal" and the other accusing it of falling into the elitist trap and disregarding the voice of people. I shall explain presently why this "voice of people" argument is misleading.
A large section of liberal Indians disgusted with the pseudo-secularism of India's political discourse and sickened with naked minorityism in the name of secularism, had seen in Modi-led BJP a refreshing perspective where Indians, regardless of their caste and community fault lines, were co-opted as active participants in the nation-building process.
As the prime minister went about his job putting in place the building blocks for a new India, they saw in Modi a strong, therapeutic leader determined to cleanse the country of Congress-led "appeasement culture" that had fatally afflicted Indian politics. The toilets that were built, bank accounts that were opened, gas connections that were installed, insurance schemes and easy loans that were disbursed did not discriminate between Hindus, Muslims or Christians. Modi did not need to wear a skull cap to project himself as "secular", his slogan for "sabka saath, sabka vikas" resonated enough.
When the opposition parties - and entrenched power brokers in media, academia and civil society - threw tired old cliches at Modi, he responded by asking people to fight poverty, not each other. Indians responded.
Bucking all trend, Modi's personal popularity that had soared during 2014 elections refused to come down. And in the 2017 Assembly elections, the closest that we have towards mid-term polls, BJP's resounding win showed that Modi has retained the trust of a large section of Indian polity, including minorities whose patience at being turned into a permanent veto power against BJP was getting thin.
The shift was palpable. It seemed as if Modi was trying to shift BJP from the Right to a centrist position, where it would be able to expand its core base and draw support from neutrals, floaters and ideological fence-sitters, and administer consensus-based growth and development. That was at least what the prime minister said in his post-UP victory speech last week.
Except that nobody foresaw the Yogi uppercut. Out of the ashes of faux secularism, arose the phoenix of hardline Hindutva that defined BJP of the 1990s. If this was the plan all along, Modi and BJP hid it well during the campaign.
BSP ran a blatantly communal canvassing and SP-Congress shelved their decade-old rivalry to attempt a consolidation of Muslim votes. Modi steered clear of identity politics - as he did in 2014 - and sought a larger consolidation based on hope and aspiration. When results came out, shell-shocked rivals blamed the EVMs.

---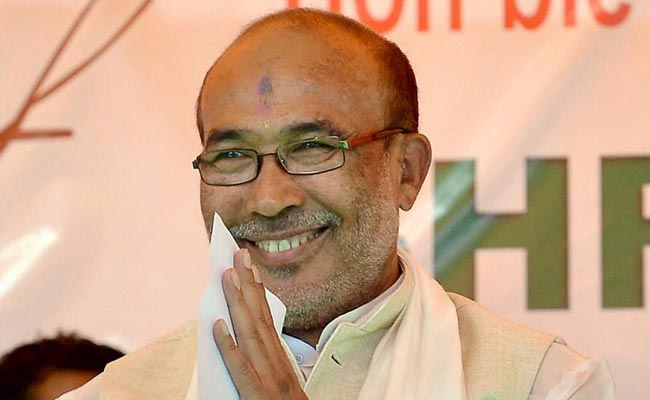 Manipur Floor Test: BJP's Biren Singh Wins, Thanks PM Modi -- 10 Facts
MMNN:20 March 2017
After winning the crucial trust vote in the Manipur Assembly with 32 votes, Chief Minister N Biren Singh thanked Prime Minister Narendra Modi, saying it was a measure of his success and the party's. The BJP, which was the second largest party winning 21 seats out of the 60 in the state assembly, needed another 10 to prove majority. It stitched together the number with support from local parties and an Independent. The Congress, which won 28 seats, was unable to get the support of three legislators it needs to prove majority. A three-day Budget session of the Assembly will begin tomorrow with the address of the Governor.
Here are the 10 latest developments in this story:
"It is not my success, but the BJP's, the Prime Minister's success in Manipur," Chief Minister Biren Singh said after the trust vote.
The BJP got the support of four legislators each from the Naga Peoples' Front and the National Peoples' Party; the lone legislator of the LJP, Independent legislator Asab Uddin and Congress legislator. The lone Trinamool Congress legislator, T Robindro Singh, also extended support to the BJP-led government though his party's central leadership said he had "not consulted the party" over it.
Earlier in the day, Yumnam Khemchand Singh of the BJP was elected as the new Speaker of the House. He was also elected by voice vote against Congress candidate Govindas Khonthoujam.
As in Goa -- where it won the trust vote despite Congress winning the most seats -- the BJP distributed most of the ministerial portfolios in Manipur to local allies with the hope of retaining their support for the crucial trust vote.
The National People's Party was given two ministerial berths, including that of the Deputy Chief Minister, a post being held by Joykumar Singh. The Naga People's Front got three ministerial berths. The lone LJP legislator and Thounaojam Shyamkumar Singh, who defected from Congress, were also made minsters.
Besides the Chief Minister, the BJP has so far kept one ministerial berth for itself -- Thongam Biswajit Singh, who was a contender for the top post.
Ahead of the trust vote, The BJP had kept its lawmakers at a secluded hotel in Assam's Guwahati to keep them from being influenced by the rival party. The 27 legislators of Congress have been kept at the house of an MLA in Imphal for a similar reason.
N Biren Singh - a former footballer and Congressman who joined the BJP in October 2016-- had taken oath as the Chief Minister on March 15, along with eight ministers of his new cabinet.
On the eve of the trust vote, the new government successfully lifted the Naga economic blockade that had crippled the state's supply lines for the last 130 days. The blockade -- led by the United Naga Council -- ended last evening after talks with the central and state governments.
No party received simple majority in the recently concluded assembly election in the state. The Congress, who ruled the state for the last 15 years, emerged as a single largest party with 28 seats. The BJP, which made its debut in Manipur this year, went from zero to 21 seats. The party won the crucial elections in Assam last year and also controls Arunachal Pradesh.

---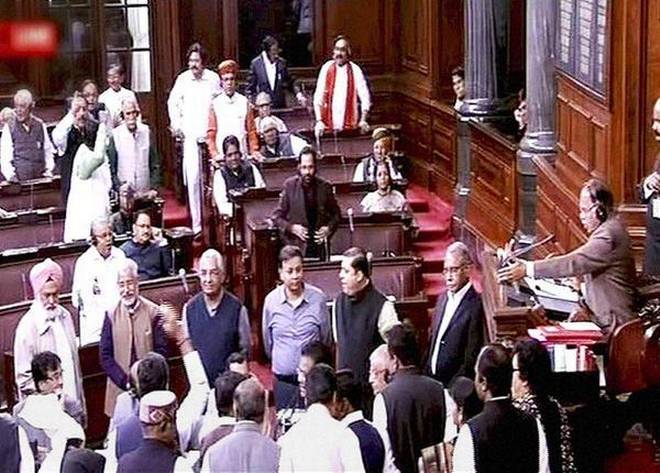 Congress forces adjournment in Rajya Sabha protesting Goa Governor's role
MMNN:17 March 2017
Opposition Congress on Friday forced an adjournment of Rajya Sabha proceedings over the conduct of the Goa Governor in inviting the BJP to form the government in the state after she reportedly consulted Finance Minister Arun Jaitley.
Congress Members alleged breach of propriety and constitutional norms in the consultations Goa Governor Mridula Sinha held with Mr. Jaitley. They stormed into the Well of the House raising slogans against murder of democracy, forcing Deputy Chairman P.J. Kurien to adjourn the House till noon.
Earlier when the House met for the day, senior Congress leader Digvijaya Singh said he had given a notice under rule 267 seeking setting aside of the business of the day to take up "gross constitutional impropriety committed by Governor of Goa."
Mr. Singh read out from an interview Ms. Sinha gave to a newspaper in which she reportedly said she did not expect the BJP to form the government but spoke to Mr. Jaitley before arriving at the decision to call the party to form the government ahead of Congress which had emerged as the single largest party in elections.
Mr. Kurien said the conduct of a Governor can be discussed only on the basis of a substantive motion and disallowed Mr. Singh's notice under 267. Leader of the Opposition Ghulam Nabi Azad said the conduct of Governor was discussed when the Arunachal Pradesh issue was debated in the House.
"Why don't you move a substantive motion?" Mr. Kurien asked. "No. I have to go by rules. You can bring substantive motion, Chairman will consider it."
Mr. Azad said his party colleague Mr. Singh had not raised any issue with the conduct of the Governor but merely stated what she had said in an interview. "How can the Governor seek permission of a Cabinet Minister to form a government," Mr. Azad asked as Mr. Kurien insisted on a substantive motion for any discussion.
Mr. Singh said the House was supreme and a sense of Members present can be taken and his notice under rule 267 converted into a substantive motion. Anand Sharma said the Constitution clearly defines the duties and powers of Governor in appointing Chief Minister and it does not anywhere state that the Governor is supposed to consult a serving Cabinet Minister.
Mr. Kurien said if the Governor has violated the Consitution, a substantive motion can be brought. "You are going by a newspaper report. I am not bothered about that. I have made it very clear that if you feel that the Governor has violated any of the provision of Constitution, please bring a substantive motion. I cannot allow you to discuss the conduct of Governor," he said.
Sitaram Yechury of the CPI(M) said a Cabinet Minister is answerable to the House. To this, Mr. Kurien said if any Minister has violated any provision of the Constitution, there can be a motion for that as well. "We can discuss that. I have no problem."
Minister of State for Parliamentary Affairs Mukhtar Abbas Naqvi said the government is ready to discuss if the Congress was to bring a substantive motion. He went on to say that the opposition party by its continued protests was insulting the verdict of the people as also the ruling of the Chair.
Congress members then trooped into the Well shouting slogans against what they said was murder of democracy. Treasury benches also countered the slogan shouting.
Mr. Kurien again said he was not against any discussion. "I am not denying or refusing any discussion... if you want to discuss (Governor's conduct), please give a substantive motion. I will also request Chairman (to consider it) and then we can have a discussion anytime."
But Congress members continued to insist on a discussion.
Mr. Singh said Mr. Jaitley is a member of the House and he can avail of his right to reply. He then went on to state that a substantive motion will be given. Mr. Azad said the House should be adjourned for an hour for the substantive motion to be framed and submitted and the same can be discussed thereafter.
But this was not agreeable to the Chair or the treasury benches. As the slogan shouting continued, Mr. Kurien adjourned the House till 12 noon.

---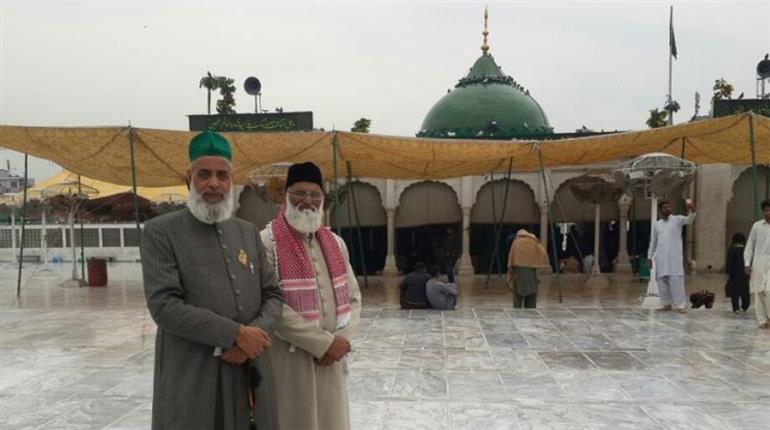 Sushma Swaraj asks for update from Islamabad on Indian clerics missing in Pakistan
MMNN:17 March 2017
Two Indian clerics, including the head priest of New Delhi's Hazrat Nizamuddin Dargah, have gone missing in Pakistan, prompting India to take up the matter with the Pakistani government.
Early on Friday, External Affairs Minister Sushma Swaraj posted on Twitter a series of posts in which she confirmed that two Indian clerics had gone missing in Pakistan.
She tweeted that the two Indian nationals, Syed Asif Ali Nizami who is the head priest (Sajjadanashin) of Hazrat Nizamuddin Aulia dargah and his nephew Nazim Ali Nizami had gone missing after they landed at Karachi airport.
Swaraj further said that India has taken up the matter with Pakistan and had requested them for an update on both the Indian nationals.
According to official sources in New Delhi, Asif Nizami, the chief priest, and Nazim Nizami had gone to visit the famous Data Darbar shrine in Lahore and were to catch a flight from there to Karachi on Wednesday.
"As per their families, while Asif was allowed to go to Karachi, Nazim was stopped at the Lahore airport on grounds of incomplete travel papers."
"While Nazim went missing from Lahore airport, Asif went missing after arriving at the Karachi airport," a source said.
The matter has been taken up with the Pakistan government both in New Delhi as well as through the Indian mission in Islamabad, the source said.
"My father Syed Asif Ali Nizami, 80, and his nephew Nazim Nizami, 60, went missing from Lahore and Karachi airports, respectively, on Wednesday evening," Asif's elder son Sazid Ali Nizami told IANS.
He said that his father and cousin went to Karachi in Pakistan on 6 March from where they visited Lahore on 13 March to offer "Chadar" at Baba Farid's shrine, the master of Baba Nizamuddin.
"On 14 March, they offered another Chadar at Data Darbar Sufi shrine in Lahore. The next day they reached at Lahore airport to take a flight for Karachi at 4.30 pm. At the Lahore airport, my cousin was stopped by the airport authorities to clear some documentation and my father was asked to board the flight."
"My father reached Karachi airport at 6 pm but my cousin could not join him. At the airport, my father talked to my relatives on phone and informed them to come outside, but he did not come," Sazid said.
Sazid further said that my father and cousin's mobile phones were also switched off. "Pakistani authorities and police are still clueless about them," Sazid said.

---
Narendra Modi's three tasks: Create jobs, make BJP more inclusive and avoid hubris of power
MMNN:16 March 2017
In an insightful article, Sanjaya Baru, the media advisor to former Prime Minister Manmohan Singh, has pointed towards lack of new data and tools that is hampering political science from analysing correctly the sweeping winds of change blowing across Indian political landscape.
In Baru's own words from the Indian Express column: "...Contemporary political analysis continues to use theoretical tools from inter-war Europe or statistical tools from post-war American political science to explain the rise of the BJP and the popularity of Narendra Modi."
For students of Indian politics, wading through oceans of reportages/analyses pre and post Assembly elections has been a frustrating experience. While journalists failed to detect the wave in Modi's favour, pollsters and data scientists were unable to capture the extent of his domination. Post facto analyses, ensconced in ossified ideological compartments of Left and Right, have hardly fared any better. We see a regurgitation of tired cliches such as 'reverse polarisation', 'Hindu consolidation', 'rainbow coalition of castes', 'majoratiarian agenda', 'populism' and so on. These tell us more about the commentators than the subject they are trying to analyse.
And yet a clear understanding of the factors behind a Modi-fied BJP's rise is central to the question that concerns us the most: What will be Modi's roadmap for the future now that he has got the mandate?
To arrive at that question, we must first grasp the genesis of Congress's decline and the rise of a 'new BJP'. As always, Pratap Bhanu Mehta offers clarity. In his column for Indian Express, he writes: "As far as electoral politics goes, the obsession with the mathematics of every sub-caste tells us more about an elite trying to do cheap sociology, entirely ignoring the fact that people are willing to vote big mandates, if they seem convinced of your sincerity and capability."
Theories about majoritarian agenda and communal politics may trap us within a maze of obsolescence. It will be far more useful to see Modi's rise as a change emanating from within the bowels of Indian democracy - a sort of reactionary movement against decades of votebank politics that focused on doles and appeasement, not empowerment.
Remember, the scale of BJP's recent win in Uttar Pradesh surpasses its tally even during the height of Ram Janmabhoomi-Babri Masjid movement. The most cynical of Modi's detractors who puts BJP's UP victory down to polarisation, sees it as best as an 'undercurrent'.
This should tell us that we are barking up the wrong tree when we see polarisation behind Modi's rise. BJP's win (with a 40 percent vote share) was stitched across the length and breadth of India's most populous state - including in Muslim-dominated regions. The portends are clear. It is a ringing endorsement of hope from a primarily young electorate who for once want to invest in theirs and India's future and sees the best catalyst of that change in the prime minister.
Viewed from here, Modi is merely the product of his times. He is the inevitable pushback against an elitocracy that ruled by way of disenfranchising the masses under the facade of a democracy. The shrewd, hard-working, ground-to-the-ear mass leader that Modi is, he understood this urge for real change and tapped into the narrative of hope. This is why the opposition has failed miserably in stopping him. The more they abused Modi, the bleaker they made it for themselves.
In her column for TheNewsMinute, Chitra Subramaniam writes, "What most commentary missed is Modi is coming from the future, Indians are responding and willing to move with or without dead wood. They want to seize power democratically and this bumpy ride is neither rootless nor random - it is focussed on a search for a better living. The ala kamaan (High Command) trap does not offer it, Modi does. He will get things wrong, but viewed against what he has enabled - real democracy - the rest must be negotiated with the electorate.
If we understand Modi's mandate primarily as the plebeian longing for real franchise and hope, then it places an unbearable amount of responsibility on Modi. The central question, therefore, should be this: How will Modi cope with this burden and shape his legacy and India's future? What will be his roadmap?
I break it down into three areas that require Modi's pinpoint focus - economic, social and political.
It doesn't require knowledge of rocket science to figure out that economy poses the biggest challenge. India's primarily young electorate is ambitious and impatient. The force that put Modi in power and renewed faith will become antagonistic with a vengeance if the prime minister fails to deliver. The problem is, faced with the prospect of jobless growth, how will Modi accommodate almost a million new workers each month? And that too at a moment when worldwide, job creation is under huge threat from automation?
The very inequality that cushioned Modi against the economic fallout of demonetisation and turned it into a political capital, is increasing. Job growth is anaemic. As Wall Street Journal says, India needs an "industrial boom" and Modi somehow must jack up "manufacturing to 25% of the economy in 2020 from the current 16%."
The good news is that UP win will give him the numbers in Upper House to push through crucial reforms in areas such as labour but by the time he achieves those numbers, 2019 Lok Sabha election will be here. Modi's task is, therefore, tricky and perilous and will require maximum and sustained concentration.
Socially, he must turn BJP into a more inclusive party if he is serious about occupying and staying put in the centrist space relinquished by the Congress. One must be careful. BJP cannot and should not turn into another Congress but it must take Modi's slogan 'sabka saath, sabka vikas' literally and metaphorically. Under Modi, BJP is already expanding its base from being a trader-based to a more 'pro-poor party'. While it is ironing out India's class cleavage, it must also narrow the community fault lines. Modi enjoys bipartisan appeal and is uniquely placed to do that.
As BJD Lok Sabha MP Baijayant 'Jay' Panda writes in Times of India, "Even long-term sceptics of BJP are beginning to admit that the PM succeeded in marketing his all-aboard strategy in UP. One of the best-known faces among Indian liberal journalists told me that the party's victory in heavily Muslim dominated constituencies indicates an unprecedented breakthrough for it."
Politically, BJP's agenda must be to ensure that it does not fall into the trap of communal binaries. The time for polarisation is over. It must also avoid the hubris that accompanies absolute power. Modi's post-victory speech offers insights into his thinking. He advised BJP workers and leader to display more humility than ever before and wield power responsibly.
The cognitive dissonance at work here, though, is this: while BJP is a virile, ever-growing national force subsuming the space of rivals and allies alike, it is unwittingly driving the political parties - suffering from existential crisis - into ganging up against it. How Modi cracks this puzzle remains to be seen.

---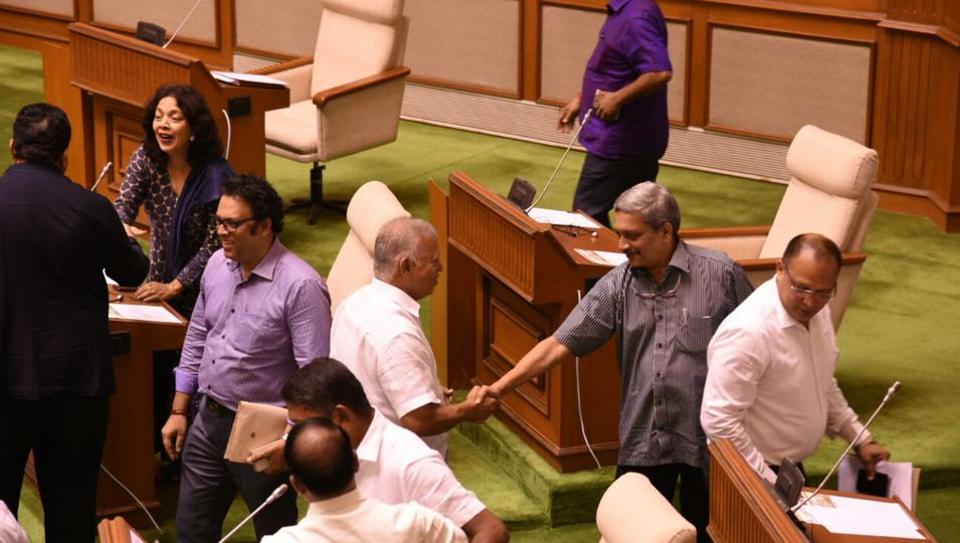 Goa floor test highlights: BJP govt led by Parrikar wins with support of 22 MLAs, Congress' Rane resigns
MMNN:16 March 2017
Chief minister Manohar Parrikar won a crucial trust vote in the state assembly on Thursday, with 22 legislators backing the BJP-led coalition to bring down curtains on the drama over the government formation process.
Parrikar, who has stepped down as the defence minister, was sworn in as the CM for the fourth time on Tuesday evening along with nine ministers. But the Supreme Court ordered an immediate trust vote since his party, the BJP, finished second in the recently concluded assembly elections.
In Thursday's floor test, the BJP had the support of 12 of its own MLAs - excluding pro-tem speaker Sidharth Kuncalienker -- three each from the Maharashtrawadi Gomantak Party and the Goa Forward Party, three independent lawmakers and a Nationalist Congress Party legislator.

---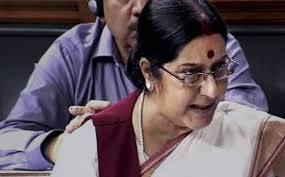 Issue of hate attacks taken up with US government at 'very high levels', says Sushma Swaraj
MMNN:15 March 2017
Making an impactful comeback on her first day in Parliament since undergoing kidney transplant in December, minister for external affairs Sushma Swaraj on Wednesday dismissed Congress leader Mallikarjun Kharge's charge that the government was silent on hate attacks against Indians in the US and said the issue had been taken up with the US government at "very high levels".
"That we have been silent on the attacks is far from reality. That is not how this government works. In fact, even if one Indian living abroad is aggrieved, we try and solve his problem within 24 hours. The government is committed to ensuring the safety and security of the Indian diaspora," said Swaraj, showing flashes of the oratorial skills that she is well known for.
Making a detailed statement in the Lok Sabha on recent 'hate' attacks against Indians in the US -- which killed engineer Srinivas Kuchibhotla in Kansas and Harnish Patel in South Carolina, apart from injuring Deep Rai in Kent, Washington and Ashok Madasani (in the Kansas incident) -- Swaraj cited the separate statements by US President Donald Trump, Speaker of the House of Representatives Paul Ryan, Kansas Governor Sam Brownback and Secretary of Homeland Security John Kelly, condemning the incidents as well as their ongoing investigation by agencies including FBI to highlight the "prompt and clear response of the US political leadership and the law enforcement authorities".
"..the widespread messages of sympathy and support from all quarters in the US give us confidence that these incidents are acts of individuals and do not represent the overwhelming sentiments of the American people towards India," she said.
Congratulating Swaraj, who was received at the Parliament entrance by 5-6 party MPs including Yogi Adityanath and Uma Bharati, Speaker Sumitra Mahajan said she was happy to hear her "powerful voice" once again in the Lok Sabha. This drew applause from both the treasury and opposition benches, with many MPs cutting across party lines walking up to Swaraj's desk to greet her post-sabbatical and inquire about her health.
Dressed in a crisp green silk saree and with Uma Bharati by her side, Swaraj was standing through the 15-minute speech. She seamlessly switched between reading from the prepared text of the statement and making extempore observations, stopping only to take sips of water.
Stating that safety and security of Indian diaspora abroad was a top priority of the Modi regime, Swaraj said both the Prime Minister and she had closely followed incidents in the US and supervised the government's response, which included dialogue with US government and reaching out to families of the victims.
"The Prime Minister was busy with election campaigning when these incidents occurred but made it a point to ask MEA every single day what it was doing. I personally oversaw the response of MEA while still recuperating from my medical condition. Even the families of the victims have acknowledged and thanked us for reaching out to them and giving them all possible help and support," Swaraj said adding that she had personally spoken to the families of Srinivas Kuchibhotla and Deep Rai.
Giving away how she was clued in to happenings related to her ministry in Parliament, Swaraj said she had watched the entire debate on racial attacks against Indians in the US on TV. Responding to MPs Bhartruhari Mahtab and Mohammad Salim's raising US 'travel advisory' to its nationals visiting India, the minister informed the House that there is no travel advisory by US currently in force for India.

---