Who are the celebrity Men and Women of your city ?

Please tell us about the popular Men and Women or your city to be included in the Celebrity Circle. Please send details with photo, and a note on 'Why they are Celebrity of my city'.

Email: editormetromirror@gmail.com
metromirror@gmail.com
---
Washing cups at the age of seven to being the toast of Bollywood, Om Puri's intriguing journey!
NEW DELHI:MMNN:7 Jan. 2017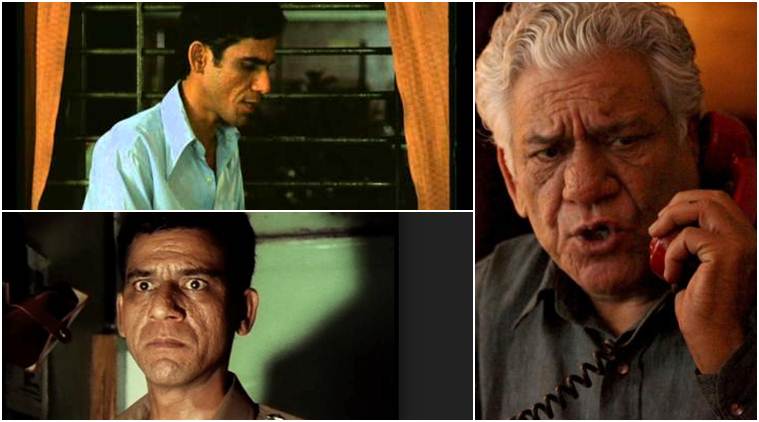 Om Puri, whose haunting eyes and deafening silence captured the history of violence endured by an ordinary tribal in Aakrosh (1980) and whose portrayal of an upright cop simmering with coiled rage in Ardh Satya (1983) vaulted him to the pantheon of Hindi cinema's finest performers, passed away on Friday. He was 66.
The Ambala-born actor died following a heart attack "around 6-6.30am" at his residence in Lokhandwala's Oakland Park. "He was lying on the kitchen floor," his estranged wife Nandita told news agency PTI. He also leaves behind a 19-year-old son, Ishaan.
With Naseeruddin Shah, Smita Patil and Shabana Azmi, Om Puri was part of the Fab Four considered the pin-ups of parallel cinema in the 1970s and '80s. His pockmarked face and lean frame challenged and redefined the idea of a male lead. His early award-winning performances in Shyam Benegal's Arohan and Govind Nihalani's Aakrosh were marked by a hitherto-unseen intensity that had the critics in swoon and the audience in awe.

On my way to # OmPuri 's last journey. What a legacy he leaves behind!! His performances will b text book material for generations of actors.

- Anupam Kher (@AnupamPkher) January 6, 2017

Several stellar acts also came on the small screen, notably Satyajit Ray's TV film Sadgati, Nihalani's Tamas and Benegal's seminal Bharat Ek Khoj, where he notably played the 13th century Delhi Sultanat ruler Alauddin Khilji and 16th century Vijayanagar King Krishna Deva Raya II. Basu Chatterji's biting political satire Kakkaji Kahin underlined his flair for the funny, first unveiled in the classic feature, Jaane Bhi Do Yaaron.

RIP Om uncle :( we will miss your talent warmth and laughter always #ompuri #gem #talent #greatsoul

- shruti haasan (@shrutihaasan) January 6, 2017

Over the years, Om Puri not only made a seamless transition to mainstream Bollywood (Ghayal, Pyaar To Hona Hi Tha, China Gate, Mrityudand, Chachi 420) but also became one of the most recognizable Asian actors in British cinema (My Son the Fanatic, East is East) and Hollywood (City of Joy with Patrick Swayze, Wolf with Jack Nicholson, to name just two).

The Best Actor in World, An inspiration 2 me & many, he was suppose 2 work with me in Manto.Deeply saddened by da news, RIP #OmPuri Saab ??

- Nawazuddin Siddiqui (@Nawazuddin_S) January 6, 2017

That he had a 2014 box-office smash, The Hundred-Foot Journey, with Oscar-winner Helen Mirren, is a tribute to his durability and the space he had carved out for himself.

I remember driving with him every morning to set listening to old Hindi music during delhi6, So sorry to hear to hear of his passing #Ompuri

- Sonam Kapoor (@sonamakapoor) January 6, 2017

Swayze, co-actor for the much-talked but little-watched City of Joy, once said that Om Puri at least deserved an Oscar nomination for his performance as the rickshaw-puller Hazari Pal. "As an actor he has such diversity and depth. You look into his eyes and you read volumes," wrote the Hollywood star in the foreward of Unlikely Hero, a candid biography penned by Nandita, a former journalist.

Sorry to hear of the passing of an amazing actor #OmPuri ji . Had the opportunity of working briefly in A Hundred Foot Journey ..

- Juhi Chawla (@iam_juhi) January 6, 2017

Not all roles in Hollywood were as substantial; The Ghost and the Darkness and Charlie Wilson's War (where he played Pakistani President Zia-ul-Haq) being two apt examples. But his ouvre abroad only serves to underline the actor's long journey from an impoverished family in hinterland Punjab to one of India's most feted actors ever.

You will live in our hearts forever through the impressions you have left with your versatility. We will miss you. RIP #OmPuri

- sachin tendulkar (@sachin_rt) January 6, 2017

The biography reveals how at the age of seven, Om Puri washed cups and glasses at a tea shop while his father was in prison, how he gathered coal that fell from passing trains for fuel at home and how he took tuitions to support himself after being thrown out of home.

Deeply saddened to hear about #OmPuri sir! He was such a huge part of the core of Indian cinema..RIP ! Truly and end of an era..

- Alia Bhatt (@aliaa08) January 6, 2017

As a child, Om Puri wanted to be a soldier but was gradually drawn towards acting. Impressed by his performance in a Punjabi play, Anhonee, in college, the respected Harpal Tiwana invited him to join his influential theatre group, Punjab Kala Manch, where he took his first serious steps in learning the craft. He was paid Rs 150 per month; part of his job involved fetching eggs and babysitting.

We lost a legend today. Your contribution to Indian cinema won't be forgotten #OmPuri

- Jacqueline Fernandez (@Asli_Jacqueline) January 6, 2017

It was a struggle, both social and financial: From overcoming his complexes for not being good at speaking the English language at National School of Drama to gathering funds to sustain himself at Film and Television Institute of India.

The end of an era .... The legacy lives on.. RIP #OmPuri

- PRIYANKA (@priyankachopra) January 6, 2017

But after Nihalani's Aakrosh (1980) and Ardha Satya (1983), arguably the biggest success in the history of alternative cinema, hit the theatres, his hard times were over.
For Om Puri, the real challenge probably lay in finding avenues of creative satisfaction as New Cinema slowly ebbed away. This led him to act in dozens of indifferent movies, making many of his fans wonder why the actor of Mirch Masala, Dharavi, Gandhi, Bhavni Bhavai and Bajrangi Bhaijaan, was also working in Bin Bulaye Baraati.

Will miss you Omji ..will miss you..will miss you. #Ompuri

- Sunny Deol (@IAMSUNNYDEOL) January 6, 2017

Perhaps the scars of the impoverished past remained with him. Perhaps he just loved work. To the actor's credit, he often managed to rise above the script's mediocrity.

Condolences on the passing away of one of our finest ever actors #OmPuri pic.twitter.com/gBCK6mWwLF

- Virender Sehwag (@virendersehwag) January 6, 2017

In recent years, Om Puri dabbled in politics, occasionally putting his foot in the mouth. In 2011, he described MPs as "anpadh (illiterate)" and "ganwar (rustic)" during Anna Hazare's hunger strike at Delhi's Ramlila Maidan drawing howls of protest. He apologized later. The actor also engaged in a slanging match with a television news anchor over soldiers killed in terror attacks.
He will, however, be remembered as a consummate actor. As his friend Naseeruddin Shah wrote "in appreciation" in the biography, "The story of Om Puri is in fact every struggling actor's fantasy: That a thoroughly ordinary guy can get ahead with nothing but good talent as a godfather, hard work as insurance and the best of intentions as guide."

---
Mohammed Shami defies haters, posts another photo with wife on social media
NEW DELHI:MMNN:2 Jan. 2017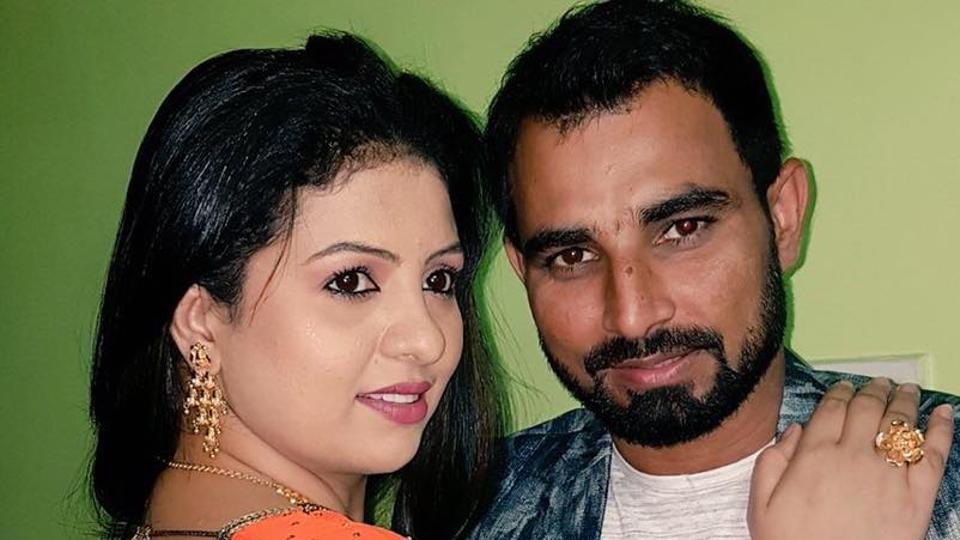 Mohammed Shami clearly does not care about Internet trolls or their moral policing.
Just days after facing vitriolic abuse on social media for pictures he posted on social media with his wife Hasin Jahan and his daughter, Shami posted another picture with his wife on Sunday.
Along with the picture, Shami wrote: I don't have a friend. Neither is anyone mine nor do I belong to anyone. But seeing you I can say there is one beautiful companion with me. Happy New Year."
The picture too managed to raise the hackles of religious zealots who replied by exhorting Shami to stop tweeting pictures of his wife on social media.
Earlier, Shami had posted pictures of himself with his family dressed in Western attire on Christmas. The pictures drew flak from some people for being 'un-Islamic'.
In light of the abuse the cricketer received, Mohammad Kaif, Jwala Gutta, Farhan Akhtar and his father Javed Akhtar tweeted in his support.
Shami himself lashed out at the critics on Twitter saying, "Not everyone reaches a good position in life. Only a few fortunate ones do. Keep getting jealous! These two (my wife and daughter) are my life and I know very well what to do and what not. We should try and look inside ourselves and see how good we are."
Following the controversy with Shami, Kaif, who had represented India from 2000 to 2006, became the latest cricketer to have been trolled on Twitter after he posted a picture of himself doing a yoga pose.
The Uttar Pradesh cricketer replied in style by stating, "I had Allah in my heart. Cant understand what doing any exercise, Surya Namaskar or Gym has to do with religion.It benefits ALL."

---
Karan Johar and Rishi Kapoor to bare it all as they unveil their autobiographies in January
MMNN:30 Aug. 2016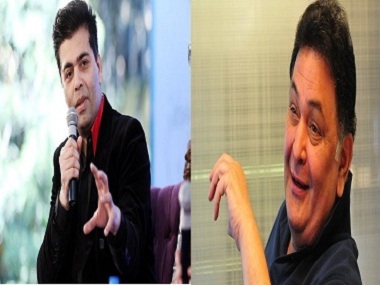 Two Hindi cinema juggernauts are scheduled to release their autobiographies next month as announced by them on Twitter. Quite active on the micro blogging website, filmmaker Karan Johar and veteran actor Rishi Kapoor announced details of their autobiographies from their accounts.
While both of them had announced that they were working on their autobiographies earlier this year, Johar unveiled the trailer of the book on Twitter on the same day as Kapoor announced the release date of his book.
Johar's autobiography is titled An Unsuitable Boy, a reference to Vikram Seth's critically acclaimed book A Suitable Boy. It will explore the director's life in his personal capacity rather than the many professional hats he has donned over the years. Johar, who has co-written the book with Poonam Saxena, was planning to unveil the book on his 44th birthday on 25 May but went on to push the release to January 2017.
He spoke briefly about the book at the ninth Jaipur Literature Festival in January where he discussed his effeminate side and body shaming issues in his childhood. He also added that he has gone no holds barred on the same in his book.
However, Johar is not the only one who is going to narrate the story of his life come January. His collaborator in films like Student of the Year, Rishi Kapoor will also unveil his unabashed and uninhibited autobiography on 15 January, as revealed by the actor on Twitter.
The autobiography is aptly titled Khullam Khulla which is an appropriate adjective to his uncensored commentary on issues as well as a witty reference to his song from Ravi Tandon's 1975 romantic drama Khel Khel Mein which featured Rishi and his wife Neetu Kapoor.


---
Taimur Ali Khan Arrives. Kareena Kapoor Welcomed Into 'Mommy Club' By Karisma, Amrita
New Delhi:MMNN:20 Dec. 2016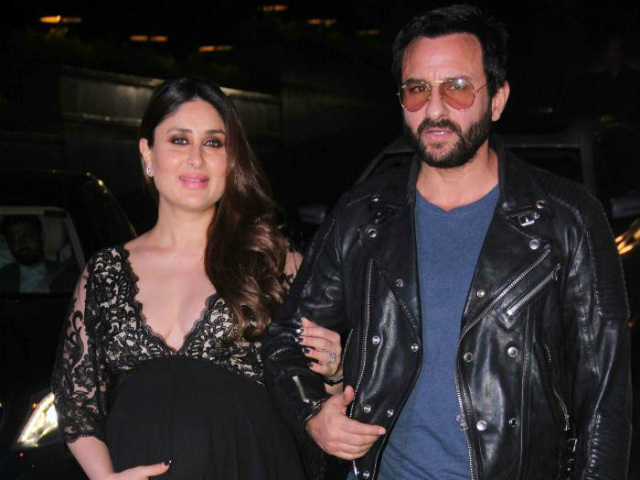 The birth of Kareena Kapoor and Saif Ali Khan's first child, a son they've named Taimur, has been welcomed on social media by Instagram posts and tweets from the celeb couple's family and friends.
Taimur Ali Khan was born in Mumbai's Breach Candy Hospital this morning and his parents released a statement welcoming him shortly afterwards. On Twitter, the baby announcement was made by filmmaker Karan Johar, who Kareena in 2001's Kabhi Khushi Kabhie Gham... and produced Saif's film Kal Ho Naa Ho in 2003.
"I'm so, so happy," tweeted Karan, the first to congratulate the new parents online. His tweet was followed by posts from Kareena's sister Karisma Kapoor, best friend Amrita Arora and celebrities like actor Tusshar Kapoor and singer Sophie Choudry.
This morning, Kareena and Saif announced baby Taimur's arrival with this statement: "We are very pleased to share with you all the wonderful news about the birth of our son:
Taimur Ali Khan Pataudi, on the 20th of December 2016. We would like to thank the media for the understanding and support they have given us over the last 9 months, and of course especially our fans and well-wishers for their continued affection. Merry Christmas and a happy new year to you all."
Kareena Kapoor, 36, and Saif Ali Khan, 46, fell in love on the sets of 2008 film Tashan. They dated for four years before getting married in 2012.
Kareena Kapoor will next be seen in Veere Di Wedding, with Sonam Kapoor and Swara Bhaskar. Kareena made headlines when she was cast in the film - actresses have earlier been dropped from movies after announcing their pregnancies, notably Aishwarya Rai Bachchan who was replaced by Kareena in Madhur Bhandarkar's Heroine.
Kareena was last seen in Udta Punjab, co-starring Shahid Kapoor, Alia Bhatt and Diljit Dosanjh. Saif Ali Khan has director Vishal Bhardwaj's Rangoon releasing next year.
---
Priyanka Chopra's Oscar Dress On Google Year In Review List, 'Thanks For The Love,' She Tweets
New Delhi:MMNN:15 Dec. 2016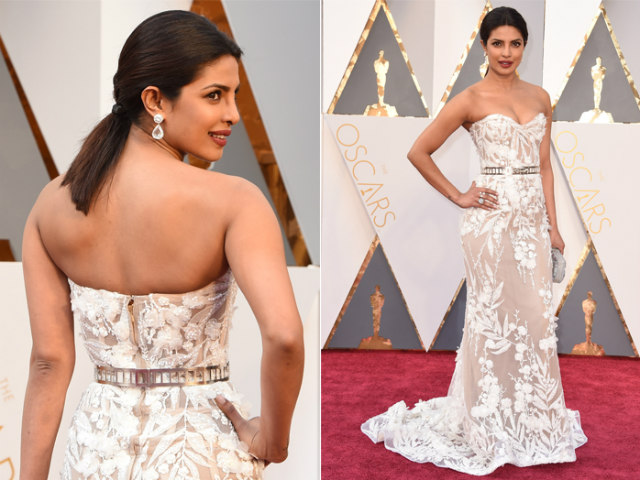 Priyanka Chopra's annus mirabilis continues, even as 2016 winds up. Google has released its annual lists of top searches for the year and Priyanka Chopra - specifically, Priyanka's Oscar dress - is on one of them. Earlier this year, Priyanka attended and presented at the Oscars, winning the red carpet in a lacy white strapless Zuhair Murad gown.
Google reports that it was the seventh most searched Oscar outfit - Oscar fashion is a category on its own in the Google searches. The 34-year-old actress, surely one of the most social media savvy celebrities around, posted a thank you note on her accounts on Wednesday night. "Thanks for the love," she wrote. You're welcome, Priyanka.
The most-searched Oscar dress this year was Jennifer Garner's black Versace. Between her and Priyanka, there are - Jennifer Lawrence and Charlize Theron in Dior, Rachel McAdams in August Getty, Brie Larson in Gucci and Alicia Vikander in Louis Vuitton. Cate Blanchett in Givenchy, Kate Winslet in Ralph Lauren and Olivia Wilde in Valentino round of the top 10.
The Oscars weren't Priyanka Chopra's only international red carpet success - we particularly loved the red pleated chiffon Jason Wu dress she wore to the Emmys, where she also presented an award. Priyanka has been all but claimed by America this year - she currently lives and works in New York, filming the second season of her show Quantico.
She won a People's Choice Award this year for her performance as FBI-turned-CIA agent Alex Parrish and is nominated for a second time at the People's Choice Awards coming up next year.
Priyanka also filmed her Hollywood debut in Baywatch, which releases next year and in which she plays the villain opposite Dwayne Johnson. She was placed #8 on Forbes' list of 2016's highest paid TV actresses.
At home, Priyanka Chopra was awarded the Padma Shri this year. She also starred in the film Jai Gangaajal and produced Marathi movie Ventilator.
Meantime, Anita Dongre was the seventh most-searched designer, mostly because Kate Middleton wore one of her dresses when visiting India this year.
---
Priyanka Chopra: Honoured to serve as Unicef Global Goodwill Ambassador
MMNN:13 Dec. 2016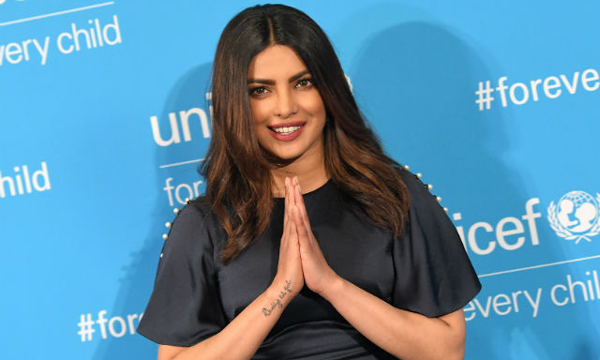 Actress Priyanka Chopra, who has created waves with her stint in the American drama series 'Quantico', says she is honoured to serve as Unicef's Global Goodwill Ambassador.
Priyanka, on Tuesday, tweeted: "Can't believe it's been 10 years! Honoured to now serve as UNICEF Global Goodwill Ambassador along with this amazing group For Every Child."
The former beauty queen, who will be seen making her international debut with the film 'Baywatch', shared a photograph of herself along with football star David Beckham and actress Millie Bobby Brown on Instagram.
The 'Bajirao Mastani' actress thanked Beckham and Brown for introducing her to the Unicef global family.
"Thank you David Beckham and Millie Bobby Brown for inducting me into the UNICEF global family. Always delighted to meet like minded people who believe that there is humanity left in us after all," she wrote along side the image.
Priyanka also praised Brown for being a 'superb host' and congratulated her for the 'Golden Globes nod for every child'.
---
Manish Malhotra turns 50: B-Town beauties celebrate
MMNN:6 Dec. 2016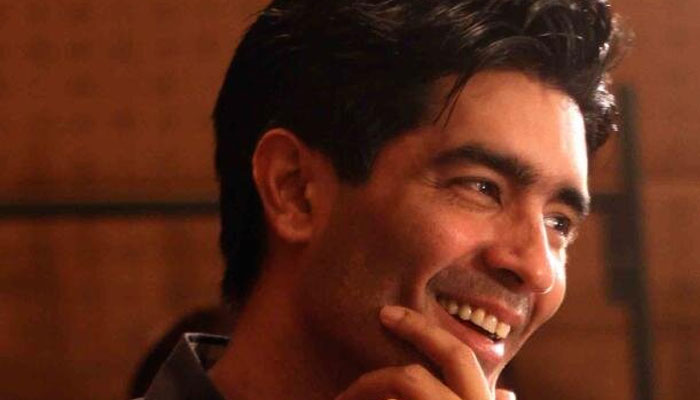 Country's leading fashion designer and the man who dresses more than half of Bollywood celebrities, Manish Malhotra turned 50 on Monday and his B-Town friends ensured they made noise about the same.
Filmmaker Karan Johar, who's also one of Malhotra's closest friends threw a happening bash on the big day and Bollywood's best dressed celebrities made it to the party.
Here's a look at who wore what to the do:


Alia Bhatt: As expected the 'Dear Zindagi' star wore a Manish Malhotra creation on the designer's birthday. Alia was seen looking sexy as hell in a Manish Malhotra long sequined blazer. Bhatt clubbed the same with sheer gold sandals.


Kareena Kapoor: Soon-to-be-mummy Kareena Kapoor looked lovely as ever. She opted for a blace lace gown and need we say more?


Virat Kohli and Anushka Sharma: The couple of the moment, Virat and Anushka looked dressed to perfection. While Virat looked dapper in an all black suit, Anushka chose a Vizyon maxi. The actress completed the look with stylish pumps from Gianvito Rossi.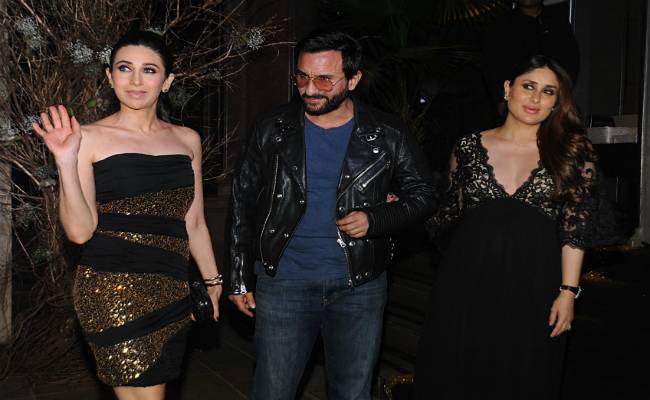 Saif Ali Khan: Accompanied by the Kapoor beauties, Saif kept it casual and don't we love that thing about him? The actor chose his signature jeans and a black leather jacket with a casual blue tee.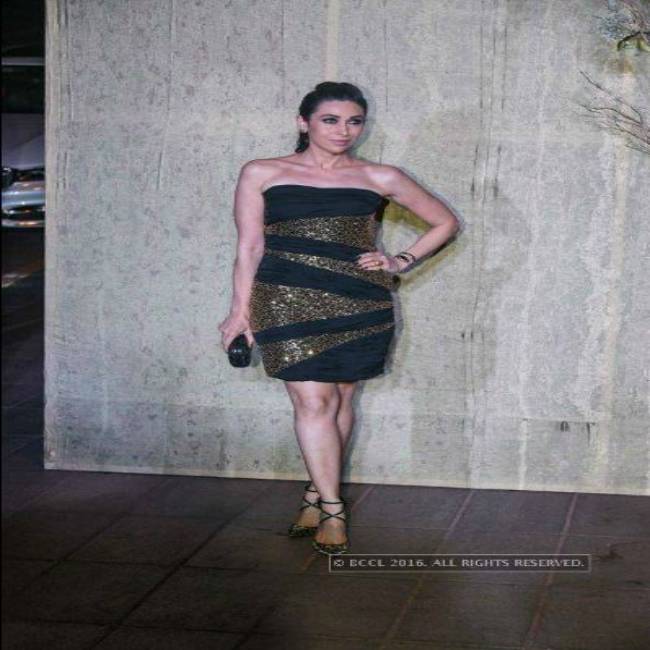 Karisma Kapoor: Karisma was spotted wearing a black and gold Robert Rodriguez mini dress. She clubbed the dress with Christian Louboutin sandals and a Bottega Veneta clutch.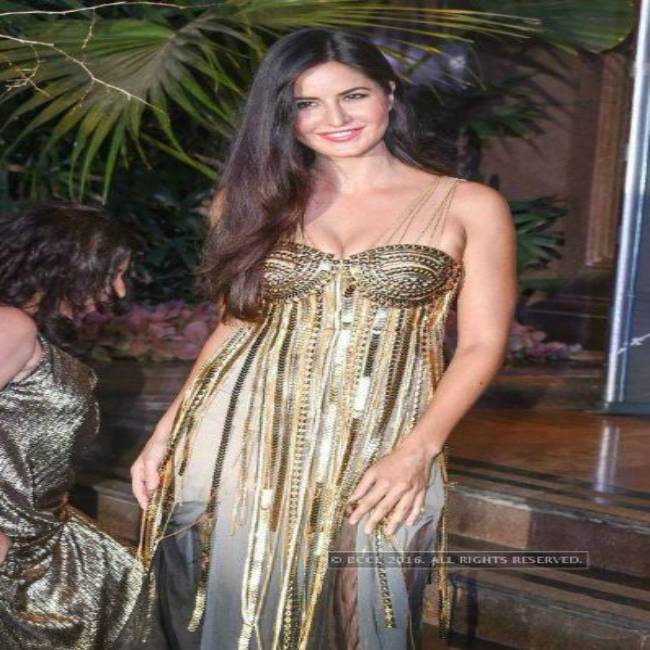 Katrina Kaif: Katrina looked breathtaking! She wore an embellished sheer Abu Jani- Sandeep Khosla gown along with a pair of Christian Louboutin footwear.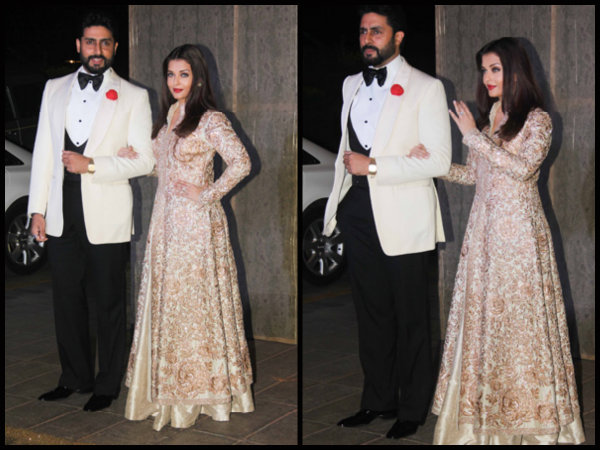 Aishwarya Rai and Abhishek Bachchan: The couple looked good as usual, but some complained that the duo could have kept it simple. While Abhishek paired a white tuxedo jacket with black pants, Ash wore a rich golden long kurta and lehenga by none other than Manish Malhotra.

---
Big B, Sunny hot favourites to win PETA's Hottest Vegetarian Celebrity contest
Mumbai:MMNN:5 Dec. 2016
Amitabh Bachchan and Sunny Leone are leading the votes tally in PETA's Hottest Vegetarian Celebrity Contest 2016 that is currently underway, with other vegetarian stars like Shahid Kapoor, Anushka Sharma, Sonam Kapoor, Jacqueline Fernandez and R Madhavan also not far behind.
Audiences can vote for their favourite vegetarian celebrity on PETAIndia.com and the results are slated to be announced at the end of this year, which would not just be based on the votes but also on several other factors.
Sunny, who makes her debut on this list, stated on social media, "[T]ook me a while [to] come [to] terms with [vegetarianism]...but I have seen things I can't erase from my mind. Which made me stop eating meat".
"These hot stars prove that vegetarian eating is not only kind to animals but also great for the body!" says PETA India Associate Director of Celebrity and Public Relations Sachin Bangera. "There's nothing sexier than a fit body and a kind heart. Stars swear by it."
The recent video titled 'Glass Walls', narrated by R Madhavan, had depicted the poor conditions animals have to face in slaughterhouses before they are eventually slaughtered. The United Nations too had stated that raising animals for food is "one of the top two or three most significant contributors to the most serious environmental problems, at every scale from local to global" and that harmful effects of climate change can be averted by a shift to a vegan diet on a global level.

---
Yuvraj Singh, Hazel Keech tie the knot: All the photos from their gurudwara wedding
MMNN:1 Dec. 2016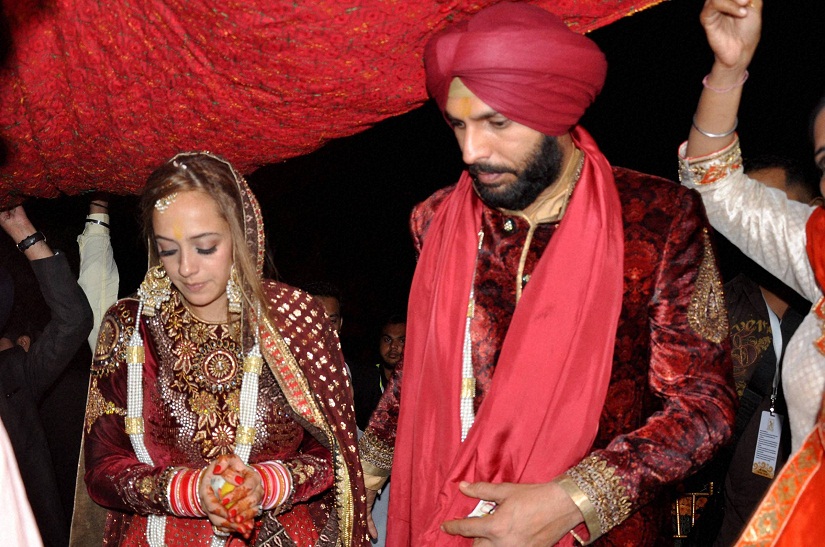 The bride wore red. So did the groom.
And over Wednesday afternoon - 30 November 2016 for those of you who like to be precise - cricketer Yuvraj Singh and actress Hazel Keech tied the knot in a gurudwara ceremony that capped a romance which began in 2014.


If the engagement was in Bali, then the couple chose Chandigarh as the destination for their wedding, performed as per Sikh rituals at the Fategarh Sahib Gurudwara. This is only the first ceremony for the couple - a wedding as per Hindu rites will take place in Goa over 2 December, followed by a grand reception in Delhi.
Firstpost brought you all the details from Yuvraj and Hazel's pre-wedding celebrations - the mehendi, sangeet/cocktail party where the Indian national cricket team headed by Virat Kohli showed up - and the wedding itself, which turned out to be a star-studded affair.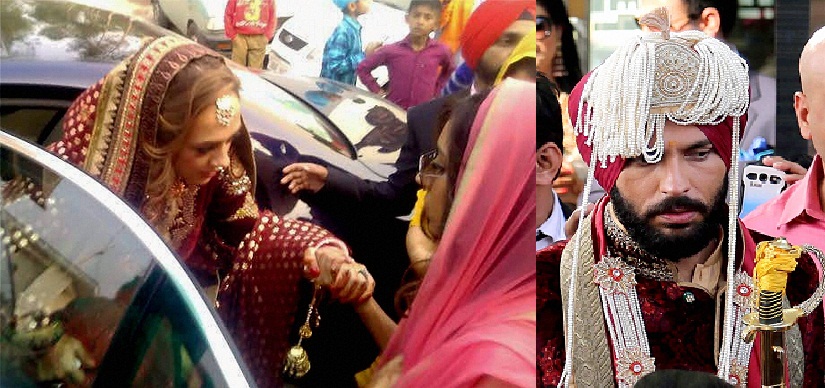 Yuvraj Singh-Hazel Keech wedding: Indian national cricket team kickstarts celebrations The Yuvraj Singh-Hazel Keech wedding celebration is a star-studded affair.
The couple was to reach the gurudwara by 12 pm; however, thanks to the chaos outside their hotel as fans crowded around for a look, they finally left only at 3 pm. After the ceremony, Yuvraj and Hazel reached their new house at Mansa Devi Complex, Sector 4, at 8 pm, reported The Tribune.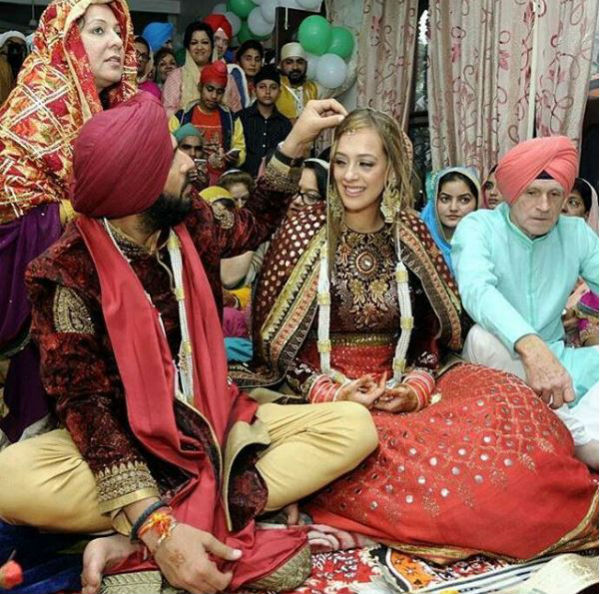 Now, a few images from inside Yuvi and Hazel's wedding have also been released on social media.
Couturier JJ Valaya - whose creations both Yuvraj and Hazel wore for their big day, as well as the pre-wedding celebrations, posted this portrait of the couple in their bridal outfits.

---
Yuvraj Singh and Hazel Keech tie the knot in Chandigarh
MMNN:30 Nov. 2016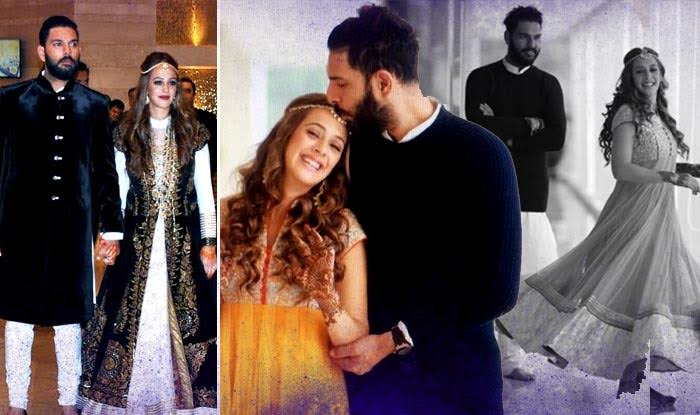 Yuvraj Singh and Hazel Keech tied the knot in a traditional Sikh ceremony at the Dera of Baba Ram Singh, -a Chandigarh Gurudwara selected by the bridegroom's mother, Shabnam Singh. The ceremony ended with a grand langar and the cricketer shared his first picture as a married man at 5pm, captioning it, "Starting a new innings today!"
Keen that her son tie the knot before his 35th birthday, doting mum Shabnam had picked out the wedding date. Invites, sent out to Yuvi's teammates and Prime Minister Narendra Modi, featured caricatures of Hazel in cricketing gear with "I love cricket" speech bubbles and catchy captions including 'Yuvraj Hazel Premier League'.
The traditional wedding ceremony in the gurudwara was followed by a reception at a five-star overlooking the Sukhna lake which was attended by the couple's family and close friends. Harbhajan Singh and Yuvraj's close friend, actor Angad Bedi, were by his side since morning.
Meanwhile, Virat Kohli told the media on Tuesday morning, "A nice programme has been planned for this evening and all the boys will be present. We have a chance to celebrate," referring to his team's victory over England in Mohali.
The English team was reportedly keen to witness the 'big fat Punjabi wedding'. "We had heard about the food, drinks, Punjabi music, and we are having a ball here already," tour manger Andy Thompson said, admitting that he was also a part of the pre-wedding celebrations.

---
Hrithik Roshan ranks 3rd on the World's Most Handsome Faces list!
MUMBAI:MMNN:25 Nov. 2016
It isn't a surprise that Hrithik Roshan, who is known for his drop-dead Greek God looks, has made it to the list of 'Most Handsome Man in the World list' put out by a leading international website.
His striking good looks, coloured eyes and overall personality has often allowed him the privilege of featuring on the list of best looking men across the world. Salman Khan also makes it to the list is ranked at No. 7.
Keeping the Bollywood superstar company in the envied top three positions are Hollywood actor Tom Cruise, followed by Twilight star Robert Pattinson. Hrithik is in third position and beats even Johnny depp and Brad Pitt who are at number four and number 8 respectively.
Roshan, who is no stranger to featuring in such lists, believes that 'handsome is what handsome does' and feels humbled that he has made it to the list.
Of course he is happy with the praise lavished on him for his facial features and near-perfect physique.
However he still feels that good looks may have won him that position but what will really make him stand out is his quest to 'put a smile on the face of people around him and many out there who could heal with just a little Tender Loving Care.'

Here is the complete list:

1. Tom Cruise,
2. Robert Pattinson,
3. Hrithik Roshan,
4. Johnny Depp,
5. Tom Hiddleston,
6. Omar Borkan Al Gala,
7. Salman Khan,
8. Brad Pitt,
9. Hugh Jackman, and
10. Billy Unger.

---
Biography of Phogat to be launched ahead of 'Dangal' release
MMNN:24 Nov. 2016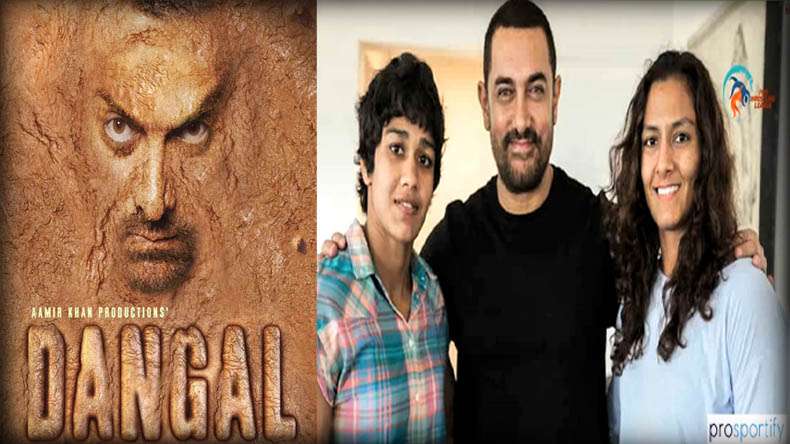 An authorised biography on wrestler Mahavir Singh Phogat, 'Akhada' by sports journalist Saurabh Duggal, will be launched a week preceding the mid-December release of Aamir Khan starrer 'Dangal', based on the life of Phogat.
"We've wanted to publish Mahavir's amazing story ever since we learned of his remarkable journey and that of his daughters and nieces. Our hunt for a biographer who could do this story justice led us to literary agent Kanishka Gupta who introduced us to Saurabh Duggal, a sports journalist who lives and breathes the Olympics," said Poulomi Chatterjee, Editor-in-Chief of Hachette India, the publisher of the biography.
"Work on 'Akhada' began at once. We are so proud to publish this spectacularly inspiring book that shows us what can be achieved when we refuse to be defined by narrow societal expectations and aim for the stars. This year's Olympics has kindled a conversation on our exemplary female athletes and 'Akhada' lifts the veil on the story of our best women wrestlers. We hope Mahavir's dedication to the sport he loves and his steadfast conviction in his daughters' abilities will inspire new stories of achievement in India," she added.
'Akhada' tells the remarkable story of a man of tremendous fortitude, of a father who fought against all odds to give his daughters a future they could not have dreamed for themselves.
"It is often a struggle to get wrestling the attention and recognition it deserves in India, particularly women's wrestling. If my daughters' and my story, narrated through this book and adapted by Aamir Khan in 'Dangal', can help wrestlers get their due, I will be extremely happy.
I hope this inspires many others - both men and women - to get into this sport and make a name for themselves, as well as motivates parents to believe in their daughters," commented Phogat.

---
Brad Pitt cleared by FBI in child abuse case with 'no charges'
MMNN:23 Nov. 2016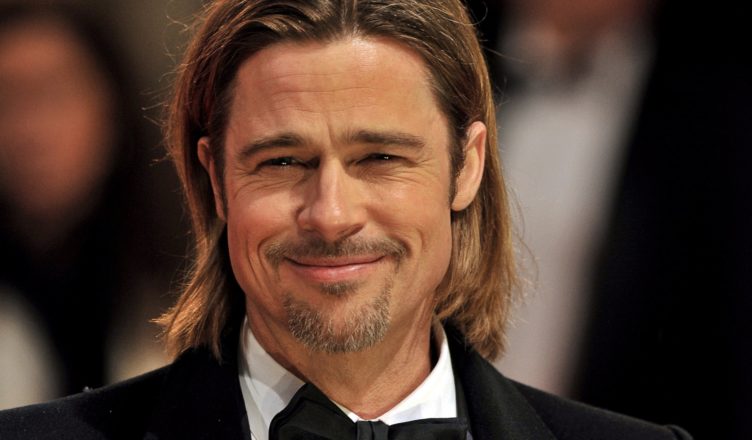 Brad Pitt has officially steered clear of investigation made by the 'Federal Bureau of Investigation' concerning an alleged child abuse a couple of months ago. The FBI is no longer investigating the 52-year-old actor regarding his involvement in an alleged incident with a child aboard a private plane on September 15.
A statement released by an FBI spokesperson reads, "In response to allegations made following a flight within the special aircraft jurisdiction of the United States which landed in Los Angeles carrying Mr. Brad Pitt and his children, the FBI has conducted a review of the circumstances and will not pursue further investigation.
" Adding, "No charges have been filed in this matter."
Angelina Jolie filed for divorce from Pitt citing 'irreconcilable differences' and sought custody the former couple's all six children.
Accordingly, the kids will remain with their mother while continuing 'therapeutic visits' with their father.
At this point, Pitt has seen his children twice since. Both A-listners recently made their way back into the spotlight after the very public split.
While Jolie appeared in a video for the 'International Criminal Court' in support of a recent policy regarding children, Pitt hit the red carpet for his latest film 'Allied' with co-star Marion Cotillard.

---
ABHAY TO CHAMPION INDIE CINEMA NOW
Los Angeles:MMNN:22 Nov. 2016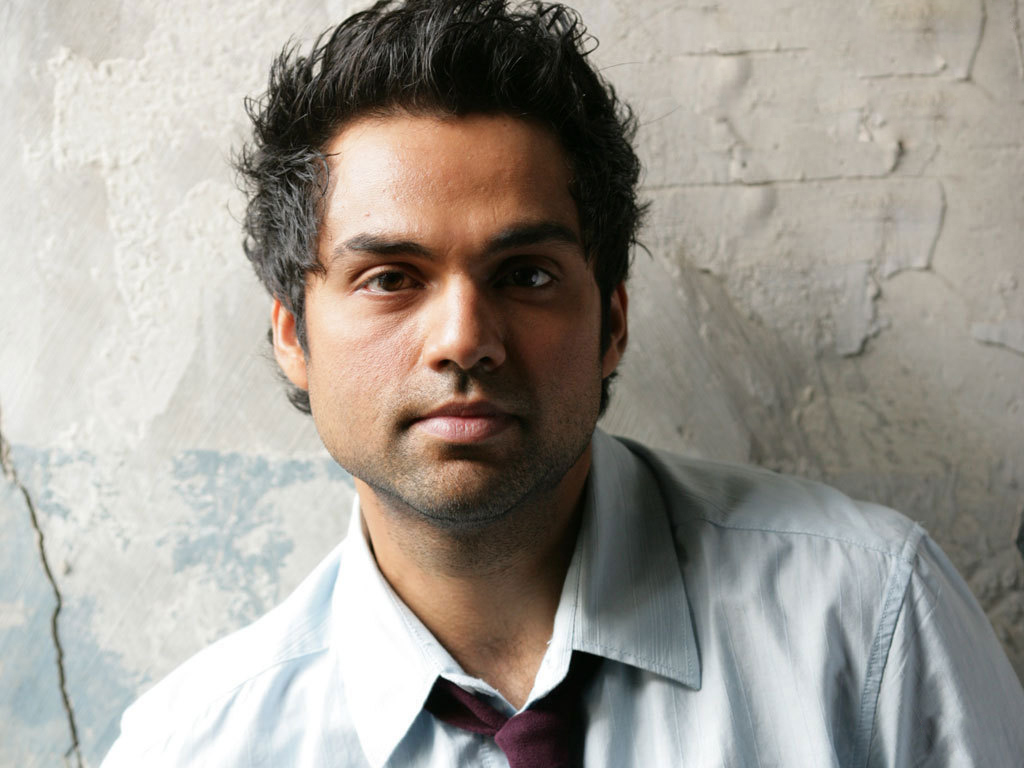 The actor has turned distributor, acquiring three festival favourites which he will release online.
After turning producer with his 2014 romcom One By Two, Abhay Deol is now foraying into distribution. His banner, Abhay Deol Presents, will now release independent films online.
The 40-year-old actor has acquired three films from the ongoing National Film Development Corporation of India (NFDC) Film Bazaar in Goa - Aditya Vikram Sengupta's Venice Film Festival and National Award-winning Labour Of Love, Payal Sethi's Leeches, a UN Women Selection, and Brahmanand's documentary on Jagjit Singh, Kaagaz Ki Kashti. The films will go straight from festival screening to a digital release.
"I was blown away by Aditya's sensibilities and his ability to spin a story without any spoken dialogues. Payal's Leeches has beautifully woven a compelling story around an issue that is anathema to our social fibre and well-being. Kagaz Ki Kashti succeeds in powerfully bringing a legend back to life. I want to ensure that audiences across the world get to watch these films," Abhay told Mirror.
He went on to inform that he had decided to distribute indie films because they are for a niche audience and he can explore opportunities in an emerging market like the digital platform.
"The number of single screens is diminishing and smaller films don't get a release alongside the biggies and sales is restricted too. The economics to engage in theatrical releases don't make sense because even the minimum P&A (Promotion and Advertising) budgets required to secure a decent release adds unhealthy weight on a small film. What we need now is to adopt alternate avenues of distribution," he asserted.
Will he market big-budget commercial films as well? "Mainstream films don't need this kind of a push. What can I add there?" he argued. What about acting in indie films? "I'm taking one step at a time. I'm already an actor and would like to balance mainstream and niche cinema."
On the subject of piracy he maintained that it stems primarily from unavailability of content on legitimate digital platforms. "If your film is made available at the right time, I believe the audiences would pay and watch it on a platform legally.
Moreover, monetisation through digital distribution is increasingly resulting in a positive return on investment. Licensing platforms are offering fair payouts and paving the way for audiences around the world to watch and appreciate South-Asian content," said Abhay who was to attend the Film Bazaar in Goa but had to cancel his plans after he fell ill.

---
At Geeta Phogat's Wedding, What Aamir Khan Said About Currency Ban
New Delhi:MMNN:21 Nov. 2016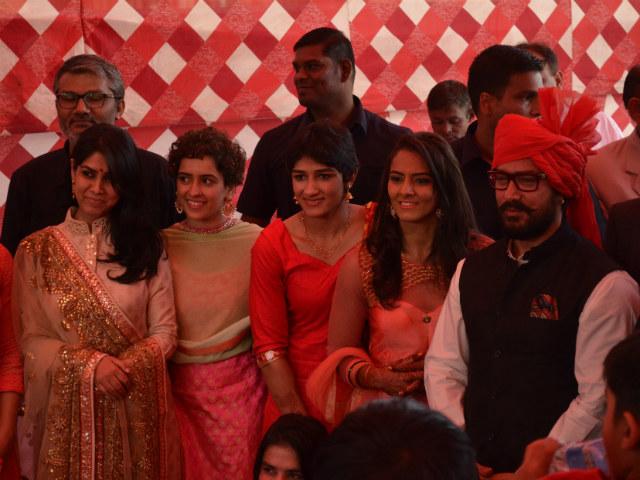 Aamir Khan is a man who chooses his words with great care, more so after his remarks on 'intolerance' last year provoked an absolute torrent of recriminations and angry protests. Nobody should be surprised, then, by what the 51-year-old actor said when he was asked about the currency ban last weekend, at the wedding of wrestler Geeta Phogat in Haryana.
Geeta is a daughter of former wrestler Mahavir Phogat, played by Aamir Khan in upcoming film Dangal. The wedding, held in Balali village in Haryana on Sunday, was attended by the entire cast of the film, led by Aamir who was not only guest of honour but also participated in proceedings as a member of the family.
Aamir, who is very close to the Phogats, offered to gift Geeta her wedding outfit - she refused, saying his presence was gift enough - and personally supervised the buying of gifts for both the bride's and groom's families. So when he appeared to address the press, wearing a red safa and black Nehru jacket, reporters asked him about Prime Minister Narendra Modi's currency ban. Diplomatically, Aamir said, "I will not comment on this matter."
He did, however, say that it hadn't been difficult to implement wedding preparations. "As far as cash for the wedding is concerned, I had no issues. All my cash is in the bank and payments were made in cheque," he told reporters outside the wedding venue in Balali, Haryana.
Some two weeks ago, PM Modi sprung a massive surprise on the country by declaring all 500 and 1000 rupee notes invalid. Severe restrictions have been placed on the exchange of old notes and on the withdrawal of cash from banks and ATMs.
Geeta Phogat's wedding, for which Aamir skipped the Coldplay concert in Mumbai on Saturday, was a grand affair. Aamir was pictured with the bride, her father and her family as well as his co-stars from Dangal - TV star Sakshi Tanwar, who plays his wife and actress Sanya Malhotra, who plays Geeta. Fatima Sana Shaikh, who features as Geeta's sister Babita was not present at the wedding.
Dangal, expected to be one of this year's biggest films, tells the story of how Mahavir Phogat defied convention and disapproval from his village to train his daughters in his chosen sport. Geeta and Babita Phogat are two of India's most celebrated wrestlers, winning medals at the 2010 Commonwealth Games. Aamir, who plays Mahavir Phogat as a young and middle-aged man, said, "We portrayed the village as truthfully as possible." Dangal was mostly shot around Ludhiana in Punjab.
An Aamir Khan film, coming as it does once in a year sometimes two, is almost always an event that is worth the wait. Watch Dangal, however, for the performances of the young actresses playing Geeta and Babita, says the actor.
"If I have to rate our performance in the film, I would say that these kids performed 10 times better than what I did. No, I am not exaggerating anything. Once the film releases, the audience will understand. I have been working in the industry for last 25 years, but these kids are highly talented," he said.
The younger versions of Geeta and Babita Phogat are played by child actors Suhani Bhatnagar and Zaira Wasim.
Dangal, directed by Nitesh Tiwari, is the year's second wrestling film after Salman Khan's Sultan. It opens on December 23.


---
Happy Birthday Sushmita Sen: Unconventional and graceful, you are irreplaceable
Mumbai:MMNN:19 Nov. 2016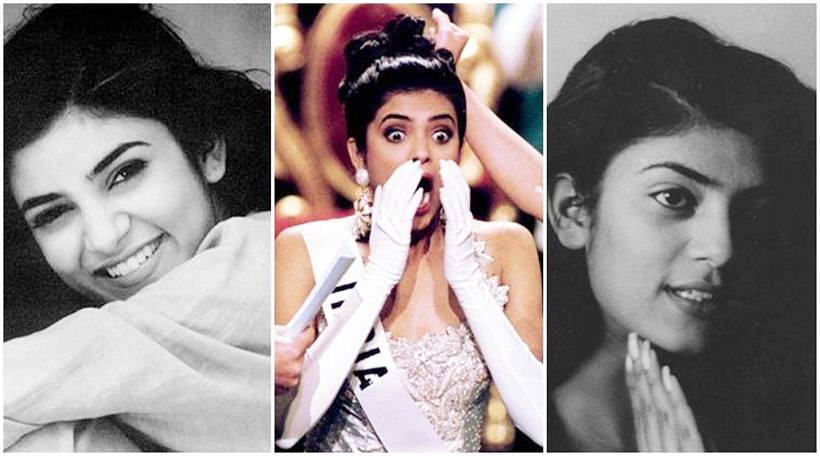 Sushmita Sen is celebrating her 41st birthday today. The actor epitomises the new confident woman. At 41, she remains as unconventional as ever. An effortlessly charming Sen became famous when she won the Miss Universe title at the age of 18. Her free-spirited attitude reflected in her choices.
At 25, Sen adopted a baby girl and named her Renee. From picking up different roles to living a fiercely independent life, she continued setting an example for modern women.
Sushmita was born in Hyderabad, to father Shuber Sen, a former Indian Air Force Wing Commander and Subhra Sen, a jewellery designer and owner of a Dubai-based store. Sushmita has two siblings - a sister named Neelam and a brother named Rajeev.
Sushmita Sen was crowned Miss Universe 1994 by outgoing title holder Dayanara Torres of Puerto Rico at the 43rd edition of the Miss Universe Pageant.
Sushmita made her Bollywood debut with romantic thriller Dastak.
Sushmita went on star in Main Hoon Na co-starring Shah Rukh Khan. She got critical acclaim for her role in Aankhen.
Here is wishing Sushmita Sen a very happy birthday.

---
Emma Watson's Beauty & the Beast trailer breaks record for most views in 24 hrs
Los Angeles:MMNN:16 Nov. 2016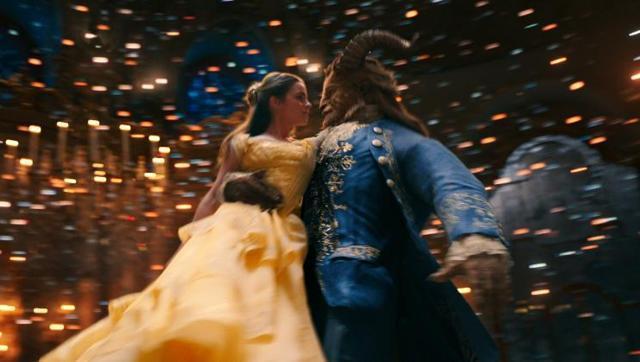 Ailing screen icon Dilip Kumar, known as the 'tragedy king of Bollywood', turned emotional when he was presented with Padma The trailer for Emma Watson's new film Beauty & the Beast has broken Fifty Shades Darker's record for the most views in 24 hours.
The Disney film's trailer has been viewed over 127.6 million times since its release online on Monday, reported Ace Showbiz.
Fifty Shades Darker beat Star Wars: The Force Awakens' record with 114 million views in its first full day earlier this year.
According to Disney, 27 million of the trailer's 127 million-plus views were generated from Watson's Facebook page.
The film also stars former Downton Abbey regular Dan Stevens, Ewan McGregor, Ian McKellen, Stanley Tucci, and Emma Thompson.
Beauty and the Beast will be released in March 2017.

---
Katrina Kaif's Most Desirable Diva while Deepika Padukone won Iconic Look
New Delhi:MMNN:15 Nov. 2016
Deepika Padukone did her version of 'the leg', Kareena Kapoor looked fabulous in red and Katrina Kaif looked like a dream. And they also won awards -- here's who won what at Lux Golden Awards.
An award do where Bollywood's most gorgeous divas are vying for style awards and has the witty Shah Rukh Khan as host - that is our idea of an evening well spent. At a recent awards event, actors including Deepika Padukone, Katrina Kaif, Kareena Kapoor, Sharmila Tagore, Sridevi, Madhuri Dixit, Anushka Sharma, Pooja Hegde, Aditi Rao Hydari, Ileana D'cruz and many others attended looking like dreams and many of them walked away holding trophies.
This award function was first of its kind held on November 12 and was aimed at celebrating achievements of Bollywood divas. With Bollywood's big names lifting awards, we have the full list of winners here.
The award night hosted by Shah Rukh Khan along with Ae Dil Hai Mushkil director Karan Johar and Arjun Kapoor was full of fun, amazing performances and Bollywood beauties looking gorgeous. The guest list was long and we saw Hrithik Roshan, Kartik Aaryan, Jacqueline Fernandez, Shahid Kapoor, Kartik Aaryan, Shriya Saran and Karan Kundra among others.
While the night saw Kareena flaunting her baby bump in a fabulous red gown, Deepika did her own version of 'the leg' as she promoted her Hollywood film xXx: Return of Xander Cage. The award night was opened by Jacqueline's act. Other performances included Katrina Kaif dancing on Kala Chashma and Sushant Singh Rajput's Sham Shaandaar performance. But the main focus of this celebration was to celebrate and honour our lovely ladies of Bollywood.

Find the full list of Lux Golden Awards winners here:


Sharmila Tagore won The Legend Award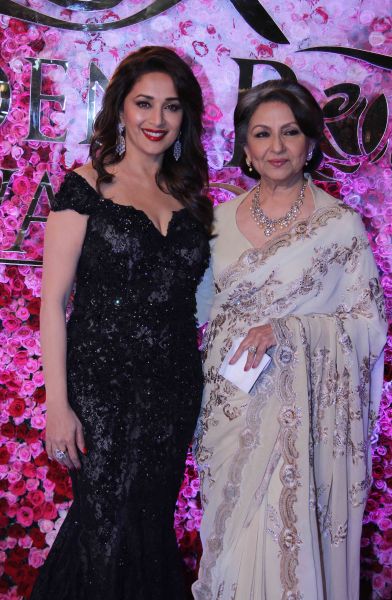 Katrina Kaif won the Most Desirable Diva of the year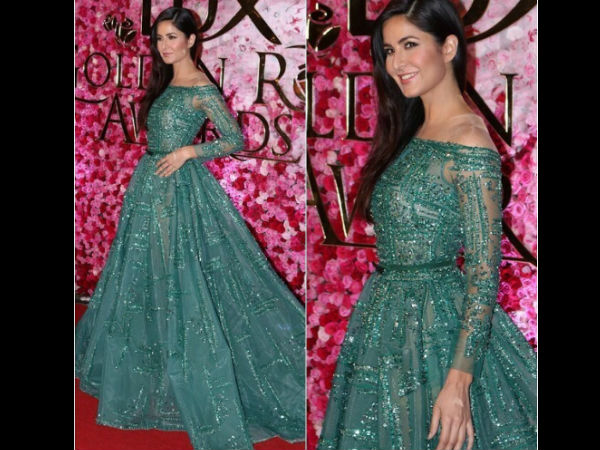 Kareena Kapoor won the Glamour Diva of the Year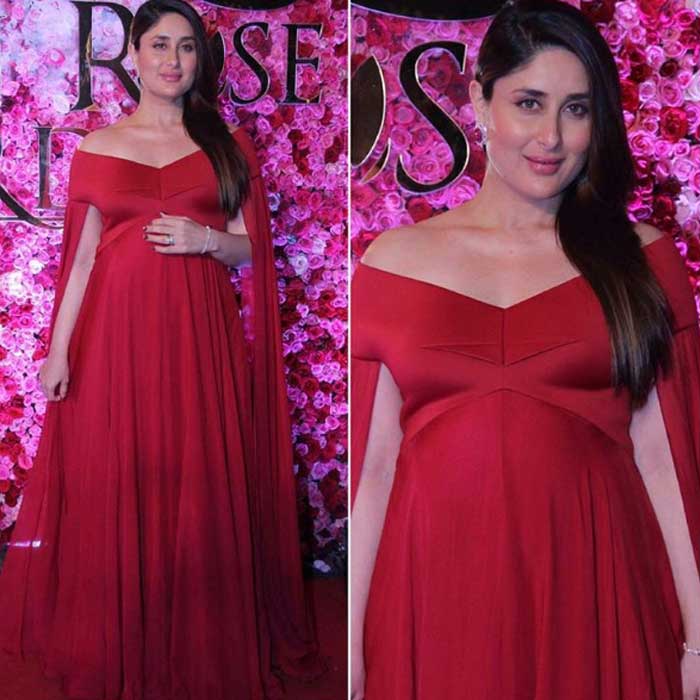 Deepika Padukone won the Iconic Look of the Year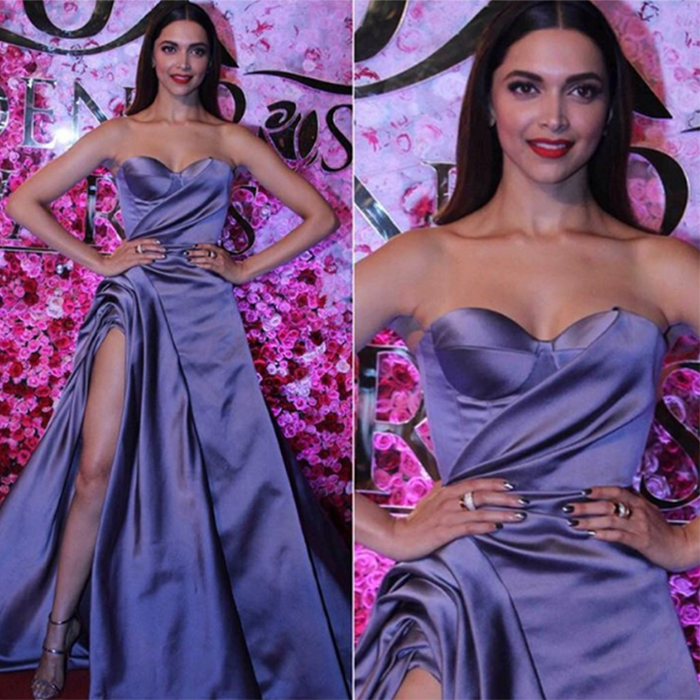 Pooja Hegde won Best Debutant of the Year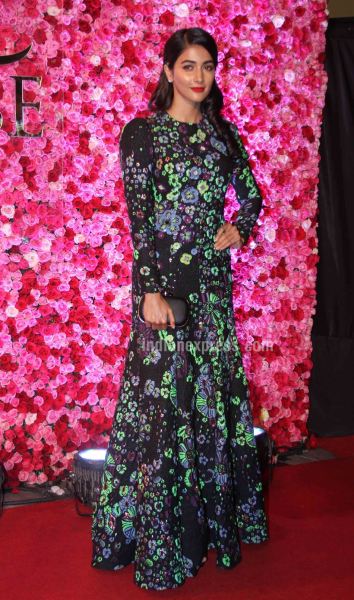 Tapsee Pannu won the Rising Star of the Year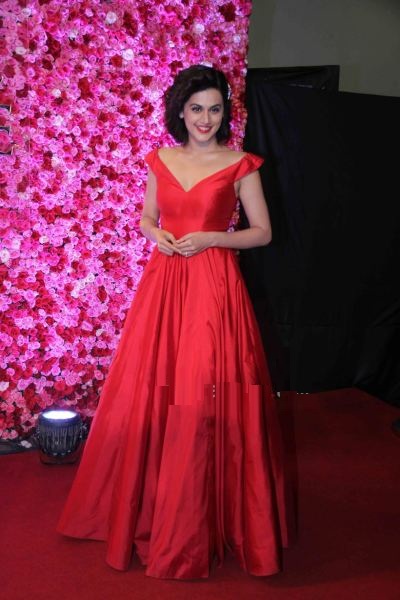 While Alia Bhatt and Priyanka Chopra missed the show, they won awards too!


---
Five decades and 200 films later, Jackie Chan finally wins Oscar
Los Angeles :MMNN:14 Nov. 2016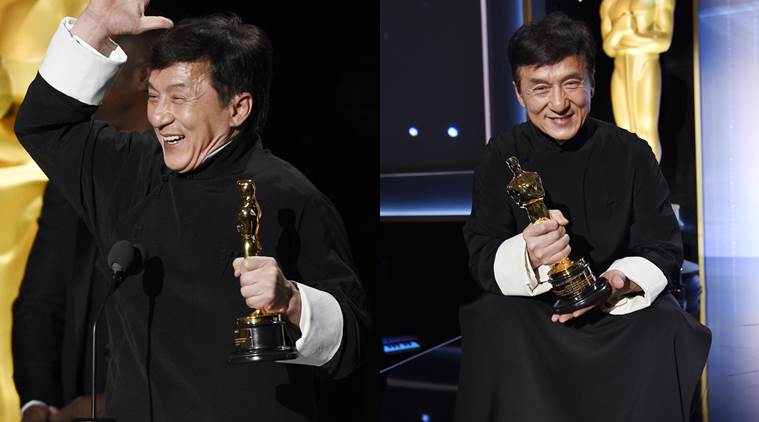 Jackie Chan saw an Oscar at Sylvester Stallone's house 23 years ago, he said that was the moment he decided he wanted one.
On Saturday at the annual Governors Awards, the Chinese actor and martial arts star finally received his little gold statuette, an honorary Oscar for his decades of work in film.
"After 56 years in the film industry, making more than 200 films, after so many bones, finally," Chan, 62, quipped at the star-studded gala dinner while holding his Oscar.
The actor recalled watching the ceremony with his parents and his father always asking him why he didn't have Hollywood's top accolade despite having made so many movies.
He praised his hometown Hong Kong for making him proud to be Chinese," and thanked his fans, saying they were the reason "I continue to make movies, jumping through windows, kicking and punching, breaking my bones."
The actor was introduced by his Rush Hour co-star Chris Tucker, actress Michelle Yeoh and Tom Hanks, who referred to him as Jackie 'Chantastic' Chan.
Hanks said it was especially gratifying to be able to acknowledge Chan's work because martial arts and action comedy films were two genres often overlooked during awards season.
The Academy of Motion Pictures Arts and Sciences, hosts of the annual ceremony, also bestowed honorary Oscars on British film editor Anne V. Coates, casting director Lynn Stalmaster and prolific documentarian Frederick Wiseman.
The evening was attended by Hollywood's elite, including Denzel Washington, Lupita Nyong'o, Nicole Kidman, Emma Stone, Ryan Reynolds, Amy Adams and Dev Patel.
Stalmaster, 88, credited with securing career-defining roles for actors such as Jeff Bridges, Andy Garcia, Christopher Reeve and John Travolta, is the first casting director to receive an Oscar.
Coates, 90, who won the film editing Oscar for 1962's Lawrence of Arabia and has edited more than 50 films, said she shared her honorary Oscar "with all the unsung heroes" of filmmaking.
Wiseman, 86, whose documentaries include 1970's Hospital, 1987's Blind and last year's In Jackson Heights, said: "I think it's as important to document kindness, ability and generosity of spirit as it is to show cruelty, banality and indifference," he said.

---
Happy Birthday Raveena Tandon. Shehar Ki Ladki @ 42
MMNN:26 Oct. 2016
Raveena Tandon, one of the leading actresses of the 90s, has delivered brilliant performances in films like Mohra, Andaz Apna Apna, Daman and Aks.
As she turns 42 on October 26, we take a pictorial look at her journey in Bollywood so far.
Born on October 26, 1974 to filmmaker Ravi Tandon and Veena, Raveena did her schooling from Jamnabai Narsee School and dropped out of college to pursue a career in films.
Raveena made her Bollywood debut in 1991 with Pathhar Ke Phool opposite actor Salman Khan. The movie fetched her Filmfare's New Face Award.
Thereafter, the actress did several films like Parampara (1992), Ek Hi Raasta (1992), Divya Shakti (1992) and Pehla Nasha (1993). But it was her 1994 film Mohra which turned out to be a blockbuster hit.
Raveena Tandon also featured in Andaz Apna Apna (1994) which failed at the box office initially, but gained popularity over the years.
The actress went on to deliver hits like Khiladiyon Ka Khiladi (1996), Ziddi (1997) and Bade Miyan Chhote Miyan (1998), which were mostly hero-centric.
With the onset of the new millennium, it was a turning point for Raveena as she opted for serious roles and offbeat films like Shool (1999), Bulandi (2000) and Aks (2001), for which she received the Filmfare Special Performance Award in 2002.
In 2001, she stunned the audience and the critics with her powerful portrayal of an abused wife in Kalpana Lajmi's Daman: A Victim of Marital Violence. Raveena not only gained critical acclaim but also won a National Award for her performance.
Raveena also featured in other commercial and offbeat films like Agni Varsha (2002), Satta (2003), LOC - Kargil (2003), Aan: Men at Work (2004) and Dobara (2004), Sandwich (2006) and Bbuddah... Hoga Terra Baap (2011).
Apart from Hindi films, the actress has also featured in regional movies like Bangaru Bullodu (1993), Sadhu (1994), Upendra (1999), Akasa Veedhilo (2001), Aalavandhan (2001), Laboratory (2006), Shobhana 7 Nights (2012).
Raveena featured as a jazz singer in filmmaker Anurag Kashyap's Bombay Velvet along with actors Ranbir Kapoor and Anushka Sharma in 2015.
Apart from films, Raveena Tandon has featured in several commercials and is a regular on ramps. The actress also has her own jewellery line.
Raveena made headlines during Ganesh Chaturthi festival in 2015, when she offered the world's biggest laddoo as prasad on September 22 to Andheri Cha Raja.
Raveena Tandon was in news early this year as she walked her adoptive daughter Chhaya got married in Goa.
Raveena Here's to wishing the actress a very happy birthday and all the very best for her future endeavours.


---
Following Modi's #Sandesh2Soldiers, people send wishes to soldiers and Akshay Kumar's is the best so far
Mumbai:MMNN:25 Oct. 2015
Concerned about the normal lives of soldiers in India amid the ongoing tension between India and Pakistan, Prime Minister Narendra Modi launched a campaign wherein people across the country can send their wishes and messages to soldiers for Diwali, who are miles away from home and their families, protecting the people of this nation so we can celebrate the festival in peace.
"I sent my #Sandesh2Soldiers. You could also do the same. Your wishes will certainly make our forces very happy," he tweeted. The PM also shared a video in which he said we should make our soldiers from the Army, Navy, Air Force, Central Reserve Police Force (CRPF), Border Security Force (BSF), feel that we are grateful for what they do for us.
Some people from the film industry were also expected to join the campaign and guess what, Akshay Kumar, Salman Khan, Aamir Khan have already extended their wishes.
Akshay, who urged people to think about jawans first and argue later on whether the surgical strikes happened or not, released a video wishing the soldiers a very happy Diwali and thanking them for protecting us. "Aap hain to hum hain. Aap hain to Hindustan hai" he said.
"This is a wonderful gesture. Our PM is absolutely right, the support of 125 Crore Indians for our soldiers will fill them with love. Let us all join him in sending our messages.
Love. a." tweeted Aamir.
Here's how many others joined in to wish the soldiers.
Reportedly, some of the messages will be read out during PM's Mann Ki Baat address. People can send their wishes to the soldiers through Modi's mobile app, MyGov app, and across the radio.


---
Nobel Literature Prize-winner Bob Dylan: People today are still living off the table scraps of the 60s
MMNN:14 Oct. 2016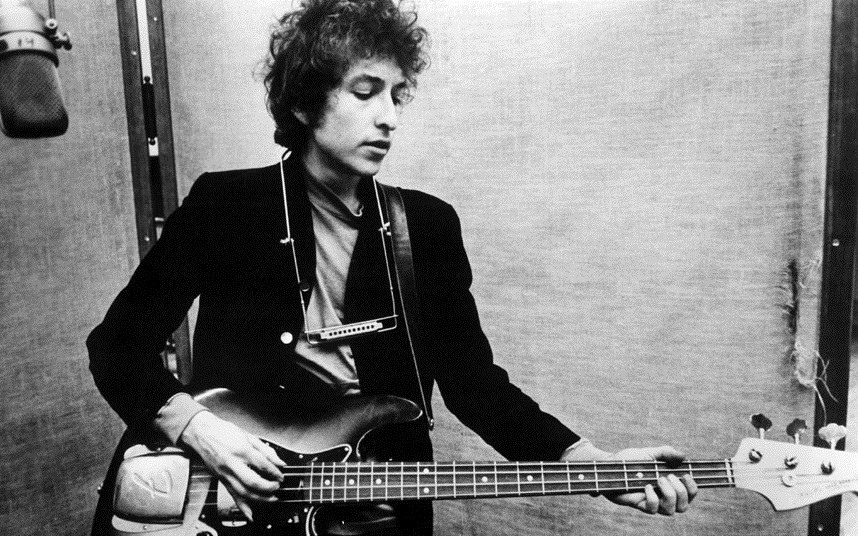 The times, sadly, they haven't changed. Which means we need Bob Dylan's songs forever more. By giving its stamp of approval, the Nobel committee has honoured all critics, all voices of protest of all time, everywhere.
At a time when we are being asked to speak in one voice along with the government, to neither question nor assess the ruling party's derring do's on our borders, it is salutary to remember that America was embarking on a war in Vietnam to wipe out the Communist scourge that it saw as the biggest threat to humanity when Dylan sang what became the anthem of that age and resonate even today:

Yes, and how many years can some people exist
Before they're allowed to be free?
Yes, and how many times can a man turn his head
And pretend that he just doesn't see?
The answer, my friend, is blowin' in the wind
The answer is blowin' in the wind...
Or when he asked the 'Masters of War':
Is your money that good?
Will it buy you forgiveness
Do you think that it could?
I think you will find
When your death takes its toll
All the money you made
Will never buy back your soul
Or declared: "He not busy being born/Is busy dying."

The 60s were a time of ferment worldwide. America was awash with movements, from anti-war (and anti-draft – remember Muhammad Ali) to civil rights to feminism to sexual liberation, you name it and the roots of any emancipating campaign can be traced to those days. Youth power was at its height with London swinging, with students standing at the barricades in Paris, with Naxalites setting Calcutta afire. Refusing to accept the given and questioning the authorities became the norm, taking the establishment to task, holding it accountable a bounden duty. Social protest became the cultural pursuit for a whole generation, and Bob Dylan's life embodied all this, even when he avowedly eschewed writing "protest songs".
An unlikely candidate for stardom – he wasn't pretty in the pop star mould of the 1960s, the language that he used in his songs was unconventional and his voice was hardly mellifluous – Bob Dylan became "The Voice of a Generation" almost overnight. His first record sold so poorly that many sneered at his producer's faith in this twenty-one-year old.
Just over a year later, his second album featured 'Blowin' in the Wind', 'A Hard Rain's a-Gonna Fall', 'Masters of War' and 'Don't Think Twice, It's Alright' and a star was born. A star, unlike most of his contemporaries, who continues to shine years after the movement has become memory.
But actually, it was not the singer Dylan that rocked the boat and gave new generation a voice. For instance, 'Blowin' in the Wind' became a record hit thanks to the version released by Peter, Paul, and Mary a few weeks after Dylan released his own. Again, most of his early songs became such soul-stirrers thanks to Joan Baez who played no mean role in popularising a relatively unknown Dylan to the world.
It doesn't matter. As the Nobel Prize acknowledges, it was his words that mattered.
From the beginning, Dylan's songs spoke of an incestuous relationship between authoritarianism, social evils, militarism, and materialism. And they are timeless. He may have had Lyndon Johnson, the incarceration of draft-dodgers, and the disproportionate number of African-Americans sent to fight in Vietnam in mind when he wrote 'Tombstone Blues' (The king of the Philistines his soldiers to save/ Puts jawbones on their tombstones and flatters their graves/ Puts the pied pipers in prison and fattens the slaves/ Then sends them out to the jungle) but don't we hear echoes in every warfront everywhere even today?
Dylan spoke for the deprived, the downtrodden and the desperate. He was there in Washington in August 1963, singing, just before Martin Luther King Jr. stood up to deliver his "I Have a Dream" speech, his unforgettable 'Only a Pawn in Their Game' song about the murder of a black movement organiser by the Ku Klux Klan less than three months earlier.
"A South politician preaches to the poor white man," Dylan sang in his flat, raspy tone, "You got more than the blacks, don't complain You're better than them, you been born with white skin," they explain.

And the Negro's name
Is used it is plain
For the politician's gain
As he rises to fame
And the poor white remains
On the caboose of the train
But it ain't him to blame
He's only a pawn in their game.

What a feat of courage it was, what tremendous imagination it took to speak of "the poor white man" in the same breath as the pain and desperation of the blacks and in that company.
Many of Dylan's songs from those early years were reactions to current events, 'The Lonesome Death of Hattie Carroll' (his powerful 1964 account of the death of a poor black serving-woman at the whim of a Baltimore society blade who served a derisory sentence while the killer in question lived the rest of his life in bitter ignominy), 'Who Killed Davey Moore' (about a black boxer who died after a brutal match), 'Talkin' World War III Blues' (about the threat of nuclear annihilation), 'Masters of War' (a protest against the arms race) and, of course, 'The Times They Are a-Changin', which challenged the political establishment on any and every count.
Yet, all his songs are still relevant because the times, sadly, are yet to change enough. They should, and they will, if we listen to his songs more carefully. Especially now that the world is so connected and access so easy.
Of course, I don't know if he inspires today's youth the way he did us oldies. I can't remember how exactly we got to know of the Beatles and Baez and Dylan in the Sixties and early Seventies, with the country a closed box, with foreign imports strictly curtailed, with the radio our only connection with the outer world. Yet, we did. And bought their LPs, or vinyls as they are called nowadays, on the streets of Calcutta.
But, as Dylan put it so bluntly in 1963, "It's not an old people's world." He put faith in the youth and so it has to be. But are our young really so hidebound and "job-oriented" as our leaders would have us believe? That they can only think of their narrow selfish interests and have no care for society at large?
Dylan himself gave up on his "protest songs" and his "politics" well before the Sixties ended. People say, Dylan realized before anyone else that the Sixties had basically run its course, had exhausted itself and was in danger of becoming pretentious.
"I don't want to write for people anymore. You know - be a spokesman," he told an interviewer in 1964. "From now on, I want to write from inside me." Thus, by 1965, Dylan had abandoned the civil rights campaign and moved beyond political activism. In fact, at the final and most grand civil rights event where black and white protesters and musicians came together - the march from Selma to Montgomery, Alabama, in March 1965 – over 5,000 people sang Dylan's 'The Times They Are A-Changin' but the song-writer was nowhere near.
And in 2000, he turned the sentiments in the song upside down with the track 'Things have changed':

People are crazy and times are strange
I'm locked in tight, I'm out of range
I used to care, but things have changed

Even in 1962 he had said about his songs that "This here ain't no protest song or anything like that, cause I don't write no protest songs." Later, he has even said things like,
"Songs can't save the world. I've gone through all that." And when a media inquisitor insisted that "Deep down, you must have convictions," he replied, "Nah, deep down there's nothin' but guts, intestines."
It doesn't matter. As someone said on hearing that Dylan would like to see his protest songs buried, "I don't think he can succeed in burying them. They're too good. And they're out of his hands."
His 'Hard Rain' will still be the theme song for climate change. Written in 1963 it wonders, quite prophetically:

Oh, what'll you do now, my blue-eyed son?
Oh, what'll you do now, my darling young one?
I'm a-goin' back out 'fore the rain starts a-fallin',
I'll walk to the depths of the deepest black forest,
Where the people are many and their hands are all empty,
Where the pellets of poison are flooding their waters,
Where the home in the valley meets the damp dirty prison,
Where the executioner's face is always well hidden,
Where hunger is ugly, where souls are forgotten,
Where black is the color, where none is the number,
And I'll tell it and think it and speak it and breathe it,
And reflect it from the mountain so all souls can see it,
Then I'll stand on the ocean until I start sinkin',
But I'll know my song well before I start singin',
And it's a hard, it's a hard, it's a hard, it's a hard,
It's a hard rain's a-gonna fall.
As Dylan himself once said, "People today are still living off the table scraps of the 60s. They are still being passed around - the music and the ideas."

---
Lata Mangeshkar won't celebrate 87th birthday, says 'jo shahid hue hai unki yaad karo kurbani'
Mumbai:MMNN:28 Sept. 2015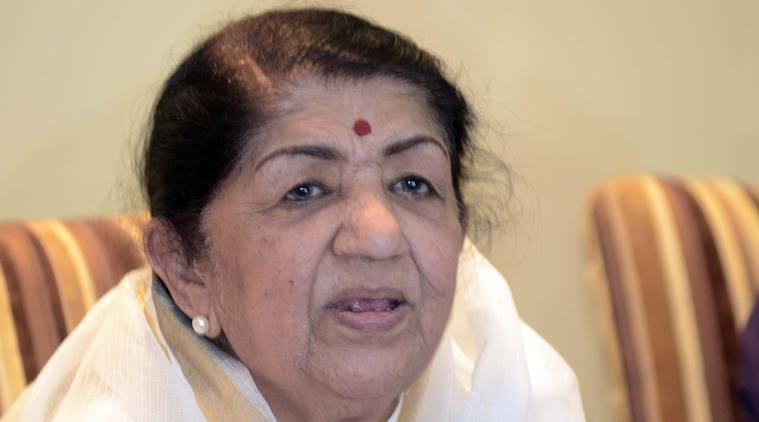 Melody queen Lata Mangeshkar won't celebrate her 87th birthday today (Wednesday) as 18 Indian soldiers recently died "so brutally in Uri". She is saddened by the darkness all around, including the deteriorating relations with Pakistan. But she hopes they stay happy and live in peace.
The September 18 terror attack left 18 Indian soldiers dead at Uri in Jammu and Kashmir. So, this year Lata won't celebrate her birthday. "Not when our soldiers have died so brutally in Uri. My sincere request to my well-wishers, please don't waste money buying me flowers. Instead send money to the bereaved family of martyrs. Jo shaheed huey hain unki zaraa yaad karo qurbani," she said.
There is hatred everywhere, especially between India and the neighbours. What is her message to her fans? Lata said: "Everything has changed. Human beings and even the climate is now unpredictable. Extreme weather conditions play havoc with our lives. I am deeply saddened to see children suffer in natural calamities and during war."
So what according to her, is the solution to the current crisis in mankind's existence?
"I don't know if I am qualified to comment on such matters. But yes, I do wonder why nations don't keep their own house in order instead of creating havoc in others' domain. Why hurl bombs at nations? Hatred kills. Why not work on making our own country beautiful?"
She cites the example of Switzerland as an idyllic state of existence.
"Switzerland is considered the most peaceful country in the world. Why? Because they've concentrated on making their own country better and more developed and they do not look at other countries to harm them. We never hear of violence perpetrated by the Swiss."
Her message to her fans in Pakistan?
"Woh khush rahen shanti se rahen (I hope they stay happy and stay in peace). Aur humen bhi khushi aur shanti se rehne den (And let us also live in peace and be happy). I know the people there are just like us. They want peace. Only some elements don't want peace."
On a more cheerful note, Lata Mangeshkar has been conferred West Bengal's highest civilian honour – the Banga Bibhushan. And Lata, who has received India's highest civilian honour the Bharat Ratna, is ecstatic.
"My connection with Bengal is karmic. I've sung numerous Bangla songs including Durga Pooja songs and Rabindra Sangeet, the two most popular genres of singing in Bengal. I hold my visits to Kolkata very close to my heart. Do you know, Bengal is where I've performed the maximum live concerts in India," said Lata, recalling with pleasure the times when she recorded Bangla songs for the two Bangla maestros Salil Chowdhury and Hemant Kumar.
"Hemant da's songs were sweet and transparent, like the man himself. His tunes were very melodious. Salil da used to record really intricate layered Bangla songs with me and then he would record the same song with me in Hindi. For example, 'O sajna barkha bahaar aayee' ('Parakh'), 'Na jiya laage na('Anand') and 'Niss din niss din' ('Annadata') were all Bengali songs first."
Lata's brother Hridaynath Mangeshkar also recorded Bangla songs with her.
"Hridaynath converted some of his famous Marathi numbers into Bangla," she revealed.
She recalls every visit to Kolkata with pleasure. "I love the food there, and the saris. But most of all, I love the language. It is so sweet. I am honoured to get their award.
The fact that West Bengal's Chief Minister Mamta Bannerjee will take the time to personally come to Mumbai to give me the award makes it all the more special. I couldn't have hoped for a better birthday gift."
What do awards mean to the Nightingale at this stage of her career?
"Oh, they mean a lot! It's never too late for recognition and praise. When I received the Bharat Ratna in 2001, all my friends said there is nothing more to achieve. But I am still learning. I still feel like a student. Every word of praise whether it comes from the government or a listener who appreciates my songs, is equally important."



---
Brangelina divorce leaves Hollywood, fans shocked
MMNN:22 Sept. 2015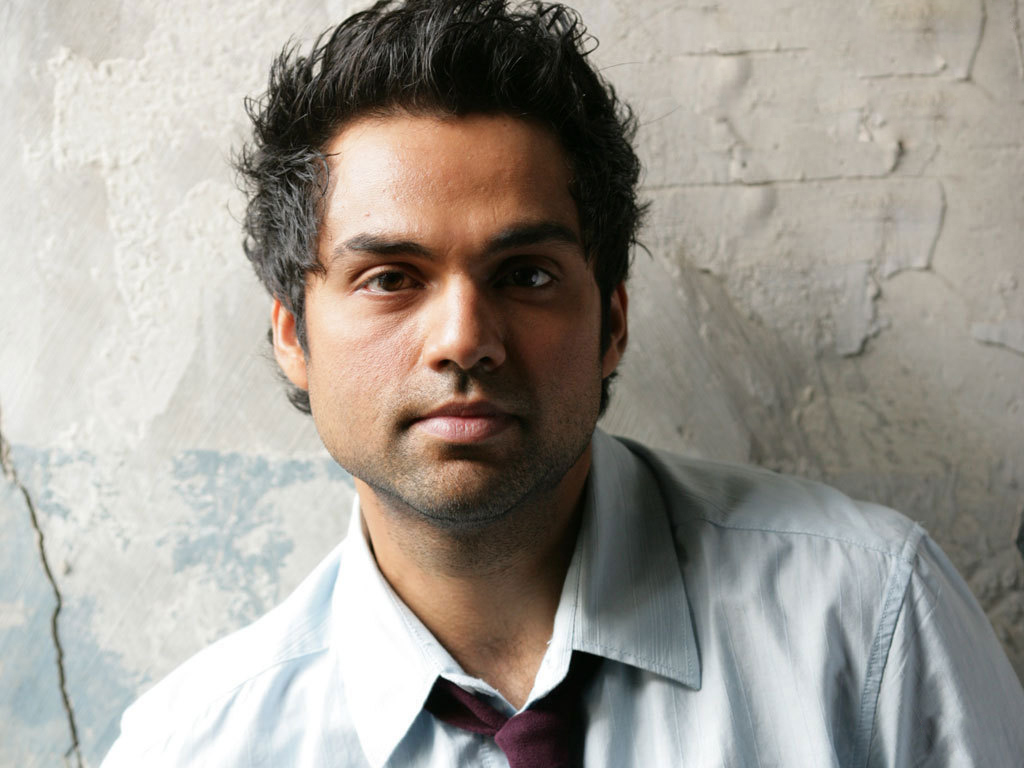 Even as the guessing game is on as to what caused the split of Hollywood's power couple Angelina Jolie and Brad Pitt -- his marijuana and alcohol use, a possible affair with French actress Marion Cottilard or the irreconcilable differences that Jolie stated -- members of the film fraternity and their fans across the globe have expressed shock, sadness and sarcasm.
They had been in a relationship for long, but wed in August 2014.
According to Hollywood news website TMZ, Jolie cited irreconcilable differences as the reason for the split, and legal documents reveal she's demanding physical custody of their six children, with visitation rights for Pitt.
"I am very saddened by this, but what matters most now is the well-being of our kids. I kindly ask the press to give them the space they deserve during this challenging time," Pitt said in a statement to People magazine.
If another TMZ report, quoting a source close to Pitt, is to be believed, he will fight hard for joint physical custody of the children.
Multiple sources are conjecturing different reasons for their split, but Jolie's father and actor Jon Voight is sure "something very serious must have happened" that made Jolie take this step.
Ever since the split news broke, hashtags #Brangelina, #Brangelexit, #Brangelinacheat and #BrangelinaBreakup started trending on Twitter. Their star friends, including George Clooney, have reacted.
"That's a sad story and unfortunate for a family," said Clooney.
On Twitter, one user rued: "I feel like my parents have split up Brangelina. Another 'genuinely sad' user wrote: "They seemed more than happy, and so accepting and inclusive with their kids. Sad day. Brangelina."
The couple met on the set of their spy thriller 'Mr. & Mrs. Smith' in 2003, while Pitt was married to Jennifer Aniston. He broke up with Aniston in 2005.
Later, Jolie revealed that it was Pitt's relationship with her son Maddox, who had 'out of the blue called him dad', that encouraged their togetherness.
In July 2005, Jolie finalised the adoption of her second child, Zahara, from Ethiopia - as a single parent, and six months later, she revealed she was expecting her first child with Pitt, who also adopted Maddox and Zahara. Shiloh joined the expanding brood.
Less than one year later, the couple announced yet another bundle of joy -- they adopted son Pax, then 3, from Vietnam.
The duo also took their children -- Pax and Zahara -- for a boat ride during their brief and highly publicised stay in the Indian city Mumbai in 2006, while Jolie was in India to shoot for Michael Winterbottom's 'A Mighty Heart'.
In February 2008, the couple confirmed that they were expecting a baby once again -- and they happened to be twins. The family welcomed Knox and Vivienne in August 2008 in Nice, France. It was after welcoming their fifth and sixth children, the couple became slightly more public about their relationship.
In 2008, Pitt said that they had no plans to get married until "it's legal for everyone else. However, in 2011, he revealed that their children were pressuring them to make things official. Still, Jolie maintained they weren't in a rush to tie the knot.
Their bond strengthened when Jolie went through a preventative double mastectomy after genetic tests showed that she had a high risk of developing breast cancer.
After spending years of knowing and loving each other and raising a family, they finally walked the aisle in an intimate ceremony on August 23, 2014. The fact that the children were an important part of their lives was visible when part of Jolie's wedding dress was scribbled with the kids' artwork.
In December, the couple released 'By the Sea'. Though the movie followed the disintegration of a marriage, Jolie revealed that they were stronger than ever.
The Pitt family was last seen together in public in July, when they stopped into a Jamba Juice store in Los Angeles with Shiloh.

---
Swara Bhaskar lauds Katrina Kaif's Smita Patil Memorial Award win
Mumbai:MMNN:19 Sept. 2015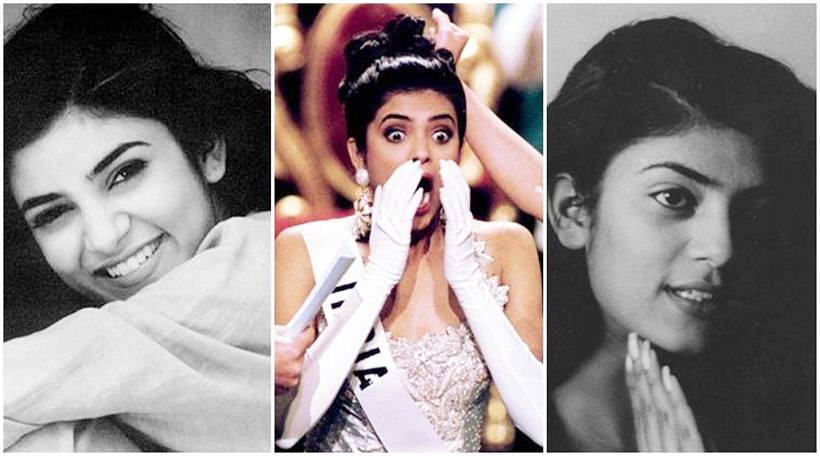 They couldn't have chosen a better location to open the 17th Mumbai Film Festival. With the majestic and historic Gateway Of Katrina Kaif has been facing a lot of negative criticism online, after news broke of the actress winning the Smita Patil Memorial award for her contribution to the Bollywood film industry.
Critics strongly opposed this win, saying that there were many other actresses who were 'more deserving' of the award. Netizen feel 'Nil Battey Sannata' actress Swara Bhaskar and 'Parched' star Radhika Apte fit the bill for the award. However, in a column, Swara hit back at haters and lauded Katrina's win, and even went on to say that 'if Katrina is as successful as she is today, then she worked damn hard for it'.
In her column, Swara writes, "Whether or not Katrina Kaif is a good actor notwithstanding, there is no denying that she is a hugely hard-working, disciplined and diligent person. It reflects in her work. And any artist of any field will tell you that hard work is something to be respected."
She adds further that the Indian audience's fascination towards 'fair-skinned beauties', cannot be held against the actress, as her films with superstars prove to perform well at the box office. She says, "If Katrina Kaif captured our collective imagination the way Aishwarya Rai had done a generation earlier, that's not her fault, like it was not Ms. Rai's back then. If Indians are captured by a certain kind of fair-skinned beauty and Indian audiences apparently do not need their heroines to act or speak the language that they purportedly act in, that's not the actor's fault or problem."
Swara even went on to question if Katrina was at the receiving end, only because she is an 'easy target'. She writes, "Is Katrina Kaif an easy target because she is a beautiful, hugely successful woman, who speaks with an accent, reeks of elitism and snobbery (though many who know her swear that she is by personality type intensely private, as a person), seems impermeable and most importantly, just does not quit?"
Director Karan Johar, who also happens to be Kat's good friend applauded Swara for her column and her attitude towards the entire hullabaloo. Actor Prateik Babbar also stood up for the 'Baar Baar Dekho' actress saying it was 'good news' as he has heard that Katrina is a hardworking actress.
On the work front, Katrina will be seen next in 'Tiger Zinda Hai' opposite Salman Khan. Rumours buzzing around town also state that she has bagged the leading lady's role opposite Shah Rukh Khan in Anand L. Rai's next.

---