EXAMINATION ALERT

INTERNSHIP OPPORTUNITIES

APPOINTMENTS

CAREER & SUCCESS
---

Be Our Student Reporter- We Require Student Reporter From each College/Campus to report Campus activities regularly. Dynamic Candidates with good communication & co-ordination skills should send their Resume with Photo to- Editormetromirror@gmail.com

---
Certificate Distributed to Participants on the occasion of Closing Ceremony of SIN-2017 at MUJ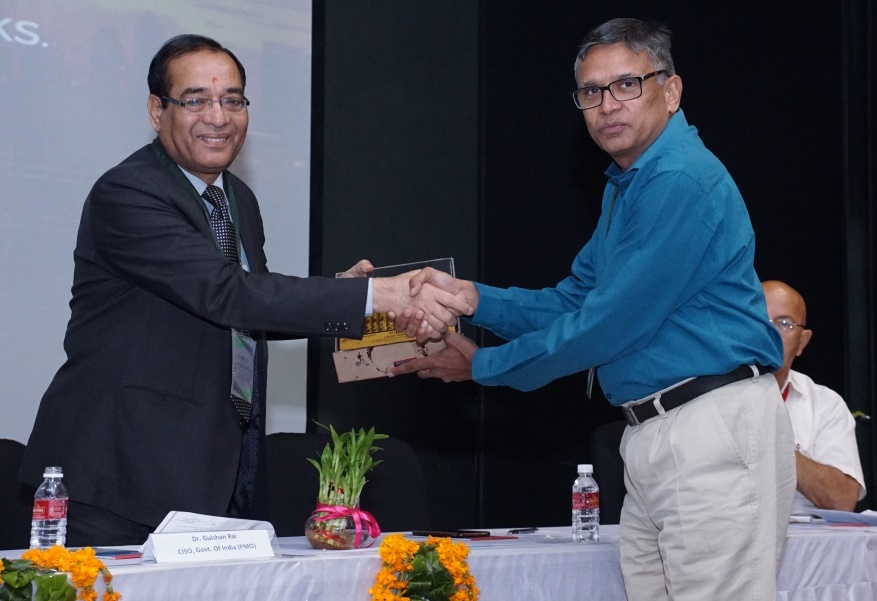 Our Correspondent, 16 October 2017
National Cyber ​​Security Coordinator, PMO, India, Dr. Gulshan Rai was the Chief Gust of the Programme
MUJ, President, Prof. Sandeep Sancheti welcomed the Chief Guest, Dr. Gulshan Kumar and presented a memento to him
Around 100 participants came from USA, France, Australia, Sydney, Italy, Russia and Turkey
The three-day 10 th International conference on the Security of Information and Networks (SIN-2017) closing ceremony organized at Manipal University Jaipur. Chief Guest of the closing ceremony and National Cyber ​​Security Coordinator, PMO, India, Dr. Gulshan Rai, President, Manipal University Jaipur, Prof. Sandeep Sancheti, Director School of Commuting and IT, Prof. Rajveer Singh Shekhawat, Director, IIT, Jammu, Prof. Manoj Singh Gaur, Chairman, Aksaray University, Turkey, Prof. Atilla Elci distributed certificates to the participants. Dr. V.S. Dhaka told that about 100 participants from USA, France, Australia, Sydney, Italy, Russia and Turkey participated in this three-days international conference. Prof. Rajveer Singh Shekhawat, Dr. Priyadarsi Nanda, Dr. Sushmita and many speakers express their views on the theme of the conference in the various technical sessions of the conference. MUJ, President, Prof. Sandeep Sancheti welcomed the Chief Guest, Dr. Gulshan Kumar and presented a memento to him. In the end of the programme vote of thanks given by Dr. Manoj Bohra

---
Prof. Manoj Srivastava made the fourth Limca Book of World Records at Manipal University Jaiput with 387 Kg "Sahai Tukada"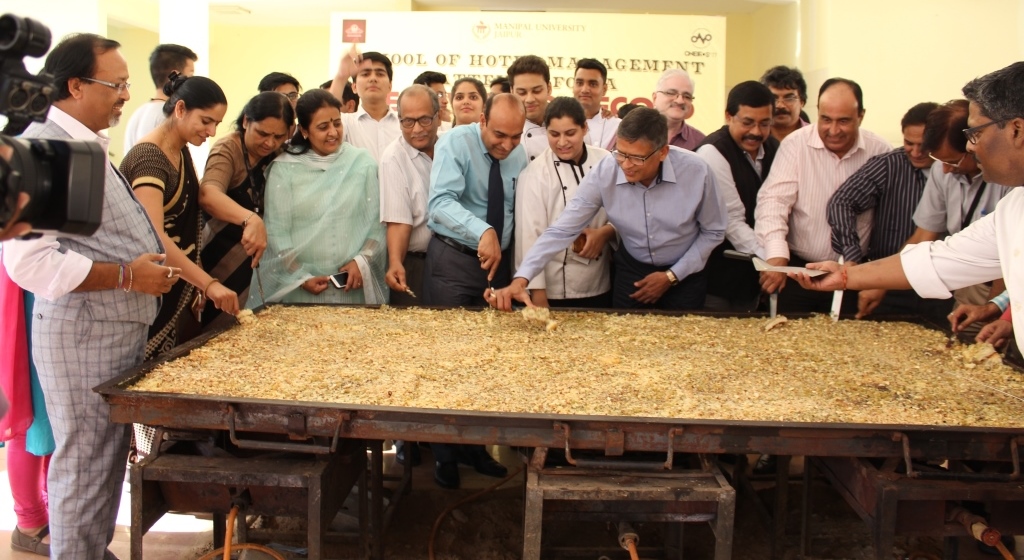 Our Correspondent, 7 October 2017
Prof. Manoj Srivastava again achieved a new mile stone made 4th Limka World record at Manipal University Jaipur. He made the world's biggest 8feet long and 4 feet wide and heaviest with 387 Kg "Sahai Tukada". He made it with the help of 7 faculty members and 120 students of School of Hotel Management. The President of MUJ, Prof. Sandeep Sancheti congratulated to Prof. Manoj Srivastava and his team members for the same. This is his 9 th world record of Prof. Manoj Srivastava. Prof. Srivastava told that this is a Mughali Pakistani-Awadhi Sweet Dish. Its weight is 387 kg. The cook & Roost technique used to make the product. It took 8 hours to prepare it. Before attempting for the world record research work has been done for one year by him and his team members. He told to press that the ingredients used in it are 150 kg of bread, 160 kg milk, 18 kg of mawa, 60 kg of sugar, 20 KG Desi ghee, 20 KG Dry fruit, 6 Kg. chironji, and 20 grams of saffron has been used to prepare this dish. Self-invented flame gun technology has been used to make it. To make this, a specially Fabricated Tray was used, 06 Industrial burner, Palta and flame gun has been used. The team members are Prof. Dr. Gaurav Bhattacharya, Amit Datta, Arvind Roy, Shweta Upmanyu, Dr. Sonal, Mukesh, Deepak Pokhariyal and 120 students have played important role for prepare it under guidance of Prof. Manoj Shrivastav. Prof. Manoj Shrivastav said that due to its cost and expensive nature, only the emperors and rich people could afford this dish in mughel era. The method of making it, is also very unique. This is a combination of hard and soft product. It has to be made very careful . First of all, the double roti is well-cooked. After this, the dish is prepared on a big iron tray. On this tray set two layers of double roti. On these layers spread milk, mawa, ghee, drifruits. After spread this layers it is wait for about two hours until the double roti does not absorb the all spread things. After absorb than cooked with the help of flame gun technology.After absorbing, start again same process with the help of flamed gun. After about half an hour, spread layer of milk, mawa, ghee, drifrute etc. This process is adopted 3 to 4 times. So that all the ingredients absorbing in the double roti and "Sahai Tukda" dish can prepare in royal pickup becomes the royal test. After making this royal piece of "Sahai Tukada" its inaugurated & cutting ceremony done by President, Prof. Sandeep Sancheti, Prof. President, Prof. N. N. Sharma, Registrar, Prof. Vandana Suhag. On this occasion, Dean, Faculty of Art and Law, Prof. Mridul Shrivastav, Dean, Faculty of Research and Innovation, Prof. B. K. Sharma, Dean, Faculty of Management, Prof. Nilanja n Chattopadhyay, Dean, Faculty of Science, Prof. G. C. Tikkiwal, Director, School of Hotel Management, Prof. Amit Jain, Prof. N. D. Mathur, various schools directors, Departments HoD, faculty member, employees and students were present.

---
Law is the oldest, glorious and best profession: Justice R.C. Lahoti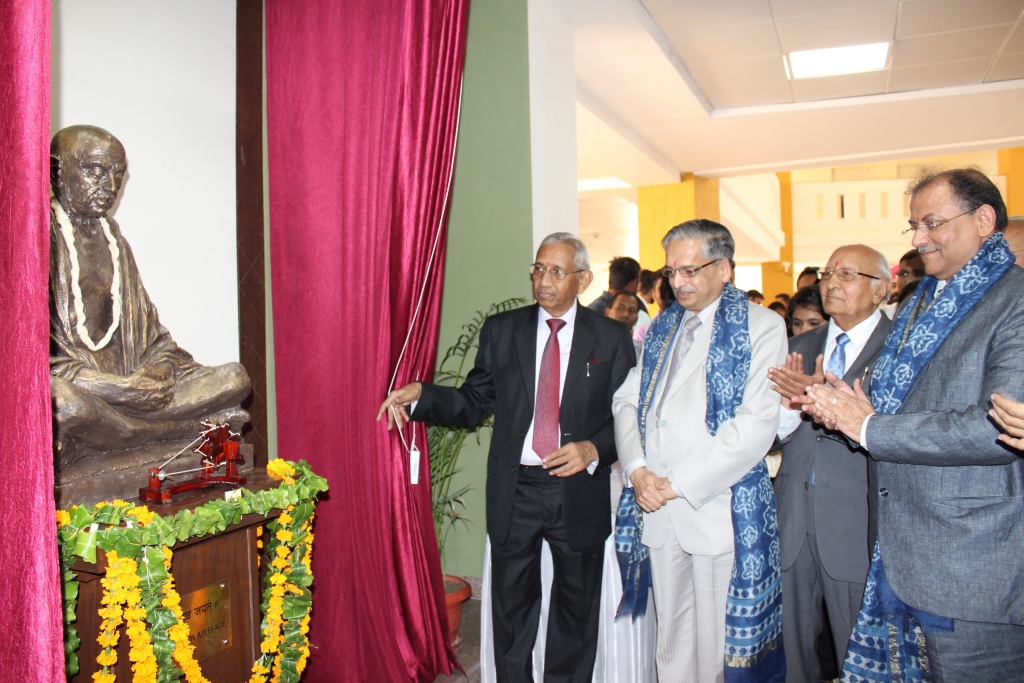 Our Correspondent, 1 October 2017
"Law is the oldest, glorious and best profession". These words were said by former Chief Justice of India Hon'ble Justice R. C. Lahoti on the occasion of inaugural function of the 3rd Manipal Ranka National Moot Court Competition organized jointly by Manipal University Jaipur and Ranka Public Charitable Trust at MUJ campus, on October 1, 2017. He advised students to read many books including Gita. He asked them to take inspiration from Mahatma Gandhi and Albert Einstein. He also explained the importance of black coat, and he said that every lawyer and judge should follow spirituality in their work. He discussed about all the qualities of an advocate. In the inaugural session, the Honorable Justice R. K. Agrawal of the Supreme Court of India asked the students to develop writing skills. He also highlighted the morality of law profession and the duties of advocates. He described the hard work as the basic mantra of success. During the programme Honorable Justice K. S. Zaveri senior most judge of the Rajasthan High Court highlighted the history, importance and utility of Moot Court. At the same time, he said that Moot Court works in skill development of law professionals and students. In this connection Chairperson of the MUJ, Prof. K. Ramnarayan asked the students to show their talent through Moot Court. At the same time, he called upon the students to consciously and subconsciously concentrate. President of the MUJ Prof. Sandeep Sancheti said about Manipal Education Group and Manipal University Jaipur's educational activities, facilities, infrastructure, faculty, schools, departments and courses. Chairman of Ranka Public Charitable Trust N. M. Ranka highlighted the life of Gandhi Ji and introduced all the distinguished guests. The Dean Faculty of Arts and Law Prof. Mridul Shrivastava welcomed all the guests and in the end of the programme Sambhav Ranka thanked everyone. In the beginning of the program, all guests were welcomed with a bouquet and finally all were presented with mementos. Prior to the inauguration program the guests unveiled the statue of Mahatma Gandhi outside the New Auditorium and planted plants in MUJ campus. The Dean Faculty of Arts and Law Prof. Mridul Shrivastav said that in this third moot court competition, 86 teams from entire India, including Rajasthan, Punjab, Haryana, Uttarakhand, Madhya Pradesh, Uttar Pradesh, Bengal, Bihar, and Odisha, Jammu and Kashmir are participating. The winners of competition will be rewarded in the closing ceremony to be held on October 3 and the certificates will be distributed to all the participants also. The program was started with lighting of the lamp by the guests and students of the university presented saraswati vandana on this occasion. Urmila Ranka, Justice J. K. Ranka, Additional Solicitor General, S. P Gupta, Rotorian Pradeep Kothari, O. P. Agrawal, Nilesh Mehta, Lata Todarwal, Pro-President of MUJ, Prof. N. N. Sharma, Dean, Research and Innovation, Prof. B. K. Sharma, Dean, Faculty Affairs and Pro- Vost, Prof. Awdhesh Kumar, Dr. Vijay Laxmi Sharma, Dr. Anil Mehta, Dr. N. D. Mathur, Senior Advocates, Dean, Directors, faculty members, employees, students and dignitaries were present in the programme. At the same time, guests from India, Japan, Australia and the US were also welcomed.

---
"Samagra Swachhta Diwas" organized by ICAR-CIAE at village Prempura in Bhopal district
Our Correspondent, 25 September 2017
"Swachhta Hi Seva'' campaign under Swachh Bharat Mission implementation programme is being organized in a big way at ICAR-Central Institute of Agricultural Engineering, Nabibagh, Bhopal since 15 th Sept, 2017. Various activities related to cleaning, plantation, sanitation, hygiene have been organized by the Institute within the campus and nearby areas during first week of Swachh Bharat Mission Pakhwara. As part of the campaign, "Samagra Swachhta Diwas" was organized by the Institute, in Prempura village on 24 th Sept, 2017, located at 22 km from CIAE. More than 250 staff members of the Institute performed "Shramdaan" and contributed in the developing of a proper toilet facility in the village. Village Sarpanch Smt Kamla Yadav and more than 100 farmers and rural women of Prempura village took part in the activity. The staff of CIAE and villagers together carried out cleaning and made a big area Parthenium free near Panchayat Bhavan and High School premises. On the same day, creation of toilet facility in the village was also initiated by digging of pit to free women of village from open defecation. Addressing at this occasion, Dr. CR Mehta, In-charge Director, ICAR-CIAE appealed the villagers to adopt the cleanliness measures to be fit and healthy. He emphasized the need to have proper public toilet facility also within the village and assured them of Institutes support in developing the same. Dr. M. Din, Chairman, "Swachhta Hi Seva'' campaign committee also addressed the gathering. Dr. U.R. Badegaonkar, I/c KVK spoke about vermicomposting for cleaning of the village and earning profit Progressive farmer Mr. Rajmal Yadav thanked for institute for adopting the village for nutritional security and "Samagra Swachata Diwas".

---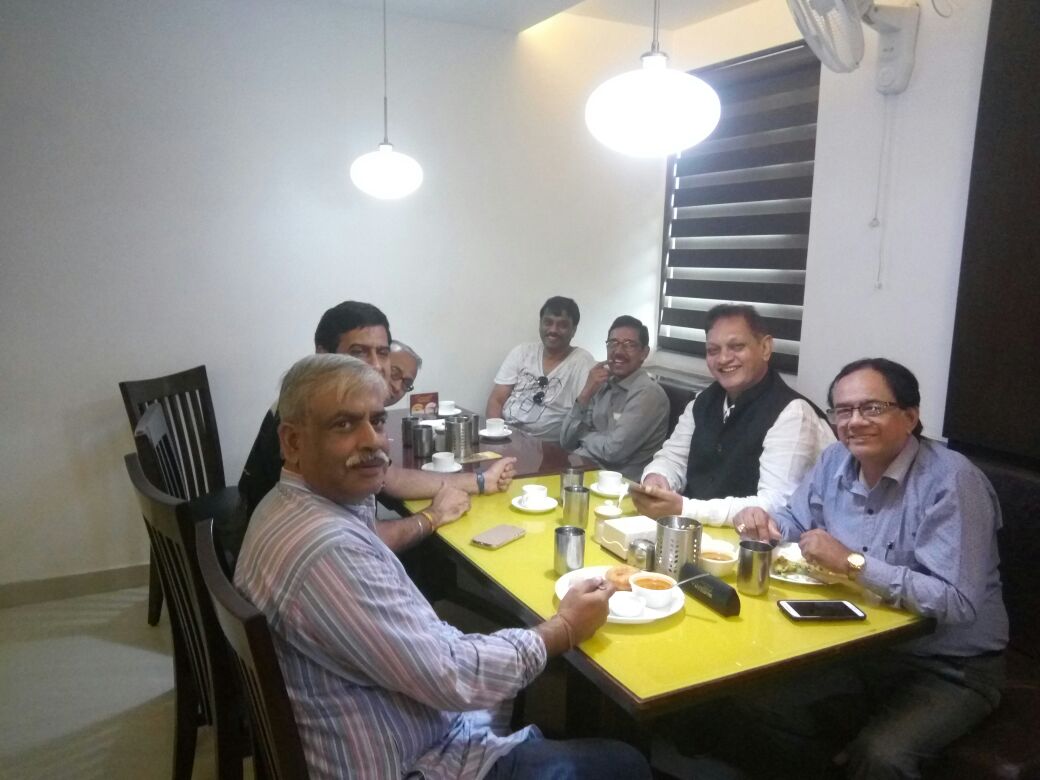 CAMPIONITE 78 BATCH ASSOCIATIONS
Our Correspondent, 11 September 2017
Campionite 78 Batch Associations officials met today for their monthly meeteing.In the meeteing the officials and members discussed about the programs been taken up by association for the society.
Spokesperson Shailendra Ojha informed that our association would be focusing on latest development in the IT sector. Member Sunil Lingayat residing in Washington US in his next visit to Bhopal in November would be making aware to the students about the same.
He added that our association under the expertise of Rajeev Athotra would also be working making the farmers aware about the latest technology in the farming to make farming more cost effective and productive.They also would be made aware of the business module for farmers and young enterpreneur in food processing sector alongwith cold chain management solution which is need of today.
Rajeev Athotra,Sanjay Gadkari,Parag Mehta,Bharat Bhatia,Saurabh Shrivastava,Deepak Sharma,Niraj Bhargava,Shailendra Ojha attended the meeting,Campionite 78 Batch Association would be focusing on bringing latest technology in every segment.

---
PRAKASH JAVADEKAR PLEDGES FOR A VIBRANT, EDUCATED AND RESEARCH ORIENTED INDIA
Our Correspondent, 7 September 2017
Addressing the student fraternity, on the 4 th convocation of Manipal University Jaipur Hon'ble HRD Minister Shri Prakash Javadekar praised the infrastructure of MUJ and found it mesmerizing and enchanting. Congratulating parents and teachers' on this occasion, he emphasized that the basic aim of an eminent educational institution is to provide quality education. He further stated that the pivotal aim of education is to create a 'good human being and responsible citizen'. He emphasized that it is 'social obligation' of every student to pay back accordingly and contribute their best for the development of society and nation. In order to enhance the status of higher education, the Government of India is looking forward to establish 20 universities having World Class facilities and infrastructure. Also a scheme is in the pipeline to provide loans to educational institutions. He informed that he is confident that the introduction of PM Scholarship will stop brain drain to an extent. The current Government is committed towards making a 'New India' which is devoid of corruption, casteism, poverty, terrorism and dirt. Hon'ble HRD Minister Shri Prakash Javadekar was Chief Guest on 4 th convocation held at MUJ campus on September 7, 2017. The Guest of Honour was Mrs. Kiran Maheshwari, Minister of Higher Education; Government of Rajasthan and Mr. Vasudev Devnani, Minister of School Education; Government of Rajasthan was the distinguished guest. The Convocation ceremony was presided by Chairperson MUJ, Professor K Ramnarayan. He delineated the relevance of Gandhian approach for the holistic development of individual as well as nation. Delivering welcome address President MUJ, Prof Sandeep Sancheti highlighted the achievements accomplished by MUJ in a short span of time. He acquainted the dignitaries regarding the mission, vision and goals of MUJ. Prof. Sandeep Sancheti stated that it is his dream to see MUJ as one of the most preferred university of the country in terms of academics. He emphasized that though in its nascent stage, MUJ is progressing forward attracting students from all corner of India. Making MUJ as one of the stalwarts in the field of R& D, Prof Sandeep Sancheti informed that research expenditure constitutes 6% of the total allotted budget. He further informed that MUJ is also contributing in 'Societal Development Projects' at macro level. Out of 1013 students graduating this year, 671 are from Engineering,337 are from non-engineering programmes and 5 are PhD students.21 students were awarded 'gold medal' for scoring highest marks in their respective programmes. The gold medal for 'Overall Performance', 'Extra-curricular Activities' and 'Research' were given to the deserving students. Dr Vandana Suhag, Registrar MUJ proposed vote of thanks.

---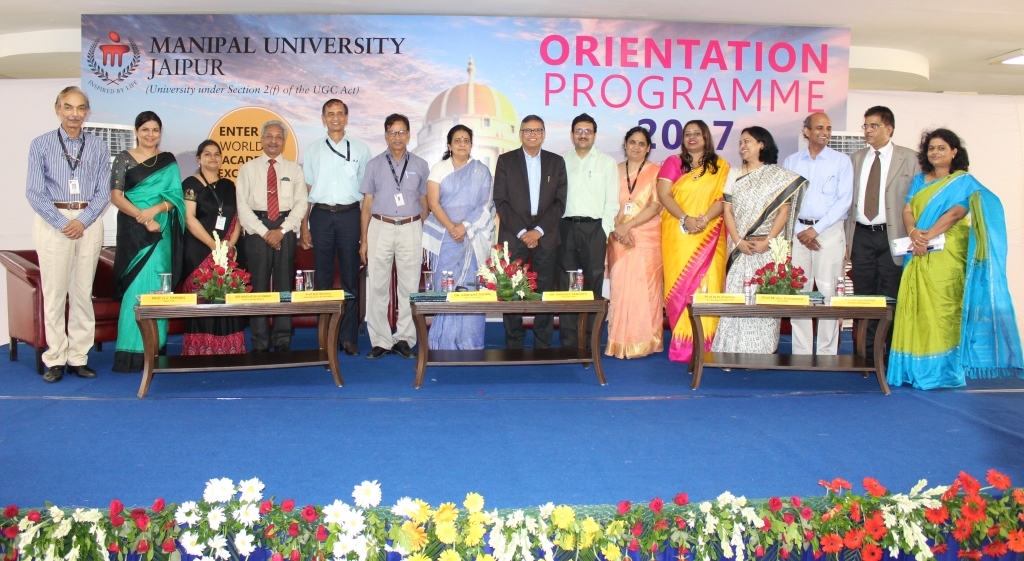 "Global Leadership In Higher Education and Human Development" : Prof. Sancheti
Our Correspondent, 29 July. 2017
Manipal University Jaipur organized its orientation programme for Non-Engineering Fresher's Students joining the University for the academic session 2017 – 18. Director Admissions Dr Richa Arora welcomed the students and their parents to the orientation programme and threw light on the importance of the programme. President Dr Sandeep Sancheti in his welcome address enumerated the various milestones achieved by the University since its inception in 2011. He said Our Vision is "Global Leadership In Higher Education and Human Development". So always remember that you have to become a good human while you become a competent professional.   Dr Vandana Suhag, Registrar elaborated about Manipal Education Group, Pro-President, Prof N N Sharma told about academic activities. In this connection Director, SA&D, Prof. Madhura Yadav, Director, P&D, Prof. Pradeep Kumar Pandey, Director, TSB, Dr. Raghuveer Singh, Dean, FOA&L, Prof. Mridul Srivastava, Dean of Faculty Affairs-cum- Provost, Prof. Awdhesh Kumar, Sports Officer, Dr. Rina Poonia, Chief Warden, Anil Singh and Chief Security Officer, Col. Ratan Singh told about their departmental activities, rules and regulations. In the end of the programme vote of thanks given by Dr. Prashasti Jain.

---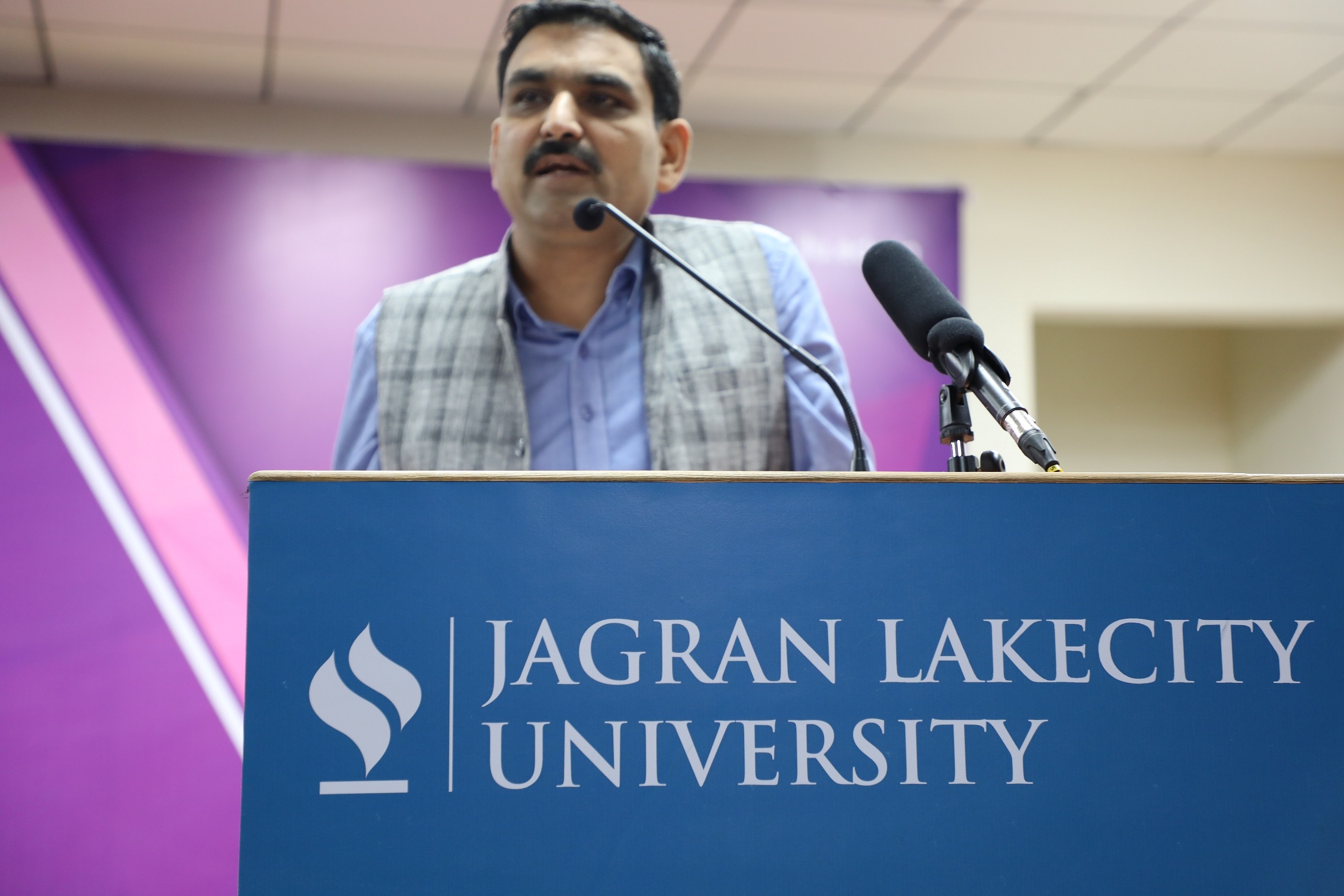 The worst of times are the best for journalists : Dr. Ashish Joshi
Our Correspondent, 29 July. 2017
A series of orientation sessions have been lined up to mark the new academic session of Jagran lakecity University(JLU). School of Media & Communication conducted its orientation programme on 28/07/17, for the new students. Eminent media professional Dr. Ashish Joshi, Editor-in- chief and CEO Lok Sabha Television, Ms Aruna Raje patil, National Film Awardee and Renowned Filmmaker and Shri Vinay Singhal, Co-founder & CEO, WittyFeed has been roped to enlighten our students with his ideas, industry practices and experiences. The programme formally commenced by Saraswati Vandana followed by lamp lighting . Prof. Anoop Swaroop, Vice Chancellor JLU, motivated the new students by making them understand the importance of the role they play in society, he laid emphasis on penchant for the profession and perfection. Prof. Vivek Khare, Dean (Student Welfare), JLU briefed the students about the rules and regulations of the University and requested the students to abide by the institutional rules and norms. Prof. Diwakar Shukla, Director, School of Media & Communication emphasized a need to maintain balance between the profession and passion of journalism He advised students to discover their true self during these years of learning. He formally announced the commencement of BA (hon.) Advertising and PR. from this academic session. The worst of times are the best for journalists as they present a chance to do good journalism and re-establish the fundamental principles of news reporting, said Aashish Joshi, Editor-in- chief and CEO Lok Sabha Television. Giving few anecdotal references, he addressed that it was the best of times because technology is all pervasive and all inclusive. There is a rare interactivity and synergy and information is easily and abundantly available. He pointed out that there are so many platforms for journalists to put out their stories and for the stories to be picked up and delivered. Ashish said that it was called the worst of times because of what was called the 'post-truth' era. Fake news is being disseminated to distract and to be mischievous and is adding to the pressure on newsrooms which is leading them to bypass critical processes of verification, resulting in them making mistakes. Paradoxically, he said, that this presents a great opportunity to go back to the basic principles of journalism of establishing the truth and writing stories that were rooted in facts. He called upon the students to stay the course and remember that the best lies are closes to the truth and that they must follow the cardinal rules of journalism. The fundamental duty of a report is to the reader and therefore, young journalists must learn to challenge, interrogate and scrutinise all that comes their way. Ms. Aruna Raje Patil, a renowned Filmmaker makes a great point about filmmaking when she talks about how earning a degree can be a little deceptive because, well, a piece of paper doesn't make someone a filmmaker. She emphasized on the fact that students should not only learn technical side of filmmaking, but also start finding stories in the unsaid. She reckoned that the market is full of opportunities and avenues but, the only condition underlined is that "one should be really good with the skills". Vinay Singhal, Co-founder and CEO of WittyFeed motivated students to do entrepreneurship. He said, "I urged the students to understand the power of a phrase 'never give up'. If you don't give up, you will definitely make it someday. He in fluxed enthusiasm among the students by making the address entirely interactive where, some interesting dialogues happened between the speaker and the students. The anchoring of the orientation session was conducted by Ms.Shivani Thapliyal, Assistant Professor, SoMC. The session ended with vote of thanks by Dr.Jayanta panda, Associate Professor. SoMC, who extended gratitude to the management, dignitaries and various people who contributed to make the event a success.

---
Ambreesh Suresh Chouksey weds Rounak.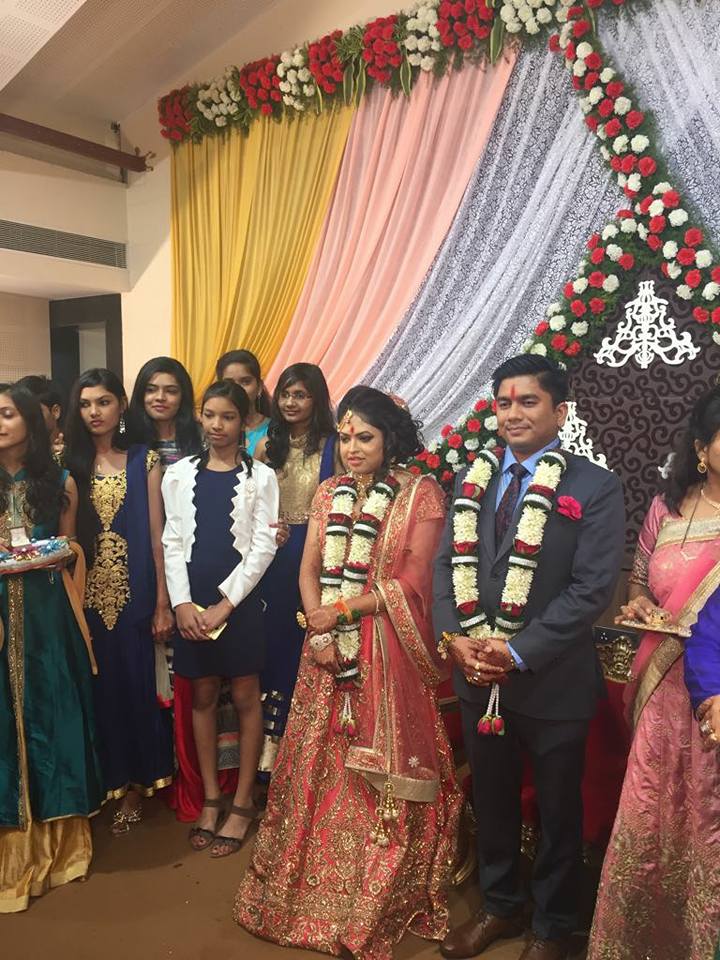 Our Correspondent, 3 July 2017



Ambreesh Suresh chouksey tied knot with Rounak at Nagpur.Mr.Ambreesh chouksey is MD of LN Star newspaper & Director of LNCT group.A grand reception party was hosted by the choukseys at hotel Sayaji on 3rd July.the venue was lavishly decorated with live band and sumptuous buffet spread.Friends and Families including the key personalities from cross-section of the society congratulated the newlyweds...
---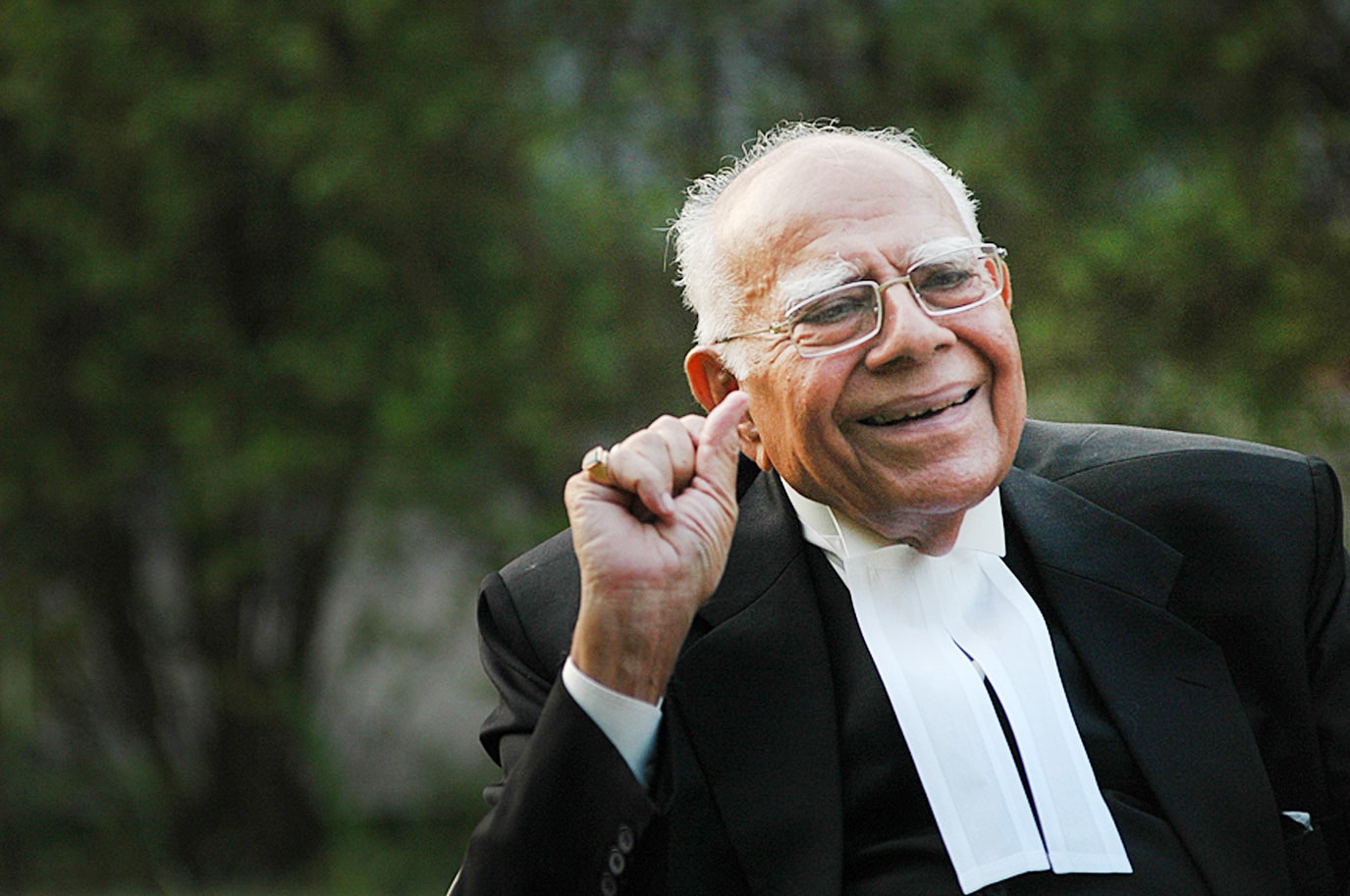 40 LAW SCHOOLS TO CONTEST FOR THE HIGHEST PRIZE EVER, ADV. JETHMALANI TO INAUGURATE
Biggest Moot Court Competition in Central India
Our Correspondent, 16 Feb. 2017
Jagran Lakecity University's School of Law is organizing a national level moot court competition and has received an overwhelming response from various leading law institutes. 40 prestigious law institutes from across the country including premier Private Universities as well as National Law Universities are going to participate. It is worth mentioning that the upper limit for participation was kept 40 while over 60 teams from renowned law institutes contacted regarding the same.
The moot problem, on which teams are going to argue, relates to an orphan (named Pontos) ,who goes on to become a leading footballer of the country. He authorizes the producers to make a film based on his life. After scrutiny by the Censor Board, the film receives 'A' certificate. Aggrieved by this,. The publication house files a writ petition, which is intervened by Pontos as well.
First time in the history of moot court competitions of the nation an institute has offered a staggering prize of Rs. 3.25 Lacs. The winning team will get a cash prize of Rs. 1.50 Lacs while runners-up will receive Rs. 1 Lac. In addition to this, best speaker, best researcher and best memorial will be getting Rs. 25000 each.
Renowned persons from the legal fraternity viz. bar, bench, academia and industry are coming to judge the preliminary, quarter-final, semi-final and the final rounds of the competition. The inaugural and valedictory sessions are going to witness the grand presence of eminent personalities including justice, renowned senior advocates and academicians including Vice Chancellors.
The inaugural ceremony is scheduled to be held on 17th February from 4:00 PM. Mr. Ram Jethmalani, Member of Parliament (Rajya Sabha), former Law Minister and Senior Advocate,
Supreme Court of India will be the Chief Guest at the Inaugural Ceremony.
You are requested to designate press photographers and correspondents for the coverage.
---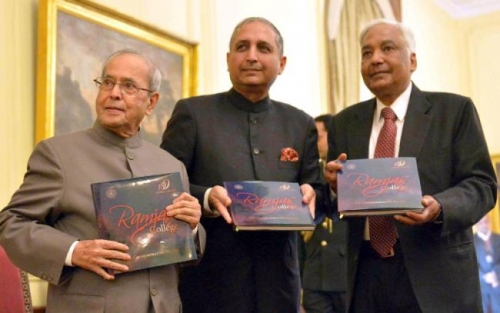 President addresses the Centenary Celebrations of Ramjas College
Our Correspondent, 16 Feb. 2017
The President of India, Shri Pranab Mukherjee addressed the Centenary Celebrations of the Ramjas College today (February 13, 2017) at Rashtrapati Bhavan.
Speaking on the occasion, the President extended his best wishes to the Ramjas College on its Centennial Celebrations. He also congratulated Dr. Rajendra Prasad, Principal of the Ramjas College for last 32 years, on being presented the Lifetime Achievement Award on the occasion. He said that it is the bounden duty of all of us to salute such 'Gurus'.
The President said that the basic objective of education is not merely acquiring of a job but pursuit of knowledge. Knowledge based society is going to be the order of the day. He said that ever since he took over as the President, he has been constantly stressing on improving the quality of higher education in the country in his capacity as Visitor of Central Institutions of higher learning.
It had been his constant refrain as to why can't Indian Universities and Institutes of higher learning produce more Noble Laureates. He questioned as to why was it that till just about two years back, there was no single University or Institution of higher learning featuring amongst the top two hundred in international rankings.
He emphasized that there is no dearth of talent either of students or teachers in the country. We must therefore strive to earn our rightful place in the comity of nations on the basis of our merit. He wished that Ramjas College achieves many more important milestones in the future.
On the occasion, the President released a Centenary Postage Stamp and also a Commemorative volume on 'History of Ramjas'.


---
Jagran Lakecity University celebrates a new generation of Graduates & Post Graduates at its Second Convocation Ceremony
Our Correspondent, 3 Dec. 2016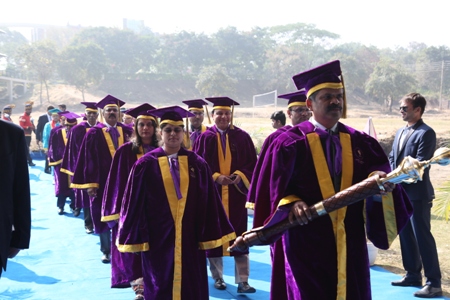 Jagran Lakecity University (JLU), Bhopal conducted its second convocation on Friday 2 nd December 2016 in Bhopal and conferred degrees upon the students graduated in the year 2016. Prof. (Dr.) N.R.Madhava Menon, Padamshree & an eminent jurist was the Chief Guest at the ceremony where Chancellor Shri Hari Mohan Gupta, Vice Chancellor Dr.Anoop Swarup, Deans, JLU Governing Council, members of the Board of Management , dignitaries from the industry and academia, students and their families, faculty, alumni and staff of the JLU also participated.
Around 200 Graduates and Post Graduates received their Bachelor's and Master's degrees in various disciplines. Five students Akanksha Jain, Ajay Singh Ravat, Deepak Vaswani, Palash Badal and Diksha Kapoor received Chancellor's Gold Medal while five students namely Anuja Gurele, Diksha Jaiswal, Lovely Singhal, Aimen Azim and Mukesh Shukla received Rank Certificates.
On the occasion, Jagran Lakecity University also conferred honorary doctorates on four leading luminaries from the field of Media, Management, Law and Humanities for their remarkable work in their respective areas.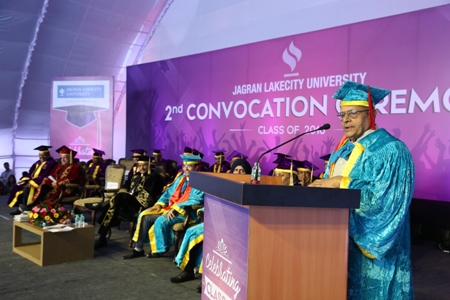 These luminaries are Padma Shri Awardee and Eminent Jurist Prof.(Dr.) N.R. Madhava Menon; CEO of Tata ClassEdge India Shri.Nirav Khambhati; Vice President & Managing Director, Yahoo India Shri.Gurmit Singh; and Founder, Centre for Global Non Killing, USA Prof.(Dr.) Glenn Durland Paige, Expressing happiness at the convocation, Chancellor of the Jagran Lakecity University Shri.Hari Mohan Gupta said, "The day marks the culmination of a rigorous and intellectually energizing year filled with learning, growth, research and career progress and symbolizes a step forward for our graduating students. They rightfully deserve the rewards and recognition that Convocation brings and it is both a pleasure and an honour to share this celebration with them. I am very positive that our graduating students will shoulder the responsibility to renew and refresh key solutions for the world. I am hopeful that the young graduates & post graduates passing out today are prepared for this vital task".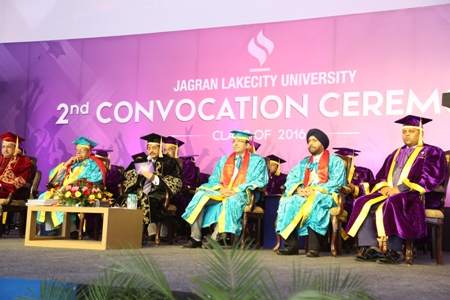 Addressing the gathering, Prof (Dr.) N.R.Madhava Menon said "It is indeed a privilege to be conferred with such an honor by JLU. I deeply appreciate and acknowledge JLU's work in various fields and their rigour in terms of grooming students for cutting edge initiatives to deal with various issues that the world is facing, and be able to meet up societal needs in the future" In the past, honorary doctorates have been awarded by JLU to the global Peace leader Dr.Daisaku Ikeda and world renowned cartoonist and journalist Mr.Neelabh Banerjee.

---
Jagran Lakecity University to hold its Second Convocation Ceremony on 2 nd December 2016
Our Correspondent, 1 Dec. 2016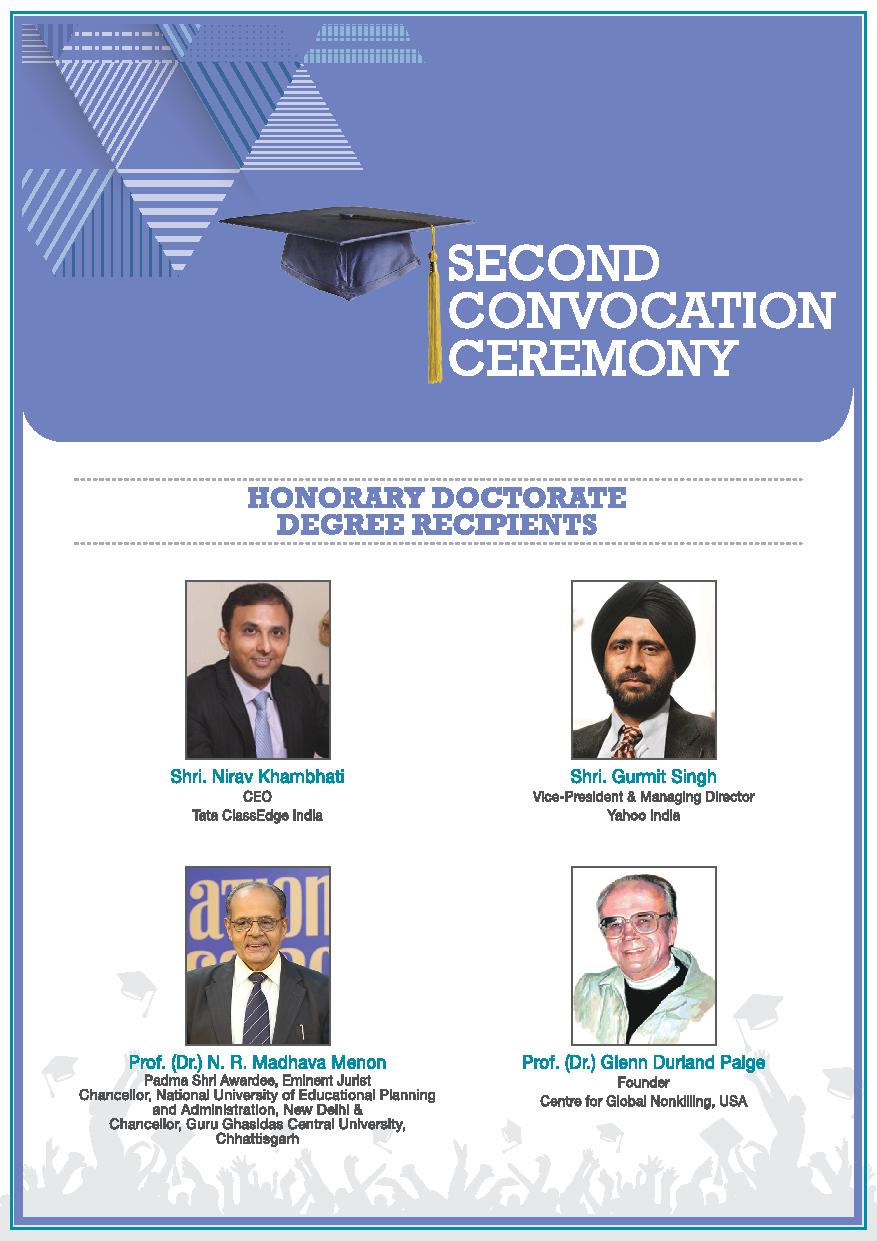 Jagran Lakecity University (JLU), Bhopal is organising its Second Convocation on 2 nd December 2016 in Bhopal, to confer degrees upon the students graduated in the year 2016. Prof. (Dr.) N.R.Madhava Menon, Eminent Jurist will deliver the Convocation Address.
Four leading luminaries from the field of Media, Management, Law and Humanities will also be bestowed with Honorary Doctorates by the University for their remarkable work in their respective areas.
These luminaries are Padma Shri Awardee and Eminent Jurist Prof.(Dr.) N.R. Madhava Menon; CEO of Tata ClassEdge India Shri.Nirav Khambhati; Vice President & Managing Director, Yahoo India Shri.Gurmit Singh; and Founder, Centre for Global Non Killing, USA Prof.(Dr.) Glenn Durland Paige. Crème' de la crème academicians and professionals are expected to be present at this much awaited University event in Bhopal.
The main function will be held at JLU's Student Enrichment Hub, where Gold Medals, Ranker Certificates and Degrees will be distributed to the toppers and students in the respective programme of the University. Approximately 200 students will be conferred with PG, UG and PhD degrees of the University.



---
ICAI Commerce Wizard 2016‐A Talent Search Test: At A Glance
Our Correspondent, 19 Nov. 2016
The Career Counseling Committee (CCC) is a Non standing Committee of the Institute of Chartered Accountants of India through its Career Counseling Committee (CCC) constituted under regulatory provisions of The Chartered Accountants Act, 1949 to promote the Commerce Education with special focus on CA course amongst Secondary, Senior/ Higher Secondary, Graduate/Post Graduate students as well as other stakeholders.
In order to popularize Commerce Education, the CCC of ICAI conducting ICAI Commerce Wizard -2016 i.e. an aptitude and diagnostic test to measure the concept of understanding the ability of a student in commerce.
Students of Class IX/X/XI/XII are eligible for the aforesaid test. The aforesaid test will be conducted in two levels, In level 1 test i.e. on line test the candidate can appear from his home or any convenient place through their Laptop/Desktop/Mobile/Ipad etc. and In level 2 of this test will be held at designated Centre through Printed Question papers & OMR answer sheets for shortlisted candidates of level 1 as decided by the Test Management Committee.
Candidate may register in the same by paying Rs 100/‐ & filling up the form online through websiteicaicommercewizard.com and After due date, candidate may register by paying Rs 150/‐.
More than 1 million cash award is slated for the meritorious candidates and the candidate appear for level 1 & 2 test will get the participation certificate.
For other Details & Registration, please visit icaicommercewizard.com, For any clarification, please contact at Email: commercewizard@icai.in, mobile: 09312085025.
CA. Mukesh Singh Kushwah, Chairman, Career Counseling Committee (CCC), ICAI is leading from the front for smooth conduction of the ICAI Commerce Wizard-2016.


---
Surgical Strike needs to be done in Agriculture:Amit Jain
Our Correspondent, 12 Nov. 2016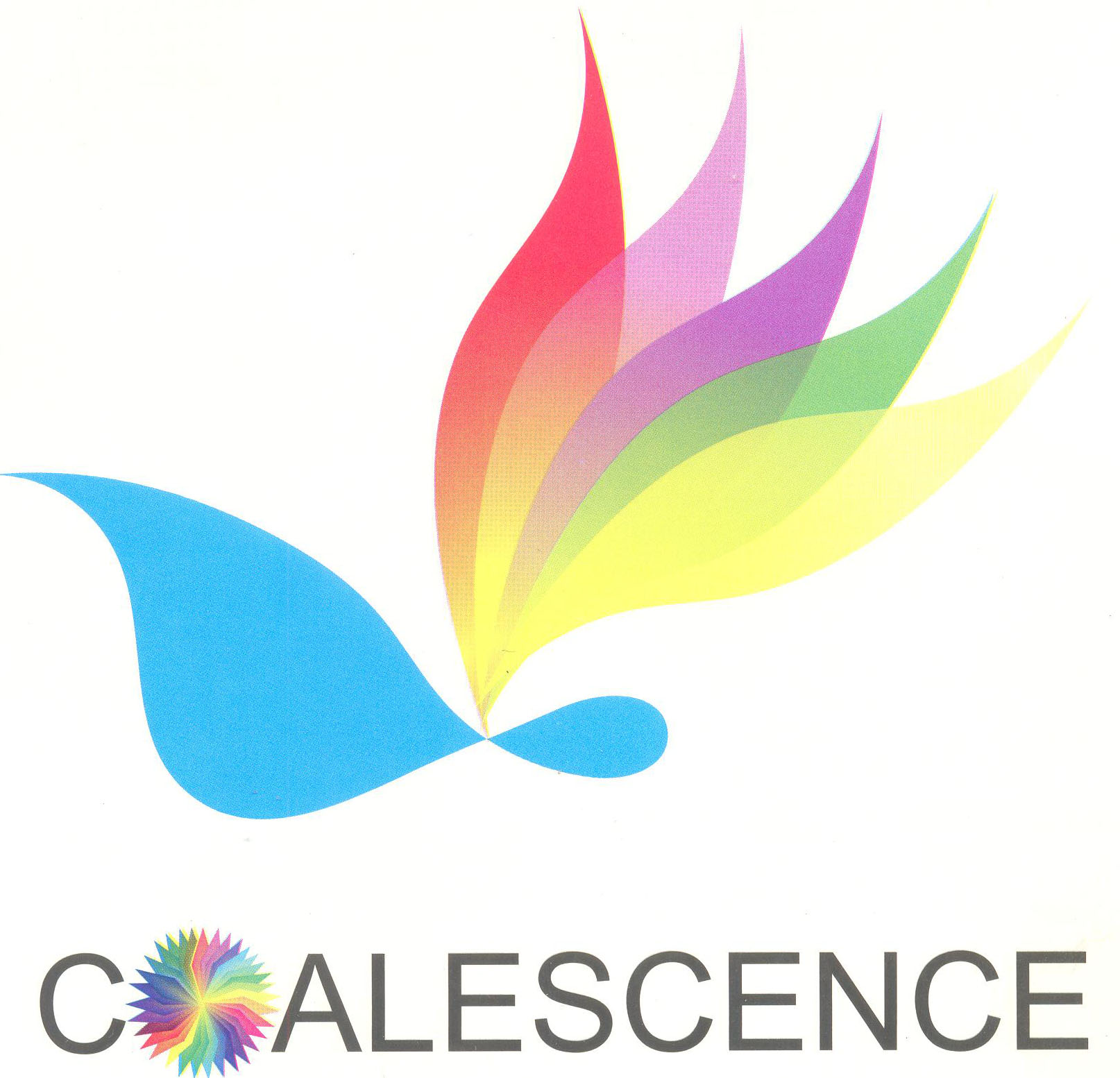 'COALESCENCE' starts at IIFM
Two day seminar 'COALESCENCE' starts at Indian Institute of Forest Management (IIFM), with the theme of Business, climate change, and Society : Bridging the sustainability Divide.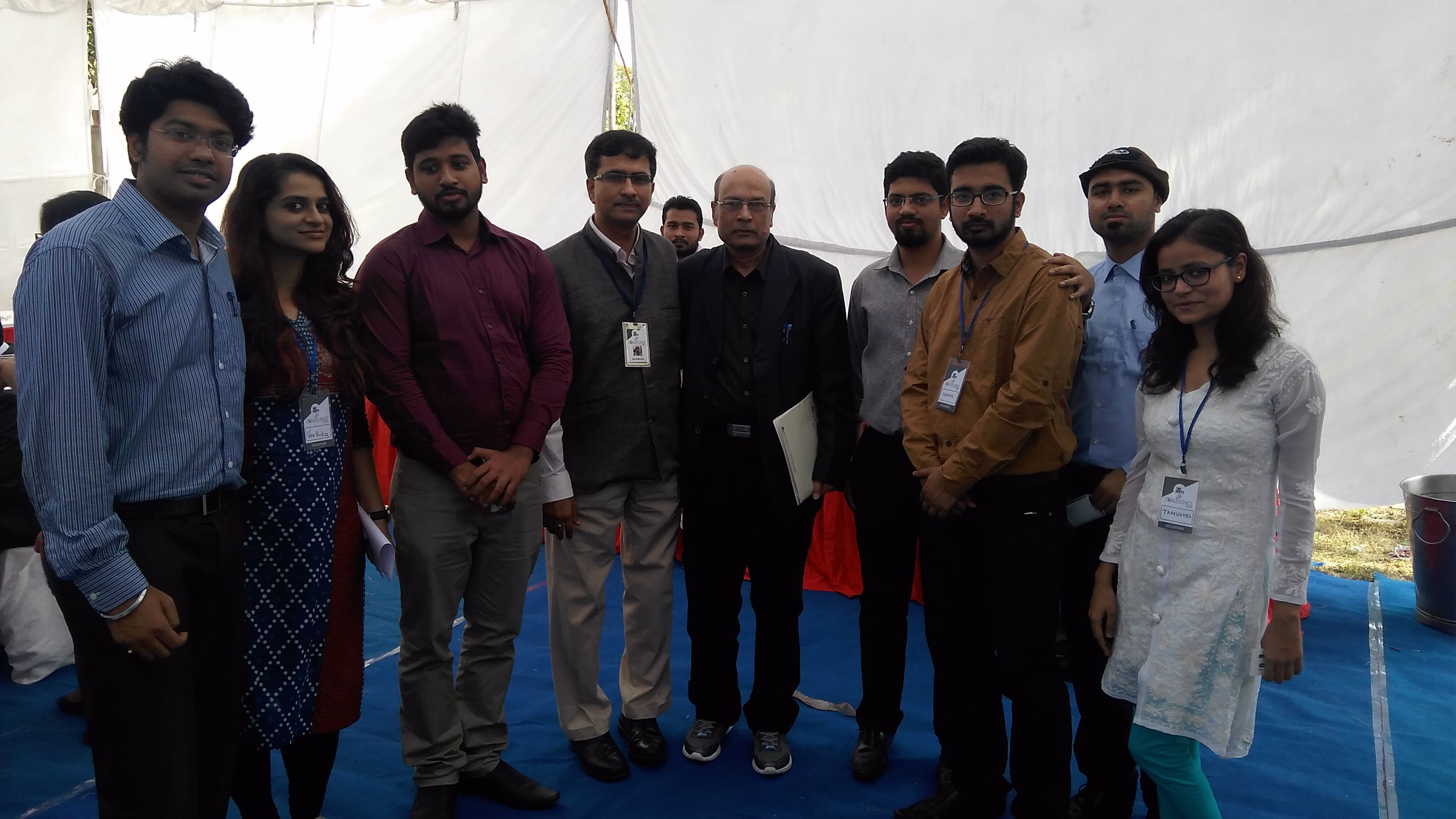 The seminar was inaugurated by Dr. Ravindra Pastor, commissioner , Ujjain. He emphasized the importance of Rural and Social Entrepreneurship. He explained the concept of E-Fasal launched successfully.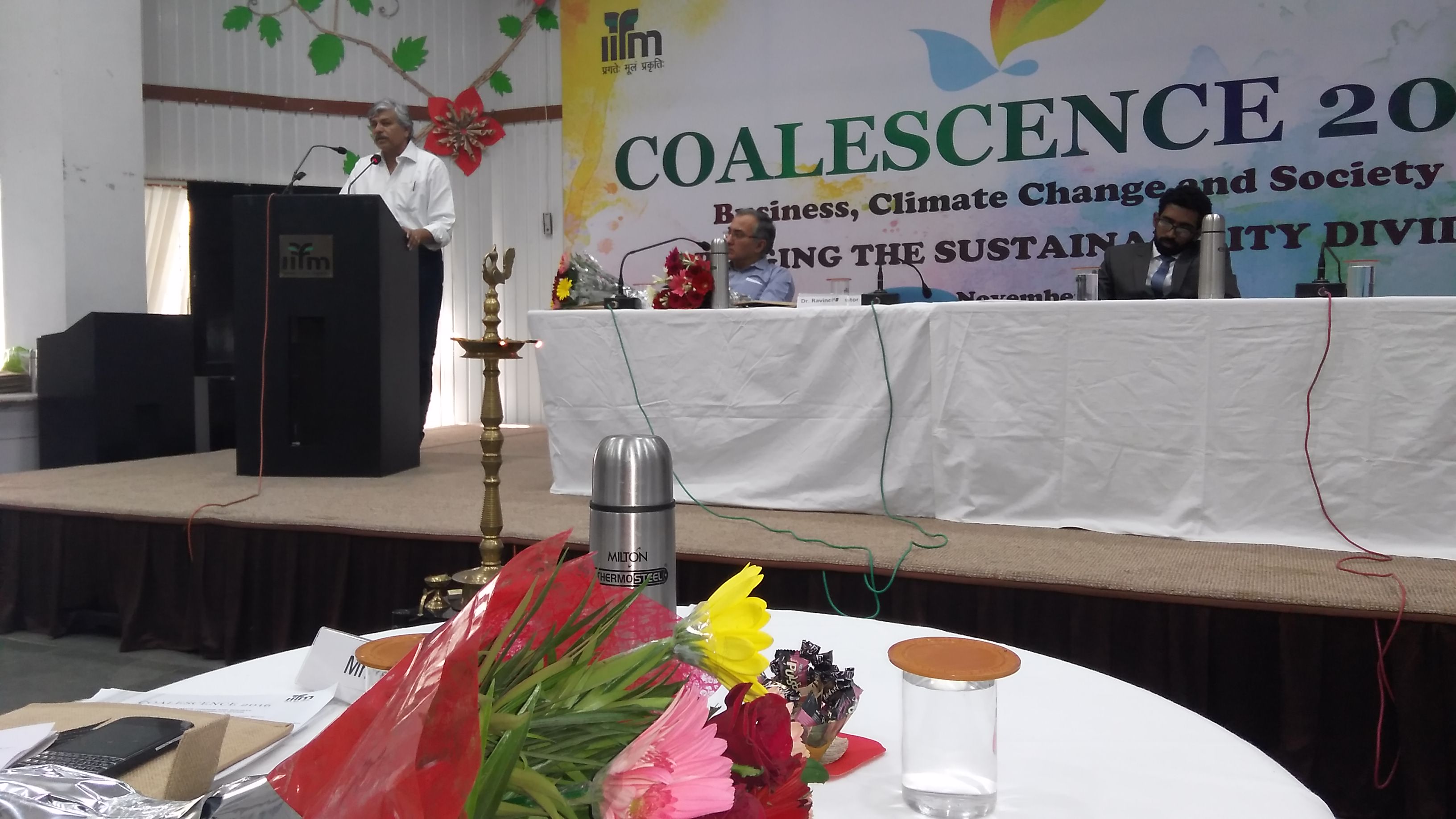 Prof. A.K. Dharni delivered welcome address.
Mr. Amit Jain, Cofounder and President Health point services talked about the various succesfully social and E-ventures like Delhi Mohalla Clinics, Gyanshala. He praised the role of Mohammed Yunus and Bill Gates as the key Social Entrepreneurs who changed the life of Millions.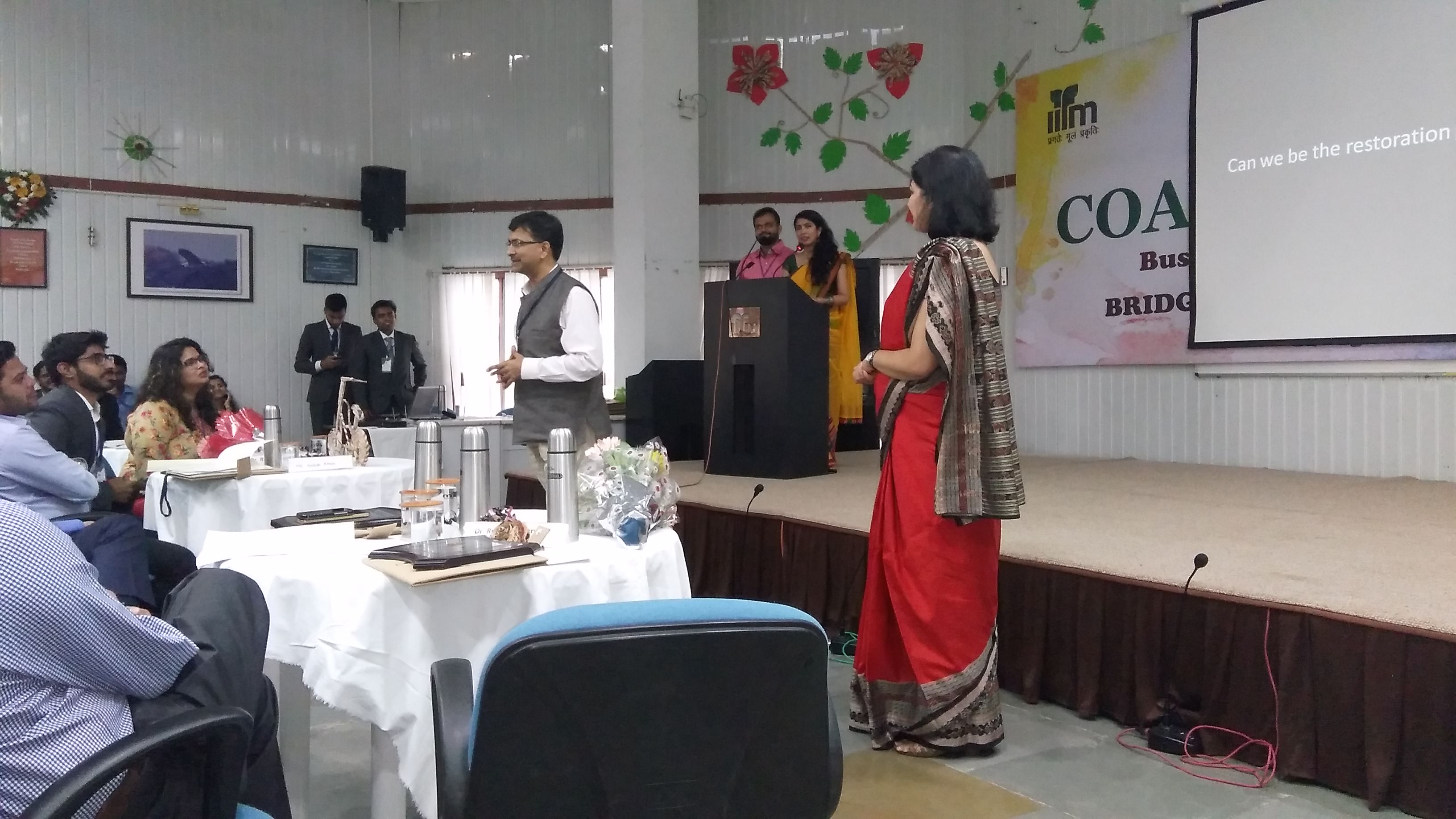 Ms. Rohini Chaturvedi also presented her ideas and vision for Social Entrepreneurship. Mr. Amit Jain and Ms. Rohini Chaturvedi answered the queries raised by the students.
Mr. Atul Nath coordinated the programme.



---
Chief minister Shivraj Singh Chouhan opens VIT Bhopal University in Sehore district
Our Correspondent, 21 Oct. 2016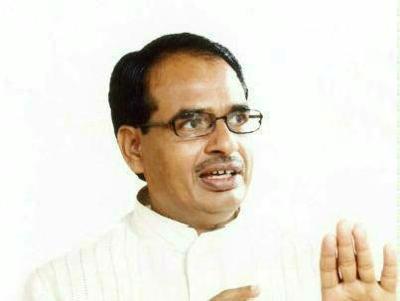 BHOPAL: Chief minister Shivraj Singh Chouhan laid the foundation stone of Vellore Institute of Technology (VIT), Bhopal University at Kothri Kalan in Sehore district on Thursday.
Speaking on the occasion, Chouhan thanked VIT University chancellor Dr G Viswanathan for establishing the institution in the state.
He said, "VIT will not only contribute in the field of education but will also help create job opportunities."
HRD ministry's National Institute Ranking Framework has ranked VIT first among all private engineering institutions, 13th among all engineering institutions including IITs and NITs, and seventh among all private business schools in India. Around 32,000 students, including 1,000 from MP, are studying in VIT.
Chancellor Dr G Viswanathan thanked CM Chouhan for his support in establishing the university in the state. He said that the proposed university will make Sehore an educational hub.
Dewas MP Manohar Untwal, Rajya Sabha MP iLa Ganesan and former CM Babulal Gaur were among those present on the occasion.


---
National Public Relation Day Celebrated at JLU by PRSI
Public Relation skills are essential for allround success : Shiv Harsh Suhalka
Bhopal, 23 April 2016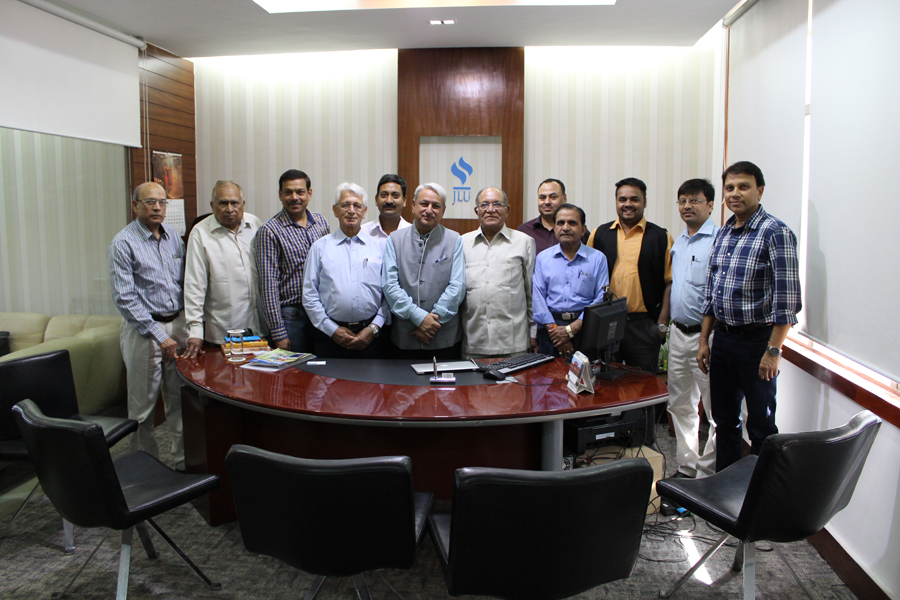 PRSI in association with Jagran Lakecity University organised a seminar on "one India - One Voice" to celebrate the National Public Relation day. The seminar was led by Diwakar Shukla, Director and coordinated by Yogesh Patel.Large no. of students and faculty were present. Members of the PRSI also called on the Vice chancellor, JLU Dr. Anoop Swarup.


Speakers of the seminar Mr. Vijay Bondriya, Mr. Shiv Harsh Suhalka, Mr. Shailendra oja, Mr. Vishnu Khanna, Mr. Sanjeev Gupta were welcomed by the Director and faculty by presenting bouquet's. Mr. Vishnu Khanna spoke about his long experience in PR during his tenure at BHEL.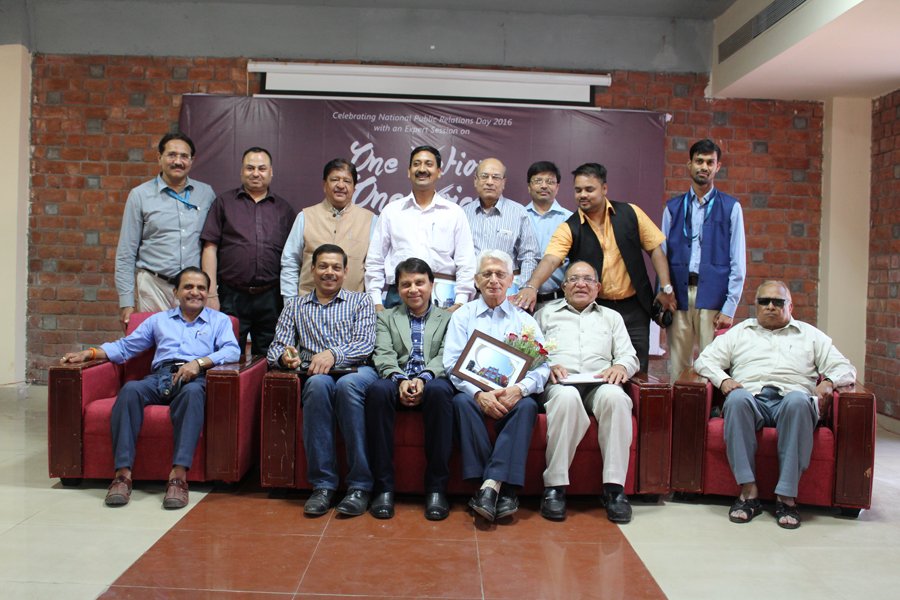 He said in this Profession, one should know about all organisation activities. Mr. Vijay Bondariya read the PRSI National President Mr. Ajit Pathak's message on the occassion of National PR Day.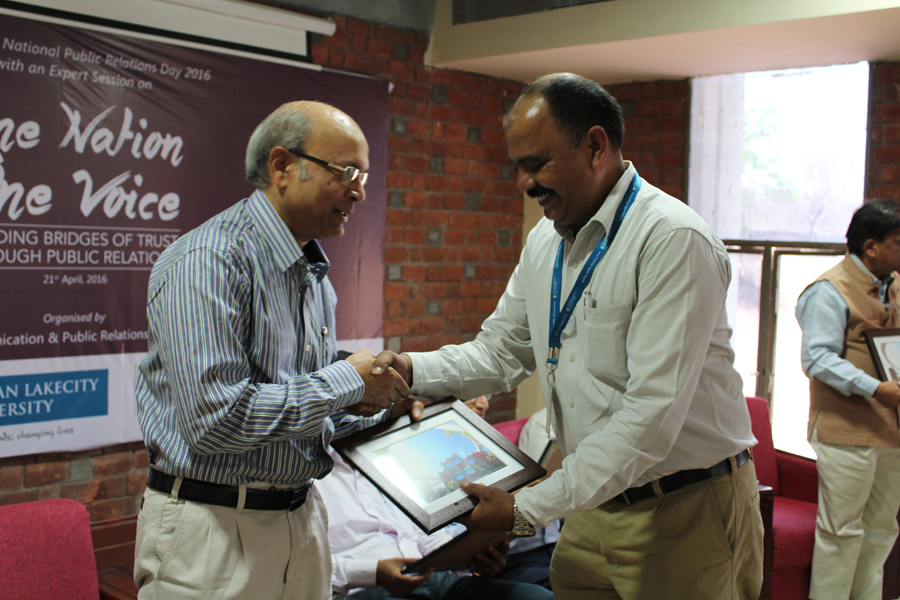 While speaking about the Public Relations for all round success, Mr. Suhalka, Editor-in-chief, MetroMirror.com emphasized that self praise is not immoral, a good PR profesional should be able to praise his oraganistion and its Boss, He further said that only postive people could be succesful PR professionals. Mr. Shailendra oja talked about the career opportunities in Public Relations.
Mr. Diwakar Shukla and Dr. Khare presented the Mementos to the speakers.
---
Lecture series inaugurated at Sanchi University
Bhopal, 2 Mar. 2016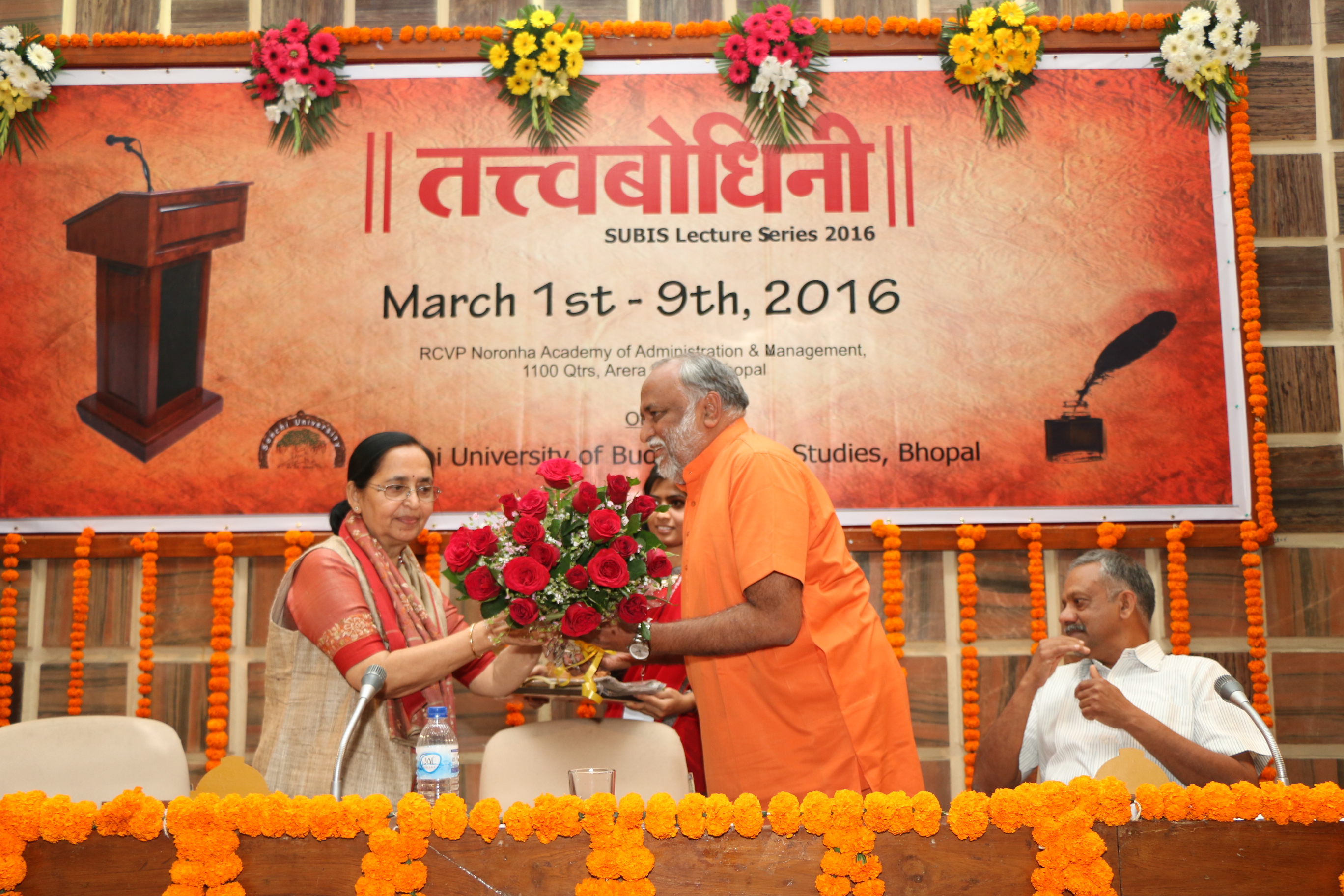 "Bhagavadagita can help a person to understand the self and realize the universe in true sense of words. The teachings of Bhagavadagita are eternal and can uplift our souls. It is very difficult to be extraordinary but matter of fact only ordinary people can do extraordinary things. Ordinary people need to acknowledge their hidden traits and potentials." said by Swami Sukhbodhanand in his inaugural speech on the topic "Form Ordinary to Extraordinary" during inaugural ceremony of Sanchi University of Buddhist-Indic Studies Lecture Series-Tattvabodhani. Swami Sukhbodhanand is the Head of Prassana Trust and a renowned author of more than 100 books related to religion and spirituality. This lecture series is being organised under the aegis of SUBIS at RCVP Noronha Academy of Administration & Management in the city from 1stto 9th March.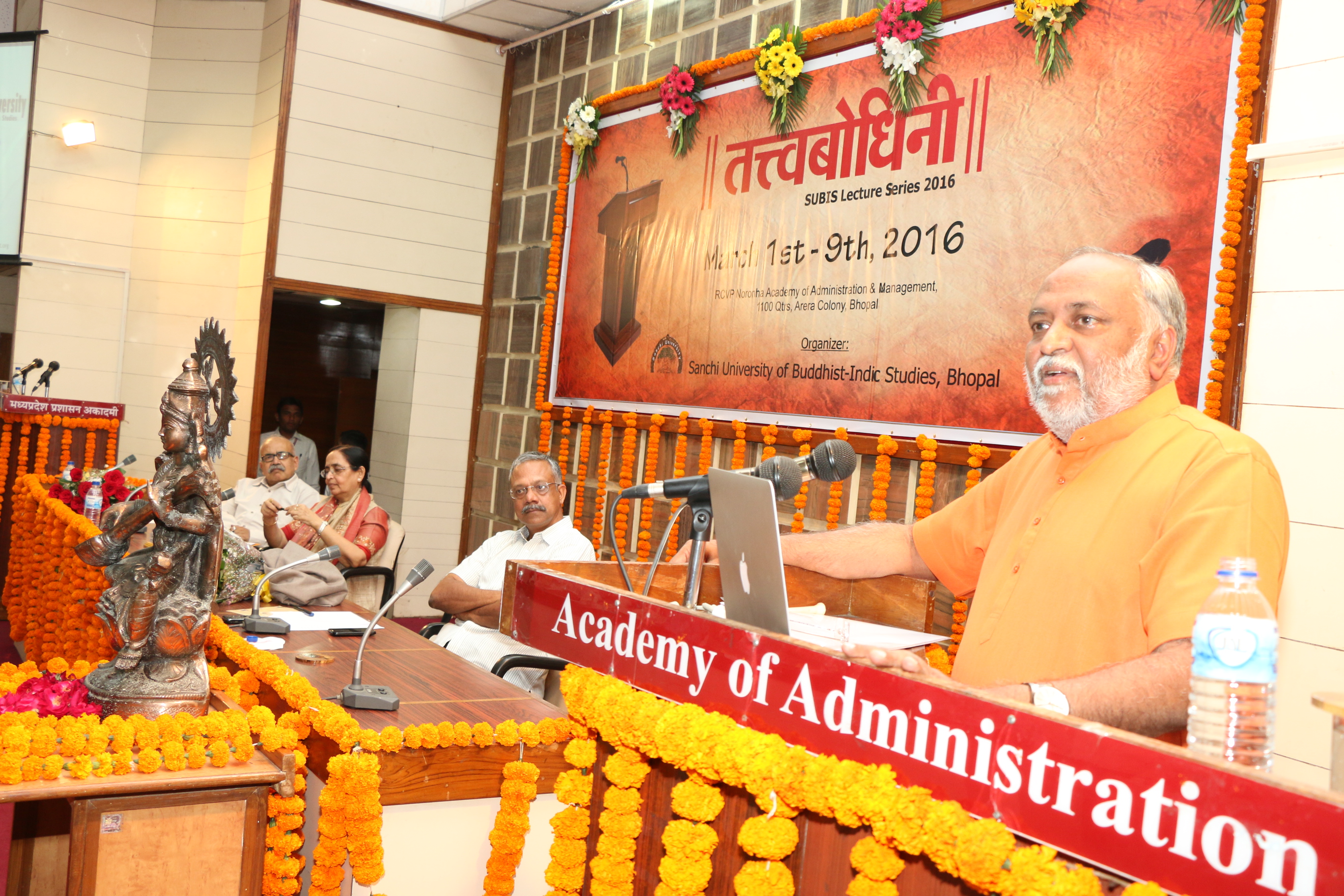 Welcome speech was delivered by Vice Chancellor of the University Prof. Shashiprabha Kumar. She highlighted the objective behind organising this lecture series and stated that lecturing is an age old tradition and art that involves the intelligent interpretation of thoughts, arrangement of words and skilful presentation before the gathering when it fused with knowledge; it becomes a treasure house for the seekers of knowledge. The first inaugural session was chaired by Sri Rakesh Aggrawal, Additional Chief Secretary of Government of MP. He emphasised need of spiritual awakening in the society. Registrar of the University, Sri Rajesh Gupta also graced the occasion. Scholars from various walks of life, retired officers and common people were present in large number to listen to the speakers.
On the second day of the lecture series, the noted Orthopaedic Surgeon, Dr. Shashibhushan Mishra will be delivering his lecture on the topic "Dhyan Ke Veghyanik Pahlu". The eminent Yoga Guru Shri Ramesh Kumar Dhanoriya will chair the session. On 3rd March the topic is the universal message of Upanishada which will be delivered by Vice Chancellor of SUBIS Prof. Dr. ShashiPrabha Kumar. Vipashyana & personality development is the topic on 4th March and the speaker will be Bhadant VimalKirti. Noted Former police commissioner
---
Sloganeering in Parliament, debate on streets is today's problem: Sitasaran Sharma
Bhopal:MMNN: Nov. 28, 2015
Country's first Constitution Day function organised at Journalism University Speaker of Madhya Pradesh Assembly, Sitasaran Sharma has said that the objectives of the constitution and dignity of the democracy could be maintained. It's today's dilemma that sloganeering is done in the parliament and debates occur on the streets while the debates and discussions in the parliament should be the ideal practice of our democracy.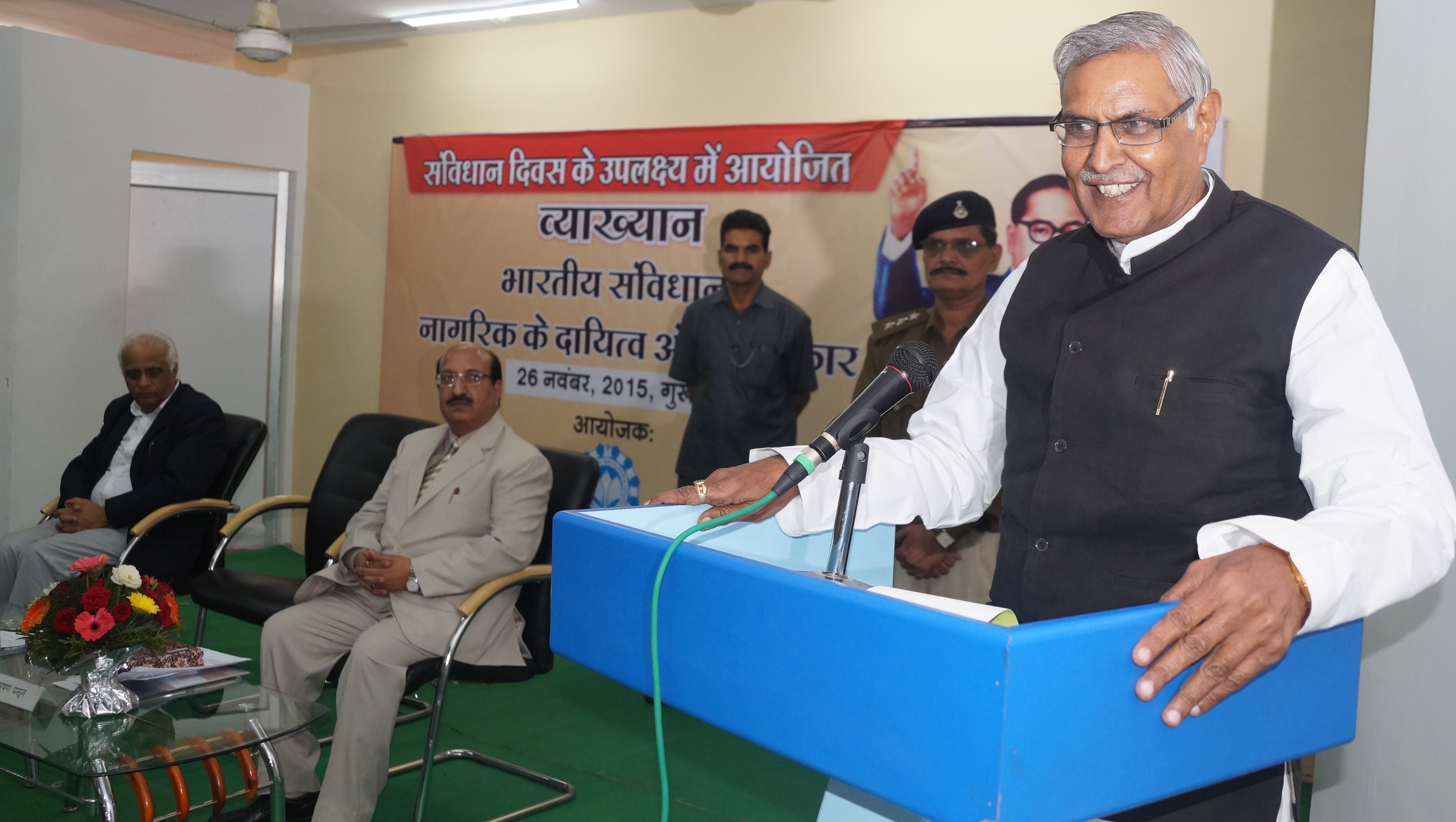 Shri Sharma was present as the Chief Guest at a function organised by Makhanlal Chaturvedi National University of Journalism and Communication to mark the First Constitution Day. While expressing his views on the subject, 'Indian Constitution: Rights and Duties of the Citizens' said that when we could make changes in the religious system then constitutional changes are also quintessential and could not be kept away with. Change is the law of life. As far as question of constitution, while America has made 27 amendments to its constitution in last 200 years, we have made 100 amendments in our constitution after independence taking into account the situation and the social change. He said that the most important thing was those operating the constitution should be capable enough and should implement the provisions according to the motive of the constitution. He said that today, the country was moving on a way to take a direction and the role of the youth could be important in it. We should refrain from so-called 'socialism' in the name of socialism in the constitution. Only then we will be able to fulfill the dreams of Baba Saheb Ambedkar.
Shri Sharma said that the Indian Constitution is a special constitution in the world. Dr. Ambedkar had said that make however good constitution you want, it will not serve the purpose until those implementing them are good people. Several amendments have been made to the constitution according to the public needs and changing scenario. During the emergency, the words, 'Socialist' and 'Secular' added to the constitution which were not required as this provision was already there in the constitution. He said that the constitution states, "We the people of India" but today, the "We" has been occupied by 'NGO' which is not good. Today, most of the petitions are being filed by the NGOs and not the citizens. He exhorted the journalism students to responsibly discharge their duties as the 'Fourth pillar of the democracy' would have a strong role to play in the future.


The keynote speaker of the function, retired judge of High Court of Punjab and Haryana, Dr. Bharat Bhushan Parsoon said that the Indian Constitution has a connection with the soul of the Indians. The Constitution is associated with every part of the body and it is harboring the dreams of the Indians. It has been shaped according to the need of the citizens. To understand the Indian Constitution, we would have to understand the deep sense behind it. Justice Parsoon said that the Indian Constitution was adopted on November 26, 1949. This day came to be observed as Law Day on the initiative of Dr. Lakshmimal Singhvi. After the announcement of the Prime Minister Shri Narendra Modi, it was decided to observe this day also as Constitution Day.
He explained that Indianism has an integral connection with Indian Constitution. The architects of the Constitution have mentioned us as "We the people of India" in the proposal of the constitution. The Constitution outlines the duties of the citizens and also gives them the right to perform those duties. It is the constitution that provides opportunity to the citizen even in the lowest strata of the country to hold the highest position in the country. English people had a notion that Indian cannot prepare their own constitution and even if they prepare it, they cannot run it.
The architects of our constitution and every citizen of the nation have proved this claim of Britishers as wrong. It is often said that we have prepared the constitution borrowing provisions from various countries while the architect of the constitution, Dr. Ambedkar had said that we did not steal any provision from any constitution but we have adopted them after modifying them according to the Indian conditions. The unique aspect of our constitution is its flexibility. Very less amendments have been made in the American constitution while in our country 100 amendments have been made so far. The spirit behind this is that we make amendments in the constitution according the change in condition in the interest of the citizens. Our constitution also provides provisions for giving protection to the weaker sections and women which is another specialty of our constitution.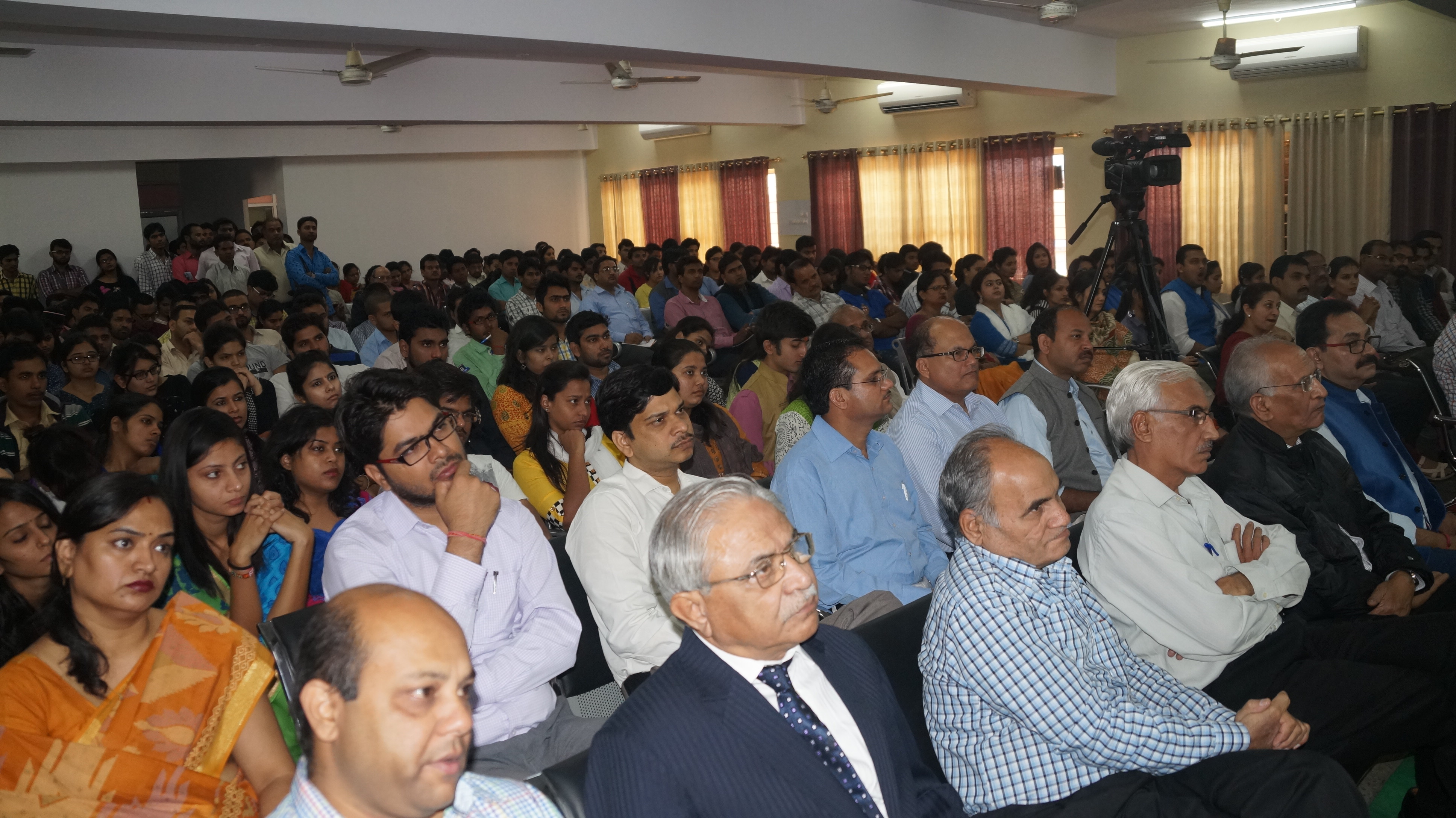 Vice-Chancellor of the University, Prof. Brij Kishore Kuthiala, who was presiding over the function, in his address, said that the constitution provides the citizens to live freely and the amendments are also made in the constitution according to the public will. Our country followed a law when we did not have a written constitution and during that age, following the law of nature was considered as the law. There could be several loopholes in the constitution but it is still the highest thing. Only after working according to the provisions of the constitution that India will lead the world in the days to come.
Among the others present no the occasion were Rector of the University, Shri Lajpat Ahuja, Registrar Dr. Sachchidanand Joshi, senior journalists, Shri Sarvdaman Pathak, Shivharsh Suhalka, GK Chhibbar, Sarman Nagele, Mahendra Gagan, Suresh Gupta, Shakir Noor, Dr. Ramji Tripathy, Saket Dubey and teachers, officers, employees, students and the dignitaries from the city. The function was coordinated by Head of the Mass Communication Department, Shri Sanjay Dwivedi.


---
Vinoba Bhave University (VBU) host 68th All India Commerce Conference 2015
Our Correspondent, 23 Oct. 2015


Vinoba Bhave University (VBU), Hazaribag to host the three day 68th All India Commerce Conference 2015 from 6 to 8th November 2015. The conference theme would be based on Prime Minister Modi's campaign of "Make in India-The Road Ahead". It would be an academic event of National importance, as it will bring together nearly 2000 delegates from all over the country and abroad. The event is India's biggest and the most comprehensive gathering of its kind. Hon'ble PM Sri Narendra Modi's presence is expected during the inauguration of the Conference. Hon'ble Governor of Jharkhand cum Chancellor of Universities,Jharkhand State, and Hon'ble State Minister of Finance Sri Jayant Sinha, Government of India has already confirmed their gracious presence to inaugurate the event.
The conference will be attended by renowned Commerce Academicians, Economists, Management Experts, Government Representatives, Industrialists, researchers working in Behavioral Finance, E-retailing, Social Media, Skill Development in Business Education and Undergraduate, post graduate and doctorial students from across the country and abroad. Representatives from different industries including ISDC (International Skill Development Corporation), London (UK) will attend the panel discussion on ''Skill for tomorrow-Re-define in the Commerce Education''.
The primary activities of the ICA include organizing of seminars, workshops, conferences and meetings; promoting research; helping with technical assistance and consultancy to clientele world and the publication of books, periodicals, journals, etc. The ICA, has successfully organized a total of 67 Annual Conferences throughout our country till date. Vinoba Bhave University, Hazaribag, Jharkhand a renowned and prestigious university of Jharkhand is organizing its 68th Conference. Dr Gurdeep Singh, Vice Chancellor, VBU and & Shri Yashwant Sinha,,former union minister of finance & external affairs,GOI is the Chief Patron of the conference.
Prof(Dr) M.P.Sinha,Pro Vice Chancellor,VBU,Sri Gopal Singh,CMD,CCL,Ranchi & Sri Harvinder Singh,Vice President,Jindal Steel & Power,Ranchi would also play a key role in organizing this mega event.
Prof M.K Singh Conference Secretary, VBU, Hazaribag said that the conference will be highly informative a

nd of academic importance of national level and international standard. With the wider topics including Behavioral Finance: Emerging Dimensions, E-retailing: Challenges & Opportunities in Global Scenario, Social Media: HR Interventions, Skill Development in Business Education, the forthcoming conference to be discussed during the conference, will pave the path for the economically strong nation. Participation from the academia and different industries would make the event an amalgamation of academic knowledge and practical experience.
The Indian Commerce Association (ICA) one of the oldest professional bodies founded in the year 1947, stands as the cohesive group of economists, management experts, technologists, business community, and so on, with multifaceted objectives to serve continually as a forum of exchange of experiences, ideas, collection along with dissemination of the information on trade, business, commerce and management; for promoting research activities and to permit coordination in the curriculum of Commerce and Management at the national level. Members of this excellent professional association include a team of academicians, administrators, business industrialists, management experts, students, economists, educational institutions and such other interested professionals.
Dr M.K. Singh is the conference secretary along with the team and patrons and working day and night to make the event grand.


---

Universities should not be havens of irregularities
Our Correspondent, 15 Sept. 2015
Madhya Pradesh Private Universities Regulatory Commission will monitor universities through "Planning Versus Performance" software. Higher and Technical Education Minister Shri Umashankar Gupta watched its presentation at CRISP here today.
He said that constant monitoring is necessary to prevent universities from becoming havens of irregularities.
Shri Gupta said that students and faculties of private universities should be linked to Aadhar Number. He said that success stories should also be uploaded on commission's website.
Through software, students, their attendance, faculties, staff, academic performance, infrastructure, results and placements will be monitored. Grade of universities will also be prescribed on its basis.
Commission's Chairman Dr. A.K. Pandey, CRISP's CEO Shri Mukesh Sharma and members of the commission were present on the occasion.


---
Weltweit College Hazaribag ropes in Star Cricketer Shubh Lakshmi Sharma as the brand ambassador

Ranchi, 26 August 2015
Weltweit College Hazaribag announced the signing of Shubh Lakshmi Sharma, Star Cricketer, Indian Women Cricket Team as the brand ambassador here today. This is an important milestone in the institute's journey. Weltweit College is an instructional activity of Weltweit Foundation, New Delhi centered for giving training in the field of business administration, computer applications and journalism. The institute is focused to train students, essentially by giving them industrial exposure through real ventures in the field, along with conventional classroom teaching in the modern infrastructure.
Affiliated to the renowned Vinoba Bhave University Hazaribag, Weltweit unites experienced educators and a decent companion gathering to make a dynamic on - grounds involvement in the very heart of the Jharkhand. The organization is prepared to roll out noteworthy improvement and put resources into a student, where desire leads them and make the next move to follow their dreams, to get the best out of their lifetime opportunities.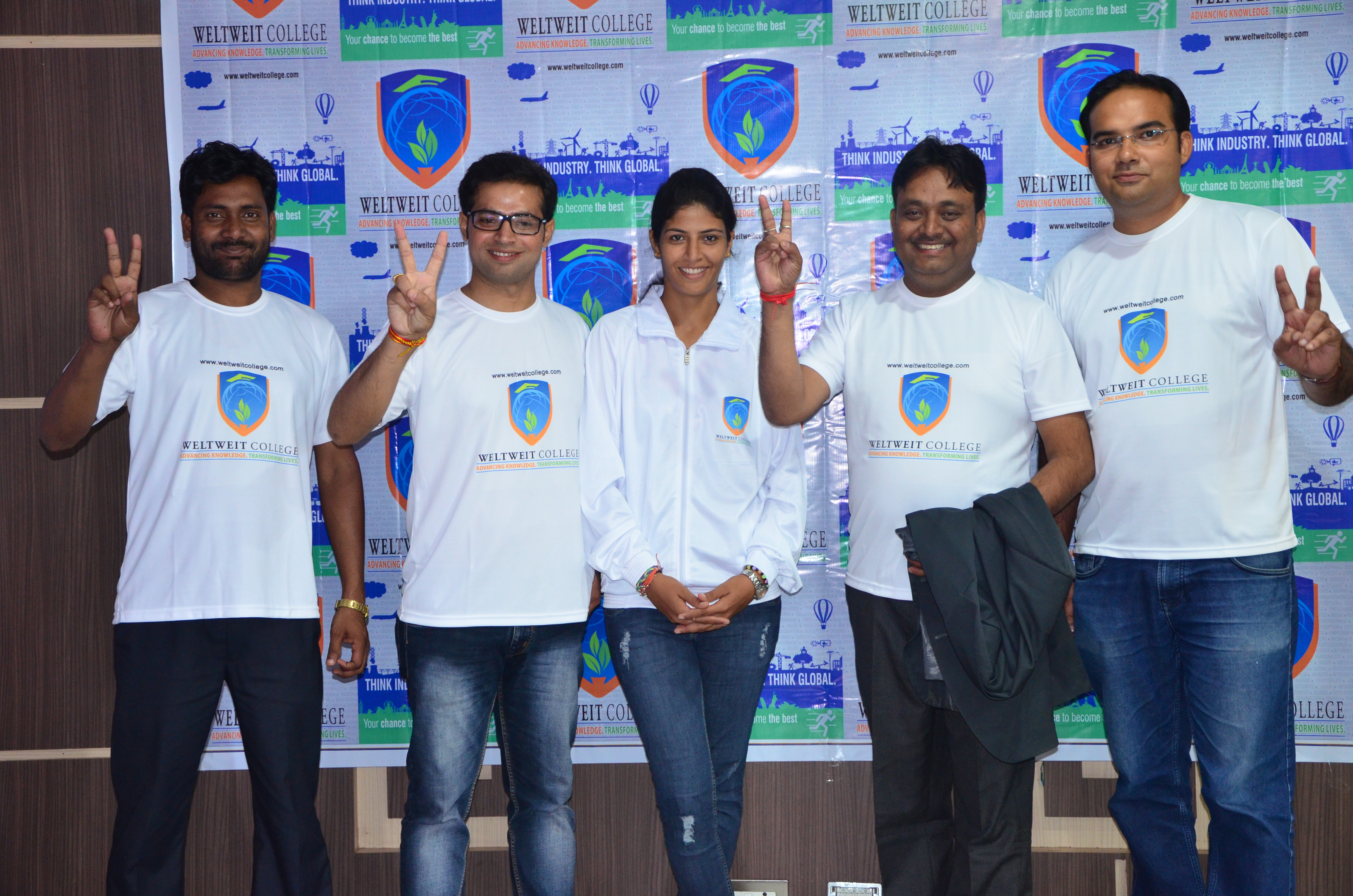 CA Manoj K Pahwa, Chairman, Welt Weit College,said that "Virtues like passion, hard-work, sincerity and commitment are what we would like to inculcate in all our students. Our main objective to introduce the star cricketer as the brand ambassador is to make the young generation aware of the institute's academic features and teaching methodology. We have only one target to prepare each student with the assistance of the best brains as the faculty members".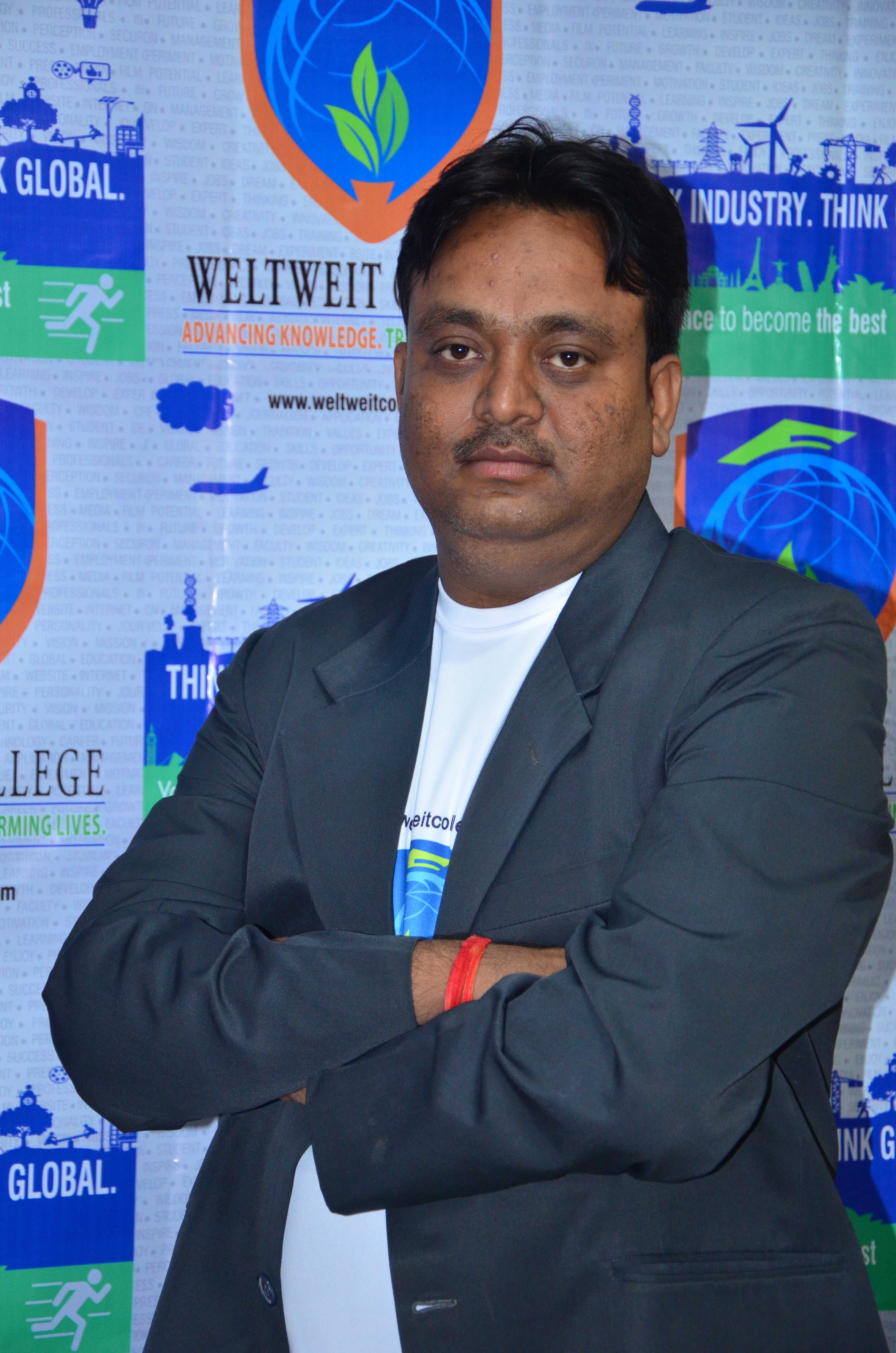 Abhishek Sinha, Managing Director, Welt Weit College said, In Shubh Lakshmi Sharma, we see a "go-getter". She with her passion and commitment has crafted her own space in the highly competitive sports arena. He added" Introduction of Ms Shubh Lakshmi Sharma as the brand ambassador is part of our expansion strategy to make young generation aware of our unique training system through a popular face of Jharkhand. The reputation of an institution is, in large part, measured by the excellence of its students. The Weltweit College will help the students to push boundaries of their development, and expand their potential to deliver their best".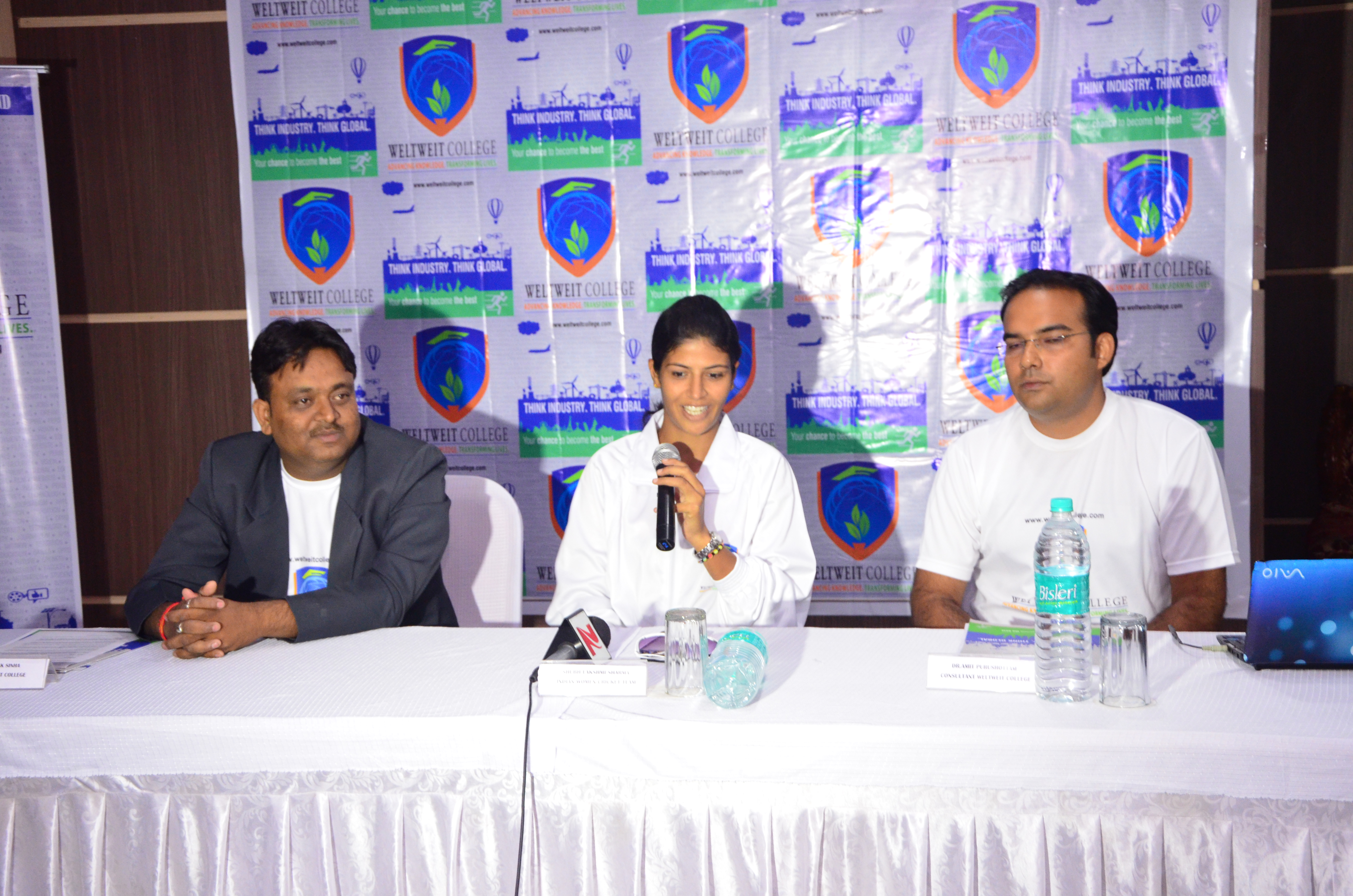 Ms Shubh Lakshmi Sharma, Star Cricketer, said that "As a person I have always worked towards excellence. In Weltweit College Hazaribag, I see the same commitment towards their students, faculty and external stakeholders. I'm happy to get associated with the iconic institute like Weltweit College and would definitely spread the positive steps taken by the institute to train the students in the field of business administration".
Weltweit College Hazaribag has always lived up to its motto of – Advancing Knowledge, Transforming Lives.

---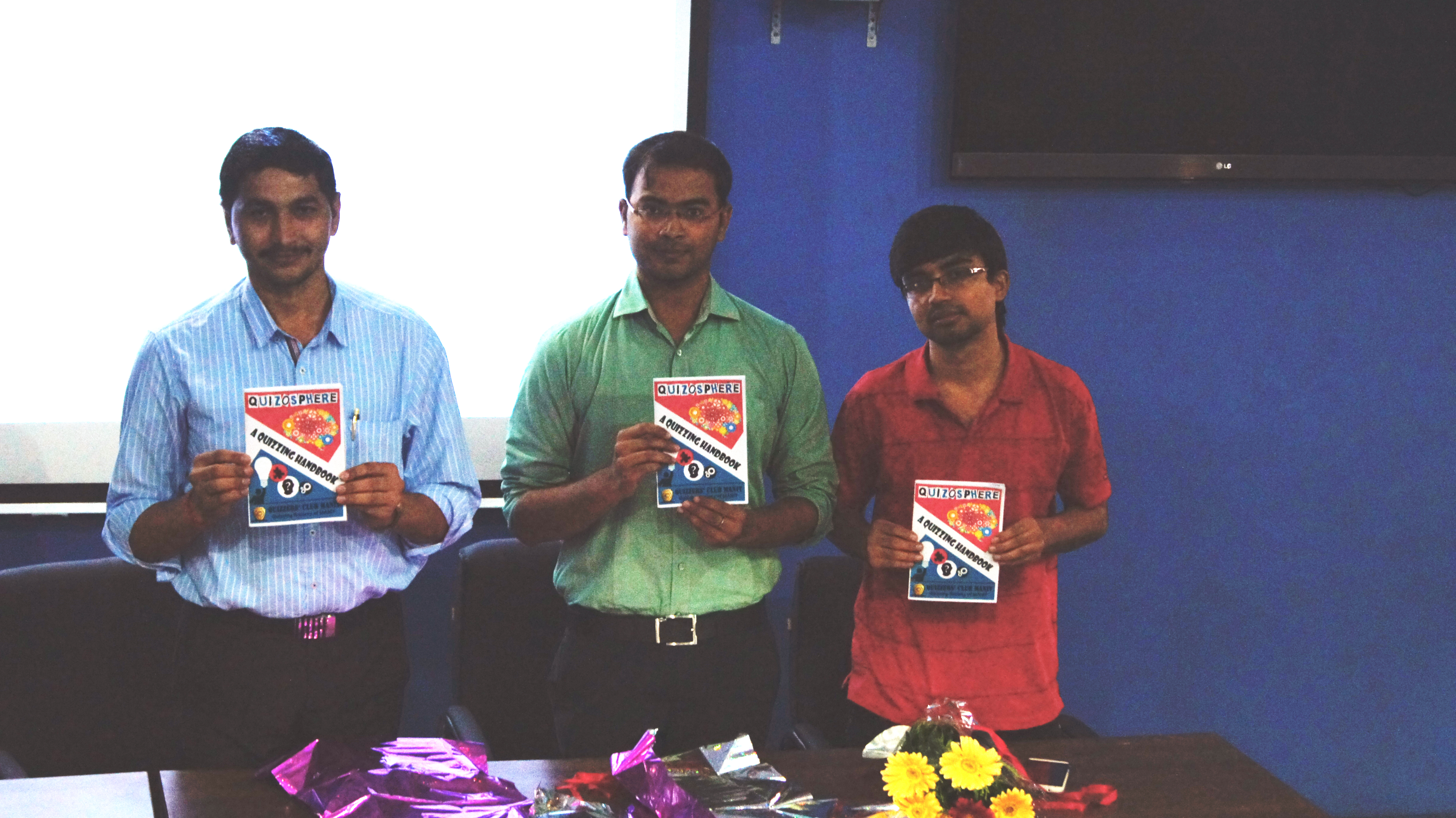 Quizzers club MANIT organised an ORIENTATION cum Quizzing workshop today (22nd august 2015)
Our Correspondent, 22 Aug. 2015
Bhopal : Quizzers club MANIT organised an ORIENTATION cum Quizzing workshop today (22nd august 2015).
The orientation consisted of lecture series on various skill of quizzing and laumch ceremony of Quizzzing Handbook "QUIZOSPHERE by QCM".
It was the first edition.
The speakers were:
1. Anmol Upadhaya, FacultyTIME
2. Laxmi Sharan Mishra, Manager, Swami Vivekanand Library
3. Vinod Gupta (Rj DD),Eminent Public speaker
The event was a great success and every participant was happy to know such a vast scope of Quizzing,


---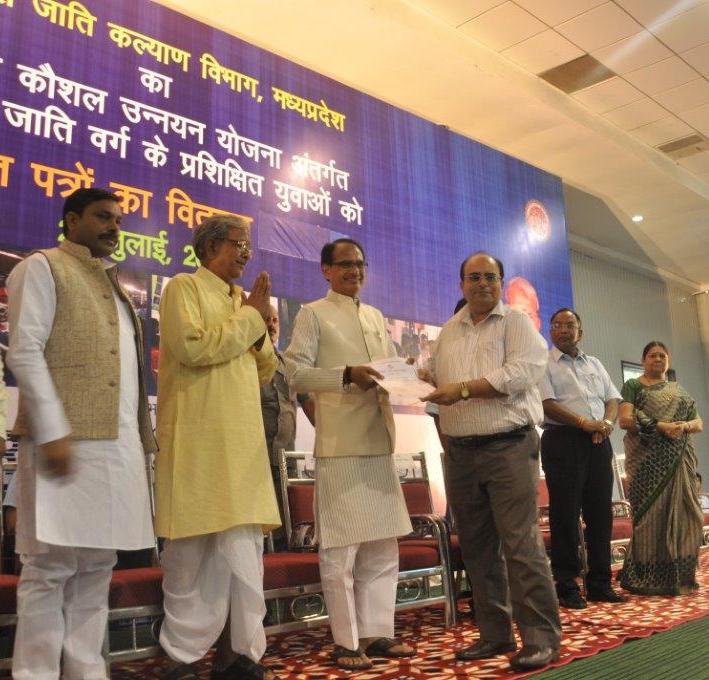 Madhya Pradesh Chief Minister Awarded CRISP for excellent work done in Skill Development
Our Correspondent, 3 Aug. 2015
Honorable Chief Minister of Madhya Pradesh Shri Shivraj Singh Chouhan has awarded appreciation certificate to CRISP for excellent work done in Skill Development activities. The award was received by Chief Executive Officer, Mr. Mukesh Sharma.
A function was organized to distribute appointment letters to SC students trained by CRISP. The training was sponsored by Department of SC Welfare, Government of Madhya Pradesh. CRISP has trained 300 youth from Scheduled Caste category and around 50% of them got employment.
Mukesh Sharma, CEO, CRISP India says " CRISP is inching closer to its vision of being the most admired learning and skill development training centre , enabling sustainable transformation.
Centre for Research and Industrial Staff Performance, (CRISP), Bhopal has been established in the year 1997 as a Society under the Indo –German Technical Cooperation agreement.
Ministry of MSME, Government of India was the line ministry for this project whereas the Department of Technical Education & Skill Development, Government of Madhya Pradesh and German Technical Cooperation agency (GTZ) were the implementation partners.
It is head quartered in Bhopal with national & international operations dedicated to human resource development & organizational development. These activities are targeted at Government, Industries, Academic Institutions, Developmental Organizations as well as the Civil Society.

---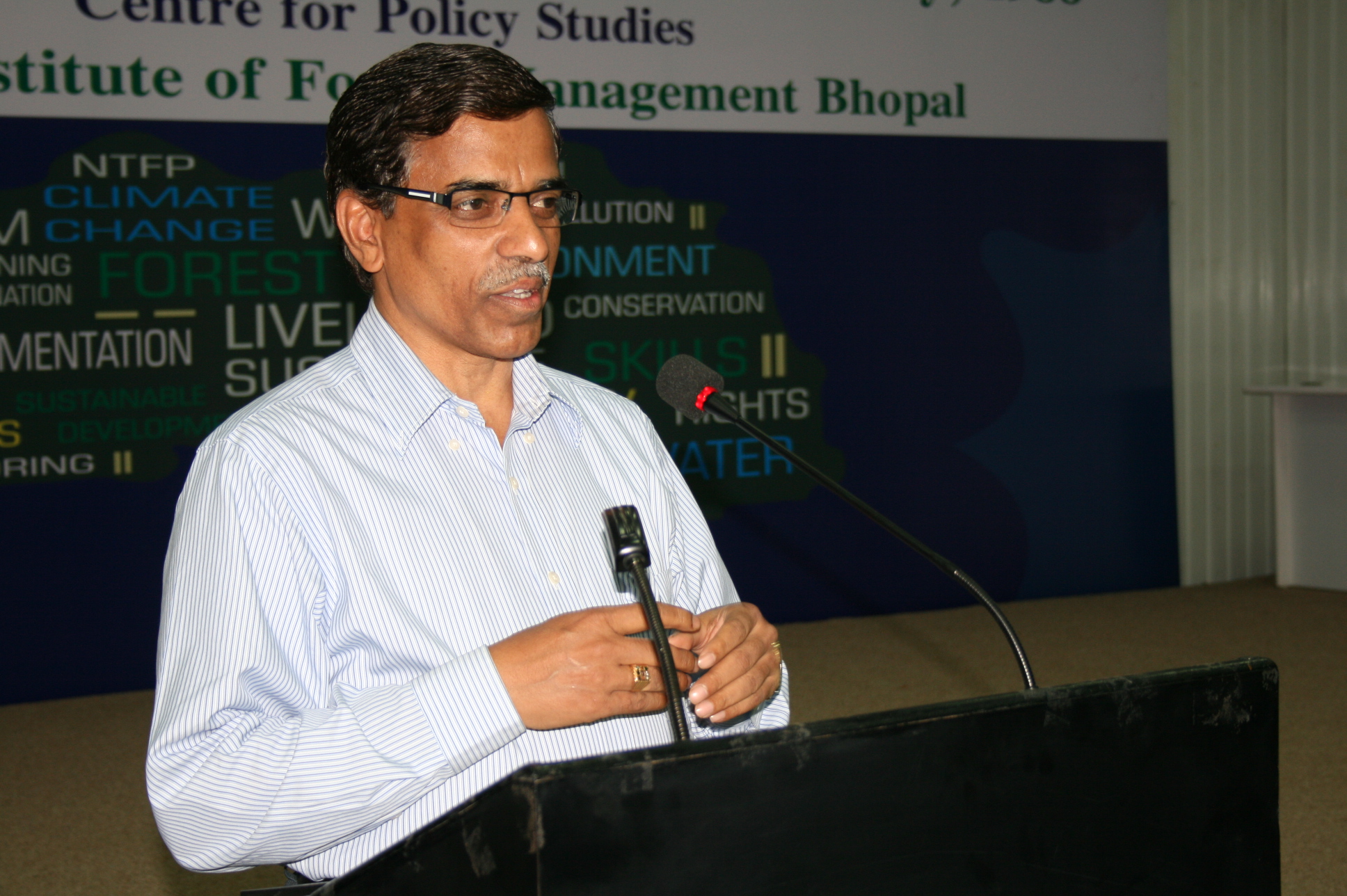 Workshop on Review and Revision of National Forest Policy concludes at IIFM, Bhopal
Our Correspondent, 16 July 2015
Dr. Giridhar Kinhal, Director, IIFM addressing the participants at the Review and Revision of National Forest Policy at IIFM, Bhopal.
A National Level Consultative Study on Review and Revision of National Forest Policy held at the Indian Institute of Forest Management (IIFM) in Bhopal today. While initiating the discussion Dr. Giridhar Kinhal, Director of IIFM said that there is a need for review and revision of National Forest Policy, 1988 in view of the changes in global warming, climate change and needs of the contemporary terms. Dr. Kinhal said that the first forest policy formulated in 1894 and later forest policy 1952 were made for bringing 33% of total land area of the country under forest cover.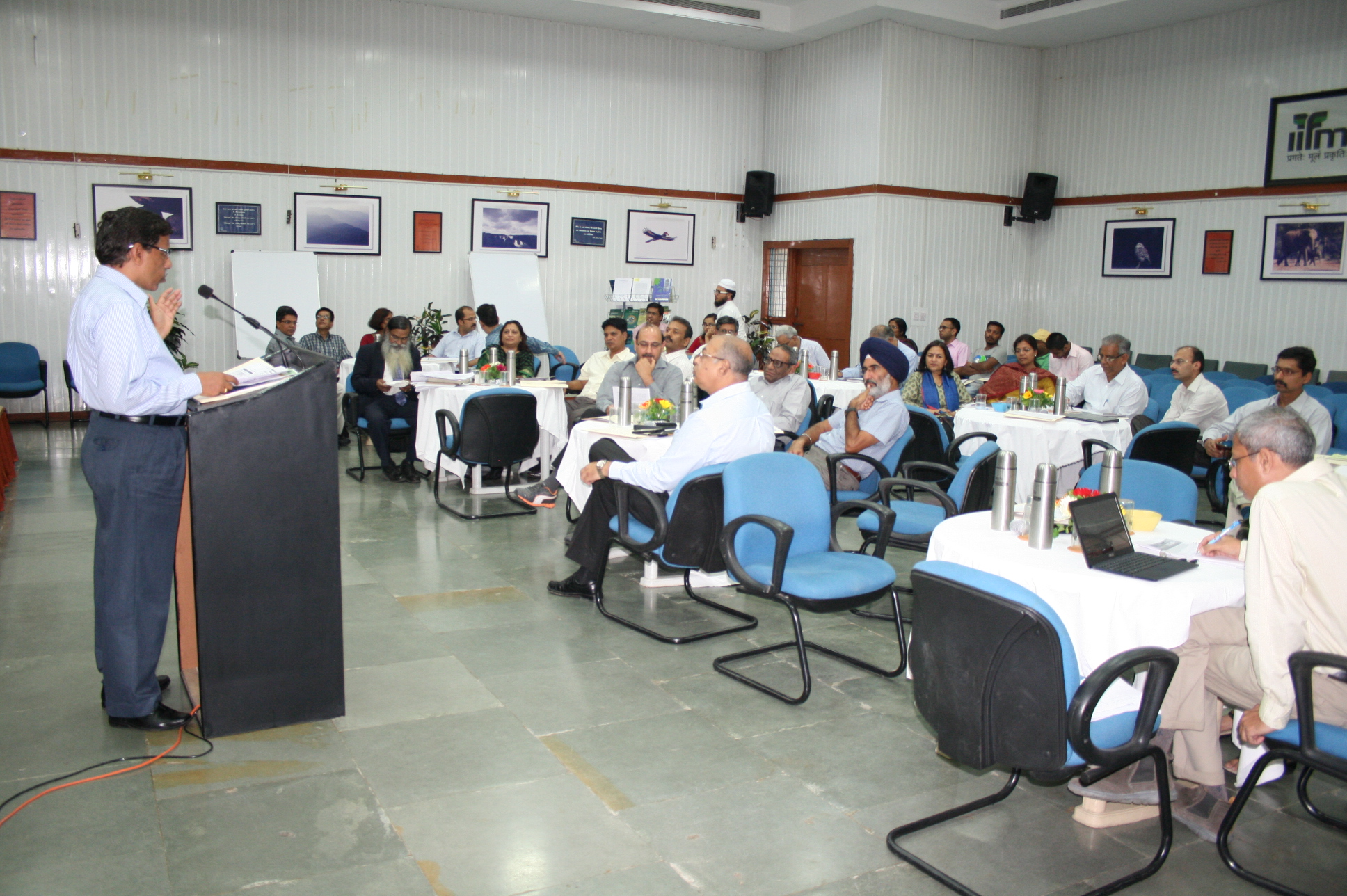 Dr. Giridhar Kinhal, Director, IIFM addressing the participants at the Review and Revision of National Forest Policy at IIFM, Bhopal.
Later on forest policy 1988 was formulated. The Union Government wanted to review the policy after its implementation for a quarter century. The Ministry of Environment, Forests and Climate Change entrusted the responsibility of review and revision of National Forest Policy under Strengthening the Natural Resource Management Project of United Nations Development Programme (UNDP). This review and revision work is has been assigned to "Centre for Policy Change" of IIFM. He said that there are six regional workshops will be held for the review and revision of Forest Policy and the final national consultation workshop will be held in February 2016. The participants of the workshop discussed about the methodology and approach for the revision of the national policy.

Participants at the Review and Revision of National Forest Policy at IIFM, Bhopal.
Several participants suggested including certain issues like accountability, livelihood rights, research and development, landscape management of forests, conservation of biodiversity, implementing the international conventions on environment and forest conservation, ascertaining the opinions of stakeholders, forest research and development and people's participation in forest management. Several dimensions like human, land use – land cover management, forest resources management, principles of forest management, multipronged strategies, inter-disciplinary methods, wildlife conservation, forestry extension were discussed in the workshop.
The workshop formulated the methodology approach and content for the review and revision of the national forest policy. Participants of the workshop strongly advocated for sustainable use of forest resources for achieving sustainable development. There should be a balance between environmental protection and development. The issues involved in increasing the forest cover to 33% were also discussed in the workshop. The other important issues of mitigation strategies to change, forms of forest governance, tenure reforms, reform of public sector agencies, changes in institutional cultures, improved land-use planning were also discussed in threadbare. Representatives of UNDP, Ministry of Environment, Forests and Climate Change, Senior Indian Forest Service Officers and Non-Government Organizations, subject experts, research scholars have participated in the one-day workshop organized by Indian Institute of Forest Management, Bhopal.
---