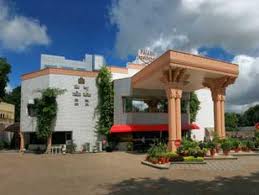 PALASH
RESIDENCY
IN THE HEART OF BHOPAL
It's location in T.T. Nagar makes it a perfect place, close to the lakes and prirme market of Bhopal. Palash Residency is a right choice for those who want to enjoy shopping during the day and cold breeze and lake view in the evening
Palash Residency, a three-star property, is centrally located in Bhopal city. It offers all the luxury of a business hotel. Its modern decor appeals to commercial traveller. Being centrally located in the capital, it is a preferred business hotel and a favoured MICE property.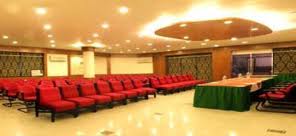 Gourmet's delight :
For those who want to binge on vegetarian delicacies Khana Peena restaurant is the place to go. Here one can enjoy varied flavours of Indian food amalgamated with mouth-watering aroma of spices. For the Chinese and multi-cuisine lovers Tesu-a multi-cuisine restaurant - can be the best bet. Its everyday buffet from noon till 3 o'clock is a must visit. It's unique combination of fine dining with plush ambiance. It has customised family cabins and privacy optons too.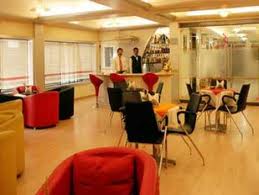 Relaxing :
If you start comparing the rooms of any Luxury hotel with Palash Residency you will be glad to notice the hygiene and systematic approach of the hotel. With 54 air-conditioned rooms & 6 air-conditioned suites, the hotel is almost even on wait list.
Business vision :
Vichaar and Vaarta are two perfect places to hold meetings, conferences and workshops with a sitting capacity of more than 100 people and a board room with a sitting capacity of approximately 15 people. Both the halls are regular venues for big events. Product launches, exhibitions, seminars, conferences are hosted regularly here.
The Bar :
After eventful day, Head towards 'Flamez' to relax and enjoy your favourite drink and delicious snacks. Its ambiance is quite captivating and soothing.
The plous seven vows :
Palash Residency's marriage garden 'AMRAI' is a dream wedding destination. It is a sprawling garden where hundreds of weddings have been solemnised. Its breathtaking ambiance with exotic backdrop make it a dream wedding destination. One of the most talked about features of Palash Residency remains its 'hospitality', the warmth with which the guests are treated, which is always cherished by them.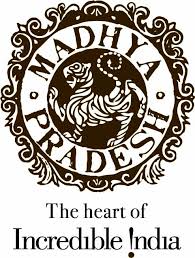 FOR MORE INFORMATION :
Tel :0755-2553006, 2553066, 2553076. Telefex : 0755-2577441
E-mail : palash@mptourism.com
---
80 sites of state identified in camping policy: Tourism Minister Shri Baghel
Bhopal:MMNN: 29 January 2019


Tourism Minister Shri Surendra Singh Baghel said at a departmental review meeting that adventure and water tourism activities in tourism sector should be expanded. He said that Madhya Pradesh Tourism Board has identified 80 sites in the camping policy. Shri Baghel directed to start light and sound show in famous tourist spots Mandu and Sanchi. Principal Secretary, Tourism Shri Hari Ranjan Rao told in a presentation during the meeting that the Tourism Board has prepared a camping policy. He told that city walk has been successfully organized in 11 places under City Walk Festival. A Go Heritage Run will be organized soon in Mandu, Pachmarhi and Khajuraho. Madhya Pradesh is fast becoming a film producers' favourite. Shooting of five films is currently going on in different places and at different times in the state. Various infrastructure development works are being undertaken under the Prasad Yojana in Omkareshwar. It was told at the meeting that world famous tourist site Khajuraho has been identified by Government of India as an iconic site. Khajuraho-New Delhi route has been included in the UDAN scheme. In the form of UNESCO Creative City, Bhopal has been proposed as Museum, Gwalior to Music, Chanderi as Textile and Indore has been proposed as Cuisine City. The meeting included a presentation on possibilities in heritage promotion and heritage sector and the activities being undertaken under the camping policy and various circuits. The proposed Narmada Parikrama Tourism Plan was also discussed at the meeting. Additional Managing Director of Tourism Board Smt. Bhavna Valimbe along with officials of Tourism Board and Tourism Corporation were also present during the meeting.

---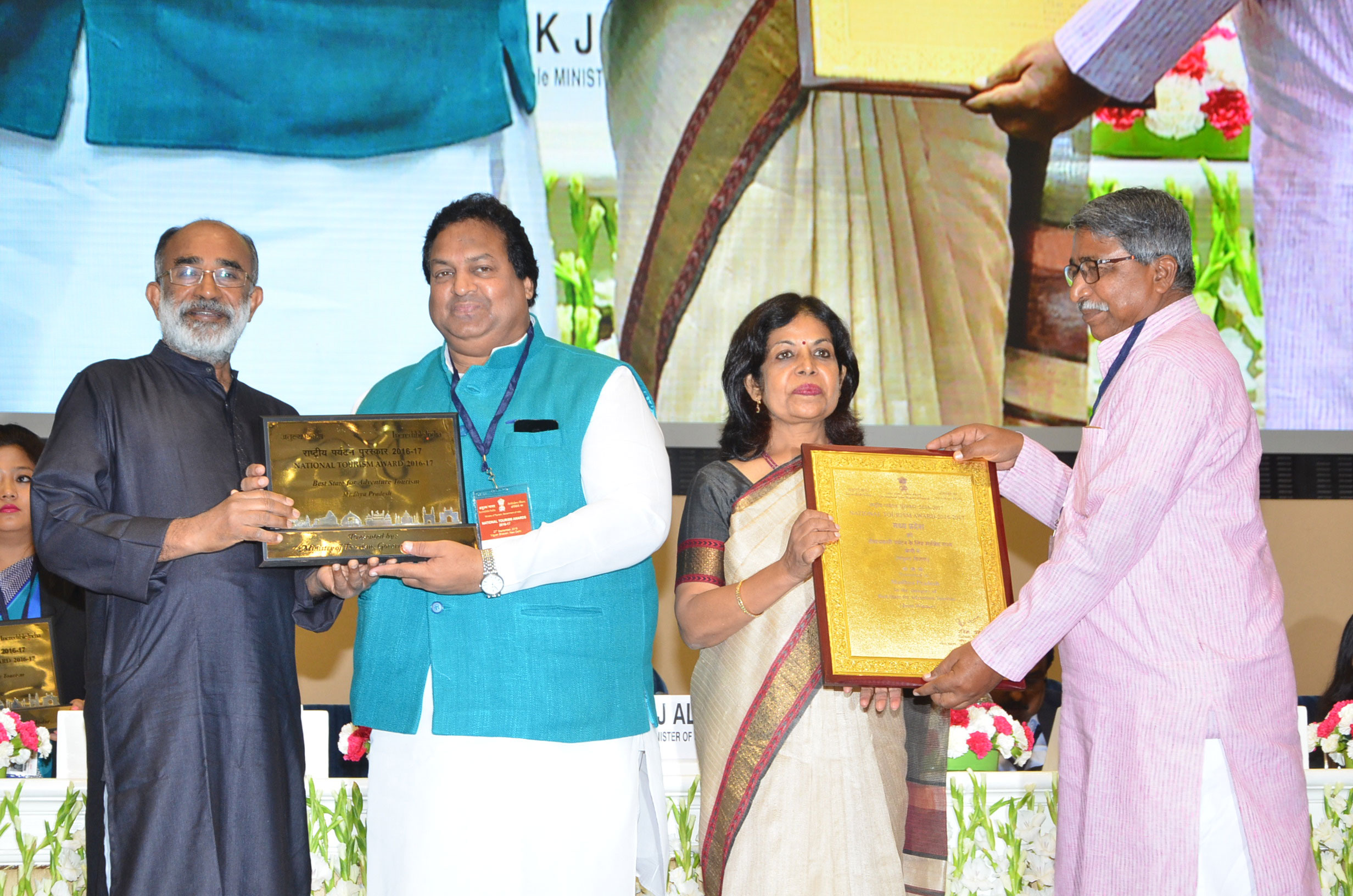 Madhya Pradesh leads in tourism'
Bhopal:MMNN: 27 September 2018


Madhya Pradesh has bagged 10 national awards in tourism sector for two years in a row. In the national awards announced in New Delhi today by the Ministry of Tourism, Government of India, Madhya Pradesh has bagged 10 awards in the tourism sector. The state has retained its Hall of Fame national award for the second year apart from being the Best Tourism State for the third consecutive year. The Hall of Fame award will be effective for three years. The occasion was a prestigious ceremony organized at Vigyan Bhavan in New Delhi on the occasion of World Tourism Day. The award was presented by Union Minister of State (Independent Charge) Shri K.J Alphons. Minister of State (Independent Charge) for Tourism and Culture Shri Surendra Patwa, Chairman of Tourism Corporation Shri Tapan Bhoumik, Principal Secretary, Tourism and Managing Director Tourism Board Shri Hari Ranjan Rao, Managing Director Tourism Development Corporation Shri T. Ilayaraja and Additional Managing Director Tourism Board Smt. Bhavna Valimbe were present on the occasion. It may be noted that in the awards announced by the Ministry of Tourism Government of India on the occasion of World Tourism Day the national award for Excellence in Publishing in Foreign Language other than English for publication corporate brochure in German language to Madhya Pradesh, Best Heritage Walk to Indore city, Best Heritage City to City of Joy Mandu, Best Adventure State award to Madhya Pradesh and Uttarakhand jointly, Excellence in publishing in English language to Coffee Table Book Kanha Tiger Reserve, National award for cleanliness to Indore city, Best Civic Management to Omkareshwar, Best Wildlife guide to Panna national park guide Shri Rashika Prasad, Best Airport to Devi Ahilya Bai Holkar Indore and Best Heritage Property to Devbagh Gwalior. Terming the achievement of the state as a matter of pride, Chief Minister Shri Shivraj Singh Chouhan, Minister of State (Independent Charge) for Tourism and Culture Shri Surendra Patwa and Chairman of Tourism Board Shrj Tapan Bhoumik expressed joy. Congratulating the entire tourism team, concerned department and institutes for the achievement, they hoped the team continues to work with the same spirit and brings pride to the state.
---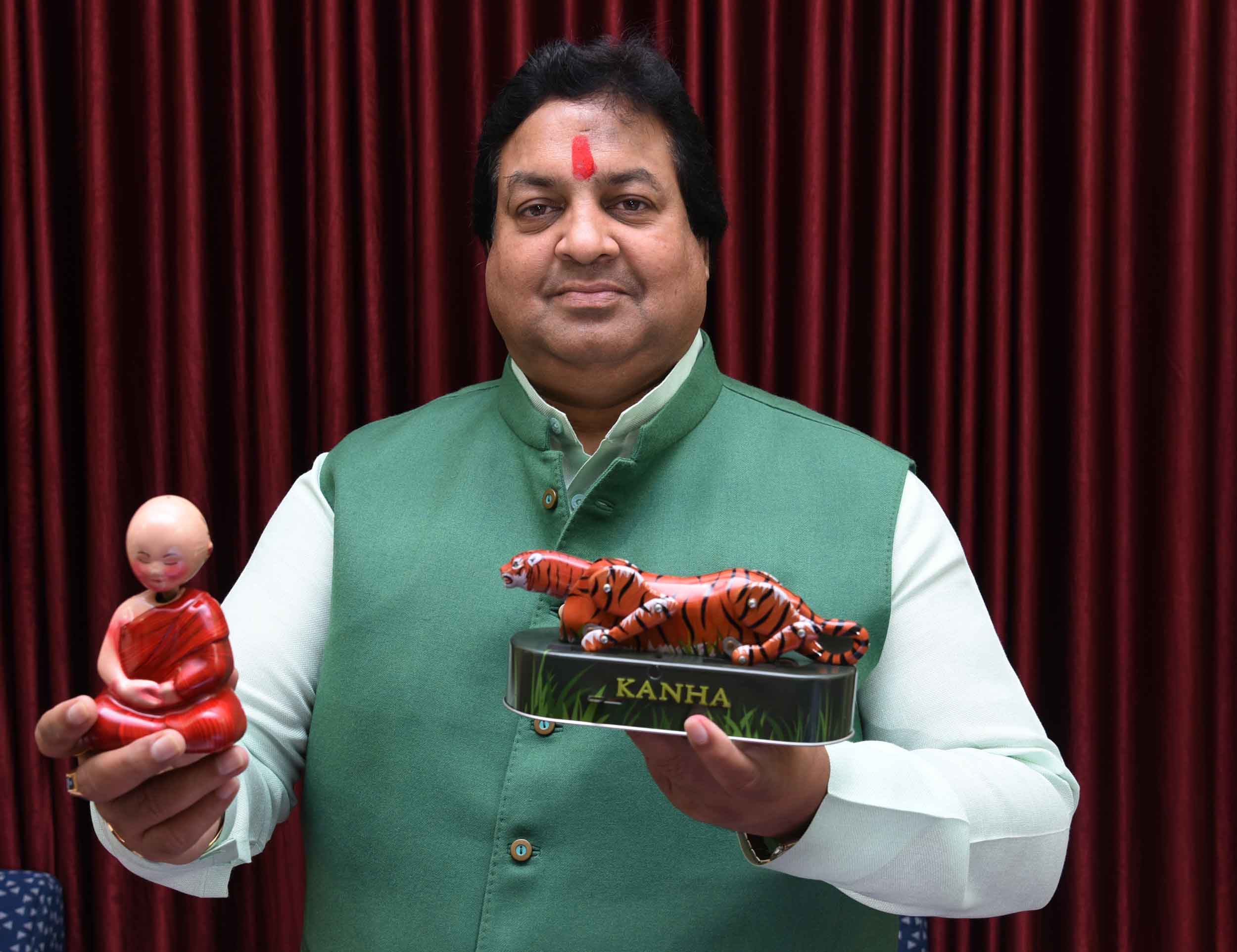 MP Tourism to be identified by tin-toys in European countries
Bhopal:MMNN: 3 August 2018


Madhya Pradesh will soon be recognized in foreign countries for its tin-toys being used by the Madhya Pradesh Tourism Department in advertisements. The advertisement "M.P me Dil Hua Bachhe Sa" was given the country's best advertisement award in the year 2016. The prestigious "D & AD" awards of England also presented the Graphite Pencil Award. In this advertisement, the children's toys were linked with the heritage of different areas of Madhya Pradesh. These toys were designed by Delhi's agency Welby Impex. Most of the toys are made of complex machinery of gears and pinions. Minister of State for Tourism Shri Surendra Patwa said that these toys which have become an identification of tourism in Madhya Pradesh will campaign for the state abroad also. The tin-toys company will market these toys in European countries also through which the department will receive a royalty of 5 percent through the agency. M.P. Tourism branding will be put on tin-toys packages for destination pamphlet balls. Tin-toys of tiger, Buddhist monk, Bird and Chanderi dolls were made after the success of Tin Toys TVC film. Welby Impex are the exclusive makers of tin toys who have kept up the heritage of tin toys. The process of manufacturing of these toys is very difficult and involves much hard work which makes these products exclusive. These tin-toys can entertain and surprise you without the use of batteries. Tin toys have been categorized as historical toys in the world. Collectors purchase these toys for their memorable collection for the younger generation. These toys adorn museums and are exhibited by several people in their collection with pride
---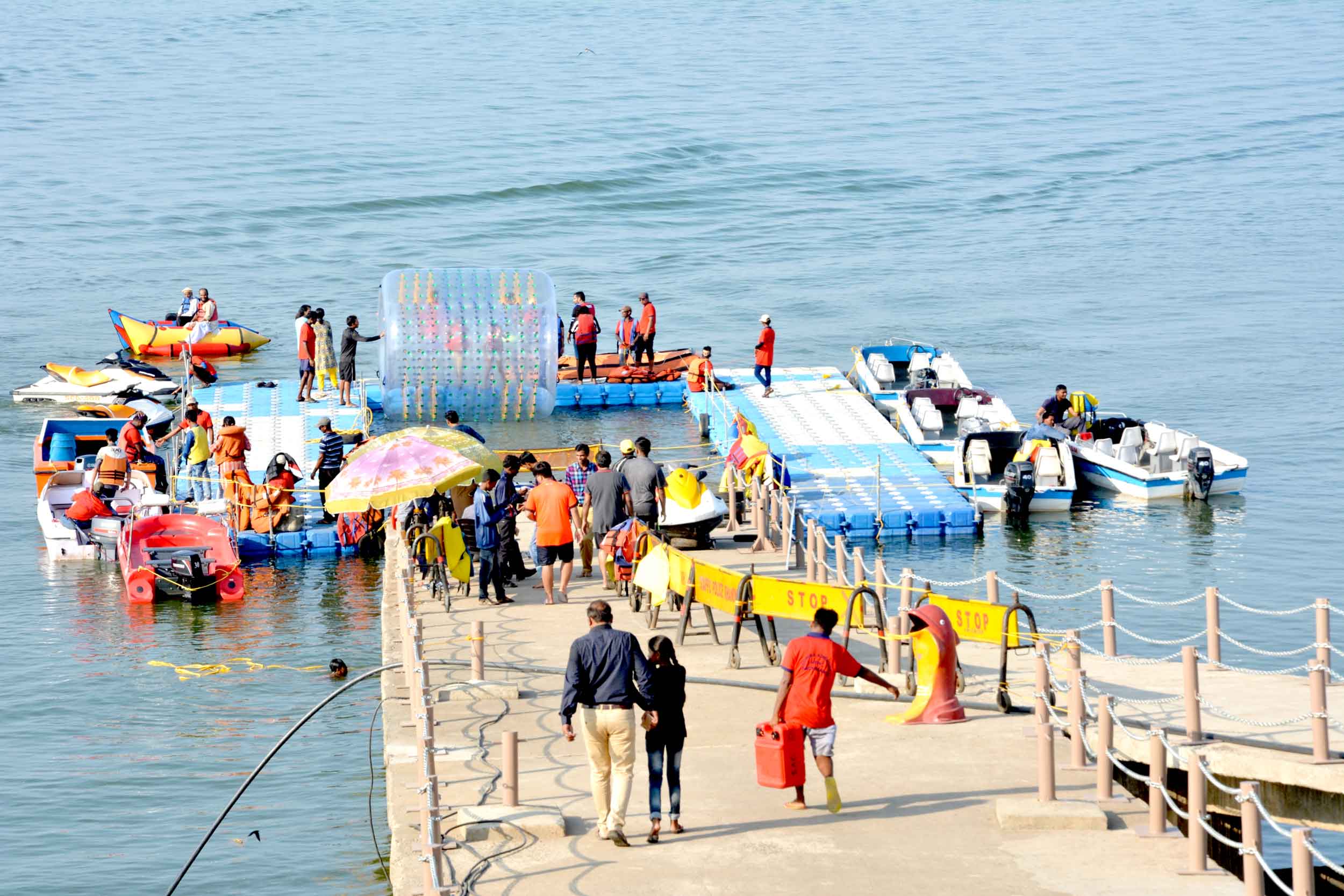 Madhya Pradesh Tourism Board lives up to objectives
Bhopal:MMNN: 9 April 2018


Ever since Madhya Pradesh Tourism Board was constituted a year ago is constantly moving ahead to fulfil its objectives. The Tourism Board was constituted by a decision of the Tourism Cabinet at the famous tourism spot Pachmarhi. The Board was constituted mainly to push tourism activities in the state by providing facilities to investors willing to invest in tourism sector. It has also created new job avenues. While on the one hand the constitution of the Tourism Board has helped the State Tourism Corporation to focus much more on its main job that is hotel and hospitalility and infrastructure development, on the other hand the Board now has the important work of branding of Madhya Pradesh Tourism and its extensive campaign. Chief Minister Shri Shivraj Singh Chouhan is the Chairperson of the Madhya Pradesh Tourism Board and the Minister of State (independent charge) for Culture and Tourism and the Chief Secretary are its Vice-chairpersons. Principal Secretaries of Finance, Forest, Urban Development and Environment and Culture Departments are its Directors. Principal Secretary Tourism, Managing Director is its ex-officio Member Secretary. A number of activities like planning, training, eco tourism and adventure tourism, creative and publicity activities, marketing, fairs, festivals and IT related activities are being conducted through the Tourism Promotion Unit of the Board. The Madhya Pradesh State Tourism Development Corporation is conducting hotels, restaurants, boat clubs, transport fleets etc like before. The main functions of the Board include discharging all the responsibilities under Tourism Policy-2016, attracting private investors in tourism sector, investors' facilitation, providing grants and facilities to investors as per the policy and to frame new policies to attract investors, implementing and monitoring these policies, continuously increasing the Land Bank by selecting suitable land for establishment of tourism projects, drawing up action plans for development and preservation of different places of tourist attraction like archaeological sites, wildlife areas, natural caves, parks, water areas and other places to promote tourism. It is also tasked with participating in the national and international tourism events, fairs and to promote local cuisine, culture, crafts etc besides providing facilities for eco tourism. Within a year, the Board has a number of achievements to its credit. The Board registered an impressive presence at the World Travel Mart held at London and shared the information with the prospective investors at the USTOA at Florida, US, Fetor at Madrid in Spain, A.I.M.E-2018 at Melbourne in Australia through attractive presentations on MP tourism. At the A.I.M.E.-2018 Madhya Pradesh Tourism was conferred the prestigious Best Exhibitor Award. Similarly, the Board held impressive road shows and investors' meets in different cities of the country. Investment Promotion The Investment Promotion Unit (IPU) working under the Madhya Pradesh Tourism Board has successfully executed a well-planned strategy as a result of which investment of about Rs.700 crore is likely to be made in tourism sector in Madhya Pradesh. In 49 districts of the state a land bank consisting of more than 849hectare government land has been set up at 144 places. Besides, more than 431 hectare land has been identified at 71 places and the process of its transferring is on. Out of the Land Bank, some land has already been allotted to 7 private groups on a premium of Rs.23 crore 25 lakh. A Heritage Property Land Bank has been set up for private investment in construction of heritage hotels. At present 8 properties are in the possession of the department. Of these, 3 properties have been given to the investors through tender process and a premium of Rs. 11 crore 64 lakh has been received against it. Ten other properties have been de-modified by the Archaeology department for this Land Bank. Jal-Jheel Mahotsav The last one year witnessed holding of the 80-day third Jal-Mahotsav at Hanuwantiya Water Sports Complex and maiden Jheel Mahotsav at Bargi (Jabalpur) and Gandhisagar Dam (Mandsaur). Moreover, Bhoj Adventure Fest-2018 was held at Bhopal, Vindhya Mahotsav at Rewa, Nimar Utsav, Mandu Utsav, and Bega Olympic at Balaghat. It may be mentioned here that 18 spots have been selected as water zones for promoting water tourism. The Board has been authorized to issue licenses for conducting water tourism activities at these places.
---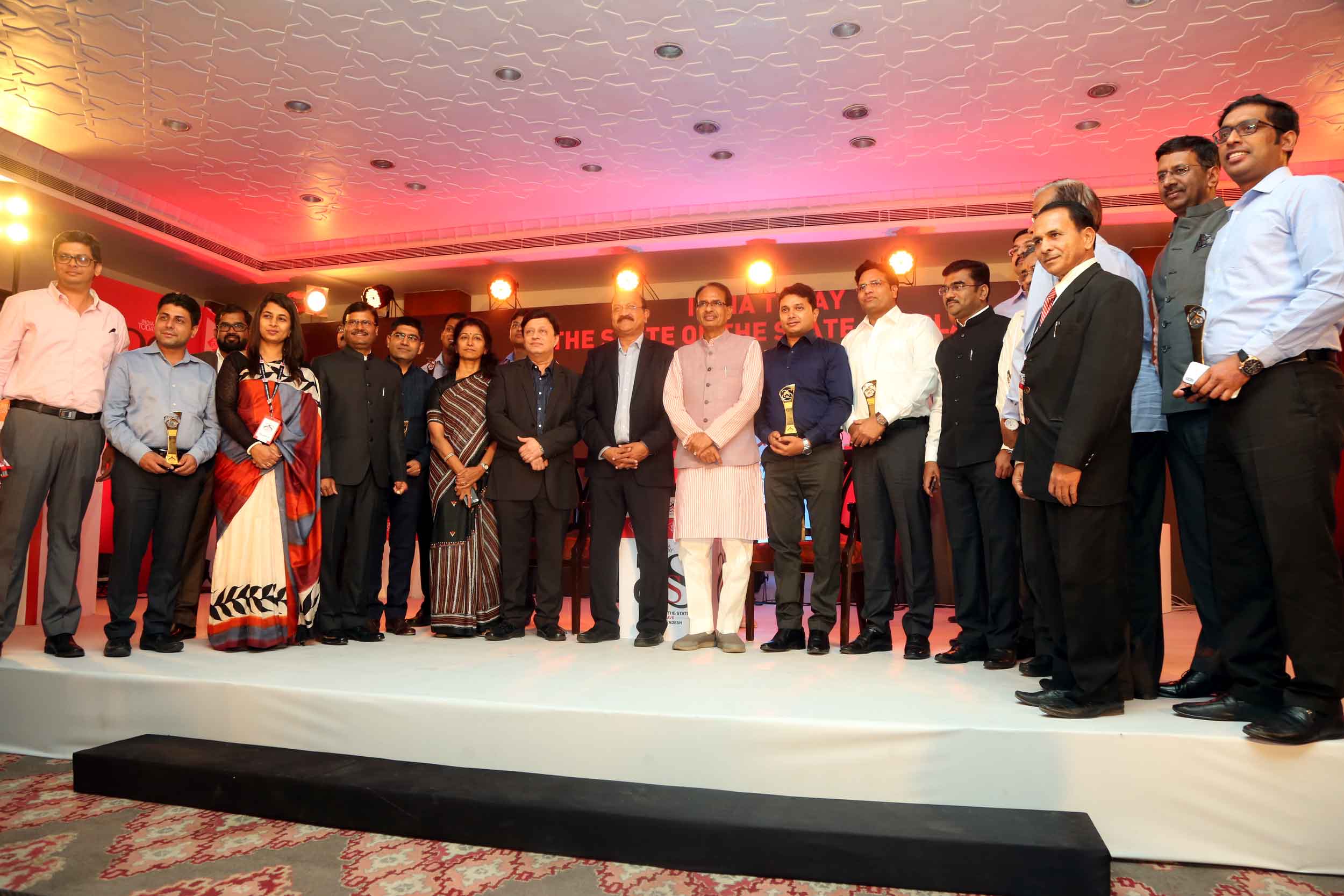 Development roadmap of Madhya Pradesh for next five years ready
Bhopal:MMNN: 29 March 2018


Chief Minister Shri Shivraj Singh Chouhan has said that Madhya Pradesh has witnessed well-planned development in the last one decade. He said that a roadmap for the next five years has been prepared to give pace to the development of the state. Rs 83 thousand crore will be spent on urban development. Shri Chouhan was addressing the India Today 'State of the States Conclave' organized by a magazine group here today. The Chief Minister released the 'State of the States' report. The magazine group has evaluated the performance of the districts on the basis of education, health, infrastructure, water and cleanliness, agriculture, industry, provision of services, system and accomplishment and progress of law and order system and best arrangements. In the education sector, Gwalior has been declared the best district and progressive district. In the health sector, Raisen has been declared the best district and Guna as progressive and in the infrastructure sector Bhopal has been declared as best district and Mandla as progressive district. Similarly in water and cleanliness sector, Indore has been declared the best and Satna as progressive district. In industry sector Katni is best district and Shahdol district has been declared progressive district. In service sector Bhopal has been declared the best and Anuppur progressive district. Indore has been declared the best in accomplishment while Harda is progressive, similarly Sheopur best and Khandwa progressive in law and order system. In all these areas, Indore has been declared overall best and Rewa overall progressive district. The Chief Minister honoured the district presidents and representatives of these districts and praised them for their good work. The Chief Minister said that the initiative to evaluate the performance of the district in the development sector and honouring them is commendable. This boosts the will power of the officials. He said that the journey of development of Madhya Pradesh has started with improvement in the basic infrastructure, today there are strong infrastructure in important areas like road, power and water. The agriculture sector has witnessed remarkable progress. One decade ago, the irrigation capacity was only 7.5 lakh hectare which is 40 lakh hectares now. In the next five years it will be 80 lakh hectares. The Chief Minister said that a state with agriculture-based economy cannot prosper without the progress of farmers. He said that it is a challenging task to reduce the cost of cultivation and fetching a fair price for their produce. This work has been done by the state government. Wheat purchase in Kisan Samriddhi Yojana is now Rs 2,000 per quintal. As many as 3,000 food processing units are to be established under Kisan Yuva Udyami Yojana. He said that the Basmati producing farmer' fight will continue till it gets the GI tag. Centre is with the farmers of Madhya Pradesh. Shri Chouhan said that the poor have equal rights over the state's resources. The country's biggest social security scheme has been introduced for the unorganized sector labourers. Children of labourers will not have to pay fees from Class I to PhD. Their treatment will also be free
---

CM Shri Chouhan inaugurates Friends of Madhya Pradesh portal
Bhopal:MMNN: 22 March 2018


Chief Minister Shri Shivraj Singh Chouhan today inaugurated the Friends of Madhya Pradesh portal. Praising the portal Shri Chouhan expressed the hope that the portal will prove effective in connecting Madhya Pradesh well wishers residing in the country and abroad. Finance and Commercial Tax Minister Shri Jayant Malaiya, Overseas Indian, Commerce and Industry Minister Shri Rajendra Shukla, Minister of State (Independent Charge) for Labour Shri Balkishen Patidar and Chief Secretary Shri B.P. Singh were also present on the occasion. On the occasion it was told that this portal is a venture to assemble talents spread across all over Madhya Pradesh. The portal will become a strong platform to establish cultural exchange and introduce the well wishers of the state to the state's achievements and development and social initiative. Registration of Friends of Madhya Pradesh has commenced from today on the portal. The portal www.friendsofmp.gov.in will have facility of registration of NRI Cell, talent pool and chapter. The NRI cell provides a platform to solve the problems of citizens of the state staying out of the state. Friends of MP will introduce their special characteristics to their counterparts and the government in the portal's talent pool. Members of the portal can get chapter registration to extend this initiative. The portal will prove to be useful in introducing the well wishers of Madhya Pradesh and non-resident Indians to the state's specific and flourishing cultural heritage.
---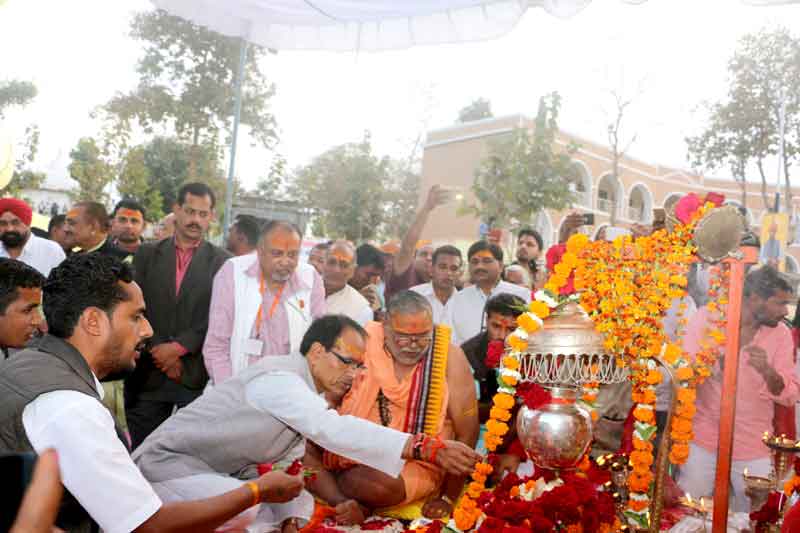 Anwli Ghat to be Developed as Religious Tourist Center
Bhopal:MMNN: 14 February 2018


Chief Minister Shri Shivraj Singh Chouhan unveiled 71 feet high idol of Lord Shankar after performing pooja archana at Anwli Ghat of Seoni Malwa –district Hoshangabad today. He also dedicated newly constructed rest house at Anwli Ghat. CM Shri Chouhan said that Anwli Ghat will be developed as a religious tourist center. He mentioned that it will be developed on the lines of Har ki Podi. While making announcement for opening of Girls College at Dolariya from July, he said that positive initiative will be taken to open girls college at Seoni Malwa. Shri Chouhan stated that damage has caused to crops of 10 to 12 villages of Hoshangabad district due to hailstorm and this losswill be compensated by the state government. Informing about the Bhavantar Bhugtan Yojana, that necessary improvements will be made in the scheme as per the requirement. Now farmers do not need to bring whole crop in mandi. They can keep their crops for 4 months in warehouses. Rent of warehouses will be borne by the government. He further mentioned that such an arrangement together with banks is being made that farmer should get 25 percent value of their produces kept in the warehouse immediately. CM Shri Chouhan that defaulter farmers should pay principal amount in 2 installments, interest will be borne by the government. He further said that if farmer repays his/her Rs. 10 thousand loan, an amount of Rs. 15 thousand will be given on zero percent interest again. CM Shri Chouhan was welcomed by Lodhi-Lodhi Samaj presenting him a garland weighing 61 k.g. Farmers and Office Bearers of Cooperative Bank also accorded welcome to the Chief Minister. Speaker Vidhan Sabha Dr. Sitasaran Sharma, President Jila Panchayat Shri Kushal Patel, MLAs Shri Vijaypal Singh, Shri Thakur Das Nagvanshi, Shri Sanjay Shah, Chairman Mineral Development Corporation Shri Shiv Choubey, Member State Antodaya Committee Shri Harishankar Jaiswal were present on the occasion
---
Skoch Platinum Award to Transport Department
Bhopal:MMNN: 22 December 2017


Union Finance Commission Chairman Shri N.K. Singh has conferred the highest award 'Skoch Platinum Award' of Skoch Group for the year 2017 to Madhya Pradesh Transport Department. The Department has been given this award for making departmental working easy, accesible, prompt and transparent through the use of information, communication and technology. Transport Commissioner Dr. Shailendra Shrivastava recieved the award at New Delhi. Minister for Home and Transport Shri Bhupendra Singh congratulated the Transport Commissioer and the entire department for winning the prestigious award. State Transport department had begun digitalisation work of manual data in 2001 and presenting documets through electronic medium. Due to constant updated process in computer work, Madhya Pradesh Transport Department is currently fully computerised. Consumers are being provided prompt online services. Consumers are able to enjoy several facilities due to computerisation. These 17 notified services of the Transport Department under Madhya Pradesh Public Services Delivery Guarantee Act-2010 include online payment facility of motor vehicle tax and fees, driving license, vehicle registration, fitness certificate, onlie application and appointment facility for permit related works, computerised learning license test without human intervention, automated driving test track without human intervention for driving license in Indore, dealer point enrollment system for vehicle registration, motor vehicle tax driving license on portal based on department's web and app, vehicle registration, availaibility of online information on fitness certificate etc. Three services out of these are beig given in "Samadhan Ek Dina Tatkal Service" In addition to this, in October and November 2017, the Transport Department was on top in satisfactory and prompt redressal of CM Helpline complaints. The department issued driving licenses through "Pink Driving License" camps at the state level supported by the Women and Child Development Department for empowerment of women. Skoch Group is a certified institute which presents awards every year for outstanding work after carrying out expert analysis of works of various departments in social, economic, technical and other areas.
---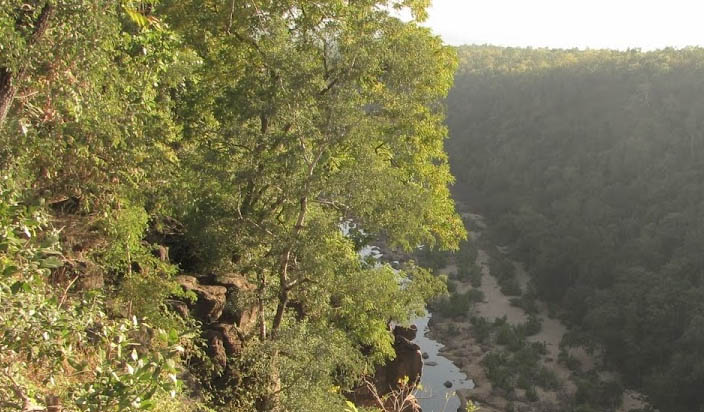 Three-day fest to begin at famous tourist site "Kukuru" from December 26
Bhopal:MMNN: 22 December 2017


A grand festival of eco-tourism, adventure sports has been organised for tourists from December 26 to 28 at famous tourist spot 'Kukuru" situated in Satpura of Betul district. The main attractions will be activities including Zorbing ball ride, banana ride motorboat and tent camping at Kursi reservoir near here. It may be noted coffee gardens of the British era, Valley of Flowers, Hills View, Sipna origiin, Buch Point, Bhoundia Kund sunset, Dedpani windmill and Lokladri will attract the tourists.
3-day programme
The first day's programme will include tug-of-war, martial art demonstration from 3 pm and cultural programme from 7 pm. There will be other parallel adventure activities also including full-day boating, motor boat (Kursi reservoir), paragliding, parasailing, cycling, rock climbing, valley crossing, tent camping, hot air balloon, trading, Zorbing ball, banana ride etc. The next day on December 27, quiz contest, dance, rangoli and painting contest will be organised from 10.30 am to 5 pm for school children. On the last day of the festival, school children will participate in chair race, spoon race ad antakshari etc from 10.30 am to 1 pm. From 3 pm they will tour round main spots in Kukuru followed by cultural programme in the evening. There will be parallel adventure activities on this day also.
Bus facility to tourists
District administration will make paid bus facility for the tourists and viewers at the festival. Bus facility will be available from local bus stand and railway station at 7 am and 9 am. Apart from this arrangements have been made for paid lodging for the tourists
---
Tourism sector will get new direction from Travel Mart: MoS Shri Patwa
Our Correspondent Bhopal, 28 October 2017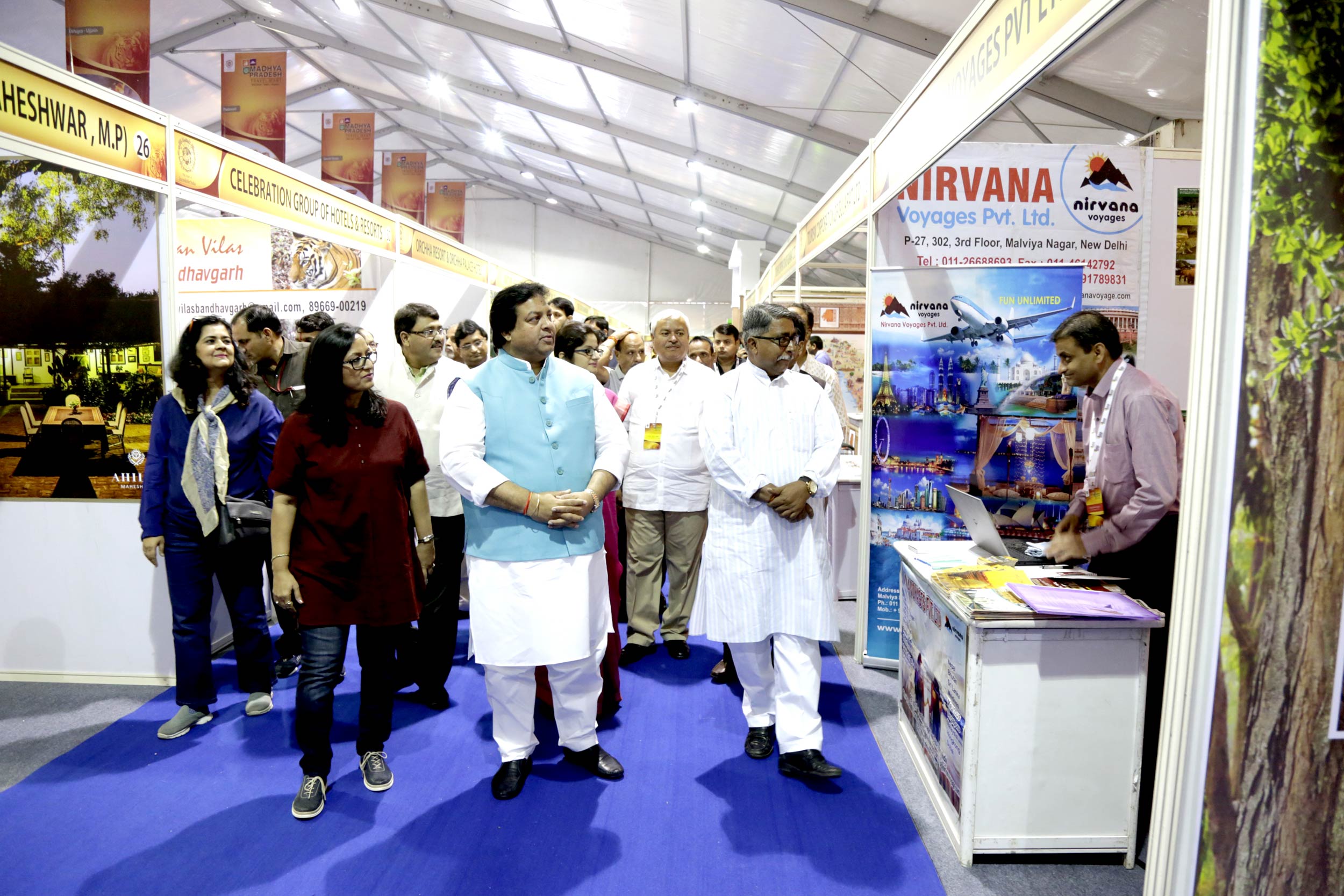 Minister of State for Tourism (Independent Charge) Shri Surendra Patwa, inaugurating the forth MP Travel Mart today, said that such efforts will give new identity to development of tourism in Madhya Pradesh at national and international level. Activities related tourism and employment opportunities will increase. Chairman of Tourism Development Corporation Tapan Bhaumik was present on this occasion. Minister of State Shri Patwa said that Bihar, Gujarat, Karnataka and Manipur States have exhibited their own activities of tourism sector in the travel mart. He said that this will increase the prospects of tourism industry and arrival of tourists in Madhya Pradesh. Investment in tourism sector and inter-region tourism will get boost. Important sectors like hotels and hospitality will get new direction from the travel mart. The Minister described the ten national awards received by the state as a major achievement. He said that the department is committed to ensure the safety of foreign tourists in the state. Shri Patwa also released the book 'Every one's Business' penned by Shri Gour Kanjilal. The Minister Shri Patwa visited 76 different stalls in the Travel Mart. In the program, Secretary, Tourism Department, Shri Hari Ranjan Rao pointed out Travel Mart activities. Different sessions including One-to-One Business Meeting and B2B Meetings and B2C meetings will be held in the travel mart.
---
Fourth edition of M.P. Travel Mart to be organized in Bhopal
Our Correspondent Bhopal, 25 October 2017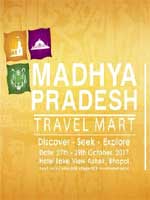 The fourth edition of Madhya Pradesh Travel Mart is being organized in Bhopal from October 27 -29. The Travel Mart will be inaugurated on Saturday October 28 at 9.30 at Hotel Lake View premises. More than 200 representatives and buyers from all over the country and abroad are expected to participate in the Travel Mart to be organized by Madhya Pradesh Tourism Board. Nearly 50 tour operators will also be taking part in it. Tour operators from other countries including Australia, USA, Britain, Germany, France, Singapore, Hong Kong, South Africa, Austria etc. are also likely to participate. A suitable platform is being made available to stakeholders for discussion on significant issues including new possibilities in tourism sector, creating new opportunities, encouraging and promoting tourism in Madhya Pradesh, increasing influx of tourists in the state's tourist sites, etc. at the Travel Mart. Representatives of Tourism and Hospitality sector, Adventure Tour Operators Association of India, Indian Association of Tour Operators, Travel Agent Association of India and Federation of Hotel and Restaurant Association of India besides tour, travel, hospitality, hotel and restaurant industry are expected to participate in the event. Discussion will be held on possibilities in tourism industry in the state, promoting tourist influx, investment in tourism sector and promoting inter-regional tourism besides hotels and hospitality in the present scenario. Other attractions at the Mart will be one –to one meetings, B-to-B meetings and B-to-C meetings besides various sessions and tourism display. Selected representatives and buyers out of these will take part in the Heritage Walk in Bhopal and will also tour different tourist sites of the state.
---
One More National Award to Madhya Pradesh Tourism
Our Correspondent Bhopal, 25 October 2017
Madhya Pradesh Tourism received one more prestigious national award. The occasion was the valedictory function of 'Paryatan Parva' organised at Rajpath Lawn situated in New Delhi. Madhya Pradesh Tourism was chosen for best participation and organising different activities during 'Paryatan Parva' across the country by Tourism Department of the Government of India. Union Finance Minister Shri Arun Jaitley gave away this prestigious award to secretary to Chief Minister and tourism, Shri Hari Ranjan Rao in New Delhi today evening. Noteworthy is that as per the scheduled announced by Tourism Ministry of the Government of India, Paryatan Parva was celebrated between October 5 and 25 across the country. Chief Minister Shri Shivraj Singh Chouhan instructed district collectors to hold different activities during 'Paryatan Parva'through video conference in Madhya Pradesh. Minister of state for tourism (independent charge) Shri Surendra Patwa made an appeal for maximum participation in making the event successful. Meetings of District Tourism Promotion Council were held in district under the chairmanship of district in-charge ministers during this period. Prestigious Jal-Mahotsav was inaugurated in Hanumantia during 'Paryatan Parva' in Madhya Pradesh. Different cultural, adventurous programmes and contests were organised at tourist spots and in districts. Programmes were held during this at different places including Bhopal, Orchha, Panchmarhi, Khajuraho, Bargi, Bhedaghat, Jabalpur, Gwalior. It was active contribution of district administrations in all districts, district tourism promotion council and hotels of tourism corporation and other units all successful events in 'Paryatan Parv'.
---
Madhya Pradesh now Becomes a State which Presents Awards for Excellence
Our Correspondent Bhopal, 16 October 2017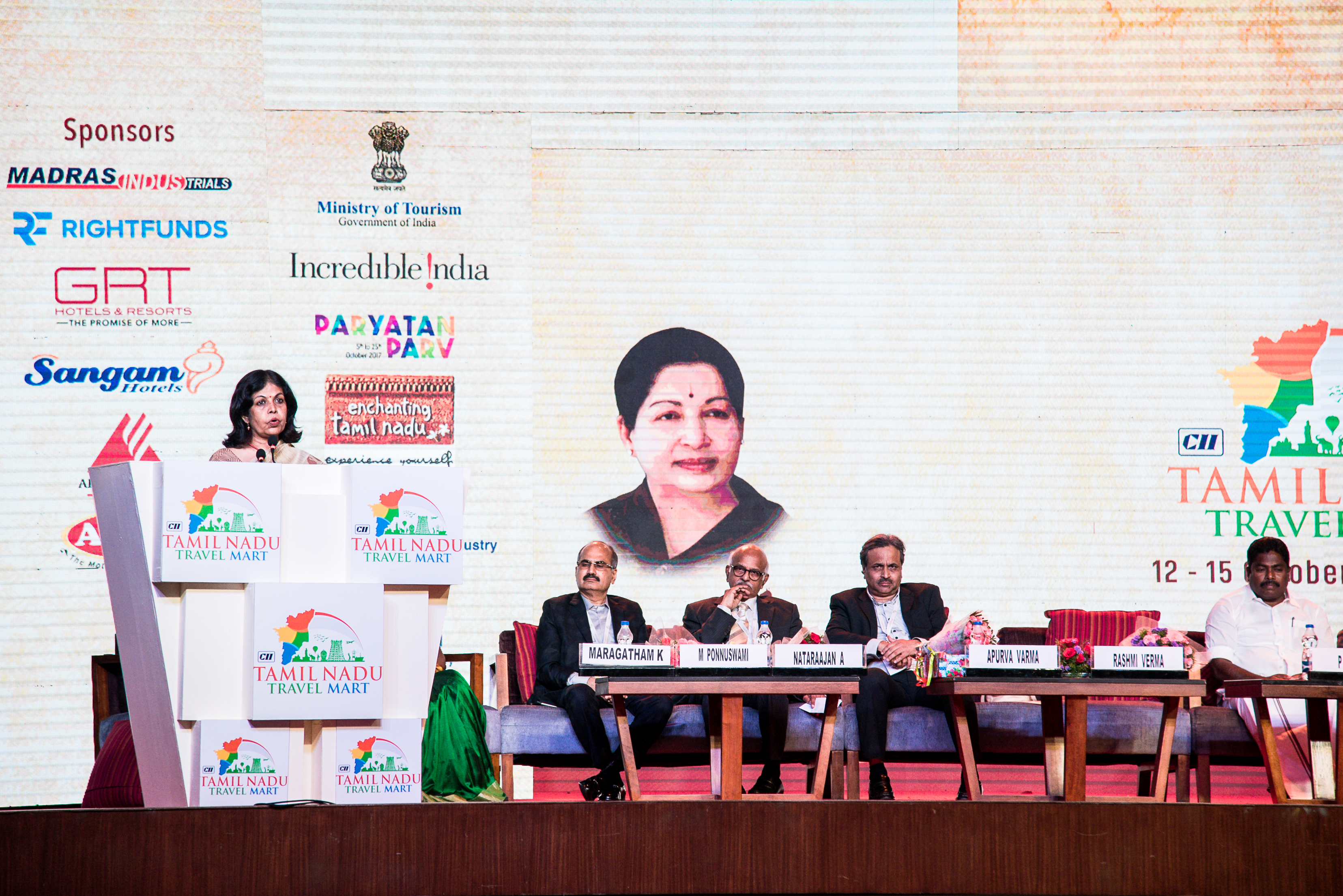 The Chief Minister Shri Shivraj Singh Chouhan distributed awards instituted in the field of tourism at the inaugural programme of Hanuvantiya Jal Mahotsav yesterday evening. Shri Chouhan presented various awards under 22 categories. He mentioned that several prestigious National awards have been honoured to Madhya Pradesh including 'Hall of Fame' national award for receiving national award constantly for 3 years of Best Tourism State. He further said that Madhya Pradesh has become the state which presents awards for excellence. Activity to honour excellence in tourism has been carried out since the last 2 years. The Chief Minister Shri Chouhan honoured the National Award under the 'Award for Excellence' of M.P. Tourism jointly to Perfect Travels and Tours Pvt. Ltd., New Delhi and High Tours India of Gurugram. Similarly, the Best Hotel award to 'The Lalit Temple View Khajuraho, Best Heritage award to Hotel Deo Bagh- Gwalior, Best Eco-Friendly Hotel award to River Wood Forest Retreat, Best Eco-Friendly Forest Lodge award to Soulacia Hotel and Resort- Mandla, Best Home award to Salban Kanha Home Stay-District Balaghat, Best Convention Center award to T.G.B. Palace-Indore and Best Road Convenience award to S.O.L. Retreat- Indore-Bhopal Highway were presented. Moreover, Best Restaurant award to Hotel Gopal Mid-Way Morakka, Best Restaurant (Hotel) award to Silver Saloon Taj Usha Kiran Palace-Gwalior, Best Responsible Tourism award to Kanha Village Eco-Resort, Best Civil Management City (Municipal Corporation) award to Dewas Municipal Corporation and award for Municipality was given to Khargone and Hoshangabad municipalities jointly under the M.P. Tourism awards. Similarly, Best Civic Management City (Municipal Council) was given to Omkareshwar and Bhedaghat jointly and Best District Tourism Promotion Council award to Bhopal, Rewa, and Seoni. Most innovative Tourism Project award to community organization of village Janwaar- Panna district, Most Tourist Friendly National Park/Sanctuary award to Kuno Wildlife –Sheopur, Most Friendly Teerth-Sthal award to Shivmandir located in Bhojpur, Best Amusement/Water Park award to Sonic Adventure-Bhopal, Best Travel Agent (Madhya Pradesh) award to M.P. Holiday-Indore and Travel Bureau-Khajuraho, Best Tourist Transport Operator to Radiant Travel-Bhopal, Best Adventure Tour Operator joint award to Junoon Adventure Eco Tours –Bhopal and Outdoor Adventure –Indore, Best Tourist Guide award to Shri A.K. Jain- Khajuraho and Best Friend of M.P. Tourism on Social Media award to Pagdandi Safari were presented. Minister for School Education Kunwar Vijay Shah, Minister for Energy Shri Paras jain, MP Shri Nandkumar Singh Chouhan, Minister of State for Tourism and Culture (Independent Charge) Shri Surendra Patwa, Chairman M.P. Tourism Development Corporation Shri Tapan Bhoumik and Secretary Tourism Shri Hari Ranjan Rao were present on the occasion.
---
CONVERGENCE OF STATE GOVERNMENTS & CENTRAL MINISTRIES THROUGH PARYATAN PARV
9TH DAY OF PARYATAN PARV CELEBRATED ACROSS THE COUNTRY
Our Correspondent Bhopal, 14 October 2017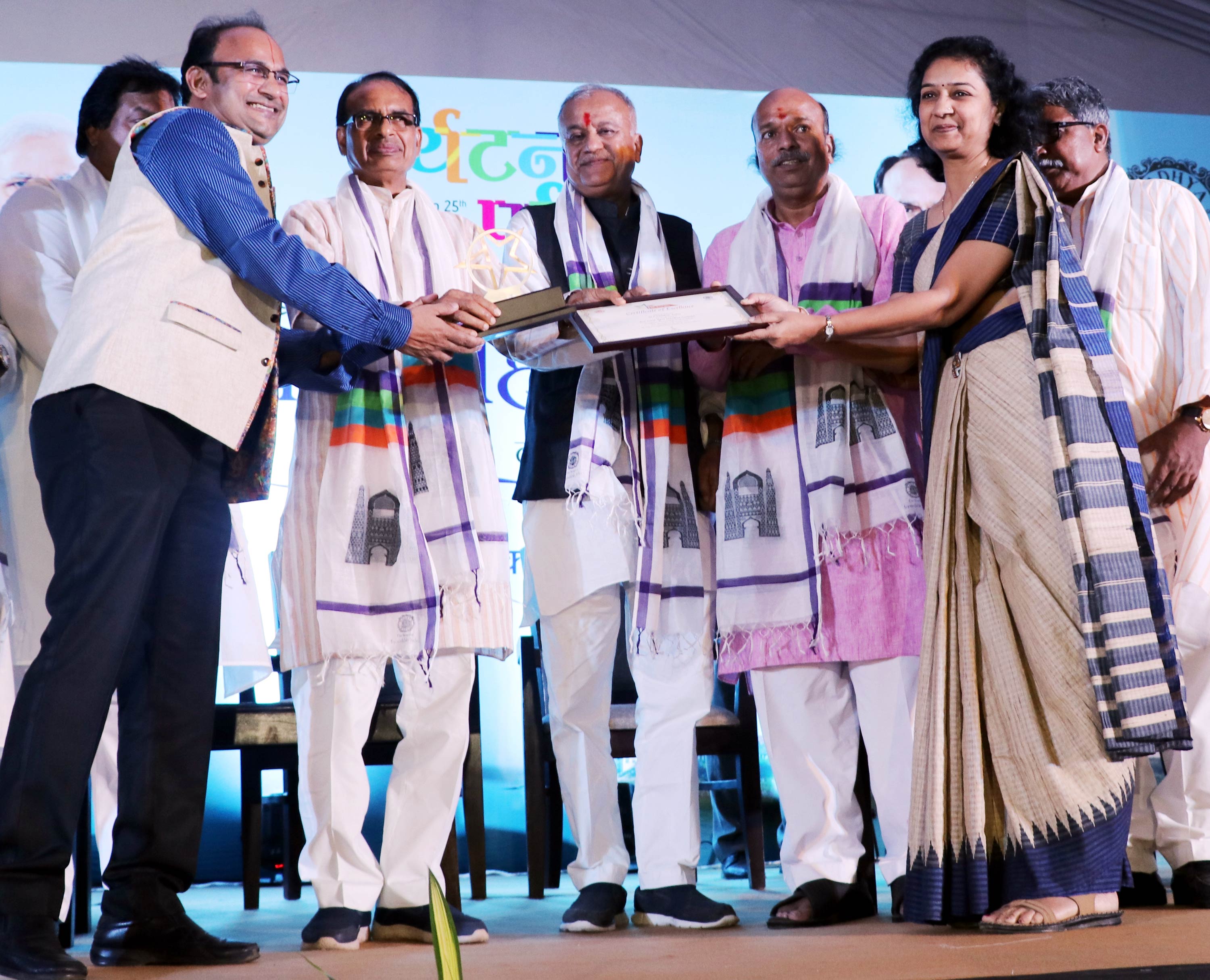 While delivering his Inaugural Address on 20th January 2017 at the National Conference of Central and State/UT Ministers and Secretaries of Tourism, Culture and Sports at Kutch the Prime Minister stated that the Government Departments, Ministries work in silo and there is need for greater coordination among them. Paryatan Parv is one such attempt to bring together various Central Ministries, State Governments, organizations, associations and the general public. The coming together of all under one umbrella to promote Tourism in the country is unprecedented. The Paryatan Parv organized by Ministry of Tourism has support of the following Central Ministries and all the State Governments who have proactively come forward and to be part of the event. Ministry of Culture has arranged ccultural programmes of dance, music, theatre, storytelling at identified sites, arranged Artists' Camps at different venues and undertaken illumination of ASI monuments during the Parv. Ministry of Information & Broadcasting is extending support for generating awareness about Tourism and the event and Doordarshan is organizing competitions to engage with the public. Ministry of Textiles is holding exhibition of handlooms and handicrafts by artisans at the different sites. Ministry of Rural Development, through its National Rurban Missions is arranging local activities focusing on rural tourism at their identified rural clusters. Ministry of Human Resource Development is organizing quiz, painting and essay competitions at Kendriya Vidyalayas and excursion trips for students to iconic tourist sites. Ministry of Skill Development is partner in workshops on Skill Development in the Tourism Sector and sensitisation of service providers. Ministry of DONER through North East Tourism Development Council is coordinating tourism events, exhibitions, cultural programmes and sensitisation programmes in the North East Region. Ministry of Ayush is organising Yoga demonstrations / sessions and workshops. Ministry of Youth Affairs & Sports through NYKS is organising youth camps, adventure activities and a Tribal Youth Exchange programmes during the Parv. Ministry of Electronics and Information Technology is partnering in the event for public outreach by organizing tourism related quiz / photography / video competitions on MyGov. Ministry of Environment & Forests is conducting sensitization programmes on responsible tourism for stakeholders. Key airports have been given a festive look during the Parv by the Ministry of Civil Aviation and sensitization programmes for staff at the airports will also be organized. Similarly, major railway stations have been given a festive look by the Ministry of Railways who are also conducting sensitization programmes for the railway staff. Ministry of Road Transport & Highways is collaborating in launching wayside amenities in identified tourist circuits. Ministry of Petroleum & Natural Gas is creating tourist wayside amenities at select petrol pumps. Ministry of Finance (Revenue) is conducting sensitization programmes for Customs officials at airports and sea ports. Ministry of Home Affairs is organising sensitization programmes for Immigration and CISF officials and staff. The Department of Industrial Policy and Promotion, Ministry of Commerce is arranging a Tourism Investor Round Table Conference with participation of Indian and Global Investors. Al the State Governments are actively participating in the Paryatan Parv by way of organizing Cultural Events, Sensitization Programmes, Heritage walks, Programmes for Youth and School Students. Some of the States have planned activities for each of the day of the Paryatan Parv.
9th DAY OF PARYATAN PARV
Highlight of day 9th of Paryatan Parv was the launch of Tourism Projects in Mawlangwir Rurban Cluster for Construction of Eco-Park & Childrens' Park, Construction of Heritage Village, Construction of View Points. South West Khasi Hills (Mawkyrwat) by the Ministry of Rural Development. Ministry of DONER conducted Community Sensitisation Workshop for Homestays and Bed & Breakfast Opportunities Itanagar and Jote Poma. Youth Parliament: Lectures and Discussions on importance of Tourism and youth involvement organized by Ministry of Youth affairs through NYKS in 4 Districts in Jharkhand. Workshop on Rare Traditional (Tribal) Instrument making, Documentation and Preservation of Dhumal Community at Naxalbari, West Bengal was organized by Lalit Kala Academy. The State Government of Uttarakhand has organized Gangotri Mahotsav at Uttarkashi. Painting and Essay Competitions for students has been organized by State Government of Kerala at Kollam & Alleppey Districts. Workshop on "Sustainable Tourism for Inclusive Growth of Rural Areas" was organized by Pondicherry University. India Tourism Offices in association with IHMs has organised various activities like Sensitization programmes, Nukkad Natak , Heritage walks, Workshops for local public and stakeholders at locations across the country
---
Tourism Fest' to begin from October 6
Our Correspondent Bhopal, 5 October 2017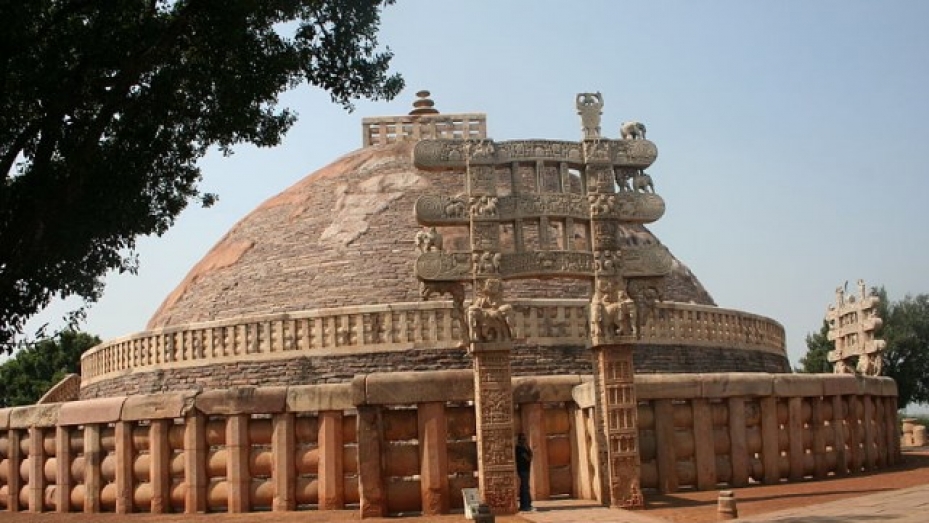 A special tourism campaign is being organized from October 6 to October 25 in state. The campaign is being launched as 'Tourism Fest' as per Chief Minister Shri Shivraj Singh Chouhan. All districts have been directed to prepare a work plan and work accordingly. All district collectors have been directed to ensure that District Tourism Promotion Council (D.T.P.C) meetings are organized in their districts. These meetings will be presided over by the District Minister in charge. Any one tourism spot will be focused under the guidance of the district ministers in charge where various activities will be organized. Secretary to Chief Minister and Tourism Shri Hari Ranjan Rao has issued guidelines to all district collectors and secretary District Tourism Promotion Council in connection with the implementation of the work plan for the smooth operation of the special tourism campaign. In this it has been said that District Tourism Promotion Councils have been constituted in all districts under the innovations from the tourism perspective. It aims at taking important initiatives at the local level from tourism point of view to create public awareness besides improving quality of basic facilities available in tourism sites. The D.T.P.C meetings will be presided over by the district minister in charge and the works undertaken and achievements in tourism sector at state and district level will presented through small films and presentations. Tour operators and travel agents will also attend the meetings. Madhya Pradesh Tourism has set goal of construction of Way Side Amenities at every 40-50 km distance on importance roads under the Way Side Amenities policy. For this more than 300 spots have been identified. The work of Way Side Amenities is in progress at various places. During the campaign, the work of documentation, transfer of possession and public dedication of the Way Side Amenities that are ready will be undertaken. D.T.P.C will work with the support of local organizations to maintain cleanliness at various tourism centres under the ambitious 'Swachh Bharat Mission'. Programmes like folk songs, folk dances, kala yatras, food festivals and street plays based on local tourism would be organized at the district level. Best quiz masters of the district playing an important role in the recently concluded tourism quiz contest will be honoured. It may be noted that more than 18,000 students from about 5990 schools took part in the tourism quiz held in all districts of the state. In view of skill enhancement and employment generation different training will be conducted on tourism related topics. Cultural programmes and adventure camps based on tourism would also be organized
---
Madhya Pradesh Tourism wins Hall of Fame Award
Our Correspondent Bhopal, 27 September 2017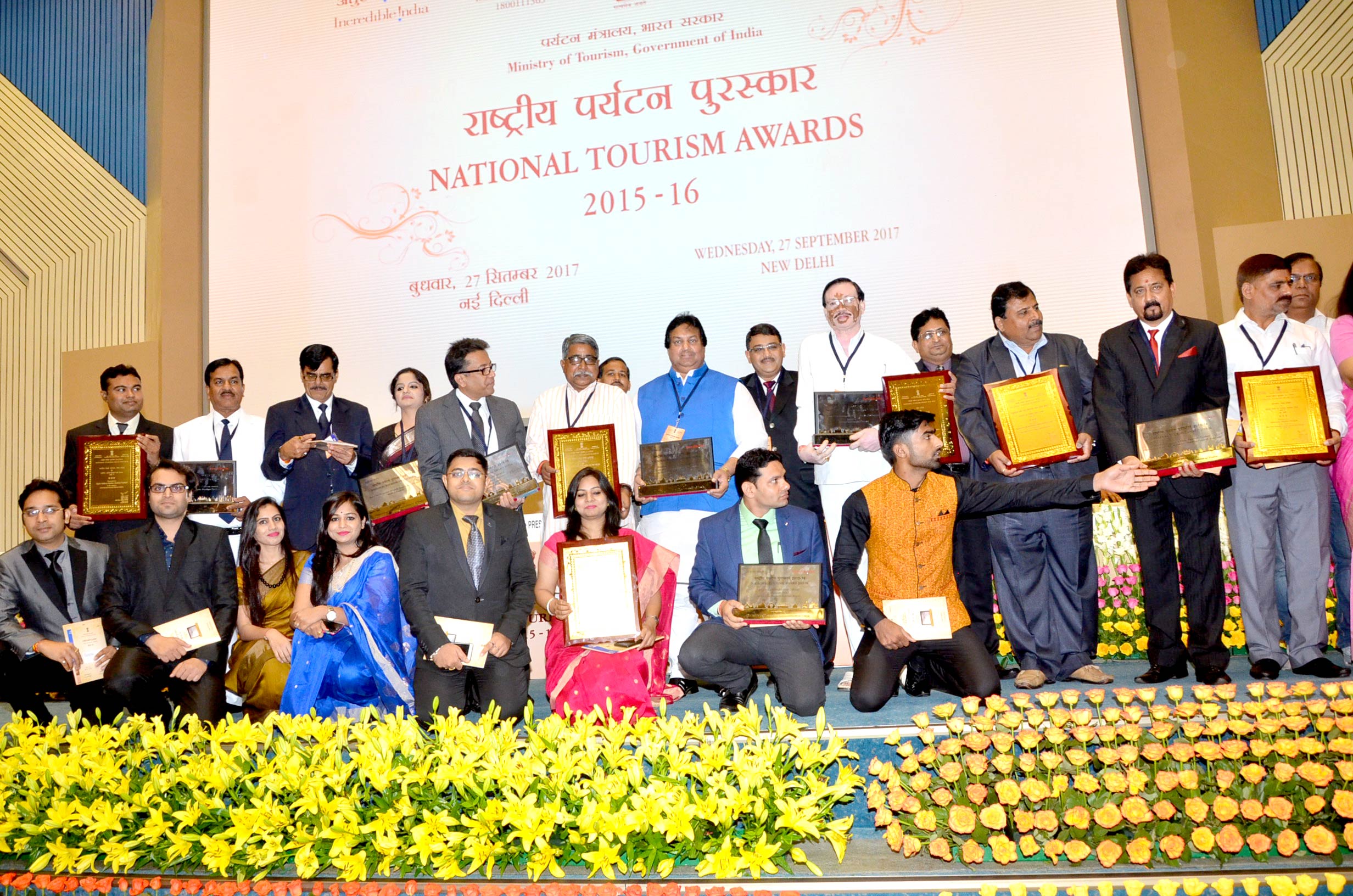 Madhya Pradesh has become the first state in the country which has bagged the Best Tourism State National Award since three consecutive years. Madhya Pradesh Tourism was conferred the Hall of Fame Award in New Delhi today. The award was given by the President Shri Ramnath Kovind at a grand ceremony organized at Vigyan Bhavan to Minister of State for Tourism (Independent Charge) Shri Surendra Patwa, Chairman of State Tourism Development Corporation Shri Tapan Bhoumik and Secretary Tourism Shri Hariranjan Rao. The award carries a trophy and a citation. Union Minister of State (Independent Charge) for Tourism and Information Technology Shri K.J. Alphons was also present on the occasion. Madhya Pradesh has bagged 10 awards simultaneously on the occasion of World Tourism Day today. The State bagged the Most Innovative Tourist Product award for 'Hanuwantiya Jal Mahotsav' and Best State for Adventure Tourism. While Chanderi was adjudged the Best Heritage City, the Best Tourist Friendly Railway Station award went to Ujjain Railway Station and Best Civic Management of a Tourist Destination of India was awarded to Khargone. The English Coffee Table Book published by M.P Tourism Board won national award for Excellence in Publishing. Similarly Madhya Pradesh also received the national award for Film Promotion Policy in Best Film Promotion Friendly State/Union Territory. The Hindi brochure published by Madhya Pradesh Tourism in Simhastha 2016 has bagged national award for Excellence in Publishing in Hindi. Best Wildlife Guide national award was bagged by Shri Saib Khan of Pachmarhi. Today happens to be the most important day for Madhya Pradesh Tourism as it bagged 10 prestigious awards at a grand ceremony in New Delhi. It may be noted that Madhya Pradesh Tourism has bagged national awards for the third consecutive year in the field of tourism. Madhya Pradesh Tourism was awarded in 5 categories last year and 6 in the year before last. It may be noted that Madhya Pradesh is home to amazing tourist sites, 3 world heritage sites, 2 jyotirlingas, historical and religious heritage sites, eco-tourism, national parks etc. that can mesmerize any tourist. Managing Director of M.P. State Tourism Corporation Smt. Chavi Bharadwaj, Additional Managing Director Dr. Shrikant Pandey, Executive Director Shri O.V. Choudhury and other officers were also present on the occasion.
---
Students of Bhopal Become Winner of State Level Tourism Quiz
Our Correspondent Bhopal, 27 September 2017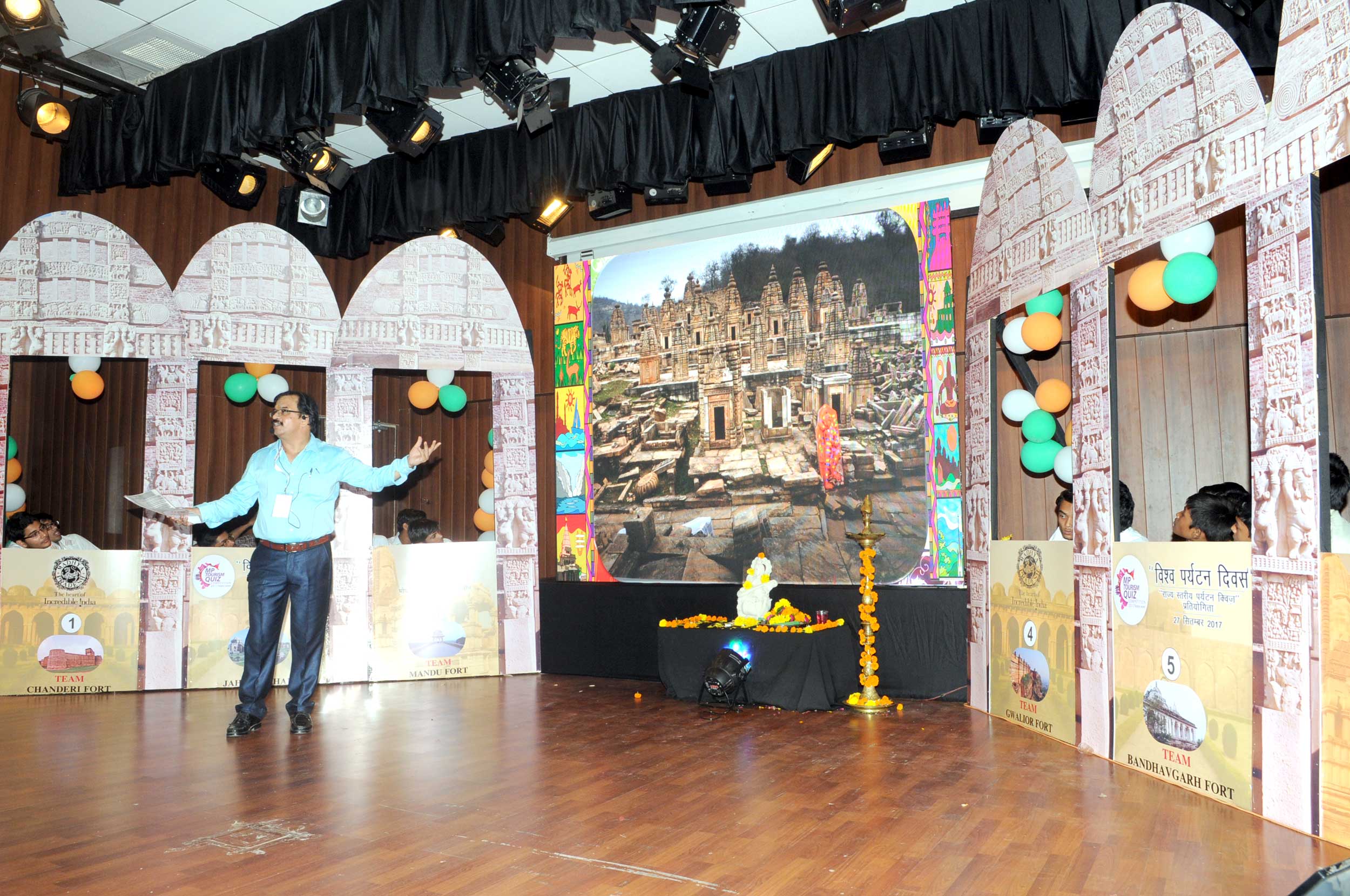 Students of DPS Bhopal became winner and group of school students of Satna district became runner up of state level quiz competition organized on the occasion of 'World Tourism Day' under the joint aegis of Madhya Pradesh State Tourism Development Corporation and Bhopal Tourism Promotion Council. Member of Parliament Shri Alok Sanjar and Collector Bhopal Shri Sudam Khade distributed medals and certificates to the winner, runner up teams beside other participants. Besides these two teams, school students' teams from Sidhi, Damoh, Betul and Ashoknagar districts also took part in the quiz competition. In the multimedia quiz completion held on the lines of Kaun Banega Crorepati, 120 questions based on the places of ancient heritage of archeological importance, tourism and religious places beside their specialties had been asked through pictures. Presentation of quiz master Shri Ravikant Thakur was praised by all. Earlier at the first stage, written completion was held under the state level quiz competition,. School students' teams of 51 districts of the state took part in the competition. Students participated in the written competition administered pledge to make Bhopal number - 1 in cleanliness. The students came from other districts also administered a pledge for their active participation to make their district especially their city clean.
---
TAMIL FILM ACTER SARATH KUMAR PARTICIPATES IN CLEANLINESS DRIVE OF M/o TOURISM IN CHENNAI
Our Correspondent Bhopal, 21 September 2017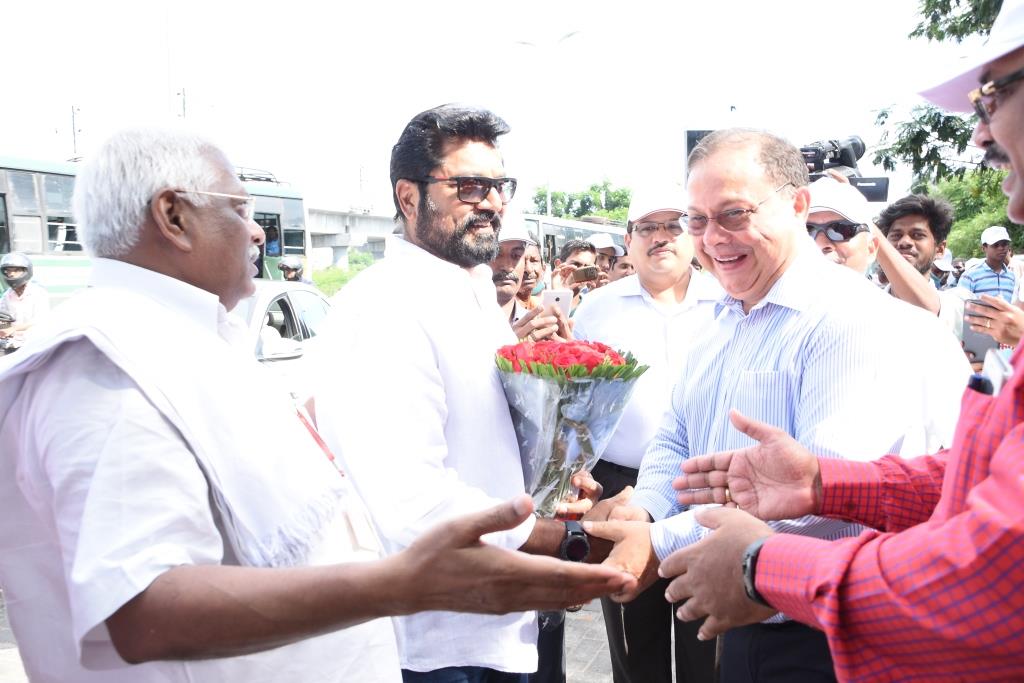 A grand cleanliness drive of Ministry of Tourism was organized in front of Dharmambal Polytechnic College, Taramani, Chennai (Tamil Nadu) today. The renowned Tamil Film Actor, Politician, Journalist, Former Mr. Madras 'Supreme Star' Shri Sarath Kumar was the chief guest. The program started with garlanding of the statue of father of our nation Mahatma Gandhi. Shri Sarath Kumar delivered an enthusiastic speech to the public regarding cleanliness and sensitize them for active participation in such cleanliness activities and to maintain the surroundings in a hygienic and litter free manner. The cleanliness activities started after the chief guest administered the Swachhta Pledge. Shri Sarath Kumar took part in the cleanliness activities along with Shri Shreevats Sanjay, Regional Director (South), India tourism, Chennai and Shri S.Rajamohan, Principal, Institute of Hotel Management, Chennai and tourism stakeholders from Hospitality and Travel Trade Industry. Drama Troupes from Song & Drama Division, Regional Centre, Ministry of Information & Broadcasting performed street show demonstrating Clean India activities. About 200 participants including the officials of India tourism, Chennai, students & faculty of Institute of Hotel Management and representatives of Tamilnadu Travel Mart Society. The area was thoroughly cleaned up and the garbage collected was disposed off. The program was welcomed by the local public and the students of the nearby institutions.
---
SHRI ALPHONS KANNANTHANAM ASSUMES CHARGE OF OFFICE OF MINISTER OF STATE (I/C) FOR TOURISM
Our Correspondent Bhopal, 4 September 2017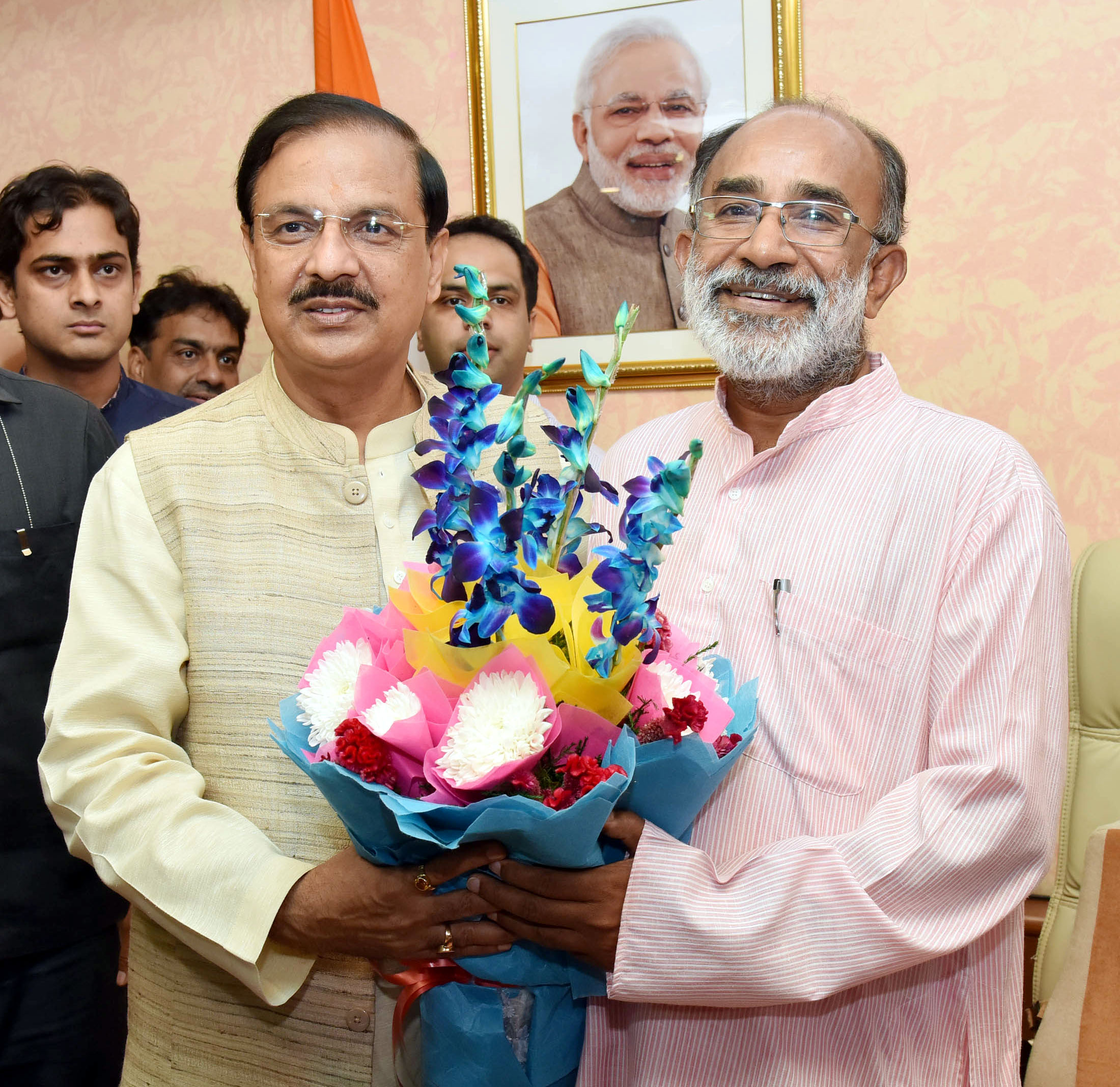 Shri Alphons Kannanthanam assumes charge the office of Minister of State (I/C) for Tourism here today. He is a retired IAS officer of 1979 batch (Kerala cadre). He was in Time Magazine's list of 100 Young Global Leaders. He pioneered the literacy movement in India by making Kottayam the first 100% literate town in India in 1989. He worked in the Indian Administration Service until 2006, when he was elected a Member of the Legislative Assembly, from Kanjirappally in Kottayam District of Kerala. He came into prominence when he served as the District Collector of Kottayam in 1988. He drove the literacy movement in the State and helped to make Kottayam town as the first 100% literate town in India in 1989. Shri Alphon's life is nothing short of a miracle. Having passed his high school with 42% from a non electrified village Malayalam medium school, he became one of the toppers of the 1979 batch of the IAS. For 27 years he was the voice of the helpless citizens running pitched battles against the corrupt system. He was rated to be one of the most competent officers in the history of the civil service. He is an inspirational orator and has spoken to over three million people, mostly students, in the past 35 years. In 2006, he quit IAS, contested as an independent from Kanjirappally constituency and got elected as an MLA with huge majority, spending less than Rs. 10 lakh. He decided that he wanted to be different kind of an MLA. He drove his own car and lived in a tiny room in the rest house and got allocated Rs. 350 crores for the constituency and won the best MLA award.
---
Registration of 18 Thousand Students in Tourism School Quiz
Our Correspondent Bhopal, 10 Aug 2017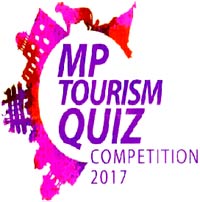 Over 18 thousand students registered themselves for participation in Tourism Quiz being organized in all the districts of the state on August 19. Quiz competition will be held in all the districts simultaneously. Orientation training was imparted to quiz master being appointed at district level for proper conduction of quiz at Bhopal today. Quiz Masters were apprised mainly about the important points of written test and multi-media quiz. It was informed during the training that free coupons will be provided to the successful participants of quiz competition for a visit to the major tourist destinations of the state. The successful students will conduct tour along with the quiz masters this time. After the visit, students will share their views, experiences, photographs, sketches etc. focusing these tourist destinations. Out of this, the selected material will be published at district level in the form of collection. Additional Managing Director of Tourism Board Dr. Shrikant Pandey inaugurated the Quiz Master Orientation training Programme lighting a lamp. He urged the quiz masters to make the quiz competition successful with team spirit and dedication. Moreover, Dr. Pandey said that students should be encouraged by quiz linking them with tourist places and heritages. Furthermore, it was informed that information on second quiz competition being organized by Madhya Pradesh Tourism Board has been called at national level. Necessary guidelines were provided mainly by Shri Ravikant Thakur and Shri Upendra Yadav of Education department in the training programme. Replies were given to the inquisitive questions of the participants in the questionnaire of the training programme. Deputy Director Tourism Board Shri Parmesh Jalote and Sushri Rashmi Bose besides other officers were present on the occasion.
---
15 water bodies notified to encourage water tourism
Our Correspondent Bhopal, 14 July 2017

The series of road shows and investors meet to be organised in different places began in Bhopal today with the aim of promoting investment in tourism sector in state. Road Shows and Investors Meets will be organized in seven more places in the next two months to apprise them with possibilities and facilities of investment in tourism and the New Tourism Policy. It was told at the Investors Meet that land is being allotted for 16 types of tourism projects. A Land Bank of nearly 477 hectares has been made. About Rs 24 crore capital funding has been made available to nearly 19 units. 15 water bodies have been notified to encourage water tourism. Land allocation process has been made totally transparent. Inaugurating the first Road Show and Investors Meet in Bhopal State Tourism Development Corporation Chairman Shri Tapan Bhoumik said that state government has implemented investor-friendly tourism policy in state. He has urged investors that they come forward to invest in tourism by taking the benefit of appeasement policy. Talking about the possibilities of tourism in state Shri Bhoumik said that house-boats, cruise and other water sport activities have been started in water-tourism areas. Tourism Secretary and Tourism Board M.D. Shri Hari Ranjan Rao said that the tourism sector is the main medium of employment generation today. Shri Rao said that nearly 78 job are created on an investment of Rs 10 lakhs in the tourism sector which is more than in other sectors. He told that more than a dozen hotels and resort in state's hill station Pachmarhi are mostly full. It is clear that there are maximum possibilities in the hotel and hospitality sector in state. It has been decided to ensure its participation in private sector. Director Investment Promotion of Tourism Board Shri A.K. Rajoria apprised with the new tourism policy and its main points including water tourism policy, development of heritage hotels, participation of private sector in running of Marg Suvidha Kendras and Home-stay Yojana in his presentation. He told that there is need for more than 19,000 rooms in the state by coming 2020. It is clear that there are better opportunities for private sector in hotel and hospitality. There is possibility of nearly 10 time rise in employment and capital investment in tourism sector in the next one decade. Apart from the objectives of the newly constituted Tourism Board, its working system, Investment Promotion Cell, Land Bank, organizing of third Jal-Mahotsav Hanuvantiya useful information regarding new potential in tourism sector, road-map and future possibilities were also given in the presentation. At the outset, C.I.I Chairman Shri K.S. Nanda, Shri Pradeep and Shri Rajesh Agrawal welcomed the guests. Queries of the participants and investors were also answered during the questiona-answer session.
---
Tourist influx rises in Panna Tiger Reserve
Our Correspondent Bhopal, 12 July 2017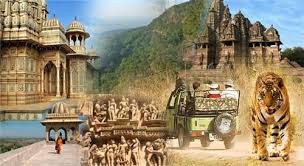 Around 38 thousand 545 tourists visited Panna Tiger Reserve in the tourism year 2016-17 that ended on June 30. The tourists included 28 thousand 79 Indians and 10 thousand 466 foreign tourists. Field Director Shri Vineet Jain told that there has been a rise in tourist inflow for the second consecutive year due to the hard work of the employees and increase in tourist facilities by the government. Last year 36 thousand 730 tourists and in the year 2014-15, 14 thousand 897 tourists had visited Panna Tiger Reserve to view it botanical and natural beauty besides increasing number of tigers. Taking into account the beginning of rainy season, tourists' entry to the main reserve has been prohibited from June 30. Along with this, tourist facility has begun in the buffer zone from July 1. Online facility for buffer zone tourism is available. International tourism website 'Trip Advisor' has chosen Panna Tiger Reserve for the Award for Excellence for 2017 consecutive second year. This award is given on the basis of satisfaction of tourists after their visit.
---
Khajuraho Dance Festival Begins with Kathak Dance
Our Correspondent Bhopal, 20 Feb. 2017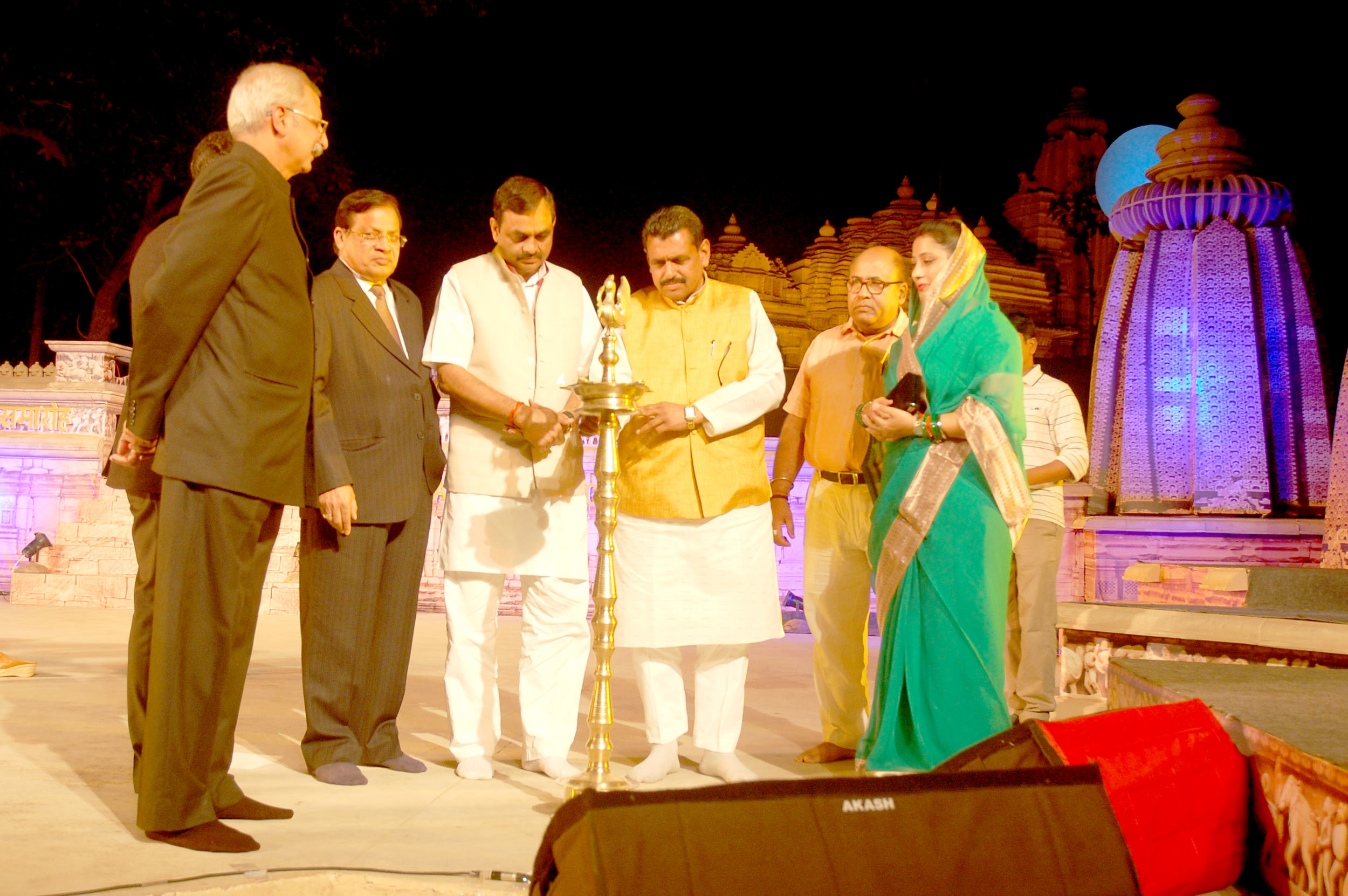 Madhya Pradesh has been conferred "Best State for Pilgrimage Tourism Award-2015" for remarkable works of 43rd Khajuraho dance Festival was inaugurated on open sky dais near West Temples Group by the guests by lighting a lamp at Khajuraho. The festival was begun with the Kathak dance of Shri Anuj Mishra of New Delhi followed by Odissi dance presented by Sanchita Bahttacharya, an artist of Kolkata. Group Kathak dance was presented by Jaishree Acharya of Gudgaon in the end. Ten artists of Madhya Pradesh were awraded with Rupankar Kala award carrying a reward of Rs. 21 thousand to each artist.
As every year the festival will be organised from February 20 to 26. On the second day of the festival, Odissi dance will be presented by Sagun Bhutani of Gurgaon followed by Kathak duet dance by Yasmin Singh of Raipur and Odissi group dance by Daksha Mashruwala of Mumbai. On February 22, Bharatnatyam by Lavanya Shankar of Coimbatore, Kathak group dance by Rachna Yadav of Gurgaon, Mayurbhanj Chhau dance by Sadashiv Pradhan of Bhubaneshwar and Kathak dance by Shinjini Kulkarni will be presented. Moreover on February 23 Kathak dance by Sandeep Malik of Kolkata and Shikha Khare of New Delhi, Mohiniattam group dance by Pallavi Krishnan of Trichur and Kathak group dance by Rita Mitra Mustafi with Kathak dance theatre of U.S.A. will be showcased.
On February 24 Kathak dance by manjiri Kiran of Jaipur and Rasmani of Bhopal, Bharatnatyam by Rukmani Vijay Kumar of Bengaluru, Kuchipudi group dance by Vanshri Rao of Delhi. Similarly on February 25 Odissi dance by Somya Bose of Bhubaneshwar, Kathak by Nilakshi Roy of New Delhi, Maniupuri duet dance by Mansi Thiyam of Imphal and Suchitra Harmalkar of Indore will be presented.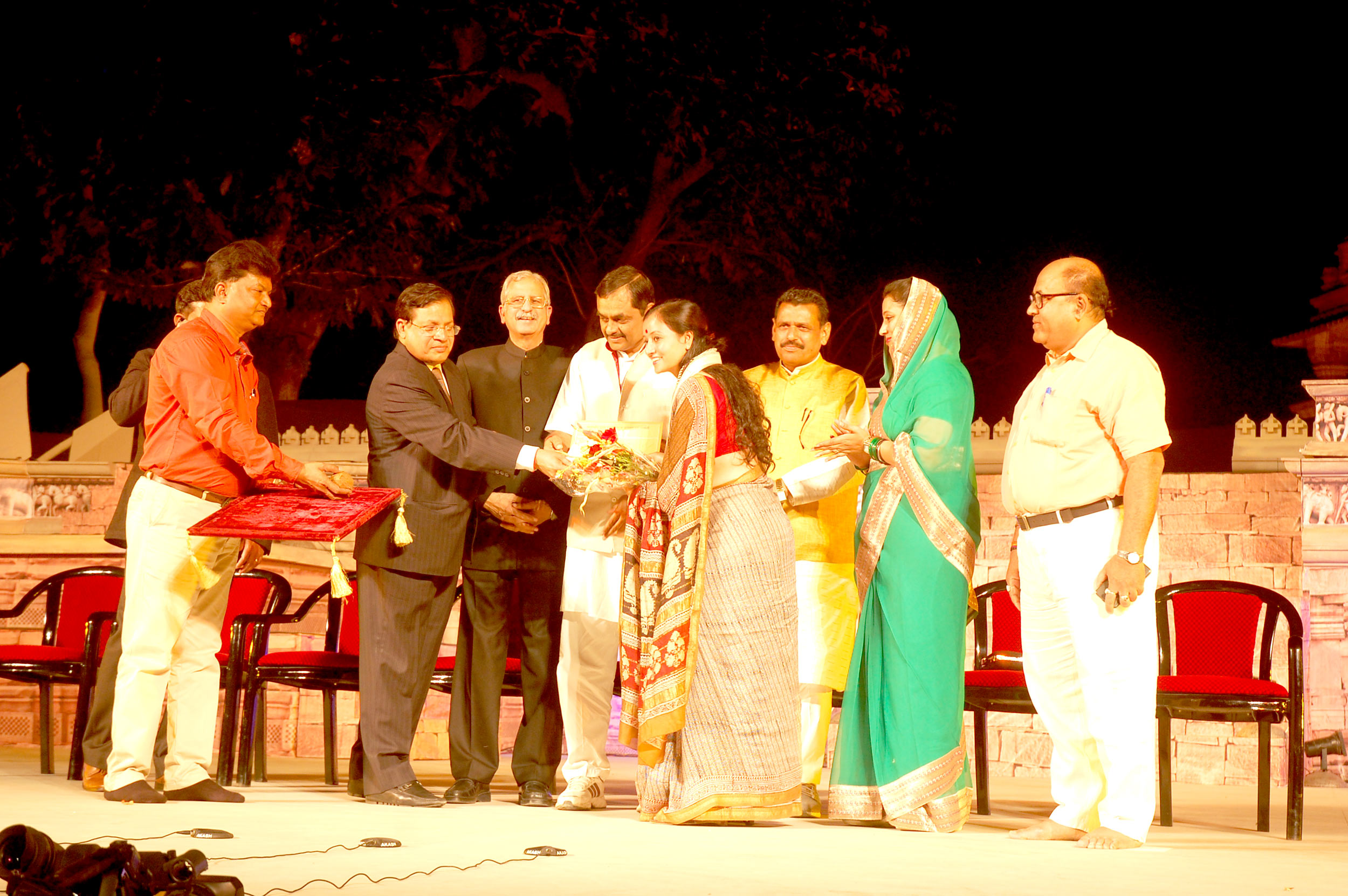 On the concluding day of festival i.e. February 26, Bharatnatyam by Amit Chowdhary and kalpatru of Bangladesh, Kathak duet by Vidha Lal and Abhimanyu Lal, Odissi dance by Gori Diwedi and Bharatnatyam by Jyotsana Jagannath of Chennai will be presented.
In the seven day festival the Madhya Pardesh State Rupankar Art Awards and exhibition (Alankaran), art journey of Indian dance style Chhau (Nepathya), fair of Fine Arts (Art mart) fair of indigineous art tradition (Hunar), deliberation of artists and art critics(kala varta), films focussing artists and art traditions (Chal Chitra) and kala gatha of Bangladesh (Atithi Devo Bhava) will become centers of attraction.
MLAs Shri Pushpendra Pathak, Shri R.D. Tripathi, President Nagar parishad Khajuraho Smt. Kavita Singh and Commissioner Culture and Secretary Shri Rajesh Mishra were present on the occasion.
---
State Level Quiz
Bhopal:MMNN: Sept. 28, 2016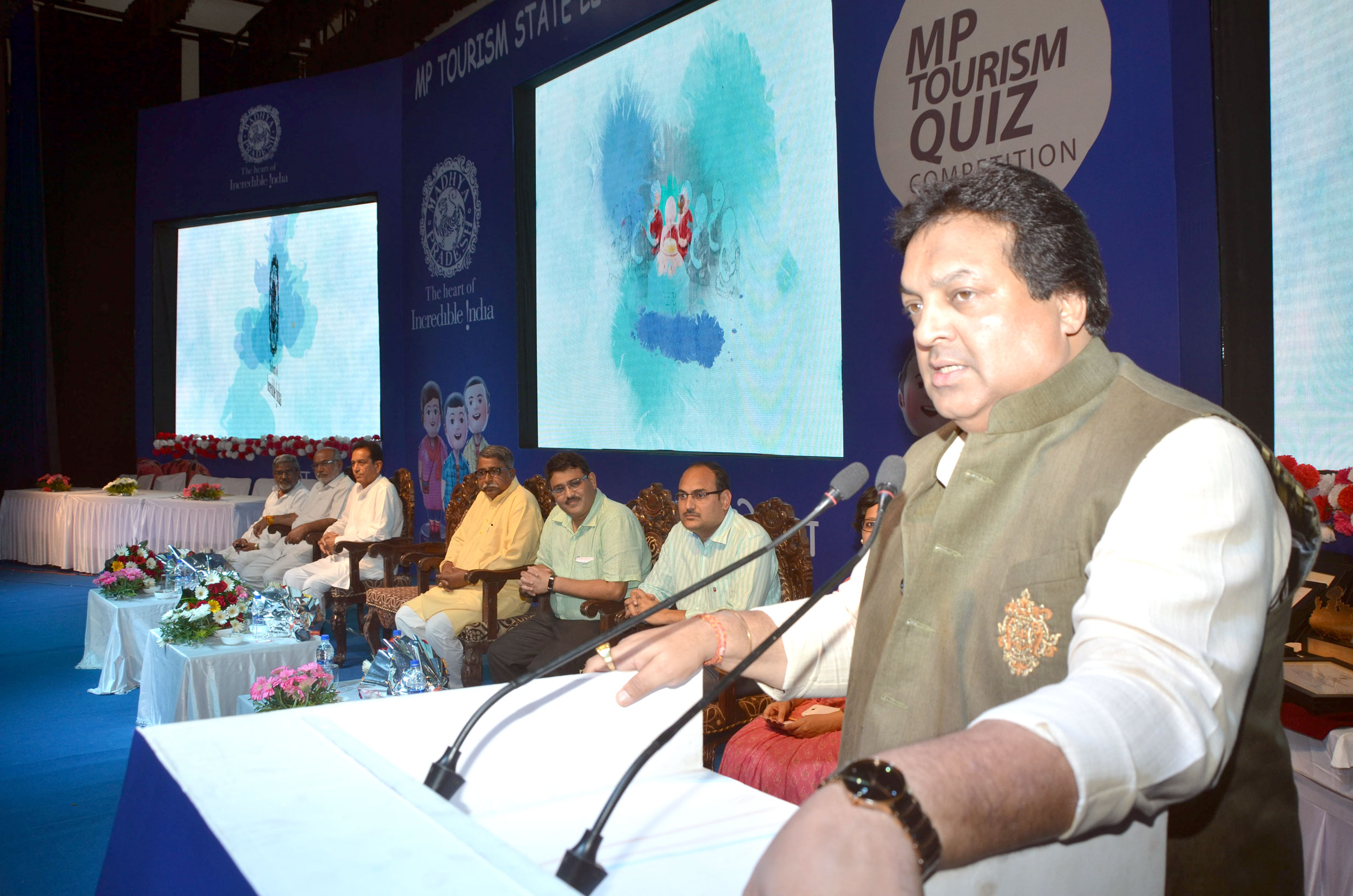 The final round of State level School Audio-Visual Quiz Contest concluded today on World Tourism Day, was interesting and knowledgeable. Contestants and audience present in the contest, made it successful by participating in the quiz. Madhya Pradesh Tourism Development Corporation presented awards on the spot to participants.
Total 18 participants of six teams, selected from the state, for the final round of the state level school audio-visual quiz contest of Madhya Pradesh tourism, participated in it. The teams were named as Delawari, Maheshwar, Madhai, Hanuvantia, Orcha and Sanchi places.
Six rounds of the contests were Jhat Pat Bol, Soch Samajhkar Bol, Jo Bola Vahi Sikandar, Pradesh Ki Pahchan, Ab Batao To Jane, Parakhi Nazar, Dekho Suno Dhyan Se and Cinema Aur Madhya Pradesh Paryatan. On the line of KBC, teams participating in final rounds were given optional life line like - Guru Ki Sharan Main, Dost Ki Madad and Ek Nahi Do Jawab.
Questions were asked related with Bhopal, Mandu, Orchha, Pachmarhi, Bheembaithka, Khajuraho, Sanchi, Udaigiri, Bhojpur, Maheshwar, Omkareshwar, Ujjain, Govindgarh, Bandhavgarh, Kanha, Panch and Panna National Park. Questions were also asked on television advertisements related with Madhya Pradesh tourism.
Students participating in the quiz said they found the rare opportunities to know the state tourism, forests and wildlife, history, culture and great heritage through the quiz. They also realized that they must visit tourism places of the state first so that they can better understand state, districts, surrounding places and nature.
Secretary, tourism and MD Tourism Development Corporation Shri Hari Ranjan Rao and additional managing director Sushri Tanvi Sundriyal encouraged the participants in the final round. Corporation officials and teachers-students of different districts were present on the occasion.
---
BRICS convention on Tourism at Khajuraho
Our Correspondent Bhopal, 2 Sept. 2016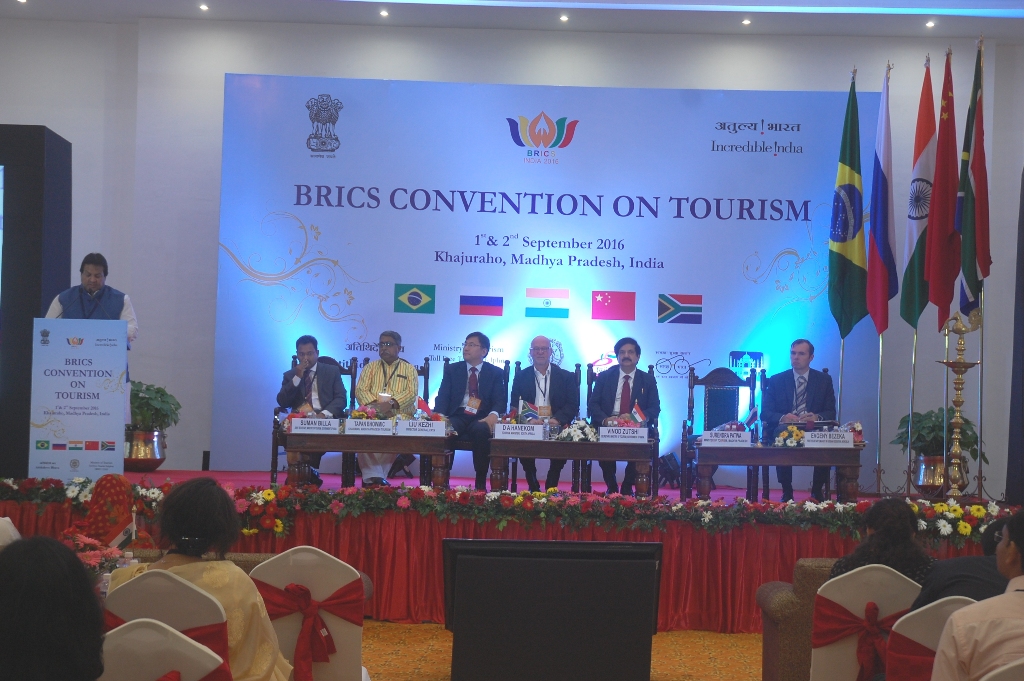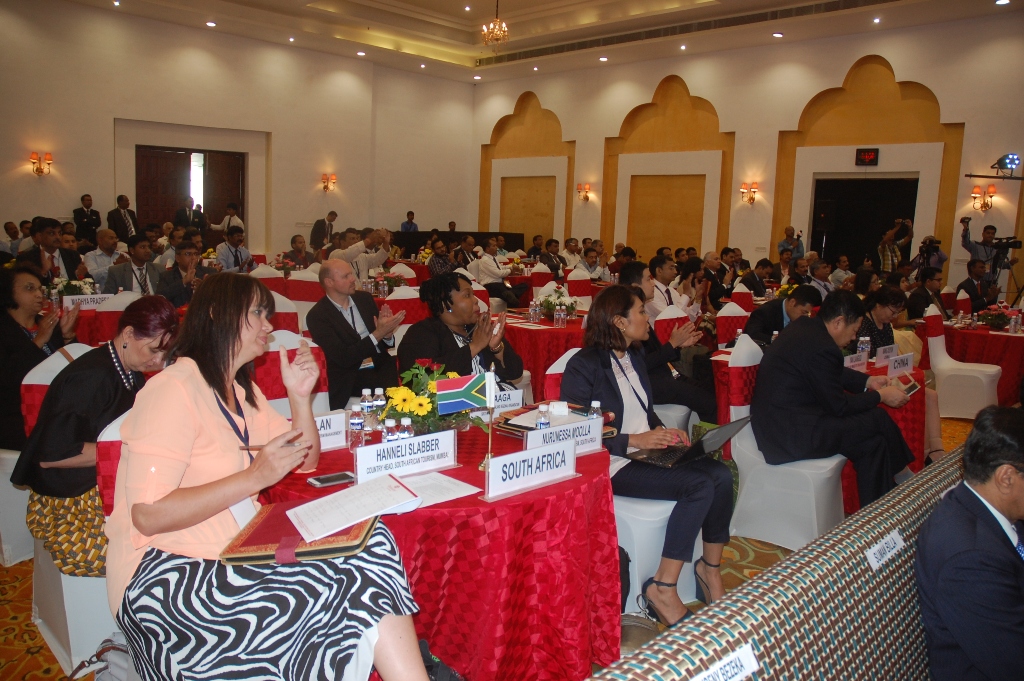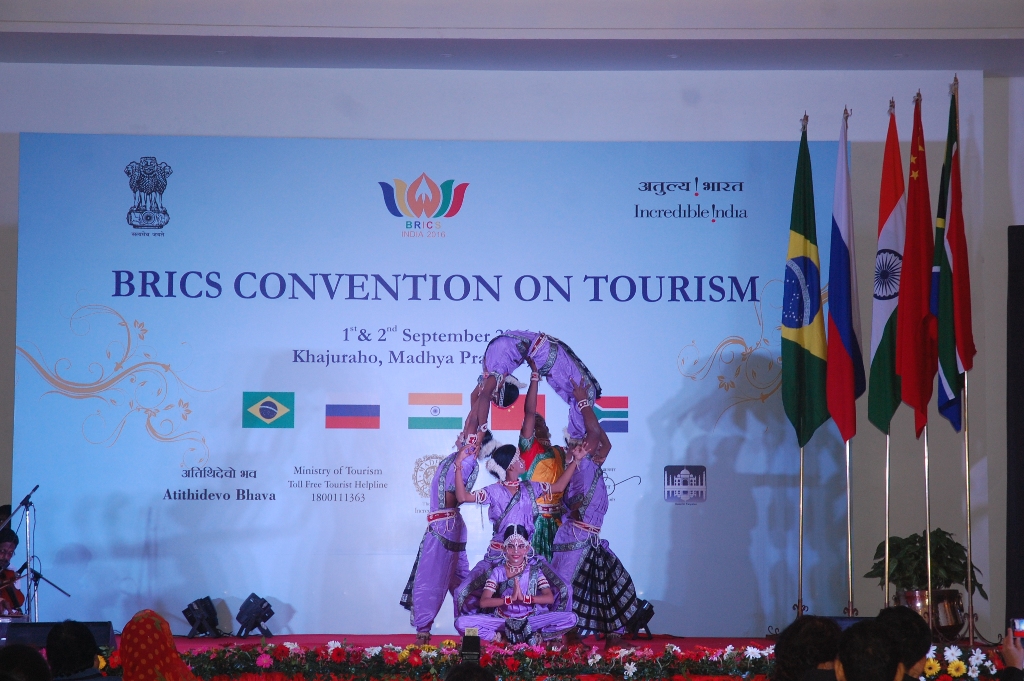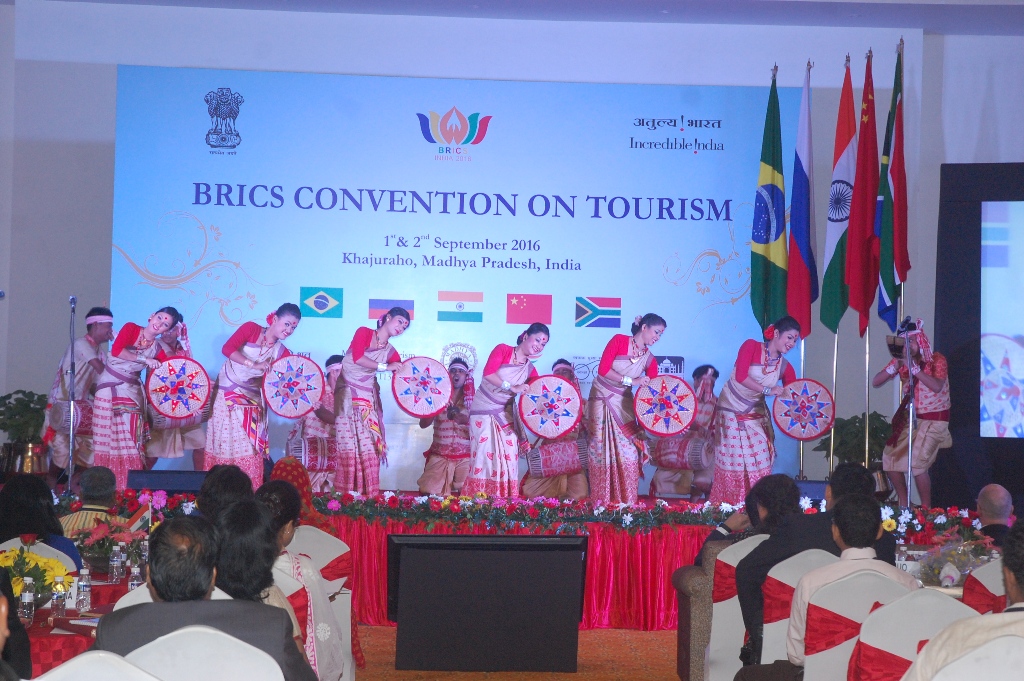 ---
World's fourth largest newspaper creating OOH delight in Simhastha
Bhopal:MMNN: May 9, 2016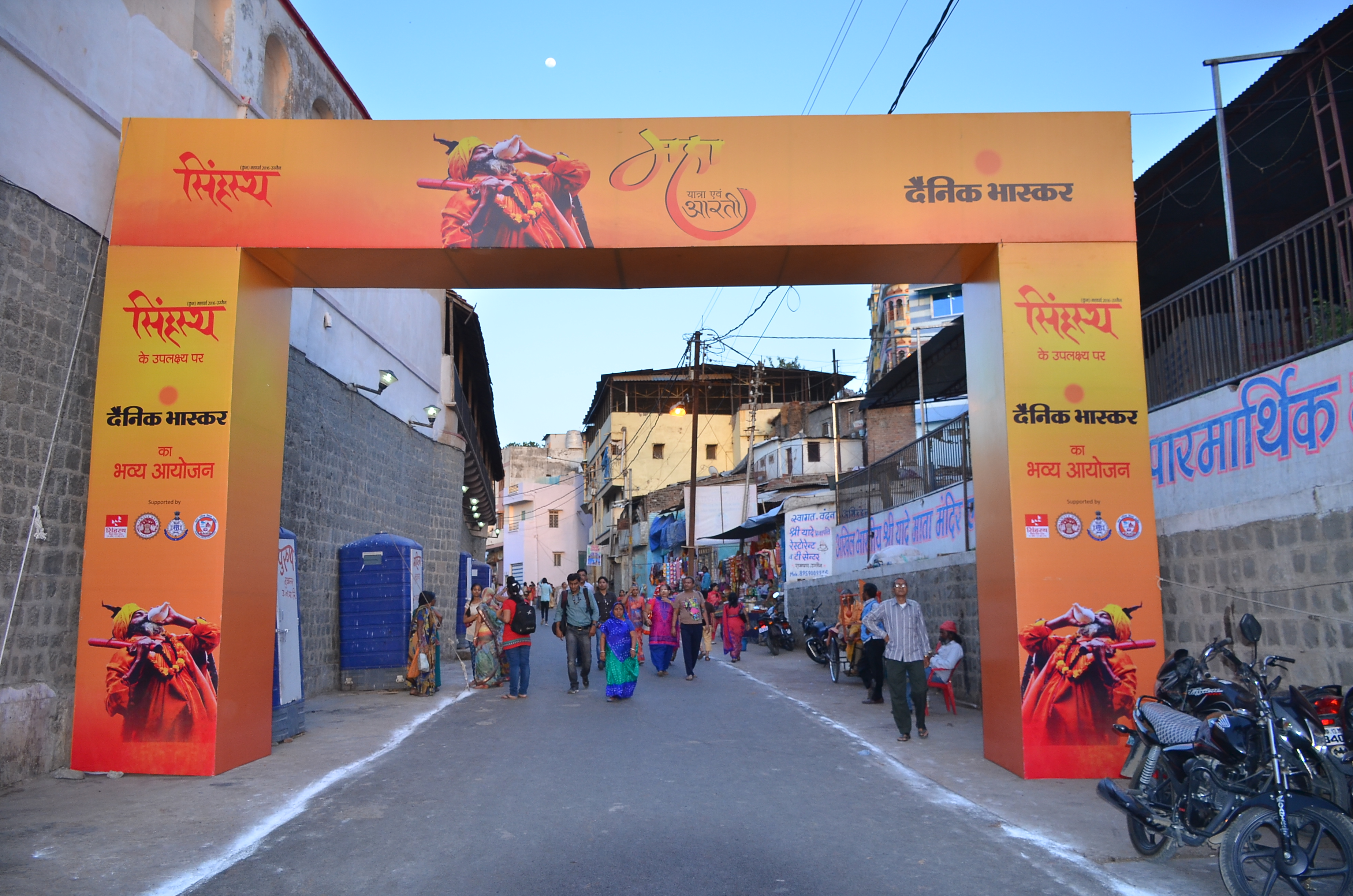 Thousands of saints("sadhus") clad in saffron robes with ashes smeared on their body and dreadlocked hair , few of them called 'Naga Sadhus' may not wear even any cloth –considered as a sign of separation from the materialistic world, the heavy smell of burning butter lamps, camphor and incense sticks have started adding religious fervor to the much awaited month-long congregation Kumbh.
After 12 years, Ujjain, one of the most sacred places in India located on the banks of the holy Kshipra river in the western region of Madhya Pradesh is again gearing up for the largest spiritual gathering on earth-Kumbh. Kumbh Mela is held at each of the four places namely Haridwar, Allahabad (Prayag), Nasik and Ujjain once in every 12 years. Kumbh in Ujjain is held when a rare configuration of planets takes place i.e. when the Sun is in the zodiac sign Aries and Jupiter in the zodiac Leo. The position of th e Sun, Moon and Jupiter in different zodiac signs determines the location of the Kumbh in each of these places. This year Kumbh is scheduled from 22nd Arpil-21st May 2016 in Ujjain. Simhastha Kumbh-the largest spiritual gathering on earth is expected to attract more than 50 million people from across the globe.
According to Hindu mythology, the churning of ocean by the Gods and demons yielded a jar (Kumbh) full of nectar (Amrit). Gods did not wish to share it with demons. At the instance of Lord Indra(the King of Gods), his son Jayanta tried to run away with the jar, but he was followed by some of the demons. During the struggle for its possession, few nectar drops dropped at the holy rivers of these four places-Haridwar, Allahabad (Prayag), Ujjain and Nasik on earth.
Unique opportunity to reach out to more than 50 million people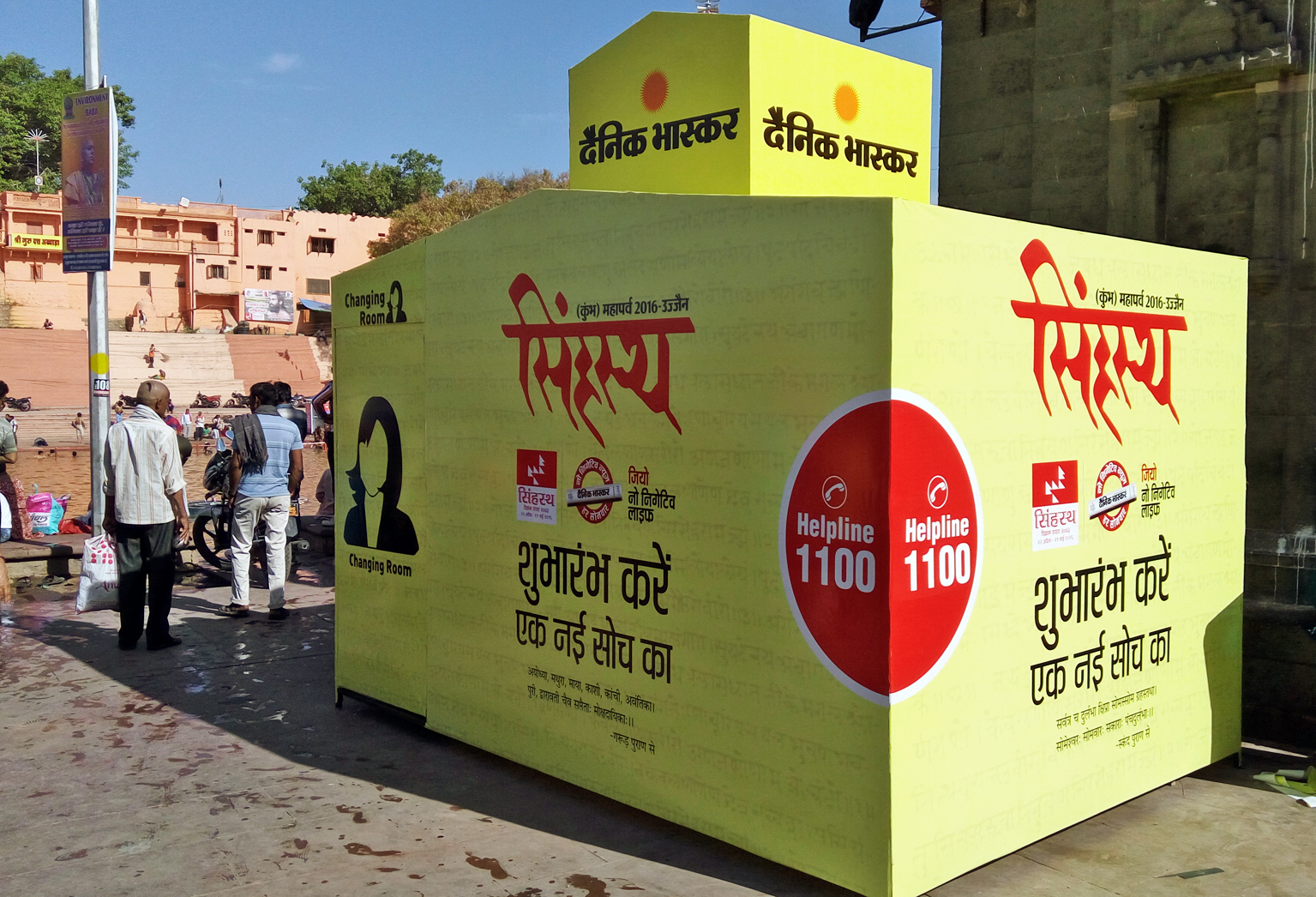 As India's largest and world's fourth largest circulated daily (44 million readers) and a direct reach of more than 3,000 towns, Dainik Bhaskar decided to capitalize on this once in 12 years opportunity. Planning for the same started more than a year back. After several rounds of discussions with the external stakeholders like the municipal corporation, mela authorities and the local population, the plan was frozen and divided into three legs to ensure optimal reach:
1) Build-up to Kumbh(Oct'15- Jan'16) Hoardings on all the four major roads to the city, Banners, Beautification drive with colorful wall paintings and overhead water tank paintings, T-Gates, Community Connect meetings and release of special cover.
2) Activation Support to Local administration(Feb'16-Mar ' 16) 'Maha Arti, Installation of RO plant at the Mahakal Complex and a Kavi Sammelan on and dedicated to sacred shipra river.
3) During the Kumbh(Apr'16-May'16) Changing Room for the ladies at bathing ghats, information booklets and brochures for the pilgrims, newspaper stands at major hotels and garden umbrellas Mr. Vikas Singh, Associate Vice President-Brand Marketing-Dainik Bhaskar says "While Madhya Pradesh Government is leaving no stone unturned to deliver a great experience for the devotees, we are happy to have partnered with Govt. on this".
As part of this partnership, we organized a 'Maha Yatra' and a 'Maha Arti' on 20th March 2016. 'Maha Yatra' started from Shirsagar, one of the seven sacred lakes of Ujjain and ended up at R amghat, the main Ghat. During the Maha Yatra,people saw glimpses of the popular tra dition of Nagar praveshi of major akhadas.More than 10,000 people participated in this four kilometer long yatra.The Yatra, then culminated at Ram Ghat where Grand Arti at Shipra river by more than 200 priests was performed.Free bells and cymbals were distributed to more than 20,000 people at the ghat.The local administration also pitched in with OOH creatives that asked people to come out and witness the spectacular turnaround of the city.
The enthusiasm and participation shown by the locals of Ujjain during Maha-Aarti organized by Dainik Bhaskar culminated into Golden Book of World Records comprising most people participating in this auspicious event.
To provide clean and cold drinking water in the scorching hot months of Apr-May, Dainik Bhaskar has installed drinking-cum-RO plant at the main Mahakal complex. A large LED screen too has been installed inside the complex where people can see live visuals of the Mahakal Garbha Griha.
Dainik Bhaskar is also coming up with a 500 pager Coffee table book- lavishly interspersed with pictures some of which will be in public domain for the first time. This will basically be a rich visual depiction of all facets of Ujjain with reference to Kumbh. The book will borrow references from various religious texts like Skanda Purana and Bhag-wat Purana, classical literature like Kalidas's Meghdoot and Raguvansham, historical documents like Govt gazettes and various others contemporary publications.
Talking about this build up, Mr. Vinay Maheshwari, Senior Vice President-Sales and Market Development and Brand Marketing, Dainik Bhaskar Group said "Being India's largest and World's fourth largest newspaper, we are driven by one of the core values of being connected with our stakeholders. Kumbh is an incredible platform to demonstrate that we care and hence, concentrated our efforts towards achieving this"
This Simhastha Kumbh offers a great opportunity for brand activation . With more than 50 million expected in a month, it offers any brand low cost per contact. Brands like Dainik Bhaskar are leveraging this opportunity to the fullest.
---
Mukundpur White Tiger Safari to be best in world
Our Correspondent Bhopal, 5 April 2016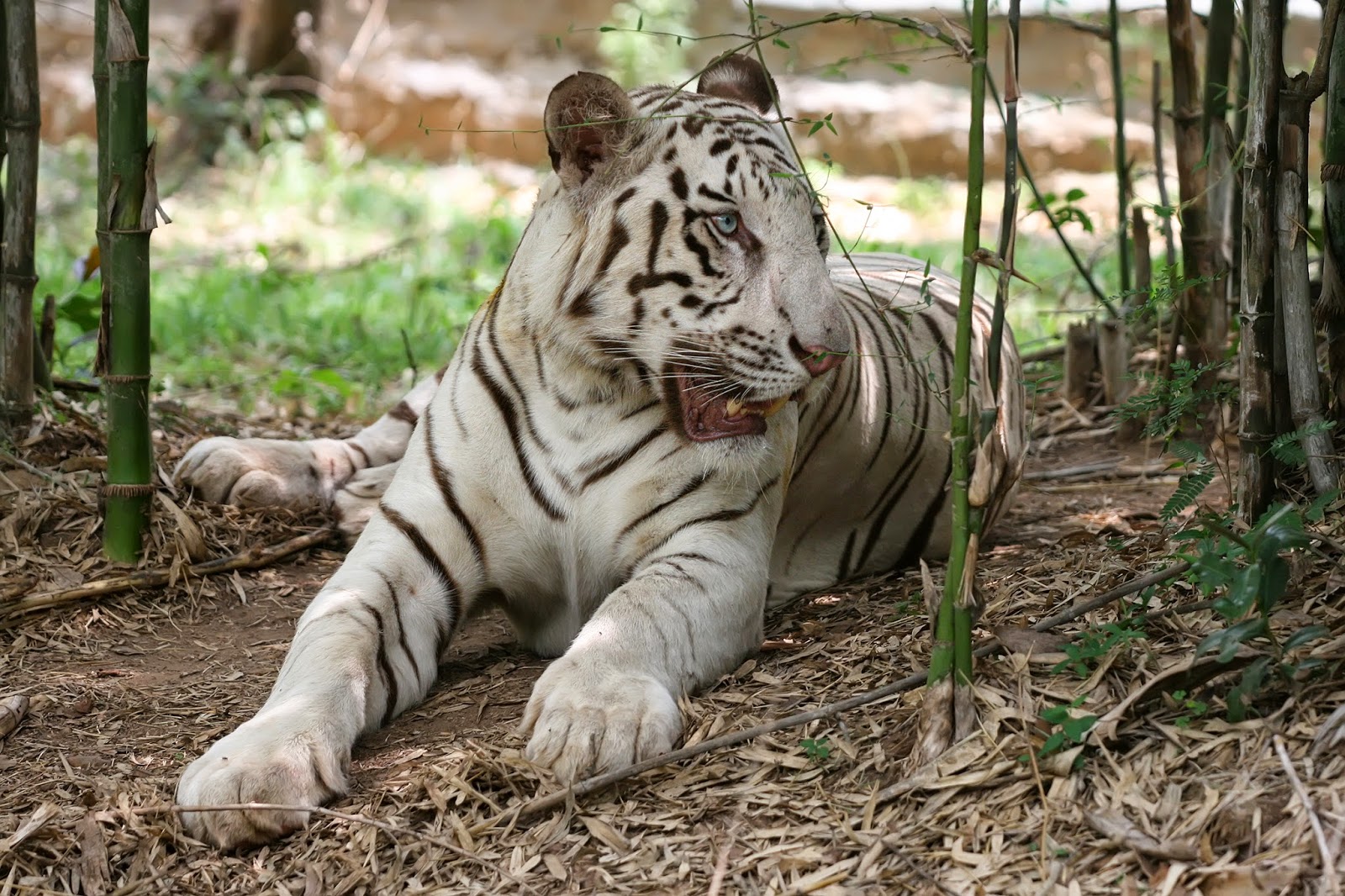 Chief Minister Shri Shivraj Singh Chouhan has said that Mukundpur White Tiger Safari would be developed as the best in the world. Its identity would be carved at global level. No fund crunch would be allowed in it. Shri Chouhan was dedicating world's first White Tiger Safari at village Mukundpur in Satna district today.
Remembering Maharaja Martand Singh Judeo, the Chief Minister lauded his love and kindness towards wildlife. CM Shri Chouhan announced to name the Safari after Maharaja Martand Singh Judeo. Shri Chouhan said that dream of translocating heritage of Vindhya to the region has been fulfilled. For this, he lauded efforts of Union Minister Shri Narendra Singh Tomar, Union Minister of State Shri Prakash Javadekar, Forest Minister Dr. Gaurishankar Shejwar and Public Relations Minister Shri Rajendra Shukla.
The Chief Minister said that commencement of the Safari will promote tourism in the region. New vistas of livelihood will be open up resulting in prosperity of the area. He also called for entry of local people to the Safari free of cost for one day every week. He announced to upgrade Mukundpur high school to higher secondary school and Rewa's airstrip to airport. He said that Satna airstrip will also be improved further.
Presiding over the function, Union MoS for Environment, Forests and Climate Change Shri Prakash Javedekar said that 75 percent of total population of tigers is in our country. He said that Mukundpur White Tiger Safari is indeed unique. It is a conducive region for tigers. He said that proper measures will be taken to develop the Safari and Centre would provide adequate funds for it. Efforts will be made to accord the Safari given 7-Star status.
Union Minister for Steel and Mines Shri Tomar said that Mukundpur White Tiger Safari is a matter of happiness and good fortune for Vindhya region. White Tigers were identity of Rewa. With their translocation, Rewa has regained its glory. Lauding concerted efforts by the Central and Union Governments for Safari's establishment, he described it as best example of commitment towards people's sentiments.
Forest Minister Dr. Shejwar said that wait of Vindhya region's people has ended with translocation of white tigers. For this, Minister Shri Rajendra Shukla chose Mukundpur. Chief Minister Shri Chouhan extended maximum cooperation in removing all hurdles in it. Similarly, Central Zoo Authority, Union Ministers Shri Tomar and Shri Javadekar also extended maximum cooperation.
Public Relations Minister Shri Rajendra Shukla said that it was cherished dream of people of Vindhya region that white tiger should be translocated to the area. Keeping this in view, this initiative was taken and Vindhya region regained its pride. Shri Shukla urged to name the safari after Maharaja Martand Singh
Deputy Speaker of Vidhan Sabha Shri Rajendra Kumar Singh said that roars of white tigers have reverberated in the area after a gap of 40 years. Mohan was world-famous. Honour of this area has been enhanced by translocating white tigers at Mukundpur.
Former Minister Shri Pushpraj Singh lauded efforts of Shri Rajendra Shukla. Shri Singh said that he has given motivational contribution in establishment of White Tiger Safari. After Khajuraho, tourists will visit Mukundpur due to which income of the area will increase and unemployment will be reduced.
Satna MP Shri Ganesh Singh said that the district has got a novel gift. Rewa MP Shri Janardan Mishra said that the state government has undertaken remarkable works during last 10 years directly benefiting the people.
Tribal Welfare Minister Shri Gyan Singh, MP Sushri Reeti Pathak, Zila Panchayat President Shri Abhay Mishra, local MLAs, other public representatives and common people were present on the occasion.
Our Correspondent Bhopal, 21 Aug. 2015