LADIES HELP LINE
1091, 1090
Woman Police Satation - 0755 - 2443860
...................................................................................................................................................
Woma Cell - 0755-8989016510,11
...................................................................................................................................................
Woman & Child Development Commission - 0755 - 2548599
...................................................................................................................................................
Police Control Room - 100
...................................................................................................................................................
Childline - 1098
..................................................................................................................................................

---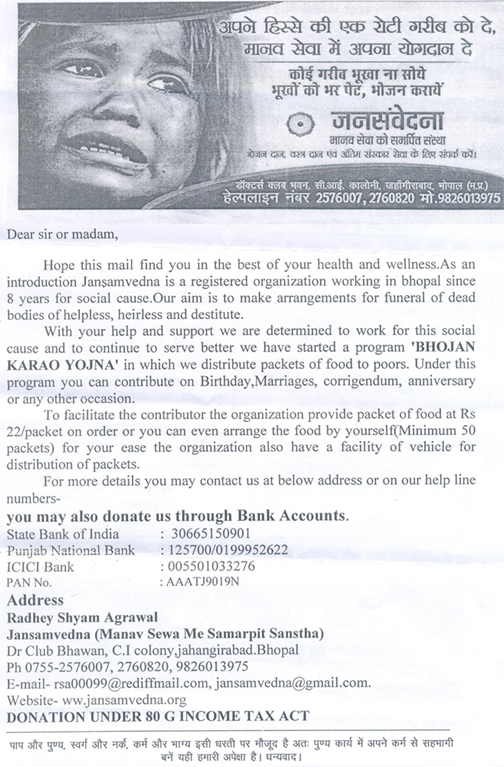 ---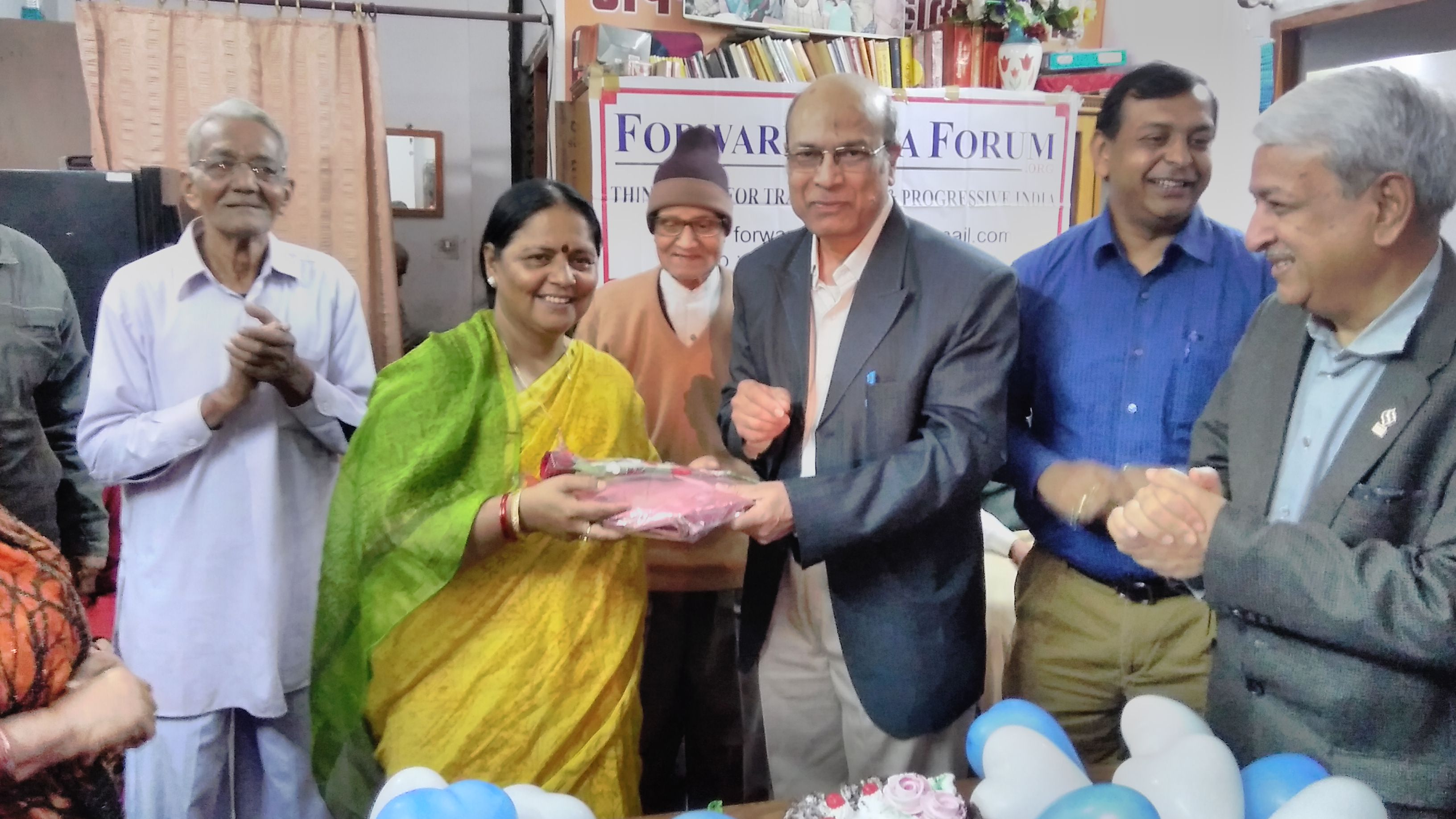 Metro Mirror - Forward India Forum and Deeshanjali celebrated Valentine's Day at ApnaGhar
Bhopal:MMNN: Feb. 15, 2017

Metro Mirror, Forward India Forum & Deeshanjali members celebrated Valentine's Day at the ApnaGhar oldage Home. On this occassion the inmates cut the cake and Biscuit packets were distributed.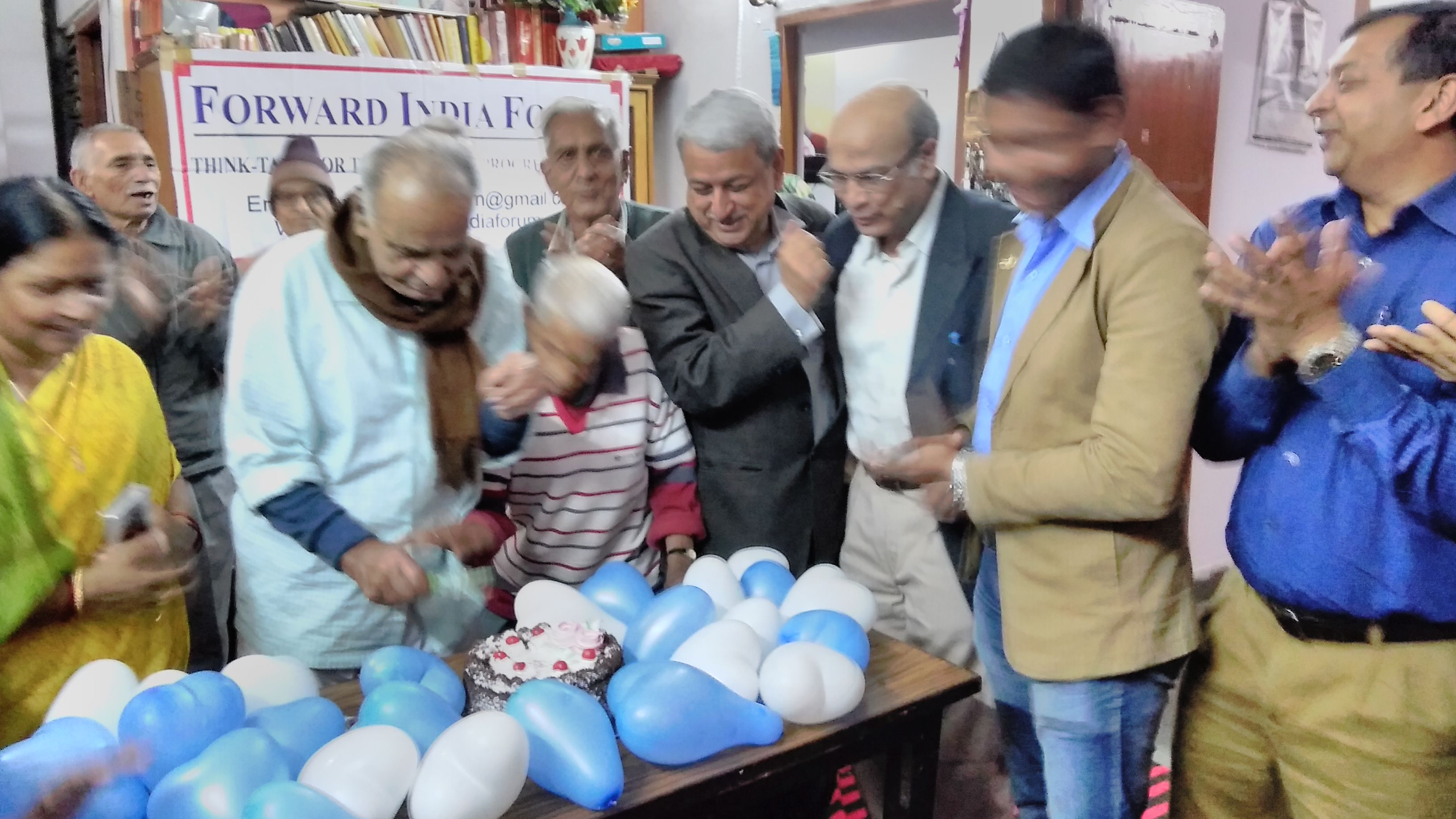 Mrs. Madhuri Mishra who founded and managing the ApnaGhar introduced the inmates and some of the inmates recited poems and done Acting to propose the elder Woman. The inmates include the Judge and a doctor abandoned by their family.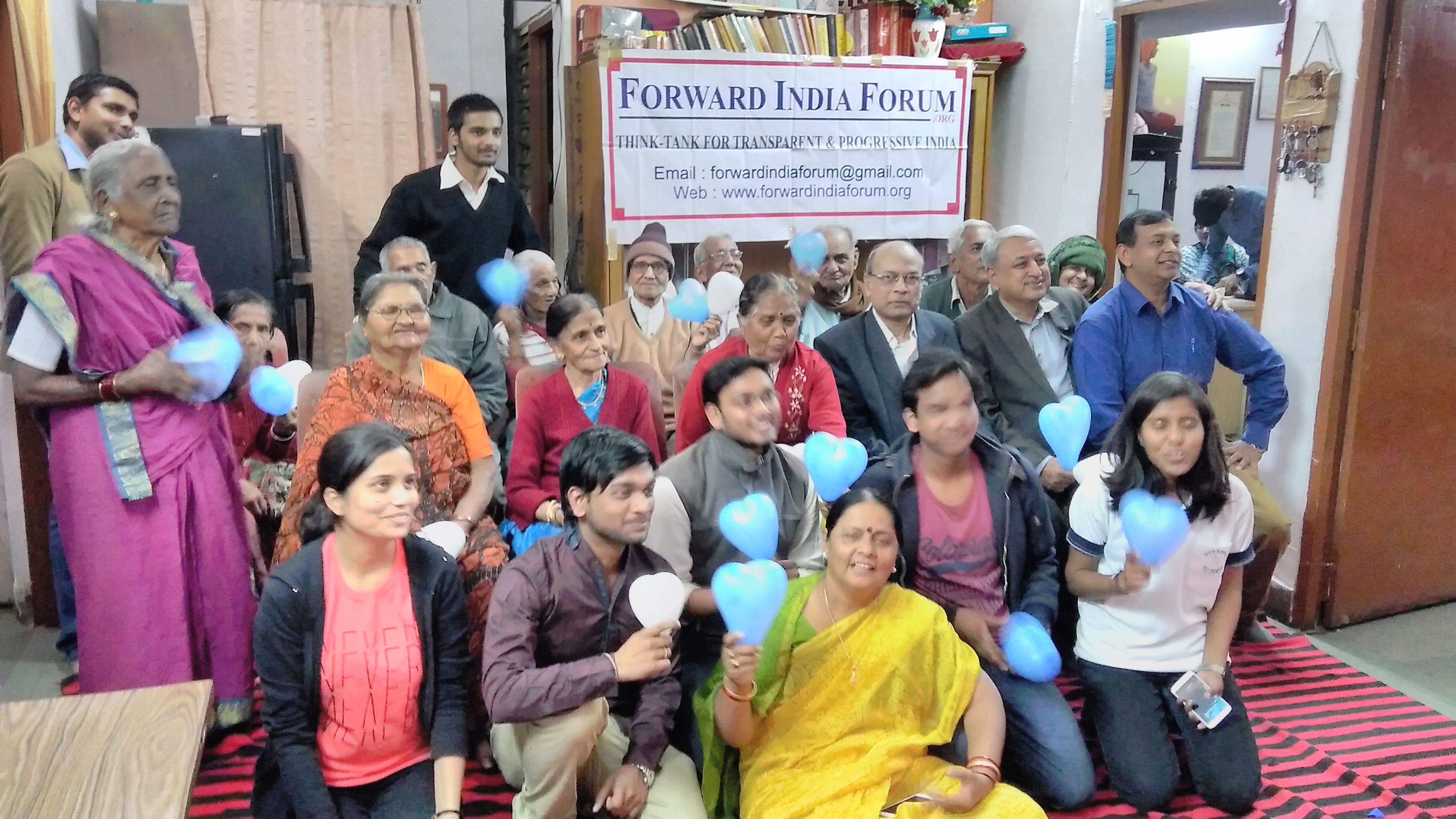 Mrs. Mishra told to MetroMirror, "we enjoy the company of elderly people and live as a big family. My husband, daughter and Bahu all help me to manage the ApnaGhar".
Dr. Anoop Swarup and Mr. Shiv Harsh Suhalka presented a shawl to Mrs. Mishra as a token of respect to her efforts to keep the inmates hapy and healthy.
On this occasion Deeshanjali founder Mr. Vijay Patidar, Mr. Vikas Saxena and the Volunteers were present.


---
Vishleshan Society to connect 3 lakh children of state to Dr Kalam Library
Our Correspondent : 3 Dec. 2016, Bhopal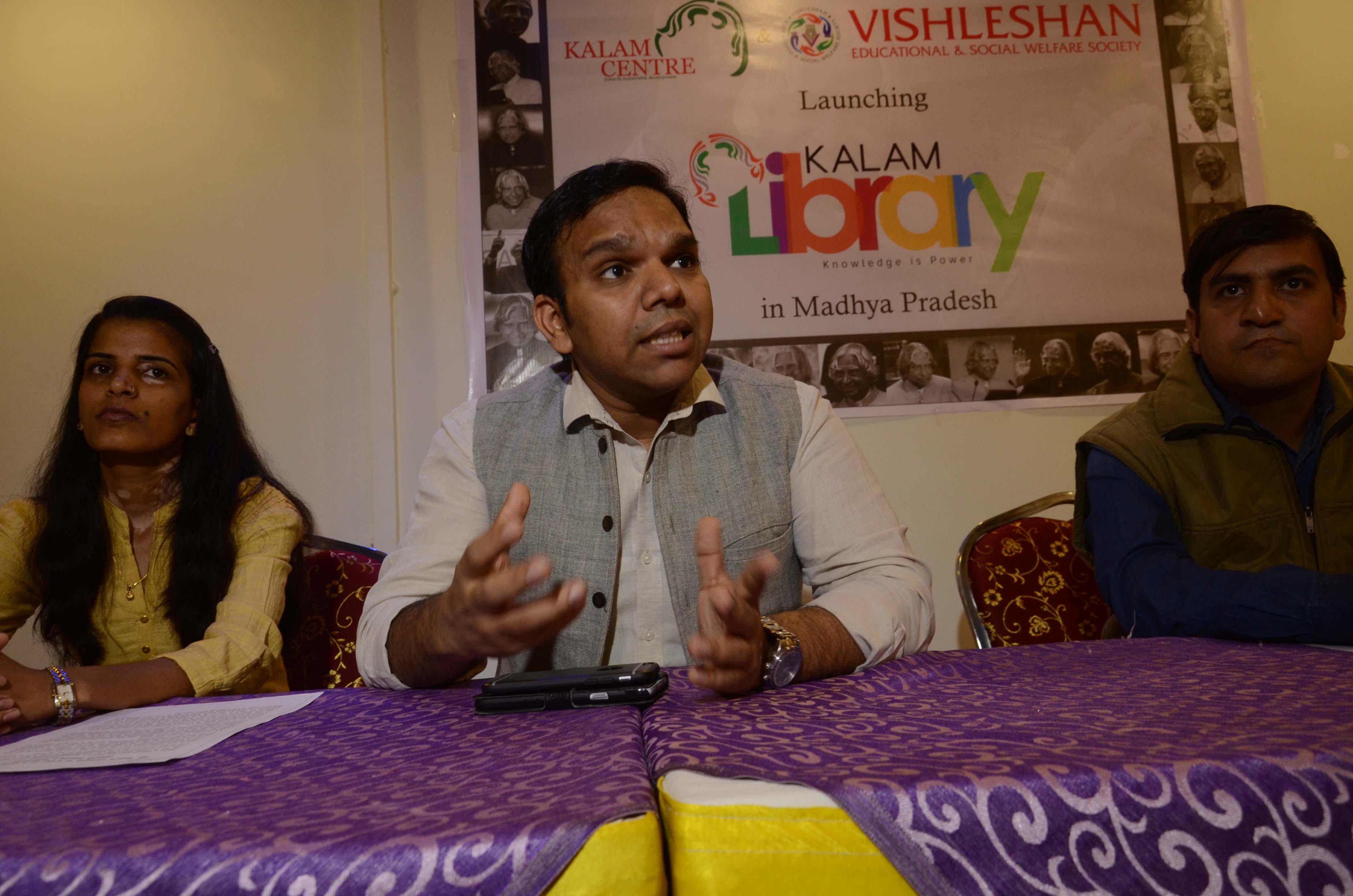 Former President and scientist Late Dr APJ Abdul Kalam always wanted the every child of the nation should get educated and gets easy access to books and opening a library is a step to fulfil his dream especially towards underprivileged children who cannot afford books.
Even if he is not with us but his dream and vision is alive with the efforts of his friend and renowned writer Srijan Pal Singh, who is working to bring his dream alive through Kalam Library Mission.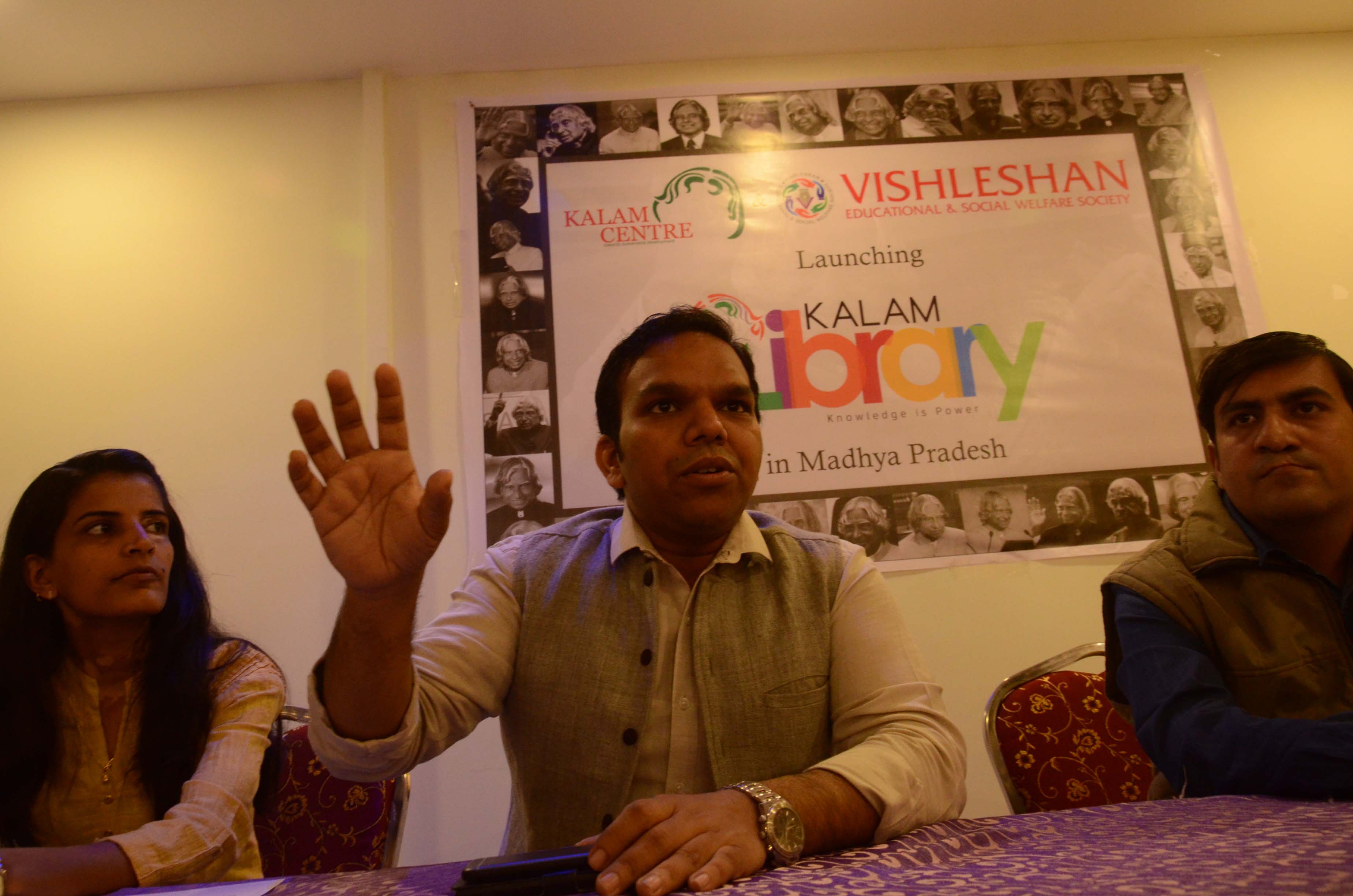 The mission is successfully running in 24 cities of Delhi, Maharashtra, Rajasthan and Gujarat where his fellow workers and supporters are taking donations of books and opening library in schools where children of slum areas come to study.
Shri Singh reached Bhopal today to expand his mission to Madhya Pradesh and joined hands with Vishleshan Educational and Social Welfare Society through an agreement for making books available at schools to deprived and underprivileged children.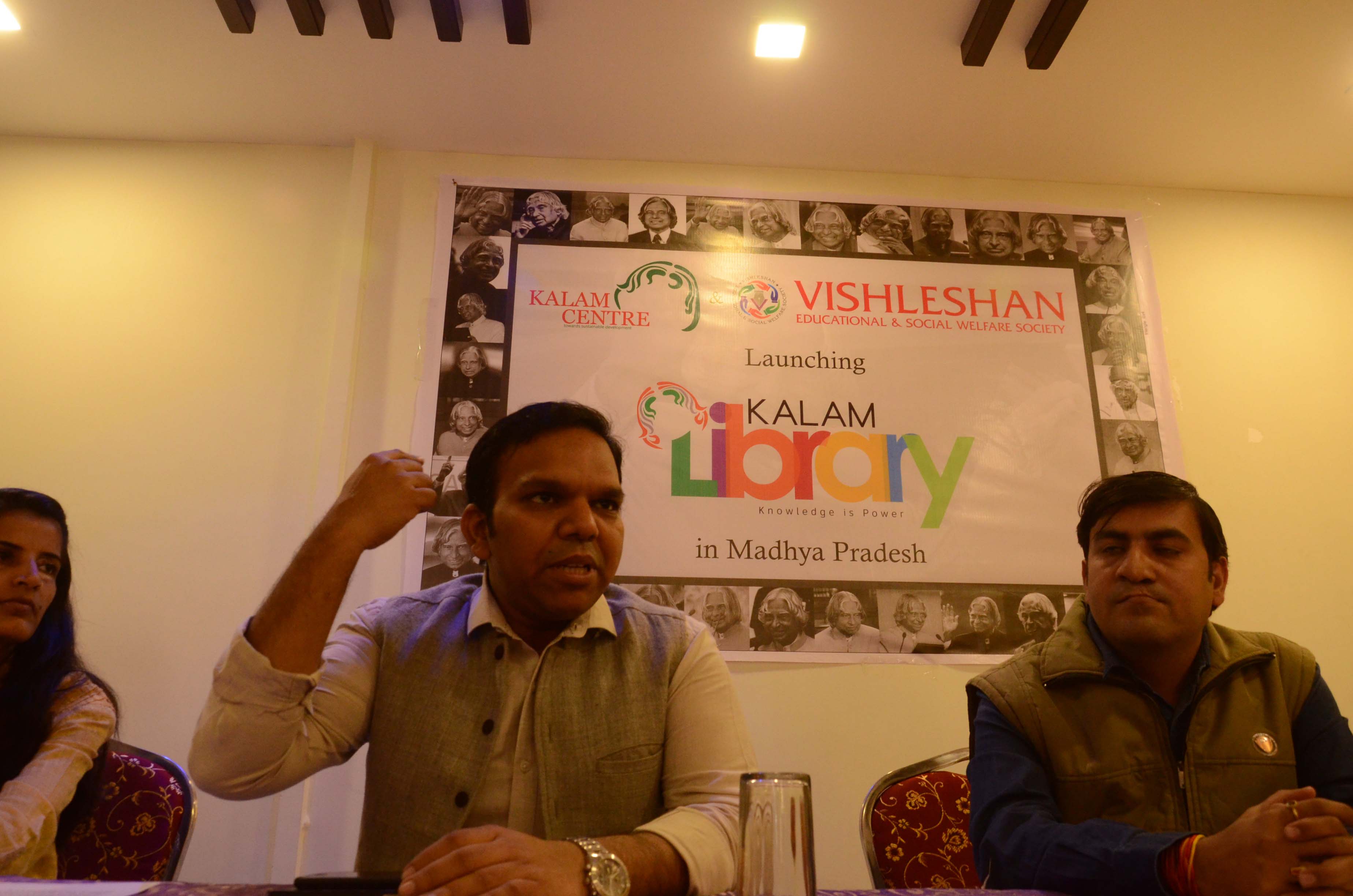 Deepak Motwani of Vishleshan informed that the Kalam Library Mission will mark its beginning in Madhya Pradesh from Bhopal and for the same the work has already started. After identifying schools the work of establishing library will be started.
People associated with the mission are gathering books and support from big renowned schools, students, parents, retired officials and minded social workers.
Shri Singh also said that donors can also share their experiences with the children of slum areas so that they can gain encouragement from their journey and experience.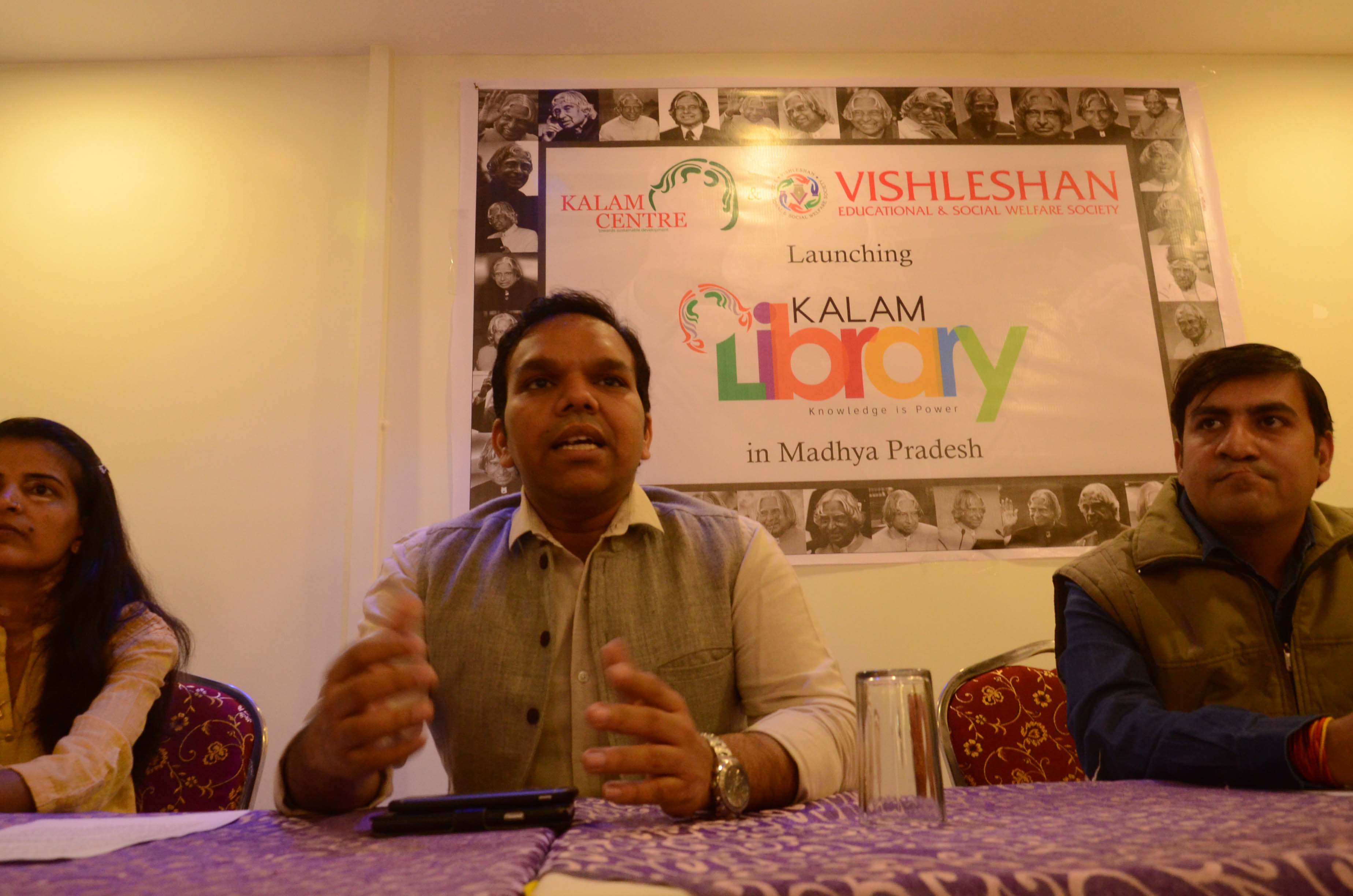 Deepak Motwani said that Vishleshan has been established by few youngsters of Bhopal who, from time to time, has been working to help the needy. With this mission, Vishleshan will be able to not only provide books to needy children but also in educating them.
He also said that those who want to donate books can contact him on his mobile number 8305188188 and also the schools who want to establish library in their schools can also contact him.
---
GIVING MEANINGFUL EDUCATION
Our Correspondent : 23 Aug. 2016, Bhopal
Behind some of the most innovative and impactful ventures in education are industry and business leaders, who have dedicated their energies and their money to improving education standards and opportunities in the country. With capabilities built for strong social response to education needs of India, these philanthropic ventures have brought a new life to education dissemination and awareness.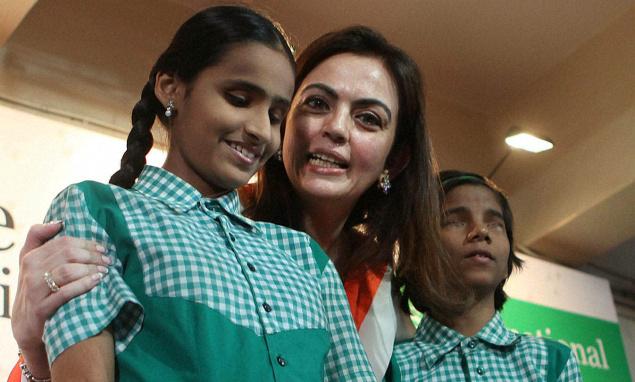 NITA AMBANI : RELIANCWE FOUNDATION
Launched in 2010, the Education For All(EFA) initiative of Reliance Foundation. Nita Ambani's Reliance Foundation is another major entity in the education business. The foundation is offering local schools logistical and financial support, and also building teacher capacity and infrastructure.
Education to more than 15,000 children across 12 schools has been provided through the foundation. "Through the Dhirubhai Ambani Scholarship, the foundation supports meritorious students across the country, including the differently abled," says a spokesperson of the foundation, adding these scholarships have benefited more than 10,000 students.
Within the school education system, the foundation is focusing more on secondary education. According to a study, 'Secondary education in India: Development policies, programmes and challenges', only 16 per cent of India's education budget is spent on secondary education compared with 62 per cent for primary education.
AZIM PREMJI FOUNDATION
Azim Premji, Chairman of Wipro, is a passionate philanthropist who has spent decades working with education.
Azim Premji Foundation is a not-for profit organisation that has been working for more than a decade now towards making deep, large scale and institutionalised impact on the quality and equity of education in India, along with related development areas. Any large scale educational change requires significant and sustained effort over many decades and can only be achieved through working at multiple levels as well as on several areas simultaneously. The Foundation today works in 8 states which together have more than 3,50,000 schools.
The Foundation, today, has institutes that are located at Karnataka (Bangalore, Yadgir, Mandya and Gulbarga), Rajasthan (Jaipur, Sirohi, Tonk, Barmer and Rajsamand), Uttarakhand (Dehradun, Uttarkashi, Udham Singh Nagar and Almora), Bihar (Patna), Chhattisgarh (Raipur and Dhamtari), Madhya Pradesh (Bhopal) and Puducherry.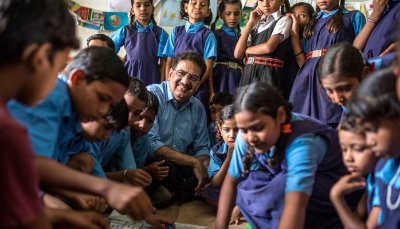 VINEET NAYAR : SAMPARK FOUNDATION
With 'Innovation led large scale social change' as the central idea, Sampark Foundation, founded in 2005 by Vineet Nayar, Former CEO, HCL Technologies Ltd. and his wife Anupama Nayar, is impacting lives of 3 million children studying in 50,000 schools in Uttarakhand, Jammu & Kashmir and Chhattisgarh; making it one of the world's largest primary school transformation initiatives by a Foundation.
It is estimated that out of 144 Million children studying in 714,000 public funded schools in India, over half cannot read simple English or recognize numbers beyond 99.
To significantly improve quality of education for 10 million of our children by 2020. Mr. and Mrs. Nayar have committed to invest INR 650 crores for promoting the cause of transformative learning through frugal innovation in government schools in India.
---
Foundation day celebrated of Pravah Skill Development Centre, Gurgaon
"NOT REGISTERING FIRs IN CASES OF VIOLENCE AGAINST WOMEN IS A PUNISHABLE CRIMINAL OFFENSE UNDER IPC"- JUSTICE K.G. BALAKRISHNAN, CHAIRPERSON, NHRC
NHRC THREE DAYS ITS OPEN HEARING AND CAMP SITTING IN BHOPAL CONCLUDES

Not Registering FIR in case of violence against women is a punishable criminal violence under Indian Panel Code (IPC). While addressing the media at RCVP Noronha Academy of Administration and Management in Bhopal today, Chairperson of Nation Human Rights Commission (NHRC), Justice K.G. Balakrishnan said that violation of human rights happens all over India. Juvenile Justice Board and Children welfare committee had been set up in all the States.
Cases regarding violence against women have been brought to the notice of DGP of Madhya Pradesh State and directed the DGP to sensitize the police officers on human rights issues. Justice Balakrishnan further said that providing proper infrastructure to schools for elimination of bonded and child labour, eviction of tribal people from forest areas, drinking water and sanitation in government educational institute etc are issues of major concern in the MP state. NHRC has recommended a health survey for around three thousand immigrant workers of Madhya Pradesh who are suffering from Silicosis. Talking about the Ratnagarh stampede, he further told media that apart from providing compensation to the families of victims, NHRC will also recommended for punishing negligent officers of administration, if found guilty.

The Chairperson informed the media the NHRC filed a case in Supreme Court of India on Silicosis Problems. The Chairperson of NHRC is also advises the disaster management officials to meet the crisis situations. Replying to a quarry of a journalist Justice Balakrishnan said that he has spoken to chief minister of Madhya Pradesh for a appointment of the suitable chairperson for the Madhya Pradesh Human Rights Commission.
NHRC Members , Justice Cyriac Joseph, Justice D. Murugesan and S.C Sinha are also participated in the Press Conference.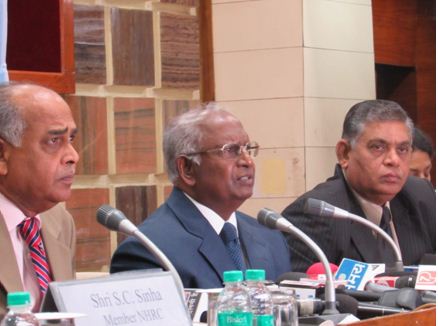 Justice K.G. Balakrishnan, Chairperson of NHRC addressing the media at RCVP Noronha Academy of Administration and Management in Bhopal today. Justice Cyriac Joseph and Justice D. Murugesan, Members, NHRC are also seen.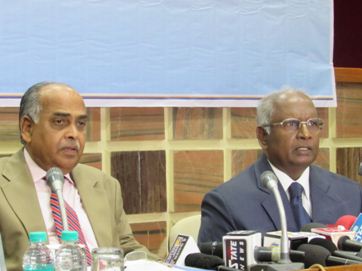 Justice K.G. Balakrishnan, Chairperson of NHRC addressing the media at RCVP Noronha Academy of Administration and Management in Bhopal today. Justice Cyriac Joseph, Member, NHRC is also seen.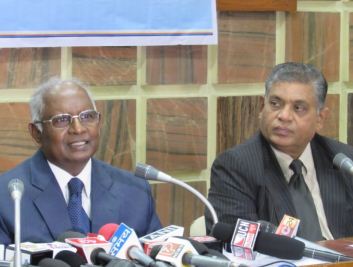 Justice K.G. Balakrishnan, Chairperson of NHRC addressing the media at RCVP Noronha Academy of Administration and Management in Bhopal today. Justice D. Murugesan, Member, NHRC is also seen.
---
2nd Anniversary Celebrations of Yi Bhopal
CII Young Indians (Yi) celebrates its 2nd Anniversary by conducting free Dental checkup camp for underprivileged kids and donating recycled notebooks to the children.


To make Yi 2nd anniversary a memorable day Yi conducted following activities at Glorious Academy School for underprivileged kids, Arera colony, Bhopal:-

Donation of recycled notebooks to underprivileged kids under Project "Right to Write":
This is one of Yi Bhopal Flagship projects. This year Yi have collected old notebooks from 10 schools around Bhopal and have rebound the unused pages out of them. The children from Glorious Academy are the first to receive these notebooks. Yi members distributed these notebooks by their own hands to the kids. 160 students were provided with these recycled notebooks in the event. This is the second year of the activity. In the event the kids were also explained about the importance of environment protection. This year the project is supported by Jagran Lakecity University, Bhopal.

In an initiative to contribute towards the Environment, Education Sector and society wherein Yi have taken up the activity of providing Notebooks to the students in need of it. This activity is known as "Right to Write". Yi does this by collecting used notebooks from various institutions and rebinding the unused pages out of them.
Yi Bhopal Chairperson Mr.Mihir Merchant, Co-Chairperson Ms. Prakriti Jain, Project owner Mr. Rakesh Sukhramani along with other Yi members were present at the ceremony and distributed sweets, notebooks and chocolates.

Free Dental Healthcare Camp: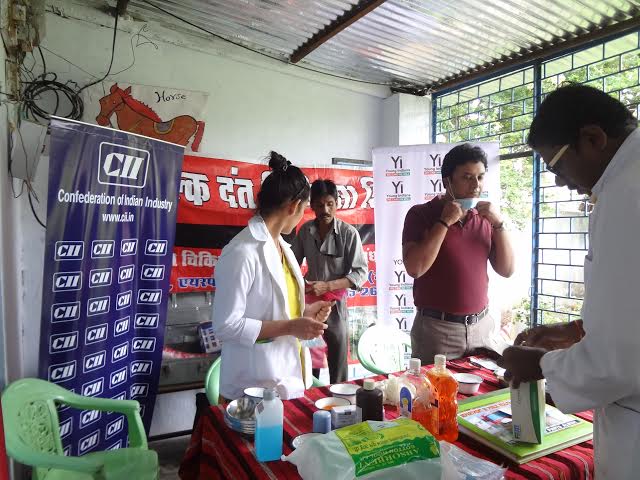 CII-Yi with the help or Rishiraj Dental College organized the free dental camp in Glorious Academy, Arera Colony ,Bhopal, with the support of Rishiraj College of Dental Sciences and Research Centre, Bhopal. Dr.Arpan Shrivastav along with his dental experts done the dental check-up of 160 children and 12 adults. Doctors explained the importance of dental health in life and gave tips to keep the teeth healthy.

About Yi Young Indians
Young Indians (Yi) is an integral part of the Confederation of Indian Industry (CII), a non-government, not-for-profit, industry led and industry managed organisation playing a proactive role in India's development process. Yi was formed in the year 2002 with an objective of creating a platform for young Indians to realise the dream of a developed nation. Yi has around 1650 direct members in 33 chapters, and engages around 10500 students through student nets, under the brand 'Yuva'. The Yi membership includes young progressive Indians between the age group of 21 & 40 and comprises entrepreneurs, professionals and achievers from different walks of life. "To become the Voice of Young Indians Globally" being the vision of Yi, it provides a platform for young Indians to participate in and contribute by becoming an integral part of the Indian growth story. Yi's work is divided primarily into three groups; "Youth Leadership", "Nation Building" and "International Engagements". With eleven years of glorious past and decades ahead that promise nothing short, Yi intends to become a larger movement of young people and promote the attitude of "We Can, We Will".
---
Young Indians and UNICEF to work together on promoting child rights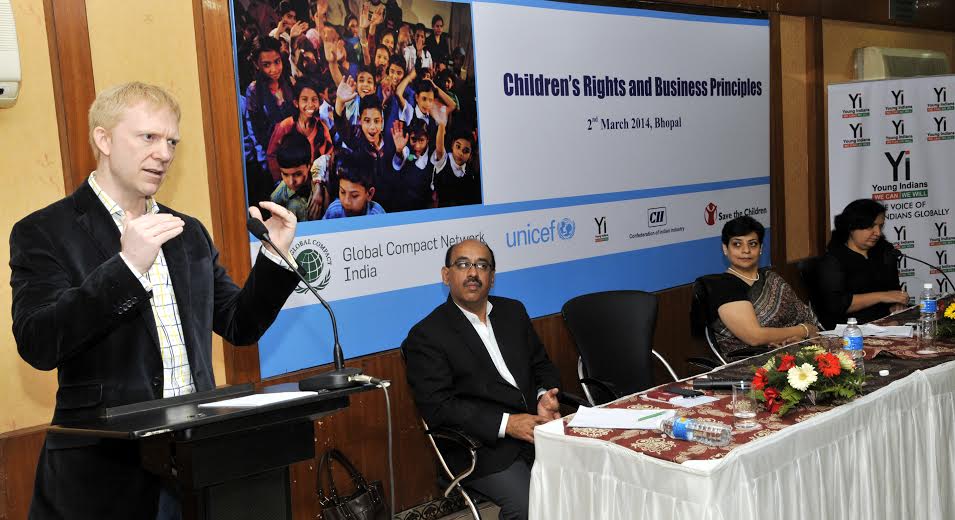 UNICEF and Young Indians, part of Confederation of Indian Industry had organized a meeting on 'Children's Rights and Business Principle' at Bhopal today.
Speaking at the meet, Trevor Clark, Chief of Field Office, UNICEF office for Madhya Pradesh said that business can play an important role in respecting child rights in their business and also be part advocating of child rights within the State.
While addressing Young Indians group he said that 'children are vulnerable and need support of the State and all other stakeholders including corporate. State of Madhya Pradesh has a challenge when it comes to its children - wherein 56 children out of every 1000 newborn die before their first birthday, 73 new born out of every 1000 before their fifth birthday, 57.9 per cent children under age of 3 years are underweight, 3.5 % children are engaged in work and in last ten years State has seen decline in child sex ratio. '
Bhavana Banerjee Yi Bhopal Chair spoke on the Yi and UNICEF partnership and also shared about the work Young Indians are doing nationally and in Madhya Pradesh. She said that Bhopal chapter is part of 32 chapters of Young Indian and has 5 student nets. YI is an integral part of CII and is committed to work on advancing social issues. She added that concept of child rights is new to YI, though they have been doing work for children, but it will be exciting to move forward on work children rights and business principle.
Lalita Sachdeva Resource Mobilization Specialist from UNICEF India made presentation on children rights and business principle and that it outlines three cores actions to be taken by the corporate which included policy commitments, due diligence and remediation. It goes beyond respect of children rights to next step of supporting and promoting children'\s rights.
Anil Gulati, Communication Specialist UNICEF office for Madhya Pradesh spoke on the child rights and moderated the meet and the discussions. Mihir S Merchant Chapter co chair and Prakriti Jain YI Co-Chair designate were part of the meeting along with other 15 Yi members from various business groups. Yi and UNICEF will work together on task force to work on key child rights issue to take the agenda of Children's Rights and Business Principle forward in Madhya Pradesh.
---
RAVEENA TANDON THADANI STARS IN NEW PETA CAMPAIGN : 'PUPPY LOVE: ADOPT, DON'T BUY!'
Actor Appears With Rescued Dogs to Promote Adoption of Homeless Animals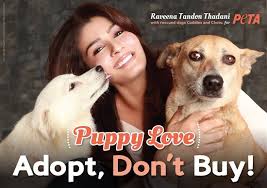 Mumbai – Just after adopting two dogs who were found struggling in the recent monsoon rains, Raveena Tandon Thadani is teaming up with People for the Ethical Treatment of Animals (PETA) India for a brand-new ad campaign that encourages everyone to follow her example. In the ad, Raveena appears with her beloved dogs Chotu, a "community dog" whom she brought home off the street, and Cuddles, who was adopted from an animal shelter, next to the words, "Puppy Love. Adopt, Don't Buy!" The ad was shot by ace photographer Pavitr Saith. Raveena's hair has been styled by Jayshree Thakkar and the make-up has been done by Bianca Louzado.

Raveena also sat down for a video interview with PETA in which she explains why she was inspired to adopt all five of the dogs with whom she shares her life. "I would rather help an animal in distress rather than just go and buy another dog", she says. "These dogs, these animals deserve a chance and they need our help, they need our love, they need our help, they need our love, they need our compassion."

There are more reasons to choose Indian community dogs: Every time someone buys a dog from a breeder or a pet shop, a dog on the streets or in an animal shelter loses his or her certain exaggerated physical traits, are susceptible to hip dysplasia, heart defects, epilepsy and eye and ear infections.

This is not Raveena's first campaign for PETA. She previously wore a bloody snake print gown in an ad that pointed out how "Wearing Exotic Skins Kills."
---
SONAKSHI SINHA STARS IN NEW PETA AD IN ADVANCE OF INTERNATIONAL HOMELESS ANIMALS DAY URGING FANS TO PDOPT CATS AND DOGS AND ALWAYS STERILISE THEM
Bollywood Star and Long-Time PETA Supporter Knows Firsthand the Joy of Rescuing a Loving Animal Companion


Mumbai – Sitting with her canine friend Bambi, Bollywood actor Sonakshi Sinha stars in a brand-new print ad for People for the Ethical Treatment of Animals (PETA) India next to the words "Envision a World without Homeless Dogs and Cats. Adopt a dog or cat from an animal shelter, and always get your animal companions sterilised" released just in time for International Homeless Animals Day. The ad has been shot by leading photographer Russi Modi and her hair and make-up was done by Nileysh Parmaar.

Sinha and PETA India want all prospective animal guardians to avoid greedy breeders and pet shops, which only make the homeless cat and dog crisis worse and to adopt their animals from a shelter or take in a cat or dog from the streets instead. Sinha is a long-time supporter of PETA India, and since her college days, she has been rescuing animals – including her beloved dog Nancy, whom she lived with for 14 rewarding years.

Earlier, Sinha had also starred in a video for PETA that explained how important it is to always to have cate and dogs sterilized. The stunning video was directed by top Bollywood director Tarun Mansukhani. Broadcast-quality videos of different lengths can be found here:

http://petaav.com/4broadcat/compan_773.2_sonakshi_sinha_30_v1.htm
http://petaav.com/4broadcat/compan_773.2_sonakshi_sinha_30_v1.htm

"Breeders, pet stores and people who don't sterilize their animals are responsible for all the animals who end up homeless", says Sinha. "Every time someone buys a dog or cat from a breeder or pet store, a homeless animal roaming the streets or waiting in an animal shelter loses a chance at a home and a good life."
Across India, stray dogs and cats struggle to survive on the streets. Many of them starve to death or are injured, abused or hit by vehicles. Countless others are left to languish in animal shelters because there aren't enough good homes for them.
Sterilising one female dog can prevent 67,000 births in six years, and sterilising one female cat can prevent 420,000 births in seven years. Sterilisation helps keep animals off the streets and out of shelters, and sterilized animals also live longer, healthier lives and are less likely to roam, fight or bite.
Sinha started her career as a model and walked the runway during the Lakme Fashion Week in 2008 and 2009. She made her acting debut in the 2010 film Dabangg, for which she won the Star Screen Award for Most Promising Newcomer, the Zee Cine Award for Best Female Debut, the name a few. Sinha has some top films lined up – Once Upon a Time in Mumbai Dobaara, Rambo Rajkumar and Bullet Raja – with some of the biggest names in Bollywood.
---
PETA HOLDS NATIONAL WORKSHOP WITH MAFSU TO PROMOTE HUMANE TEACHING METHODS FOR VETERINARY STUDENTS; VETERINARY COUNCIL OF INDIA PRESIDENT A KEYNOTE SPEAKER
Veterinary Professors From Colleges and Universities Across India to Attend

Mumbai – Following a letter from People for the Ethical Treatment of Animals (PETA) calling for an end to veterinary science instruction using the corpses of animals killed specifically for dissection for anatomy lessons, Maharashtra Animal & Fishery Sciences University (MAFSU) is phasing out the cruel practice. In a letter sent to its various colleges throughout the state, MAFSU wrote, "Replacing live animals with advanced technology is not only humane but also a legal requirement as per Chapter IV of The Prevention of Cruelty to Animals Act, 1960". In addition, the university – in association with PETA – is organising a national workshop to familiarise anatomy and surgery department faculty from veterinary colleges all over India with humane methods of educating students, such as obtaining cadavers ethically and using models and computer simulation programmes. The keynote speakers at the 6 June workshop at Bombay Veterinary College include Professor AK Misra, the vice chancellor of MAFSU; Lt Gen (Retd) Dr Narayan Mohanty, the president of the Veterinary Council of India; and Maj Gen (Retd) Dr RM Kharb, Chair of the Animal Welfare Board of India. Professor MSA Kumar from Tufts University will be the lead facilitator.

More than 70 delegates from the surgery and anatomy departments of 37 veterinary colleges in India will attend the workshop including faculty from Andhra Pradesh, Assam, Bihar, Chattishgarh, Gujarat, Haryana, Himachal Pradesh, Jammu and Kashmir, Jharkhand, Karnataka, Kerala, Madhya Pradesh, Maharashtra, Mizoram, Orissa, Puducherry, Punjab, Rajasthan, Tamil Nadu, Uttarakhand, Uttar Pradesh and West Bengal.

"PETA commends Maharashtra Animal & Fishery Sciences University for working to put an end to the cruel and unnecessary practice of killing animals to teach anatomy and for helping other veterinary colleges in India follow suit", says PETA India's director of veterinary affairs, Dr Manilal Valliyate. "Soon, veterinary students who want to dedicate their lives to alleviating animal suffering can attend anatomy classes knowing that they didn't cause an animal to suffer."

Every year, an estimated 1,000 calves are killed in India to teach veterinary anatomy and surgery to students, and thousands of frogs, rats, guinea pigs and rabbits suffer and die in college laboratories. Nearly every published comparative study in science-education literature has concluded that non-animal methods – including computer simulations, interactive CD-ROMs, films, charts and lifelike models – teach anatomy and complex biological processes as well as or better than inhumane and archaic animal laboratories.

Because of its inherent cruelty to animals, dissection can deter students from achieving in the sciences. Research has shown that a significant number of students at every educational level are uncomfortable with the use of animals in dissection and experimentation, and some even turn away from careers in science rather than violating their principles.

For more information, please visit PETAIndia.com.
---
THOUSANDS ENCOURAGE MoEF MINISTER TO PROHIBIT DOLPHINARIA INDIA
Letters pour in to the MoEF encouraging a formal legislation on prohibiting captive dolphin facilities in India

DELHI (May 9th): Famous dolphin advocate Ric O Barry, OBE Virgina Mckenna, Sanctuary Asia founder and prominent wildlife conservationist Bittu Sahgal, National Wildlife Board, Earth Island Institute, Born Free Foundation,ENPA- Italy, national and global animal protection and conservation organisations and thousands of dolphin friends from around the world encourage Jayanthi Natarajan, Minister for Environment to legislate the prohibition on keeping cetaceans (dolphins & whales) in captivity in India. This support has been brought about by an intensive national campaign to save dolphins from captivity in India led by the Federation of Indian Animal Protection Organisations (FIAPO).

A FIAPO spokesperson said, "Shrimati Jayanthi Natarajan has recently stated that she will not allow captive dolphin facilities known as dolphinariums in India. This is a hugely encouraging step in the right direction and we have had a tremendous global show of support and gratitude for the Minister's progressive actions including more than 3000 supporters pledging to never visit a facility holding captive cetaceans. We now hope that she will actively legislate a complete prohibition on the keeping of cetaceans in captivity in India."

It is well known that dolphins suffer in captivity. They are extremely intelligent, self-aware beings with emotions, feelings and close relationships to one another and call the vast and dynamic oceanic habitat, home. Removing dolphins from the ocean and putting them into small tanks or sea pens in dolphinariums and making them perform for commercial entertainment, is removing a significant part of who they are as dolphins and forcing them to endure a life of misery in captivity.

Several proposals to establish commercial marine mammal captive facilities or dolphinaria have been put forth by Maharashtra, Delhi, Kerala, Goa, Gujarat, Andamans and Lakshadweep. These mega development projects not only threaten eco-sensitive coastal areas but also promote animal cruelty in the form of marine mammal captivity.
---
HARD KAUR GIVES HARSH RAP TO CIRCUSES THAT STILL USE ANIMAL IN NEW PETA AD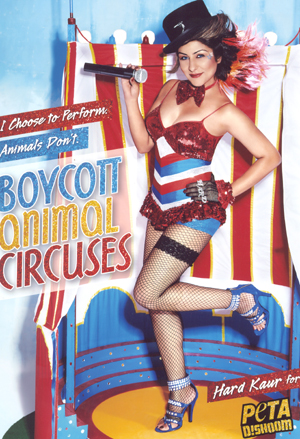 Animal are Involuntary Performers , Says Patiala House Actor and Iconic Hip Hop Artist In Advance of world circus Day.
Mumbai -Wearing black fishnet nylons and a sexy ringmaster outfit next to the caption . "I choose to Perform Animal don't Baycott Animal Coircus ". sultary singer and actor hard kaur appears im a brand new ad for People for the Ethical Treatment of Animal (PETA ) India in advance of World Circus Day (21th April . ) kaur who is the first Indian female rapper and PETA want people to know that circuses force animal to perform unnatural and often painful tricks through fear of punishment. The ad was shot by ace photographer vishesh verma and kaur's outfit was style byHazel Paul with hair anf make up by Berzin Irani The broadcast quality link to the video with kaurs interview and behind- the-scenes can be found here: