Tiger Tourism to Boost Tourist inflow
Our Correspondent 27 Feb. 2016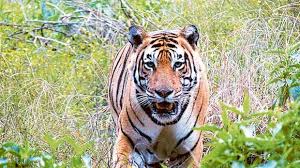 Tiger tourism in Madhya Pradesh will get a boost this year.
To spread awareness about national animal, Indian Railways will offer complete packages including train journey, safaris and accommodation to cover the wildlife circuit comprising Kanha, Pench and Bandhavgarh tiger reserves.
Railway minister Suresh Prabhu while presenting the Railway Budget 2016-17 in Parliament on Thursday said tourism holds great potential for economic development and job creation.
Indian Railways will be partnering with the state governments for operating tourist circuit trains and explore the possibility of a revenue sharing model.
"Promotion of tourism through Railway museums and UNESCO world heritage Railways will be our special focus." he said.
Railway minister also said that India's rich bio diversity and wildlife is one of the mainstays of Incredible India campaign.
However, wildlife activist Ajay Dubey expressed apprehension in introducing a dedicated tiger circuit. "Such a tiger track will pose a threat to the big cats who move around freely in the reserves and chances of animals being hit by trains could increase.
Already, 4 big cats in the state have died this year. It is important that the Union and state government endeavour to save wildlife and work towards their protection rather than investing in such tourism activities."
Last year, Madhya Pradesh recorded country's third highest tiger mortality with 11 tiger deaths, according to the National Tiger Conservation Authority (NTCA).
The first big cat death in the country this year was also reported from MP's Pench Tiger Reserve on January 2.