CM House reverberates with daughters hustle and bustle (Beti Bachao Abhiyan)


October 5 has written a new chapter in favour of daughters in Madhya Pradesh. On the day, Beti

Bachao Abhiyan was launched in all the districts of the state and on the other hand a glorious welcome was accorded to more than 1,000 girls reaching CM House here. All sections of society, voluntary organisations, heads of religions, social workers and educational institutions took part enthusiastically in this massive campaign launched on the initiative of Chief Minister Shri Shivraj Singh Chouhan. Incharge ministers launched this campaign in districts while Beti Bachao Abhiyan was launched in Vidhan Sabha constituencies by people's representatives.
At Bhopal, CM House reverberated with hustle and bustle of girls. Various Panchayats have been organised at the CM House where people of higher age groups have taken part. But today, neither there was any Panchayat nor the age of visitors was more. They had reached there just on the invitation of popular Chief Minister Shri Shivraj Singh Chouhan. The girls were in a hurry to reach the CM House and on the other Chief Minister Shri Chouhan also reached the venue 15 minutes before the scheduled time. He interacted with girls in his simple style and showered flower petals on them. The girls were also gripped by emotions by finding the Chief Minister amidst them.
Today, there were no books in the hands of these schoolgirls, but a letter of resolve for saving daughters which they were going to read out with the Chief Minister. Their Mama (maternal uncle) Shri Chouhan also took care of the girls. He instructed that the girls take the oath by sitting on chairs.
Senior politician and former Chief Minister Shri Sundarlal Patwa, Shri Kailash Joshi and Shri Gaurishankar Kaushal also reached CM House to give their blessings. After the launch of the campaign, the girls ate kheer-puri by sitting in pangat. Chief Minister Shri Chouhan and his wife Smt. Sadhna Singh Chouhan served food to the girls and presented money to them as shagun.
---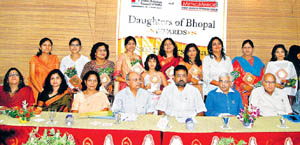 When the Daughter of MP will get Rs 2 lakhs Award?
MM correspondent : April 29, 2011
Public relation council of india, Bhopal chapter & leading newsmagazine Metromirror.com had taken the initiative to honour the talented 'daughters of Bhopal' to mark the birth of the talented daughter of India Kalpana Chawla on July 1,2009. On this day talented daughters & Women of Bhopal were presented the PRCI-Metromirror.com 'Daughters of Bhopal' awards by the chief guest Shri Laxmikant Sharma, Public relations minister, Govt. of MP. Taking clue from the daughters of Bhopal awards Mr. Sharma on this occasion had also announced the Rs. 2 lakhs national award for the talented daughter of madhyapradesh, for which he announced that a committee would be constituted soon to decide about the awards in the current financial year. After the lapse of almost 2 years no action has been taken to finalise the process and announce the award. Talented 'Ladli' of Madhyapradesh is eagerly awaiting to receive the prestigious award.

OPINION OF THE PRCI-METROMIRROR.COM DAUGHTERS OF BHOPAL AWARD WINNERS
Govt. should never delay to whatever they have announced publicly. Rs 2 lakhs worth national award to the talented daughter of MP every year as announced by the PR Minister in the 'Daughters of Bhopal' awards function organised by the PRCI and Metromirror.com on 1st July,2009 should be awarded now without delay. Shravani Sarkar, Journalist HT